Time To Celebrate Another Great Cancer Free Year
We celebrate the twelfth year cancer free and always do it at Disneyland, the happiest place on earth!
What can be better? Retired, in good health and with good friends.
We Begin With Breakfast at The Rainforest Cafe!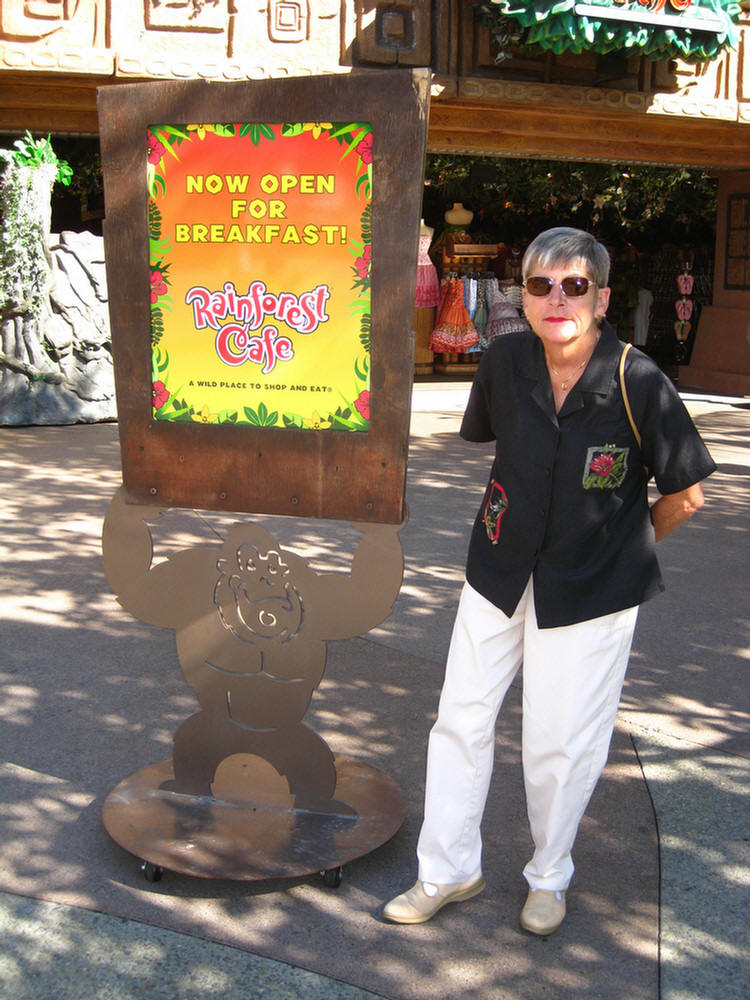 Mamosa's pleeeeze! Get the day started right!
Did you know? - The restaurants are decorated to depict some features of a generic rainforest, including plant growth, mist, waterfalls, animatronic robots of animals and insects. Large marine aquariums are common in most restaurants. Automated water sprinklers and synchronized lights set to specific patterns are also featured.
A simulated thunderstorm occurs every thirty minutes, utilizing simulated rain as well as flashing lights and high-powered subwoofers for lightning and thunder. the cafes feature a talking tree named Tracy that gives facts about the rainforests. The tree is located in the gift shop. The restaurants are partitioned into several rooms by means of rain curtains that fall into basins running along the tops of partition walls and booths.Rainforest Cafe has food ranging from seafood, beef,and chicken to pastas and pizzas.
The animatronic figures are manufactured by UCFab International, LLC of Apopka, Florida, USA. The star ceilings are designed and manufactured by Fiber Optic Systems Inc, located in Whitehouse Station, NJ. the Rainforest Cafe restaurants also have a Retail Village, where rainforest themed merchandise is sold.

"OK, let's get this day officially started!"

"Slow down skippy! We have all day!"

We got to see the diver clean the inside of the big fish tank!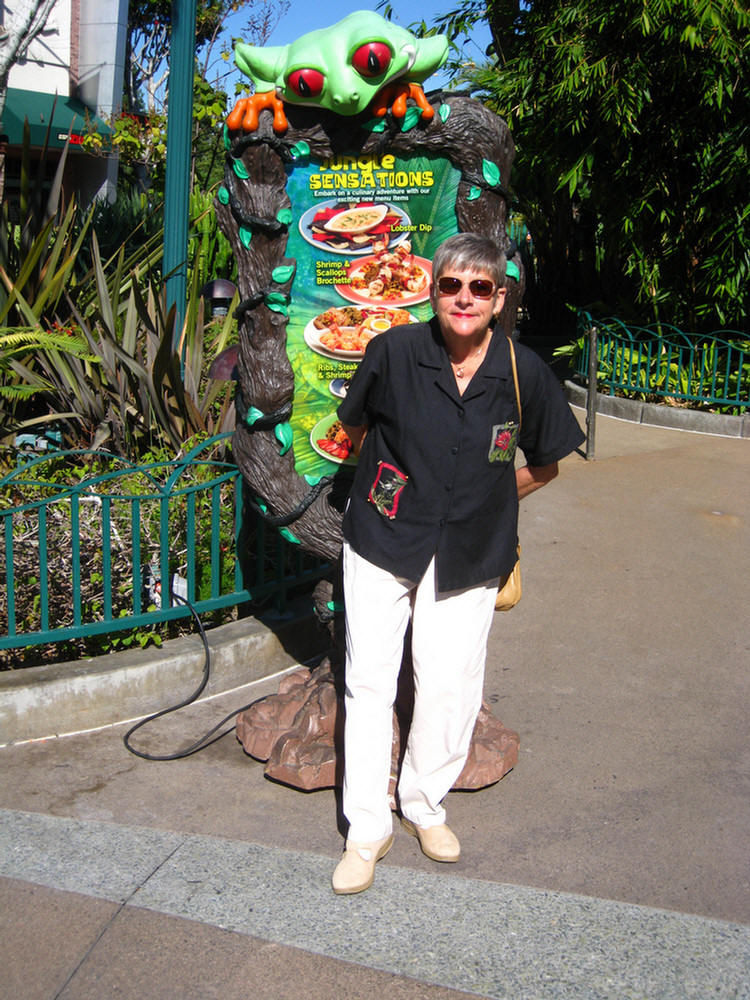 Sue and Paul split the "Eye of the Viper" Pizza which was plenty for two!
How Did They Know???

We are... Twelve years cancer free!
California Adventure Was Decorated For The Holidays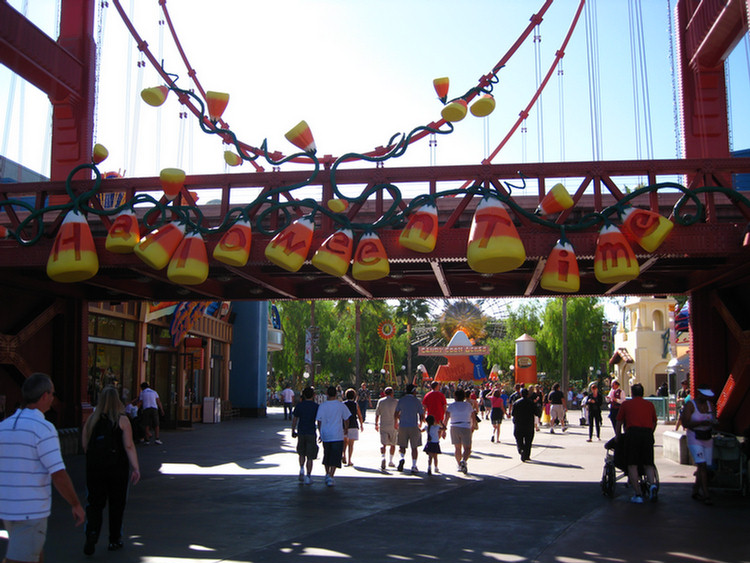 Candy corn was all over the place
We Head For "Sorin' Over California
Did you know? - The attraction takes 87 guests at a time on a simulated hang glider tour of the Golden State, flying over the Golden Gate Bridge in San Francisco, Redwood Creek in Humboldt County, Napa Valley, Monterey, Lake Tahoe, Yosemite National Park (including Yosemite Falls and Half Dome), the PGA West golf course in La Quinta (credited in the queue video presentation as Palm Springs), Camarillo, Anza-Borrego Desert State Park, San Diego, Malibu, Los Angeles, and Disneyland itself.
The last few scenes transition from daytime to dusk and then to night, culminating in Disneyland's fireworks surrounding the riders in the nighttime sky. Lasting about four minutes and forty seconds, the attraction predominantly focuses on the various landscapes of the state, although various human activities can also be seen - snow skiing, river rafting, kayaking, horseback riding, hot air ballooning, and the U.S. Air Force Thunderbirds are all featured prominently in the film.
An original score written by film composer Jerry Goldsmith is heard throughout, and appropriate smells are pumped into the air while the ride vehicles themselves move gently to simulate the sensations of flight.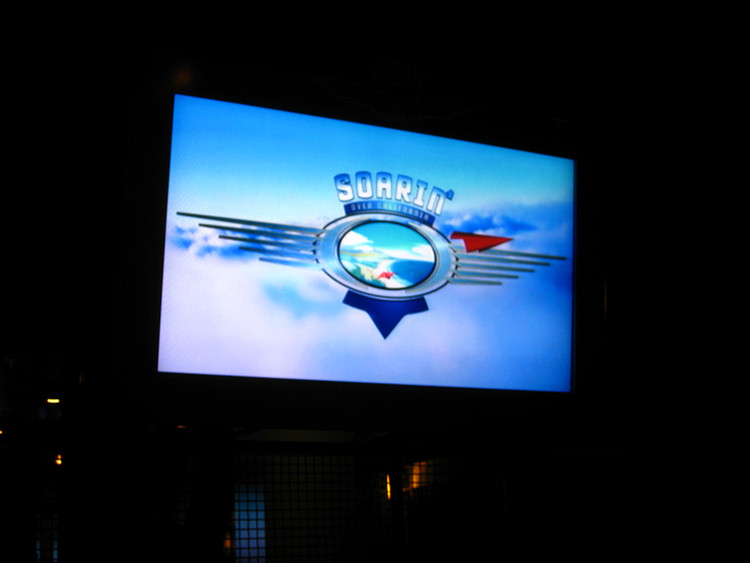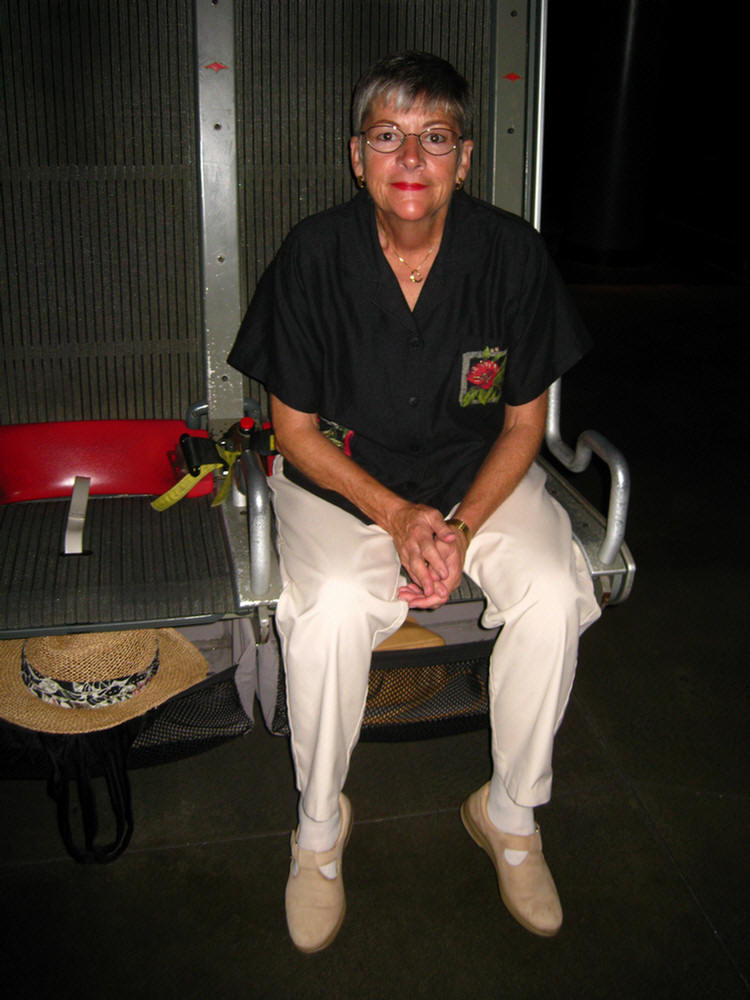 "OK, I am ready to fly!!"
Did you know? - Soarin' Over California was first conceptualized in 1996 as "Ultra Flight," a name which can still be seen on the tower consoles of the California Adventure attraction. It was to feature an OMNIMAX screen with an inverted track allowing guests to fly over California's landmarks. The attraction would have three load levels and the system would operate on a horizontal cable, much like a dry cleaner's rack.
This plan was abandoned, however, when it was determined that the construction and labor costs for that design would be prohibitive. It seemed that Soarin' wouldn't become a reality until Imagineer Mark Sumner developed a different idea for the ride vehicles, using an Erector Set and string to create a working model. This design would allow Disney to efficiently load guests on one level instead of three, thus cutting construction and labor costs greatly.

Here we go!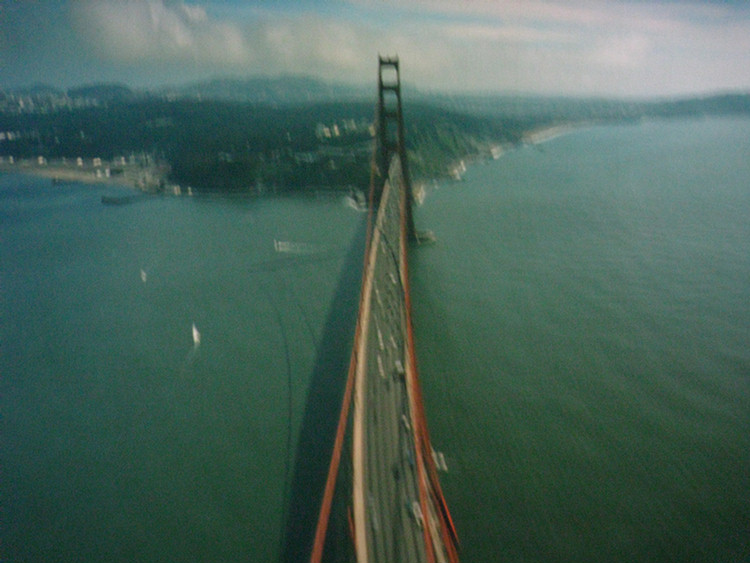 Flying over the Golden Gate Bridge
Did you know? - Each ride vehicle within consists of three rows of seats under a wing-like canopy. After guests have been safely restrained in the vehicle using standard lap belts, the canopy descends slightly and a cantilever system lifts the chairs forward and into the air with the guests' feet dangling freely. The vehicle is lifted forward so that guests look into a large, concave movie screen onto which aerial views of California are projected.
The scenes were shot with an IMAX HD frame rate - 48 frames per second, twice the conventional output for regular films. Since the vehicle is moved forward toward the center of the dome, guests can only see the images projected on the screen and experience the sensation of flight. The ride structure contains about one million pounds of steel, and 37 tons are lifted during each ride cycle

The river at 50 miles an hour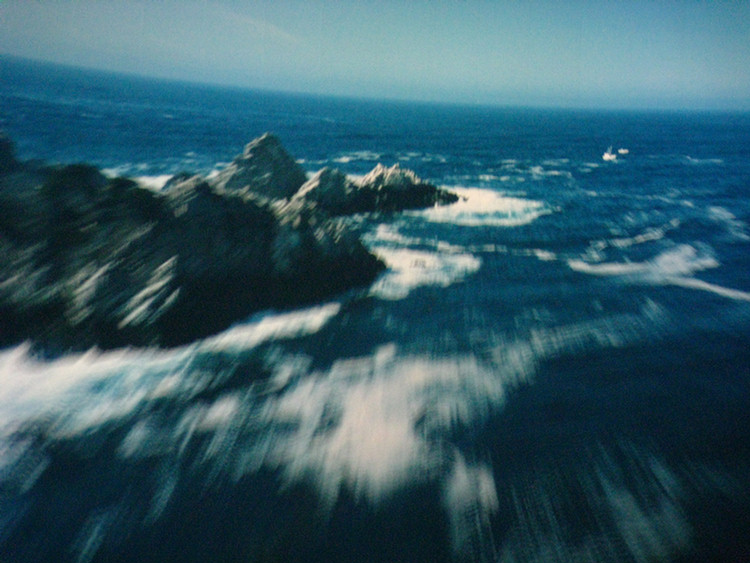 Soaring is fun!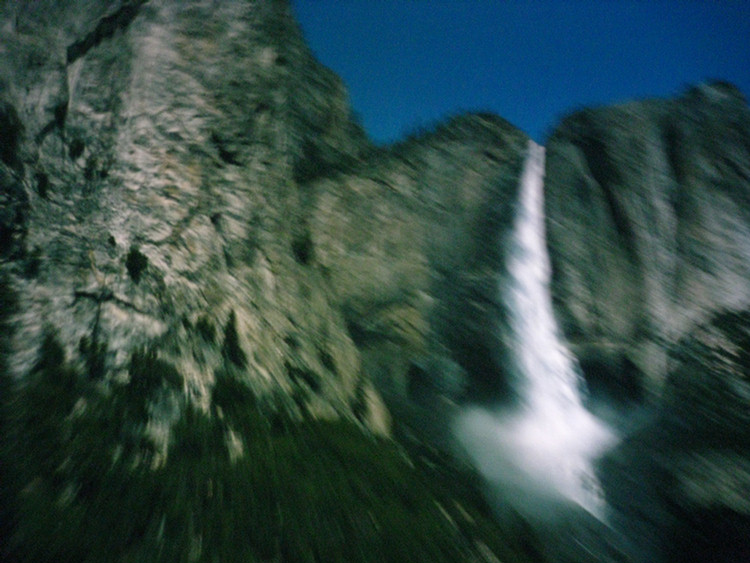 Fuzzy but that's golf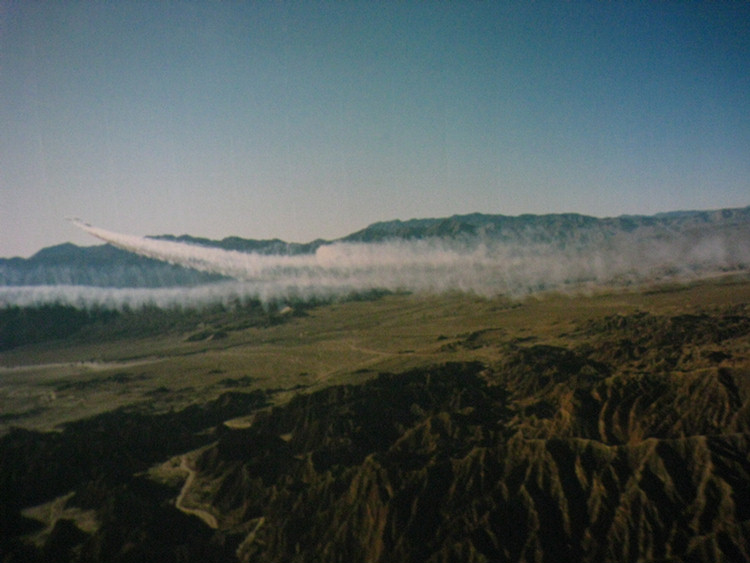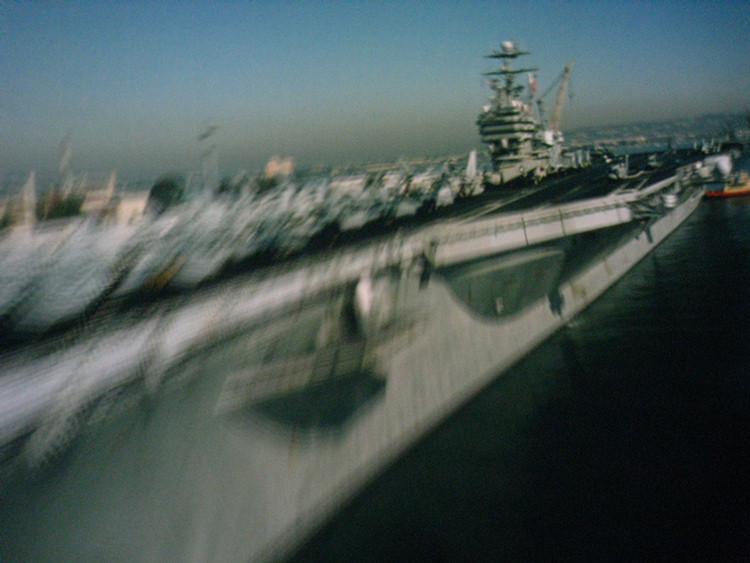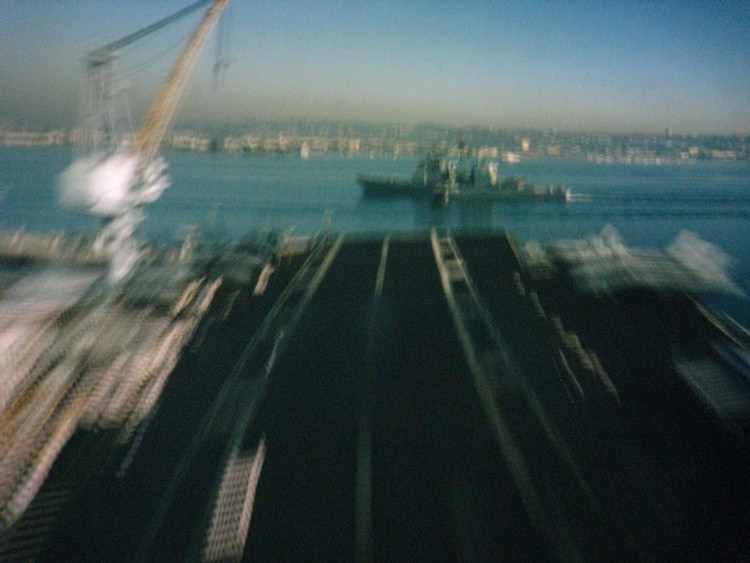 Did you know? - To enhance the illusion of flight, subtle vertical movements of the seats are synchronized to the film. According to cast members who operate this attraction, the carriages do not move horizontally. Sensations of horizontal motion are created using a combination of vertical carriage movement and then turning image on the screen. In addition, scents complementing the various scenes are injected into the air streams blowing on riders. In the Ventura orange field scene, for example, guests are treated to the scent of orange blossoms. The mountain scenes are accompanied by the aroma of evergreens. The Monterey and Malibu scenes have the scent of a sea breeze while the La Quinta and Anza-Borrego scene features the fragrance of sagebrush.
Time To Walk And See The Construction All Over California Adventure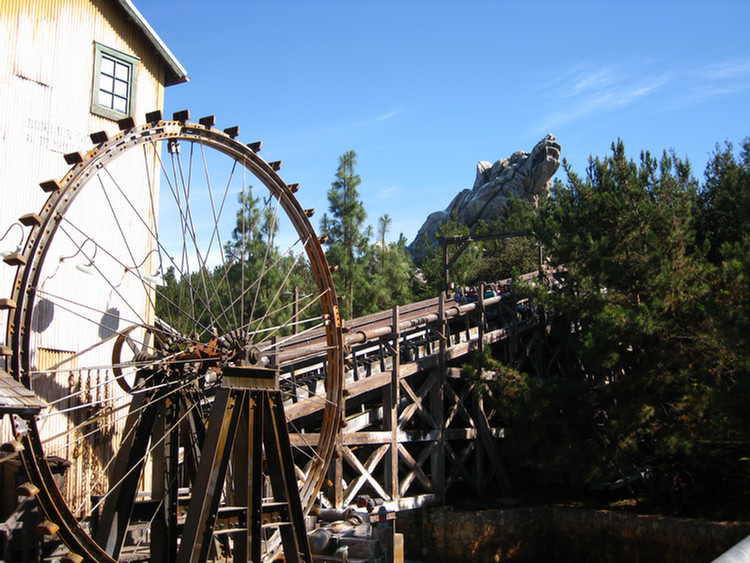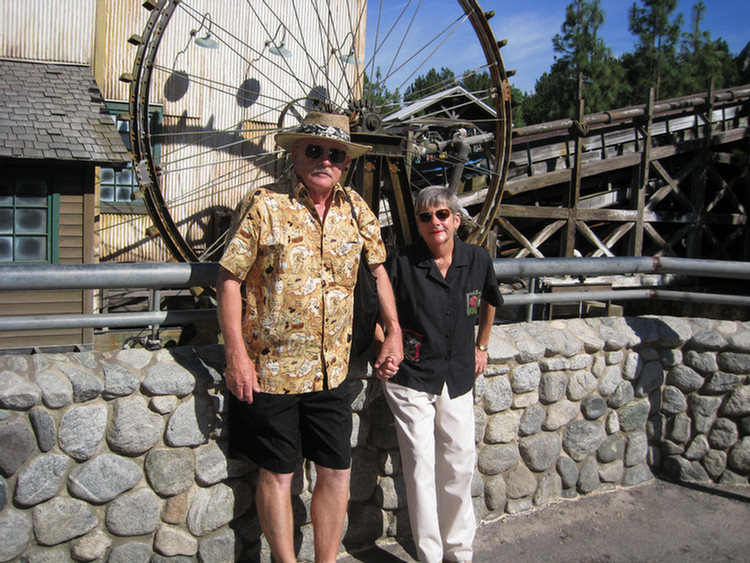 The lake is partially filled and World Of Color is under construction
Did you know? - Disney's World of Color is a new night time show scheduled to premiere in March 2010 at Disney's California Adventure, part of the Disneyland Resort in Anaheim, California. Designed by Walt Disney Creative Entertainment, this show is planned to have 1200 fountain nozzles with 1200 individually controlled underwater LEDs, one for each nozzle, and is scheduled to include lasers, lights, with a water spray backdrop screen similar to the ones used in Fantasmic! at Disneyland and Disney's Hollywood Studios at Walt Disney World in Lake Buena Vista, Florida. Amy Grant will be the signature voice for the show. With the exception of New Years events, this will be the first show on Paradise Pier Lagoon since LuminAria in 2001.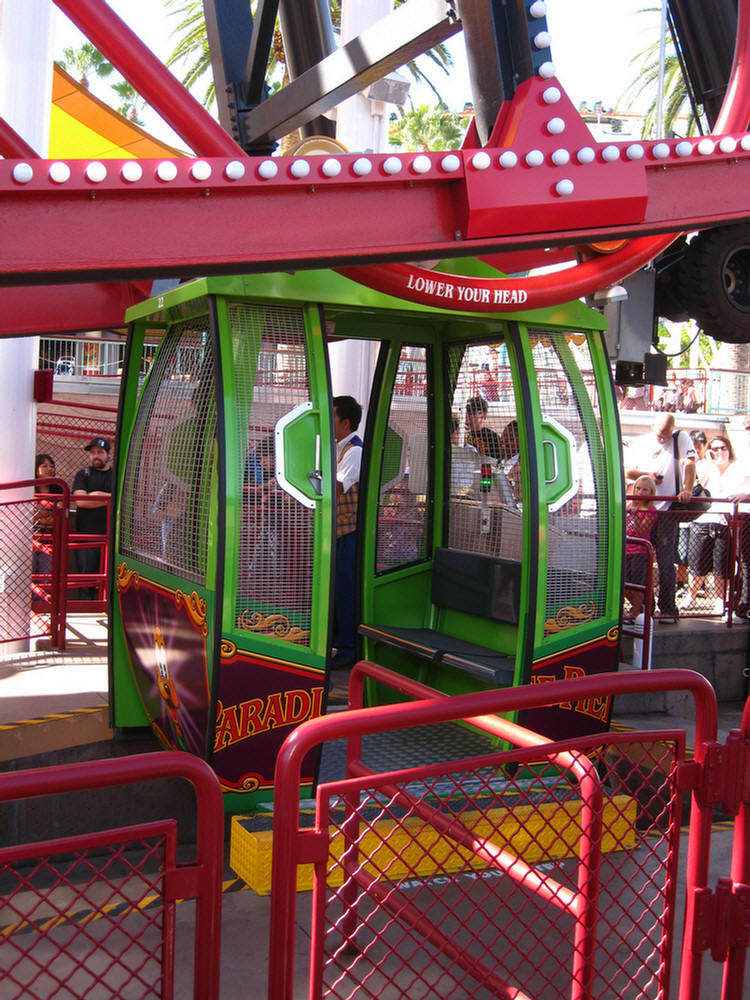 Best place to see all the construction is from the Ferris wheel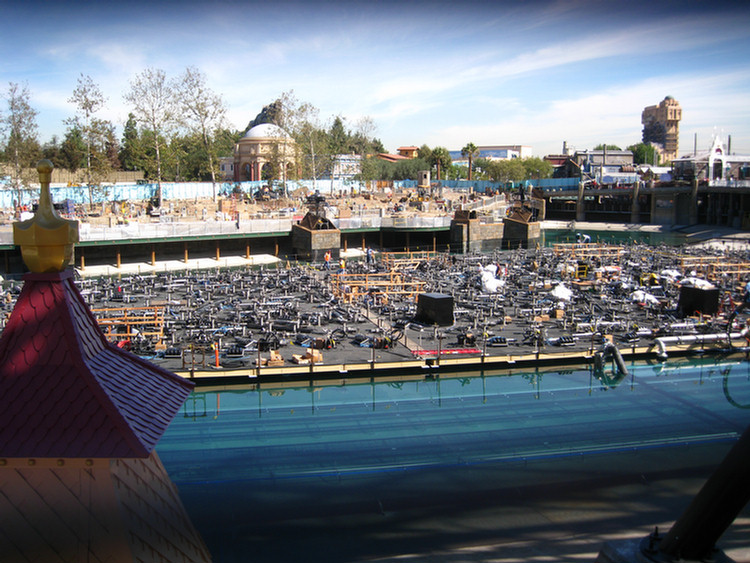 Did you know? - "World of Color" will combine hundreds of magnificent fountains, dazzling colors and an all-new kaleidoscope of audio and visual effects to take water-infused entertainment to a new level of artistry. The production will flood the senses, taking audiences on an imaginative journey into the colorful worlds of animated Disney classics such as "Alice in Wonderland," "The Lion King" and "Pocahontas," along with Disney•Pixar films "Toy Story," "WALL-E" and many more.
Some of the technical magic behind 'World of Color' includes
Nearly one full acre of engineered superstructure, longer than a football field and capable of

settling on three levels – one for the performance, one under the water surface and one for maintenance

More than 1,200 powerful and programmable fountains
A vast underwater grid with more than 18,000 points of control. Each fountain has multiple points of control for lighting, color intensity, water angle, height and more.
Fountain heights that range from 30 feet to 200 feet in the air (by way of comparison, Mickey's Fun Wheel reaches a height of 150 feet, some of it below the edge of the lagoon)
A precise system of flame projections, lasers, and special effects that will flood the senses as guests experience the animation
Scenic elements that rise more than 80 feet above the lagoon
The world's largest projected water screen – a wall of water 380 feet wide by 50 feet high for a projection surface of 19,000 square feet
Nearly 30 high-definition projectors

The theater is gone... This will be an Aerial ride by 2012
Did you know? - Disney's newest production features an unprecedented infrastructure of water effects, larger-than-life projections, lasers, fire, fog, surround sound and stunning images. This technical wizardry, combined with classic Disney film sequences, will create a breathtaking emotional experience for guests as jaw-dropping effects sweep across the lagoon, soar into the sky and rush toward the audience.
A newly designed 9,000-capacity viewing area will provide Disney's California Adventure guests the best view in the park of this exciting nighttime extravaganza. The show lasts approximately 25 minutes.

Plumbers nightmare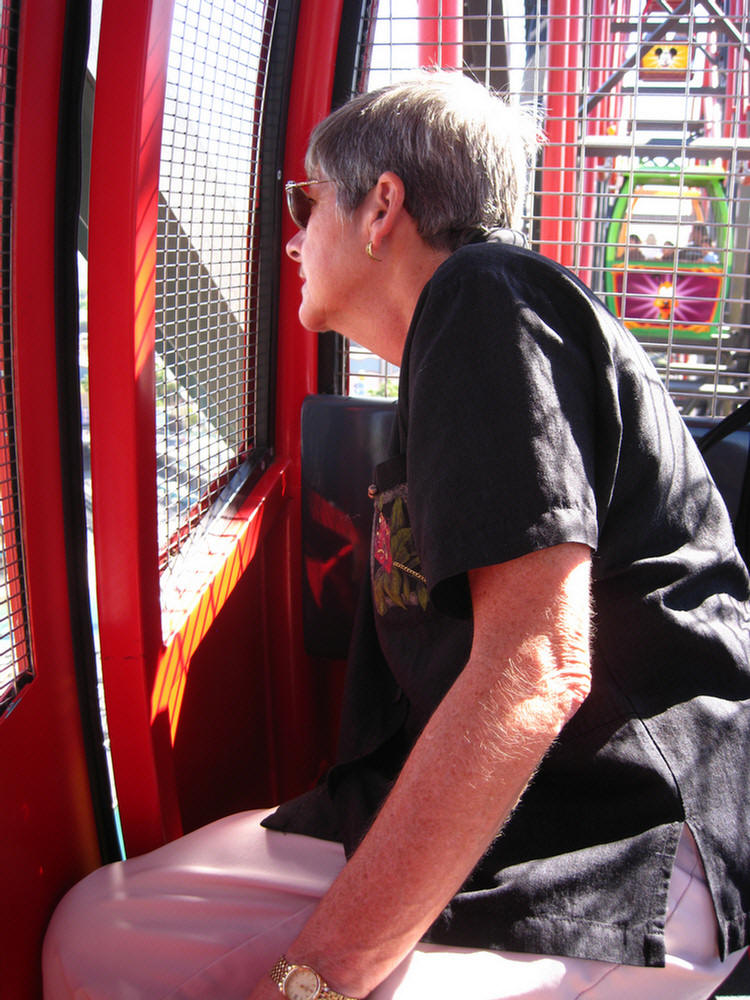 The supervisor is watching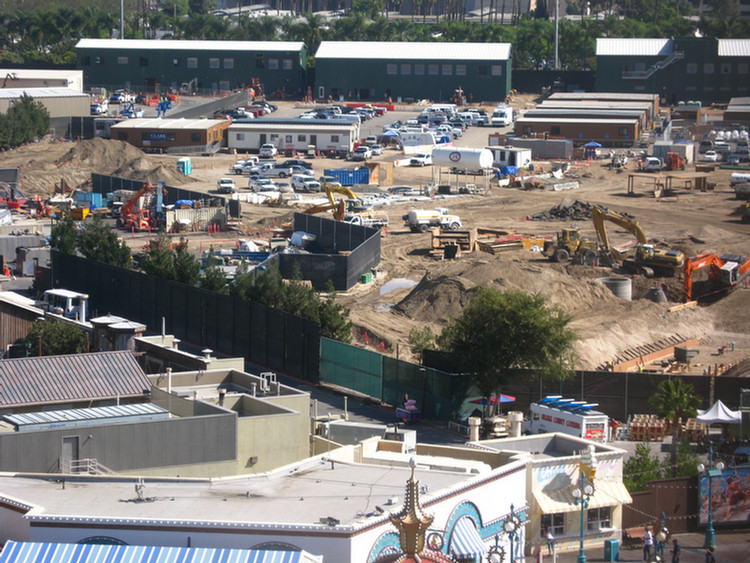 Disney is making this a great place to visit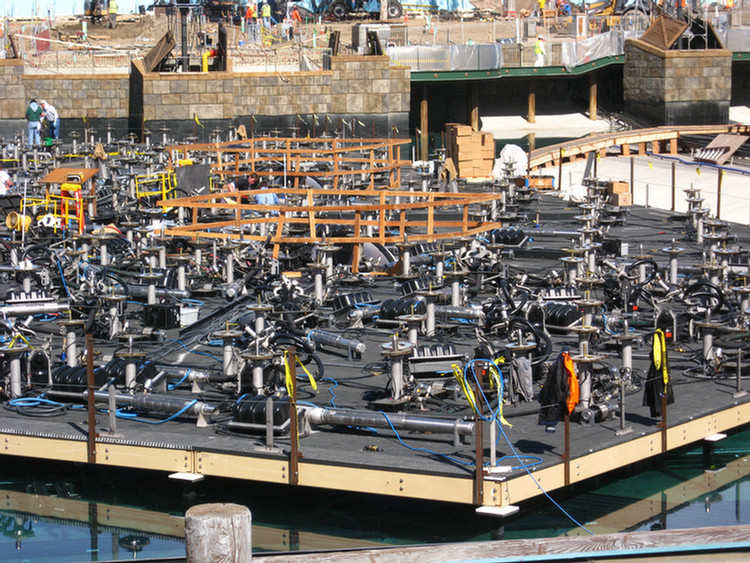 View from the ground... This will all be underwater when they are done!

All the pipes and lines are new
Onward We Go! March 1, 2, 3
Did you know? - Army men, or plastic soldiers, are simple toy soldiers that are about 5 cm (2 inches) tall and most commonly molded from green or tan plastic. Unlike the more expensive toy soldiers available in hobby shops, army men are sold at low prices in discount stores, supermarkets, and dollar stores. Also unlike many toy soldiers, army men are almost always dressed in modern military uniforms and armed with 20th Century weapons.

Paul played with these as a kid!

The projectors come out when needed via the large doors
It Is Getting More Vegetarian Friendly.... Check The Menu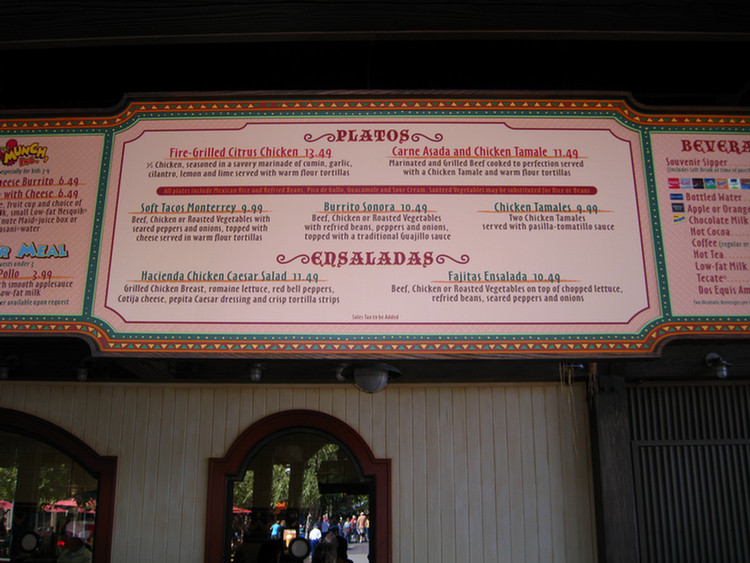 The Fortune Cookie moved into the old Mexican location; And visa-versa
Celebrate With Champagne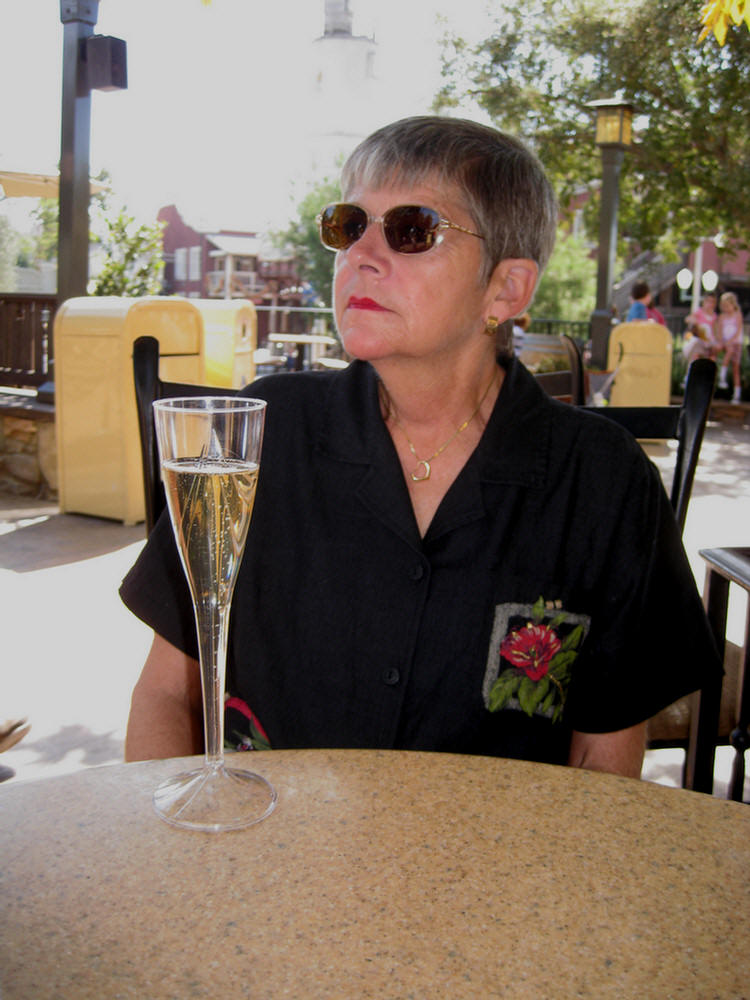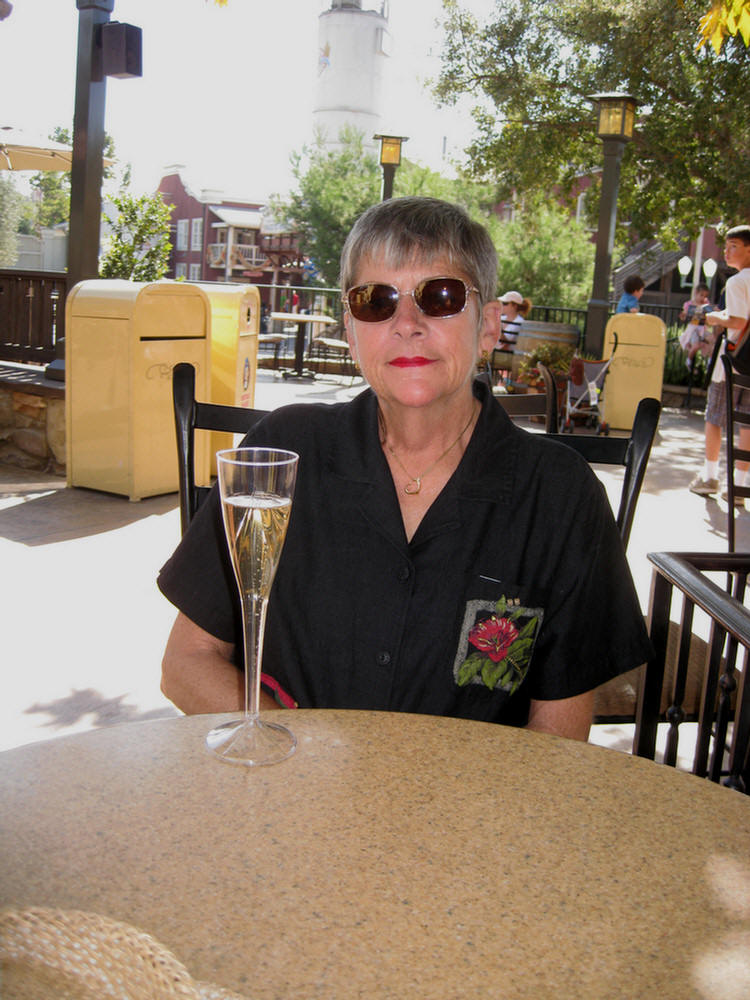 Bottoms up!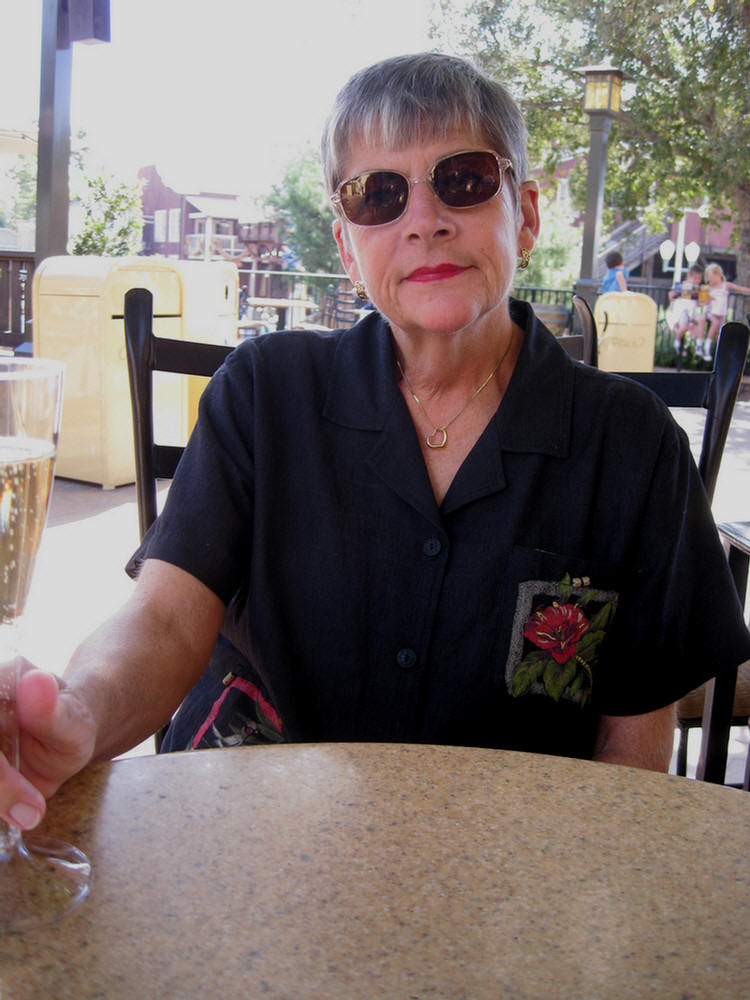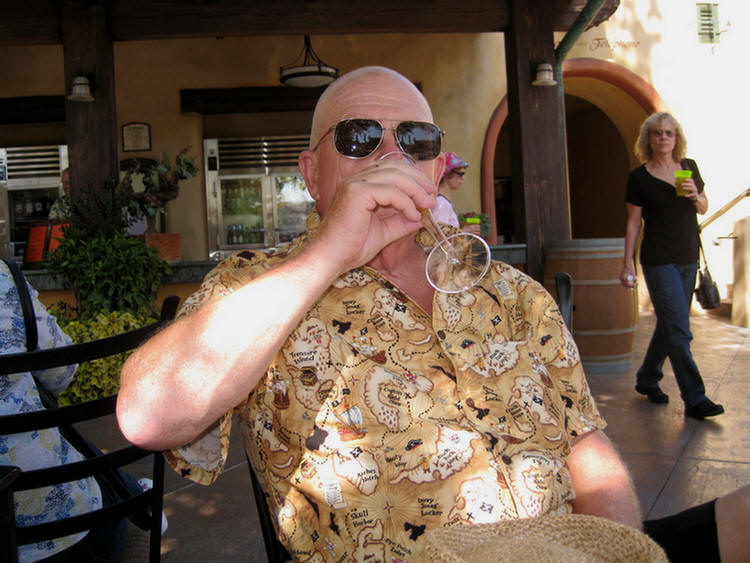 Slurrrrp!
Let's See What Else Is Up!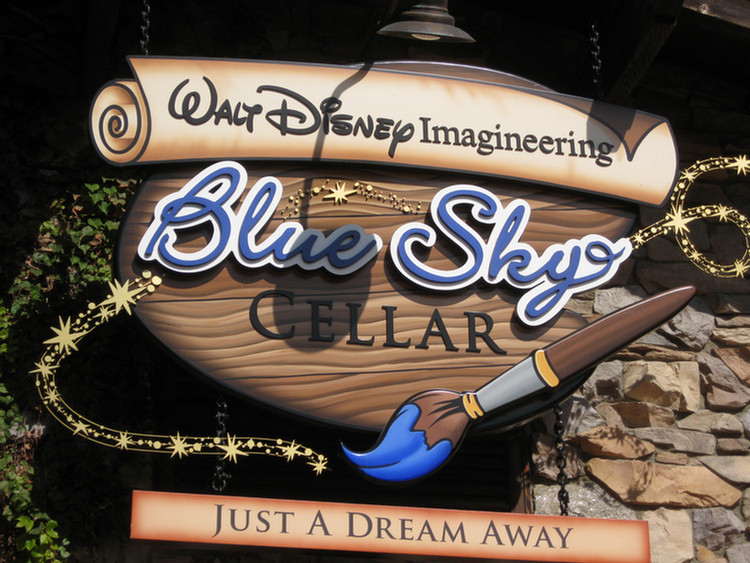 Did you know? - October 16th, Blue Sky Cellar opened its doors to Annual Passholders and Cast Members in Disney's California Adventure, taking the place of the old Seasons of the Vine attraction. It is, in essence, a preview center for the new changes planned for the park.

Disneyland will never be finished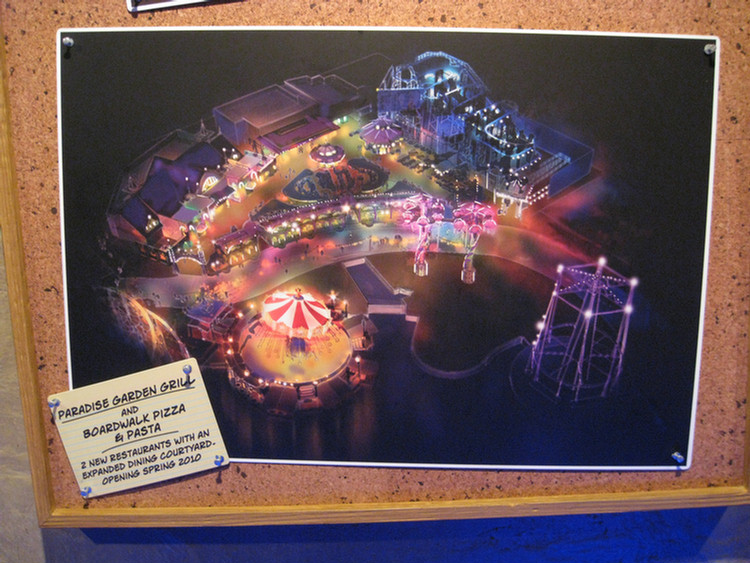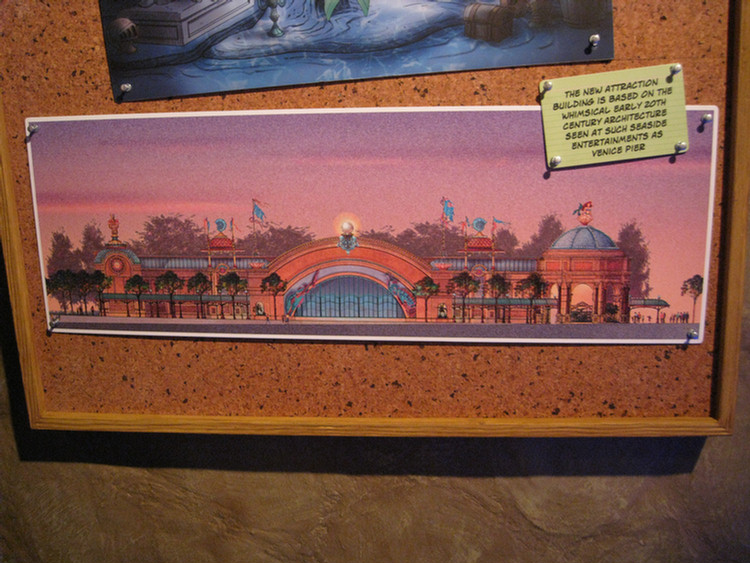 The back half of the room is arranged with a video screen that shows a short film on all the projects displayed in the room, with an enthusiastic John Lasseter describing some of the new attractions. There isn't much seating - about the size of 3 large couches, so it's a good thing the film is as brief as it is, to allow for frequent audience turnover.

Paul remembers the red cars

Disney does everything right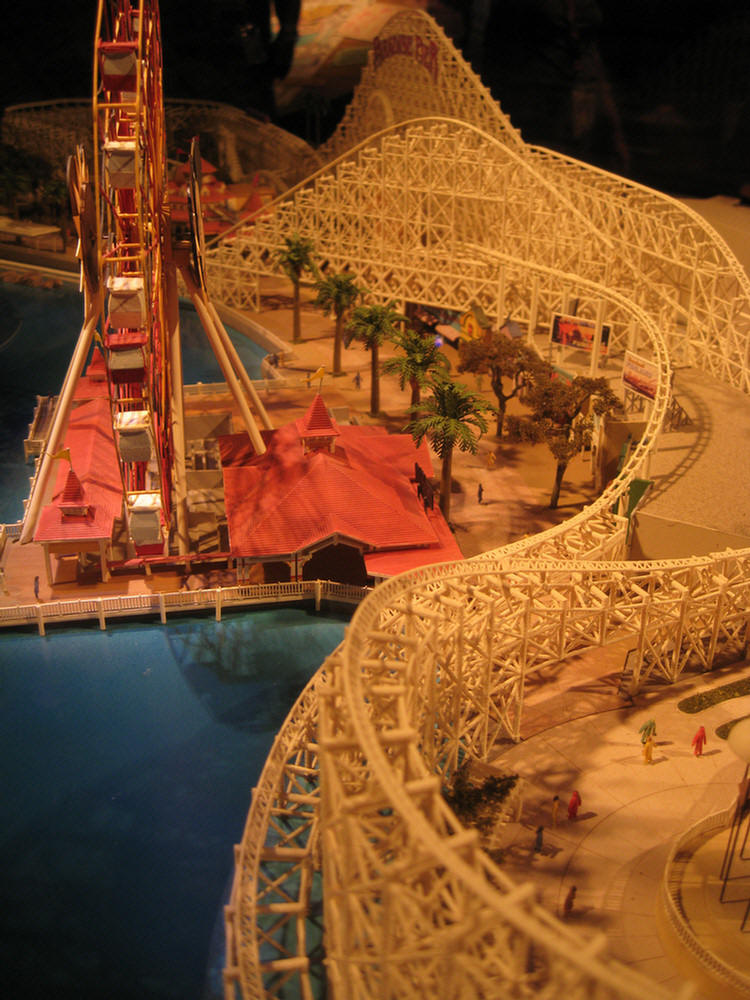 In the middle of the room are various display cases with maquettes of the current Toy Story Midway Mania ride vehicles showing the wheelchair accessibility available, and also of the entire Paradise Pier area, as they envision it when finished.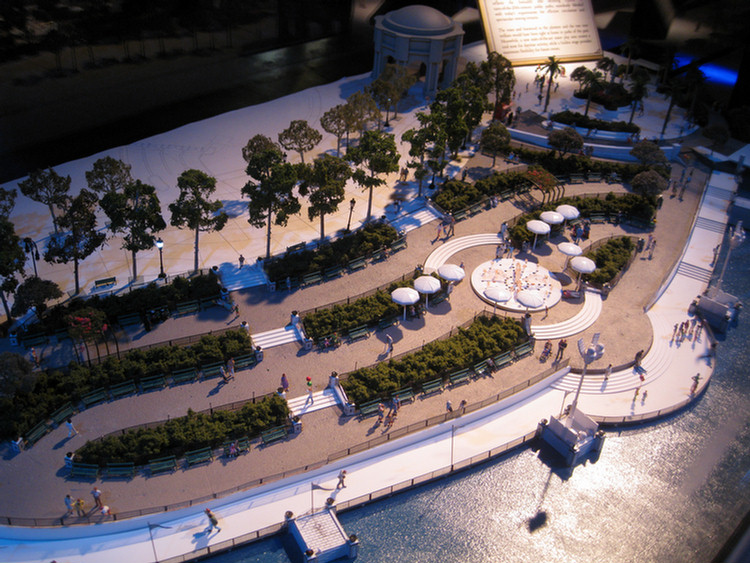 The new viewing area for the water show
Candy Corn Time On Our Way To Disneyland Proper
Did you know? - Candy corn is a confection popular in the United States, particularly around Halloween. Created in the 1880s by George Renninger of the Wunderle Candy Company, the three colors of the candy are meant to mimic corn. Each piece is approximately the size of a whole kernel of corn, as if it fell off a ripe or dried ear of corn. The candy is usually tri-colored with a yellow base, orange center, and white tip, although the color combinations may vary. The yellow, broader part is the top, while the white point is the bottom. The most common alternative color scheme, called "Indian corn", is white, orange, and brown, and is sometimes associated with the Thanksgiving holiday

The National Confectioners Association estimate 20 million pounds of candy corn are sold each year.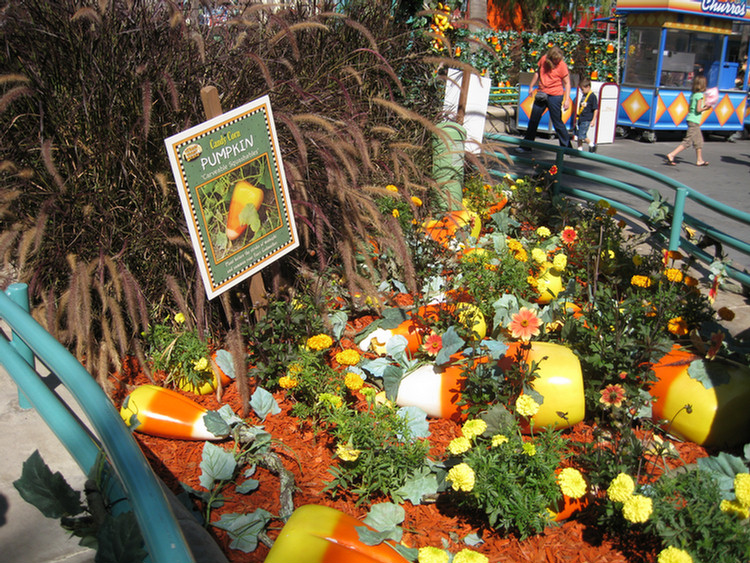 Did you know? - According to Brach's Confections, Inc., the top branded retailer of candy corn, each year Americans eat enough Brach's candy corn that if the kernels were laid end to end, they would circle the Earth 4.5 times.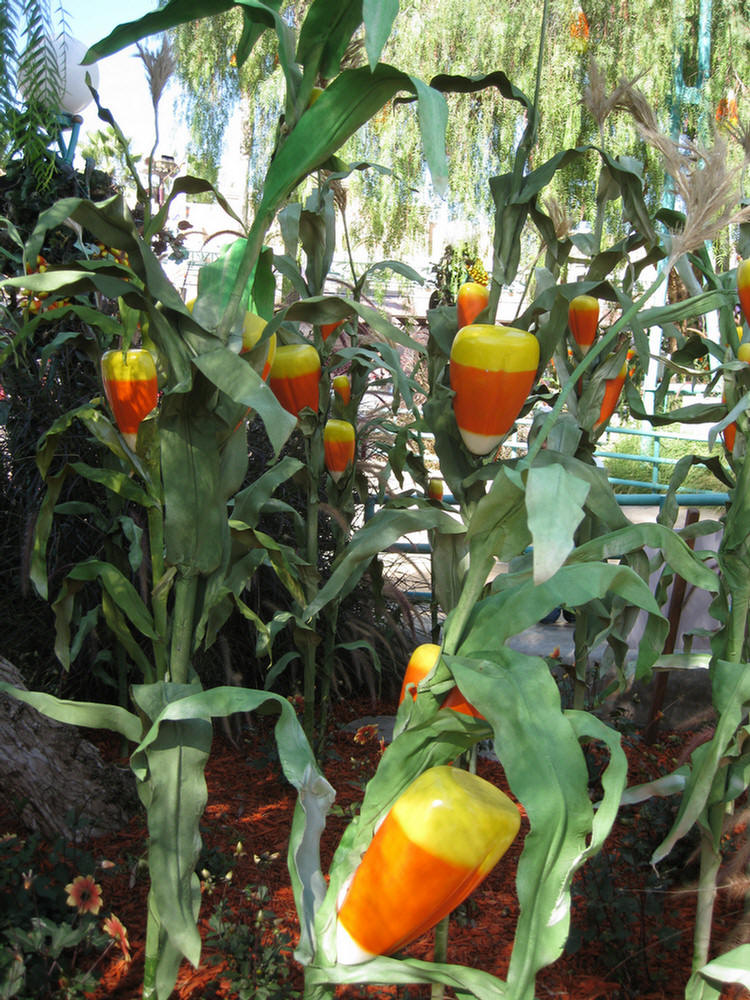 Did you know? - As the signature candy for Halloween, candy corn has been making its way into trick-or-treat bags for over 100 years. When the Wunderlee Candy Company created this tri-colored sugar snack, they never anticipated the public's frantic response to try this new treat. A few sugar-rushed years later, the recipe was sold to Jelly Belly Candy Company who started mass producing candy corn as we know it today. Whether you're a sugar addict year round, or just enjoy decorating your Halloween baked goodies with this traditional candy, here are ten things you didn't know about Halloween candy corn:
1. Candy corn first was once only available from March to November. Candy corn was first made by hand, and then special machinery and tools were required. This made it difficult to find candy corn each year, especially during the summer months-unless you had a secret stash.
2. There's real corn in there! Okay, more of an extract than actual kernels. Candy corn is made with a very precise method using a corn starch molding process; it's the same process used to make licorice and gumdrops. You'll find corn syrup and plenty of sugar in these addictive confections.
3. More than 35 million pounds of candy corn are made each year. This equates to over 9 billion candy corn kernels scattering the globe by Halloween.
4. Candy corn contains less sugar than raisins. Health-conscious parents need not worry too much about candy corn consumption during Halloween, with just 3.6 calories per kernel. Still, it's pure sugar that is sure to generate a sugar buzz faster than most chocolates and candies.
5. Reindeer corn is made from the same recipe. Corn, that is, not actual reindeer; red, green, and white variations are available during Christmas season.
6. Candy corn is made with just eight ingredients: sugar, corn syrup, confectioner's glaze, natural/artificial flavorings (and colors), salt, egg whites, honey glycerin, mineral oil, and carnauba wax.
7. October 30th is National Candy Corn day, and not Halloween as most people assume.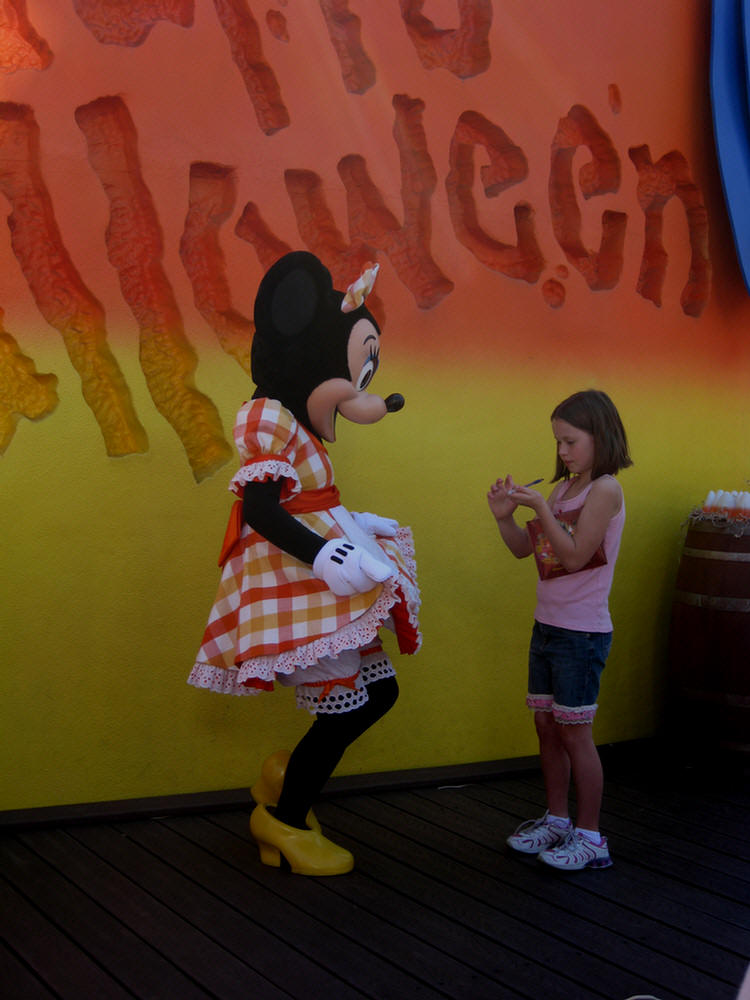 Cactus corn???