Empire State Bilding On Fire... Not Really!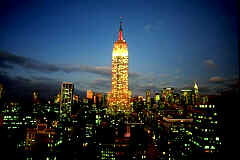 Growing up in New Jersey, I had a clear view of the Empire State Building from my house. I can remember thinking the building was on fire because in the late afternoon when the sun was setting, the reflections in the windows would shine in our home!
It would kind of look like the building at night except it was day time... and shimmering "fire" would run up and down the building! Oh those memories....
Sometimes we can see similar sitations when we are in Palos Verdes as the sun goes down and look to the east and see the homes and businesses along the shore line as far as 20 miles away.