Walking on Air
The Grand Canyon Skywalk is a tourist attraction along the Colorado River on the edge of the Grand Canyon (Grand Canyon West) in the U.S. state of Arizona.

Commissioned by the Hualapai Indian tribe, it was unveiled March 20, 2007, and opened to the general public on March 28, 2007. It is accessed via the Grand Canyon West terminal or a 120 miles (190 km) drive from Las Vegas, which includes an unpaved and bumpy 18 miles (29 km) stretch. A walk on the skywalk is available for a $29.95 admission fee plus tax, which is paid to the Hualapai Indian tribe at the Skywalk itself. That is in addition to the short 7- to 10-minute coach ride for which the Hualapai Tribe charges $29.95 ($59.90 per person, $20 to park a car, plus tax).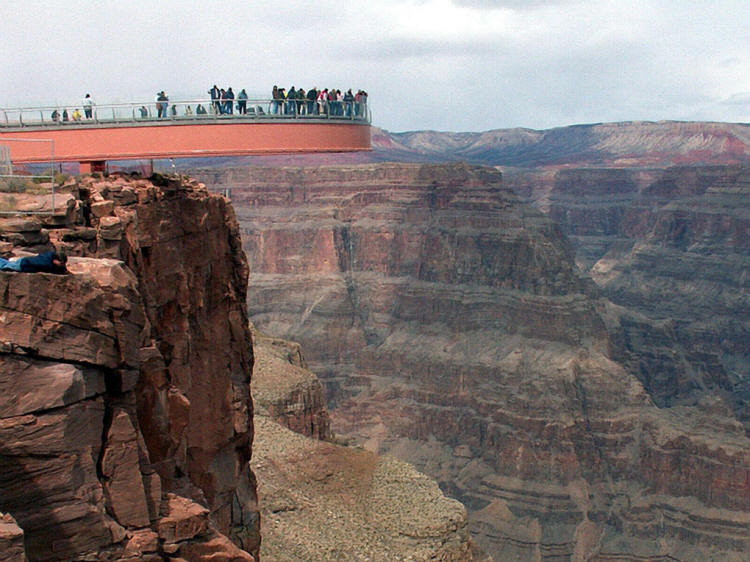 The horseshoe-shaped glass walkway, at a 1,200-meter (4,000-feet) height above the floor of the canyon exceeds those of the world's largest skyscrapers. The Skywalk is not directly above the main canyon, Granite Gorge, which contains the Colorado River. Instead it extends over a side canyon and affords a view into the main canyon. USGS topographic maps show the elevation at the Skywalk's location as 1,454 m (4,770 ft) and the elevation of the Colorado River in the base of the canyon as 354 m (1,161 ft).

New Grand Canyon Sky walk
Opened Jan. 1, 2006 Hualapai Indian Reservation

Juts about 70 feet into the canyon, 4000 ft above the Colorado River

Will accommodate 120 people comfortably

Built with more than a million pounds of steel beams, and includes dampeners that minimize the structure's vibration.


Designed to hold 72 million pounds, withstand an 8.0 magnitude earthquake 50 miles away, and withstand winds in excess of 100 mph

The walkway has a glass bottom and sides...four inches thick