Boo! Dancing At The Elks On Halloween 2009 (Page One)
Forget love — I'd rather fall in chocolate! ~Attributed to Sandra J. Dykes


The Elks do it right! Thanks for a wonderful evening!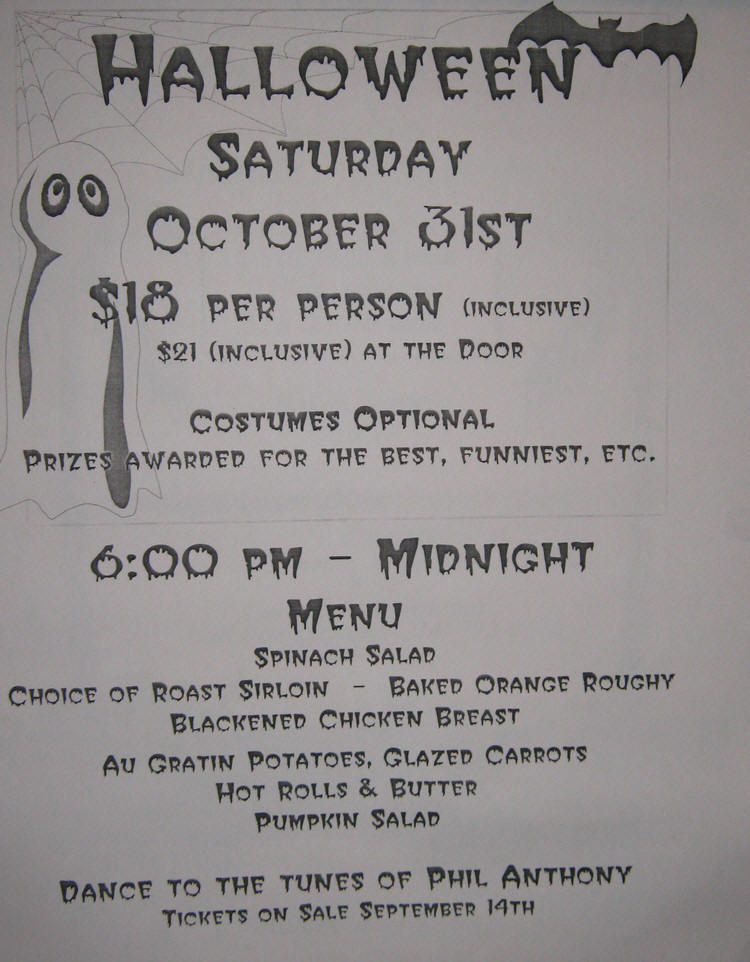 Costume Party Begins
A Quote To Remember - Halloween is huge in my house and we really get into the "spirits" of things. ~Dee Snider

Did you know? - A costume party (American English) or a fancy dress party (British English), mainly in contemporary Western culture, is a type of party where guests dress up in a costume. Costume Parties are especially popular in the United States around Halloween, when teenagers and adults who may be considered too old for trick-or-treating attend a costume party instead. Halloween costume parties are occasionally featured in popular movies.
Let The Party Begin!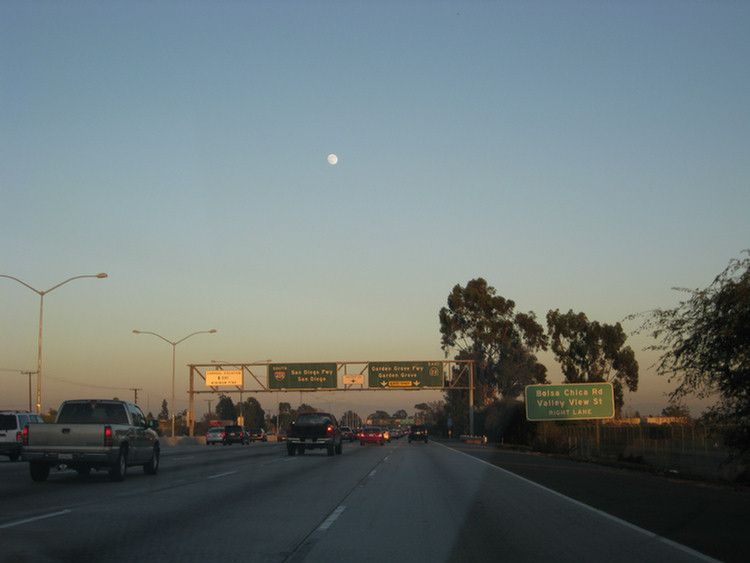 The moon was out in full bloom ready for the evening to begin
It's already scary... We are on a Los Angeles Freeway

The official Elk greeter

"On second thought.... Maybe I wait for Paul!"

This is the before picture ( See the after)
On The Patio The Staff Awaits The Onslaught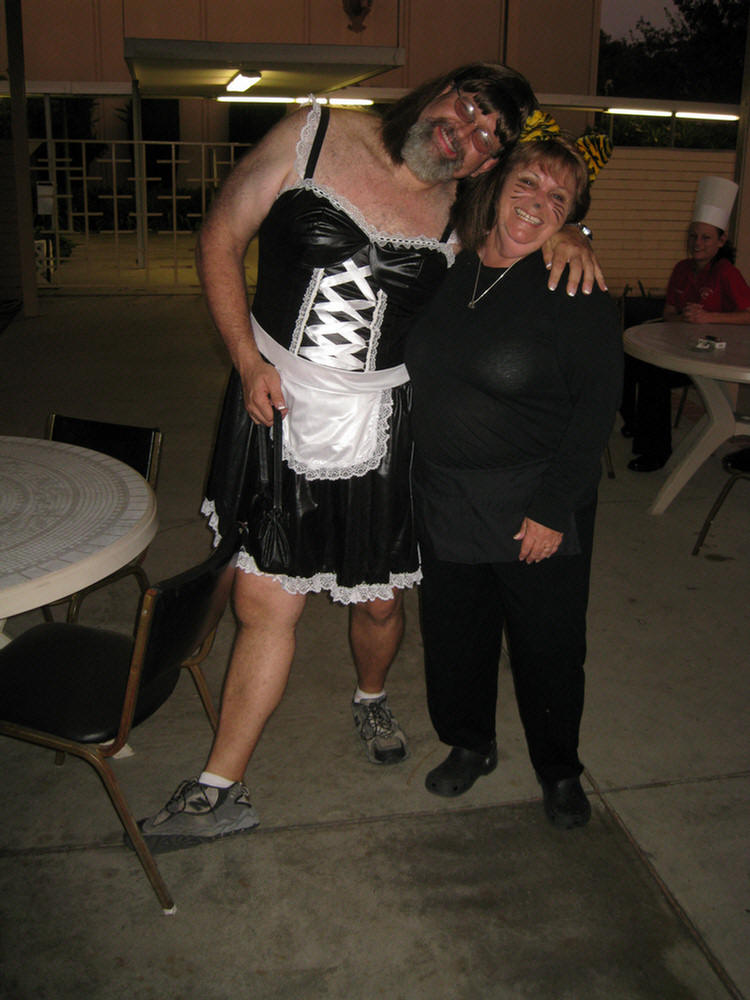 Did you know? - French maid refers to a strongly modified style of servant's dress that evolved from typical maids' black and white afternoon uniforms of the nineteenth century (and their later use by stereotypical characters in risqué burlesque dramas of the bedroom farce variety). The designs of the French maid dress can range widely from a conservative look to very revealing. It is now often associated with cosplay, roleplaying, and fetishism. Depending on design details, some forms can be classified as lingerie.

We just wanted to see Sharon's tail!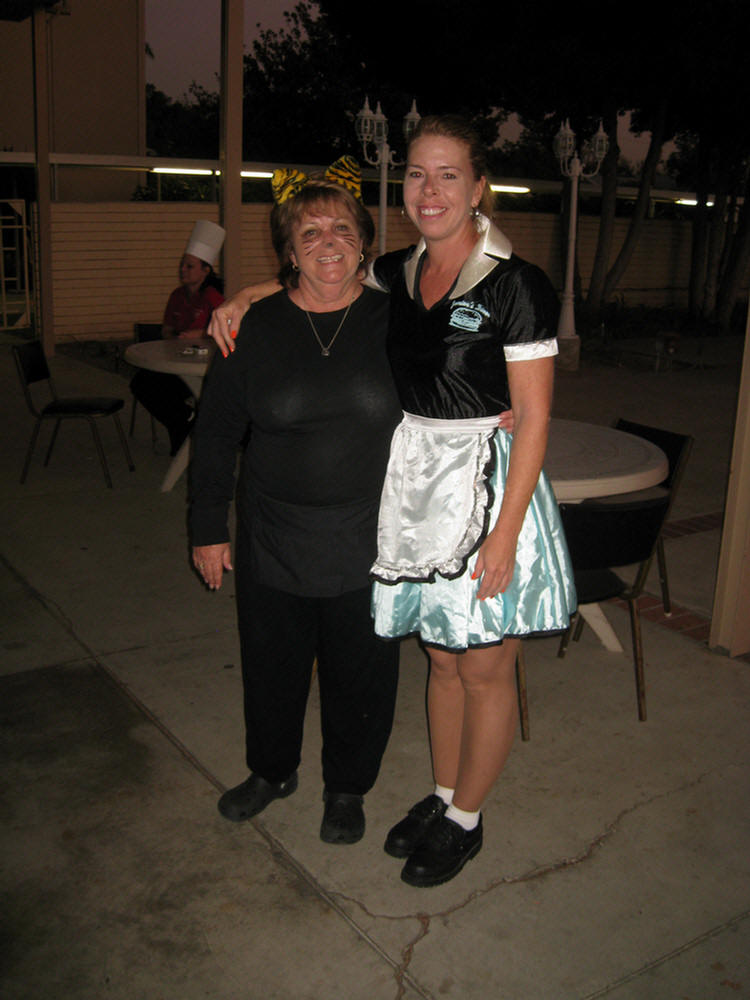 These folks work their tail off all night to make it nice for everyone... They are great!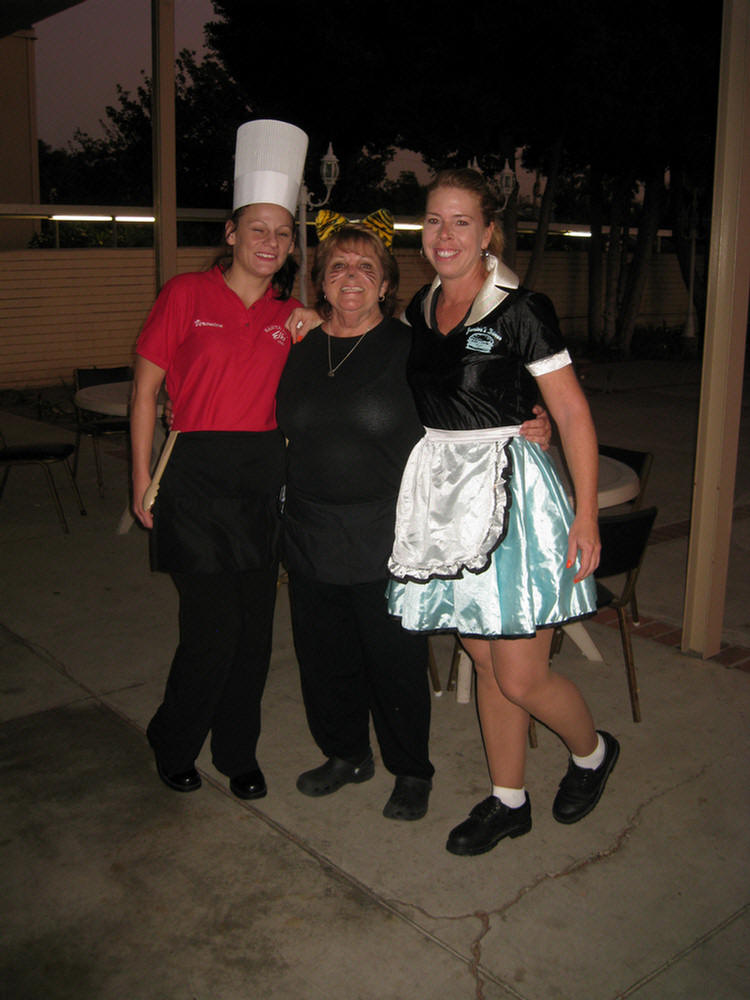 Meanwhile Inside The Haunted Lodge

Nita and Donna

There is always a clown
Did you know? - When a clown joins Clowns International in England, which claims to be the oldest clown society in the world, he can register his individual make-up. An eggshell is decorated as a miniature version of the clown's head and added to the "Egg Gallery" which then acts as sort of clown copyright.

Ready for the guests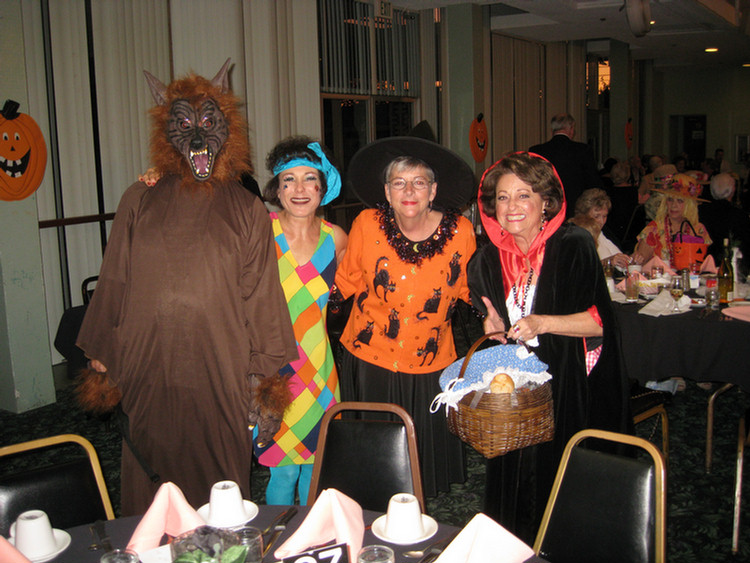 The Wolf (Bob Meehan), Donna, Sue and Red Riding Hood (Adrienne Meehan)
Did you know? - Little Red Riding Hood is a famous fairy tale about a young girl and a big bad wolf. The story has been changed considerably in its history and subject to numerous modern adaptations and readings. This story is number 337 in the Aarne-Thompson classification system for folktales.
Although no written forms of the tale predate Perrault, the origins of the Little Red Riding Hood story can be traced to oral versions from various European countries and more than likely preceding the 17th century, of which several exist, some significantly different from the currently-known, Grimms-inspired version. It was told by French peasants in the 14th century as well as in Italy, where a number of versions exist, including La finta nonna (The False Grandmother). It has also been called as "The Story of Grandmother". It is also possible that this early tale has roots in very similar Oriental tales (e.g. "Grandaunt Tiger").

Bob growled all night
Did you know? - Growling or growl is a low, guttural vocalization produced by predatory animals as a warning to others, as a sign of aggression, or to express anger. Low or dull rumbling noises may also be emitted by human beings when discontent with something. The human sound is often termed "groaning".
Grrr (pronounced Grrrrrrr) is an onomatopoeic word which imitates the growling sound of predatory animals, and is often used with other related meanings. It is one of the rare pronounceable words of the English language that consists solely of consonants. Its most simple use is by children imitating animals.

"What's in your basket little Miss Hood??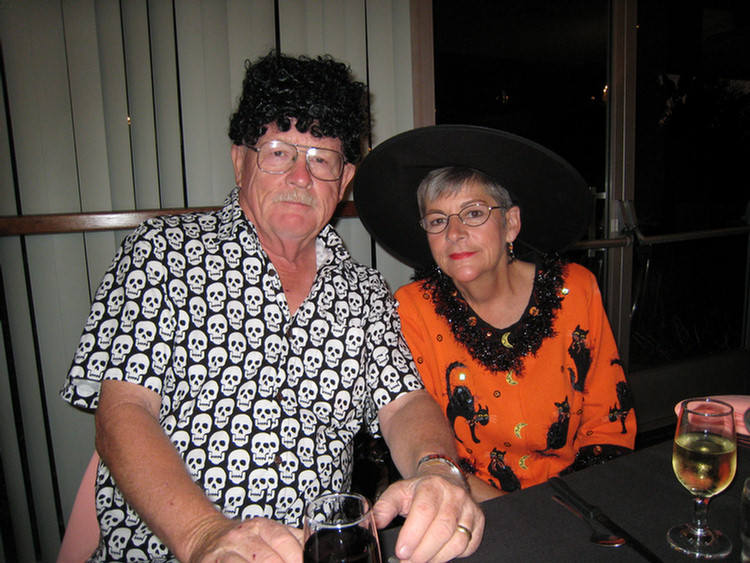 We is decorated for Halloween

Matching outfits - Abby and Sue got the memo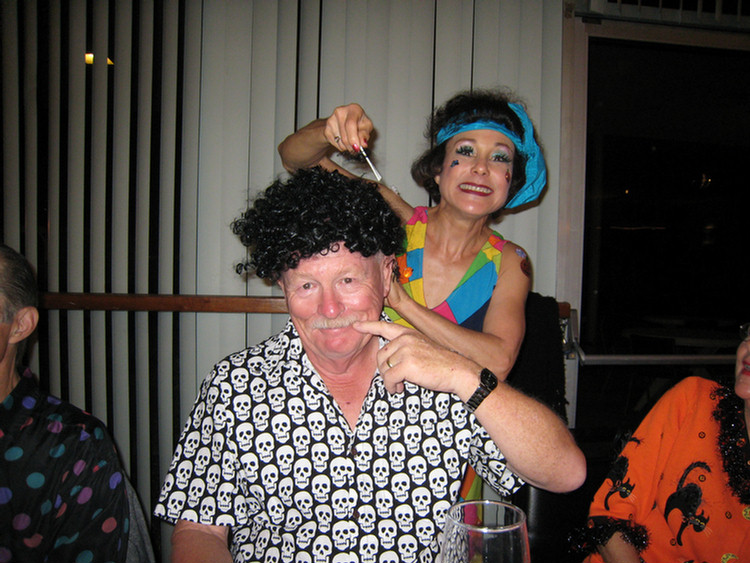 Paul needed a little adjustment

"The wig is really warm! And my bride is hot! I'm burning up here!"

Thank you Bob!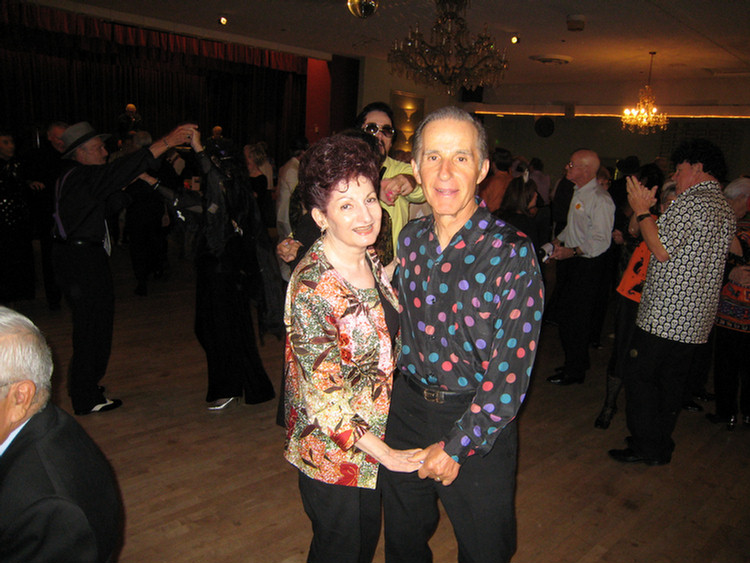 Marcia and Lee have their spot and they are sticking to it

Elvis and Gladys are tearing up the floor

Looking good!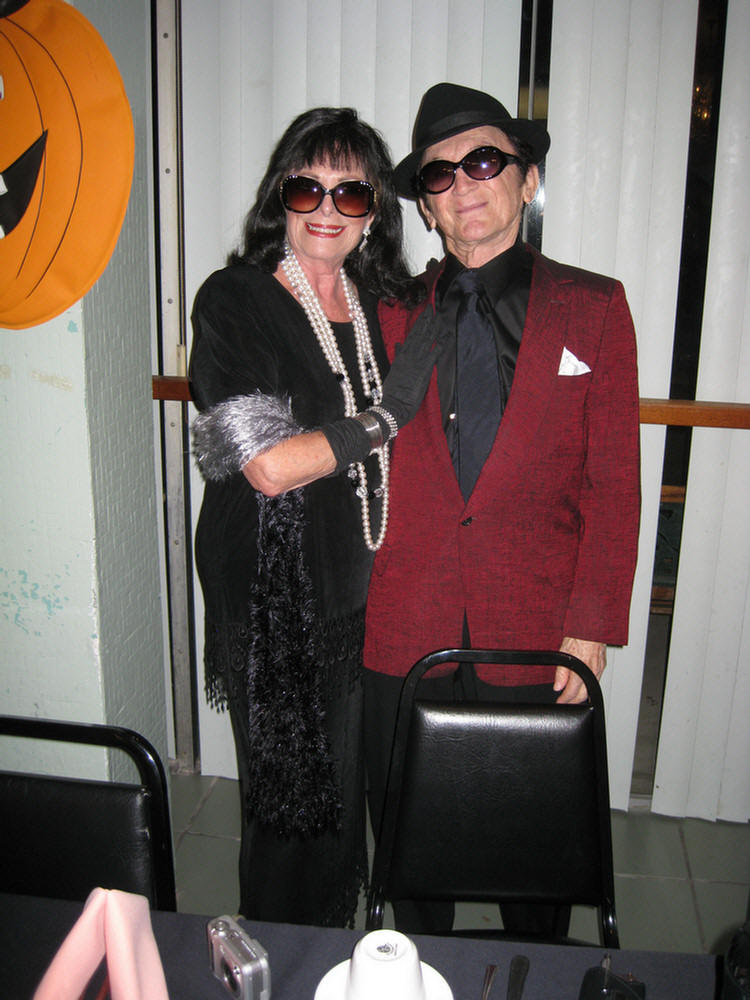 Hollywood and the hoods - Nita and Lee

Another evening of super music from Phil
Two Hundred Plus... Most In Costumes
Beware, It Is The Masked Man And His Sidekick

Del and Vicky arrive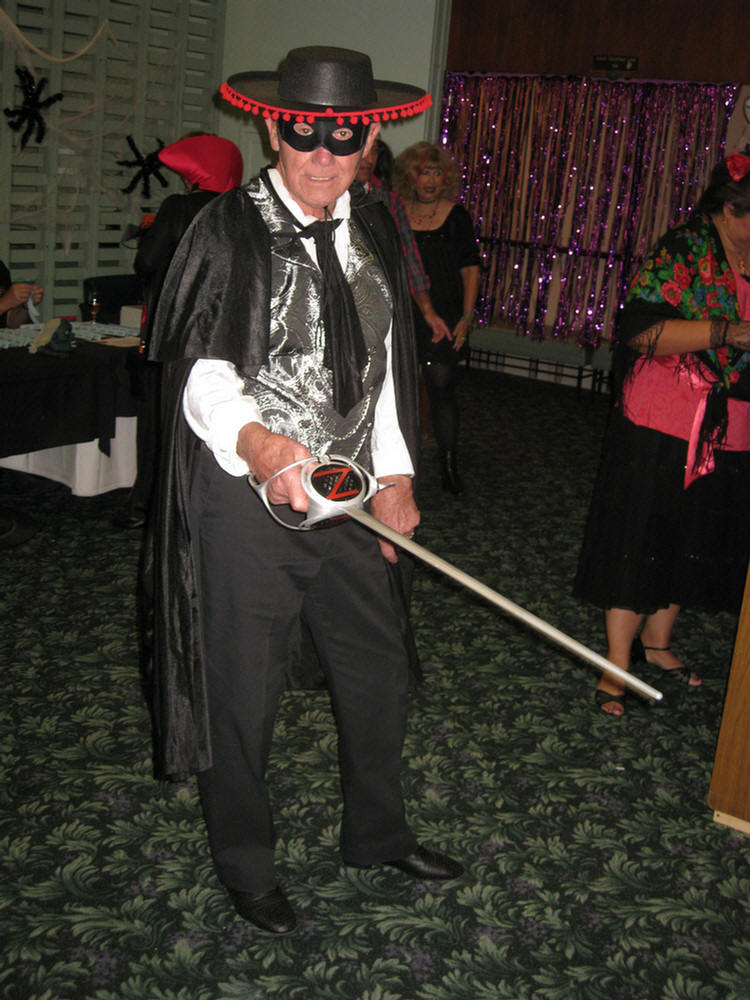 Careful with that thing Del!
Did you know? - Zorro (originally called Señor Zorro) is a fictional character created in 1919 by pulp writer Johnston McCulley. He has been featured in several books, films, television series, and other media.

Del was there in 1919!
Zorro (Spanish for fox) is the secret identity of Don Diego de la Vega (originally Don Diego Vega), a nobleman and master living in the Spanish colonial era of California.
The character has undergone changes through the years, but the typical image of him is a black-clad masked outlaw who defends the people of the land against tyrannical officials and other villains. Not only is he much too cunning and foxlike for the bumbling authorities to catch, but he delights in publicly humiliating those same foes.
The Curse of Capistrano is a 1919 novella by Johnston McCulley and the first work to feature the fictional character Zorro (zorro is the Spanish word for fox). After the enormous success of the 1920 film adaptation, The Mark of Zorro, the story was republished under that name.
Prior to being published in novella form, The Curse of Capistrano appeared as five serialized installments in the pulp magazine All-Story Weekly. The synopsis follows the story of Don Diego Vega/Zorro in the company of his deaf and mute servant Bernardo and his lover Lolita Pulido, as they rival the antagonist Sgt. Gonzales.

Paul gives new meaning to the word Hippie
Did you know? - Although the word hippie made isolated appearances during the early 1960s, the first clearly contemporary use of the term appeared in print on September 5, 1965, in the article, "A New Haven for Beatniks", by San Francisco journalist Michael Fallon.
In that article, Fallon wrote about the Blue Unicorn coffeehouse, using the term hippie to refer to the new generation of beatniks who had moved from North Beach into the Haight-Ashbury district. New York Times editor and usage writer Theodore M. Bernstein said the paper changed the spelling from hippy to hippie to avoid the ambiguous description of clothing as hippy fashions.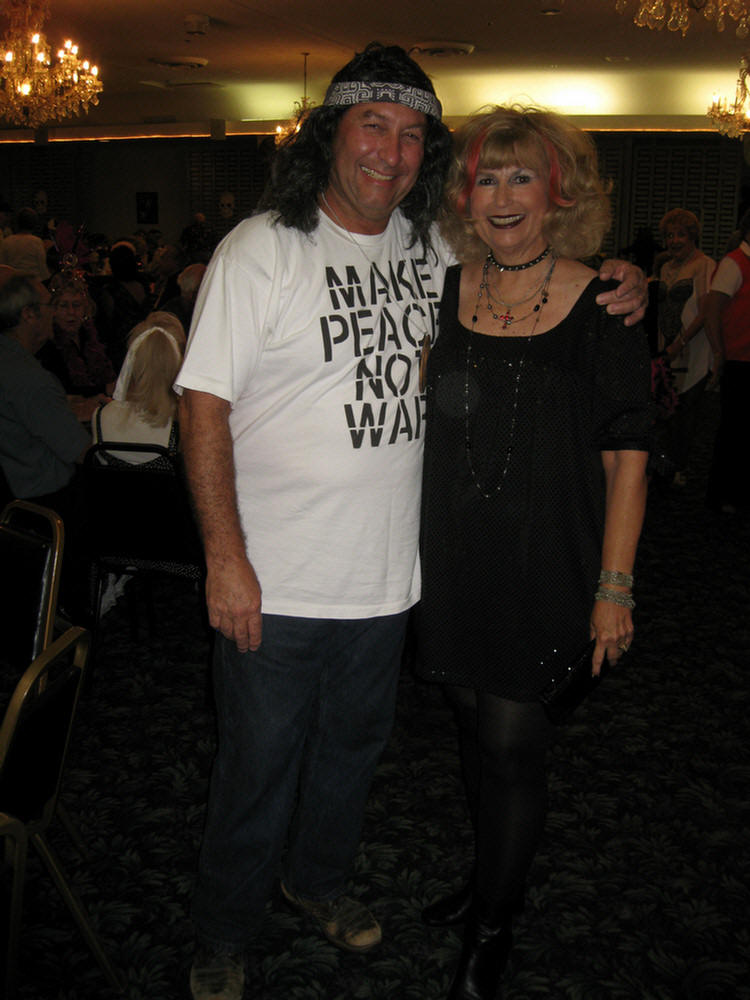 Paul and Jan Morin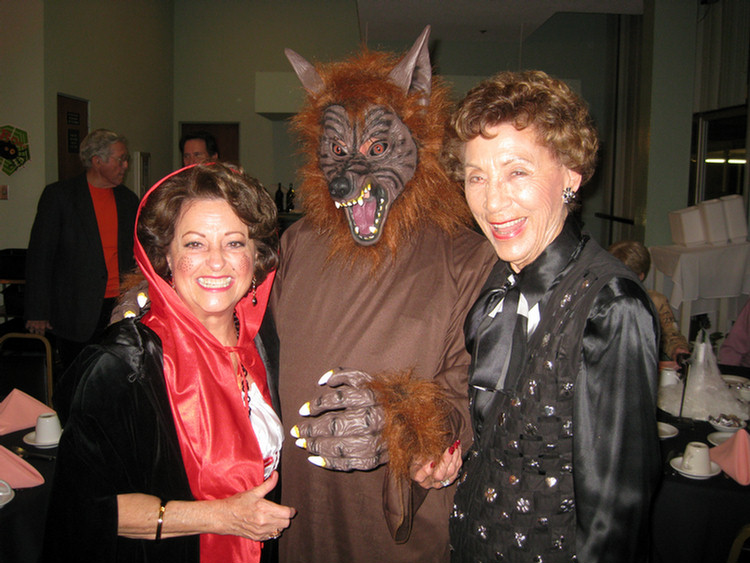 The wolf gets around
The Bathing Beauties Visit

Ou La La

Dang!

The End

"Bob! were you looking???" - "No Dear, my eyes were closed the entire time!"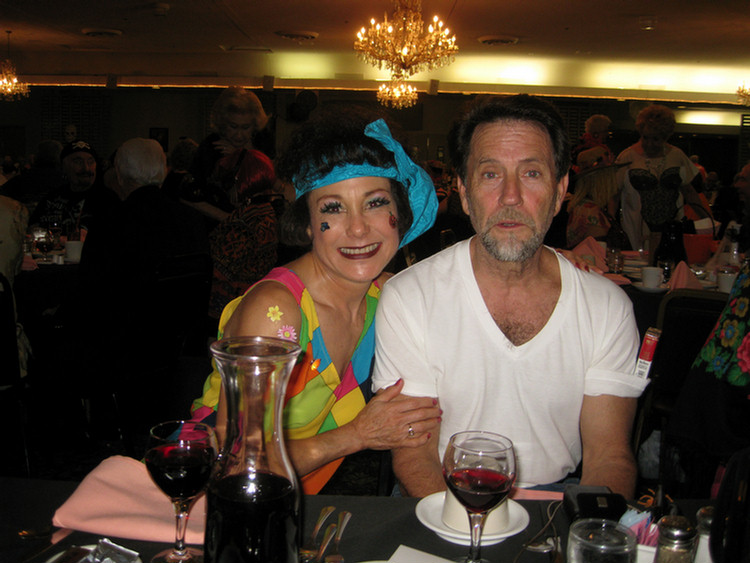 "He is well trained!"

"She didn't see me looking at the beauties did she??"
Zorro And The Seniorita Sit

He has buckled all the swash already!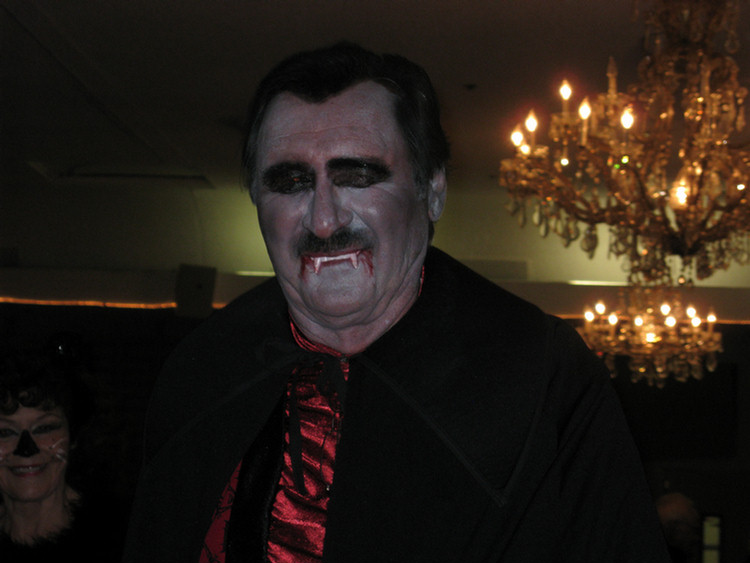 Darn jelly donuts
Did you know? - A Berliner Pfannkuchen (also called Berliner Ballen, Berliner, or Bismarck in Canada) is a predominantly German and Central European doughnut made from sweet yeast dough fried in fat or oil, with a marmalade or jam filling and usually icing, powdered sugar or conventional sugar on top. They are also sometimes available with a chocolate, champagne, custard, mocha, or advocaat filling, or with no filling at all. The filling is injected using a large syringe after cooking.
In the U.S., the jam-filled ones are often called jelly doughnuts, while the custard-filled variety usually also feature chocolate icing and are sometimes called Bavarian cream or Boston cream doughnuts (the latter name from its resemblance to Boston cream pie). The Boston cream doughnut has been designated the official state doughnut of Massachusetts.

Watch out Drack! You don't mess with The Donna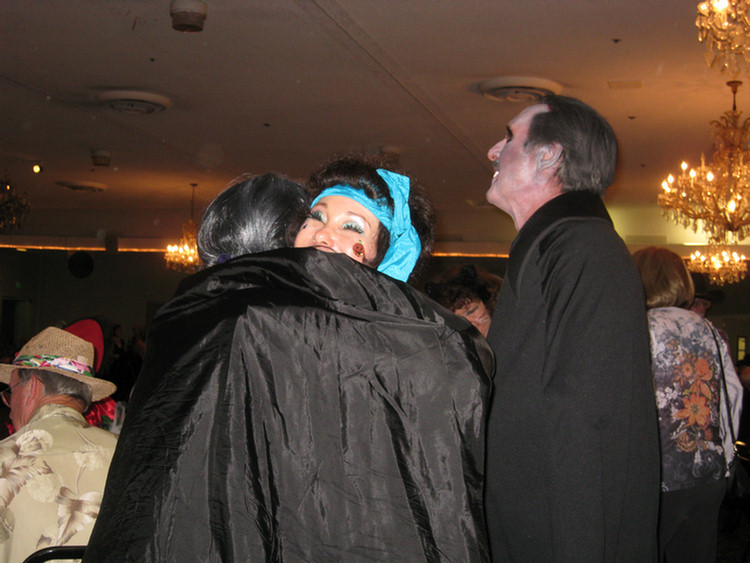 "Nice teeth; who is your dentist??"

He's back!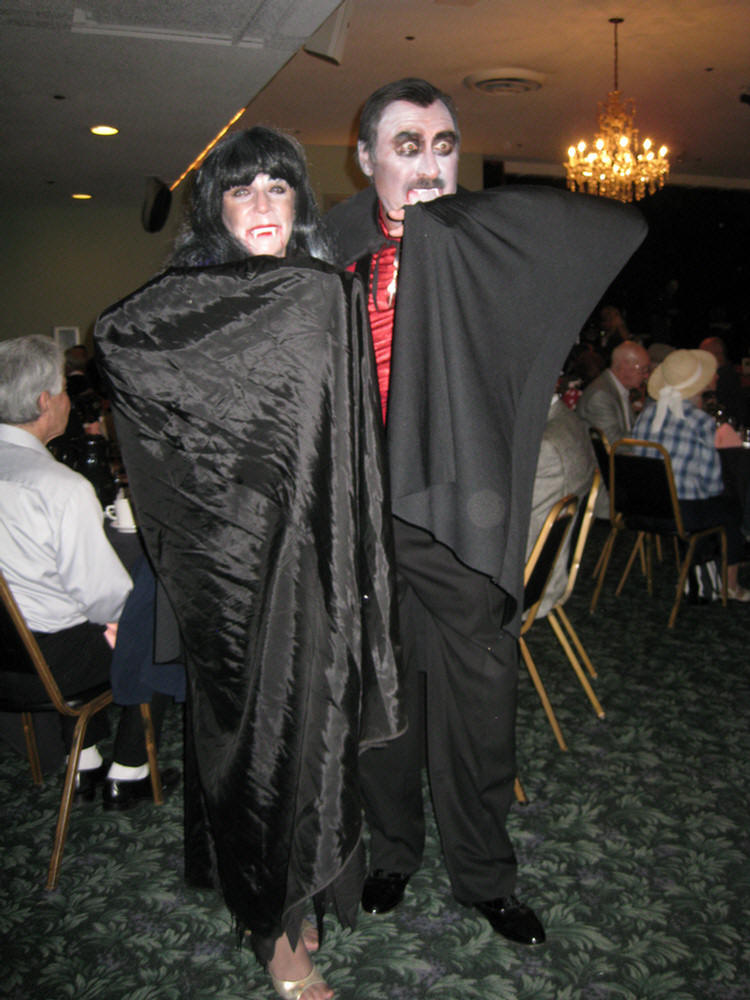 Did you know? - Count Dracula is a fictional character, the titular antagonist of Bram Stoker's 1897 Gothic horror novel Dracula. Some aspects of his character may have been inspired by the 15th century Romanian voivode, Vlad III the Impaler. Under Irish copyright law, the character became public domain in 1982 (seventy years after the death of the author) and subsequently appears frequently in popular culture.
Count Dracula (his first name is never given in the novel) is a centuries-old vampire, sorcerer and Transylvanian nobleman, who claims to be a Hungarian(Székely) descended from Attila the Hun. He inhabits a decaying castle in the Carpathian Mountains near the Borgo Pass. Contrary to the vampires of Eastern European folklore which are portrayed as repulsive, corpse-like creatures, Dracula exudes a veneer of aristocratic charm which masks his unfathomable evil.

Beware of the proctologist

The raffle items for this evening

Meet Dr. Ben Dover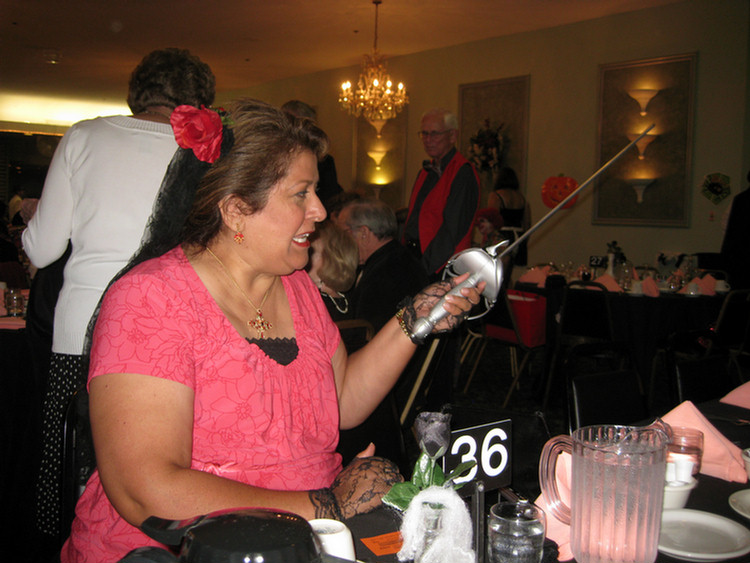 "Now listen here!"

We could not get a veggie item ordered but thanks to the real gentleman
A Gentleman Is In The Building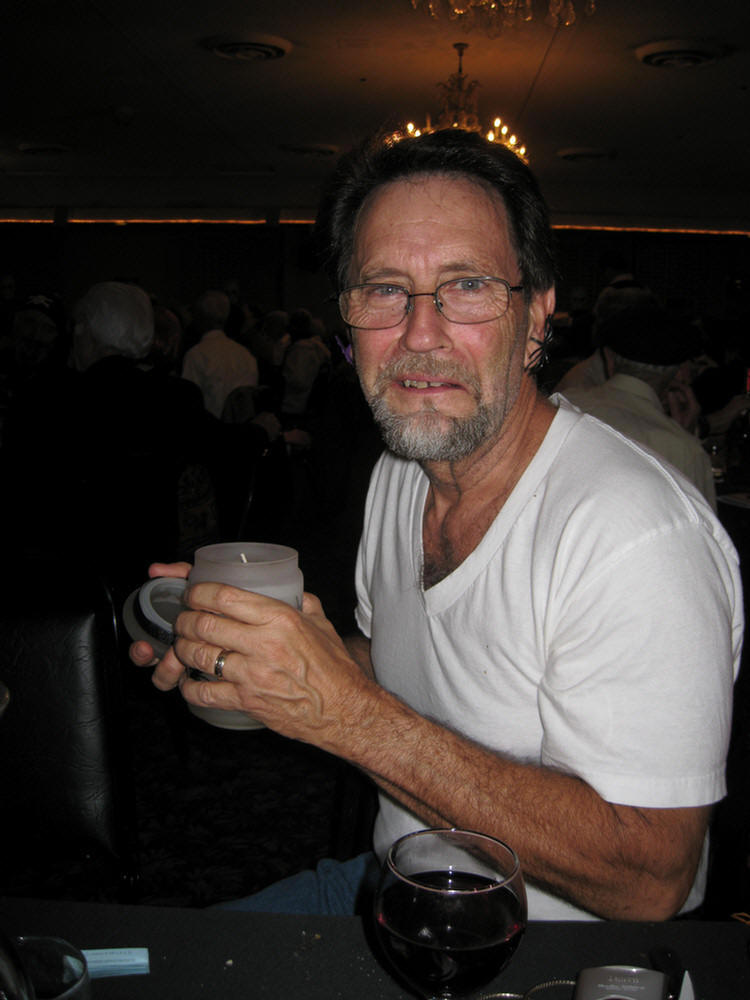 Who, me???
Bob disappears and we can't find him! He overheard the waitress saying they could not do anything veggie tonight since they were so busy! Bob apparently left the building, went down the road and ordered and delivered a very nice veggie quesadilla for Sue making sure she was able to eat. A real gentleman!
Did you know? - A quesadilla is a Mexican snack food made of cheese (and occasionally other ingredients) on a folded corn or wheat tortilla and cooked until the cheese melts. The word comes from Spanish, and literally means "cheese tortilla". In most regions of Mexico, a quesadilla is a circle of cooked corn masa, called a "tortilla", folded in half and filled with cheese, then cooked until the cheese has melted. However, variations include the use of wheat flour tortillas, especially in the northeast part of Mexico, which are more like cheese tacos found in the U.S. Wheat dough is most commonly used in place of corn masa. Wheat tortillas are also used to make a gringa, which is a cross of a taco al pastor and a quesadilla.
While cheese is the most common filling, other ingredients are also used in traditional Mexican quesadillas, including cooked vegetables, mushrooms, and meat.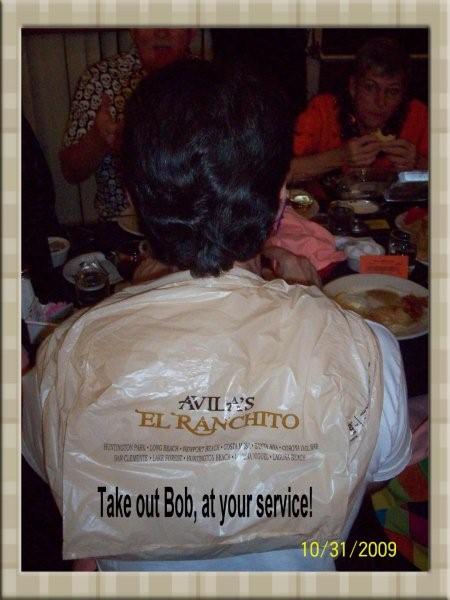 Did you know? - To a degree, "gentleman" signified a man with an income derived from property, a legacy or some other source, and was thus independently wealthy and did not need to work. The term was particularly used of those who could not claim nobility or even the rank of esquire. Widening further, it became a politeness for all men, as in the phrase "Ladies and Gentlemen,..." and this was then used (often with the abbreviation Gents) to indicate where men could find a lavatory, without the need to indicate precisely what was being described.
In modern speech, the term is usually democratized so as to include any man of good, courteous conduct, or even to all men (as in indications of gender-separated facilities, or as a sign of the speaker's own courtesy when addressing others).
Elvis Is In The Building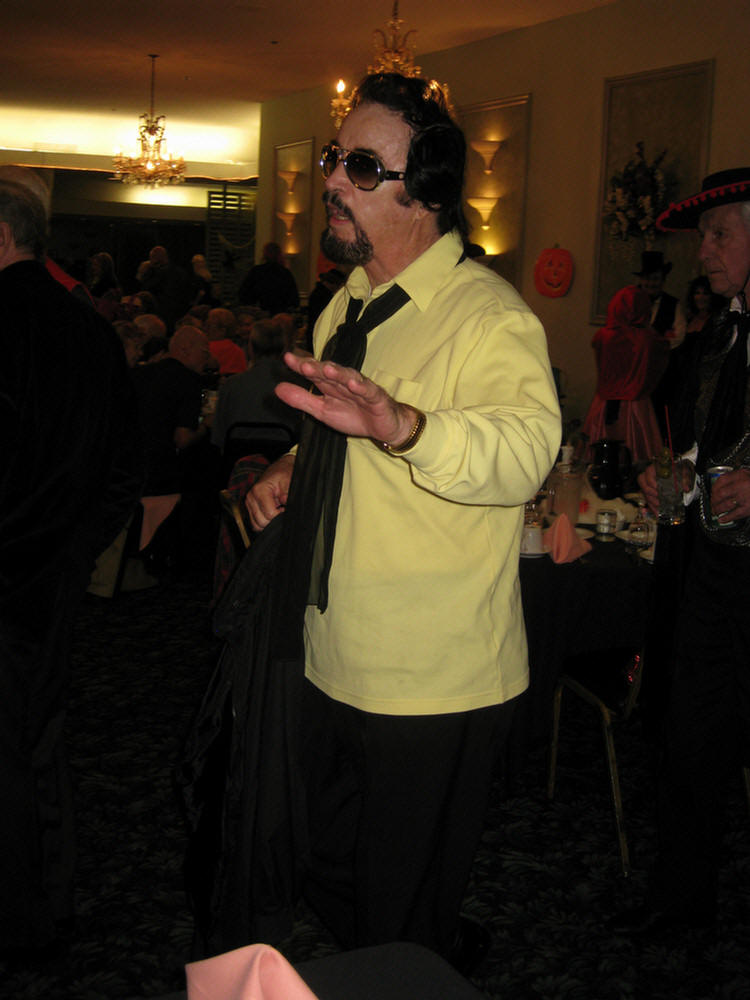 Vance makes a perfect Elvis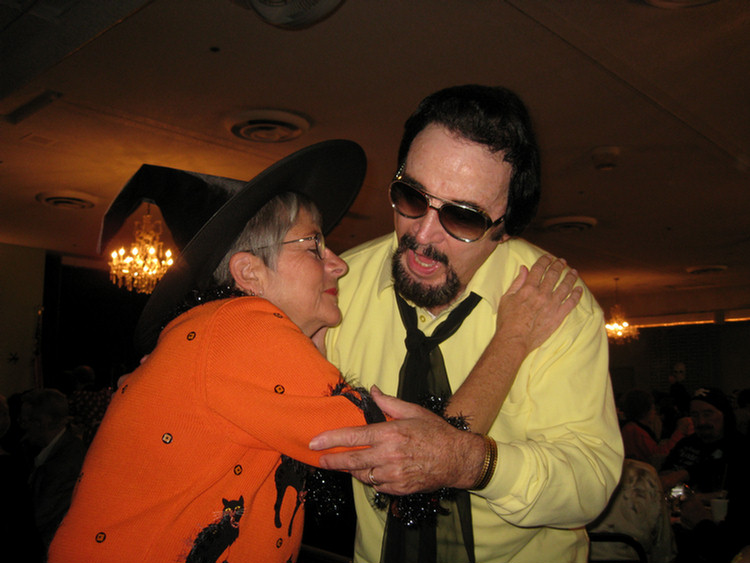 Elvis does NOT bite necks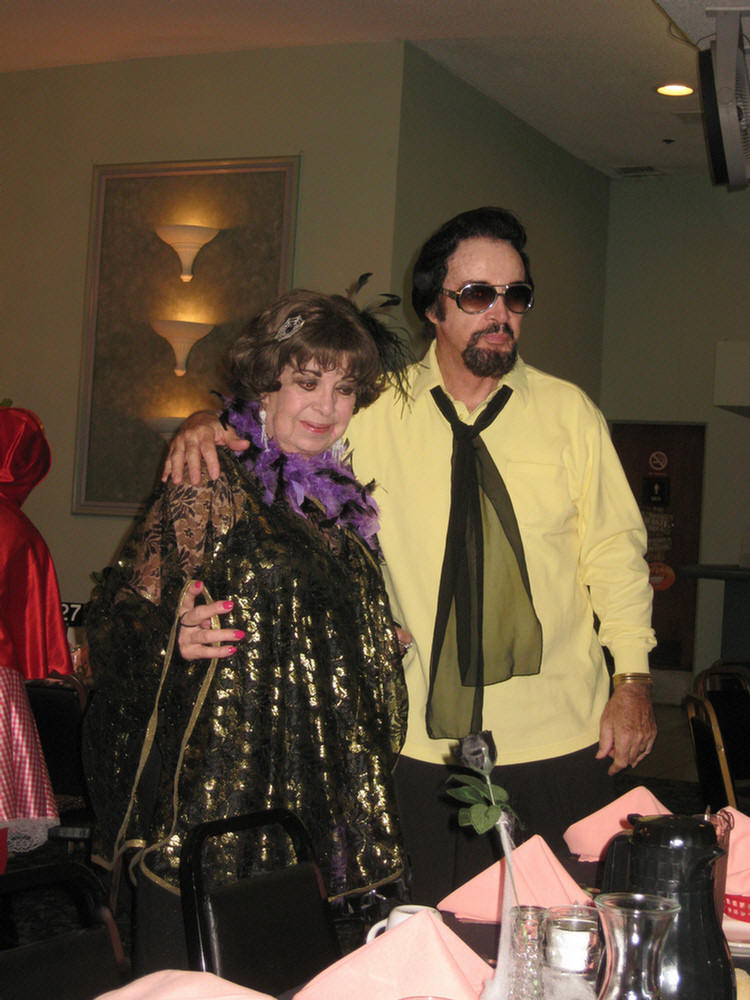 Gladys makes a beautiful Princess