Scary Movies
Movies, when not full of violence, are OK. Here are some that we think are OK for families to watch.
For The Youngsters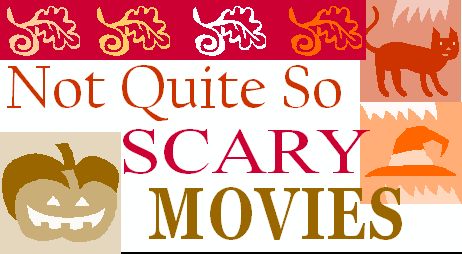 It's the Great Pumpkin, Charlie Brown (1966) -All of the Peanuts gang dress up for the enchanting night of Halloween. All, that is, except for Linus, who firmly believes that this year the Great Pumpkin will finally visit his humble pumpkin patch.
Casper -Steven Spielberg produced this live-action feature starring the friendly ghost created in 1940 by Joe Orolio. A ghost therapist and his daughter move into a haunted mansion to sweep out the ghosts so the greedy owners can get a hidden treasure. Casper, who only wants a friend, and his trio of ghastly uncles give everyone a run for their money.
The Nightmare Before Christmas (1993) -Tim Burton's stop-motion animated feature finds Pumpkin King Jack Skellington thinking the grass is greener over in Santa Claus's holiday. He marshalls all his goblins and ghouls to take over Christmas, but alas -- poor Jack belongs to Halloween. An amazing visual and musical feast that should be seen at least twice to catch all the kinks and quirks in the nooks and crannies. Academy Award Nominations: Best Visual Effects.
Dr. Seuss - It's Grinch Night! -One cold October night, the town of Whooville is awakened by the Grinch--a terrible apparition with detachable flying eyebrows, glowing yellow eyes, and a penchant for mischief. All of the townspeople are terrified into submission, all that is, except for young Eukariah. In confronting the Grinch, Eukariah learns several important lessons about facing unpleasant facts and fears. (Formerly released as "Halloween Is Grinch Night.")
Casper Meets Wendy (1998) -When evil warlock Desmond Spellman vows to destroy Wendy the Good Little Witch, she and her witless witch aunts hide out at Sunny Brite Resort, where the vacationing Ghostly Trio has been busy scaring up mega-mischief - and making Casper's afterlife miserable. Even though Casper and Wendy are told that ghosts and witches just don't get along, when these two kindred spirits meet, it's the beginning of a boo-tiful friendship. But Desmond is closing in...and time is running out. Now Casper and Wendy must prevent a supernatural showdown between their feuding families in order to defeat Desmond's dastardly plan.
The Witches (1990) -A nine-year-old boy and his grandmother discover adventure when they encounter the Grand High Witch and her diabolical plot to turn all of England's children into mice. Based on the story by Roald Dahl. This was the great Jim Henson's last producer credit.
James and the Giant Peach (1996) -The classic 1961 story by Roald Dahl about a young boy who, by burrowing inside a magical giant peach, escapes from the tyranny of his aunts and travels to New York with his newfound insect friends. The stop-motion animation is supported by the voices of Susan Sarandon, Richard Dreyfuss, Jane Leeves, David Thewlis and Simon Callow. Academy Award Nominations: Best Original Musical or Comedy Score.
Family - Kids over 12
Ok parents, watch it with your kids and don't put them in front of the TV alone!
Hocus Pocus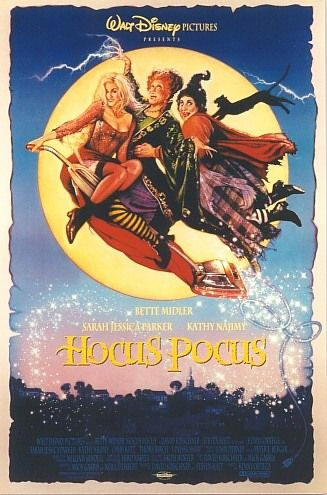 Great fun and a load of laughs at the goofy witches
Hocus Pocus is a children's Halloween-themed film released by Disney, and directed by Kenny Ortega (known mainly for his hit movies on Disney Channel High School Musical 1 and 2 and the Cheetah Girls 2). The movie started life as a script for a special original movie for the Disney Channel, to be produced by one of the smaller studios owned by The Walt Disney Company, but the script caught the eye of Walt Disney Studios who decided that the film was strong enough to carry well-known names and to attract a cinema audience.
The movie was released in the United States and Canada in July 1993. It was released in October 1994 across Australia and most of Europe and some Asian countries. The idea to cast Bette Midler was partly inspired by Midler's award-winning performance in a milestone motion picture for the Walt Disney Company on its Touchstone Pictures line, Down and Out in Beverly Hills.
The movie has become a nostalgic favorite for those who saw it when they were young, and, since Disney appears to have abandoned it's long tradition of playing it around Halloween yet it still remains very popular in a small group of fans, many believe it has achieved cult status.
Beetlejuice

Goofy and funny at the same time
Beetlejuice (1988) - Happily-married couple Adam (Alec Baldwin) and Barbara Maitland (Geena Davis) decide to spend their holiday decorating their idyllic New England home. Returning from a trip to town Barbara swerves to avoid hitting a dog. Their car drives off a bridge into a river and then they find themselves back at their house. A book entitled Handbook for the Recently Deceased reveals to them their predicament. Although they are now ghosts, they can remain in their home; if they try to leave, they end up in another dimension, a desert world populated by enormous sandworms.

Their peace is soon shattered, however, when their house is sold and the new residents arrive from New York. The Deetzes, consisting of Charles (Jeffrey Jones), aspiring sculptor and Charles' second wife Delia (Catherine O'Hara), stepmother to Charles' Goth daughter Lydia from his first marriage (Winona Ryder). They are under the guidance of interior designer Otho (Glenn Shadix), and begin transforming the house into a horrific piece of modern art. The Maitlands seek help from their afterlife case worker, Juno (Sylvia Sidney), who informs them that they must remain in the house for 125 years. If they want the Deetzes out, it is up to them to scare them away. The Maitlands' attempt to haunt their home proves ineffective. Although the Maitlands remain invisible to Charles and Delia, their daughter Lydia can see Adam and Barbara and becomes their friend.

Against the advice of Juno, the Maitlands contact the miscreant Beetlejuice (Michael Keaton), a freelance "bio-exorcist", to scare away the Deetzes, but Beetlejuice is more interested in marrying Lydia in order to re-enter the land of the living. It takes the combined efforts of the Maitlands and Lydia to defeat Beetlejuice and banish him to the afterlife. The Deetzes and the Maitlands decide to live together in harmony. Academy Awards: Best Makeup. Star: Michael Keaton, Geena Davis, Alec Baldwin, Jeffrey Jones, Winona Ryder
Frakenstein 1931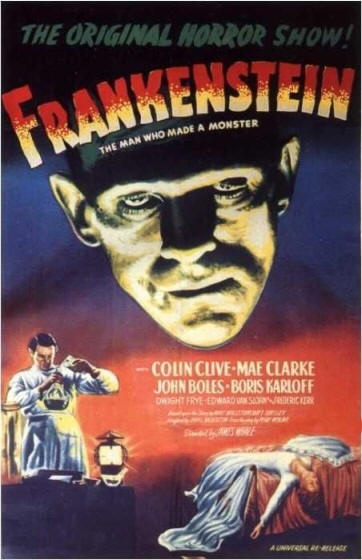 A fantastic movie
Frankenstein (1931) -Karloff plays Dr. Frankenstein's monster in this early, very loose version of Mary Shelley's 1818 novel. The novel was alternately titled "The Modern Prometheus" and depicted "The Monster" as a Superman. The screenplay of this classic - albeit altered version - was written by Garrett Fort. Sequel: Bride of Frankenstein. Star: Boris Karloff
Dr. Henry Frankenstein (Colin Clive), an ardent young scientist, and his assistant Fritz (Dwight Frye), a devoted hunch-back, piece together a human body, the parts of which have been secretly collected from various sources. Frankenstein's consuming desire is to create human life through various electrical devices which he has perfected.

Elizabeth (Mae Clarke), his fiancée, is worried to distraction over his peculiar actions. She cannot understand why he secludes himself in an abandoned watch tower, which he has equipped as a laboratory, and refuses to see anyone. She and her friend, Victor Moritz (John Boles), go to Dr. Waldman (Edward Van Sloan), his old medical professor, and ask Dr. Waldman's help in reclaiming the young scientist from his absorbing experiments. Elizabeth, intent on rescuing Frankenstein, arrives just as the eager young medico is making his final tests. They all watch Frankenstein and the hunchback as they raise the dead creature on an operating table, high into the room, toward an opening at the top of the laboratory. Then a terrific crash of thunder—the crackling of Frankenstein's electric machines—and the hand of Frankenstein's monster begins to move.

The manufactured monster (Boris Karloff), a strangely hideous, grotesque, inhuman form, is held in a dungeon in the watch tower. Through Fritz's error, a criminal brain was secured for Frankenstein's experiments which result in the monster knowing only hate, horror and murder. It has the strength of ten men. Suddenly, there is an unearthly, terrifying shriek from the dungeon. Frankenstein and Dr. Waldman rush in to find the monster has strangled Fritz. The monster makes a lunge at the two, but they escape. As the monster breaks through the door, Dr. Waldman injects a powerful drug into the monster's back and he sinks to the floor.
Go see it to understand the rest of the story!
The Bride Of Frakenstein

No so good but funny
The Bride of Frankenstein (1935) -In this fine sequel to the classic Frankenstein film (and precursor to The House Of Frankenstein in 1944), Having escaped the fiery castle that threatened to engulf him at the end of the 1931 horror classic Frankenstein, the monster is back. And he's better than ever - more civilized and human. He's even learned to speak a few words. Now that things are finally calm once more, Henry Frankenstein, the monster's creator, tries to put his evil ways behind him. But Dr. Pretorious draws him back into the mad-scientist business by convincing Henry that he knows what the Monster really needs and so the demented doctor creates a mate (Elsa Lanchester) for the monster (Boris Karloff).
Bride of Frankenstein (advertised as The Bride of Frankenstein) is a 1935 science fiction/horror film. The movie is the first sequel to the influential film Frankenstein (1931). Bride of Frankenstein was directed by James Whale and stars Boris Karloff as The Monster, Elsa Lanchester as his Mate and Mary Shelley, Colin Clive as Henry Frankenstein and Ernest Thesiger as Doctor Septimus Pretorius.

The film immediately follows the events of the first film and is rooted in the original novel. A subplot from the latter half of the book involves the Monster promising to leave Frankenstein, and the human race, alone if Frankenstein will create a mate for him. Frankenstein creates the female monster, but never brings it to life, deciding instead to destroy it.
Others
The Phantom of the Opera (1962) -Produced at the famed "Hammer Films," in England, this ultra-gothic version of the "Phantom" story features Herbert Lom in the title role. When inexplicable mishaps occur backstage at a London opera house, it is thought that evil spirits haunt the place. However, a tragic accident during an opening night performance reveals that a mad and hideous creature, the Phantom, is to blame. Then the Phantom violently drags the opera singer Christine backstage into his dank and underground shelter. The poor deformed creature falls in love with the beauty, and decides, with his exceptional musical talents, to make her a star. But when she falls into mortal danger, the Phantom can only save her life if he sacrifices his own.
The Uninvited (1944 ) -One of the rare Hollywood ghost stories that does not cop out with a "logical" ending. In fact, the film has more in common with British ghost tales of the period, in that the characters calmly accept spectral visitations as though they were everyday occurrences. Ray Milland and his sister Ruth Hussey buy a house on the Cornish seacoast, never suspecting that it is a "bad" house, subject to haunting. Before long, Milland and Hussey are visited by Gail Russell, whose late mother, it is said, is the house ghost. It is further supposed that the ghost means to do Russell harm. Russell's grandfather Donald Crisp is close-mouthed on the issue, but it is clear he knows something that he isn't telling. Sure enough, there is a secret to the manor: it is inhabited by not one but two ghosts, one of whom is merely trying to shield Russell from harm. Once the film's Deep Dark Secret is revealed (courtesy of a virtuoso "mad speech" by supporting actress Cornelia Otis Skinner), Milland is able to single-handedly exorcise the estate and claim Gail as his bride. Based on the novel by Dorothy Macardle (with a few uncredited "lifts" from Daphne du Maurier's Rebecca), The Uninvited remains one of the spookiest Old Dark House films ever made, even after years of inundation by com.