Pre-Lunch Wine Tasting + Lunch (Page Three)
We started our walk today at 10:30 AM with Donna taking the lead! Hang on for a wild ride... Fast paced wine tasting at its best!
Stop #1 - LaFond Winery
Did You Know? - Founder and Chairman
Pierre graduated in architecture from McGill University in Montreal. He has lived in Santa Barbara since 1957. After practicing architecture for several years he became interested in business.
He started Santa Barbara Winery in 1962, the first winery in Santa Barbara County since prohibition.
Pierre and his wife, Wendy Foster, operate several businesses in Santa Barbara including clothing stores, gourmet markets and a gift store.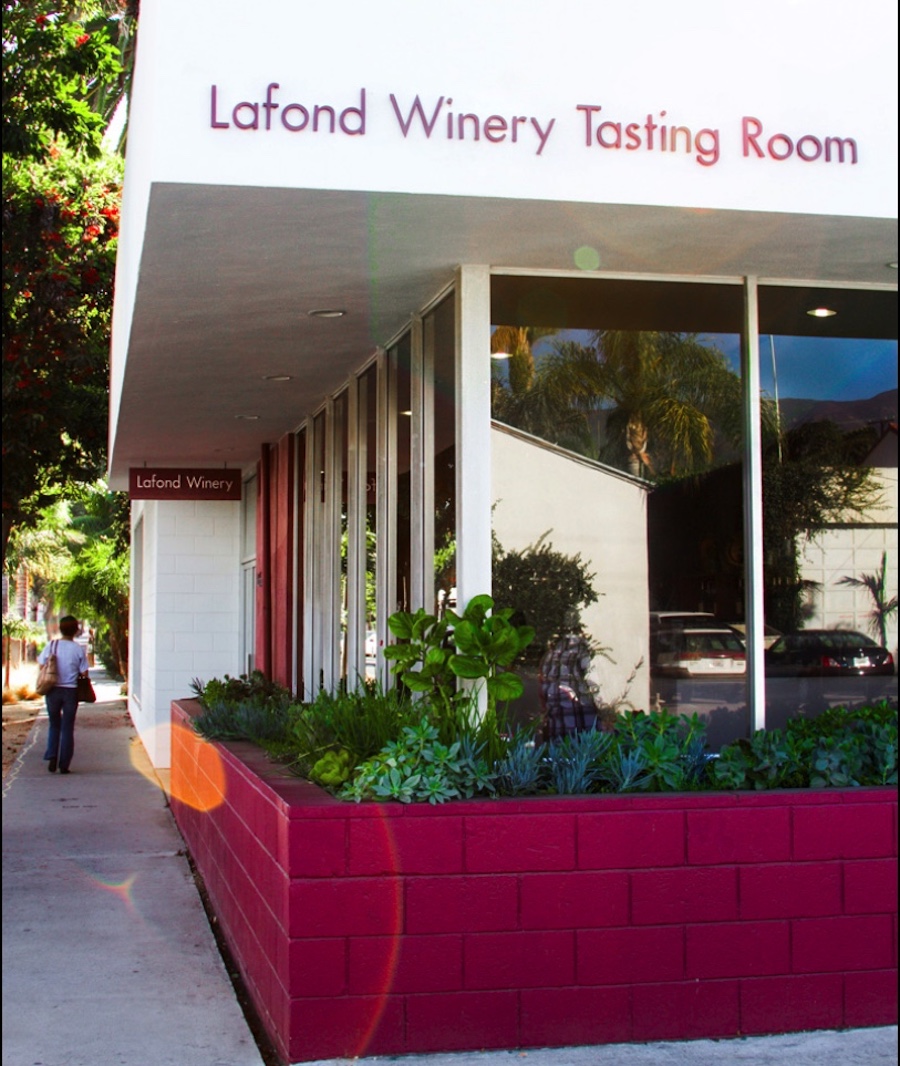 Breakfast #2 is served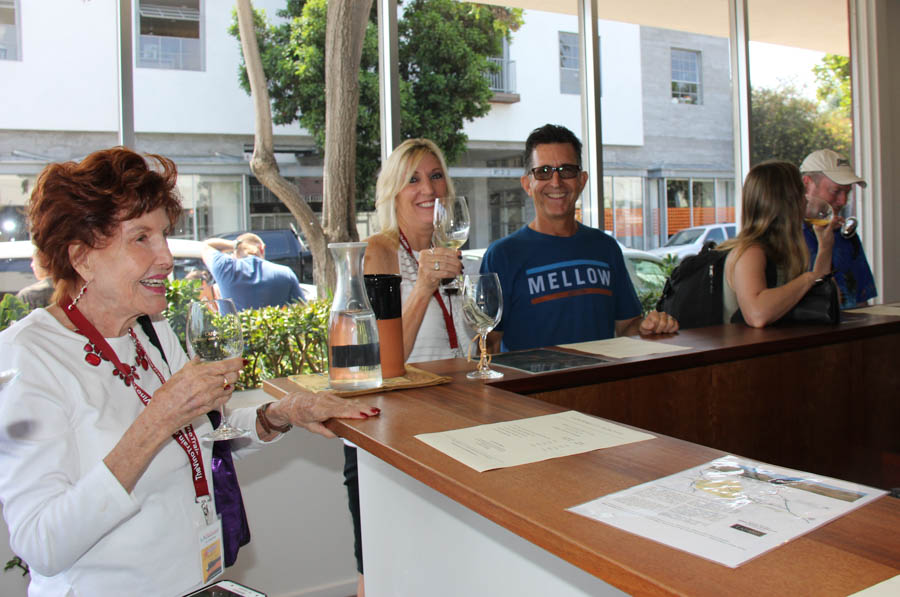 Iris, Jamie and Scott at the bar! Slurp and burp!

Really getting into this wine tasting activity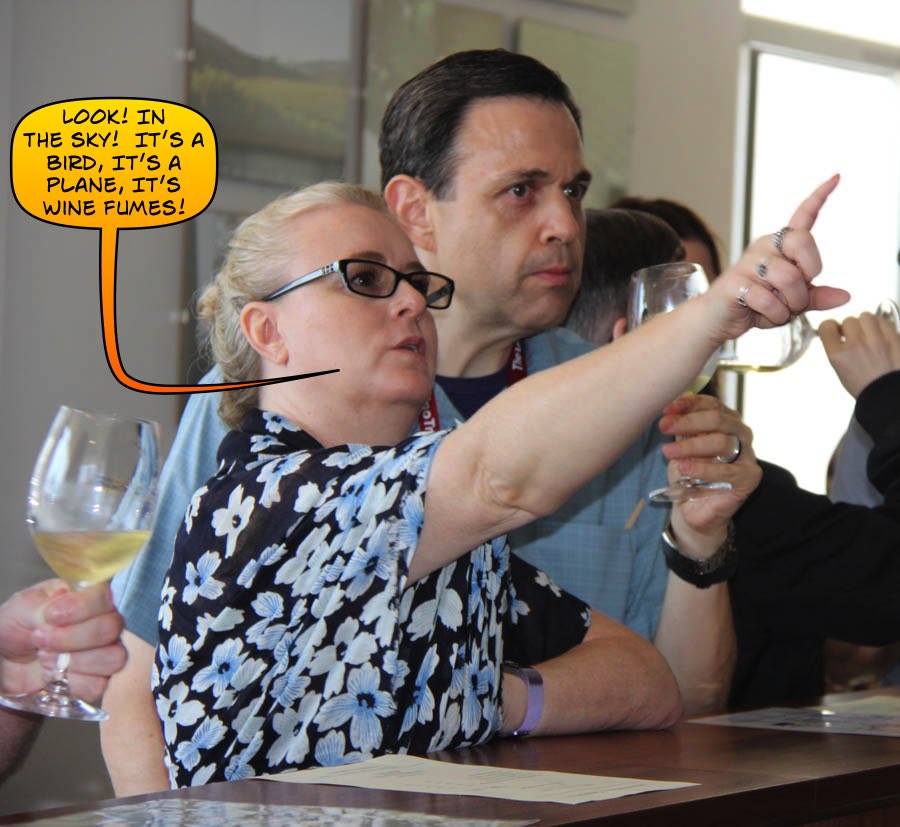 Decisions decisions... Let's take a vote!
#2 - Pali Winery
Just across the street is Pali Winery!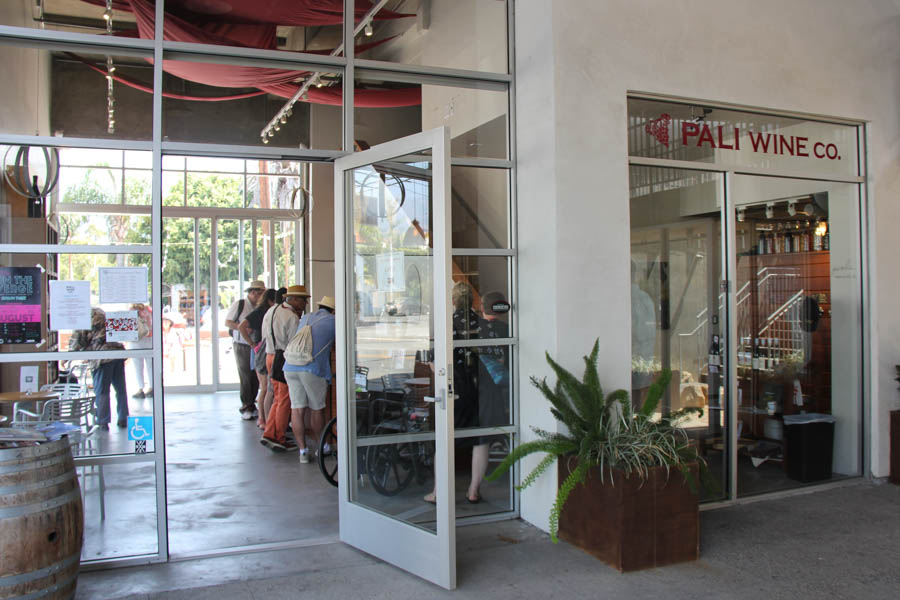 Modern archirecture indeed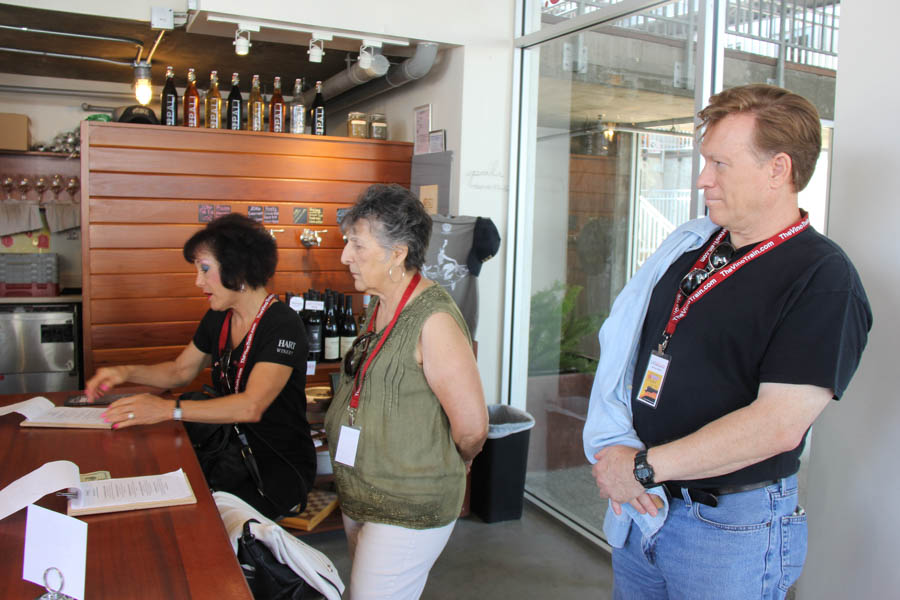 Mike provides adult supervision... We are in trouble!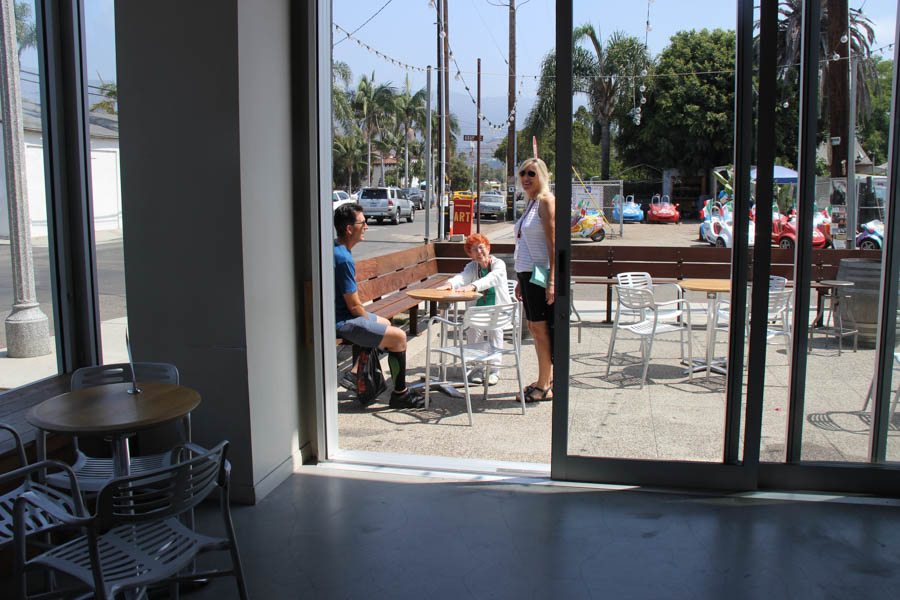 Some of us head for the patio and watch the professional drinkers

"Good stuff!"

Plotting a strategy

The "kids" won't let us ol' folks get lost!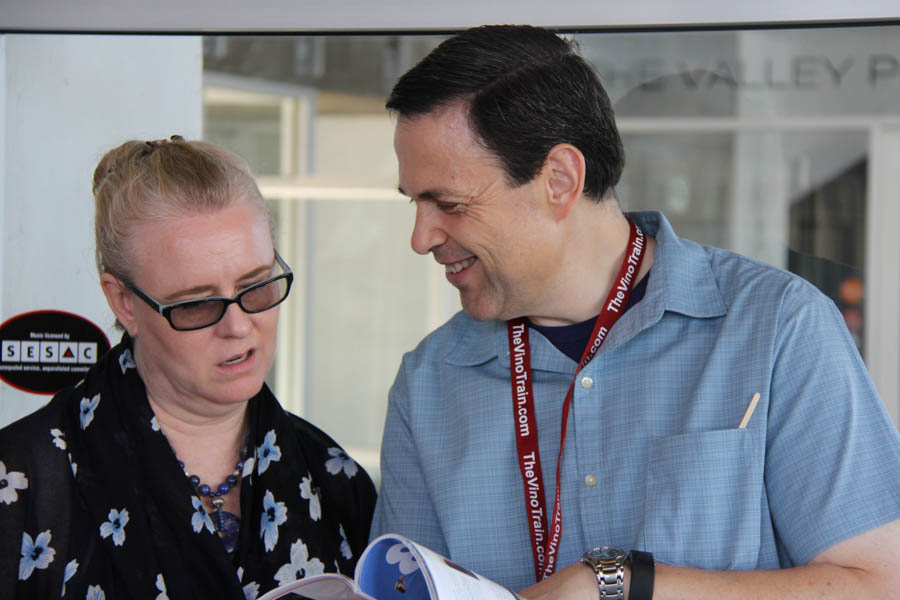 Wish we knew what they were looking at!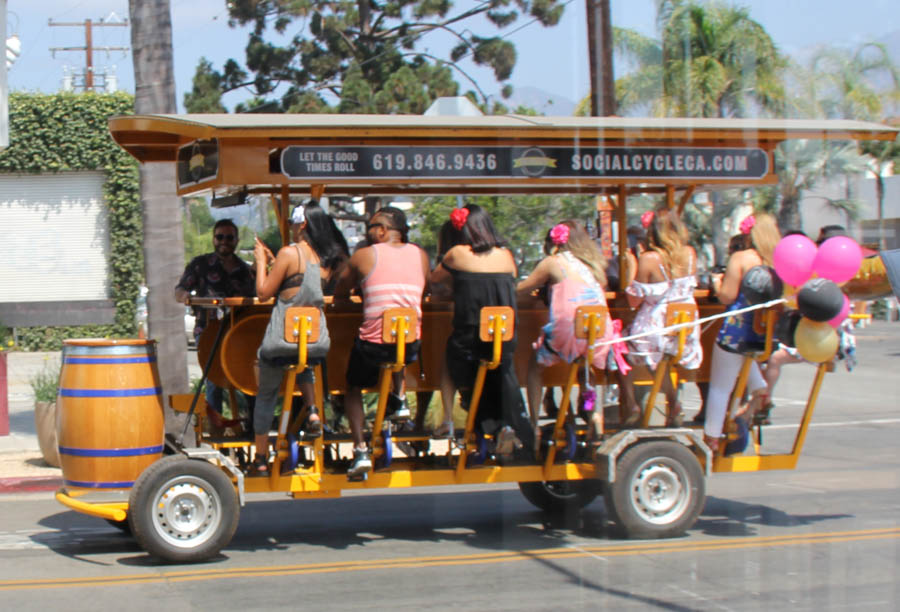 Someone spotted Hans on the bike! (Just kidding)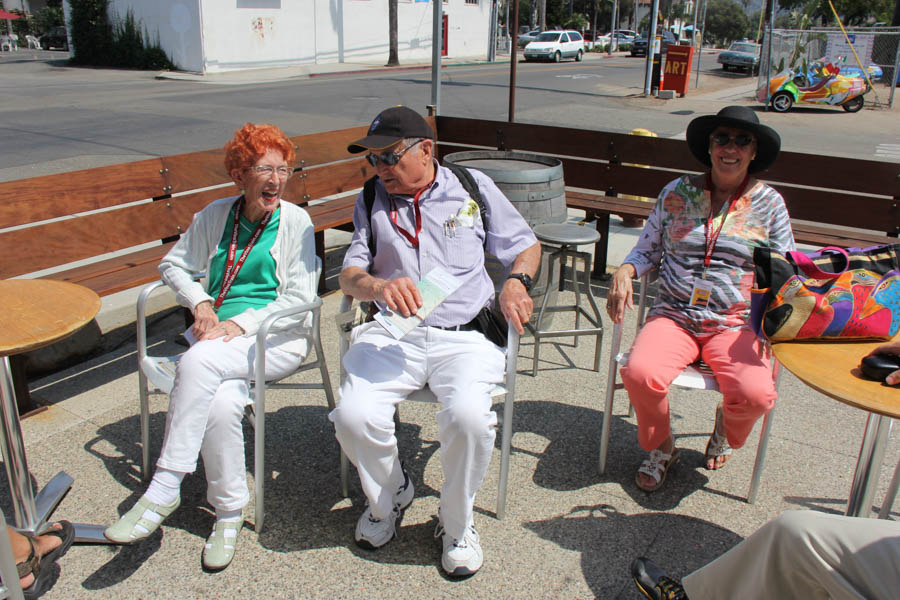 Taking in the sun!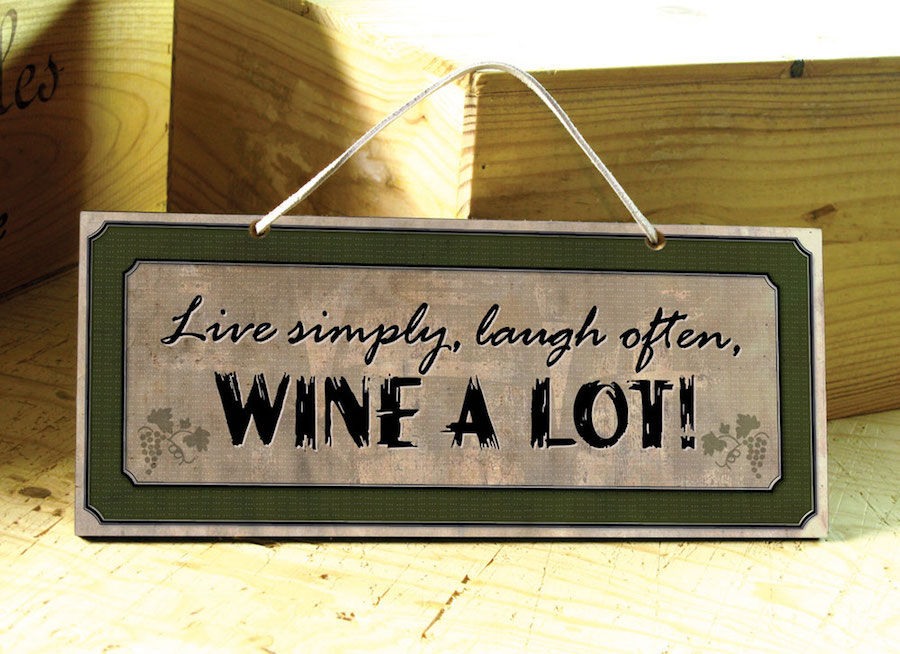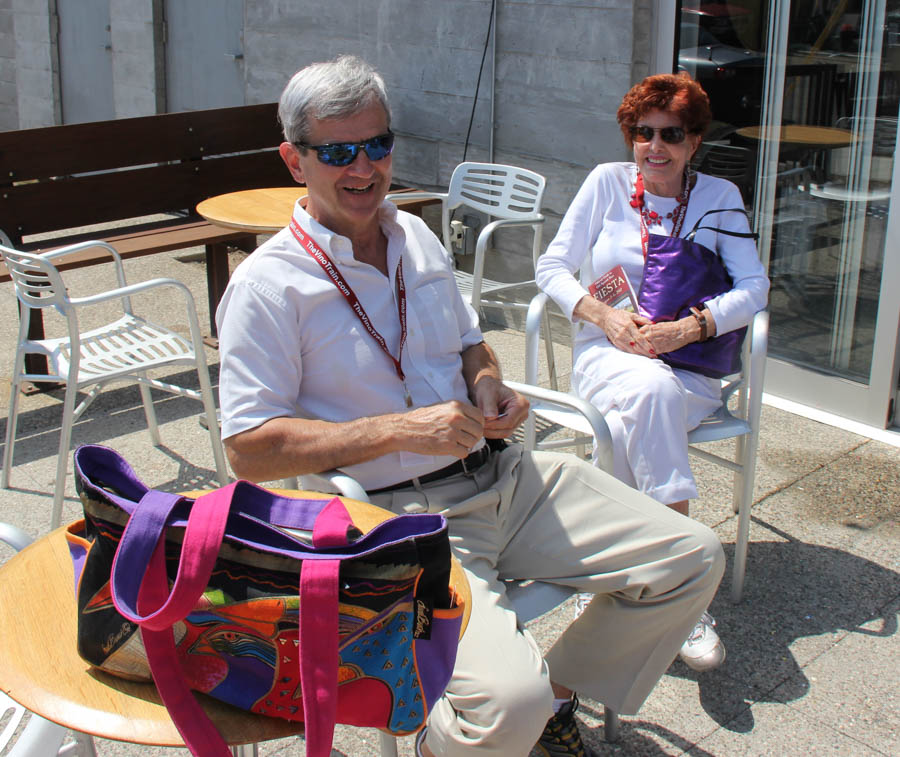 Will has reached his limit already!

The bar was quite busy this morning!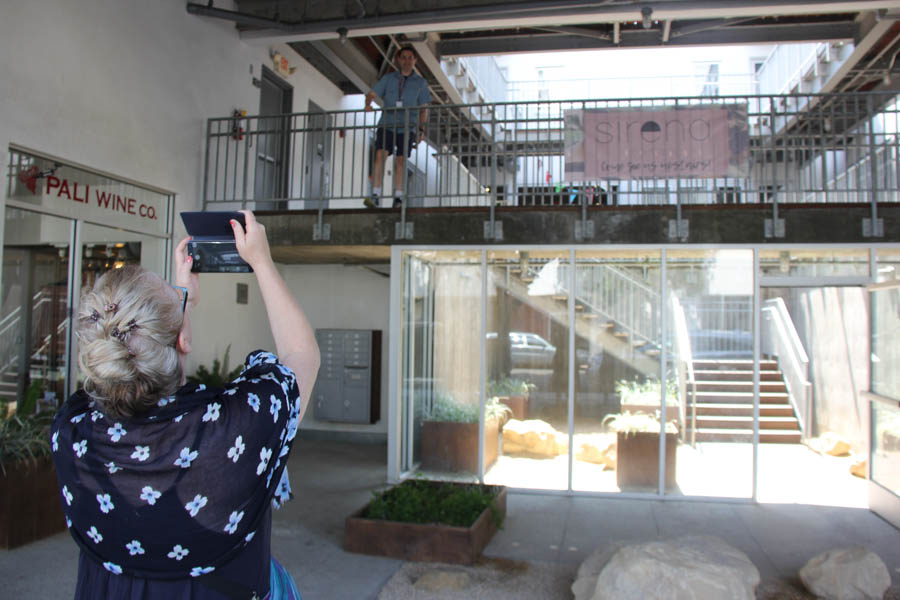 Going exploring... A Danish Teak Classic Furniture store upstairs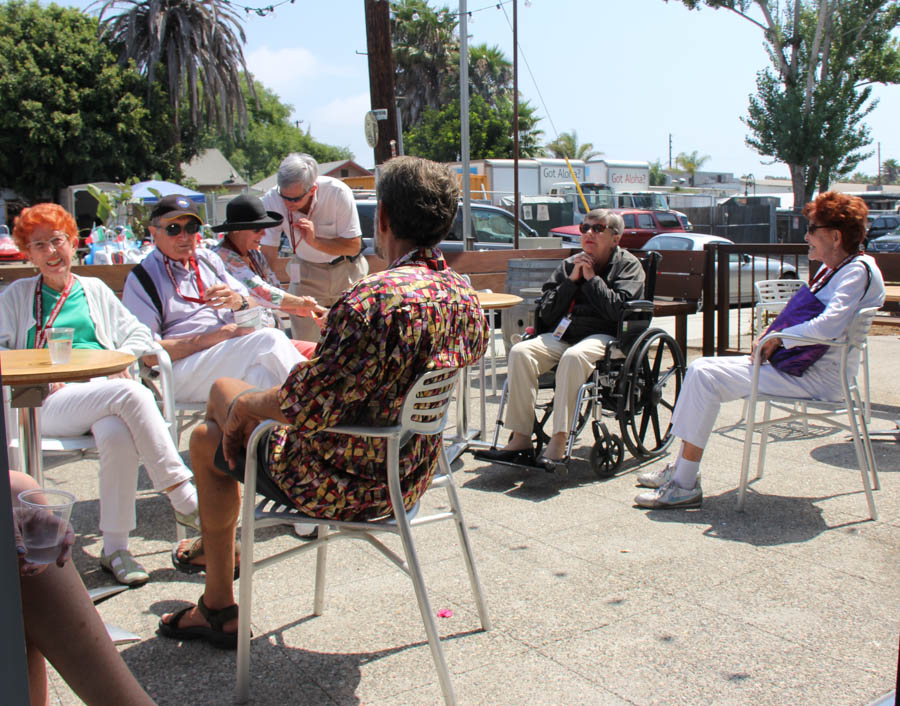 Now we are all out enjoying the sun!
#3 - Riverbench Winery
Did You Know? - Riverbench Vineyard was established in 1973, when the first Chardonnay and Pinot Noir grapes were planted on the bank of the Sisquoc River, known as the Santa Maria Bench. For decades since then, some of the most renowned wineries have purchased our fruit for their wines. In 2004, we began producing our own wines in limited quantities, with many available exclusively through our tasting rooms in Santa Maria and Santa Barbara, California.
Next door to Pali... Ok, two very short blocks. They also do champagne!

"That's a great table for wine"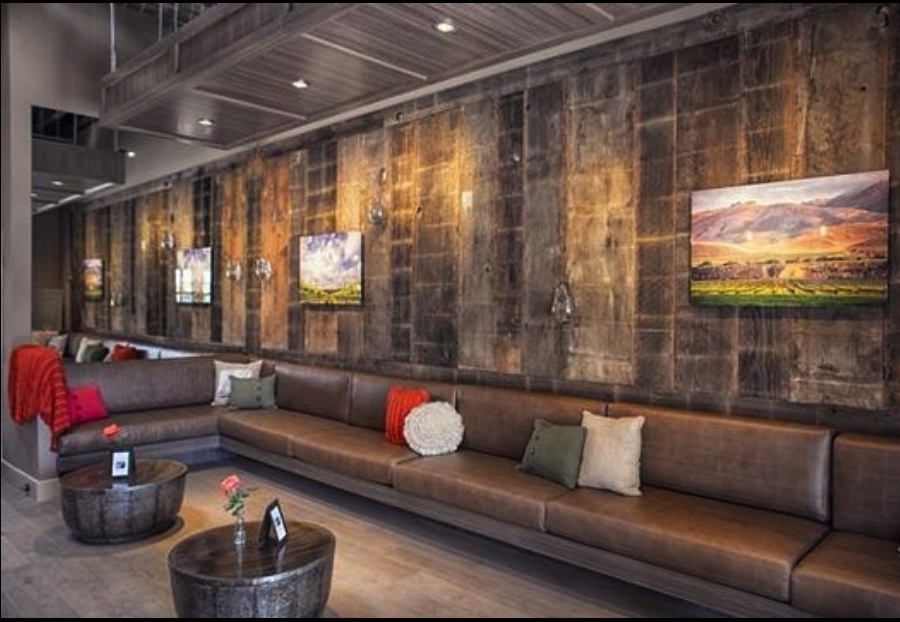 Great digs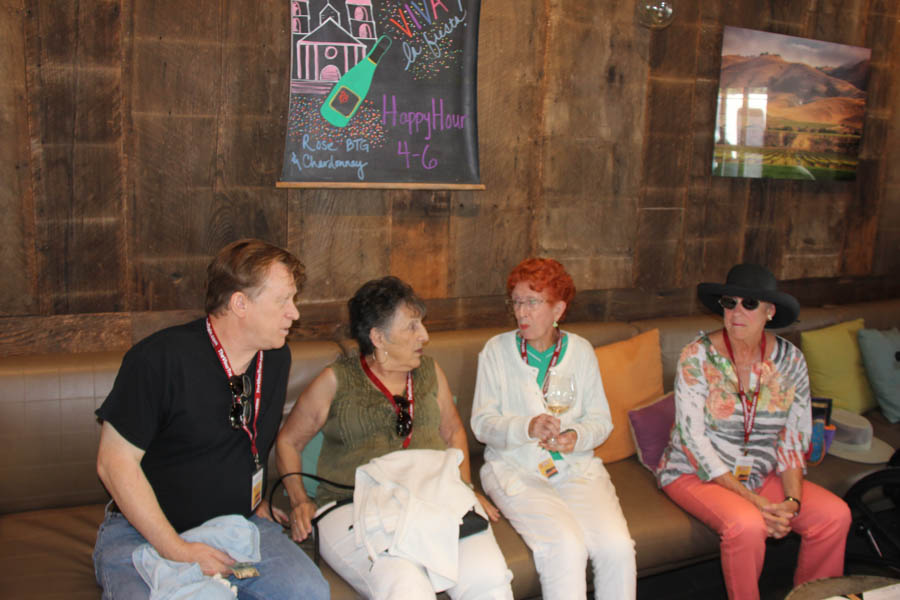 We filled up the place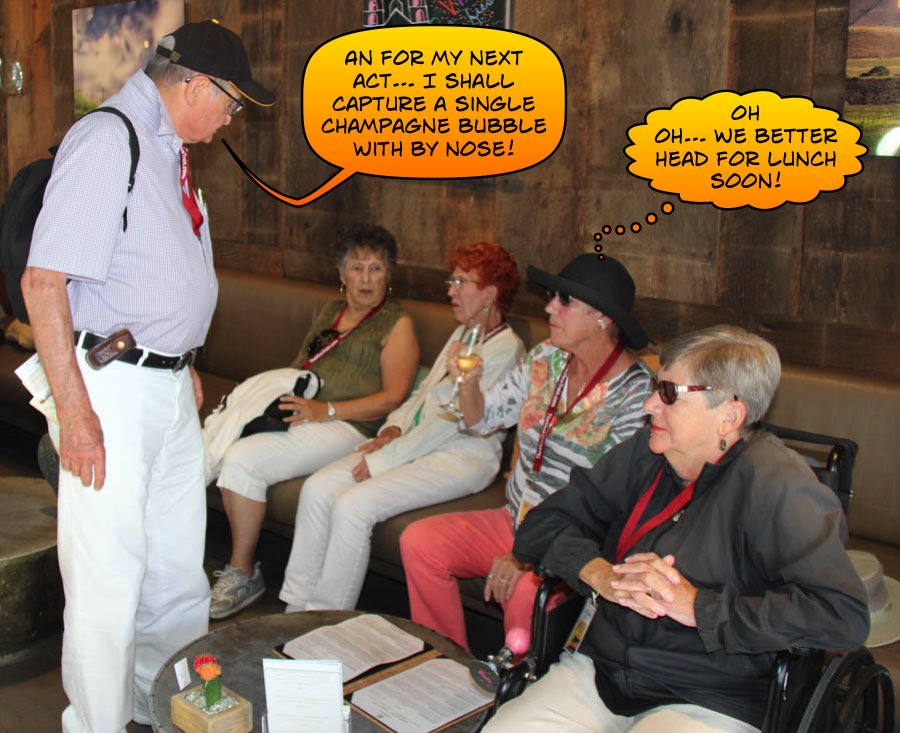 Oh oh!

Will has grown TV ears!

Jamie and Scott doing serious tasting... Paul looks serious!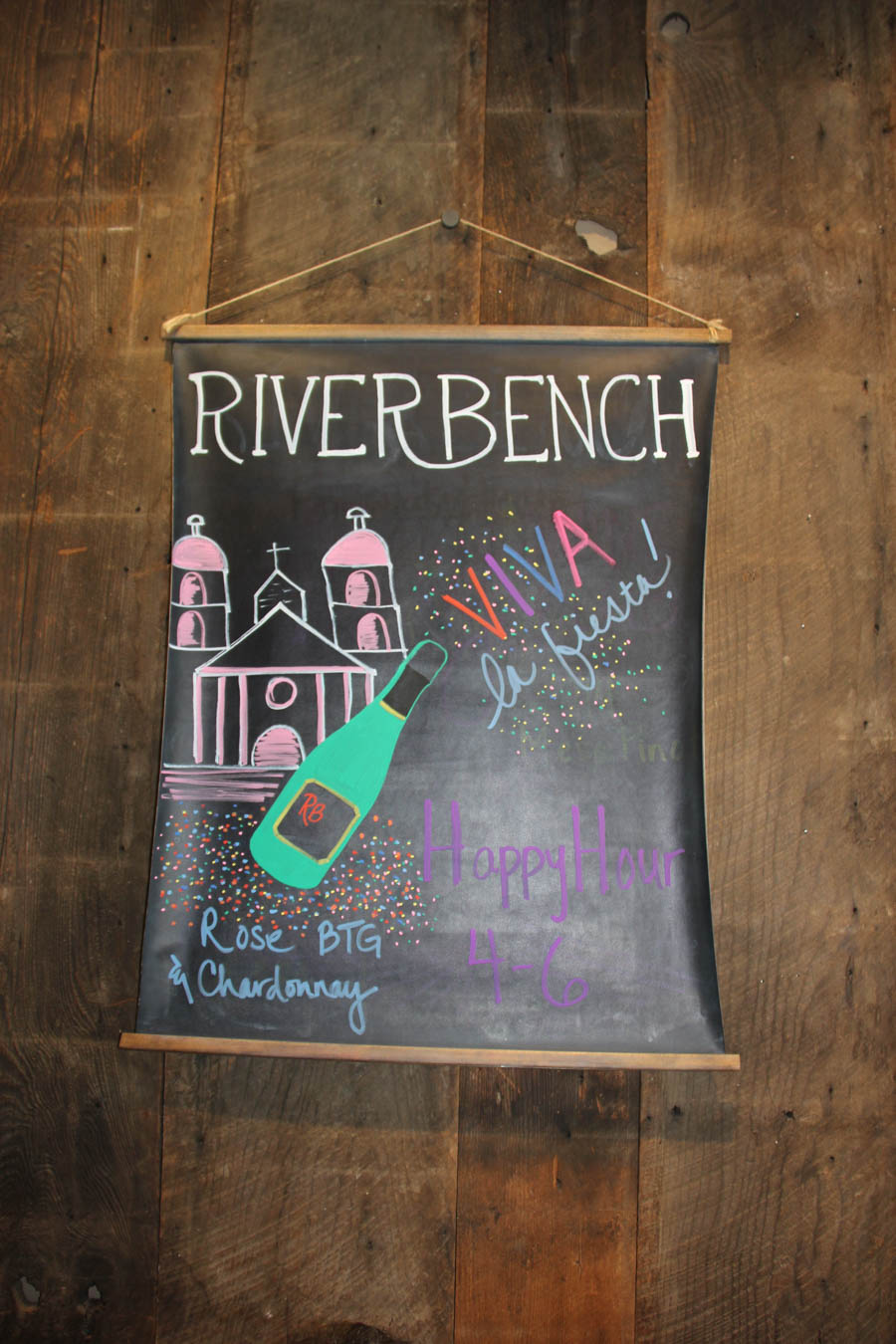 Every hour is happy hour here!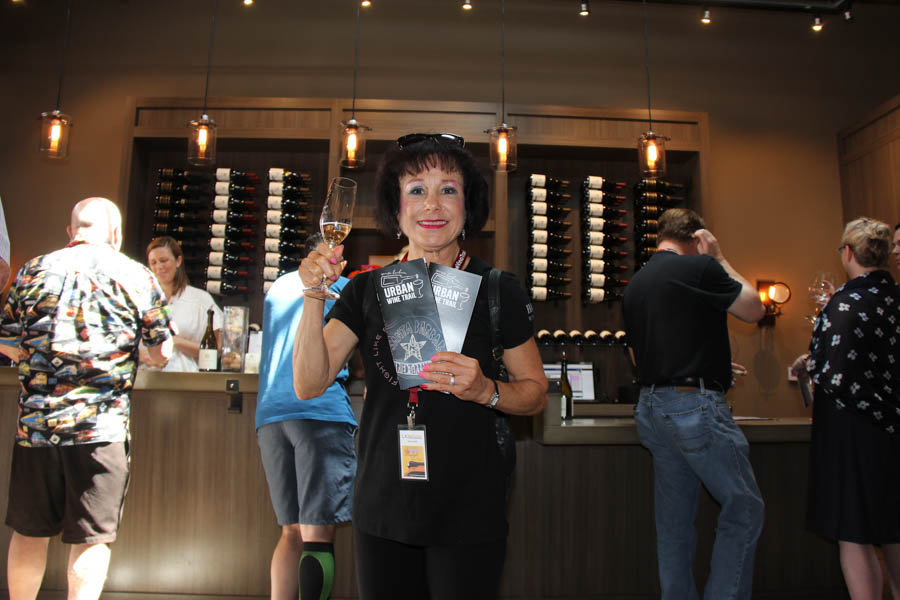 Donna has been studying the guide... So far so good!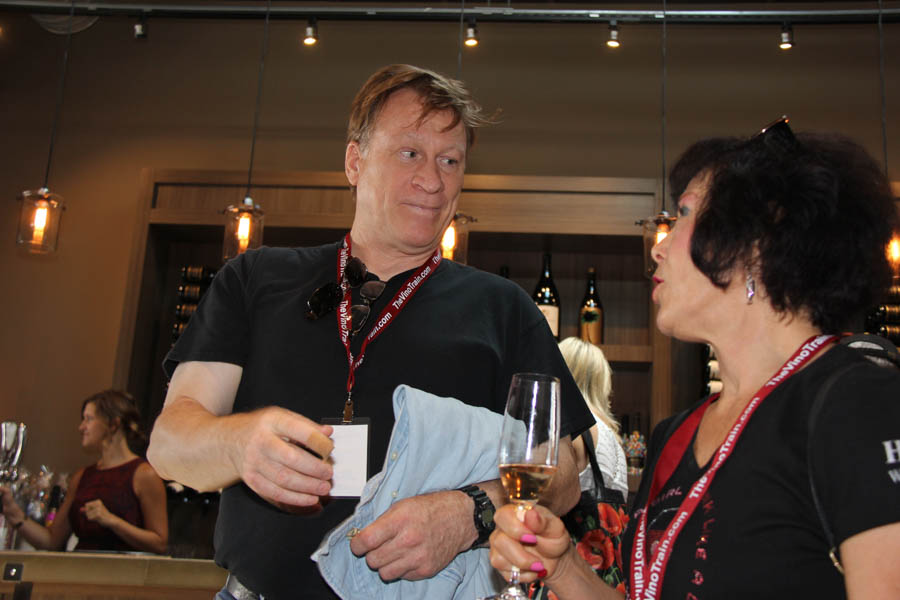 Mike is the navigators backup... Oh boy, we are in trouble!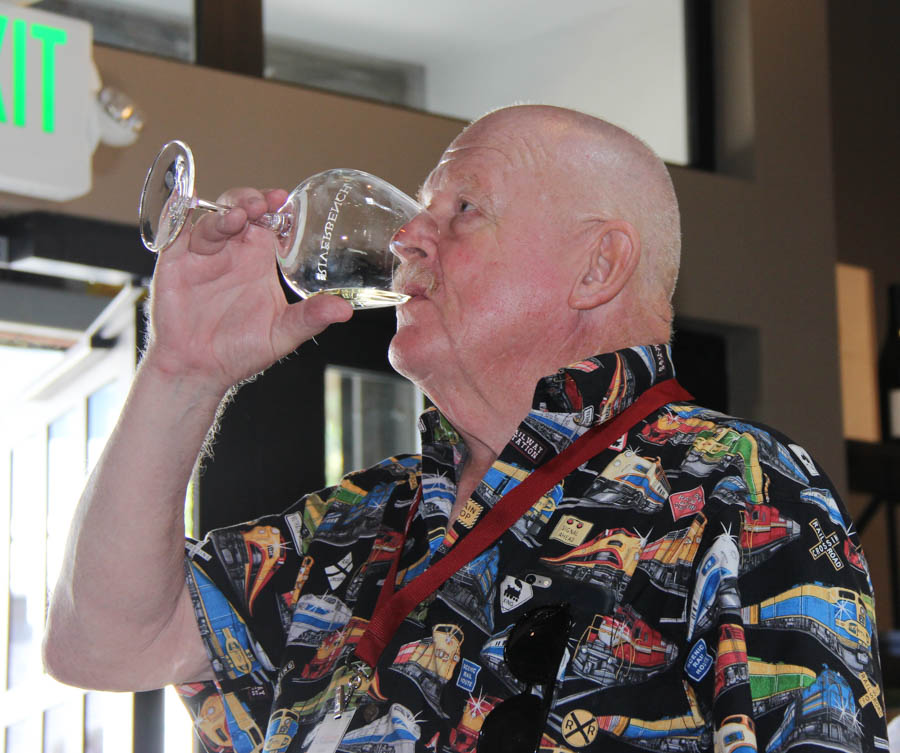 Down the hatch!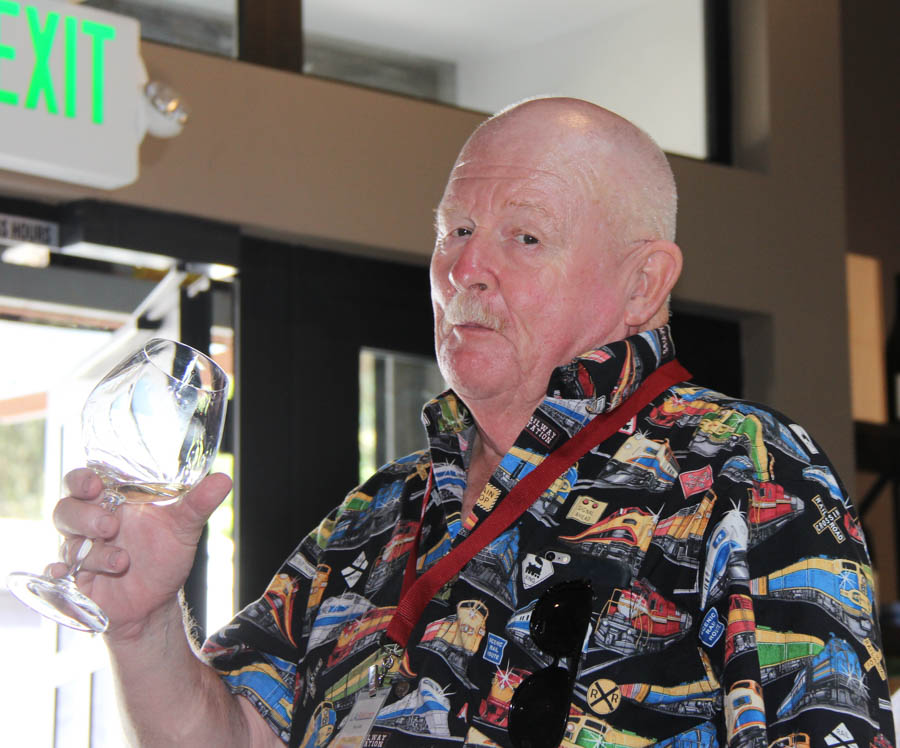 ...and a big smile!

Champagne all around! Just don't open it!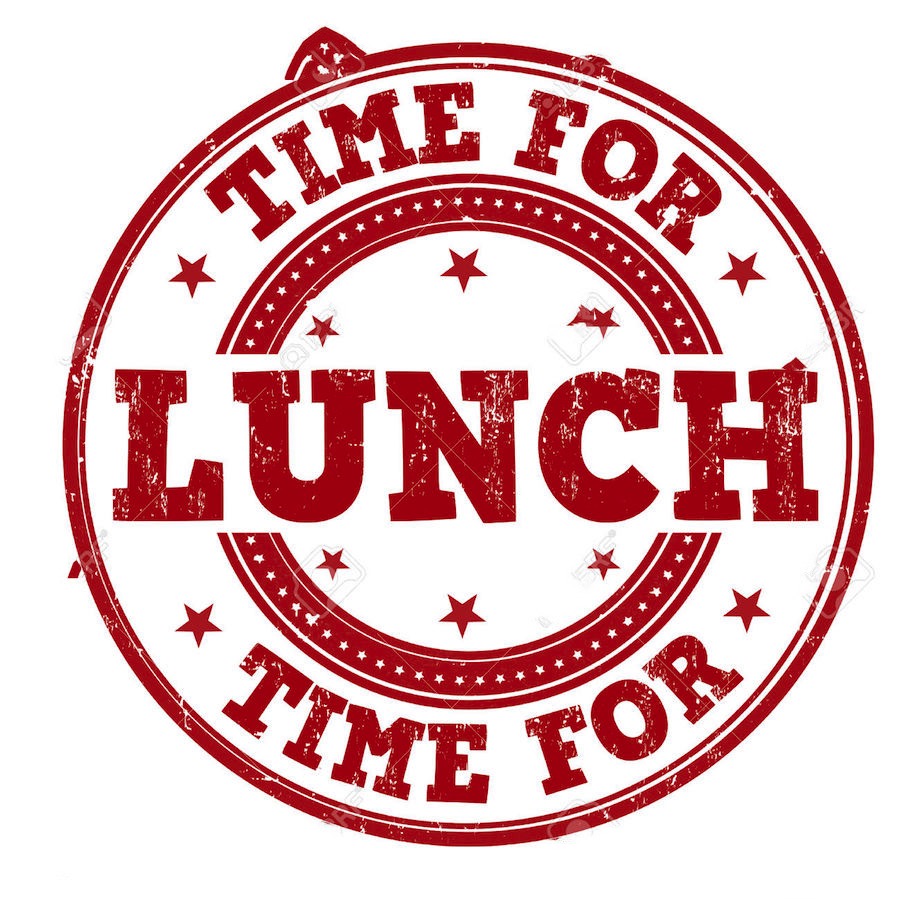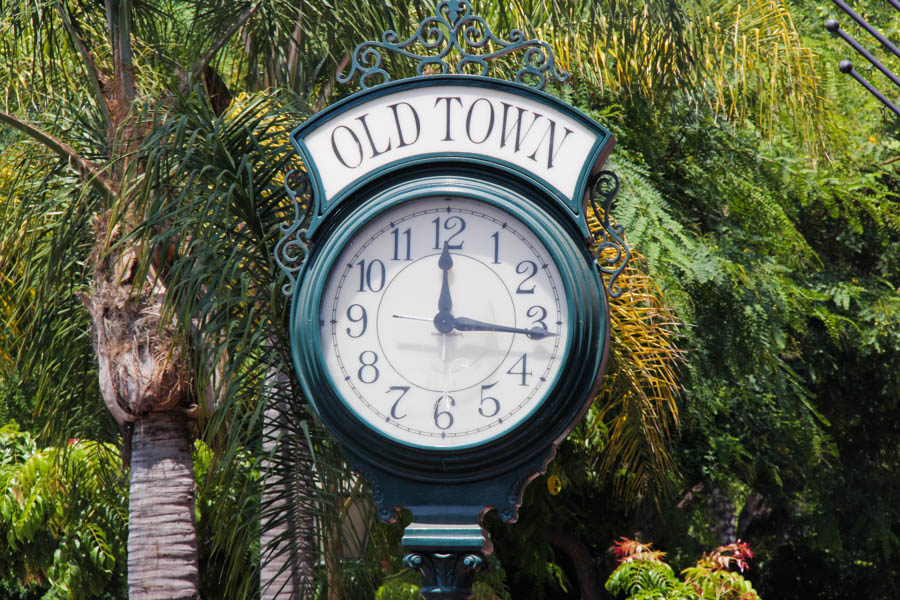 About 15 minute walk to Pierre Lafond's place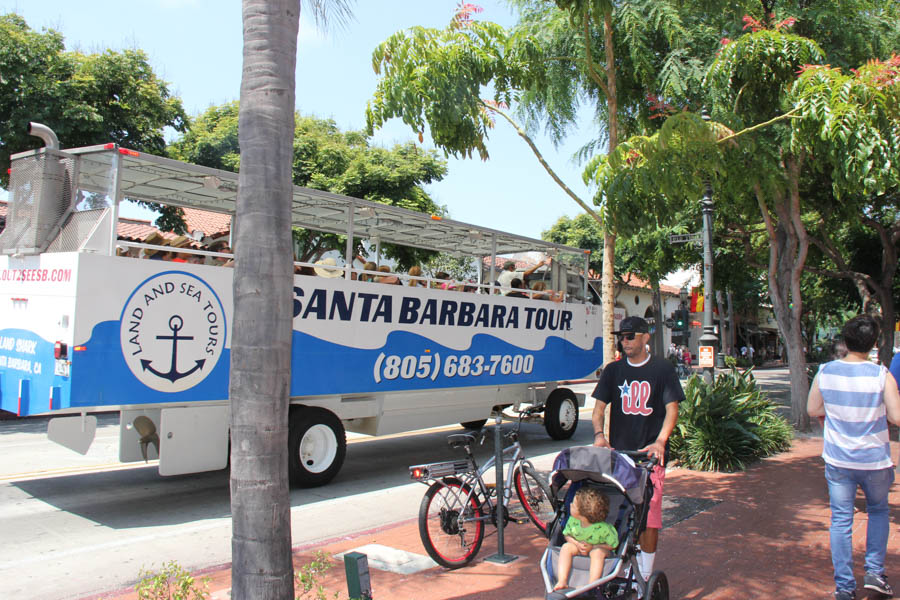 Walking up the main drag

Fiesta is underway today also!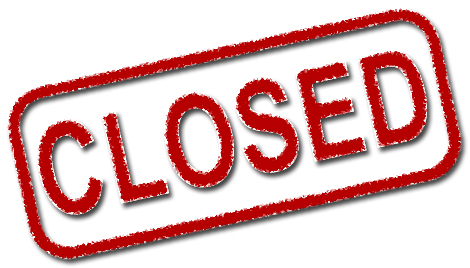 Our planned restaurant, Lafond, was closed... AGAIN!
Plan B is formulated on the fly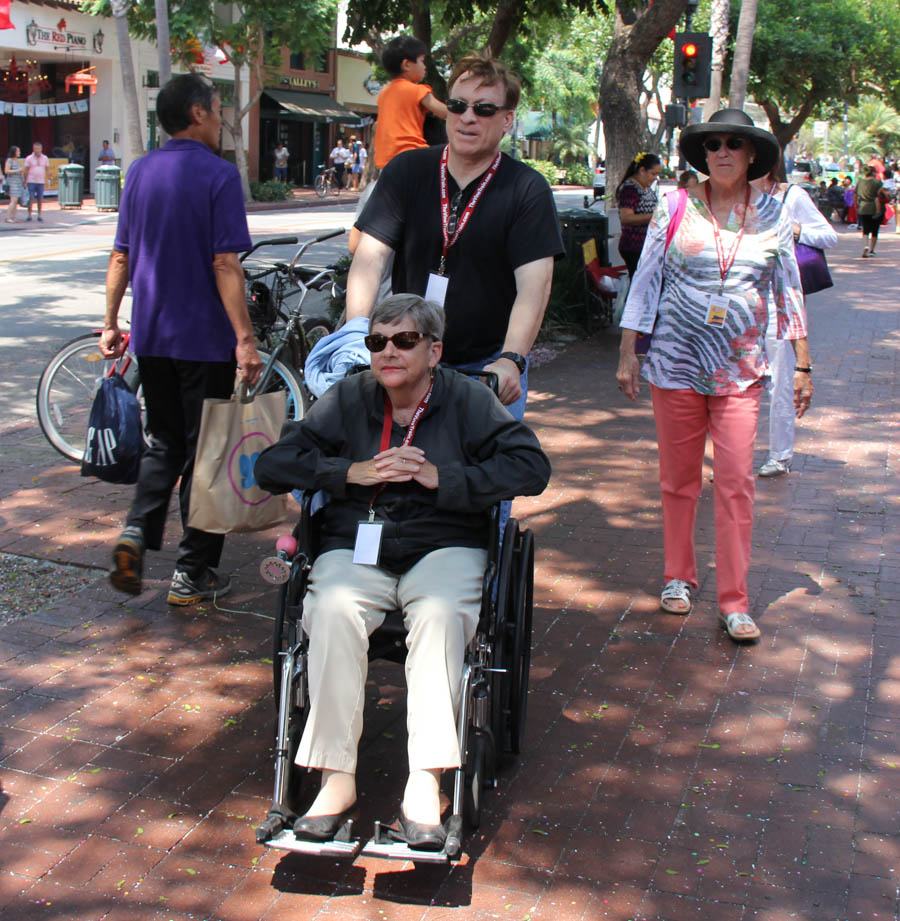 Mike gave Paul a hand... The hill was a bit of a challenge!

Disregard for the law... But, they made it!

We take a short class in "Bob Decorating" while lunch is being arranged!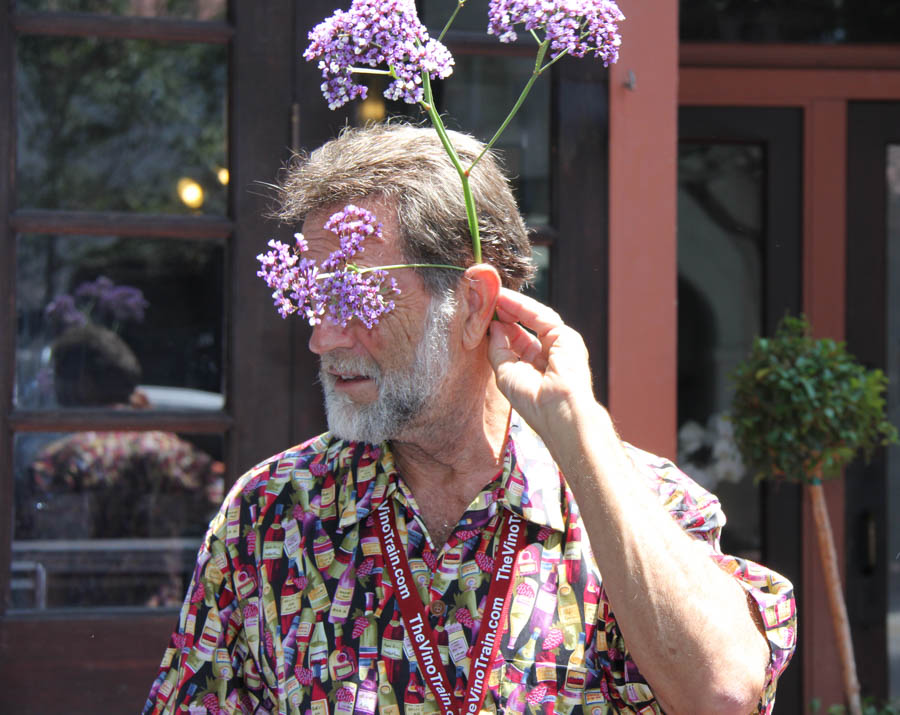 Close but no cigar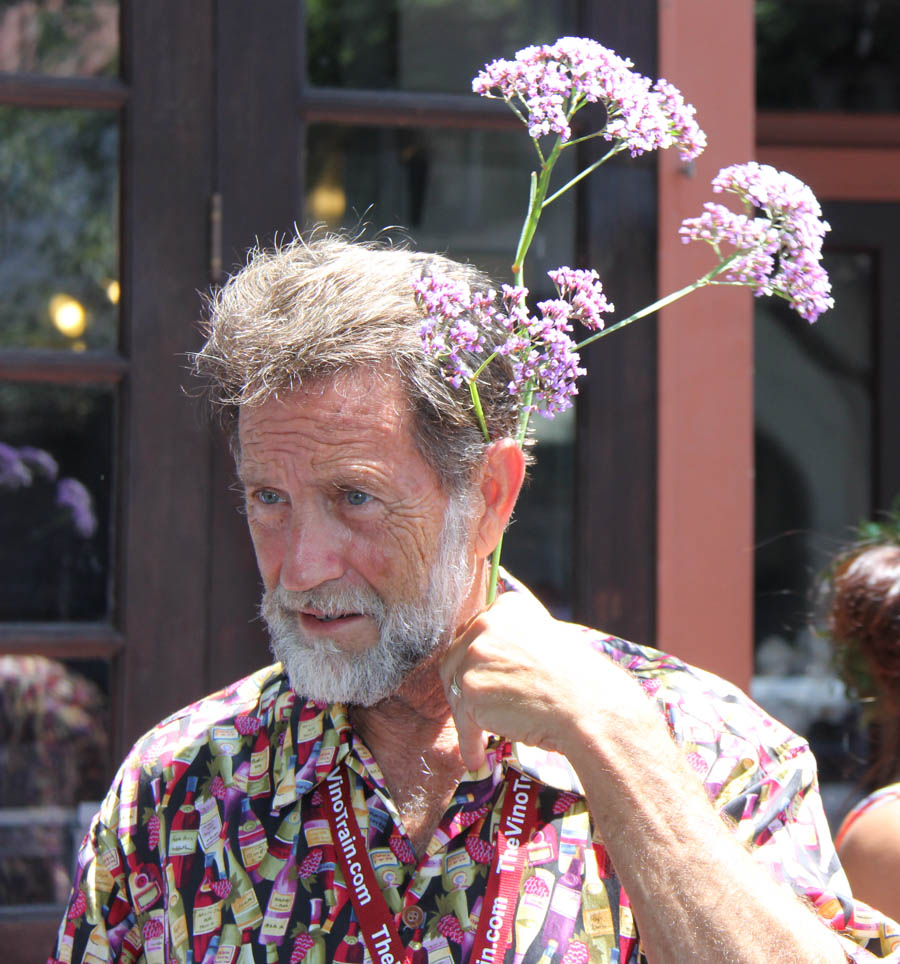 "Quick someone... Get a hammer and a nail!"

"It will provide some much needed shade"

We all watch in amazement!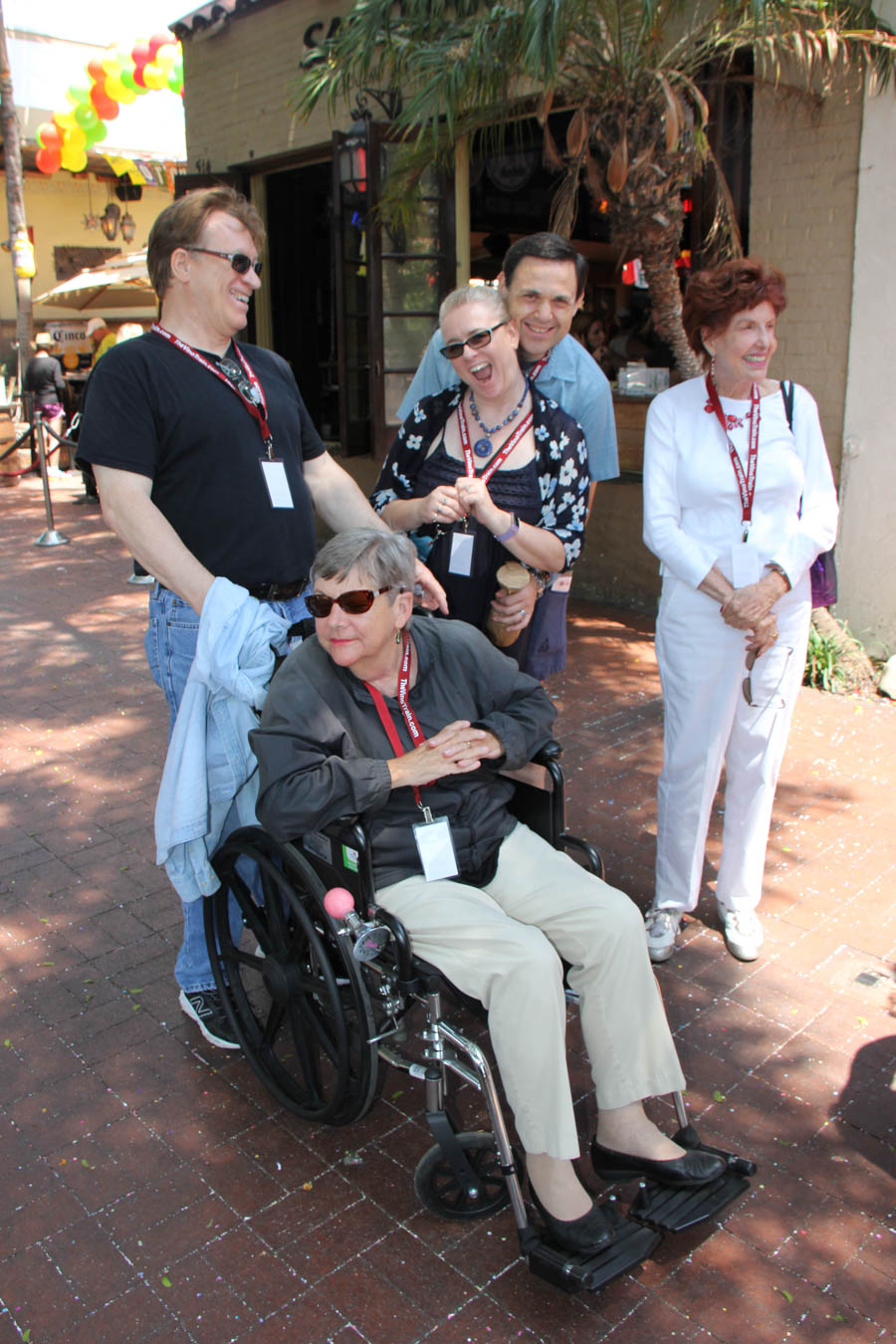 Sam must have gotten some ideas!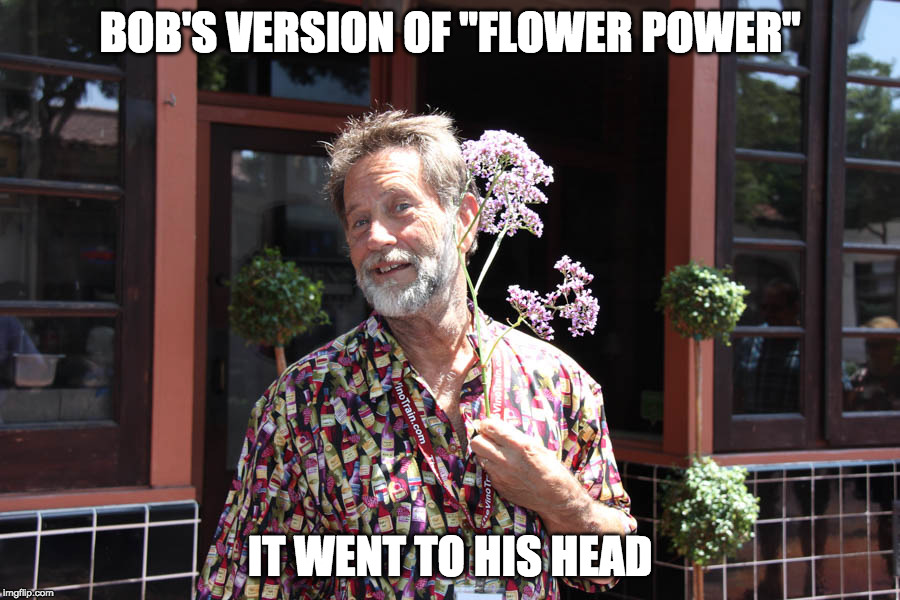 More J-Walking underway

We settle on Thai... Different for sure!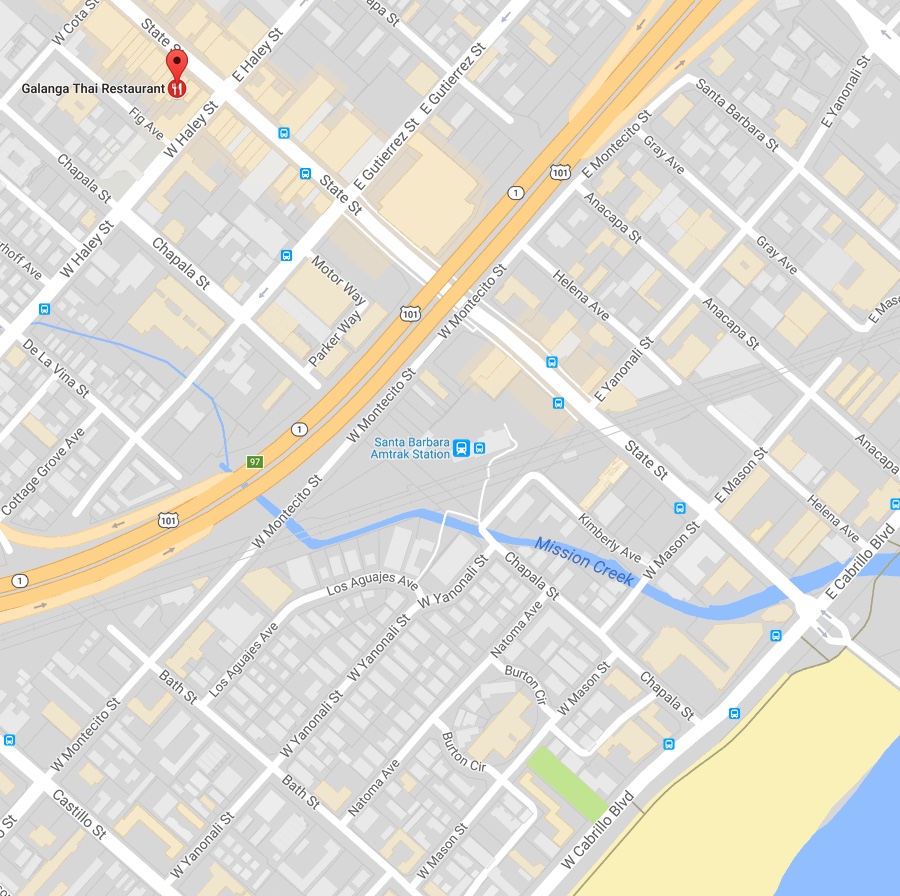 Someone bought the egg filled with confetti!
Did You Know? - In 2011, seven of Thailand's popular dishes appeared on the list of the "World's 50 Most Delicious Foods (Readers' Pick)"— a worldwide online poll of 35,000 people by CNN Travel.[unreliable source?] Thailand had more dishes on the list than any other country. They were: tom yam goong (4th), pad Thai (5th), som tam (6th), massaman curry (10th), green curry (19th), Thai fried rice (24th) and moo nam tok (36th).

Mike and Sue make the mad dash!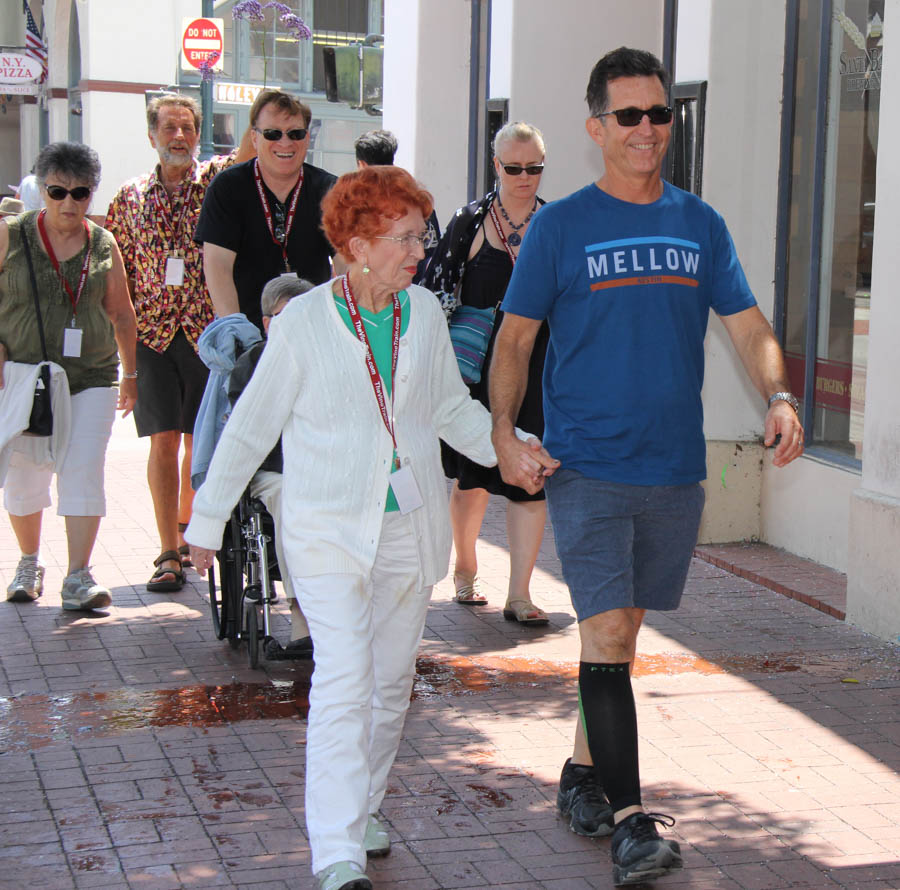 Grandma Nancy gets a hand!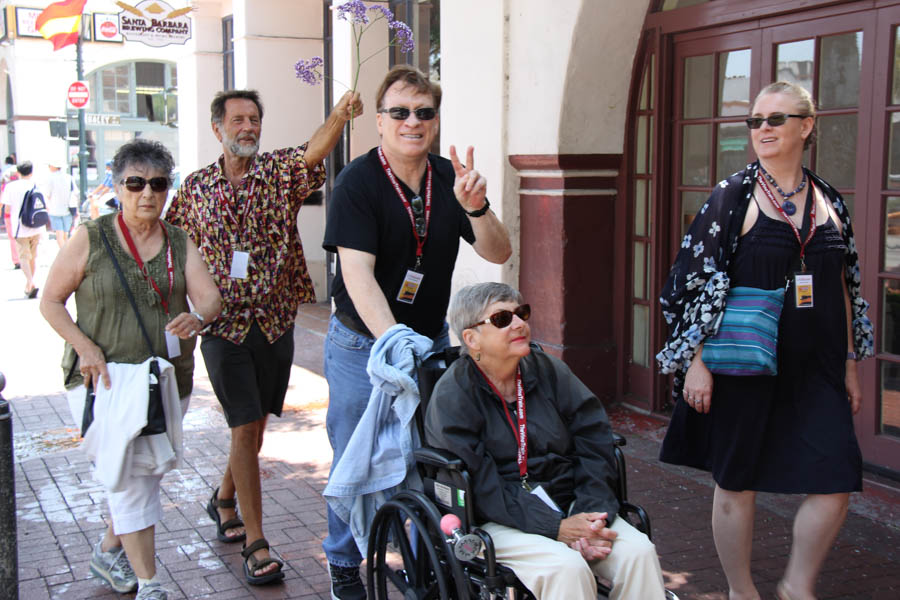 "Hang on... Here we come!"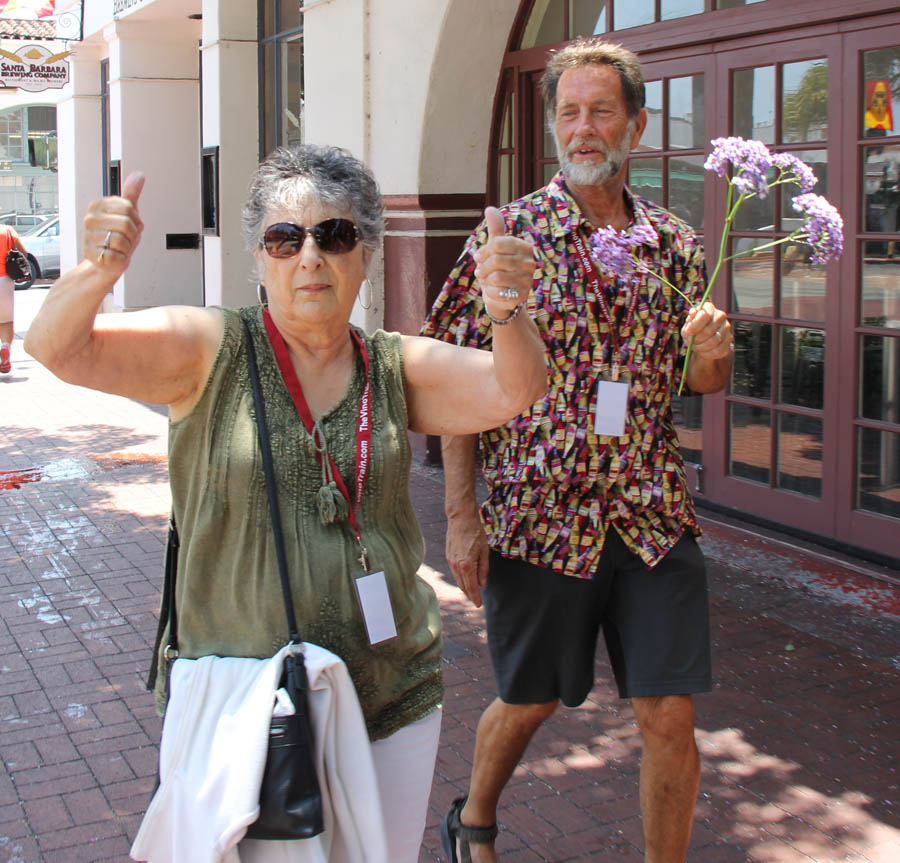 Irene flashes... the high sign! Bob really likes his flowers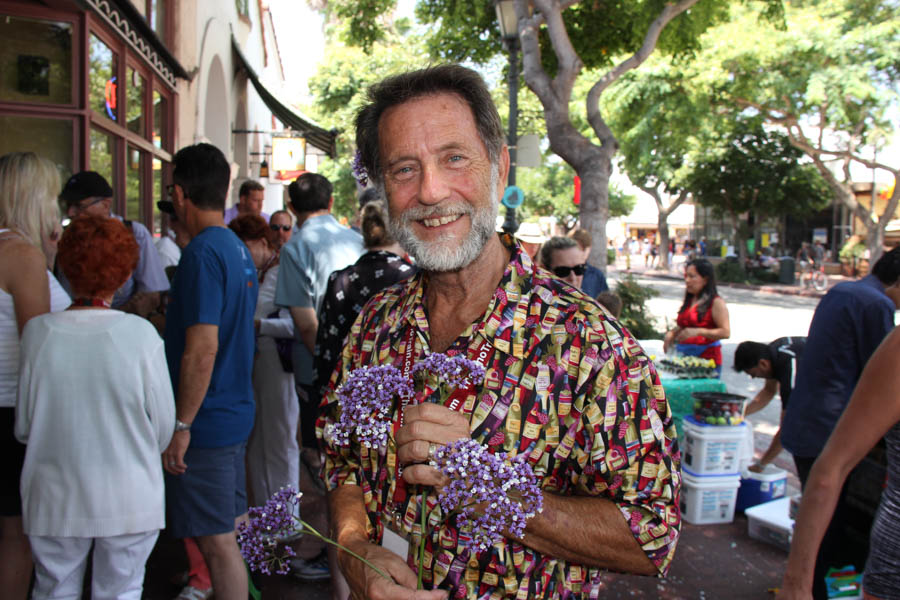 The natural look!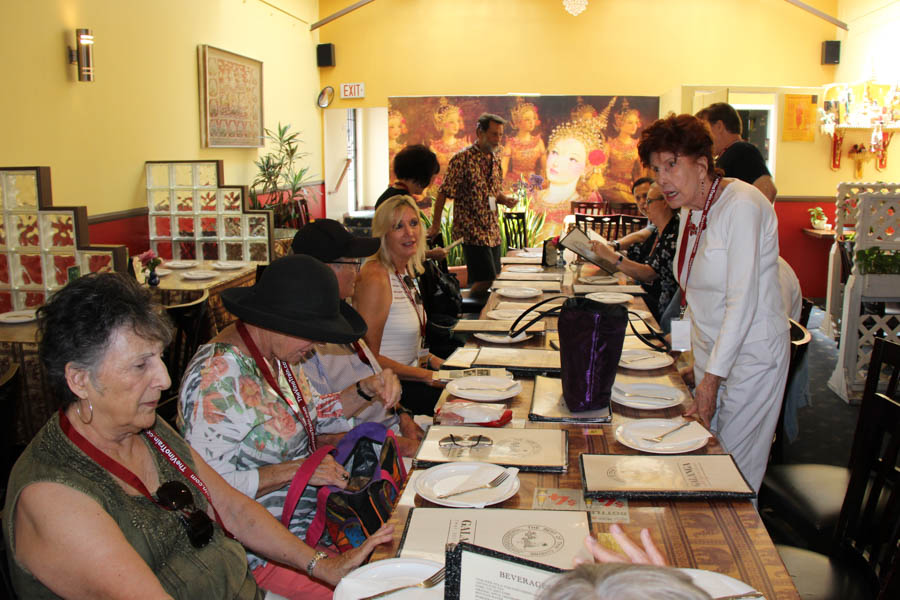 "Attention everyone!"
Did You Know? - Thai food was traditionally eaten with the right hand while seated on mats or carpets on the floor, customs still found in the more traditional households.
Today, however, most Thais eat with a fork and spoon. Tables and chairs were introduced as part of a broader Westernization drive during the reign of King Mongkut, Rama IV. The fork and spoon were introduced by King Chulalongkorn after his return from a tour of Europe in 1897.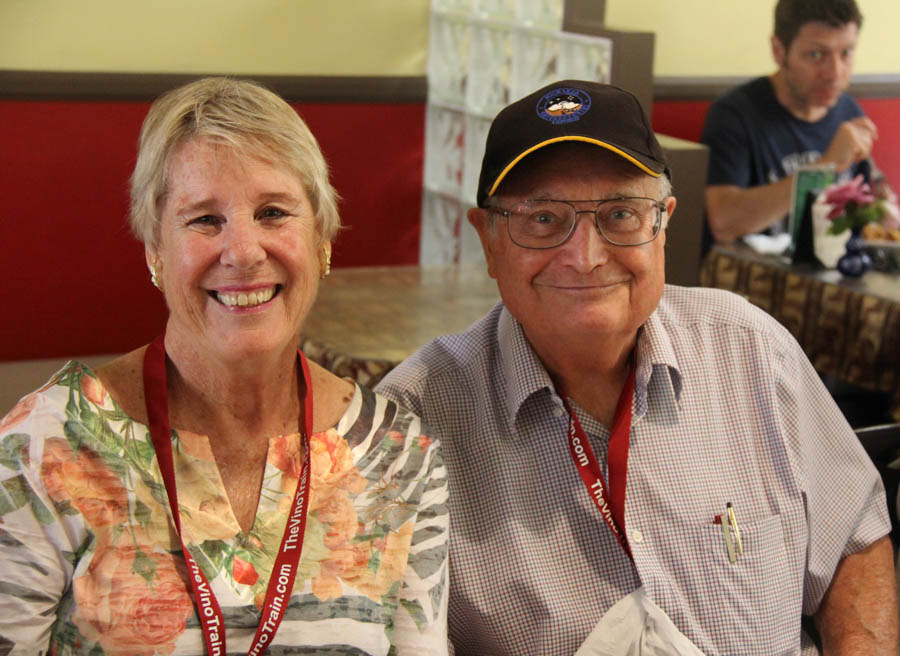 We took away Walter's chopsticks... Didn't want an accident!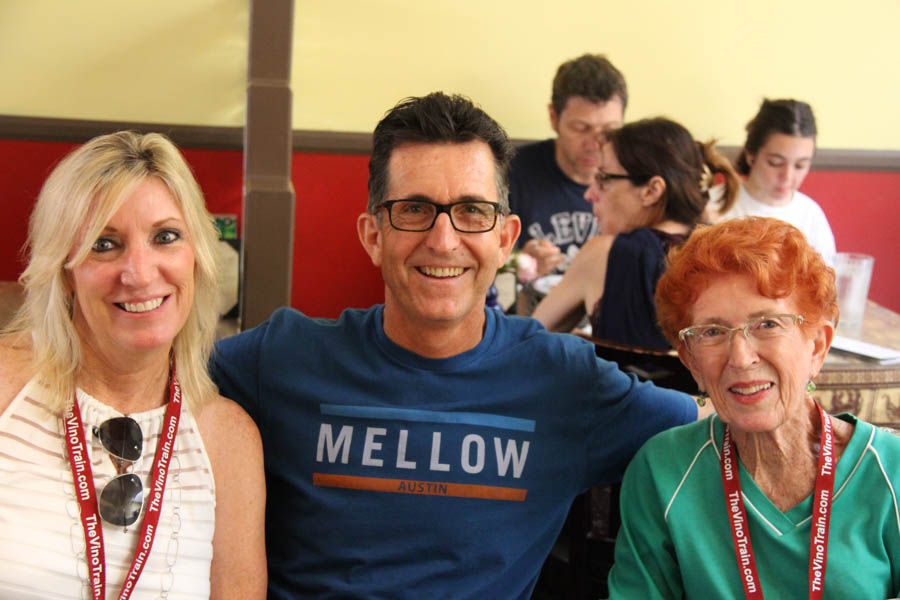 Jamie, Scott, and Nancy... Ready to dine on Thai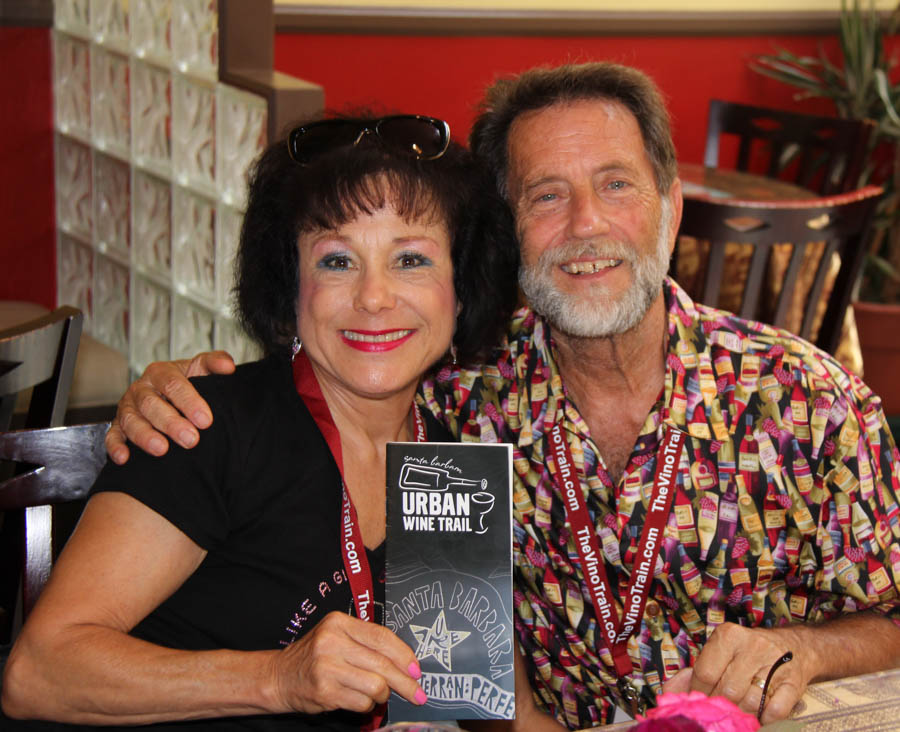 Donna always keeps the guide near here... She studied at lunch!
Did You Know? - So much so is the priority of food for Thai people that whenever you meet some Thai person, the first thing they will say is "Gin Khao Yung" meaning – have you eaten yet!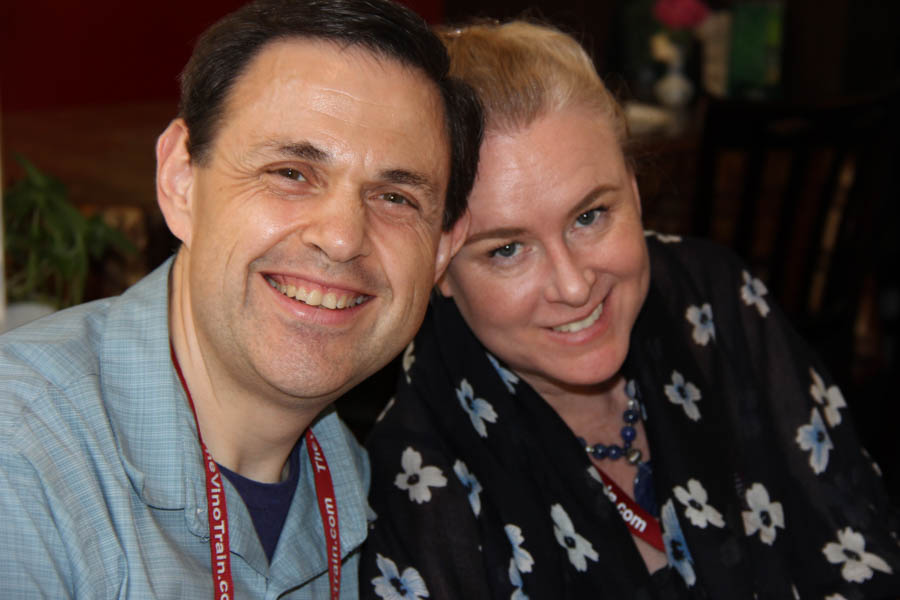 Awe.....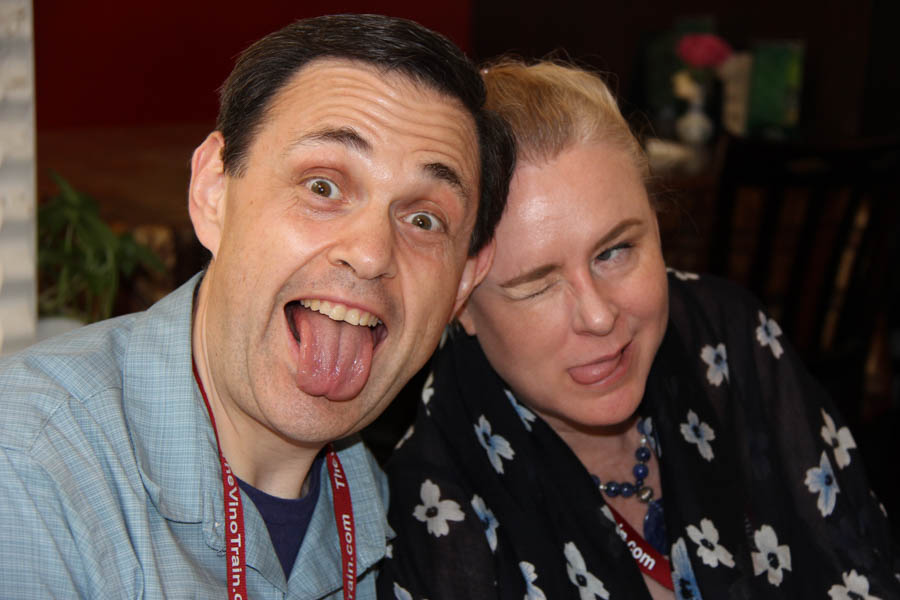 Don't ask... It's a long story

"The Brenda Cat"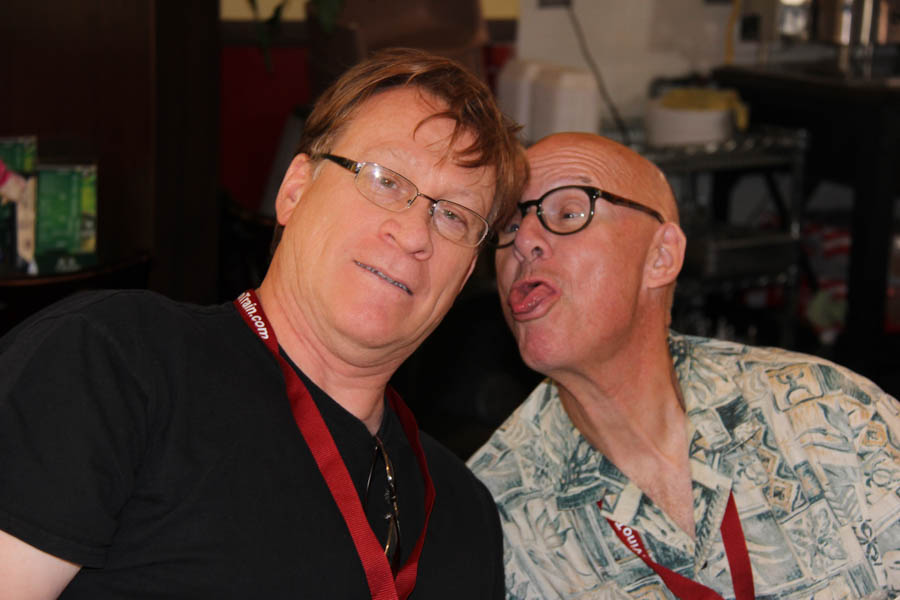 Never give Greg any ideas!"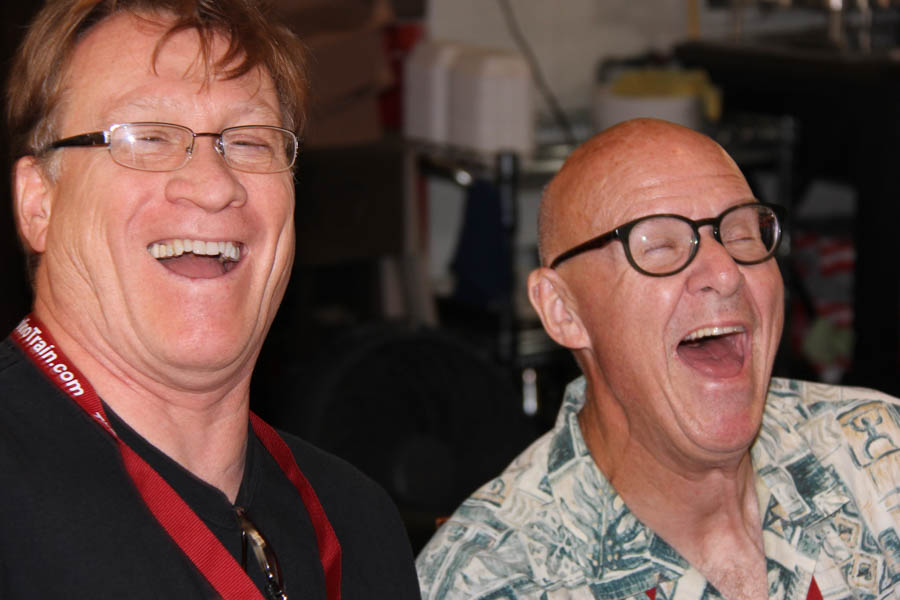 Never a shortage of laughter in this crowd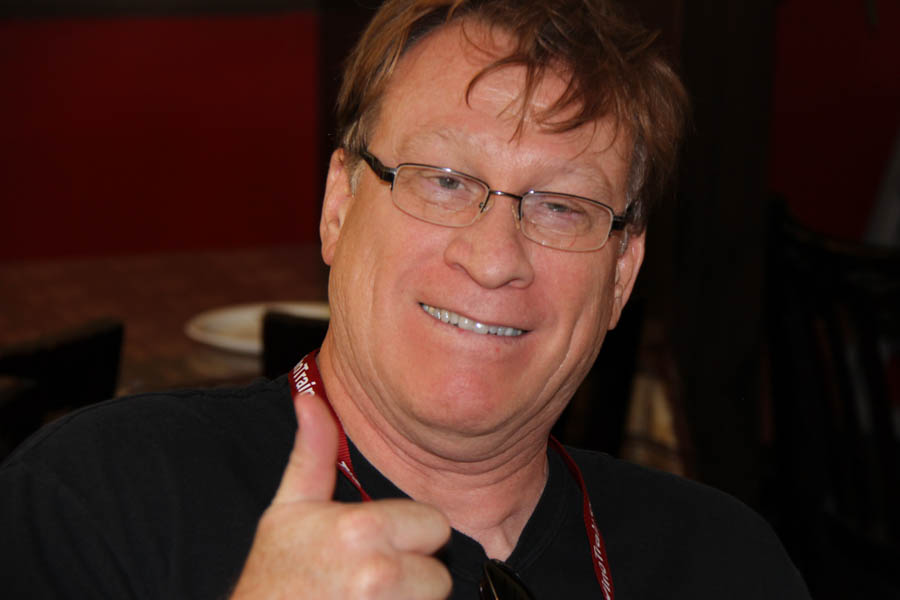 Mike gives it the "thumbs up", or, is the photo upside down?
Did You Know? - Eating a meal is generally treated as a celebration therefore it's quite common to see large groups of individuals eating together. Thai culture treats eating alone as a bad luck gesture hence, all dishes have to be shared and enjoyed together.

The gigleometer (giggle-o-meter) is pegged at 100%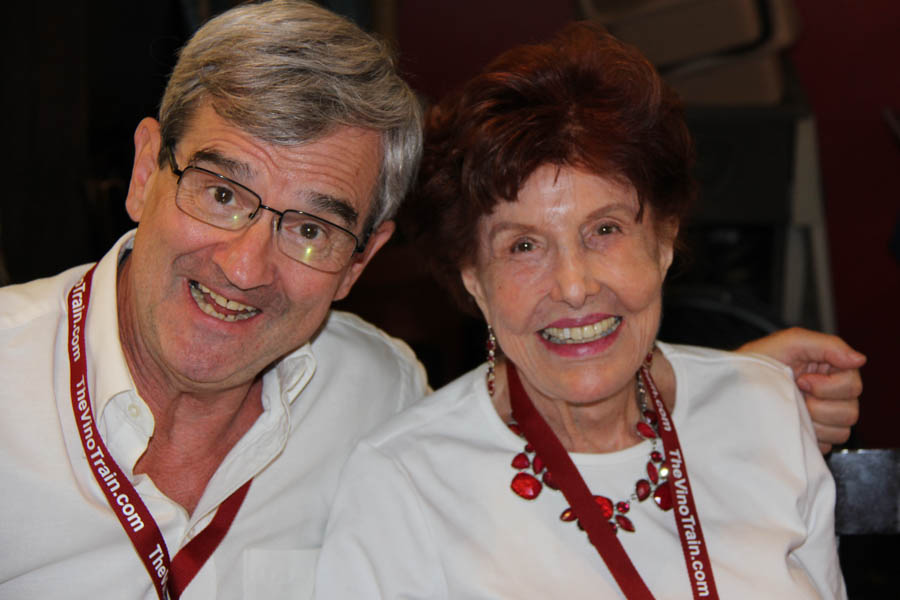 Looking cool! Thai must agree with them

"I'll take Greek anytime!"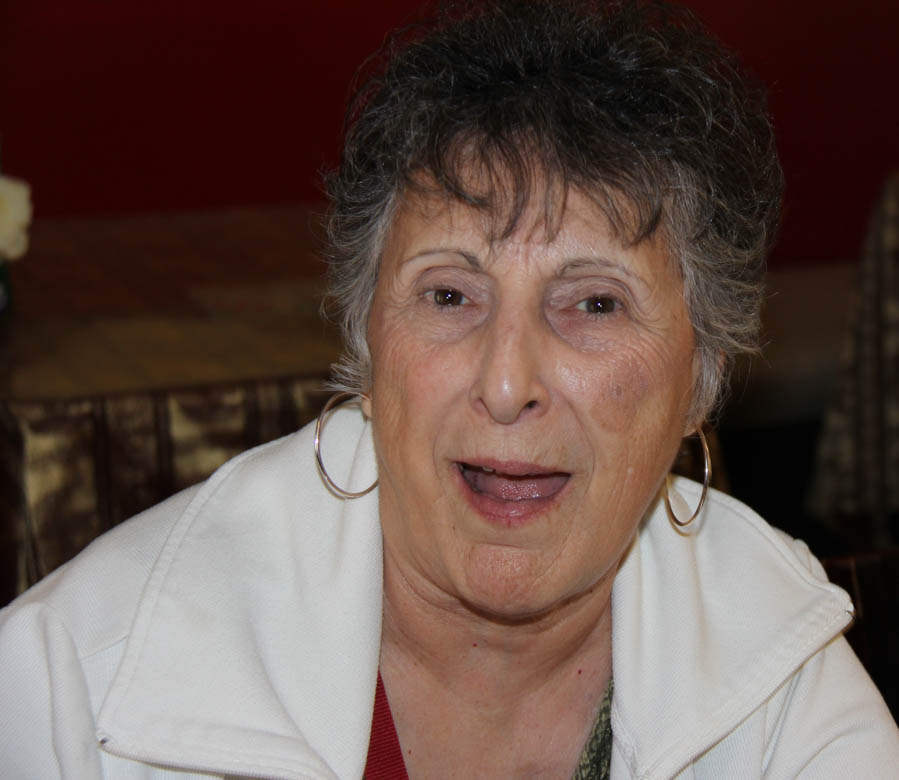 "Should I throw a glass and yell Oopa?"

Time to head out and venture forth to the wineries!

Paul and Sue enjoying all the friends and their banter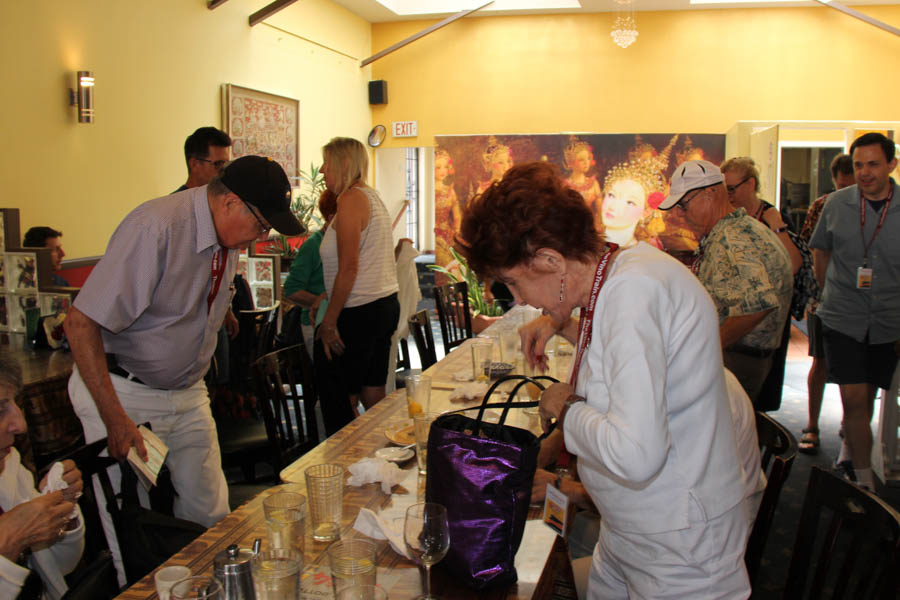 Packing up... On the move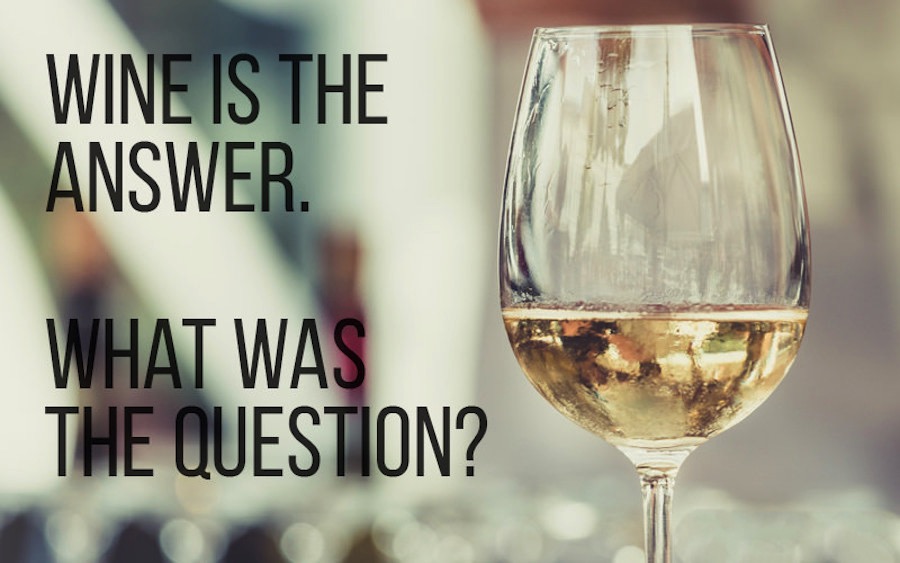 Huh?

Continue Tasting After Lunch (Page Four)