Santa Barbara Wine Choo-Choo
Check the itinerary to learn what to expect!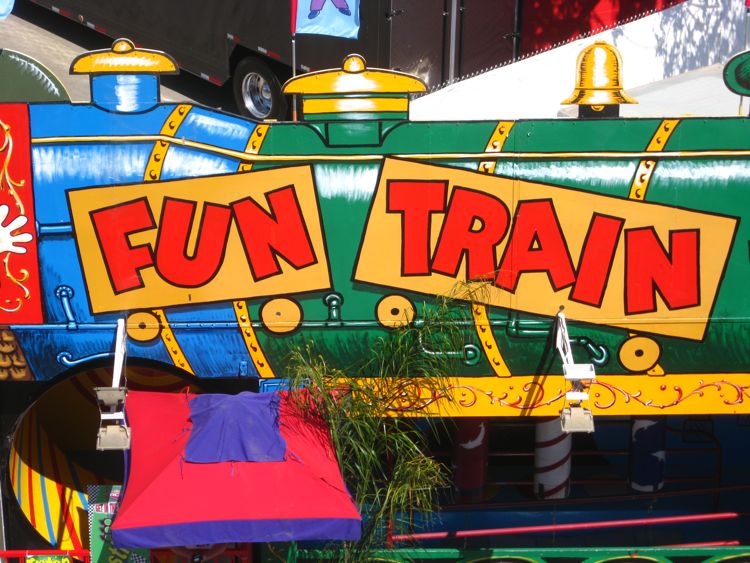 It will be when we are done!
Please visit the Overland Trail Website for fascinating information about the refurbishment activities and other cars and routes they operate! Great bargain for $160/person! (Note: Amtrak fare are $100 for business class no meals and no wineries! It's a deal!
Our train is Amtrak 799 and through special arrangements, our two vintage cars are added to the train this morning. Remember, when these two cars were built trains had no computers, power was totally different, and standards were hit and miss. Through years of work, the car owners restored these two cars to meet the Amtrak standards, added air conditioning, indoor plumbing and much much more.
The cars had to get 480, comms, Main resevoir pass through (you will probably want to do more than just pass it through), COT&S on brakes, roller bearings, 40 year inspection, crash post integrity. Depending upon where you want to run your trucks will need to be rated for certain speed and that will drive the types of swing hangers and truck pedestals you can have. Also if your car is original you will probably still have the 32V Generator system (not allowed), which means you'll need to upgrade the electrical system. Also need to have retention toilets and tanks.

Things you probably want: Modern brake system, Diesel Generator and tank(s), high speed trucks, MU (in certain locales), rubber diaphrams (to run on certain trains). An Air compressor for when you are not attached to a train


From The LA Times June 20th, 2010
By April Orcutt, Special to the Los Angeles Times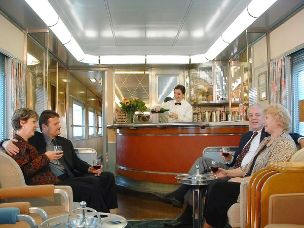 The Overland Trail, a business car with lounge,
will be part of a long-distance tour this summer.
Train fans like to say that nobody waves at a jet. Classic private railroad cars — ones designed last century for the railroad's corporate executives and their most important clients, ones with Art Deco styling or elegant flourishes? Those are something to wave at or, better yet, travel in. You can grab your trunk and hunker down in a chartered rail car attached to almost any Amtrak train rolling through the U.S.

These rail cars were the corporate jets of the early 20th century. Although many still exist, only about 100 meet Amtrak safety regulations and also are available for charter. Upgraded and refurbished private rail cars come as lounge cars, dining cars, sleepers, dome cars, observation cars (positioned at the tail for the view behind the train) and business cars (multipurpose cars formerly used by high-level railroad executives and other train personnel).

Some "private varnish" (private rail cars) reflects the opulence of early 20th century elegance (think Agatha Christie and the Orient Express), some have observation domes for a panoramic views and others are streamlined midcentury modern. The cars are privately owned and individually chartered, and arrangements can be made for trips between nearly all passenger train stations, which include major cities, small towns and even some national parks.

Owners say they pride themselves on excellent service and cuisine, handled by the experienced staff and chefs who create gourmet meals, often prepared fresh onboard by a culinary artist who's used to the challenge of cooking in a moving environment.

For over-the-top opulence on a long-haul journey, the 1928 Virginia City sashays down the tracks. It's decked out with red carpeting, brocade couches, gilt-framed mirrors, gold-plated silverware, hand-blown Murano-glass chandeliers above the dining table and antiques worth half a million dollars. Virginia City Rail office manager Trish Gallagher calls it "the gaudiest thing you could ever see on the rails." Its Venetian Renaissance Baroque styling includes a working propane fireplace — solid marble, no less — which wintertime guests rolling east from Oakland toward Reno especially enjoy.

Domed rail cars built for California Zephyr trains traveling between San Francisco
(Oakland, actually) and Chicago "promoted the scenic wonders and mystique of the West," notes Burt Hermey, president of California Zephyr Railcar Charters. Besides reclining chairs and lounge or dining tables, the domed Silver Lariat has a rare original oil-on-canvas mural by Mary Lawser depicting the Pony Express. The Silver Solarium features an original carved-linoleum bar with whimsical Western turkeys and sage hens. It also has a dome, parlor, four bedrooms and a dining room.

The Silver Solarium also has a round-end observation lounge designed for the "boat tail," or rear of the train. Both cars have Art-Deco lighted Lucite handrails that illuminate the stairs to the dome observation lounges.

For a sleeper car, forget the curtained compartments you know from movies and throw your valise onto the streamlined, midcentury-modern Pacific Sands, built when trains raced to outclass airplanes and automobiles. It has been refurbished to reflect that traditional 1950s style. So guests have places to stretch their legs during the day, Pullman cars like the Pacific Sands — with bench seats that convert into berths in private rooms — are often chartered with rail cars that have parlors or observation lounges, like the homey Tioga Pass, which also has four bedrooms, a dining room, a full kitchen and an outdoor platform at the back.

The Scottish Thistle, built in 1959, has a salon, formal dining room, full kitchen, two double staterooms, rear observation deck and quarters for staff. Owner Dean McCormick says guests get a kick out of standing on the open observation platform. "They like to think they're running for president," he says. "They wave to the people and seem to say, 'Vote for me!'"

A less expensive way to roll in luxury rail travel is to buy a ticket on a tour or one-day excursion. The Overland Trail, a 1949 club-lounge-and-dining business car with Art Deco touches, will team with sleepers and another business car this summer on a 12-day Northwest-Midwest Great Circle Tour traveling from Los Angeles to Seattle, then to Chicago and San Francisco before returning to L.A.

"Rail-car travel is a blast to your senses," says owner Bill Hatrick. "When we cross Donner Pass in the Sierra, you can stand on the back porch and face behind the train. The scenery recedes, and you feel like you're on a magic carpet."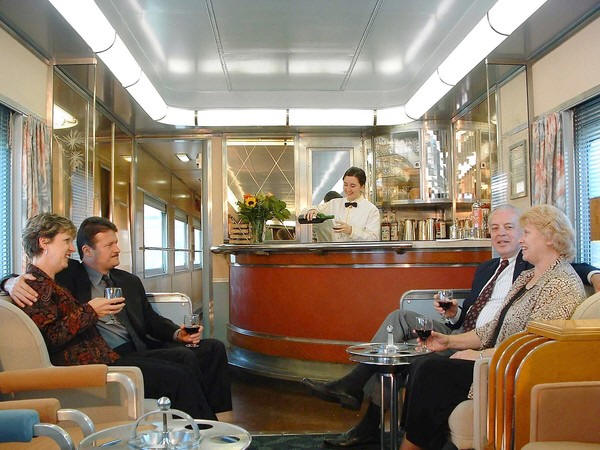 Did You Know? - After George Pullman's death in 1897, Robert Todd Lincoln, son of Abraham Lincoln, became company president.
The Most Beautiful Train In The World
Did You Know? - The Daylight had its inaugural run on March 1, 1937 and was hauled by GS-2 steam locomotives. It was the first of the Daylight series that also included the San Joaquin Daylight, Shasta Daylight, Sacramento Daylight, and Sunbeam. The Coast Daylight ran behind steam from March 1937 until it was dieselized on January 7, 1955.
The GS-2 was a streamlined 4-8-4 Northern type steam locomotive that served the Southern Pacific Railroad from 1937 to 1956. They were built by Lima Locomotive Works and were numbered 4410 through 4415. GS stands for "Golden State" or "General Service."

GS2 Southern Pacific Locomotive - July 4th, 1937: The curve near Cuesta has just been reballasted. As the new Daylight tried to round the upgrade curve the locomotive drivers could not gain traction. Finally a 2-10-2 was called out from San Luis Obispo to add a little tractive effort.
After dieselization, the train continued to run until May 1, 1971 when Amtrak took over service and rerouted their Coast Daylight to Oakland.
A second train known as the Noon Daylight ran on the same route between 1940 and 1949, with a suspension during World War II. The original Coast Daylight was informally known as the Morning Daylight during this time.
In 1949, the Noon Daylight was replaced by an overnight train known as the Starlight using the same equipment. In 1956, coaches from the Starlight were added to the all-Pullman Lark and the Starlight was discontinued in 1957. Amtrak later revived the train name for its Los Angeles to Seattle service known as the Coast Starlight.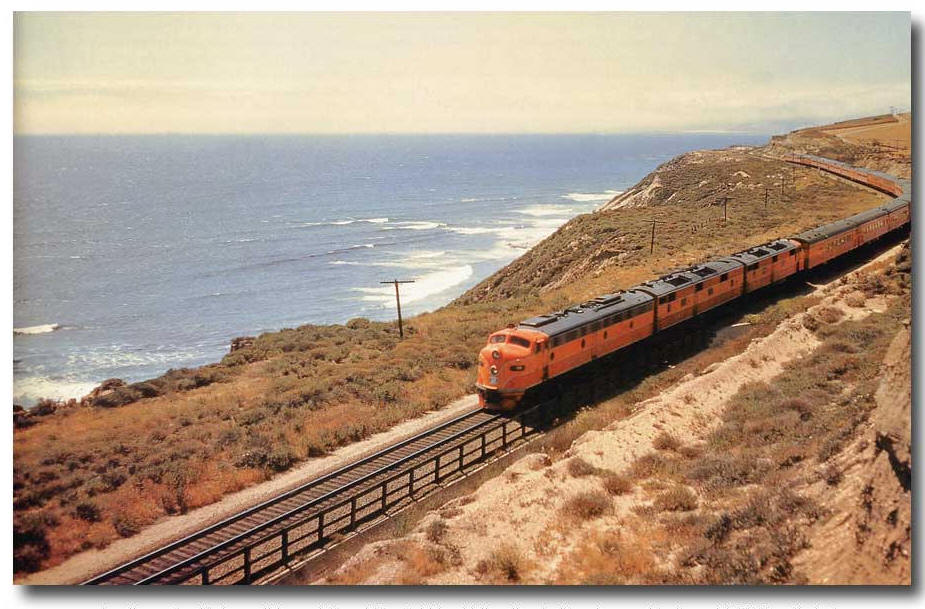 After Dieselization the train was still pretty!

Destination: Santa Barbara Wineries (And Sightseeing) Here We Come!

Ride the rails
The Santa Barbara Daylight Vino Train is just the ticket for us as a day of escape to the beautiful city of Santa Barbara and the surrounding wine country on California's South Central Coast is just what the doctor ordered!
The special day will be filled with wonderful adventure, great food, super friends and lots of premium wine tasting!
Breakfast and light dinner on board will make the adventure even more wonderful!
The wine tasting will take place right in down town Santa Barbara led by n experienced guide, Tom Anderson. The tours are fun, educational and will tantalize your taste buds!
Our Group Is So Big They Have Added A Second Car
Did You Know? - The advent of Amtrak on May 1, 1971, brought the wholesale discontinuance of much of the rail passenger system in the United States. Amtrak bought the best of the passenger cars from the various railroads. These cars have been refurbished and meet the "Amtrak Certifications".
We will get to ride both cars... We will trade cars at Santa Barbara
Car #1 - The Overland Trail
The Overland Trail is a 1940s built, former Southern Pacific club lounge that was built as a mid train 1st class lounge for the San Francisco Overland. Carefully restored and upgraded to meet current Amtrak passenger train requirements, the Overland Trail can be added to virtually any Amtrak train for exciting destinations around the country. The car features a stunning Streamline Modern interior, a most gracious quarter-circle bar, a comfortable ride, and expansive picture windows. You'll arrive in Santa Barbara in style aboard this gem from the past!

The Club Car
Did You Know? - A lounge car (sometimes referred to as a buffet lounge, buffet car or club car) is a type of passenger car on a train, where riders can purchase food and drinks. The car may feature large windows and comfortable seating to create a relaxing diversion from standard coach or dining options. In earlier times (and especially on the "name" trains), a lounge car was more likely to have a small kitchen, or grill and a limited menu. Food was prepared to order and often cooked, though items such as club sandwiches would have usually been part of the offerings. The cars were often operated by the Pullman Company, and in other cases by the railroad directly as part of the dining car department.


The Club Car Layout (click to expand)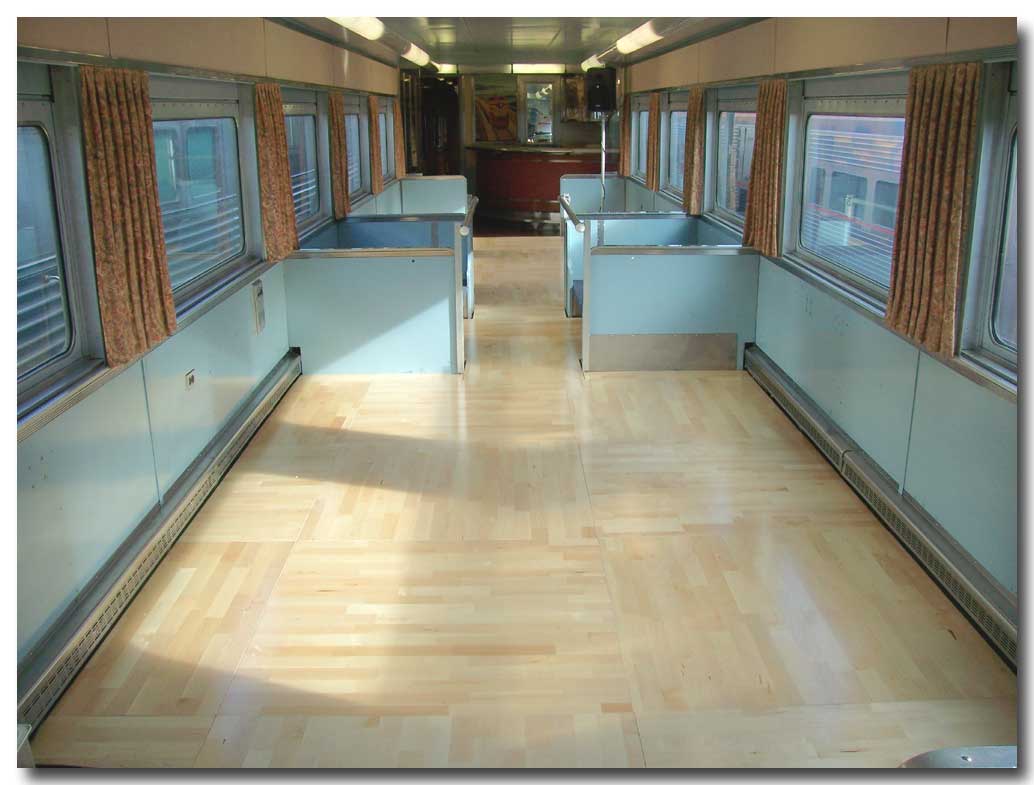 Configured as a dance car!!!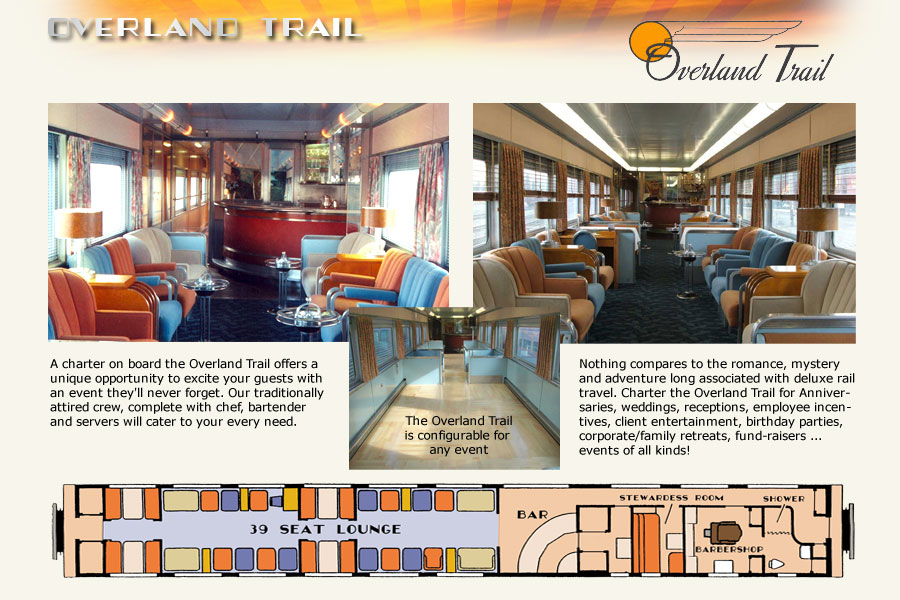 Car #2 - The Silver Splendor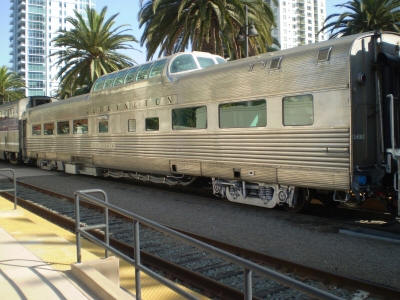 Did You Know? - Built by the Budd Co. in 1956 as Chicago, Burlington & Quincy No. 4735, this stainless steel Vista-Dome coach raced between Chicago and Denver on a daily basis until 1980. the latter 9 years under Amtrak ownership. Originally named SILVER BUCKLE, she was part of the last 2 complete conventional train sets to be ordered new in the pre-Amtrak era and traveled over 4.5 million miles.
Did You Know? - With standard coach seating for 50 and 24 seats up in the dome, the SILVER BUCKLE provided fast and comfortable service for budget-minded patrons till Amtrak s bi-level Superliners arrived. Officially retired in 1981, the car spent time in storage at Oakland, California and Beech Grove, Indiana before being auctioned off to a railcar shop owner in 1993. In 1997 the current owners, Heidi and John Caestecker, purchased the car in the Midwest and moved it out to Fullerton, California with the intent of restoring it to operating condition as a luxurious Dome-Diner-Lounge. Dining capacity will be 24 at tables upstairs and another 24 in the long end of the lower level. A cocktail lounge seating 10-12 will be featured in the short end, with kitchen and restrooms under the dome.
With the luxury appointments now installed for the car's rebirth, SILVER SPLENDOR is now in active Amtrak service and is available for private charter or public excursion.