Overview: The Itinerary Begins At Union Station 7:00 Saturday Morning!
Los Angeles Departure - Board the Overland Trail for a 7:45 am departure at Union Station Los Angeles, 800 N. Alameda St. When in the station, ask for Amtrak Train # 799, our special car will be attached to Amtrack #799.


In Santa Barbara - Upon arrival Santa Barbara at 10:25, our guide will lead you on a walking tour to several tasting rooms. Please wear comfortable shoes and dress in layers. You are, of course, free to join or decline the tour, or leave the tour at any time. If you want to explore Santa Barbara completely on your own, you have approximately 6 hours to do so! After our visit, we'll return to the Santa Barbara train station and await our special carriage.


Departing Santa Barbara - At 4:31, we depart Santa Barbara for our evening run back to LA. We'll enjoy the sunset and a light buffet dinner in our "exclusive club on rails" as we make our way back home ... arriving at 7:15pm.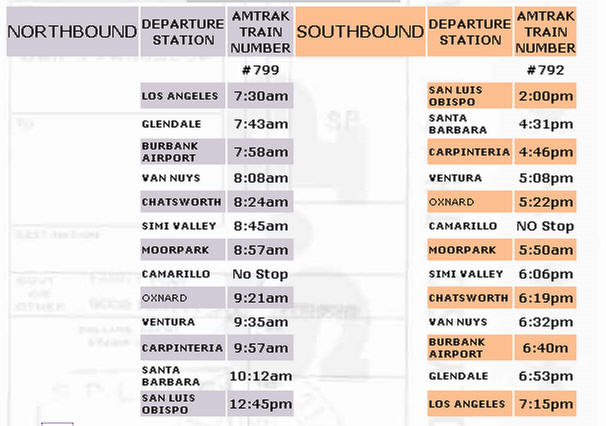 Departure At 7:30 AM From Union Station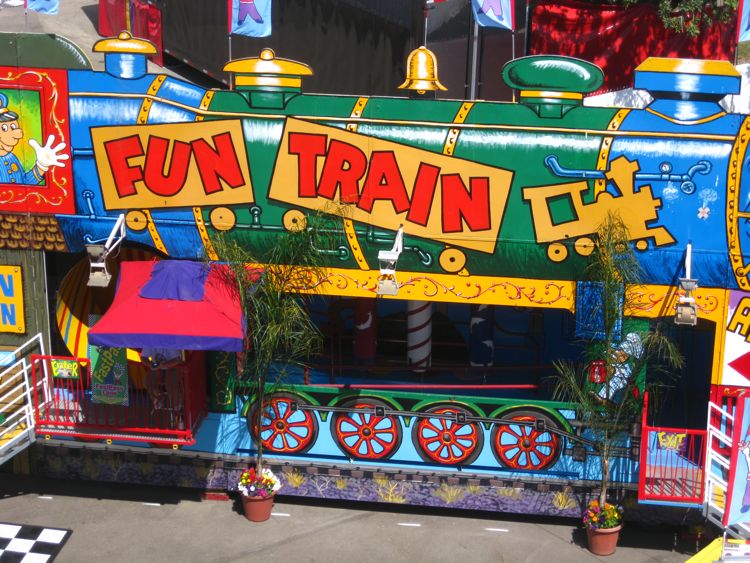 Board the Overland Trail or the Silver Splendor for a 7:30 am departure at Union Station Los Angeles, 800 N. Alameda St. Plenty of parking, $14 for all day. When in the station, ask for Amtrak Train # 799, our special car will be attached to it.
While heading for Santa Barbara, you'll enjoy a delicious and freshly prepared buffet style breakfast with Belgium waffle, southwest frittata, sliced chicken sausages and more. Our waiter/porters, who have your comfort and enjoyment in mind, will beckon to your call.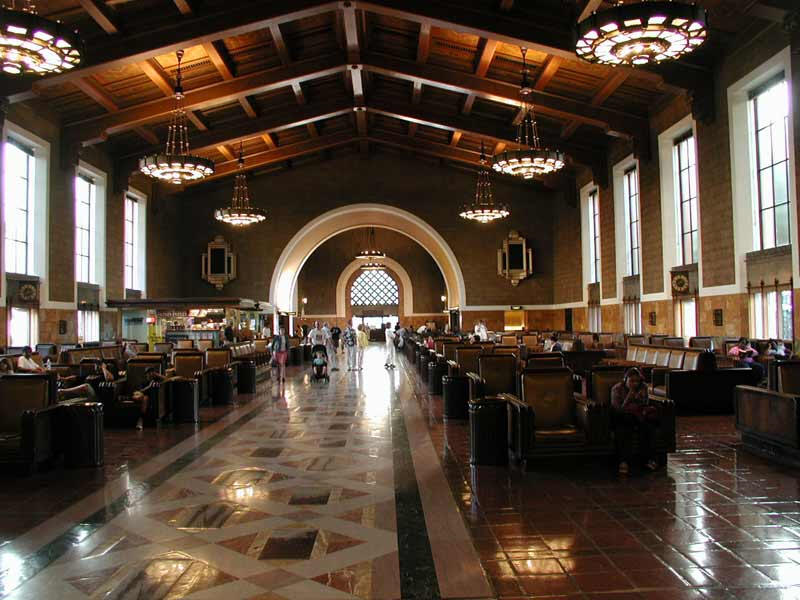 Union Station
The Santa Barbara Daylight Wine Lover's Train transverses the spectacular "coast line" of the former Southern Pacific Railroad (now Union Pacific). This was the route of the famed Coast Daylight, (hence our nod to the heritage of the line and train) described by many as, "the most beautiful train in the world".
The train was inaugurated on March 21, 1937 and ran up until the advent of Amtrak in 1971. Our special car will be coupled to the regularly scheduled Amtrak train # 799, northbound and train # 792 southbound. We'll enjoy many scenic highlights through the large picture windows of the Overland Trail including the; Santa Susana pass, farmer's fields, many seaside miles along the mighty Pacific Ocean, and, of course, our final destination, the "American Riviera" - aka, Santa Barbara.
Our Route Is About 100 Miles Station To Station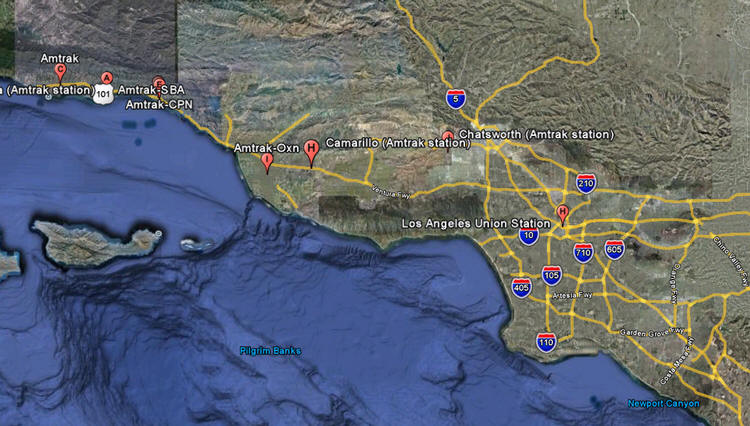 We will have a few stops along the way
Arrival In Santa Barbara At 10:45 AM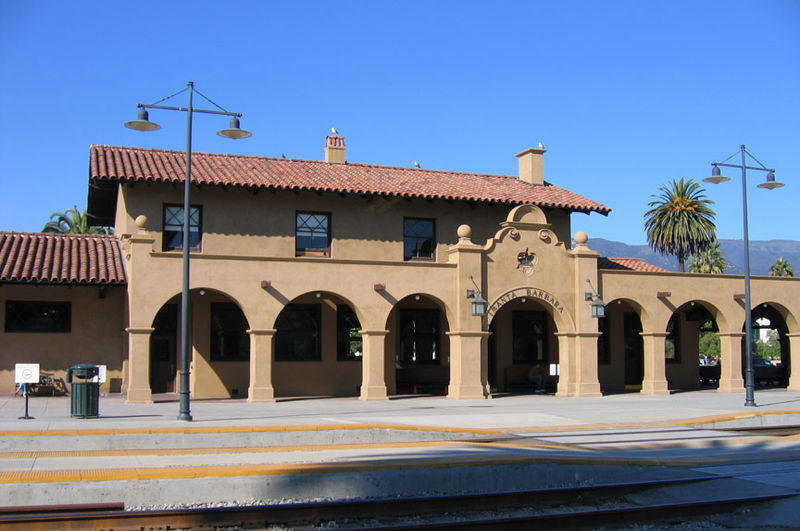 Santa Barbara Station
Did you know? - The station was built in 1902 by the Southern Pacific Railroad in the Spanish Mission Revival Style. It is located within walking distance of Santa Barbara Harbor, Stearns Wharf and State Street, Santa Barbara's main thoroughfare.
Santa Barbara Wineries
Thanks to Google Earth, we have an aerial view of the station and the wineries!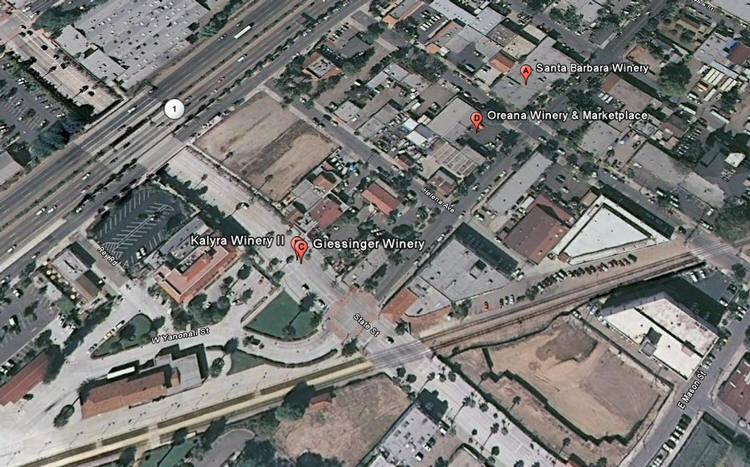 The station is in the bottom left corner (long red roof)
Although most "Santa Barbara Wineries" are actually located north of Santa Barbara about 40 miles, there are still a few wineries located in the city including the well know Santa Barbara Winery.
Santa Barbara Wineries include wineries in the city as well as the surrounding areas. Together the city of Santa Barbara as well as the areas of: Solvang, Los Olivos, Santa Maria, Buellton, Lompoc, and Santa Ynez are home to over one hundred wineries.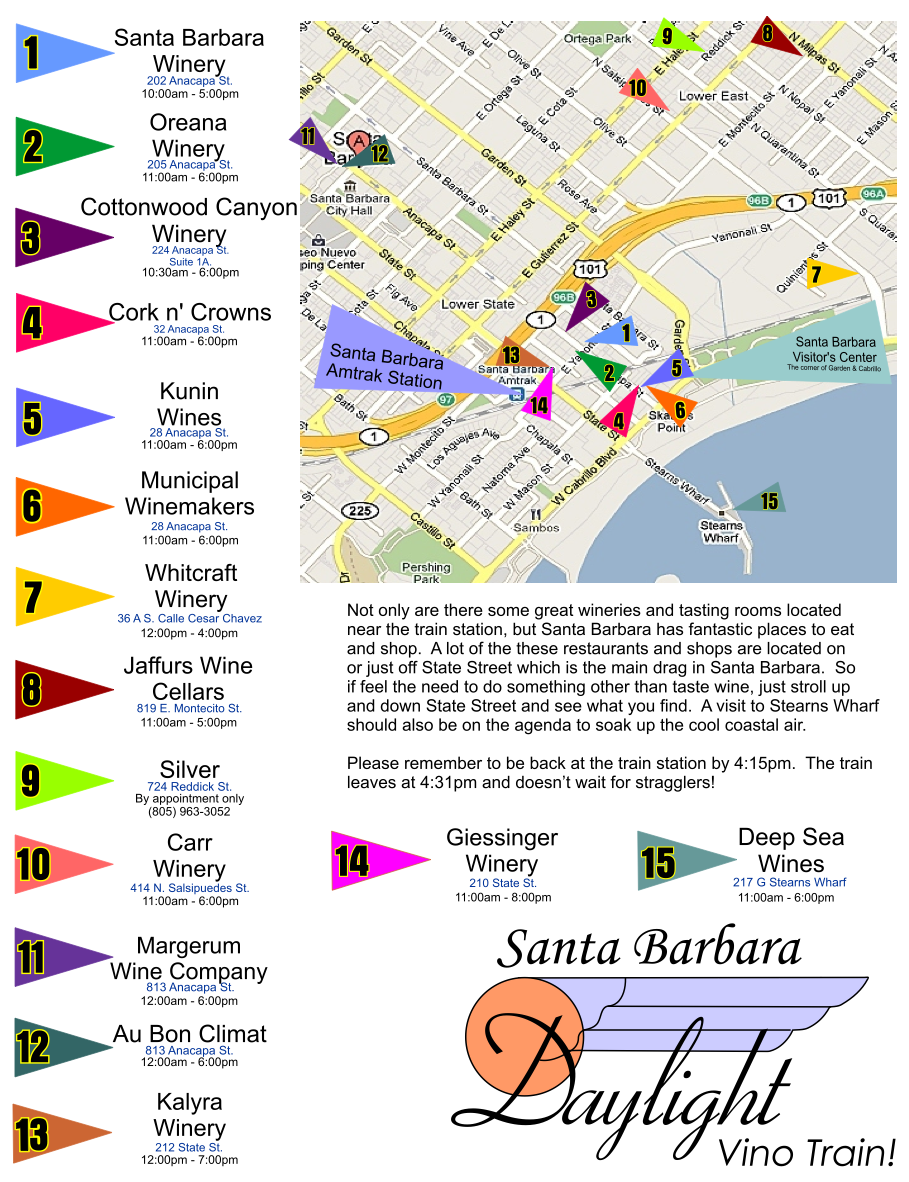 PLace we go within blocks of the train station
Find Out More About The Tasting Rooms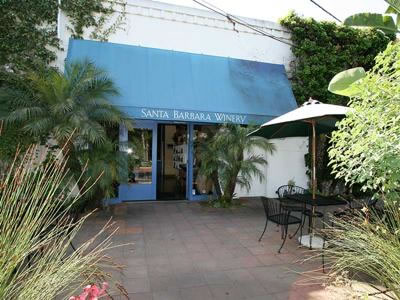 Santa Barbara Winery Entrance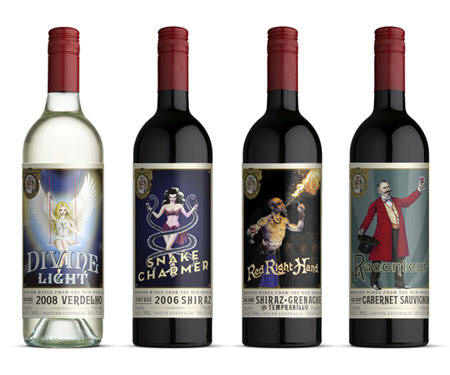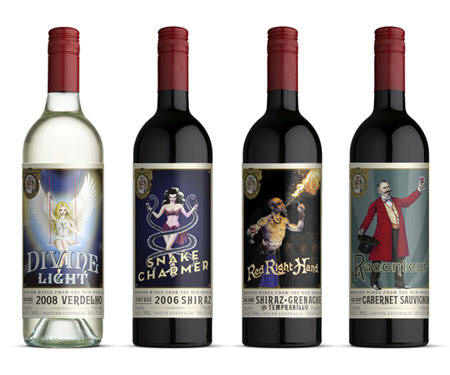 At Lunchtime We Take A Break... You Will Not Starve!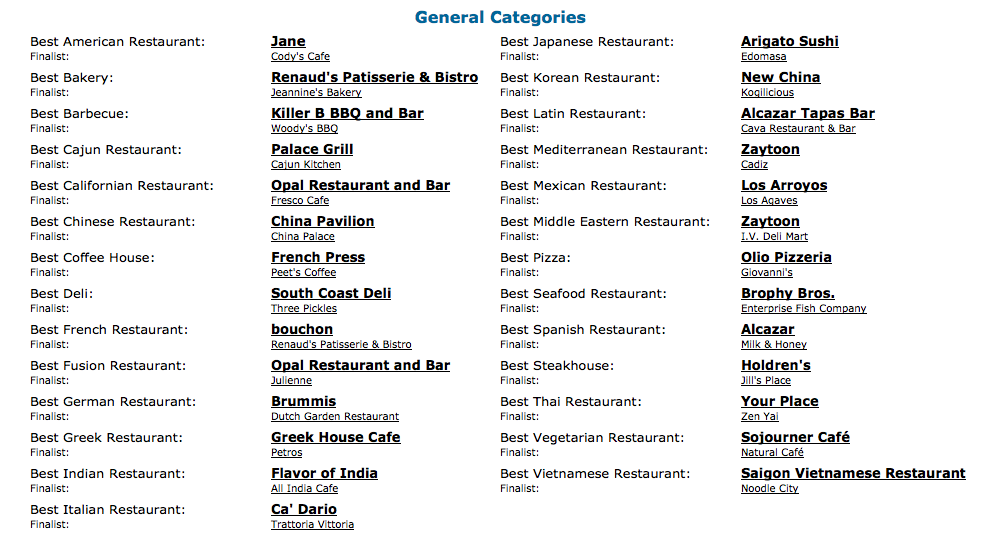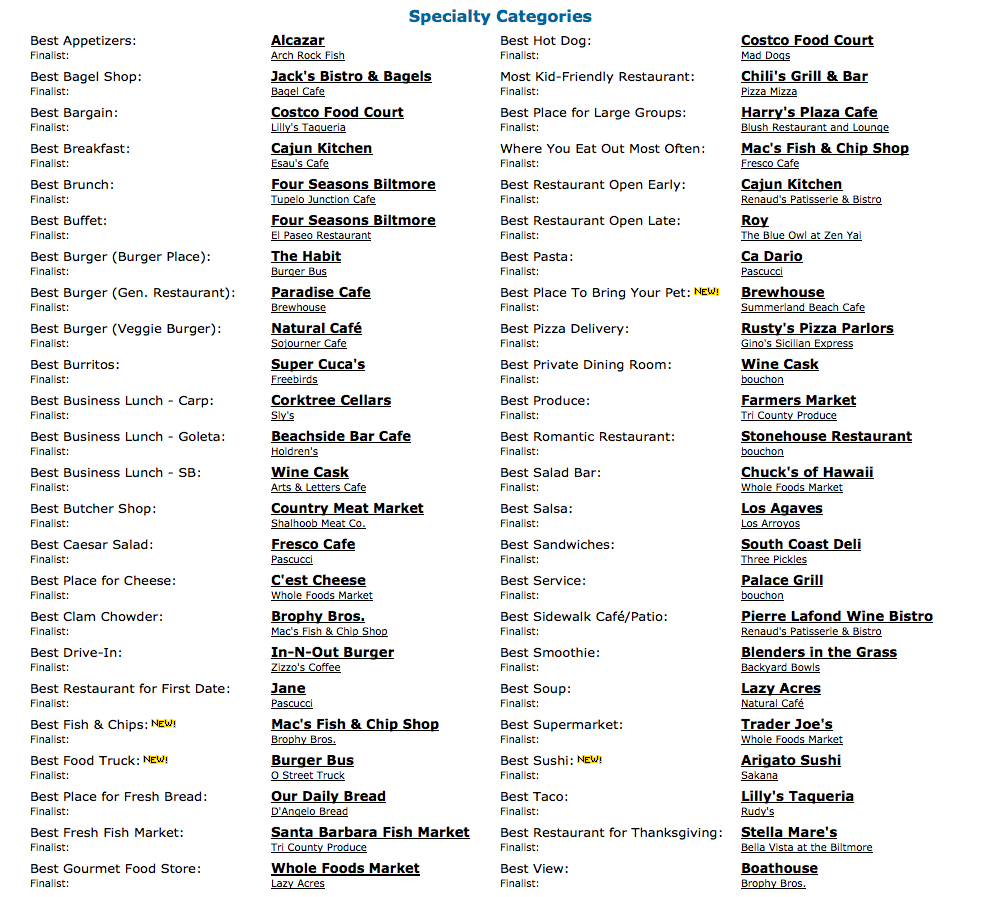 Other Activities For Those Who Aren't Wine Enthusiasts...
Taking the train into downtown Santa Barbara gives you many options. Pick up the trolley at the train station and hop-on-hop-off at your own leisure to explore all Santa Barbara has to offer. Take in the architectural gems of downtown, the County Courthouse. A Spanish-Moorish masterpiece with an 80 foot clock tower has hand-painted ceilings, giant murals and beautiful imported tiles.
Walk through pretty residential neighborhoods (or hop on the Old Towne Trolley) to Mission Santa Barbara, "Queen of the Missions for its graceful beauty." The tenth of the 21 Franciscan missions in California it offers historical insight to life in the early 18th century. Self-guided tours may be taken from 9am – 5pm daily. Enjoy a sunset dinner at one of the delicious restaurants on Stearns Wharf, or stand at the end of the wharf to watch for dolphins or whales.
"But I don't drink wine..." Well, try all the other activities since we have six hours in Santa Barbara. There are many things to do! Museums and attractions! Take the Santa Barbara Trolley !
Walk to Stearns Wharf (Enjoy unique gift shops, dining and fishing), visit the zoo, El Presidio(Last in chain of four military fortresses built by the Spanish) or go shopping along the main drag! ..... or, sip the vino!!




Clink on the specific picture to visit their websites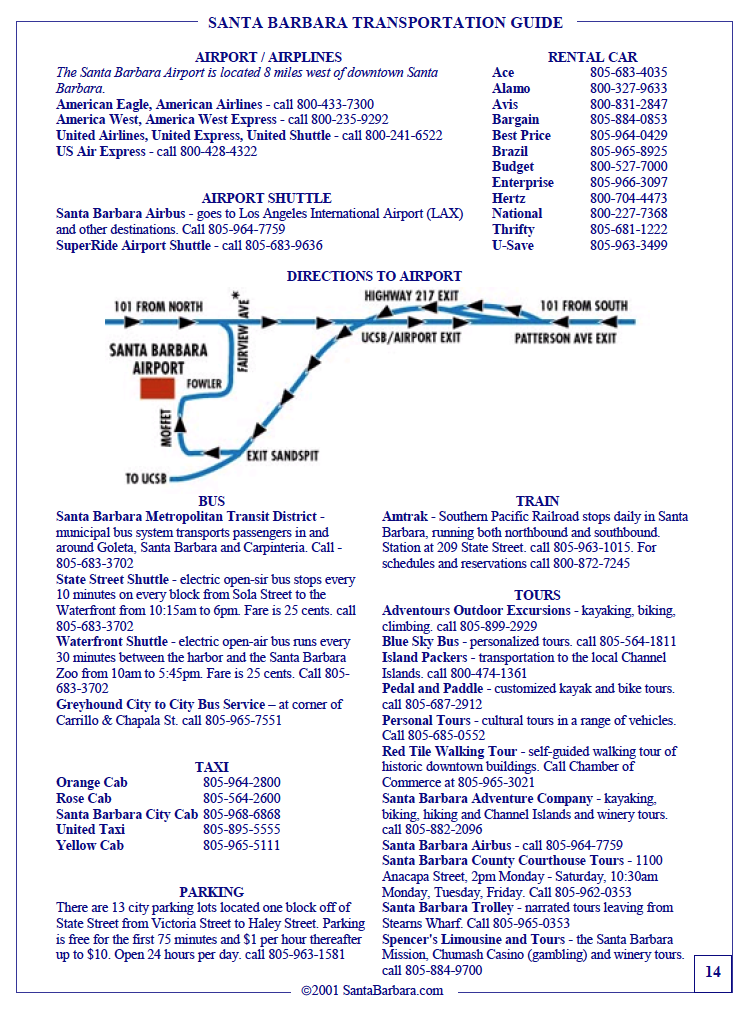 Departs Santa Barbara At 4:31!
We enjoy dinner on the way back to Los Angeles arriving at Union Station about 7:30 PM. This is a typical in route menu for the adventure...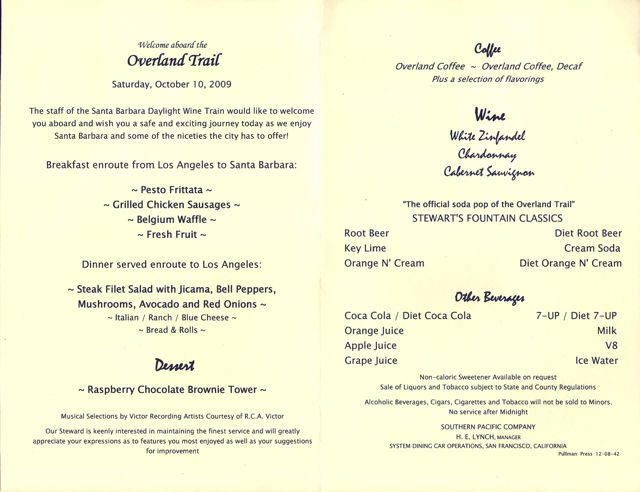 It's NOT Your Typical "Meals On Wheels"
Or In Comics Format...