Our Yearly Adventure Begins (Page One)
Many of us (about 45 souls) departed Old Ranch Country Club at 6:15 to assure we arrive at Union Station by 7:00. That gives us time to see the station, meet up with those who are going directly, and find our platform and join the train! The Party Bus is pretty lively even at 6:15 am!
We had a rocky start (Not Rocky & Bullwinkle) as the good old 405 was closed and many of us, the bus included, had to find their way to the ranch via the side streets! Our driver did a magnificent job getting us to the station right on time anyway!
Special thanks to Hans Thedens and Gary Gray for the additional pictures of the "Great Beer Event".
Have your volume up on your computers.... We have train music running in the background!
Quick Summary Of Departure & Arrival

Click for full sized image (2400 x 3500 pixels
Departing Old Ranch At 6:15 AM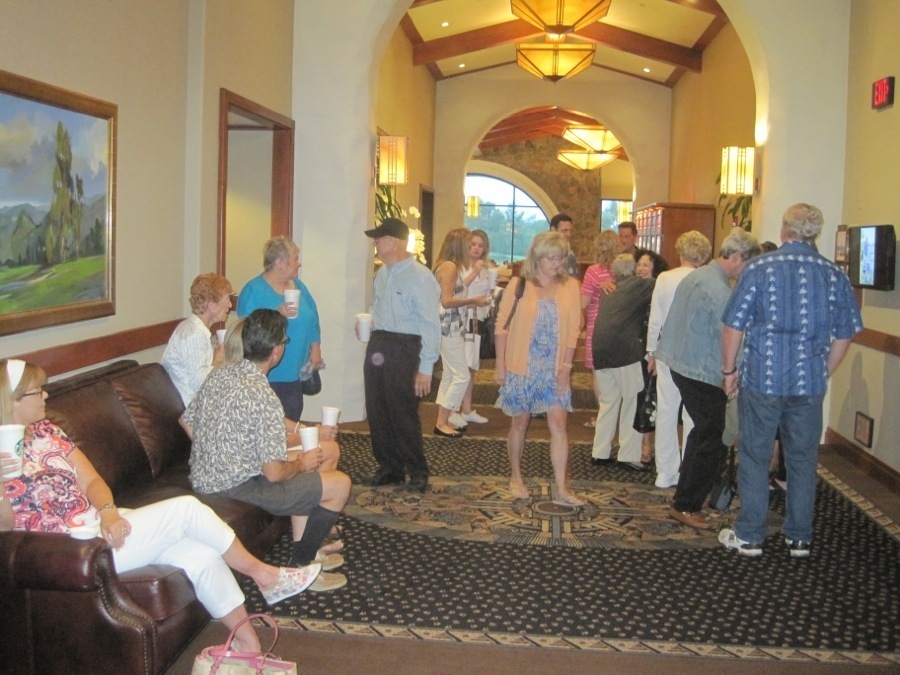 We are all coagulating at Old Ranch (Courtesy of Hans Thedens)

We are ready to go (Courtesy of Hans Thedens)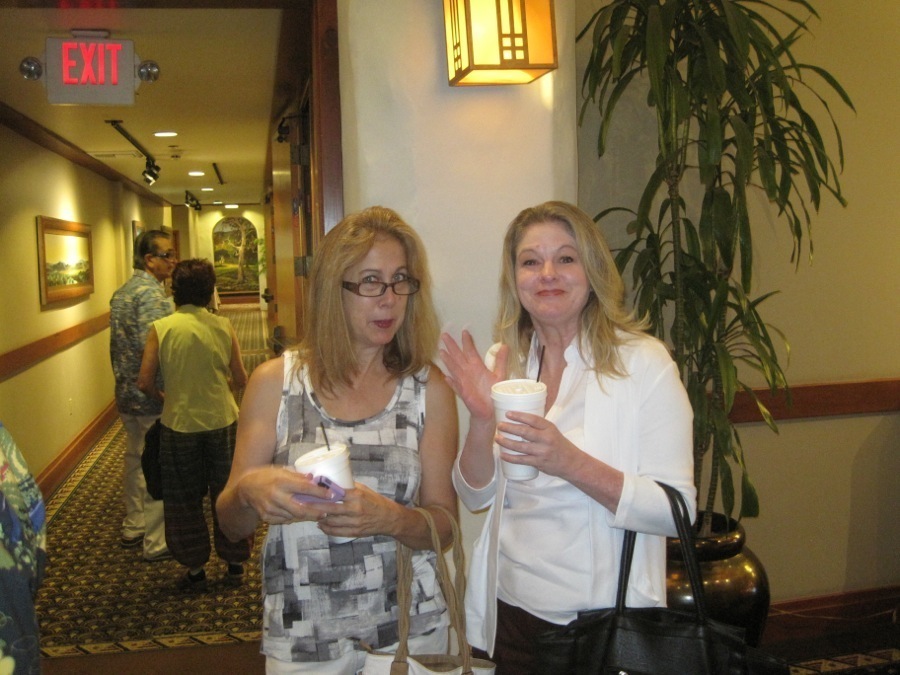 "What time is it??" (Courtesy of Hans Thedens)

Sue and Bob execute their plan (Courtesy of Hans Thedens)

Paul in his tour guide costume (Courtesy of Hans Thedens)
The Bus Arrives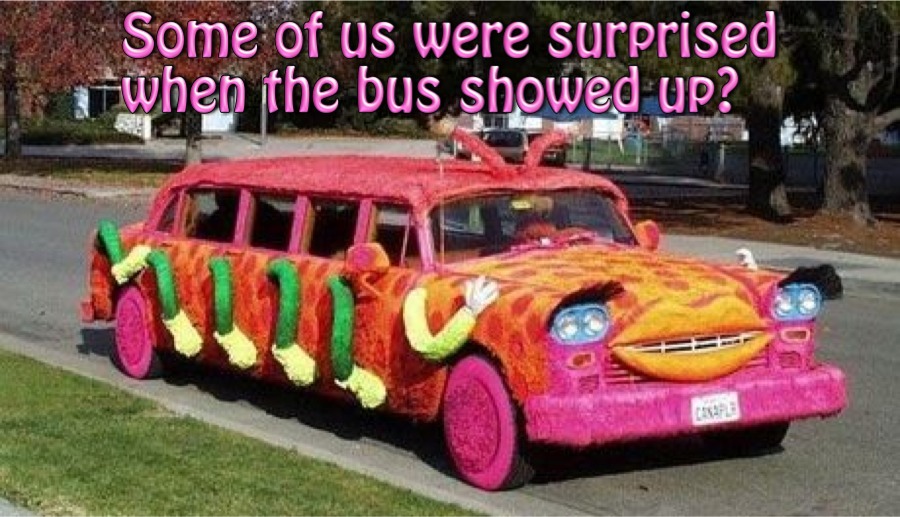 Well.... Perhaps it wasn't really pink!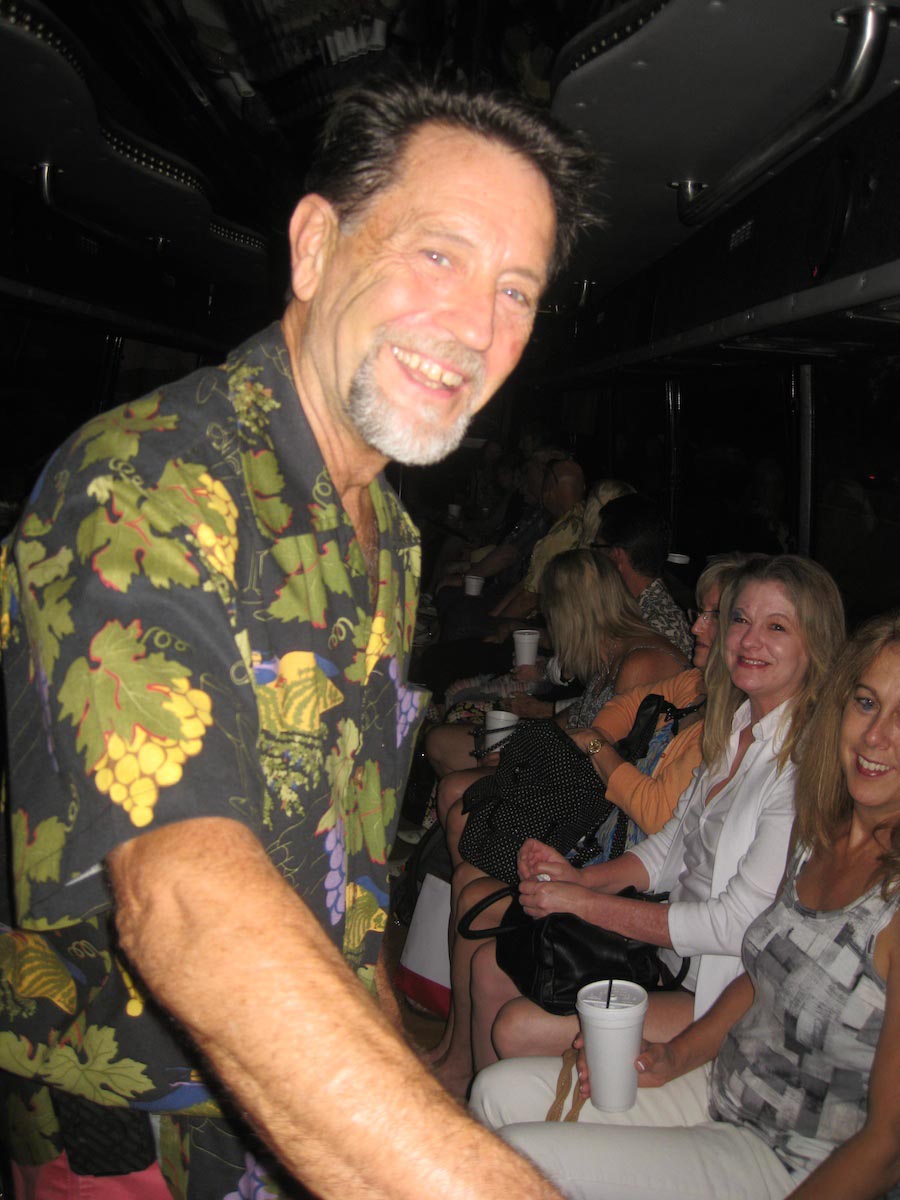 Bob demonstrates his night vision!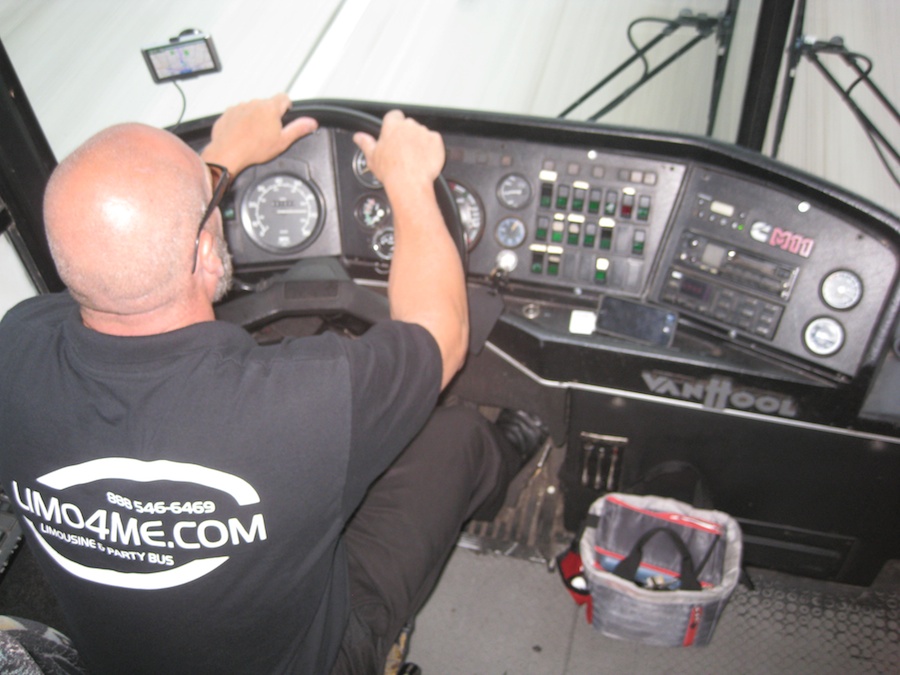 90 miles per hour does not look scary from this angle

Thank you Old Ranch for the coffee! We needed it this morning!

Wayne (a.k.a. Bullwinkle) tells a story
Did You Know? - Bullwinkle J. Moose is a fictional character in the 1959–1964 animated television series Rocky and His Friends and The Bullwinkle Show, often collectively referred to as Rocky and Bullwinkle, produced by Jay Ward and Bill Scott. When the show changed networks from ABC to NBC, its name was changed to The Bullwinkle Show, reflecting the popularity of Bullwinkle.
In 1996, Bullwinkle was ranked #32 on TV Guide's 50 Greatest TV Stars of All Time.
Bullwinkle shared a house with his best friend Rocky in the fictional small town of Frostbite Falls, Minnesota, a parody of the real-life American town of International Falls, Minnesota. Bullwinkle attended college at "Wossamotta U" on a football scholarship. He is a long-time supporter of the Bull Moose Party, and at one time was the part-owner, part-governor of the island of Moosylvania.

There is some resemblance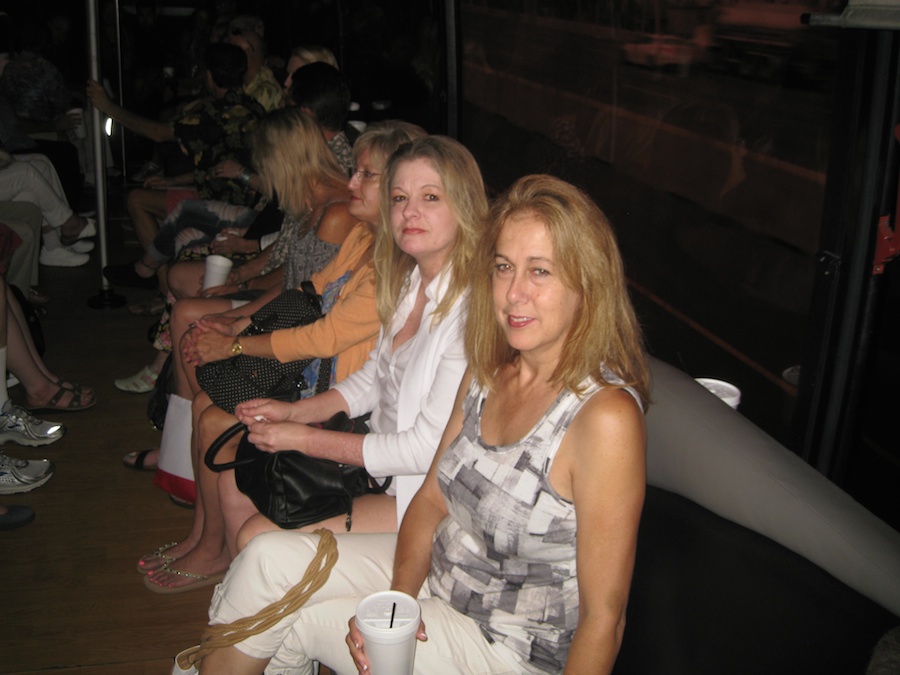 "We are so happy to be up this early!"

Pole dancing anyone?? (Courtesy of Hans Thedens)
Arrival At Union Station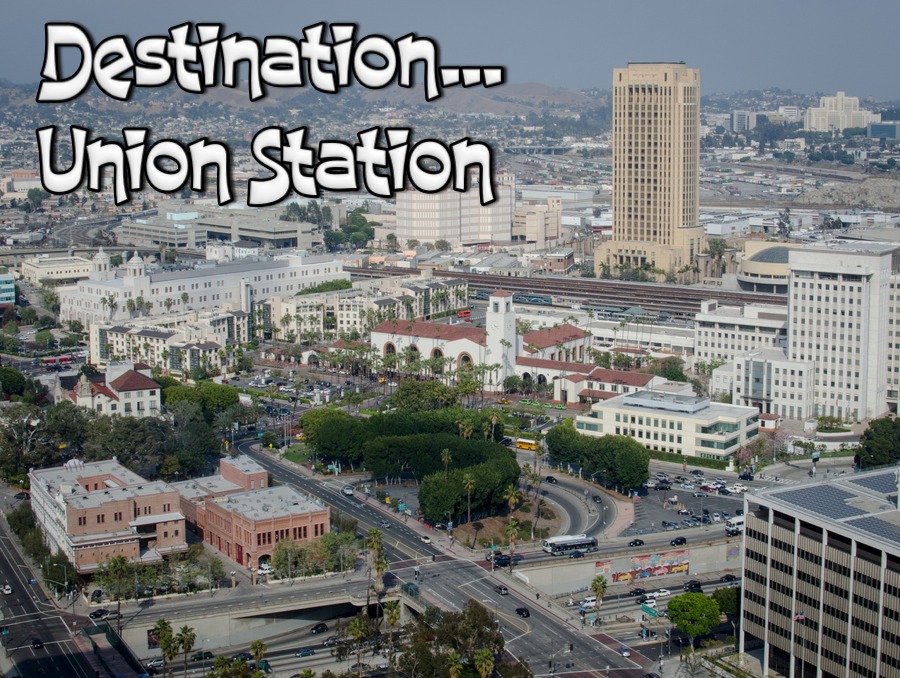 Bright and early in the morning!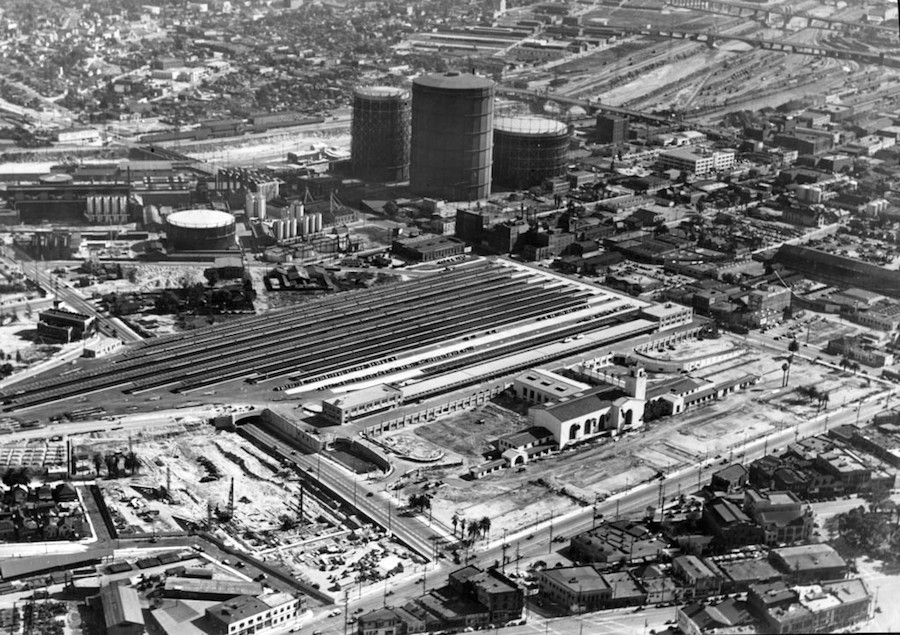 Under construction in 1938
Did You Know? - Los Angeles Union Station (or LAUS) is the main railway station in Los Angeles, California and the largest railroad passenger terminal in the Western United States. It opened in May 1939 as the Los Angeles Union Passenger Terminal, replacing La Grande Station and Central Station.
Approved in a controversial ballot measure in 1926 and built in the 1930s, it served to consolidate rail services from a number of railroads (the Union Pacific, Santa Fe, and Southern Pacific) into one terminal station. Conceived on a grand scale, Union Station became known as the "Last of the Great Railway Stations" built in the United States.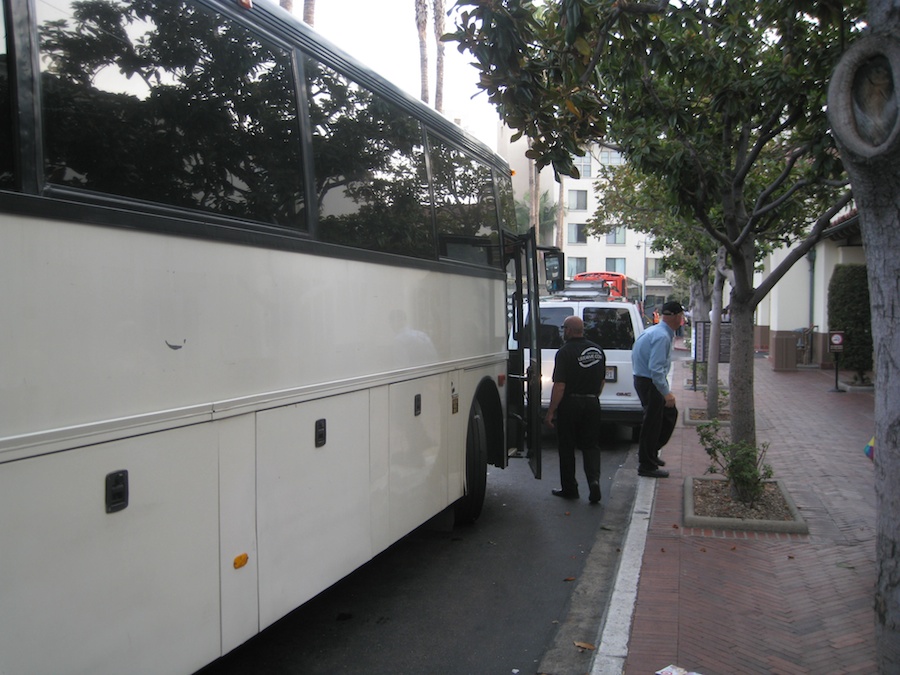 Unloading is underway

Moving at a full mosey!

Y'all come!

Hey! That is NOT the train!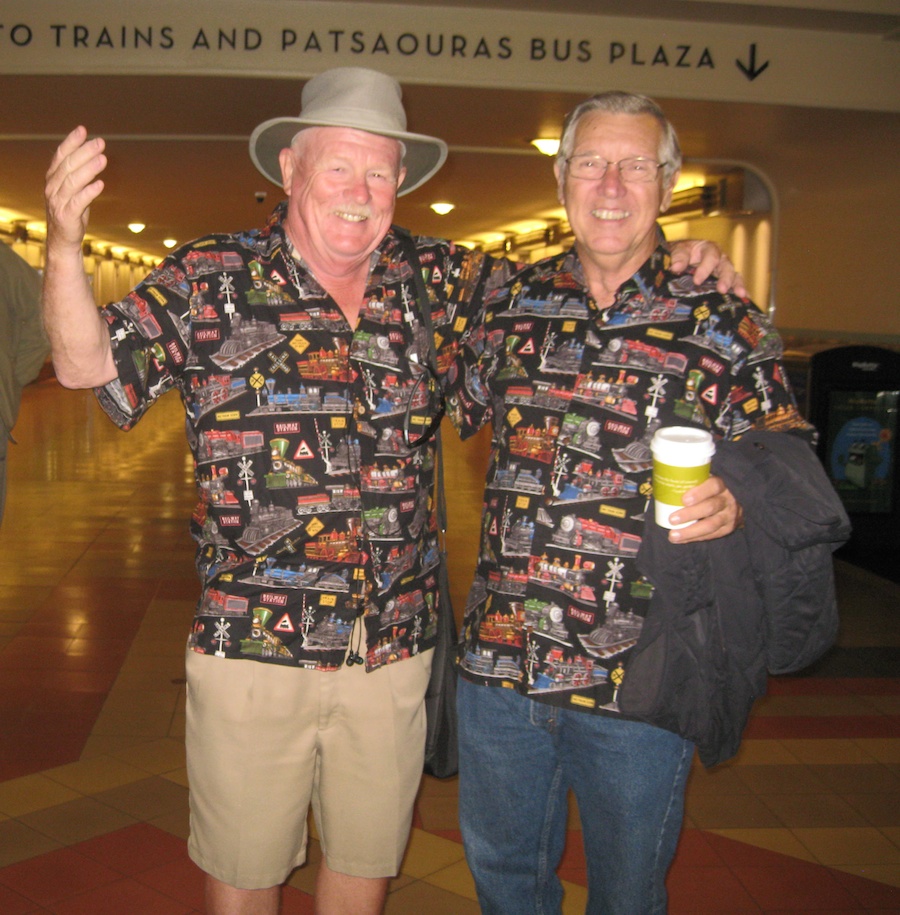 The twins! Great minds think alike!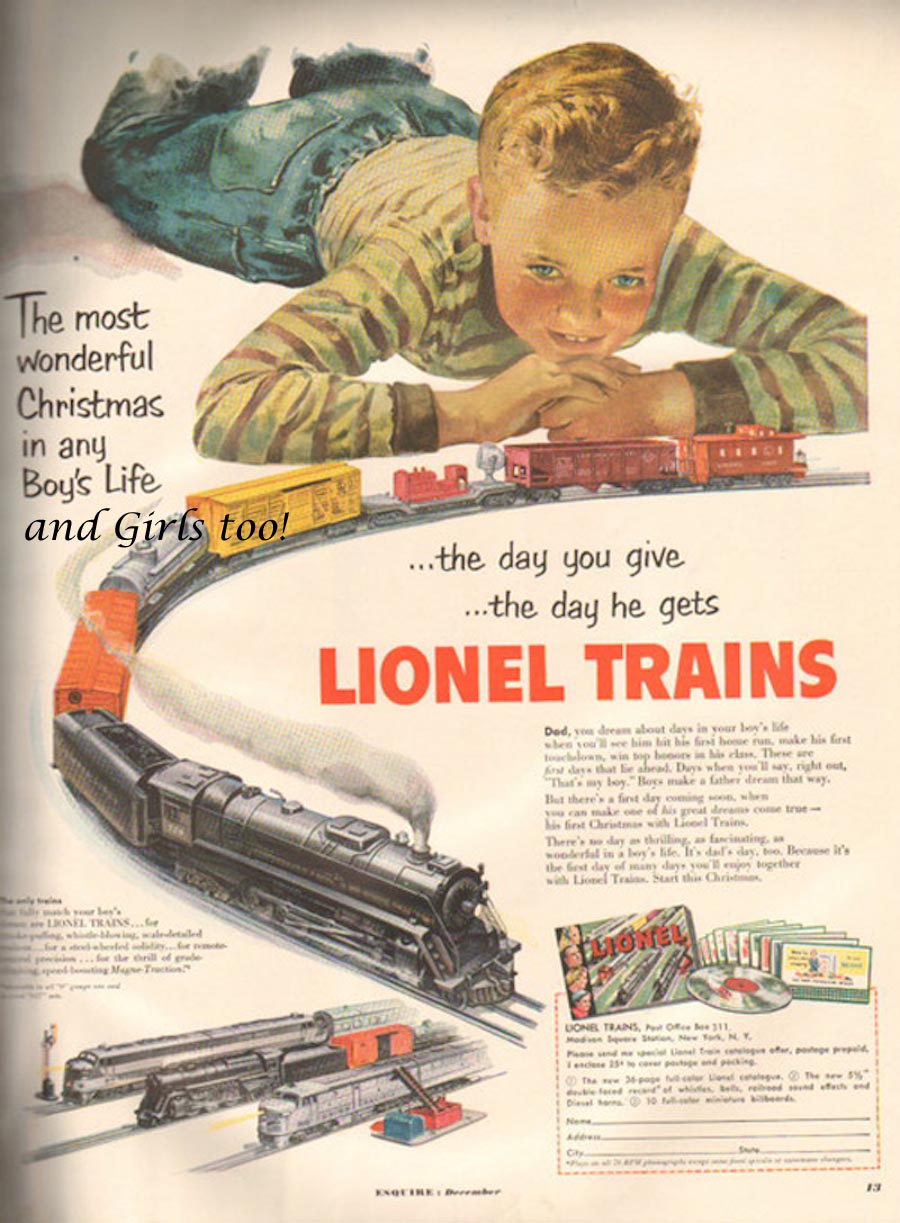 Ed and Paul love trains!
Did You Know? - There is a second "golden spike" that was manufactured alongside the original spike, on display at the California State Railroad Museum in Sacramento.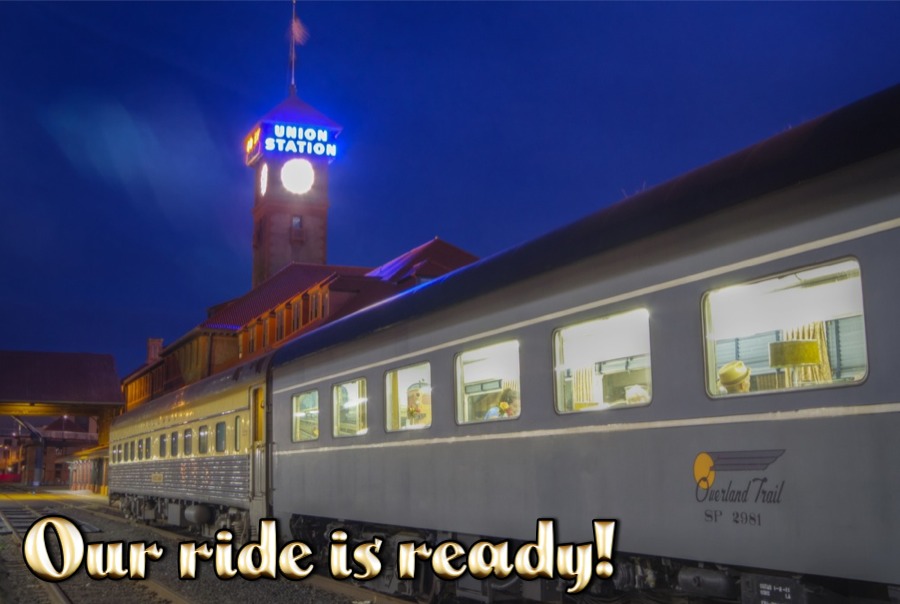 Conductor Bill and staff are ready to go.... So.... Let's walk!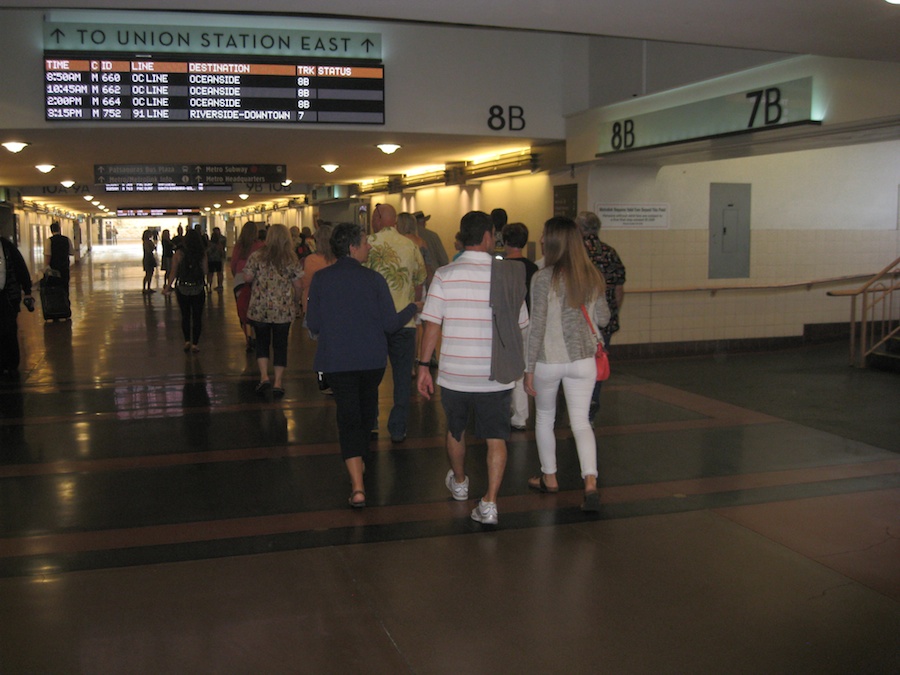 Off like a herd of turtles!

Brenda and Sam are ready to go!

Engine 9020 is a dummy! No engine but it does have the controls to
allow the engineer to drive the train!
Did You Know? - Positive Train Control (In 2009, the Federal Railroad Administration directed that all U.S. railroads start to implement PTC for better safety. (PTC, when needed, automatically override actions by a train's engineer -- For example, If he or she fails to stop before passing a red signal. This new safety system will be in place by 2015 on all trains.

The crowd gathers.... We will soon be on board!

The staff is preparing for our boarding
Did You Know About Train Horns? -
The horn signal you hear when the train is about to move forward is SHORT, SHORT.
The horn signal you hear when the train is about to back up is SHORT, SHORT, SHORT
The the horn signal for "approaching a grade crossing" is LONG, LONG, SHORT, LONG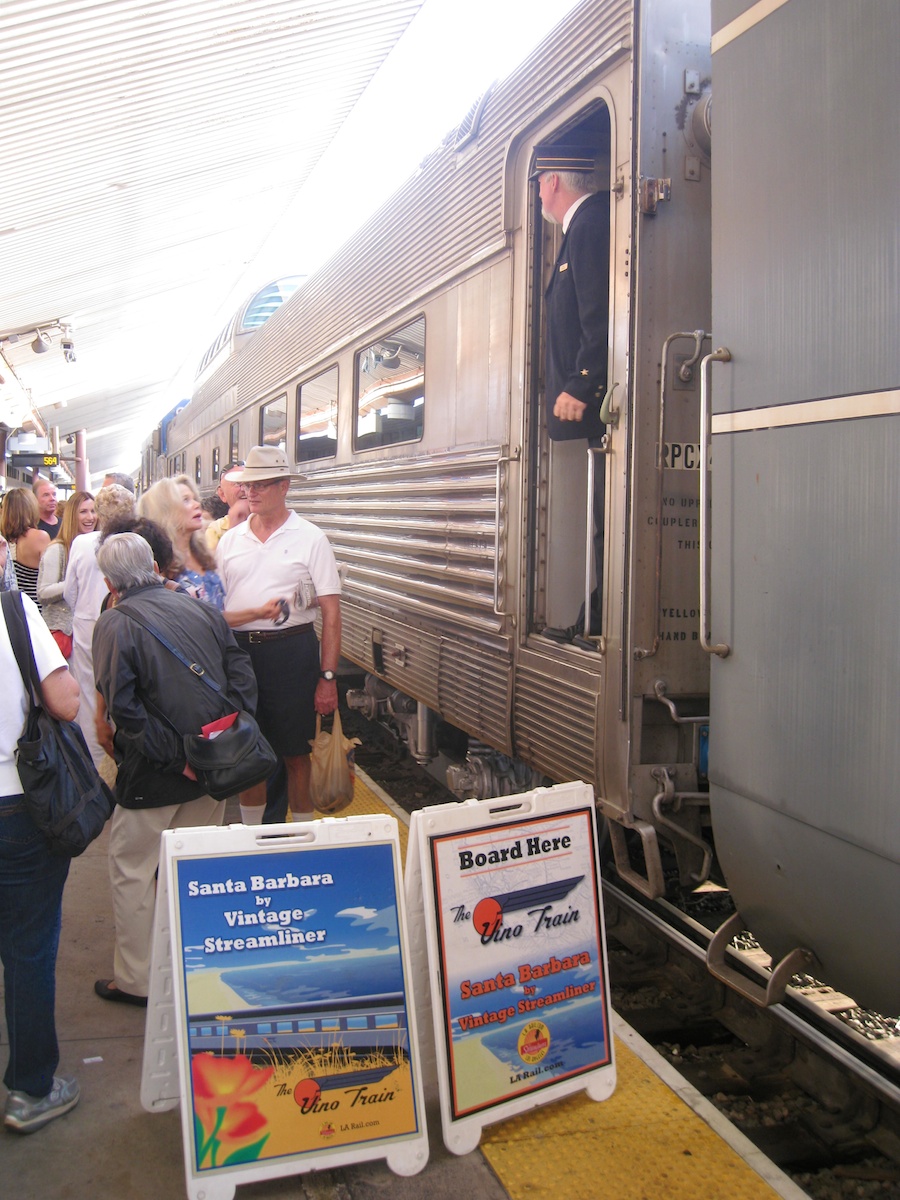 The Train Boss (Conductor Bill) makes his appearance....
If he goes back inside we will have six weeks of snow!
Our ride is ready to go! All aboard!

Irene and Donna advertise for the train trip (Courtesy of Hans Thedens)
x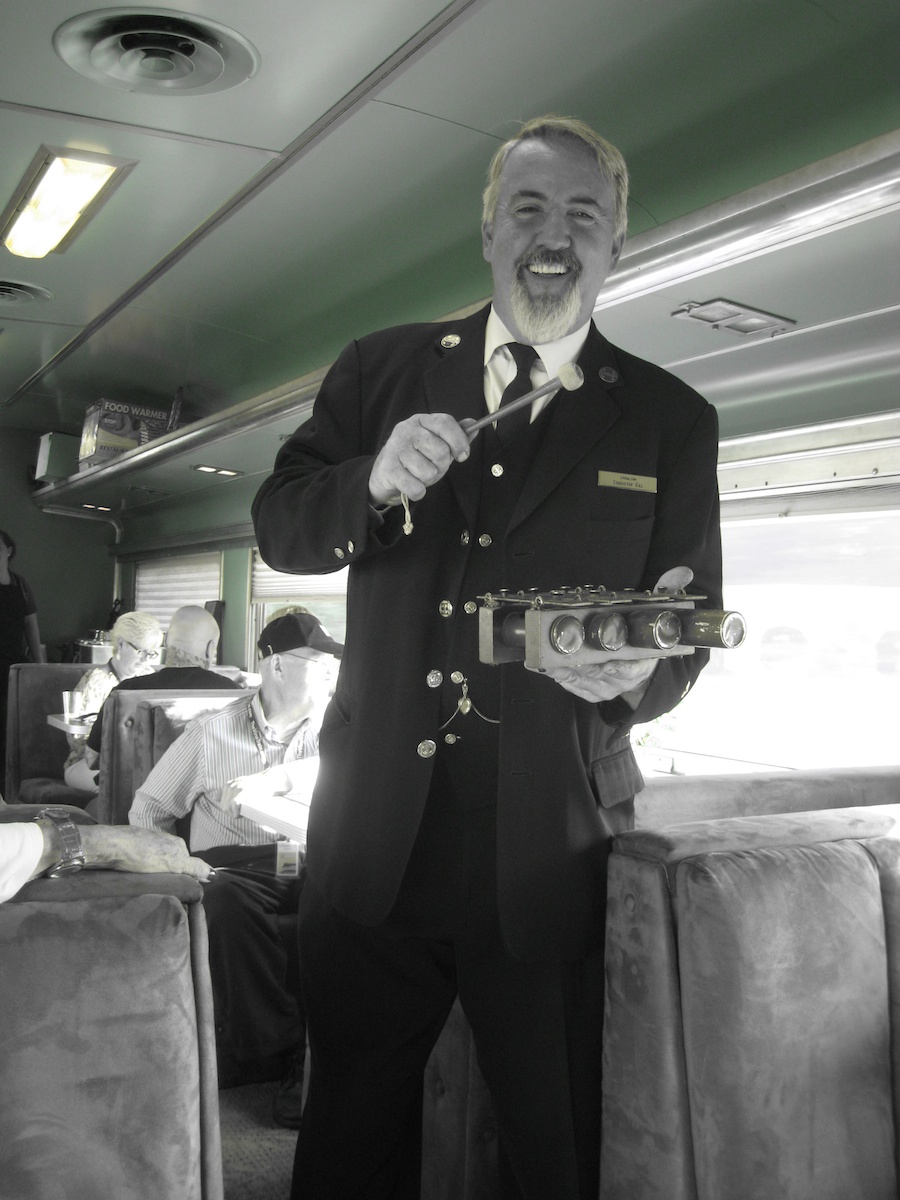 Such a nice sound.... Breakfast being served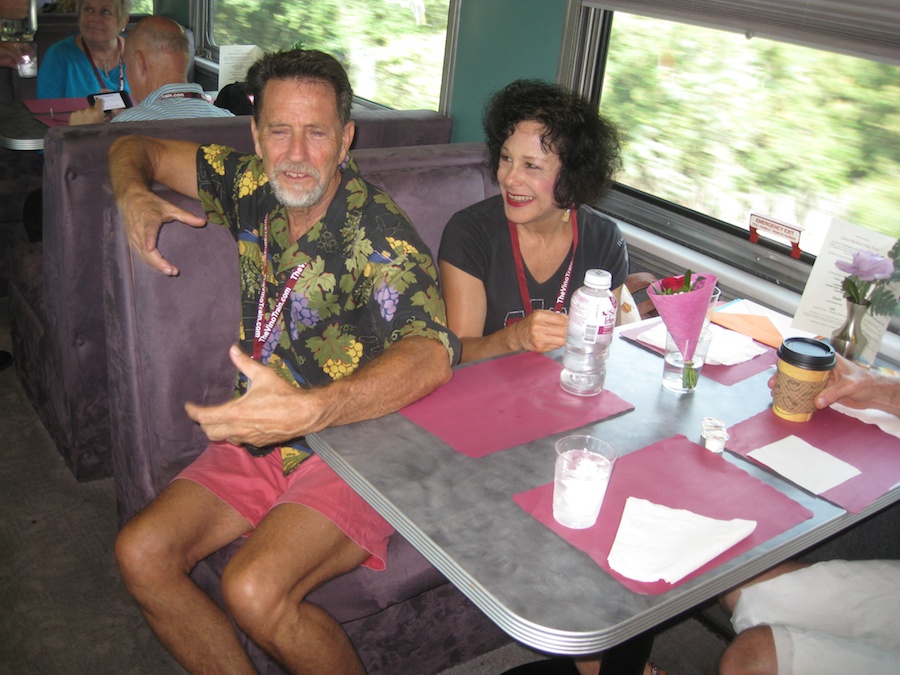 Bob and Donna watching the world go by at 60 MPH

Meanwhile on the upper deck Lisa and Luisa enjoy Mimosa's and Bloody Mary's

Huey, Dewey, and Louie???

Breakfast is being readied (Courtesy of Hans Thedens)

The champagne is flowing (Courtesy of Hans Thedens)
Did You Know? - Another name for "rail fan" is "Foamers" Railroad employees refer / call rail fans "foamers" because
they tend to droll ("foam at the mouth") when they see a train.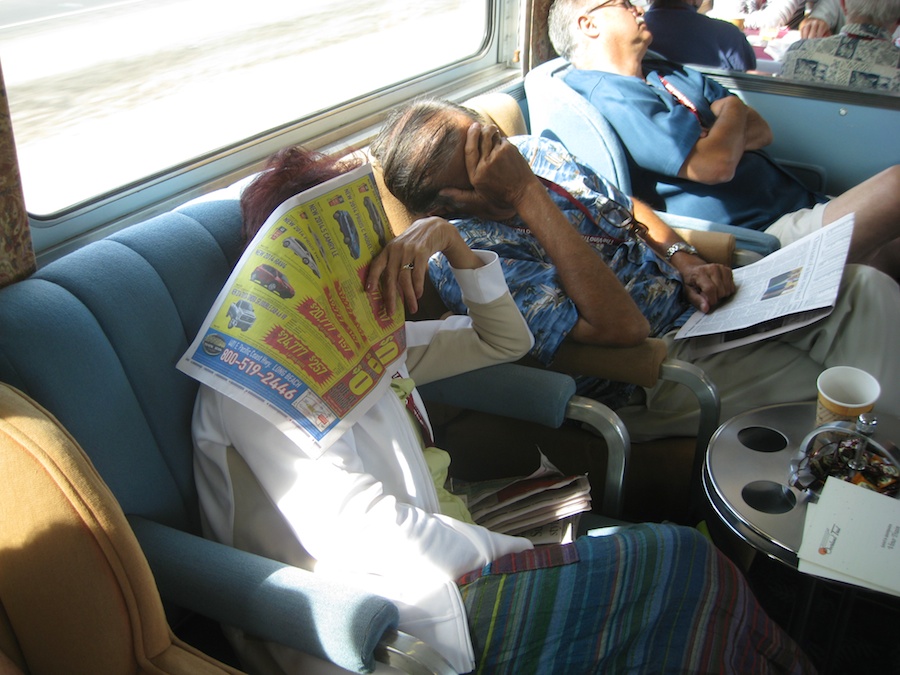 Tummies and full... Time for a nap!

Everybody now knows the story...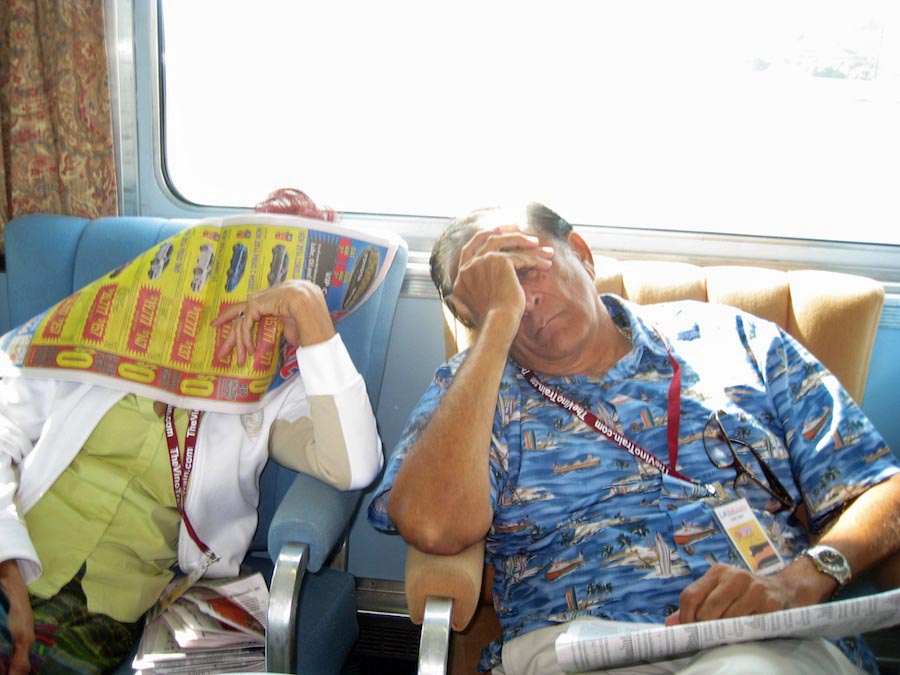 Sabira is probably NOT reading the newspaper!

Love the shirt....
Did You Know? - There are no two locomotives that have the same number regardless of which railroad may own them.

Zipping right along

Plenty of fresh air is available between cars in the vestibule

The way to travel
Did You Know? - During the "Golden Age" there were dozens of railroads operating hundreds of trains. The period of operation was from 1890 till the outbreak of World War 2. People traveled in style on the trains (various rail companies). Traveling aboard these trains had excellent service, luxury, and many rail companies vied for the passenger business much like today's airline companies do to get customers to ride on their planes.
Many off ered special meals (Excellent food choices and the food was prepared aboard the train (Cooked to order) not just warmed up. And private railcars for the wealthy.
EVEN TODAY if you have the money you may purchase your own
railcar and ride around the country in it (your railcar will be attached to AMTRAK) either renting a locomotive like the American Orient Express did or having your car attached to one of Amtrak's train routes!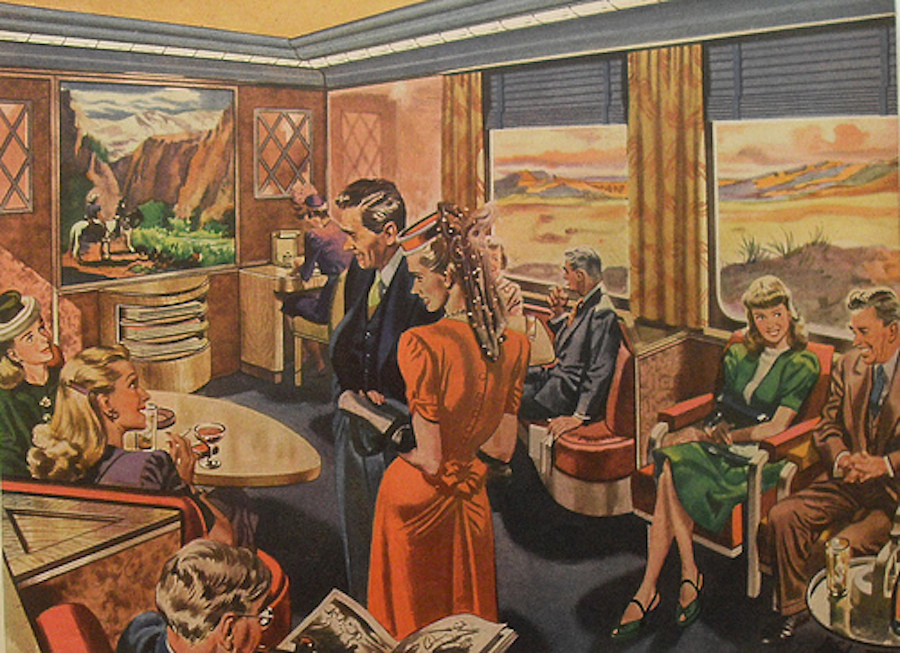 Just like old times
Question: What was the name of the famous luxury train in the 1930, 1940, and 1950's?

Answer: The "The Chief" by the Santa Fe. It ran from Los Angeles to Chicago. (Later "Super Chief" was added to the fleet and became the standard for Santa Fe)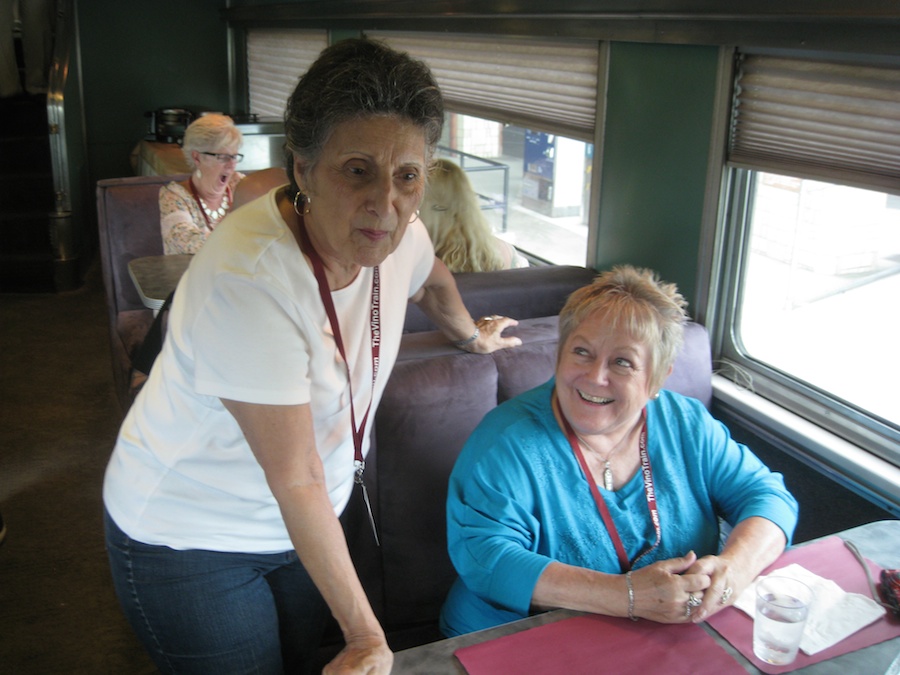 Irene and Carri visit

Irene's birthday is on the 3rd but we celebrate today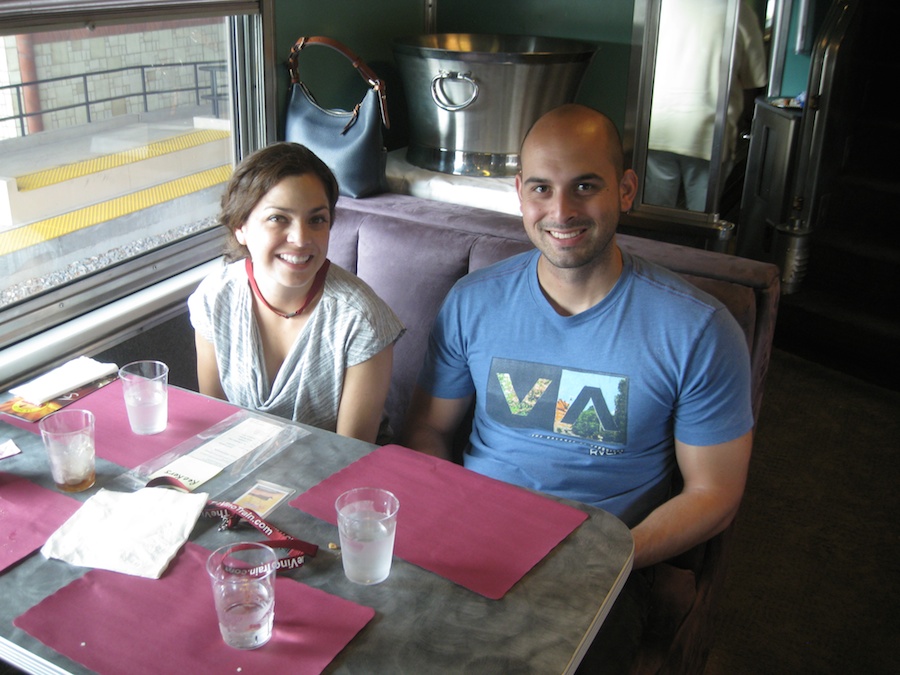 Ahhhhhh... The newlyweds! Annie and Elliot... Expert dancers

Cindy and Louie are getting a kick out of this!

Allison and Danny ... We told Danny to smile!


Now that there is a smile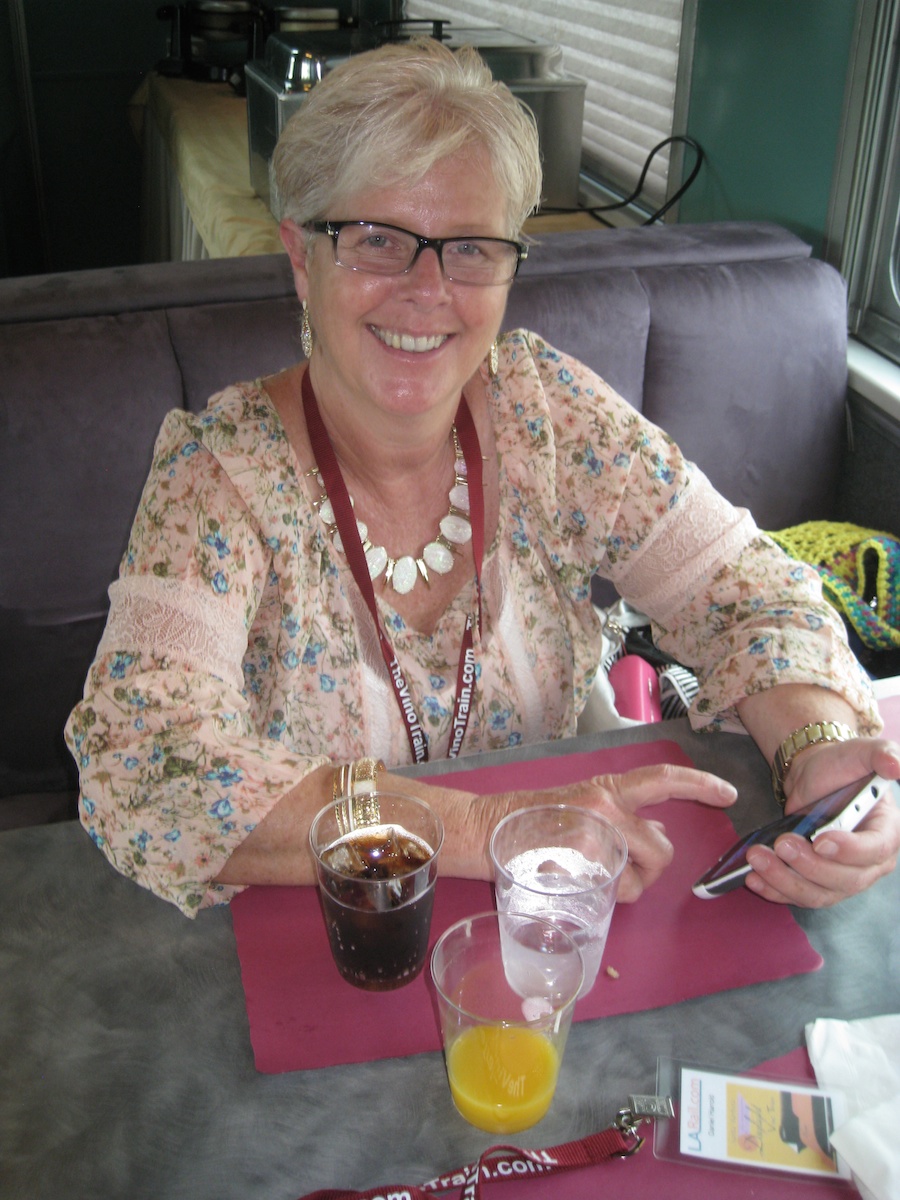 Annie is supervising the kids.... Big job

All is going well (Courtesy of Gary Gray)

The staff is always busy serving their guest and they do a fantastic job

"Oh don't take my picture".... OK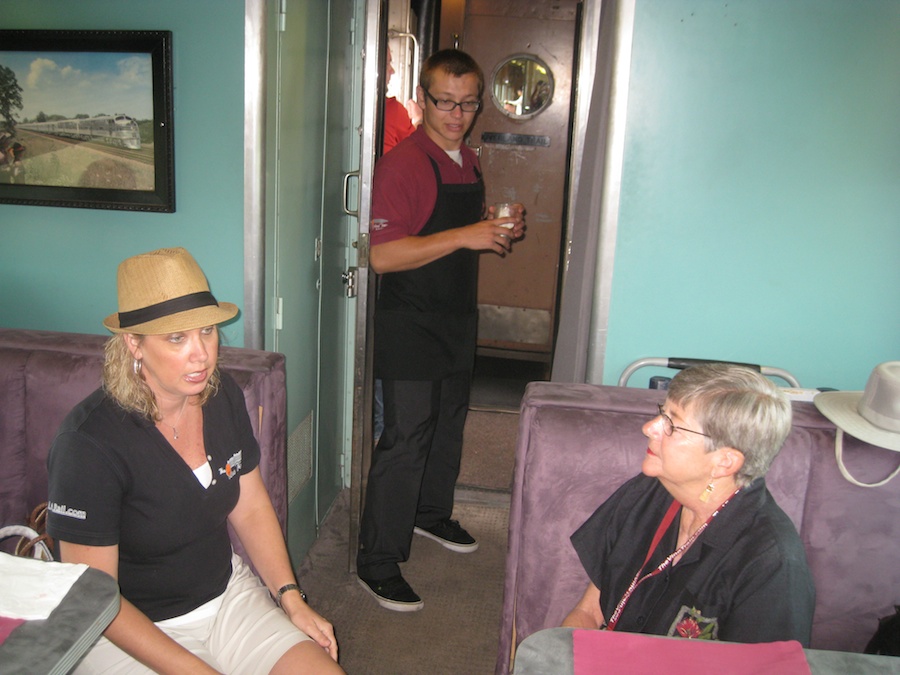 Kristy Sharrar is this trips "Official Wino"
(i.e. she is the wine expert and will provide a tour of the wineries!)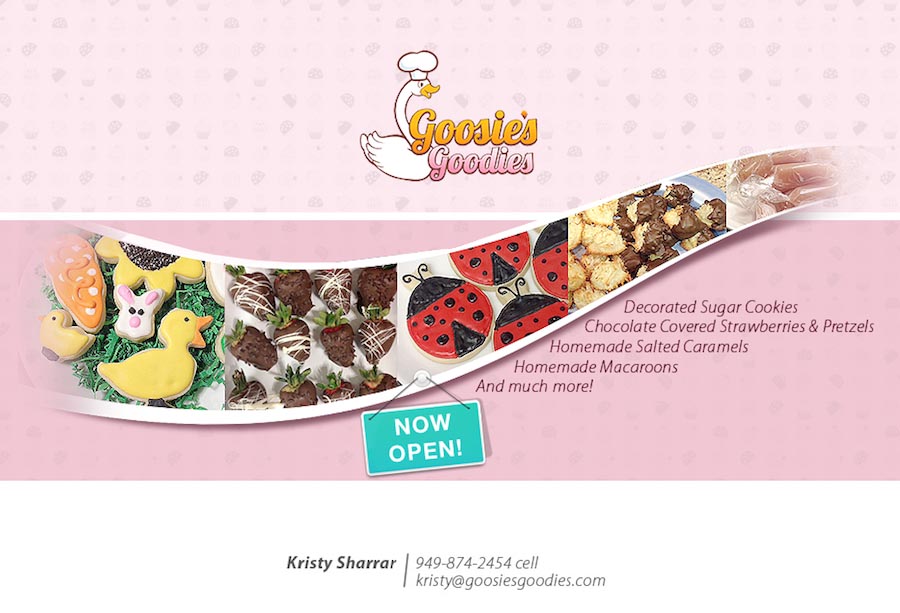 Kristy just started a new business called "Goosie's Goodies"


Upstairs the cavorting is well underway - Scott and Jamie are in charge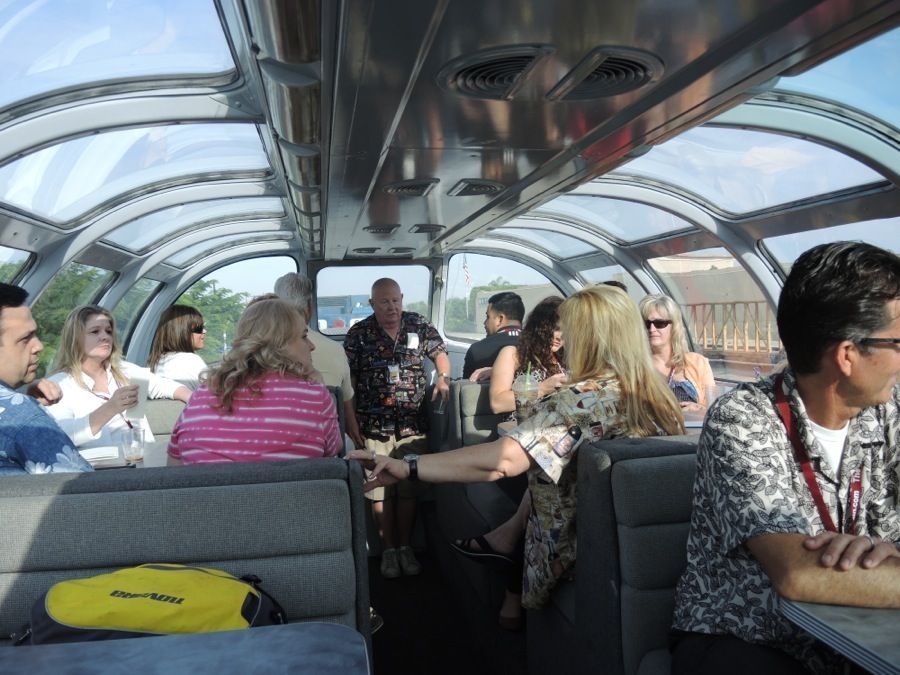 Watching the world go by (Courtesy of Gary Gray)

Paul and Bob, a pair to draw to (Courtesy of Gary Gray)

Blowing in Bob's ear makes train sounds (Courtesy of Gary Gray)
Did You Know? - What is the AAPRCO?
American Association of Private Railroad Car Owners.
www.aaprco.com

We are getting close to our destination
Did You Know? - The city lies approximately 35 miles west of the Los Angeles city limits, and is part of the larger Greater Los Angeles area. The population of Oxnard is 203,585 as of the 2012 Financial Report.
Oxnard is the most populous city in the Oxnard-Thousand Oaks-Ventura, CA Metropolitan Statistical Area, which is listed as one of the wealthiest areas in America, with its residents making well above the average national income.
In 2013, Oxnard was ranked as one of the safest cities in America with violent crime rates well below the national average.
Henry T. Oxnard, founder of today's Moorhead, Minnesota-based American Crystal Sugar Company who operated a successful sugar beet factory with his three brothers (Benjamin, James, and Robert) in Chino, California, was enticed to build a $2 million factory on the plain inland from Port Hueneme.
Shortly after the 1897 beet campaign, a new town emerged, now commemorated on the National Register of Historic Places as the Henry T. Oxnard Historic District.
Oxnard intended to name the settlement after the Greek word for "sugar", zachari, but frustrated by bureaucracy, named it after himself.

Careful around Ed... When he wears this shirt he also has been
know to make train sounds!

Post breakfast cleanup is underway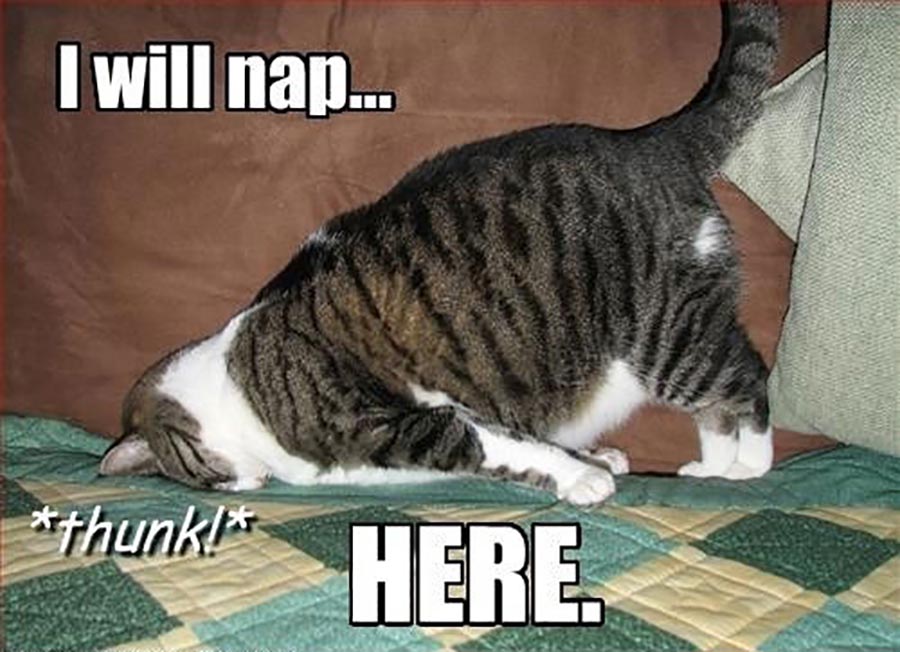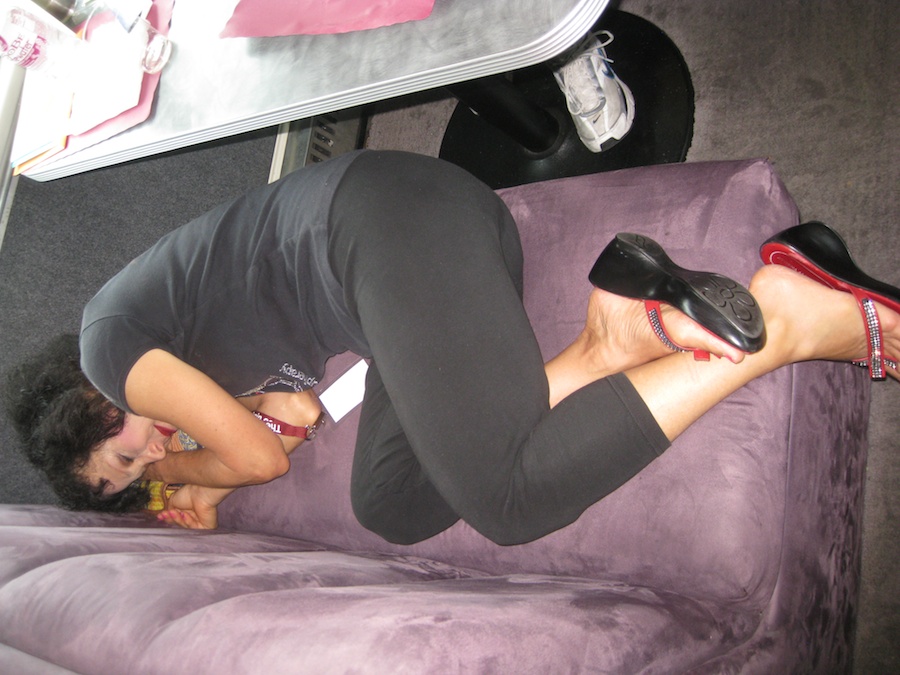 The "Birthday Girl" crashes!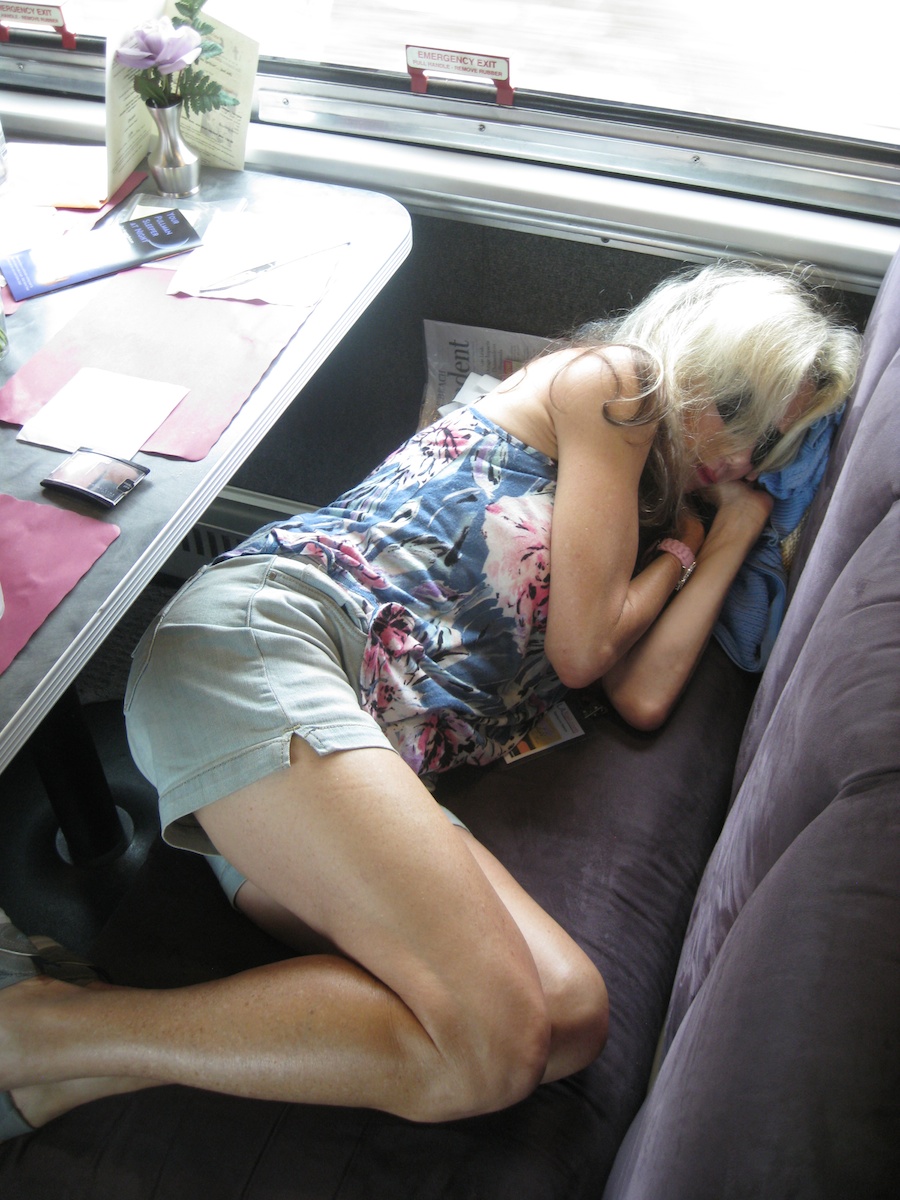 They are dropping like flies

We did not know it was a sleeping compartment

We wave... They wave... We wave again!

Plenty of room to get up and move about

Sharing stories is a great train pass time

Ten minute warning... Santa Barbara is directly ahead!
Did You Know? - The crossbuck is the traditional warning sign seen at railroad crossings on the sign you will see "RAILROAD CROSSING" in black letters over two white crossed boards known as the crossbuck.

We had Bob smile at the people to scare them away from the tracks!
Did You Know? - The vestibule is the area between the two railcars that allows you to enter another car. In old trains this area is wide open and you are literally outside the train on a small platform between railcars.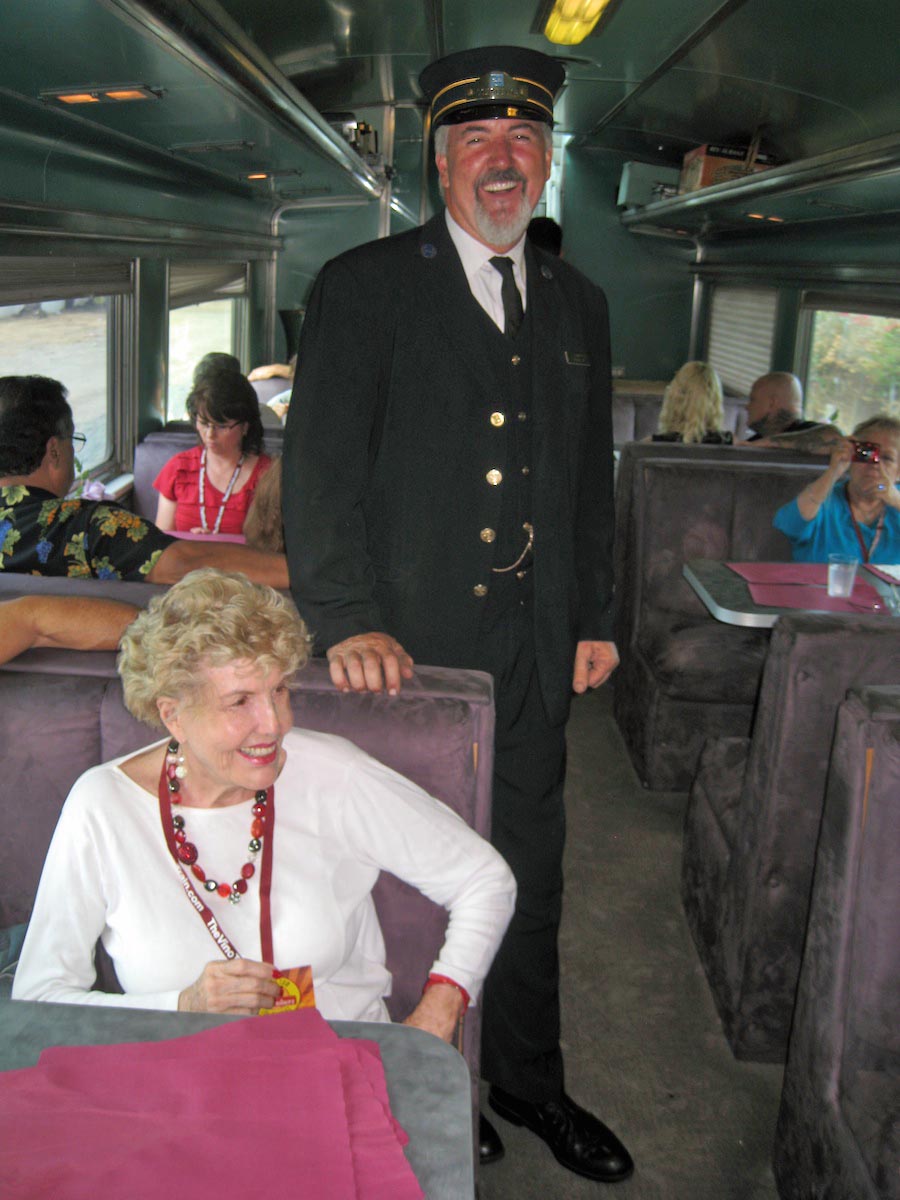 "OK... We will see you at 4:30! Have a great day!"
Did You Know? - The primary function of the caboose was as a post from which the train was observed so that potential problems can be spotted such as an overheated journal bearing.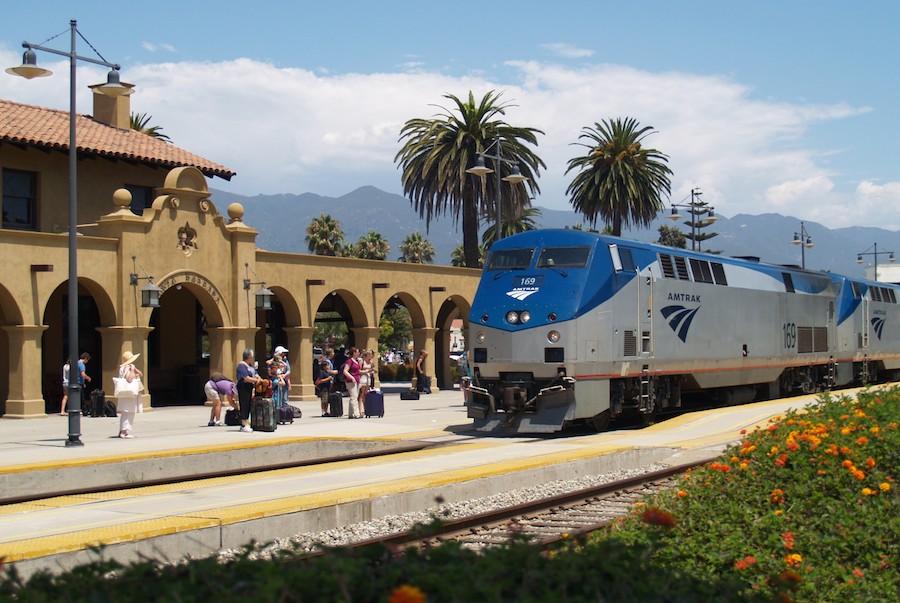 It leaves to go north while we partake of the bubbley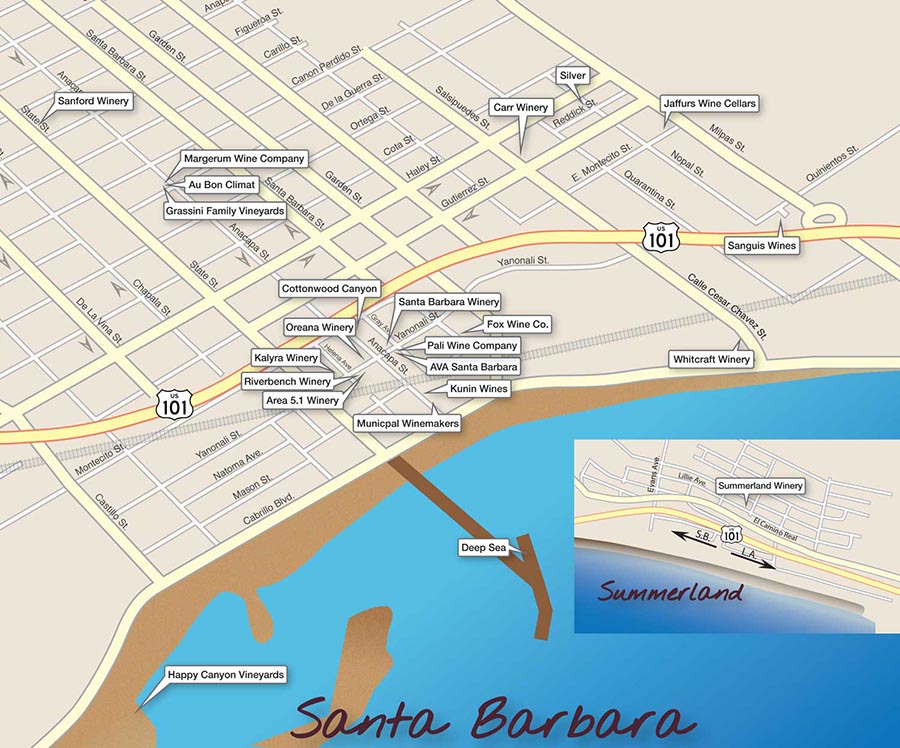 Donna is in charge - Click and watch the fun!

Adamson Nancy
Adamson Scott
Adamson Jamie
Alvarez Steve
Alvarez Merrialyce
Amidei Jon
Chartier Lisa
Coker Brad
Coker Sandy
Colaw Frank
Colaw Sue
Denardis Chris
Diener Sam
Diener Brenda
Duda Robin
Espinoza Cindy
Espinoza Louie
Espinoza Elliot
Espinoza Annie
Feldbusch Sandy
Feldbusch Rich
Feltenberg Iris
Finley Steve
Finley ???
Fox Carri
Goll Craig
Gray Marion
Gray Gary
Gunnarson Sandy
Gunnarson Dennis
Hanlon Marrianne
Harrold Daniel
Jordan Samantha
Klix Luis
Kosmetatos Irene
Lanuti Vito
Lanuti Denise
Leach Greg
Lee Connie
Liles Paul
Liles Sue
Majors Paige
Mau Freda
McGeary Diana
Noteboom Dan
Noteboom Cindy
Pollard Ted
Pollard Myrna
Quinn Louise
Ramirez Arturo
Roberts Ed
Roberts Sasha
Roberts Wendy
Roberts Kathy
Schaefer Jeff
Schaefer Shirley
Schaefer Matt
Schumacher Allyson
Schumacher Annie
Shaver Larry
Shaver Faye
Steiner Richard
Tejani Nash
Tejani Sibera
Thedens Hans
Thedens Kerstin
Tiffany Mark
Tiffany Mary
Tomkiel Will
Walker Rocky
Walker Bullwinkle
Ward Teri
Ward Teri
Webb Tracy
Welliver Bob
Welliver Kari
Zaitz Donna
Zaitz Bob