It's That Time Again... Vino And Choo-Choo! (Page One)

As of 6/24/2011 the train is full up.... If you missed the train this time think about the Del Mar Races
The Train Ride Begins At 7:30 AM For About Three Hours...

A quick 100 mile trip!
It's time to ride the vintage rail cars on AmTrak to visit Santa Barbara and visit with our friends and new acquaintances while the choo-choo transports us from LA to Santa Barbara and return.
On the way up they serve a great breakfast on the train with a touch of the bubbley! We get to see train yards, back yards, and great vistas of the ocean and the mountains. We stop at several locations and get to see pepople scrambling on-off the train.
Santa Barbara is soon a step away! We stop at the station and then head out for almost six hours of cavorting amongst the palm trees and wineries.
We leave at 4:30 for a quick ride home complete with a light dinner! It is story telling time and those things that never happened begin to be a load of fun!
New And Improved Model This Year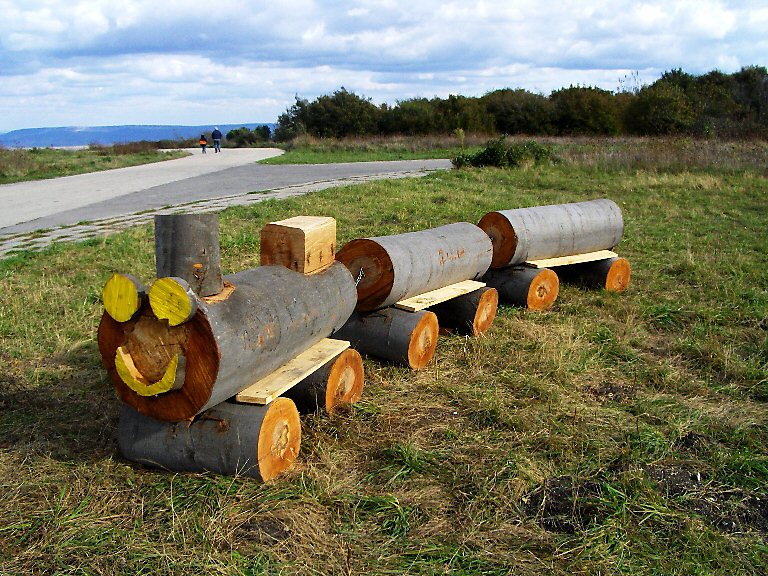 It's going to be a fun train... A genuine wood burner
Oh What Shall We Ever Do In Santa Barbara If We Don't Drink??
"But I don't drink wine..." Well, try all the other activities since we have six hours in Santa Barbara. There are many things to do! Museums and attractions! Take the Santa Barbara Trolley !
Walk to Stearns Wharf (Enjoy unique gift shops, dining and fishing), visit the zoo, El Presidio(Last in chain of four military fortresses built by the Spanish) or go shopping along the main drag! ..... or, sip the vino!!



Clink on the specific picture to visit their websites

Things to do and see in Santa Barbara
When Lunch Time Begins You Will Not Starve!!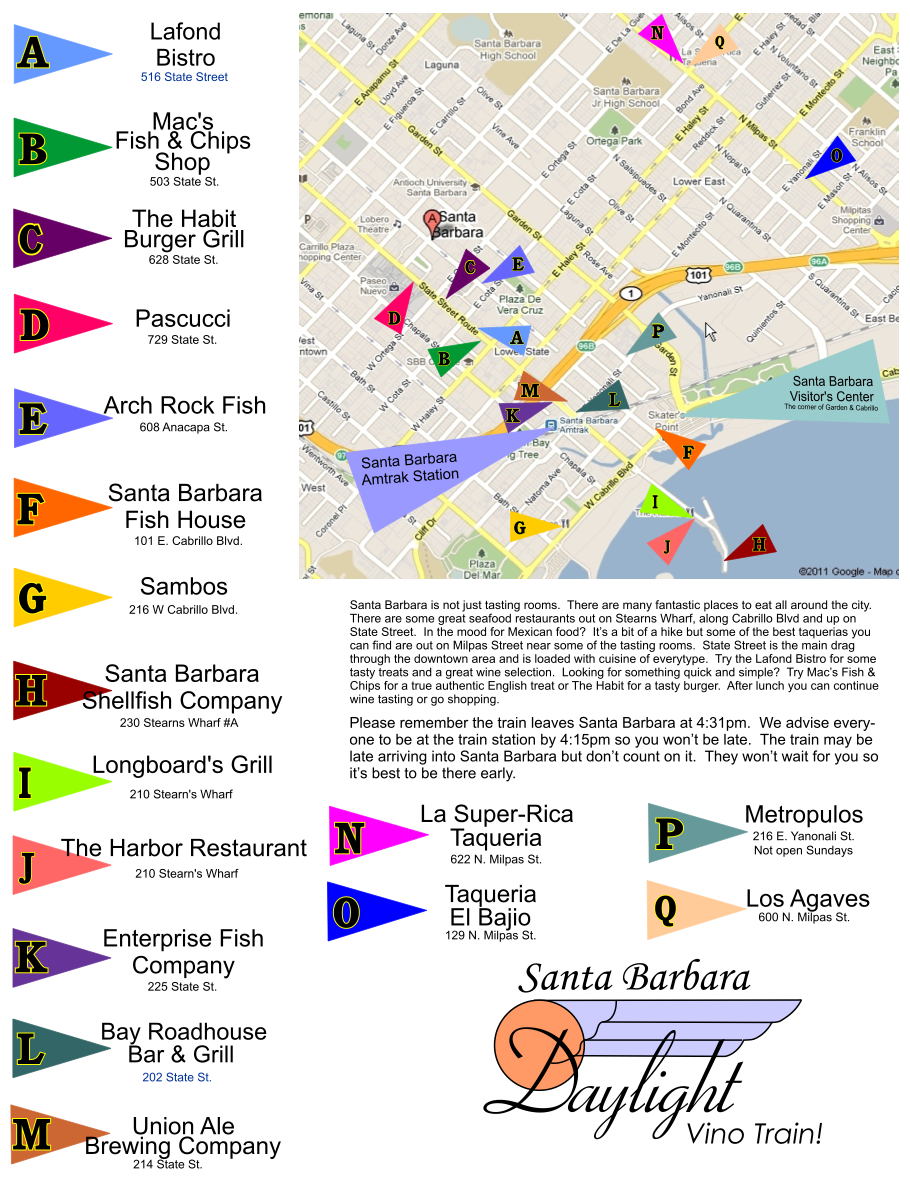 Winemap11.pdf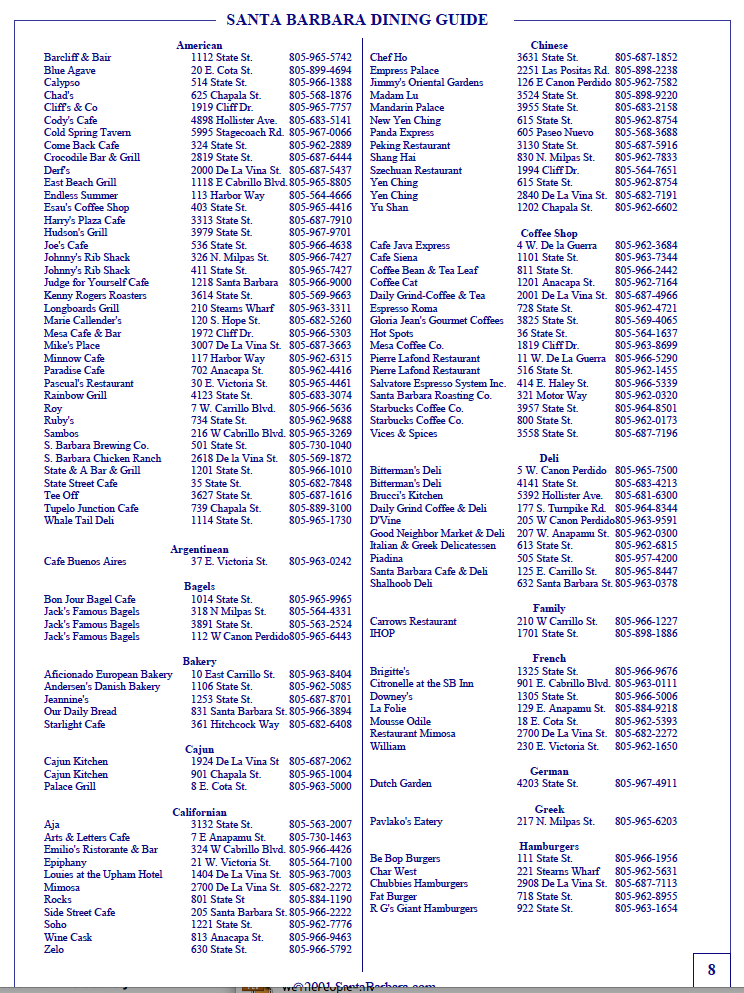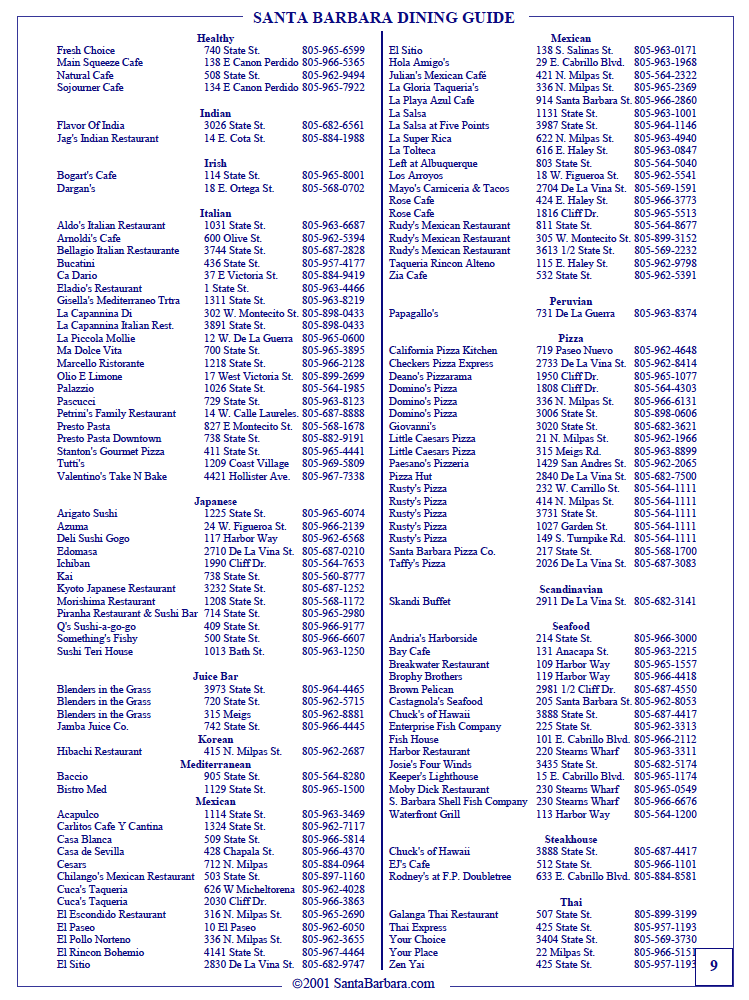 The Vino Walk Is Called The "Urban Trail"!
Visit or stroll the Urban Wine Trail in downtown Santa Barbara. They are all within 1-5 blocks from the train station,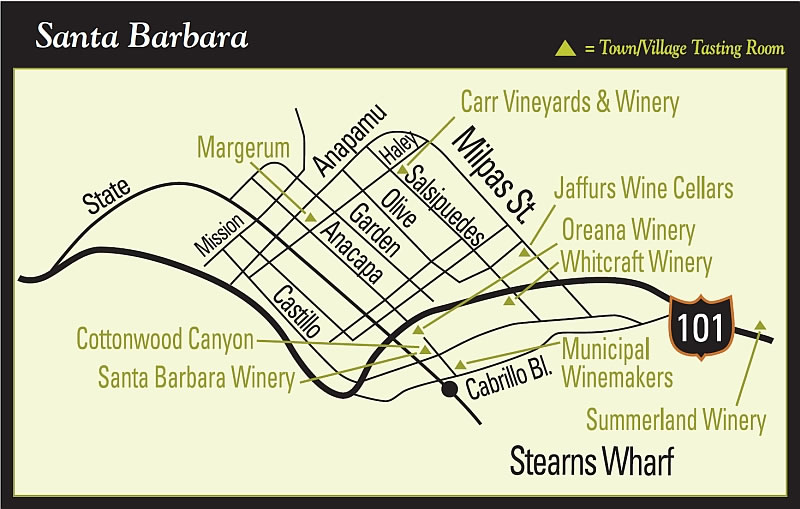 Santa Barbara Urban Trail

Six tasting rooms within three blocks of the train station!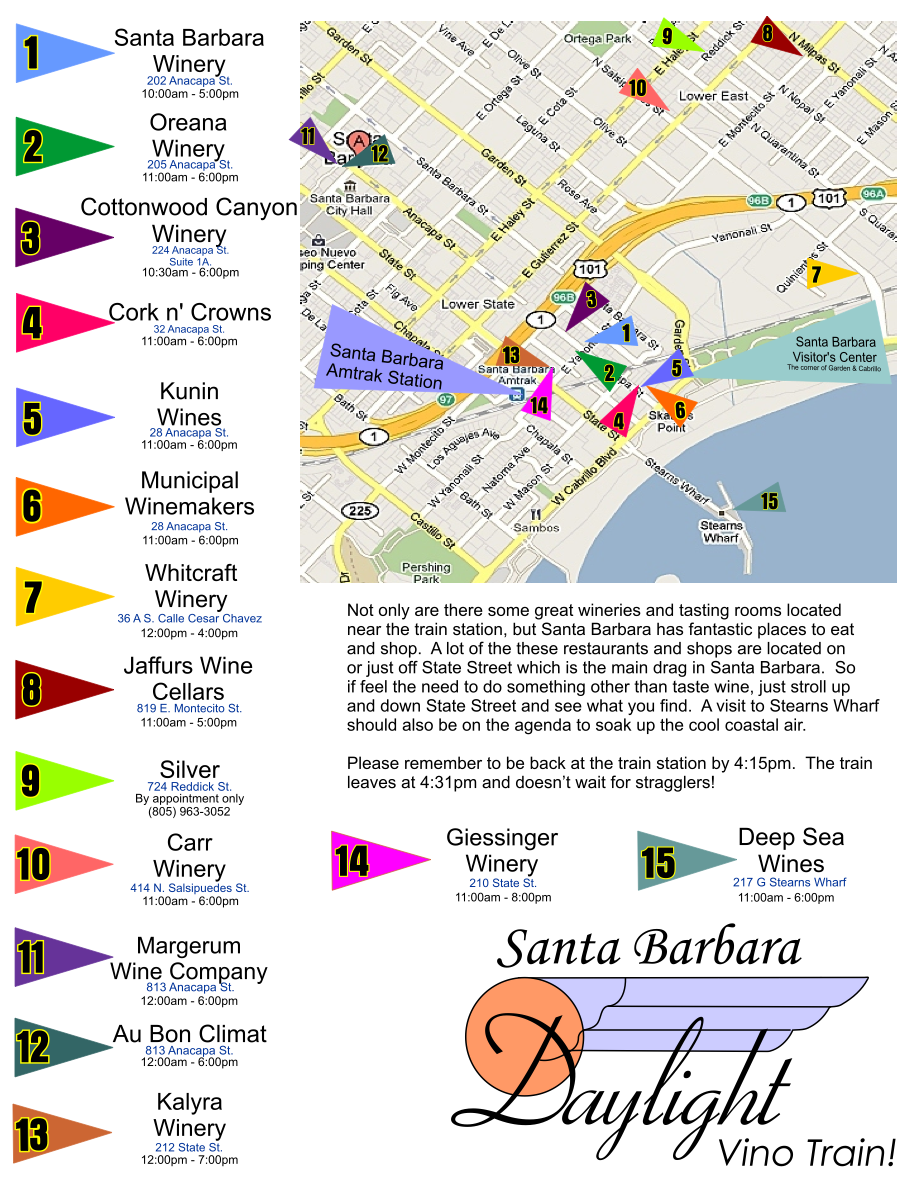 Winemap11.pdf
Find Out More About The Tasting Rooms

Santa Barbara Winery Entrance

Checkout The Choo-Choo; The 799 Pacific Surfliner With Our Cars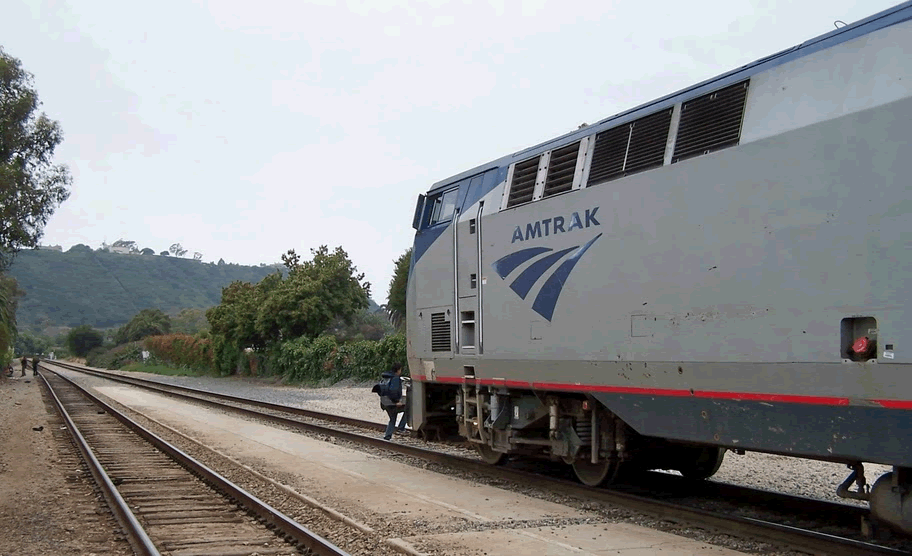 This big boy pulls its own "modern cars" in addition to our vintage cars from LA to Santa Barbarain 2 hr, 37 min
The Overland Train... A 1940's Club Car
We become attached to the LA To Santa Barbara Amtrak but we are special, our cars are "vintage" 1950's and 1950's.
These cars were obtained from storage facilities when Amrak took over the railroads and were "sold for scrap". With the loving hands of their new owners and family/friends, they have been restored and brought up to today's railroad standards!
The Overland Trail is the former Southern Pacific 2981, a club-lounge car, built in 1949 by the Pullman Standard Car Manufacturing Company. The Amber Trail is the former Union Pacific 5430, a 44 seat transcontinental chair car, built in 1950 by Pullman as well.
Bill and Debbie bought their first car in 1983 and now are veterans of private railcar operation. Riding one of their vintage railcars is a unique experience, harkening back to the golden age of streamliner travel.
The Silver Splendor... An Original LA-Chicago Zephyr Done Car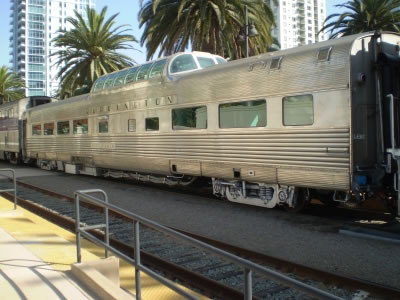 The Silver Splendor
Built by the Budd Co. in 1956 as Chicago, Burlington & Quincy No. 4735, this stainless steel Vista-Dome coach raced between Chicago and Denver on a daily basis until 1980. the latter 9 years under Amtrak ownership. Originally named SILVER BUCKLE, she was part of the last 2 complete conventional train sets to be ordered new in the pre-Amtrak era and traveled over 4.5 million miles.
With standard coach seating for 50 and 24 seats up in the dome, the SILVER BUCKLE provided fast and comfortable service for budget-minded patrons till Amtrak s bi-level Superliners arrived. Officially retired in 1981, the car spent time in storage at Oakland, California and Beech Grove, Indiana before being auctioned off to a railcar shop owner in 1993.
In 1997 the current owners, Heidi and John Caestecker, purchased the car in the Midwest and moved it out to Fullerton, California with the intent of restoring it to operating condition as a luxurious Dome-Diner-Lounge.
Dining capacity will be 24 at tables upstairs and another 24 in the long end of the lower level. A cocktail lounge seating 10-12 will be featured in the short end, with kitchen and restrooms under the dome.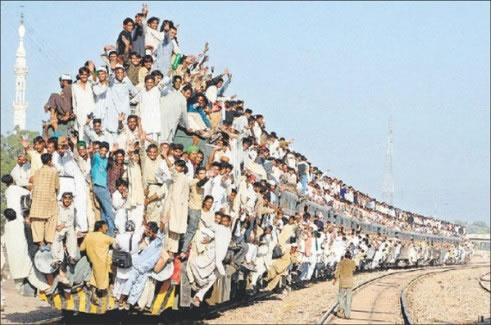 We will not be too crowded