Arrival At The Station And Boarding The Train (Page Two)
It was a cold cold summer morning in downtown Los Angeles when this crowd decided to board the train for nowhere. We were coming from all over but a typical map to Union Station would be:

25 miles and 32 minutes... Easy in LA at 6am on a Saturday!


We all planned ahead knowing Santa Barbara would be a little cool...
No One Got Lost!

Just look for the Choo Choos!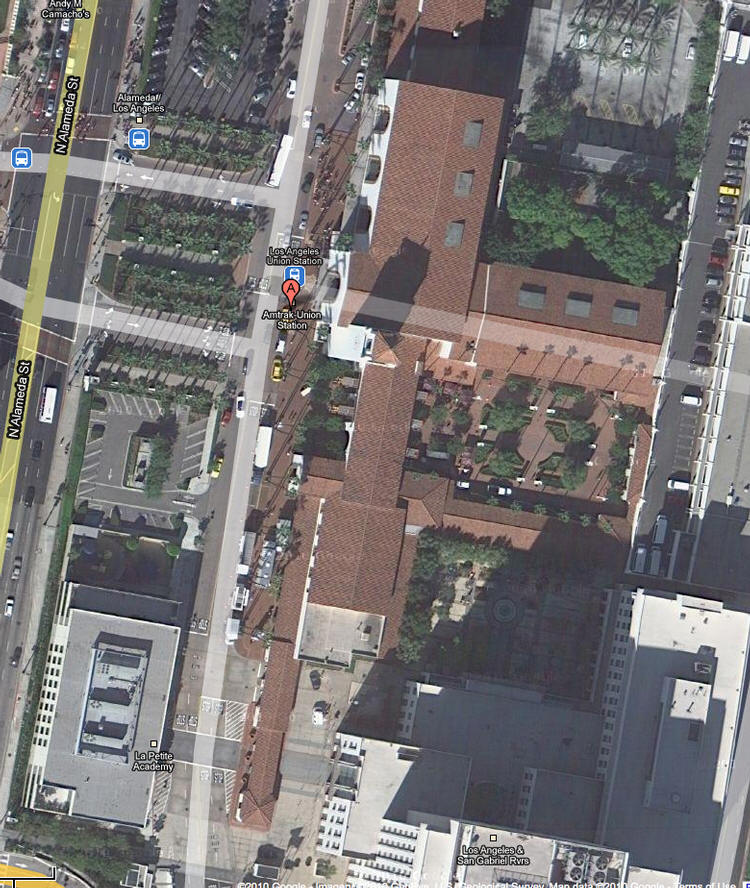 We parked right out front for a total of $14.00!

We are here now!

James risked his life with our resident race car driver... Vicky!

Notice the sigh of relief!

We are off and running! Donna Smith leads the way!

A rag-tag group if there ever was one!
Did You Know? - Los Angeles Union Station (or LAUS) is a major passenger rail terminal and transit station in Los Angeles, California. Located in the northeast corner of Downtown Los Angeles, Union Station is a hub for national Amtrak and Amtrak California passenger trains, Metrolink commuter trains, the Metro Red, Purple and Gold Lines, and several bus services.
Opened in May 1939, Union Station is known as the "Last of the Great Railway Stations" built in the United States, but even with its massive and ornate waiting room and adjacent ticket concourse, it is considered by some small in comparison to other union stations. It was formerly designated the Los Angeles Union Passenger Terminal (LAUPT), but its then-owner, Catellus Development, officially changed the name to Los Angeles Union Station (LAUS). Catellus was merged with and into ProLogis (NYSE: PLD) in 2005; Prologis still owns the station today. ~Wikipedia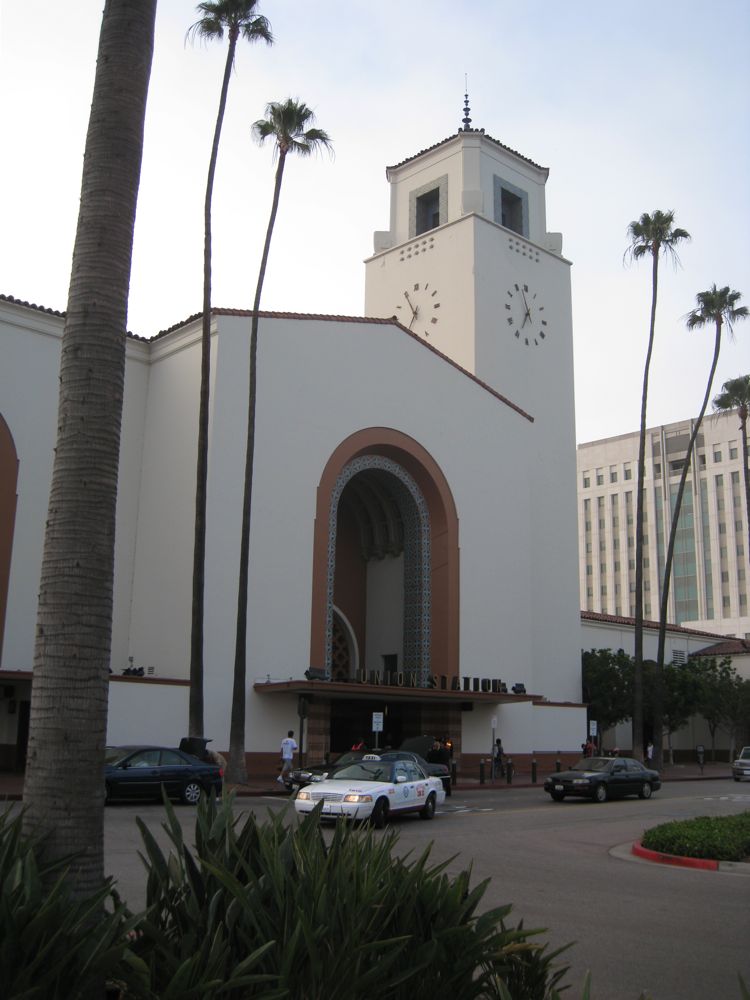 The station was busy this morning

A massive ediface makes these folks look small!
Did You Know? - Middle English edifice from Old French edifice, reborrowed from Latin aedificium ("'building'"), derived from aedificāre ("'to build, establish'") (whence also edify).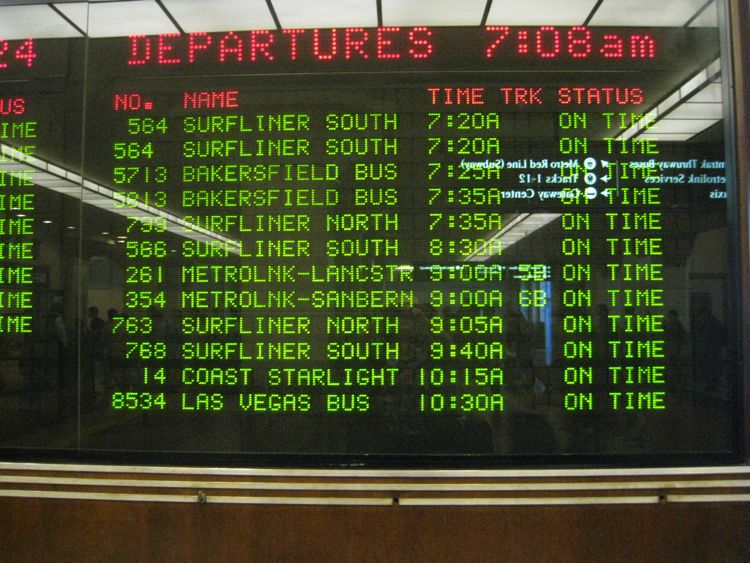 Lots of activities but no track was designated as of this time

Vicky found the sign!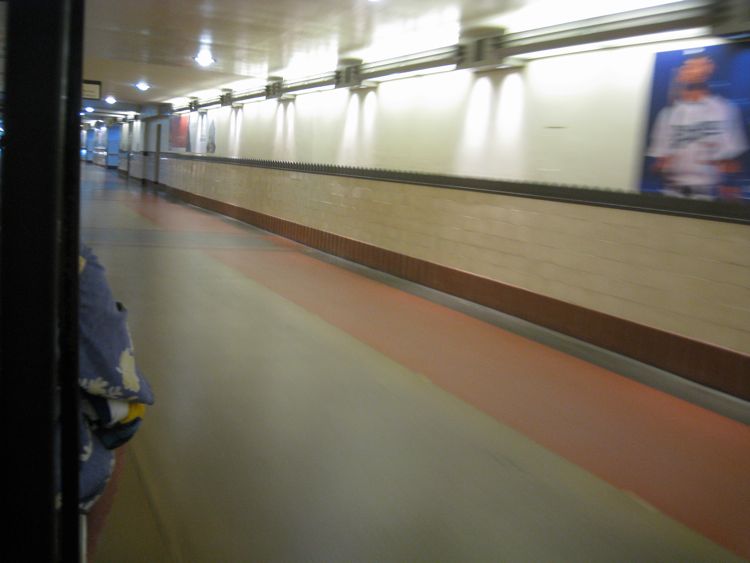 The picture is NOT blurry... The driver thought he was a rocket ship captain!

Leap into warp speed!
Did You Know? - Warp drive is a faster-than-light (FTL) propulsion system in the setting of many science fiction works, most notably Star Trek. A spacecraft equipped with a warp drive may travel at velocities greater than that of light by many orders of magnitude, while circumventing the relativistic problem of time dilation
The Train... The Train

Departure minus 14 minutes!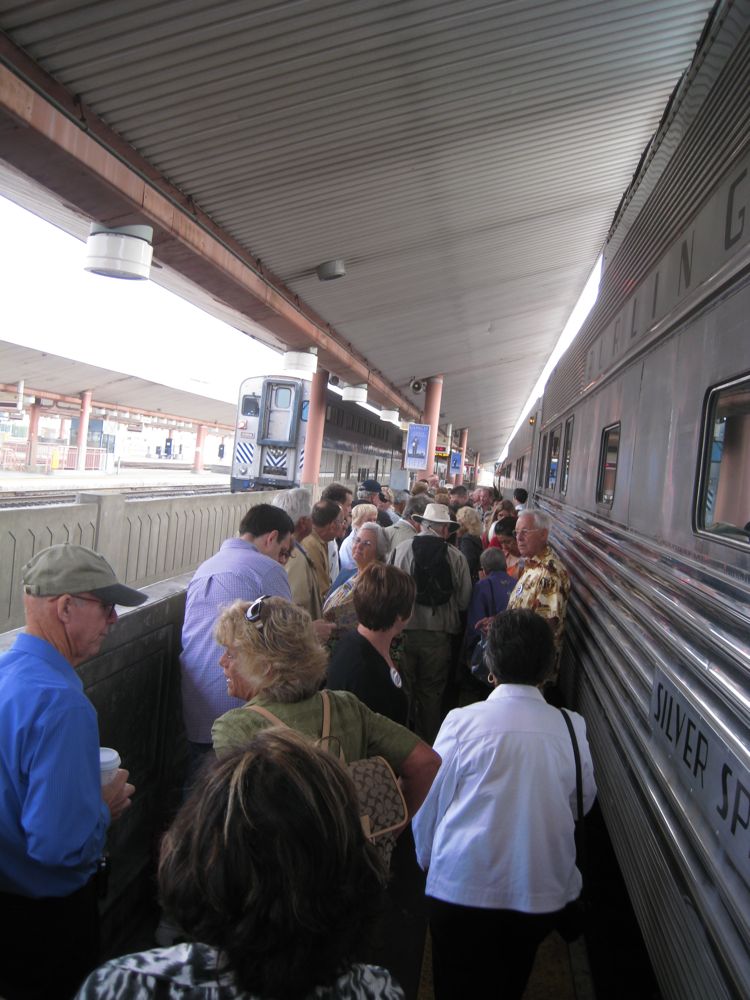 Now that we are organized, what do we do???

Follow me!

Brian and Jan question this approach!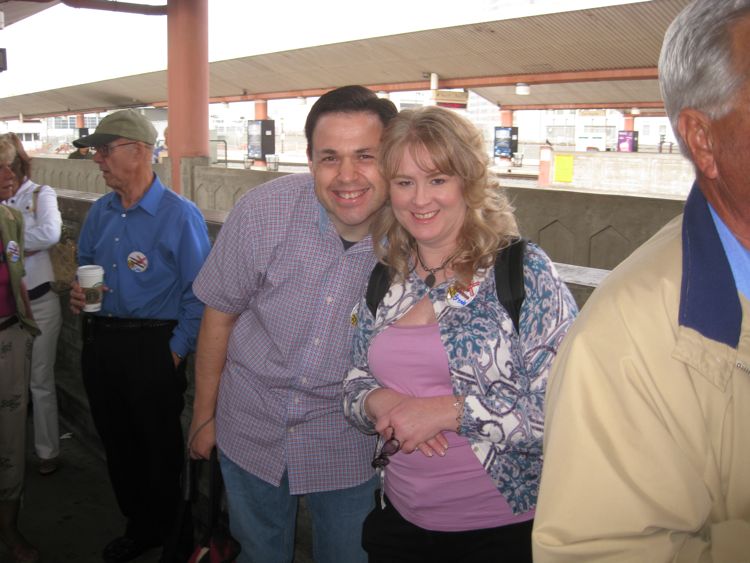 How can you smile at 9am???
Did You Know? - A smile is a facial expression formed by flexing the muscles near both ends of the mouth. The smile can also be found around the eyes (See 'Duchenne smile' below). Among humans, it is customarily an expression denoting pleasure, happiness, or amusement, but can also be an involuntary expression of anxiety, in which case it is known as a grimace.

OMG, Laurie and Greg have coffee!
Did You Know? - Coffee is a brewed drink prepared from roasted seeds, commonly called coffee beans, of the coffee plant. They are seeds of coffee cherries that grow on trees in over 70 countries. Green unroasted coffee is one of the most traded agricultural commodities in the world. Due to its caffeine content, coffee can have a stimulating effect in humans. Today, coffee is one of the most popular beverages worldwide.

Mikee gets the girls!
On Board!!
Did You Know? - All Aboard is a 1917 short comedy film starring Harold Lloyd
We selected to ride the Silver Spendor up to Santa Barbara so we could have the lounge car coming back!
Built by the Budd Co. in 1956 as Chicago, Burlington & Quincy No. 4735, this stainless steel Vista-Dome coach raced between Chicago and Denver on a daily basis until 1980. the latter 9 years under Amtrak ownership. Originally named SILVER BUCKLE, she was part of the last 2 complete conventional train sets to be ordered new in the pre-Amtrak era and traveled over 4.5 million miles.
With standard coach seating for 50 and 24 seats up in the dome, the SILVER BUCKLE provided fast and comfortable service for budget-minded patrons till Amtrak s bi-level Superliners arrived. Officially retired in 1981, the car spent time in storage at Oakland, California and Beech Grove, Indiana before being auctioned off to a railcar shop owner in 1993.
In 1997 the current owners, Heidi and John Caestecker, purchased the car in the Midwest and moved it out to Fullerton, California with the intent of restoring it to operating condition as a luxurious Dome-Diner-Lounge. Dining capacity will be 24 at tables upstairs and another 24 in the long end of the lower level. A cocktail lounge seating 10-12 will be featured in the short end, with kitchen and restrooms under the dome.
With the luxury appointments now installed for the car's rebirth, SILVER SPLENDOR is now in active Amtrak service and is available for private charter or public excursion.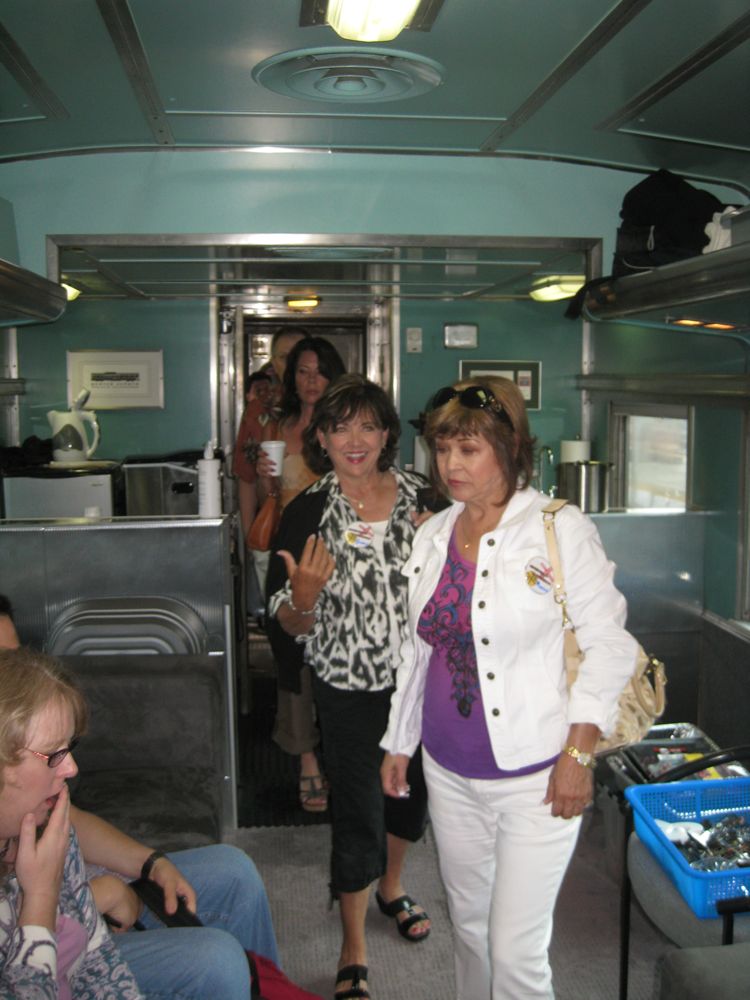 I'm so confused!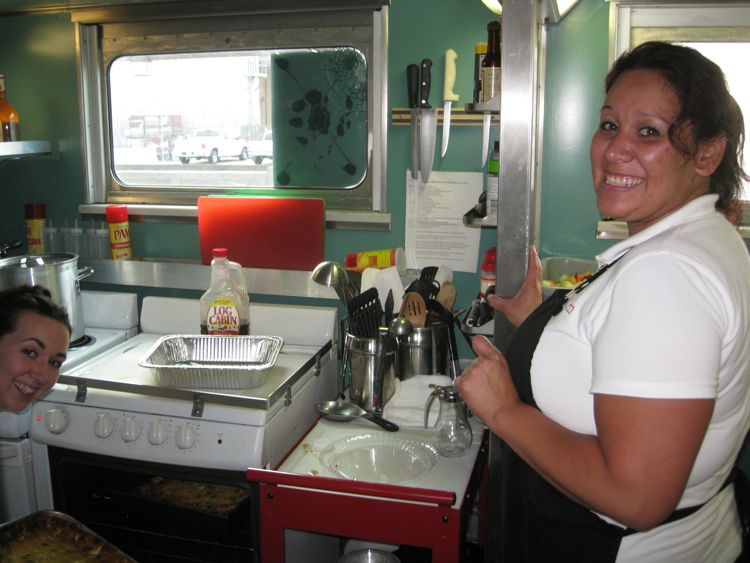 Breakfast was being prepared as we boarded

"Yes Del, they will be serving the breakfast soon!"

Donna and Nancy enjoy a Mimosa!
Did You Know? - A Mimosa is a cocktail-like drink composed of three parts champagne or other sparkling wine and two parts thoroughly chilled orange juice. It is traditionally served in a tall champagne flute with a morning brunch or to guests at weddings. We stttled for plastic because of the nature of the trip!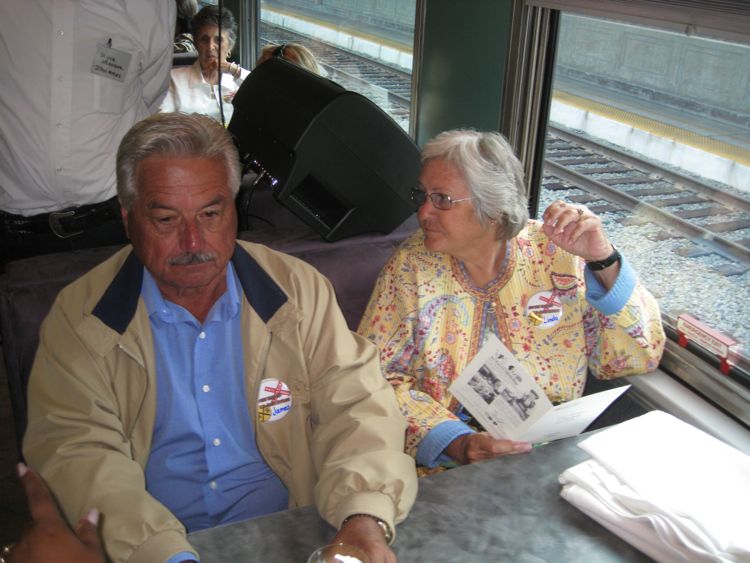 Mr Happy??? James has yet to fully wake up!

Monoca helps Bunny with the big words!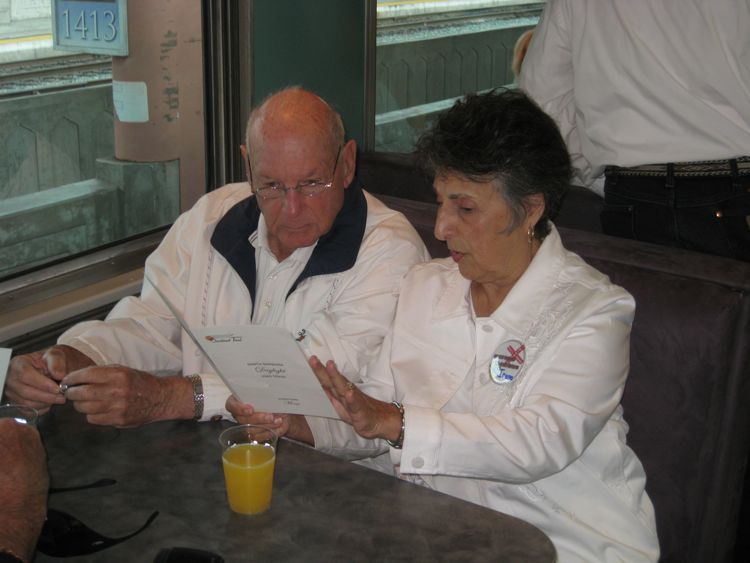 Herb and Irene study the menu!

Breakfast was terrific!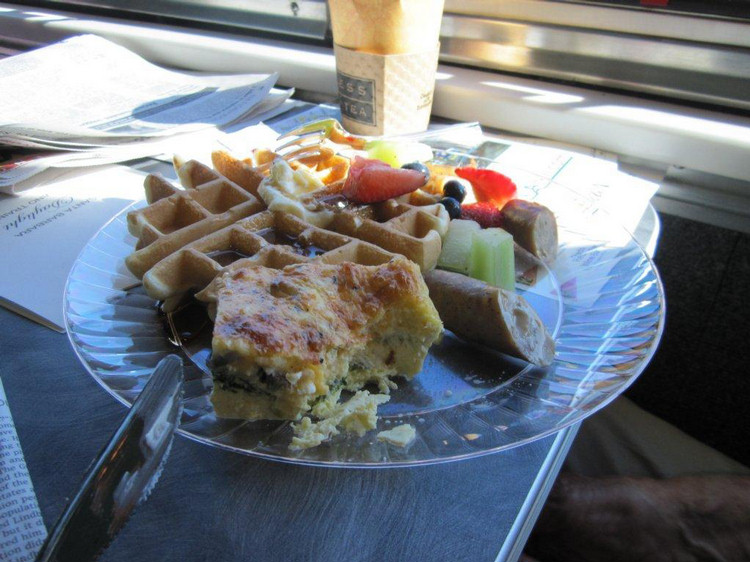 Good groceries

The mamosa was able to open Donna's eyes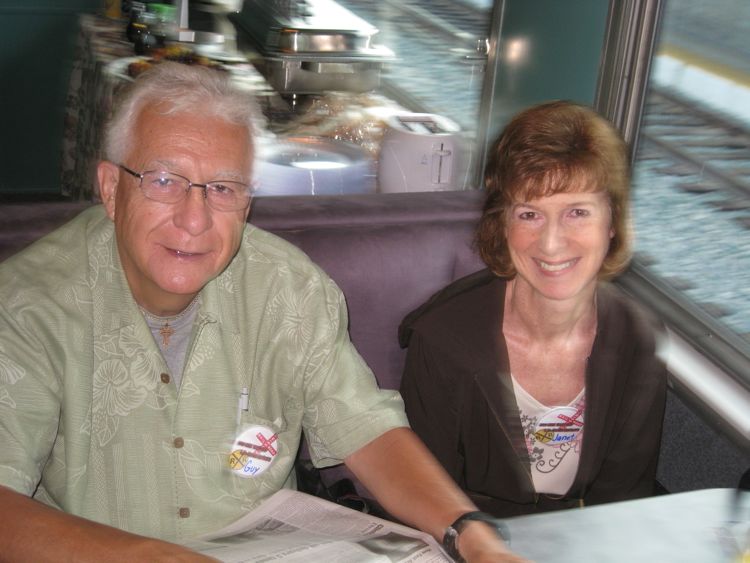 Guy and Janet found an excellent spot

Holly and Bill Henche sat so they could see where they have been!

Brian and Jan are awaiting a "spot of tea"
Did You Know? - In 1660, King Charles II of England, Scotland and Ireland married princess Catherine of Braganza of Portugal. This union resulted in the import of tea to Britain from India, and by 1750 the British had fallen in love with it.
As it had to be imported across a great distance, tea was at first very expensive, drunk only by the upper classes. However, the increasingly powerful and influential East India Company was soon flooding the country with the stuff, and by the 1750s it was already a recognized national drink. Interestingly, a significant upswing in health followed as people boiled their water before drinking it.

Brenda and Sam stayed in the small of the two rooms in the Splendor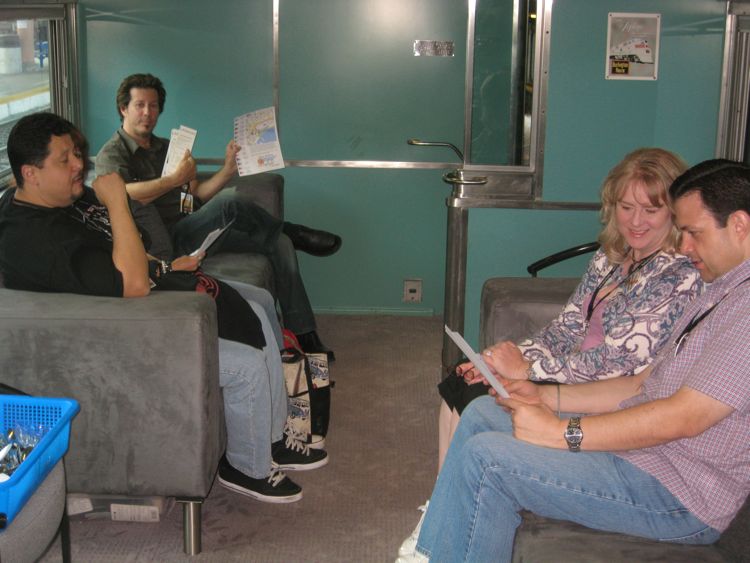 They had excellent company

Debbie passes out..... the tickets and maps! Jeanette assists with the lanyards!
Did You Know? - A lanyard is a rope or cord often worn around the neck or wrist to carry something. Usually it is used where there is a risk of losing the object or to ensure it is visible at all times.
In the military, lanyards originally were used to connect a pistol, sword or whistle (for signalling) to a uniform on a semi-permanent basis. Lanyards were used in situations where there was a good chance of losing the object - commonly by cavalry and naval officers at sea. A well made pistol lanyard can be easily removed and reattached by the user, but otherwise will stay connected to the pistol whether it is drawn or in a holster. Lanyards later became a more decorative item.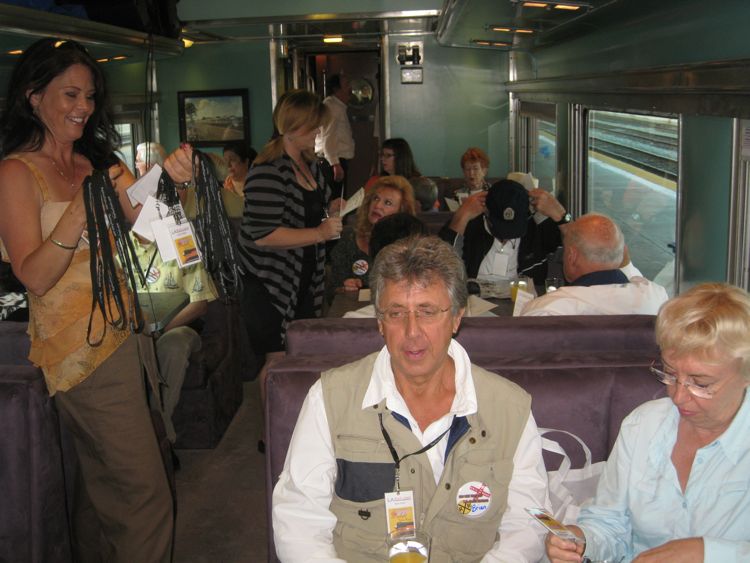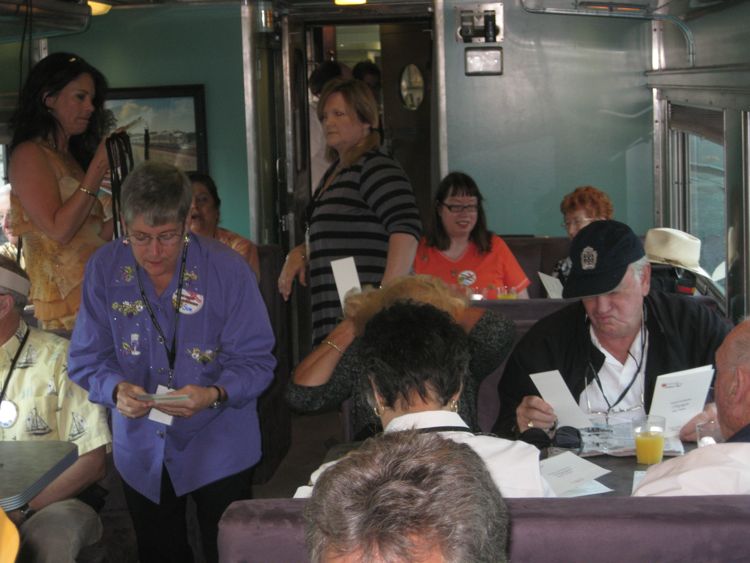 "What is this???"
Meanwhile Upstairs...
Did You Know? - A dome car is a type of railway passenger car that has a glass dome on the top of the car where passengers can ride and see in all directions around the train. It also can include features of a coach, lounge car, dining car or observation. Dome cars were primarily used in the United States and Canada, though a small number were constructed in Europe for Trans Europ Express service.
In North America, dome cars were manufactured by the Budd Company, Pullman Standard and American Car & Foundry. Southern Pacific Railroad built its own dome cars in their Sacramento, California, shops. In the 1990s Colorado Railcar began producing dome cars. Generally, seats in the dome were considered "non-revenue" like lounge car seats. When dome cars operate today in excursion trains, the dome seats often command a premium fare.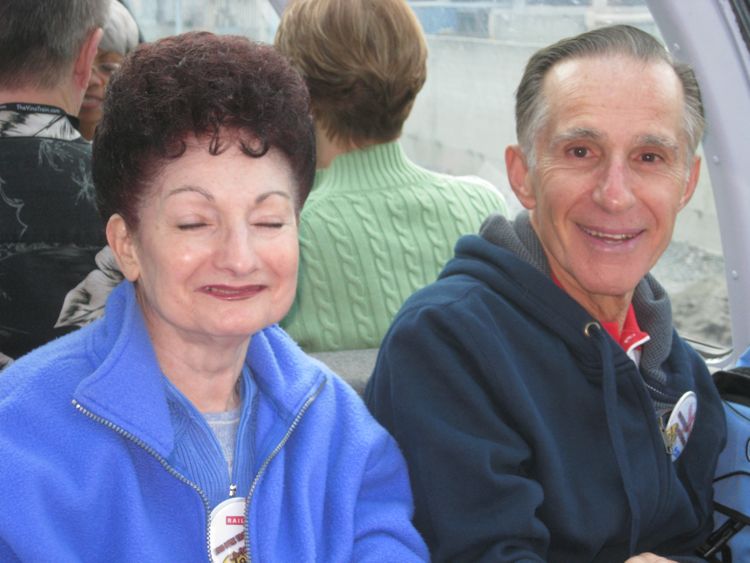 Marcia and Leon settle in

Kathy and Ed found a spot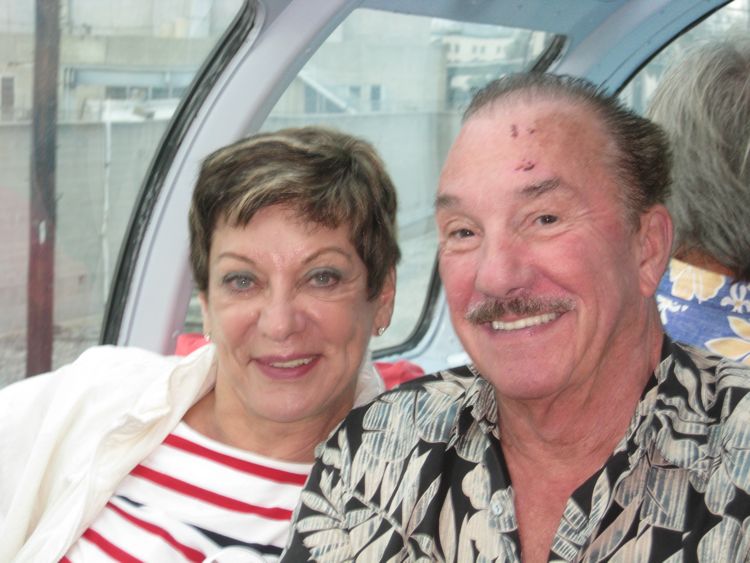 Marilyn and Don Baily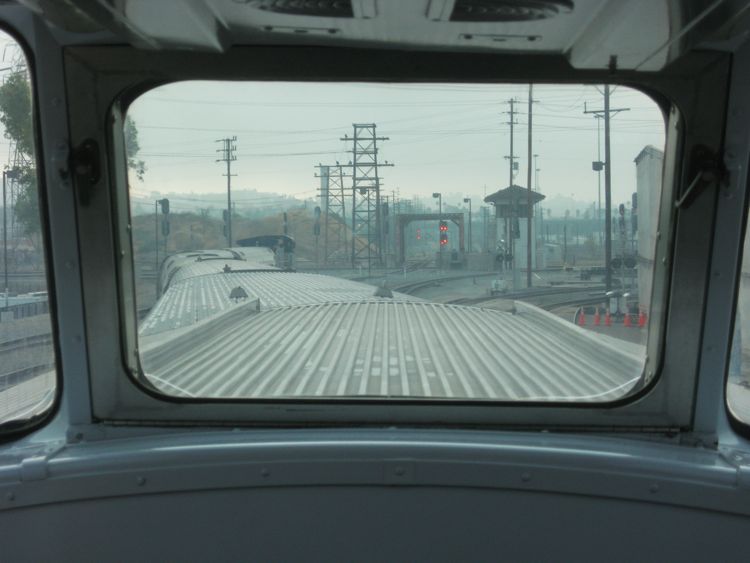 View from the top