The 2012 Sweetheart Ball Was Great (Page Two)

Click for full sized image

Thank you Santa Ana for a great time...
Gene DuValle with Punch & Judy... Super entertainment

Hans Was Ready To Go...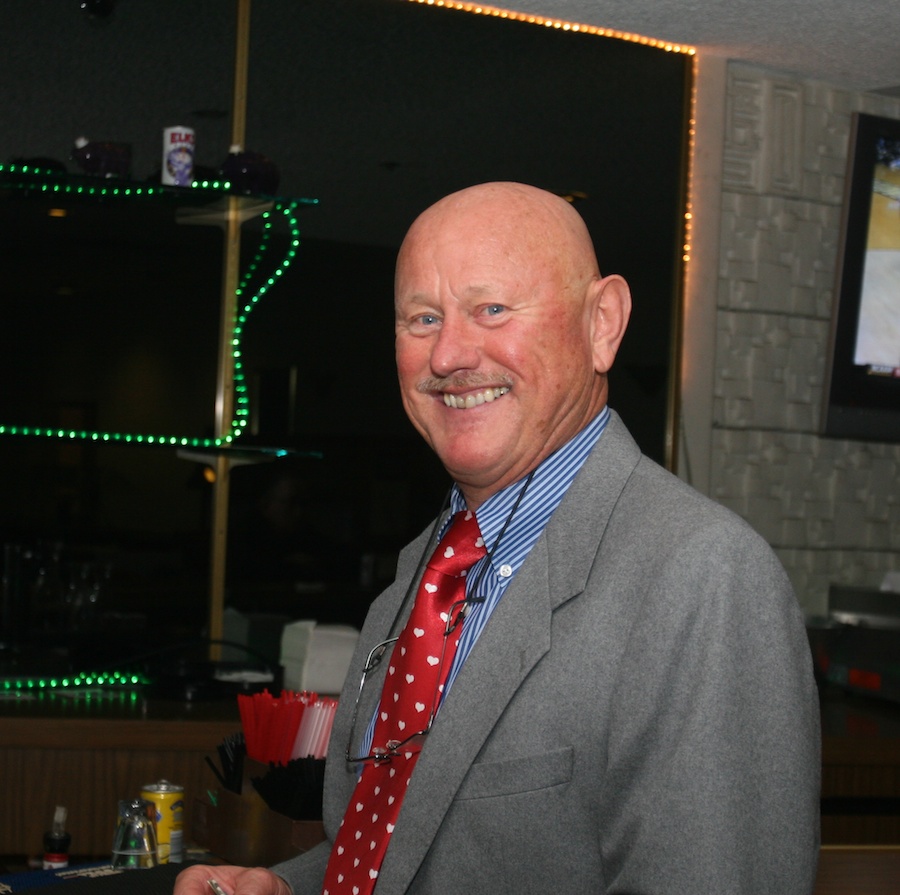 Hans heads for the bar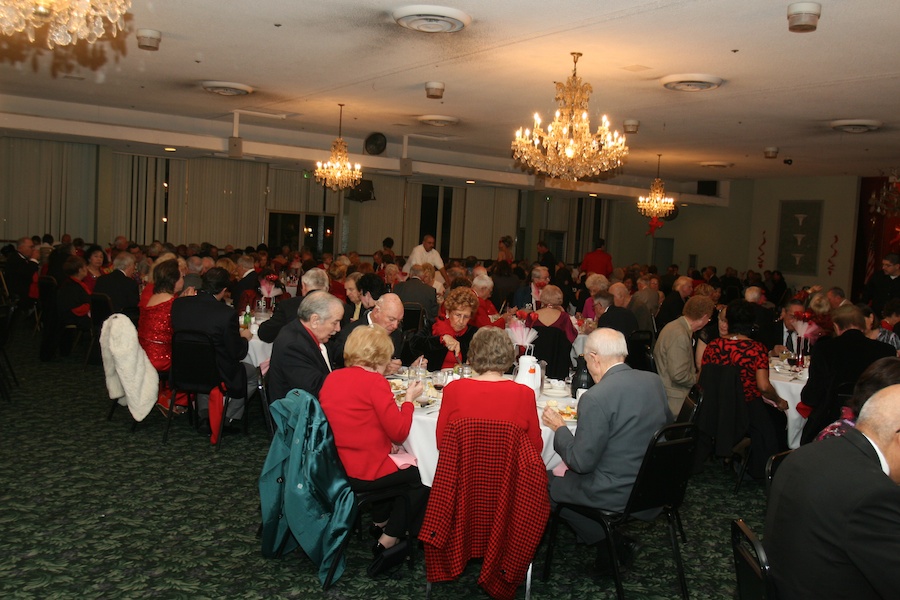 We had a full house this evening... A sea of red
Did You Know? - The Crystal Ball Room offers an 18' x 30' stage. It also features one of Orange County's premier dance floors and can accomodate up to 450 guests comfortably.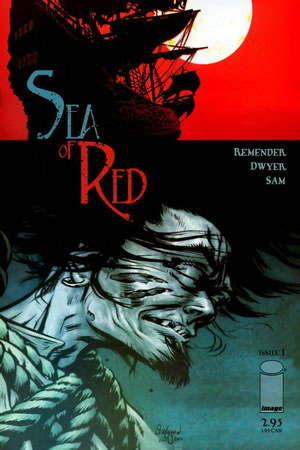 Did You Know? - Sea of Red is a comic book series about 16th century vampire pirates which was published from 2005 to 2006 by Image Comics. The series was written by Rick Remender and Kieron Dwyer and drawn by Salgood Sam and Paul Harmon.
The Tale Of The Tie... Or Vicky Assures The Men Look Good
Vicky had a cleverosity outburst and aquired a mess of "valentines day ties" which she got to all the guys but did NOT TELL Del. He knew something was up when the third identical tie showed up at our table.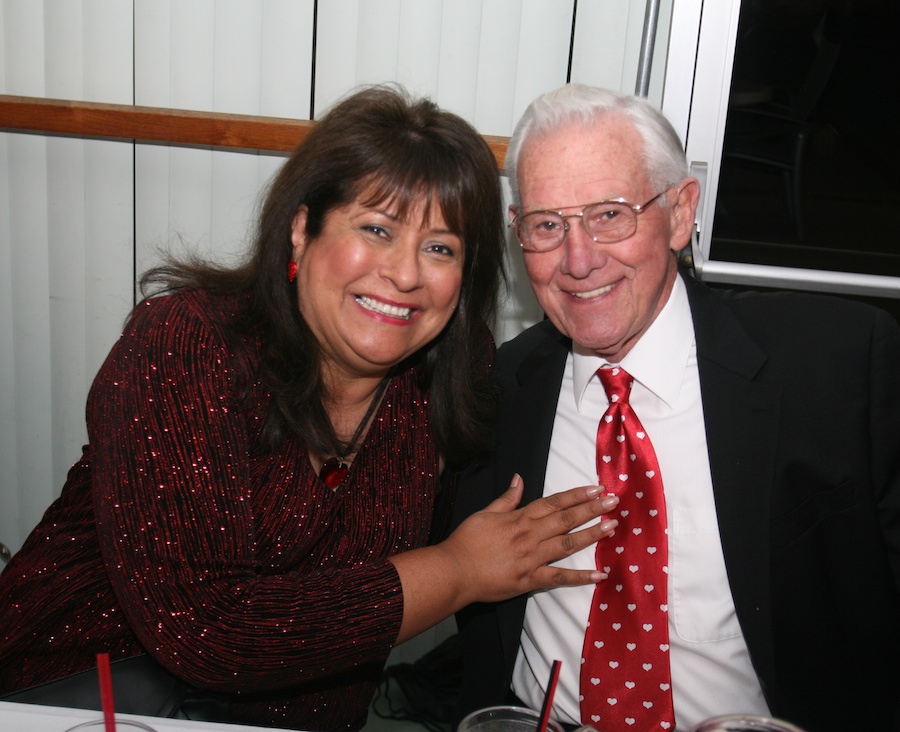 Vicky got Del a nice unique tie... No other like it in the world she said

Del was astounded to see Ed with the same tie.... How could this happen??

Oh oh... Irene shows Herbs tie to Del and Del knows Vicky has been up to something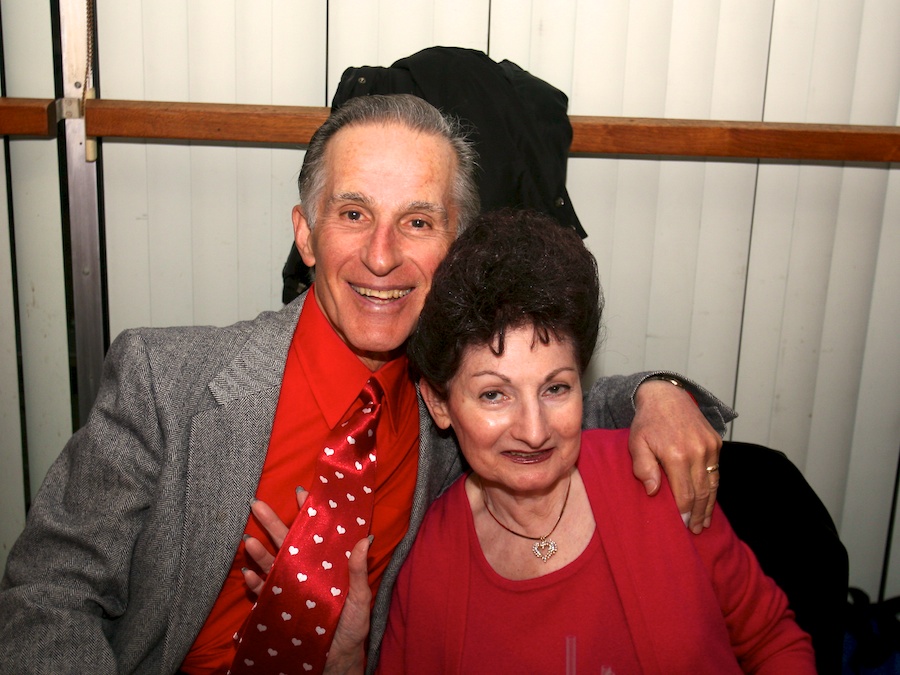 M-m-m-m-m-m Marcia selected a red shirt for Lee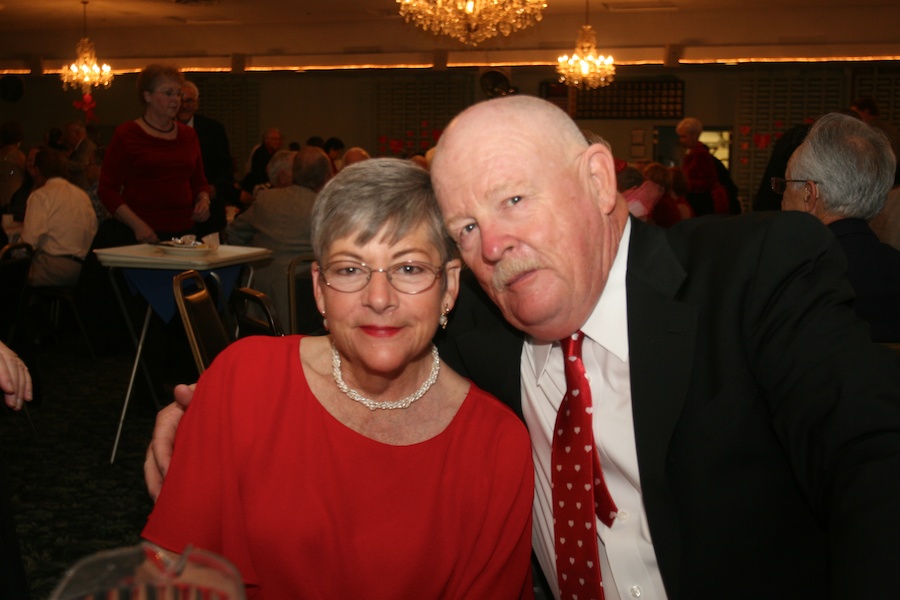 Paul wondered why Vicky wanted to see her before the dance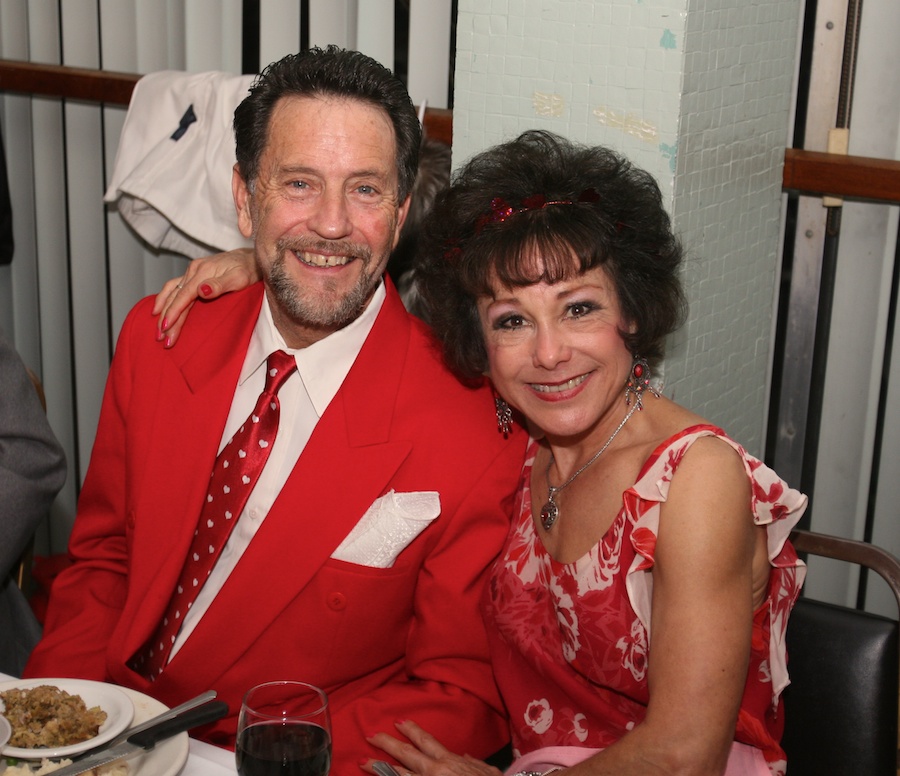 Bob had a perfect coat for wearing the "special tie selection" made by Vicky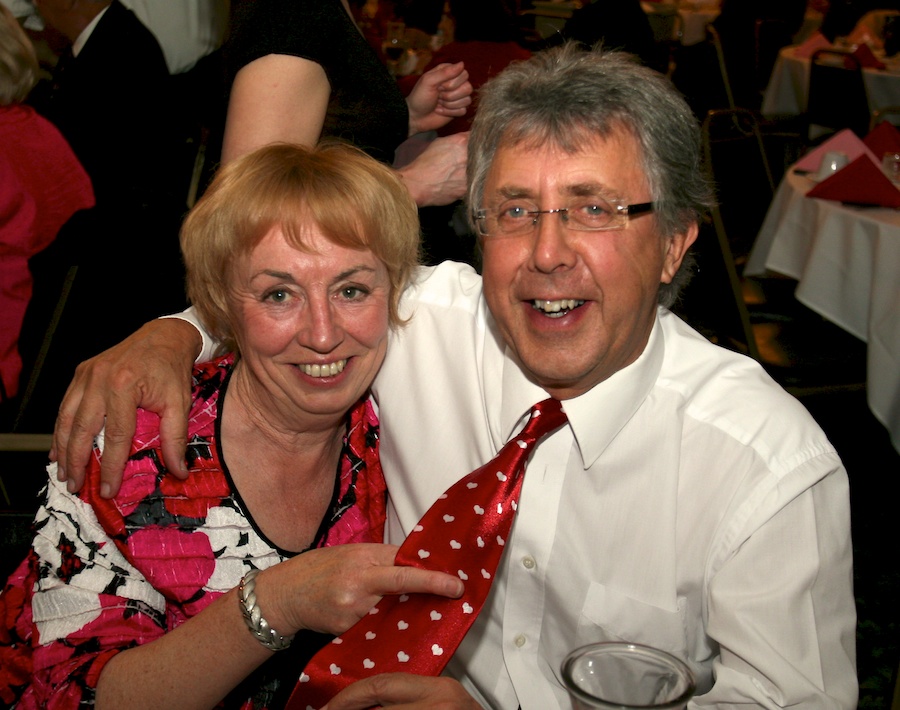 Jan told Brian you must wear this ONE-OF-A-KIND tie this evening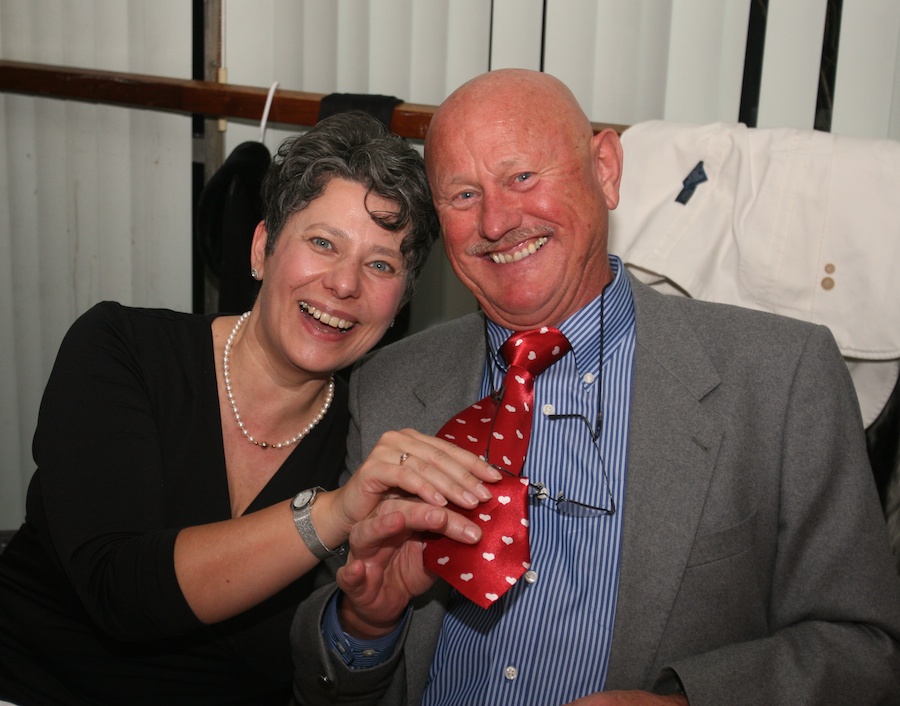 Kerstin shows off Han's full winsor knot

Gentlemen... It could have been worse!!!

The crowd demands a fashion show .... The style setters on the lodger
Did You Know? - The Windsor knot, also referred to as a Full Windsor or as a Double Windsor to distinguish it from the half-Windsor, is a method of tying a necktie around one's neck and collar. The Windsor knot, compared to other methods, produces a wide symmetrical triangular knot. The knot is often thought to be named after the Duke of Windsor (King Edward VIII after his abdication). It was, however, likely invented by his father George V.
The Duke preferred a wide knot and had his ties specially made with thicker cloth in order to produce a wider knot when tied with the conventional four in hand knot. The Windsor knot was invented to emulate the Duke's wide knot with regular ties. The Windsor knot is worn on more formal occasions, and it is especially suited for a spread or cutaway collar that can properly accommodate a larger knot. For correct wear the tie used for a windsor knot should be about 40 cm longer than a conventional tie.
Others Wear More Subdued Ties

AJ and Laura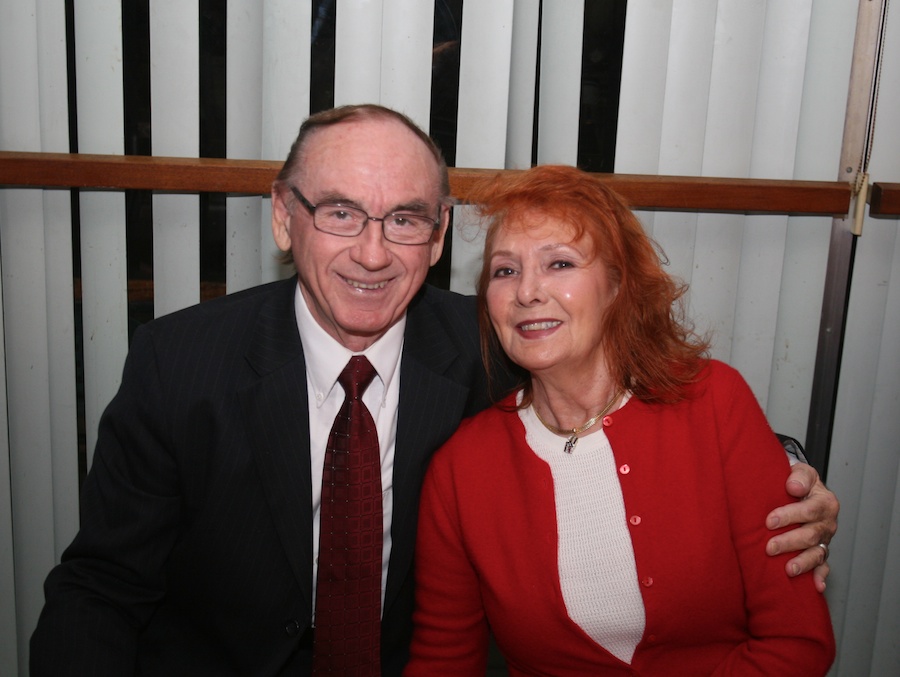 Heidi and Wes were saved from the tie party....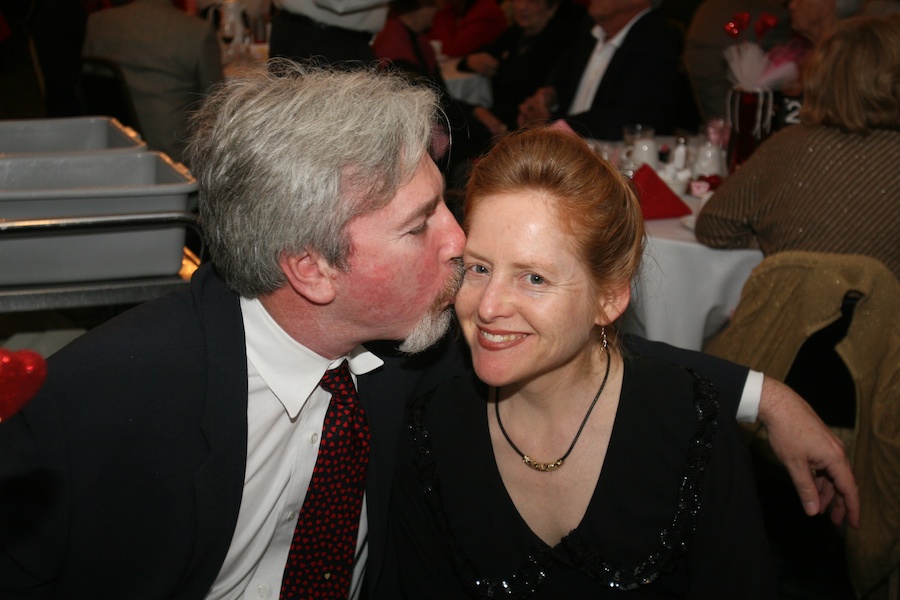 Franklyn and Michel (Paul and Sue's daughter and son-in-law) joined us this evening
Dessert Is Served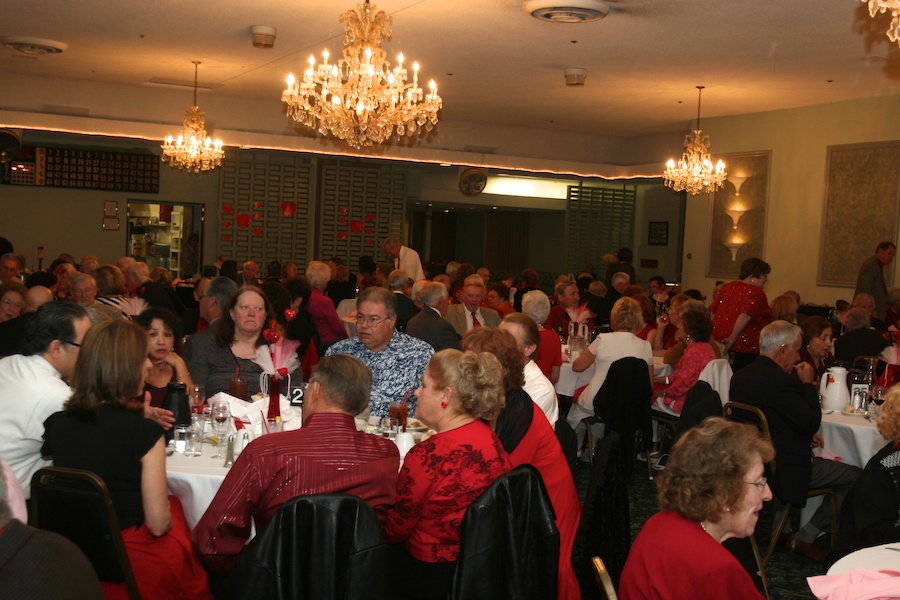 Cake is a comin'

What if Vicky had of designed the dessert this evening?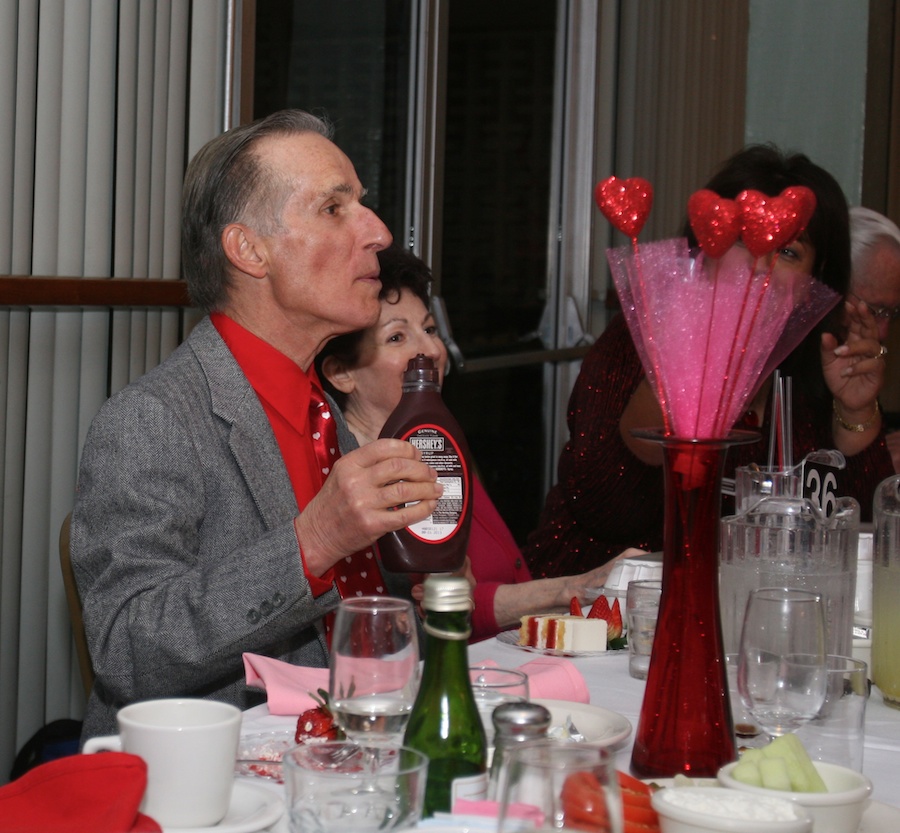 Lee wants to make sure it is sweet enough... Vicky assisted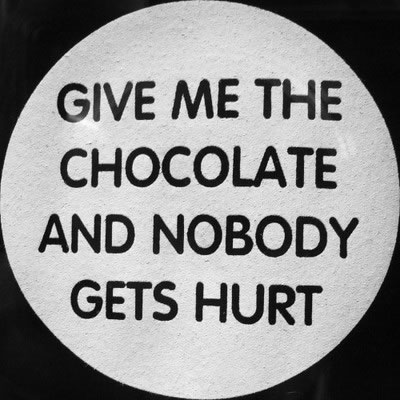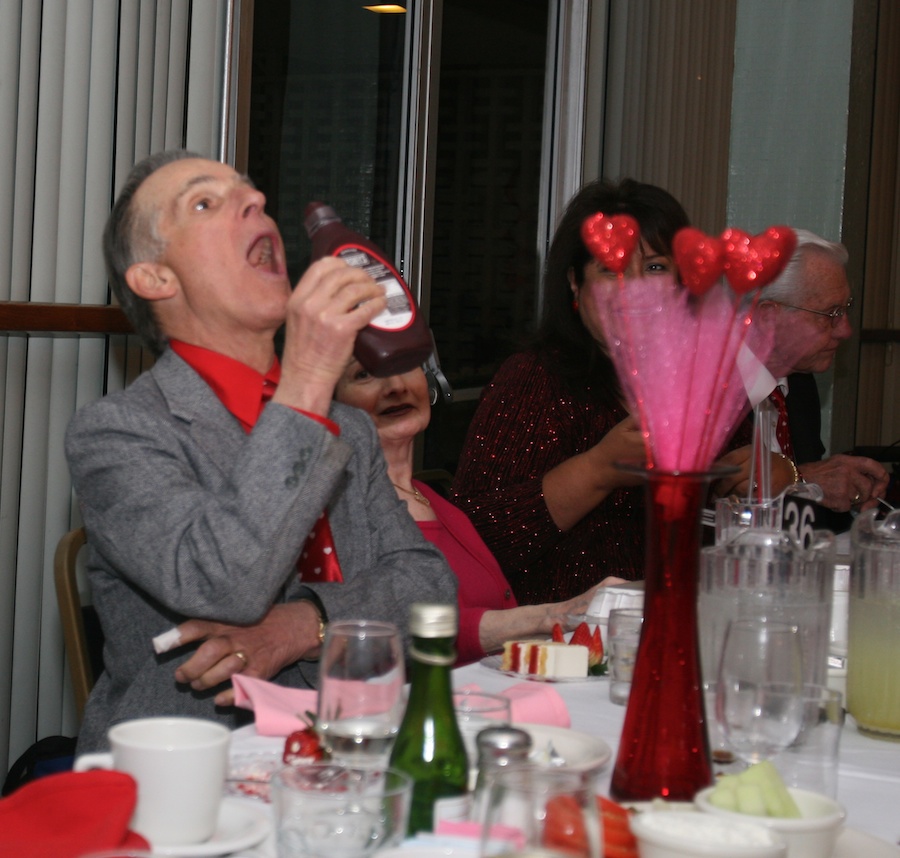 What a man... He drinks his straight
Did You Know? - In bartending, the term straight up (or up) refers to an alcoholic drink that is shaken or stirred with ice and then strained and served without ice in a stemmed glass.
This is contrasted with a drink served neat – a single, unmixed liquor served without being cooled and without any water, ice, or other mixer. Neat drinks and rocks drinks are often served in a rocks glass but may be served in a shot glass or a cocktail glass. The term "up" is less ambiguous than "straight up", because sometimes the term "straight up" is used to mean "neat".
The term "straight" is also sometimes ambiguous, as it can be used to mean either "up" or "neat".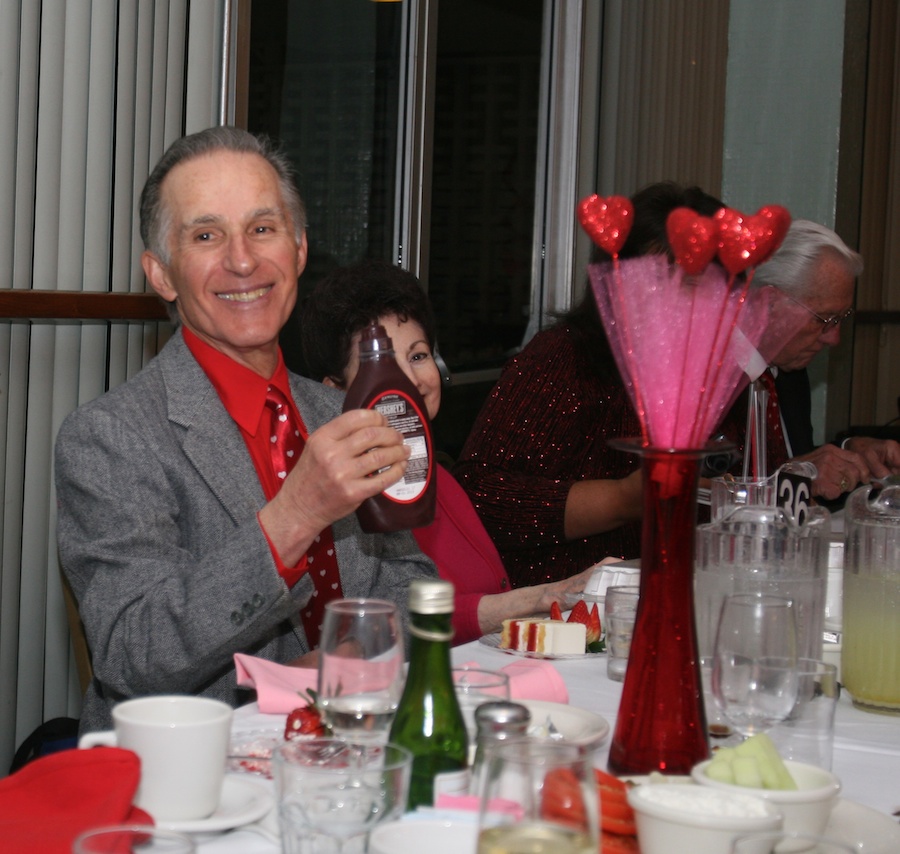 We all ran to the phone to call the dentist... We could hear the crumbling sounds
Meanwhile On The Dance Floor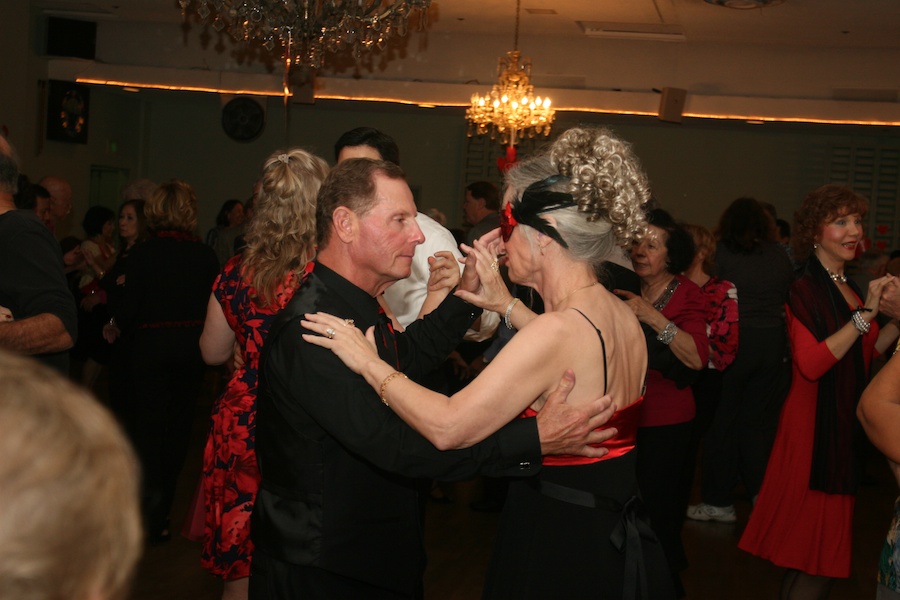 Beware... Line Dancing Begins...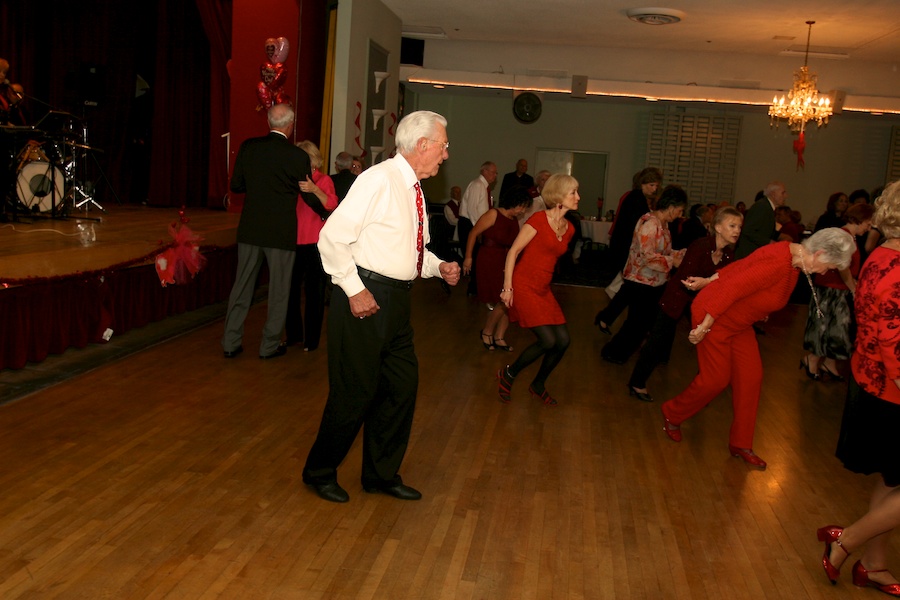 Del leads from behind....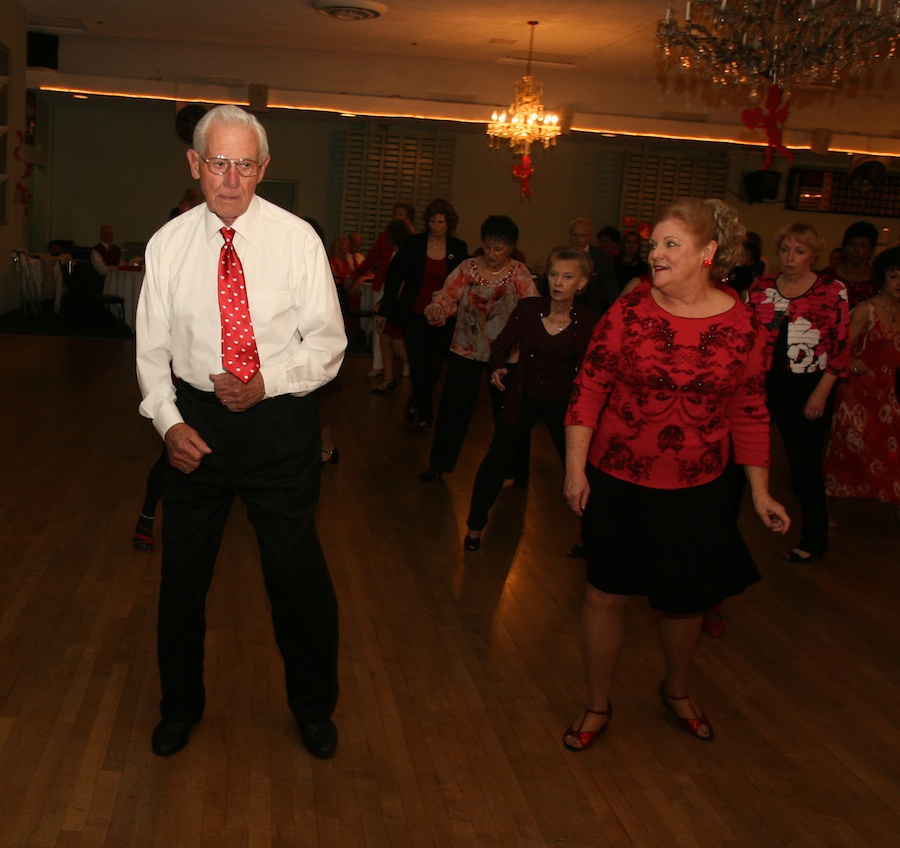 "Hello there Big Boy"....
The Kids Record This For Posterior....No, Posterity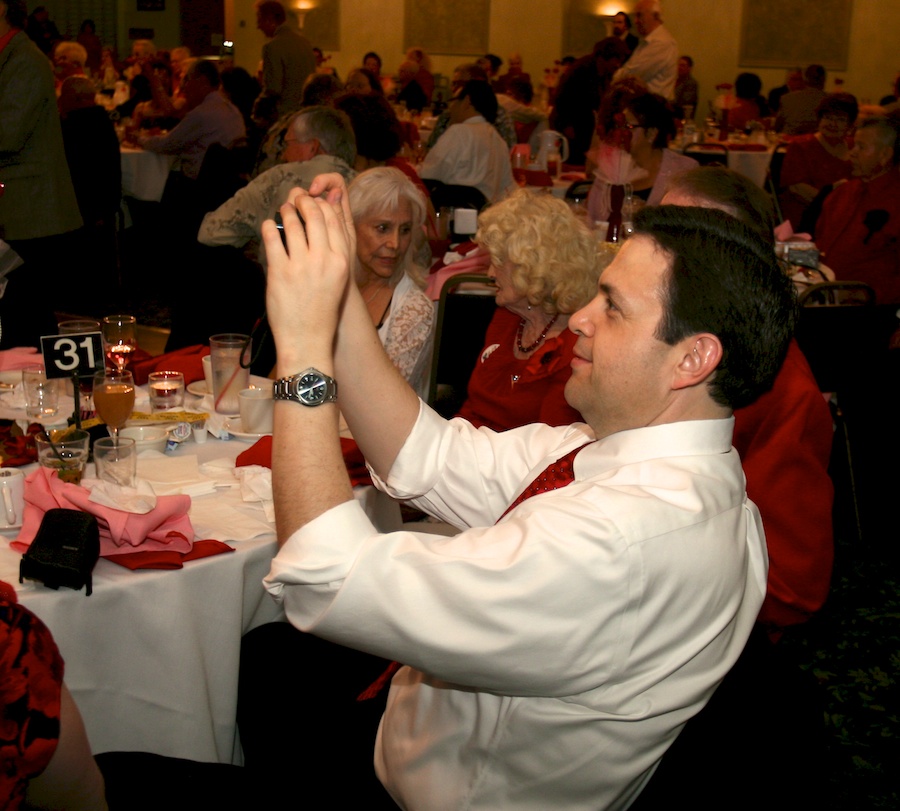 Sam gathers the evidence

A beautiful couple

Now they gots the giggles
The Table Decorations Were Creative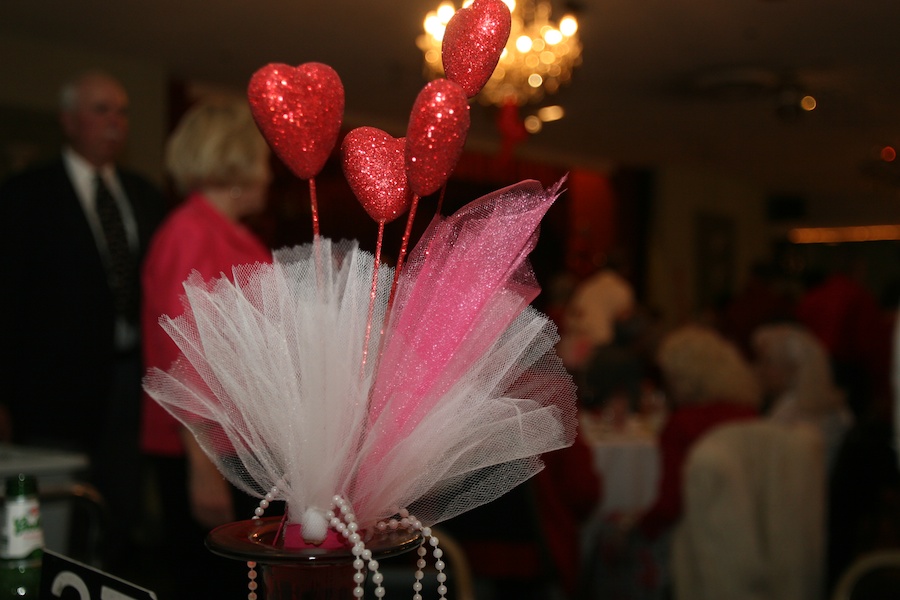 They started disappearing....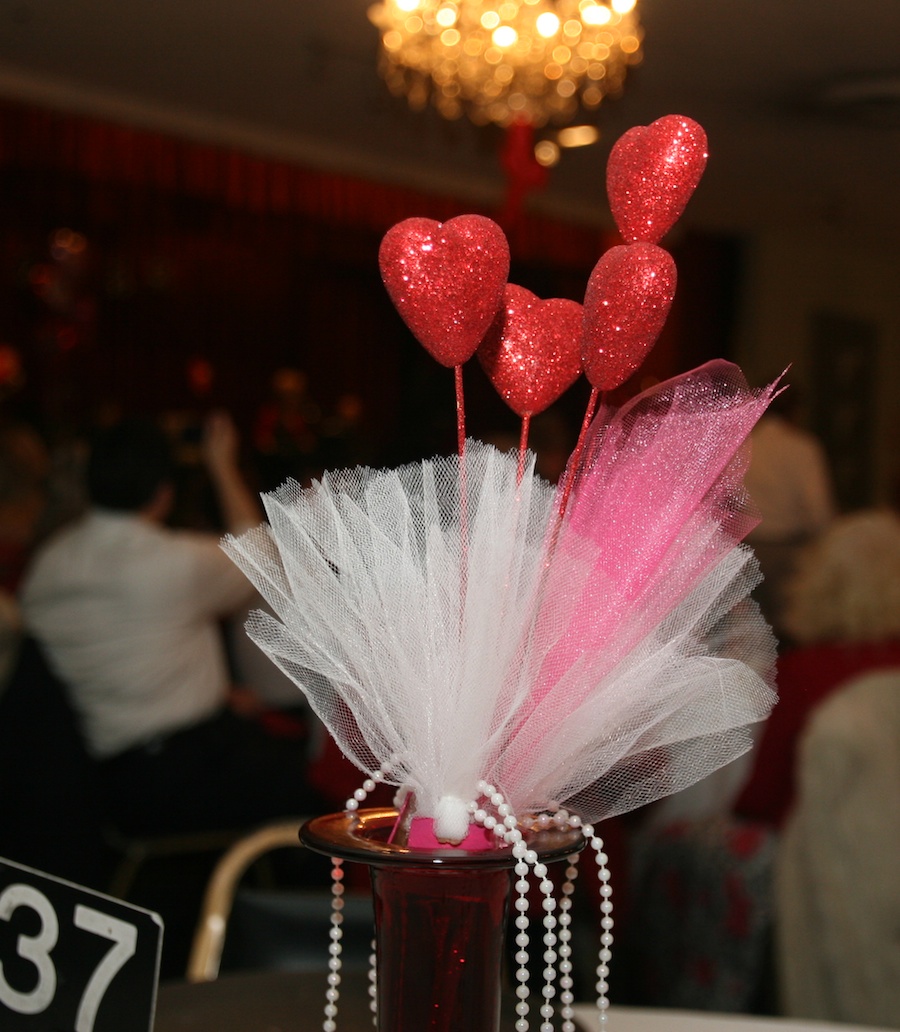 Some people had other uses for them... Right, AJ?
AJ Brings Television Memories To The Table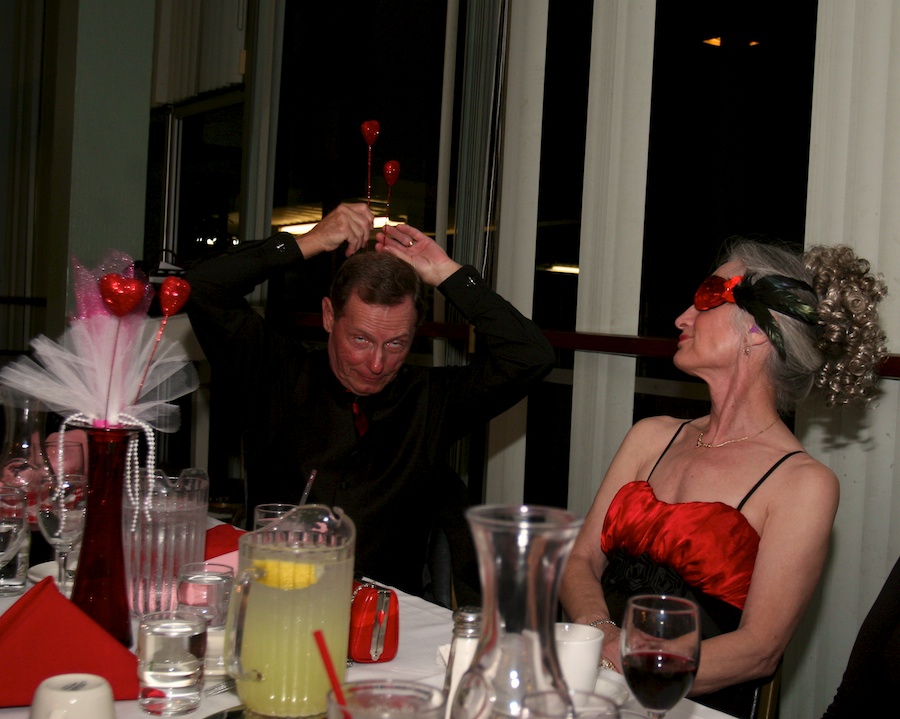 "Did I ever show you my Mork from Ork imitation???"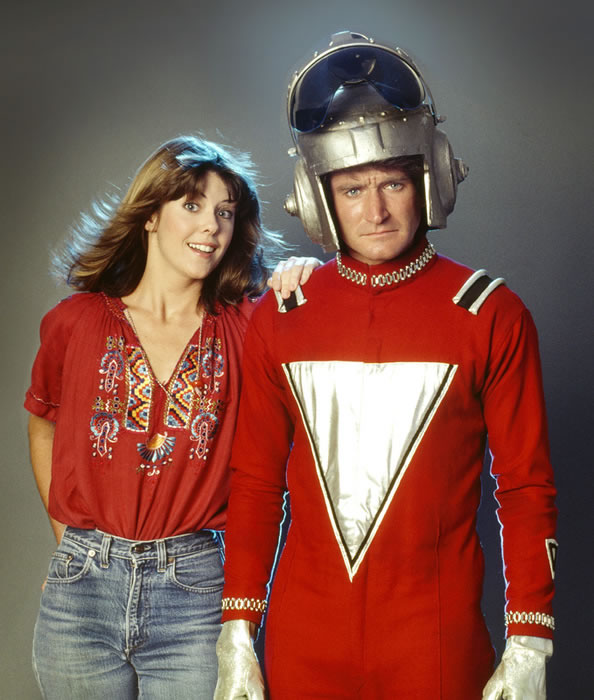 Mork and Mindy - Four years of fun
Did You Know? - Mork & Mindy is an American science fiction sitcom broadcast from 1978 until 1982 on ABC. The series starred Robin Williams as Mork, an alien who comes to Earth from the planet Ork in a small, one-man egg-shaped spaceship. Pam Dawber co-starred as Mindy McConnell, his human friend and roommate. Mork and Mindy married in the show's final season. In 1997, the episode "Mork's Mixed Emotions" was ranked #94 on TV Guide's 100 Greatest Episodes of All Time list
The series was a spin-off from the sitcom Happy Days. The character of Mork, played by a then-unknown Robin Williams, first appeared in the Happy Days Season 5 episode, "My Favorite Orkan," which was a take on the 1960s sitcom, My Favorite Martian. Williams' character Mork attempts to take Richie Cunningham back to his planet of Ork as a human specimen, but his plan is foiled by Fonzie (though all this turned out to be simply a dream Richie had). The Mork character proved to be popular enough with the audience to go forward with the planned series of his own.
In Mork & Mindy, Mork resides in the present-day city of Boulder, Colorado, of the late-1970s and early-1980s (as opposed to the late-1950s setting of Happy Days).
Mork's egg-shaped spacecraft lands on Earth with a mission to observe human behavior. Mork is assigned his mission by Orson, his mostly-unseen and long-suffering superior (voiced by Ralph James), who has sent Mork to Earth to get him off Ork, due to the fact humor is not permitted on Ork. To fit in, Mork dresses in Earth clothing (a suit, which he wears backwards).
He befriends 21-year old Mindy (Pam Dawber) after she is stranded one evening after an argument with her boyfriend. Mork offers assistance, and Mindy, not seeing his back or the on-backwards suit, assumes he is a priest, mistaking his wardrobe gaffe for a priest's collar. Mindy is taken by Mork's willingness to listen (unknown to her, he is simply observing her behavior as part of his mission), and the two become friends.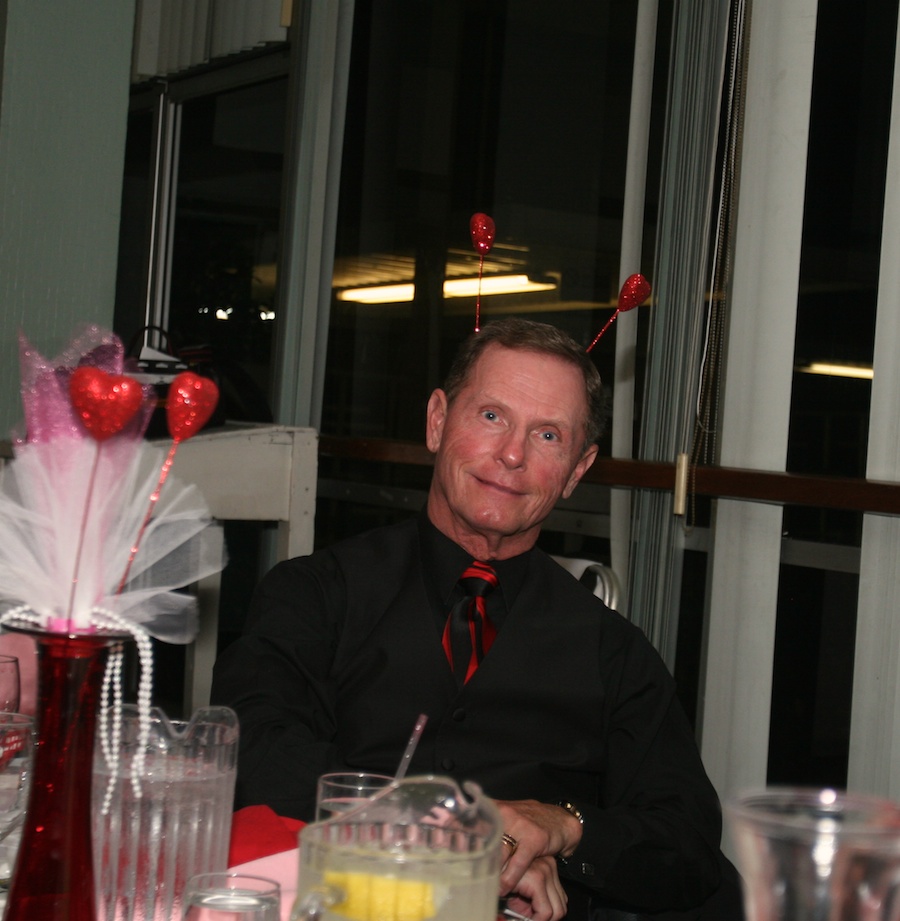 How about my "My Favorite Martian" imitation?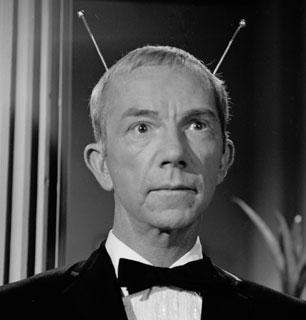 Did You Know? - My Favorite Martian is an American television sitcom that aired on CBS from September 29, 1963 to May 1, 1966 for 107 episodes (75 in black and white 1963–1965, 32 color 1965–1966). The show starred Ray Walston as Uncle Martin (the Martian) and Bill Bixby as Tim O'Hara.
A human-looking extraterrestrial in a one-man spaceship crash-lands near Los Angeles. The ship's pilot is, in fact, an anthropologist from Mars and is now stranded on Earth. Tim O'Hara, a young newspaper reporter for The Los Angeles Sun, is on his way home from Edwards Air Force Base (where he had gone to report on the flight of the X-15) back to Los Angeles when he spots the spaceship coming down. The X-15 nearly hit the martian's spaceship and caused it to crash.
Tim takes the Martian in as his roommate and passes him off as his Uncle Martin. Uncle Martin refuses to reveal any of his Martian traits to people other than Tim, to avoid publicity (or panic), and Tim agrees to keep Martin's identity a secret while the Martian attempts to repair his ship. Uncle Martin has various unusual powers: he can raise from his head two retractable antennae and become invisible; he is telepathic and can read and influence minds; he can levitate objects with the motion of his finger; he can communicate with animals; and he can also speed himself (and other people) up to do work.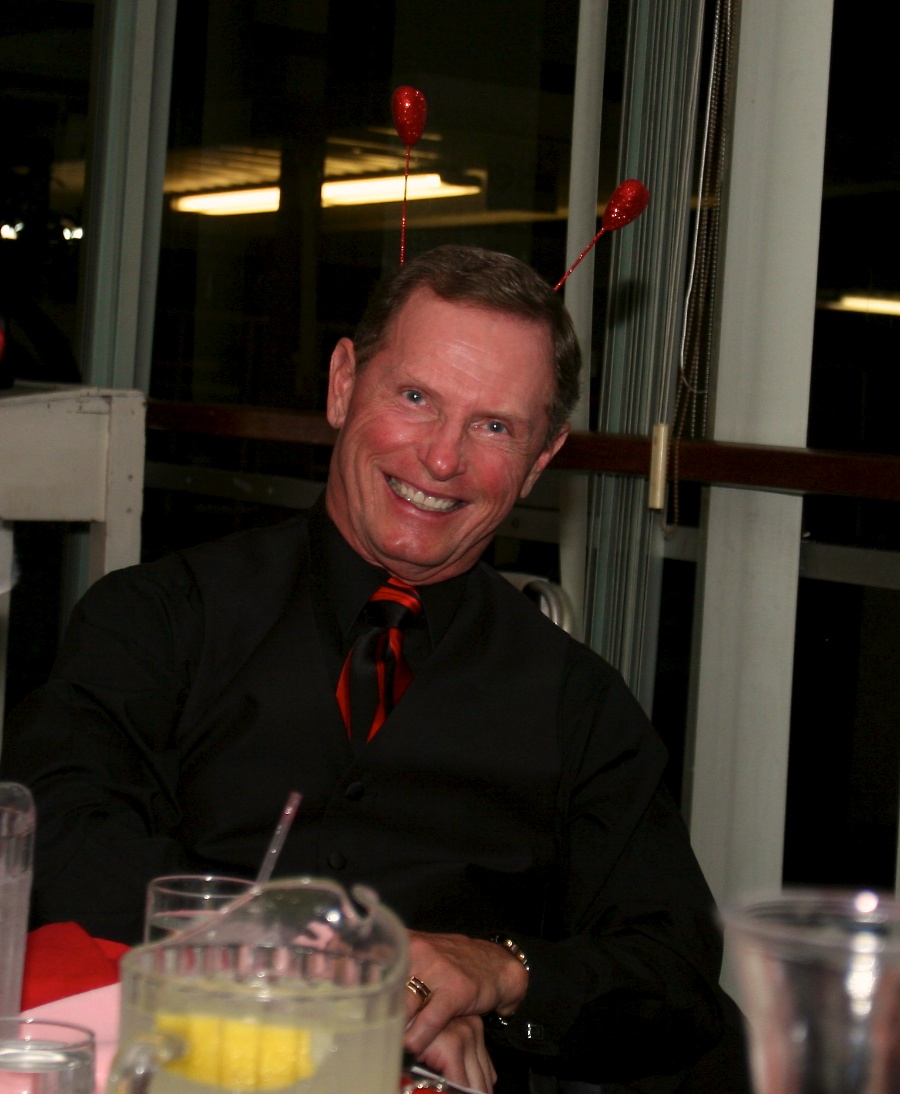 Nice antennas...
Did You Know? - Antennae (singular: antenna) in biology have historically been paired appendages used for sensing in arthropods. More recently, the term has also been applied to cilium structures present in most cell types of eukaryotes. In arthropods, antennae are connected to the front-most segments. In crustaceans, they are biramous and present on the first two segments of the head, with the smaller pair known as antennules. All other arthropod groups - except chelicerates and proturans, which have none - have a single, uniramous pair of antennae.
These antennae are jointed, at least at the base, and, in general, extend forward from the head. They are sensory organs, although the exact nature of what they sense and how they sense it is not the same in all groups, or always clear. Functions may variously include sensing touch, air motion, heat, vibration (sound), and especially olfaction (smell) or gustation (taste).
The Kids Get To Dance With The Old Folks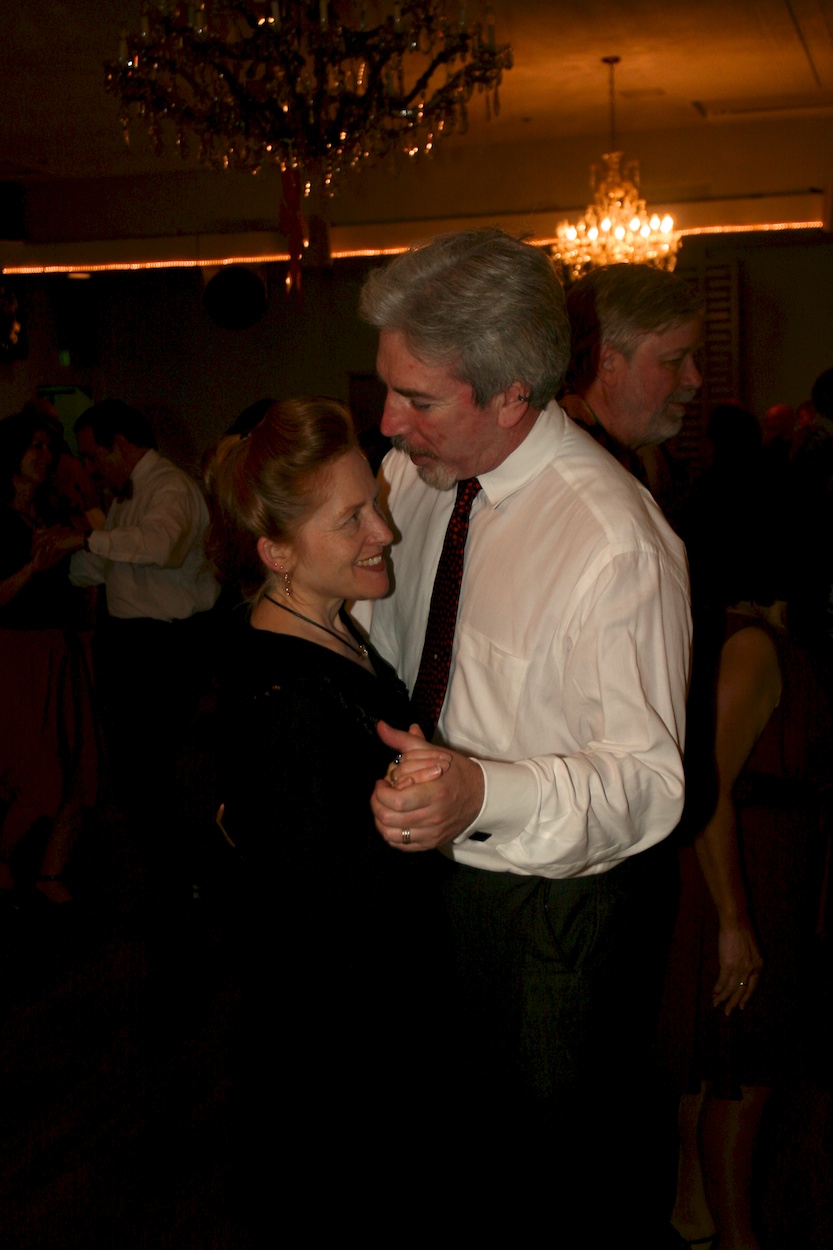 MIchele and Franklyn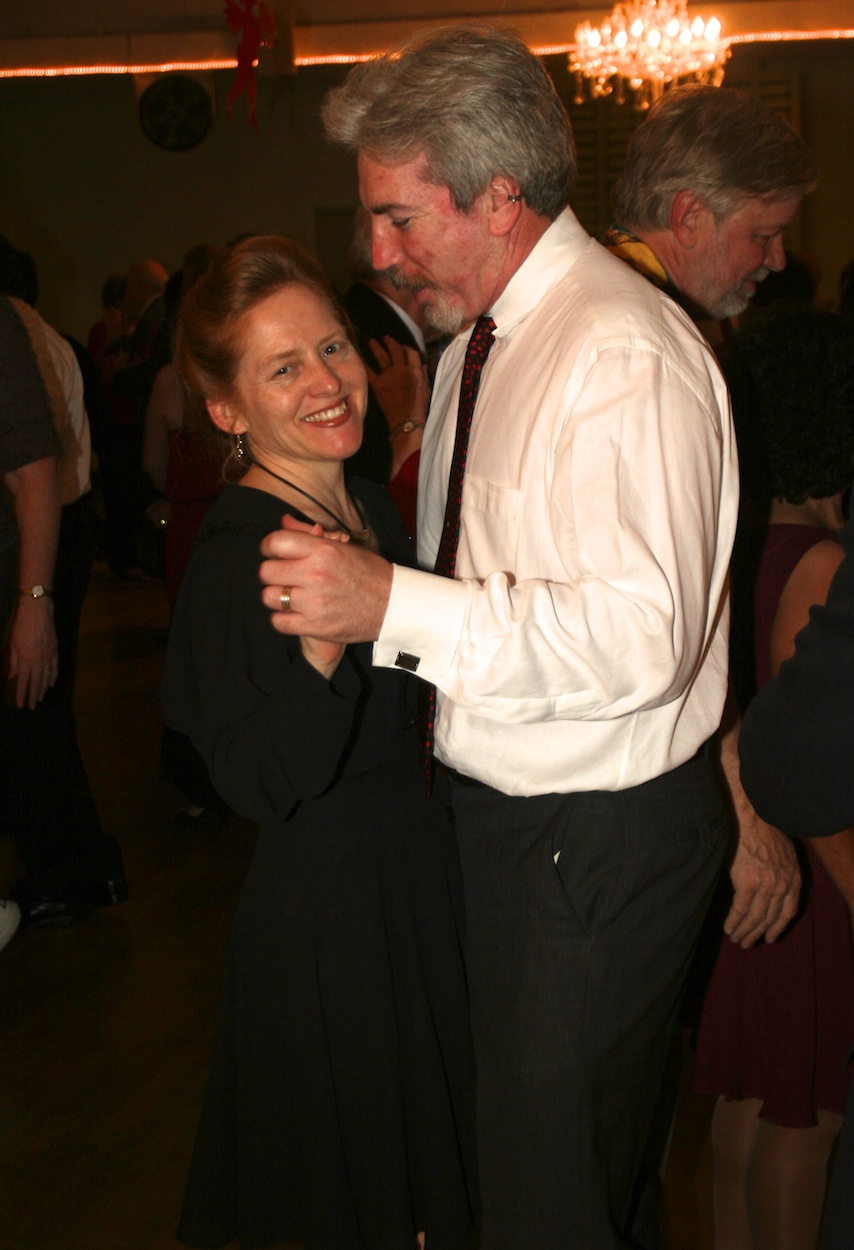 All smiles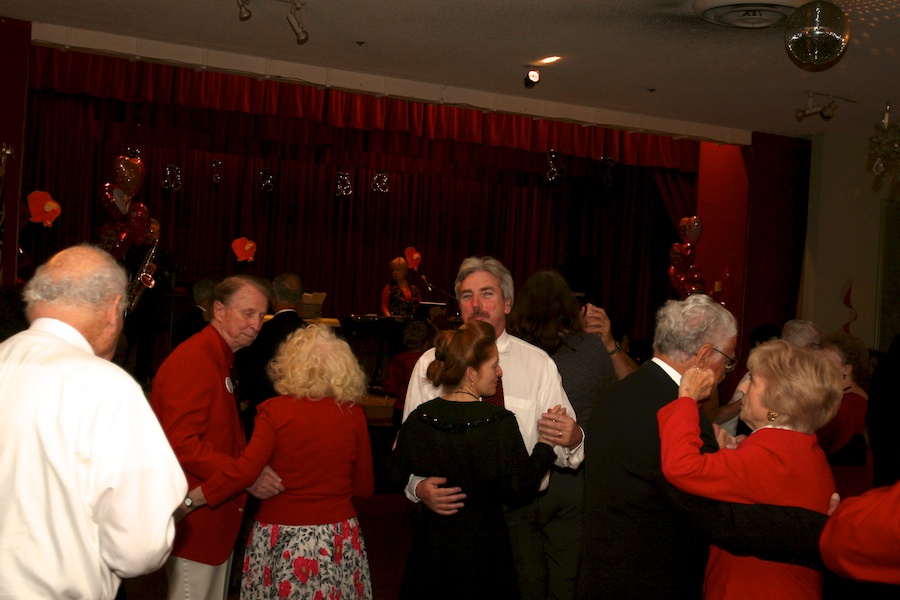 In the thick of things

Back in the sea of red....
Meanwhile Back At The Table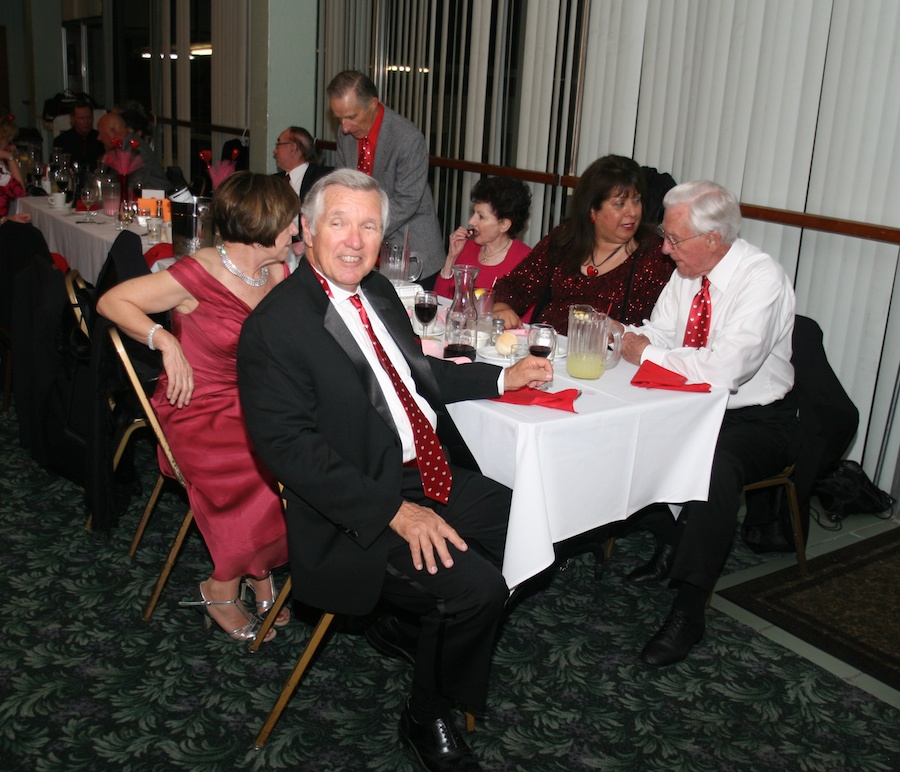 Ed in deep thought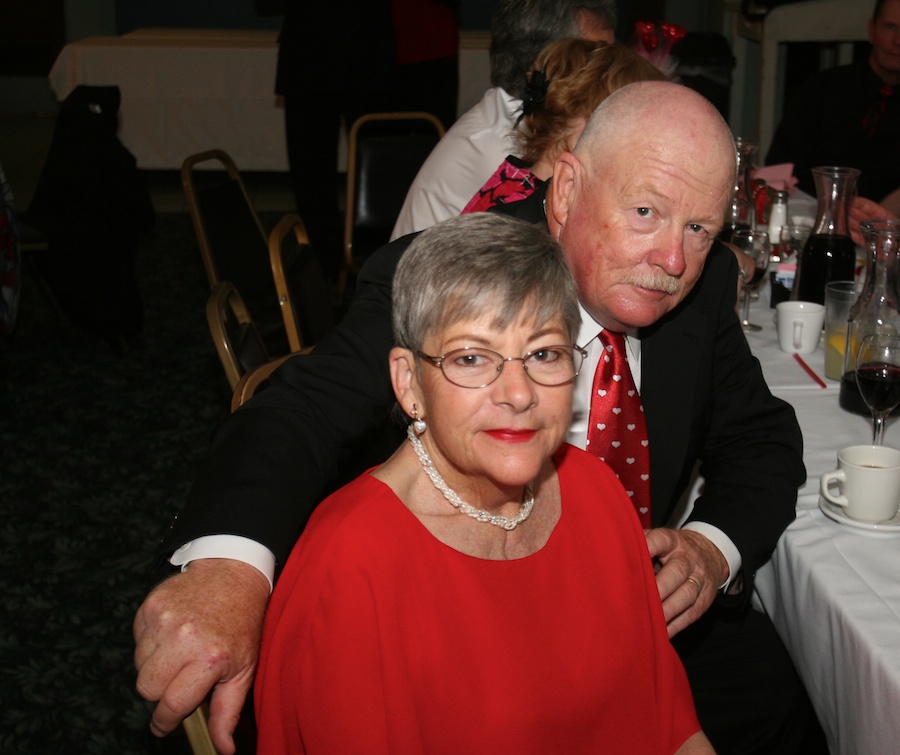 "He guys.... Paul is going to behave tonight... Whadda ya think??"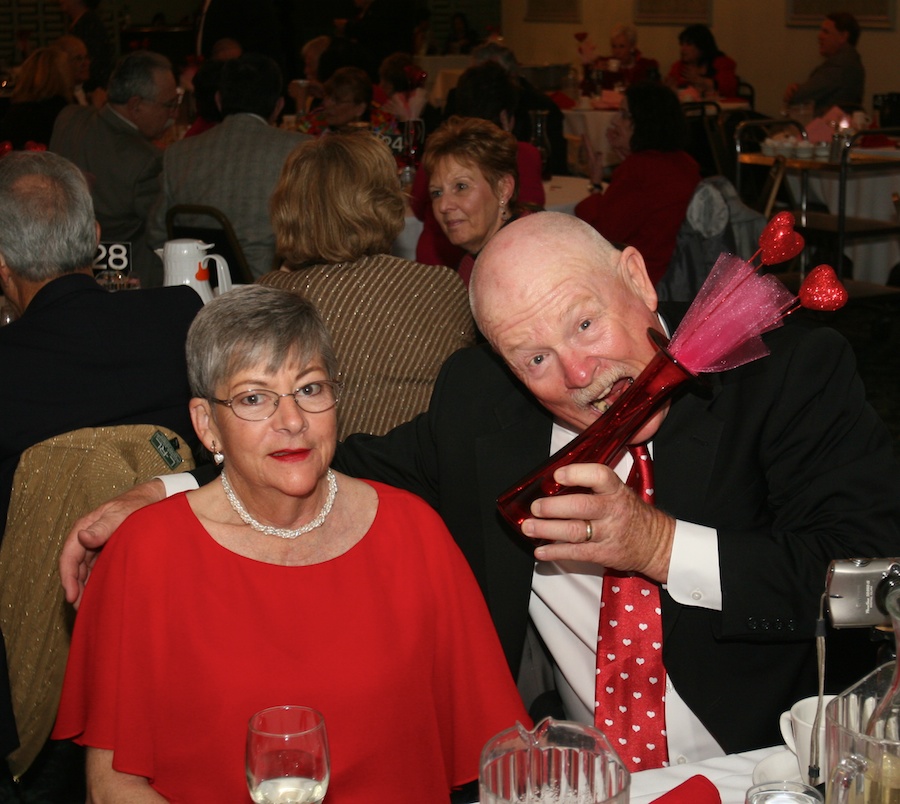 "Dear... They are NOT edible... I spoke too soon"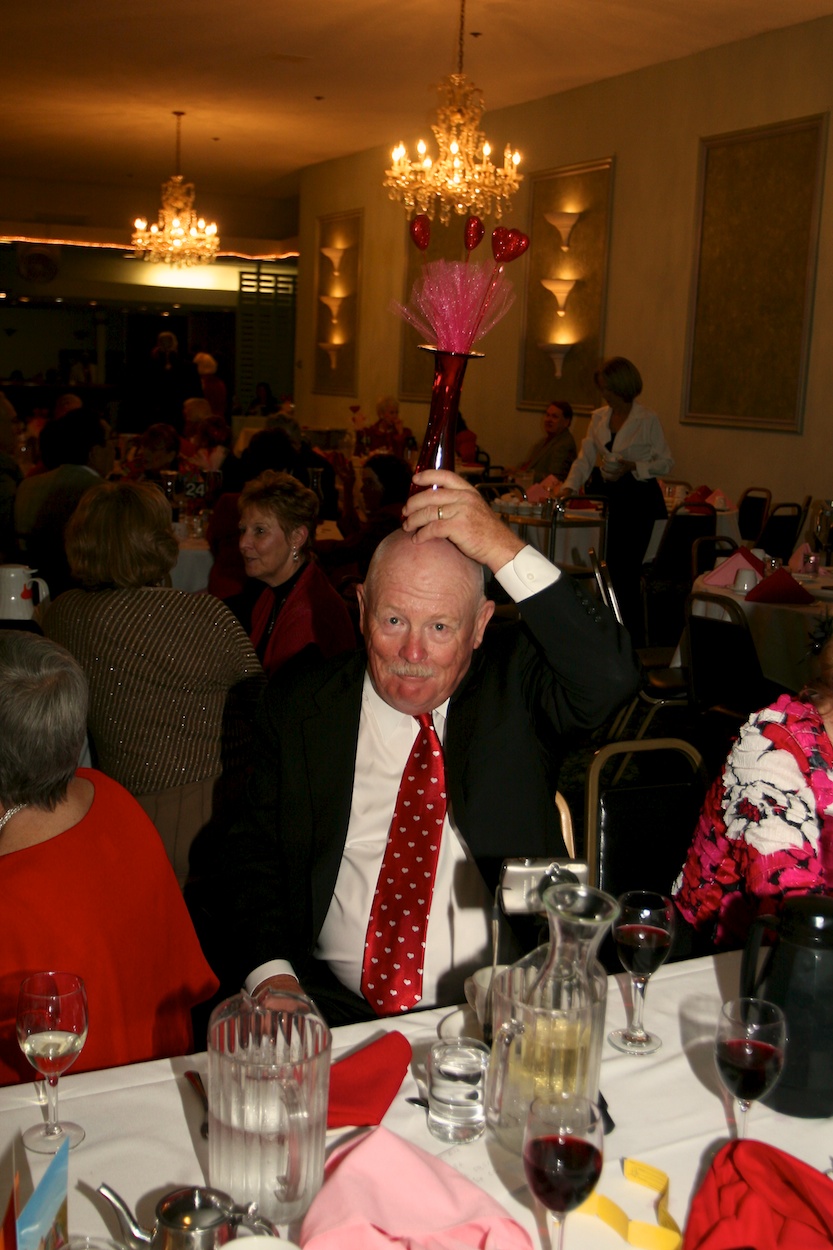 Ah ha... It's really a hat
Time To Dance...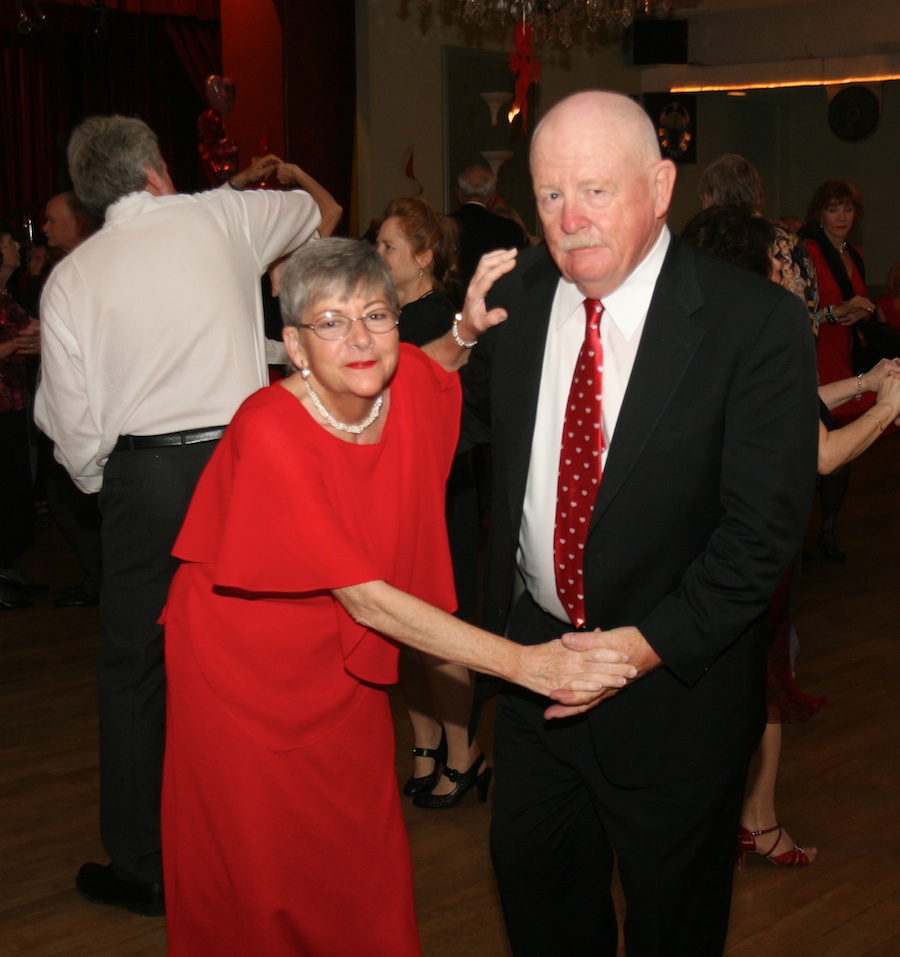 Time to dance and heat the place up

I sure like those white suspenders....

Movin movin movin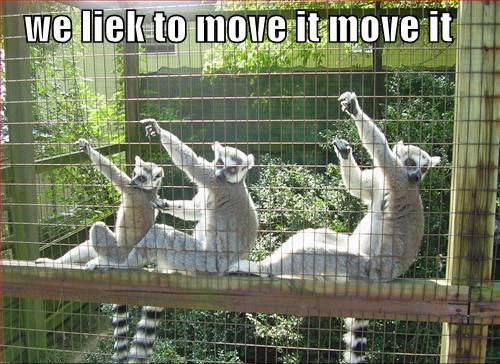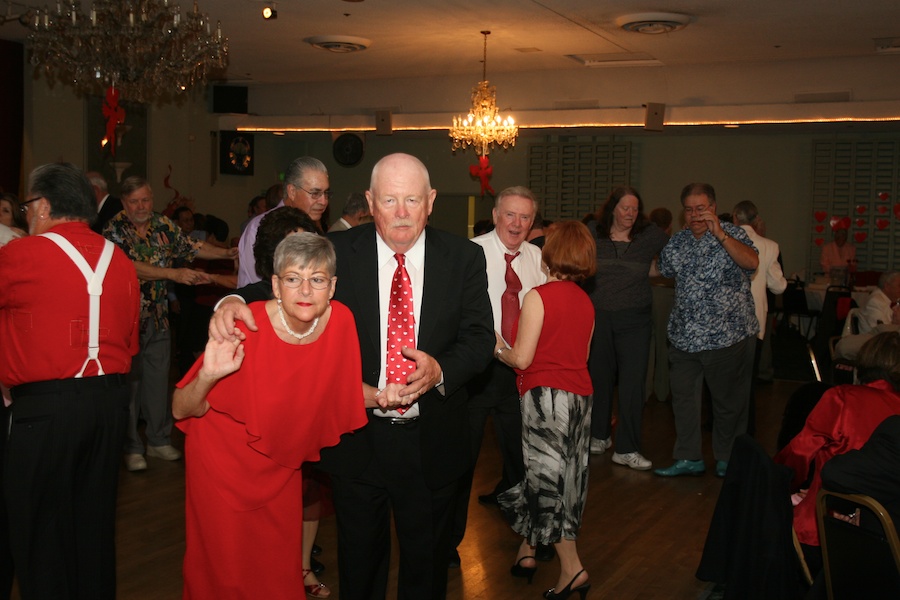 Notice how the "Vicky Ties" stay straight and the other rumple (behind Paul)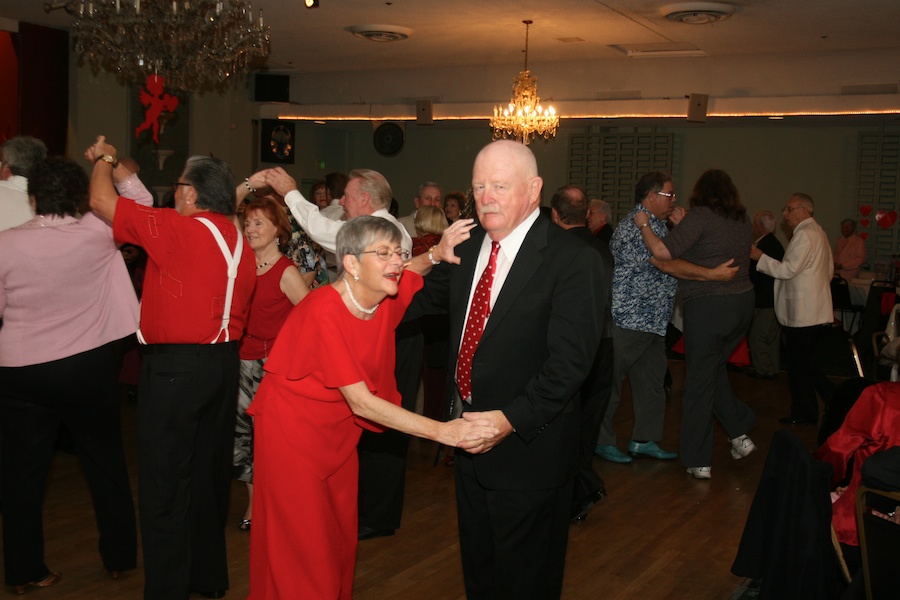 She laughing again...
Back At Our Table They Are Carrying On....

Kerstin takes a picture of something interesting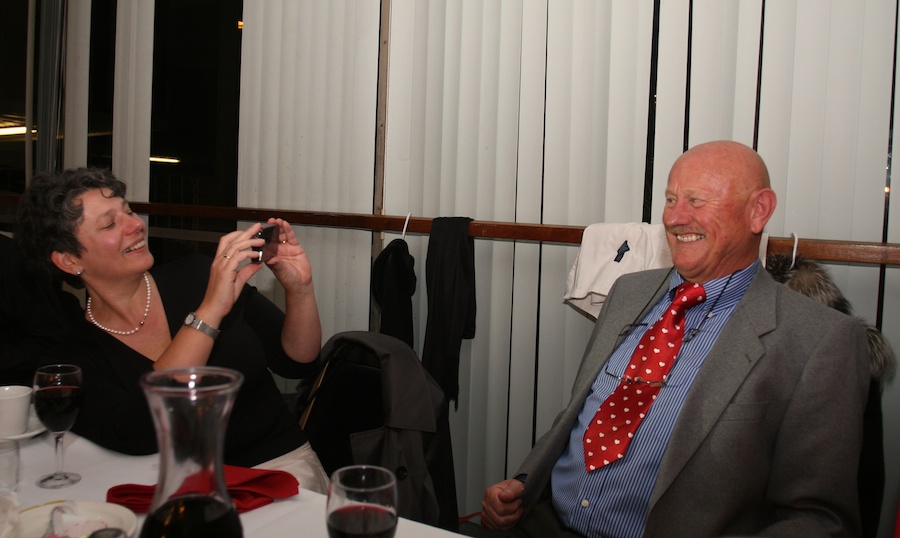 "Interesting????"

Donna suggesting a new style for Hans
Did You Know? - A toupée (pronounced too-pay) is a hairpiece or partial wig of natural or synthetic hair worn to cover partial baldness or for theatrical purposes. While toupées and hairpieces are typically associated with male wearers, some women also use hairpieces to lengthen existing hair, or cover partially exposed scalp. The desire to wear hairpieces is a response to a long-standing bias against balding that crosses cultures, dating to at least 3100 BC. Toupée manufacturers' financial results indicate that toupée use is an overall decline, due in part to alternative methods for dealing with baldness, and to greater cultural acceptance of the condition.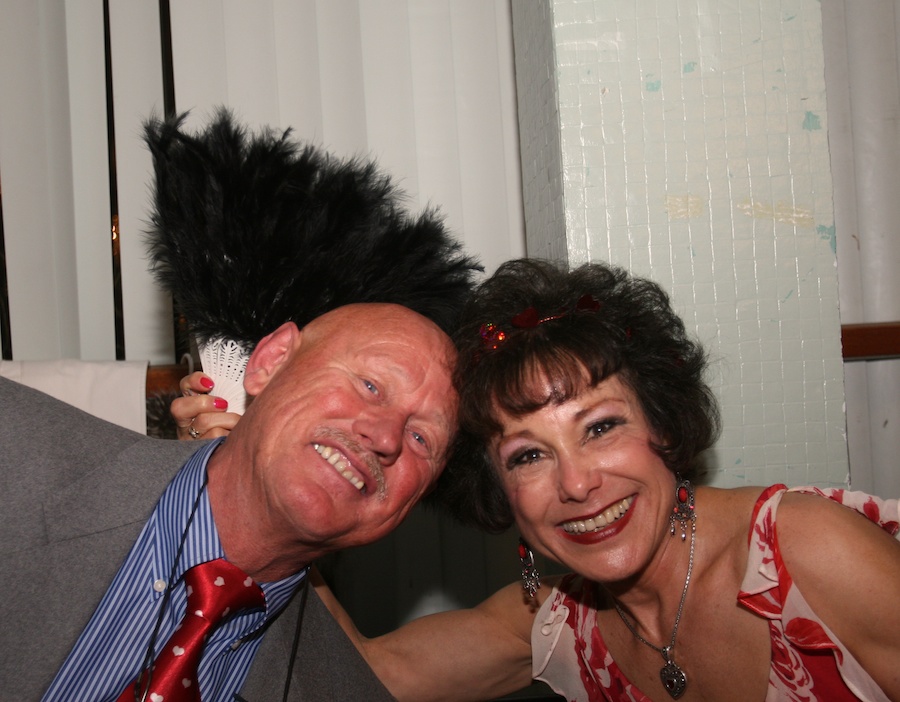 Looks good in black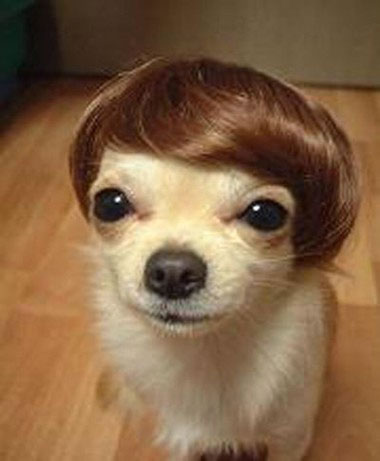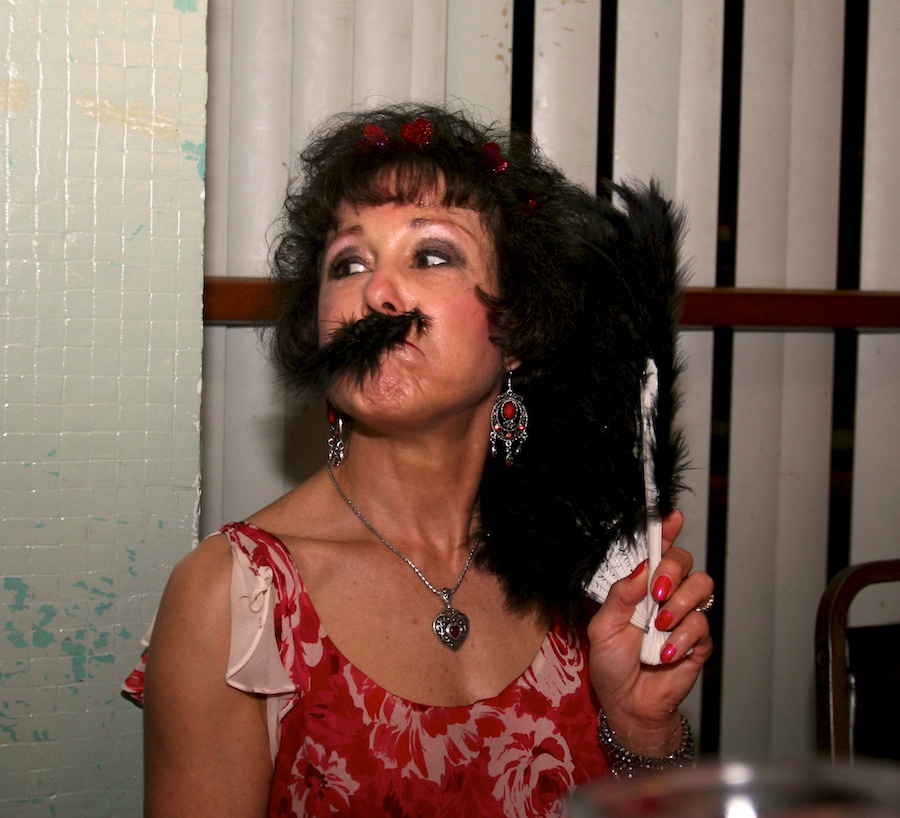 Donna's mustache
Did You Know? - The word "moustache" derives from 16th century French moustache, which in turn is derived from the Italian mostaccio (14th century), dialectal mustaccio (16th century), from Medieval Latin mustacium (8th century), Medieval Greek μουστάκιον (moustakion), attested in the 9th century, which ultimately originates as a diminutive of Hellenistic Greek μύσταξ (mustax, mustak-), meaning "upper lip" or "facial hair", probably derived from Hellenistic Greek μύλλον (mullon), "lip".

Hans shows Kerstin that he has heart
Time For The Raffle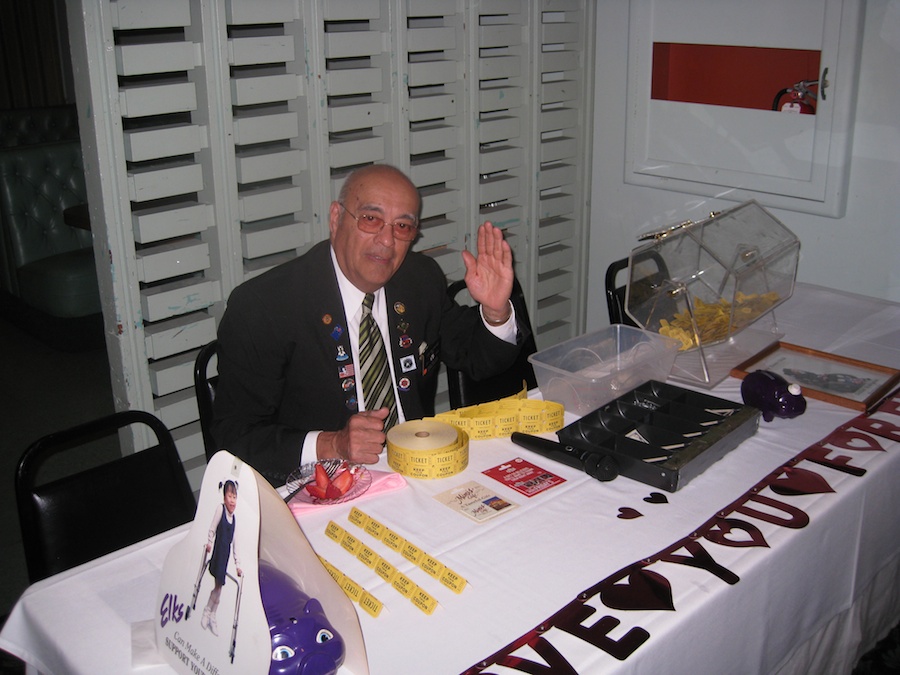 "Guarenteed someone will win!!"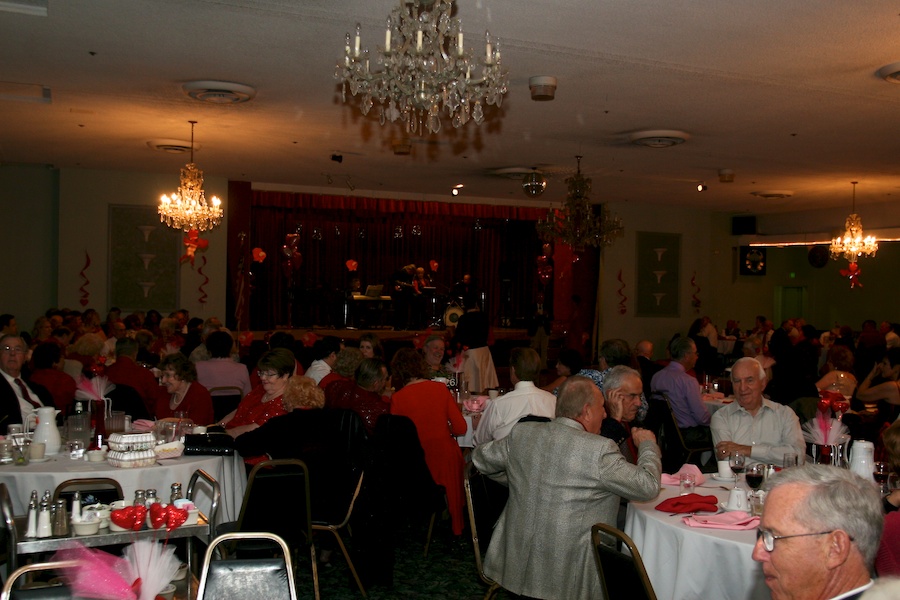 They are picking numbers now....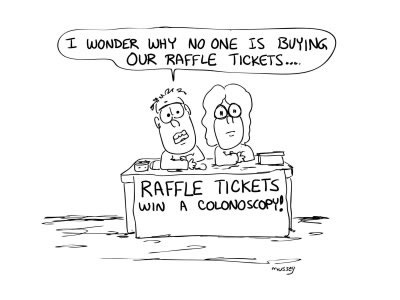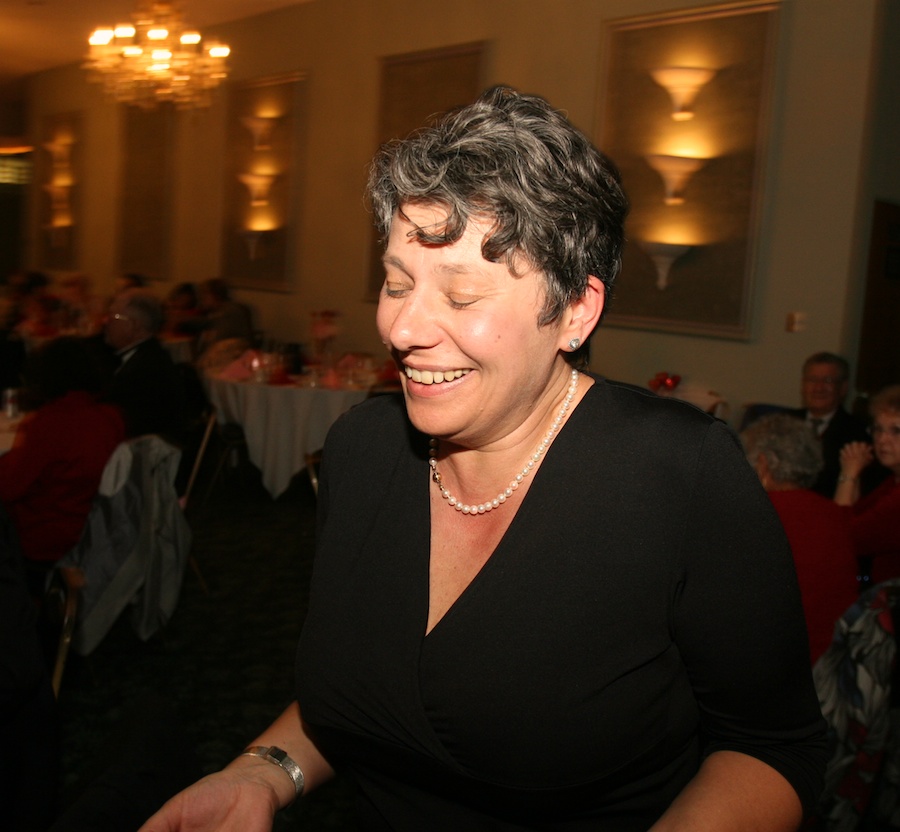 "I never win so why bother looking at the numbers???"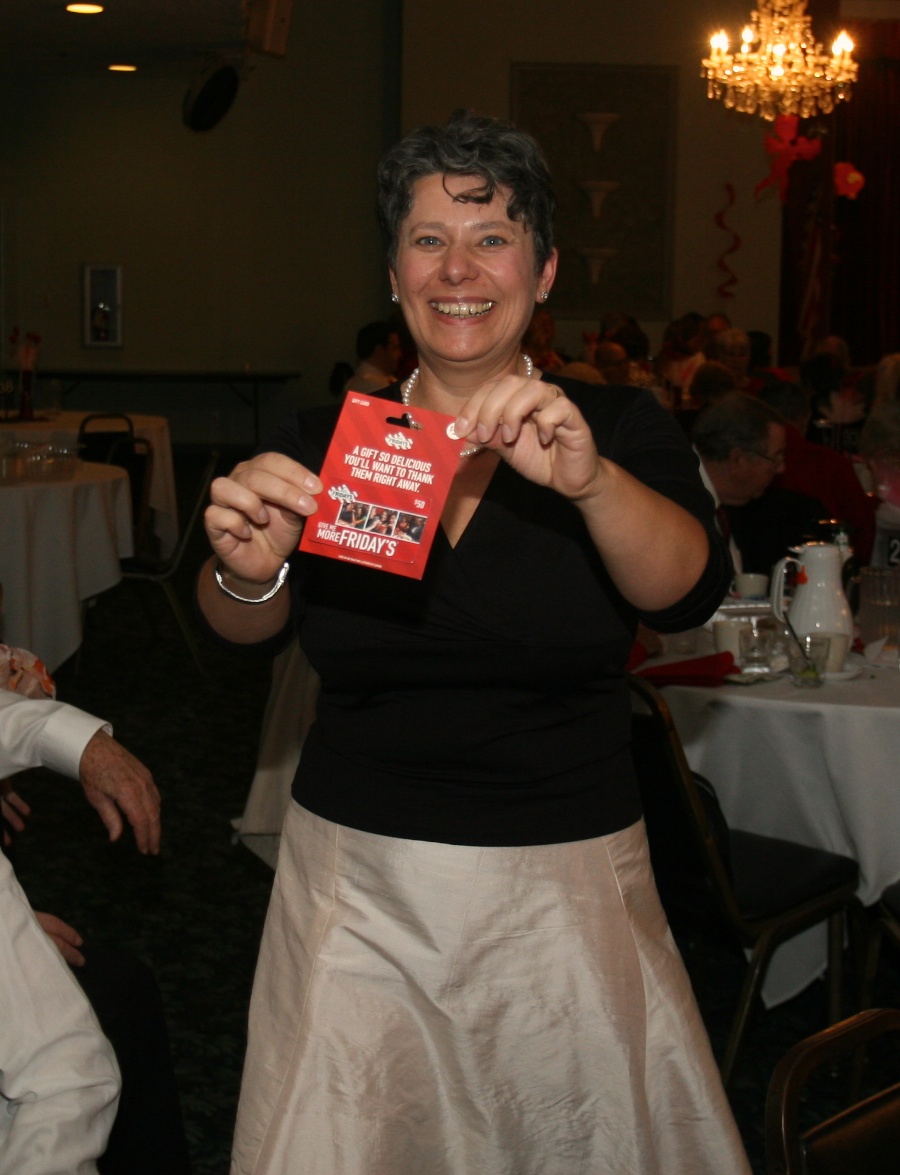 "Whoa... Lookie... TGI Fridays here we come!"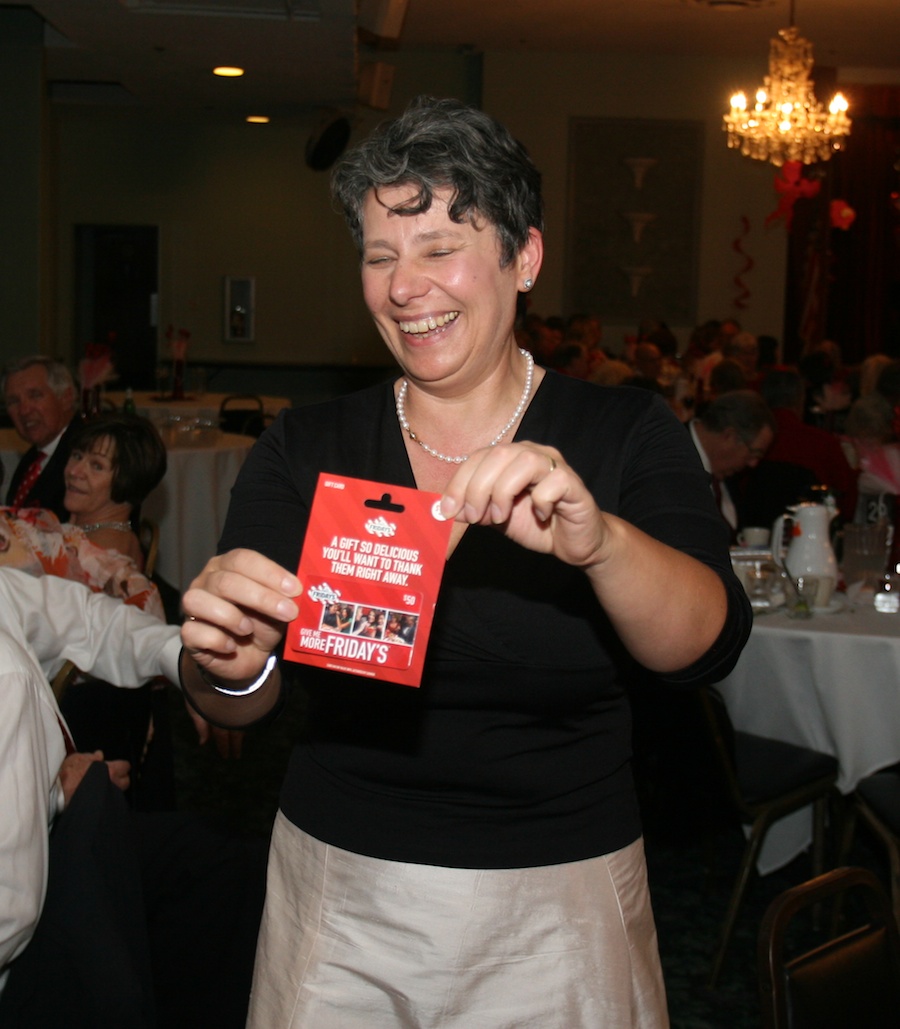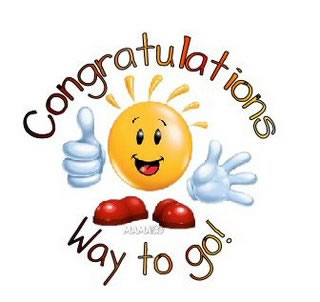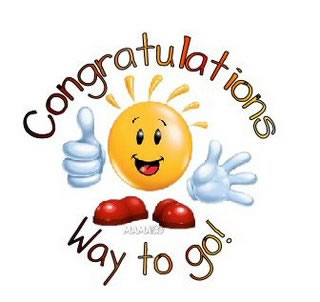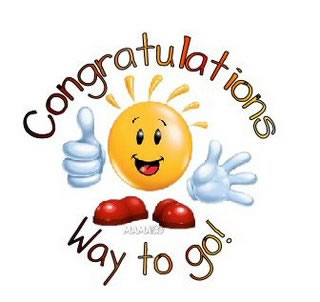 Time To Show Off Our Ties AGAIN

Hans Brian Ed, Del, Lee, Bob, Herb, and Paul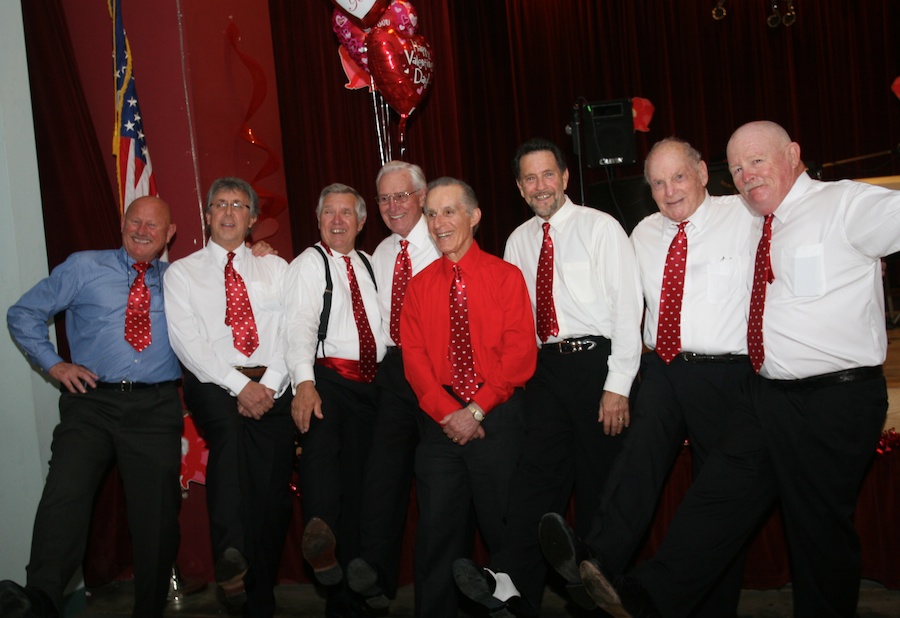 Put your left foot up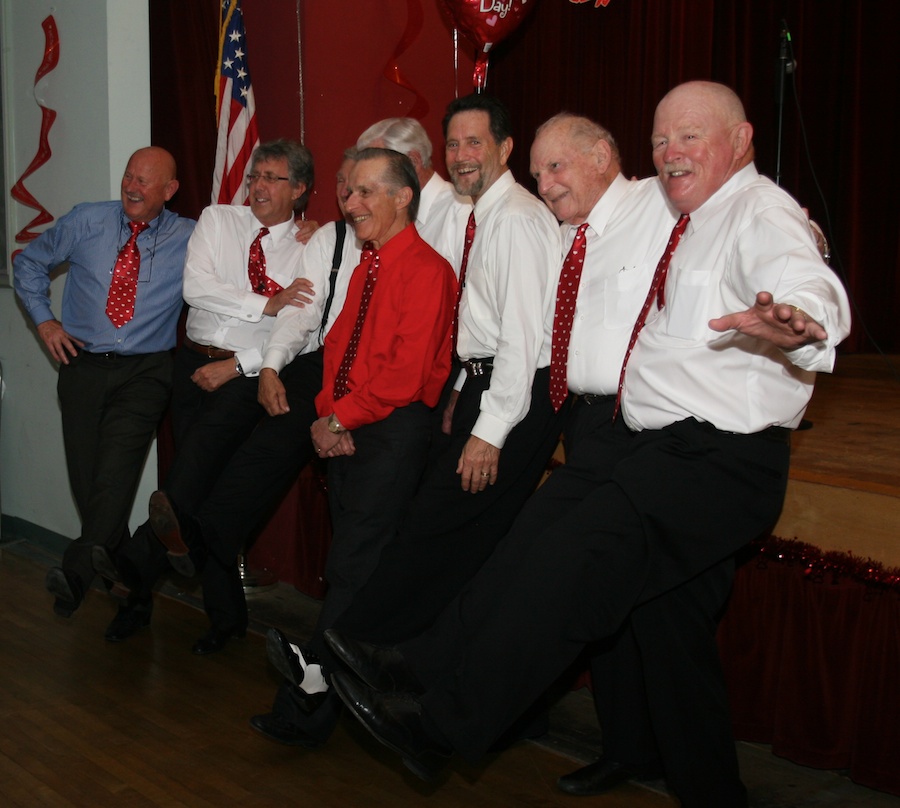 Put your right foot up.... Leon, your OTHER right foot
Everyone Ran Back To The Table.... Wonder Why?

"I need a drink after that display of manliness"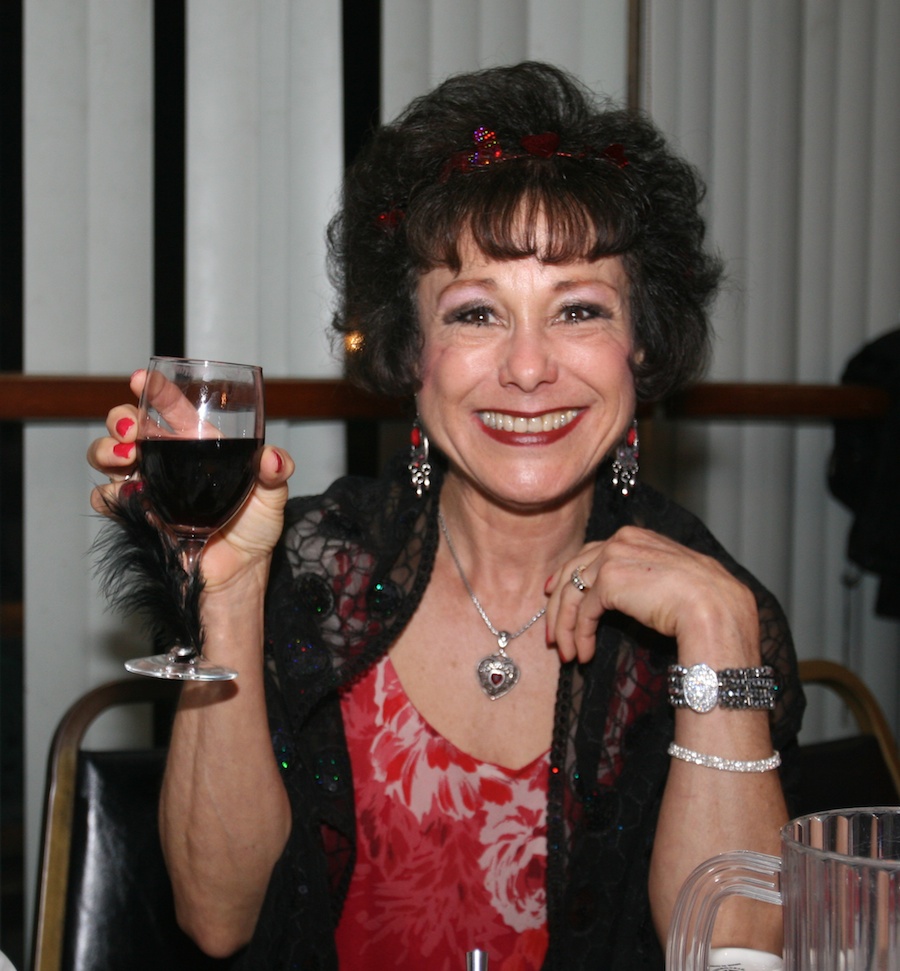 "Make it two drinks"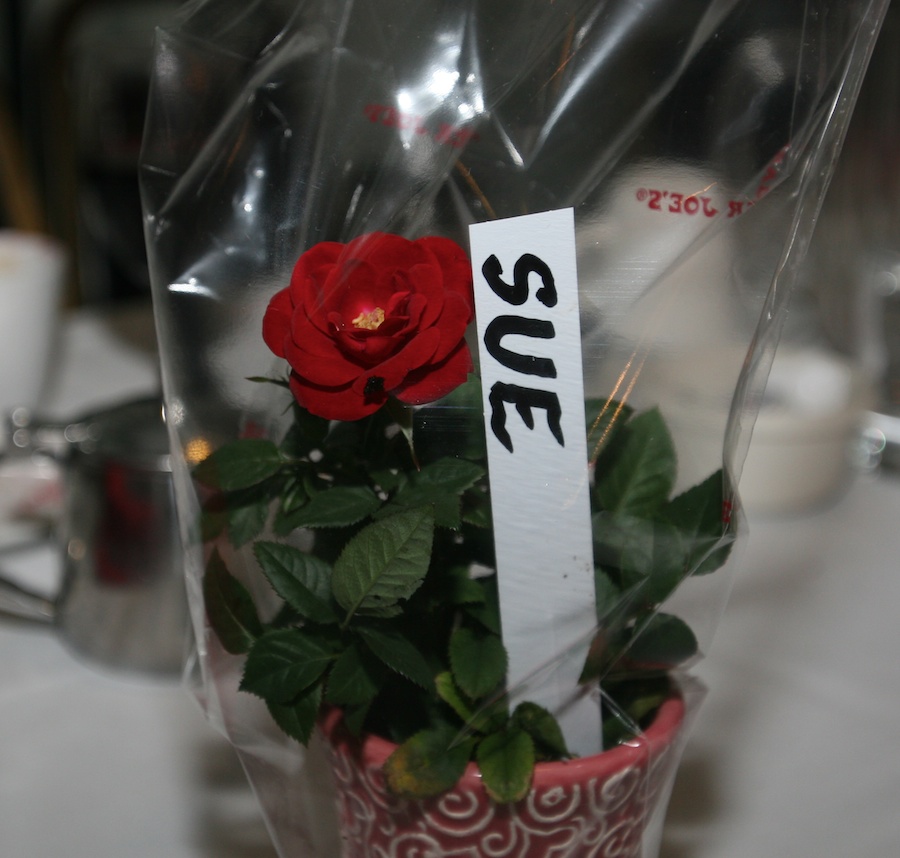 Brian and Jan were so kind and thoughtful brining roses to the ladies....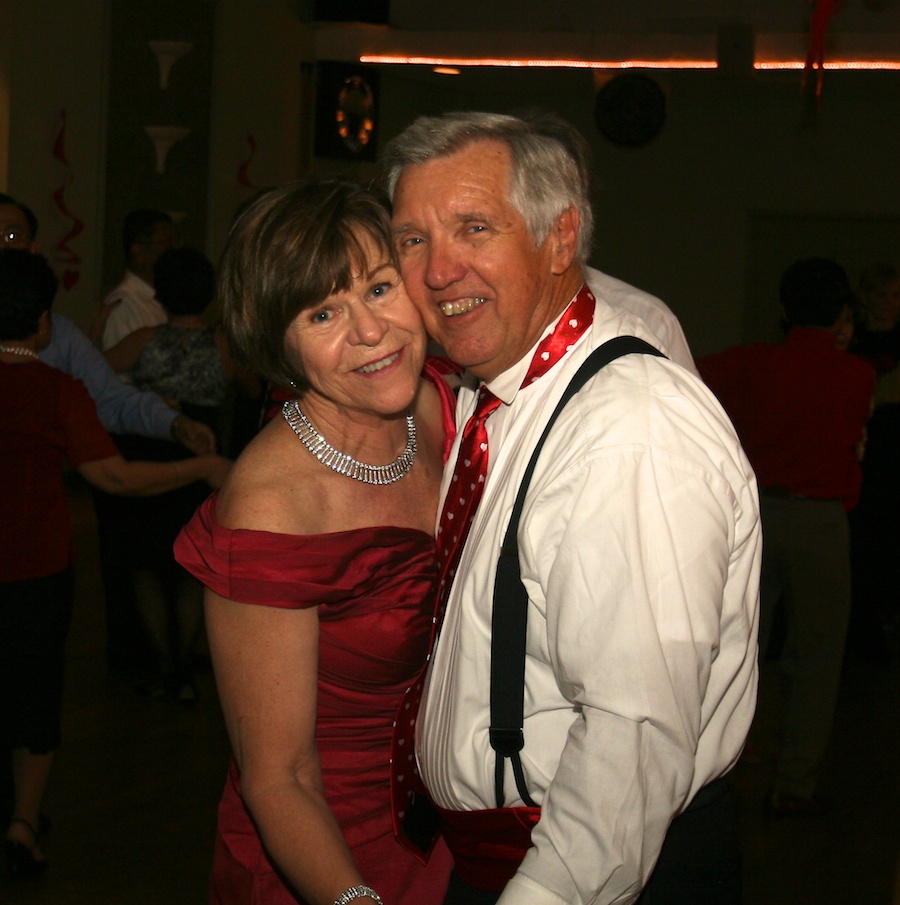 The secret is finally out... Ed wears suspenders to keep his shoulders down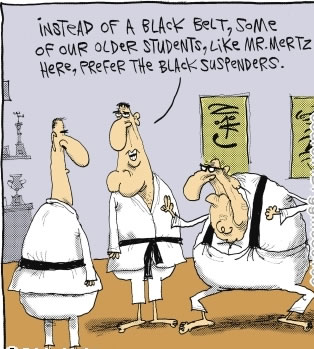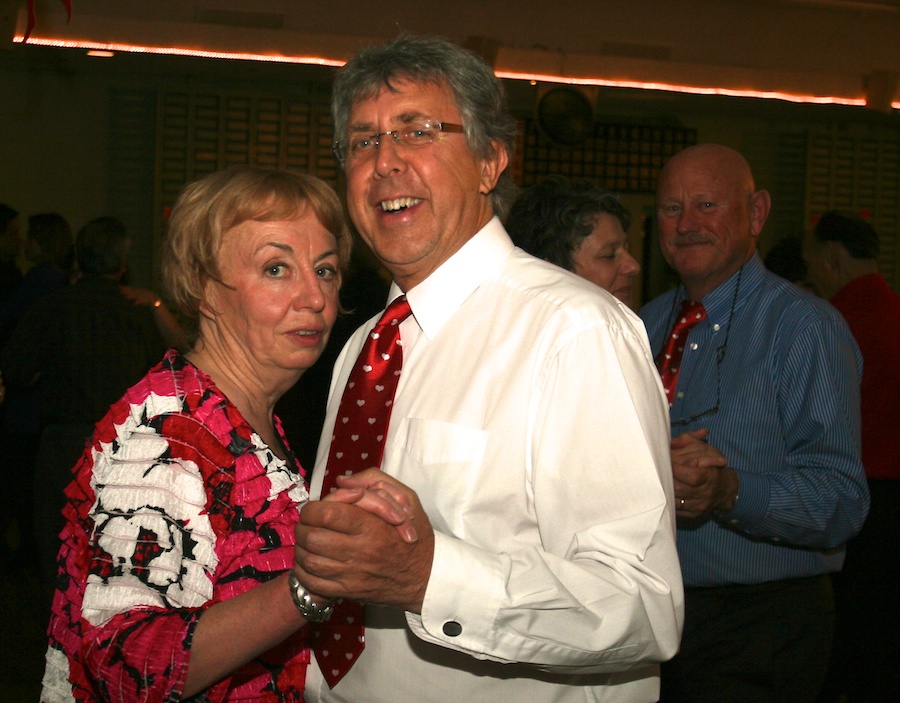 We made a real appearance on the dance floor

Vicky does have good taste in gentlemens ties
Did You Know? - The necktie traces back to the time of Thirty Years' War (1618–1648) when Croatian mercenaries from the Croatian Military Frontier in French service, wearing their traditional small, knotted neckerchiefs, aroused the interest of the Parisians. Due to the slight difference between the Croatian word for Croats, Hrvati, and the French word, Croates, the garment gained the name "cravat".
The new article of clothing started a fashion craze in Europe where both men and women wore pieces of fabric around their necks. In the late 17th century, the men wore lace cravats that took a large amount of time and effort to arrange. These cravats were often tied in place by cravat strings, arranged neatly and tied in a bow.

Goodbye you all... We have closed the place down again