Oldies But Goodies
Did you know? - A greeting card is an illustrated, folded card featuring an expression of friendship or other sentiment. Although greeting cards are usually given on special occasions, such as birthdays, Christmas or other holidays, they are also sent to convey thanks or express other feeling. Greeting cards, usually packaged with an envelope, come in a variety of styles. There are both mass-produced as well as handmade versions that are distributed by hundreds of companies large and small. While typically inexpensive, more elaborate cards with die-cuts or glued-on decorations may be more expensive.
Hallmark Cards and American Greetings are the largest producers of greeting cards in the world. Recycled Paper Greetings was the first to print their product on recycled paper, a practice much more common today. In the United Kingdom, it is estimated that one billion pounds are spent on greeting cards every year, with the average person sending 55 cards per year.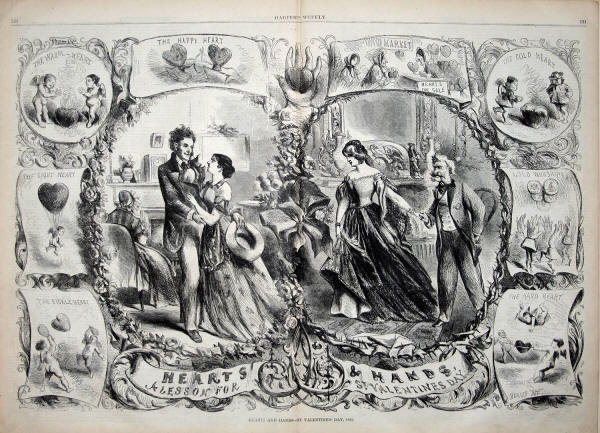 Valentines Day 1863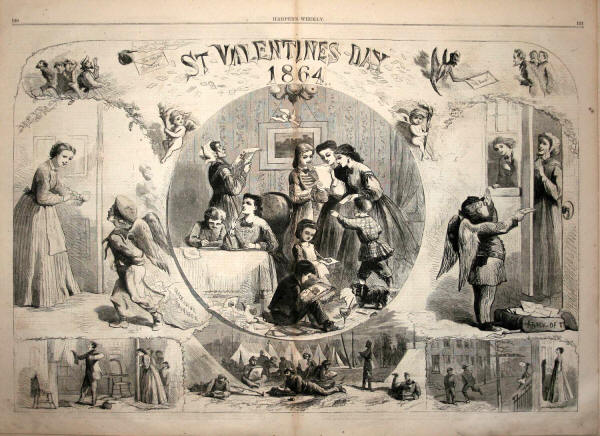 From Harper's Magazine 1864
Did you know? - Harper's Magazine (also called Harper's) is a monthly, general-interest magazine of literature, politics, culture, finance, and the arts. It is the second-oldest, continuously-published monthly magazine (Scientific American is the oldest) in the U.S.; current circulation is more than 220,000 issues.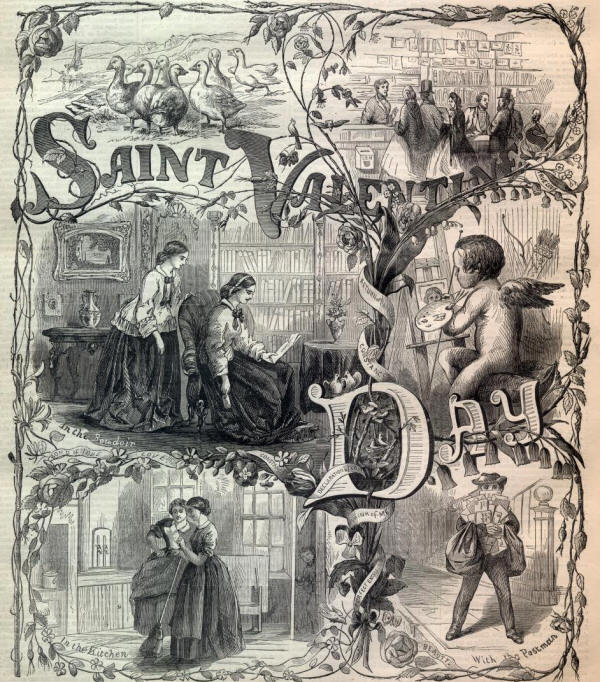 From Harper's Magazine during the civil war
Did you know? - Harper's Magazine was launched as Harper's New Monthly Magazine in June 1850, by the New York City publisher Harper & hers; who also founded Harper's Bazaar magazine, later growing to become HarperCollins Publishing. The first press run, of 7,500 copies, sold out almost immediately; circulation was some 50,000 issues six months later.
The early issues reprinted material already published in England, but the magazine soon was publishing the work of American artists and writers, and in time commentary by the likes of Winston Churchill and Woodrow Wilson.
In 1962, Harper & Brothers merged with Row, Peterson & Company, becoming Harper & Row (now HarperCollins). In 1965, the magazine was separately incorporated, and became a division of the Minneapolis Star and Tribune Company. On June 17, 1980, the Star Tribune announced it would cease publishing Harper's Magazine after the August 1980 issue; however, on July 9, 1980, John R. MacArthur and his father, Roderick, obtained pledges from the directorial boards of the John D. and Catherine T. MacArthur Foundation, the Atlantic Richfield Company, and CEO Robert Orville Anderson to amass the one-and-a-half million dollars needed to establish the Harper's Magazine Foundation that currently publishes the magazine.