We Walked Around For An Hour To See What Was Going On (Day Seven)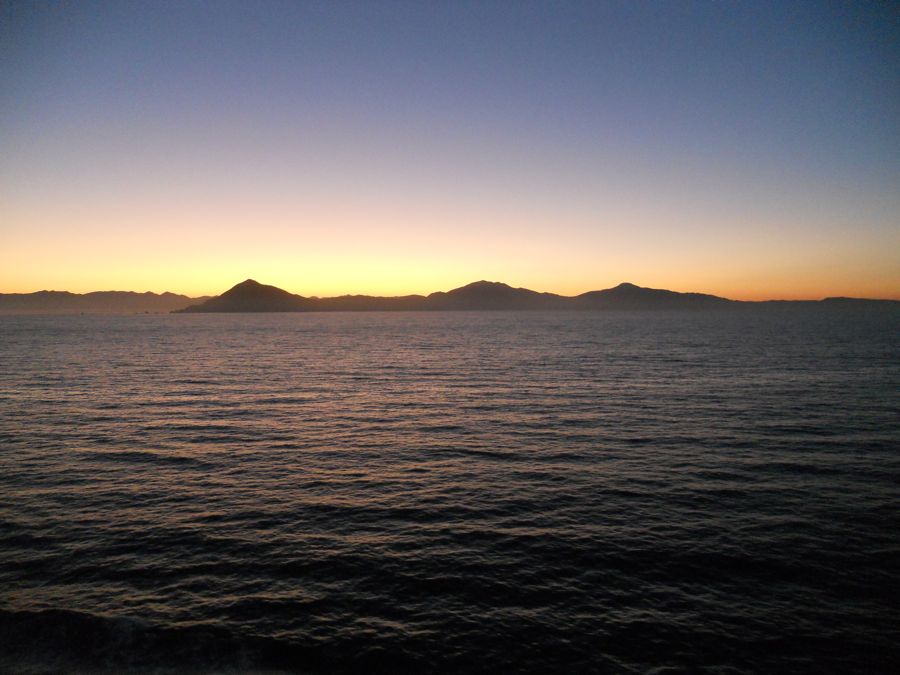 James was first up and saw the land.... He woke up everyone yelling "Land Ho"

Fencing in full swing
Did You Know? - The English term fencing, in the sense of "the action or art of using the sword scientifically" (OED) dates to the late 16th century, when it denoted systems designed for the Renaissance rapier. The first known use of defens in reference to Renaissance swordsmanship is in William Shakespeare's Merry Wives of Windsor: "Alas sir, I cannot fence." This specialized usage replaced the generic fight (Old English feohtan).
The verb to fence derived from the noun fence, originally meaning "the act of defending", etymologically derived from Old French defens "defence", ultimately from the Latin. The first attestation of Middle English fens "defence" dates to the 14th century
Morning Trivia Was Held In The Pub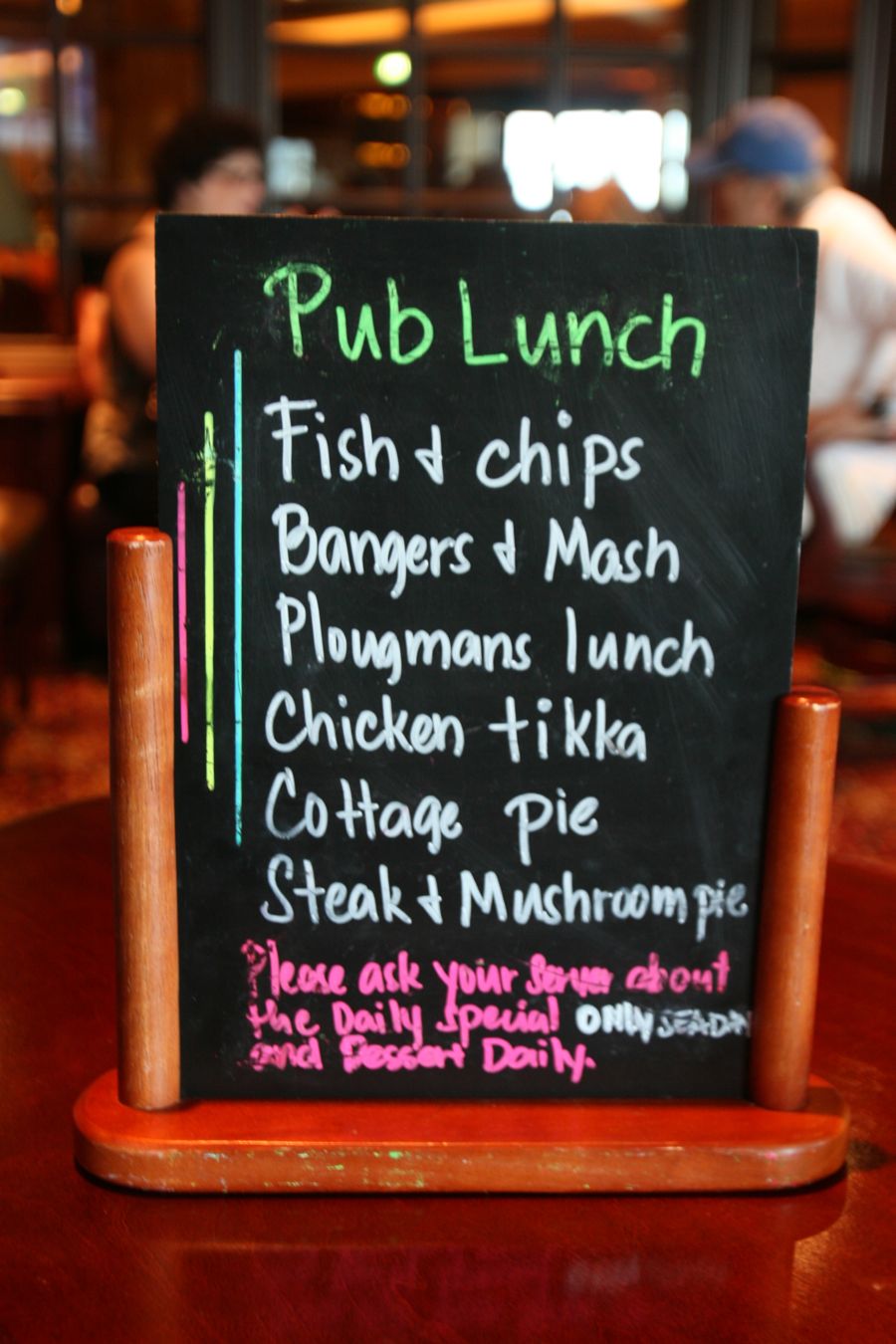 Bangers and Mash - Pub Grub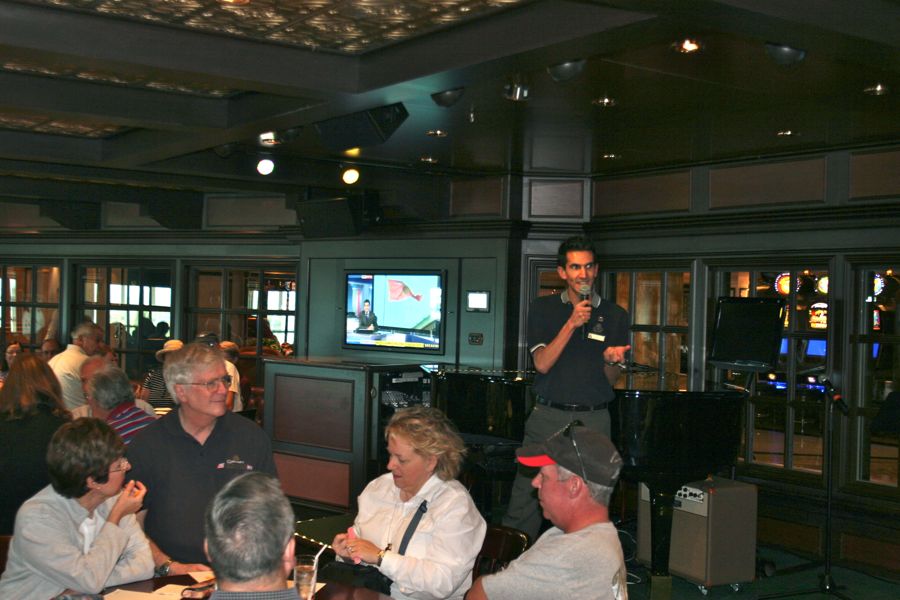 Mr. Linguini in action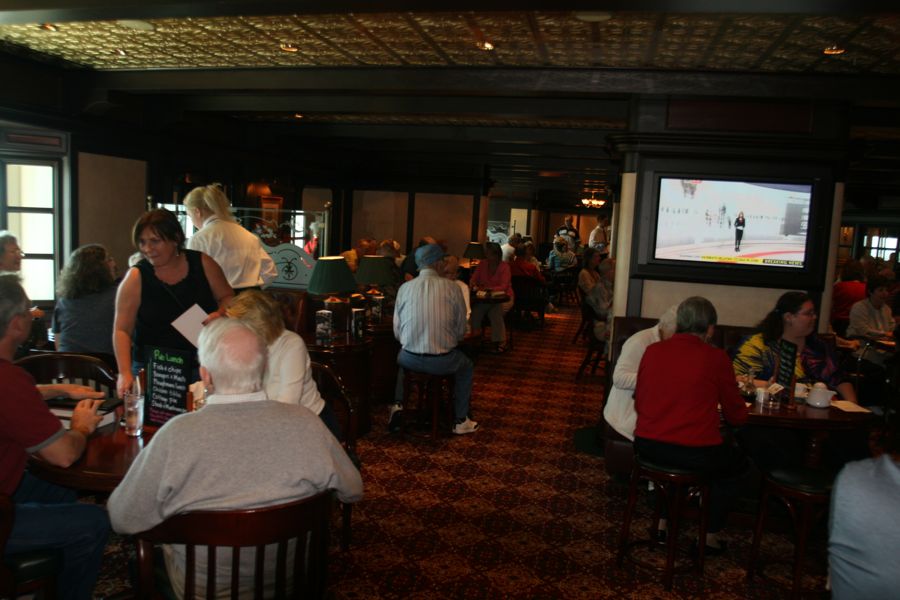 Loads of fun and brain teasing ... That's Sue back to the picture practicing for the round
Did You Know? - The trivia (singular trivium, adjective trivial) are the three lower Artes Liberales, i.e. grammar, rhetoric and logic. These were the topics of basic education, foundational to the quadrivia of higher education, and hence the material of basic education, of interest only to undergraduates.
The word trivia was also used to describe a place where three roads met in Ancient Rome. The term had become, during the 20th Century, as forgotten as the system of education it pertained to when it was ironically appropriated to mean something very new. In the 1960s, nostalgic college students and others began to informally trade questions and answers about the popular culture of their youth.
The first known documented labeling of this casual parlor game as "Trivia" was in a Columbia Daily Spectator column published on February 5, 1965. The authors, Ed Goodgold and Dan Carlinsky, then started the first organized trivia contests, described below. Since the 1960s, the plural trivia in particular has widened to include knowledge that is nice to have but not essential, specifically detailed knowledge on topics of popular culture. The expression has also come to suggest information of the kind useful almost exclusively for answering quiz questions, hence also the brand name Trivial Pursuit (1982).

The flag was huge
Time For Lunch On Board While Everyone Else Is In Mexico

Our own private entrance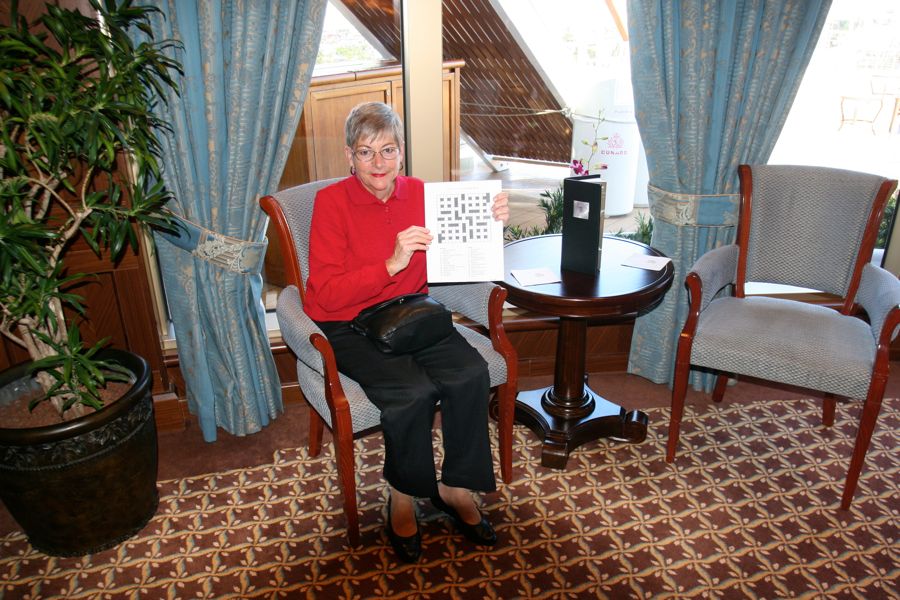 Crossword puzzles every day
Did You Know?
- A crossword is a word puzzle that normally takes the form of a square or rectangular grid of white and shaded squares. The goal is to fill the white squares with letters, forming words or phrases, by solving clues which lead to the answers. In languages which are written left-to-right, the answer words and phrases are placed in the grid from left to right and from top to bottom. The shaded squares are used to separate the words or phrases. Squares in which answers begin are usually numbered. The clues are then referred to by these numbers and a direction, for example, "4-Across" or "20-Down". At the end of the clue the total number of letters is sometimes given, depending on the style of puzzle and country of publication. Some crosswords will also indicate the number of words in a given answer, should there be more than one.

It's quite easy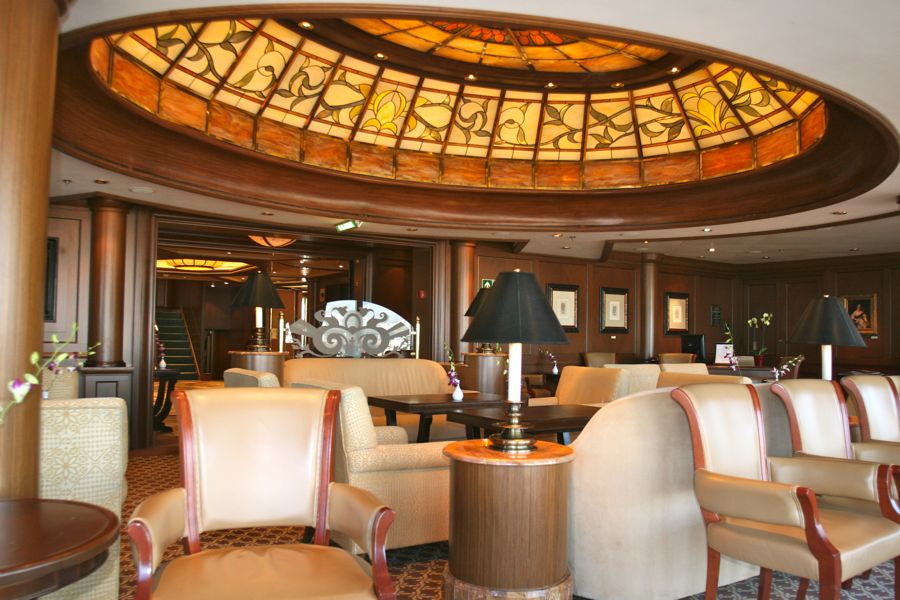 Great place to meet before dinner.. Formal Tea was served here also

The bar was always opened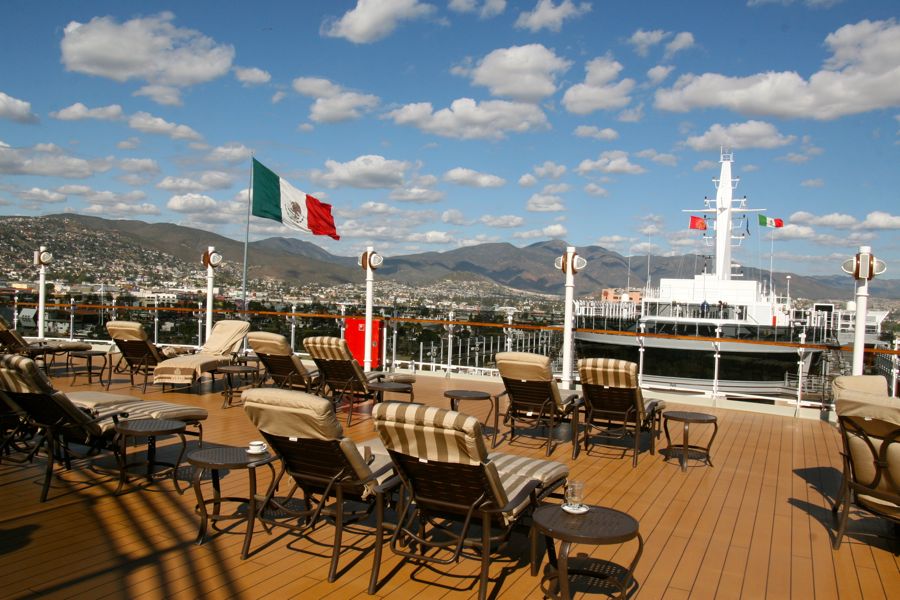 The weather was magnificent

From our table

View from our table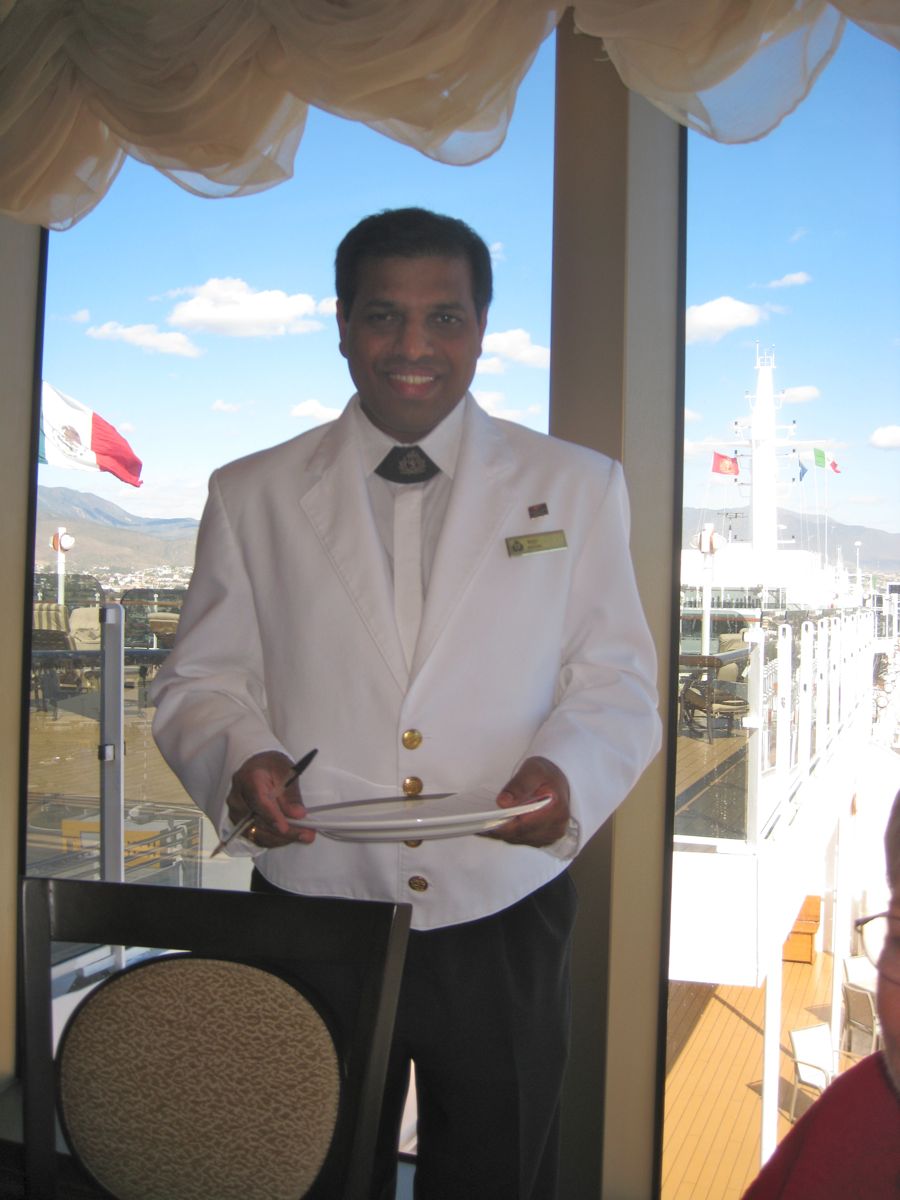 Beju from India was a delightful person

Linda and Melanie before the in-town walk
The Brave Walked Into Ensenda
Did You Know? - Ensenada (full name: Ensenada De Todos Santos, which means "Cove of all Saints" in English), or Port of Ensenada for its port, is the third-largest city in the Mexican state of Baja California. It is located 116 km (about 70 miles) south of Tijuana. The city had a 2005 census population of 260,075, with the municipality having 413,481.
Ensenada is also the municipal seat of Ensenada Municipality, one of the five into which the state is divided. Ensenada is locally referred as La Cenicienta del Pacífico (The Cinderella of the Pacific).
[citation needed] Located in the Bahía de Todos Santos — an inlet of the Pacific Ocean — Ensenada is an important commercial and fishing port as well as a cruise ship port of call and balneario. There is also a navy base, an army base and a military airfield, which functions as an airport of entry into Mexico.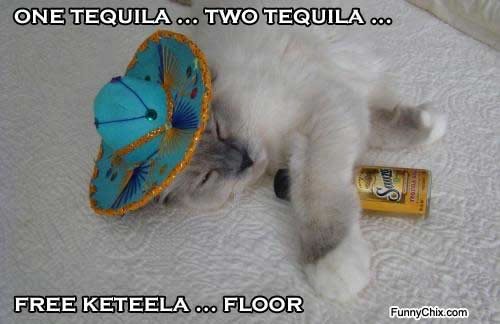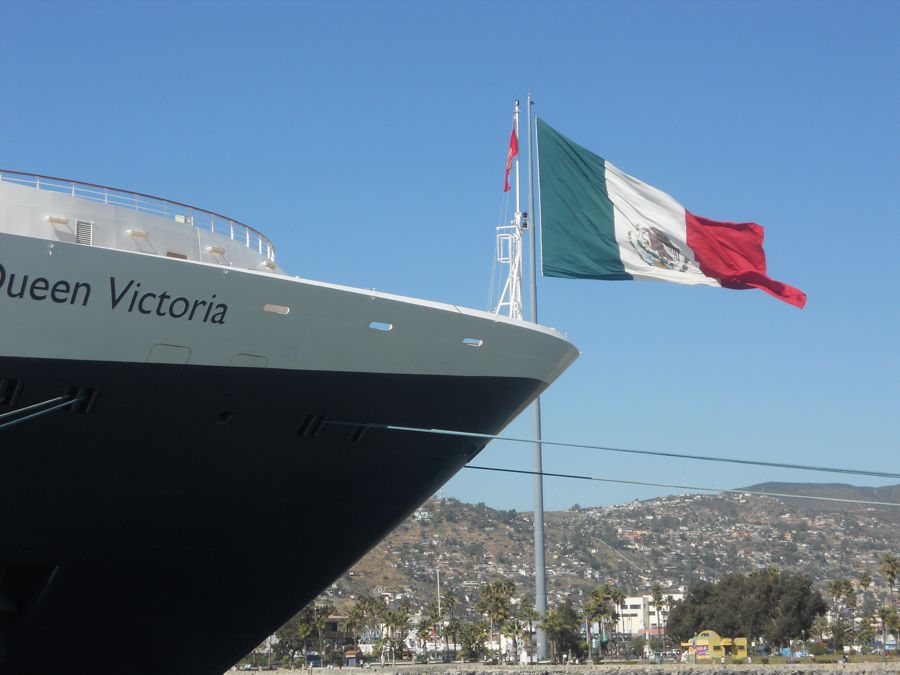 Looks pretty good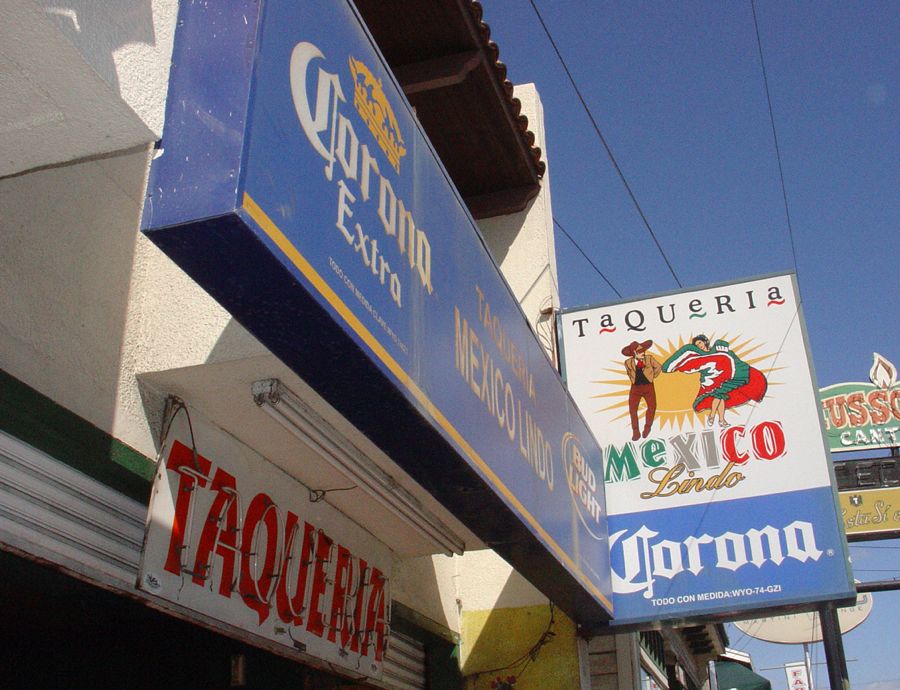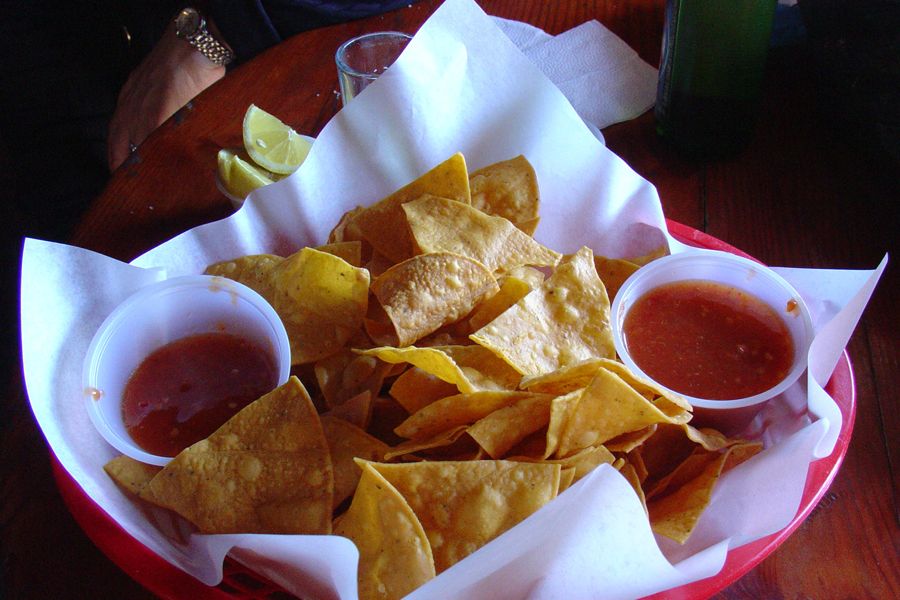 Beer and chips... you can't go wrong

Where is Paul??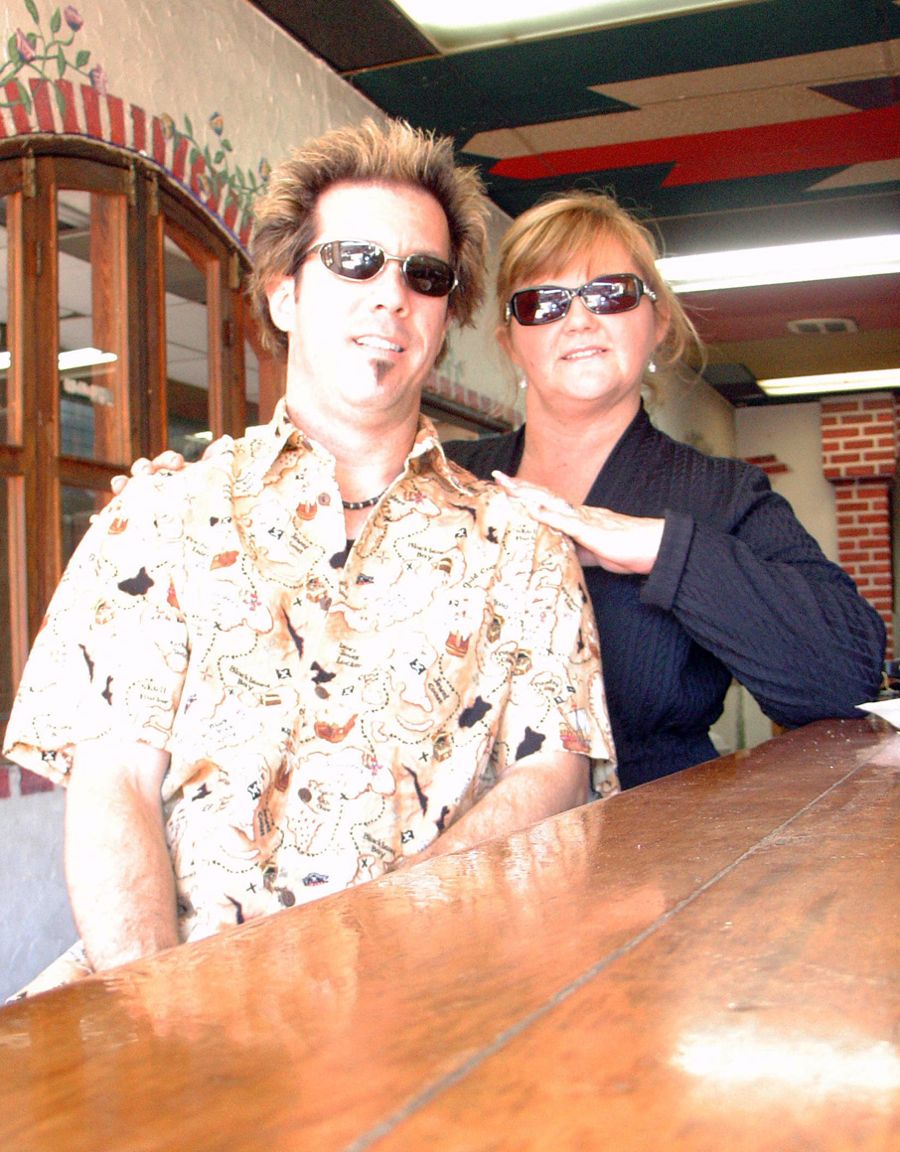 Ready to go back and unlax

Dipping sauces for the chips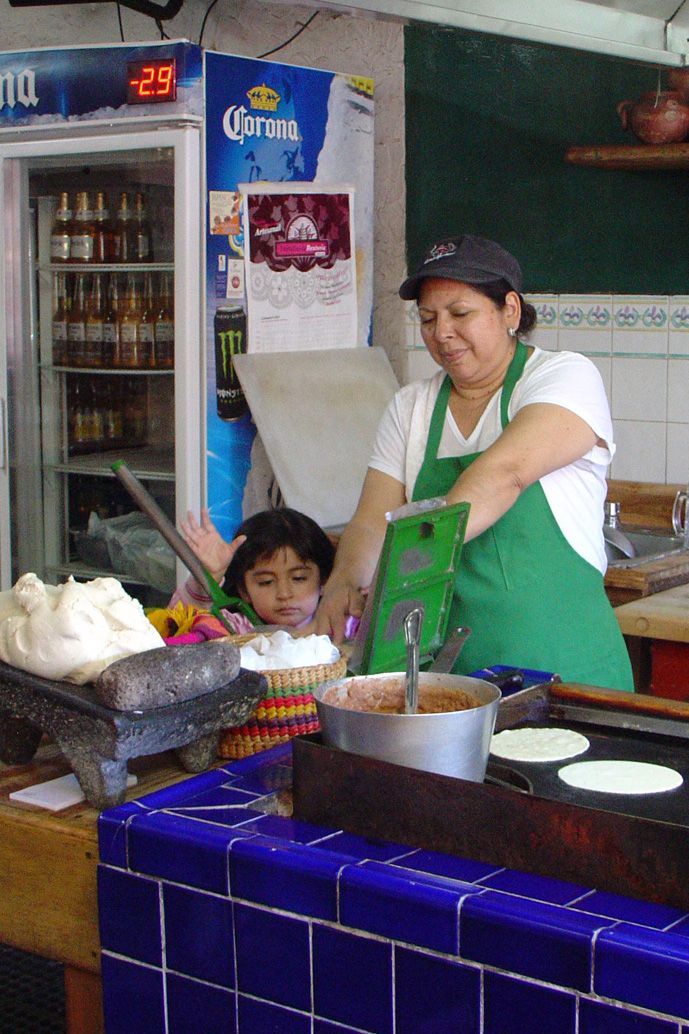 Everyone helps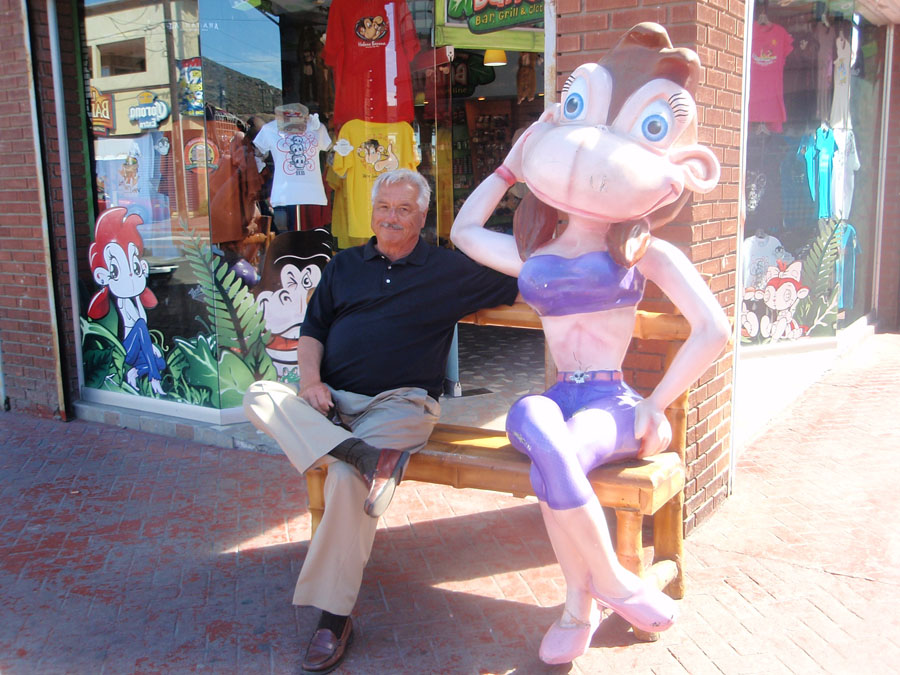 This falls under the "Don't ask.. Don't tell" rule
We Walked The Decks For 90 Minutes After Lunch

Golden Princess pulls into port
Did You Know? - Golden Princess is a Grand-class cruise ship for Princess Cruises that entered service in 2001. It is the sister ship of Grand Princess and Star Princess. It measures 109,000 gross tons and carries 2,600 passengers (double occupancy) plus 1,100 crew members. As of 2009, she primarily operates on the Hawaii and the West Coast of the United States.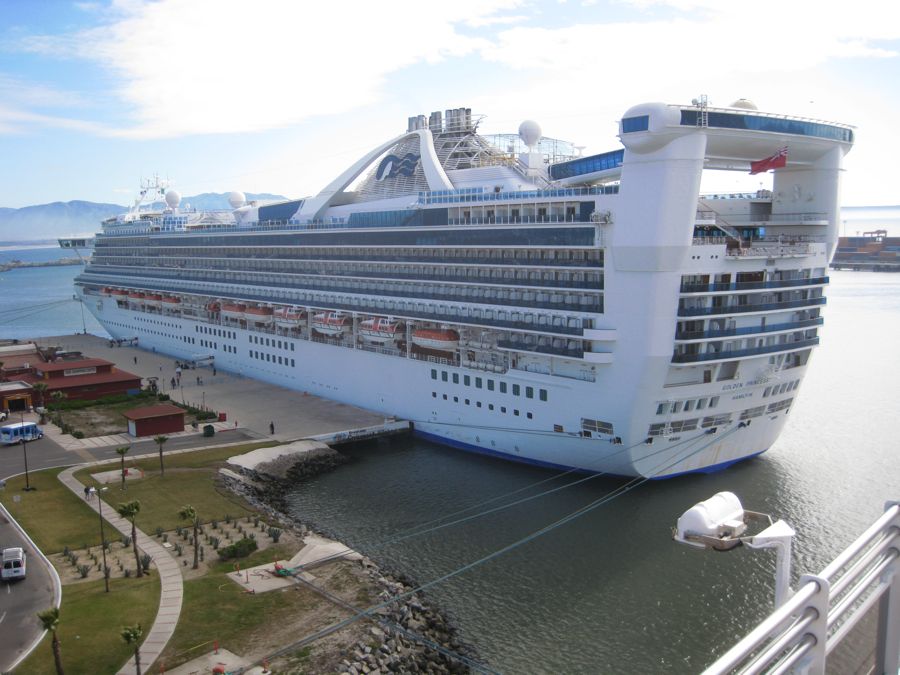 The Golden Princess arrives after us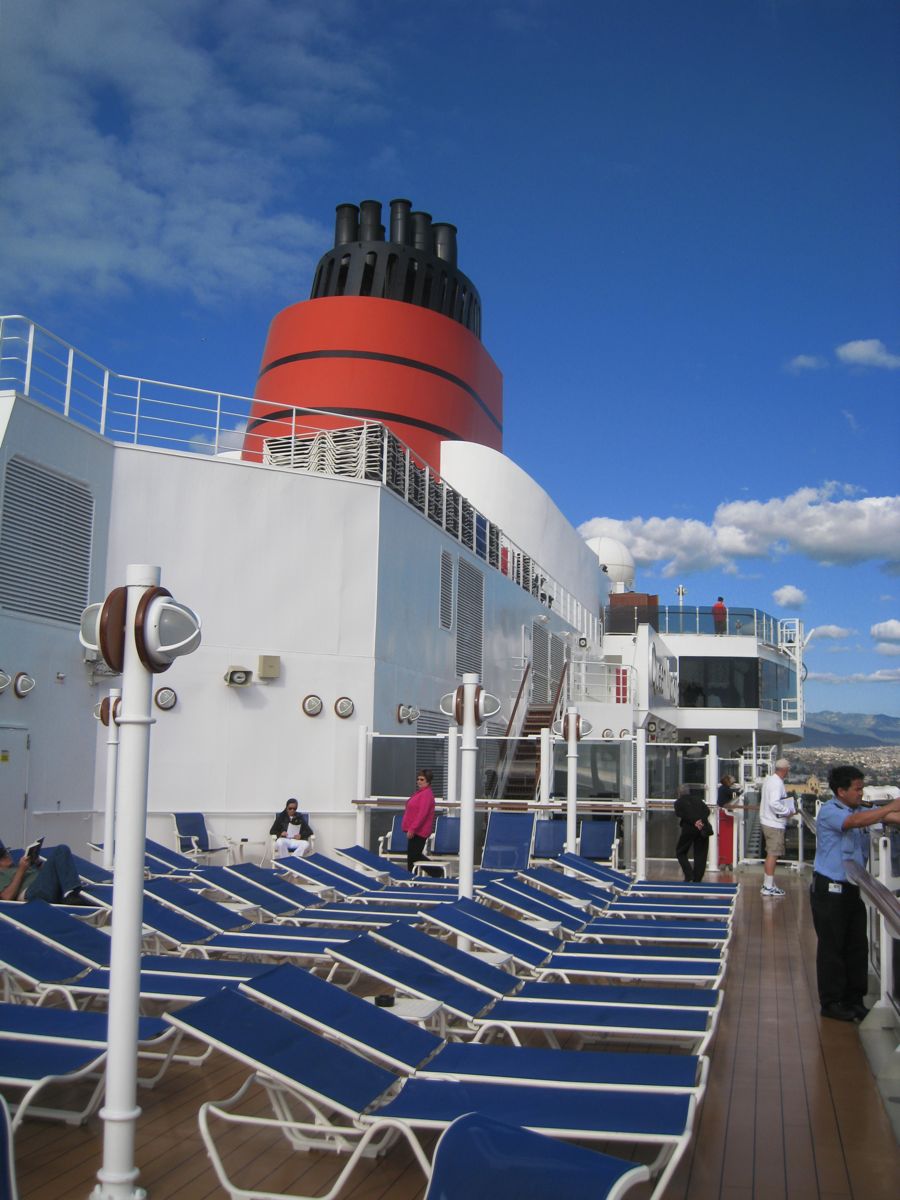 The funnel is characteristic of Cunard
Did You Know? - A funnel is the smokestack or chimney on a ship used to expel boiler steam and smoke or engine exhaust. They can also be known in as stacks. The primary purpose of a ship's funnel(s) is to lift the exhaust gases clear of the deck, in order not to foul the ship's structure or decks, and to avoid impairing the ability of the crew to carry out their duties. In steam ships the funnels also served to help induce a convection draught through the boilers.
A key part of the deception practiced by ships carrying out commerce raiding during both the First World War and Second World War was to disguise their ship's outline, and this included using false funnels or by changing the height or diameter of the actual funnel(s).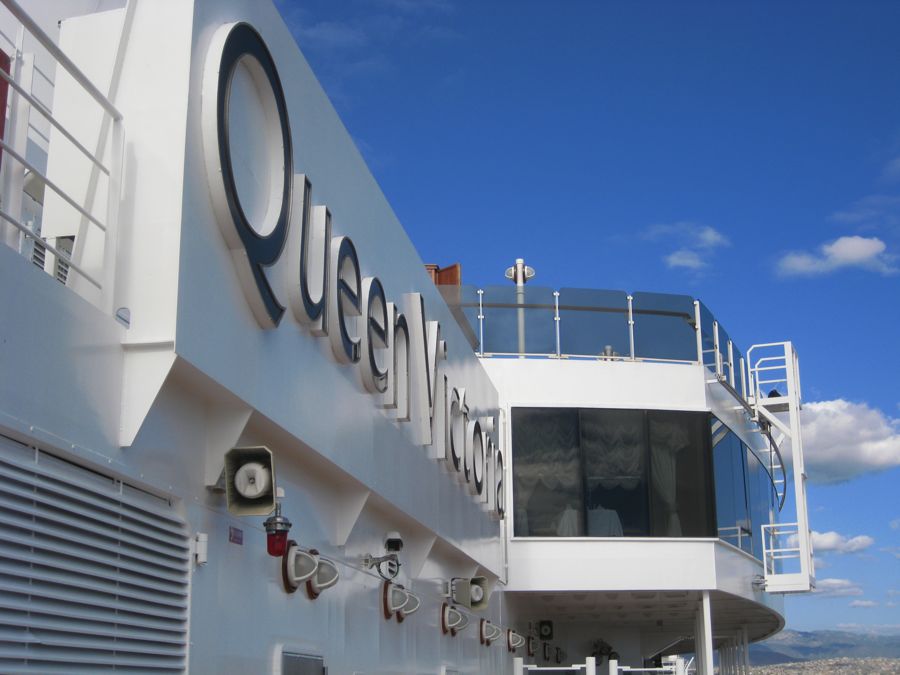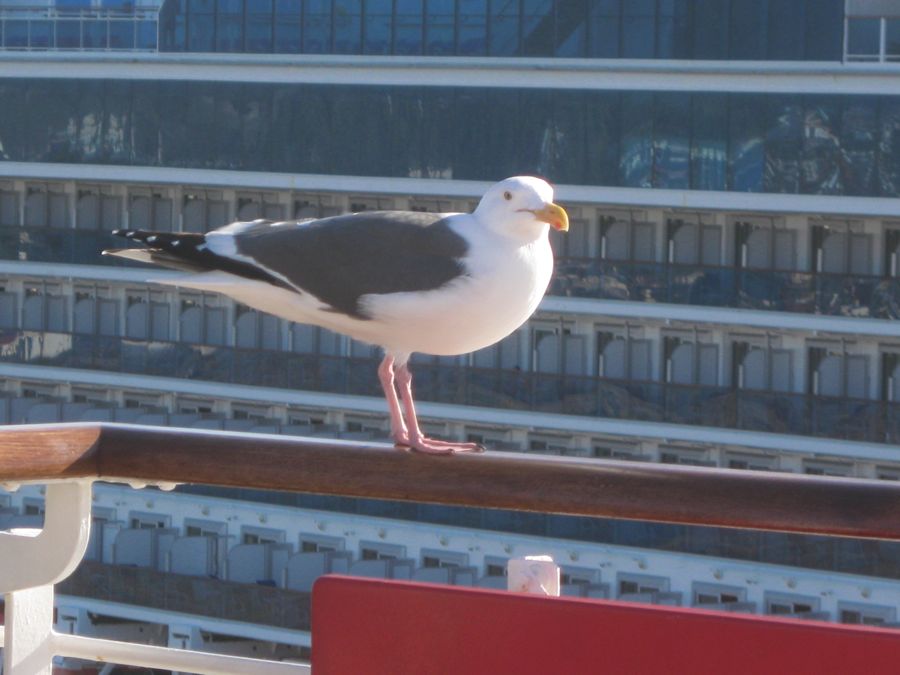 Our little friend
Did You Know? - Gulls nest in large, densely packed noisy colonies. They lay two to three speckled eggs in nests composed of vegetation. The young are precocial, being born with dark mottled down, and mobile upon hatching.
Gulls—the larger species in particular—are resourceful, inquisitive and intelligent birds, demonstrating complex methods of communication and a highly developed social structure. For example, many gull colonies display mobbing behavior, attacking and harassing would-be predators and other intruders. Certain species (e.g. the Herring Gull) have exhibited tool use behavior, using pieces of bread as bait with which to catch goldfish, for example.
Goodbye Mexico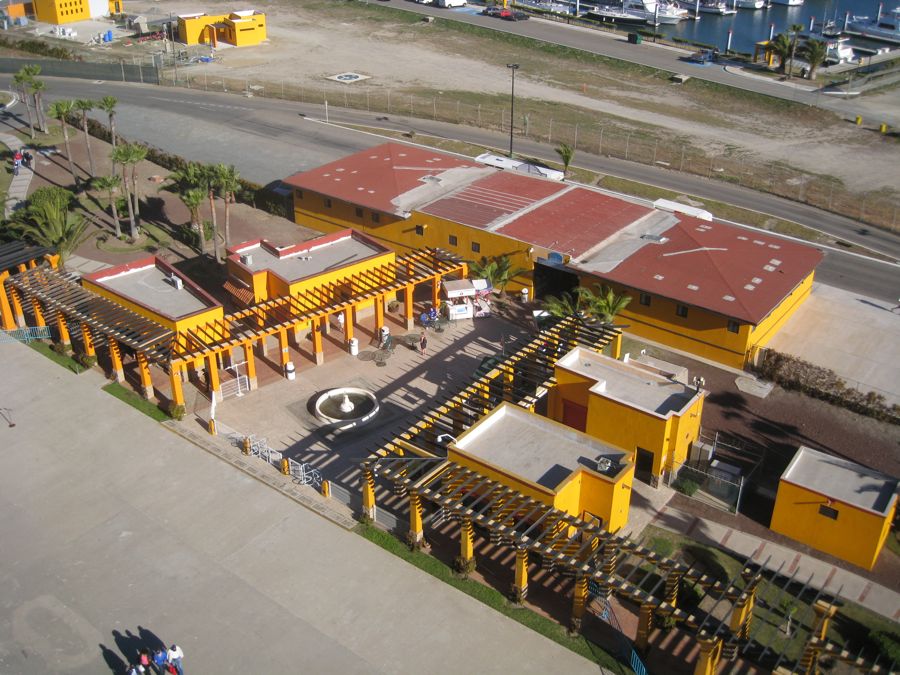 Most everyone was on board

Hello pub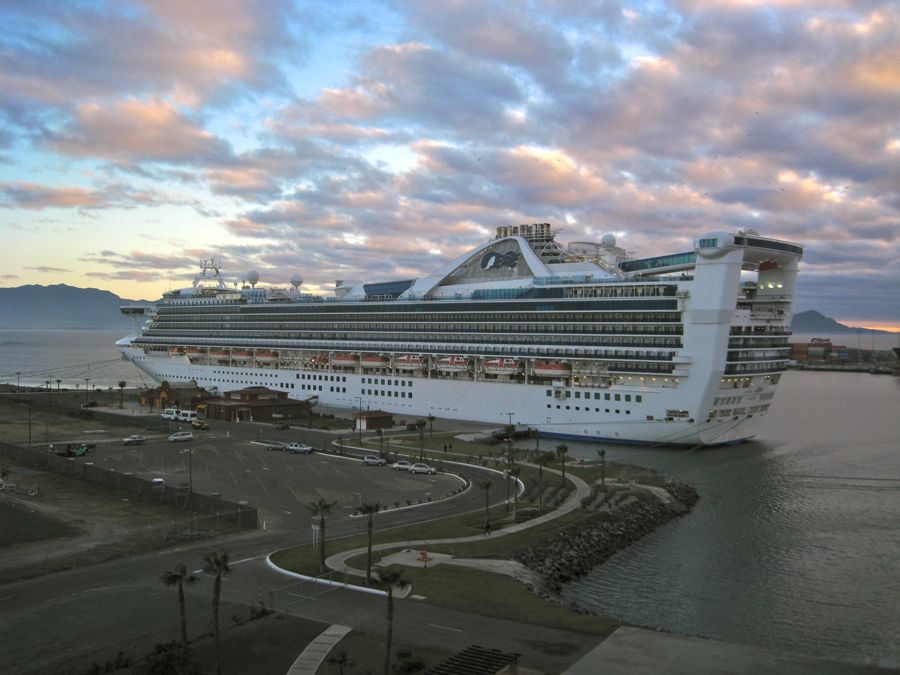 The sun is setting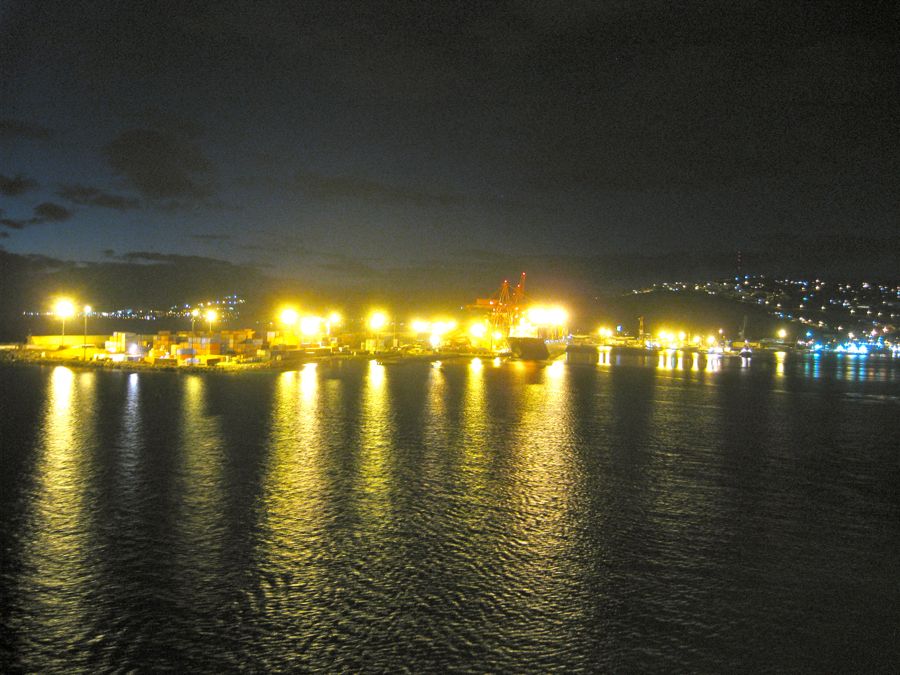 Port of Ensenada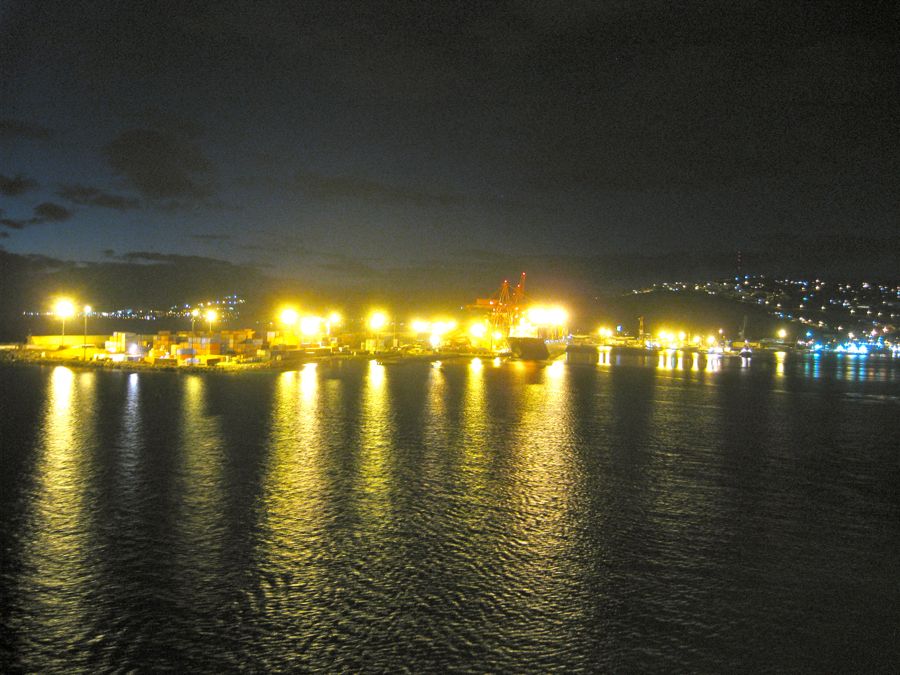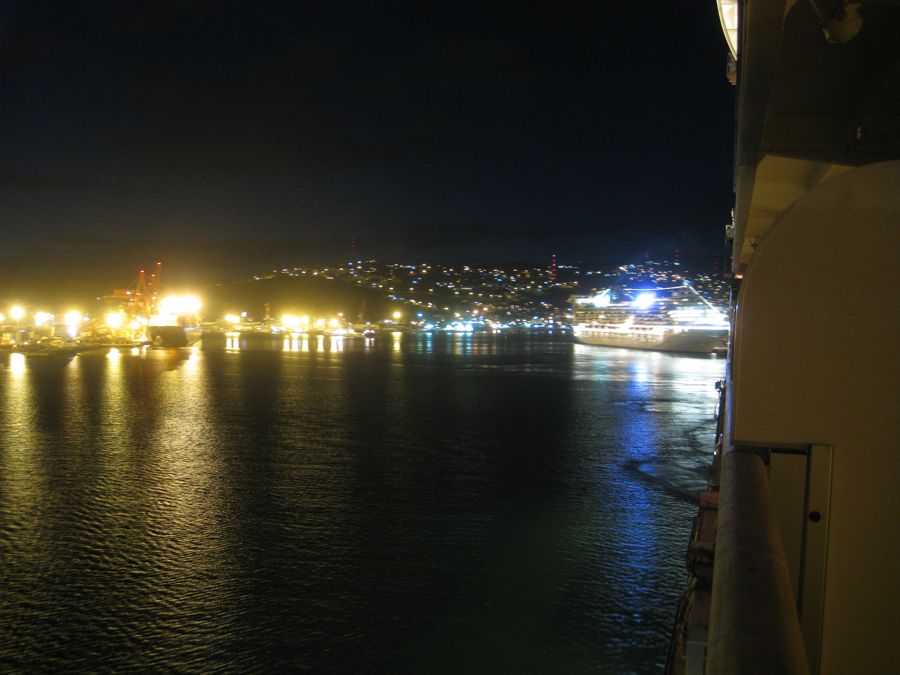 Dinner Be Served As We Sail Away

"Small portions... Excellent idea"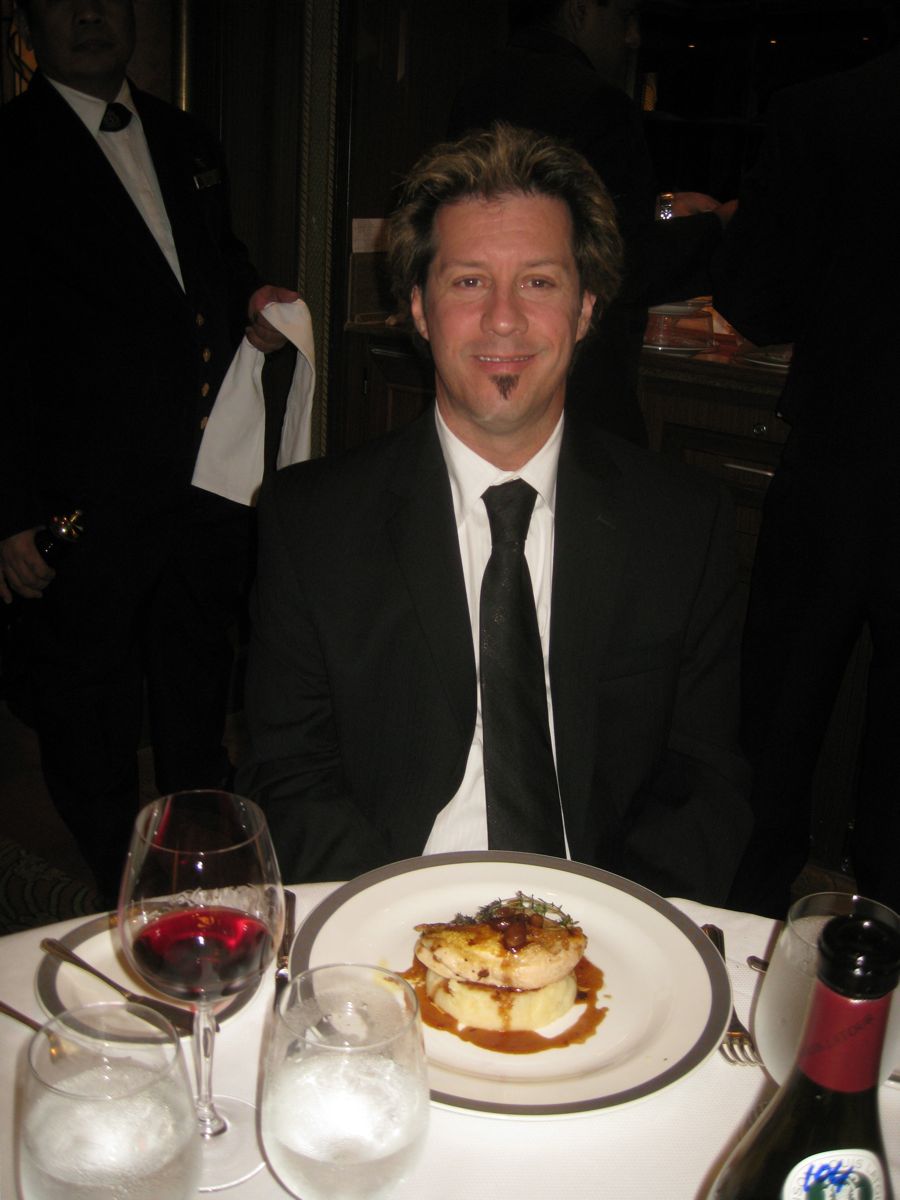 "I am, on the other hand, going to eat the entire thing!"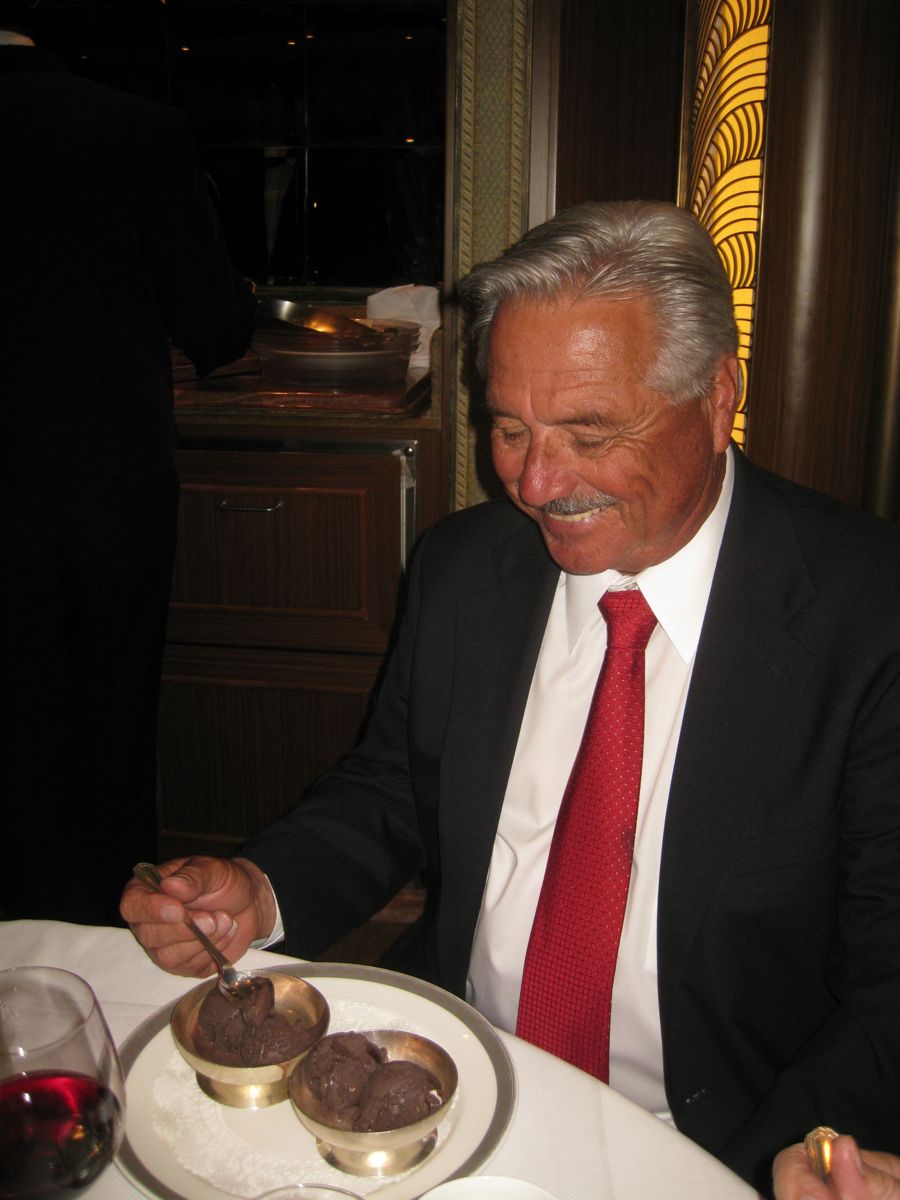 Rocky road ice cream.... His downfall .... FOUR scoops?!?!?!?
Did You Know? - Rocky road ice cream is a chocolate flavor. Though there are variations on the flavor, it is traditionally composed of chocolate ice cream, nuts, and marshmallows. The flavor was created in March 1929 by William Dreyer in Oakland, California when he cut up walnuts and marshmallows with his wife's sewing scissors and added them to his chocolate ice cream in a manner that reflected his partner Joseph Edy's chocolate candy creation incorporating walnuts and marshmallow pieces. Later, the walnuts would be replaced by pieces of toasted almond.
After the Wall Street Crash of 1929, the company gave the flavor its current name "to give folks something to smile about in the midst of the Great Depression."[Alternatively, Fenton's Creamery in Oakland claims that William Dreyer based his recipe on a Rocky Road-style ice cream flavor invented by his friend, Fentons' George Farren, who blended his own Rocky Road-style candy bar into ice cream; however, Dreyer substituted almonds for walnuts.
[2] The original Rocky Road ice cream used chocolate ice cream with no chocolate chip pieces. Today, Rocky Road can be obtained based on vanilla ice cream with chocolate chips, marshmallows and almonds.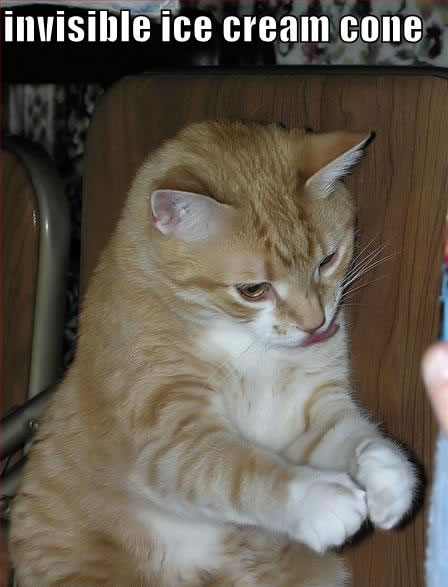 This is what he SHOULD HAVE DONE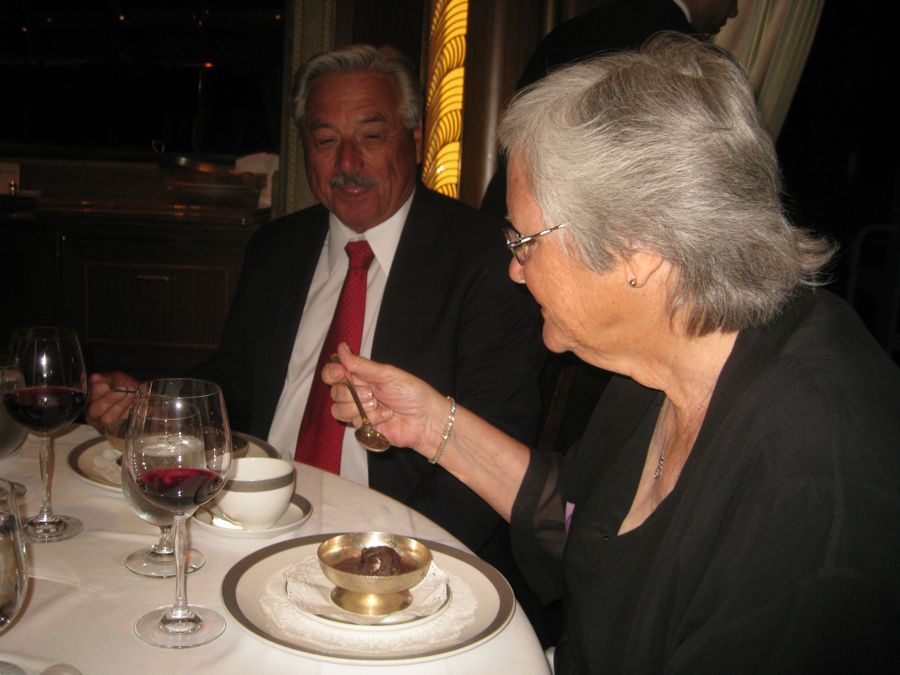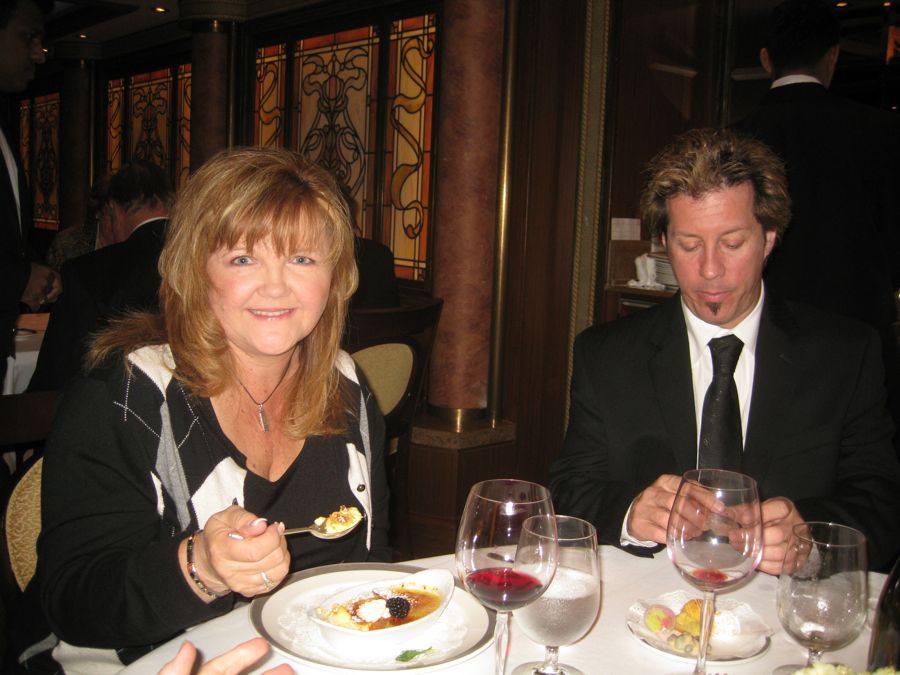 A Little Chamber Music To Settle The Dinner Perhaps?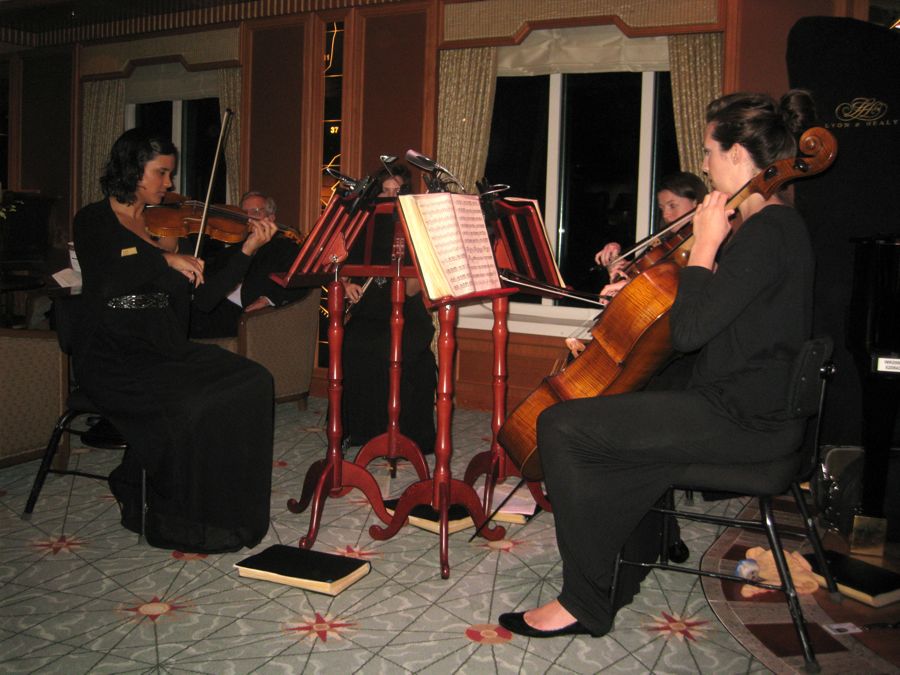 James said "Very relaxing"... But after FOUR scoops of rocky road....?
Did You Know? - Chamber music is a form of classical music, written for a small group of instruments which traditionally could be accommodated in a palace chamber. Most broadly, it includes any art music that is performed by a small number of performers with one performer to a part. The word "chamber" signifies that the music can be performed in a small room, often in a private salon with an intimate atmosphere. However, it usually does not include, by definition, solo instrument performances.
Because of its intimate nature, chamber music has been described as "the music of friends." For more than 200 years, chamber music was played primarily by amateur musicians in their homes, and even today, when most chamber music performance has migrated from the home to the concert hall, there are still many musicians, amateur and professional, who continue to play chamber music for their own pleasure. Playing chamber music requires special skills, both musical and social, which are different from the skills required for playing solo or symphonic works.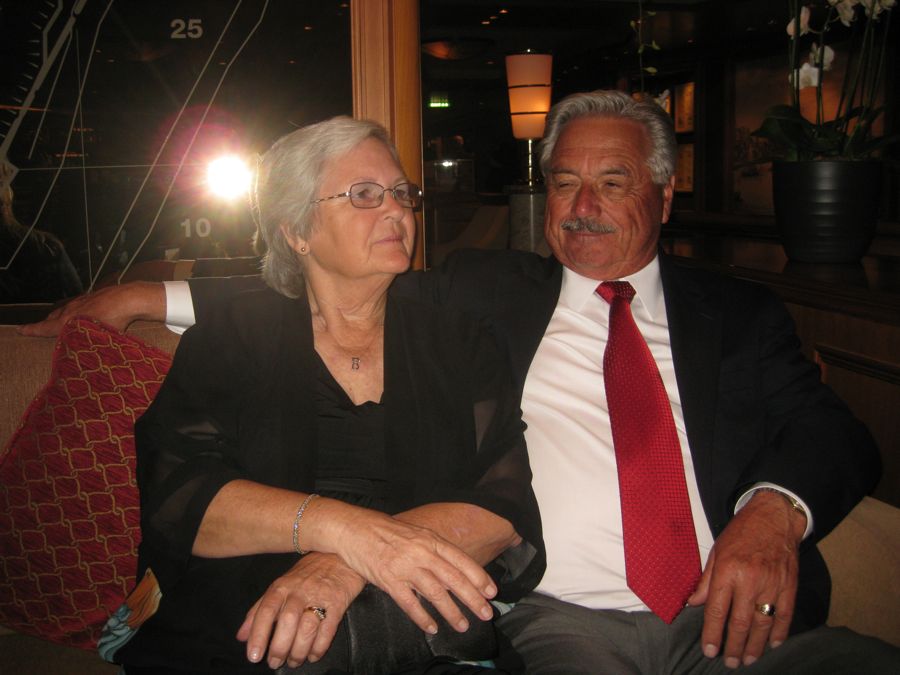 Time To Dance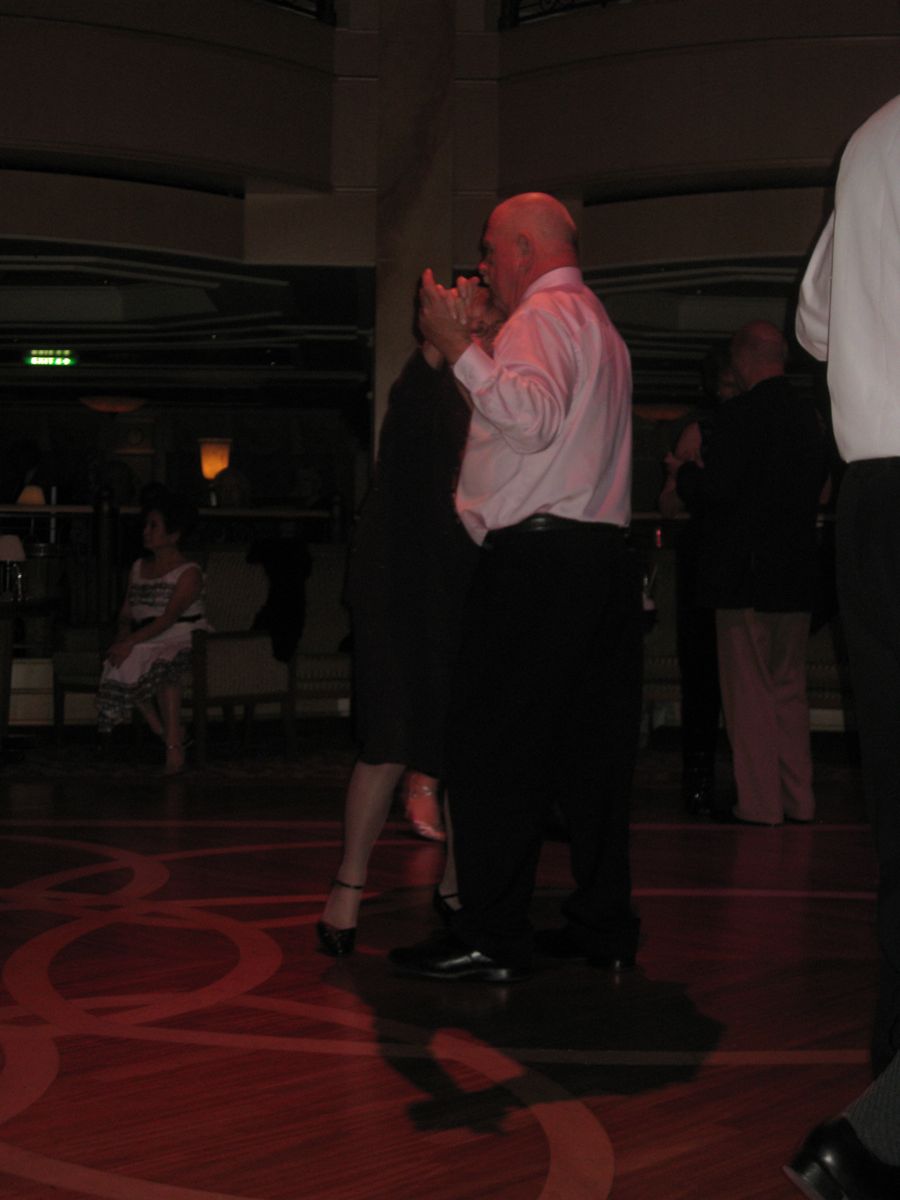 Robin and Paul do the Cha Cha Cha all night long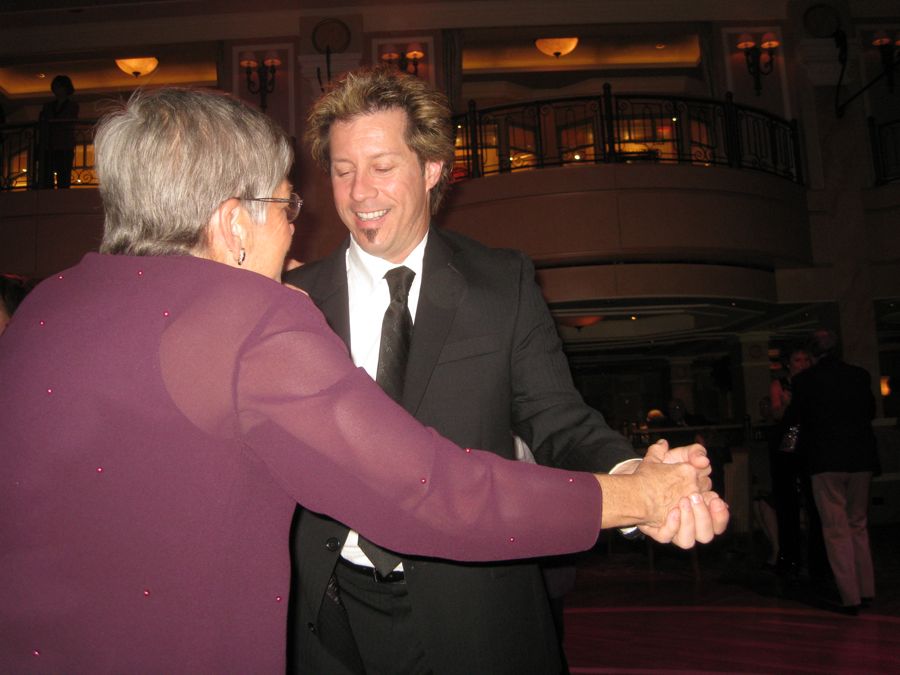 The judges were very forgiving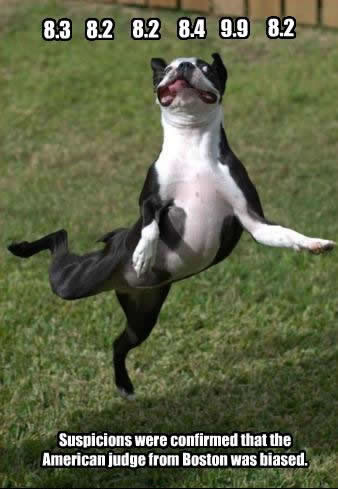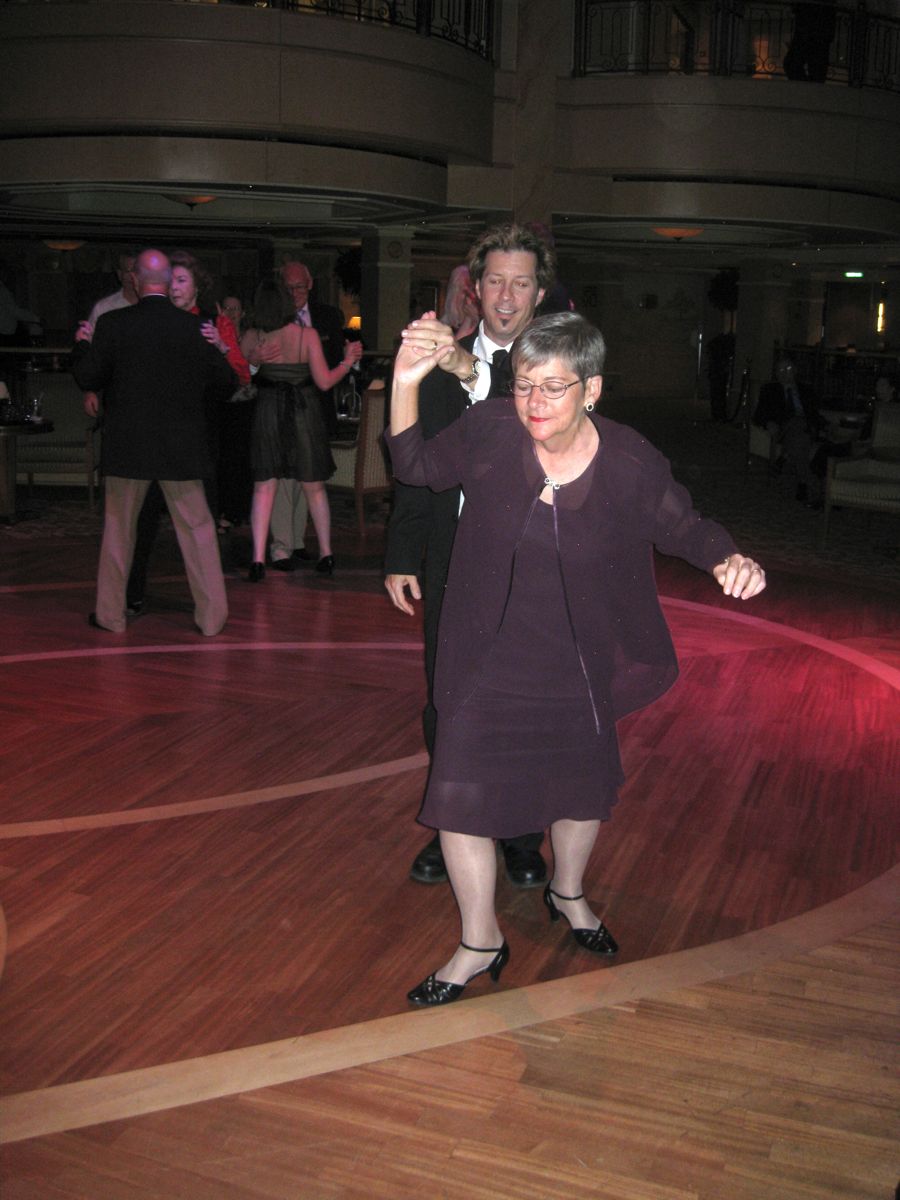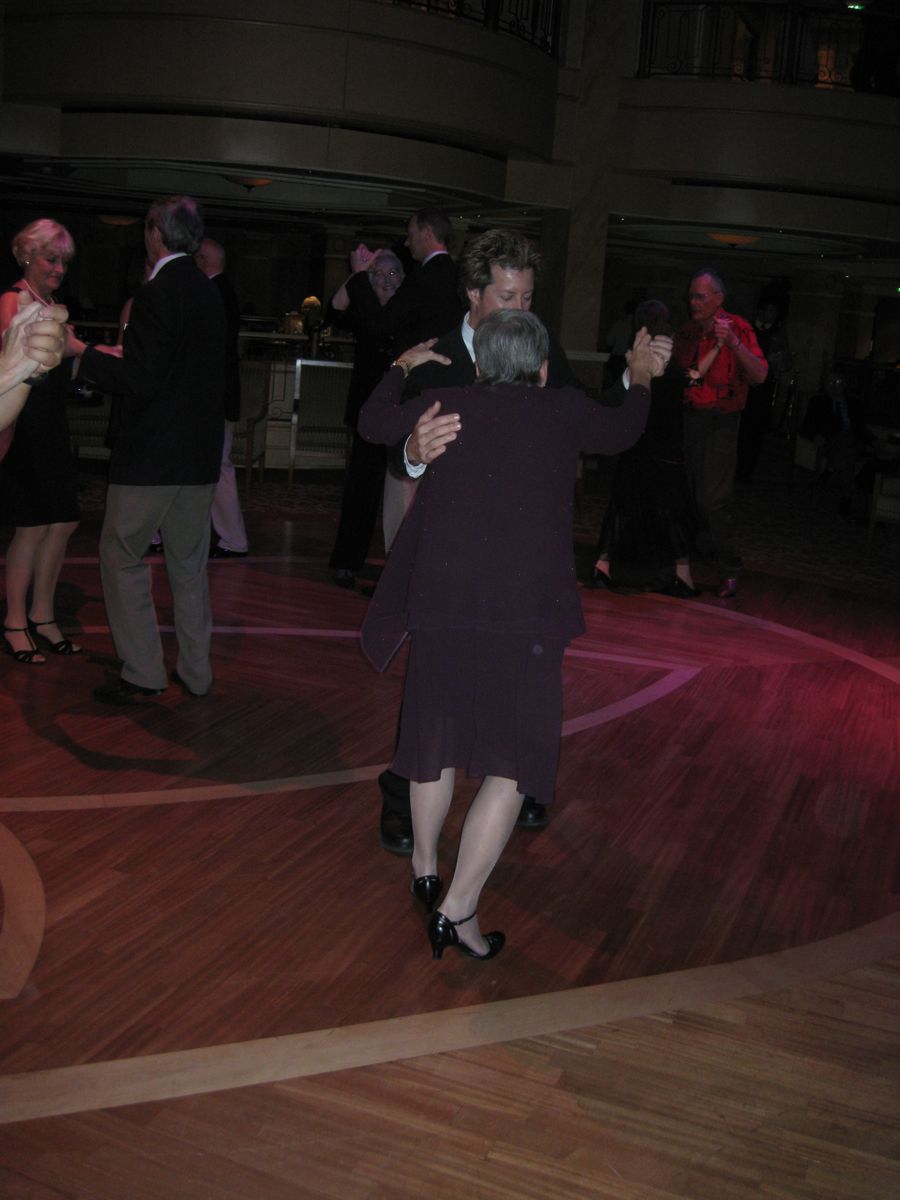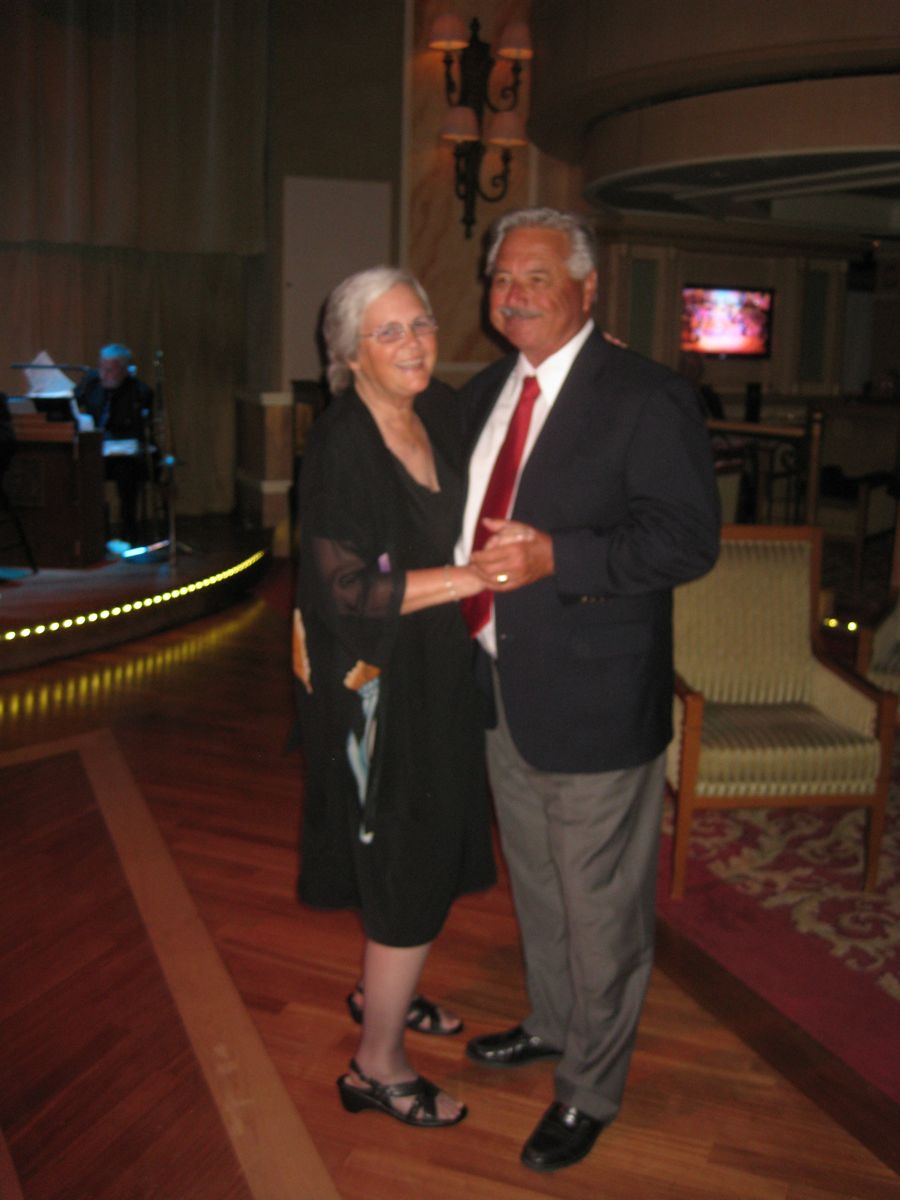 Their up and moving so fast the camera could not slow down the action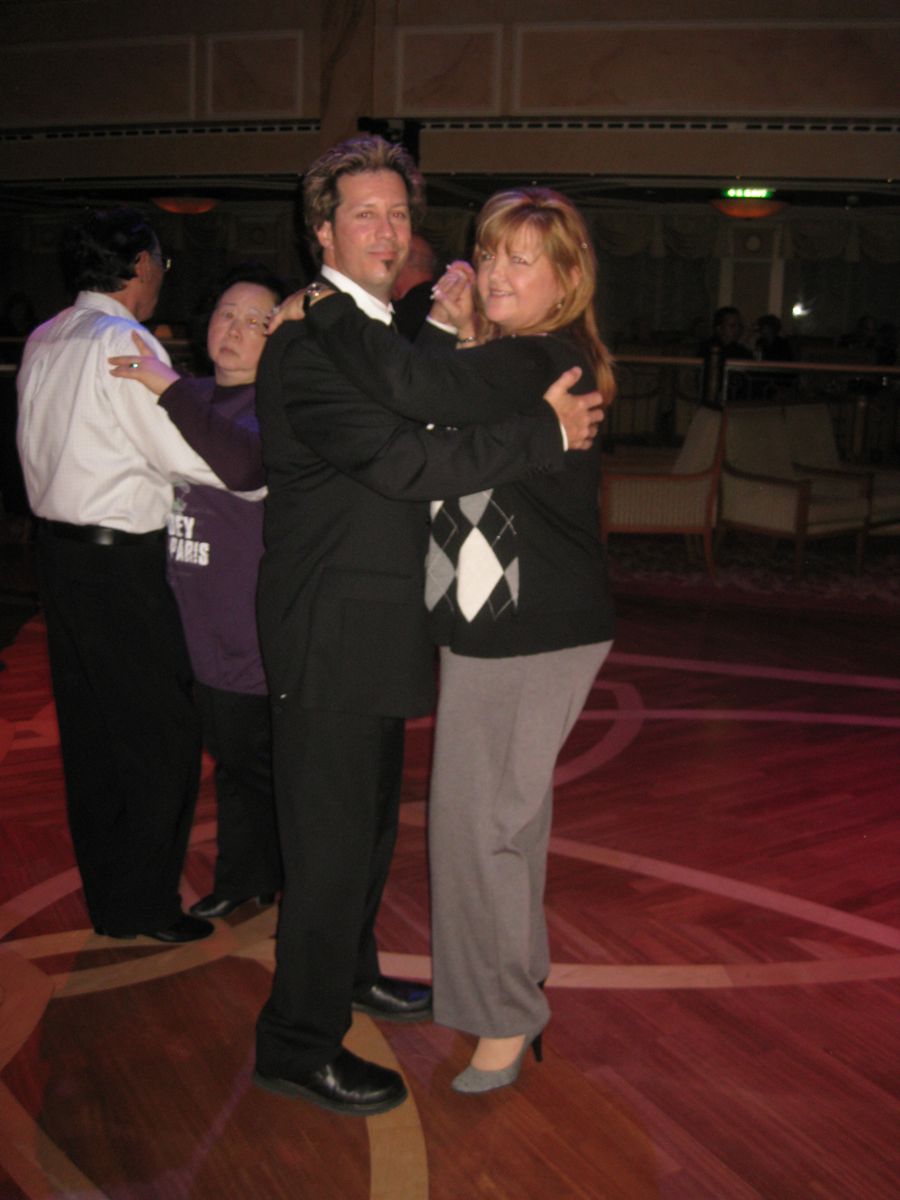 "Pssssst... James.... You are standing on my toe!"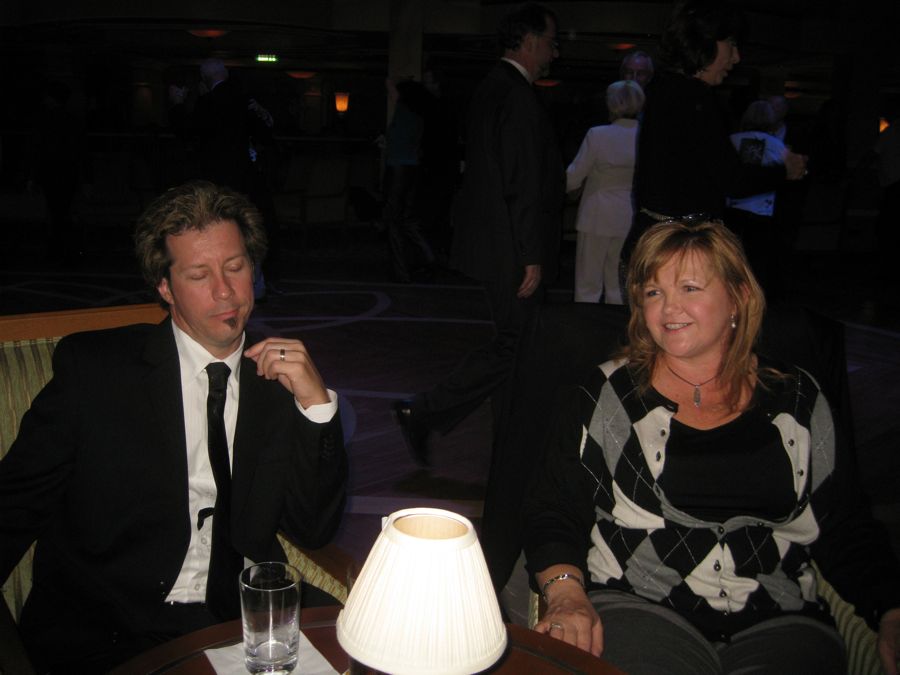 Bob is feeling pretty good right now... Two wines and two dances, he filled his quota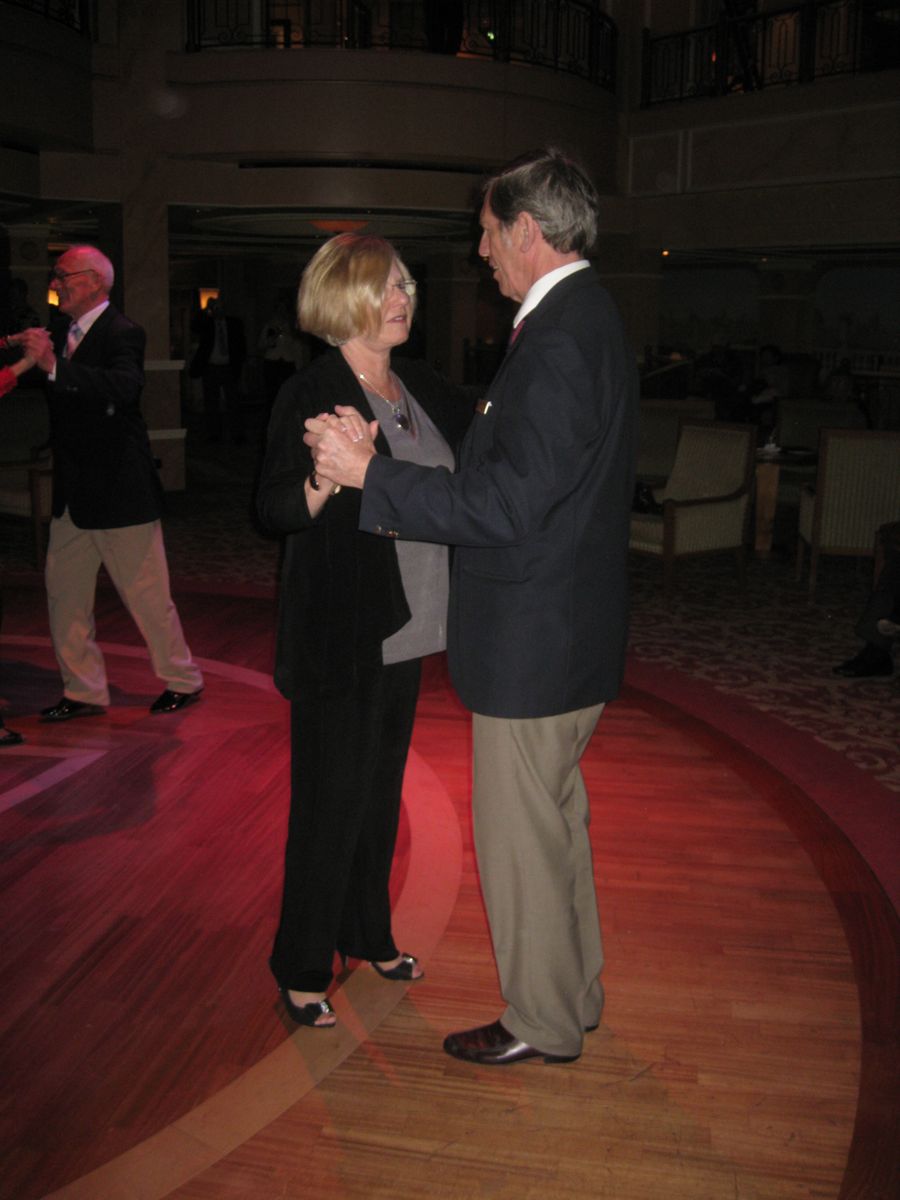 Melanie was virtually hoisted from her seat by the dance host
Did You Know? - Dance hosts on cruise ships are people who fill an unpaid position on cruise ships. They are almost exclusively gentlemen, typically between the ages of 40 and 70, who excel in social ballroom dancing.
Many cruise lines allocate cabins for dance host programs. Dance hosts are expected to socialize with passengers and dance with the female passengers, who happen to greatly outnumber male passengers on most cruises. Dance hosts must be present nightly at dance floor locations and "work the room", offering a dance to each unescorted female passenger, while being careful to not to show favoritism. They are also responsible for attending all ship-sponsored parties and are often asked to host tables at dinner time. They serve as general companions, making conversation and joining in for shipboard activities and games. All the while, romance is not involved, so these gentlemen must have their wits and tact about them. Crossing another passenger's cabin threshold can result in disembarkation. The film Out to Sea, a comical interpretation of the position, is basically a guide of what not to do.
Ideal applicants come from well travelled and well educated backgrounds who find it easy to converse on a variety of subjects. It is important that hosts have polished appearances and refined, approachable manners. They must also be in good shape, as dancing, most nights, lasts for hours. Cruise lines usually allocate one passenger cabin for two hosts and allow a placement agency to charge a small daily fee. This covers the cost of recruiting, qualifying, and booking hosts for the cruise lines' itineraries. Qualification procedures include a background check, a dance audition with a local dance instructor or video audition, and a written biography with a photograph which can be used as an introduction and conversation starter once onboard.
A host must have an inherent love for dancing and socializing and not consider his responsibilities a job, because he'd be disappointed to learn that dance hosting is not a paid position. On the other hand, he will be sailing to exciting destinations on a luxury vessel for a small fraction of the ticket price that the regular guests pay. There are often perks associated with this position including paid airfare for some long sailings, discounts for laundry, bar tabs, and internet, and opportunities to serve as an escorts for shore excursions - which means they may join in on $150+ land-based itineraries for free.

"CAN I TAKE HIM HOME??? CAN I, PLEASE, CAN I?"