65th Anniversary of the Battle Of Midway

Background Sound: "Midway"
Come see the Midway Island 2007 Movie which summarizes the trip in a few slides. The movie was fun to put together so please enjoy! Twenty-one days at sea with great friends, great places, and great adventures!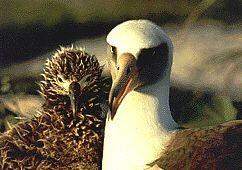 We found out about this unique cruise and signed up immediately. "Princess Cruises is once again sailing to Midway Atoll, this time specifically so its passengers can participate in the 65th anniversary of the Battle of Midway."

We kept a log of the events while we were traveling as a reminder of the trip!
The little guys to the right were two of he 350,000 birds that were on the atoll when we visited!
An Adventure To Remember

A voyage into history
Synopsis
The cruise ship Regal Princess departed Los Angeles on May 28, 2007 and sailed directly to Midway Atoll, arriving June 4.
After spending most of the day on Sand Island, the ship will sailed to the main Hawaiian Islands, stopping at Kauai , Honolulu , Maui , and the Big Island , then on to Ensenada, Mexico, and back to Los Angeles on June 17... Father's Day!
Regal Princess features one of cruising's most unique entertainment areas in the forward 13,000-square-foot "Dome," including a dance floor, bar, casino and observation area.

Regal Princess, designed by world-famous architect Renzo Piano, boasts sleek lines reminiscent of the dolphin. The crown-like observation lounge and unique smokestack give this ship an unmistakable look that sets her apart from every other vessel.

Too bad she is going out of service with Princess in August and joining the P&O Lines .
The Trip Summarized In A Few Short Comics...