The Ship, The Ship

Background Sound: "General Quarters (WAV)"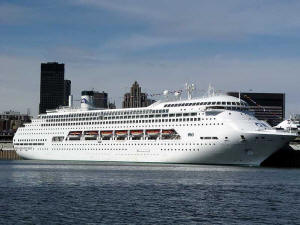 Regal Princess features one of cruising's most unique entertainment areas in the forward 13,000-square-foot "Dome," including a dance floor, bar, casino and observation area.
Regal Princess, designed by world-famous architect Renzo Piano, boasts sleek lines reminiscent of the dolphin.

The crown-like observation lounge and unique smokestack give this ship an unmistakable look that sets her apart from every other vessel. Find the Regal Princess today.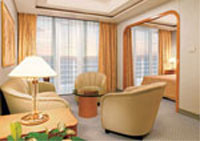 Accommodations include a private bedroom with a queen-size bed. Also featured are a sitting room area with a sofa and a private balcony big enough for entertaining.

Two TV's, a refrigerator, a walk in closet with dressing area, a bath with tub and shower are just a few of the amenities.
Some Features:
Million-dollar, museum-class art collection
Two swimming pools, one with waterfall and in-pool bar
Central observation lounge
Spectacular three-story atrium lobby
Array of gourmet and casual dining choices
Stage Door, a card room by day and disco at night
Youth Center
Four duty-free boutiques
Sports deck with volleyball, basketball, and paddle tennis
Wine, vodka, and caviar bar
More...
Year Built: 1991
Year Refurbished: 2002
Year Entered Present Fleet: 1991
Previous Name: N/A
Country Of Registry: Bermuda
Tonnage (GRT): 70,000
Pax (basis 2): 1,590
Max Pax (inc. Uppers): 1,792
Passenger Decks: 11
Number Of Crew: 696
Officers' Nationality: British/Italian
Cruise/Hotel Staff Nationality:International
Regal Princess Is Reborn As The Pacific Dawn October 2007
Currently the oldest ship in the Princess fleet, Regal Princess (built August 1991) is a US-based cruise ship operated by Princess Cruises. In October 2007, Regal Princess will be relocated to Australia and will be operated by P&O Cruises under the name of Pacific Dawn.

She will begin sailing from Sydney on October 26, 2007 for her eight-night maiden voyage and will then offer a selection of cruises to the South Pacific, including Christmas and New Year departures, plus a Melbourne Cup cruise.

New Look to feature Traditional P&O all-white hull, Celebrating 75 Years of Cruising from Australia. P&O Cruises Australia's latest ship - the superliner Pacific Dawn - will feature a new-look livery when it debuts in Australia in November this year.

P&O Cruises Acting Managing Director Dean Brown said Pacific Dawn would have a classic white hull, while the cruise line's distinctive sun logo would be displayed on a white background on the ship's funnel, as well as its bow.

"The introduction of Pacific Dawn not only marks a new era of cruising for Australia, it also coincides with P&O Cruises' 75th anniversary," Mr Brown said. "The change of livery recognizes both milestones - offering a fresh, crisp look while incorporating the traditional white hull which featured on P&O Cruises' ships 75 years ago. "Meanwhile, our trademark sun emblem continues to signify the warm sunshine and blue seas that our region is known for." Mr Brown said the new look was a fitting gesture for Pacific Dawn's launch, given the ship's status as the first superliner to be based year-round in Australia. Mr Brown said P&O Cruises' name would appear on the side of the ship, along with the ship's name. P&O Cruises' two other ships - the 46,000-ton Pacific Sun and the 35,000-ton Pacific Star - would be repainted with the new livery during the ships' scheduled dry docks in 2008, he said.