Kauai, Hawaii

Background Sound: Beyond The Reef
Kaua'i (Hawaiian IPA pron.: [kaua.i]; usually spelled Kauai outside the Hawaiian Islands and pronounced [kə'w'.i]) is the oldest and fourth largest of the main Hawaiian Islands, having an area of 1,430.43 km² (552.29 sq mi).

Known also as the "Garden Isle", a'i lies 105 miles (170 kilometers) across the Kaua'i Channel, northwest of O'ahu. Of volcanic origin, the highest peak on this mountainous island is Kawaikini at 1,598 m (5,243 ft). The second highest peak is Mount Wai'ale'ale near the center of the island, 1,570 m (5,148 ft) above sea level. One of the wettest spots on Earth, with an annual average rainfall of 460 inches (11,700 millimeters), is located on the east side of Mount Wai'ale'ale. The high annual rainfall has eroded deep valleys in the central mountain, carving out canyons with many scenic waterfalls.

There is no known meaning behind the name of Kaua'i. Native Hawaiian tradition indicates the name's origin in the legend of Hawai'iloa — the Polynesian navigator attributed with discovery of the Hawaiian Islands. The story relates how he named the island of Kaua'i after a favorite son; therefore a possible translation of Kaua'i is "place around the neck", meaning how a father would carry a favorite child. In South Africa, a health food and drink franchise is named after the island.
We Docked At Lihue
In ancient times, Līhu'e was a minor village. The name is of recent origin and means "goose flesh", referring to the cold winds that blew across the land. The ancient name of the area was Ka-la'-i-a-mea, meaning calm reddish brown place. Līhu'e is located in the ancient district of Puna.

With the emergence of the sugar industry in the 1800's, Līhu'e became the central city of the island with the construction of a large sugar mill. Many Germans emigrated to Līhu'e, even building in 1881 the first Lutheran church in Hawaii that stands to this day. Services were delivered in German well into the 1960s. George Wilcox was one of the largest sugar plantation owners. The family home, Kilohana, can be visited by tourists. Līhu'e also houses the Kaua'i Museum, which details the rich history of Kaua'i.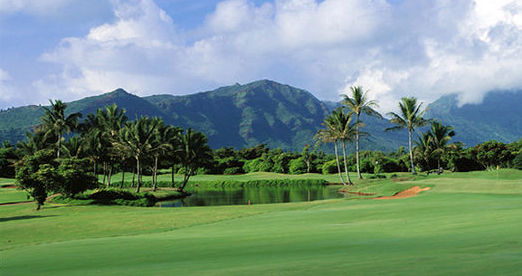 It's said that when Jack Nicklaus created the Kiele Course, the terrain lent itself so well to his vision that he made but a single change to his original design. So it's no surprise that this incredible 7,070-yard resort course is hailed as one of the finest golf gems in the Pacific.

The Kiele has a sense of style uniquely its own. Fairways weave along imposing ocean cliffs, over promontories high above Nawiliwili Harbor, and among some 40-acres of fresh water lagoons. Lush groves of exotic foliage thrive amongst the holes. A solitary rotunda sits on the water off the 17th tee: an exquisite wedding chapel.

Every hole is marked by a white marble statue of an animal or mystical being: Happy Buddha, Elephant, Swan, Dragon, and of course, The Golden Bear, in tribute to the master golfer who master-minded the course.

Kauai Lagoons Golf Club - Kiele Course
3551 Hoolaulea Way
Lihue, HI 96766