Honolulu, Hawaii
Song: Honolulu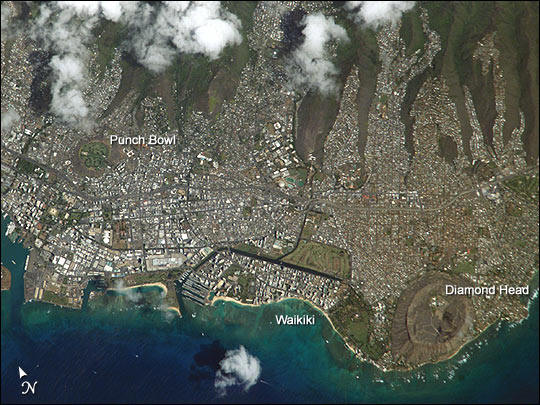 Honolulu is the capital as well as the most populous community of the State of Hawaii. In the Hawaiian language, Honolulu means "sheltered bay" or "place of shelter." The census-designated place (CDP) is located along the southeast coast of the island of Oahu.
The term also refers to the District of Honolulu (see Geography below). As of July 1, 2004, the United States Census Bureau estimate for Honolulu puts the population at 377,260 and that of the city and county (essentially, the Island of Oahu) at 900,000.
In Hawaii, local governments operate only at the county level, and the City & County of Honolulu encompasses all of the Island of Oahu (approximately 600 square miles).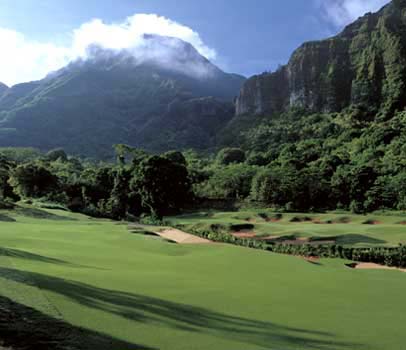 The course is located 20 minutes from Waikiki.
Carved out of a magnificent tropical rain forest on the windward side of the 2,000-foot Ko'olau Ridge mountain range, Ko'olau encompasses three distinct climate zones and features winding ravines, extreme elevation changes, and breathtaking views of cascading waterfalls.
Situated on eastern Oahu, the rugged landscape of this tropical jungle course uses ravines as the target for holes and boasts lush vegetation and huge sand bunkers. Considered the toughest course in the nation from the back tees with a slope rating of 162, Ko'olau's spectacular setting will inspire you from beginning to end.
From Waikiki and Downtown Honolulu: Take the H-1 Freeway west to Route 61 exit (Pali Highway). Proceed through the Pali Tunnels and turn left onto Kamehameha Highway. Proceed past Pali Municipal Golf Course and turn left onto Kionaole Road.
We went to the top of Waikiki after the golf afternoon.
When you dine at the TOP OF WAIKIKI, you literally get to see all of Waikiki, Honolulu and much of Oahu including three of the islands extinct volcanoes! This fascinating three-tiered restaurant, located on the top floor of the Waikiki Business Plaza, makes a full 360-degree rotation every hour.
This hour-long revolution permits guests to view a live, colorful panorama of the island while enjoying cocktails or a delicious meal.
We revolved 1/5 times or 0 minutes during our visit... What a view and yes, that is the Royal Hawaiian Hotel in the shot!
The dining room is centered around an open sit-down bar that revolves independently and provides an additional level from which guests have an outstanding view of the city. The plush rotating restaurant began serving the public in October 1965 and has hosted well over a million since then.