Old Ranch Decided To Smoke; We Decided To Eat
Old Ranch had a smoker so off we went to the Food and Wine Festival 2009.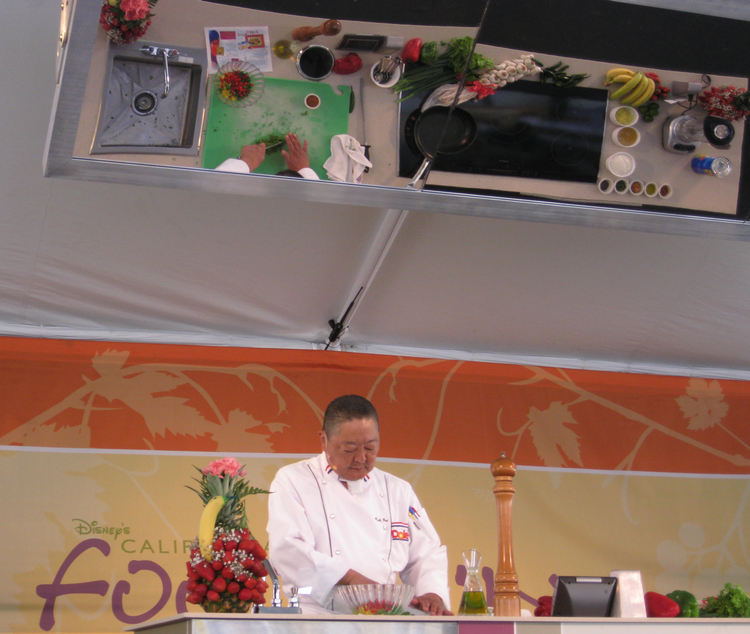 The Dole presentation features spicy mango salsa
Did you know? - Mangoes belong to the genus Mangifera, consisting of numerous species of tropical fruiting trees in the flowering plant family Anacardiaceae. The mango is indigenous to the Indian Subcontinent. [1] Cultivated in many tropical regions and distributed widely in the world, mango is one of the most extensively exploited fruits for food, juice, flavor, fragrance and color, making it a common ingredient in new functional foods often called superfruits. Its leaves are ritually used as floral decorations at weddings and religious ceremonies. It is also the national fruit of India & the Philippines.

'Mango' comes from Portuguese manga, which is probably from Malayalam manga.

On a bed of rice and beans, he placed chicken topped with the salsa

Blue Sky Cellar is the location of the models of California Adventure future developments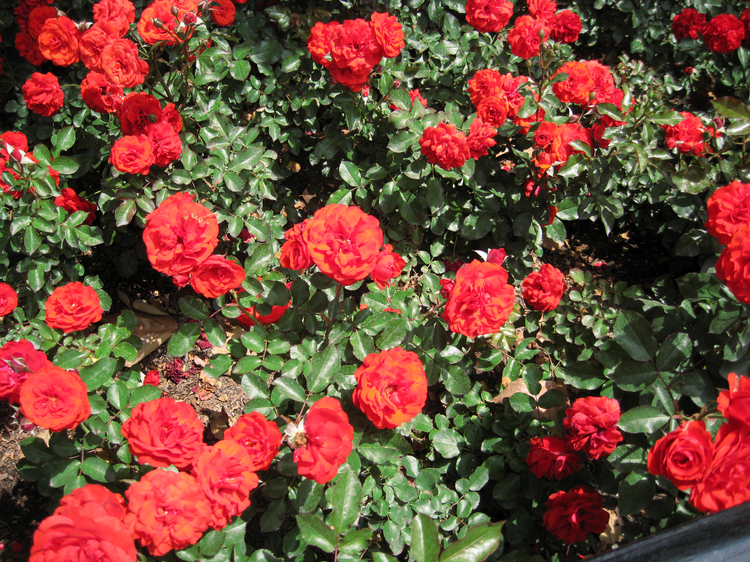 The flowers were bright in the afternoon sunlight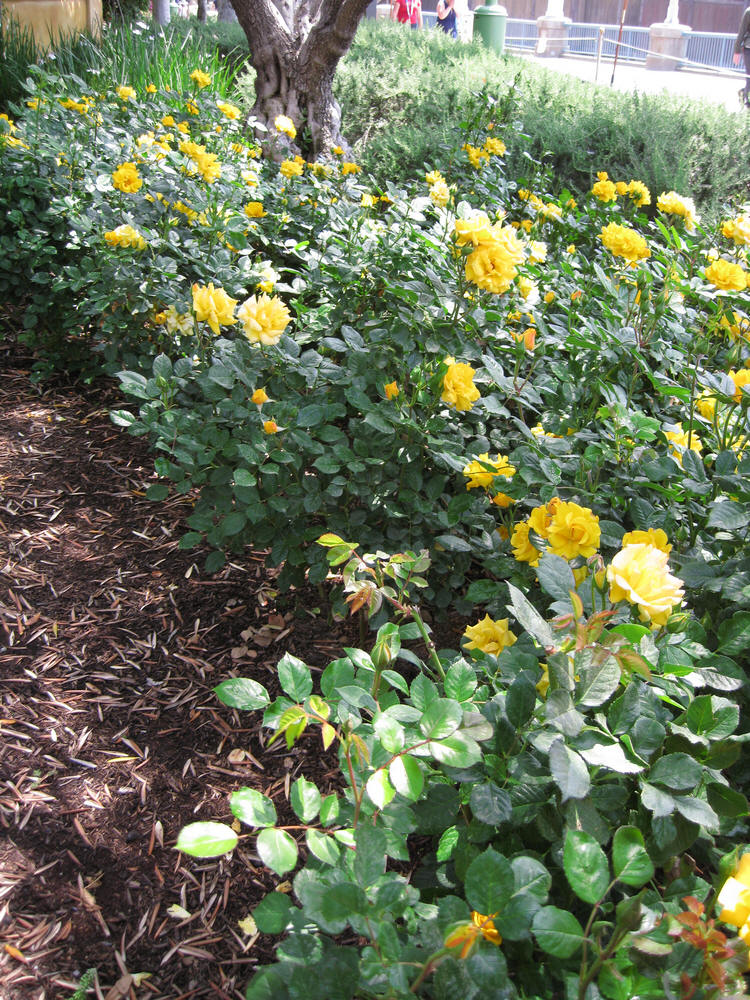 Disney does a great job of landscaping
Did you know? - Landscaping refers to any activity that modifies the visible features of an area of land, including but not limited to:
living elements, such as flora or fauna; or what is commonly referred to as gardening, the art and craft of growing plants with a goal of creating a beautiful environment within the landscape.
natural elements such as landforms, terrain shape and elevation, or bodies of water;
human elements such as structures, buildings, fences or other material objects created and/or installed by humans; and
abstract elements such as the weather and lighting conditions

Elizabeth is a wonderful hostess for the wine tasting activities.. A tribute to Disneyland!

We tasted wine all afternoon and they were excellent with excellent speakers representing their companies.

Tastes of Boston... What else? Clam chowder!
Did you know? - Clam chowder is any of several chowders containing clams and broth. Along with the clams, diced potato is common, as are onions, which are occasionally sautéed in the drippings from salt pork. Celery is frequently used. Other vegetables are uncommon, but small carrot strips might occasionally be added, primarily for color. A garnish of parsley serves the same purpose. Bay leaves are also sometimes used as a garnish and flavoring. It is believed that clams were added to chowder because of their relative ease to collect.

One must stop at the world famous Uva Bar. Enter another world with its magnificent circular bar, a nod to both Paris metro-station architecture and the streamlined aesthetic of the 1920's Jazz Age.

"Remember, you are on a diet!"

What is he smiling about???
Dinner With The Young People
We are fortunate to know several of the young people that work for Patina's Catal Restaurant. We have known them over the years as we frequent the restaurant and bar after dancing at Disneyland on Saturday evenings. They were so kind as to ask us out to dinner and we readily accepted!

Tess and Rene

Steve just did his back in after playing eleven holes of golf.. He was taking it easy this evening!

Left to right: Leah and Rene, Paul and Sue, and Steve and Tess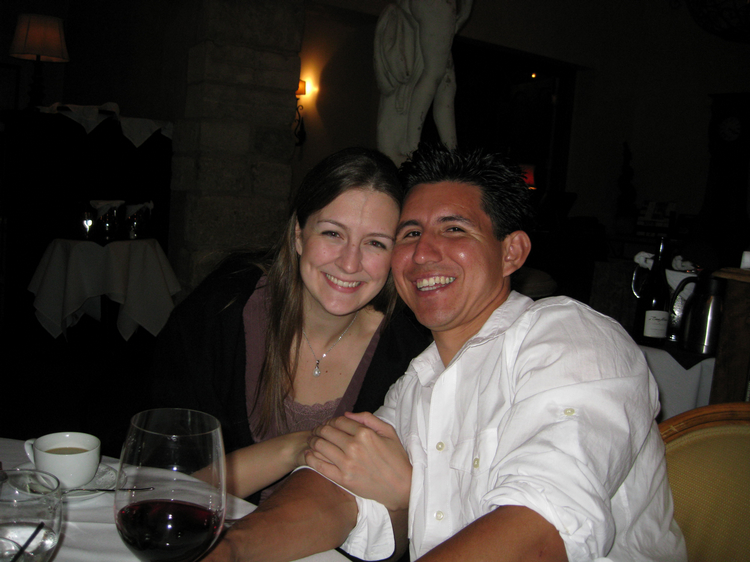 A very cute couple!
Did you know? - The girl's name Leah\ lea h\ is pronounced LEE-ah. It is of Hebrew origin, and its meaning is " delicate ; weary". Biblical : Jacob's first wife , the mother of Dinah and six of Jacob's twelve sons . The name was revived by the Puritans . Léa is popular in France . Leah has 4 variant forms: Lea , Lee , Leia and Leigh .

Fun to be with!
Did you know? - The girl's name Tess \t(e)- ss \ is a variant of Teresa ( Greek ), Tessa ( English ) and Theresa ( Greek ), and the meaning of Tess is "late summer ".

The old folks!
We had a delightful evening of banter (an exchange of light, playful, teasing remarks; good-natured raillery) and excellent food and nectar from the vines!