Time To See The World Of Color Up Front And PErsonal
Sue called and got reservations to dine at California Adventure and the experience was super... We envisioned the food to be poor at best (for $40/person) but it was great. Sue had a pasta/vegetable dish with marinara sauce while Paul had a sea food pasta dish that was quite spicy! A couple of glasses of wine and we were ready to go!
Pre-Show Activities

Speak to the hand (if you are trying to take a picture without my lipstick on)

OK, I am ready now

Dessert was interesting

Two glasses of wine and two cups of coffee... Paul is ready to go!

Here's to ya!

Great outdoor but inside seating!
By eating at California Adventure we got "Reserved Viewing" location right in front of the show!

A view from our seat
We Walked To Blue Sky
Did you know? - Walt Disney Imagineering Blue Sky Cellar opened October 20, 2008, replacing the old Seasons of the Vine Theater at Disney's California Adventure at the Disneyland Resort in Anaheim, California. The exhibit is a preview center intended to promote upcoming attractions coming to the park, such as the The Little Mermaid: Ariel's Undersea Adventure dark ride, Silly Symphony Swings, Goofy's Sky School roller coaster, the Disney's World of Color water show, Buena Vista Street and the Cars Land themed areas. A preview film can be viewed in the Blue Sky Cellar, that features Imagineers talking about the upcoming attractions. The film will be updated as the progress of construction continues.

The Red Cars are coming back to "LA"

Aerials Grotto comes alive

A view from above!

With Cars Land
The Requirement To Scare Paul For Nine Minutes.... The Mickey Fun Wheel
Did you know? - Mickey's Fun Wheel is a 160-foot-wide (or 48.8 meters) Ferris wheel at Disney California Adventure, at the Disneyland Resort in Anaheim, California. Inspired by Coney Island's 1927 Wonder Wheel, the attraction features swinging and stationary gondolas and features a large replica of Mickey Mouse's face in the center.
Mickey's Fun Wheel differs from conventional Ferris wheels in that 16 of its 24 gondolas ride on interior rails so that they slide inward and outward as the wheel rotates. This results in a more intense experience, and motion sickness bags are provided in each gondola due to the disorienting nature of the ride. The other eight gondolas are fixed to the rim of the wheel and do not slide on rails.

We can see the hardware in the lake... See the projector at the top of the house

An amazing amount of construction going on

1200 spigots
World Of Color
Did you know? - World of Color is a new nighttime show at Disney California Adventure, part of the Disneyland Resort in Anaheim, California. The entire show cost $75,000,000 USD to design, manufacture and build , premiering on Friday June 11, 2010 as part of "Summer Nightastic!". Designed by Walt Disney Creative Entertainment, this show has more than 1200 fountains and includes lasers, lights, and fire with high-definition projections on mist screens similar to the ones used in Fantasmic! at Disneyland/
From 140 Feet Above The Lake

We are looking down from the Ferris Wheel into the lake containing 1200 fountains
Did you know? - he show was first announced as part of the Disney's California Adventure expansion in the fall of 2007. Construction for the water show began with the draining of the lagoon on November 3, 2008. Construction on the platform began on January 5, 2009. The water was refilled in Paradise Bay in November 2009. Testing began during and after park hours in January 2010.
We had to stand for a while before the show but it was well worth it

Dusk has arrived and California adventure is transformed
Did you know? - The show uses 1200 fountains that can shoot water up to 200 ft in the air (50 feet taller than the Ferris wheel). Each fountain is equipped with an LED light ring. Other water features include a 380-foot-long mist screen on which images are projected.
Fire nozzles are capable of shooting flames up to 50 ft in the air. Fog and lasers are used. Projection domes emerge from the water and feature different lights and videos projected onto them. A large frame was installed in the lagoon, to create Chernabog (the massive nocturnal demon) of Fantasia, but the tower has not been used since May 2010.
Mickey's Fun Wheel has its lights synchronized throughout the show. There are also projection domes that rise out of the water to create planets and an underwater musical band, among other things.
The Pre-Show Activities Were Great... A Little Audience Participation

Each character was a distinct color

Mickey goes dim and the show begins
The Show Begins

Wow.. The colors were spectacular
Did you know? - The fountains in "World of Color" can send water to heights ranging from 30 feet to 200 feet (by way of comparison, Mickey's Fun Wheel reaches a height of 150 feet, some of it below the edge of the lagoon).

Aerial

Aerial
Did you know? - The World of Color platform is longer and wider than a pro-football field! The platform is also capable of settling on three different levels – one for the performance, one under the water surface, and one for maintenance.
Did you know? - The soundtrack was recorded by the 100-piece London Symphony Orchestra.
Did you know? - A combination of special and water effects are used to create the show including grid nozzles, chasers, water ships, duel water whips, blow pops, dancer fountains, transformer nozzles, mist screens, 20k digital projectors, projection domes, fireballs, fire whips, and MEE fog.
Did you know? - There are 28 high-definition projectors (14 of them, submersible) utilized in the show.
Did you know? - There eight specialized water effect fountains in the show: Grid Fountains, Chaser Fountains, Single Water Whip Fountains, Dual Water Whip Fountains, Flower Spout Fountains, Dancer Fountains, Butterfly Fountains, and Geyser Fountains.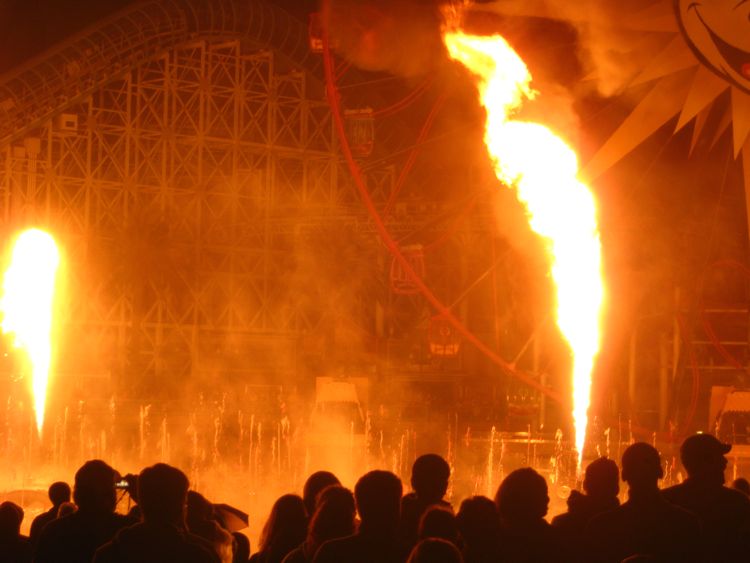 The fire warmed up the audience
Did you know? - 1200 Custom LED rings (one around each fountain) provide the color needed for the fountains. Each ring is equipped with 288 LEDs.

Flames were random

You can feel the heat as the flames go 50 feet into the air

Lady and the Tramp

Beauty and the Beast

Mickey as the Sourcerer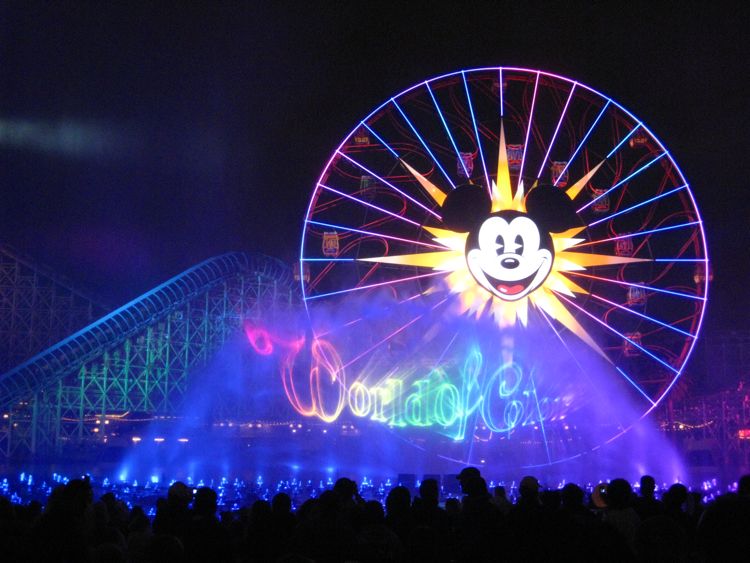 Simply Wow!
The breakthrough "stars" of "World of Color" are:
Grid Fountains: Living up to their mechanical moniker, Grid Fountains cover the entire underwater platform for "World of Color" in a network that creates a vast "ensemble cast" of aquatic actors. Positioned eight feet apart, these vertical fountains are capable of firing water up to 40 feet in the air. Their on-stage specialty is creating massive, three-dimensional designs, such as a whale moving through the lagoon.
Chaser Fountains: Always "chasing" applause from fountain fans, more than 400 Chaser Fountains create lightning-fast effects that follow – or "chase" – each other in rapid-fire succession. Engineered with a unique stop-action valve, these up-and-down fountains allow booming beads of water to be projected up to 80 feet high, creating artistic patterns above the water's surface.
Single Water Whip Fountains: While their name doesn't imply "grace," the Single Water Whip Fountains are some of the most graceful and elegant featured in "World of Color." With independently moving heads that can sway in any direction and project water more than 100 feet in a vertical pattern, more than 75 Single Water Whip Fountains join together to perform a mesmerizing ballet.
Dual Water Whip Fountains: A close sibling to the Single Water Whip Fountains, Dual Water Whip Fountains create not only vertical patterns, they also can transform water into wider, fan-like designs. Combined, these water wizards create a 380-foot projection surface which rises 50 feet in the air at the rear of the underwater platform. In theatre parlance, the 65 Dual Water Whip Fountains create an ultimate cyclorama on Paradise Bay – a water screen that measures more than 19,000 square feet.
Flower Spout Fountains: One dozen Flower Spout Fountains pepper the platform beneath the surface of Paradise Bay. Among the most versatile actors in the show's aqueous cast of players, these fountains have nozzles that can shoot high-velocity streams of big, frothy water and then easily transition the shape of those streams into a "blooming" 60-foot-wide flower petal.
Dancer Fountains: Six Dancer Fountains perform in "World of Color," with swirling dual nozzles that create intertwining streams of water. Much like dancers performing in a Broadway theater company, their graceful, choreographed movements create a sprightly scene to complement the cast.
Butterfly Fountains: A delicate quartet of Butterfly Fountains creates a smooth and serene effect, fluttering just above the water's surface throughout "World of Color." With butterfly-like wings, they deliver smooth, yet stunning patterns.
Geyser Fountains: The most "vocal" member of the "World of Color" fountain cast, Geyser Fountains launch 40 gallons of water at once, creating a distinct "pop" sound that echoes throughout the bay. Along with being the loudest of the performers, the 10 Geyser Fountains also live up to their name by being the most powerful; each Geyser Fountain can shoot huge bursts of water that reach 200 feet into the sky.
After Leaving The Lagoon And On Our Way Out We Saw Disneyland's Fireworks

Boom
The Guard Dogs Were At Work

They now want to go see the World Of Color