He Was An Amazing Little Guy... Yough Beyond His Size
Daddy dog passed on May 1st 2008 after a two and a half year long brave bout with cancer in the mouth and nose. He passed quietly this morning but left much joy in our lives. He was a one of a kind. He now joins Valentine over the Rainbow Bridge .

Miffy
Mickey is about 5 pounds of pure meanness... well, not really. This daddy dog is a real joy in our lives acting so brave in the face of adversity. He is not afraid of anything except his friend Duke!
He was a young father having five babies when he was one year old! In our most recent conversation, he confided the following:
Vocabulary: Sit, shake, speak, stay, come here, go, walk, outside, no, good boy, go pee, go get it, where's, Paul, Sue, Valentine, Pinky???
Computers: "HTML isn't so hard. Hitting just one key with your paw -- now that's tough."
Greatest Joy: "There is no greater joy in life than to get someone to give-in just because you give them your best sad look."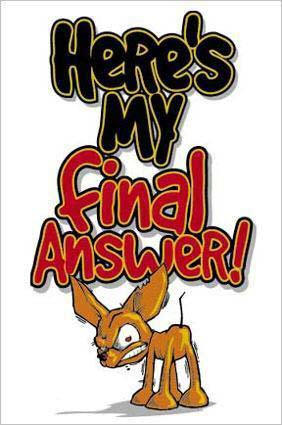 Daddy dog!
Future Goal: "I want to learn how to play 'Tequila' on the Piano."
Favorite Treats: Broccoli, meat from "The Meat Man", fresh peas from the garden.
Records Held: Chihuahua World Record for throwing a grape six feet.
Hobbies: Playing with toys, barking at neighbors and squirrels, sleeping, taking walks, sniffing new smells, going on walks, barking at the neighbors
Abilities: The usual dog tricks (sit, shake hands, speak, stand up). Avid protector of the yard and house. Awesome bladder control.
Most Frequent Thought: "What's that? Can I eat it?"
Favorite Saying: "Once I pee on it it's mine."
On Religion: "In Doggy Heaven, everything's carpeted and every dog has a homepage."
Dirty Secret: "If you're cute enough, anything in the world can be yours."
Advice to Other Chihuahua Boys: "Never, ever, let them put a bow in your hair."
Remembering Mickey
Mickey, as a youngster, jumped upon the table one holiday and found a large cheese ball (bigger than him) and drug it off the table onto the floor and hide under the couch with it!
Mickey laid in the bed with Valentine and his puppies when they were infants and Valentine approved!
Mickey would bite (not hard) his kids every morning to let them know who was the boss!
Mickey loved watermelon and during his last days he ate watermelon many times to satisfy his need for water.
Mickey stayed next to Sue when she underwent the cancer and back surgery recovery. He protected her from anyone that came near!
Mickey had floppy ears for years and one afternoon for sime reason will still do not understand they stood up and stayed that way until his passing.
Valentine would often "yell" at Mickey and Mickey would respond by moping around the house for days until Valentine would forgive him. It was an amazing dynamic to watch!
He knew he was "The Mouse Of The House".
---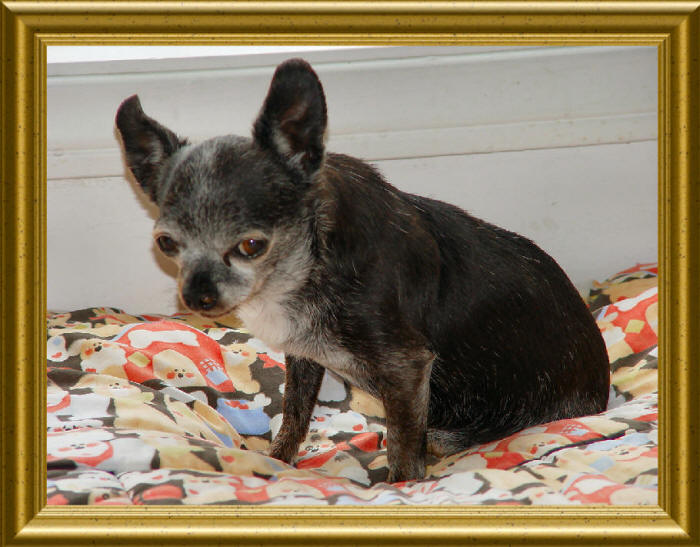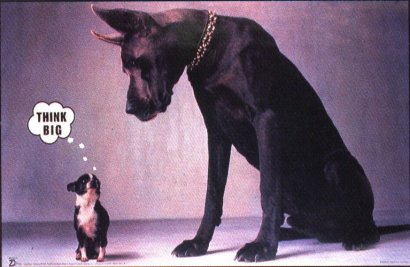 These pictures (T-Shirts and Posters) are available from
BigChihuahua