Meet The Two That Started It All!

Mickey & Valentine
Hi! I am Valentine and I am married to Mickey the Wonder Dog ... he often wonders if he really is a dog!! We have five kids... three who lived with us . Oh! We have two pet humans .. We call them Paul & Sue!

See what our humans think about us! Come look around at some of our web pages! Here we are in action !

The Mommy (Valentine) and Daddy (Mickey)- My birthday was February 14th, 1994 - naturally - and Daddy's 10th birthday was August 21, 1995! Yes, I married a younger man!
Our kids (five of them) were born August 22, 1996 when Mickey was just one year old! See our Family Reunion May 5th, 2003 | Valentine & Mickey's Babies
About Chihuahua's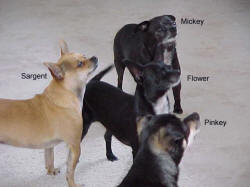 The babies
About the Chihuahua - Chihuahua (chî-wä´wä), small TOY DOG; shoulder height, c.5 in. (12.7 cm); weight, 1-6 lb. (0.5-2.7 kg).
There are two varieties: the smooth, with a short, close-lying, glossy coat, and the long-coated, with soft-textured, flat, or slightly wavy hair.
The coat is usually tan. Probably of Chinese origin, it was introduced into Mexico by Spanish settlers. Things you should know...
Mom And Dad Always Brag On How Smart We Are!


There is a lot of thruth in this!
The Family
Since this page was put together, we have lost Tia (June 15, 2004) , Valentine (May 8th, 2005) , Mickey (May 1st, 2008) and Pinky (8/11/2008). These little guys are just wonderful people and we miss them so very much!
Tia (Spanish For Aunt)
Tia is the Aunt. Are you as good as your dog??? Tia came to us from Sue's mother, Rita and joined the little pack of wild-ones in 1999. She was almost twelve then.

She was a hearing dog (i.e. trained and certified to be able to listed for certain sounds and go to her owner and alert them. Hearing dogs are to t/he deaf as seeing dogs are to the blind!

Tia passed on June 15th 2004 at the age of 16 and a half) after providing many years of enjoyment and amazement to all that she knew! She was the baby and a real lady!
Valentine (Mom)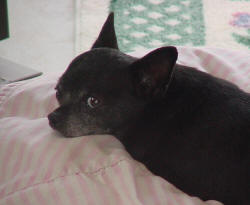 She's the mommy dog. Supreme Commander of Force Chihuahua . Valentine was our "mommy Dog". She was the mother of five Chihuahua babies at one time. She was married to Mickey.

Valentine passed on May 8th 2005 after a very short illness at the age of 13. It is our belief that she didn't want to be sick!

She was a character! Afraid to get her paws wet she would NOT walk in water. She brow-beat Mickey and was constantly hurting his feelings! She loved the babies!
Mickey (Dad)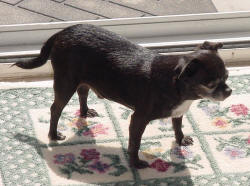 Mickey - Daddy Dog rules the roost and to the day he passed he "bit" his children if they misbehaved. Maybe we should say "nibble".
The kids knew who is boss! Mickey believes in the Chihuahua Pledge and practices it on a regular basis. Mickey was a brave boy as he has been suffering with nose cancer for almost two years. We lost Mickey in May of 2008 after a brave fight and he passed in his little bed by his window looking out at his yard.
Flower
Flower - Flower is the resident Blond! Sweet as sugar, dumb as dirt! But a lover at heart!
Her specialty is training the house sitters and cleaners. Just ask "Aunt Laurie" about a certain training episode. Flower believes in practicing the rules of the house.
We were worried when her sibblings were all gone because she was never alone! Dang! She became the star of the house! Moving between beds and food bowls, she must have put on 1000 miles!
Pinkey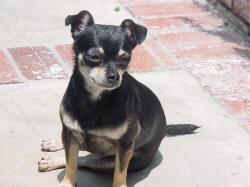 Pinky - She was our Six Million Dollar dog! She was deaf and could nothear anything! She must always be closest to Sue or there is heck to pay!
She is funny to watch as she gets her "when to bark" queues from her Dad and siblings!
She loves the famous quotes about dogs! Sometimes she is a bully being the largest of the bunch weighing in at almost eight pounds. The Amazon Chihuahua! We lost her to kidney failure on 8/11/2008.
Sarge
The Sarge - Born "Sergeant Seventy-Six" at the Union 76 gas station on way to the vet. He and Flower went to live with Colleen and Pet Chartier but after their separation, the babies returned to our home joining the other four!.
Military life was not for Sarge... he prefered guarding the house and watching Mom and Dad!.
He was a double for the Yo quiero taco bell dog! We lost Sarge June 6th, 2012 of old age. He was a trooper.