Going Home
Packing time. Sue does the magic while Paul provides the manual labor!Tote that bag, lift that handle!She looks surprised! A little time for "The Discovery Channel" while piles of clothing get put into little bitty bags!
But in one hour, all will be back to normal. The bags will be on the way to the bottom of the ship and ready to transfer to the van for their final trip home!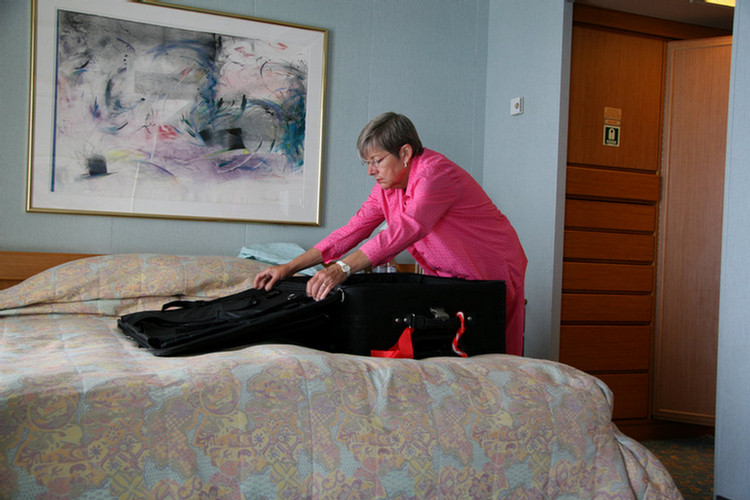 Sue is the best packer in the world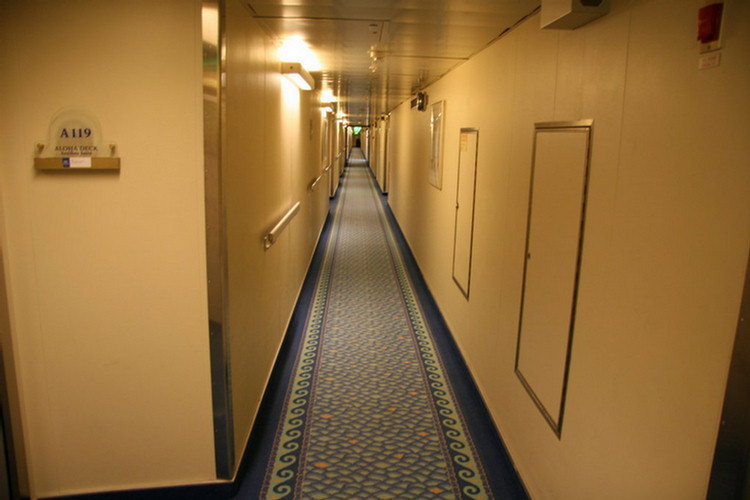 The hallways are empty... Everybody is busy packing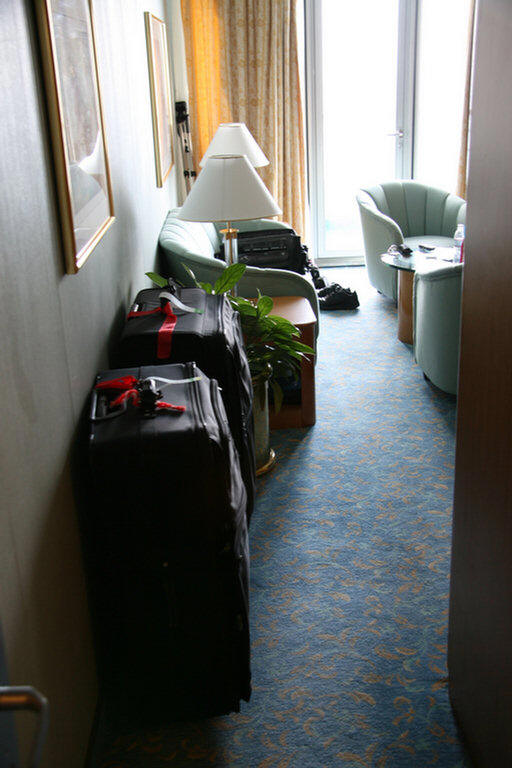 We are ready to go
Ensenada
Needless to say, we did not get off as it was a "service call" . That means mecause of the STUPID rules of the American government, ships cannot have gambling between two American Ports so they have to stop in a foreign country (Ensanada???). We do it to ourselves.
Did You Know? - On June 25, 2010, Senators John McCain and Jim Risch introduced the Open America's Waters Act, a bill to repeal the Jones Act. Sen. McCain said the Jones Act restricts shipping and raises costs to consumers in Hawaii, Alaska, Puerto Rico and Guam.
"The legislation that would fully repeal the Jones Act, a 1920s law that hinders free trade and favors labor unions over consumers. Specifically, the Jones Act requires that all goods shipped between waterborne ports of the United States be carried by vessels built in the United States and owned and operated by Americans. This restriction only serves to raise shipping costs, thereby making U.S. farmers less competitive and increasing costs for American consumers".
"This was highlighted by a 1999 U.S. International Trade Commission economic study, which suggested that a repeal of the Jones Act would lower shipping costs by approximately 22 percent. Also, a 2002 economic study from the same Commission found that repealing the Jones Act would have an annual positive welfare effect of $656 million on the overall U.S. economy. Since these studies are the most recent statistics available, imagine the impact a repeal of the Jones Act would have today: far more than a $656 million annual positive welfare impact – maybe closer to $1 billion. These statistics demonstrate that a repeal of the Jones Act could prove to be a true stimulus to our economy in the midst of such difficult economic times.
"The Jones Act also adds a real, direct cost to consumers – particularly consumers in Hawaii and Alaska. A 1988 GAO report found that the Jones Act was costing Alaskan families between $1,921 and $4,821 annually for increased prices paid on goods shipped from the mainland. In 1997, a Hawaii government official named Gene Ward asserted that Hawaii residents pay an additional $1 billion per year in higher prices because of the Jones Act. This amounts to approximately $3,000 for every household in Hawaii.'"