Post Lunch And Returning To The Station (Page Three)
We have visited many stops along the way and musy point out that we have our beer drinkers along with us so they made a series of interesting stops before returning to the station.
The "Beer People" Are Also Having Fun!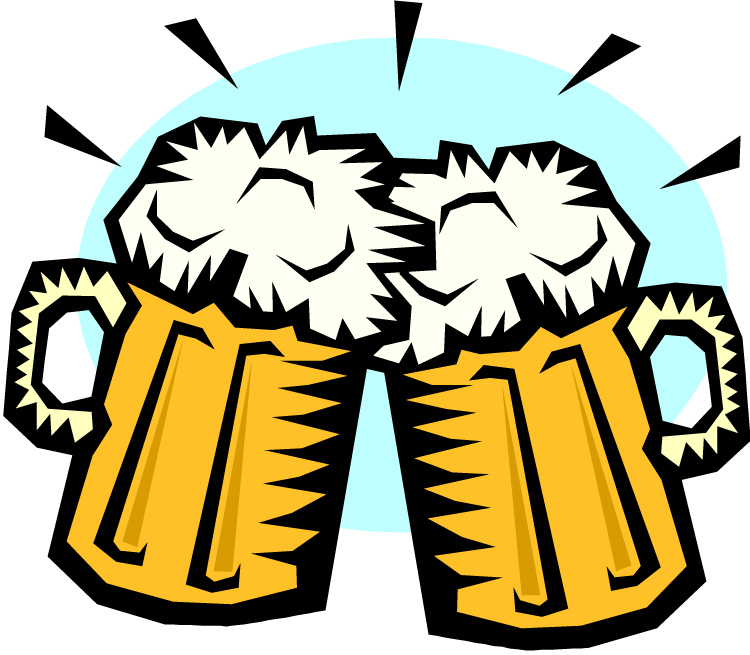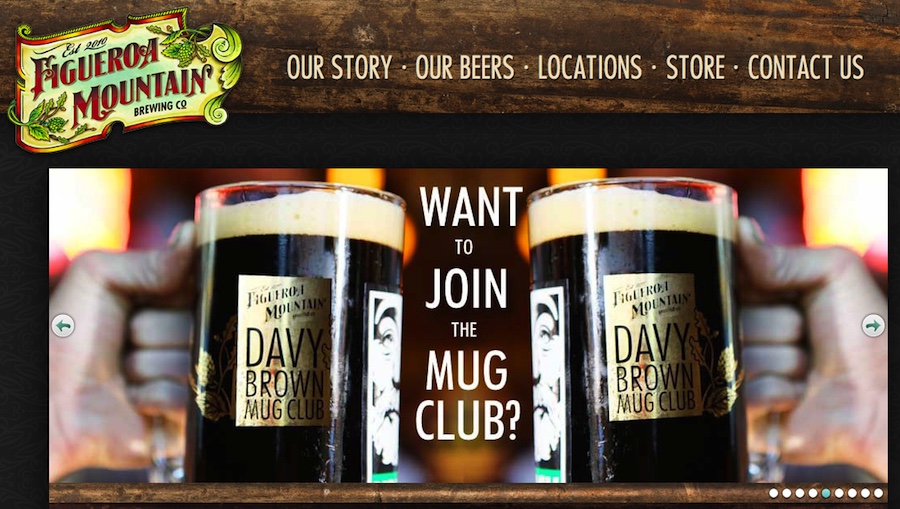 Did You Know? - Jim and Jaime Dietenhofer are a father & son team with a passion for quality beer. Both businessmen and entrepreneurs, they've grown their companies on hard work and quality products. Jim raised his family in the Santa Ynez Valley along with wife Judie, and have enjoyed its natural beauty and the character of its inhabitants for years.
Starting this business has been a dream of the Dietenhofers for some time, and they feel fortunate to provide patrons the quality that they deserve. Jaime's wife Meighan and sons Anders and Gray are also key supporters of the operation.
Figueroa Mountain Brewing has focused on producing top tier beers from day one. They attribute that to not only the necessity for the highest quality ingredients, but the same expectations for their staff.
"We believe that success in this business like other industries starts with building a culture that is focused on always improving and never feeling complacent with mediocrity, always striving to better yourself and your business every day."

Tasting beer looks interesting (Courtesy of Hans Thedens)

The gentlemen provide sound effects

Dang.... Maybe it is time to switch (Courtesy of Hans Thedens)

Welcome To Figueroa Mountain Brewing (Courtesy of Gary Gray)
Meanwhile Donna Has Us Moving Again!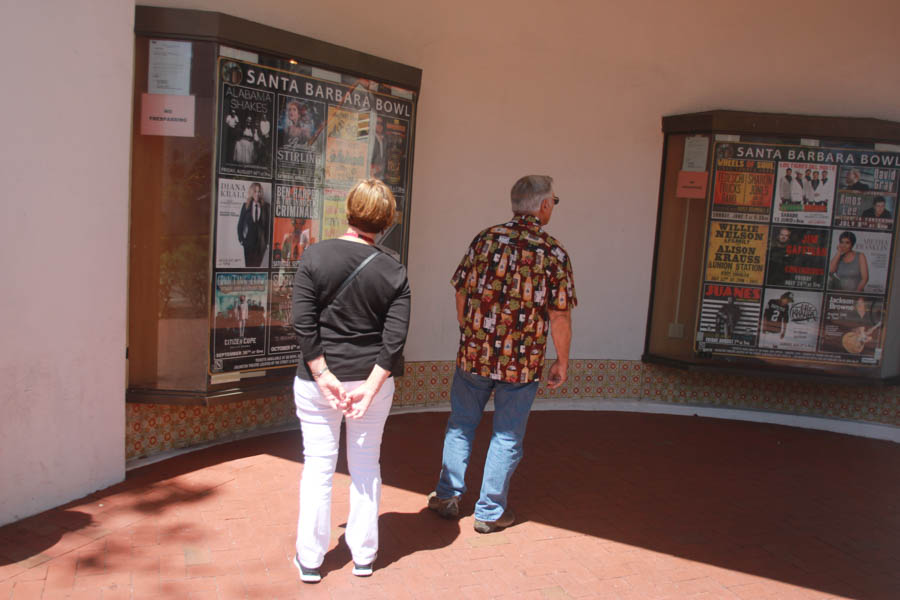 "No time for movies... We have wine tasting to do!"
Did You Know? - Tucked away in the center of Santa Barbara lies a piece of Santa Barbara history and one of its most unique jewels. In true Santa Barbara style, with entrances on State Street and Figueroa, La Arcada is a quaint and charming substitute for the larger malls.
La Arcada boasts some of Santa Barbara's top restaurants and art galleries as well as hosting a number of retail boutiques and services. Tile-lined walkways, fountains, sidewalk cafes and beautiful sculptures decorate the lush landscapes. Above the street level courtyard, La Arcada is also home to many businesses and firms.

Walking down the narrow walkway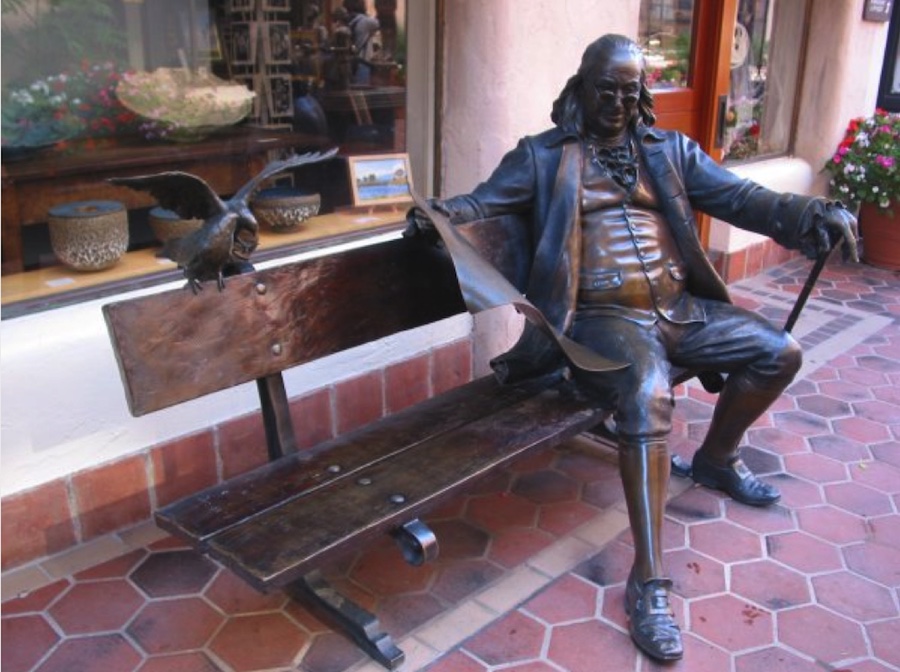 Hey Ben... How are you?
Did You Know? - Bronze is the most popular metal for cast metal sculptures; a cast bronze sculpture is often called simply a "bronze".
Common bronze alloys have the unusual and desirable property of expanding slightly just before they set, thus filling the finest details of a mould. Then, as the bronze cools, it shrinks a little, making it easier to separate from the mould.
Their strength and ductility (lack of brittleness) is an advantage when figures in action are to be created, especially when compared to various ceramic or stone materials (such as marble sculpture).
These qualities allow the creation of extended figures, as in Jeté, or figures that have small cross sections in their support, such as the equestrian statue of Richard the Lionheart.
But the value of the bronze for uses other than making statues is disadvantageous to the preservation of sculptures; few large ancient bronzes have survived, as many were melted down to make weapons or ammunition in times of war or to create new sculptures commemorating the victors, while far more stone and ceramic works have come through the centuries, even if only in fragments.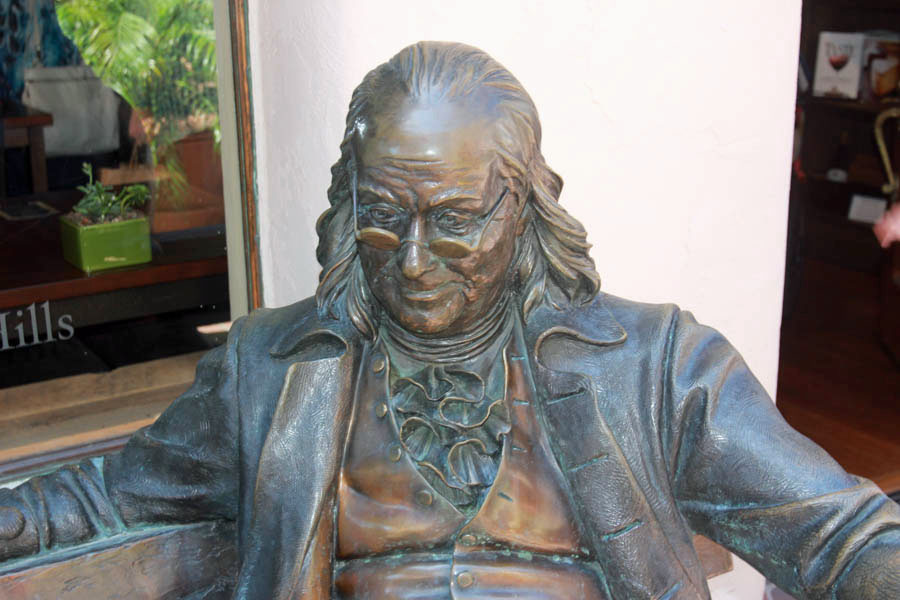 Ben keeps an eye out on us!
Did You Know? - Benjamin Franklin is depicted holding a copy of the Declaration of Independence.

In June, 1776, Franklin was a member of the Second Continental Congress and was appointed as one of the Committee of Five to draft the Declaration. Thomas Jefferson is rightly credited with the stirring language which they produced. Franklin helped Jefferson with some changes to the first draft.
The sculptor is J. Seward Johnson, Jr.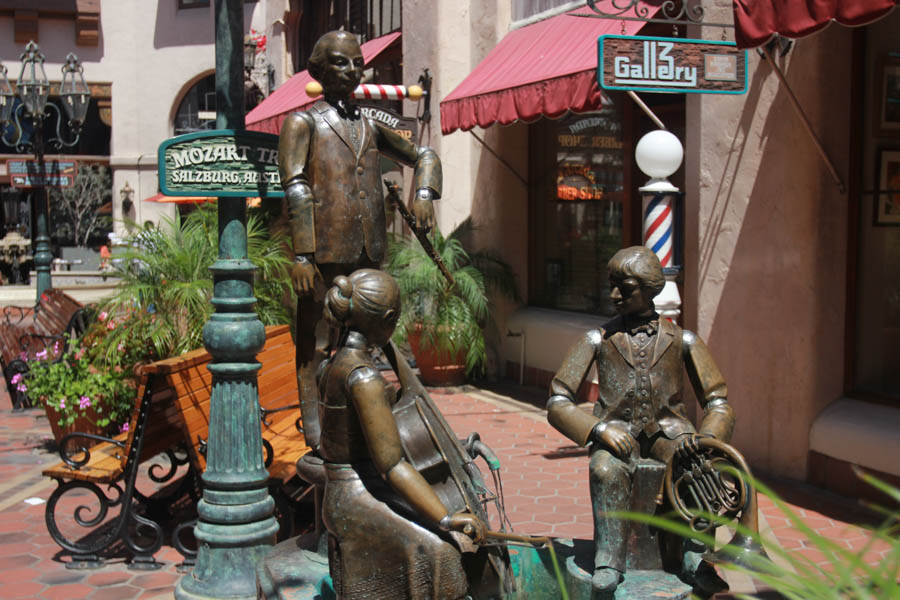 The band plays on!
Did You Know? - According to the plaque:
"A movable sculpture, designed for play. Figures can be turned and moved at their joints.
Bonifatius Stirnberg, Germany's foremost sculptor of interactive public are, lives in Aachen. His works are found in more than
fifty European cities.
The Mozart Trio Fountain is his first work on display in an American city."

Ed is doing some lecturing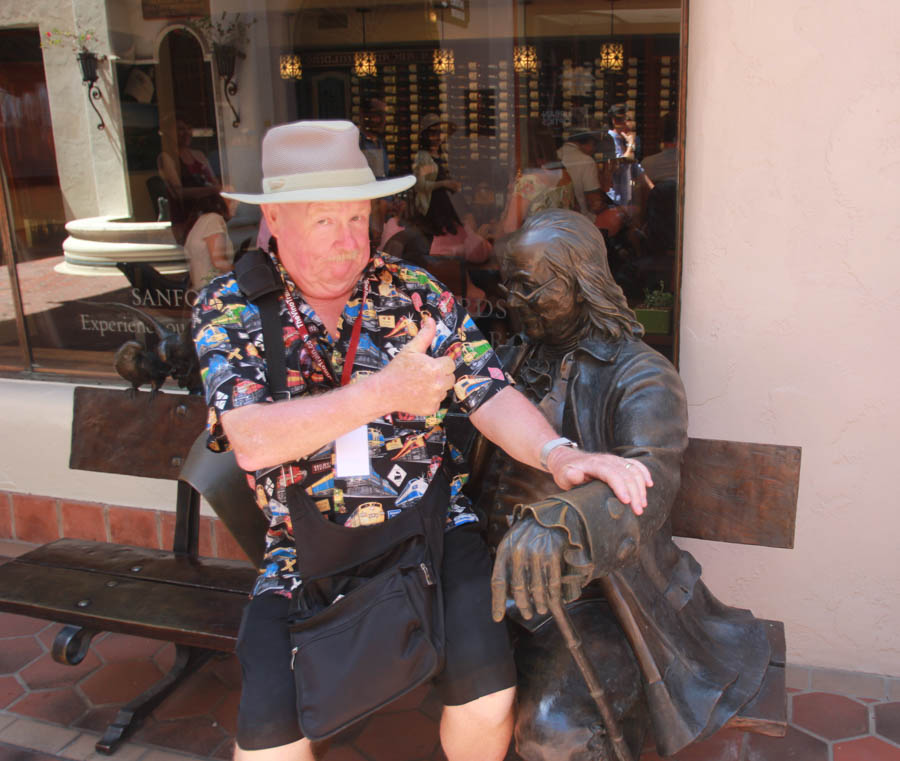 Paul asks him if he would like a glass of wine!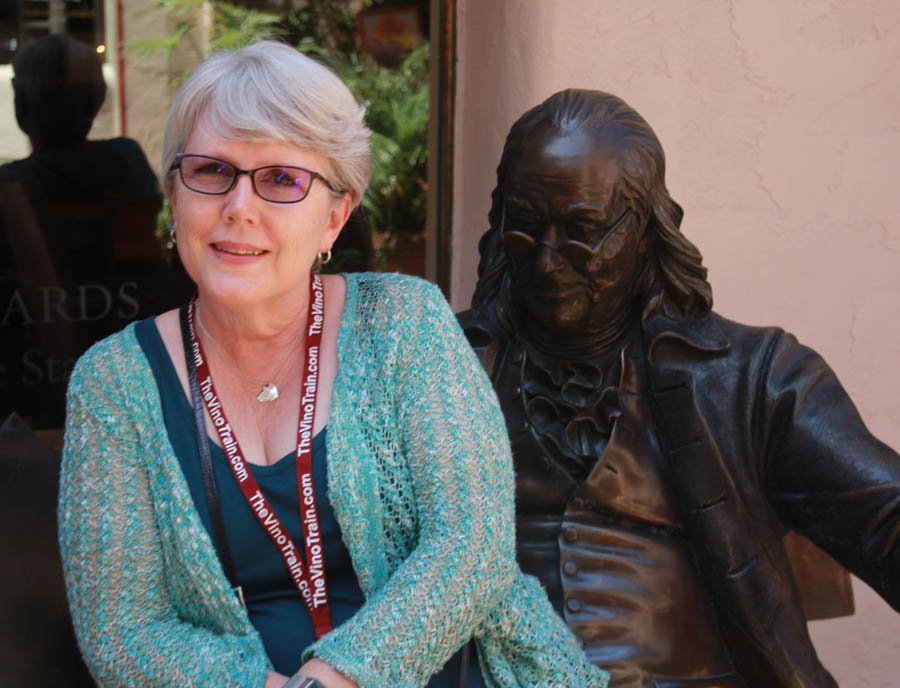 Michele and Ben!

A bit of Jolly Old England
Wine Stop #4 - Sanford Winery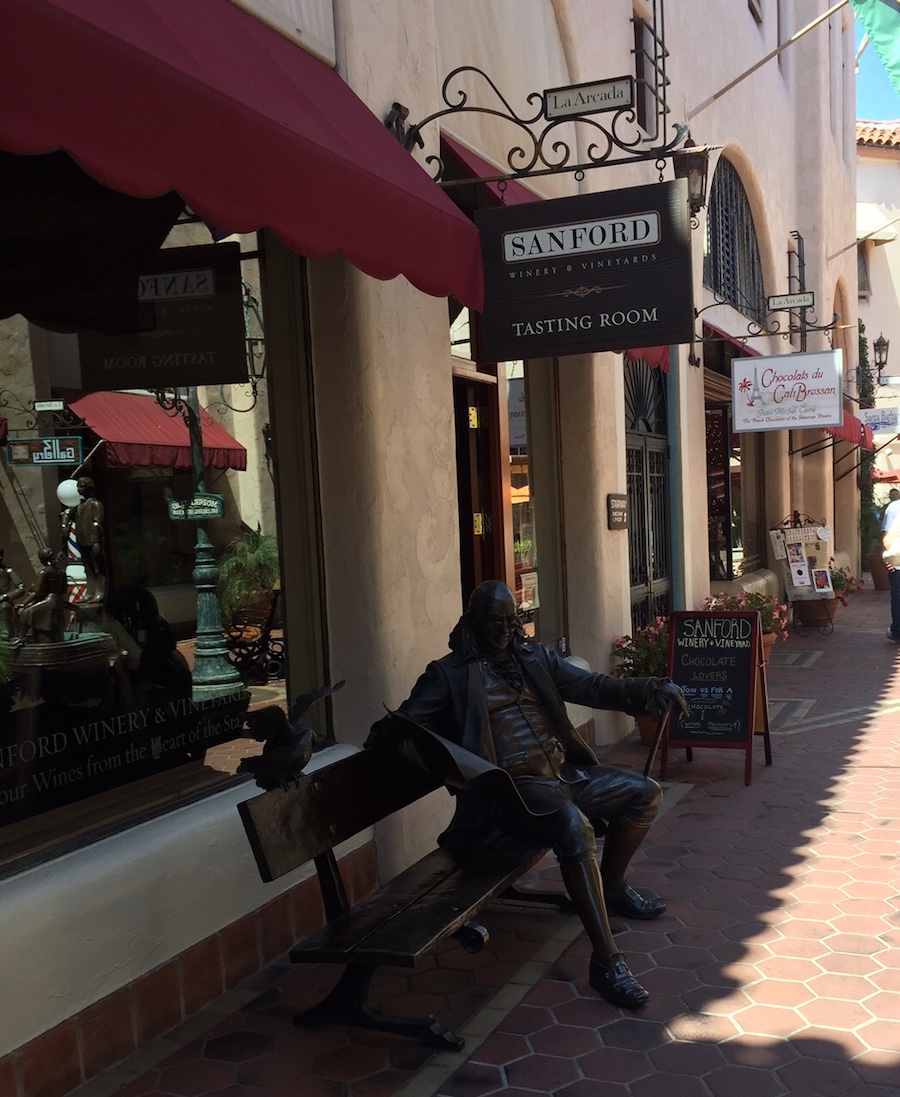 We are greeted by Ben (Courtesy of Ed Roberts)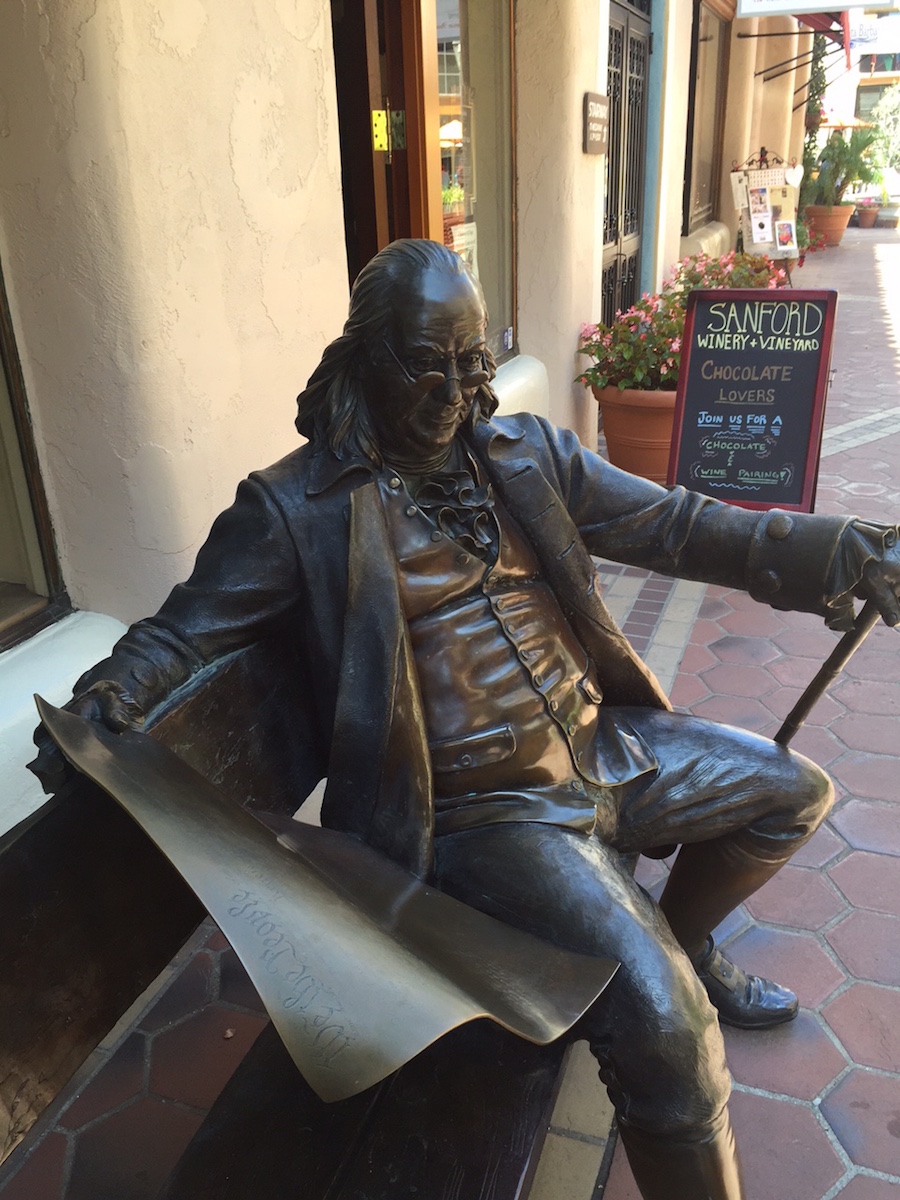 "Sit right down and tell me a story" (Courtesy of Ed Roberts)
Did You Know? - In Santa Barbara wine country, it all started with Sanford. In 1971 Sanford Winery and Vineyards discovered an overlooked, grape-growing treasure in the Santa Rita Hills. Recognizing a magical combination of climate and soil conditions much like those in France's famed Burgundy province, Sanford planted the area's first Pinot Noir in its Sanford & Benedict vineyard. Pinot Noir has thrived in the Santa Rita Hills ever since, and so has Sanford Winery.
The pioneering winery's Pinot Noir ranks among the best and most distinctive in the world. And Sanford's leadership helped put Santa Barbara and the Santa Rita Hills on the map of the world's great wine regions. Certified as an American Viticultural Area (AVA) in 2001, today the area is renowned for its Chardonnay as well as Pinot Noir.
The Santa Rita Hills AVA is 100 square miles of heaven for Pinot Noir and Chardonnay, and Sanford's estate vineyards - Rancho La Rinconada and Sanford & Benedict - lie within it. Sanford relies exclusively on these vineyards for its luscious, signature Pinots. The area owes its magic to an unusual east-west mountain valley that runs from the vineyards to the Pacific Ocean. This passage allows a meteorological ebb-and-flow between the mountains and the sea that is ideal for cool-climate varietals.
Each summer morning, a heavy Pacific fog moves eastward through the valley, holding morning temperatures in the 50's and 60's. By mid-morning, heat from the mountains pushes the marine layer back out to sea, warming the valley into the 70's and 80's.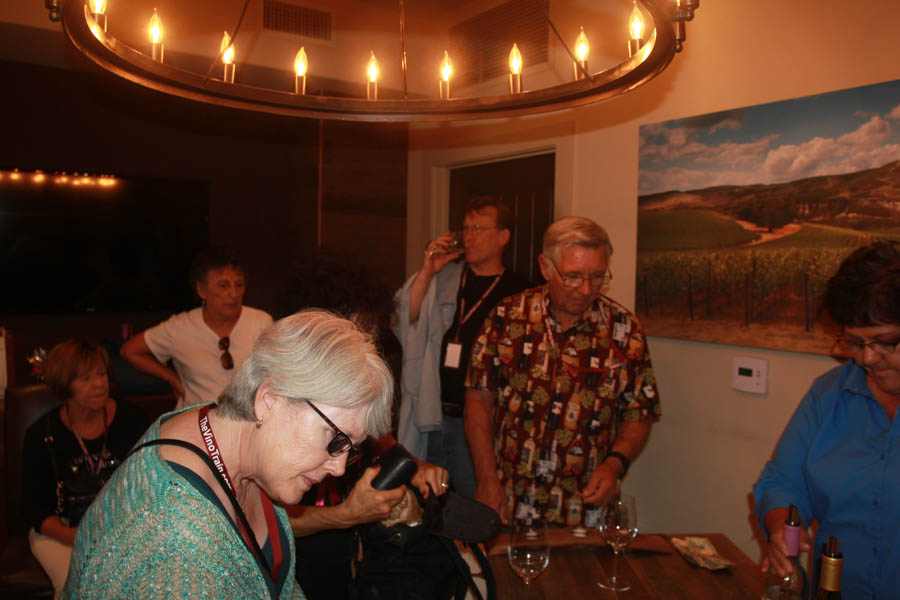 Michele makes a selection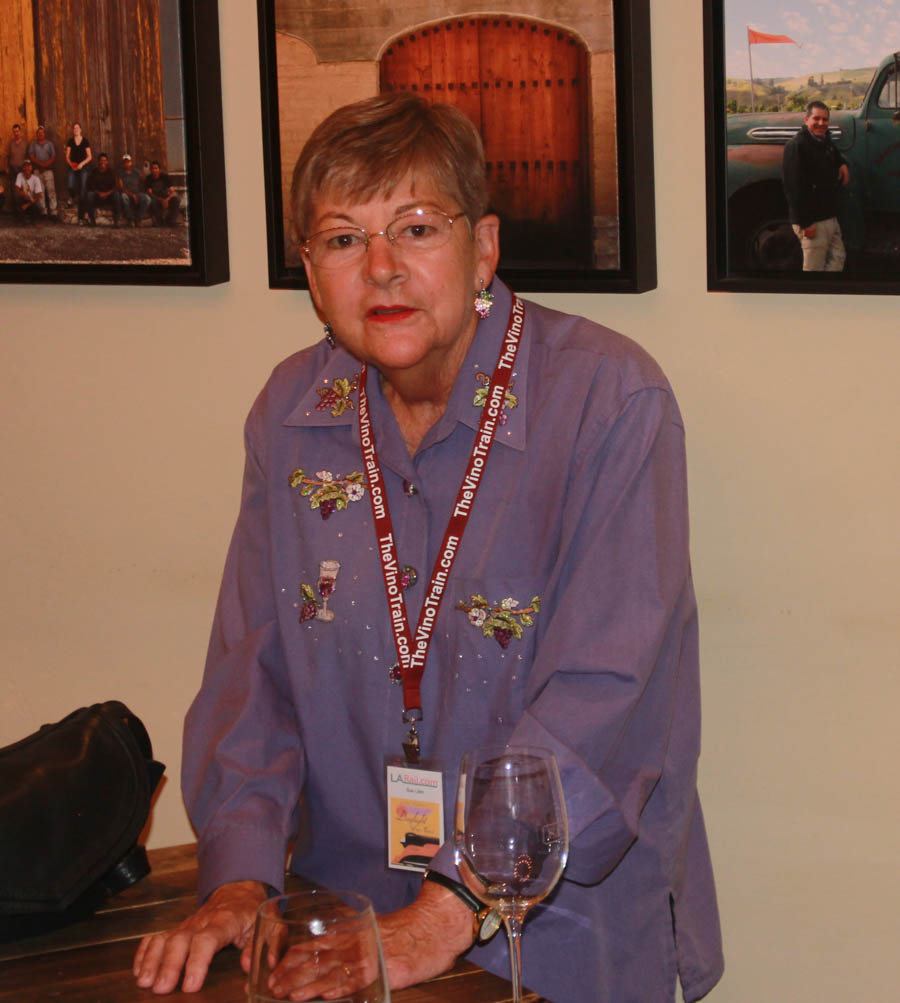 Sue is enjoying the chardonnay

The area is quite nice and interesting

"P-s-s-s-s-t There is a sobriety checkpoint two blocks down!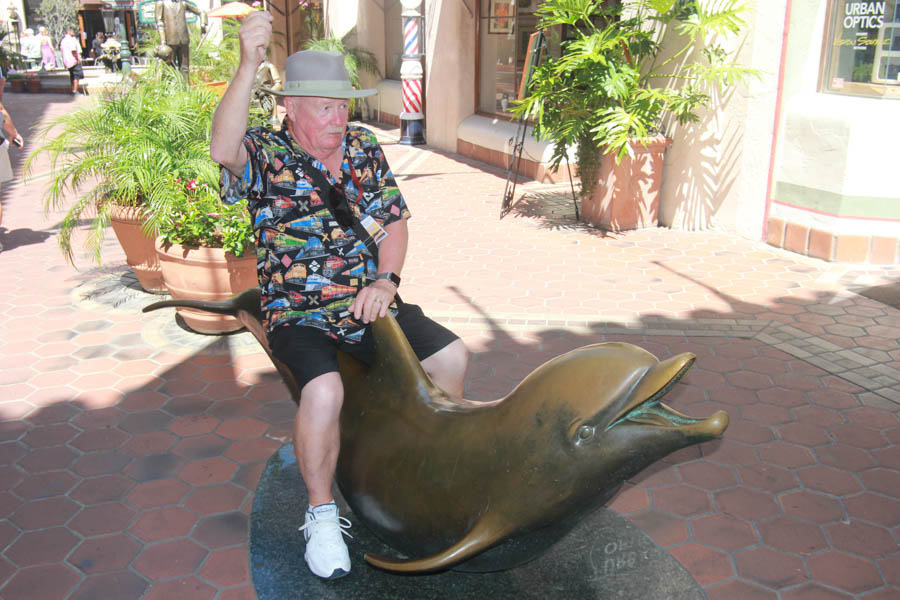 Paul rides the porpoise on purpose!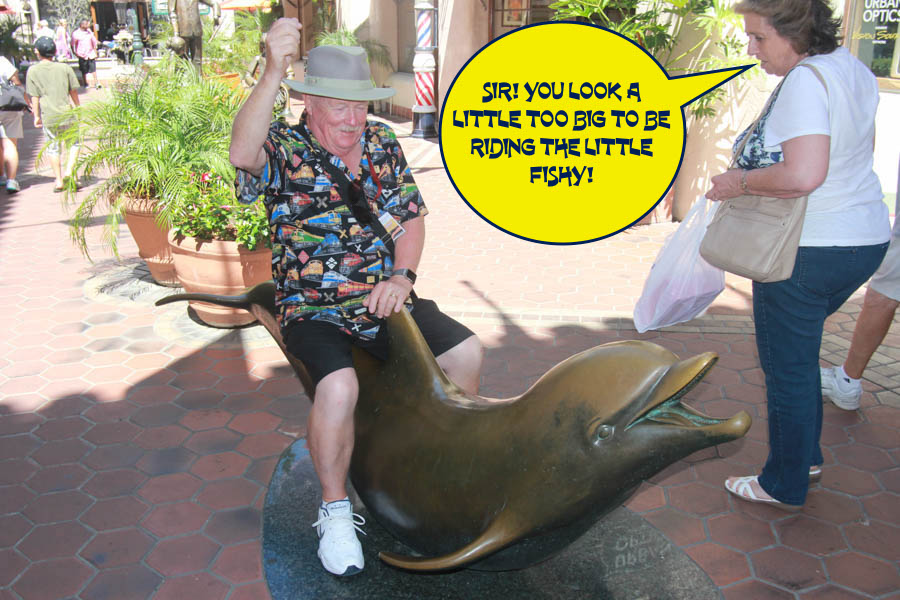 "Hang on... Yippie tie yi yippiy yippy yeah yippy yeah!"

We were going to test it but could not located any suitable black powder!

Hope it does NOT go off (Courtesy of Ed Roberts)
Did You Know? - La Arcada was designed and constructed under the supervision of famed architect Myron Hunt in 1926. The entry signs, with the lion and castle motif, were taken from original artwork on the building dating back to 1927.
The magnificent clock on State Street was modeled after an historic clock and Chicago landmark since 1880. The historic Barber Shop is a working establishment and a mini-museum of the decorative arts that embellished the hair cutting parlors in the early 1990's.
The lifelike statues by J. Seward Johnson and George Lundeen, the playful bronze dolphins by Santa Barbara artist Bud Bottoms, the inteactive Mozart Trio by Bonifatius Stirnberg, all enhance the magical experience of strolling through La Arcada.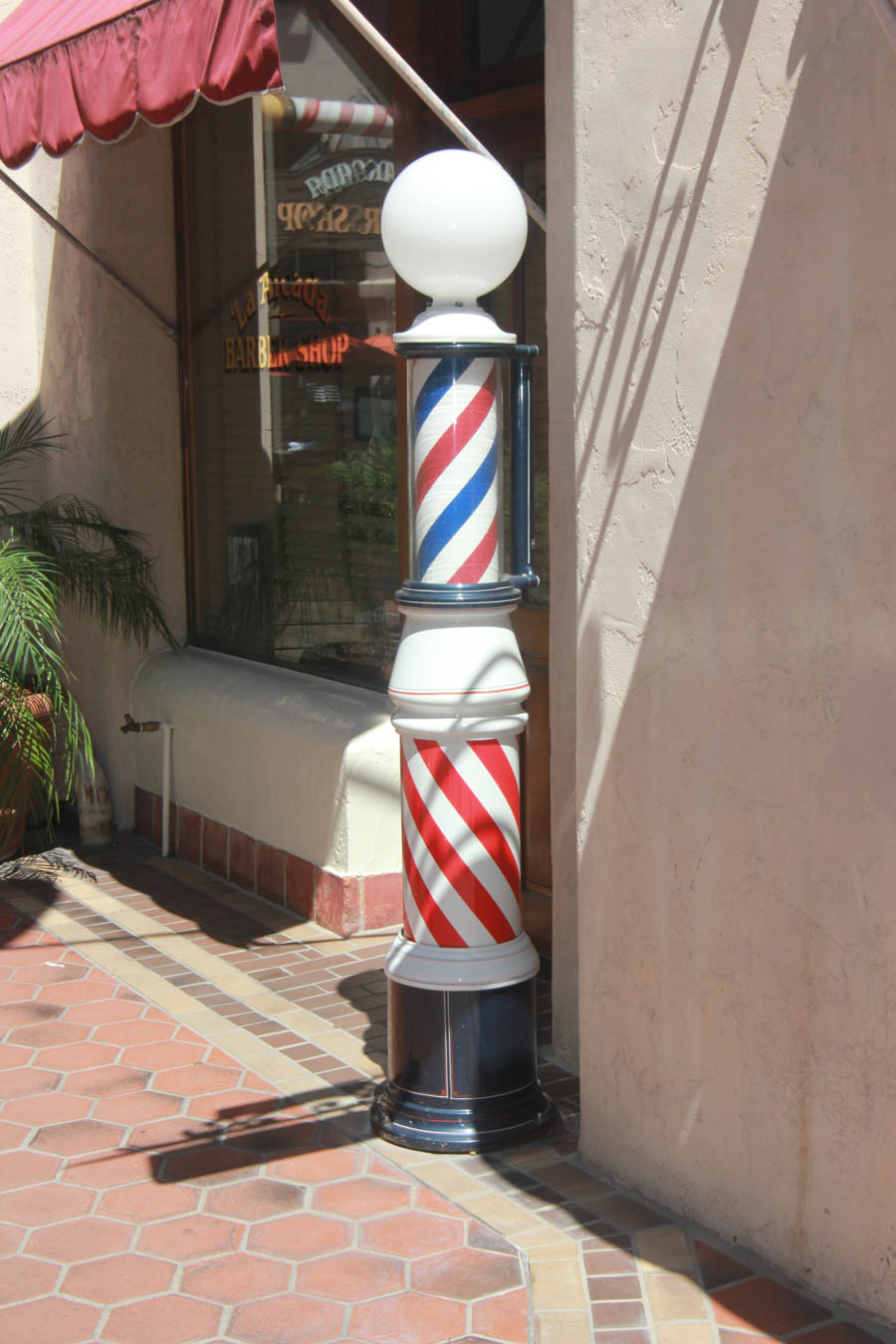 Paul was going to stop for a hair cut then he saw himself in the mirror!
Did You Know? - A barber's pole is a type of sign used by barbers to signify the place or shop where they perform their craft.
The trade sign is, by a tradition dating back to the Middle Ages, a staff or pole with a helix of colored stripes (often red and white in many countries, but usually red, white, and blue in the United States). The pole may be stationary or may revolve, often with the aid of an electric motor.
The origin of the red and white barber pole is associated with the service of bloodletting and was historically a representation of bloody bandages wrapped around a pole.
During medieval times, barbers performed surgery on customers, as well as tooth extractions. The original pole had a brass wash basin at the top (representing the vessel in which leeches were kept) and bottom (representing the basin that received the blood).
The pole itself represents the staff that the patient gripped during the procedure to encourage blood flow.

The flags were waving

Inside the ladies were still tasting!

Donna is shocked!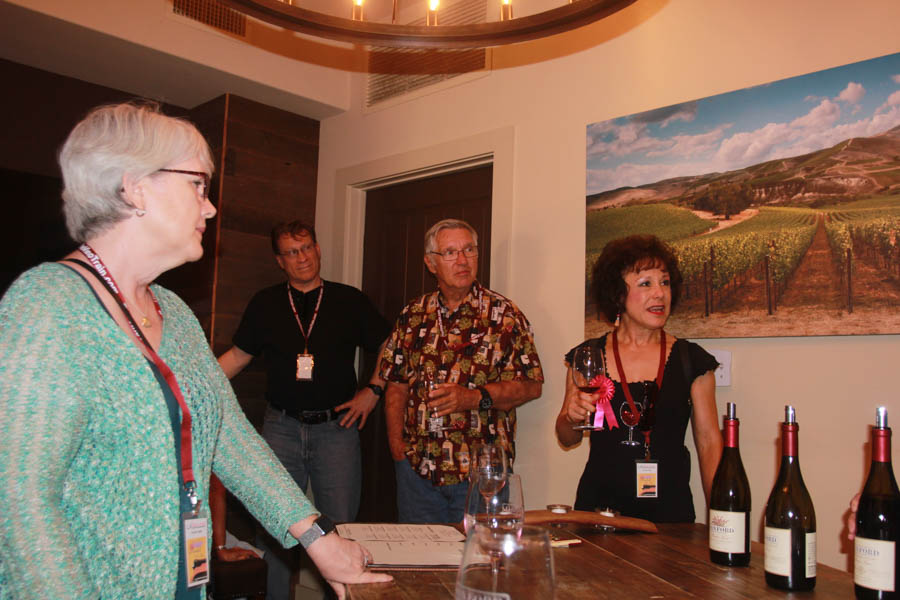 Fortunately Michele provides adult supervision!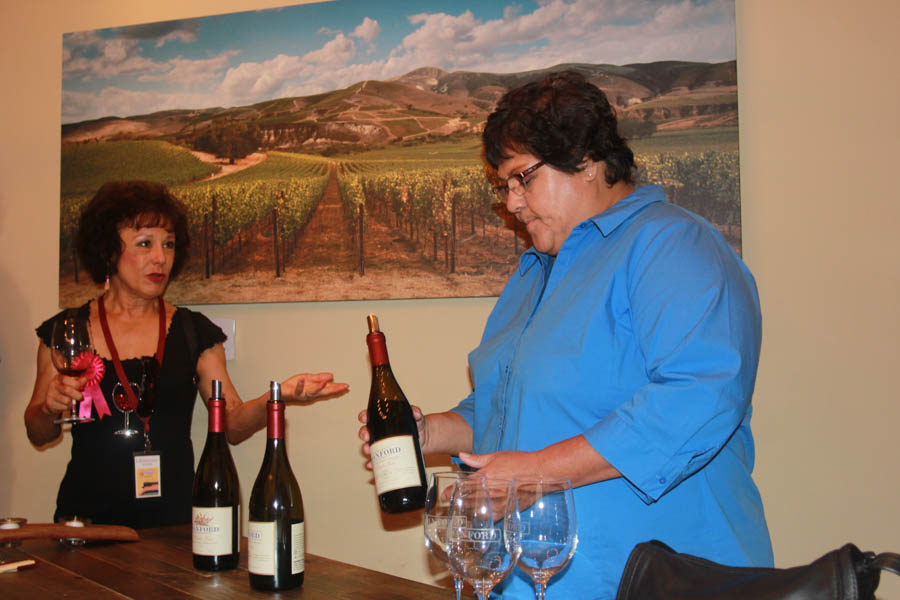 The Sanford representative was quite impressive

Ed like the Pinot Noir!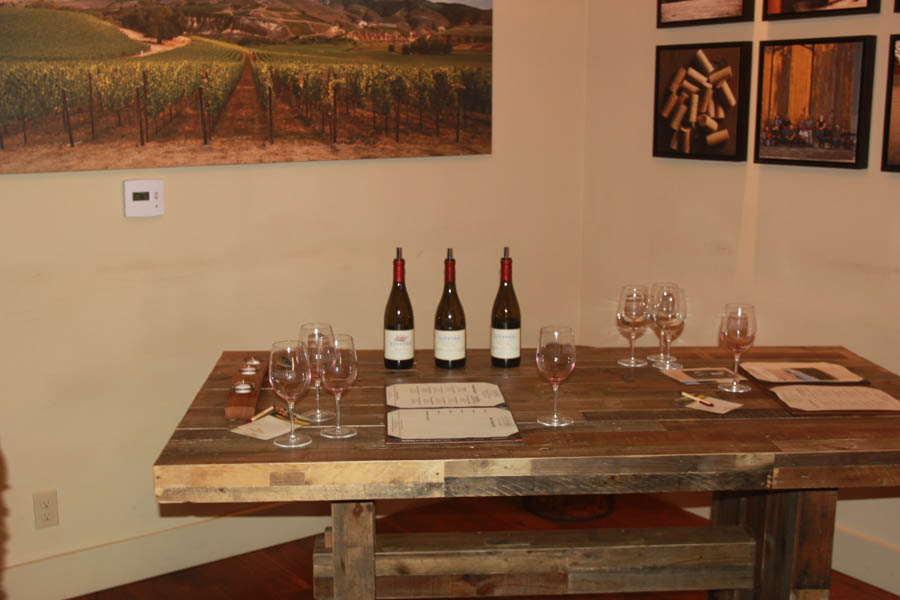 We had our own little room!

Bob thought these were free samples!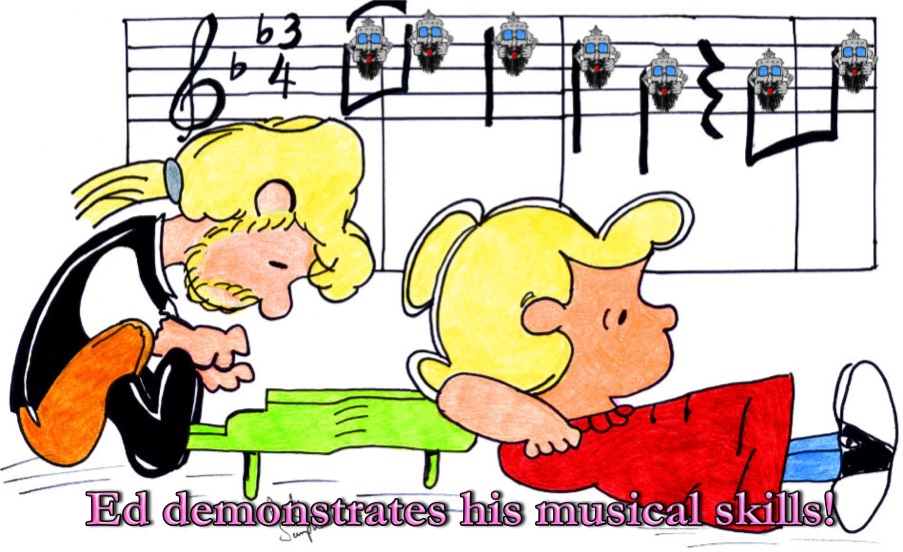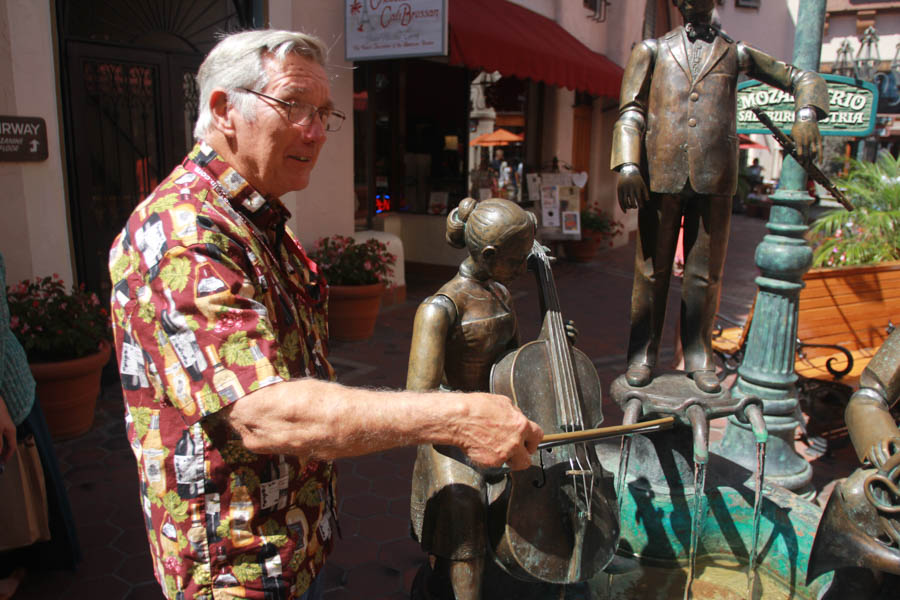 "Ed! Stop fiddling around!"

"Ouch! That hurts!"

Ed and Bob are going to make him toot!

Ed is having entirely too much fun!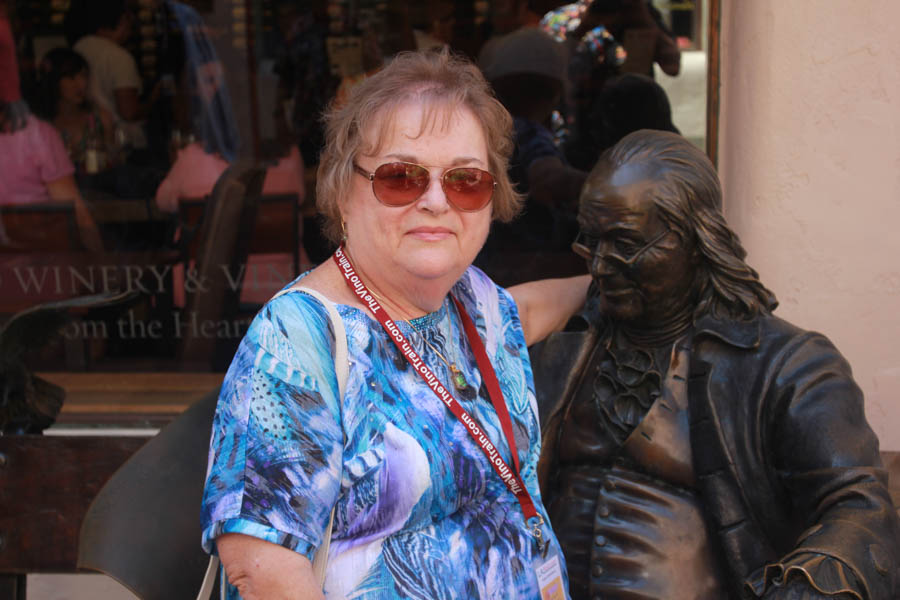 Angie bids goodbye to Ben!

Goodbye La Arcada!
Stop #5 - Happy Canyon Vineyard And Tasting Room (Piocho)

Tucked away just off State Street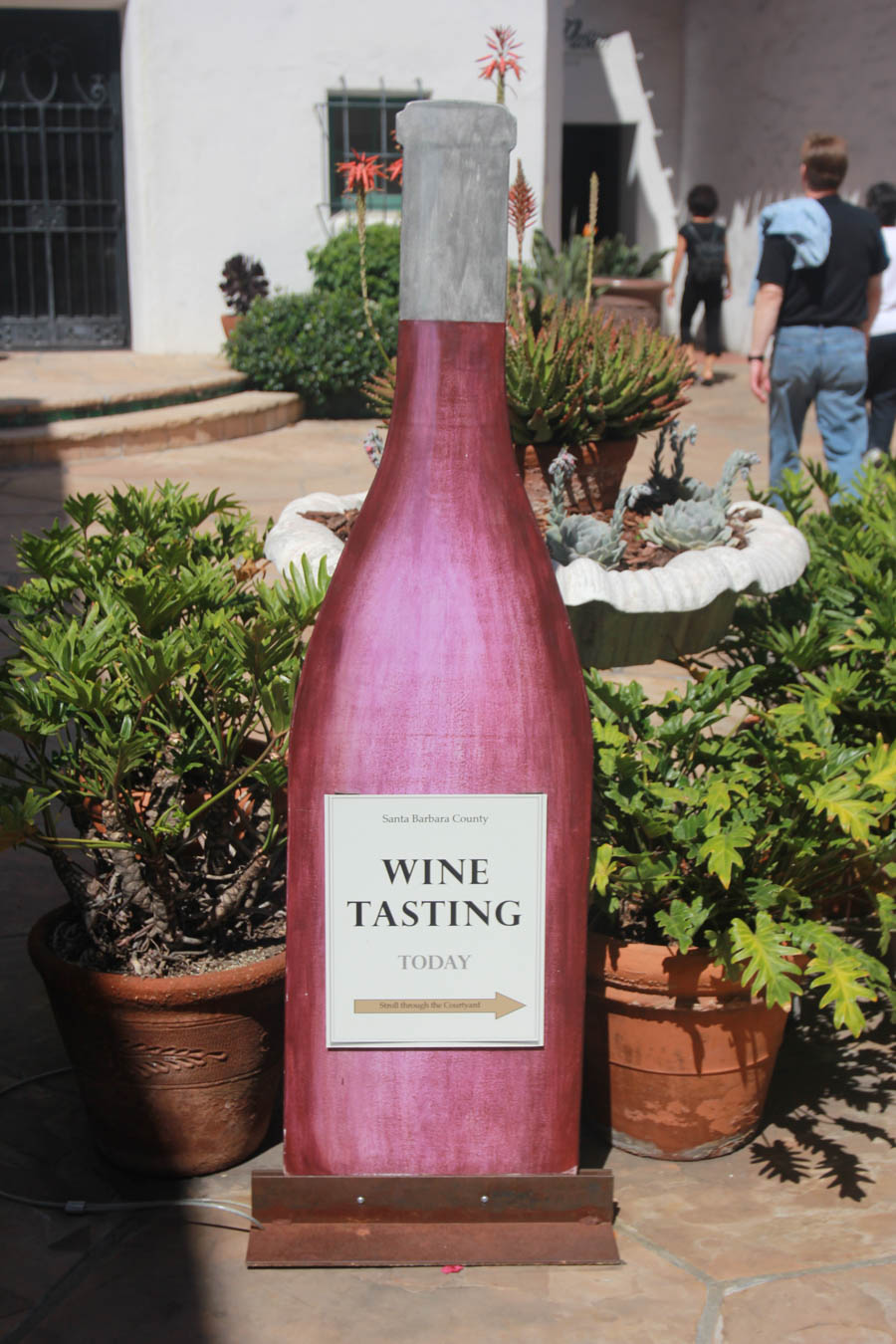 Donna saw the sign and we were off!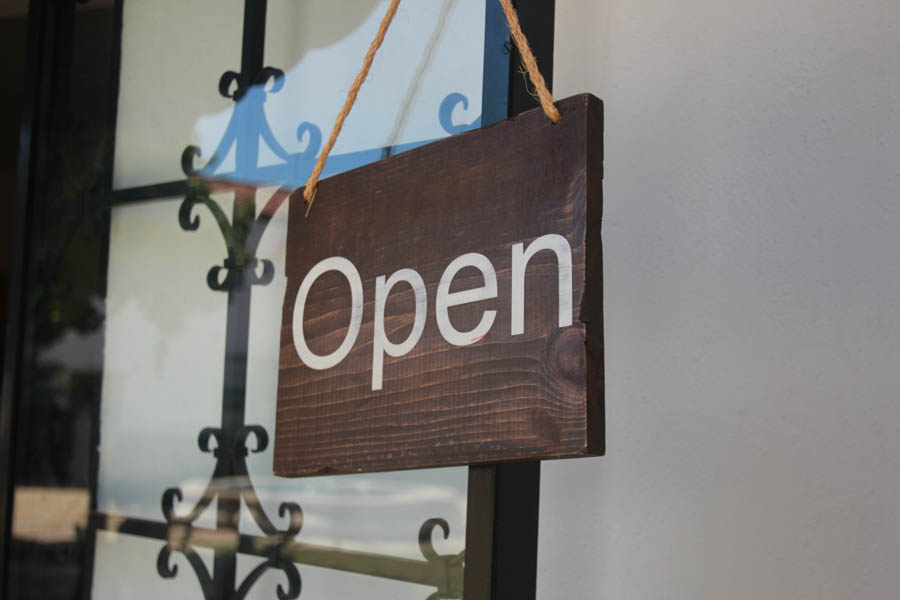 It was open! That was a good sign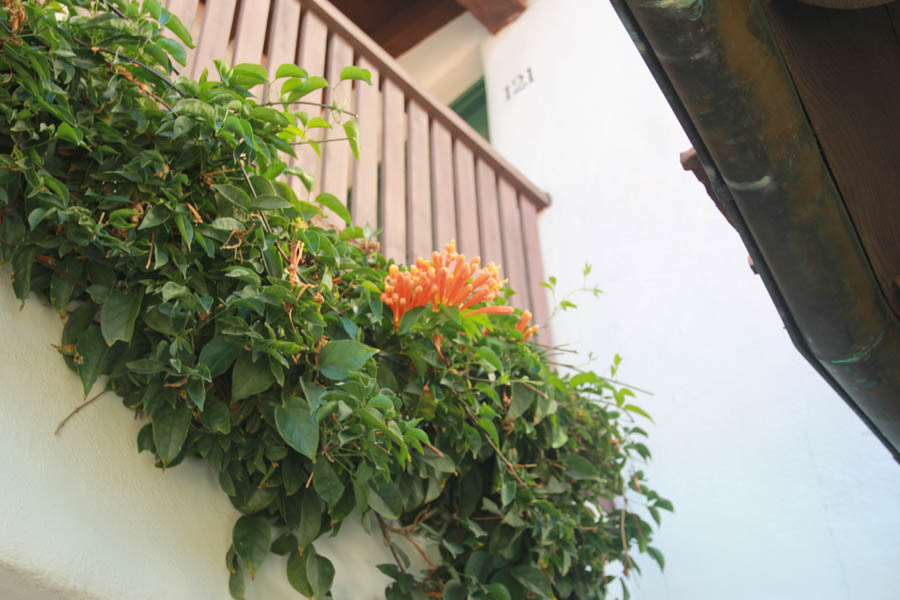 Located in a "hard to find" area
Did You Know? - Happy Canyon Vineyard is a family owned and operated estate vineyard and boutique winery on the central coast of California that has gained esteem with our award winning Bordeaux varietal wines.
Their vineyard is nestled into the undulating hills of the beautiful Piocho Ranch at the eastern most edge of the Santa Ynez Valley. The ranch and vineyard is where they, the Barrack family, call home.
They have taken great pride over the years in being stewards of the land and created wines that are unique to the beauty, richness, and heritage of the "terroir".
On their ranch we have two regulation sized Polo fields and many powerful Polo ponies where they blend our commitment to excellence in wine with a passion for Polo.

Bellying up to the bar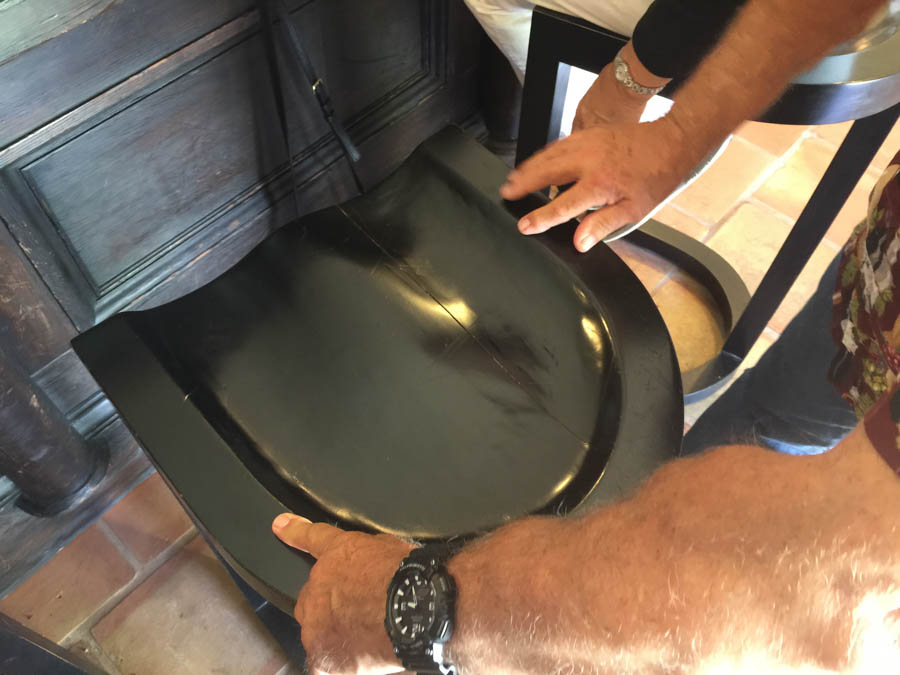 The bar stool have provisions for safety belts!!

Tony has the right idea!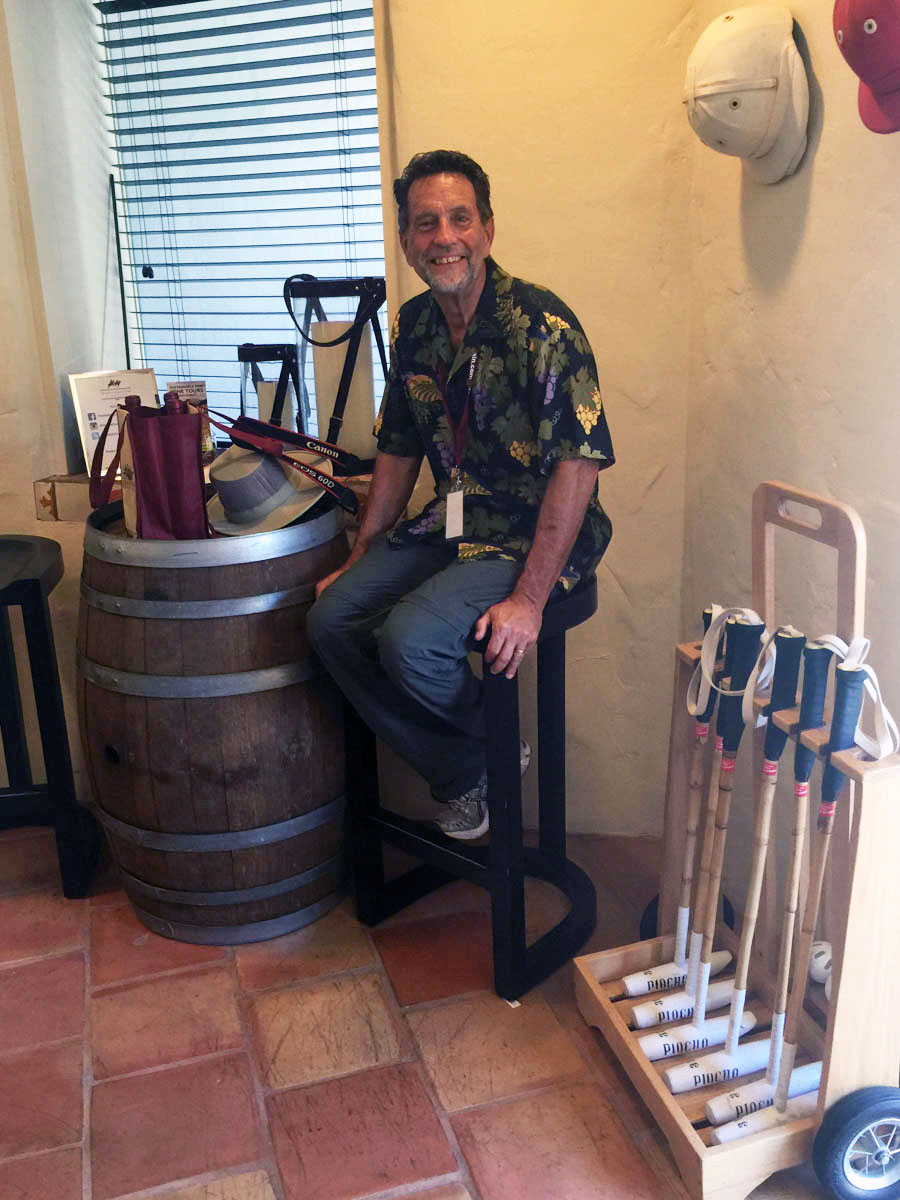 Bob has a first class seat watching the nonsense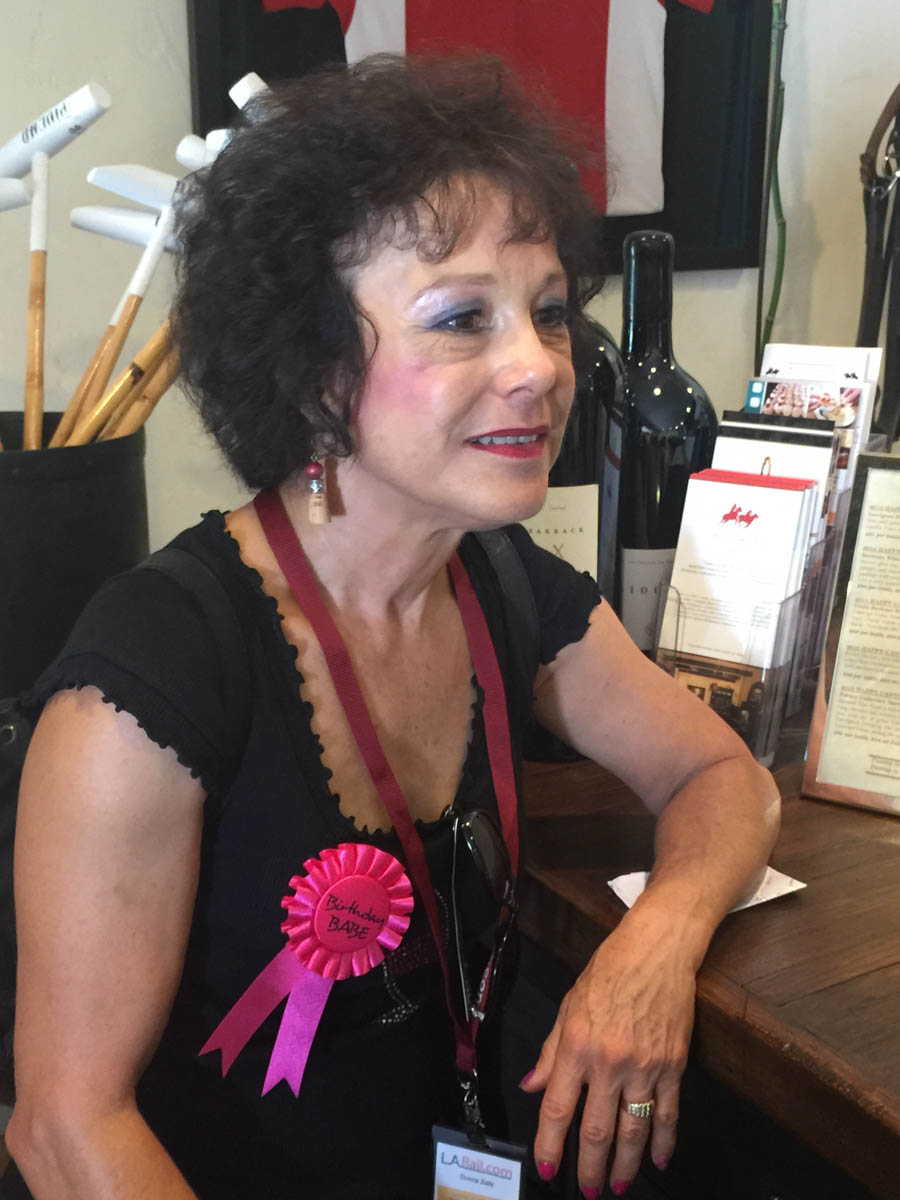 "I have an idea"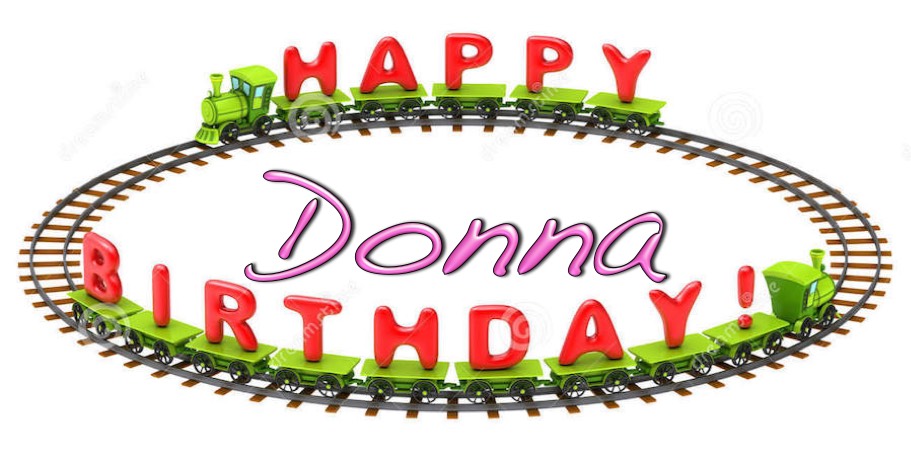 Same rules apply... No candles!

Excellent explanations of their wine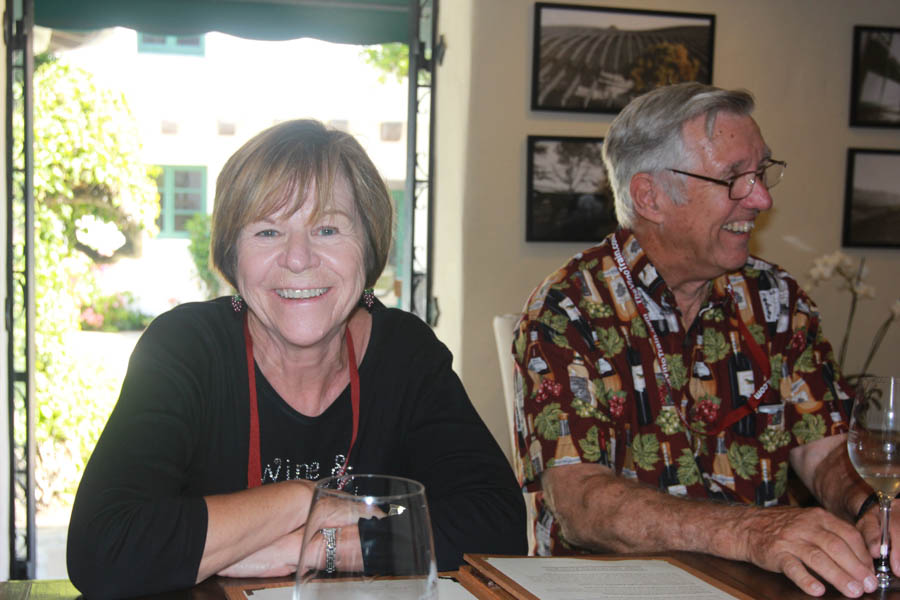 Pinot Noir is good... Kathy smiles!

Mike and Irene just smile!

Oh dear... We mentioned the Greek wine tasted
like pine needles so we are in trouble

Mike checks out the air conditioning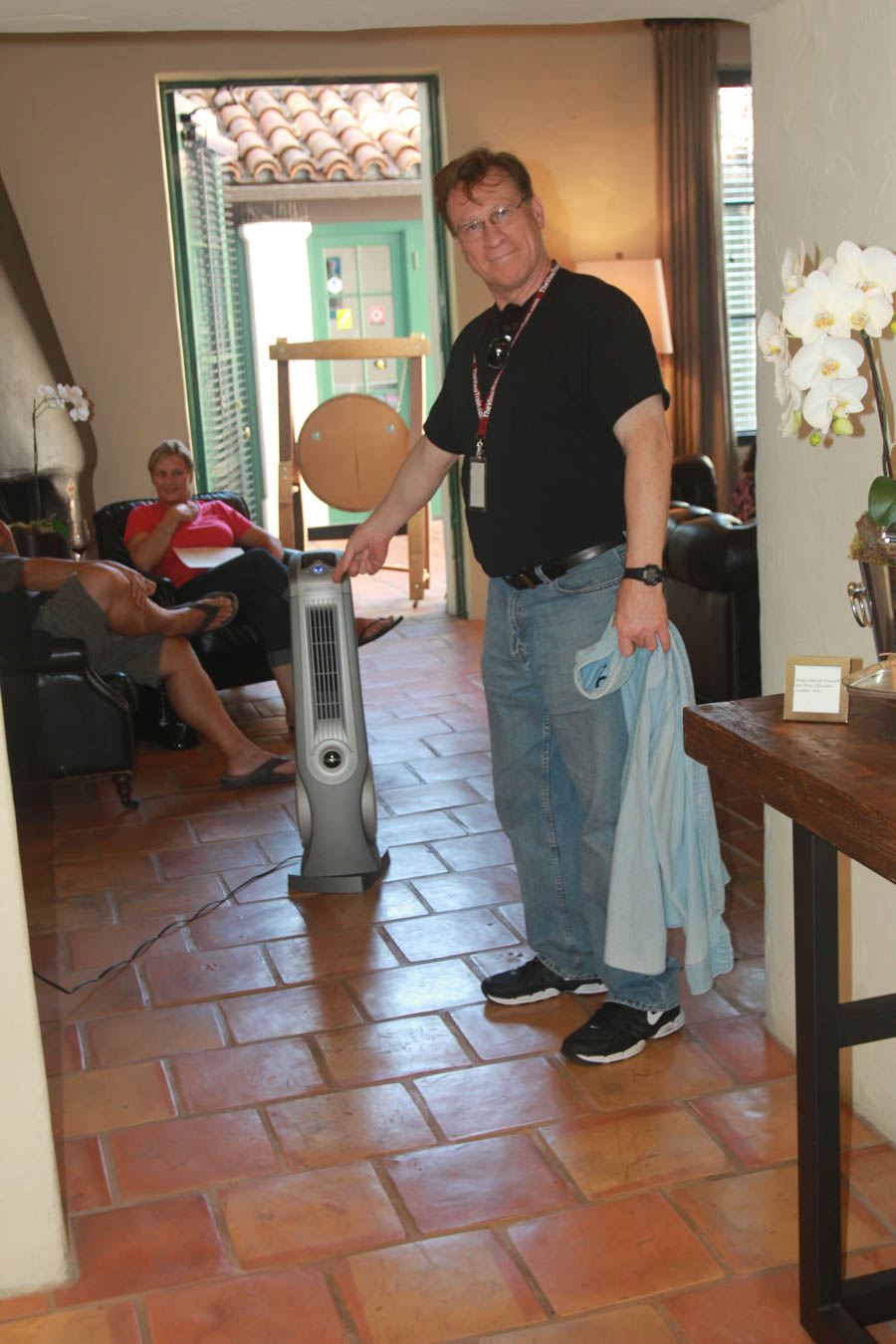 "This is good!"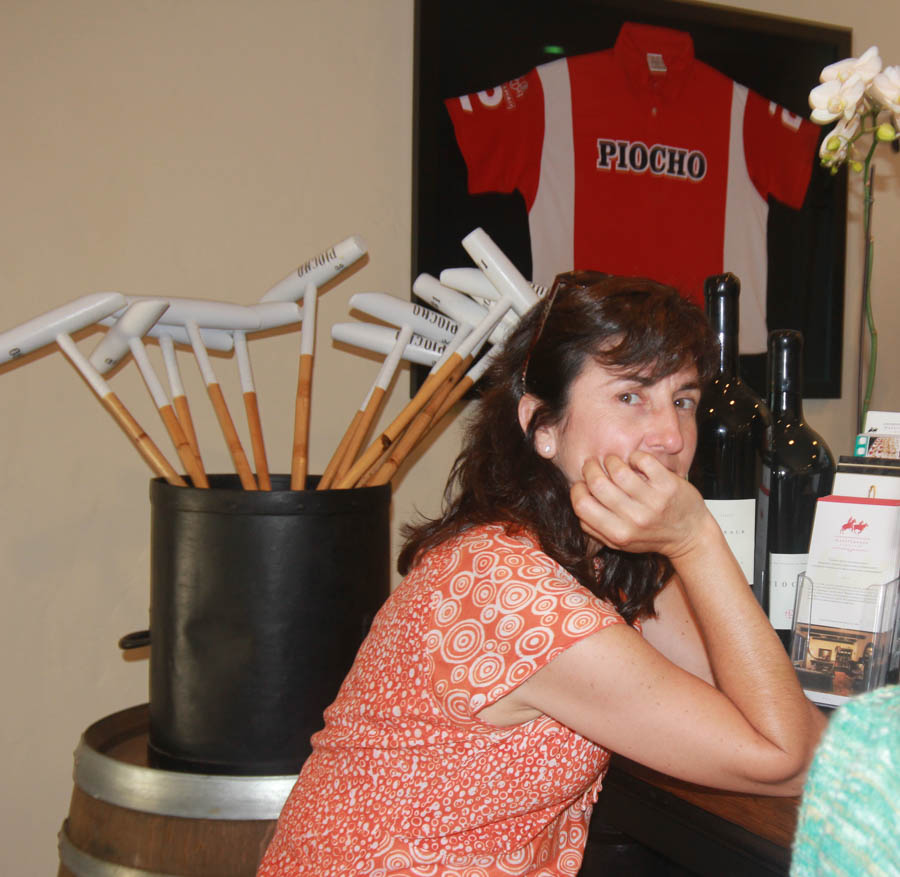 "Penny for your thought little girl"

"Look! A teeny-bopper!"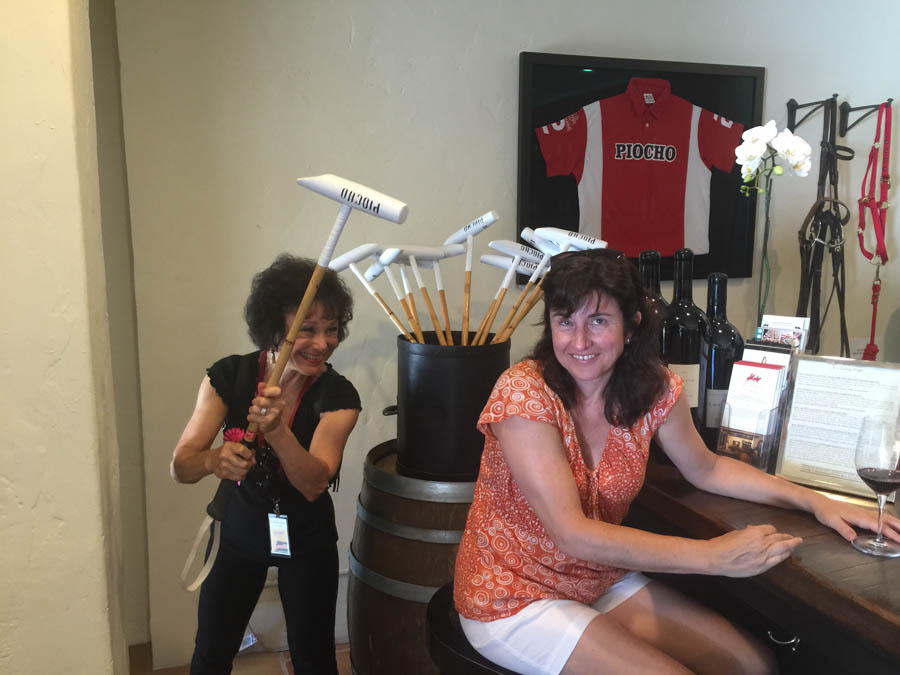 It works
Back To The Train Station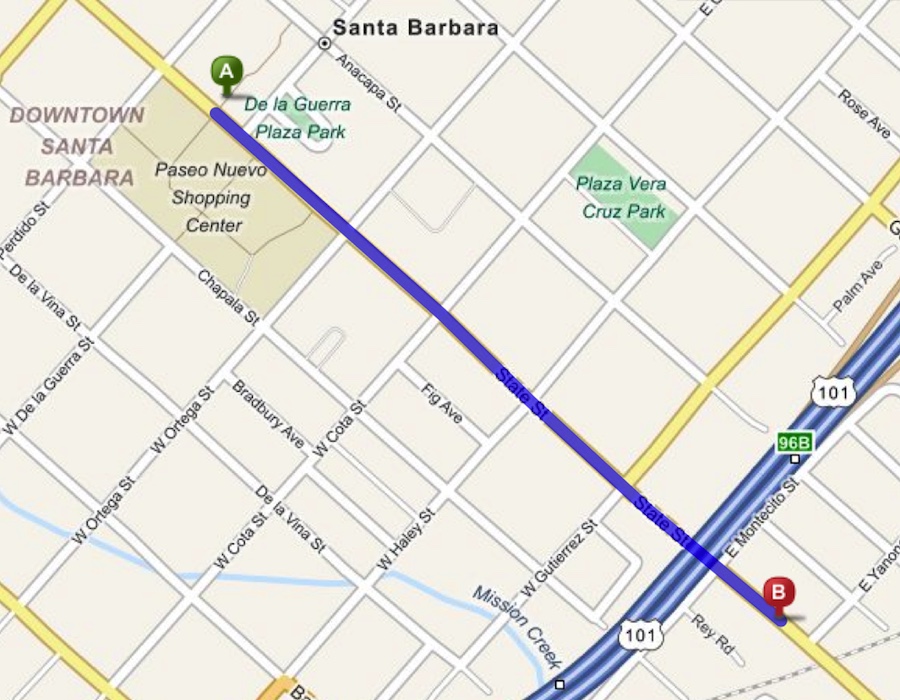 It was a short six-block walk to the station

The train leaves in about 45 minutes and we always walk...
So off we go at the speed of light, a cloud of dust and a hearty "Hi-Yo Silver!"