Arrival And Before Lunch Adventures.... Wine Anyone??? (Page Five)

Arrival And Splitting Up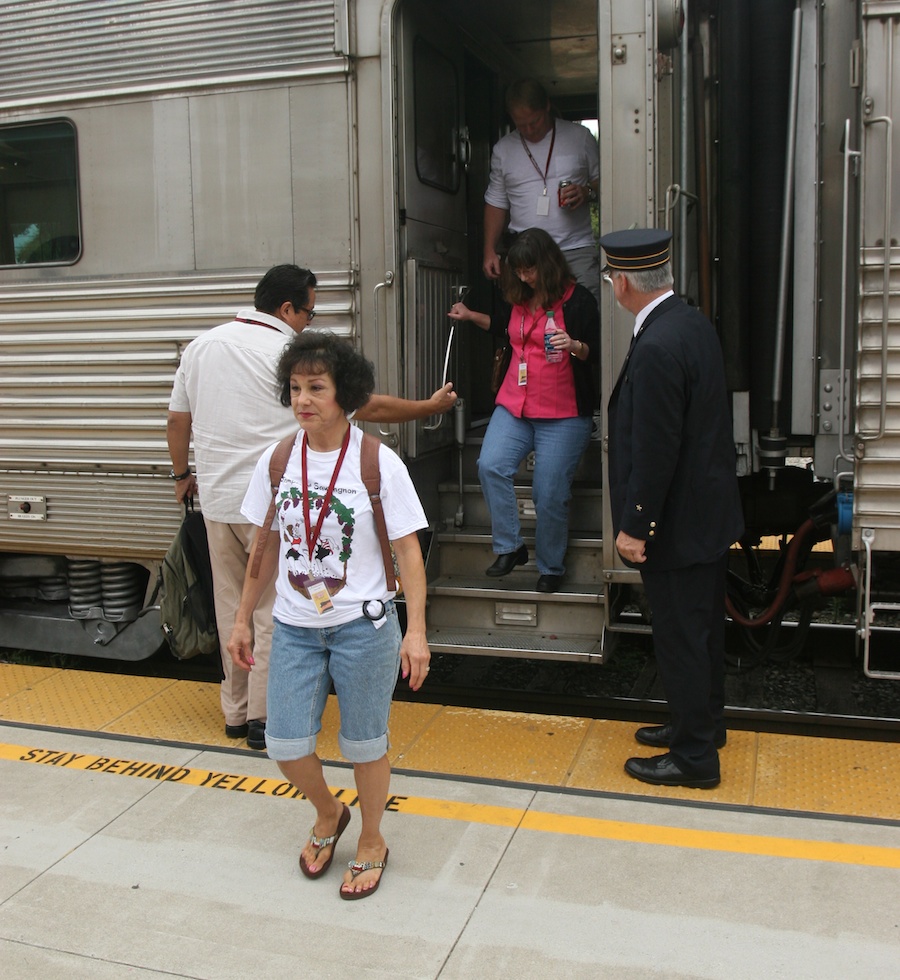 "Follow Me!"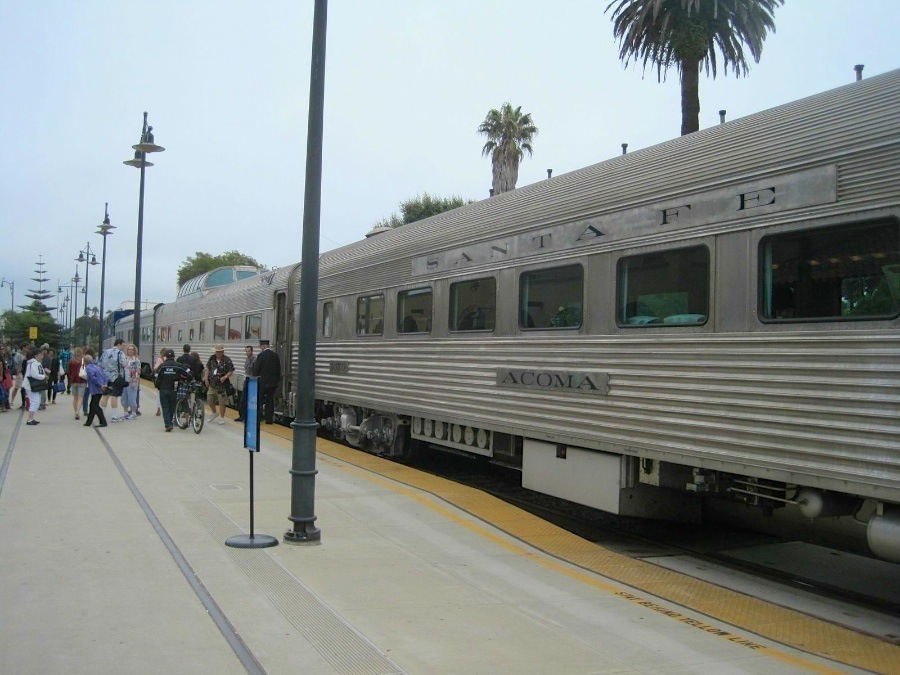 Arrival (Courtesy of Hans)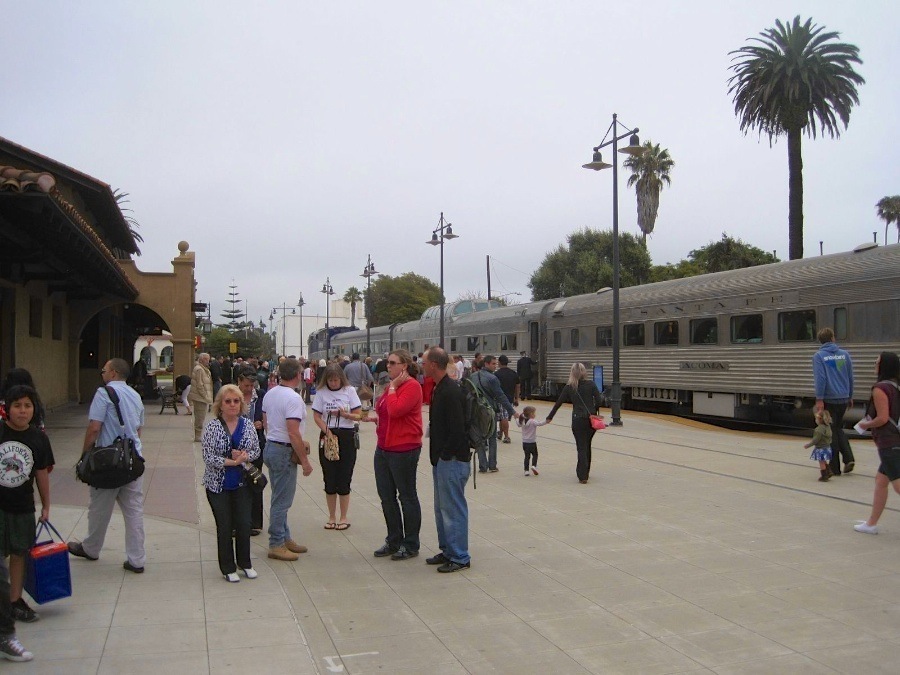 Groups are beginning to form (Courtesy of Hans)

Some to to the Zoo, some taste wine, some hear for the beer halls, others sightsee... See you at 4:30!!

Our car goes on to San Luis Obispo so others can ride the rails in the old cars

Conductor Bill... Always the gentleman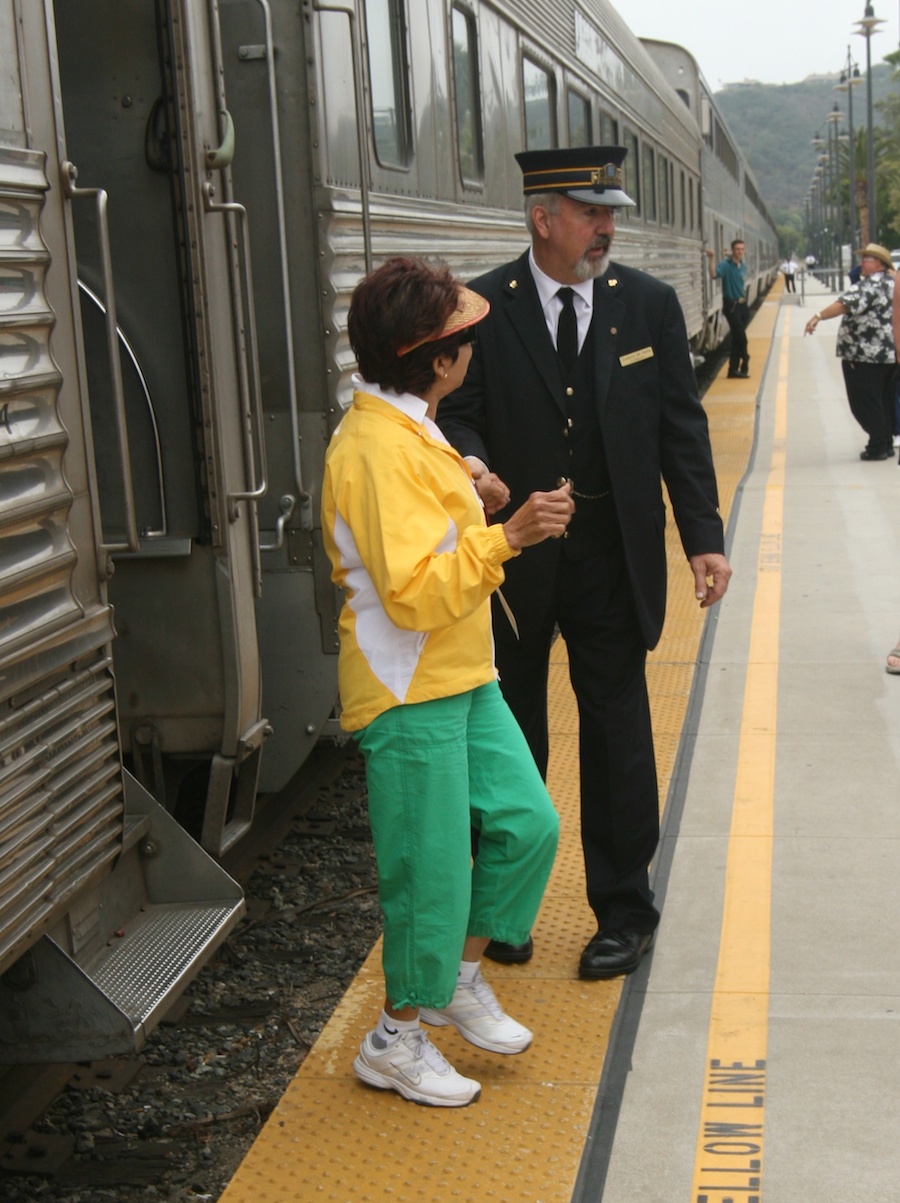 "Wine.... Why sure... Santa Barbara has wine!"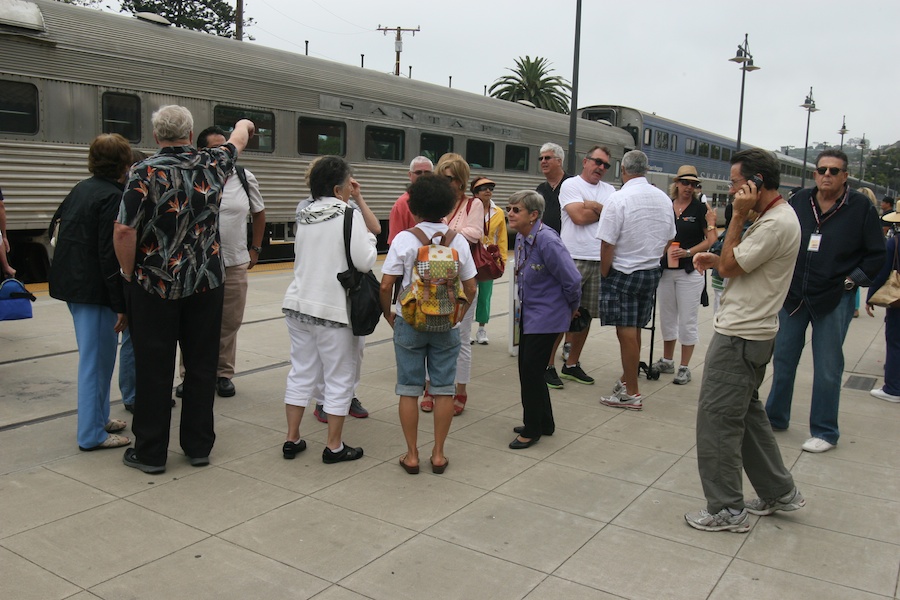 We are getting ready to head out on the adventure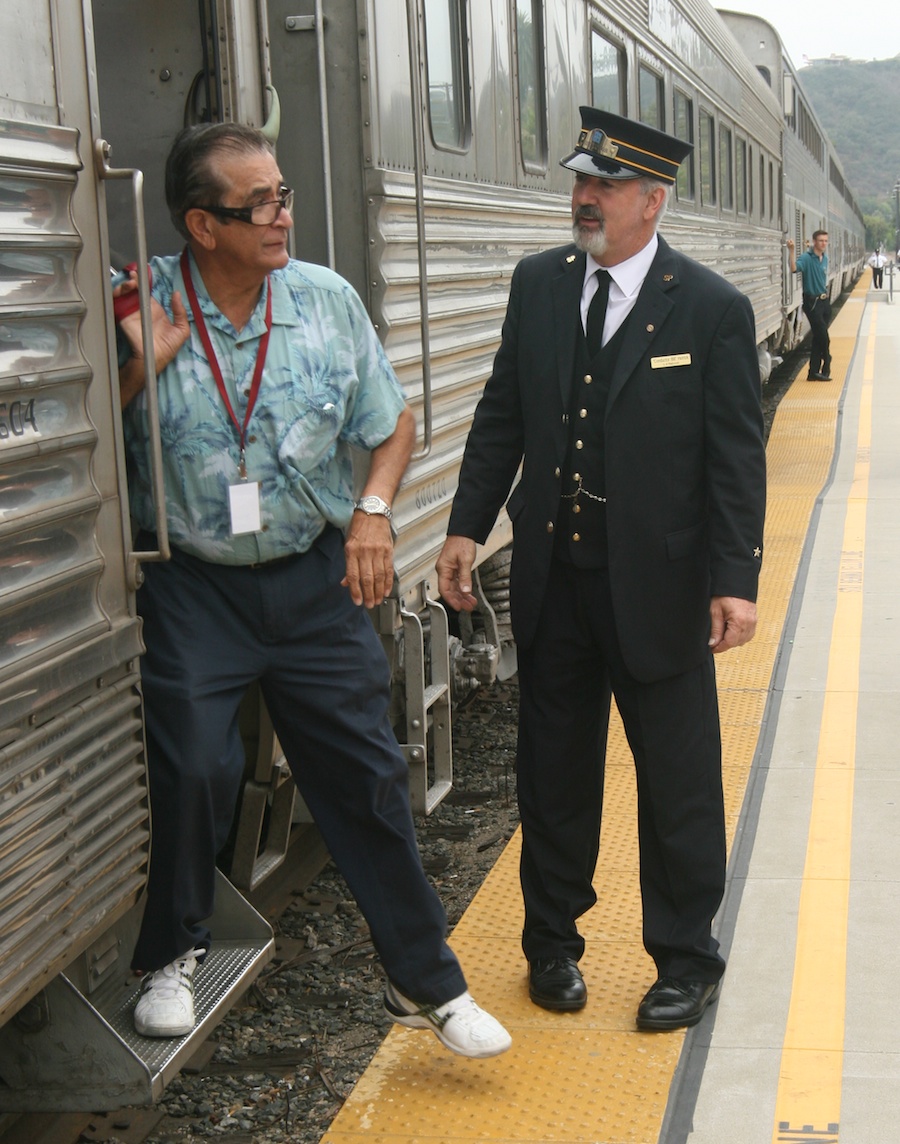 "What's up Doc??"

Beautiful cars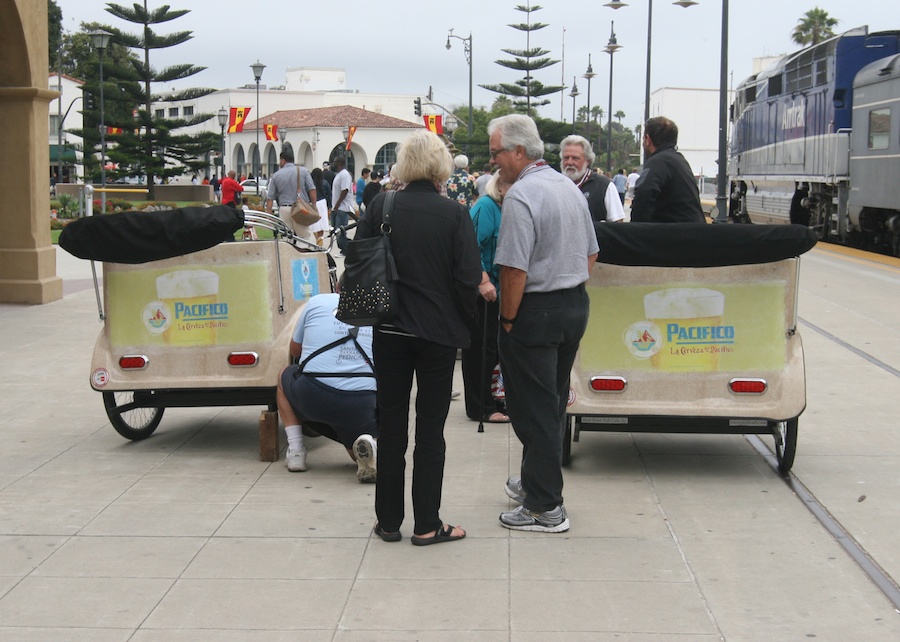 The pedicabs arrive....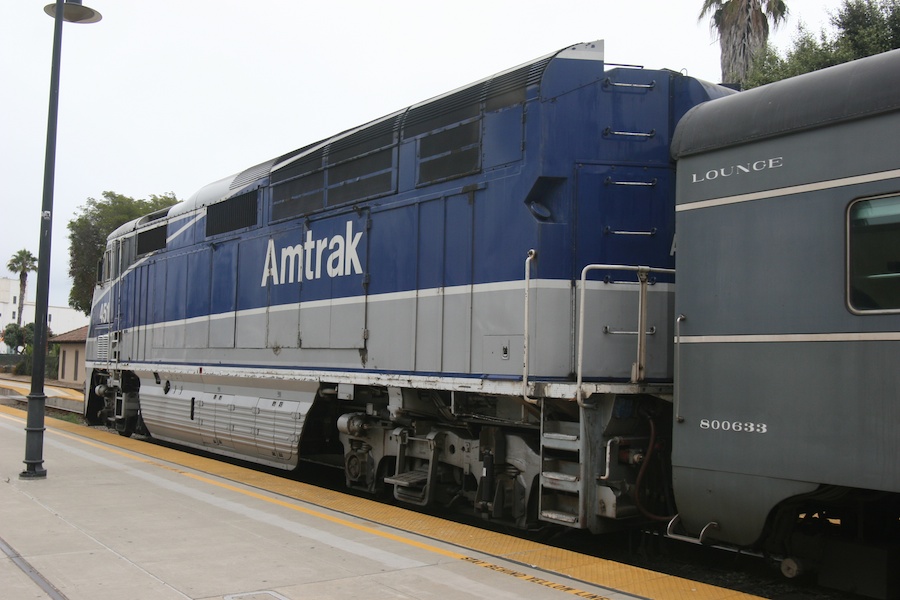 Our train is about depart

"Ladies.... Where shall be go???"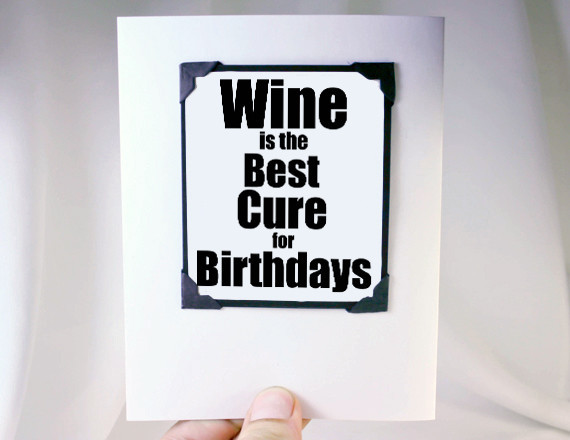 Beer???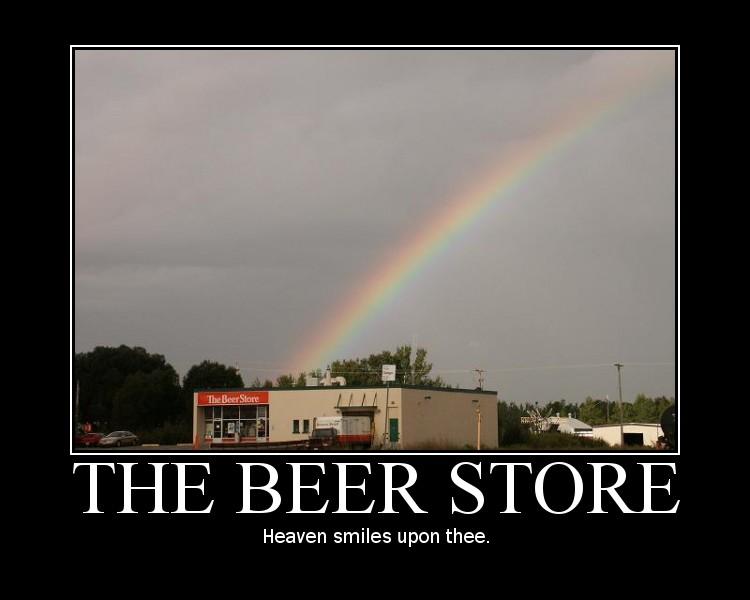 Hans explains how they found the best beer tasting stores

They are off and running (Courtesy of Hans)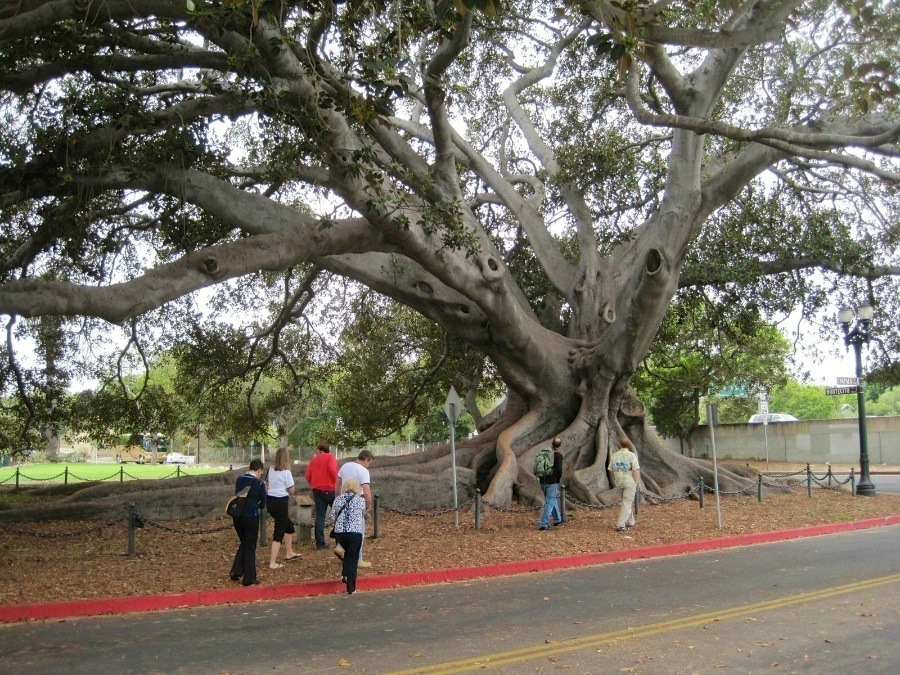 No guys.... The beer is NOT in the trees (Courtesy of Hans)

They are on their way before the train even pulls out (Courtesy of Hans)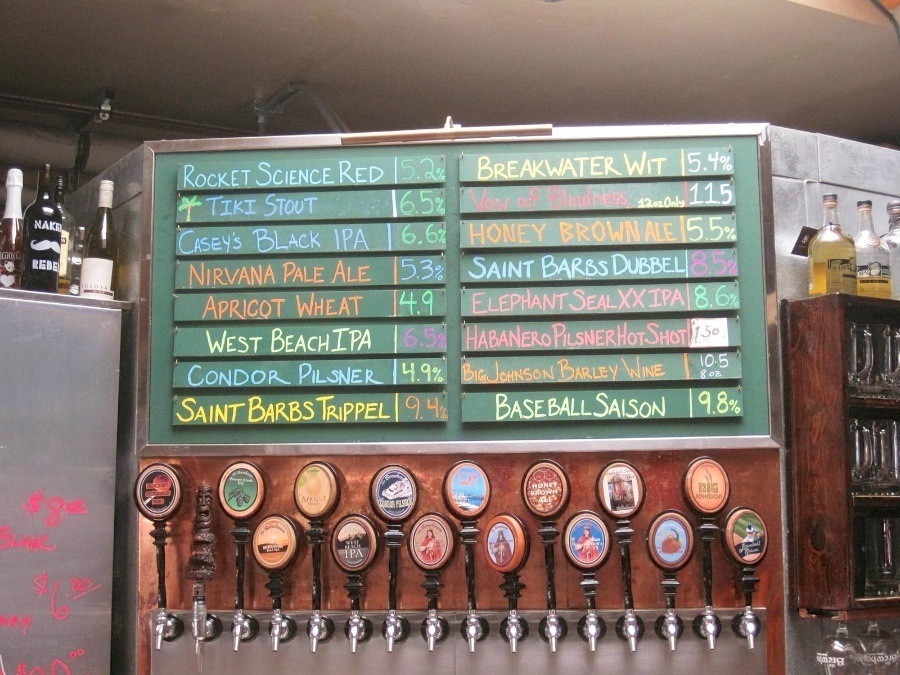 Decisions decisions (Courtesy of Hans)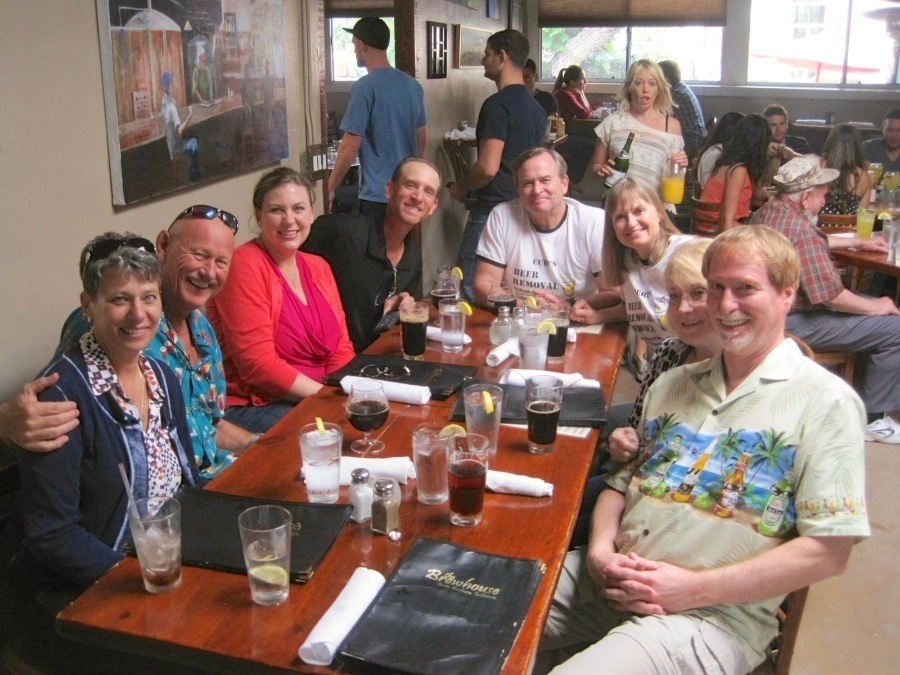 Yeah yeah the gangs all here (Courtesy of Hans)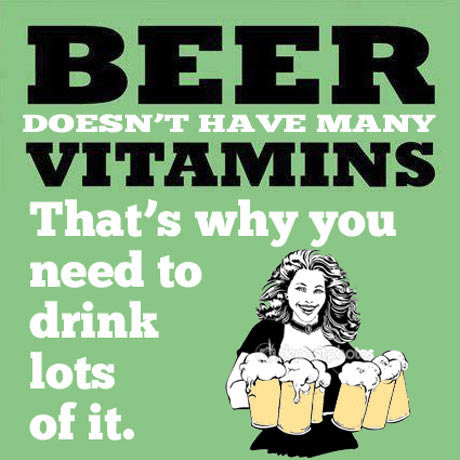 We asked what time it was (Courtesy of Hans)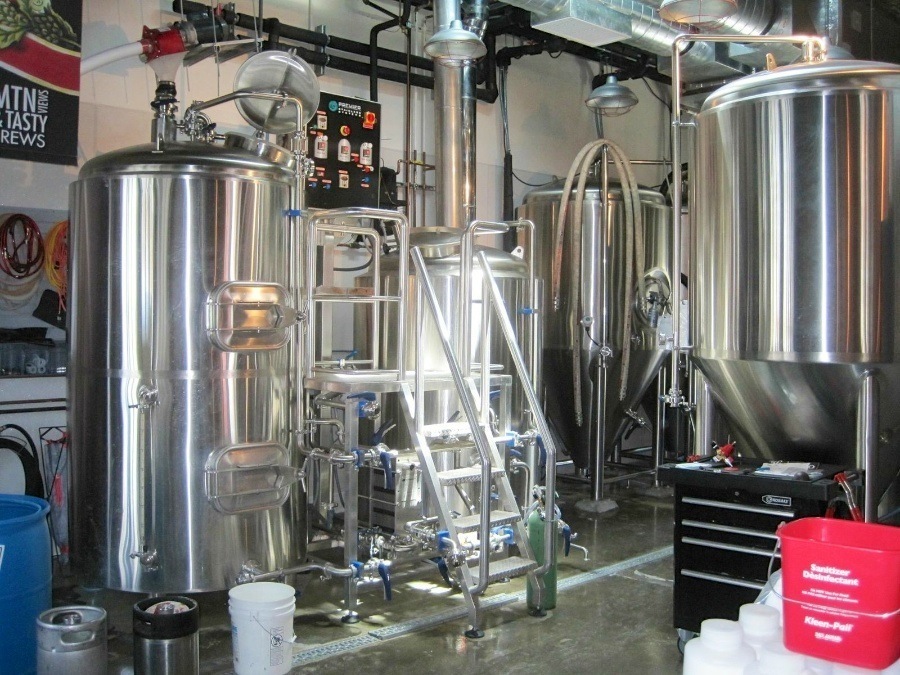 Time for a tour (Courtesy of Hans)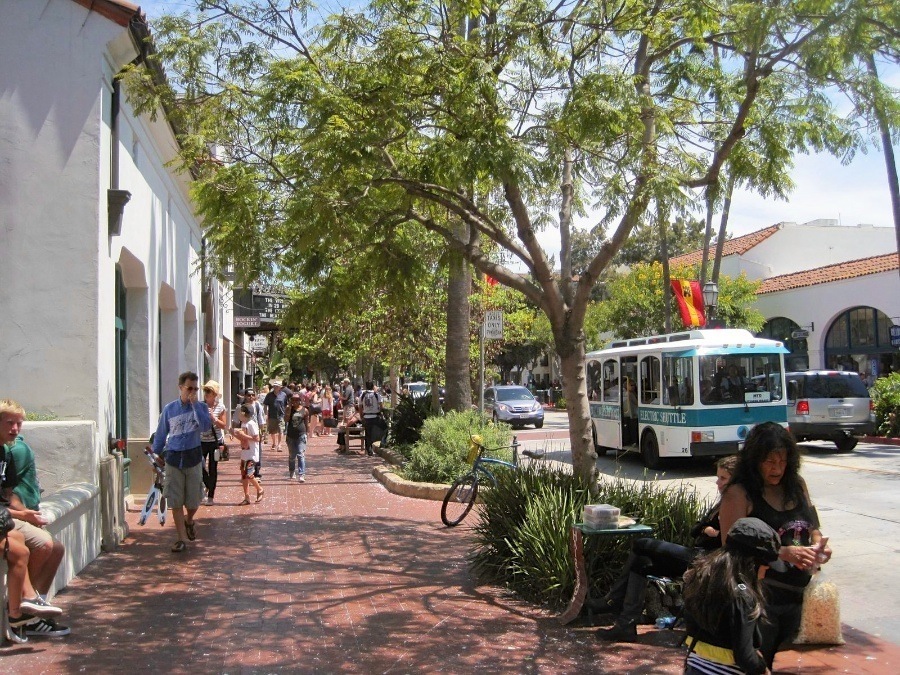 Walking to the next beer tasting location (Courtesy of Hans)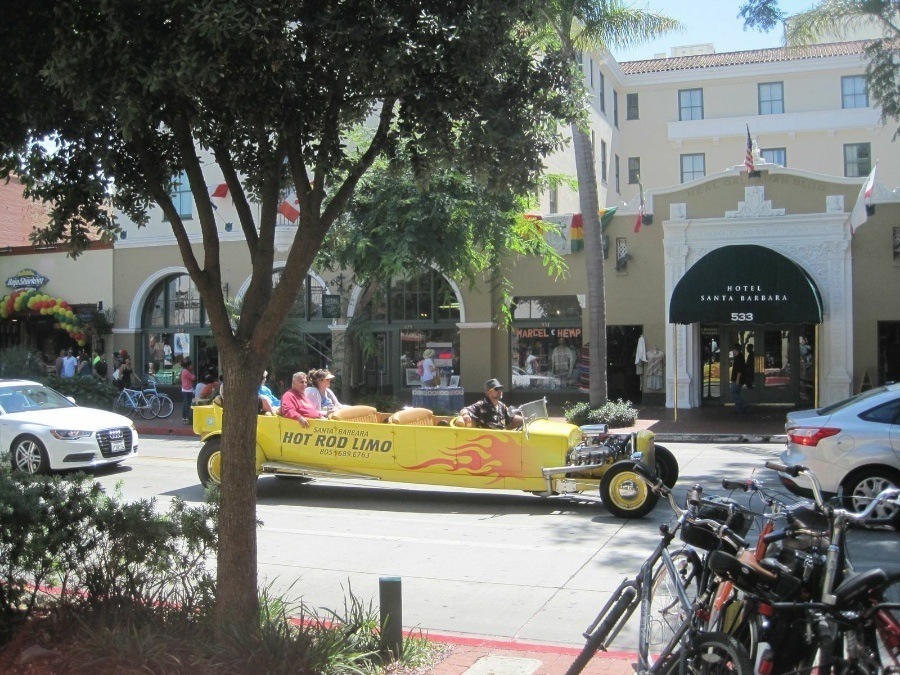 Thank goodness Hans did NOT decide to take the limo... It would mess up his hair! (Courtesy of Hans)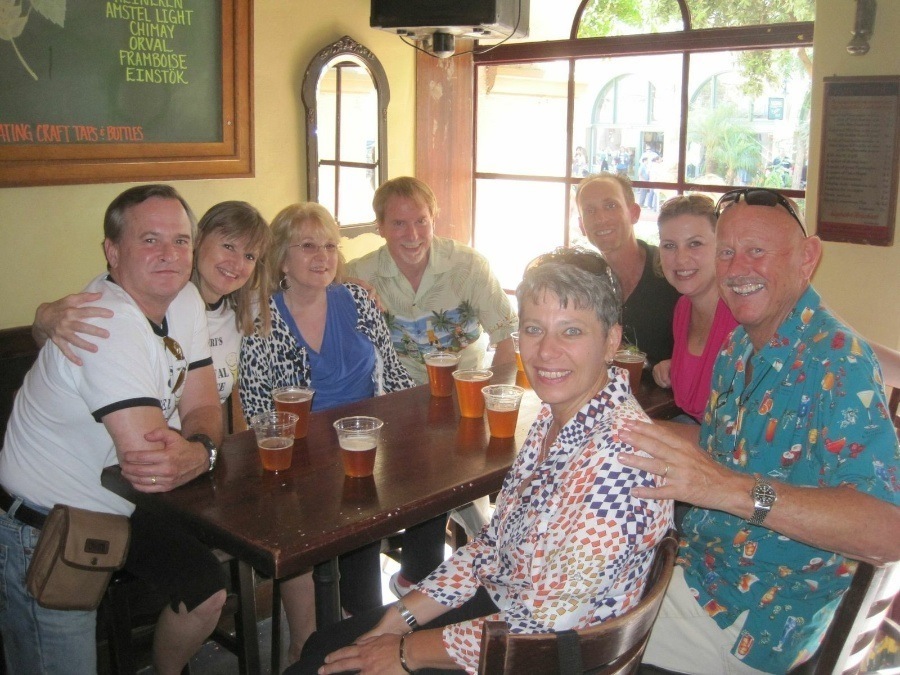 More beer... This is good! (Courtesy of Hans)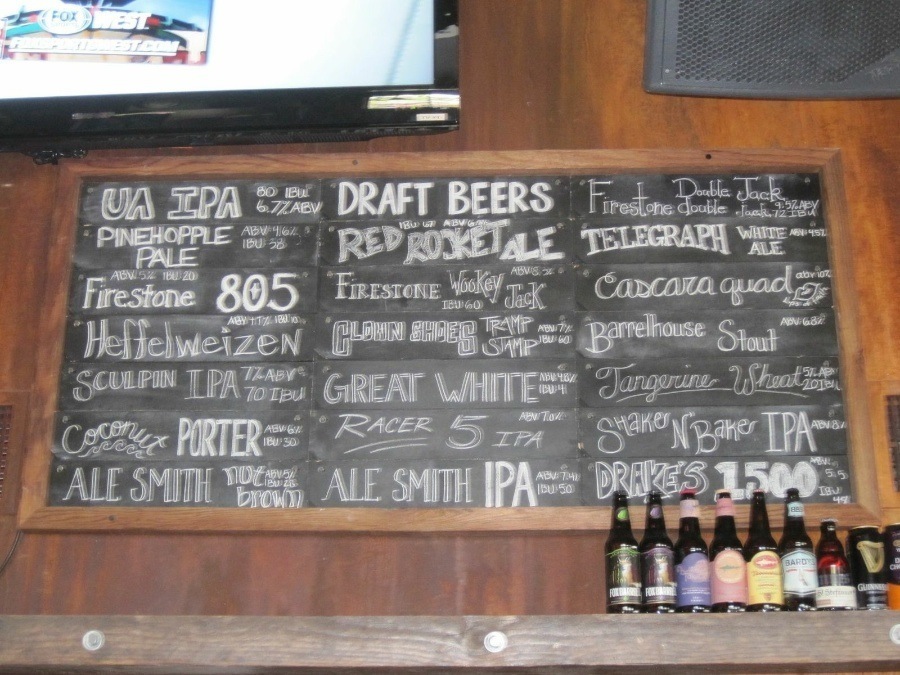 The picture was taken through Han's eyes... Not the camera (Courtesy of Hans)
To The Zoo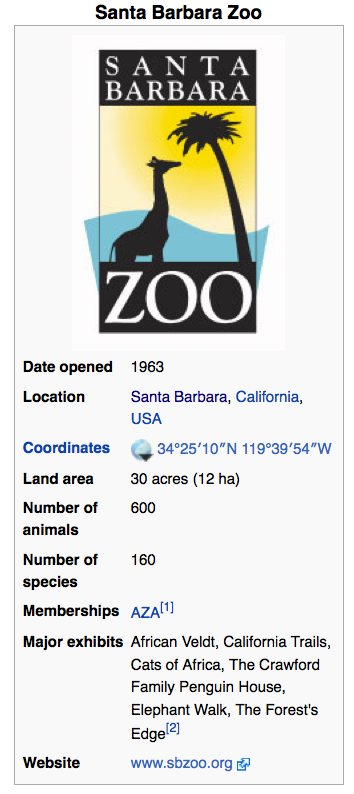 Did You Know? - The Santa Barbara Zoo is located on 30 acres (12 ha) near the ocean in Santa Barbara, California. It was formerly known as the Child's Estate Zoo. The zoo has been ranked numerous times as one of the nation's best small zoos. It has 600 animals in numerous exhibits, including capybara and Californian Condors, and is famous for having had a giraffe with a crooked neck. It first opened in August, 1963.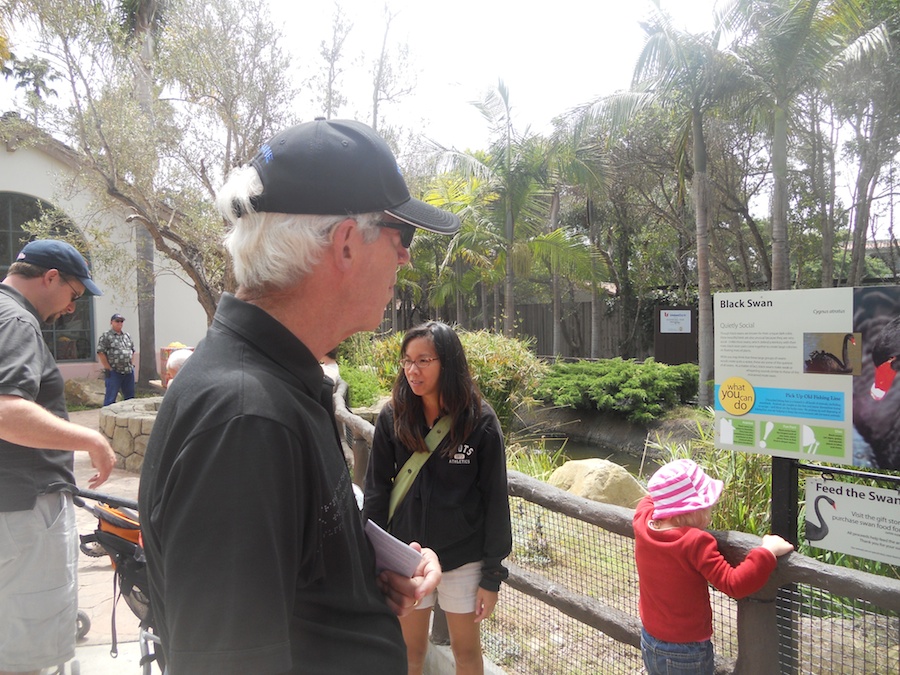 Tom studies the Black Swan (Courtesy of James Cathey)
Did You Know? - The Black Swan (Cygnus atratus) is a large waterbird, a species of swan, which breeds mainly in the southeast and southwest regions of Australia. The species was hunted to extinction in New Zealand, but later reintroduced. Within Australia they are nomadic, with erratic migration patterns dependent upon climatic conditions. Black Swans are large birds with mostly black plumage and red bills. They are monogamous breeders that share incubation duties and cygnet rearing between the sexes.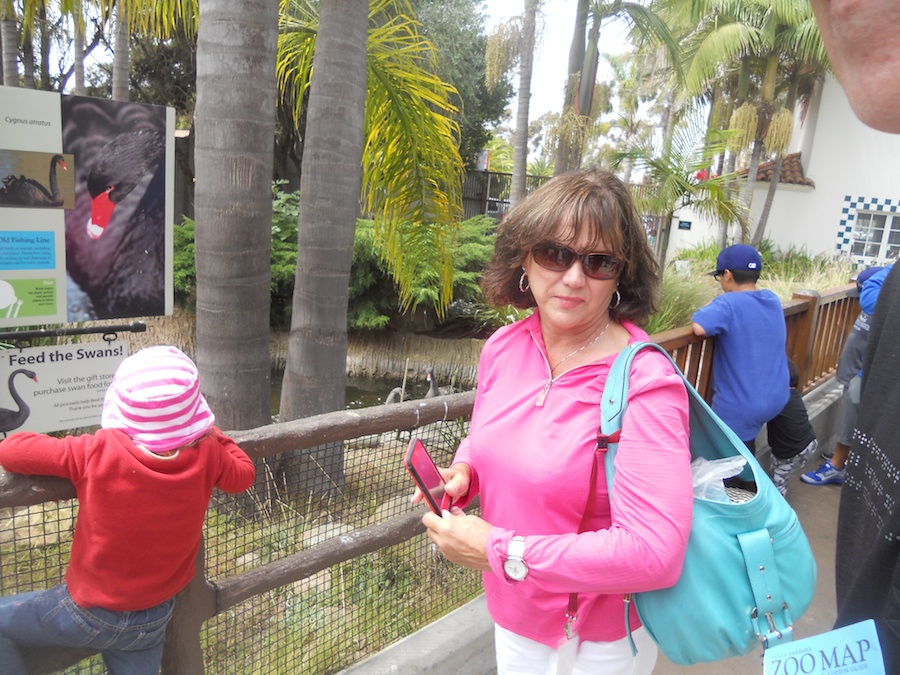 Bunnaford has the iPhone out and getting some snaps (Courtesy of James Cathey)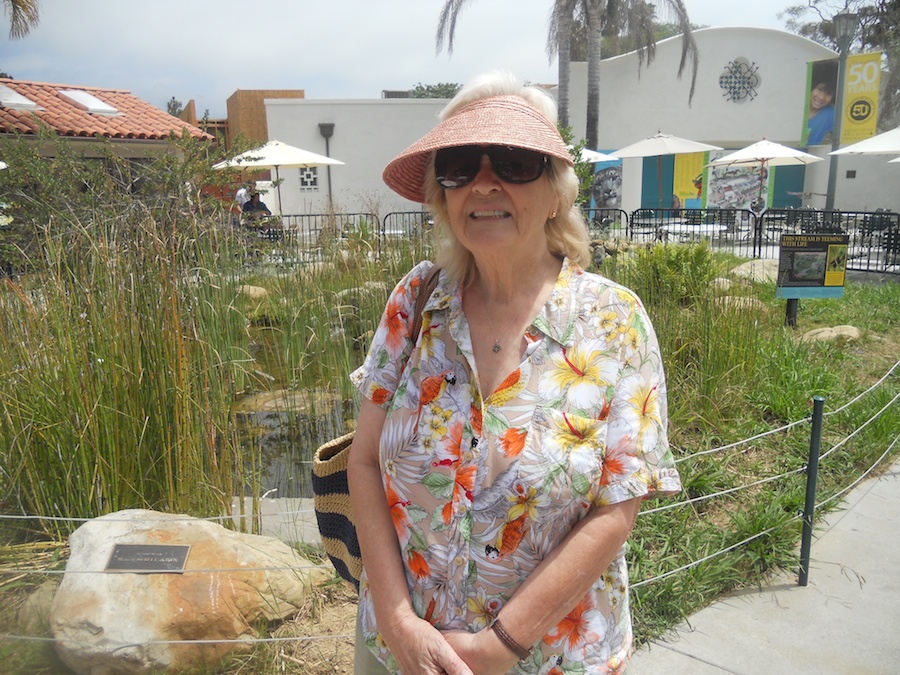 Linda kind of melts into the background with her colorful blouse (Courtesy of James Cathey)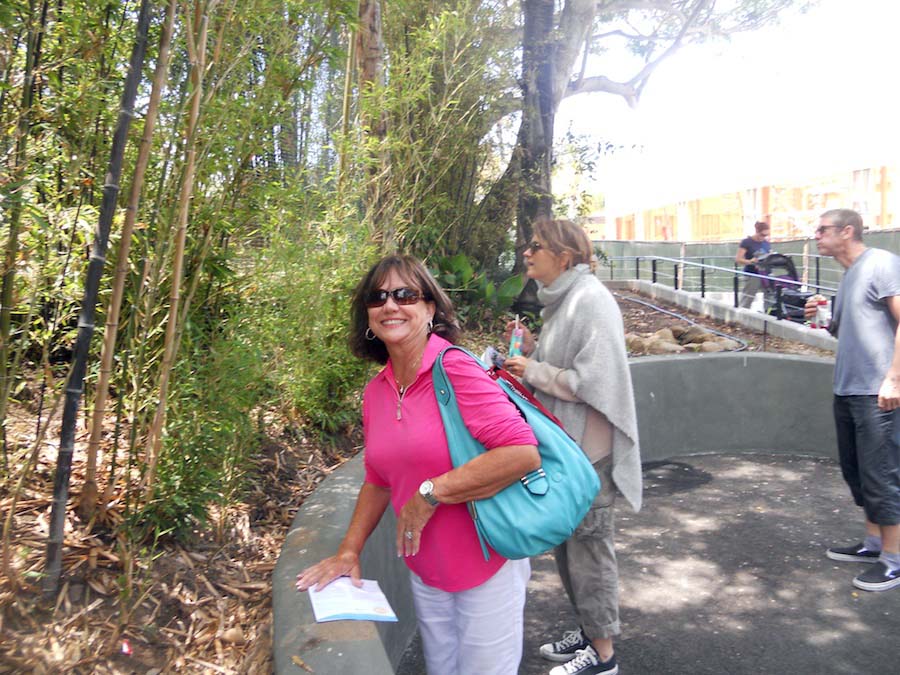 All smiles... Zoo guide in hand she can find the animals easier (Courtesy of James Cathey)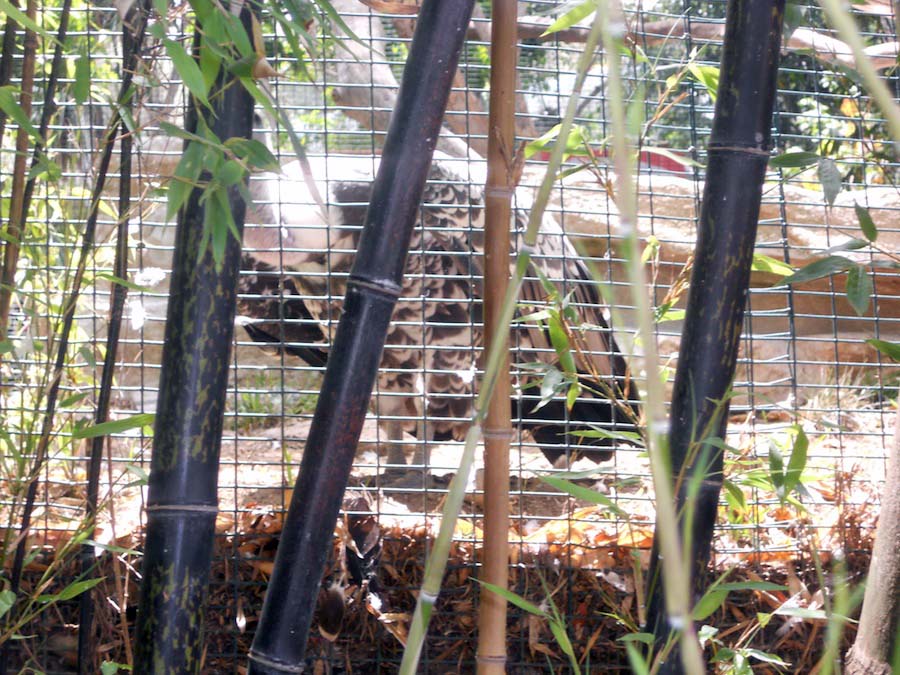 The Eagle is well hidden (Courtesy of James Cathey)

The Zoo was an excellent idea (Courtesy of James Cathey)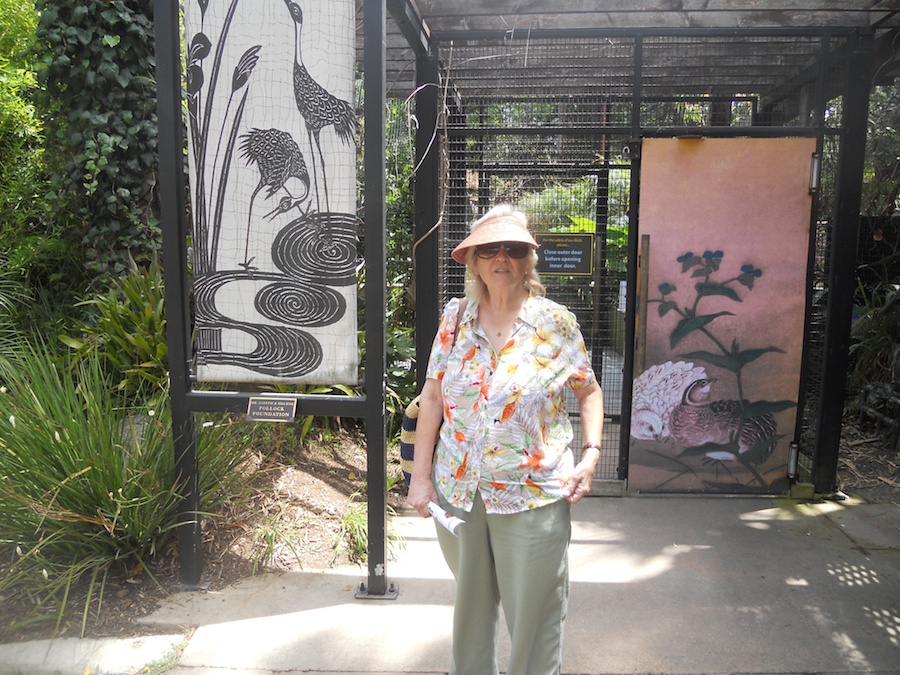 Inside the averary was nosiy (Courtesy of James Cathey)
Did You Know? - An aviary is a large enclosure for confining birds. Unlike cages, aviaries allow birds a larger living space where they can fly; hence, aviaries are also sometimes known as flight cages. Aviaries often contain plants and shrubbery to simulate a natural environment.

Bunny will get the picture no matter what it takes (Courtesy of James Cathey)

Do not fall in! (Courtesy of James Cathey)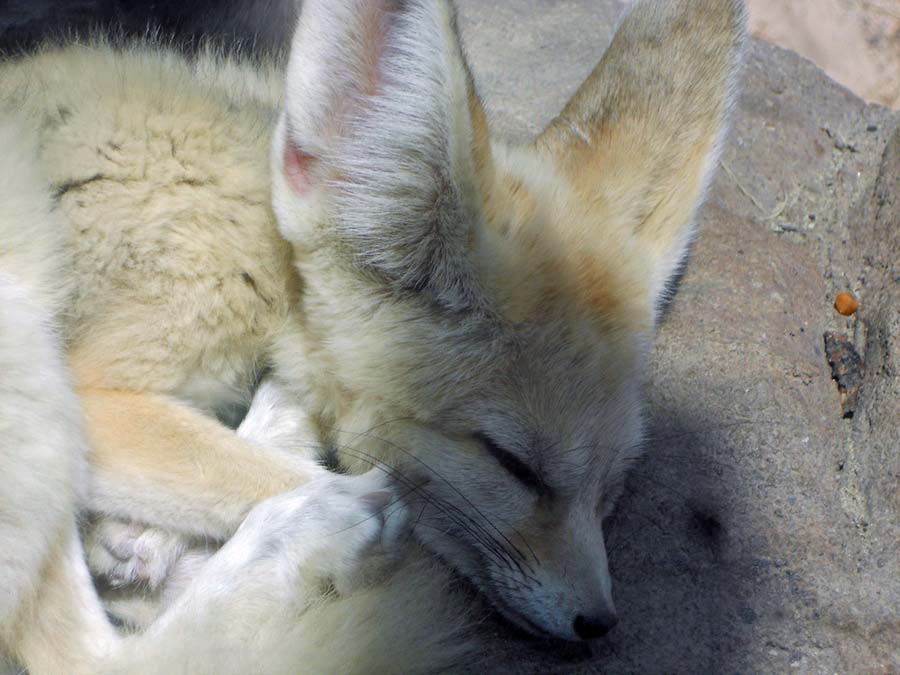 Ahhhhh ... Baby at sleep (Courtesy of James Cathey)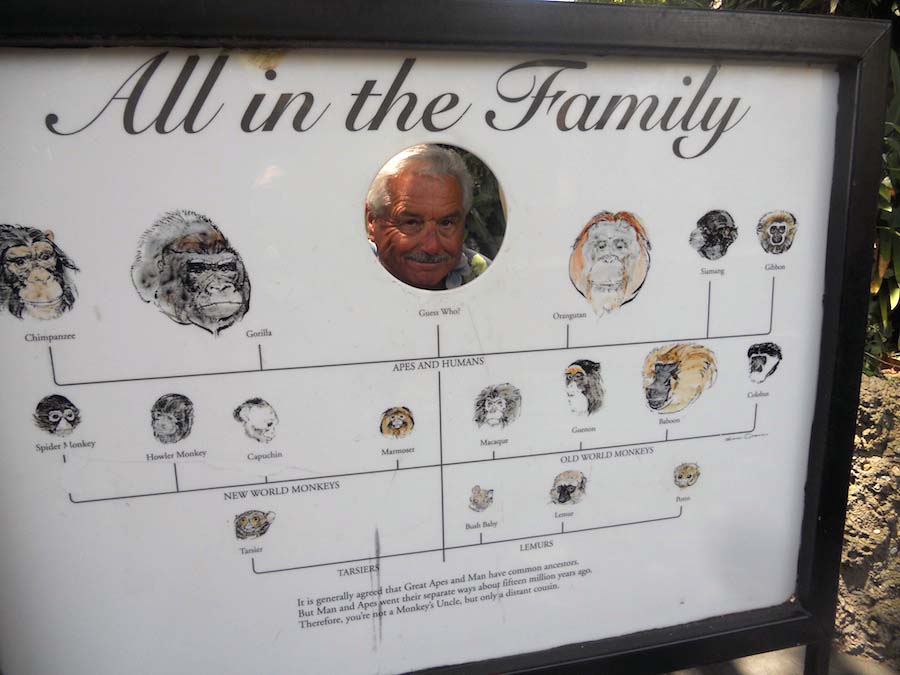 We knew it!!!! (Courtesy of James Cathey)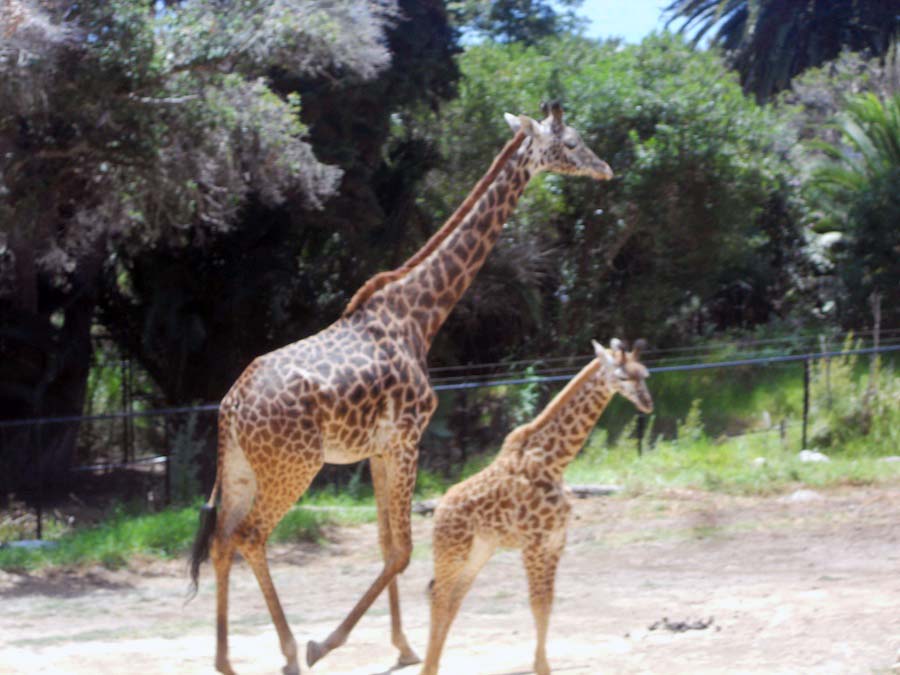 We had a baby giraffe (Courtesy of James Cathey)

Flamingos were strutting their stuff (Courtesy of James Cathey)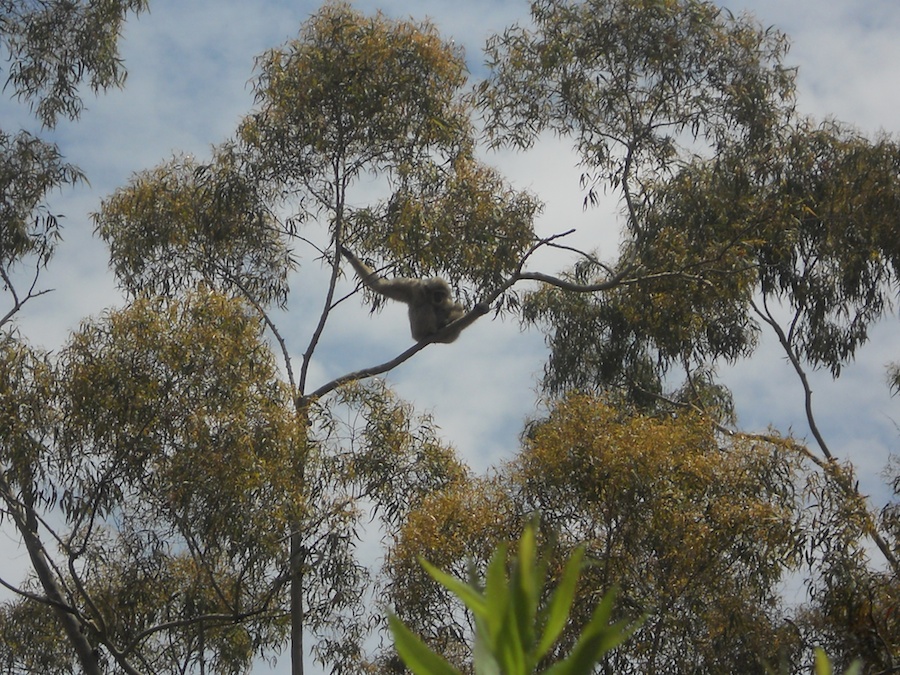 Big monkey... Little branches... Watch out below (Courtesy of James Cathey)

Zoologists at work! Work? (Courtesy of James Cathey)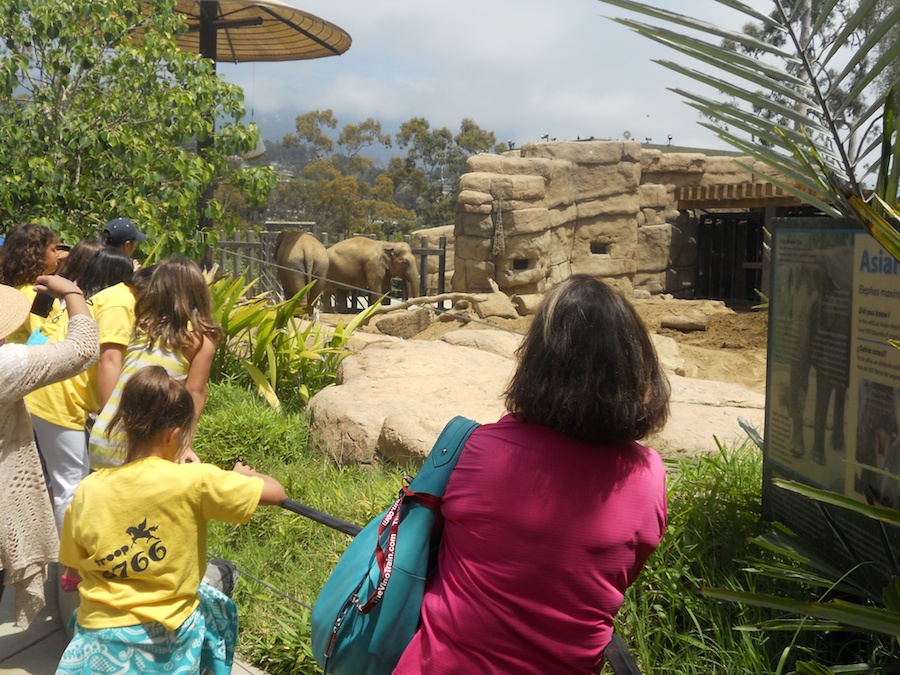 "I wonder how they pack their trunks??" (Courtesy of James Cathey)

One arm travel (Courtesy of James Cathey)

The both got the memo about wearing blue (Courtesy of James Cathey)
Others Headed To Wine Tasting At The Silver Winery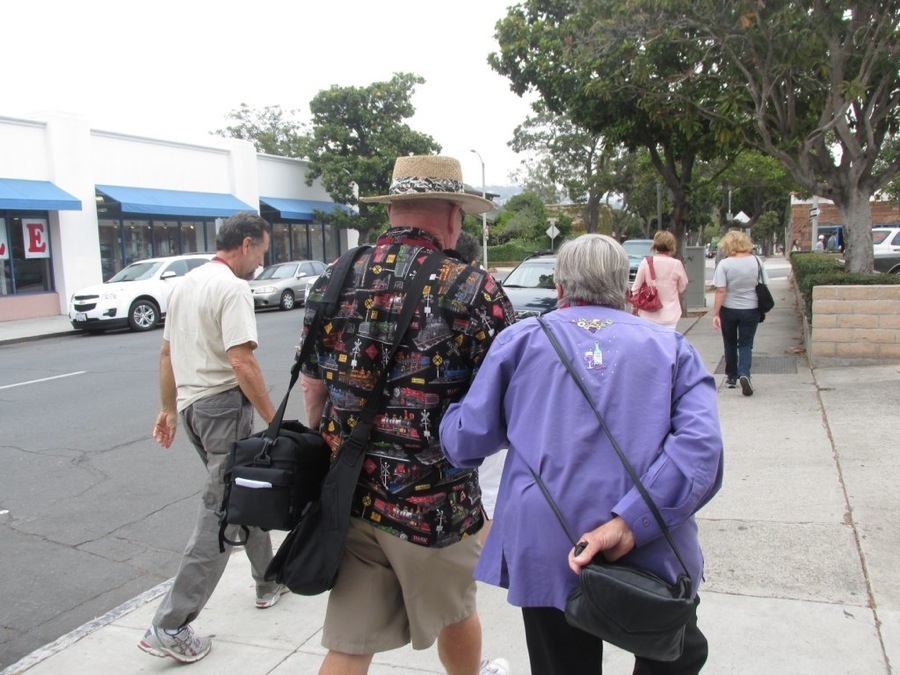 We are off for a long walk (Courtesy Of Jose Mancera)

This is indeed a gaggle (Courtesy Of Jose Mancera)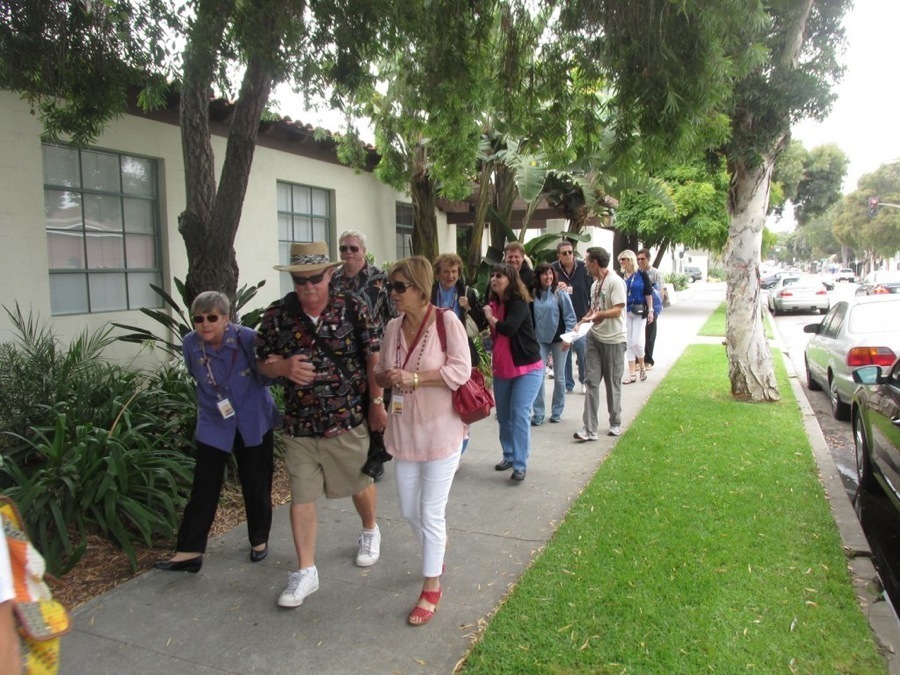 The gaggle is on the move (Courtesy Of Jose Mancera)
Our group split up so we would not overwhelm the tasting rooms...
We split up evenly... 9 1/2 went to Silver and 9 1/2 went to Jaffurs Winery

It was a "by appointment only" winery that Bob Zaitz found ... The wine maker... Ben Silver''' was terrific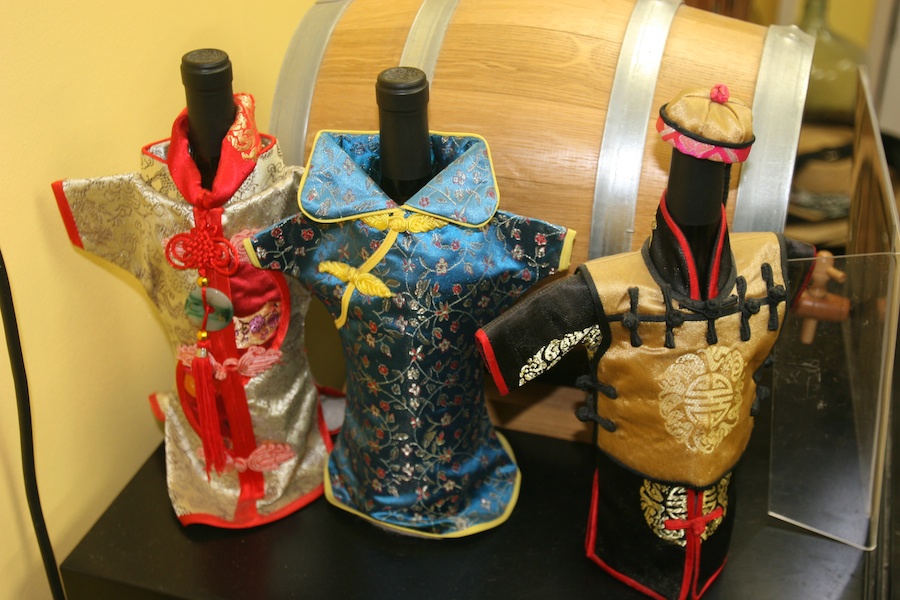 The wine bottles were partying last night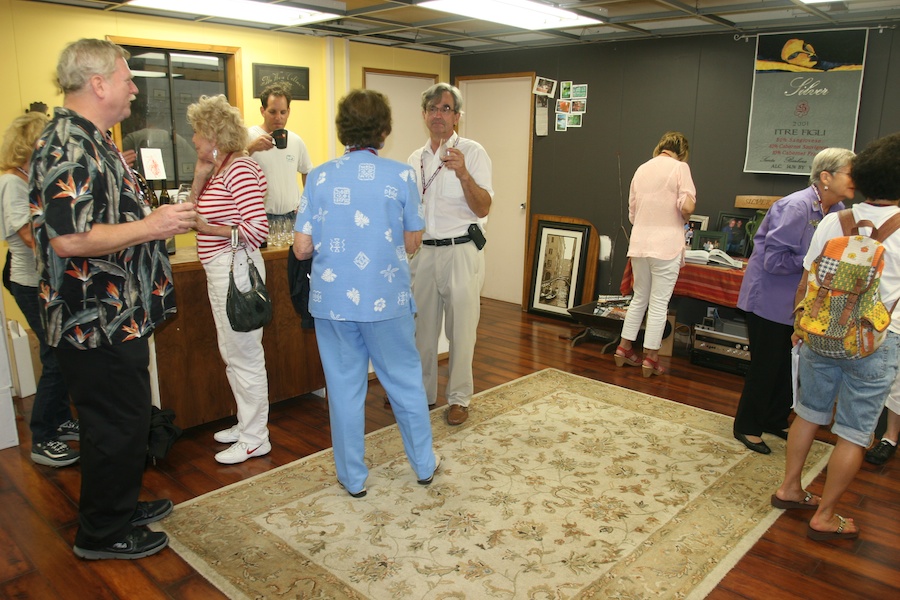 We tasted and chatted and had a ball!

Gary enjoyed the visit and the teasing level was approaching 85%

We departed to head for Jaffurs Winery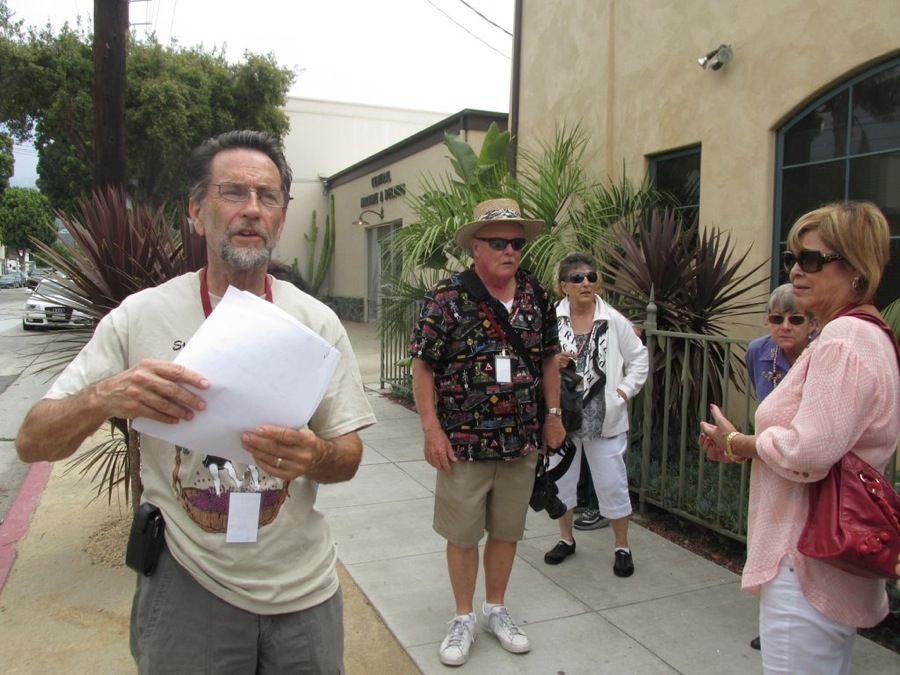 Bob is using a map? We are indeed in trouble (Courtesy Of Jose Mancera)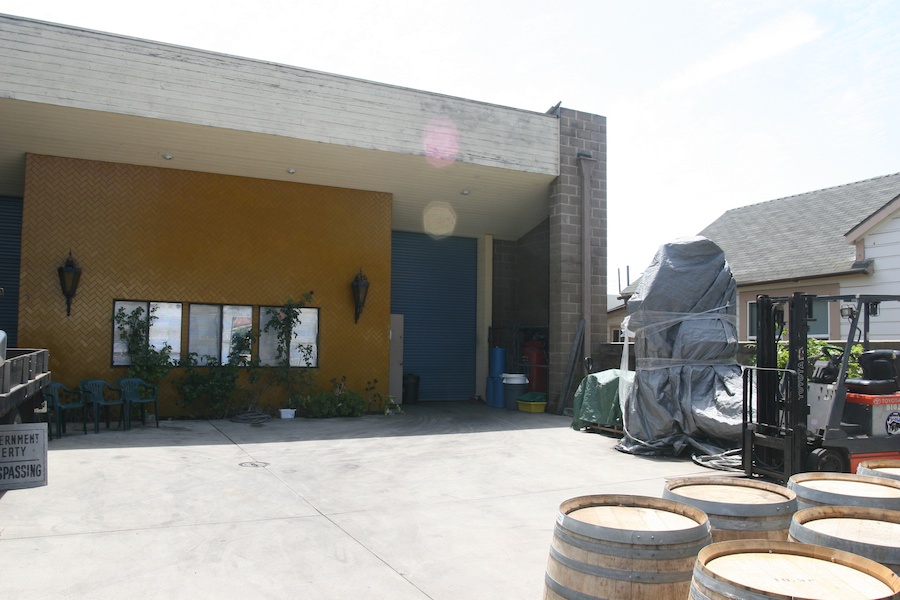 Well hidden jewel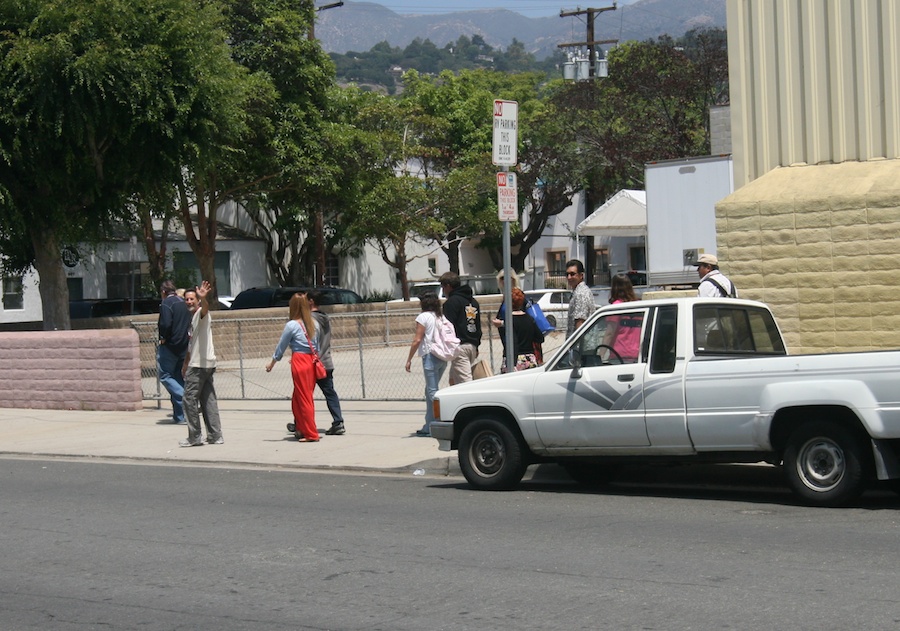 We waved at Bob as he headed to Silver from Jaffurs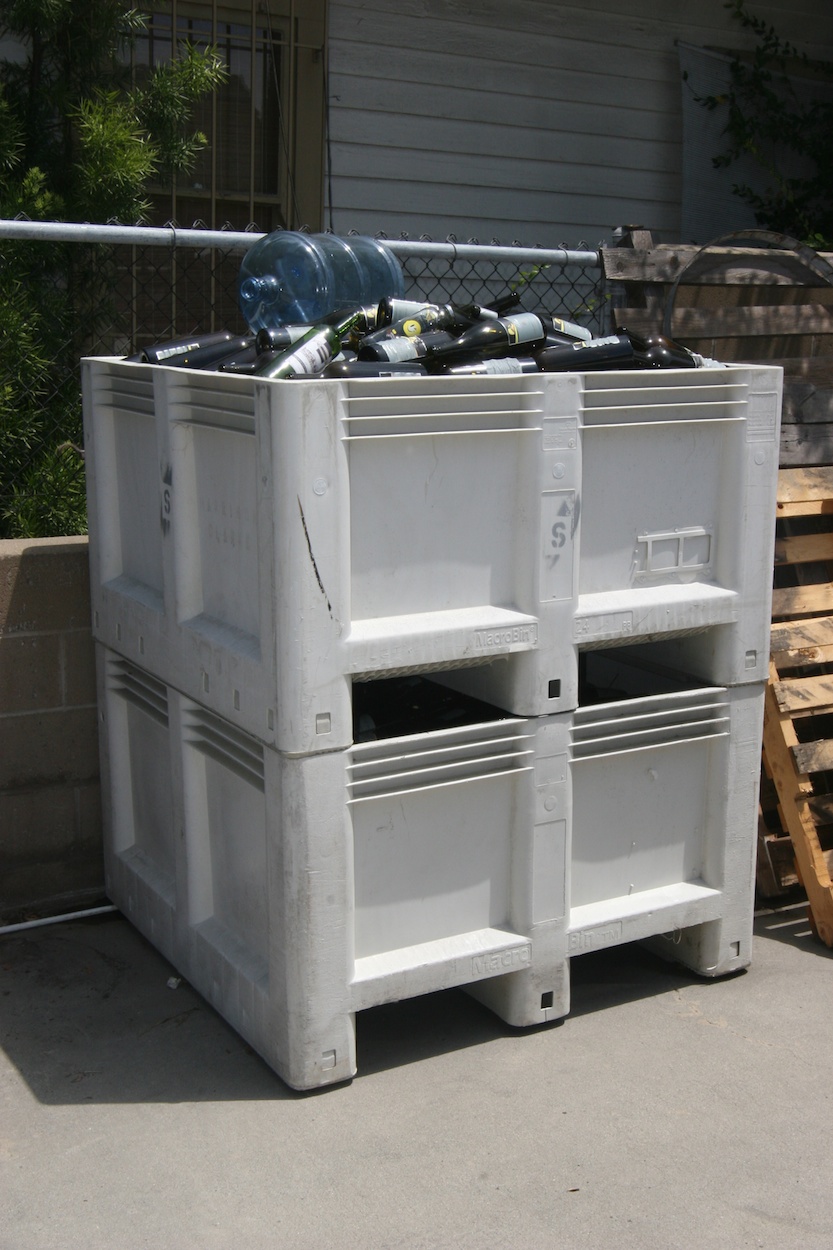 Iris said it looked like her trash can at home.... We think not!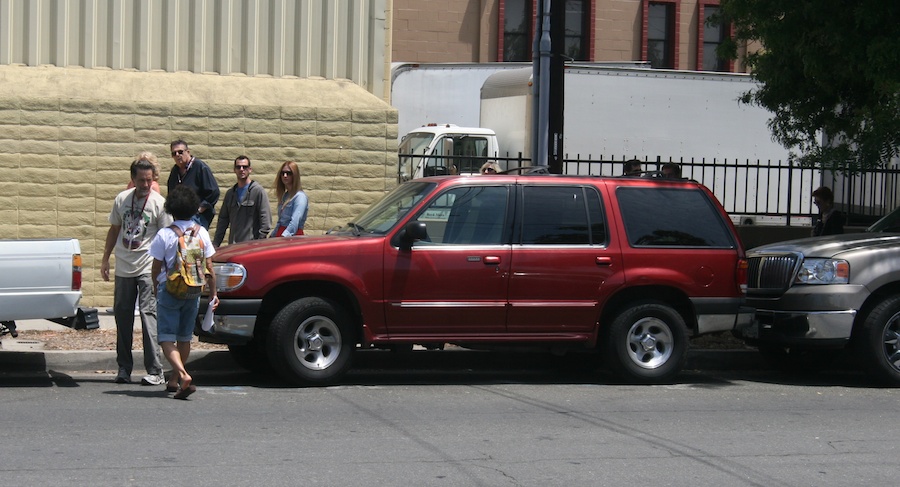 Pre-arrival coordination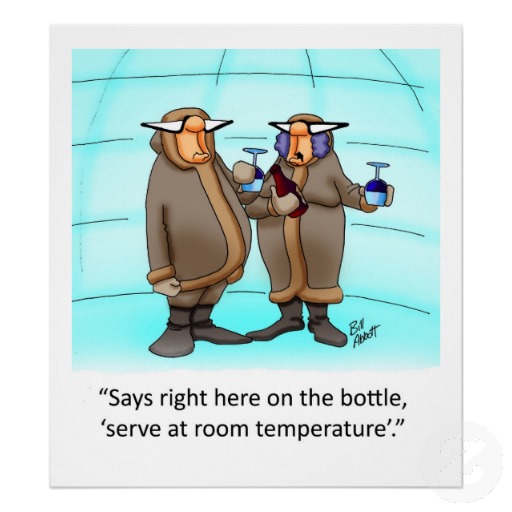 A Visit To Jaffurs Winery
Did You Know? - Jaffurs Wine Cellars is dedicated to producing great Rhone varietal wines with a new-world independence. Our wines -Syrah, Grenache, Petite Sirah, Viognier, and Roussanne - are among the best in the county. Owner/winemaker Craig Jaffurs, produced his first professional wines during the 1994 harvest.
All our wines are carefully made in small lots. Only about 3500 cases are produced each year - production is limited. We work closely with our growers in the Santa Ynez, Santa Rita, Los Alamos, and the Santa Maria growing regions. We limit vineyard yields and require that optimal farming practices are observed. All our wines are crushed, pressed, cellared and bottled in our Santa Barbara facility. Visit us for a glimpse of world class winemaking in the heart of the city.  2013 is our 20th harvest!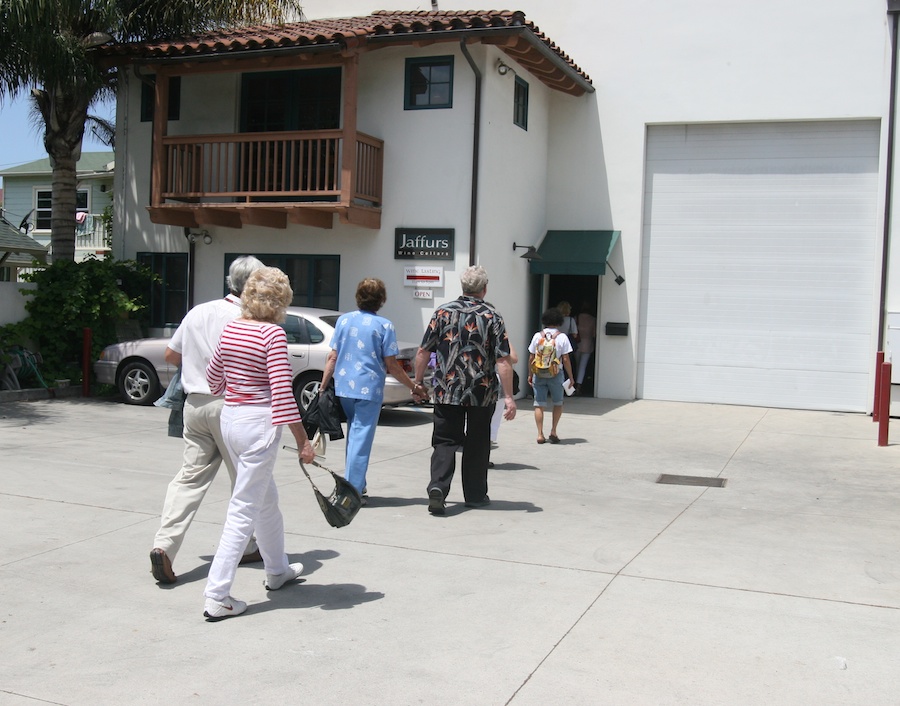 Hope they don't know we were part of the previous group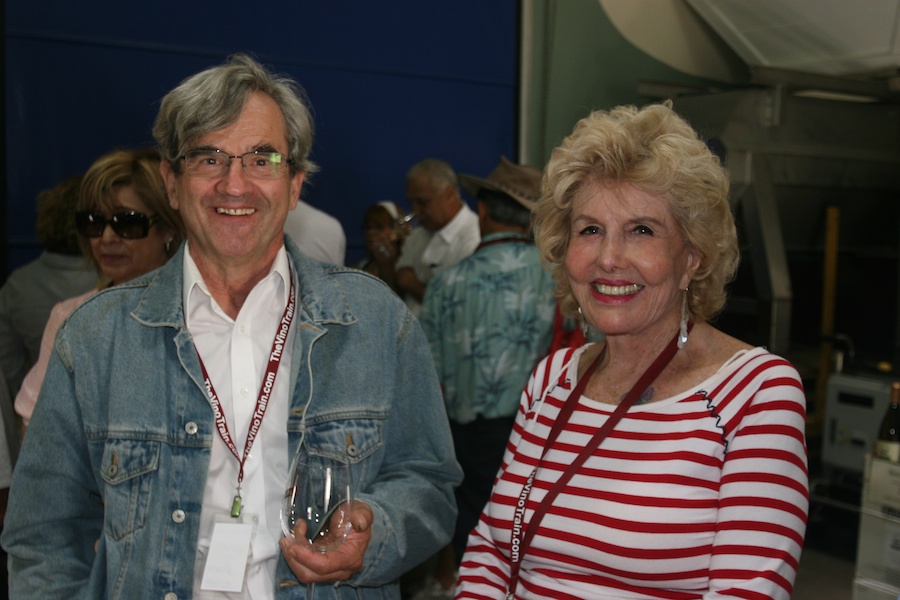 "Filler up!"

The wine be flowing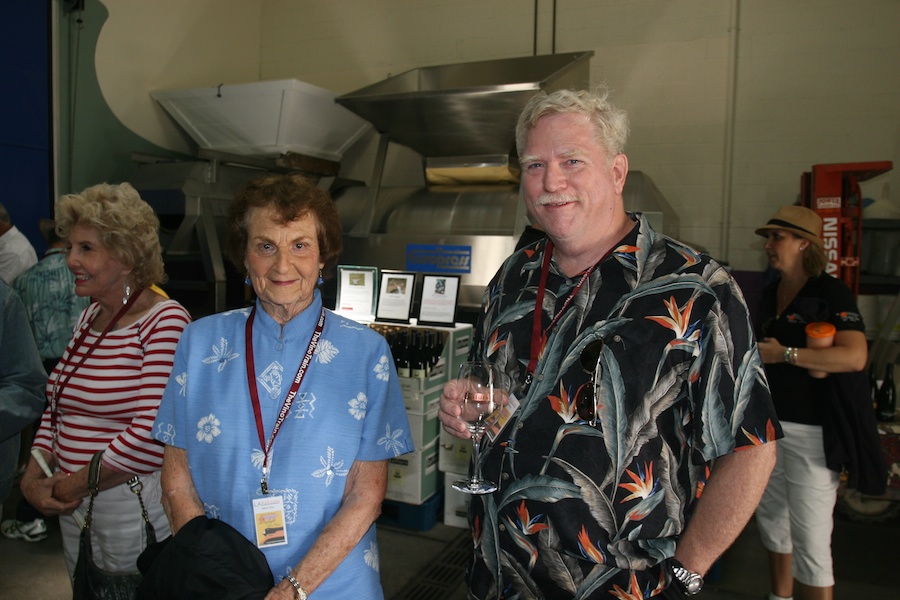 Gary is pacing himself....

All smiles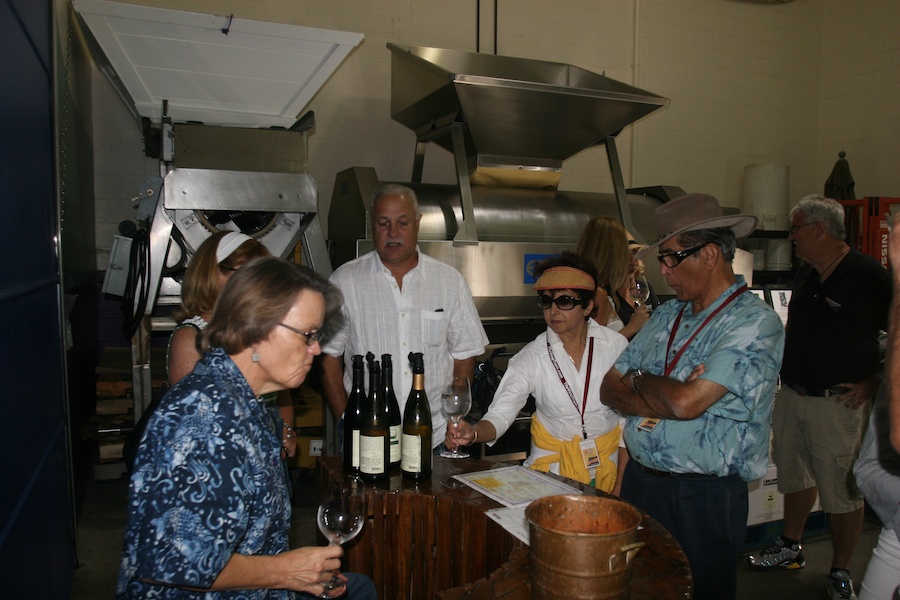 Serious tasting going on here hic!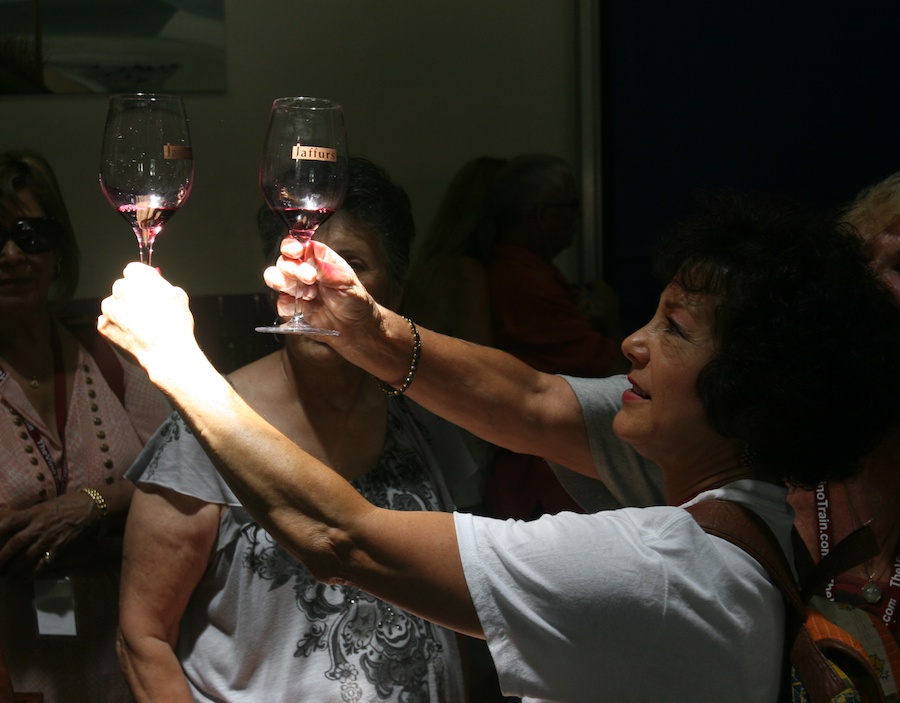 Donna thinks sunshine will improve the wine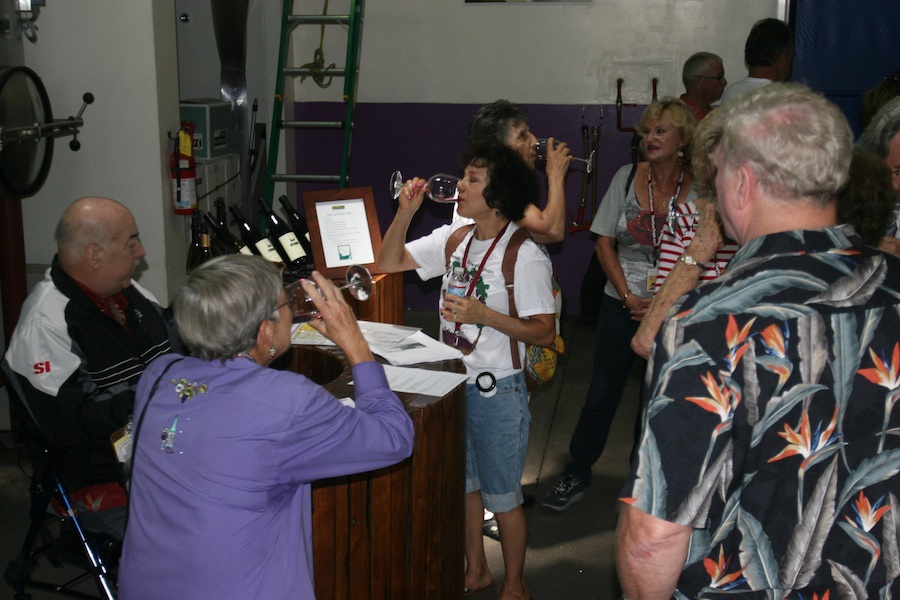 Slurp... Gurgle... Swish....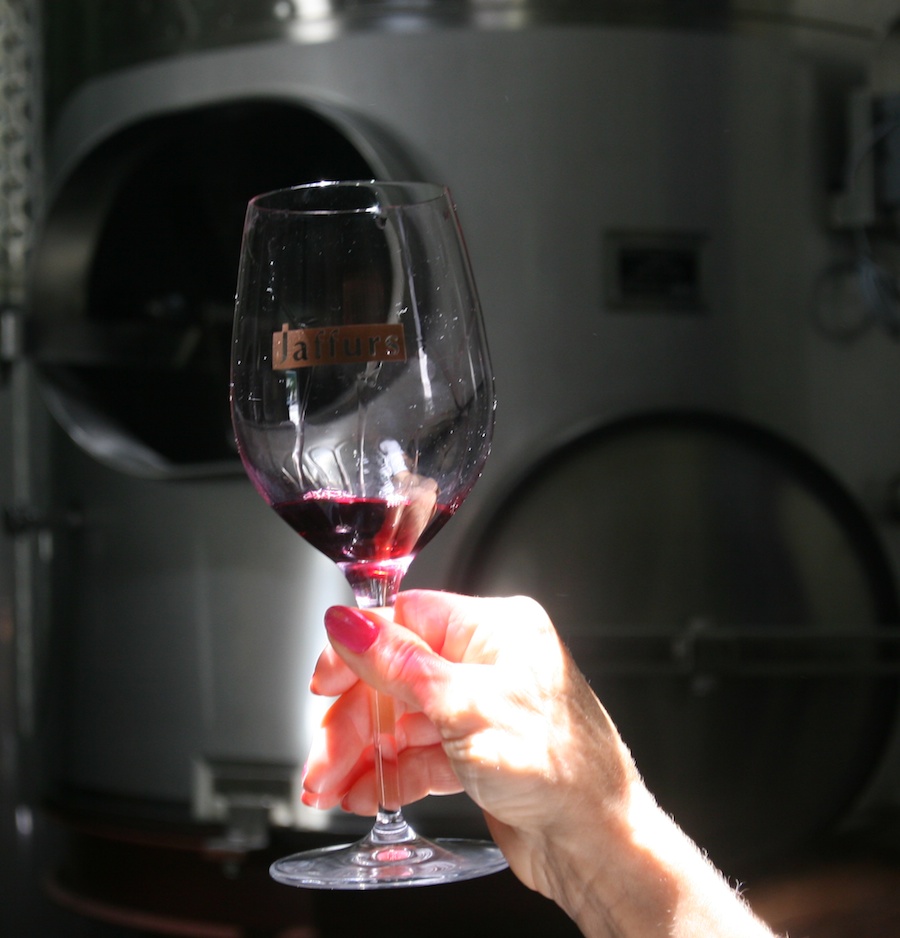 A beautiful color....

Getting a lesson in wine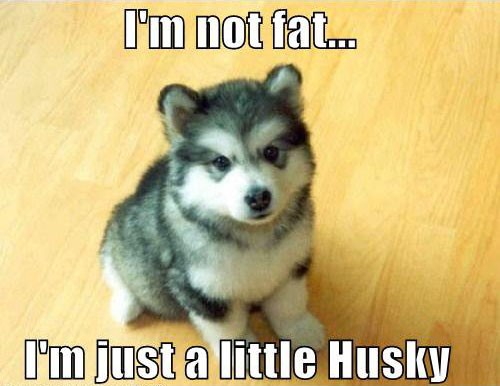 Time To Meet Up At Carr Before Lunch!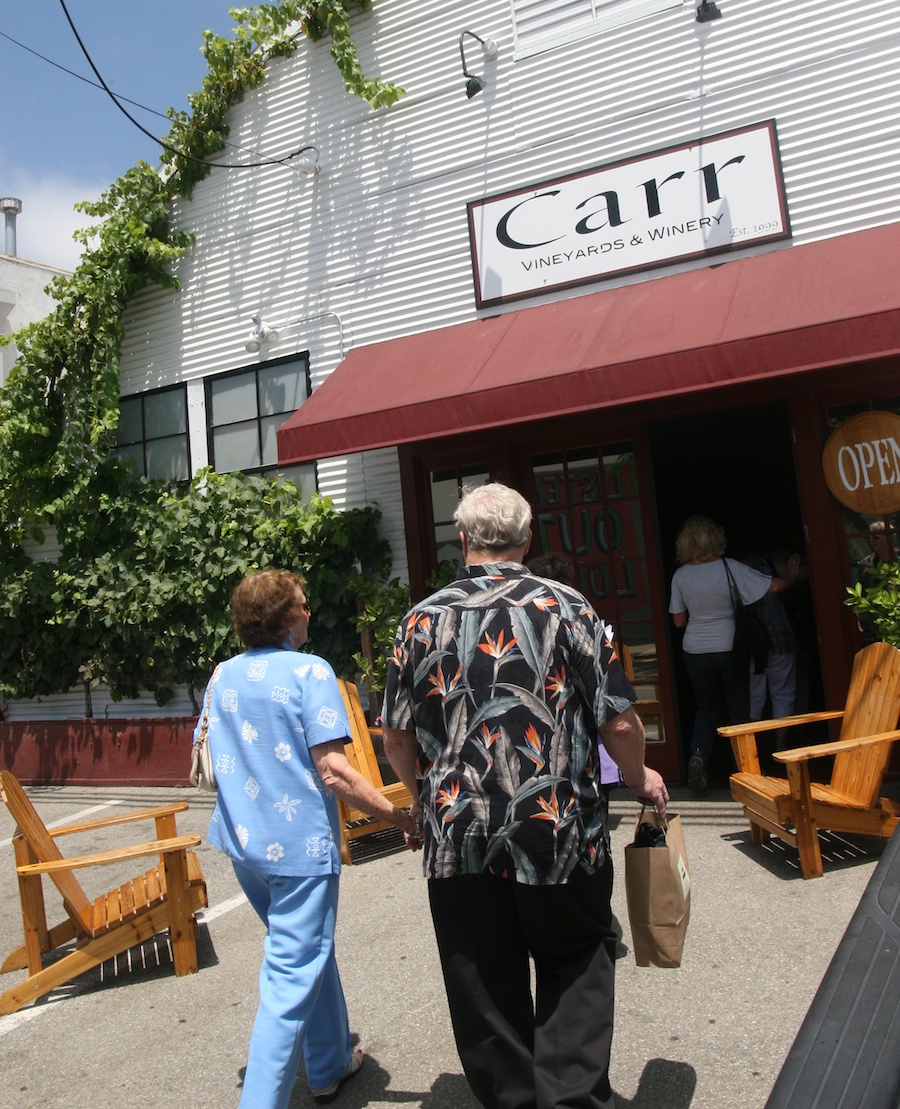 Gary has made a purchase
Did You Know? - A Quonset hut is a lightweight prefabricated structure of corrugated galvanized steel having a semicircular cross-section. The design was based on the Nissen hut developed by the British during World War I. The name comes from their site of first manufacture, Quonset Point, at the Davisville Naval Construction Battalion Center in Davisville (a village located within the town of North Kingstown, Rhode Island, USA)

See no evil, speak no evil, hear no evil.... Have no fun!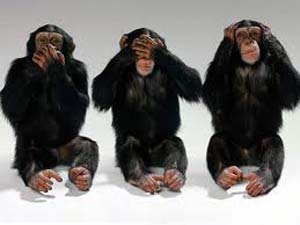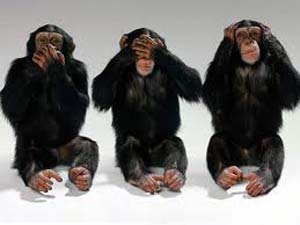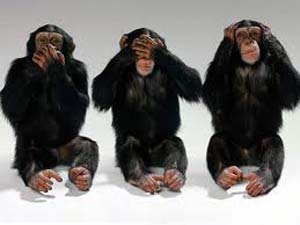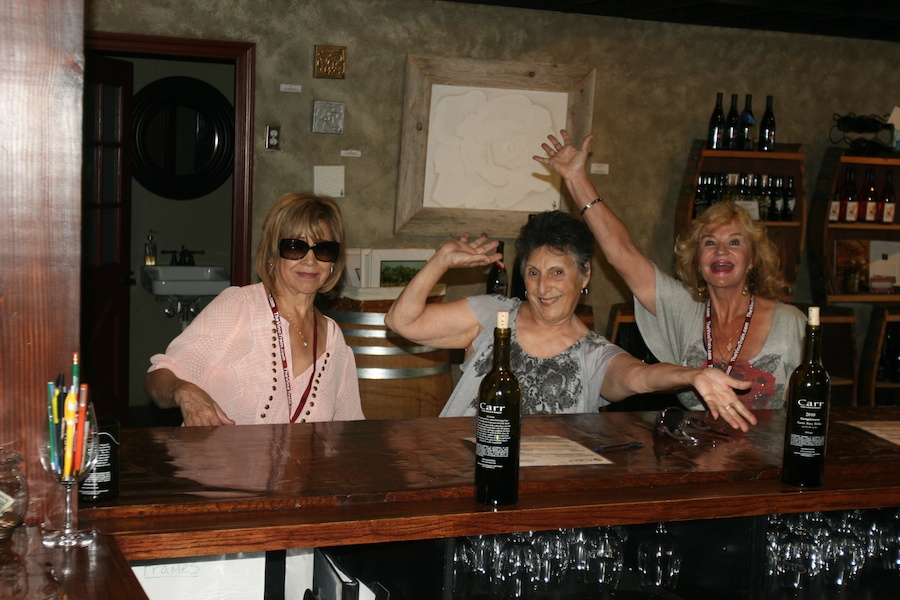 ... and they haven't even tasted yet!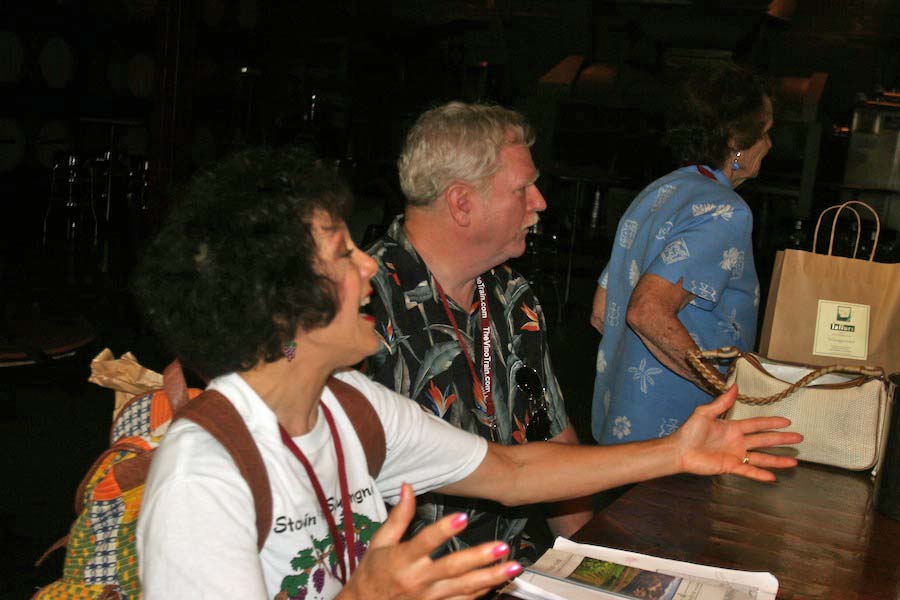 Donna breaks out in song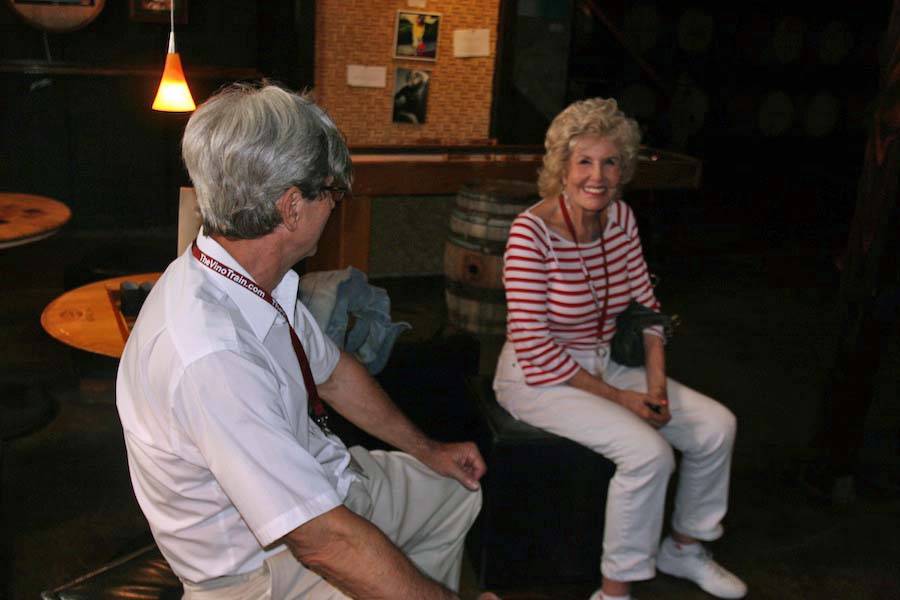 Feels good to sit down in a cool room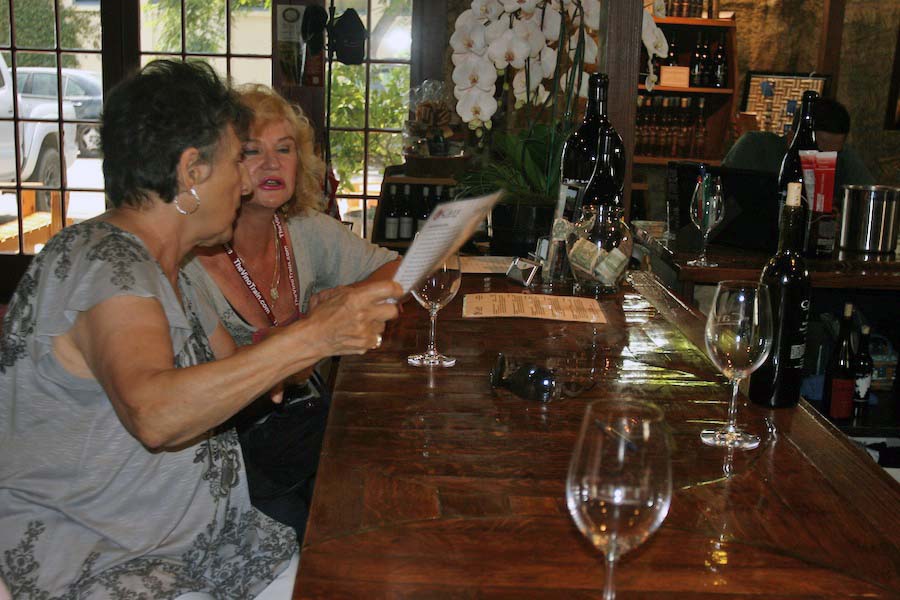 The wine begins to show up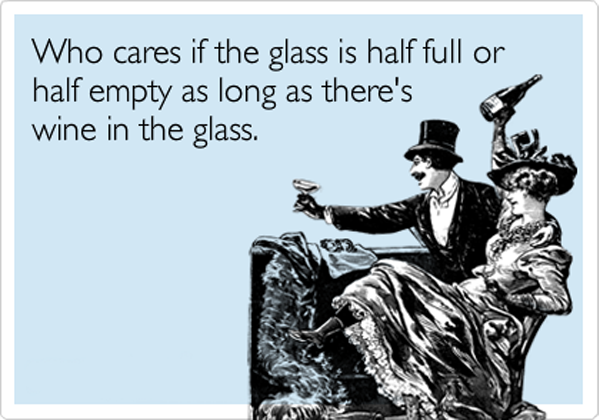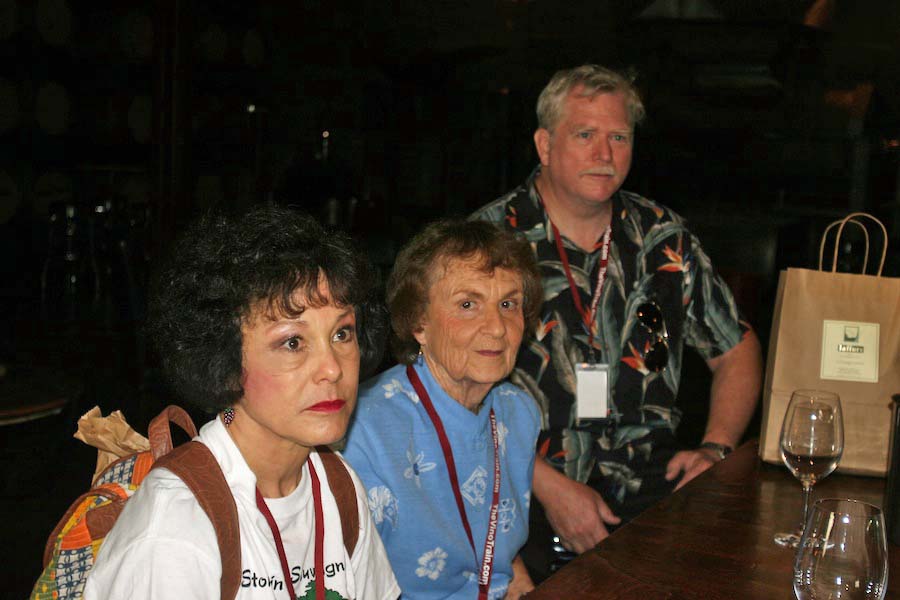 Serious decision to be made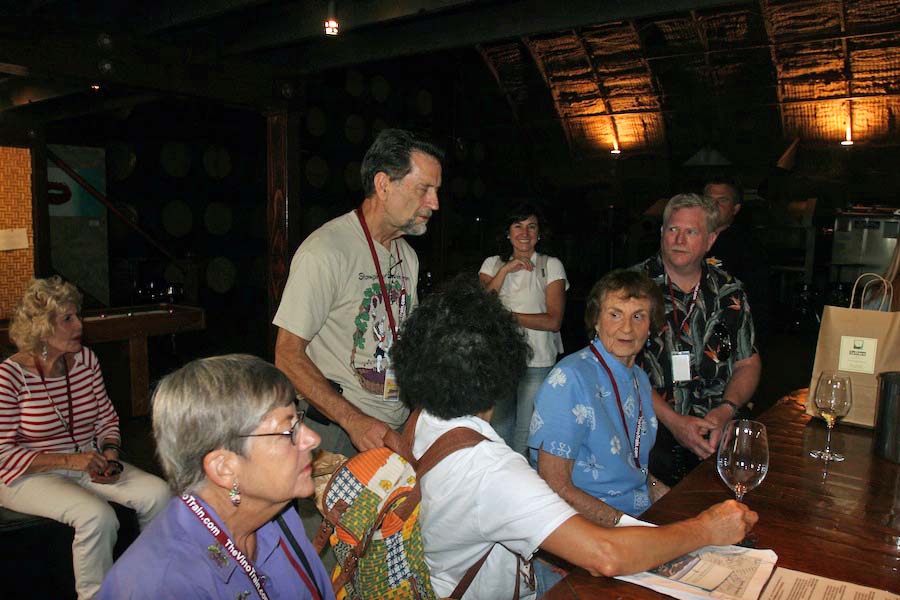 Everyone is here.... All nineteen of us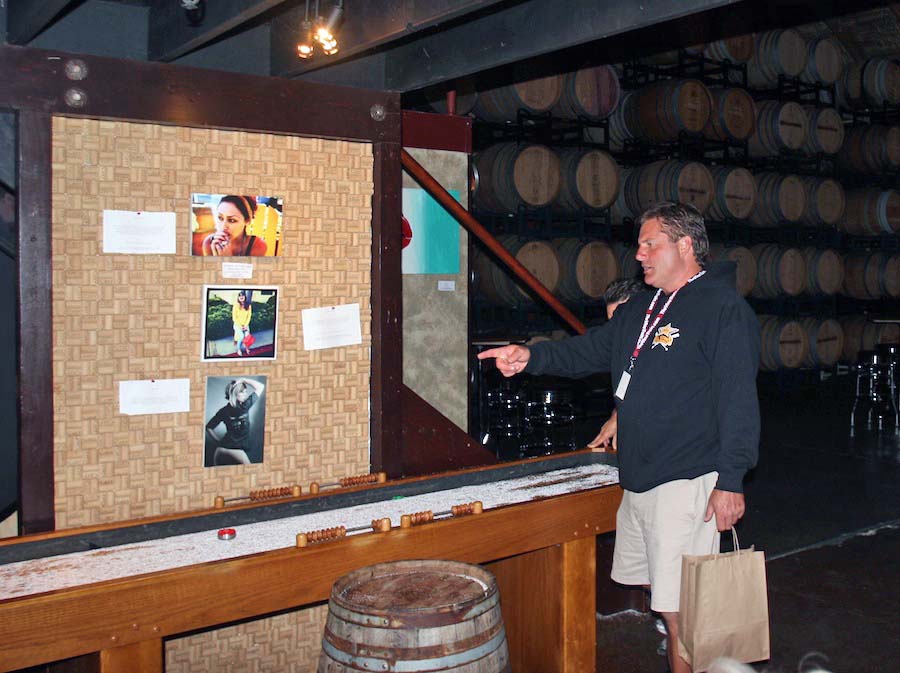 "He guys... It's a sliding thing-a-majig"

No more selection lists in small print

"Watch this!!"

"I will get the last drop or else!!"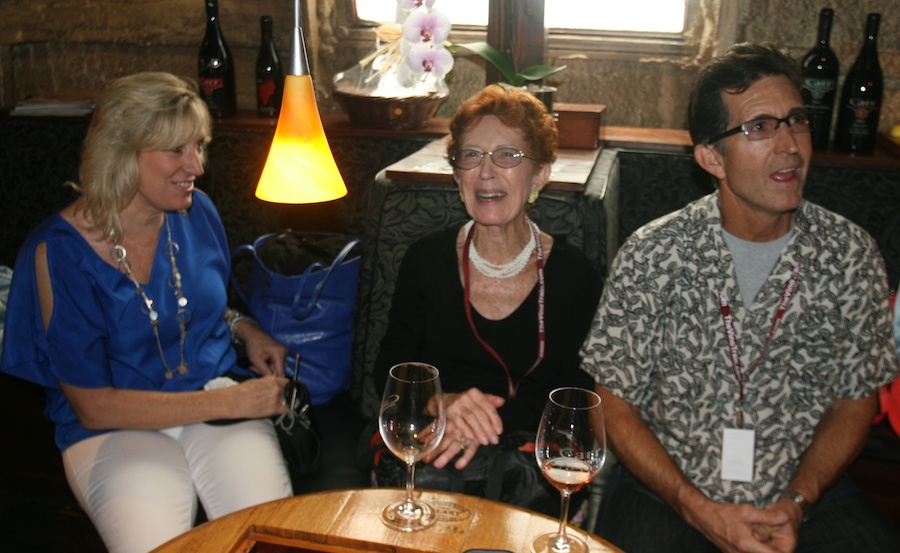 Three people... Two glasses... M-m-m-m-m-m-m
Oh... They are both Nancy's

"Hey... This is good!"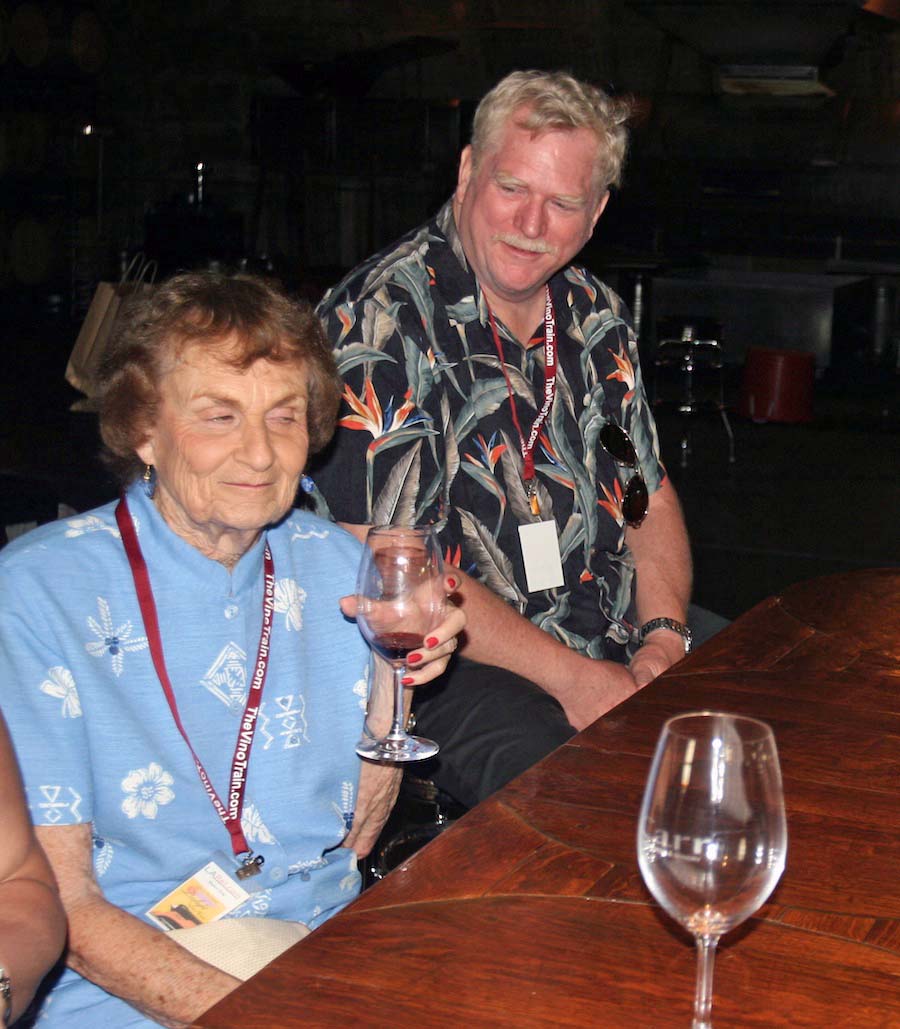 What is Marion up to?????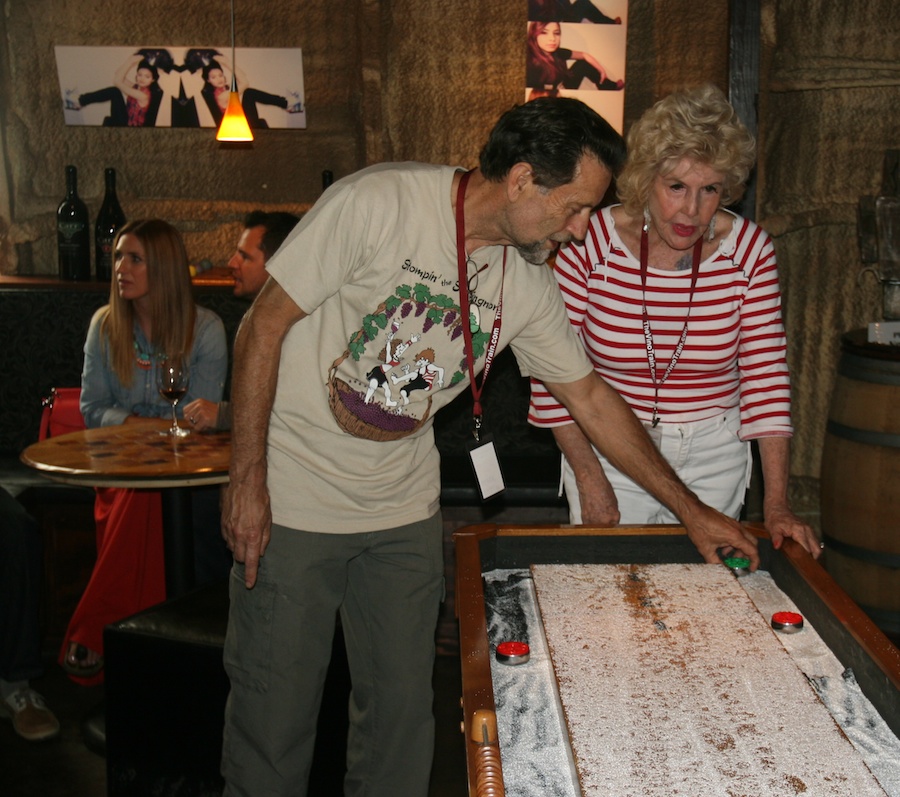 Bob will give a demonstration in the proper way to play the game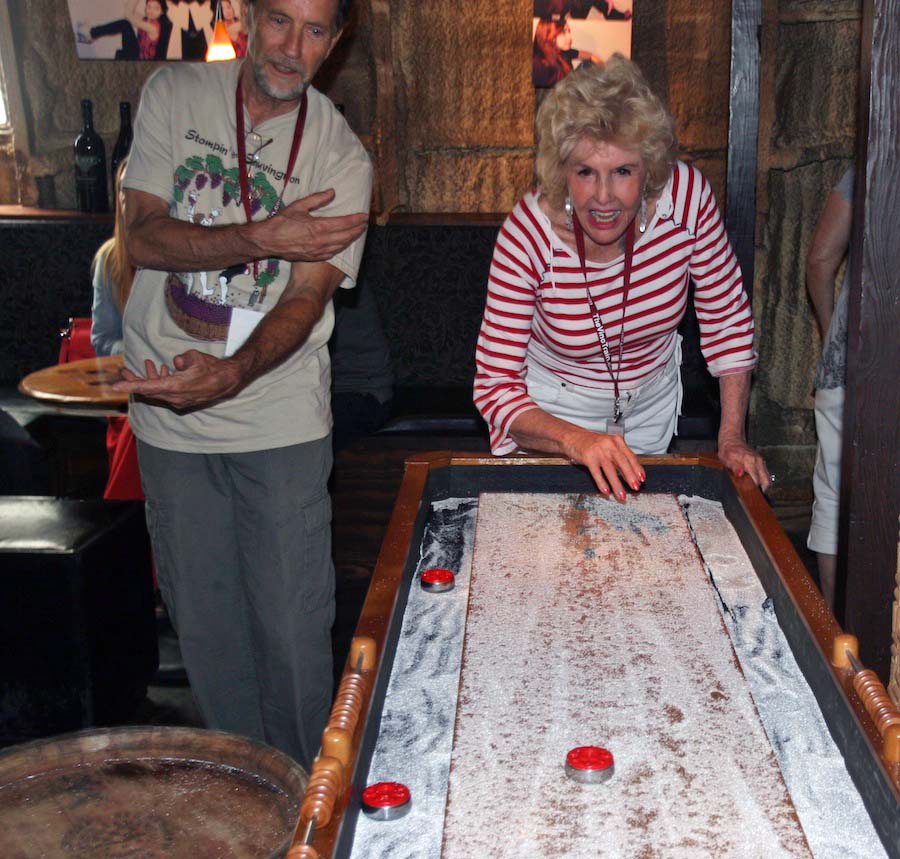 Iris goes right down the center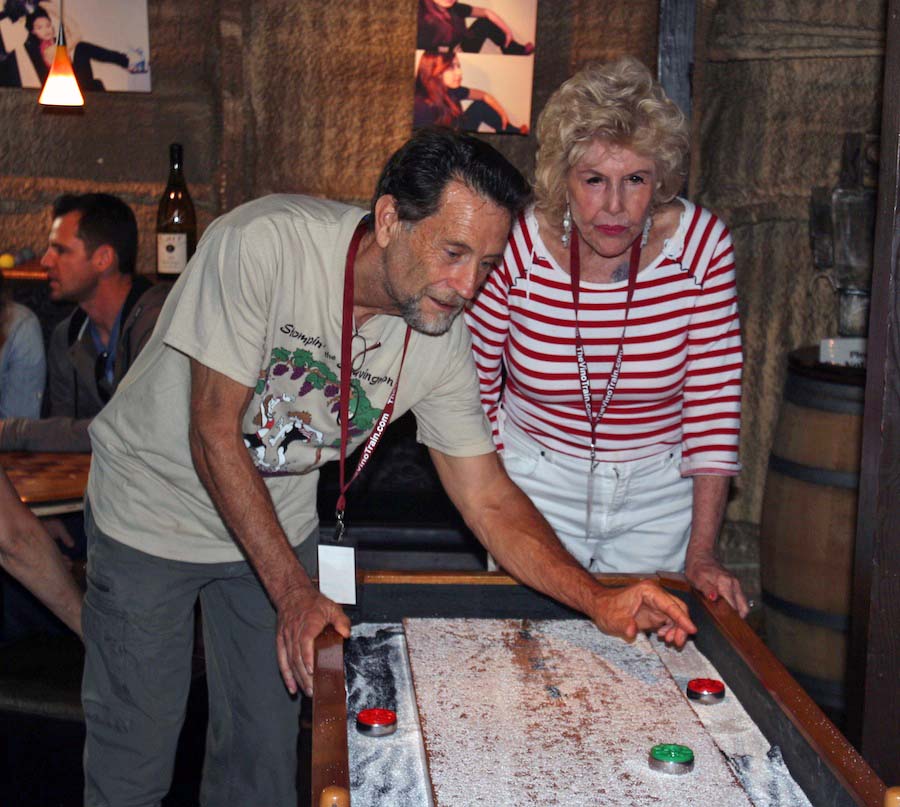 Bob plops it in the gutter....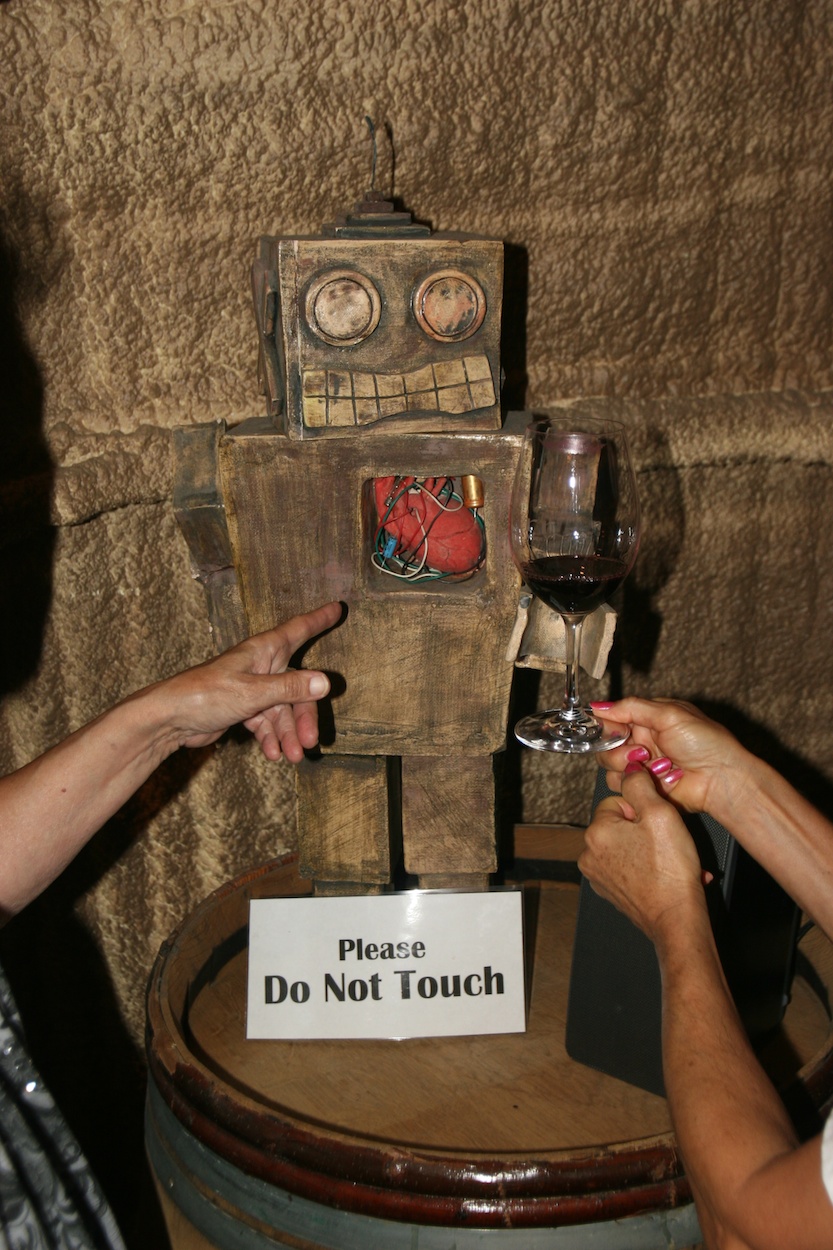 Don't touch... You can give it a drink however

The culprits are identified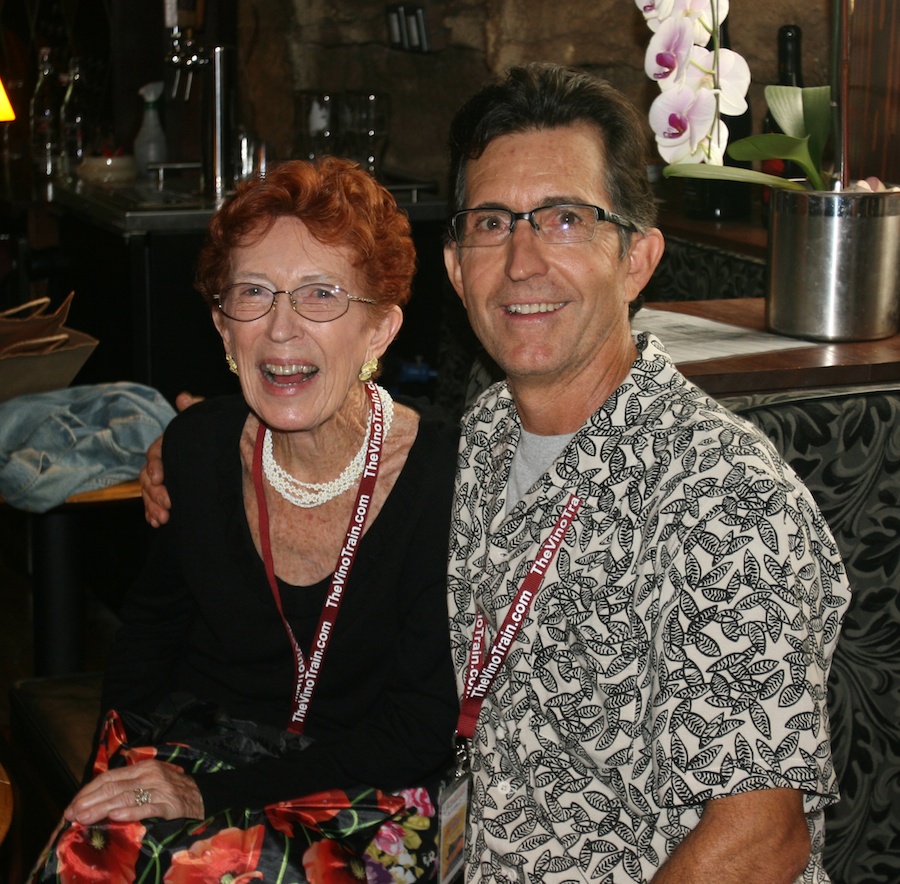 Mom and son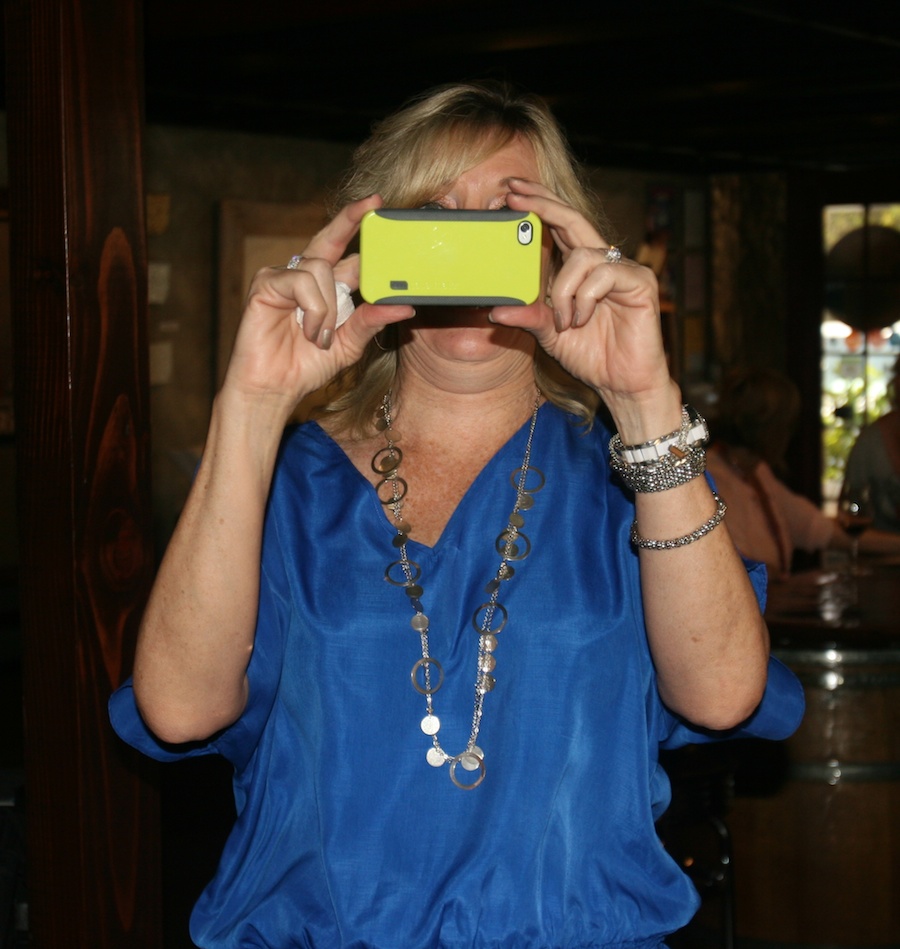 Jamie captures the moment

Big smiles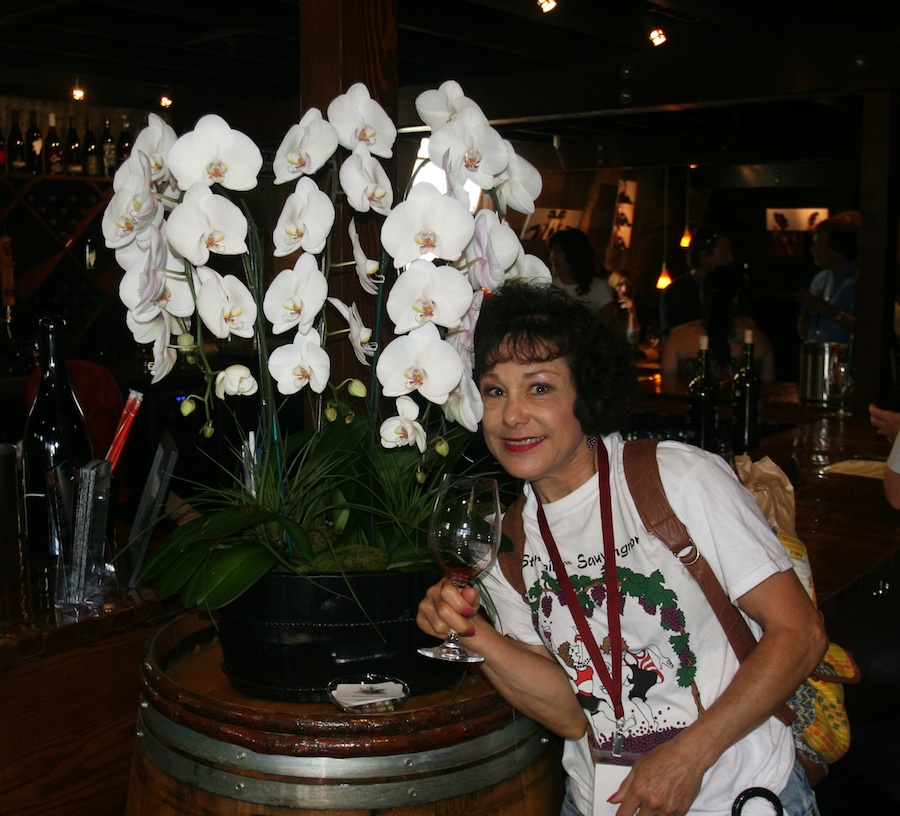 It's tradition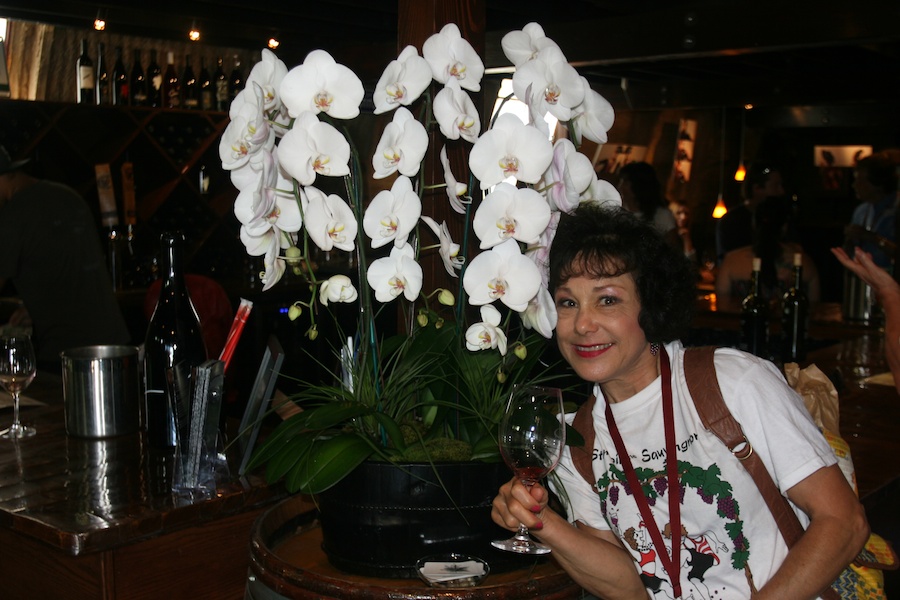 A little wine in the bowl the the plants grow better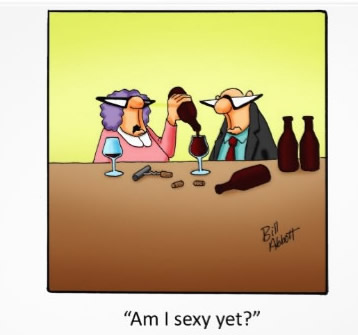 It's Lunch Time At "The Wine Bistro"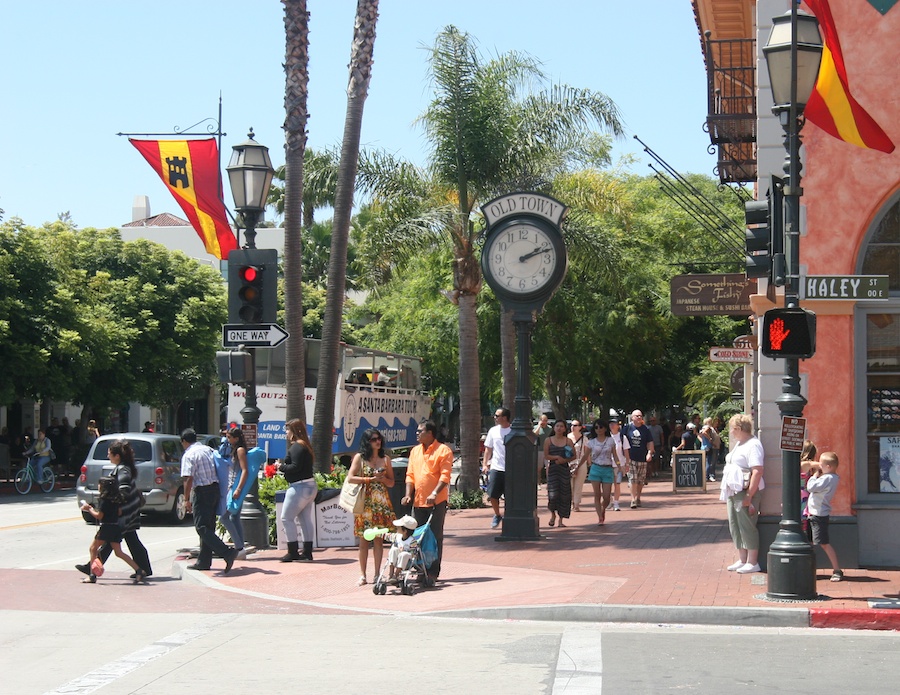 We got there at 2:15 after several delays....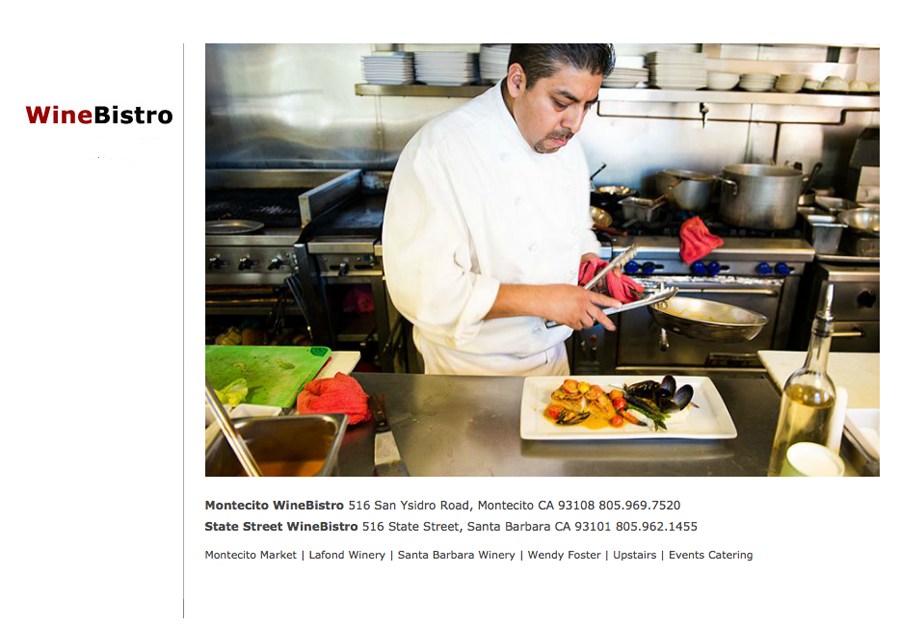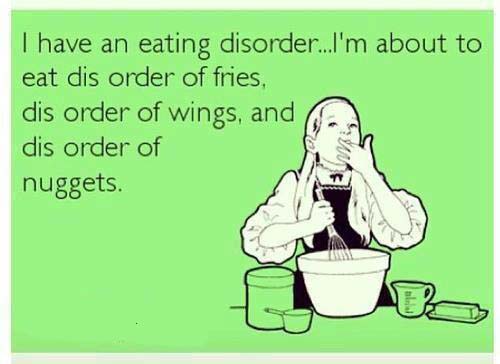 Did You Know? - Started in 1962 by Pierre Lafond, the Santa Barbara Winery, and later the Lafond Winery, were pioneers in grape growing and winemaking in Santa Barbara County.

Under Winemaker Bruce McGuire the winery and vineyards have grown in size and prestige producing outstanding wines that are now available throughout the country and exported to Canada, Japan, Germany, Switzerland and now China.

The Wine Bistro is both a showcase for these wines and for the culinary art of Chef Victor Carranza at the Montecito Bistro, and Chef Nathan Heil at the State Street Bistro. The Restaurants are dedicated to the concept of Farm to Table using local organic produce, free-range grass fed meats, organic and drug-free poultry, sustainable fisheries and local wines.


The table was in place and the food and service wonderful

Greg and Gwen stopped by for a quick visit


Great menu

Great wine although only a few of us have wine since we had been tasting all morning

Decisions decisions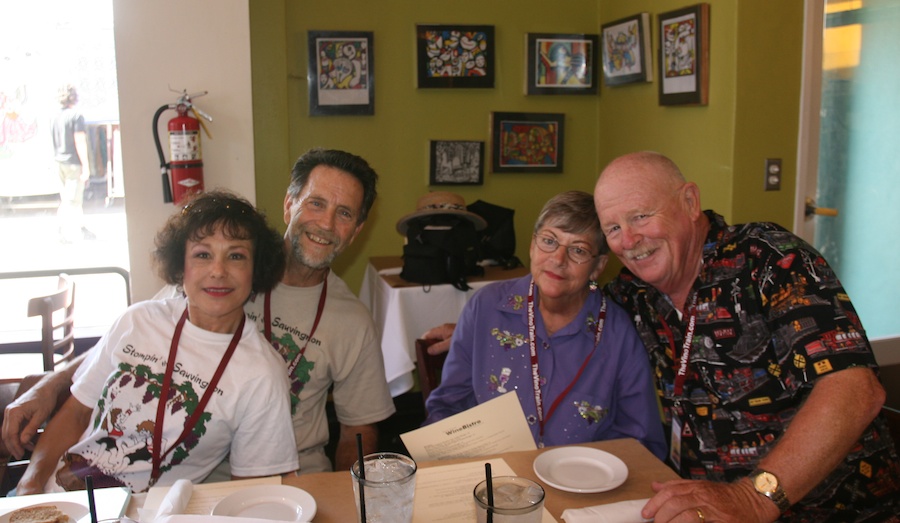 The Wine Team and Train Team at rest

"Who? Me?"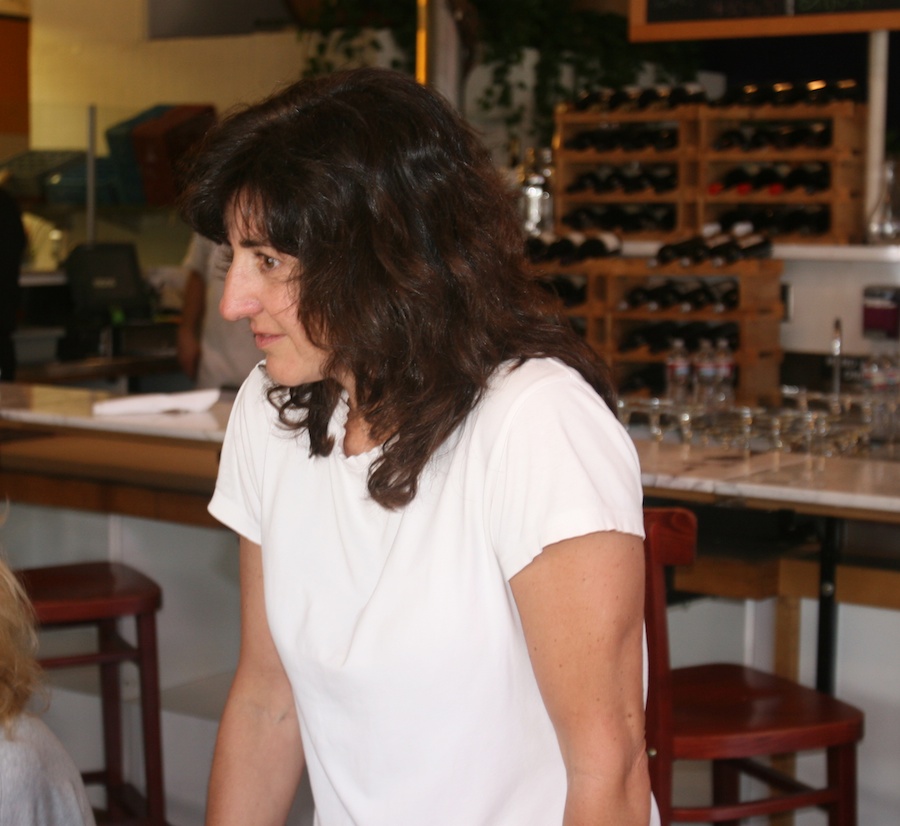 Cyndy checks out the situation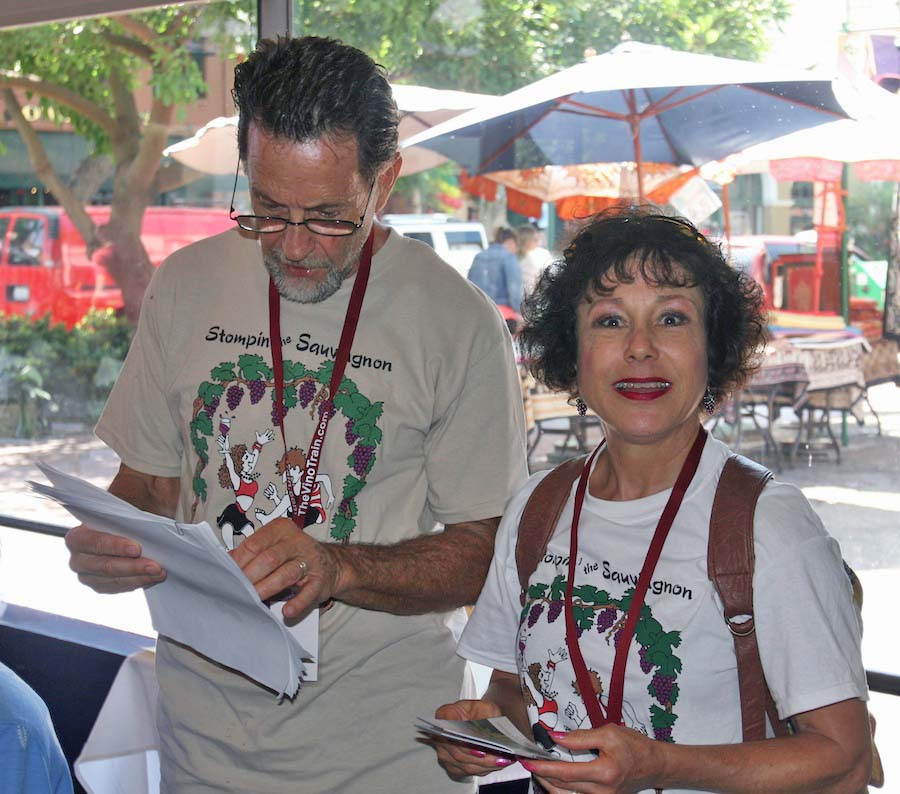 Making sure we know where to go after lunch

"Donna! This is upside down!"

Lunch is served.... and it disappears

Donna thinks rubbing the map on Paul's hear might help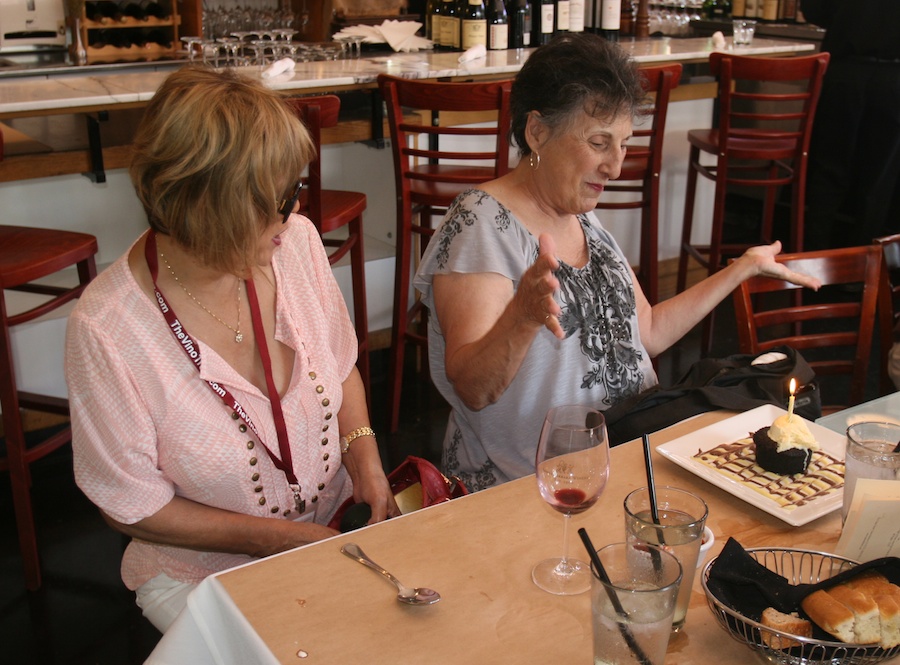 Happy Birthday Irene

"Bet you can't blow it out from down there!!"

Time to sing....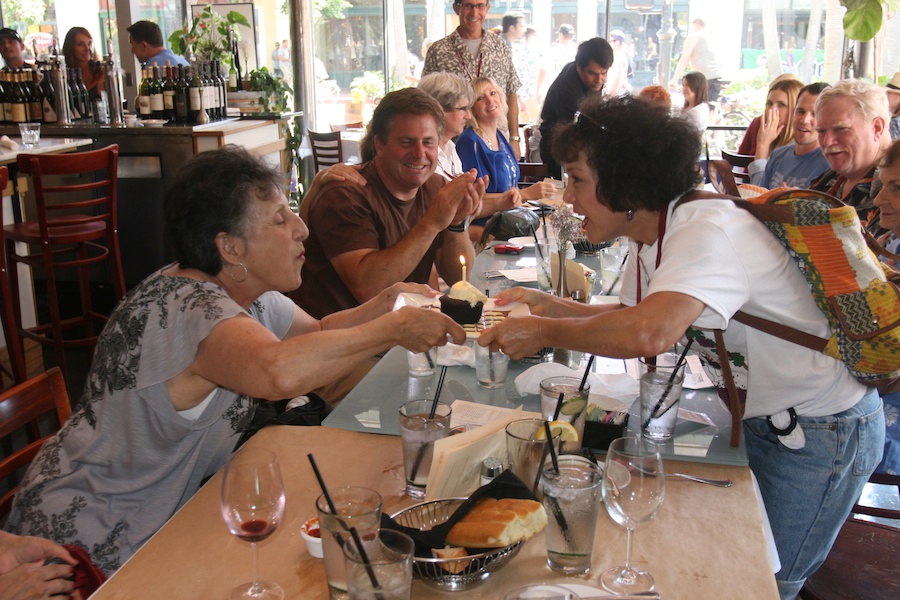 Donna's birthday was yesterday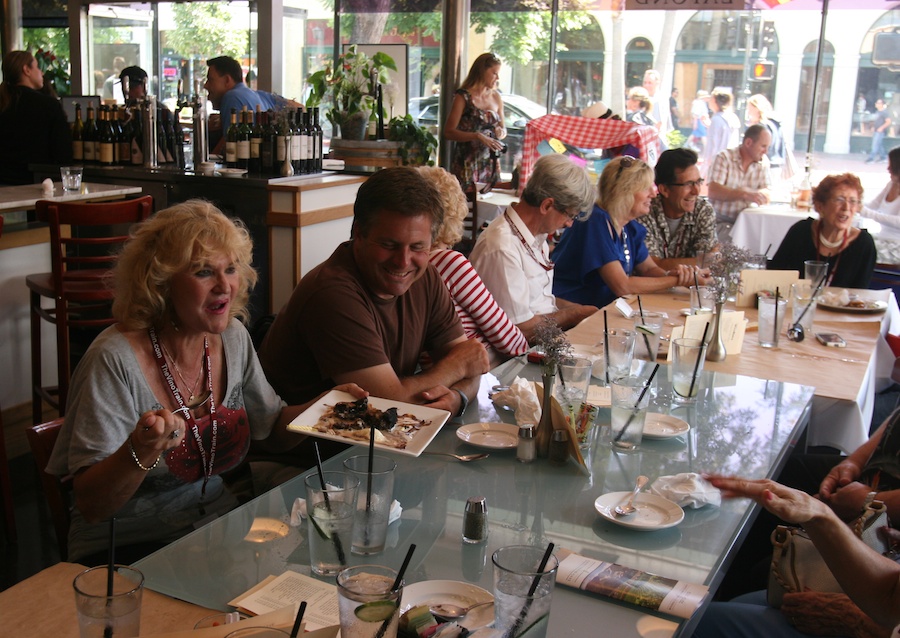 Magic... It disappeared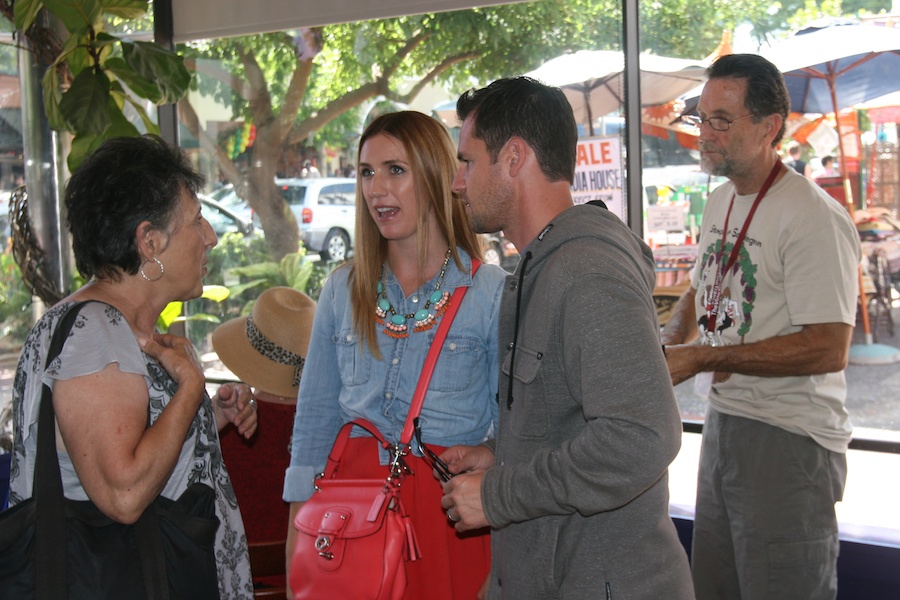 Irene, Wendy, Sacha, and Bob getting ready to leave
Heading Out... Follow Donna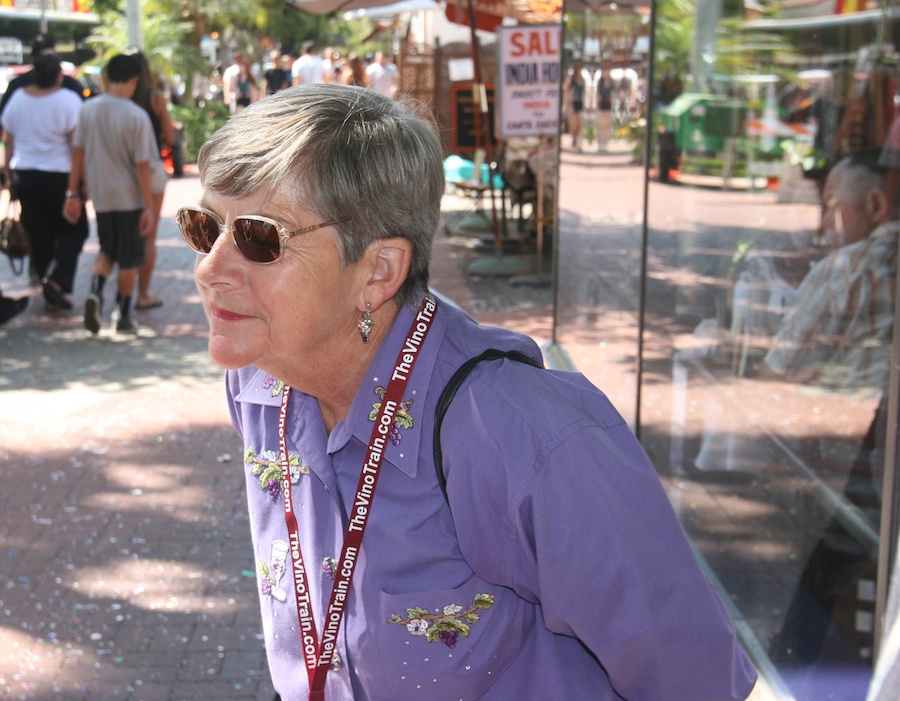 The Wine Lady is ready to go!

"It's OK... I have marked the map so I cannot turn it upside down"

Not bad... 90 minutes to eat and get ready to go!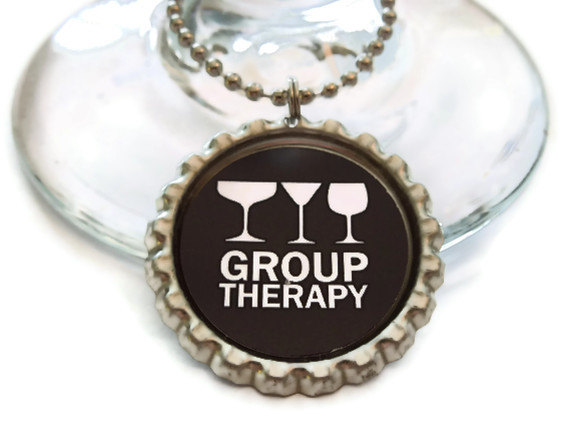 We did group therapy