We Have A New Car This Trip - The 1937 Dormitory-Lounge "Acoma"
In May 1937, the heavyweight equipment used on the Super Chief was replaced with all lightweight stainless steel cars built by the Budd Company.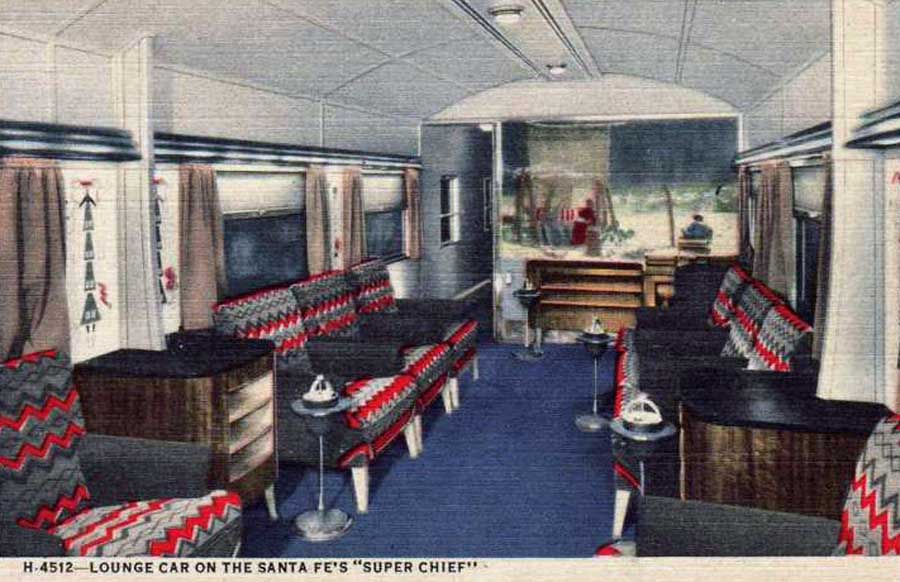 Postcard circa 1940 of the Lounfe Car
Did You Know? - A interior view of the ACOMA lounge with its Thunderbird symbol, the curved couches, coffee tables, writing desk, light fixtures,and art-deco metal work. The ACOMA was the first full sized "streamlined" lounge car designed by the Santa Fe and built by the Budd company in 1936 for the Santa Fe Super chief train.
Did You Know? - A exterior view of the Santa Fe Super Chief "Drumhead" with a tribal member of the Navajo Nation standing nearby. The logo of the "Drumhead" often adorned the ends of the observation cars on the Super Chief.
The streamlined train built by the Budd company in late 1936 traveled once a week on a round trip between Chicago Illinois and Los Angeles, California.
The Super Chief comprised of eight cars that included: a baggage car, a dining car called the "Cochiti", a lounge car know as the "Acoma", and sleeping cars know as the "Orabi", "Taos", "Laguna", "Isleta" and the "Navajo".