OC Fair 2008 With Just Us! 7/11/2008 (Page Two)
We decided to avoid the free hour and arrived at 2:00 PM and left at 8:PM on the first day. Ten pound buns, meatball sliders, and wine filled us up! It was a delightful day with the temperature not going over 76 degrees and a nice wind off the ocean! The pigs are always the first stop!!!

Petunia has the babies on the day before the fair opened...
Did You Know? - They were cute and very active! Pigs, also called hogs or swine, are ungulates which have been domesticated as sources of food, leather, and similar products since ancient times. More recently, they have been involved in biomedical research and treatments, especially for their eyes and hearts, which closely resemble those of humans. Their long association with humans has led to their considerable representation in cultural milieux from paintings to proverbs.

The onions were drying and they were big this year!
Did You Know? - Onion is a term used for many plants in the genus Allium. They are known by the common name "onion" but, used without qualifiers, it usually refers to Allium cepa. Allium cepa is also known as the 'garden onion' or 'bulb' onion and 'shallot'.

Onions, one of the oldest vegetables known to humankind, are found in a bewildering array of recipes and preparations, spanning almost the totality of the world's cultures; they are nowadays available in fresh, frozen, canned, pickled, and dehydrated forms. Onions can be used, usually chopped or sliced, in almost every type of food, including cooked foods and fresh salads, and as a spicy garnish; they are rarely eaten on their own but usually act as accompaniment to the main course. Depending on the variety, an onion can be sharp, spicy, tangy and pungent or mild and sweet.

Onions pickled in vinegar are eaten as a snack. These are often served as a side serving in fish and chip shops throughout the United Kingdom. Onions are a staple food in India, and are therefore fundamental to Indian cooking. They are commonly used as a base for curries, or made into a paste and eaten as a main course or as a side dish.

Tissue from onions is frequently used in science education to demonstrate microscope usage, because they have particularly large cells which are readily observed even at low magnifications.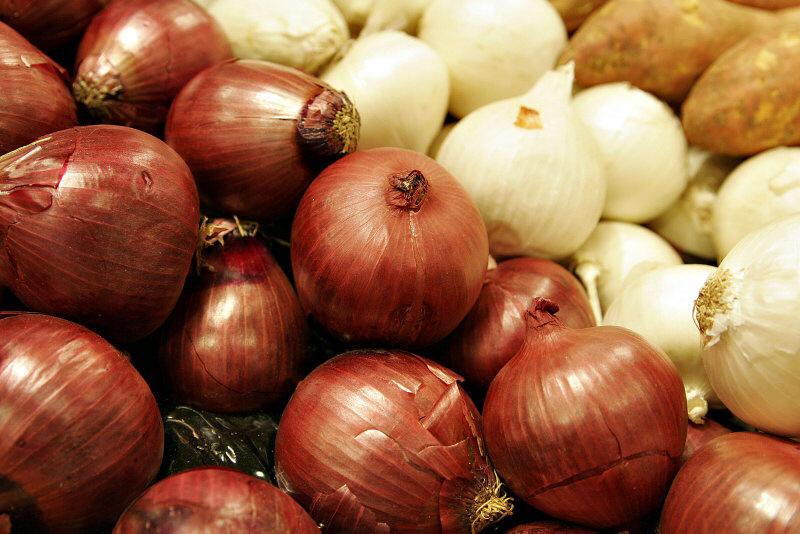 Grapes Were Just About Ready To Eat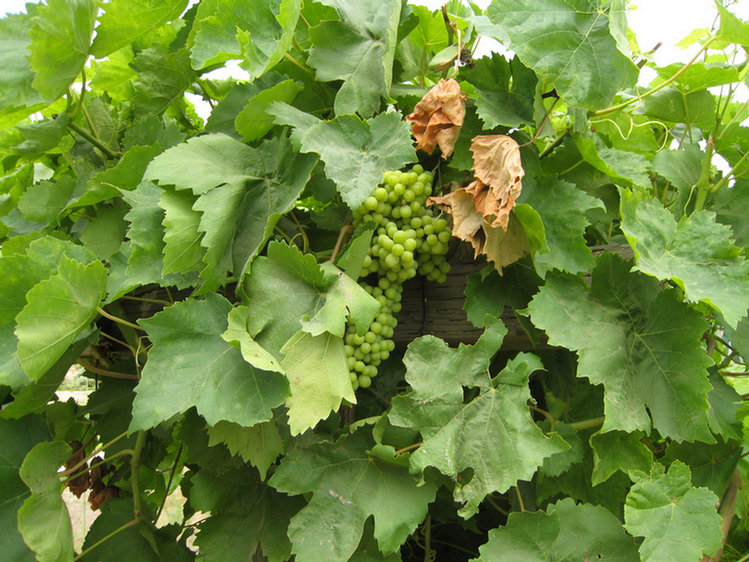 The grapes looked great!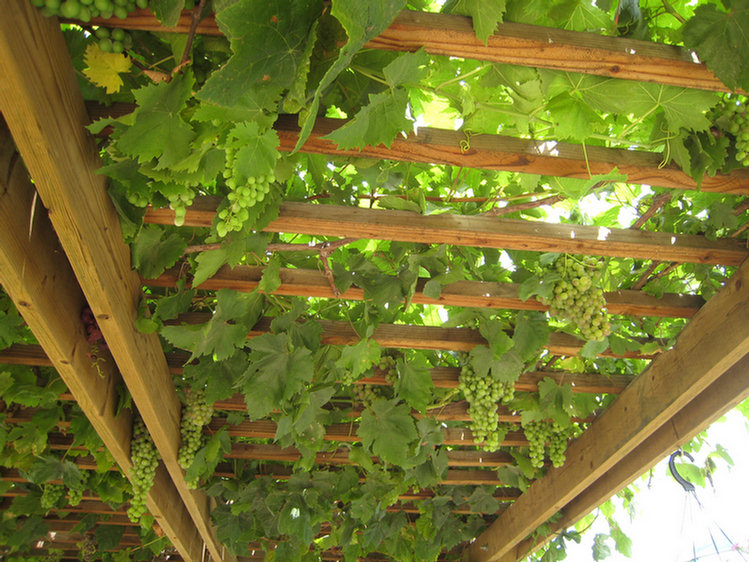 Paul is ready for a grape arbor! These looked magnificent!

My pumpkin is bigger than their pumpkin!
Did You Know? - The word pumpkin originates from the word "pepon" which is Greek for "large melon." The French adapted this word to "pompon," which the English changed to "pompion" and later American colonists changed that to the word we use today, "pumpkin." The origin of pumpkins is not known, although pumpkins are thought to have originated in North America. The oldest evidence, pumpkin-related seeds dating between 7000 and 5500 B.C., were found in Mexico.
Neatest Thing At The Fair!!!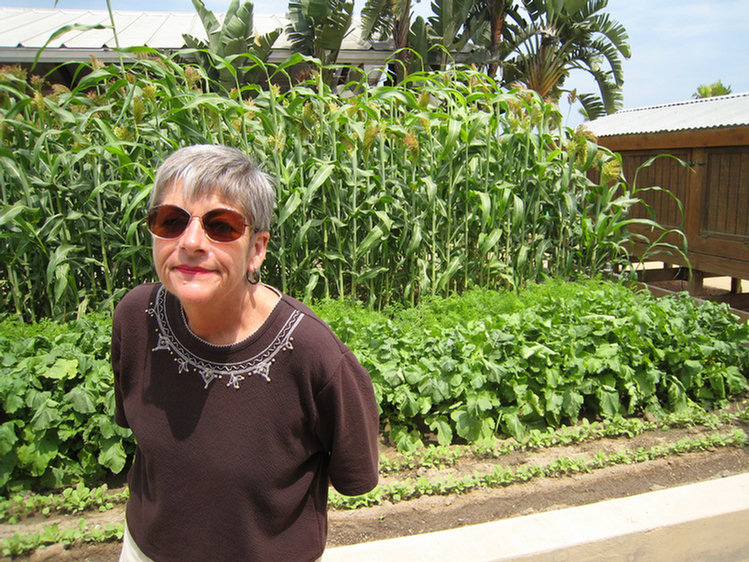 If If she were entered she would get 1st prize!!!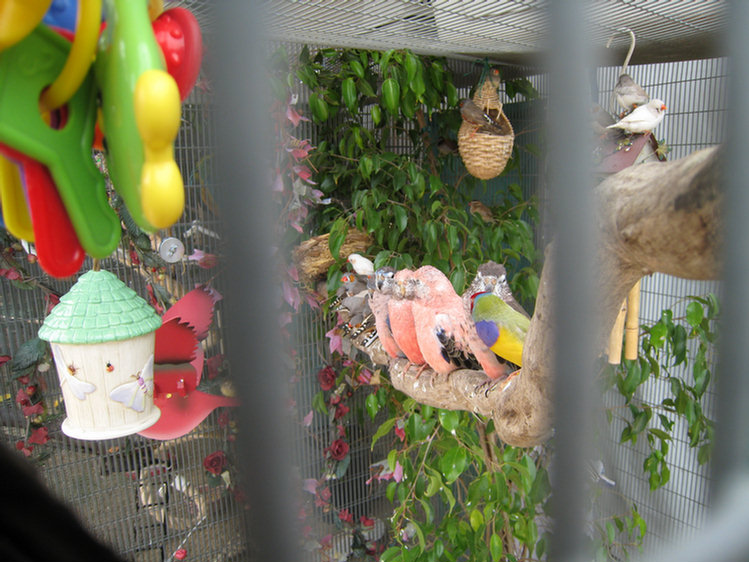 Through their bars they were pretty. We saw Lucy Crabb again this year and exchanged greeting!
The Vegetable Show!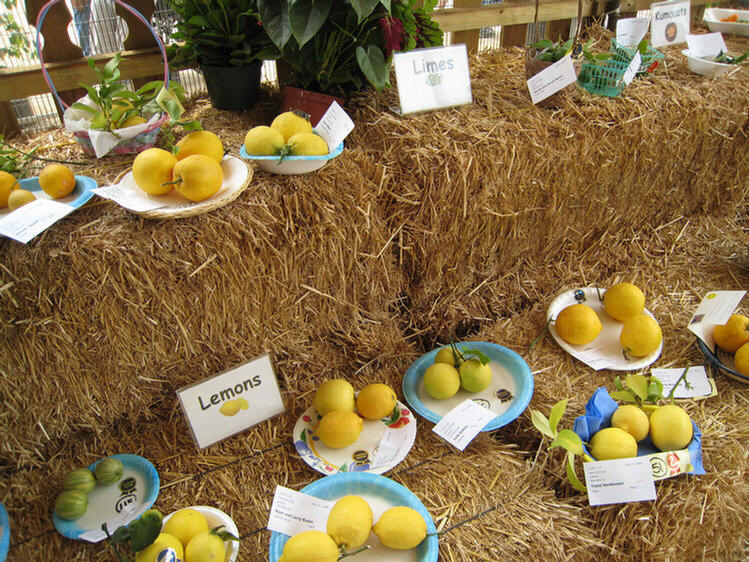 LEmons were in all sizes and shapes
Did You Know? - The lemon (Citrus × limon) is a hybrid in cultivated wild plants. It is the common name for the reproductive tissue surrounding the seed of the angiosperm lemon tree. The lemon is used for culinary and nonculinary purposes throughout the world. The fruit is used primarily for its juice, though the pulp and rind (zest) are also used, primarily in cooking and baking. Lemon juice is about 5% (approximately 0.03 moles/Liter) citric acid, which gives lemons a tart taste, and a pH of 2 to 3. This makes lemon juice an inexpensive, readily available acid for use in educational science experiments.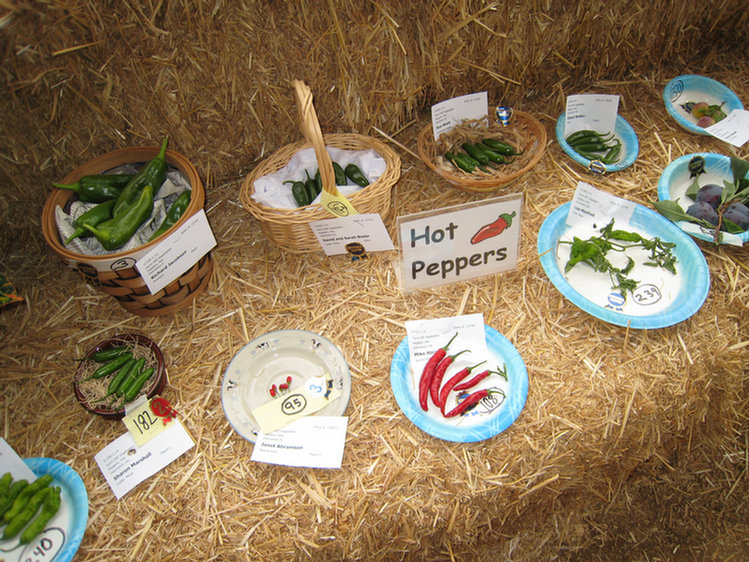 Centennial Farms
Centennial Farm is a 4-acre working farm at the OC Fair & Event Center. Created to educate youth about Orange County's agricultural heritage, the Farm is home to fruit and vegetable gardens, livestock, and Millennium Barn. Kids and adults can view pigs, peacocks, cows, honey bees and more while strolling though gardens of lush vegetation. We do ask that you please do not pick our crops as they are used for educational purposes.
OC Fair & Event Center provides educational, entertainment and recreational opportunities for the general public and preserves the heritage of California agriculture. This is achieved by showcasing the talents, interests and accomplishments of the citizens of California, especially Orange County residents. Our mission is served through the annual OC Fair, Centennial Farm, The Ranch, Youth Expo and more than 150 events throughout the year.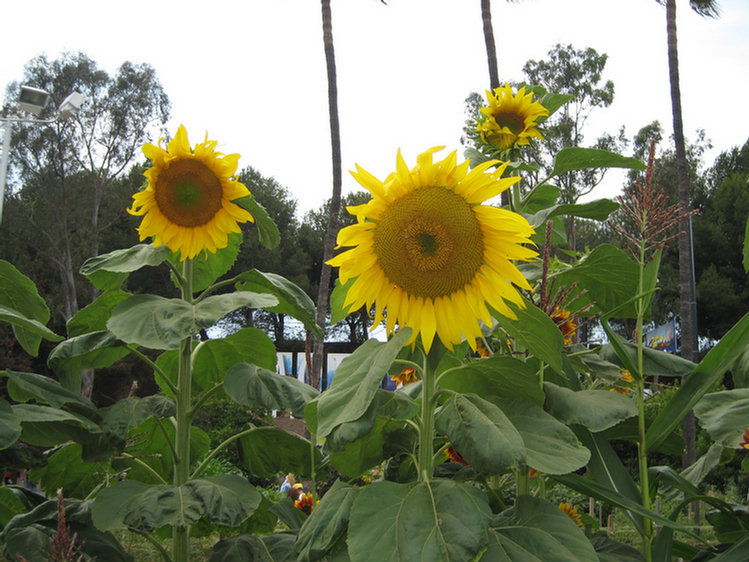 Hugh Sunflowers
Did You Know? - The sunflower (Helianthus annulus) is an annual plant native to the Americas in the family Asteraceae, with a large flowering head (inflorescence). The stem of the flower can grow as high as 3 meters tall, with the flower head reaching up to 30 cm in diameter with the "large" seeds. The term "sunflower" is also used to refer to all plants of the genus Helianthus, many of which are perennial plants.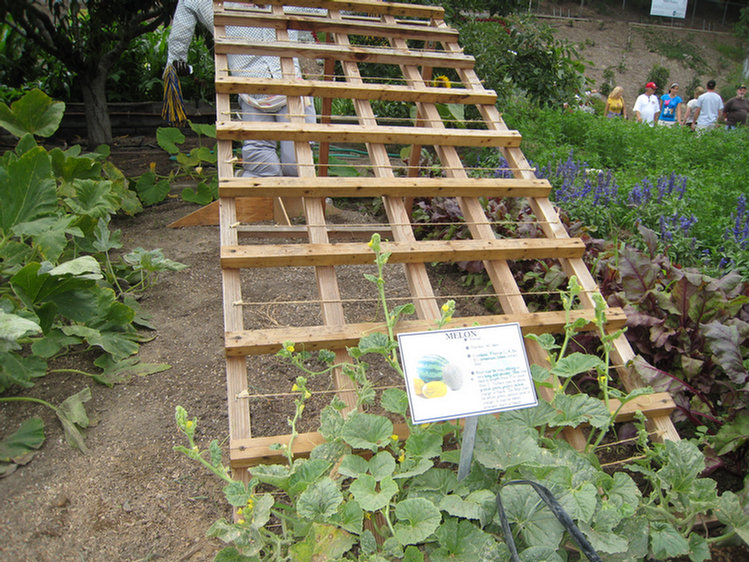 Great idea for growing melons!
Did You Know? - Melon is a term used for various members of the Cucurbitaceae family with fleshy fruit. Melon can refer to either the plant or the fruit, which is a false berry. Many different cultivars have been produced, particularly of muskmelons. The plant grows as a vine.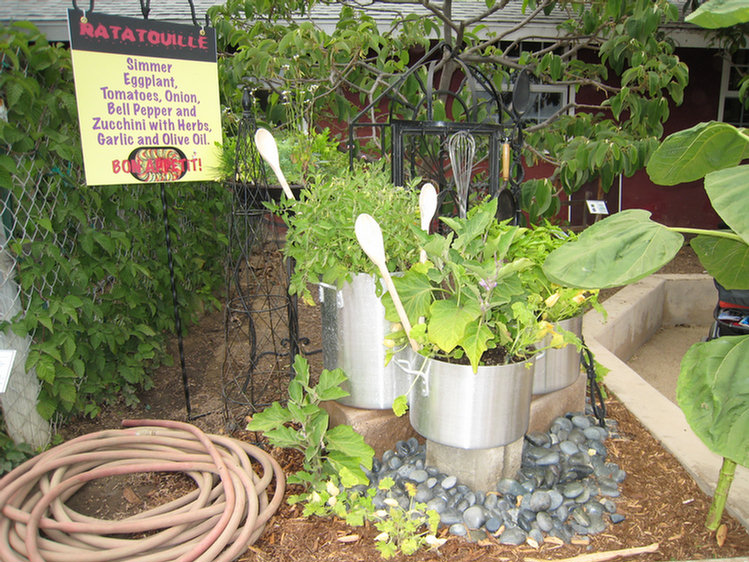 Flowers Are Not So Popular At The Fair Anymore....
Food Is Popular...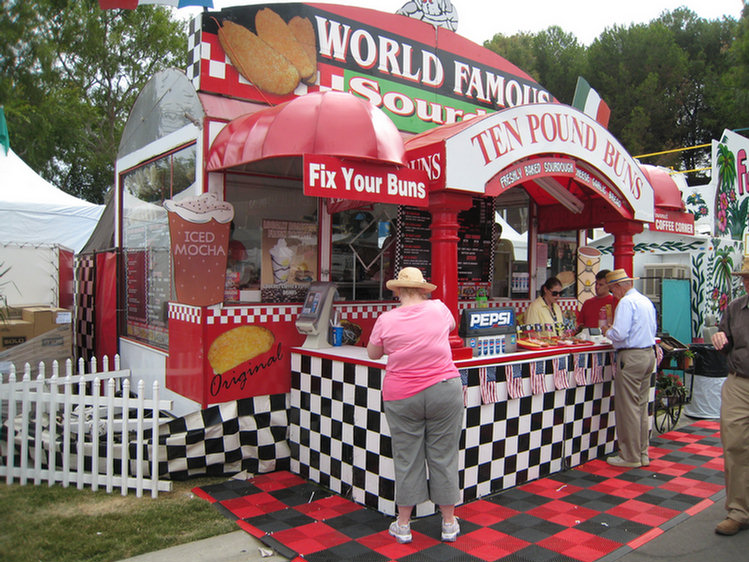 Big Buns
Did You Know? - No, not on her... The sandwiches were fantastic as usual! Ten Pound Buns™, a leading provider of quality foods served at County fairs and specialty events in and around California. Based in Murrieta, CA, the Ten Pound Buns™ food concession business sells products at County fairs in San Diego, Orange, Ventura, Antelope Valley, and Los Angeles.
Time For The Skyway!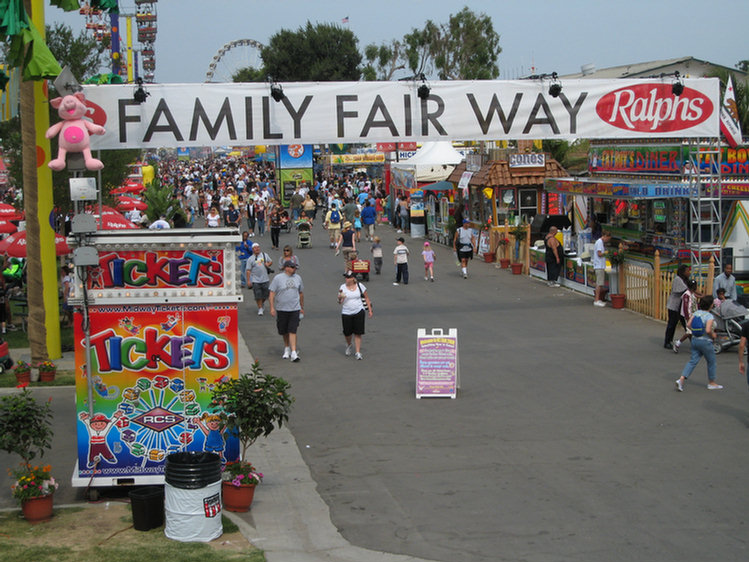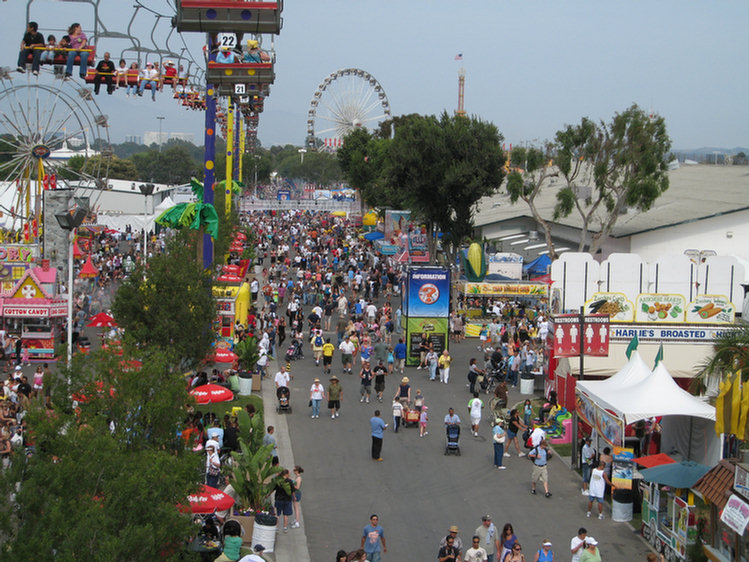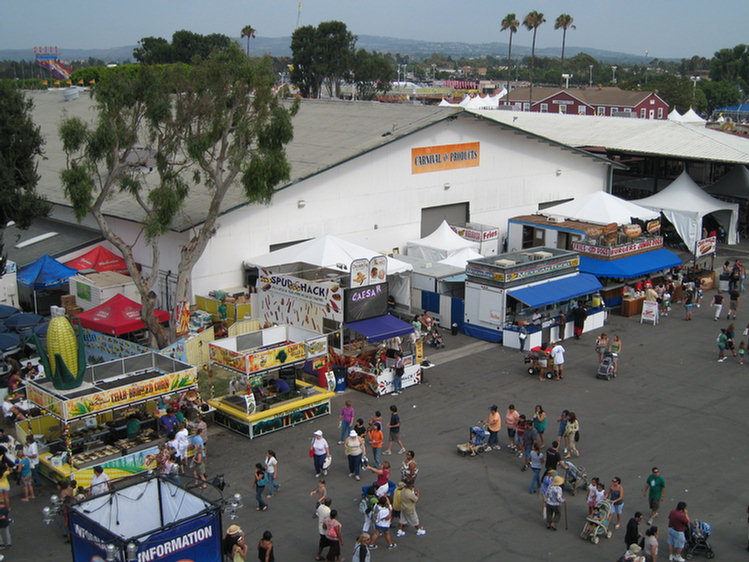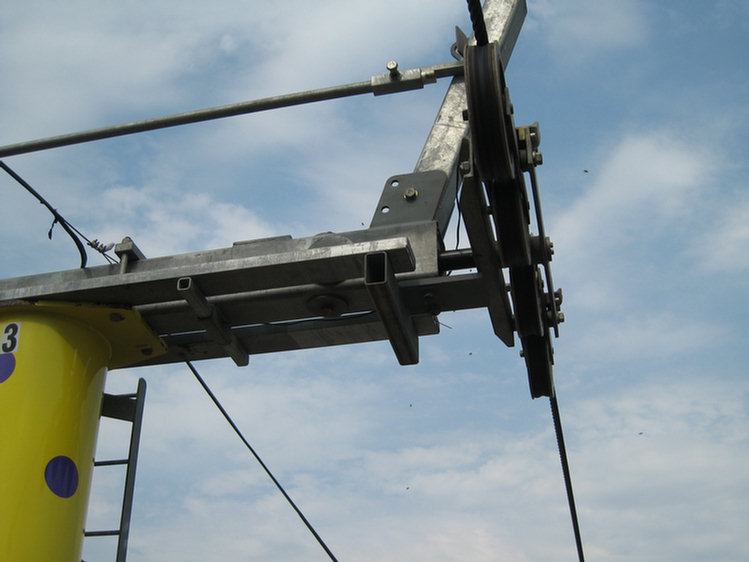 Check the bees! They were attempting to put a next at the top of tower three and were being quite successful!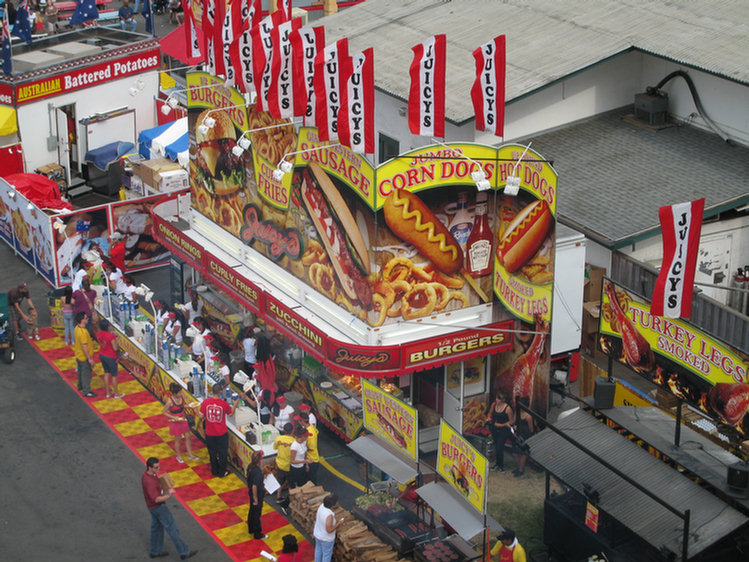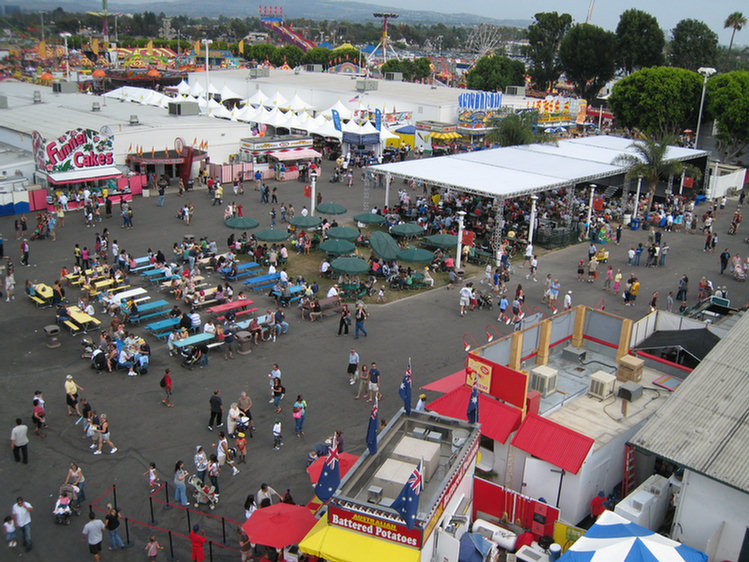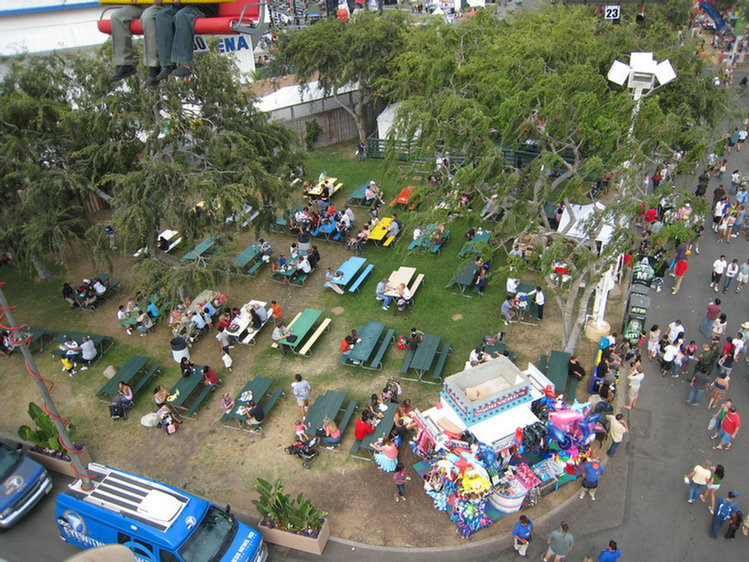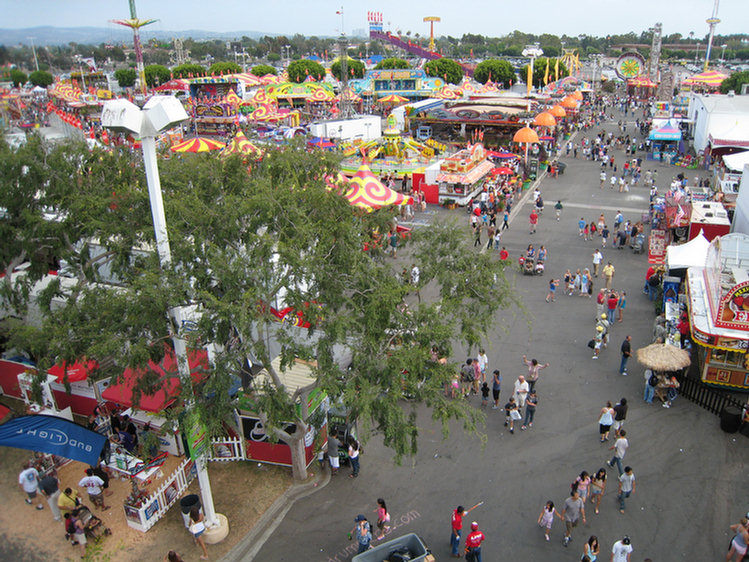 Tomorrow The Wheel!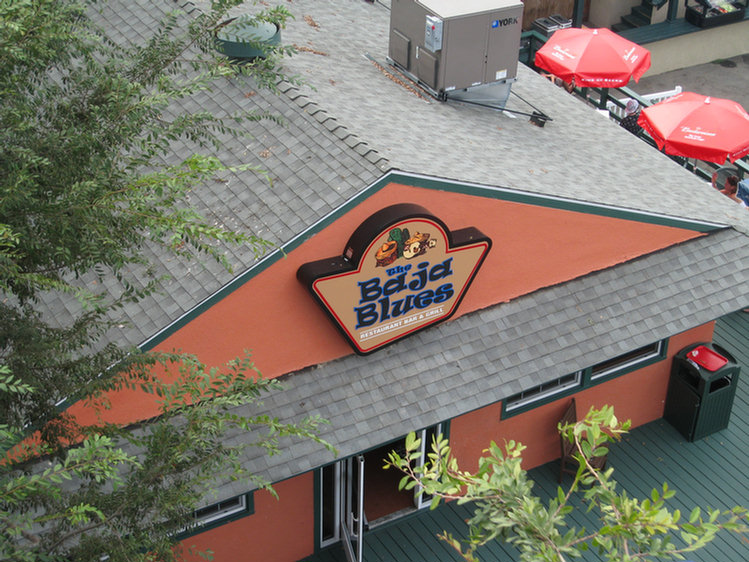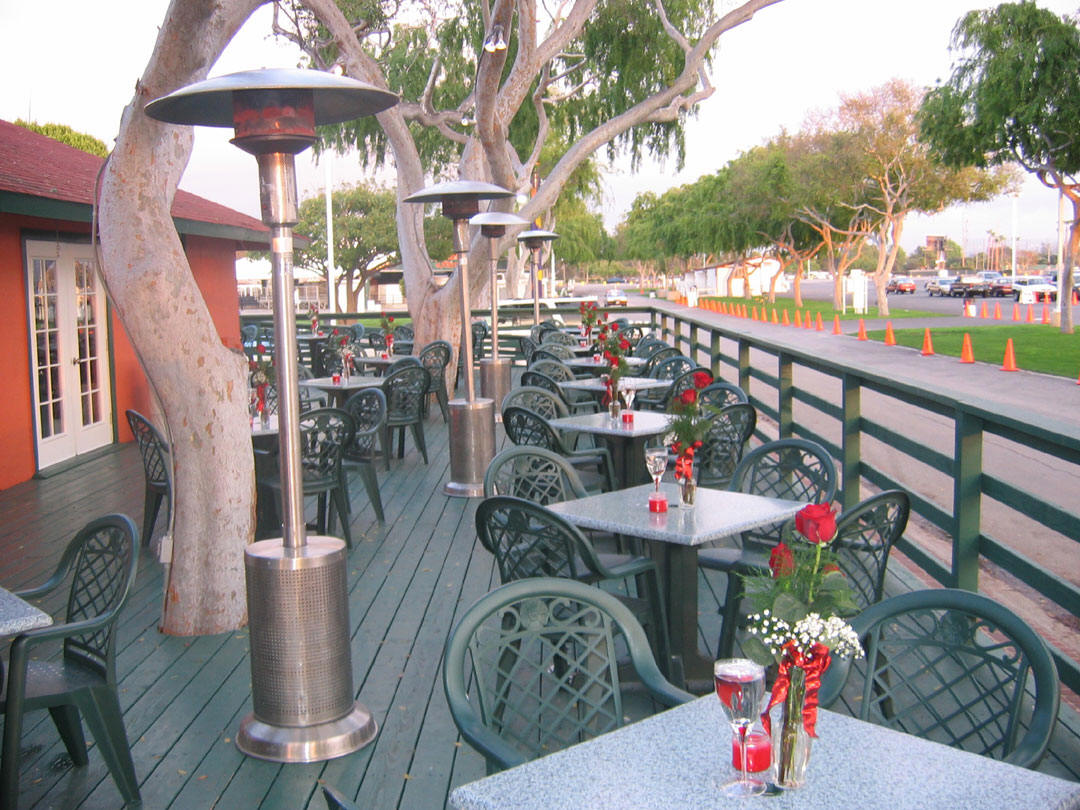 What it is like when the fair is gone.... peaceful and relaxing!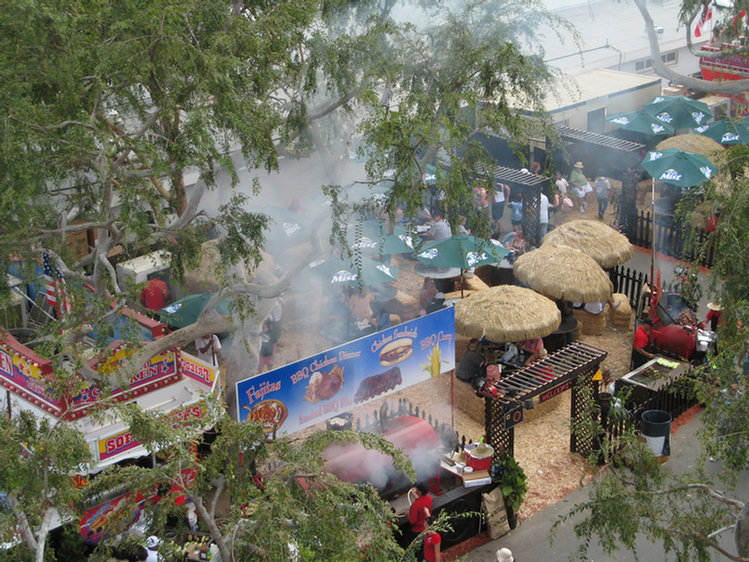 The smells were wonderful! Makes one hungry!
Petting Zoo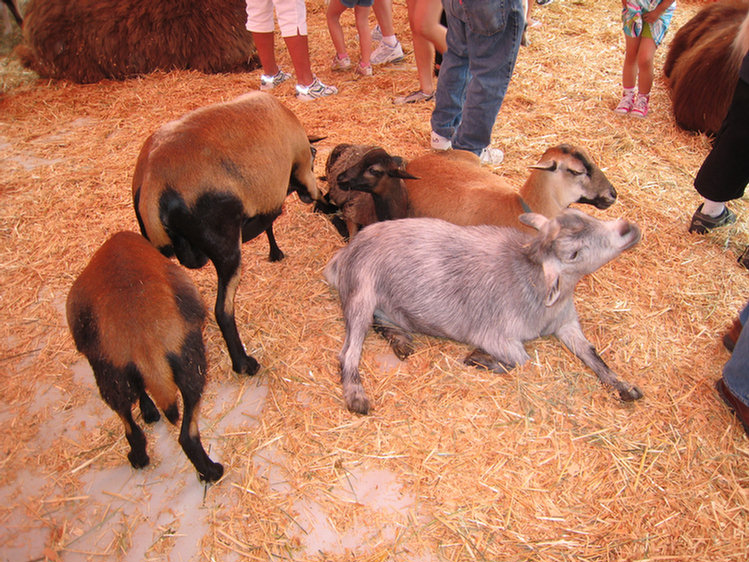 Sue hangs out here!
Did You Know? - A petting zoo (often called, and/or part of, a "children's zoo") features a combination of domestic animals and some wild species that are docile enough to touch and feed. In addition to independent petting zoos, also called children's farms, many general zoos contain a petting zoo. Some petting zoos are also mobile and will come to your home for a children's party or event. Many areas have a qualified mobile petting zoo. All petting zoos should be licensed, insured, and USDA certified in the United States. In 1938, the London Zoo was the first children's zoo in Europe and the Philadelphia Zoo was the first in North America to open a special zoo just for children.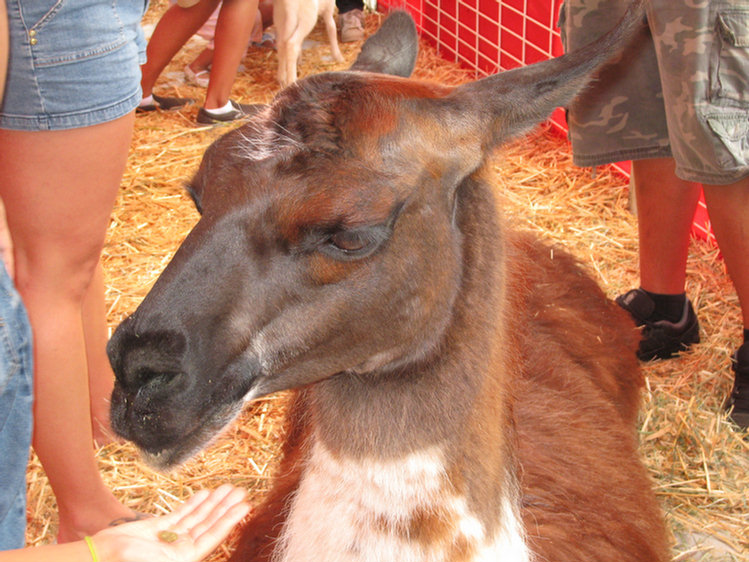 Time To Taste The Grapes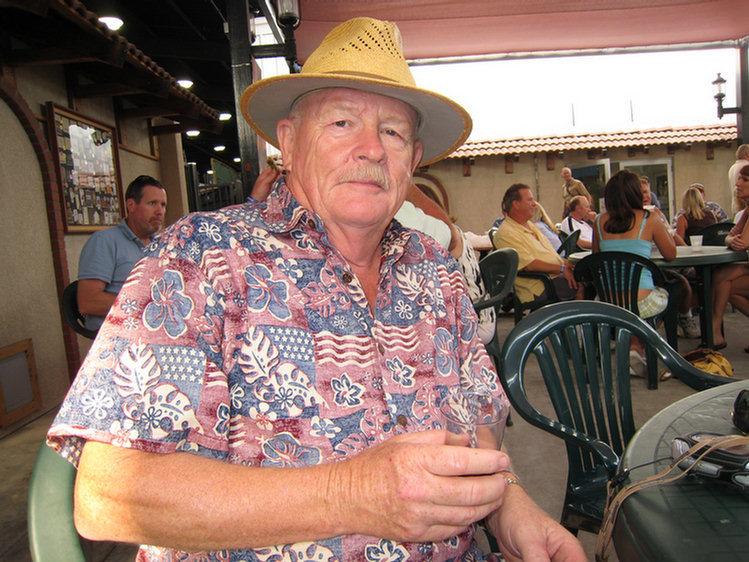 Another favorite place... The Wine Society
Did You Know? - Orange County Wine Society, Inc., is a rapidly-growing non-profit educational corporation whose purpose is to promote the knowledge and understanding of wine. To this end, the Society functions to enhance the knowledge of winemaking, viticulture and the appreciation of wine. The Society acts as the co-sponsor and main support group for the Orange County Fair's largest Commercial Wine Competition and the Homewine Competition.

During the Fair, the Orange County Wine Society proudly exhibits the award-winning wines and features the wines for tasting to the public at the Wine Courtyard at the Orange County Fairgrounds.

Monthly meetings are held on the second Friday of each month. Many special events are conducted, such as trips to the wineries of various regions of California, special wine dinners and tastings for OCWS members and guests, and even wine cruises! The Orange County Wine Society has a very active home winemakers group.
The Hypnotist

One wild show
Did You Know? - Hypnosis (from the Greek hypnos, "sleep") is often thought to be "a trance-like state that resembles sleep but is induced by a person whose suggestions are readily accepted by the subject."

The technique is sometimes used for medical purposes to relieve anxiety, or otherwise improve or alter behaviour. Its effectiveness has been clinically demonstrated in many areas, most notably in the area of acute pain relief. It is also used in popular stage acts in which subjects are persuaded to perform bizarre feats.

Other variations include so-called "mass-hypnosis," in which crowds are simultaneously influenced, and autosuggestion in which subjects persuade themselves. However, these phenomena are unlike those typically associated with the classical phenomena of hypnosis.
It's Been A Long Day... Time To Go Home