The Porters Join Us At The Orange County Fair 2008 7/25/2008 (Page Four)
Yes... it is our third visit and we have one more to go this year! A fair is a gathering of people to display or trade produce or other goods, to parade or display animals and often to enjoy associated carnival or funfair entertainment. Activities at fairs vary widely. Some are important showcases for businessmen in agricultural, pastoral or horticultural districts because they present opportunities to display and demonstrate the latest machinery on the market.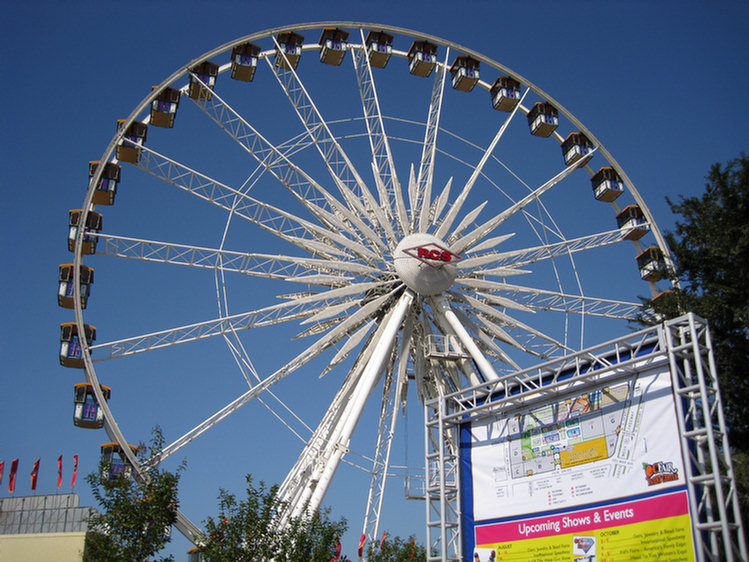 Awaiting entry into the grounds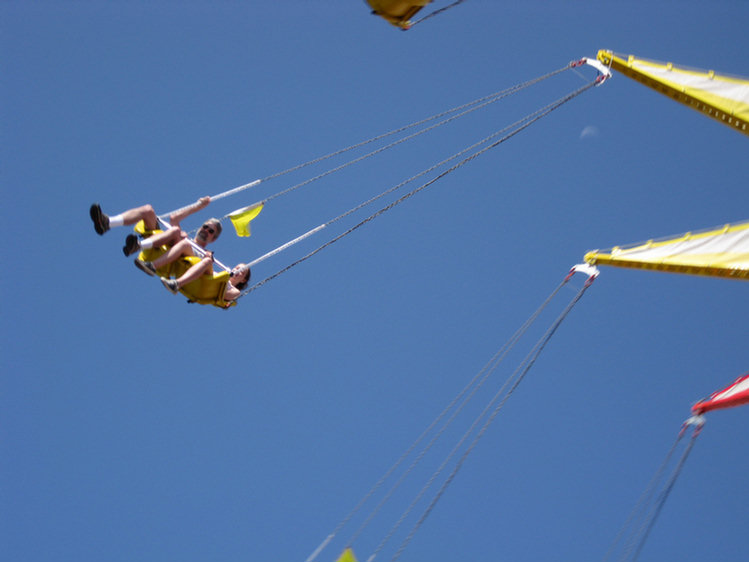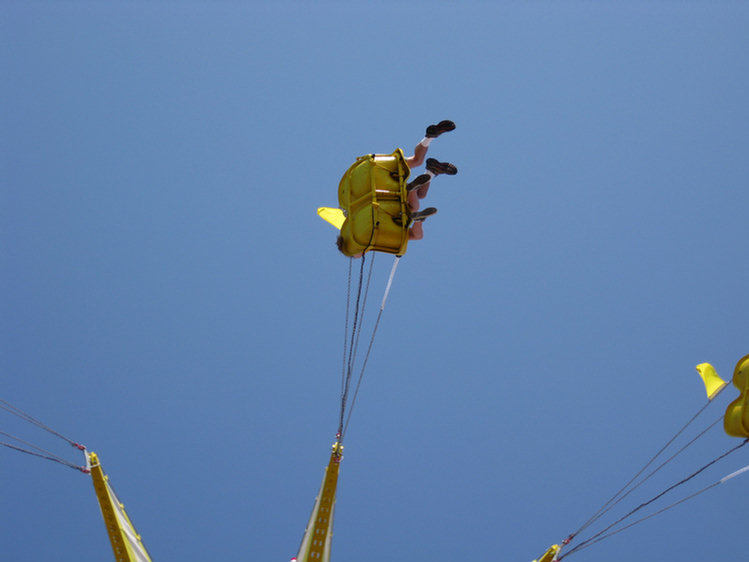 Lisa and Pat go for a ride... crazy!!!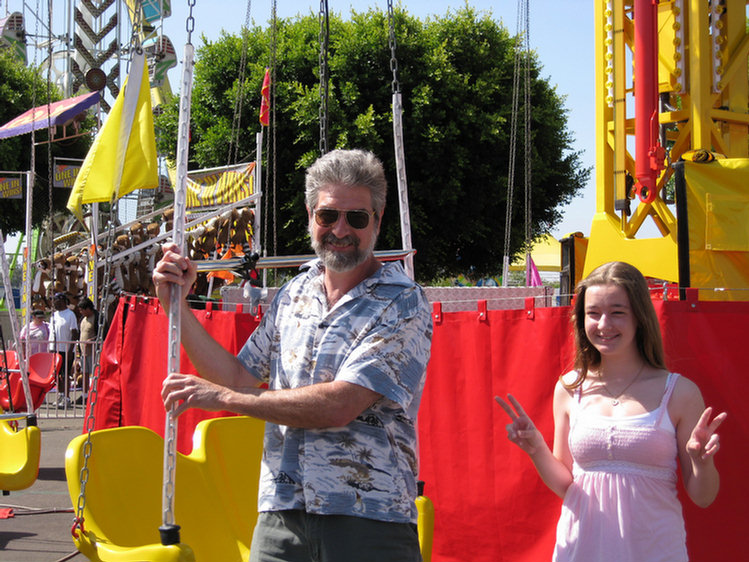 Pat's favorite part of the fair... getting OFF the ride in a single piece!
Sue Finds A Chicken!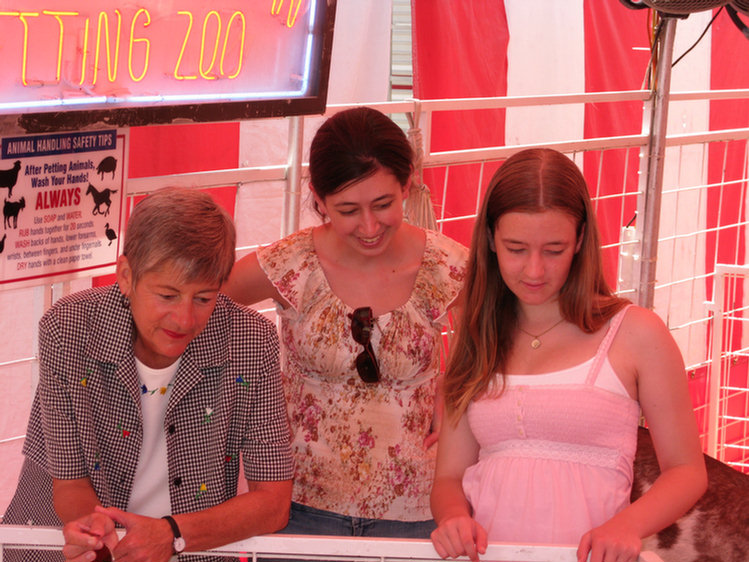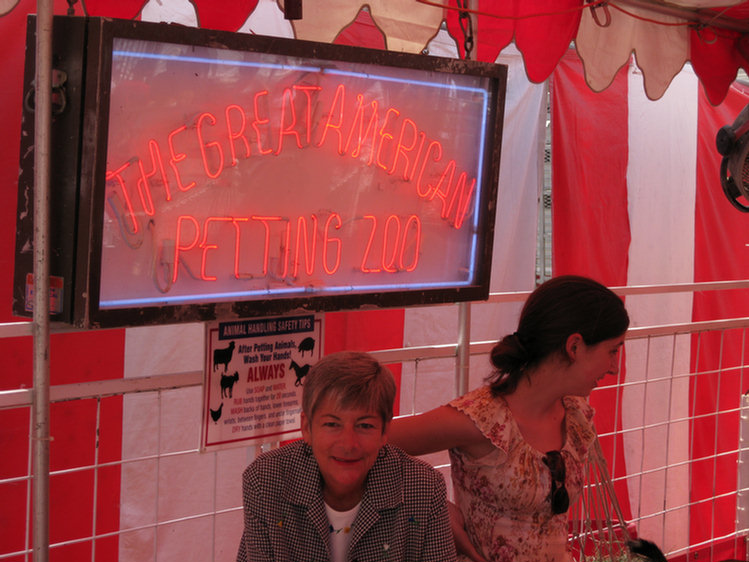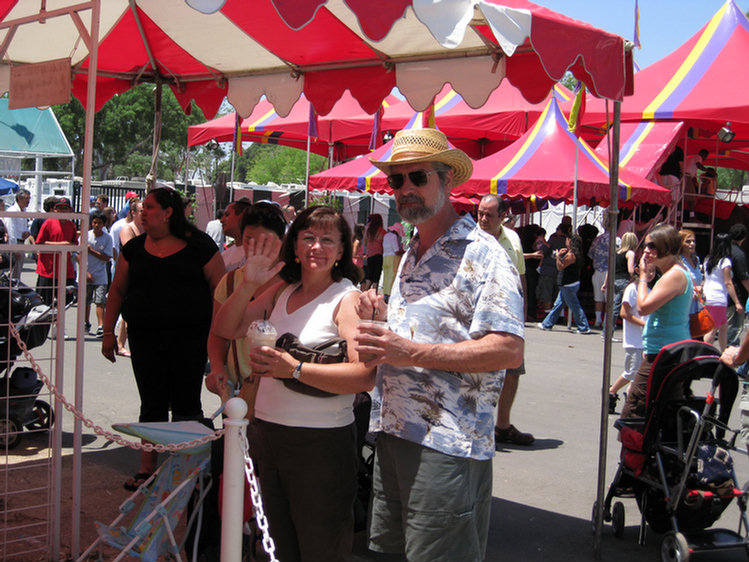 Camera Obscura in Action
Did You Know? -The camera obscura (Lat. dark chamber) was an optical device used in drawing, and one of the ancestral threads leading to the invention of photography. In English, today's photographic devices are still known as "cameras".

The principle of the camera obscura can be demonstrated with a rudimentary type, just a box (which may be room-sized, or even hangar sized) with a hole in one side, (see pinhole camera for construction details). Light from only one part of a scene will pass through the hole and strike a specific part of the back wall. The projection is made on paper on which an artist can then copy the image. The advantage of this technique is that the perspective is accurate, thus greatly increasing the realism of the image (correct perspective in drawing can also be achieved by looking through a wire mesh and copying the view onto a canvas with a corresponding grid on it).

With this simple do-it-yourself apparatus, the image is always upside-down. By using mirrors, as in the 18th century overhead version (illustrated in the Discovery and Origins section below), it is also possible to project a right-side-up image. Another more portable type, is a box with an angled mirror projecting onto tracing paper placed on the glass top, the image upright as viewed from the back.

As a pinhole is made smaller, the image gets sharper, but the light-sensitivity decreases. With too small a pinhole the sharpness again becomes worse due to diffraction. Practical camerae obscurae use a lens rather than a pinhole because it allows a larger aperture, giving a usable brightness while maintaining focus.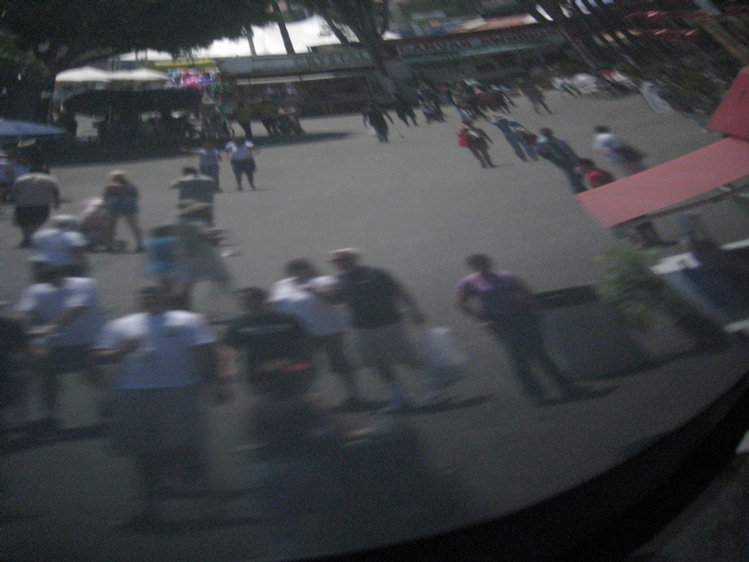 class="imageCenteredWithCaption" />
Fair Food!
Did You Know? - Food energy is the amount of energy in food that is available through digestion. The values for food energy are expressed in kilocalories (kcal) and kilojoules (kJ).

One food Calorie (1 kcal or 1,000 calories) is the amount of digestively available food energy (heat) that will raise the temperature of one kilogram of water one degree Celsius. Some advocate the convention of the capitalizing the C in these so that one food Calorie is equal to 1000 lowercase calories, but that convention is not generally followed. The large Calorie is sometimes abbreviated kcal, to indicate clearly that is 1000 times as large as the small calorie formerly common in chemistry and physics usage. Consequently, the prefix kilo- is not used with large Calories.
Food calories are also more specifically called kilocalories on the basis of the small calorie usage. This term, which makes it clear that large calories are intended, is widely used by professional nutritionists when speaking in terms of calories rather than joules, but the term kilocalorie for the large calorie is less often used by laypersons.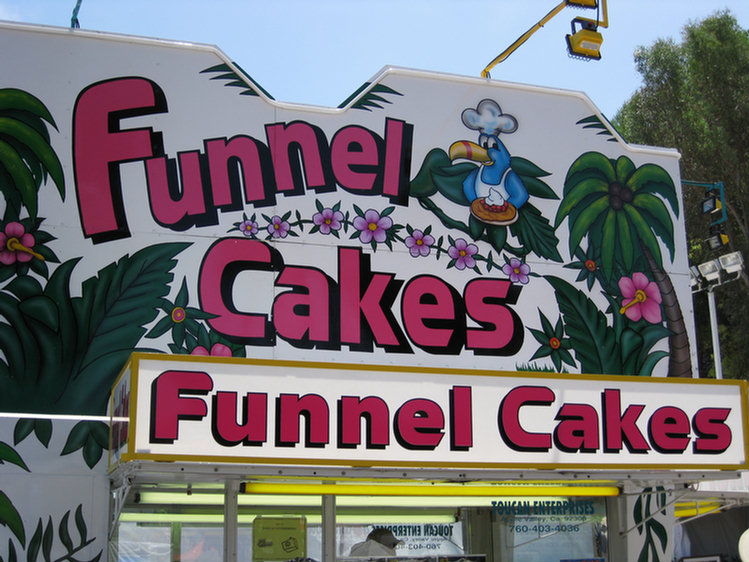 Funnel cake or funnel cake is a regional specialty food originally associated with
the Pennsylvania Dutch region of the United States.
Funnel cakes are quite popular around the United States at ballparks, fairs and festivals. Funnel cakes are made by pouring batter through a funnel into hot oil in a circular pattern and deep frying it until golden-brown. They are often served with powdered sugar, jam, or other toppings.

Funnel cake may be made at home (many recipes exist on the Internet) but it is most commonly known as a popular offering of outdoor food stands at carnivals, fairs, and seaside resorts. When made at concession stands, a specially-made pitcher with an integral funnel-like spout is used instead of a separate funnel.

Funnel cakes somewhat resemble the foods known as fried dough or "elephant ears," but dough products are made with a risen yeast dough, whereas funnel cakes are made with an unleavened batter; In I'm Just Here for More Food Alton Brown states that funnel cakes are best made with choux pastry (which, when baked, is leavened only by the steam from its high water content).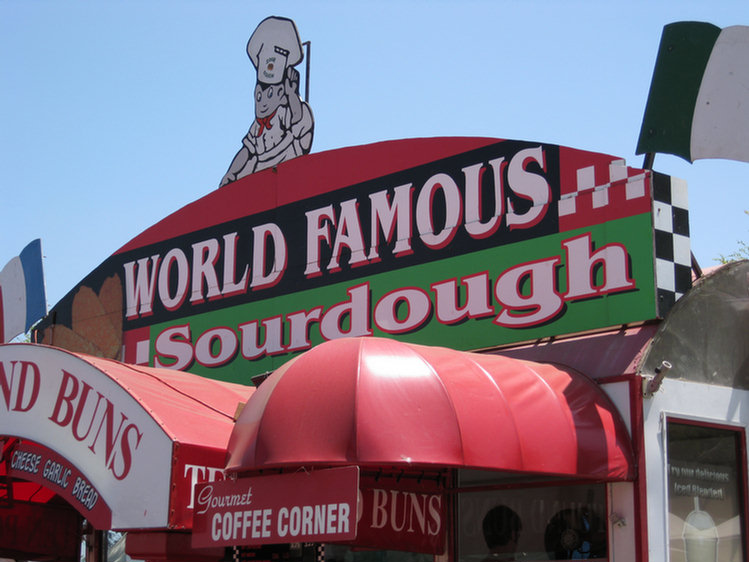 Our favorite fair food
Did You Know? - Sourdough (or, more formally, natural leaven or levain) refers to the process of leavening bread by capturing wild yeasts in a dough or batter, as opposed to using a domestic, purpose-cultured yeast such as Saccharomyces cerevisiae. Sourdough more specifically refers to a symbiotic culture of lactobacilli and yeasts, giving a distinctively tangy or sour taste (hence its name), due mainly to the lactic acid and acetic acid produced by the lactobacilli. Though no longer the standard method for bread leavening in most developed countries (it was gradually replaced first by the use of barm from beermaking, then after the confirmation of germ theory by Louis Pasteur by cultured yeasts), some form of natural leaven is used in many specialty bakeries.

Sourdough bread is made by using a small amount (20-25percent) of "starter" dough (sometimes known as "the mother sponge"), which contains the yeast culture, and mixing it with new flour and water. Part of this resulting dough is then saved to use as the starter for the next batch. As long as the starter dough is fed flour and water daily, the sourdough mixture can stay in room temperature indefinitely and remain healthy and usable.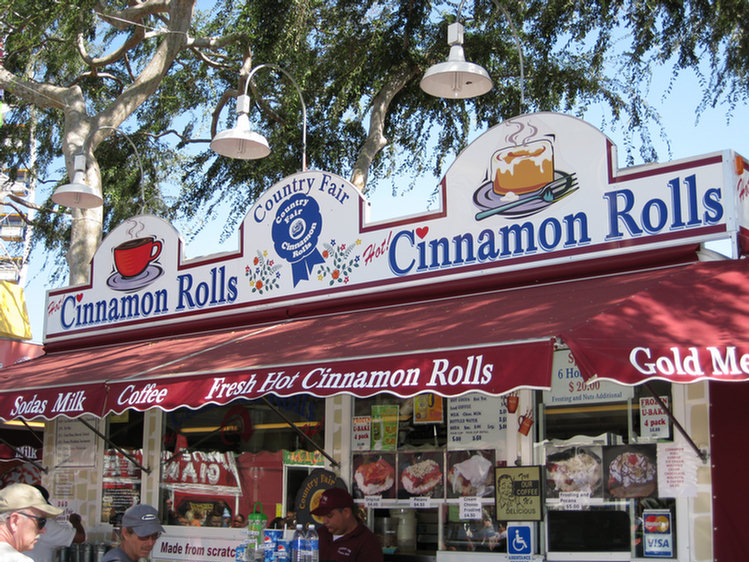 Where we start the day
Did You Know? - Cinnamon (Cinnamomum verum, synonym C. zeylanicum) is a small evergreen tree 10–15 metres (32.8–49.2 feet) tall, belonging to the family Lauraceae, and is native to Sri Lanka, India, Bangladesh, and Nepal. The bark is widely used as a spice due to its distinct odour.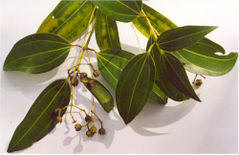 The leaves are ovate-oblong in shape, 7–18 cm (2.75–7.1 inches) long. The flowers, which are arranged in panicles, have a greenish colour, and have a distinct odour. The fruit is a purple one-centimetre berry containing a single seed.

Its flavour is due to an aromatic essential oil that makes up 0.5% to 1% of its composition. This oil is prepared by roughly pounding the bark, macerating it in seawater, and then quickly distilling the whole. It is of a golden-yellow colour, with the characteristic odour of cinnamon and a very hot aromatic taste. The pungent taste and scent come from cinnamic aldehyde or cinnamaldehyde and, by the absorption of oxygen as it ages, it darkens in colour and develops resinous compounds. Chemical components of the essential oil include ethyl cinnamate, eugenol, cinnamaldehyde, beta-caryophyllene, linalool, and methyl chavicol.

They fry anything it seems
Did You Know? - Frying is the cooking of food in oil or fat,a technique that originated in ancient Egypt around 2500BC. Chemically, oils and fats are the same, differing only in melting point, but the distinction is only made when needed. In commerce, many fats are called oils by custom, e.g. palm oil and coconut oil, which are solid at room temperature.

Fats can reach much higher temperatures than water at normal atmospheric pressure. Through frying, one can sear or even carbonize the surface of foods while caramelizing sugars. The food is cooked much more quickly and has a characteristic crispness and texture. Depending on the food, the fat will penetrate it to varying degrees, contributing richness, lubricity, and its own flavor.

Frying techniques vary in the amount of fat required, the cooking time, the type of cooking vessel required, and the manipulation of the food. Sautéing, stir frying, pan frying, shallow frying, and deep frying are all standard frying techniques.

Deep frying is now the basis of a very large and expanding world-wide industry. Fried products have great consumer appeal in all age groups, and the process is quick, can easily be made continuous for mass production, and the food emerges sterile and dry, with a relatively long shelf life. The end products can then be easily packaged for storage and distribution. Examples are potato chips, french fries, nuts, doughnuts, instant noodles, etc.

There is some criticism of fried foods for their low nutritional value. Frying, especially deep frying, imbues the food with fat from the oil, lowering their nutrient density.
Spam luncheon meat is a canned precooked meat product made by the Hormel Foods Corporation. The labeled ingredients in the Classic variety of Spam are: chopped pork shoulder meat with ham meat added, salt, water, sugar, and sodium nitrite to help "keep its color". The product has become part of many jokes and urban legends about mystery meat, which has made it part of pop culture and folklore.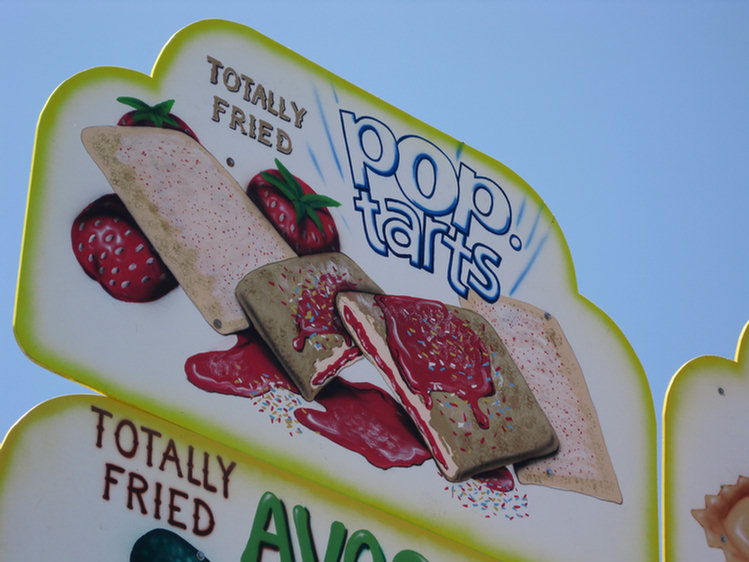 Frfied Pop Tarts... OMG!
Did You Know? - Pop-Tarts is the brand name for a flat rectangular toaster pastry approximately 3 inches (7.6 cm) by 5.5 inches (14 cm) made by the Kellogg Company. Pop-Tarts have a sugary filling sealed inside two layers of rectangular, thin pastry crust; each layer of this crust is about 0.1 inches (2.5 mm) thick. Most varieties have frosting, but some do not. They can be eaten without being warmed, but are often warmed inside a toaster. They can also be microwaved but only for a few seconds or else the filling hardens into a solid. Recently, certain varieties have been marketed as tasting best when left to cool in the freezer. They are usually sold in pairs inside foil packages, and do not require refrigeration.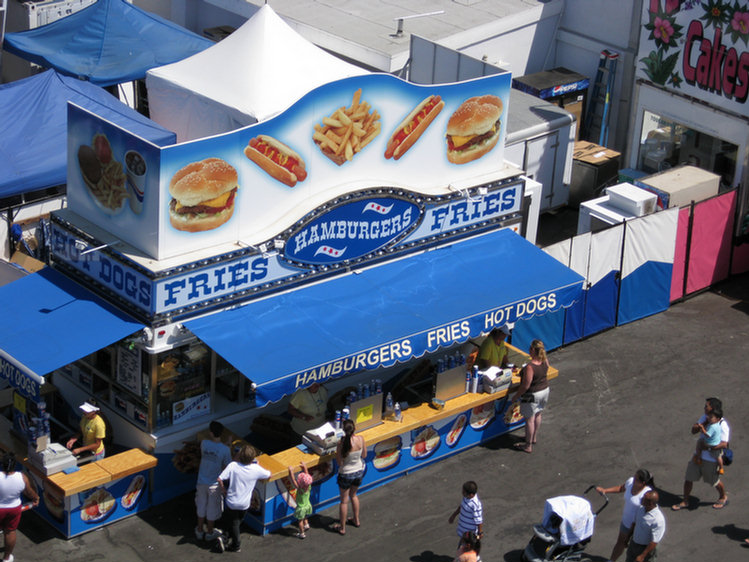 Cotton candy is great if you are a kid
Did You Know? - Cotton candy (American English), candy floss (British English / Hiberno English), or fairy floss (Australian English) is a form of spun sugar. It was introduced in 1904 by William Morrison and John C. Wharton, at the St. Louis World's Fair as "Fairy Floss" with great success, selling 68,655 boxes at the then-high $0.25 ($5.70 in 2007 dollars), half the cost of admission to the fair.

Cotton candy is made from sugar and food coloring. Modern cotton candy machines work in very much the same way as older ones. The center part of the machine consists of a small bowl into which sugar is poured and food coloring added. Heaters near the rim melt the sugar and it is spun out through tiny holes where it solidifies in the air and is caught in a large metal bowl. The operator of the machine twirls a stick, a cone, or their hands around the rim of the large catching bowl, gathering the candy into portions.

Because cotton candy consists of mostly air, servings are large. A typical cotton candy cone will be a bit bigger than an adult's head. Many people consider eating cotton candy part of the quintessential experience of a visit to a fairground or circus. The most popular color of cotton candy is pink, though any color can be made. Eating cotton candy is often considered only part of its allure, the second part being the act of watching it being produced in a machine. Sweet and sticky, it dissolves quickly in the mouth (due to its amorphous nature) although it feels like wool to the touch. It does not have much of an aroma although the machine itself has a cooked sugar smell when in operation. Cotton candy is soft and fluffy when dry, but when it comes in contact with moisture, it becomes sticky and damp. Because the sugar is hygroscopic, and has a very large surface area, it will become coarser, harder and generally less "flossy" once exposed to the atmosphere (because the amorphous sugar slowly crystallises). In humid climates, cotton candy should be eaten within a couple of hours or it will be much less enjoyable.
The Skyway
We got everybody on it once and then Pat and the girls decided it was "too high" so Sue, Diane and Paul completed the round trip 65 feet above the throng!
We Slowed Down Just Long Enough To Get Our pictures Taken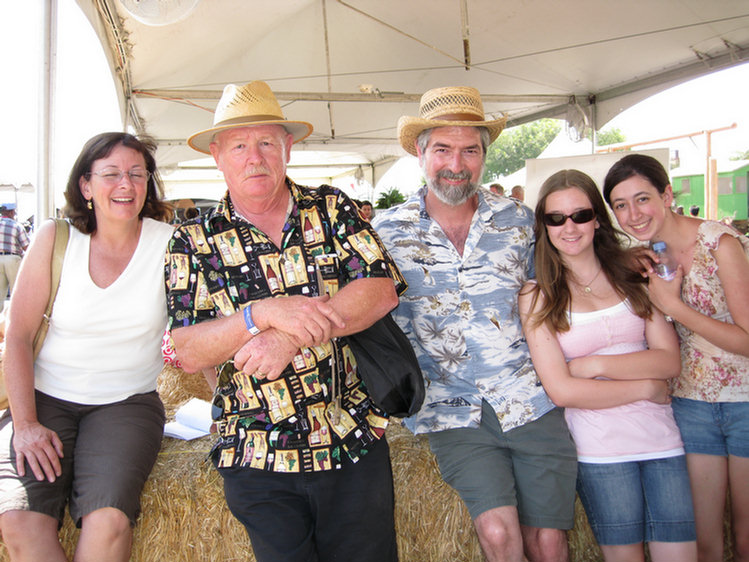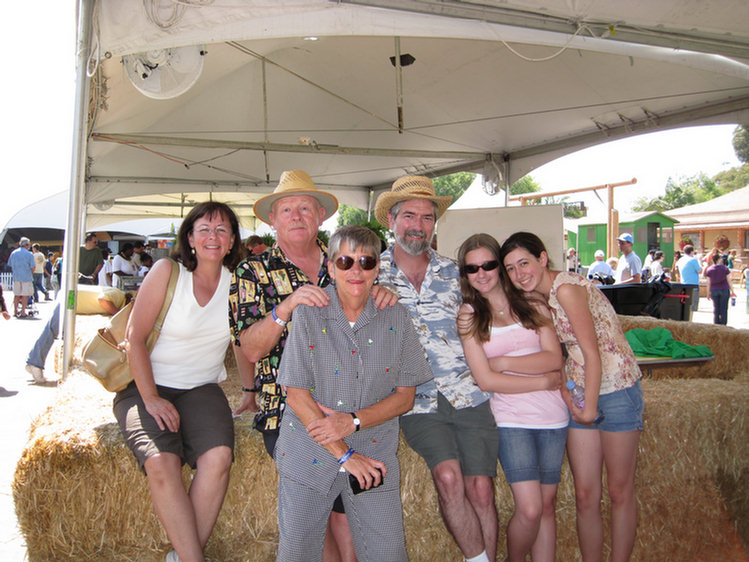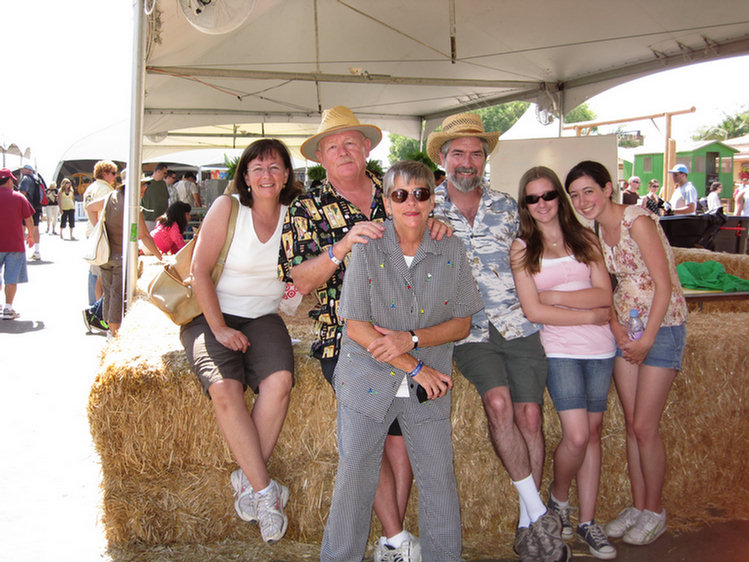 Amazing Old Tractors Circa 1910's Through 1930's...

Great tractor exhibit
Did You Know? - The Farmall was the name of a tractor and later a brand name for tractors manufactured by International Harvester. The original Farmall was the first general purpose tractor with narrowly spaced front wheels. The narrow front combined with good ground clearance allowed for more nimble and accurate field cultivation, yet the Farmall could perform all the other duties a farmer would have previously achieved using a team of horses.

In time, other tractor manufacturers introduced models with a similar form factor as the Farmall. As a class, these are generally referred to as row crop tractors.

The first row crop tractor manufactured by IH was given the name Farmall. Development began around the start of the 1920s, and the tractor was introduced in 1924. IH was fearful that this new "tricycle" type of tractor may not sell well, so when the tractors rolled out, they were meant to be sold only in Texas, as to minimize potential embarrassment if not successful. After the Farmall went on to be successful, IH bought the rights to that tractor type.

In 1932 IH introduced an updated Farmall, which received the designation F-20. The F-20 replaced the original Farmall, which became known by the retronym Regular (after the introduction of the F-20). IH also added other new tractors to the series which became known as the "F-series". These included the F-30 (1931), the F-12 (1932), and the F-14 (1938). All Farmall tractors were painted battleship gray until sometime in the mid-1930s, when a switch to red was made.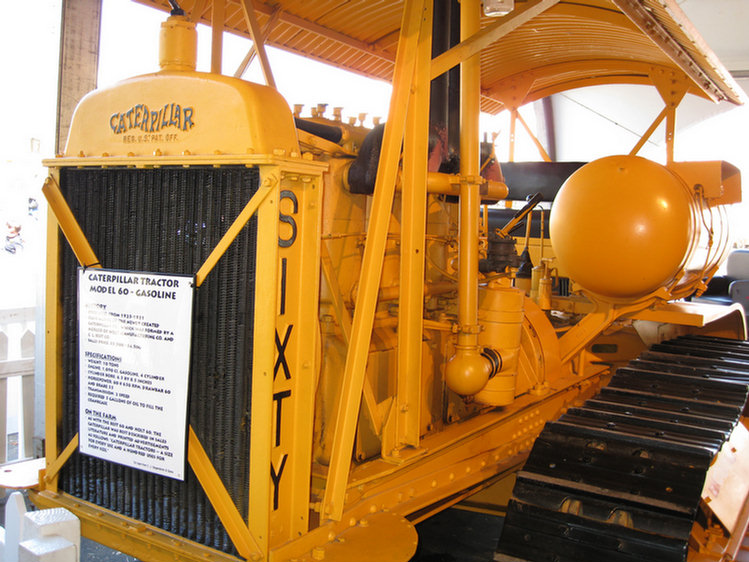 The Cats are old
Did You Know? - The Caterpillar Sixty Horsepower tractor crawler of 1919, became the world's first successful bulldozer. Initially developed by the C.L.Best Company of California it was one of the models carried over when they merged in 1925 with the Holt Company to form the company what was to become known as Caterpillar. It helped launch the Caterpillar name and legend. The Sixty was a 72 inch Gauge machine and weighed 20,500 lb, with a 65 Hp 4-cylinder engine. By 1931 when production ended 13,516 had been built at Peoria, Illinois, and 5,432 at San Leandro, California. They were sold as a Logger Cruiser.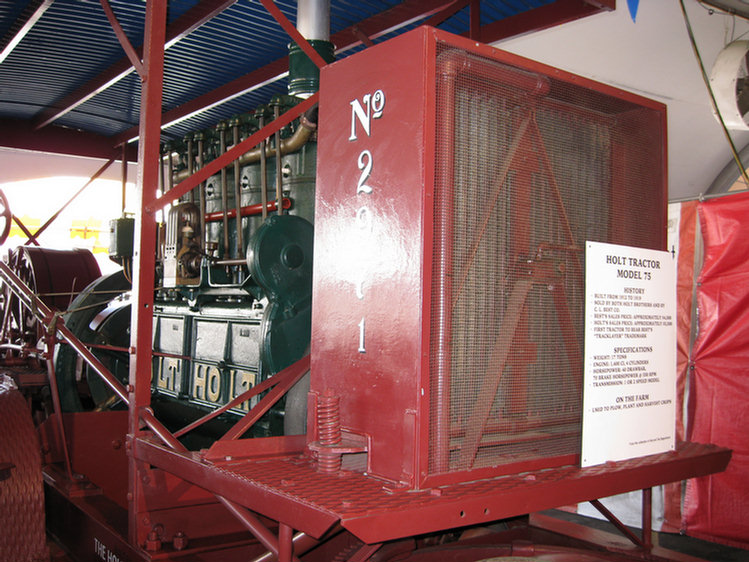 Doe snot look like a tractor but it is
Did You Know? - The Holt 70hp was a 3 wheeled Mechanical tractor built in 1905. In 1905 Holt built the No.77 with tracks in place of wheels. It was originally built as a wheeled machine in 1904. By 1908 Holt was building the Holt 40 a 25hp gas powered crawler tractor. The second one sold was No. 1004 and is today in preservation in America. Holt acquired Best manufacturing 1908.And in 1925 merged with C.L.Best Gas Traction company to form what was to come Caterpillar.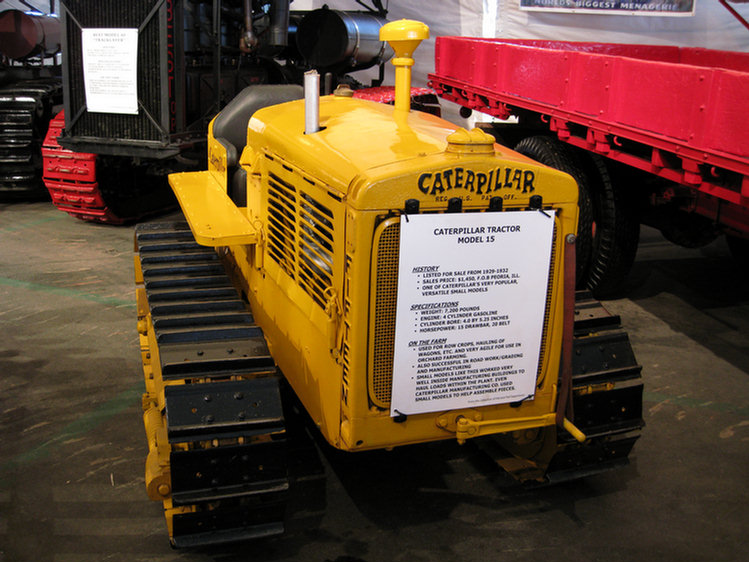 We Now Know Who Cut The Cheese!!!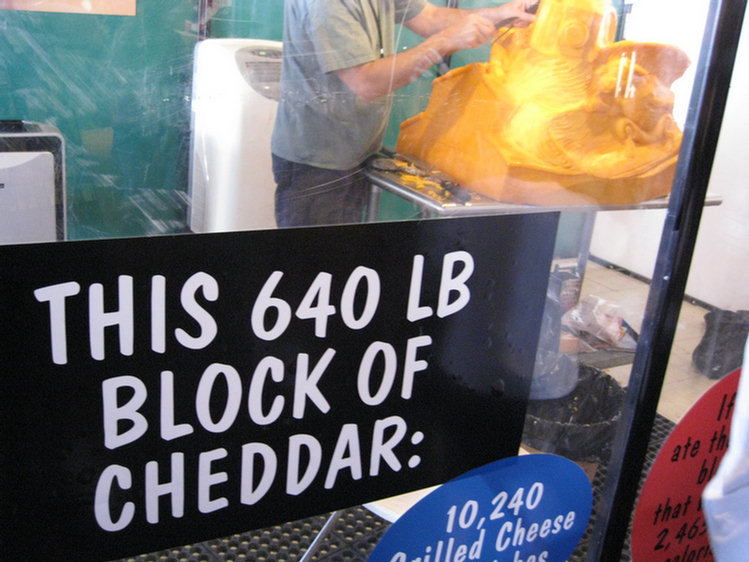 Cheddar cheese has been made since at least 1170.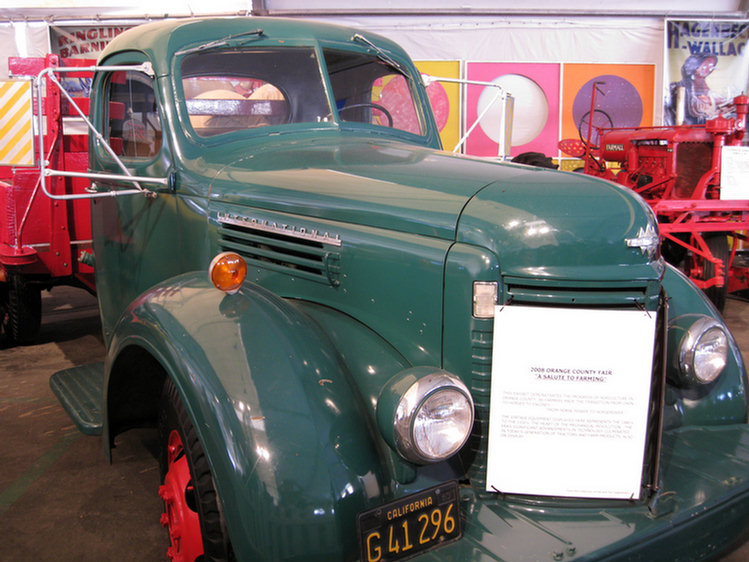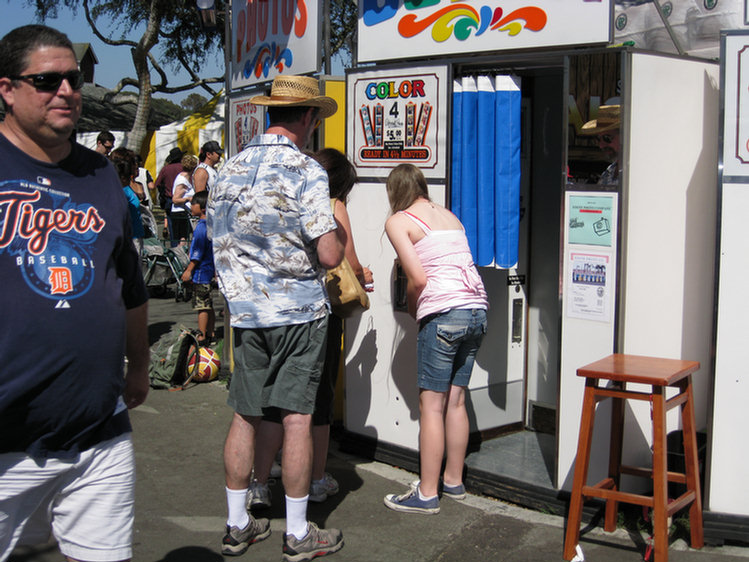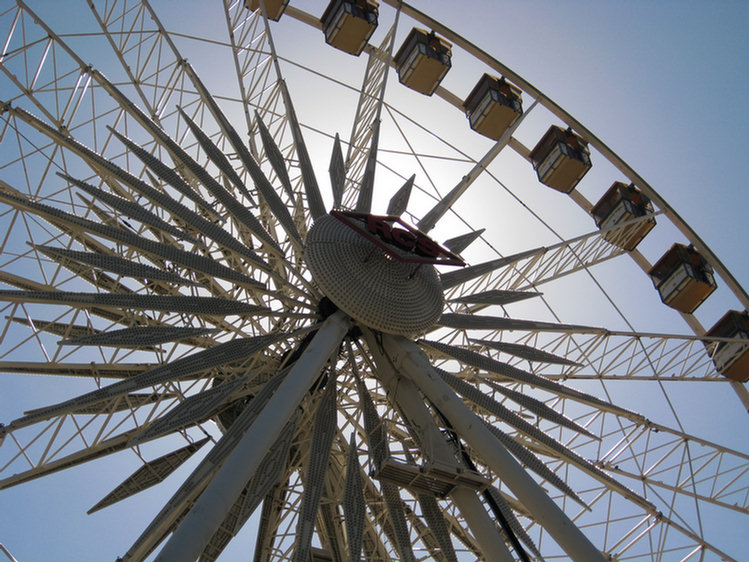 Time to head for home and the swimming pool...