Heirloom And Other Tomatoes
The love apple of the 17th century is one of the most misunderstood fruit. First, the tomato is a fruit not a vegetable and as a member of the solanacea; it was believed for centuries to be poisonous. Later it became the love apple of the very rich and a symbol of fertility and love.

Today it is part of everyday cooking. What would Italian cooking be with out tomatoes, especially the world's most perfect food Lasagna with green noodles of course?

We go to Roger's Gardens and H&H Nursery and pick up heirlooms as soon as they are available.

Read about some of the tomatoes we grow.

To the left is the "Black Krim" which has an unusual purple to black skin with reddish-black flesh. Large, slightly irregular fruits. Very tasty! Indeterminate. Approx. 75 seeds.
Lemon Boy VFN Hybrid
The first lemon yellow, not golden, tomato variety, and still one of the best. Extremely vigorous plants produce large harvests of attractive fruit that weighs 8 ozs. or more. Flavor is outstanding, mild and sweet yet tangy and definitely not bland. This one is easy to grow and understandably one of our most popular yellow tomatoes. Indeterminate. 72 days.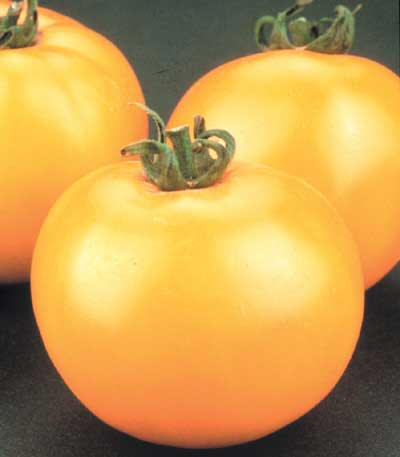 Oxheart
An old-fashioned favorite with heart-shaped pink fruit that weigh up to 1 pound. Very meaty flesh contains few seeds making this a favorite for slicing and for sandwiches. Good flavor and productivity keep gardeners growing this heirloom variety. Indeterminate. 80 days.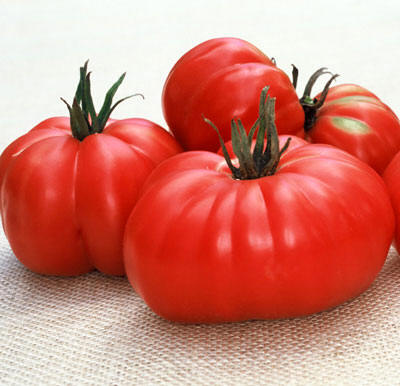 Garden Peach
Abundant clusters of small yellow tomatoes with a pink blush. Skin is somewhat fuzzy (actually quite fuzzy just like a peach!) resembling a peach and the flavor is sweet and fruit-like. This one is delicious and must be grown to appreciate. Grows quie easily in our area. Difficult to find. Heirloom variety. Indeterminate. 75-85 days.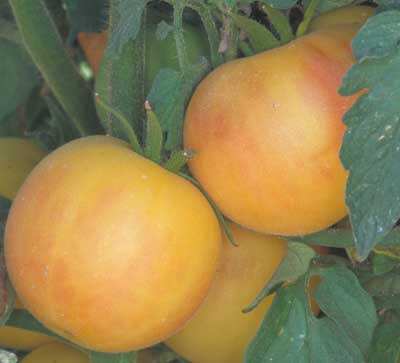 Black From Tula
Deep reddish-brown beefsteak tomato has a rich, sweet flavor that is delicious. Fruit is smooth in texture and weighs from 8 to 12 ozs. This outstanding variety is very productive and seems to set well even when weather turns hot. Russian heirloom. Indeterminate. 75-80 days.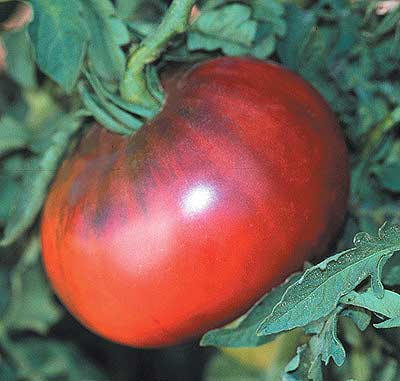 Red Rose
This variety is legendary for its very exceptional rich, succulent flavor. Large pink-red fruit can become 1-1/2 lbs. with creamy flesh. Vines grow quite tall and have potato-leaved foliage.

An Amish heirloom since 1885. Indeterminate. 80 days.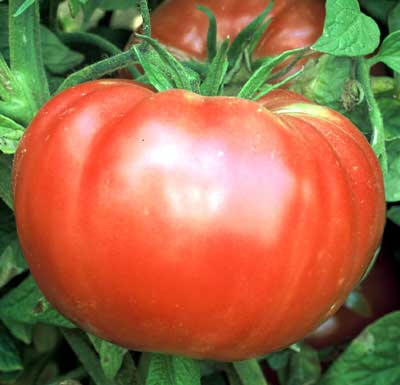 Druzba
An heirloom from Bulgaria, this variety bears large harvests of perfectly smooth and round, deep-red tomatoes that weigh between 8 ounces and 1 lb. Flavor is outstanding, with just the right combination of sweetness and tartness, and fruit is juicy and blemish-free. Indeterminate. 80 to 85 days.

Verde Puebla Tomatillo
The tomatillo is a member of the tomato family, but not a real tomato. Round green tomatillos have a papery husk that is removed before preparing. Vining plants are easily grown and prolific. Flavor is sweet yet tart and wonderful in green Mexican salsa and other Mexican and Southwestern dishes. 75 days.


Evergreen (Emerald Evergreen)
This is one of the best tomatoes we know of that's green when ripe.

Mild, delicious flavor and medium to large size make these solid beefsteak fruit good for slicing and very enjoyable to eat. Indeterminate. 72 days.



Tomato Grape Juliet
The Tomato Grape Juliet, 'Lycopersicon lycopersicum (Hybrid)', is an All American Selection that has sweet, wonderful flavor and produces tons of red, glossy 1 oz fruits on grape-like clusters. The Juliet is an early tomato that will produce in almost any climate. 6 to 9 tomatoes are produced on each of many grape-like clusters. In addition to the wonderfully sweet flavor, they are very crack resistant. Soak to depth of 6 to 10 inches when watering. Prune the intermediate tomatoes in order to keep a single stem.


Green Zebra
Medium sized tomato ripening to a green color, with cream/yellow spots and stripes. The flavor is generally considered excellent and this variety often makes top ten lists for its taste. The Green Zebra is used heavily in salads and salsa for its mild sweet-acidic flavor blend. Developed in the United States. It is quite pretty and requires some careful picking since its green color can fool you into thinking it is ready to go!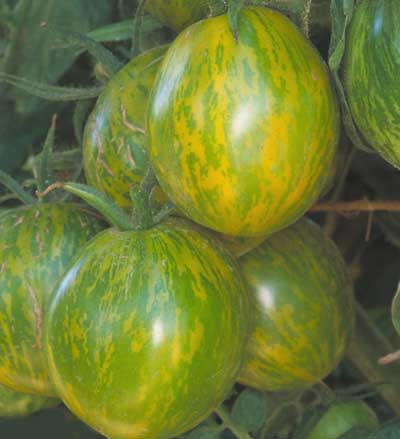 Green Grape
Very short compact plants yield 3/4 to 1 inch fruit that is yellow-green when ripe and easy to harvest. Full of flavor, sweet and juicy, these cherry type tomatoes are a real taste treat. Prolific variety is sure to be a favorite in the garden. Determinate. 70 days.



Sun Gold
Vigorous vines produce abundant clusters of 1/2 oz. bright yellow-gold cherry tomatoes with delicious sweet flavor. These tomatoes are naturally sweeter than red cherry varieties with a fruitier taste. Once you taste them, you'll be spoiled forever. Indeterminate. 60 days.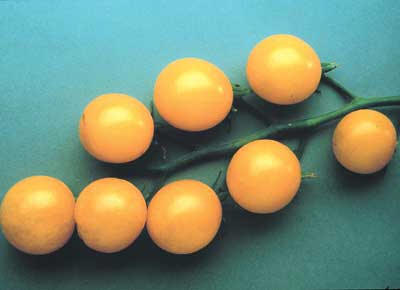 Black Russians
These medium sized black tomatoes grow on compact plants bearing plenty of dark mahogany-brown fruits, with a delicious blend of sugar and acid, making a distinctive, complex flavour that has to be tasted to be believed.


Mr. Stripey (Tigerella)
Strong grower, bushy habit, fruit red with darker red stripes, medium sized, good flavour. Red and yellow striped fruits add interest to any dish! Tiger striped, hence the name. An old variety that is well worth growing. Good firm fruit of pleasing flavour.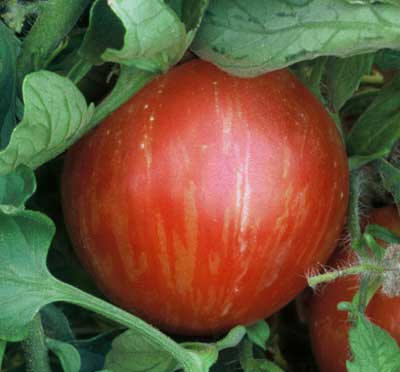 Marvel Stripe
This heirloom variety has become one of gardeners' favorite bicolored tomatoes because of its beauty, size, and taste. Large yellow-orange fruits are streaked with ruby red and have a sweet, fruity taste that is absolutely delicious. Tomatoes weigh about 1 lb., although they often become 2 lbs. or even more. Large harvests on vigorous vines. Indeterminate. 85 days.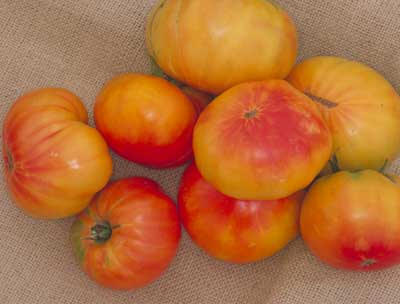 Yellow Pear
These miniature pear-shaped tomatoes are 1-3/4 to 2 inches long and clear yellow in color.

They are delightfully sweet, considered by many as "garden candy". Baskets of these are as pretty as can be. Tall plants bear large and continuous harvests. Indeterminate. 78 days.