Planting The Summer Garden (Page One)
  March - May 2014
We have been busy for the laast couple of weeks fitting in the garden between golf and dancing and celebrations but alas, we are nearly done!
We get to sit back and water and wait while spring and summer do their magic.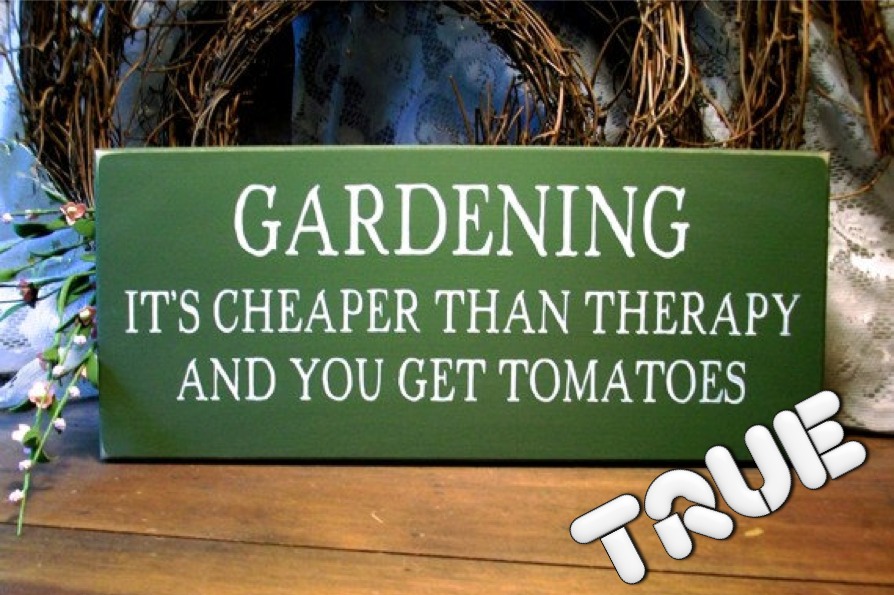 We are try a new mulching technique... Black cloth beneath the straw
Should keep the weeds out... It's about $120 is materials but worth it!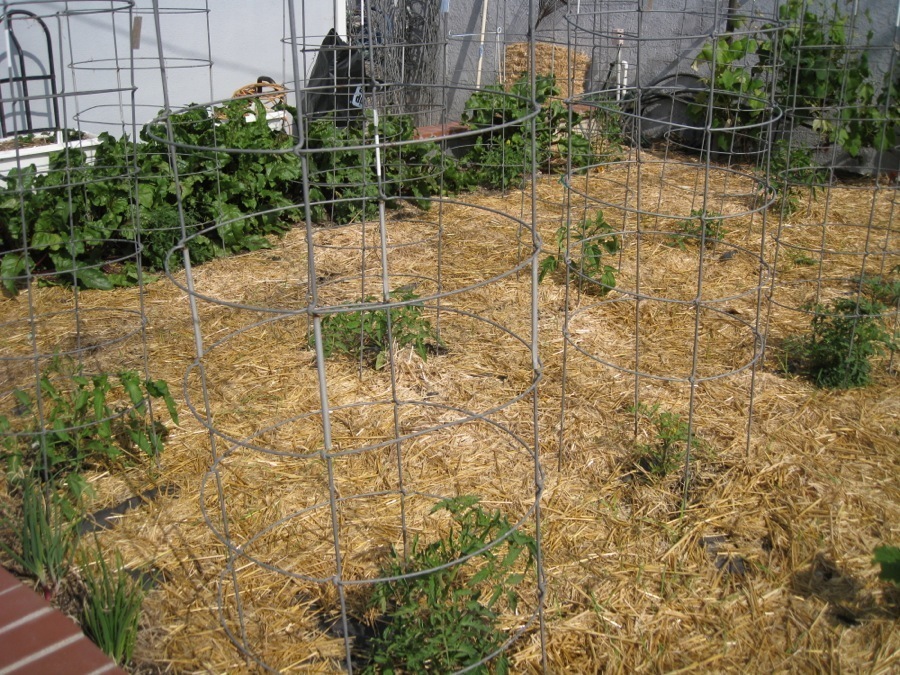 The straw keeps the ground cool and keeps moisture around the roots

These little guys will grow to be ten feet tall.... Sun flowers
Did You Know? - The sunflower (Helianthus annuus) is an annual plant native to the Americas. It possesses a large inflorescence (flowering head), and its name is derived from the flower's shape and image, which is often used to capture the sun. The plant has a rough, hairy stem, broad, coarsely toothed, rough leaves, and circular flower heads.
The heads consist of many individual flowers which mature into seeds, often in the hundreds, on a receptacle base.
From the Americas, sunflower seeds were brought to Europe in the 16th century, where, along with sunflower oil, they became a widespread cooking ingredient. Leaves of the sunflower can be used as cattle feed, while the stems contain a fibre which may be used in paper production.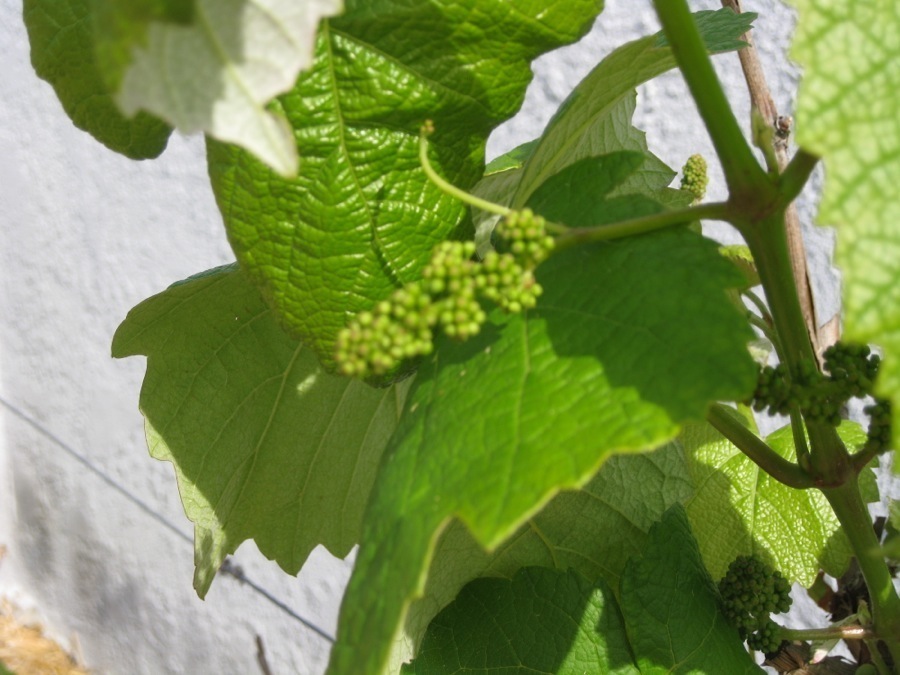 The grapes are forming everywhere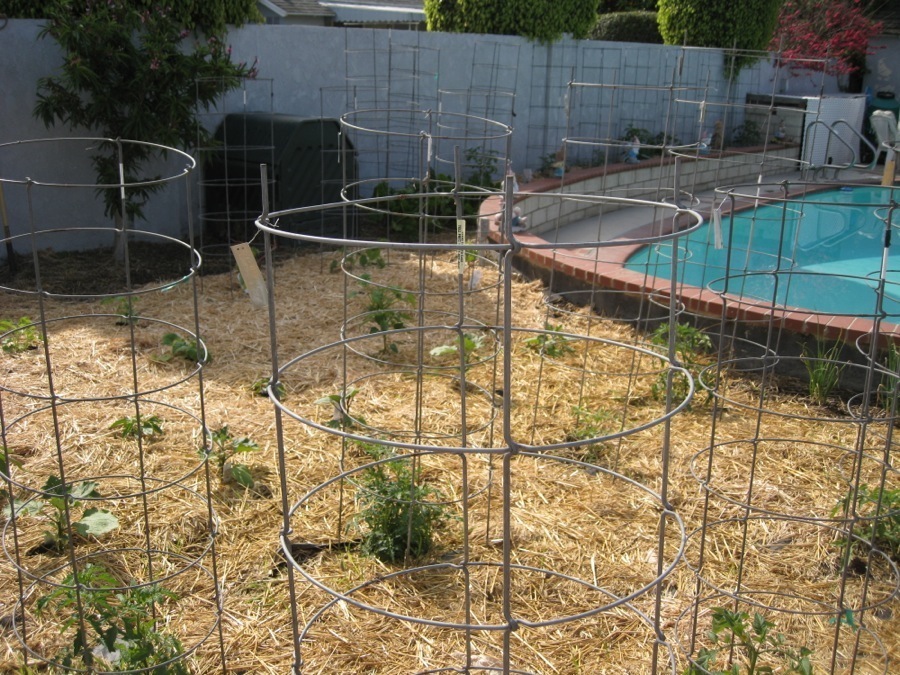 Moved the compost box again! Now we sit back and watch everything grow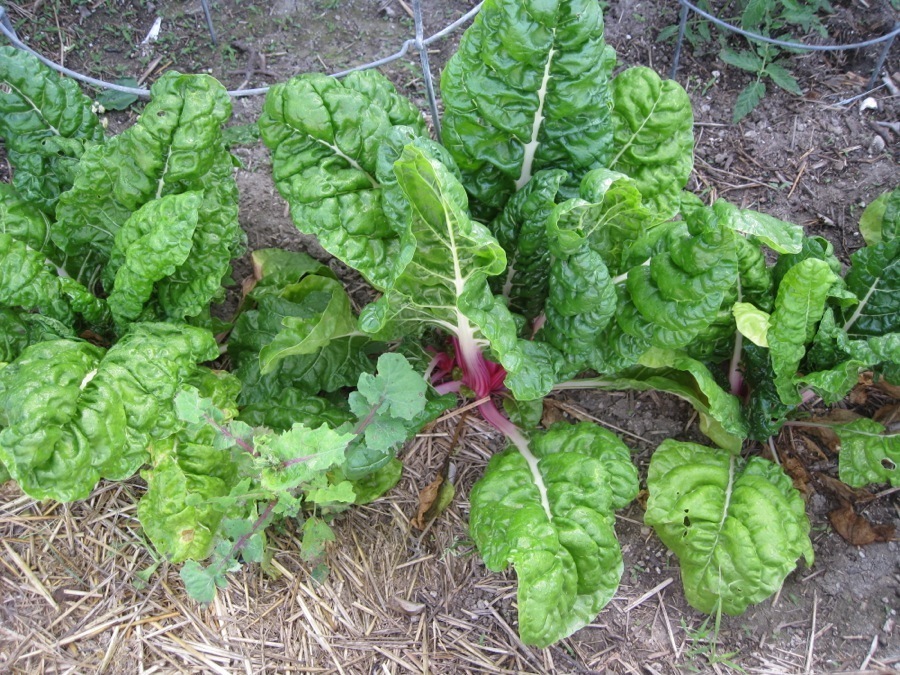 Sue loves to pick the Swiss Chard and use it in cooking
Did You Know? - Chard has been bred to have highly nutritious leaves and is considered to be one of the healthiest vegetables available, making it a popular addition to healthy diets (like other green leafy vegetables).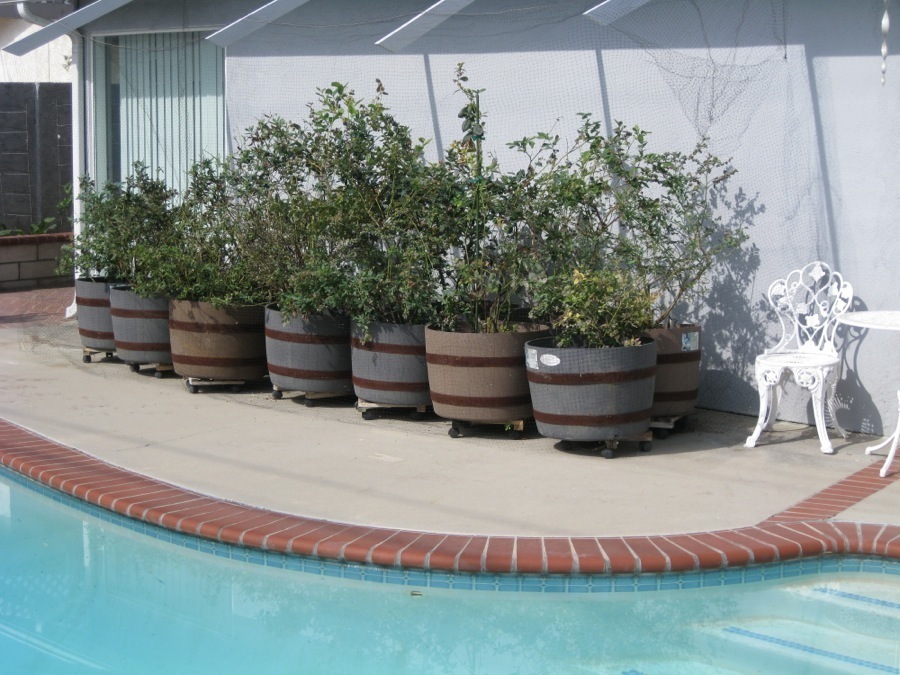 The blueberries are going wild this year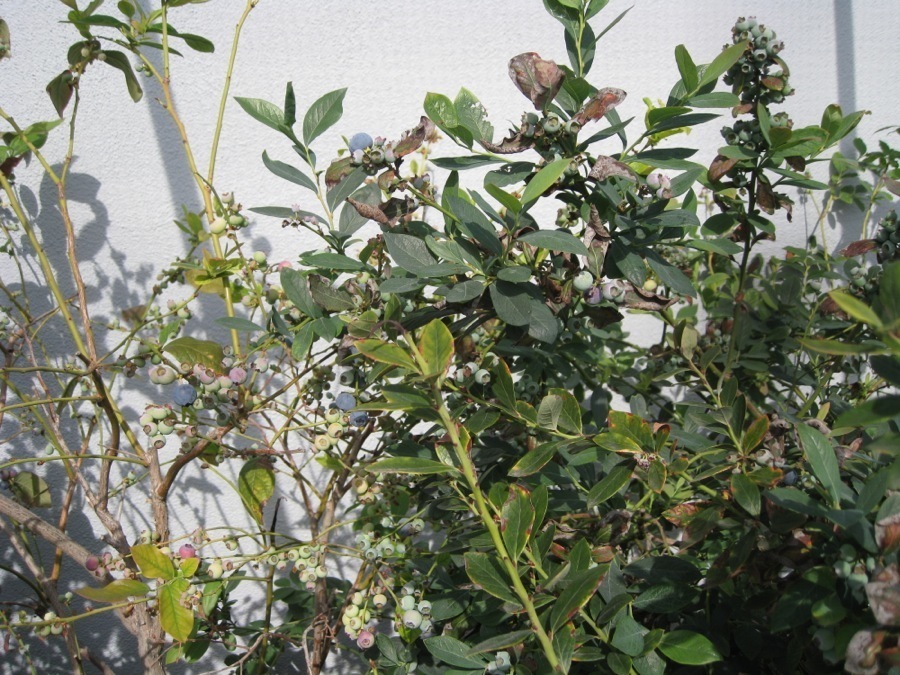 Look carefully... Some are already ripe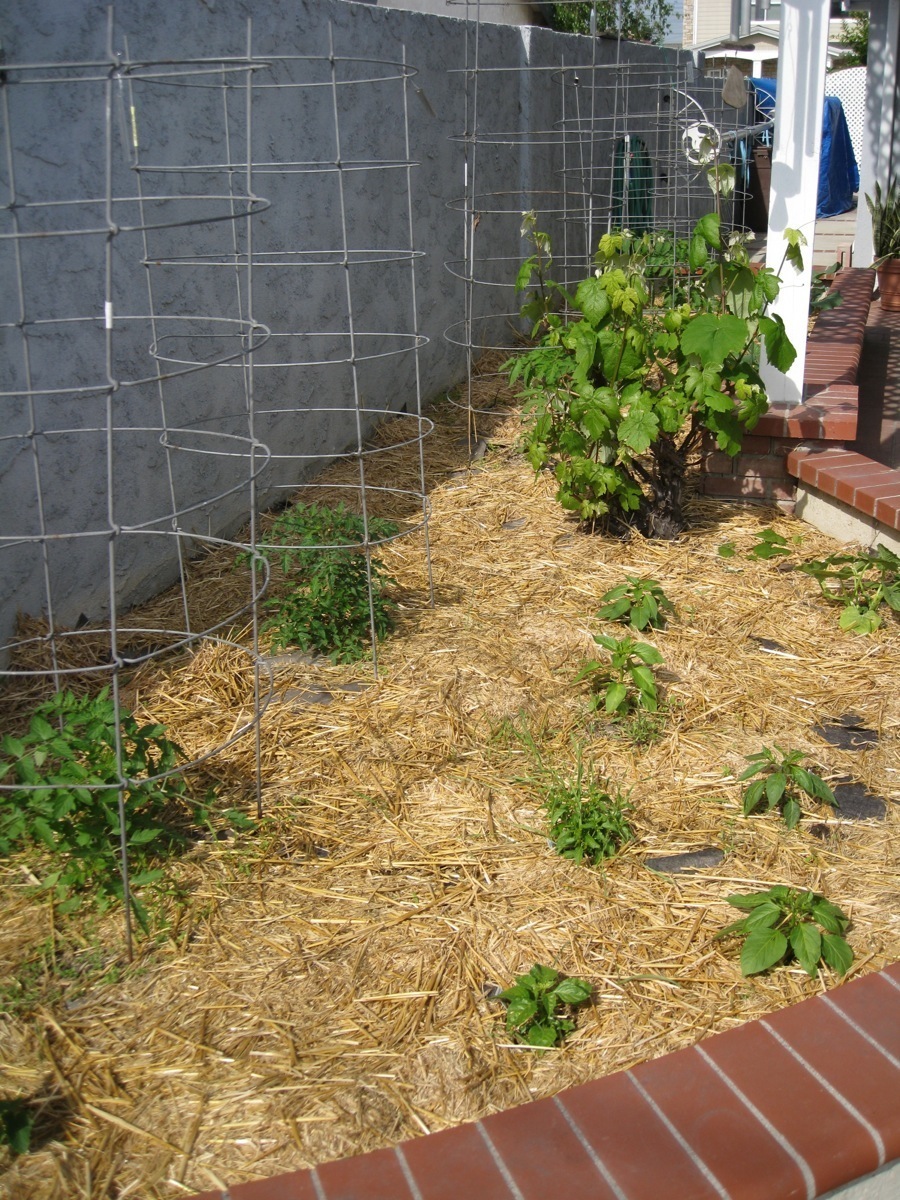 The side yard is getting sun now and the plants are thriving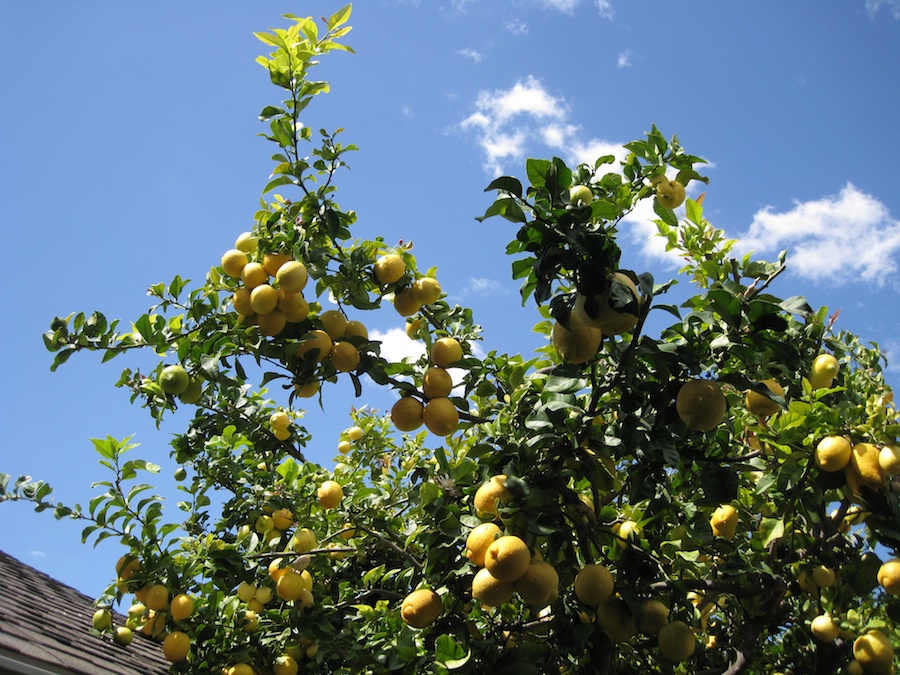 The lemon tree just keeps on producing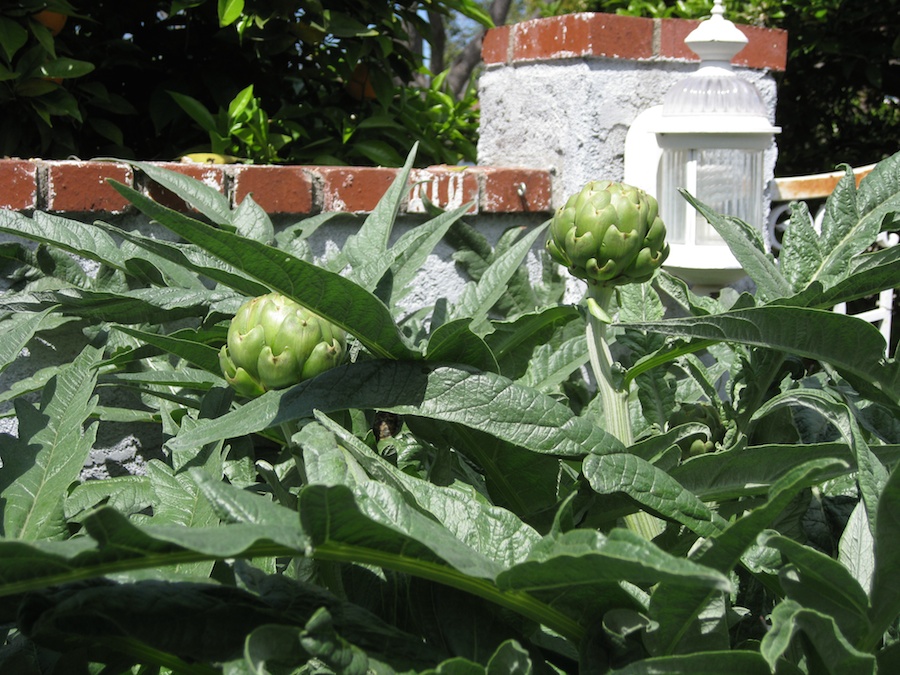 Yup! Artichokes will soon be on our dinner table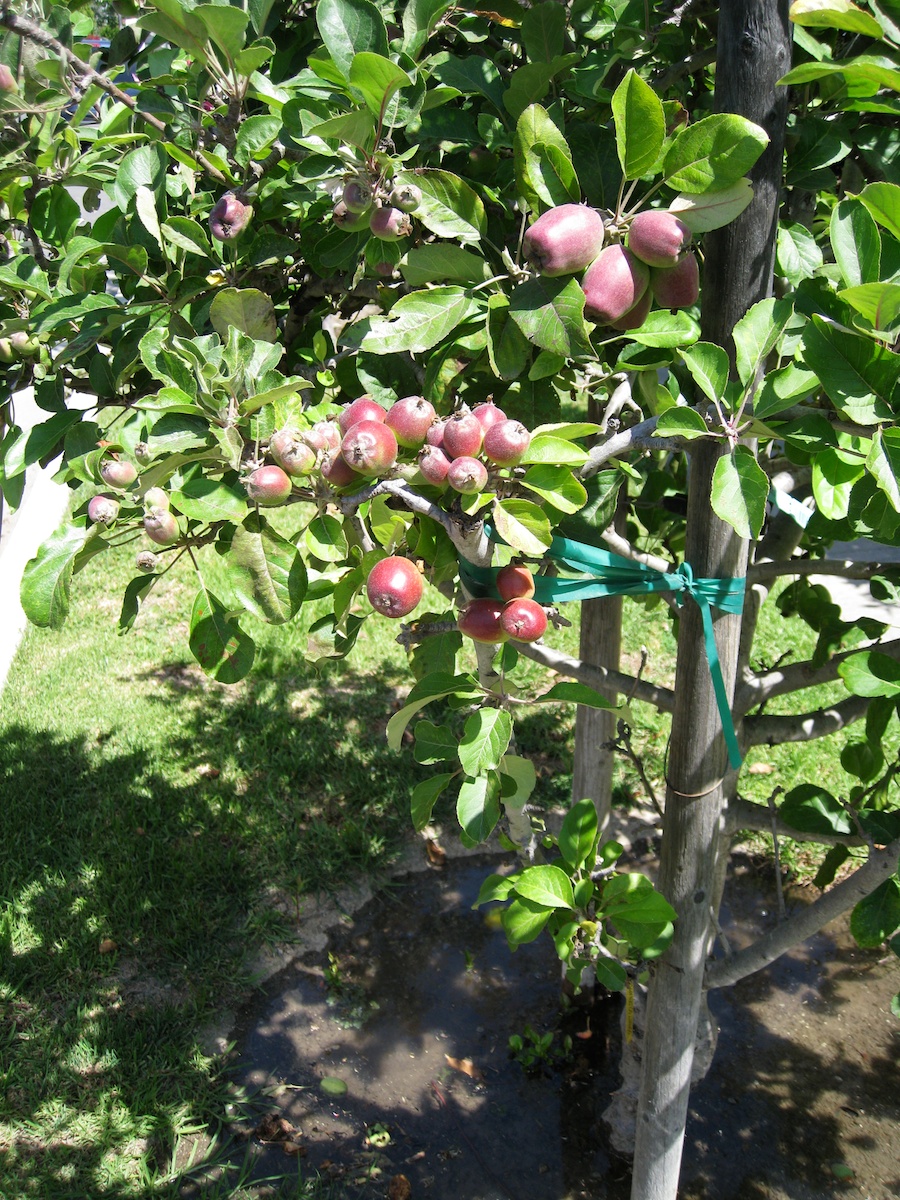 The apple tree is also going wild!

The avocado is looking better since Treeco cleaned it up

We got two new plumb trees and there are grapes,
peas, broccoli, and a tomato along the driveway
We Love Our Tomatoes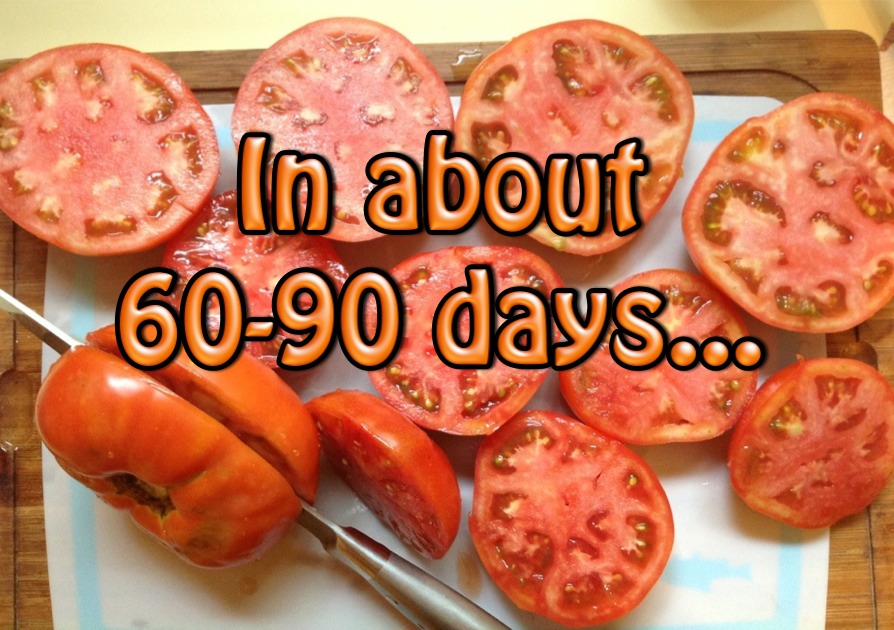 Did You Know? - The word "tomato" comes from the Spanish tomate, which in turn comes from the Nahuatl word tomatotl [aːˈtomatl͡ɬ], It first appeared in print in 1595.
A member of the deadly nightshade family, tomatoes were erroneously thought to be poisonous (although the leaves are) by Europeans who were suspicious of their bright, shiny fruit.
Native versions were small, like cherry tomatoes, and most likely yellow rather than red. The tomato is native to western South America and Central America.
Inner Front Yard (3/13/2014)
In The Front Yard (Inside The Wall)

Fresh Salsa Hybrid

Salsa lovers, your tomato is here. You can chop this tomato into tiny cubes that remain perfectly firm and solid in salsa recipes. Plum-shaped and "dripless," Fresh Salsa is all meat, perfect for recipes like bruschetta and light sauces. These tomatoes need at least one inch (2.5 cm) of water per week and prefer six hours or more of direct sun each day.

Nevers Azorean Red

Neves Azorean Red tomato is a large beefsteak with bright red skin and bold, classic flavor. The fruits vary in size, up to 1-2 pounds. Fair production.

Tomato 'Neves Azorean Red' was developed by Anthony Neves, who brought the original seeds from the Azores when he immigrated to Massachusetts. He selected for large size.

Black From Tula

70-80 days. A unique, large 8-12 oz. dark tomato exhibiting a rich, deep purplish-brown color. Some seed savers say it is the best tasting of all the dark tomatoes. Very rich, old-fashioned flavor, sweet and spicy. A rare Russian heirloom.

Indigo Rose

The "Indigo Rose" tomato steps out this year as the first "really" purple variety to come from a program at Oregon State University that is seeking to breed tomatoes with high levels of antioxidants.

"It is the first improved tomato variety in the world that has anthocyanins in its fruit," he said.

Breeding for the antioxidant potential of the purple anthocyanins in the fruit is the most important goal for OSU breeders. "It will lead to a better understanding on how the antioxidants express in tomatoes and may contribute to human health," Myers said.
Planted In Our Side Yard (South Side Of The House ) 3/13/2014
On Our South Side....

Rose


(Solanum lycopersicum) Heirloom from the Amish in New Holland, Pennsylvania. Large, meaty, beefsteak fruits are a beautiful dusty-rose color. Great flavor, rivals Brandywine. Strong healthy plants with lots of leaf cover. Indeterminate, 75-80 days from transplant.

Hogheart Paste


Hog Heart Paste Tomato OG (86 days) Open-pollinated. Ind. Brought from Italy to Massachusetts, probably between 1910 and 1920, and then by Susan Eastman and Ed Lacy of Gray, ME, to the Exhibition Hall at the 1988 Common Ground Fair, Hog Heart has won many admirers. So-named because it sometimes produces large heart-shaped double fruits. More often, though, its 6–8 oz tomatoes are shaped like banana peppers. A meaty paste tomato noted for its sparse seed cavity, good solids and excellent flavor fresh, canned or frozen. It is late for extreme northern areas and some fruits catface.

Supersteak

The Supersteak Tomato is a tremendous yielding tomato variety that is smooth, mild, meaty and ripens uniformly to a deep scarlet. Fruits weigh 1-2 pounds. One slice fills a sandwich or hamburger roll. Healthy productive plants are resistant to wilt and root knot nematodes.

80 days from setting out plants until first fruits mature. When raising transplants from seed add 6-8 weeks.

∫

Lemon Tree



Lemony in Look and Flavor! - This heirloom is a zesty change of pace! 70 days from transplanting. Indeterminate.

For something pleasantly out of the ordinary, this heirloom tomato never disappoints! Looking just like mid-size lemons, these abundant fruits are low in sugars and high in acids, so they have a tart bite in keeping with their name. You'll love them, both for their charming plate appeal and their zesty taste.

Lemon Tree is a vining tomato that bears all season long, quite robust and heavy-yielding. The fruits reach about 4 to 4½ inches long, bright yellow with a point at one end and a plump center. Whole or cut, they look like lemons!

Copia Striped

80-90 days. A unique and beautiful large, striped tomatoes, these have lovely fine stripes of glowing gold and neon red. Inside the flavorful flesh is a mix of red and yellow that is swirled together in various combinations. This new variety was devel oped by Jeff Dawson and named in honor of Copia, the American Center for Food, Wine and the Arts, of Napa, CA.

Brandy Boy

A huge pink beefsteak tomato with incredible heirloom flavor and very high yields. One of the all-time classic tomatoes is now even better. Brandy Boy captures all the rich flavor of the beloved Brandywine heirloom tomato—long the flavor favorite among heirloom tomatoes—with a more shapely form, tidier growth habit, improved disease-resistance and bigger, earlier yields. Our new hybrid produces loads of large pink fruits up to 5½" across. The fruits ripen evenly and share Brandywine's soft heirloom texture, thin skin and exceptional tangy-sweet taste. Tomato-lovers, Brandy Boy is for you. Indeterminate.
Our Back Yard Is On The East Side Of The House 3/10/2014
Did You Know? - Tomato varieties are roughly divided into several categories, based mostly on shape and size.
"Slicing" or "globe" tomatoes are the usual tomatoes of commerce, used for a wide variety of processing and fresh eating.


Beefsteak tomatoes are large tomatoes often used for sandwiches and similar applications. Their kidney-bean shape, thinner skin, and shorter shelf life makes commercial use impractical.


Oxheart tomatoes can range in size up to beefsteaks, and are shaped like large strawberries.


Plum tomatoes, or paste tomatoes (including pear tomatoes), are bred with a higher solids content for use in tomato sauce and paste, and are usually oblong.


Pear tomatoes are pear-shaped, and are based upon the San Marzano types for a richer gourmet paste.


Cherry tomatoes are small and round, often sweet tomatoes generally eaten whole in salads.


Grape tomatoes, a more recent introduction, are smaller and oblong, a variation on plum tomatoes, and used in salads.


Campari tomatoes are also sweet and noted for their juiciness, low acidity, and lack of mealiness. They are bigger than cherry tomatoes, but are smaller than plum tomatoes.
Row #1 - Closest To House

Mr. Stripey



Heirloom. These huge, beefsteak-type red-and yellow fruits with a high sugar content are delicious and pretty to slice because of the bi-coloring. Although the variety is called Mr. Stripey, don't expect perfect stripes. This is an heirloom and no two tomatoes are ever the same. The background color of the tomato is yellow to light orange, and the red often appears in little spots tha t align themselves in stripes radiating from the stem end of the fruit. Indeterminate vines produce through the season; they are vigorous, so use tall cages. Popular in the mid-South and beyond.

Black Krim


Heirloom. This variety hails from the Black Sea, near the Crimean Peninsula of Russia, where warm influences from the Black Sea make summers perfect for growing tomatoes. Heat-tolerant Black Krim has a dark brown-red color that gets even darker in hotter weather. Always a favorite in taste tests, Black Krim has a flavor that is described as tangy, rich, and sweet. It makes beautiful dark slices. Black Krim is prone to cracking, so be sure to water regularly, especially when there is not enough rain, to avoid cycles of wet-to-dry-to-wet-to-dry soil that causes the fruit to crack.Vigorous plants grow best with strong staking or tall cages.

Pineapple

5-95 days Very large, up to 2 lbs. each. The yellow fruit has red marbling through the flesh and is one of the most beautiful tomatoes we sell. The flavor is very sweet and fruity; good yields!

Giant Syrian

A jumbo Tomato that doesn't compromise on flavor, this family heirloom from West Virginia bears a hefty crop of 1lb, heart-shaped fruits that ripen 80 days from transplant.

The pinkish red globes of 'Giant Syrian' are juicy and sweet with few seeds; great for slicing, sauce, and canning. Indeterminate.

Green Zebra

Heirloom. The relatively small (2-3 inches) fruits have good flavor and are a rich golden green at maturity, with forest green stripes - hence the name. The vines are vigorous, but not that tall; we call them semi-determinate.

Row #2

San Marzano Gigante

90 days. A heftier version of any San Marzano tomato that we have trialed with a magnificent, robust flavor to boot. Large, open, indeterminate plants produce enormous, meaty fruit measuring 2 1/2 inches wide and 7 inches long.

Ruby red tomatoes have green streaked shoulders and very few seeds. These giants will go a long way in sauce and salsa recipes.

Carolina Gold

75 Days. The Carolina Gold tomato features a unique golden-yellow colored fruit that is low in acid and uniform ripening.

This variety is very adaptable, and its strong, determinate plant produces mostly extra-large and large fruit throughout the season.

Tomato Stupice

This is an extremely early-bearing red salad tomato with exceptional taste that does well even in cool, short season climates.

Bred in Czechoslovakia, this dependable, prolific variety has dense, potato-like foliage on dwarf, indeterminate vines. Staking is optional.

Dwarf Indeterminate

Halladay's Mortgage Lifter

(Solanum lycopersicum) Kentucky family heirloom grown since the 1930s by three generations of James Halladay's family. In a trial of 25 Mortgage Lifter types, Halladay's produced the best crops of 1-2 pound pink beefsteak fruits. Exceptionally meaty and typically crack-free. Great old-fashioned tomato flavor. Indeterminate, 80-90 days from transplant.

Blue Beauty

75 days. Indigo Blue Berries is as appealing to the palate and eye as its name implies. Indeterminate plants produce trusses of the delightfully delectable little, 1-2 ounce, cherry tomatoes. Taste testers blissfully describe the flavor as sparkling. The green fruit quickly develop purple tops and crimson bottoms, ripening to a midnight black tone with deep, maroon-colored bottoms.

Not only are they extraordinarily colorful and tasty; they are extra nutritious. Developed with traditional breeding techniques, the fruit of these unusual varieties contain high levels of anthocyanin, a naturally occurring antioxidant found in blueberries, and is reported to combat disease. Anthocyanin reveals itself in the vibrant indigo pigmentation of the fruits.

Row #3 (Closest To Back Fence)

Supersteak

Our favorite super size tomato-with most fruits weighing in at 2 lb. Burpee bred, this is the original with "beefsteak" flavor and meaty texture.

Seasonality: Mid Season

Fruit Weight: 2 pounds

Fruit Bearing: Indeterminate

Days to Maturity: 80 days

Sun: Full Sun

Height: 36-40 inches

Sowing Method: Indoor Sow

Spread: 18 inches

Early Season – Start producing ripe fruit 67 days or less from the time of transplanting.

Big Zac

80 days. Lycopersicon esculentum. (F1) Plant produces good yields of very large 6 lb size tomatoes. Tomatoes turn glossy red when mature. Developed by Minnie Zaccaria of New Jersey by crossing two heirloom varieties.

It won the New Jersey Championship in 1995 and 1997 and won the Week's Giant Growers Contest in 1998. Excellent for sandwiches and salads. Try growing the biggest prize winning tomato you will ever see. Disease Resistant. Indeterminate.

Garden Peach

Attractive tomato resembles a peach with its color and slightly fuzzy skin. This heirloom variety produces an abundance of sweet,juicy 2- to 4-oz. fruits that have a mild fruity flavor.

Produce until the first frost and will keep for several weeks on the kitchen counter.Indeterminate. 75 DAYS.

Virginia Sweets

This heirloom variety is simply one of the best tasting, best producing gold-red bicolors we have ever grown. On top of that, the tomatoes are stunningly beautiful and enormous, weighing at least 1 pound each.

Golden yellow beefsteaks are colored with red stripes that turn into a ruby blush on top of the golden fruit. Flavor is sweet and rich, and harvests are abundant. Indeterminate. 80 days.

Amish Paste


Acorn-shaped Wisconsin heirloom: for paste, as a slicer, and in sauces.
A multitalented heirloom paste tomato from Wisconsin well-suited for paste, or as a slicing tomato. Acorn-shaped, the very large 8-12 oz. fruits are deep red, thick-fleshed and nearly seedless. Indeterminate vines. Harvest 74-85 days after transplant.
Planted Along Our Back Wall  Are Cherry Tomatoes 3/14/2014
Did You Know? - A cherry tomato is a very small variety of tomato that has been cultivated since at least the early 1800s and thought to have originated in Peru and Northern Chile.
Cherry tomatoes range in size from a thumbtip up to the size of a golf ball, and can range from being spherical to slightly oblong in shape. The more oblong ones often share characteristics with plum tomatoes, and are known as grape tomatoes.
The berry tomato is regarded as a botanical variety of the cultivated berry, Solanum lycopersicum var. cerasiforme.
The modern-day common commercial cherry tomato was developed in Israel.
All The Cherries Hang Out Together

Amish Paste

Acorn-shaped Wisconsin heirloom: for paste, as a slicer, and in sauces.
A multitalented heirloom paste tomato from Wisconsin well-suited for paste, or as a slicing tomato. Acorn-shaped, the very large 8-12 oz. fruits are deep red, thick-fleshed and nearly seedless. Indeterminate vines. Harvest 74-85 days after transplant.

Bicolor Cherry

Cherry Tomato - Bi-Color Cherry - Lycopersicon esculentum

Tender Annual Indeterminate. Heirloom. Look for the flush of red on the blossom end of these orange fruits. They range in size from 1"-2" and offer juicy, exceptional sweetness on a vigorous plant.

Soil and Water: Tomatoes love fertile soil rich in organic matter. Add plenty of compost prior to planting. Soil pH is preferred between 5.5-7.0. Mulch to preserve moisture. Avoid wetting the foliage when watering.

Tomato Pear

Heirloom. Long, indeterminate vines produce a seemingly endless supply of mild flavored, pear-shaped tomatoes all summer. The tiny tomatoes are borne in clusters. This is one of the prettiest tomatoes in the garden. It's beautiful in a salad. Bears dependably through summer weather. Vines can grow 8 feet or longer, so give them a tall support or place to ramble.

Spoon

According to the literature, Spoon tomatoes are an ancient form of tomato, related to the earliest tomatoes, from Peru. I say they are tiny, micro-currant sized bits of tomato goodness.

Related to the ancestor of all tomatoes, from Peru. From Jeff Curtis who got this variety from a seed-saver "down south." The name was coined by the Park Seed Company years ago when they offered the seed for a short time.

Juliet


Somewhere between a grape and a Roma tomato is Juliet, the delectable saladette-type tomato that won top honors from the All-America Selections in 1999 and has been a home gardener favorite ever since. Plump, deep red, ultra-sweet yet meaty little fruits just 2 inches long and about 1½ inches in diameter, they hold up to 2 weeks on the vine, resist cracking, and offer nonstop production all season long!

Juliet is a larger version of the old favorite Santa, but it greatly improves on Santa's flavor and yields. You can expect clusters of a dozen to a dozen-and-a-half fruits all over this plant, which grows vigorously and bears right into autumn in warm climates. It's not unusual to find 50 to 80 tomatoes at once on the plant, so you can imagine what your total yields will be!

Wild Cherry



These small, 5 gm., cherry tomatoes are deep red, have a tender, smooth texture, and sweet, full flavor. High sugar content. Though the flavor is superior, it doesn't yield as well as modern varieties, and the fruits are soft. Fantastic in salsa and for fresh eating.

Sungold

Exceptionally sweet, bright tangerine-orange cherry tomatoes leave customers begging for more. Vigorous plants start yielding early and bear right through the season.

Tendency to split precludes shipping, making these an exclusively fresh-market treat. The taste can't be beat.

Sunchocola


A very large chocolate cherry, Sunchocola is a beautiful and unusual tomato with an excellent juicy texture and low acid, very tangy, sweet taste. Perfectly round, very uniform sized fruit.

Clusters of 8-12 fruit on short internodes off a vigorous dark green plant. Ripe when a red blush emerges on the chocolate brown, lightly striped fruit. Much bigger than the other Sun varieties.