Time To Walk Through Town And Visit Luigi And Tow Mater (Page Two)

Two Mator

Highway 66

Where did they get all the signage?
Did You Know? - Facts about Highway 66


Current maps do not include old Route 66.
Route 66 is 2448 miles long. (about 4000 km)
Route 66 was commissioned in 1926, picking up as many as possible bits and pieces of existing road.
Route 66 crosses 8 states and 3 time zones.
Route 66 starts in Chicago, and ends in L.A. (Santa Monica).
Some people think driving it in the opposite direction is historically wrong, but it's mainly a lot harder as all available documentation goes the "right" way.
In 1926 only 800 miles of Route 66 were paved. Only in 1937 Route 66 got paved end-to-end.
You can only drive parts of Route 66 these days... it has been replaced by the interstate highways I-55, I-44, I-40, I-15 and I-10, but still a surprisingly high amount of old road is waiting to be found by the more adventurous traveler.
Route 66 is also know as "The Mother Road", "The Main Street of America" and "The Will Rogers Highway".
During all of its life, Route 66 continued to evolve, leaving many abandoned stretches of concrete, still waiting to be found by the more adventurous traveler.
Route 66 was also the title of a TV series playing from 1960 till 1964
Cyrus Stevens Avery from Tulsa Oklahoma can be called the father of Route 66
In 1985 Route 66 was officially decommissioned, but for daily use it was replaced far earlier by the Interstates.

Tee-Pee Motels

Text Pay Phones... What will they think of next??

Making noise
Let's Visit Luigi!
Did You Know? - Luigi's Flying Tires uses a completely new, state-of-the-art ride system, but the attraction is inspired by a classic Disneyland Park attraction, Flying Saucers. More than 5 million aspiring space explorers rode the Flying Saucers from August 6, 1961 to August 5, 1966. Even decades later, it's still a favorite memory of many Disneyland Resort Guests — including Cars director John Lasseter. Now, the unique experience of floating on air can be relived and shared with a whole new generation of fans!

Checkout the tire names

Funny items from the movie

We loved reading the signs

Luigi's office - The fun begins before you even hop aboard your flying tire. You'll tour Luigi's showroom and office, where you'll see his humorous collection of office supplies, mementos and photographs. Keep your eyes open for a few surprises!

That's us in the mirror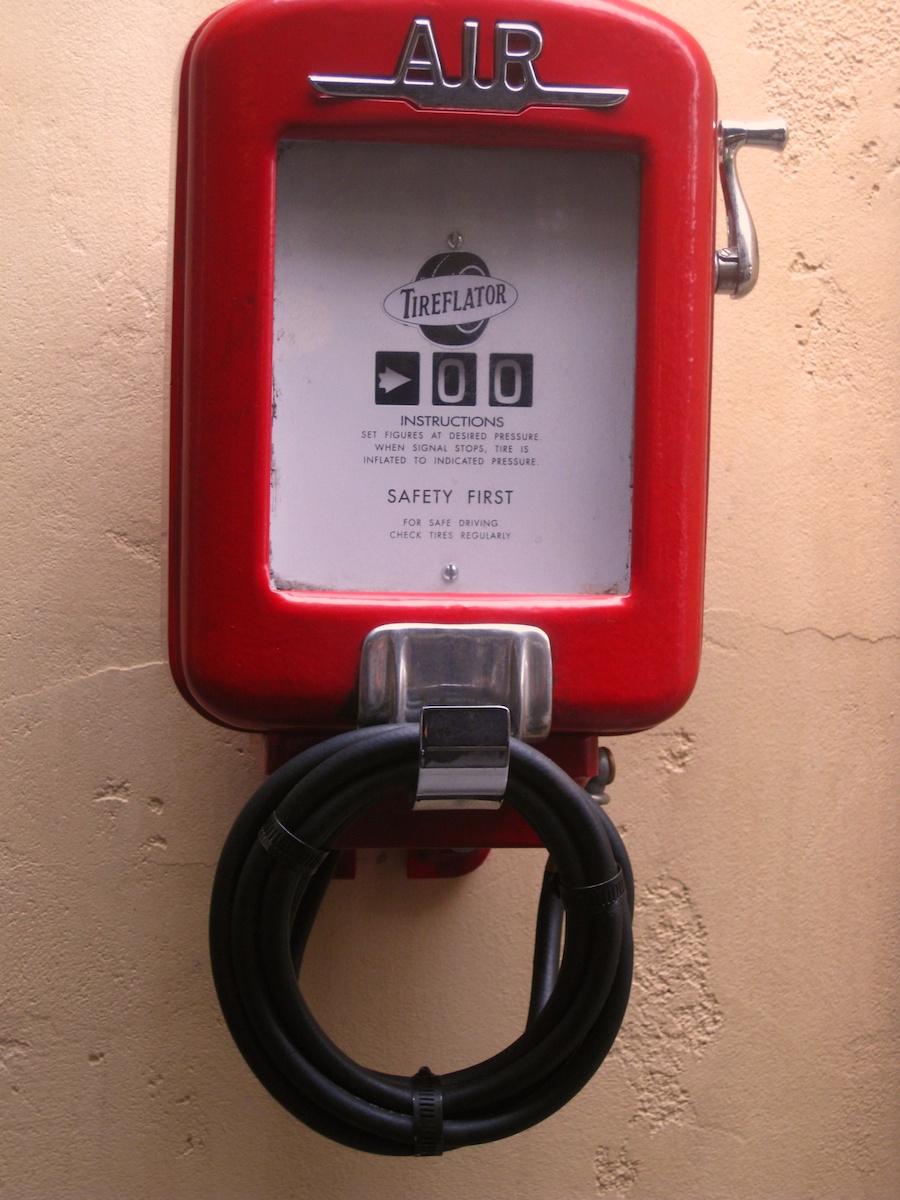 Pump it up

The fans have been treated so as to look old... Amazing details

Beach balls were fun to throw
Did You Know? - You'll quickly get the hang of soaring around Luigi's 8,000-square-foot Italian garden and tire storage yard. All you need to do is lean in the direction that you wish to move.
6,714 air vents blow over 1.86 million cubic feet of air per minute to keep your tire floating ever so slightly above the ground. This marvel of modern machinery provides a completely unique ride experience — it's almost like you're on top of a gigantic air hockey table!
Each tire can accommodate up to 2 adults and 1 child or 1 adult and 2 children.

Bet it look terrific at night

We study it to make sure we know how to "drive"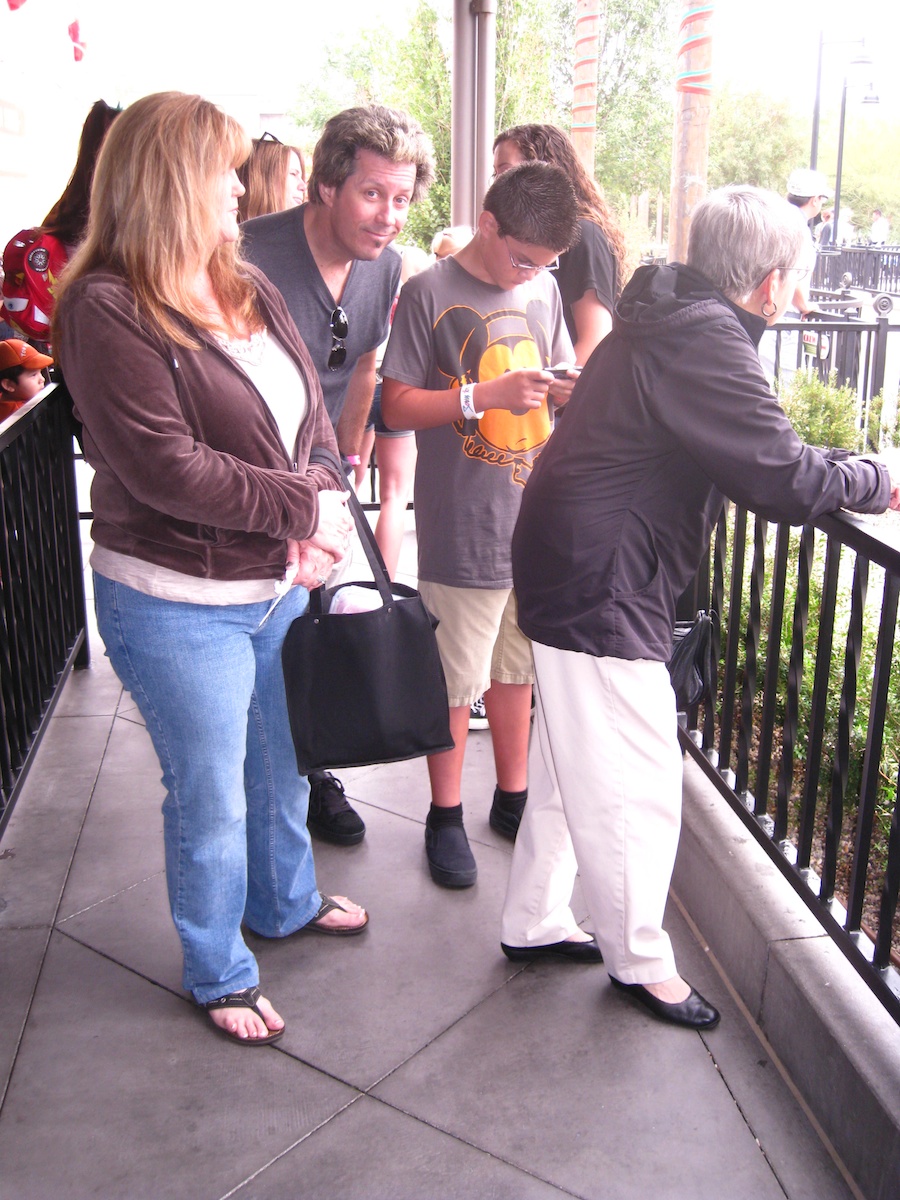 Bob can't be serious very long

Lean to the left... Lean to the right.... DO NOT STAND UP... Fight fight fight

The gardens were interesting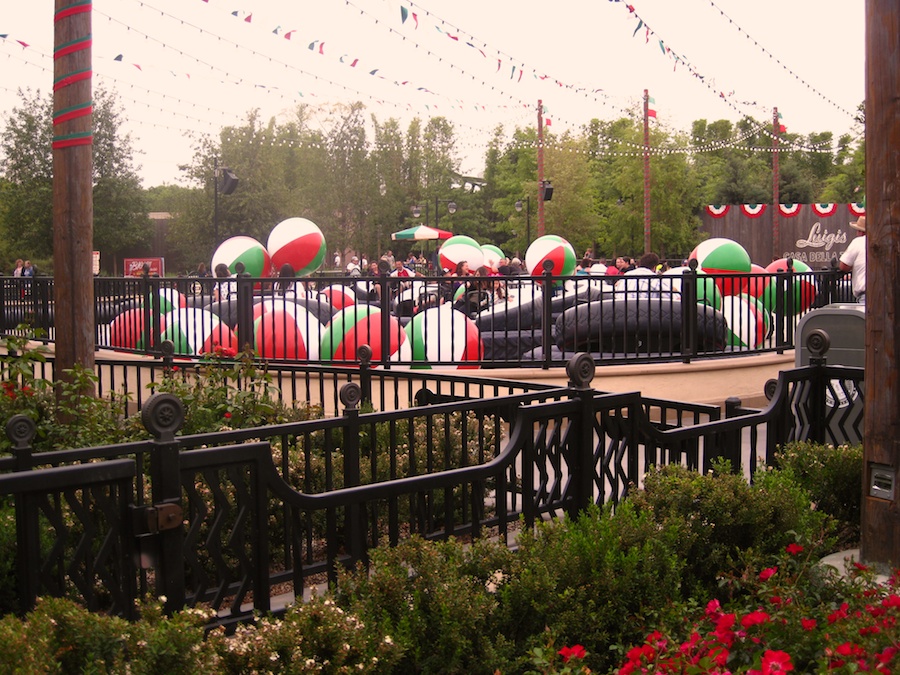 The line moves pretty fast

Amazing attention to details

Made using ficus trees

We are close to getting on

That would be Paul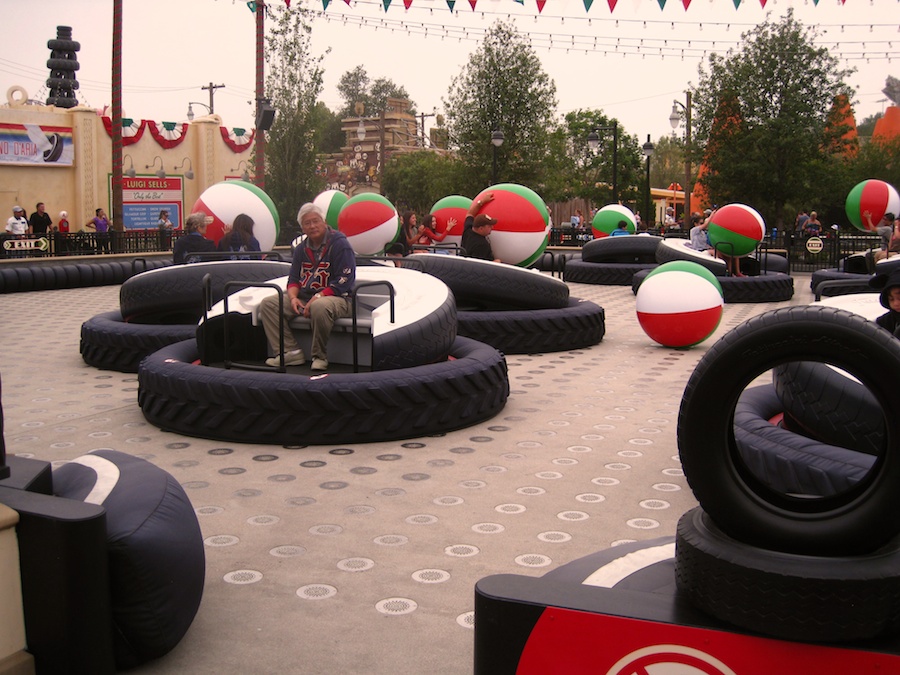 Checking it out

Robin and Bob are ready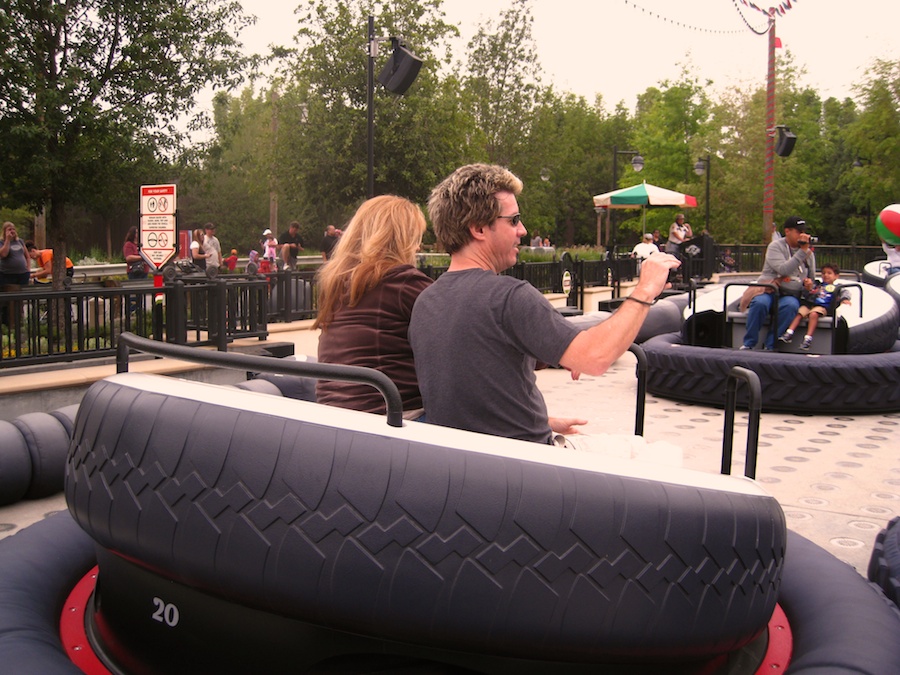 Cameras on...

Here we go....

The balls are bouncing all over the place

Nick captures it on video

OK... make a run for it
On To Tow Mators Junk Yard

Cadillac tail lights form the 1950's

Cones make a great water wheel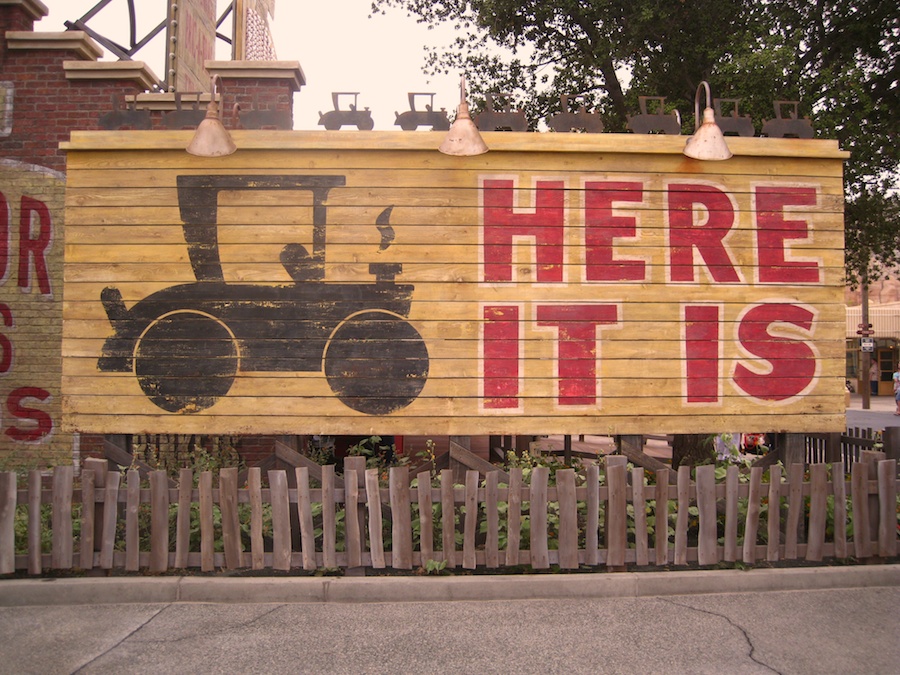 Where??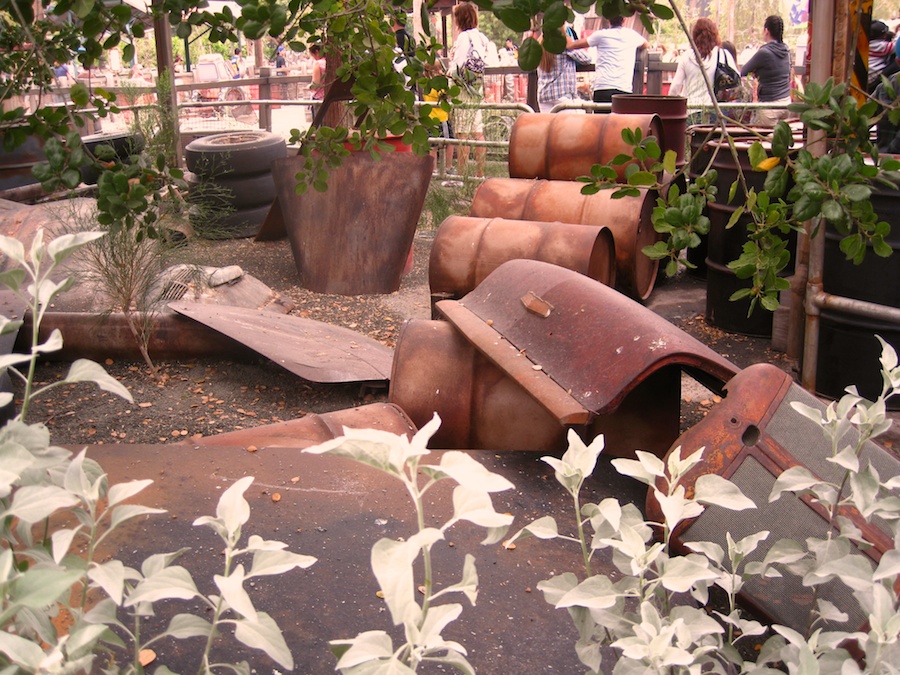 Entering thr junk yard
Did You Know? - The ride is hosted by the ever popular Tow Mater tow truck from the Cars movie and features his tractors. Guests are towed around the arena by the tractors to some bluegrass style jamboree music sung by Tow Mater himself (voiced by Larry the Cable guy).
Tow Mater even voices the safety instructions before and after the ride—in English AND SPANISH! Hearing Tow Mater speak Spanish is one of the funnier parts of the experience.
Once the ride starts, you will be whipped around behind the tractors as they weave around each other in the true style of a do-see-do style jamboree. The music is fun and lively, but the ride is not rough. The tractors and their trailers don't spin or move too fast so the little ones will love it while there is plenty of swingin' fun for teens and adults as well.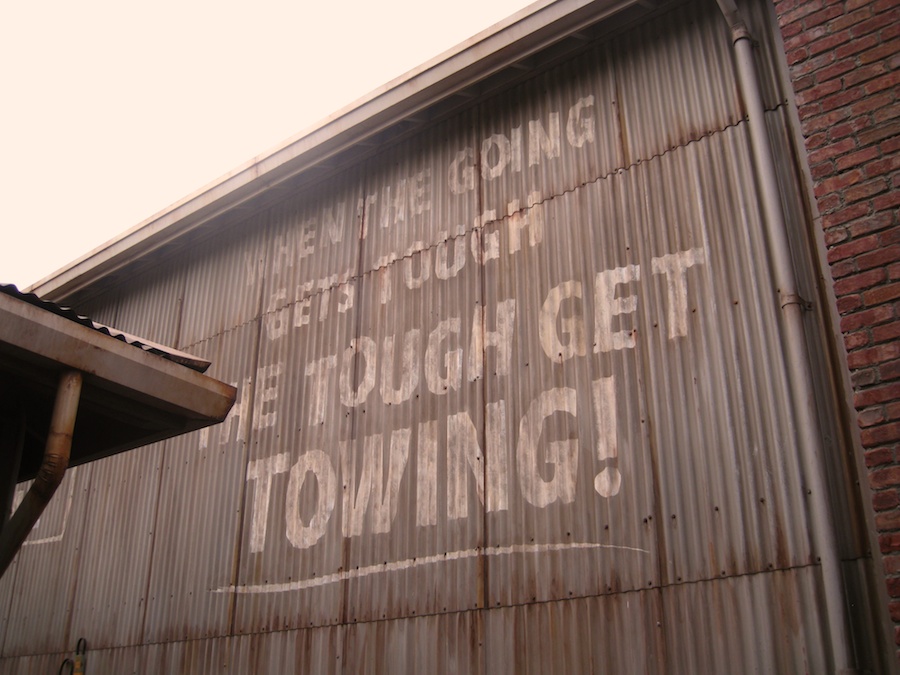 Neat signs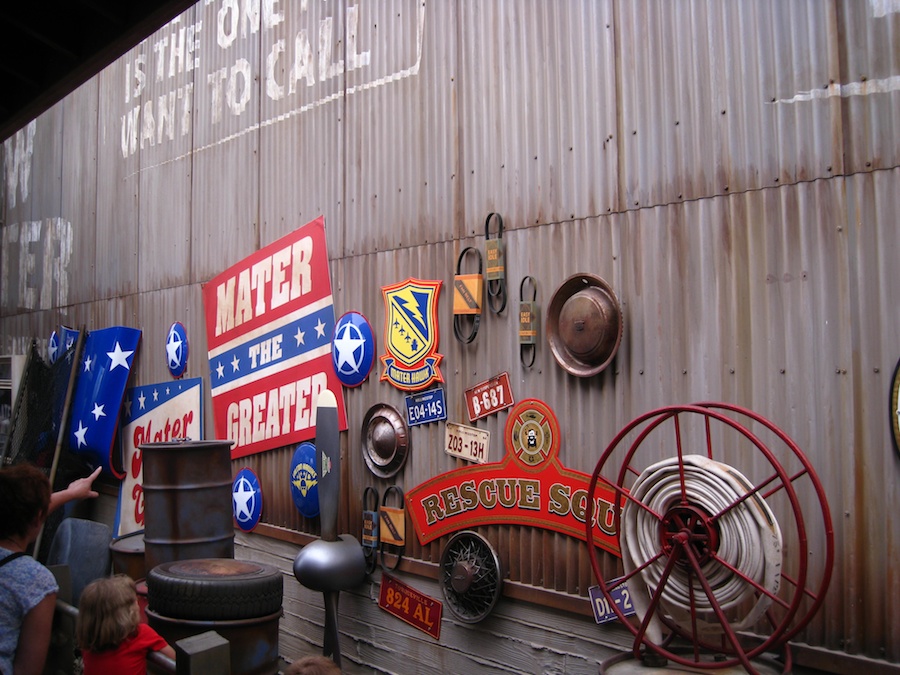 Fans NOT required today

Tow Mater gets around

Robin caught that... Like the Shuttle patches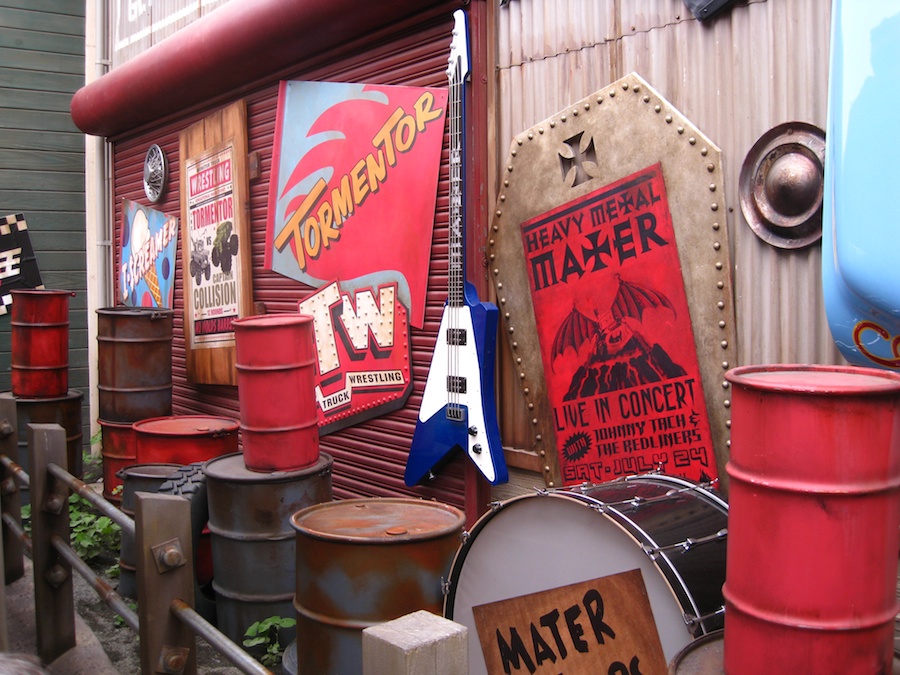 These bolks keep the signs from being removed

Area 51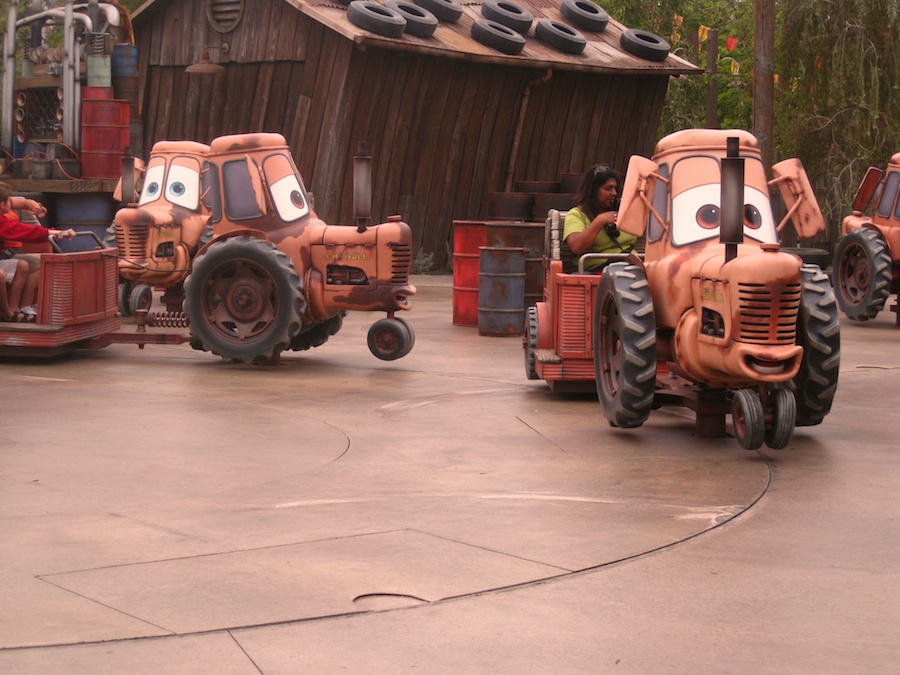 The ride was fascinating

Great junk yard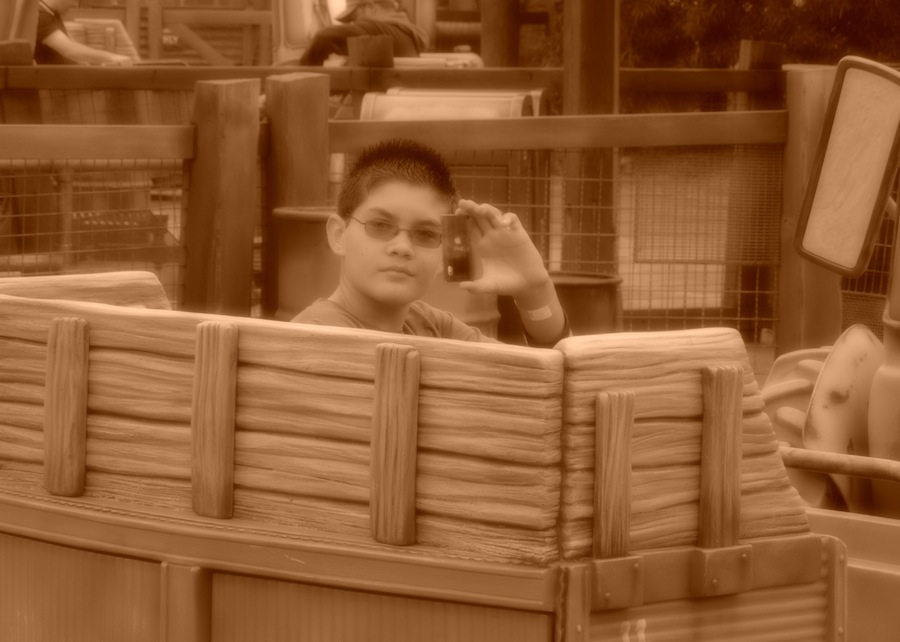 Master control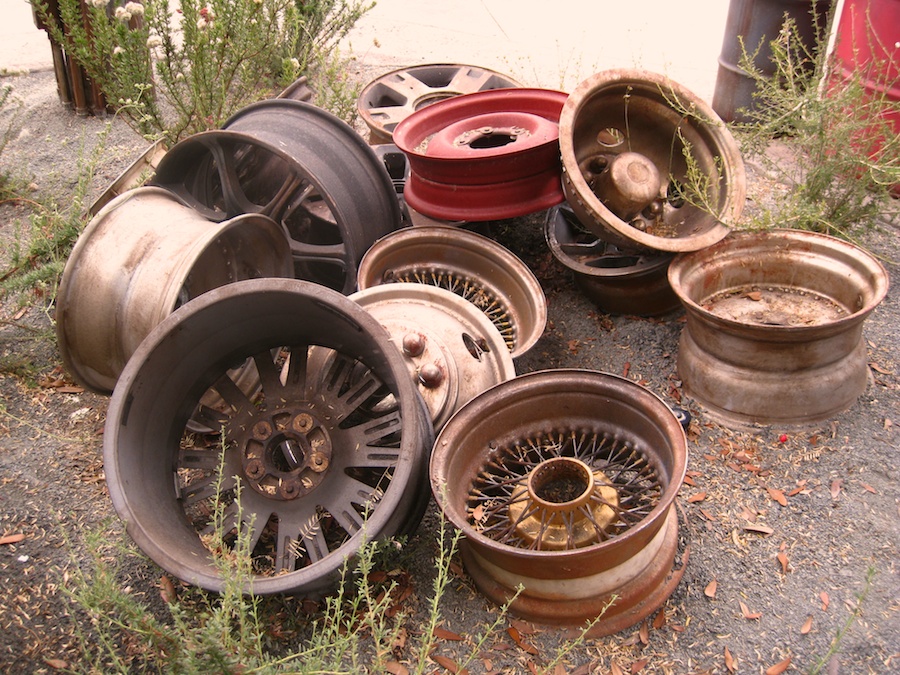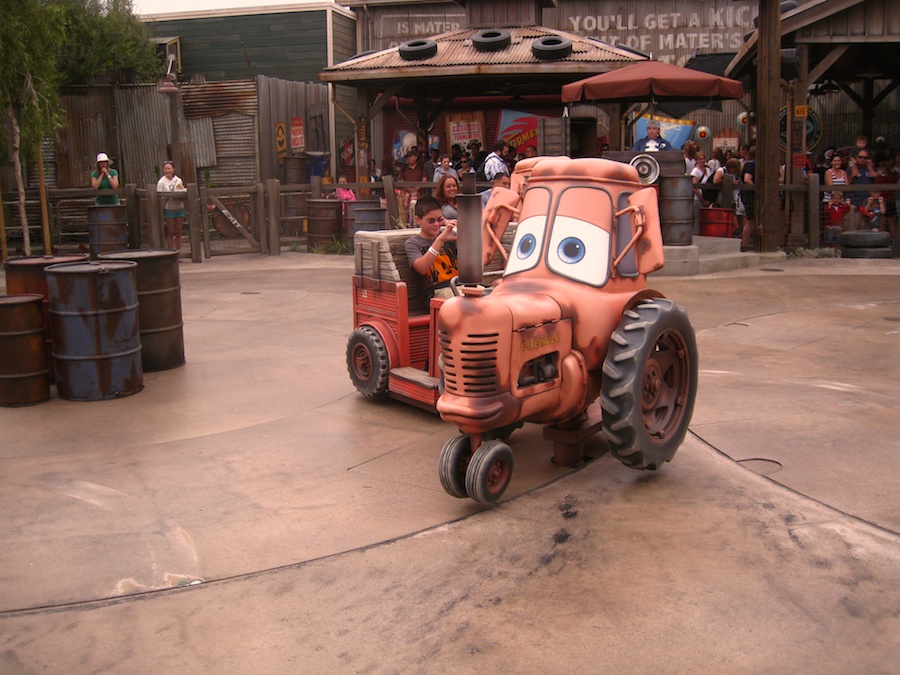 This ride really swings around
Did You Know? - Sir Tow Mater, known to all as simply Mater, is the secondary protagonist in the 2006 animated Pixar film Cars and the main protagonist in its sequel. He is voiced by Larry the Cable Guy, and was inspired by a 1951 International Harvester tow truck but bears more of a resemblance to a 1957 two-ton International Harvester Truck.

Originally portrayed as a sidekick and friend to the film's main protagonist, Lightning McQueen, the popularity of the character eventually made him the central character in Cars spin-off media like the Cars Toons series, the Mater and the Ghostlight short and the Cars Mater-National Championship video game, and one of the two central characters in the film Cars 2. He also appears as the protagonist in other media related to Cars. His name comes from "tomater", a slang term for Tomato.

Amazing mechanical designs

Nick takes videos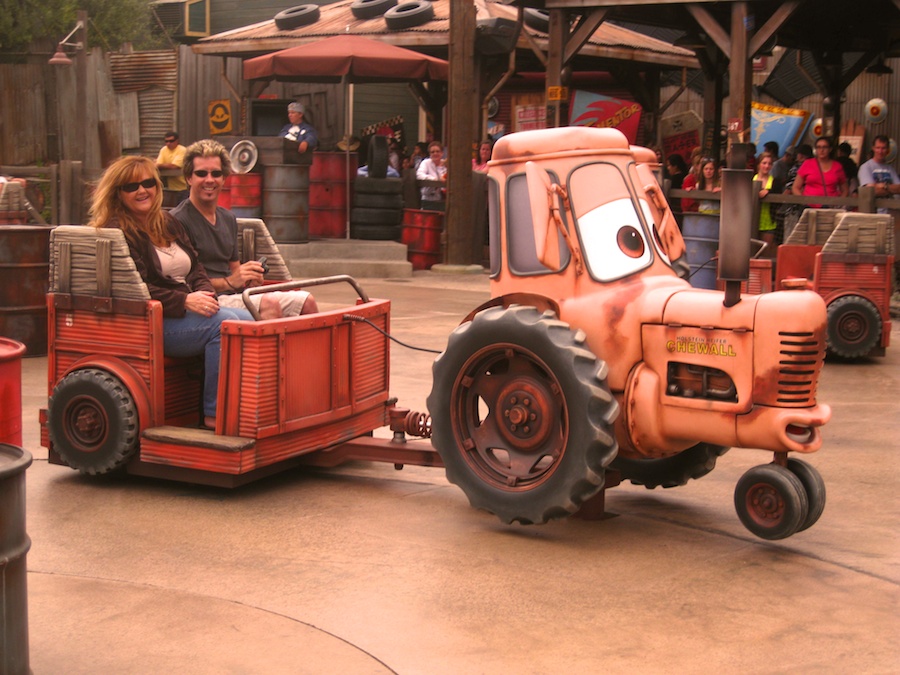 A Walk To Breakfast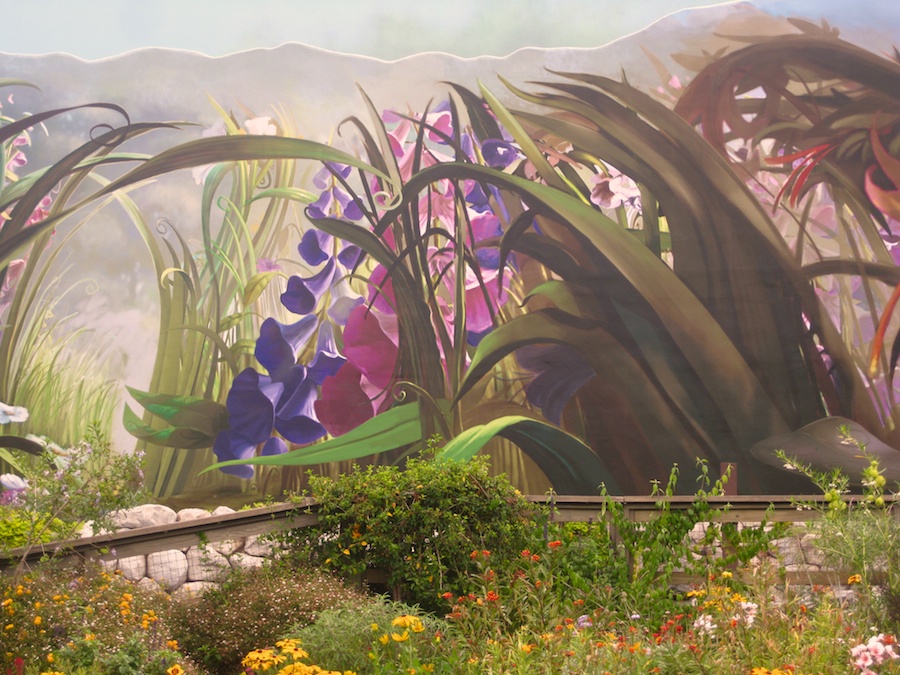 A recreation
Did You Know? - The Carthay Circle Theatre was one of the most famous movie palaces of Hollywood's Golden Age. It opened at 6316 San Vicente Boulevard in 1926[1] and was considered developer J. Harvey McCarthy's most successful monument, a stroke of shrewd thinking that made a famous name of the newly developed Carthay residential district in the Mid-City West district of Los Angeles, California.
The Carthay Circle Theater provided the "circle" for which Carthay Circle has come to be named. The auditorium itself was shaped in the form of a perfect circle, extended vertically into a cylinder, set inside a square that fleshed out the remainder of the building. McCarthy's development was called Carthay-- an anglicized version of his last name. The theater was called the Circle Theater for its unique floorplan.

Initially developed by Fox, it was called the Fox Carthay Cirle Theater. The theater became better known than the development in which it was located, and this has led to confusion in the name of the area. The theater's name meant "the Circle Theater, by Fox, located in Carthay", but became incorrectly interpreted as "The Fox Theater, located in Carthay Circle." The misintrepretation has stuck, and now the region is more or less officially known as Carthay Circle, even as its theater namesake has been gone for half a century.

Premiere of motion picture "Life of Emile Zola" at the Carthay Circle Theater in Los Angeles, Calif., 1937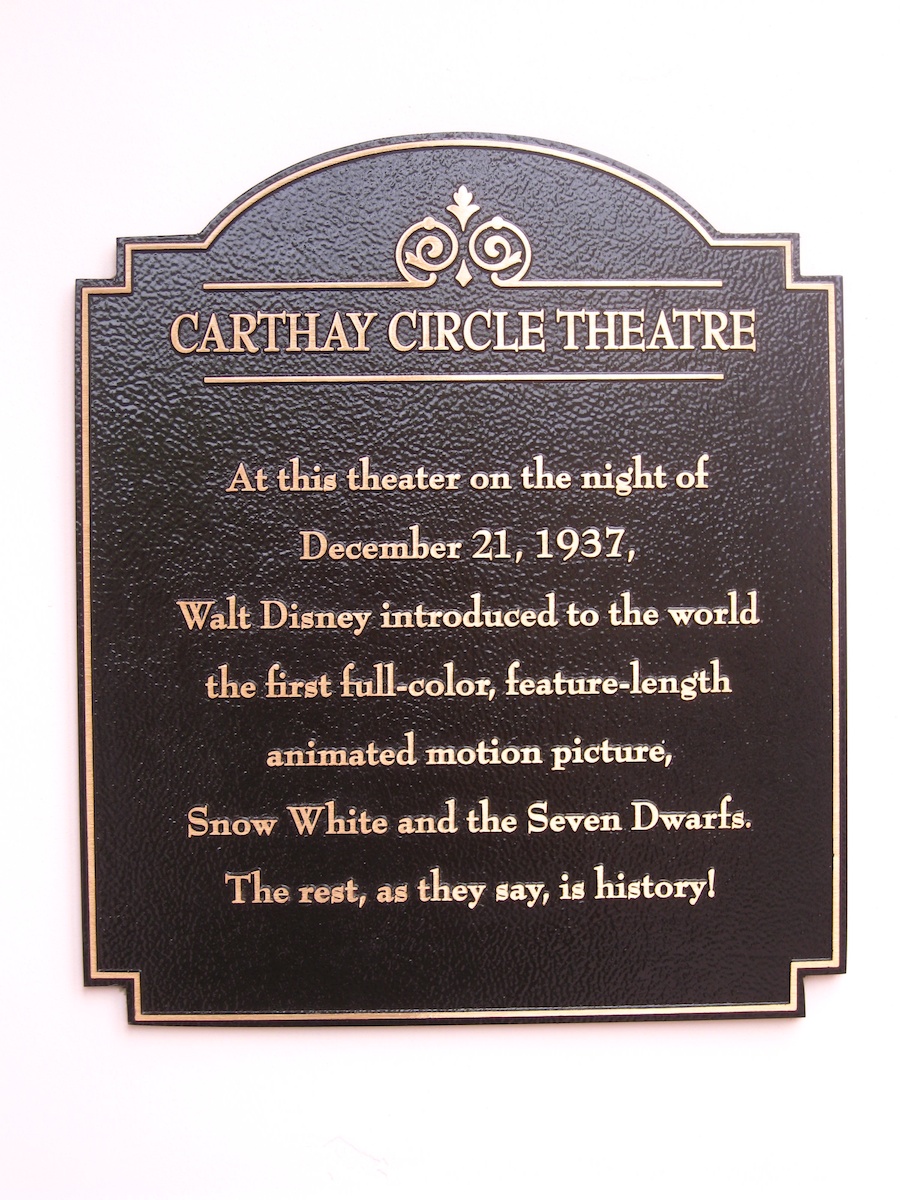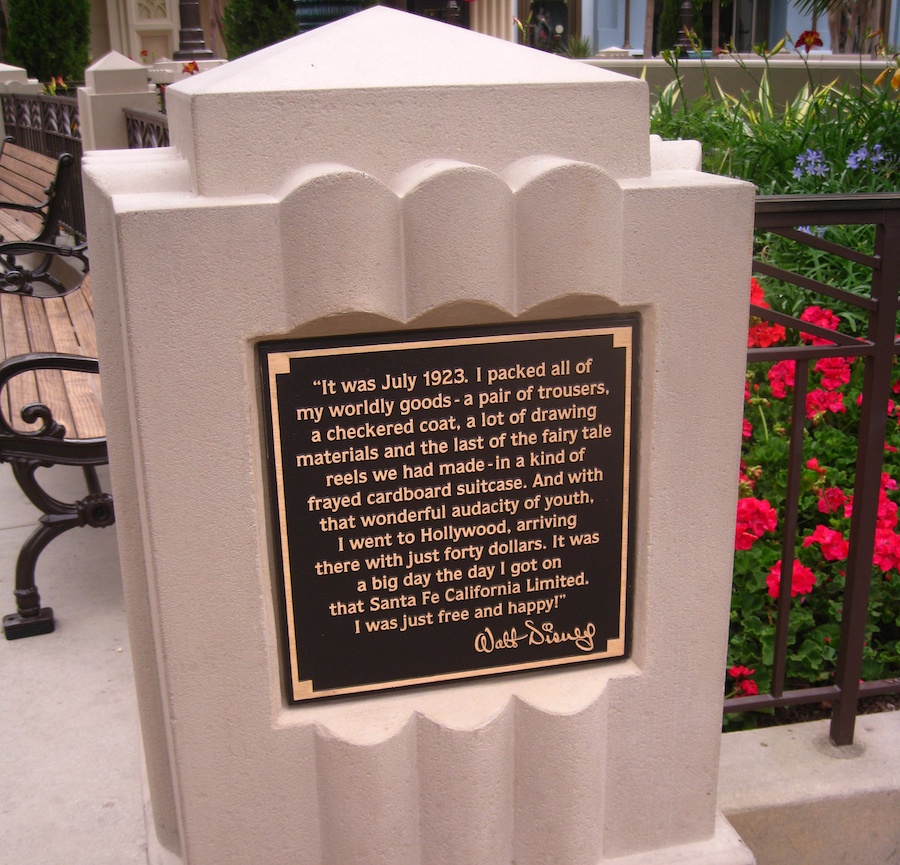 Check the overhead lines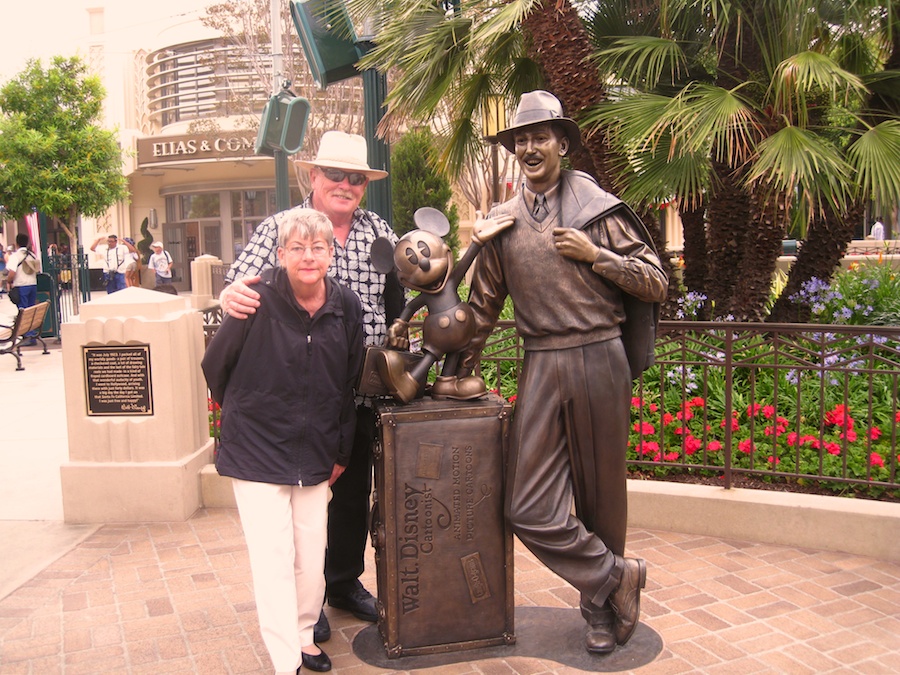 Walt and us...

Movie stars all over the place

Looks just like old downtown LA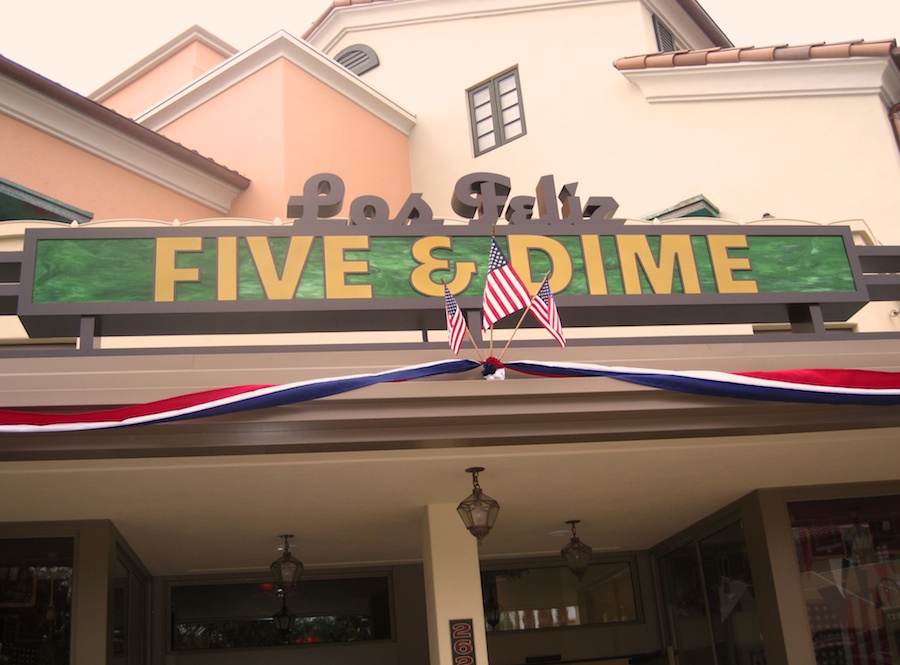 Hits home
Did You Know? - A variety store or price-point retailer is a retail store that sells inexpensive items, often with a single price for all items in the store. Typical merchandise includes cleaning supplies, toys, household goods and gardening equipment. Formerly many variety stores had lunch counters for inexpensive meals.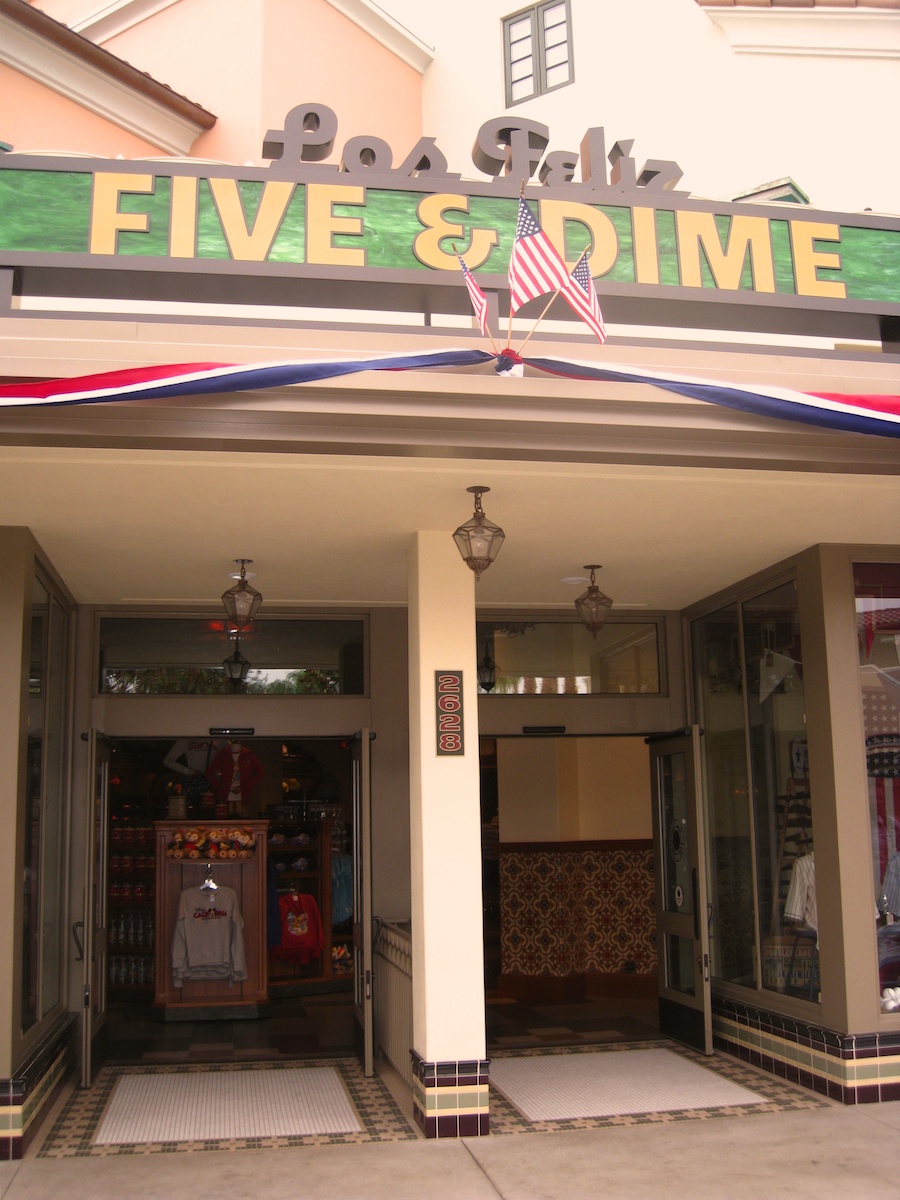 Time To Go To Lunch