Easter Weekend Begins (Page One)

Take a minute and listen to these wonderful singers... What talent!
Quotation To Remember: Where man sees but withered leaves, God sees sweet flowers growing. ~Albert Laighton
It has been our tradition for years and years to have family and friends over to lunch and then color Easter Eggs the day before Easter. This year is no different as we will have the Finches, Luisa and Mitch with Lihana, the Duda's, the Adams, and Greg. Connor and Marissa we planning to join us but had to cancel.
Did You Know? - The practice of decorating eggshell is ancient, predating Christian traditions. Ostrich eggs with engraved decoration that are 60,000 years old have been found in Africa Decorated ostrich eggs, and representations of ostrich eggs in gold and silver, were commonly placed in graves of the ancient Sumerians and Egyptians as early as 5,000 years ago.
The Christian custom of the Easter egg, however, can be traced as far back as the early Christians of Mesopotamia, who stained eggs red in memory of the blood of Christ, shed at his crucifixion. The Christian Church officially adopted the custom, regarding the eggs as a symbol of the resurrection. The Roman Ritual, the first edition of which was published in 1610 but which contains texts of much older date, has among the Easter Blessings of Food, along with those for lamb, bread, and new produce.
Let The Tradition Begin...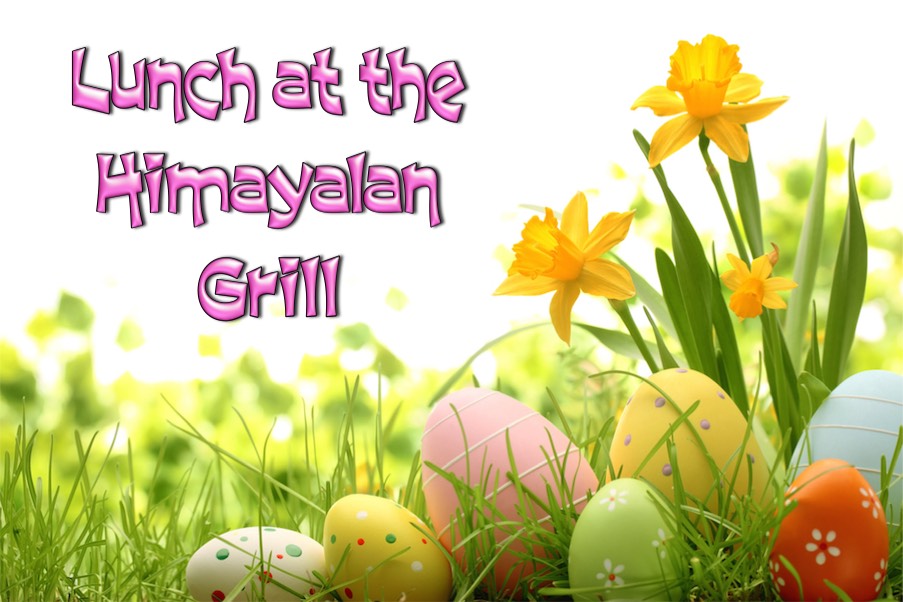 Sunset Beach California
Did You Know? - Usually called The Himalayas, or just Himalaya for short, the word literally means "Abode of Snow". It is a mountain range in Asia that separates the Indian subcontinent from the Tibetan Plateau. The Himalayas include over 100 mountains over 23,000 feet tall, forming an arc over 1,491 miles. The Himalayas have profoundly shaped the cultures of South Asia.

This range is home to nine of the ten highest peaks on Earth,
including the highest, Mount Everest.

We arrive and menu selection begins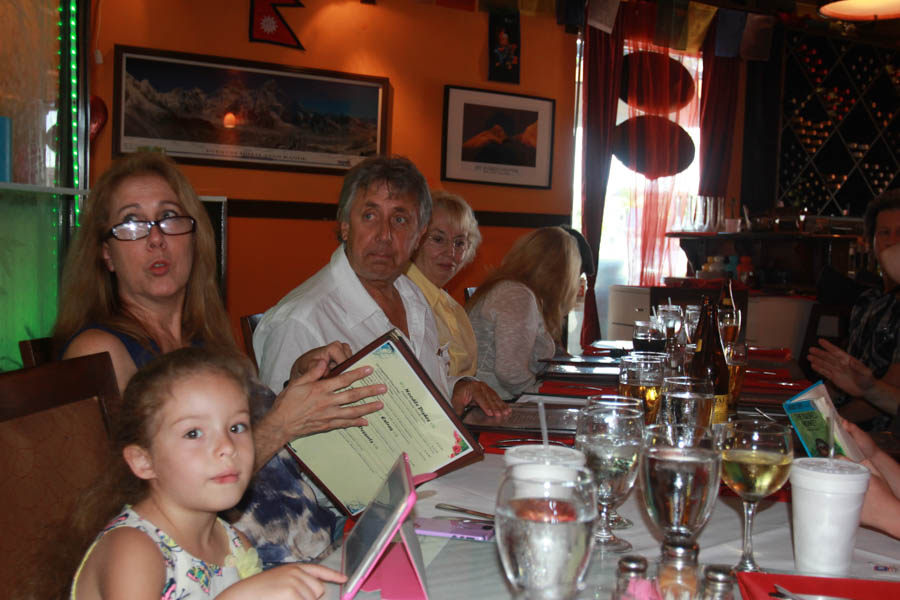 Lihana and her grandma make their selection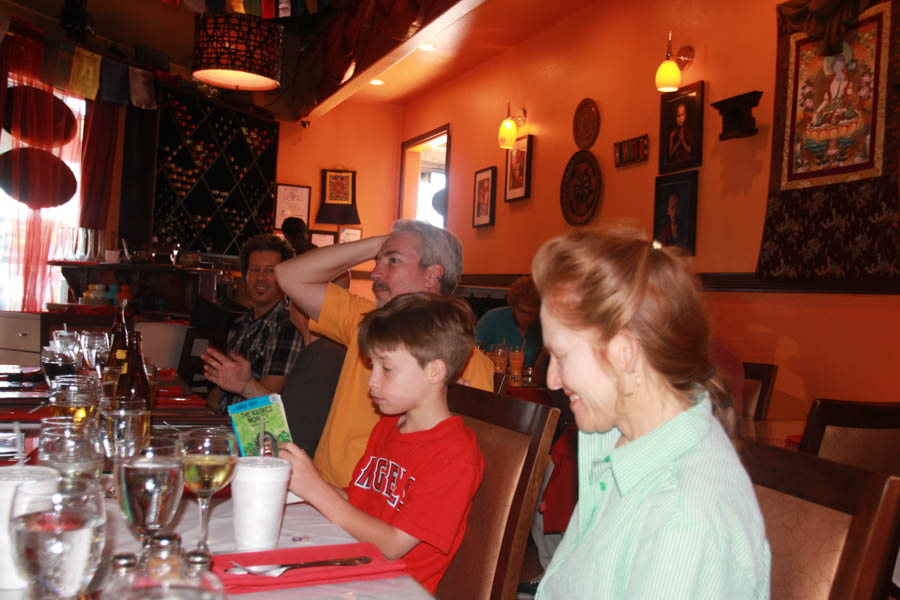 Theo is fully engaged in a book!

Michele and Sue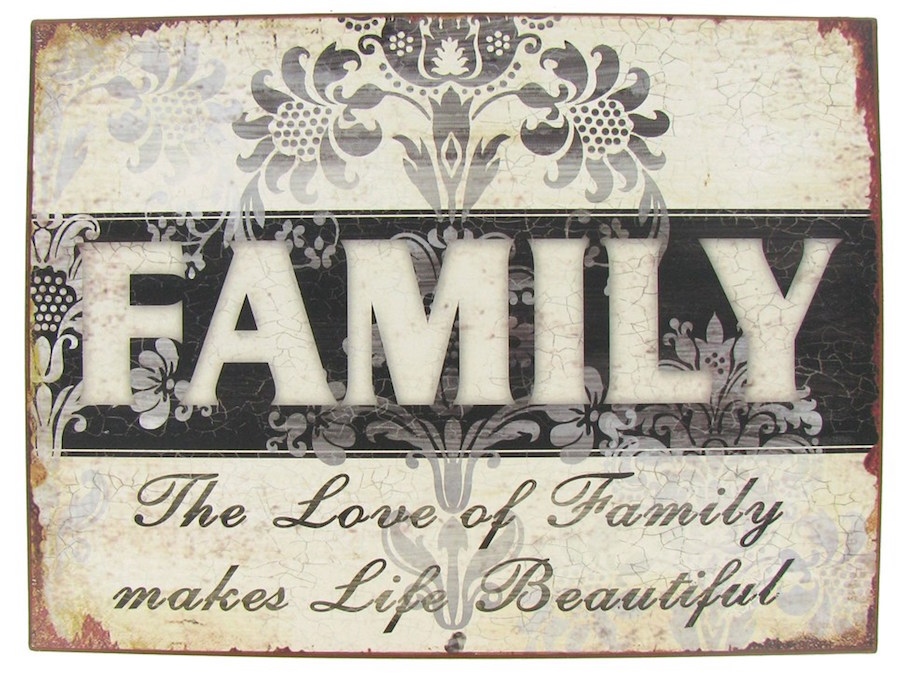 Indian beer comes in large bottles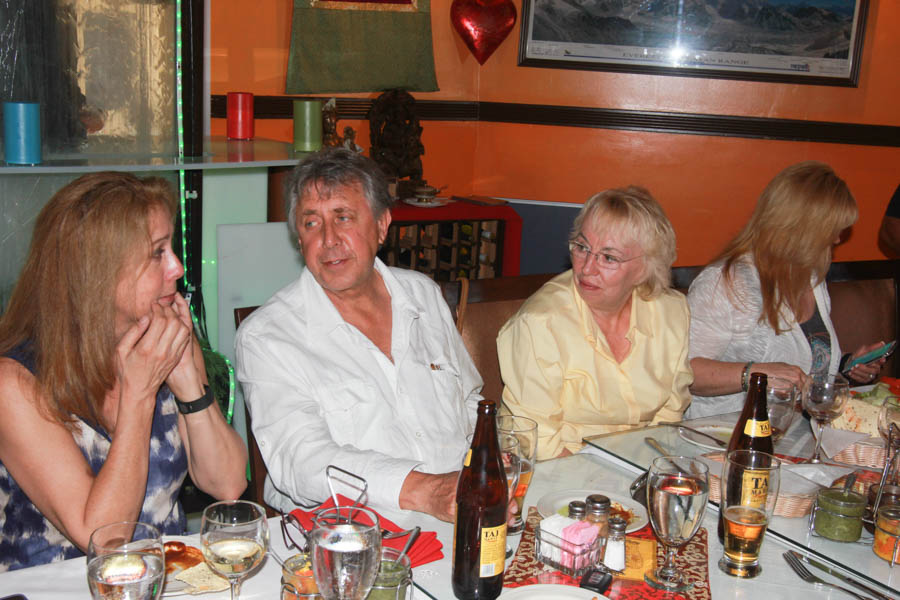 We love our family get-togethers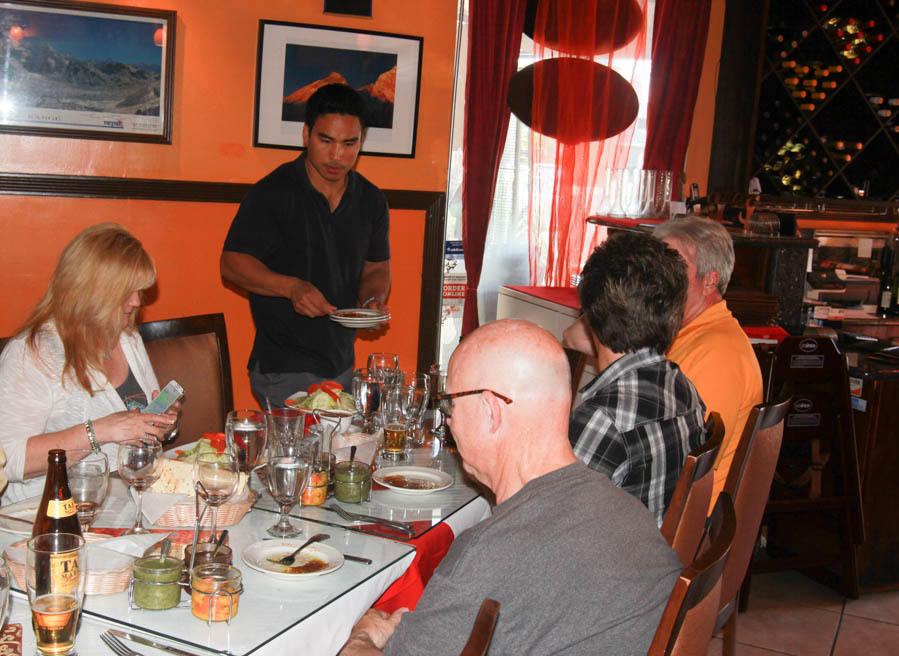 We kept our waiter very busy!

Mitch attackes the papadam
Did You Know? - Papadum or Papad is a thin, crisp disc-shaped Indian and Pakistani food typically based on a seasoned dough made from black gram (urad flour), fried or cooked with dry heat. Flours made from other sources such as lentils, chickpeas, rice, or potato, can be used.
The food is also known as Papad/Papor in North India, Bangladesh and Pakistan; Appadam in Telugu; Appalam in Tamil; Happala in Kannada and Pappadum in the rest of South India.
Papadums are typically served as an accompaniment to a meal in India, or as an appetizer or snack, sometimes with toppings such as chopped onions, chopped carrots, chutneys or other dips and condiments. In certain parts of India, papadums which have been dried but not precooked are used in curries and vegetable dishes.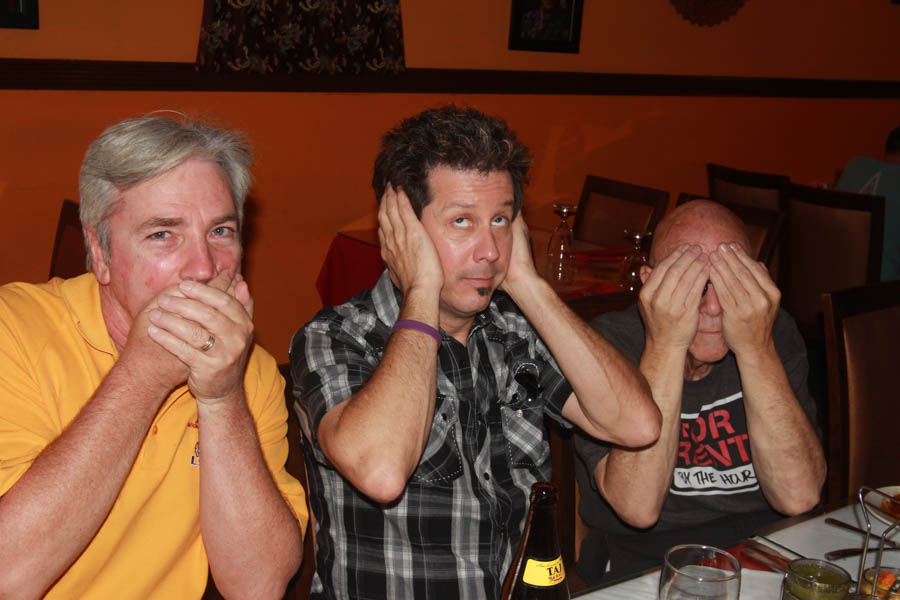 Speak no evil, hear no evil, see no evil!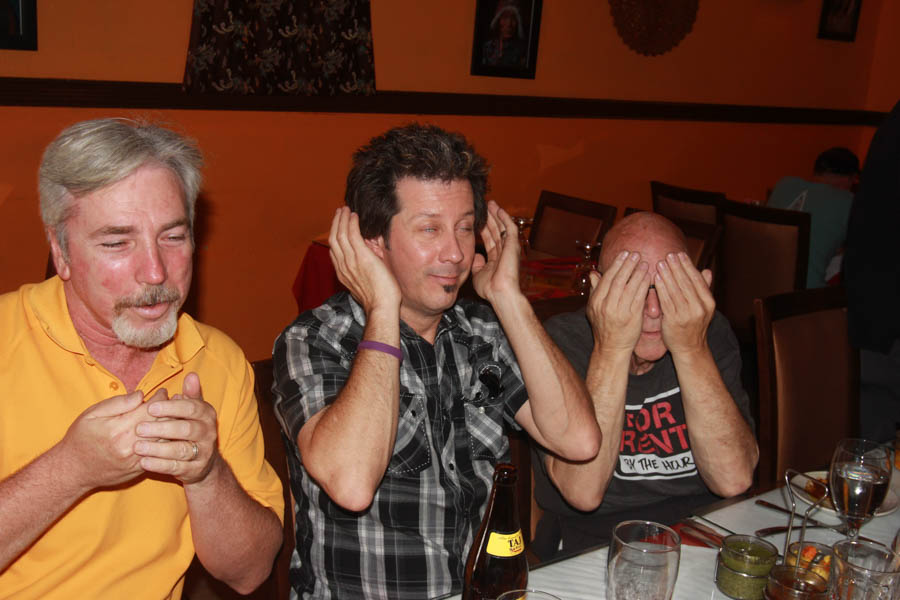 OK... We can speak and hear but we can't see!

"Greg! Hands down!"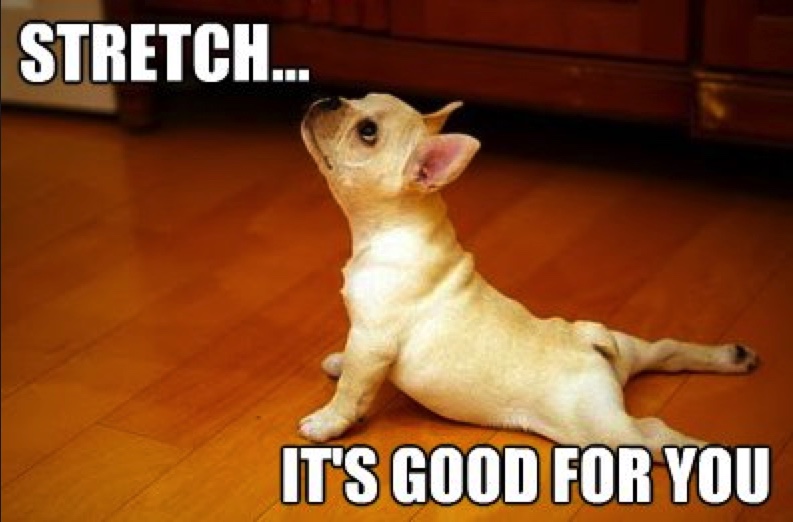 The kids go for a walk before dinner is served... Michele enjoys all the fun!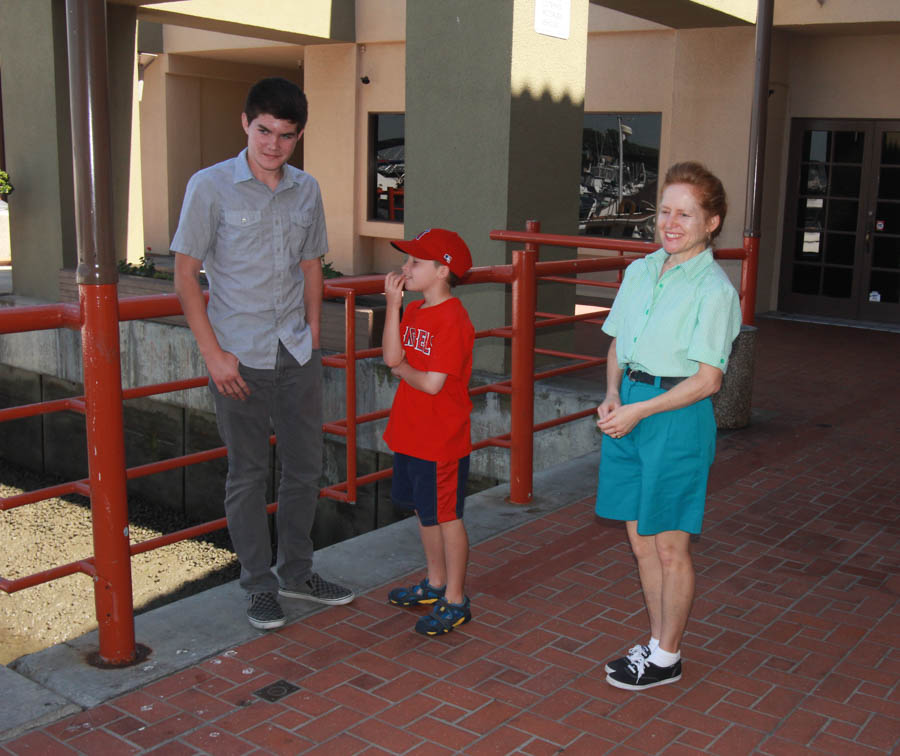 Nick and Theo are hatching a plan!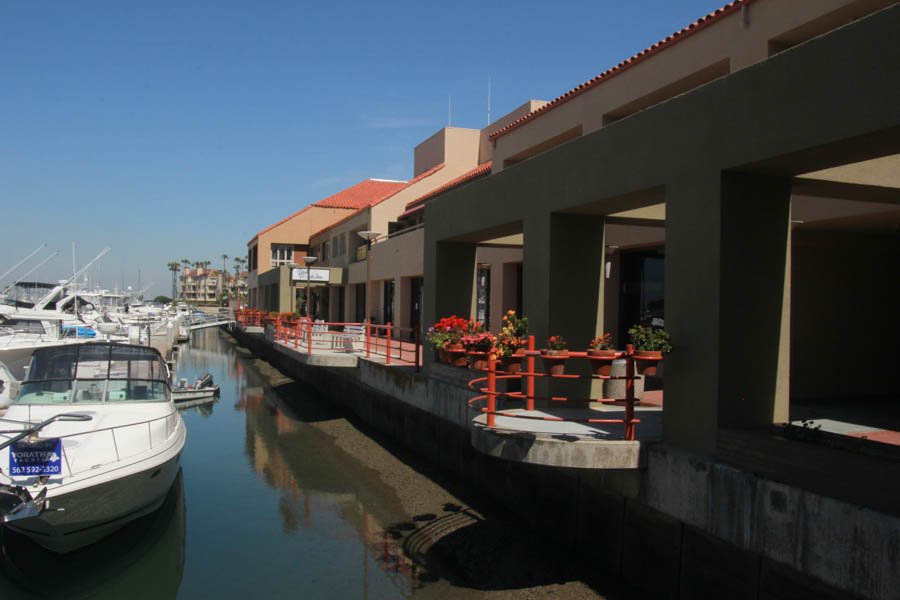 It was low tide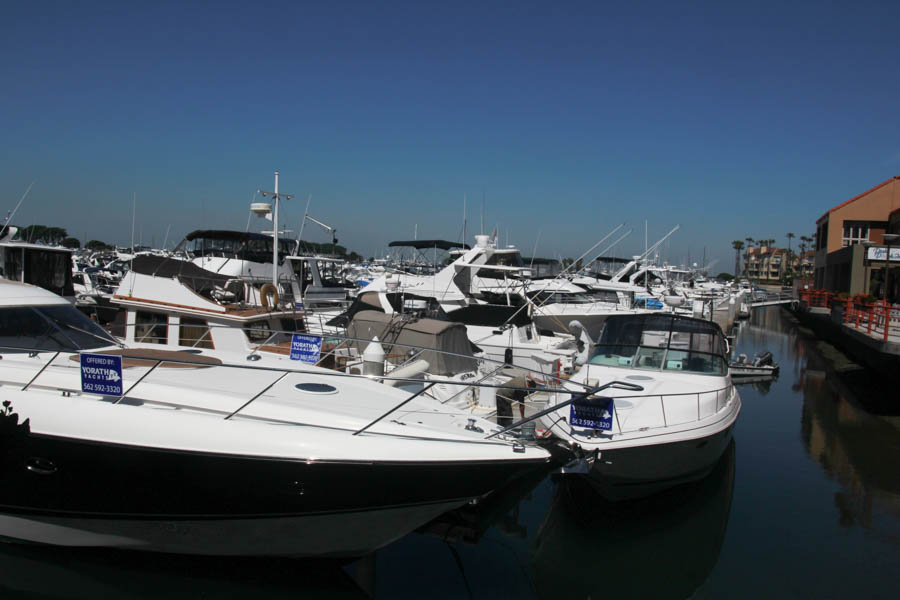 The boats were beautiful against the blue skies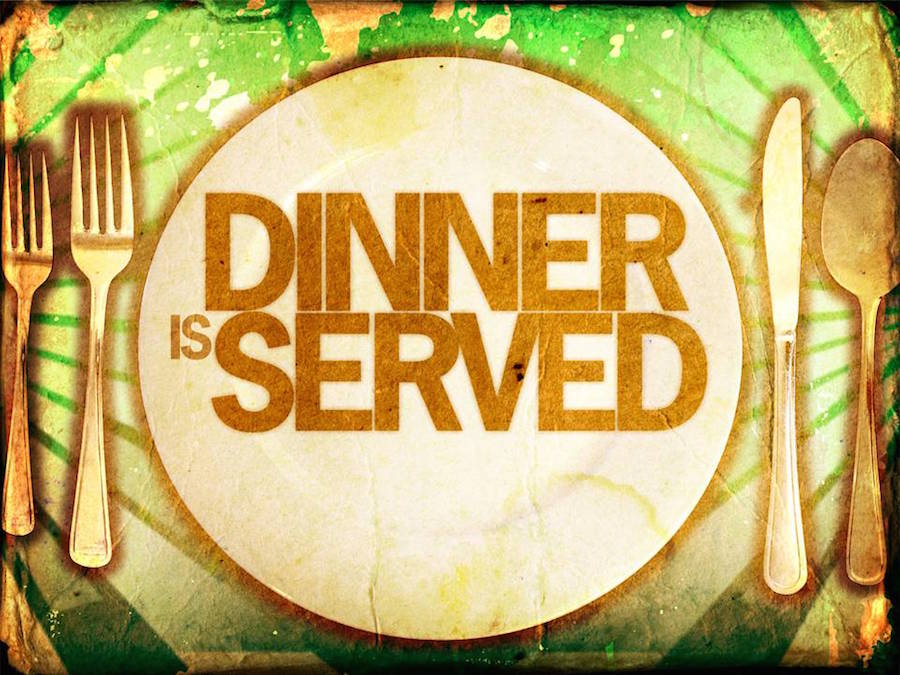 Over the teeth and through the gums,
Lookout tonsils, here it comes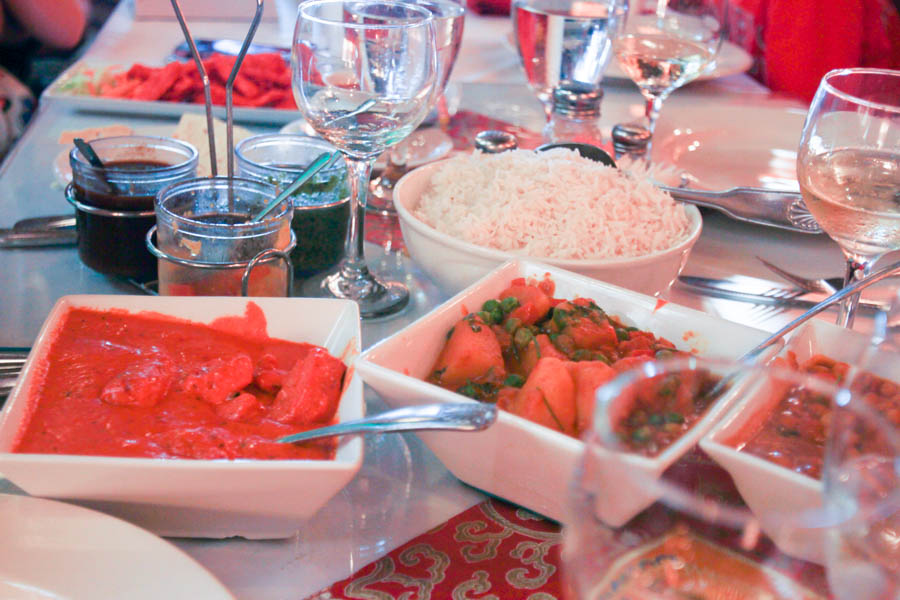 Dinner is served... Very pretty food and quite healthy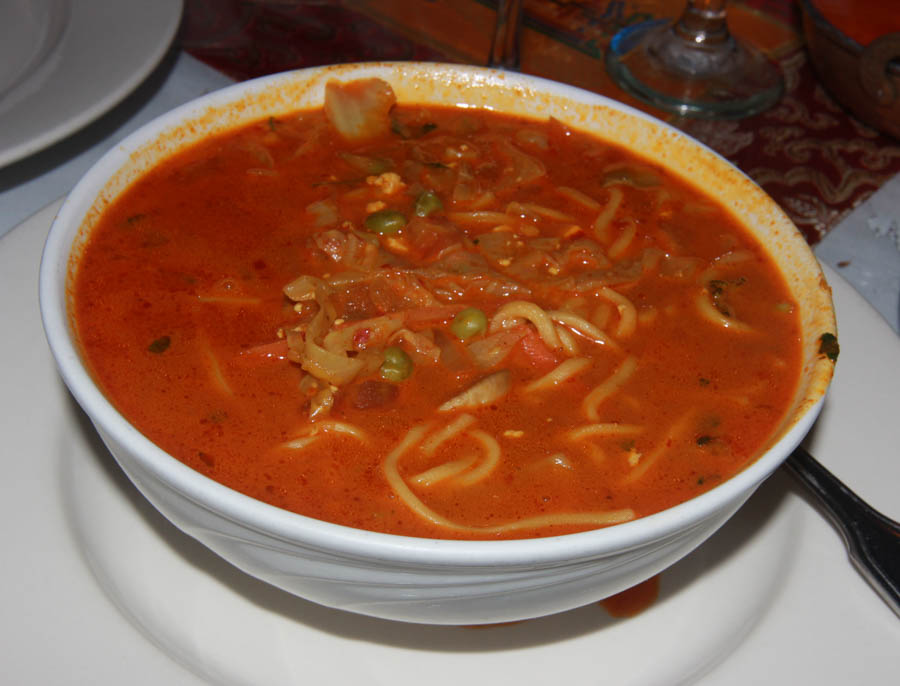 Thupka is served
Did You Know? - The Nepalese version of thukpa contains chili powder, masala (usually garam masala), and noodles with gram and pea soup, which gives it a hot and spicy flavor. The most typical Nepali thukpa is found in Sankhuwasabha district. However, the thukpa found in Kathmandu Valley is the same as that found in Tibet, due to immigrant Tibetan refugees.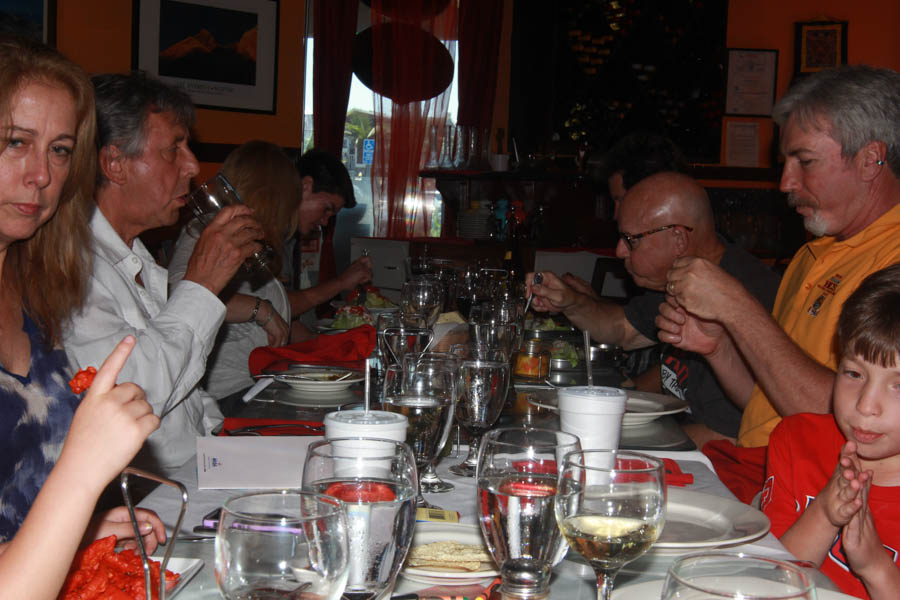 We have 14 for lunch today!

Lihana loves the chicken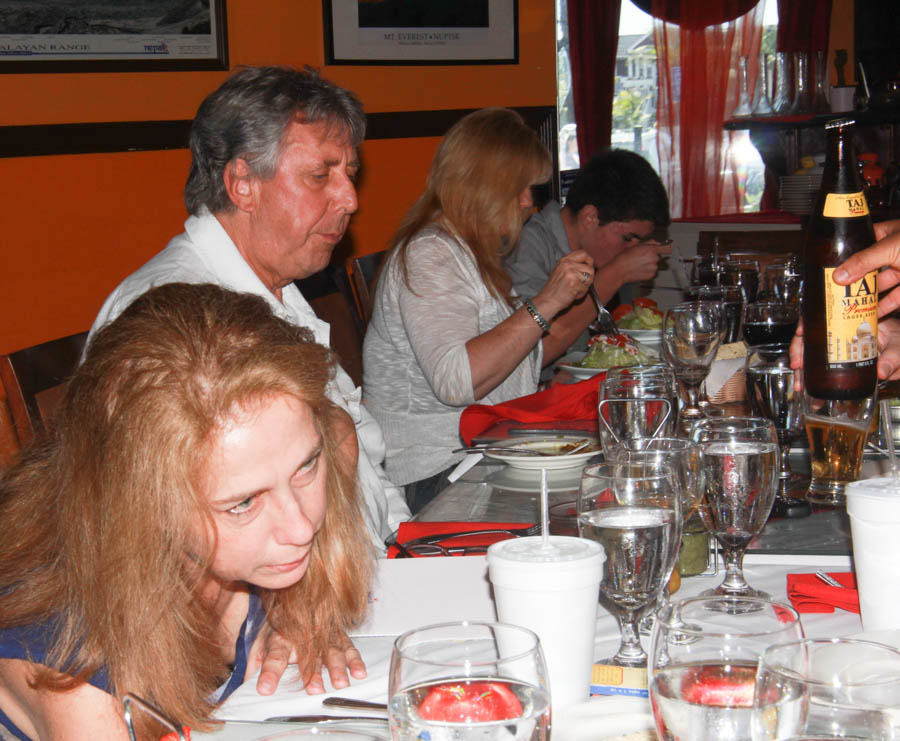 Chowing down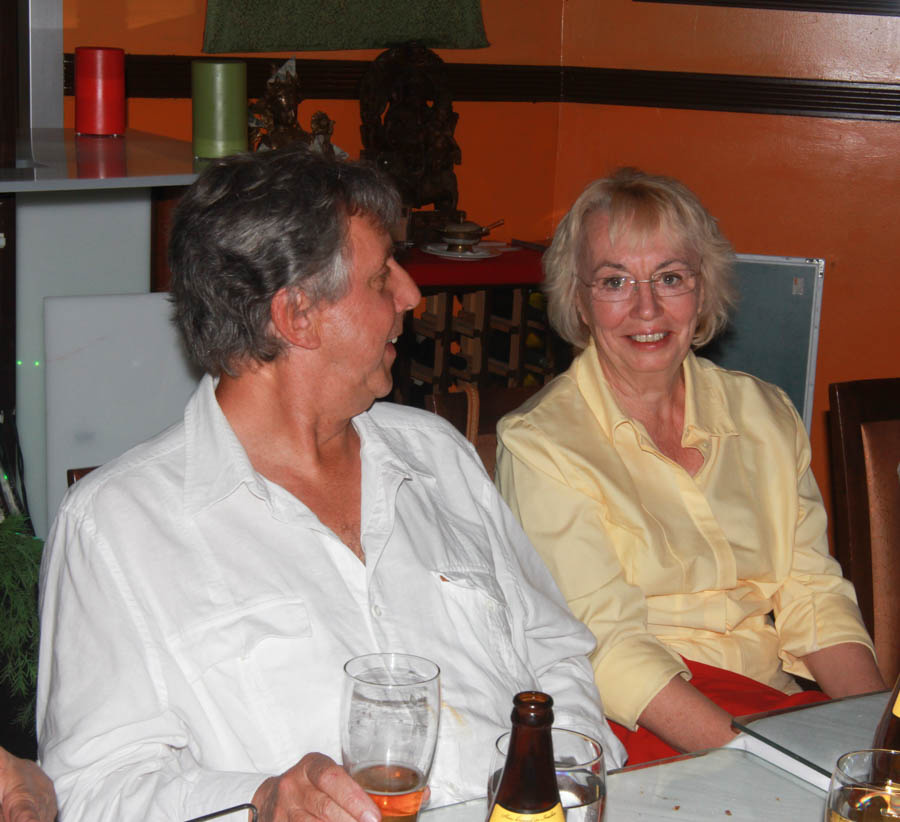 Enjoying family time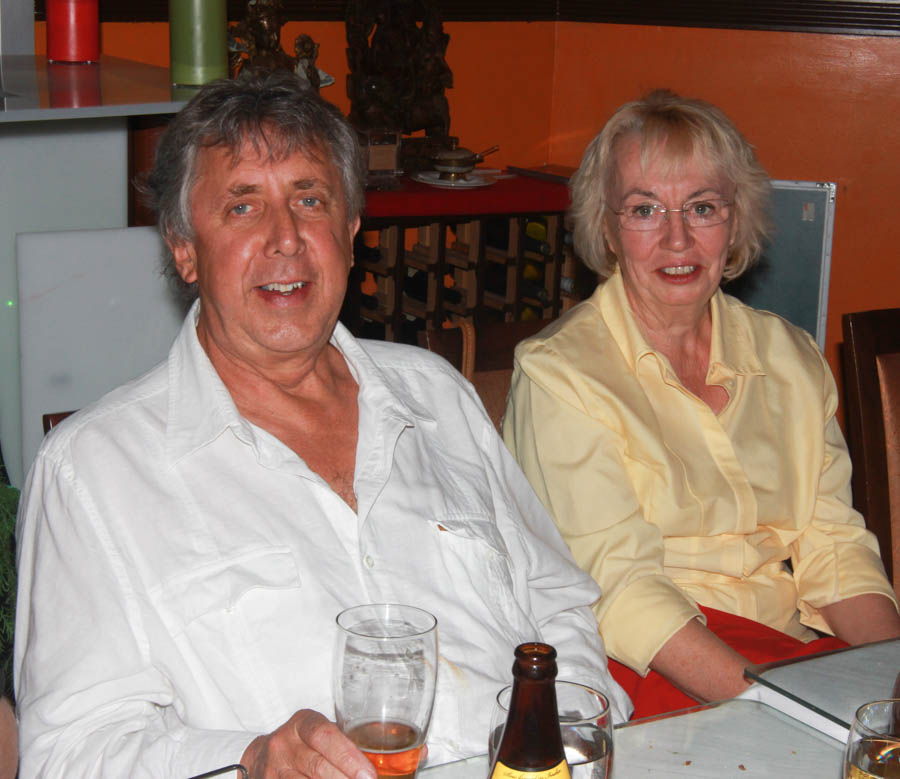 Indian beer hits the spot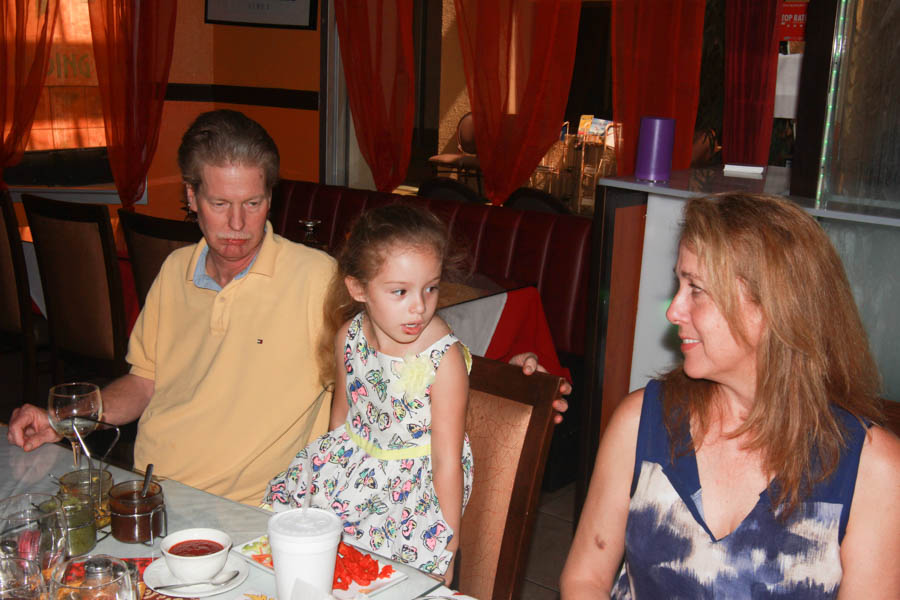 Lihana rules the roost

Robin and Nick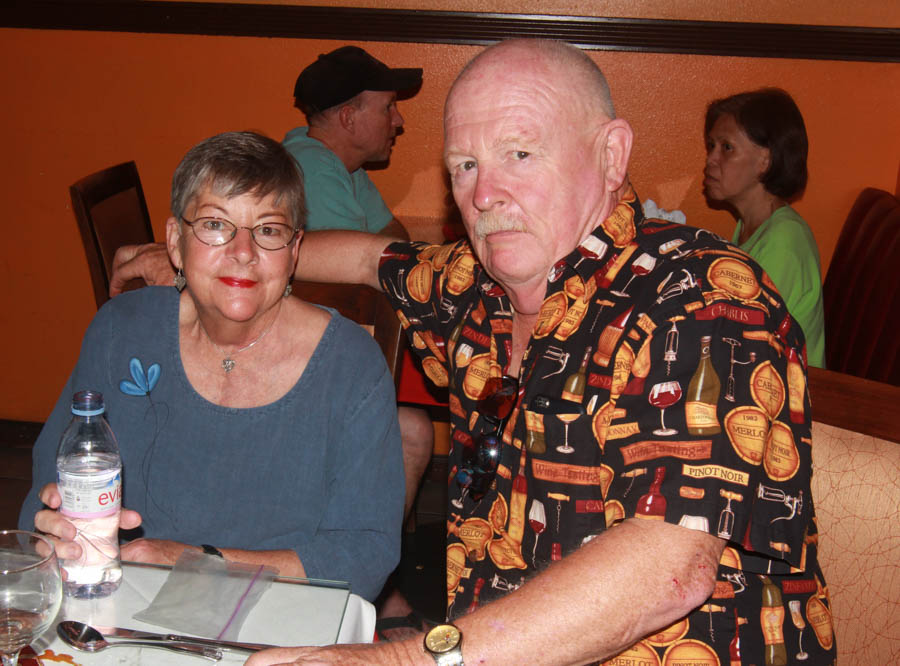 We are here! (Courtesy of Bob)

Post dinner visiting continues
Did You Know? - 12 interesting facts and trivia about Nepal?
The word Himalaya means the home or abode of snow.
The geological age of the Himalaya is approximately 70 million years.
Himalayan rivers are older than the Himalayan peaks.
In Nepal there are 8 of the world's 14 highest mountains above 8000 meters, including Mt. Everest.
Nepal has 8% of the total species of birds found in the world.
The highest lake on earth, Tilicho, is in Nepal. It rests at 4800 meters.
Nepal has the deepest lake at the highest elevation. She Phoksundo is 145 meters deep and rests at 3600 meters.
The Kaligandaki is the deepest gorge on earth, dropping 1200 meters.
Nepal also has the highest valley on earth, the Arun valley.
Nepal is the birth place of Lord Buddha - the apostle of peace and is also the only country where people worship the living goddess Kumari.
Nepal has the densest concentration of World HeritageSites.Kathmandu valley alone has 7 World Heritage Cultural sites within a radius of 15 kilometers.
In Nepal there are as many as 80 ethnic groups speaking more than 100 different languages.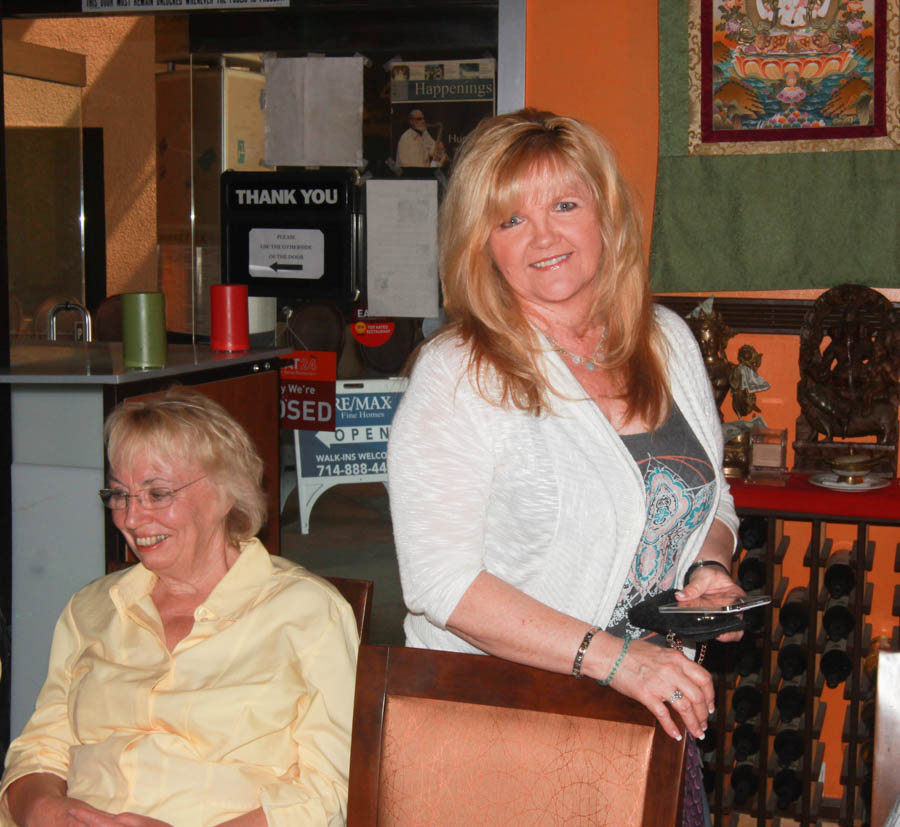 Heading out! It's egg time!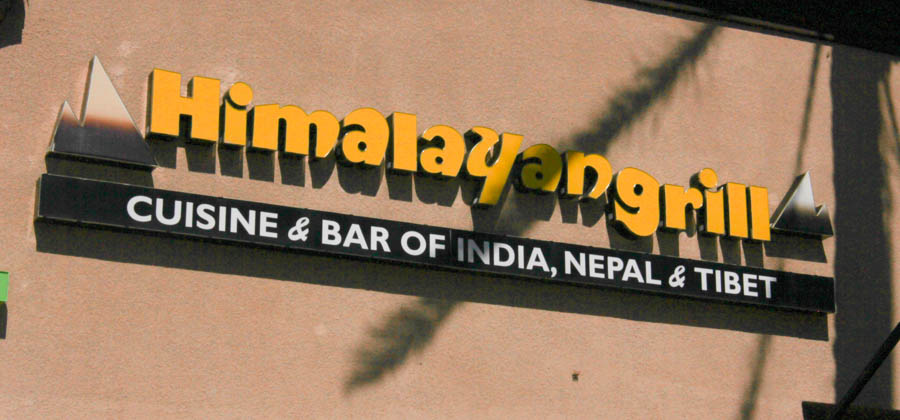 See you again soon