Headline 2
insert content here
Birthday T-1 At The Santa Ana Elks
What better place to celebrate a birthday? Amongst dear friends with good food and live dance music! Life is indeed good!
Opening The Cards
Did you know? - Joyce Hall became captivated by a salesman who stopped by his family's store in 1906 in Norfolk, NE. Driven by the postcard craze of 1903, Hall decided to venture from retail of various products to wholesale of postcards. He moved his business to a larger market of Kansas City. As time went on, Joyce Clyde Hall became more convinced that greeting cards would become more prominent than postcards. Greeting cards according to J.C. Hall represented class, promised discretion and "they were more than a form of communication-- they were a social custom".

The cards keep coming!
Did you know? - By 1915 the company was known as Hall Brothers and sold Valentine's Day and Christmas cards. In 1917, Hall and his brother Rollie invented modern wrapping paper when they ran out of traditional colored tissue paper. In 1922, the company expanded throughout the country. The staff grew from 4 to 120 and the line increased from Holiday cards to include everyday greeting cards.

Gotta be a good one!
Did you know? - In 1928, the company adopted the name "Hallmark", after the hallmark symbol used by goldsmiths in London in the 14th century, and began printing the name on the back of every card and promoting it in ad campaigns, a practice the company continues to the present day. In 1931, the Canadian William E. Coutts Company, Ltd., a major card maker, became an affiliate of Hall Brothers, which was Hall Brothers' first international business venture.
Did you know? - In 1944, it adopted its current slogan, "When you care enough to send the very best." It was created by a salesman at a meeting. The cocktail napkin on which it was originally handwritten is on display at the company headquarters. In 1951, Hall sponsored a television program for NBC that gave rise to the Hallmark Hall of Fame, which has won 78 Emmy Awards. Hallmark now has its own cable television channel, the Hallmark Channel which was established in 2001. For a period of about 15 years, Hallmark owned a stake in the Spanish language network Univision.

Sue is really enjoying this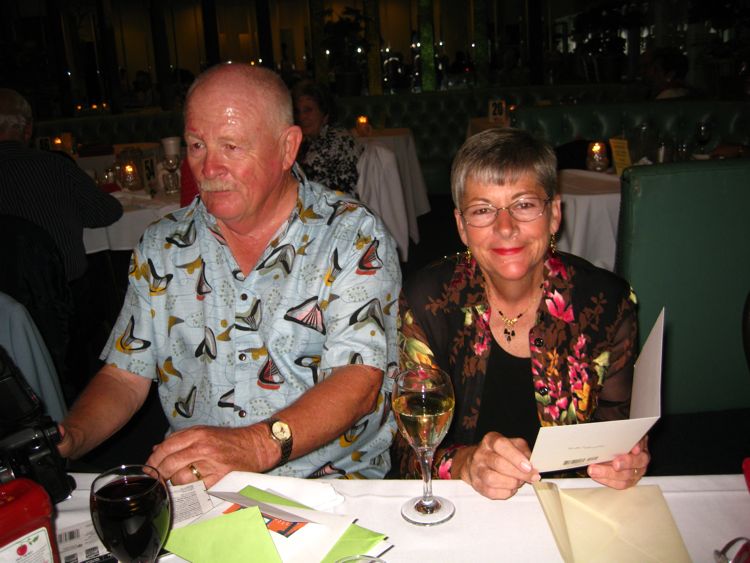 It's a surprise.... shhhhhh
Paul Is In Trouble... He Ordered A Cake!
Did you know? - When I asked Sue about the cake and told her that the birthday cake has been an integral part of the birthday celebrations in Western cultures since the middle of the 19th century she was NOT impressed!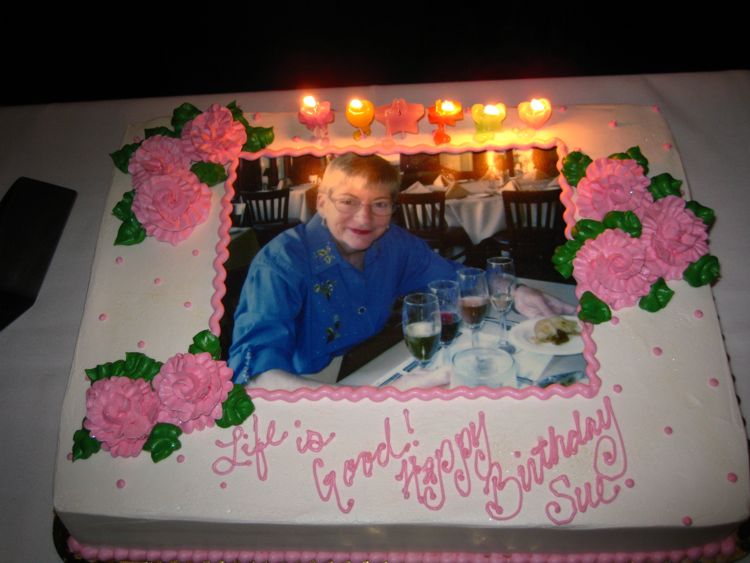 Did you know? - In classical Roman culture, 'cakes' of flat rounds made with flour containing nuts, leavened with yeast, and sweetened with honey were served at special birthdays. In early Europe, the words for cake and bread were virtually interchangeable; the only difference being that cakes were sweet while bread was not.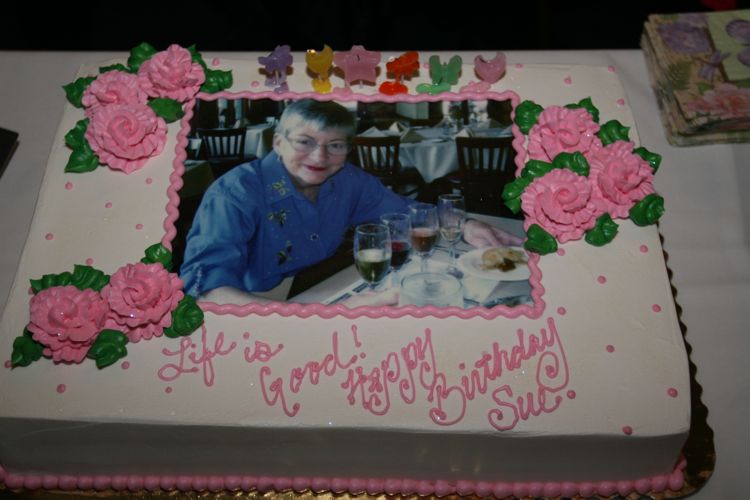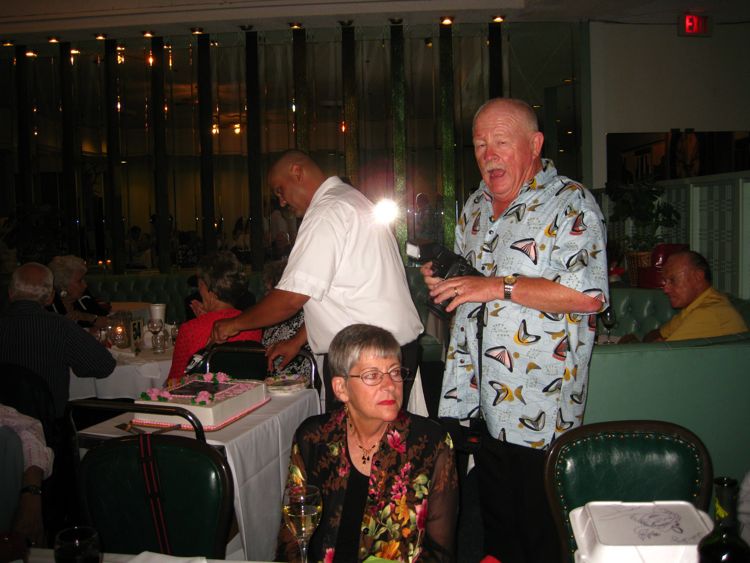 Paul hides behind Sue
Cake Gone Bye Bye

Jan and Brian always have a smile! What do they know that we don't?

Vicky and Brian... What

Gladys is ready to dance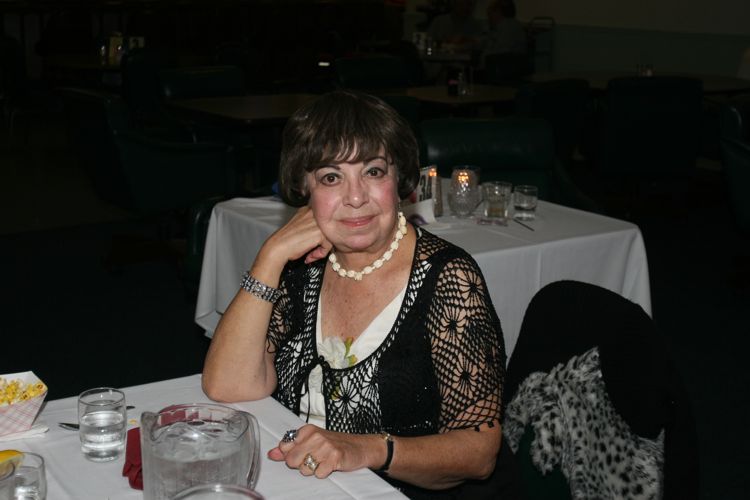 "Where is Vance"

All clear.. She is smiling again!

Del and Ed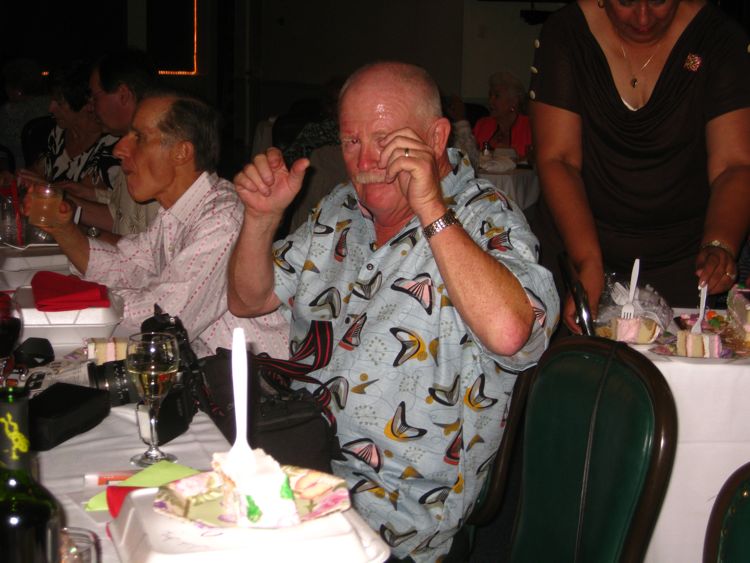 "Damn... I forgot the camera!"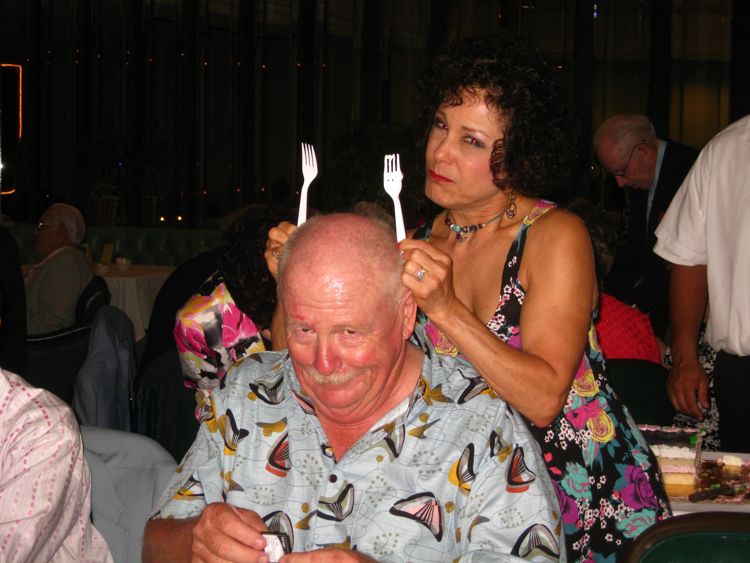 Did you know? - Antlers are the usually large and complex bony appendages on the heads of most deer species, mostly on males; only caribou and reindeer have antlers on the females, and these are normally smaller than those of the males. Nevertheless, fertile does from other species of deer have the capacity to produce antlers on occasion, usually due to increased testosterone levels.
Each antler grows from an attachment point on the skull called a pedicle. While an antler is growing, it is covered with highly vascular skin called velvet, which supplies oxygen and nutrients to the growing bone; once the antler has achieved its full size, the velvet is lost and the antler's bone dies. This dead bone structure is the mature antler, which is itself shed after each mating season.
Vicky Thought It Was Halloween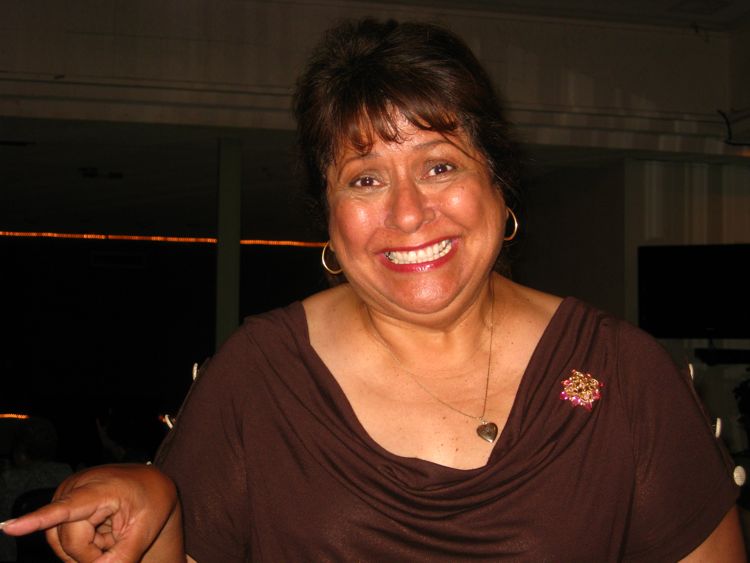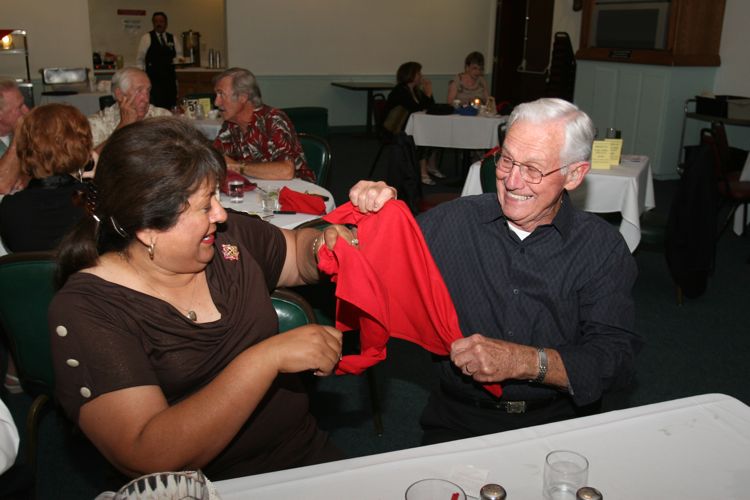 "M-m-m-m-m Where is Paul? He would wear it... Somewhere"
The Guys Sings Happy Birthday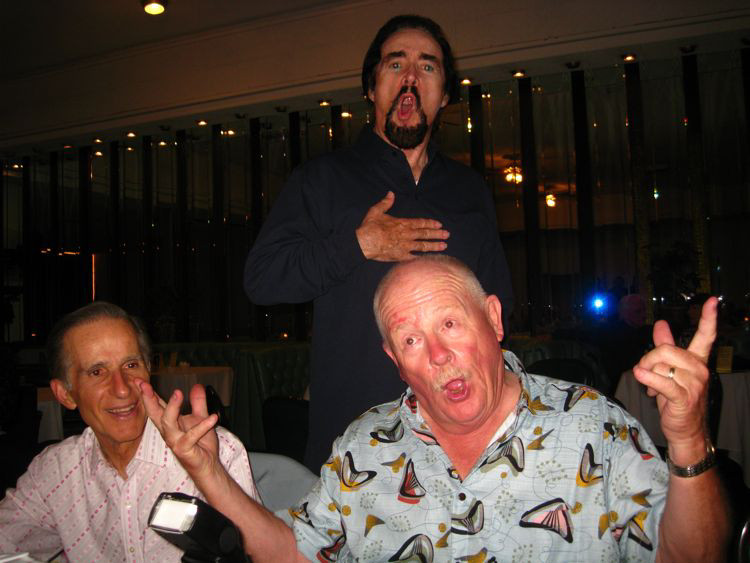 The sounds created by these two scared most of the women and all the small children!
Idiom Alert!!! - "Can't carry a tune in a bucket" - [to be] unable to sing a simple melody; lacking musical ability. I wish that Tom wouldn't try to sing. He can't carry a tune. I don't know why Mary's in the choir. She can't carry a tune in a bushel basket. Joe likes to sing in the shower, though he can't carry a tune in a bucket. I'd try to hum the song for you, but I can't carry a tune in a paper sack.

"Ah Vance... Was that you making those horrible sounds???"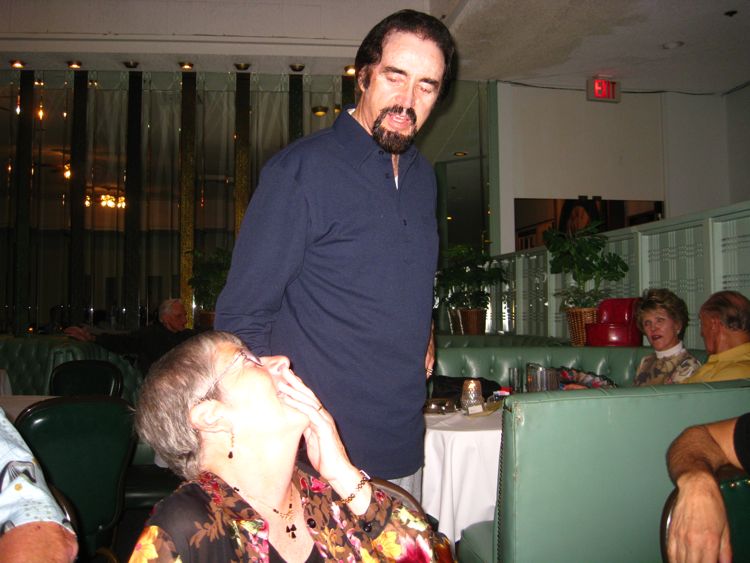 Sue heard the noise and got the giggles
The Band Takes A Break... Paul Figures Out What Else A Napkin Is GoodFor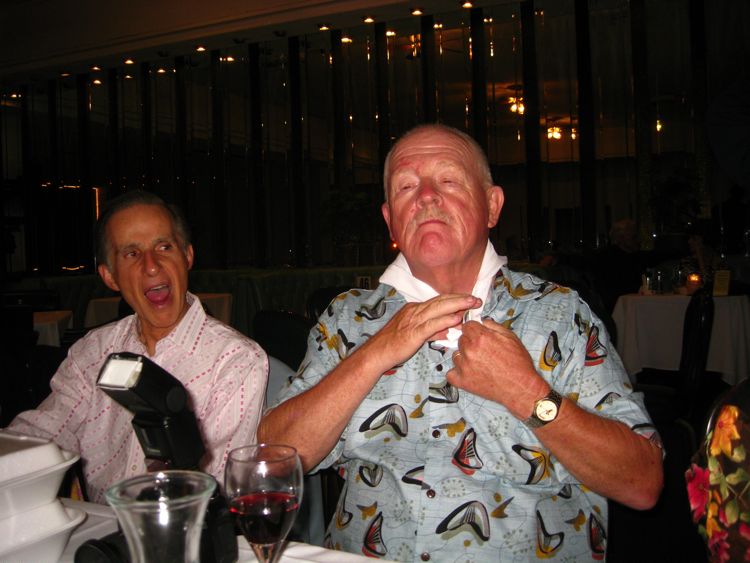 Leon us yelling "Tighter tighter... Please, tighter!!"

Wardrobe is now complete
Did you know? - A wardrobe, also known as an armoire from the French, is a standing closet used for storing clothes. The earliest wardrobe was a chest, and it was not until some degree of luxury was attained in regal palaces and the castles of powerful nobles that separate accommodation was provided for the sumptuous apparel of the great. The name of wardrobe was then given to a room in which the wall-space was filled with cupboards and lockers, the drawer being a comparatively modern invention. From these cupboards and lockers the modern wardrobe, with its hanging spaces, sliding shelves and drawers, evolved slowly.
Dinner Gets Put Away For The Trip Home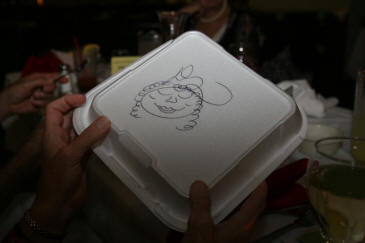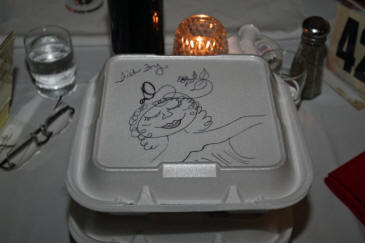 Donna completes the artwork as the evening progresses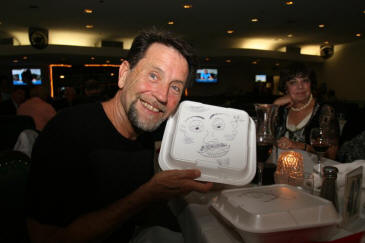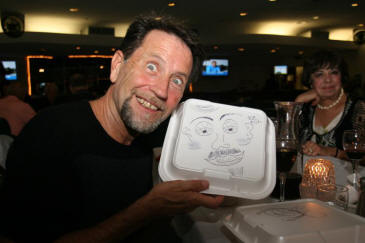 The real trick: Which one is which??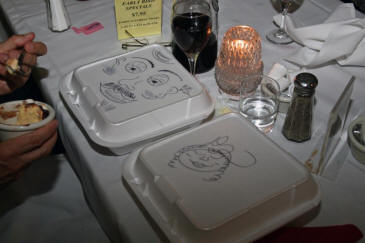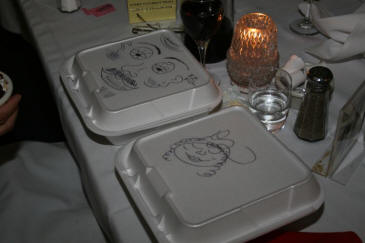 What a cute couple... Bob and Donna are also OK!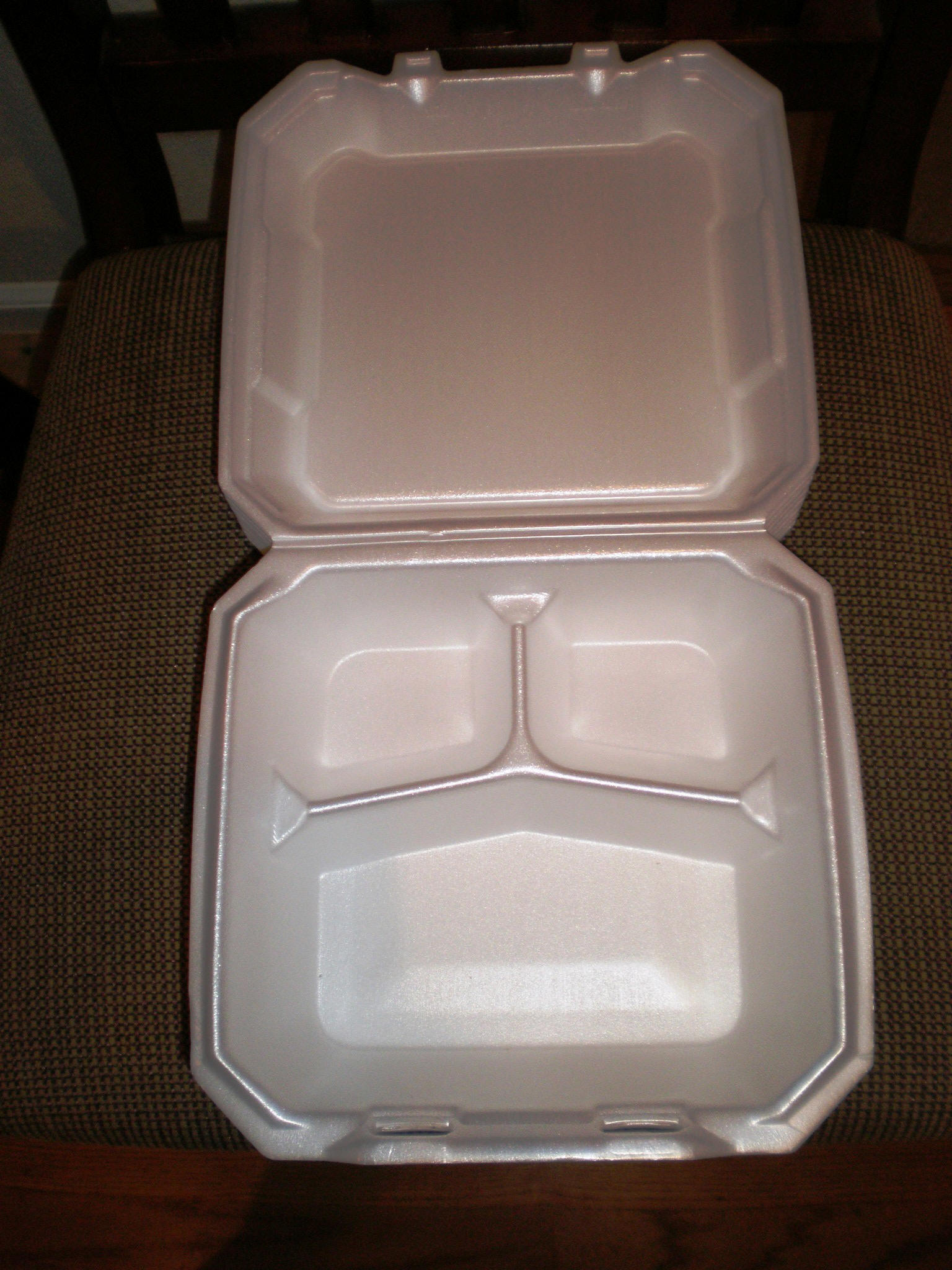 We wondered what the inside was like!
Let The Cavorting Continue

Oh oh... Everybody is smiling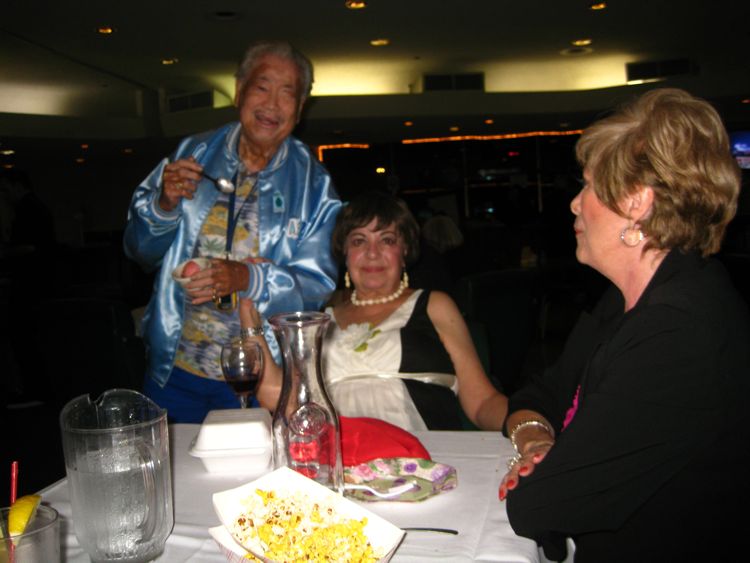 Abbey comes to visit

Vince tries out his new swishing pose
Did you know? - "Happy Birthday to You", also known more simply as "Happy Birthday", is a song that is traditionally sung to celebrate the anniversary of a person's birth. According to the 1998 Guinness Book of World Records, "Happy Birthday to You" is the most recognized song in the English language, followed by "For He's a Jolly Good Fellow" and "Auld Lang Syne". The song's base lyrics have been translated into at least 18 languages.