You Ordered What???

James... An observant individual (except for Mourning Doves)
STORYTIME ... The Poisoned Pizza or Bye Bye Muslim Guy
Diversity is certainly as hallmark of the government and the county is no different. It seems that James and Linda worked with a nice Muslim man for quite a while. Mohammed was mild mannered and a gentleman.
Mohammed and James had their differences when James refused to ask Linda to wear a burka on the job!
But it is time for Mohammed to move on. His little group decided to do something nice..." Hey! How about a small Pizza Party?" James had a great idea... Pizza is good for everyone.
So, James.... Showing great leadership and courage delegated (oh oh) the planning to one of his co-workers (someone who apparently did NOT go through sensitivity training).
When the lunch party plan arrived, James told the group.... Let's say good-bye to Mohammed.
All was going well until James smelled the pizzas. Instantly, being a con-a-sewer of fine pizza, he recognized the smell of a pulled-pork pizza waffing from behind box #1 and a pork sausage pizza emanating delightful aromas from behind box #2.
James, being quick witted, asked everyone to line up so they could get their picture taken.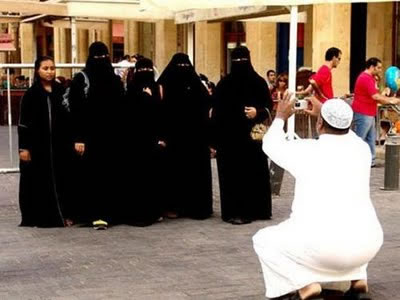 James stalls lunch for a while
Meanwhile using the magic of the iPhone called the pre-programmed number of Backtar's Pizza Palace and ordered an emergency delivery of any non-pork pizza they had.... Chop Chop!
James saved the day... and took home two pizza's for dinner!