Here We Go Again!
We usually go to Disneyland on "happy days" because its a happy place to be!

We went to Catal for breakfast and arrived at Disneyland about 12:15... Just in time for the band
The Band Was Playing As We Entered The Park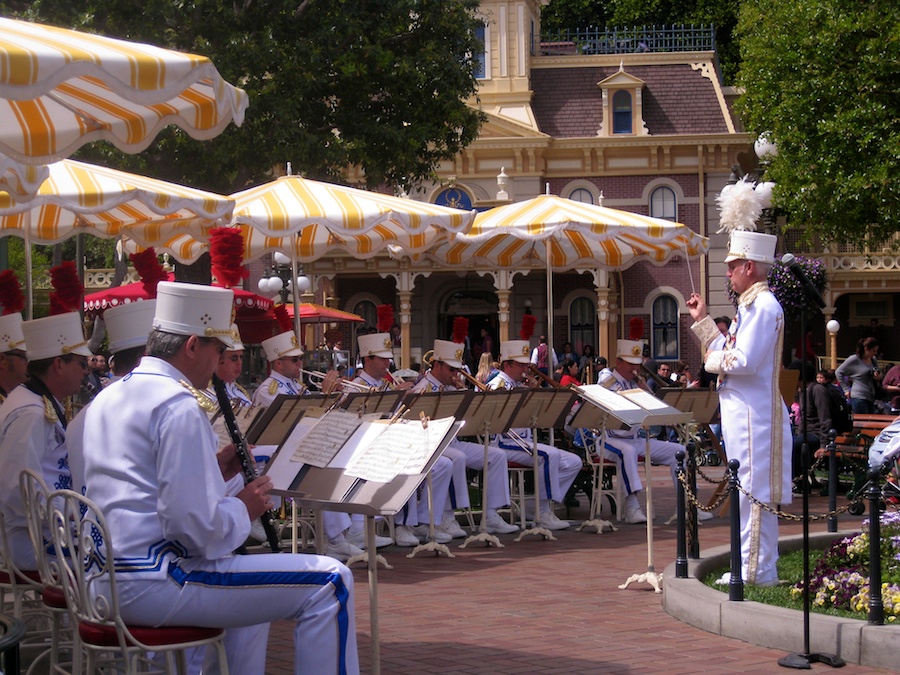 Playing a selection of Disneyland music

They had a guest announcer selected from the audience... She did a nice job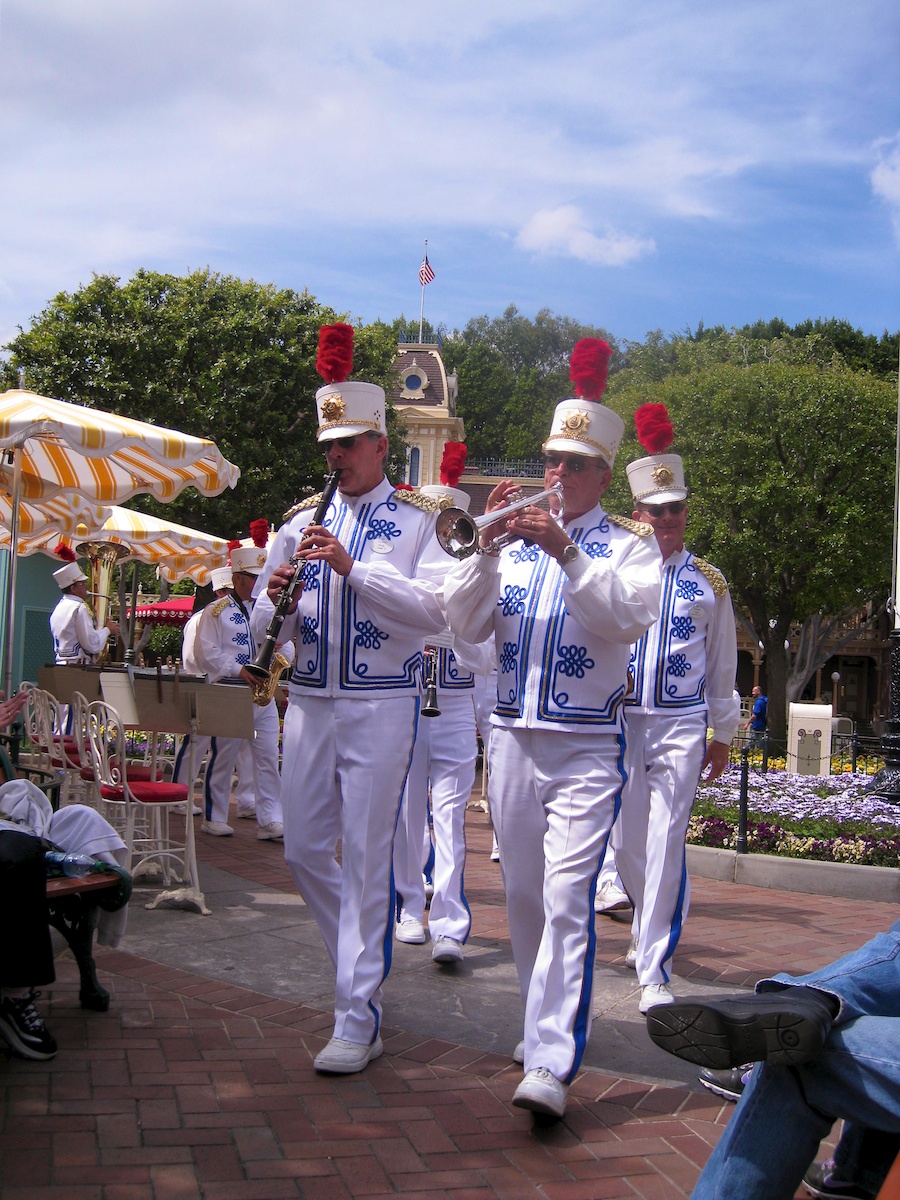 Let's Ride The Rails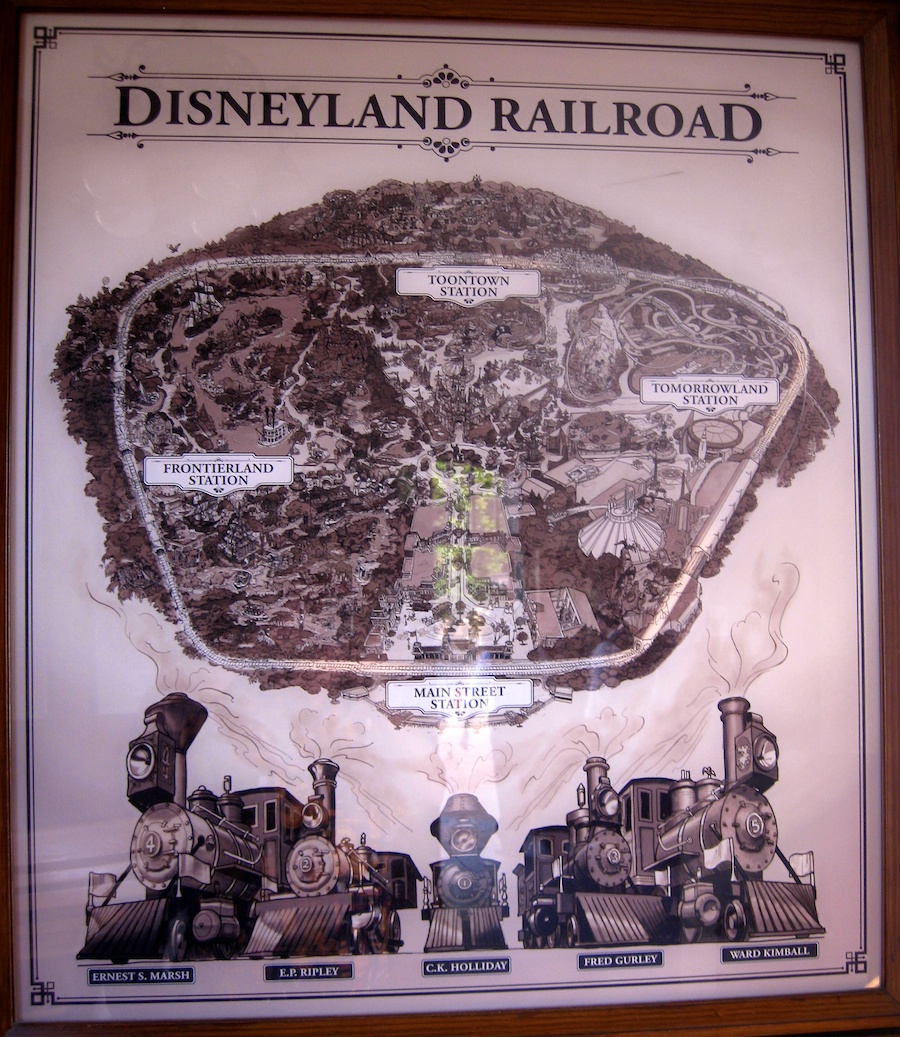 We took the 360 degree tour on the train... Each engine is unique
Did You Know? - The Disneyland Railroad (DLRR), originally the Santa Fe & Disneyland Railroad, is a narrow gauge railroad at Disneyland, Anaheim, California, United States, that was inaugurated on the park's live television preview on July 17, 1955. This live steam railway was constructed for $240,000; each of the original two locomotives cost $40,000 each. Riders use it as transportation to other areas of the park or simply for the experience of the "Grand Circle Tour". The Main Street railroad station is situated at the entrance of Disneyland.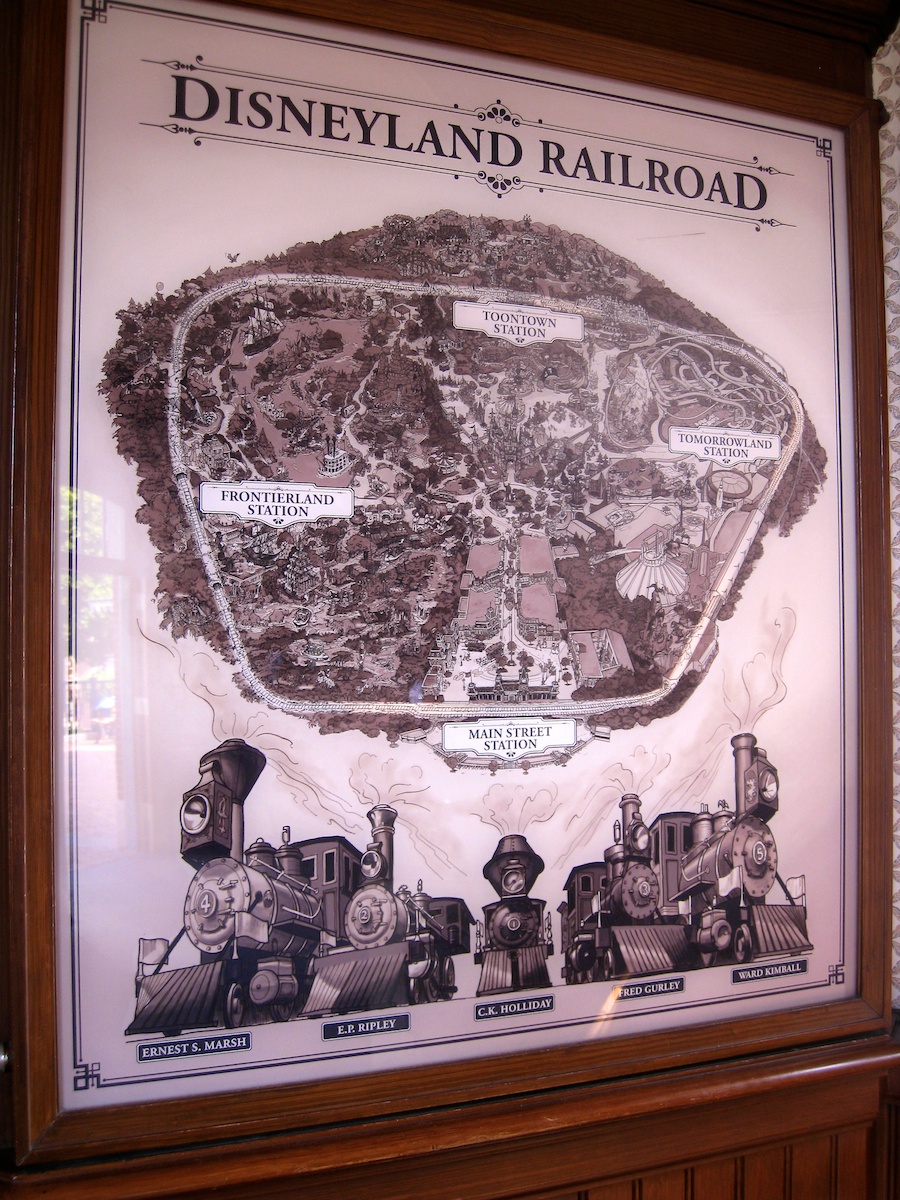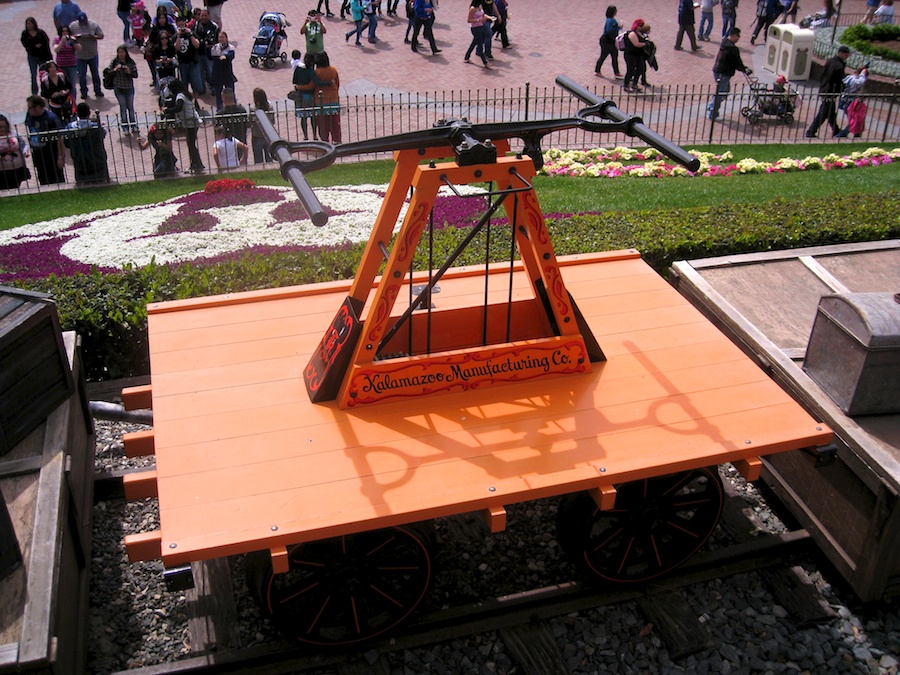 A real handcar... We should have taken that
Did You Know? - A handcar (also known as a pump trolley, pump car, jigger, Kalamazoo, or draisine (powered or unpowered) in many other parts of the world) is a railroad car powered by its passengers, or by people pushing the car from behind. It is mostly used as a maintenance of way or mining car, but it was also used for passenger service in some cases. A typical design consists of an arm that pivots, seesaw-like, on a base, which the passengers alternately push down and pull up to move the car.
Handcars have been normally used by railway service personnel for railroad inspection and maintenance. Because of their low weight and small size, they can be put on and taken off the rails at any place, allowing trains to pass. Handcars have since been replaced by self propelled vehicles that do not require the use of manual power, instead relying on internal combustion engines or electricity to move the vehicle.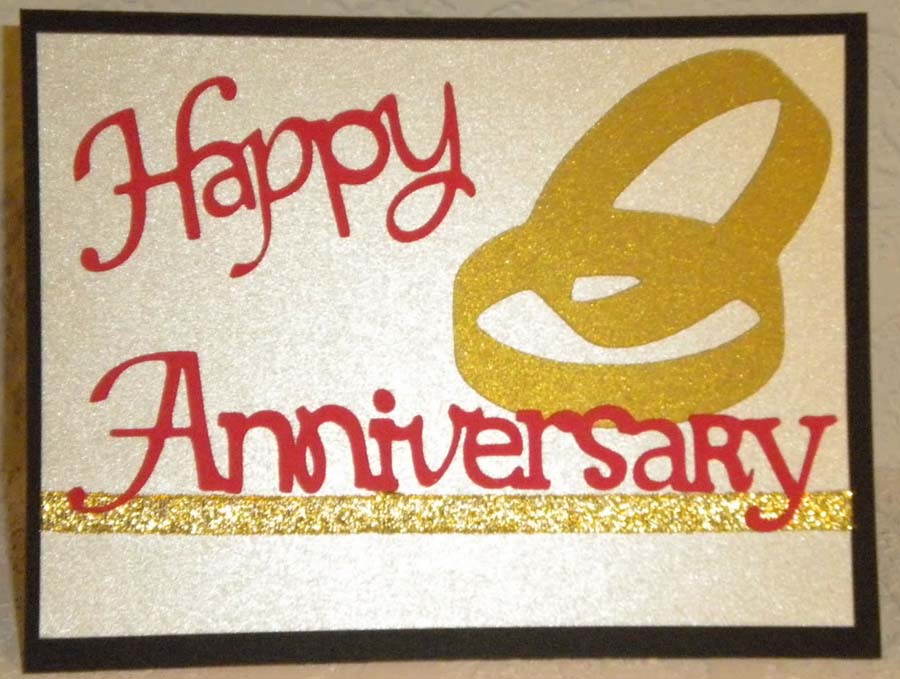 Time To Head Down Main Street Via The Trolley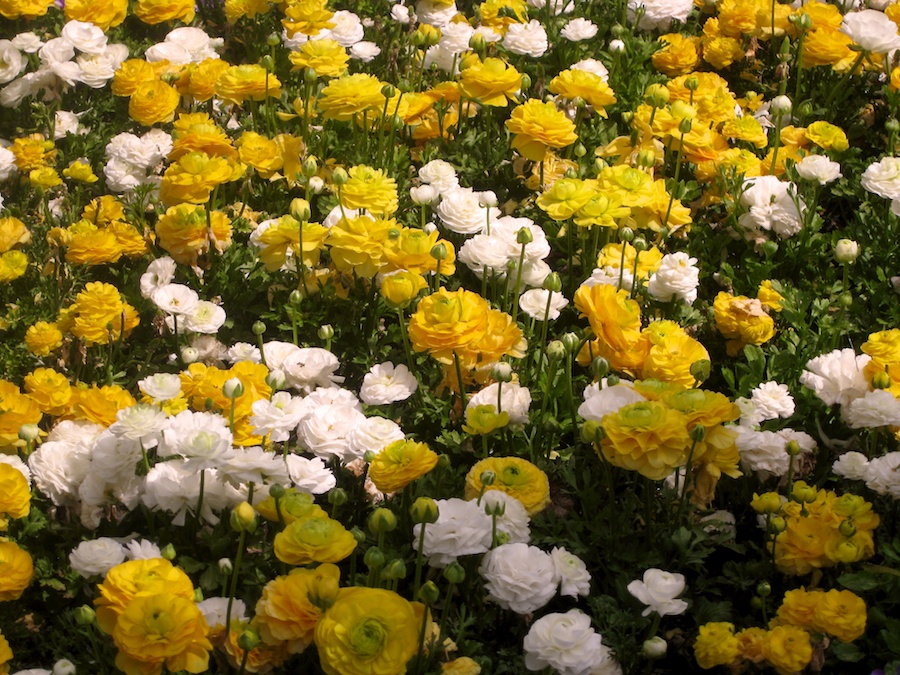 Beautiful flowers everywhere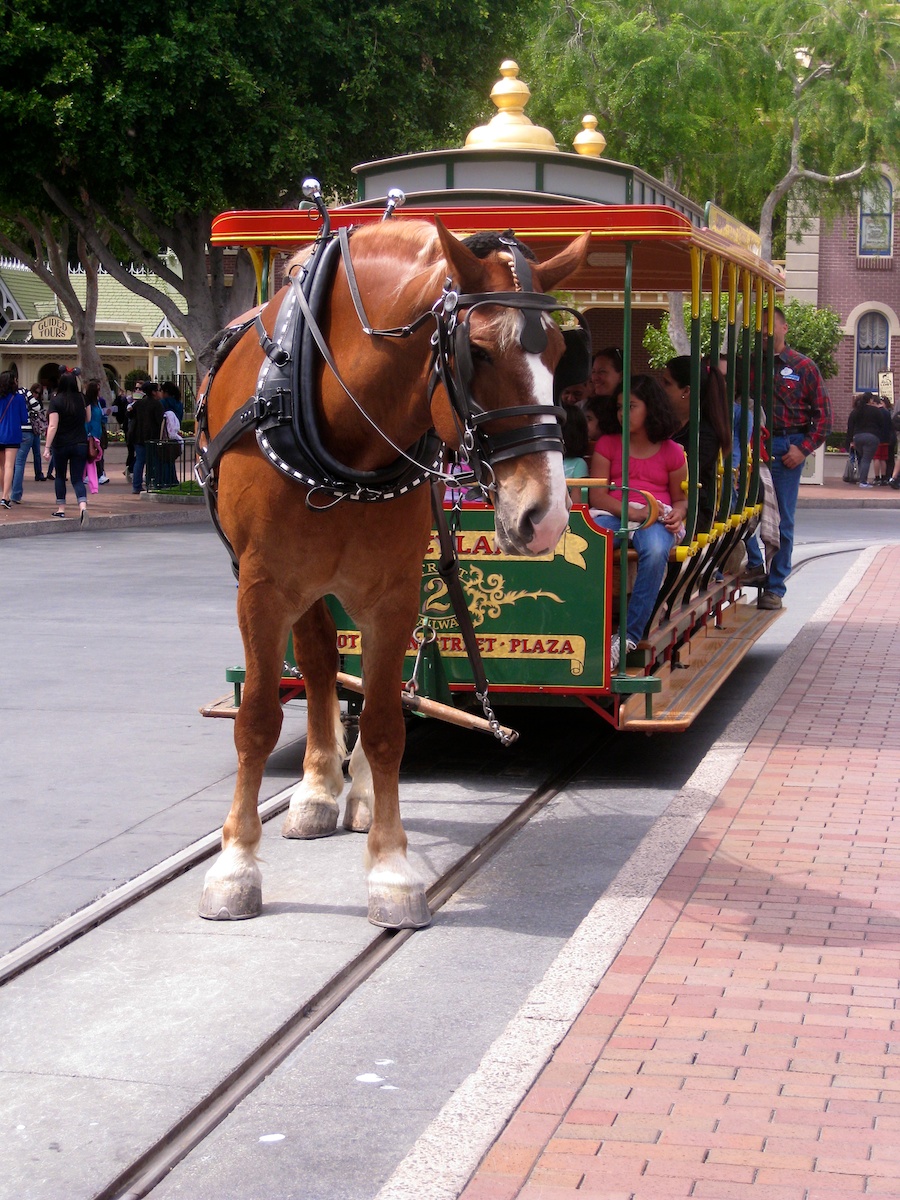 Dolly did an excellent job getting us down the street
Did You Know? - The horse drawn carriage was invented in Hungary in the Fifteenth Century. It was built to carry a princess to her wedding but this early design had no steering as such and had to be dragged sideways by its team of horses to turn a corner. Development was slow but eventually the front axle was mounted on a turntable to provide steering and the horse drawn wagon was a semi-practical, if not very comfortable vehicle. Suspension systems evolved slowly but by the early nineteenth century most of the problems had been solved and the improvements in road construction and maintenance made the horse drawn carriage a viable form of transport.

Circa 1906
Mary Poppins Greeted Us At The Castle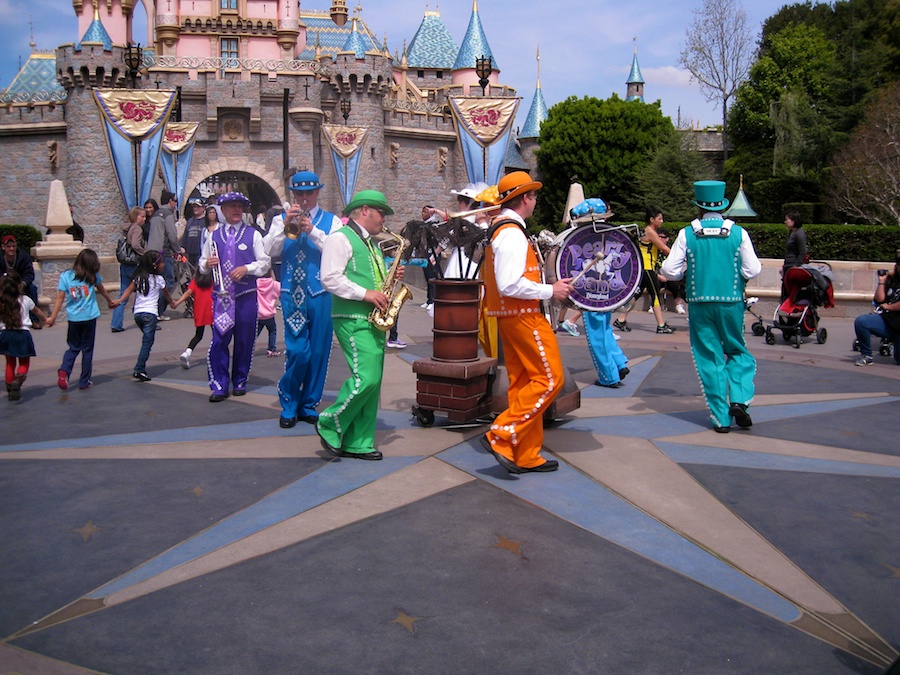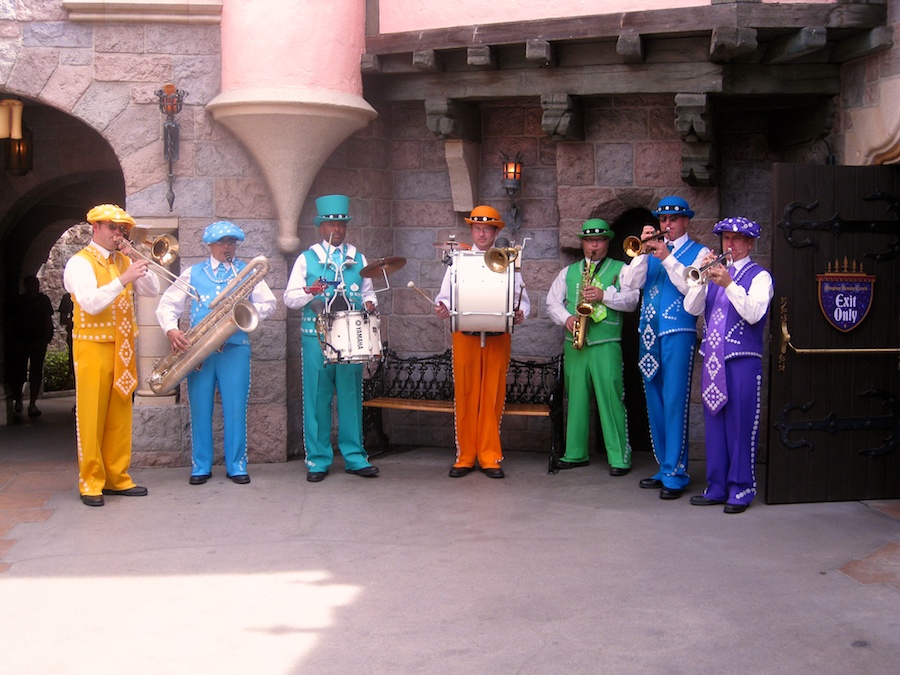 Great music
We Love Storybook Land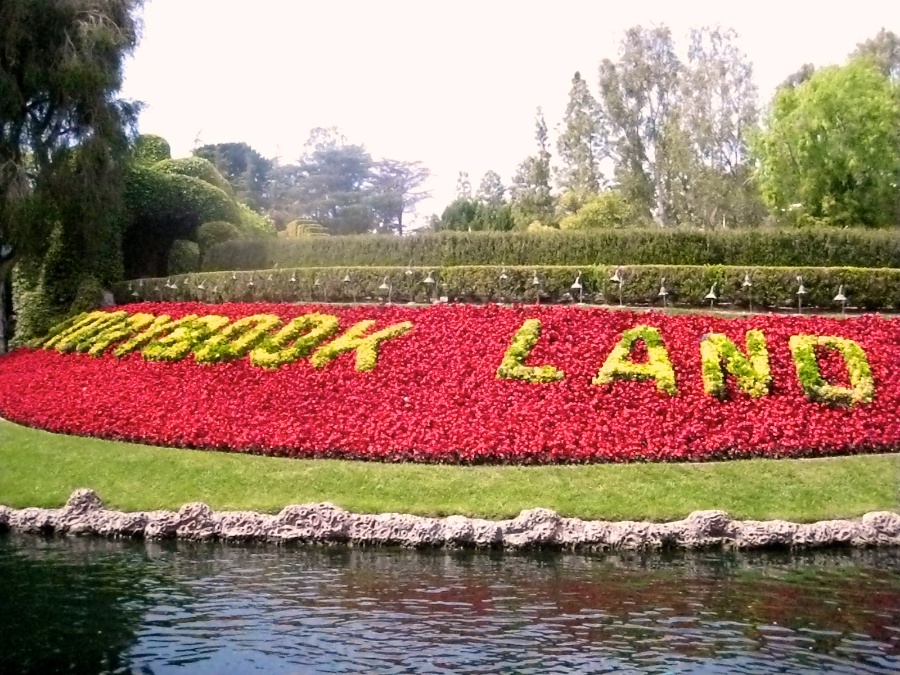 Did You Know? - Storybook Land Canal Boats is an attraction located at the Disneyland and Disneyland Park (Paris) theme parks. Passengers embark on a leisurely-paced outdoor boat ride through a winding canal featuring settings from Disney animated films recreated in miniature. The Disneyland version was one of the original attractions when the park opened on July 17, 1955, although the miniature buildings and landscaping were not added until the following year. Read More....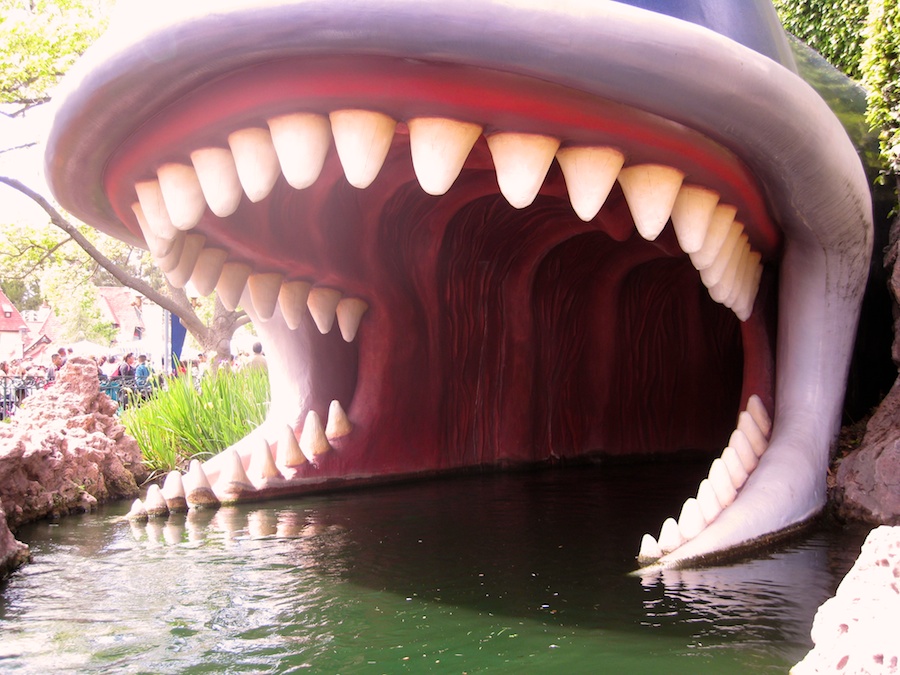 Oh oh.... Monstro
Did You Know? - Monstro is an enormous sterm whale, the primary villain in 1940 Disney film Pinocchio. While Pinocchio spends the night in Stromboli's troupe and, later, Pleasure Island, Gepetto searches for his son. Taking to sea, the toymaker, Figaro and Cleo are swallowed whole (complete with boat) by Monstro. The whale later swallows Pinocchio, when the little wooden boy comes searching for his father. Monstro has a reputation as a "whale of a whale" and is feared by all the creatures of the sea.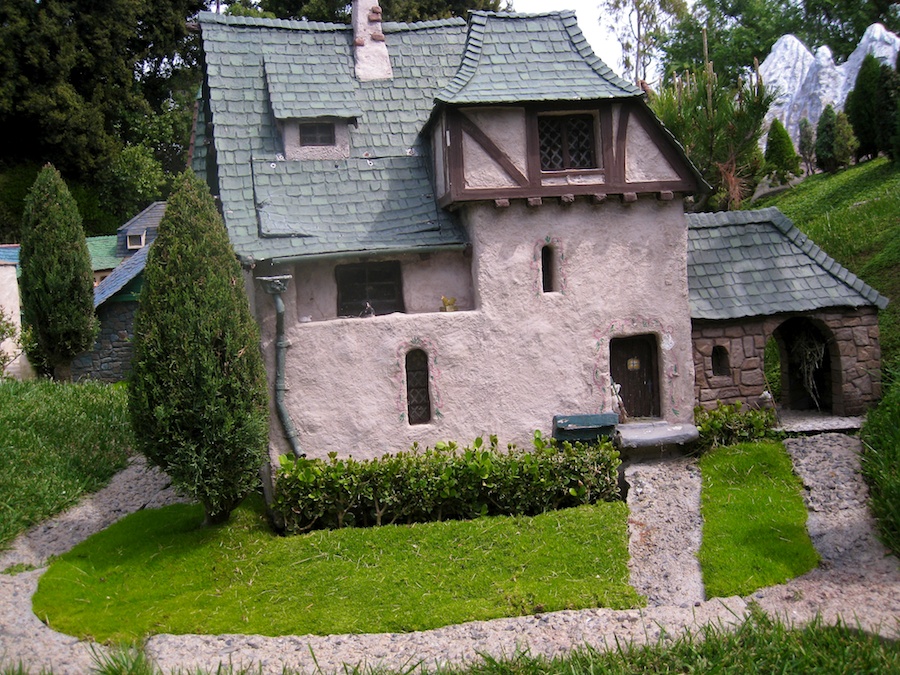 Great models

The Three Little Pigs brick house...

Aladin's Castle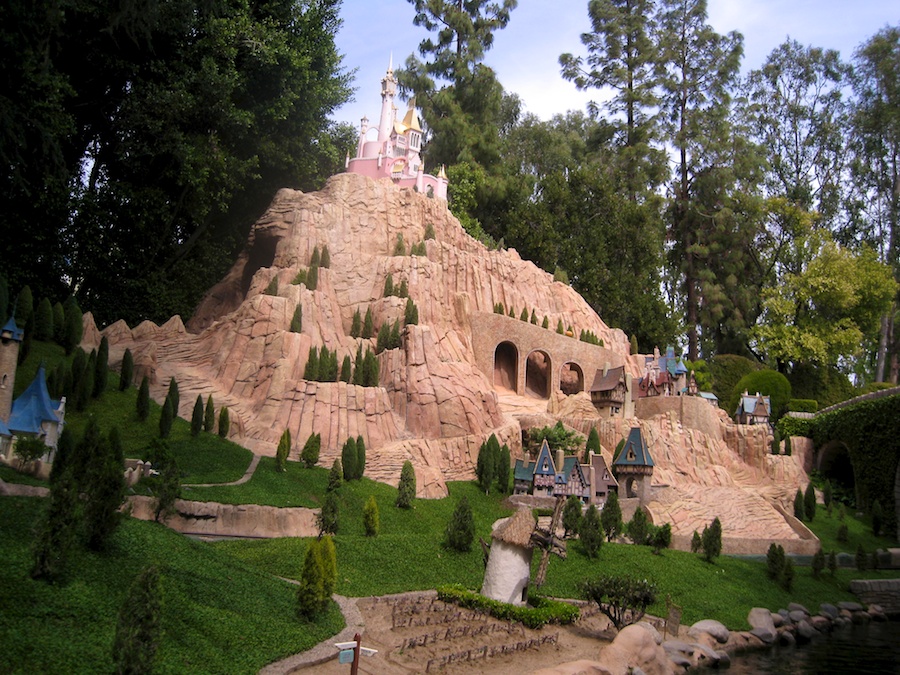 The real castle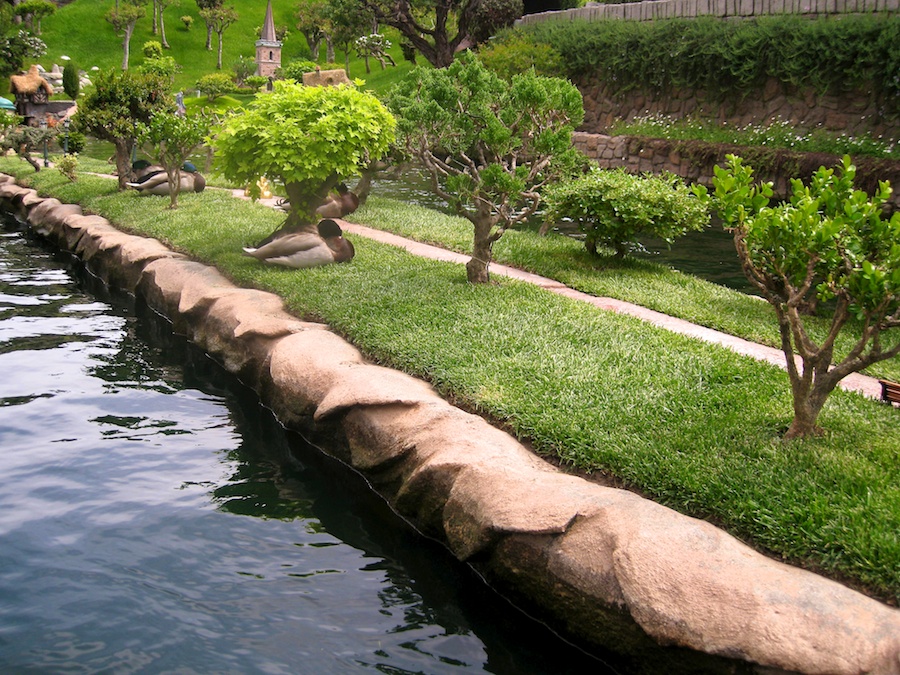 The ducks are a bit out of scale

Monster ducks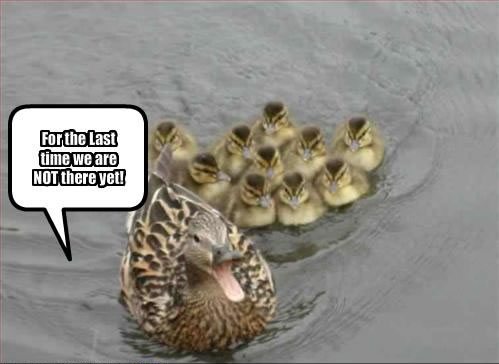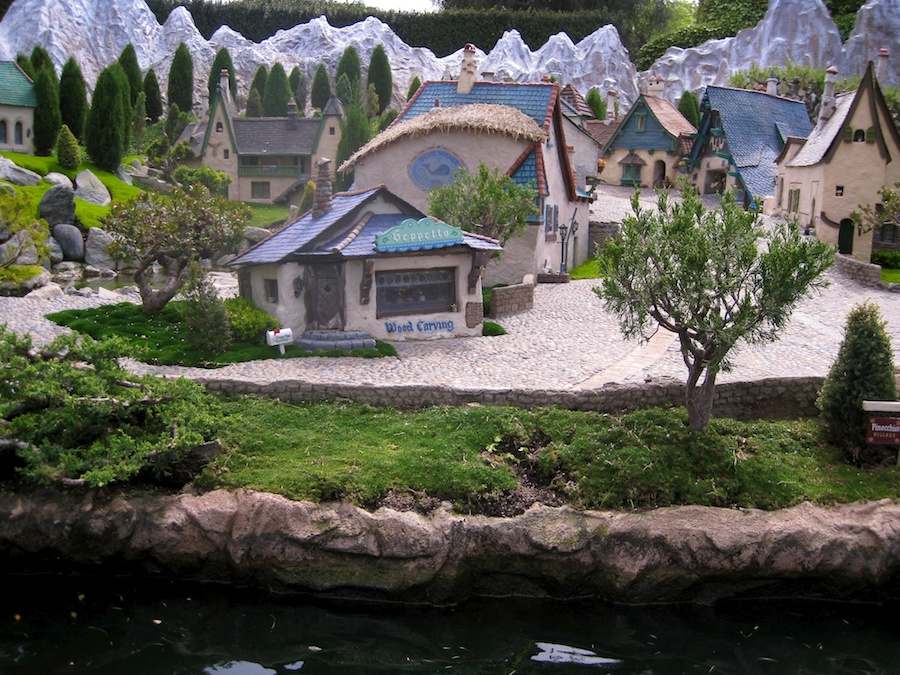 You can almost hear the work shop in action

It's spring time in Disneyland
Let's Go To Africa... India... On A Wild Boat Ride

The line was long so we were routed upstairs... Interesting roof

Do you see us??? We are in the jungle

Beautiful day for a cruise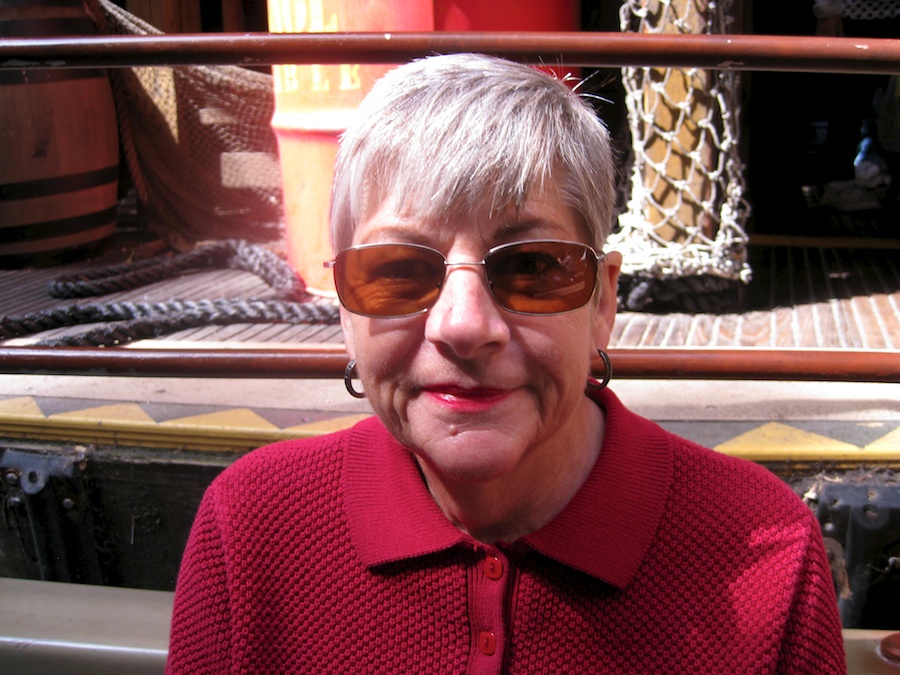 The captain is aboard... We can now leave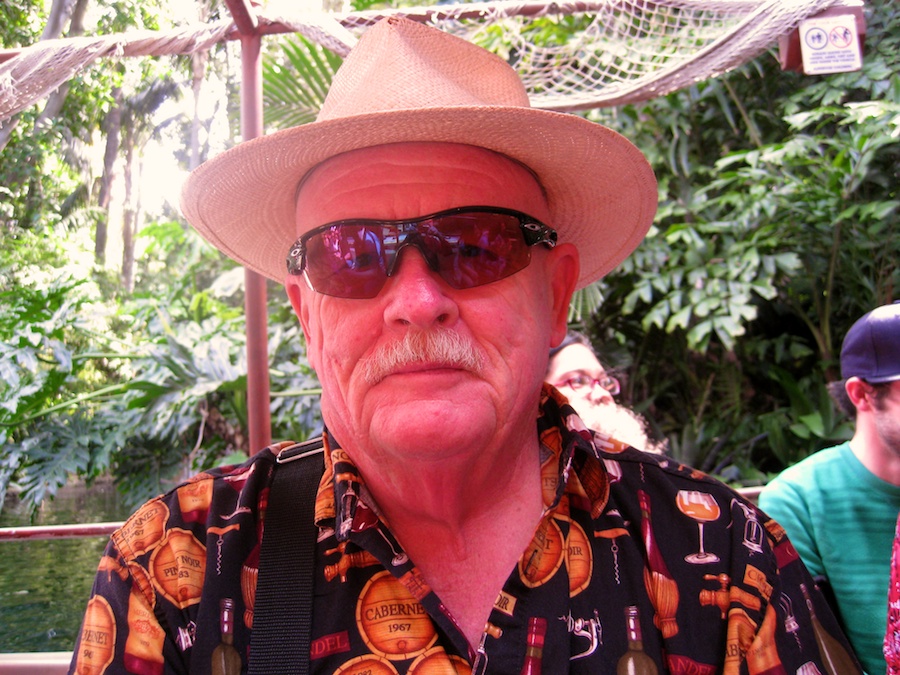 No, I am NOT sunburnt... Under a red canvas awning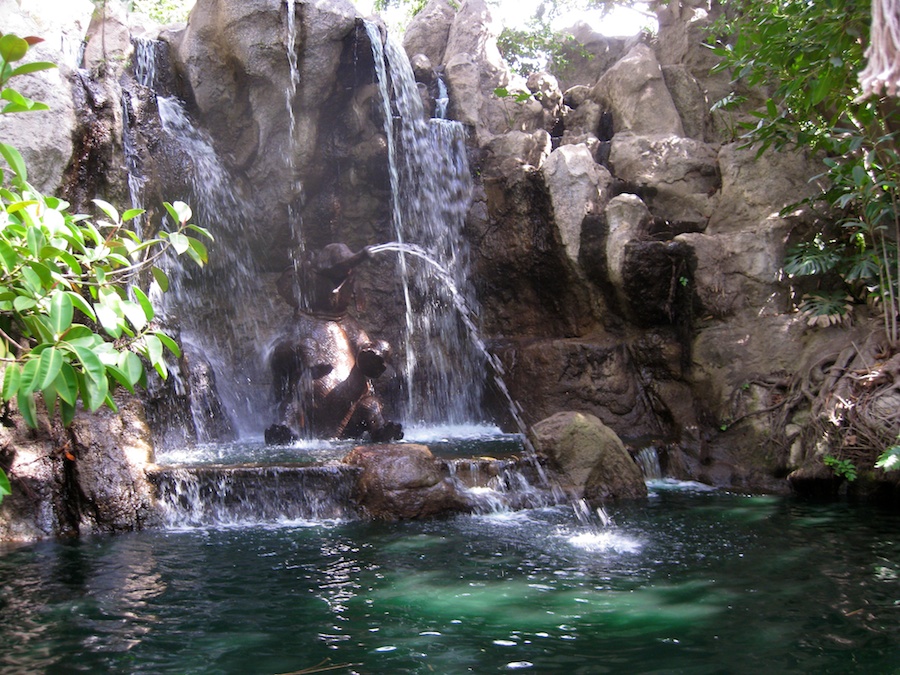 Should be clean by now... She is 50+ years old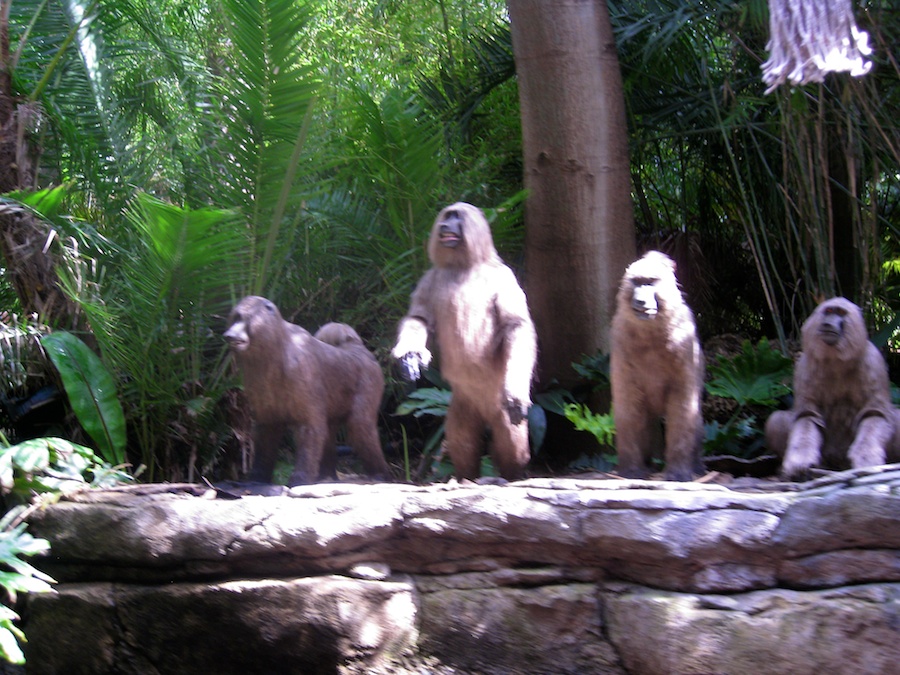 They were looking pretty real

What is in his trunk?
Did You Know? - When plans began to develop, Bill Evans, the Imagineer responsible for landscaping Disneyland and most of Walt Disney World, faced the daunting task of creating a convincing jungle on a limited budget. Aside from importing many actual tropical plants, he made wide use of "character plants" which, while not necessarily exotic, could give the appearance of exoticism in context. In a particularly well-known trick, he uprooted local orange trees and "replanted" them upside-down, growing vines on the exposed roots.
Disney controls the clarity of the water (known as "turbidity") in order to obscure from guest's view the boat's guidance system and undesirable items like perches and mechanized platforms of the bathing elephants and hippos.
Initially, the clean water was dyed brown but after a few years the colorant was changed to a green hue and in recent years a bluish-green has been used. The water of the Jungle Cruise is approximately 5 feet deep and is part of the Park's 'dark' water system which circulates southward from the northern end of Frontierland's Rivers of America, through Fantasyland and creates the moat of Sleeping Beauty's castle. The water's journey continues flowing past Frontierland's entrance and into Adventureland where it meanders alongside the Tiki Room before entering the Jungle Cruise beside the ride's exit.
The water returns to the south end of the Rivers of America via a 37" diameter underground pipe near Tarzan's Treehouse. Originally, the Jungle Cruise waterway was 1,640 feet in length before being slightly shortened and re-routed in 1994.
To The Wild West Please... Just a Short Distance Away

The Hill Williams were doing great
Let's Walk To Tomorrow Land And Catch The Monorail!

This little guy flew right over my head... By inches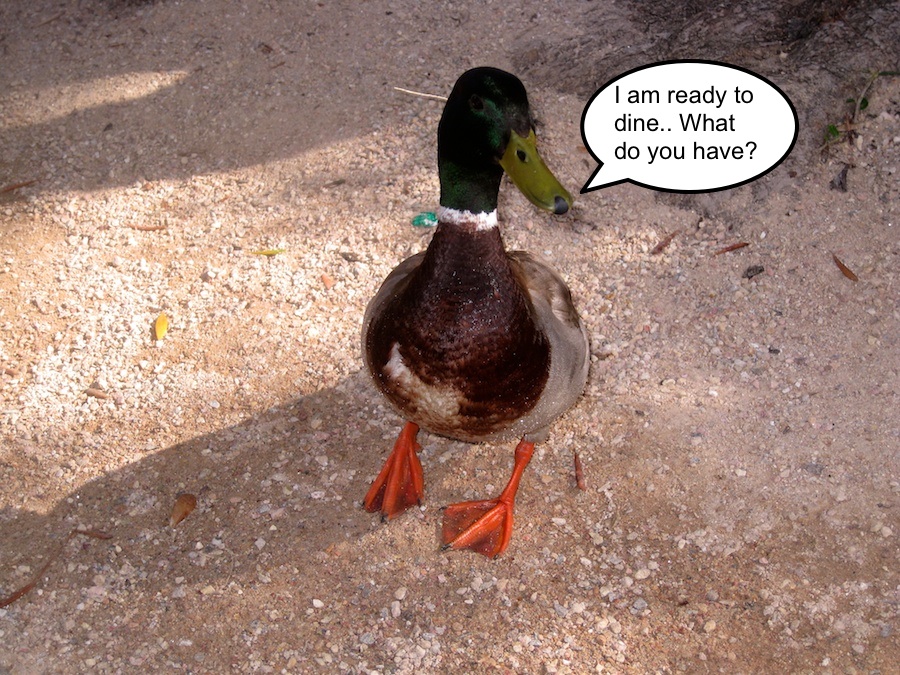 Hello, I am ready to eat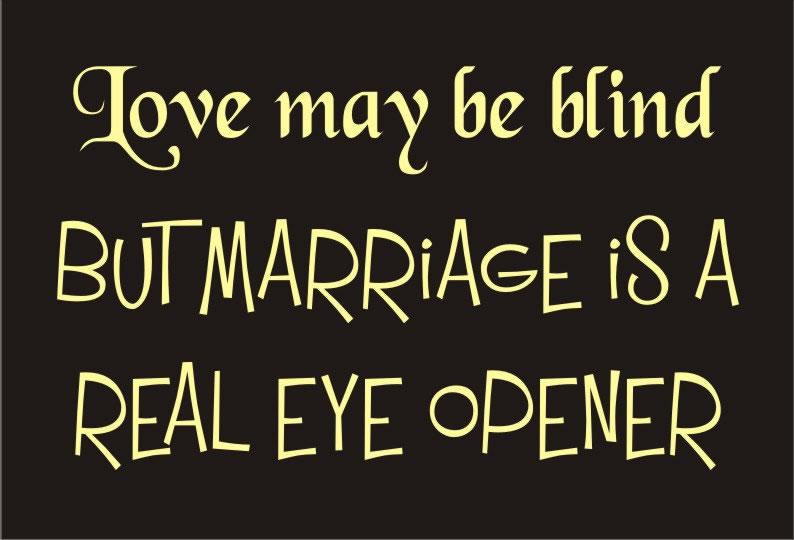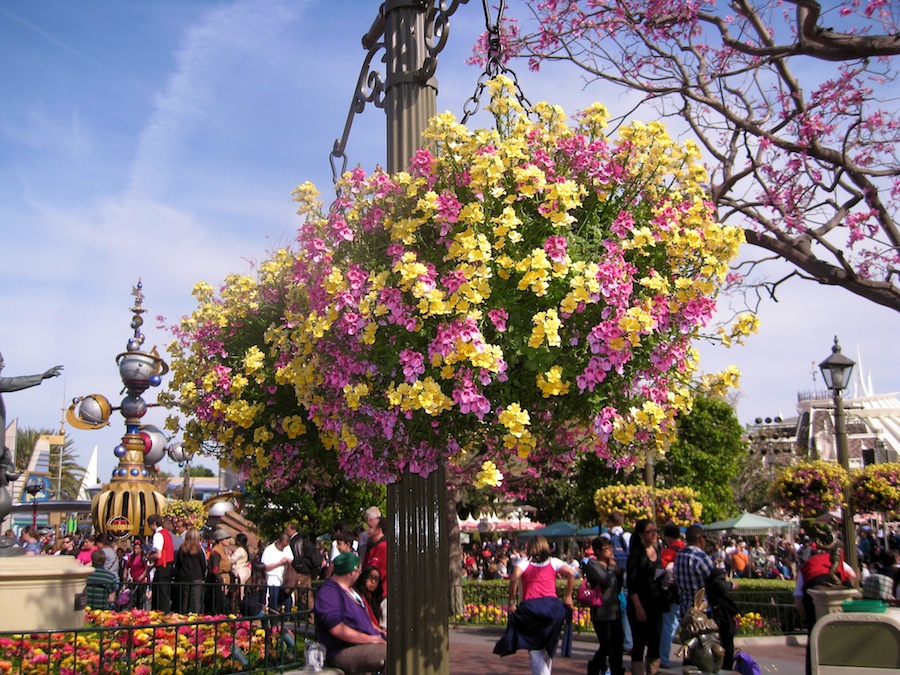 A walk across Disneyland reveals more flowers... Beauties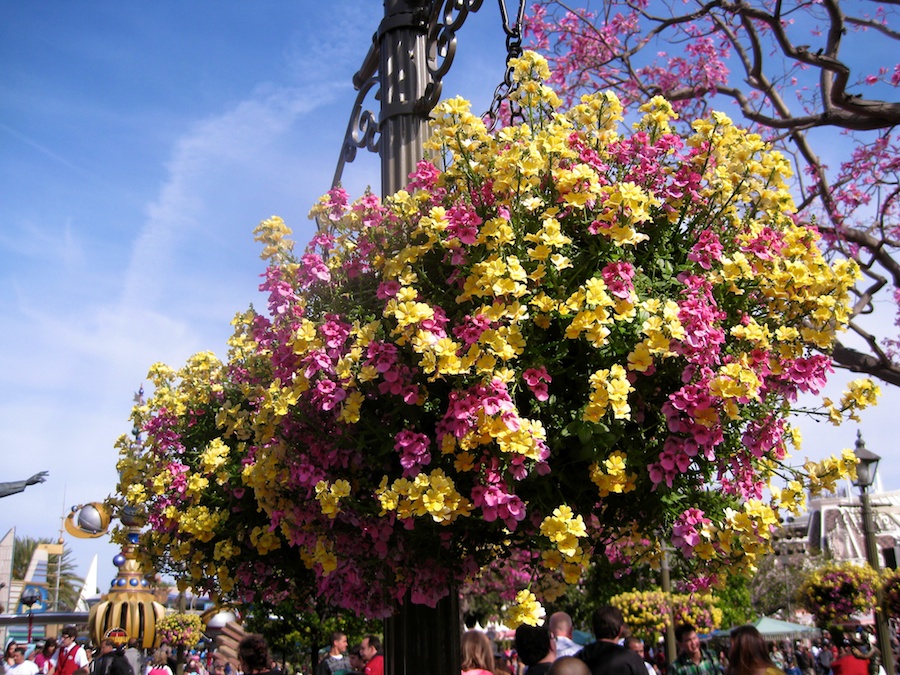 The sky was a nice addition
Did You Know? - Hanging baskets are normally made from wire with an impervious, usually plastic, lining to retain the contents. They are filled with peat-free compost usually with a water-retaining gel and controlled release fertiliser granules. Typically they are planted with bedding plants and may include geraniums, fuchsia, and trailing plants around the edges such as lobelia.

The bedding plants matched the baskets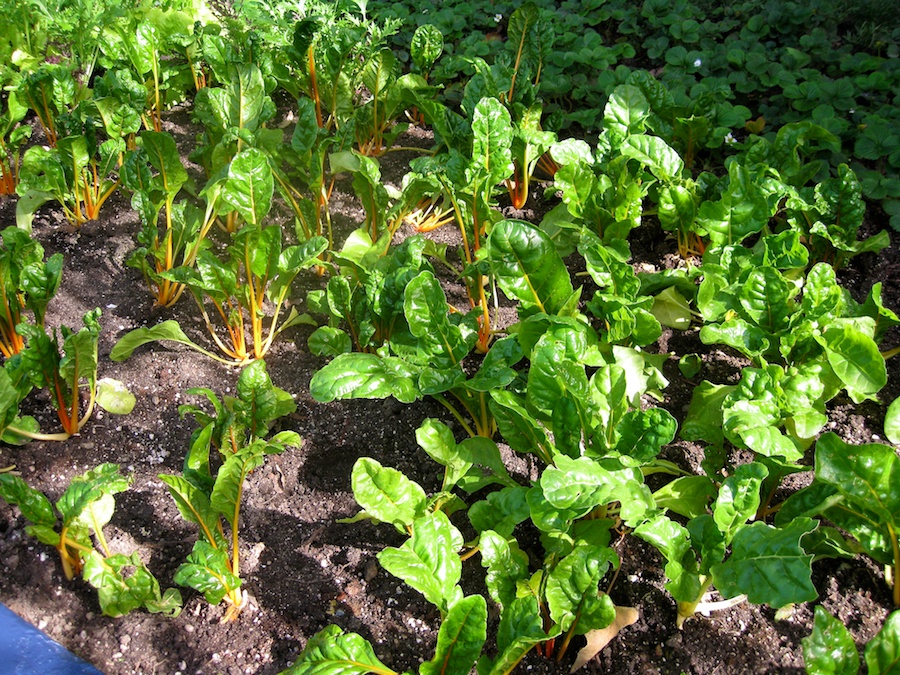 The bedding plants in Tomorrow Land are vegetables.. Edibles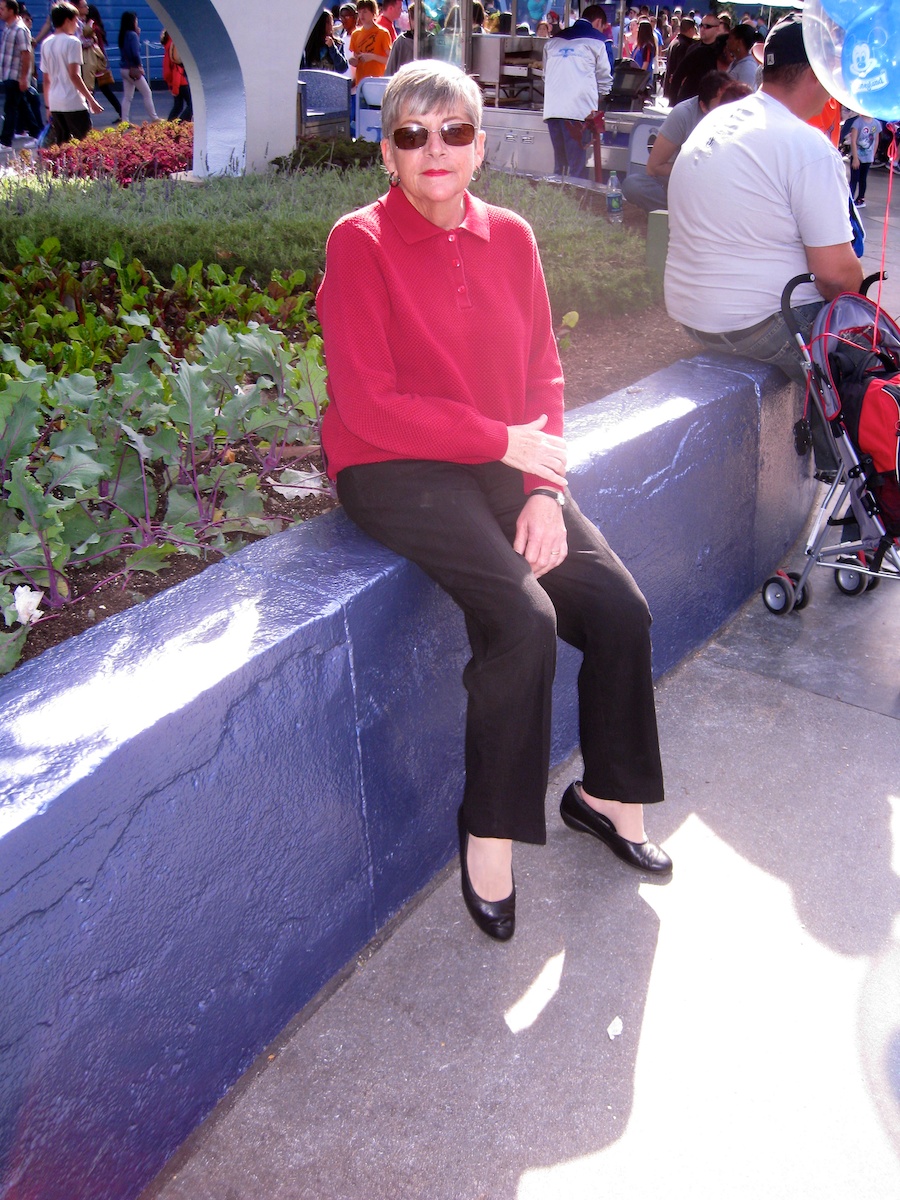 Time to take a rest... and inspect the vegetables

To get to the monorail we passed over the submarine ride

New snow being painted and updated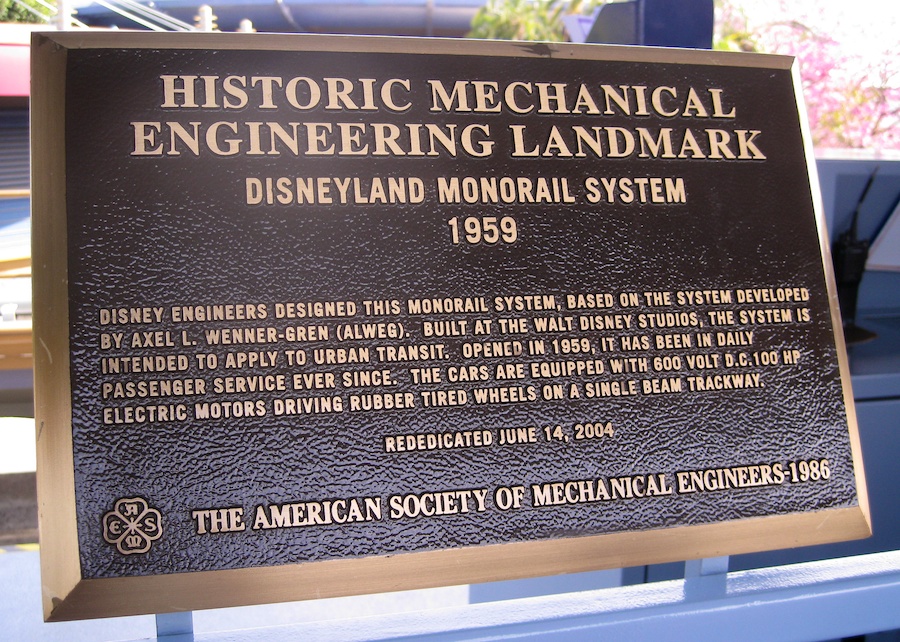 Great engineering feet... and our government is digging holes in the earthquake-prone ground? Go figure
Did You Know? - A monorail is a rail-based transportation system based on a single rail, which acts as its sole support and its guideway. The term is also used variously to describe the beam of the system, or the vehicles traveling on such a beam or track. The term originates from joining the words mono (one) and rail (rail), from as early as 1897, possibly from German engineer Eugen Langen who called an elevated railway system with wagons suspended the Eugen Langen One-railed Suspension Tramway (Einschienige Hängebahn System Eugen Langen). The transportation system is often referred to as a railway.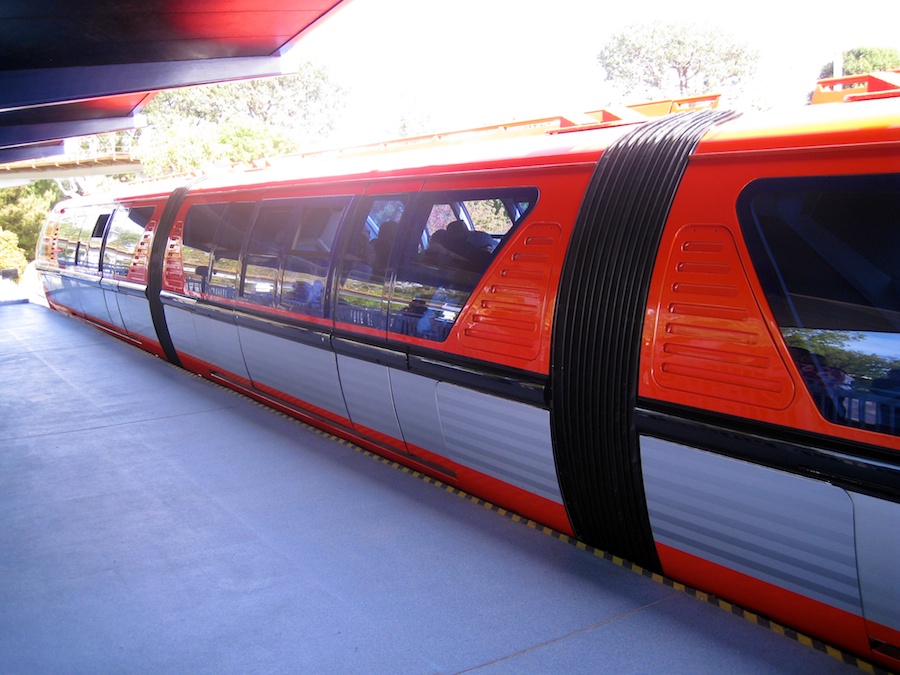 We rode the "Red Train"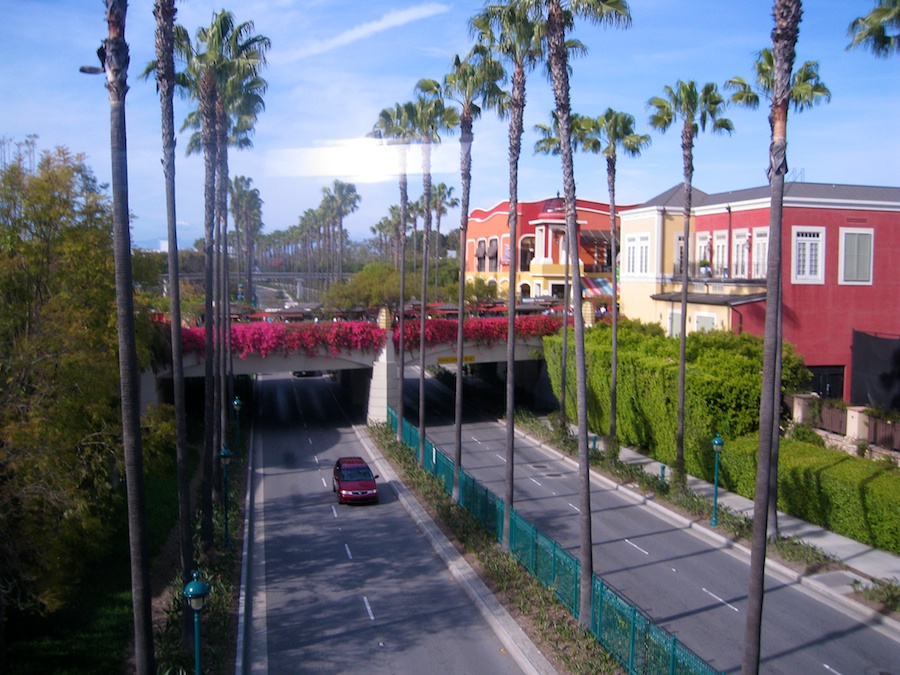 Over the city streets
Catal For Dinner With Robin And Bob

What a nice surprise

Nice was home baby sitting

Thanks for a great end to a great day! Heading for home
We Went Dancing Afterwords... Garden Grove Elks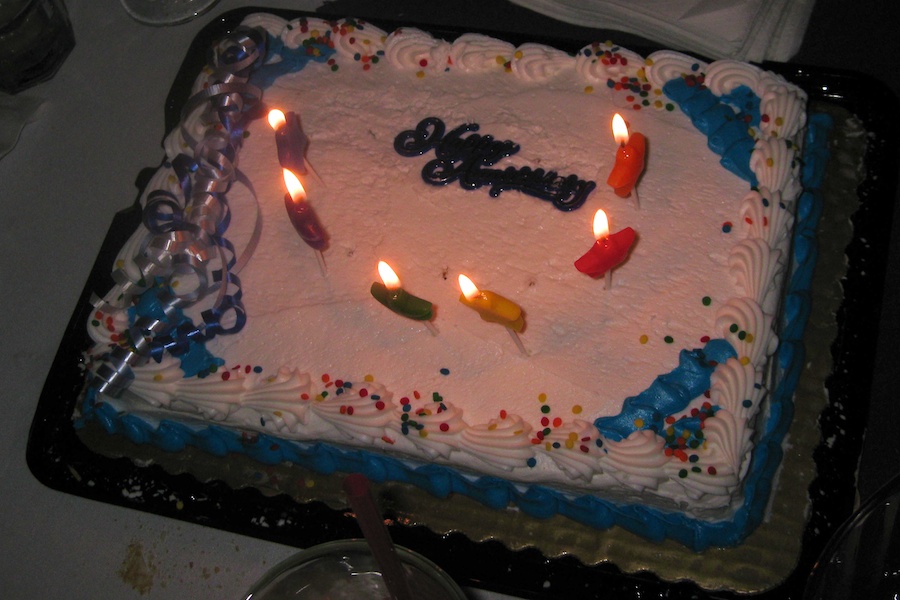 Herb and Irene brought a cake... What a lovely thought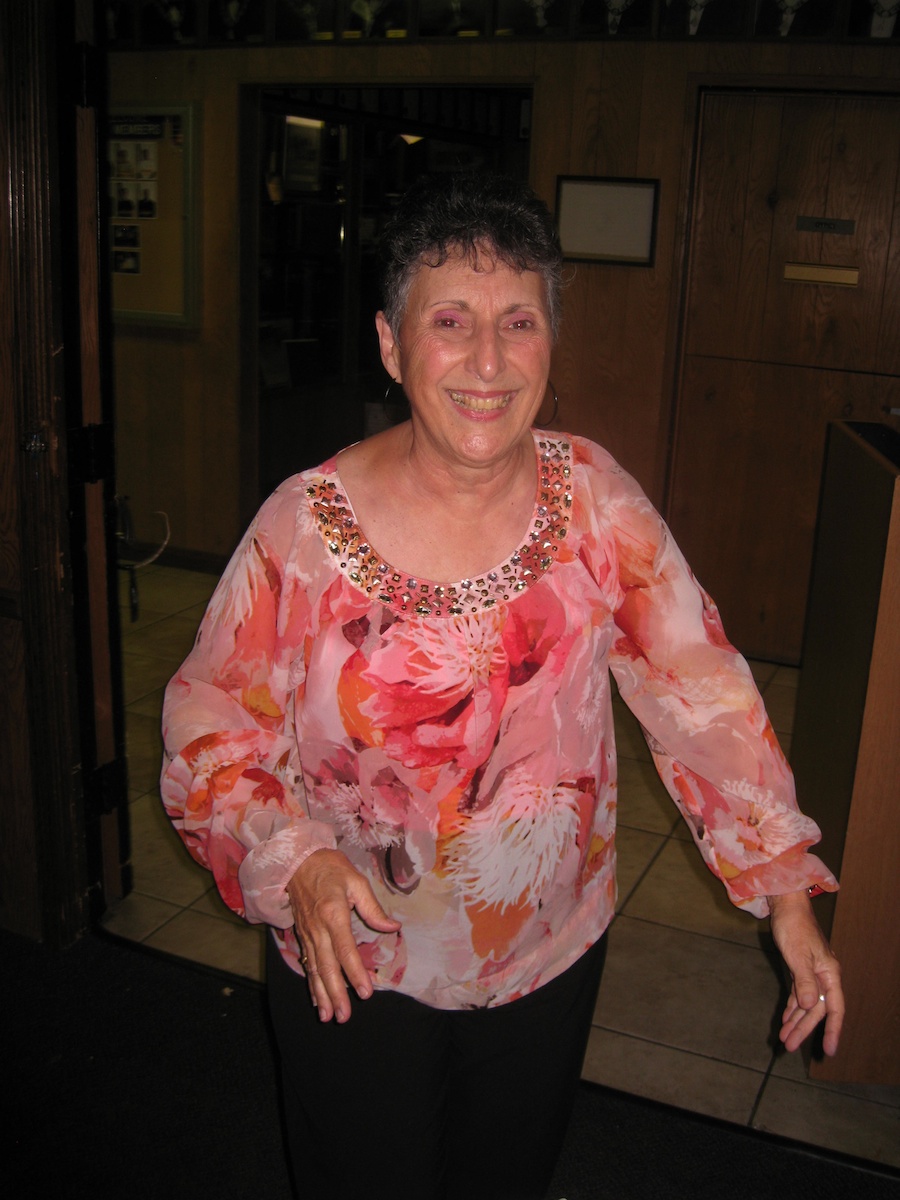 Irene regaled us with a Greek Dance....