Dinner Is Done; Time For Serious Dancing (Page Three
(November 19th 2010) Last Updated: 09/11/2019 10:38:AM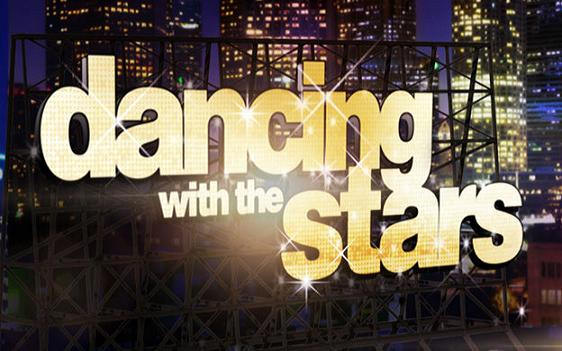 That would be all of us this evening!!!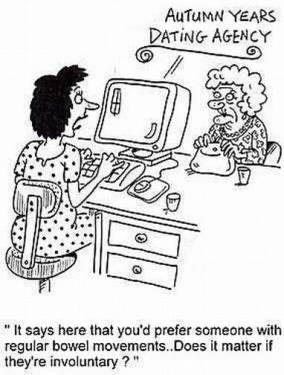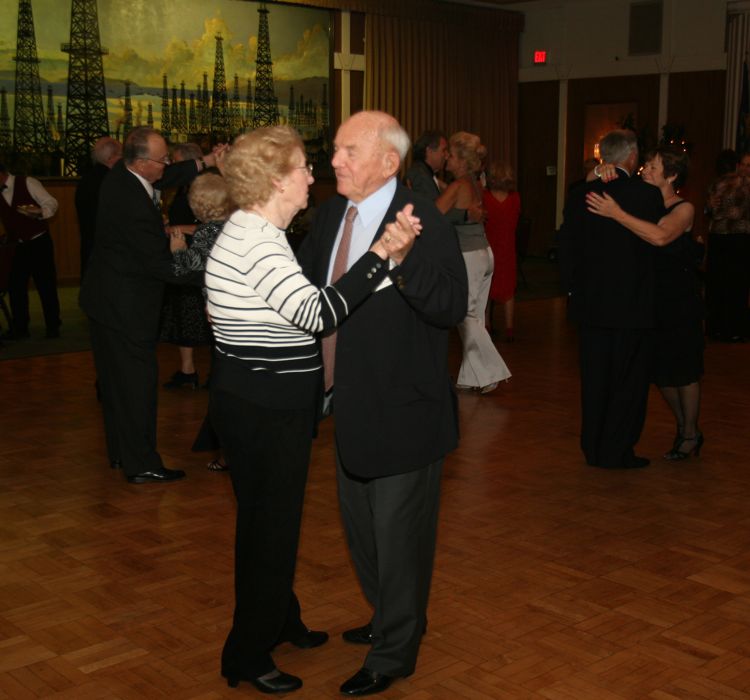 The music in going and the floor is warm!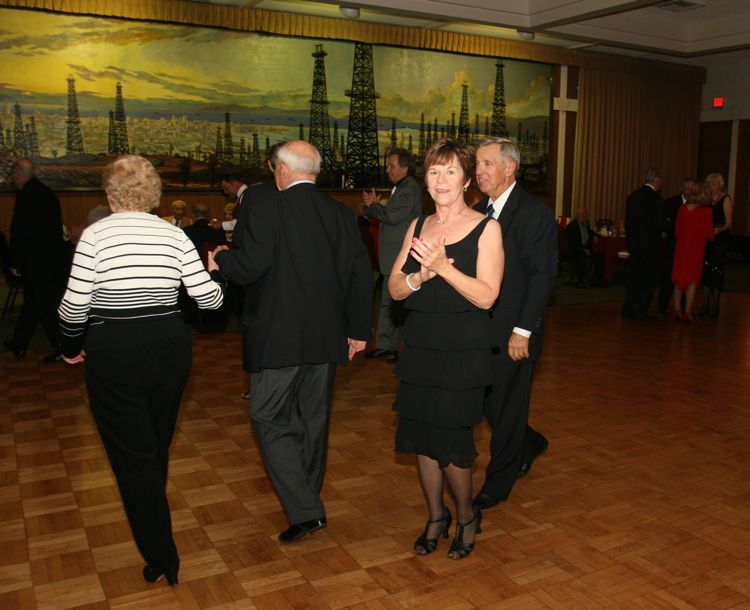 Applause for the band!
After One Dance Dessert Arrives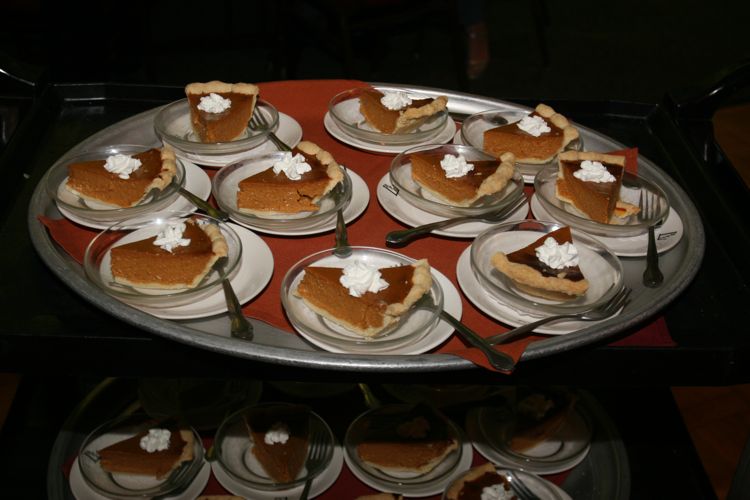 Did you know? - The pumpkin is native to the continent of North America. It was an early export to France; from there it was introduced to Tudor England, and the flesh of the "pompion" was quickly accepted as pie filler. The Pilgrims brought the pumpkin pie back to New England, but it subsequently died out in England itself.
Did you know? - John Greenleaf Whittier wrote in his 1850 poem "The Pumpkin"....
Ah! on Thanksday, when from East and from West,
From North and from South comes the pilgrim and guest;
When the gray-haired New Englander sees round his board
The old broken links of affection restored;
When the care-wearied man seeks his mother once more,
And the worn matron smiles where the girl smiled before;
What moistens the lip and what brightens the eye,
What calls back the past, like the rich Pumpkin pie?
Did you know? - Oscar Ferdinand Telgmann and George Frederick Cameron wrote the song Farewell O Fragrant Pumpkin Pie in the 1889 opera Leo, the Royal Cadet
Farewell, O fragrant pumpkin pie!
Dyspeptic pork, adieu!
Though to the college halls I hie.
On field of battle though I die, my latest sob, my latest sigh
shall wafted be to you!
And thou, O doughnut rare and rich and fried divinely brown!
Thy form shall fill a noble niche in memory's chamber whilst I pitch
my tent beside the river which rolls on through Kingston town.
And my Love—my little Nell,
the apple of my eye to thee how can I say farewell?
I love thee more than I can tell;
I love thee more than anything—but—pie!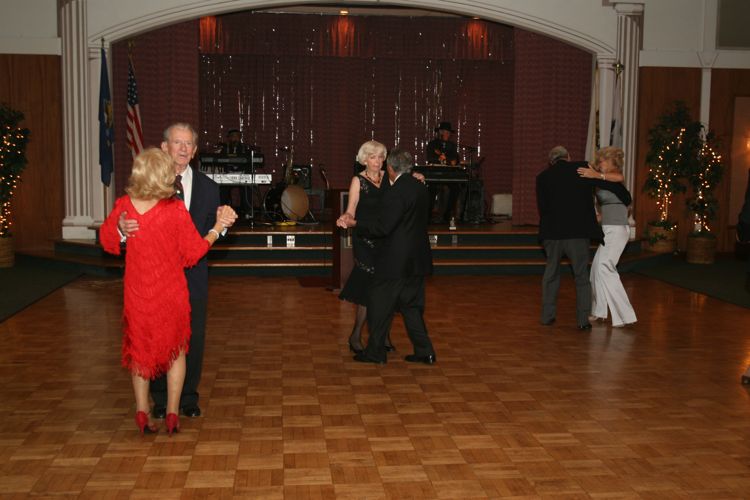 Work off those calories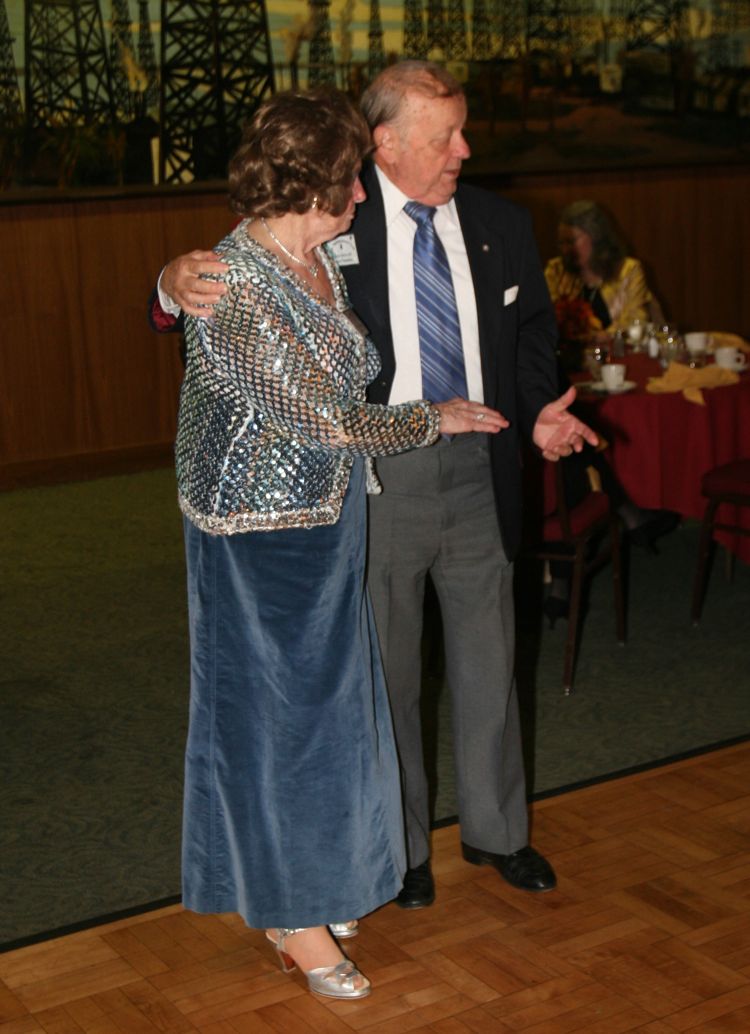 "What dance is that???"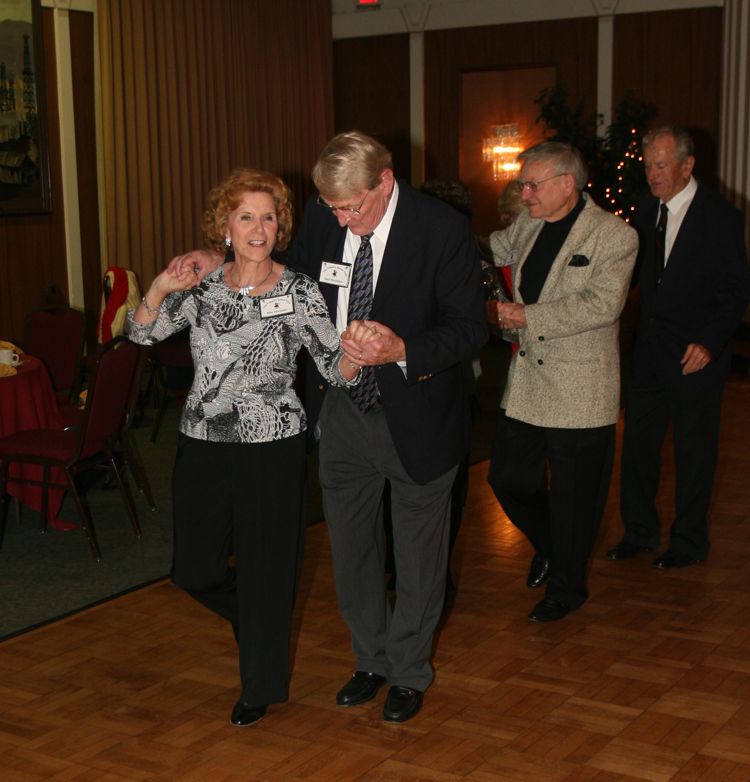 Cowboy ChaCha!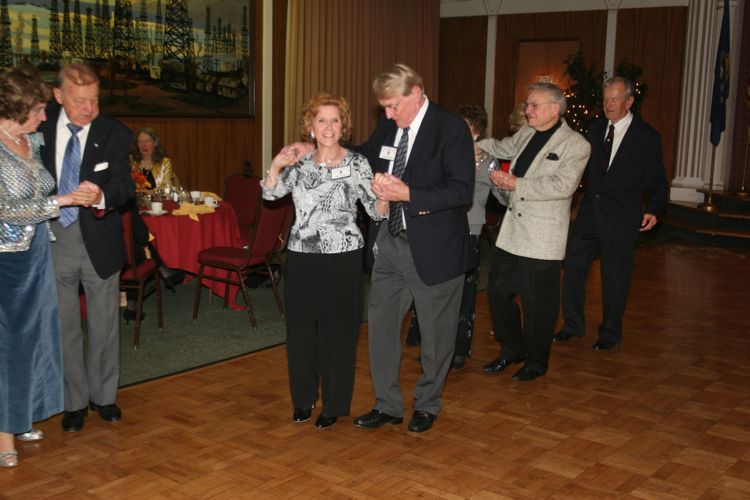 They are studying the steps very carefully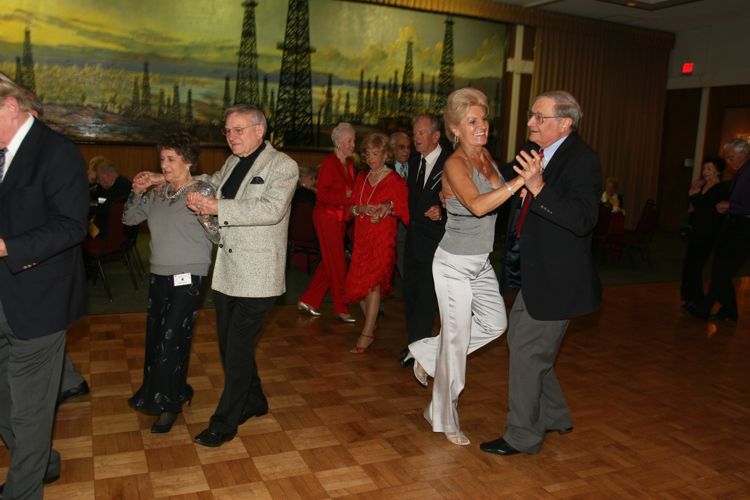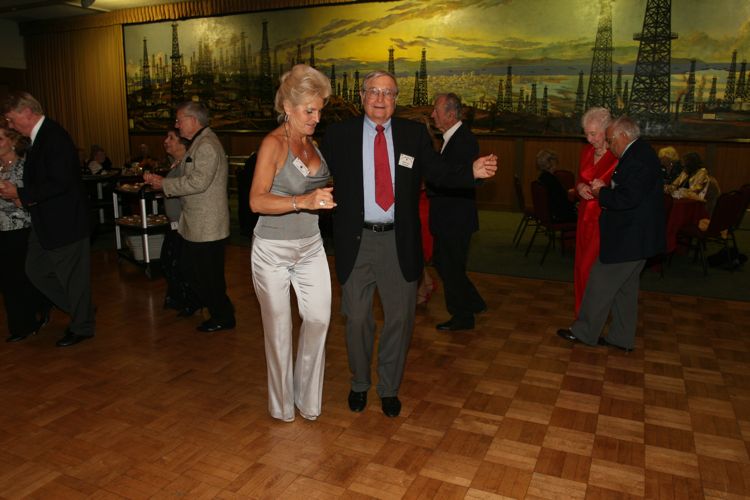 Watch out, here they come again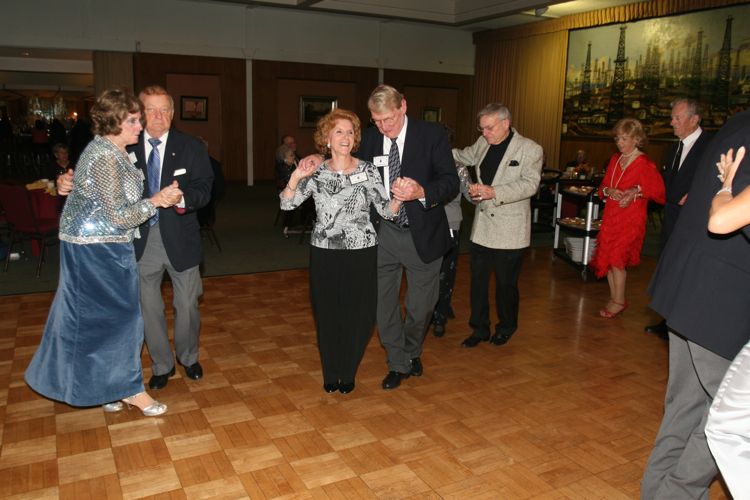 OK, Who Called For The Polka???
Did you know? - The polka is a lively Central European dance and also a genre of dance music familiar throughout Europe and the Americas. It originated in the middle of the 19th century in Bohemia, derived from the sounds of traditional farm equipment and is still a common genre in Latvian, Lithuanian, Czech, Dutch, Croatian, Slovenian, Polish, German, Hungarian, Austrian, Italian, Ukrainian, Belarusian, Russian, and Slovakian folk music. Versions are also found in the Nordic countries, the British Isles, The United States, and Latin America, especially Mexico.
In light classical music, many polkas were composed by both Johann Strauss I and his son Johann Strauss II; a couple of well-known ones were composed by Bedřich Smetana, and Jaromír Vejvoda, the author of "Škoda lásky" ("Roll Out the Barrel").

Kathy is looking worried here as it appears to be a traffic jam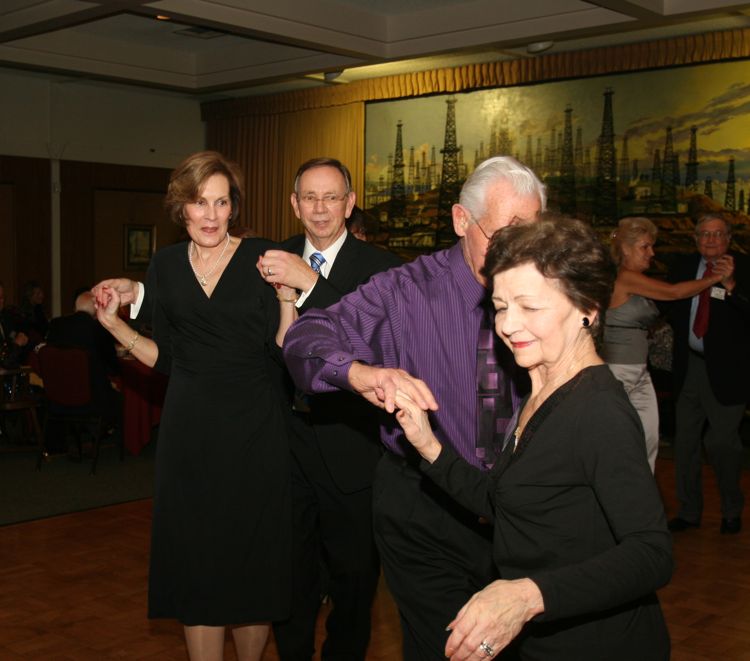 All is well!

All clear... We can move forward!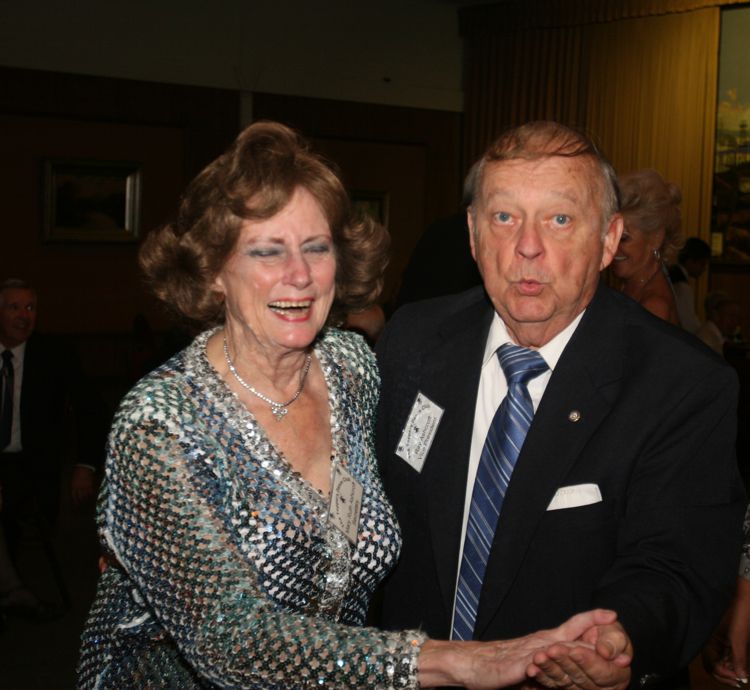 He forgot the steps!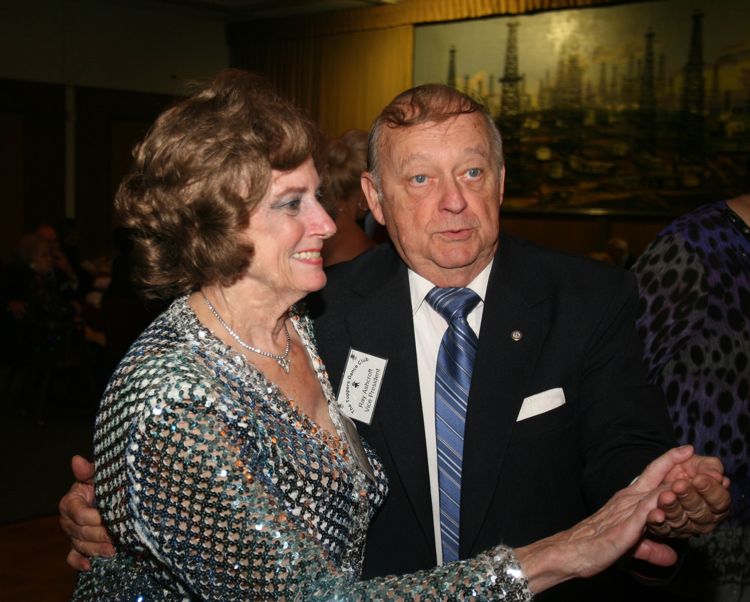 They have recovered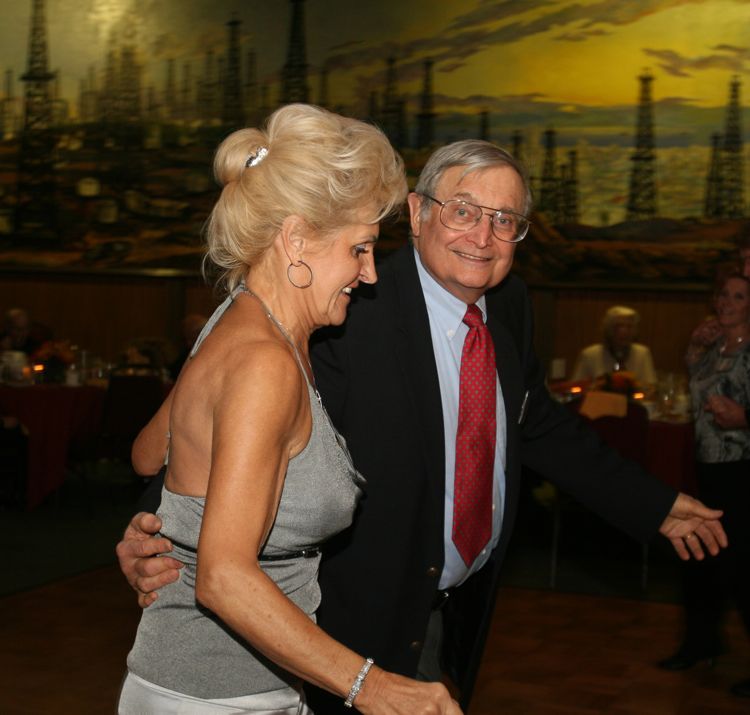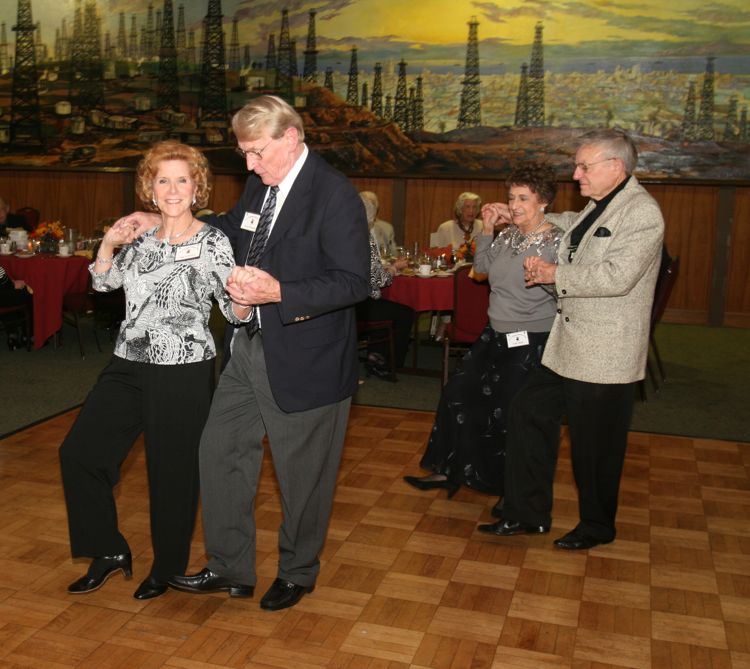 "Follow them"
Did You Know? - Did you know? - The name is generally thought to come from the Czech word půlka—literally, little half—a reference to the short half-steps featuring in the dance. But from its very outset, the word has been influenced by the similarity to the Czech word Polka, meaning "Polish woman/girl", and the Polish word "Polka" (also Polish woman/girl). The name has led to the dance's origin being sometimes mistakenly attributed to Poland.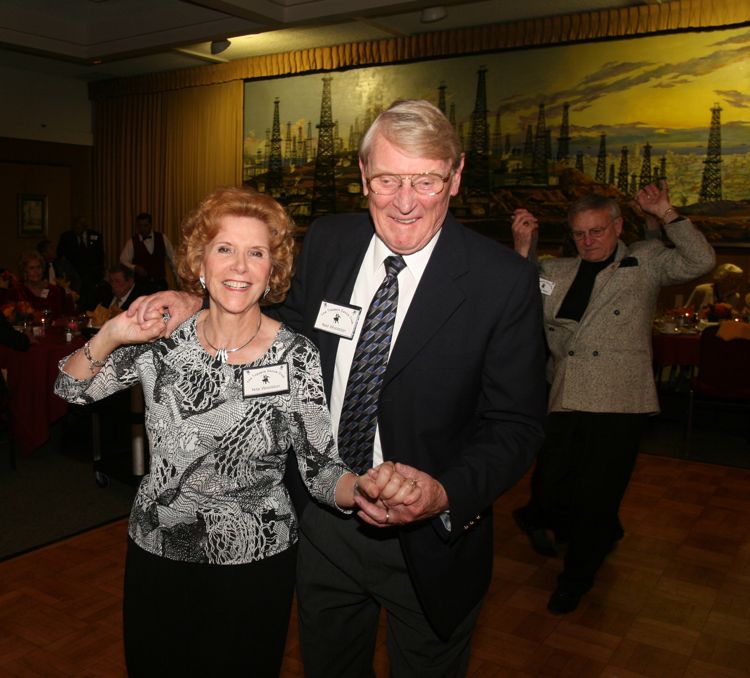 They do the Cowboy Chacha so well we wondered where they put the hoss!

"This is a good club... Everyone is having fun!"
The Line Dancers Are Up And Going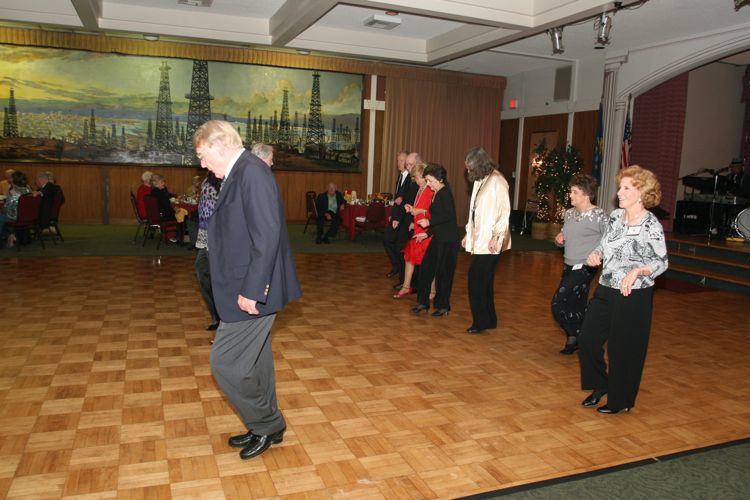 Neil leads the way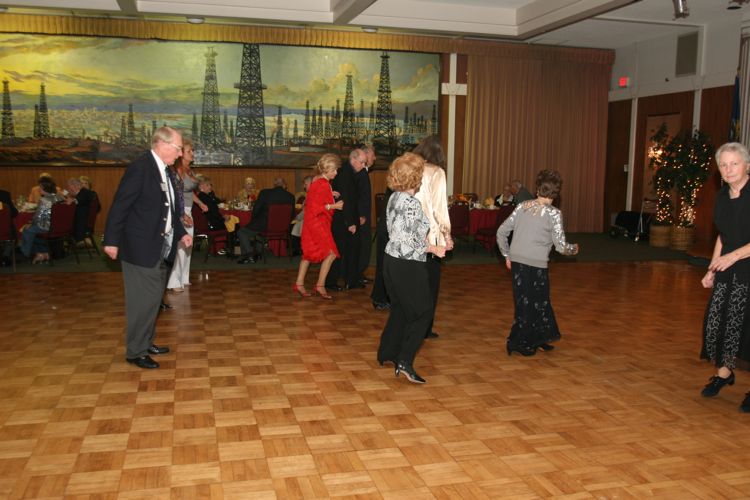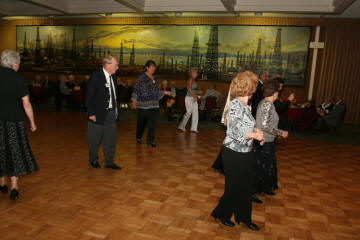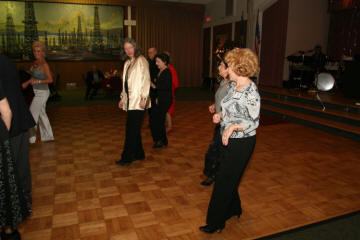 Turn around and volia, they are headed West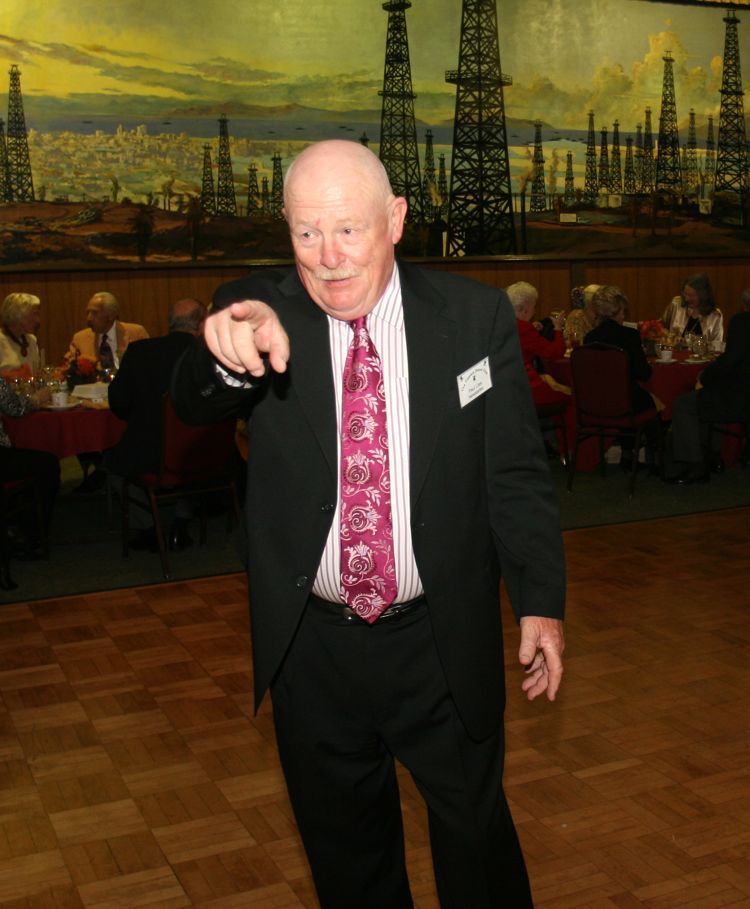 Paul demonstrates the finger dance
Time For Pronouncements From Roy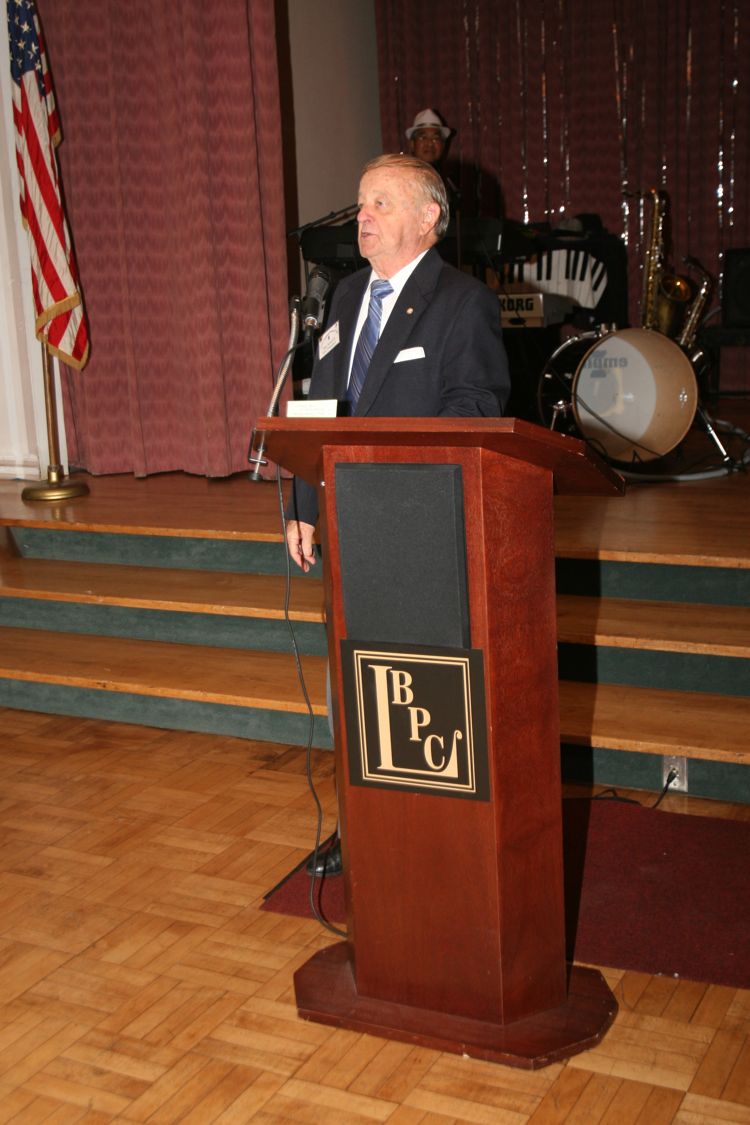 "Hear Ye, Hear Ye!"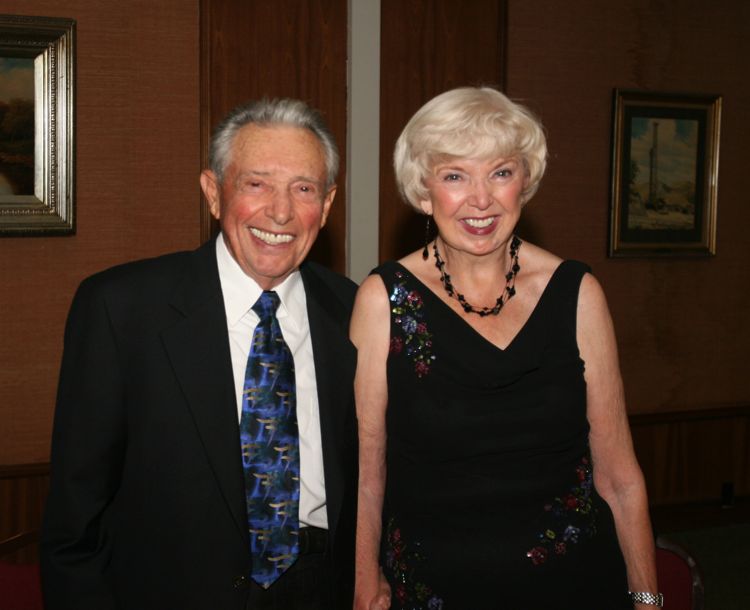 New Members: Tony and Francis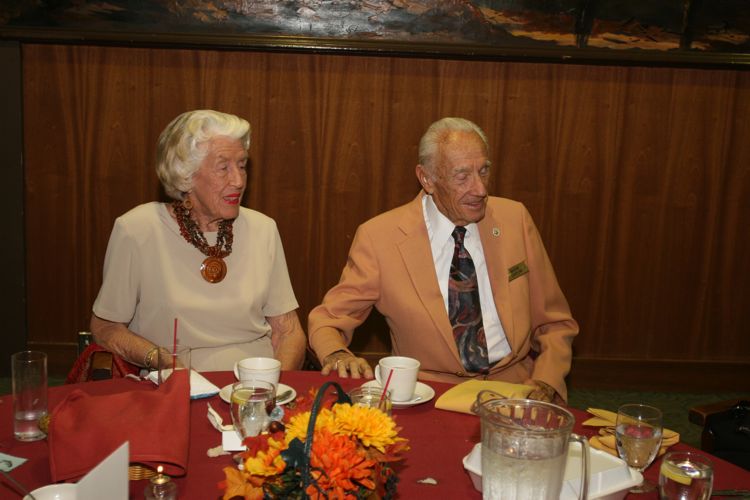 Bobbie and Buck are introduced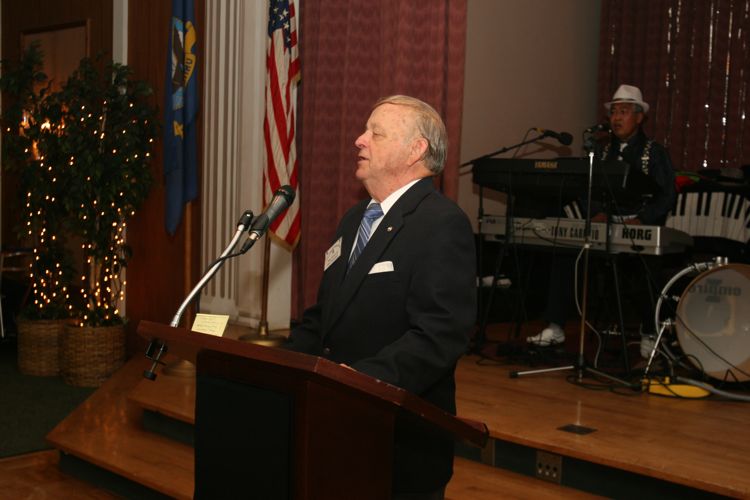 Birthdays, anniversaries, guests.....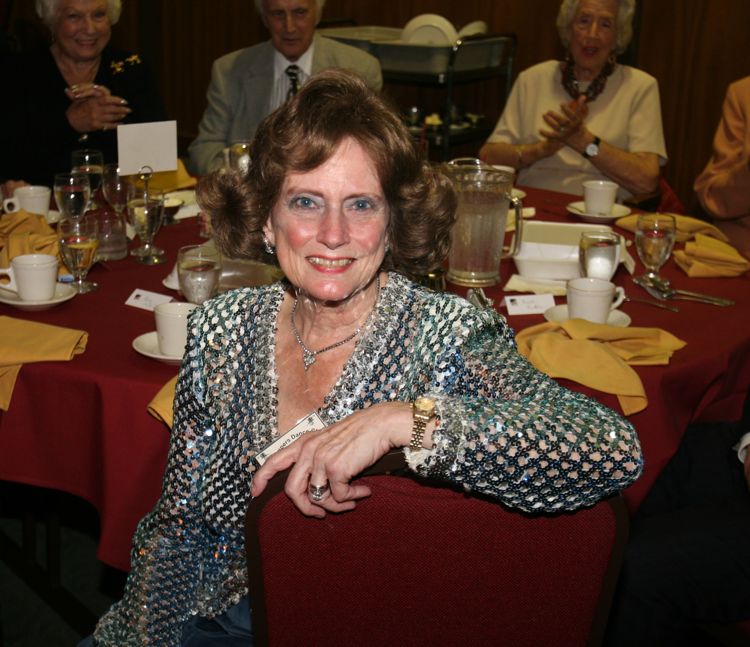 "I taught him how to do public speaking..."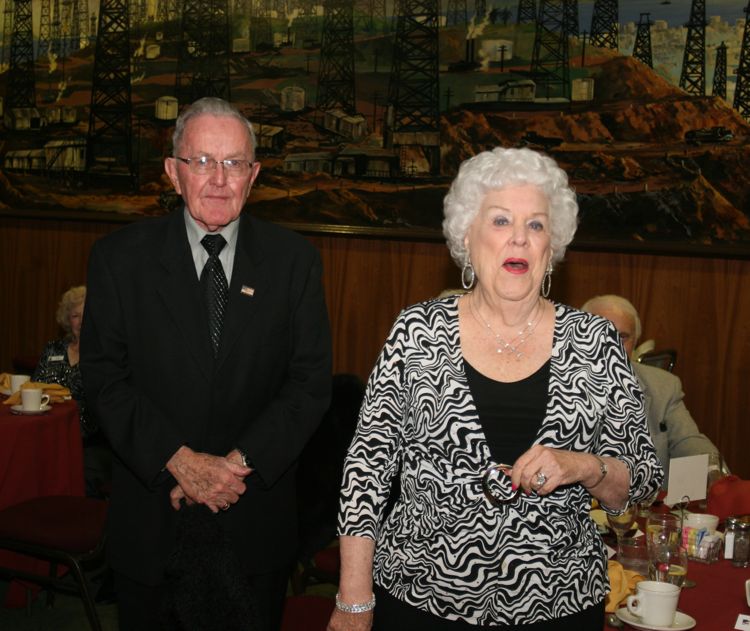 10th anniversary!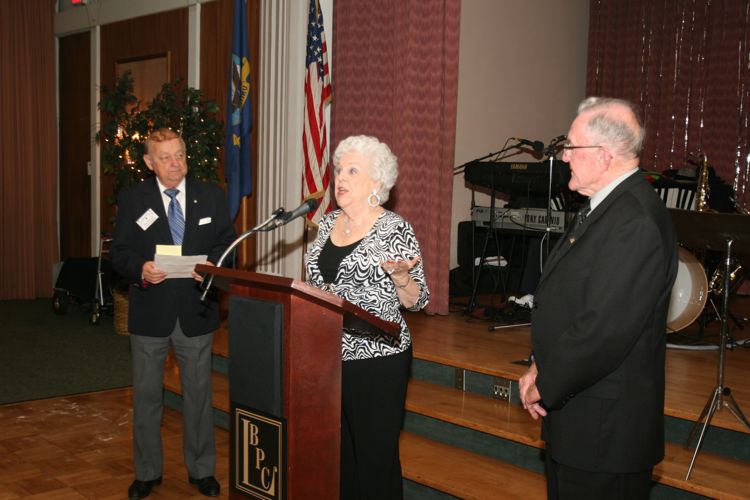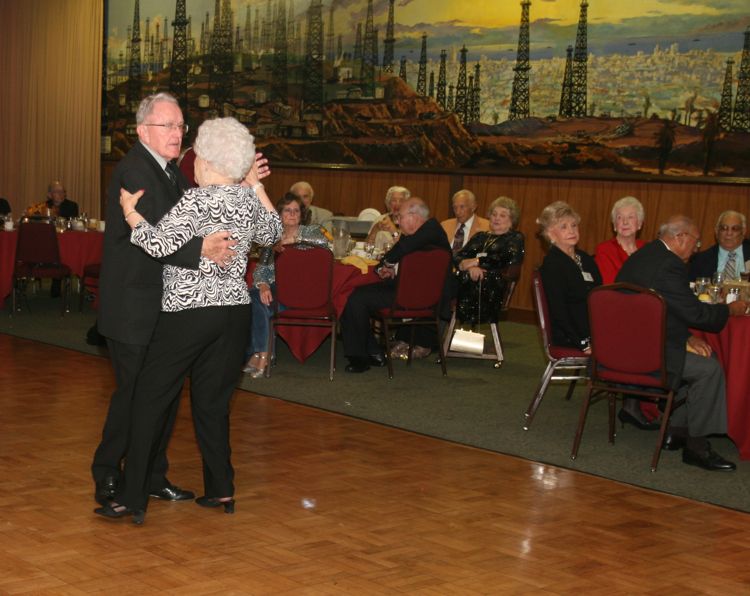 The Anniversary Waltz
Did you know? - The Anniversary Waltz is a popular song written by Dave Franklin, the lyrics by Al Dubin. The song was published in 1941.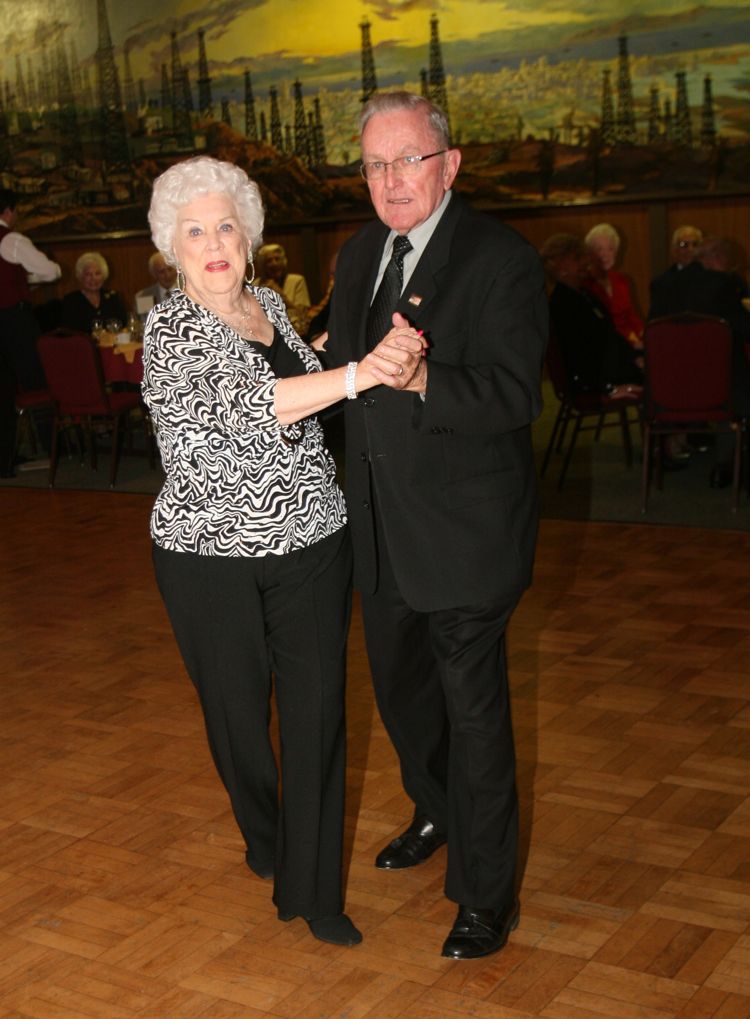 They have danced together before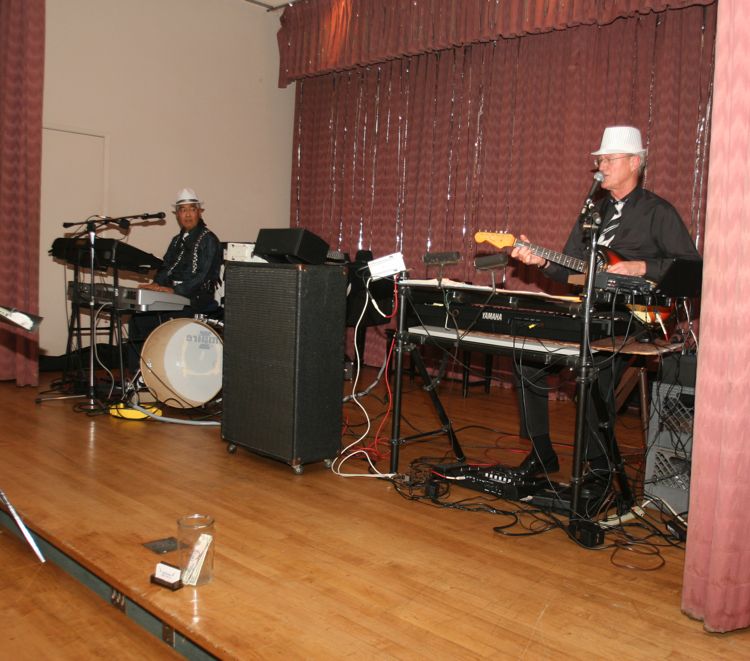 The band did a good job mixing up the music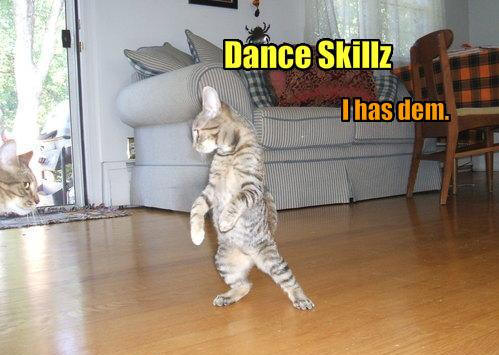 Weeze all hassem cat!
Let The Dancing Continue
Did you know? - Dance does not leave behind clearly identifiable physical artifacts such as stone tools, hunting implements or cave paintings. It is not possible to say when dance became part of human culture. Dance has certainly been an important part of ceremony, rituals, celebrations and entertainment since before the birth of the earliest human civilizations. Archeology delivers traces of dance from prehistoric times such as the 9,000 year old Rock Shelters of Bhimbetka paintings in India and Egyptian tomb paintings depicting dancing figures from circa 3300 BC.

Traffic light was almost needed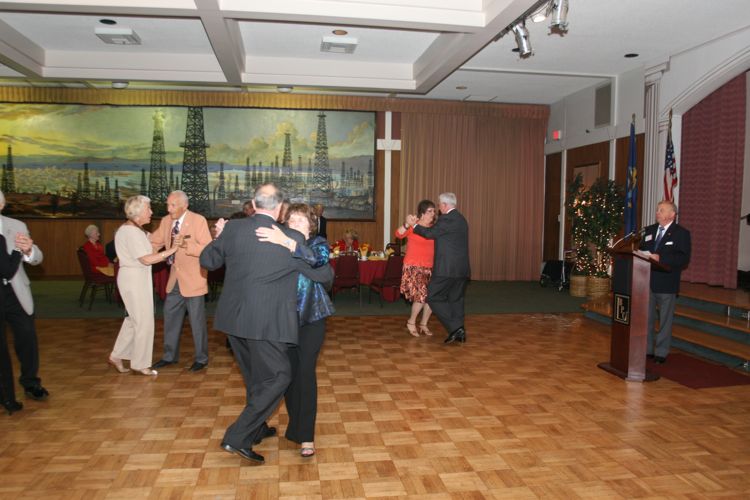 Everybody joins in the Anniversary Waltz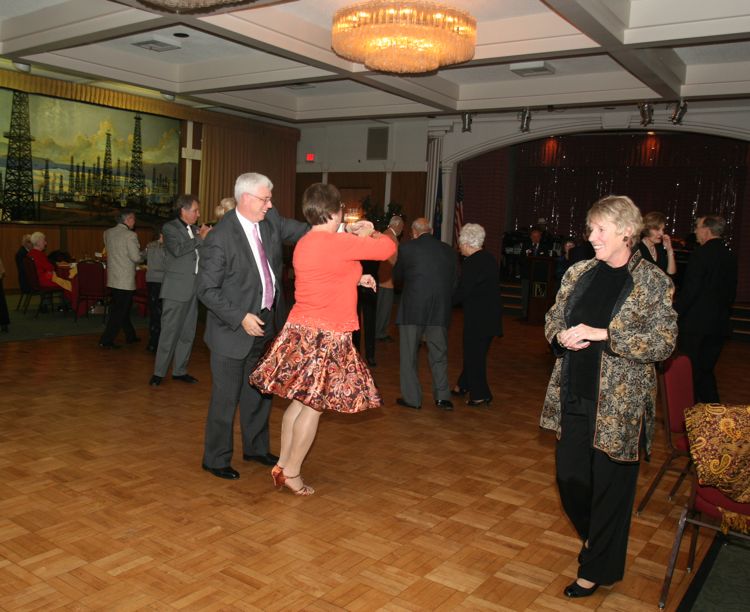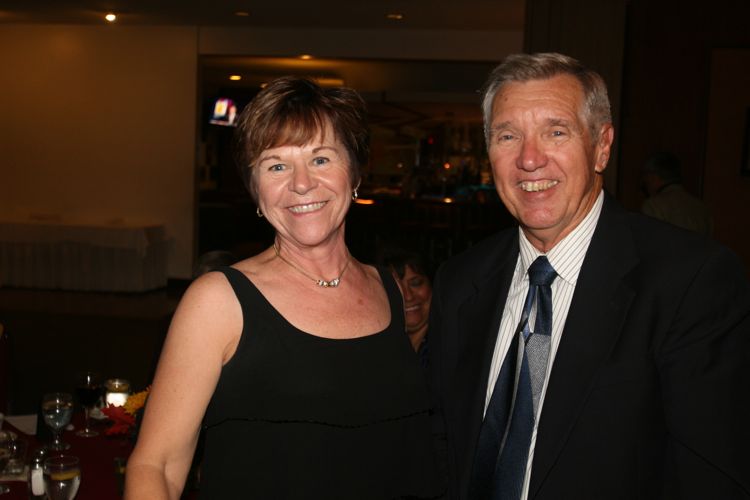 Cathy and Ed are introduced
Time For a Mixer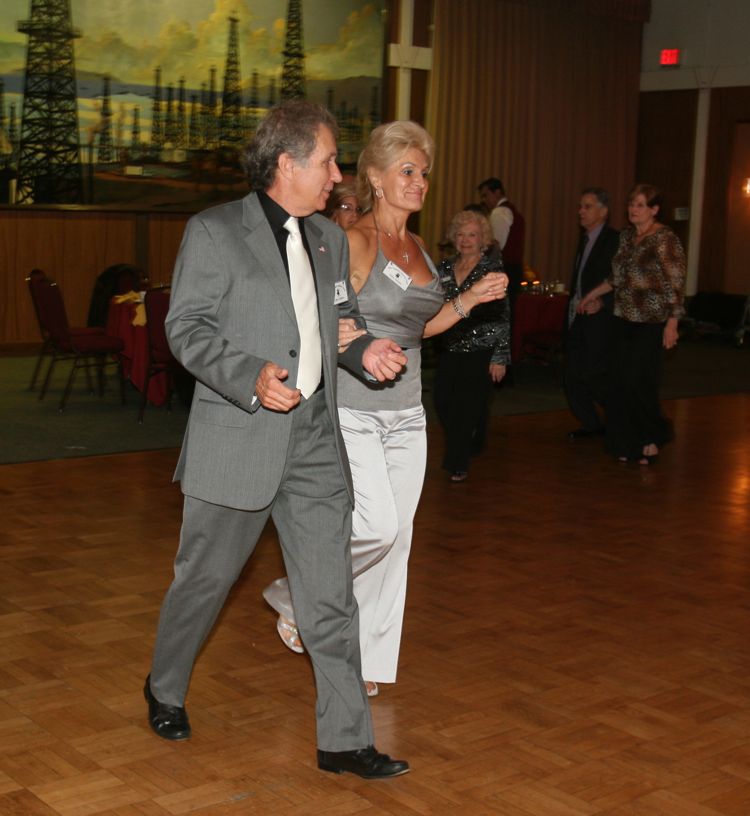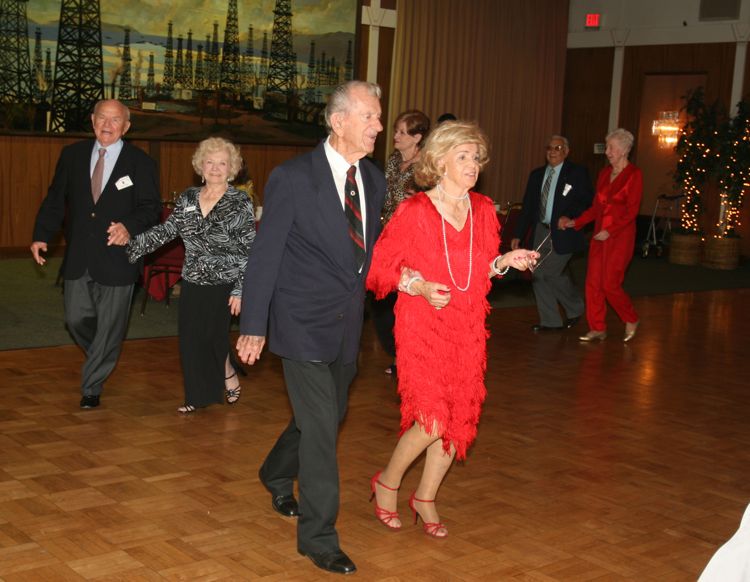 They are still circling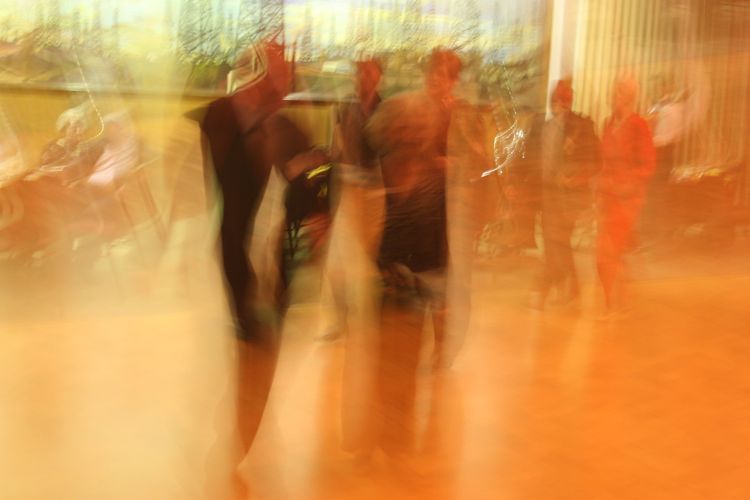 An artsy view of the world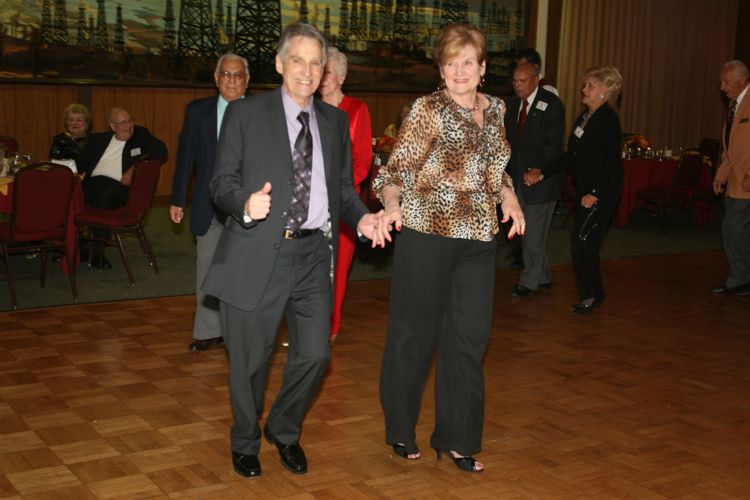 Thumbs up!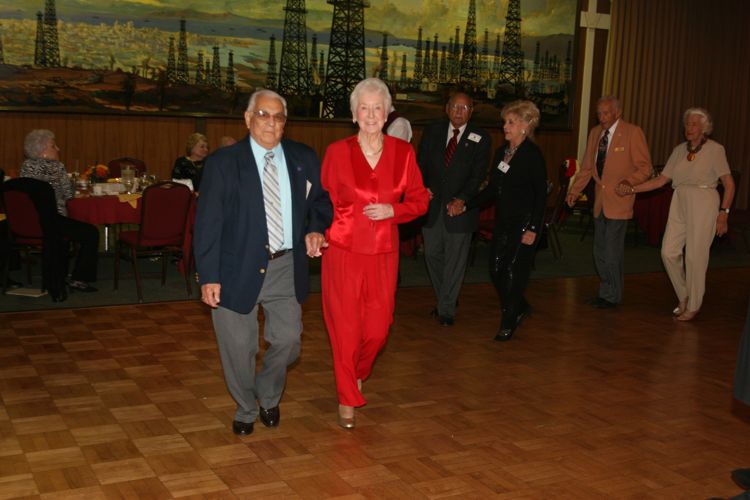 "I'm getting dizzy!"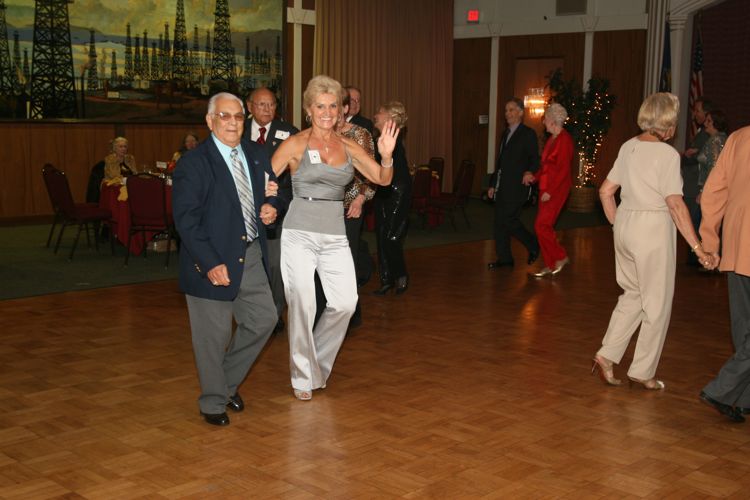 "Hey there big boy!"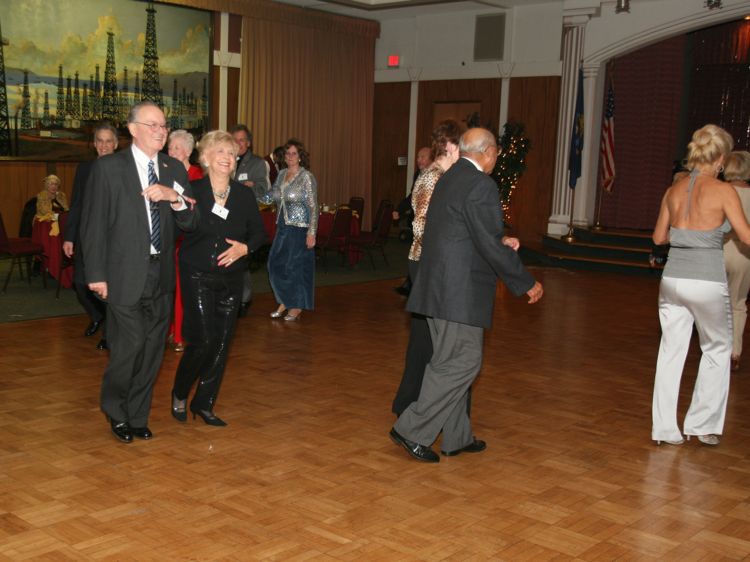 Circling is a load of fun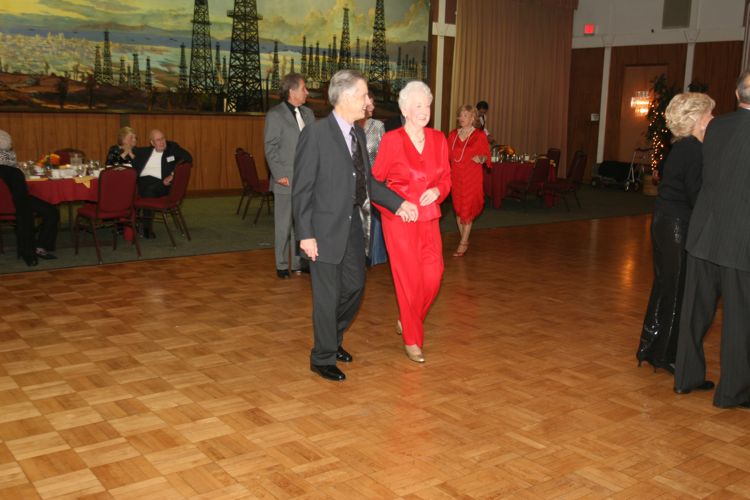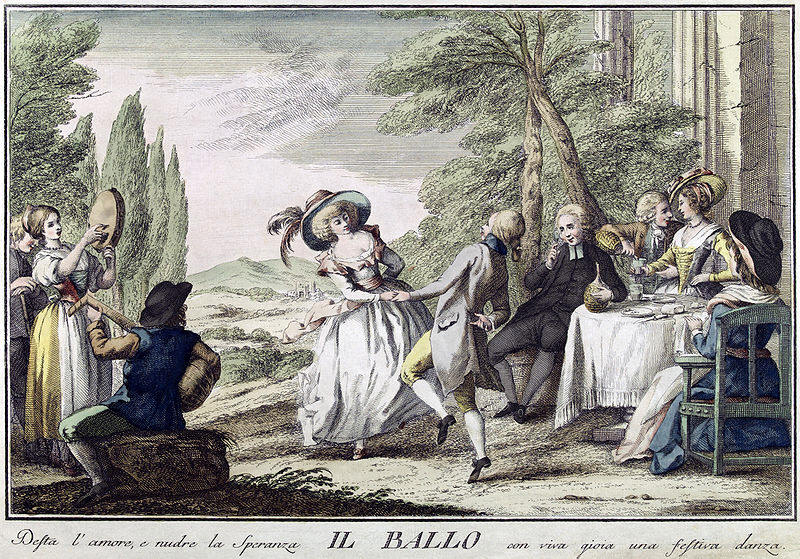 Our dancing is more fun
The Sax Comes For A Visit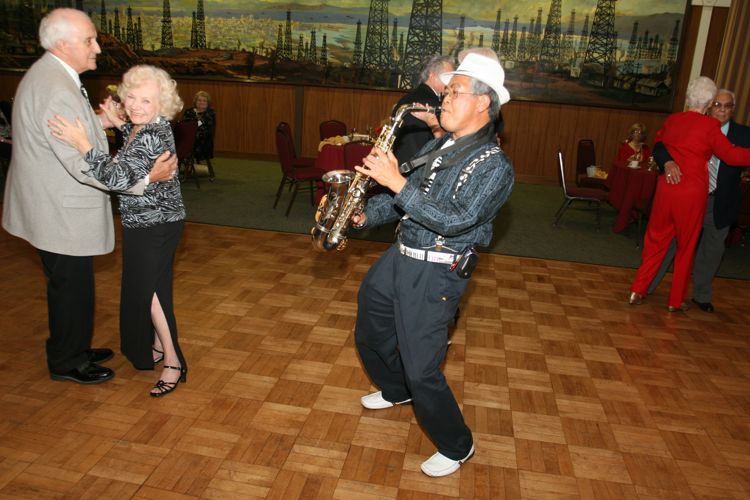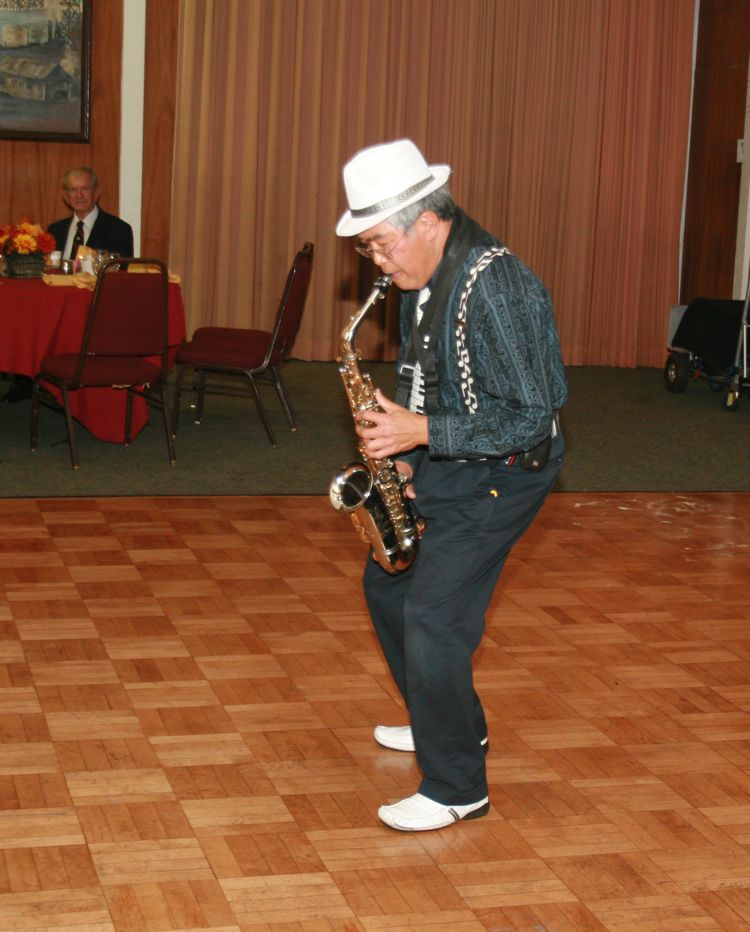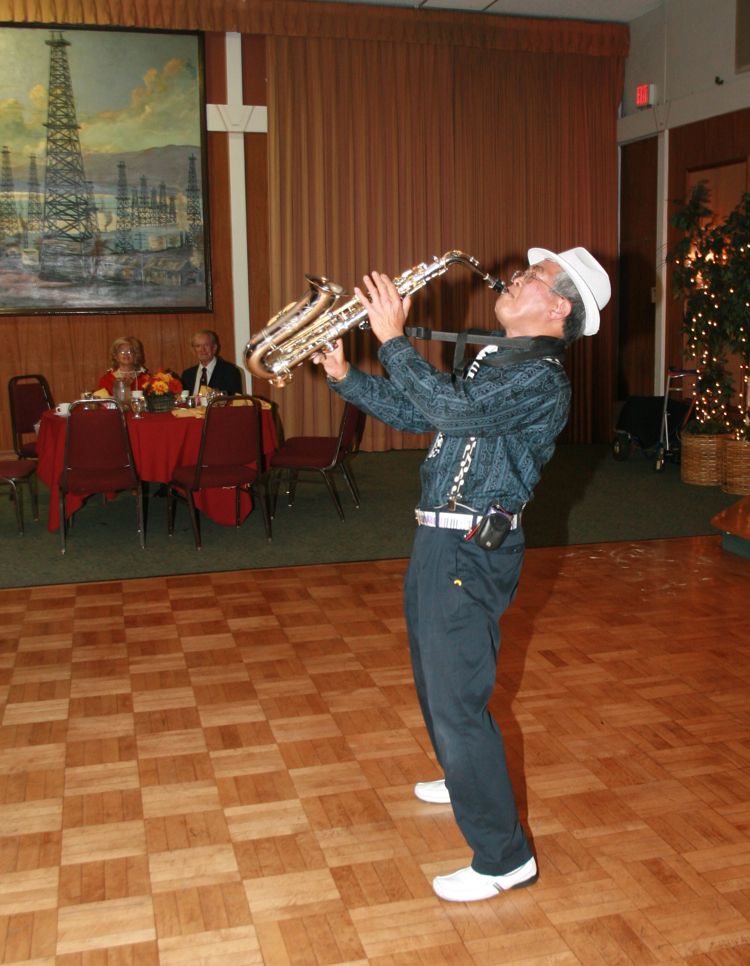 Did you know? - The saxophone was developed in 1841 by Adolphe Sax, a Belgian-born instrument-maker, flautist, and clarinetist working in Paris. While still working at his father's instrument shop in Brussels, Sax began developing an instrument which had the projection of a brass instrument with the agility of a woodwind. Another priority was to invent an instrument which would overblow at the octave, unlike the clarinet, which rises in pitch by a twelfth when overblown; an instrument which overblew at the octave would have identical fingering for both registers.
Prior to his work on the saxophone, Sax made several improvements to the bass clarinet by improving its keywork and acoustics and extending its lower range. Sax was also a maker of the then-popular ophicleide, a large conical brass instrument in the bass register with keys similar to a woodwind instrument. His experience with these two instruments allowed him to develop the skills and technologies needed to make the first saxophones. Adolphe Sax created an instrument with a single reed mouthpiece like a clarinet, conical brass body like an ophicleide, and the acoustic properties of both the French horn and the clarinet.
Having constructed saxophones in several sizes in the early 1840s, Sax applied for, and received, a 15-year patent for the instrument on June 28, 1846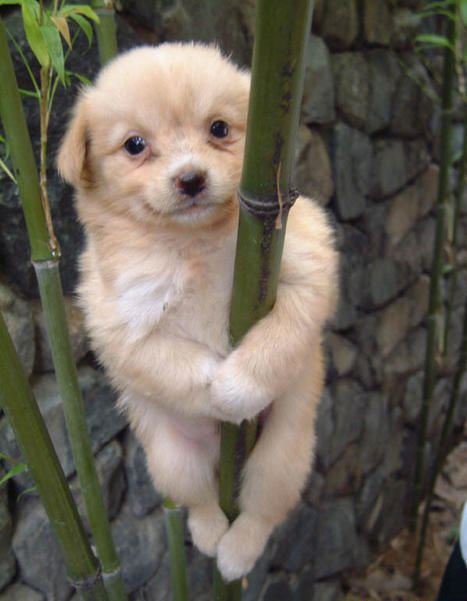 Pole dancing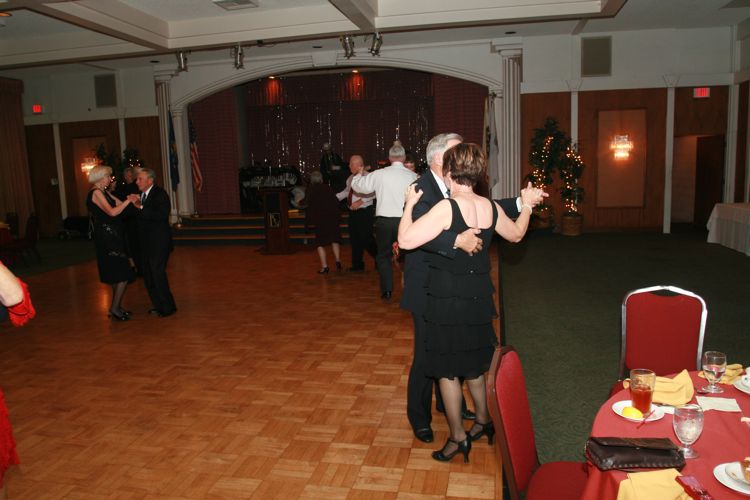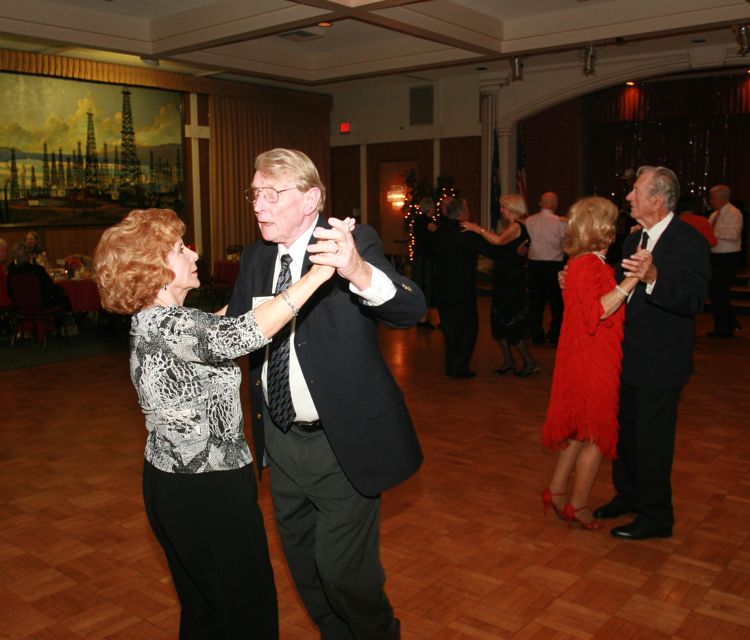 The ballroom was great for our club
Did you know? - A ballroom is a large room inside a building, the designated purpose of which is holding formal dances called balls. Traditionally, most balls were held in private residences; many mansions contain one or more ballrooms. In other large houses, a large room such as the main drawing room, long gallery, or hall may double as a ballroom, but a good ballroom should have the right type of flooring, such as hardwood flooring or stone flooring (usually marble).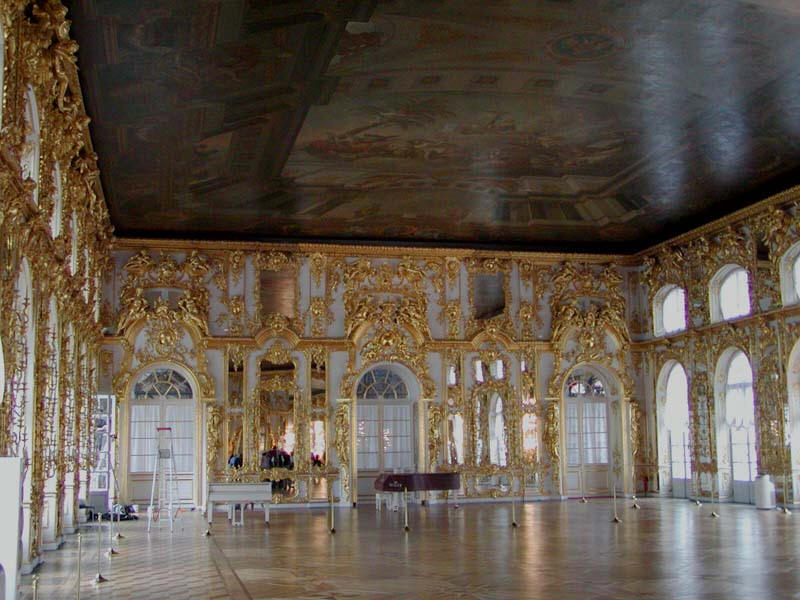 Next time think big!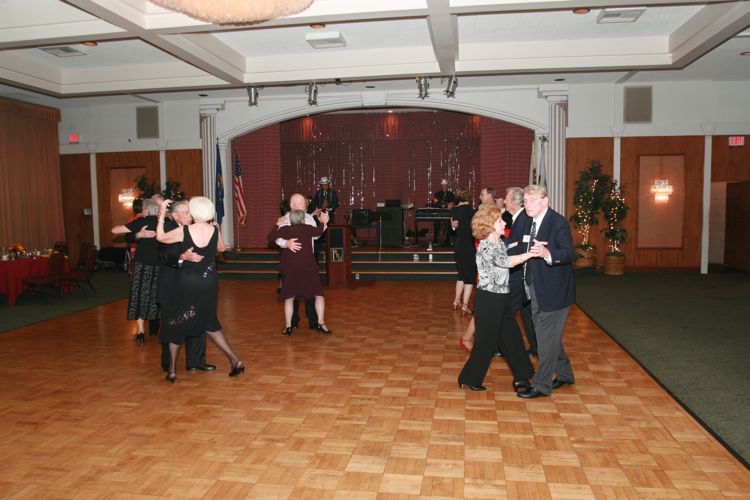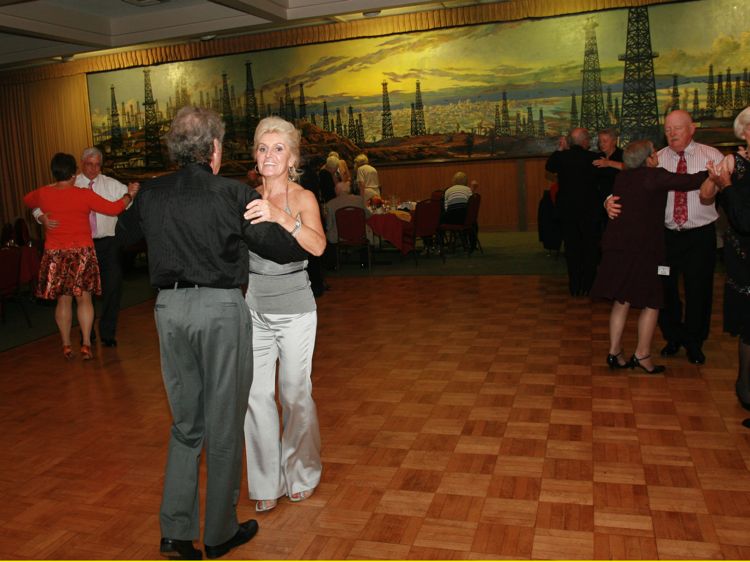 Beep beep... Coming through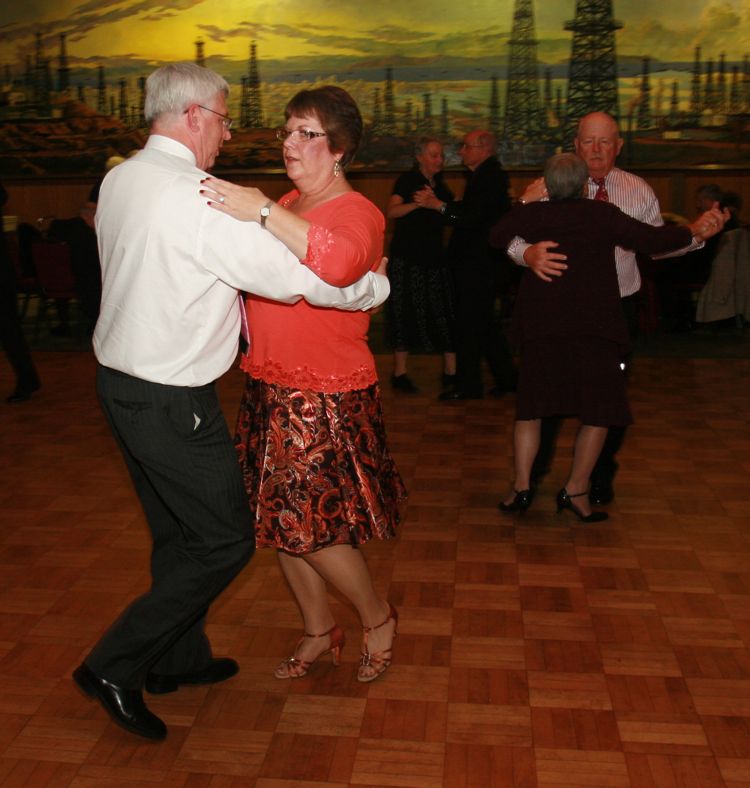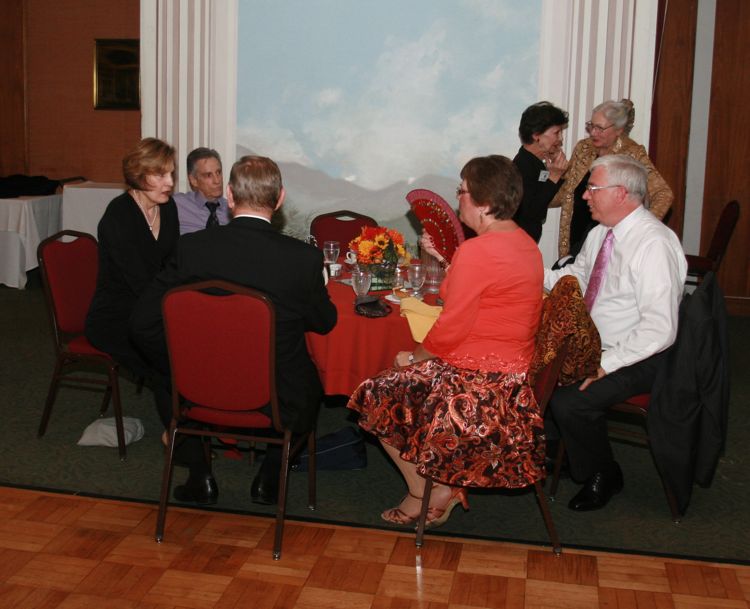 Keep fanning Lori...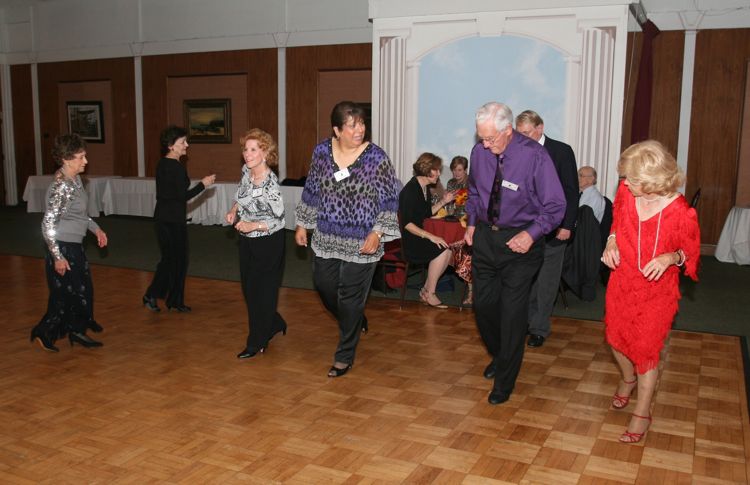 One more line dance....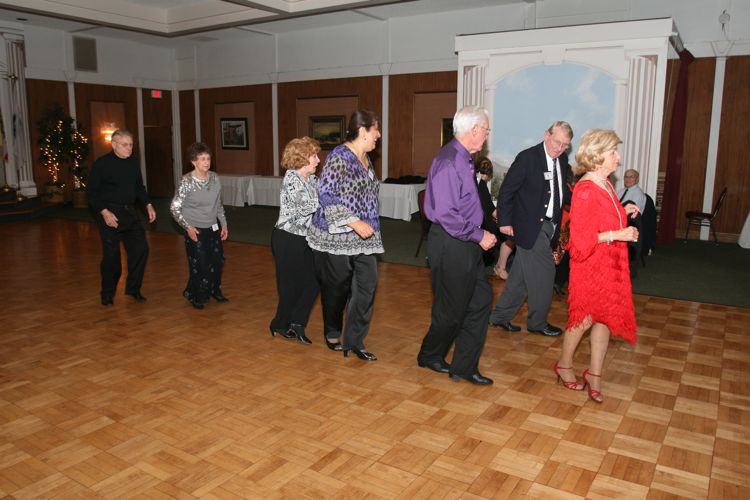 "Dang! These folks can dance!"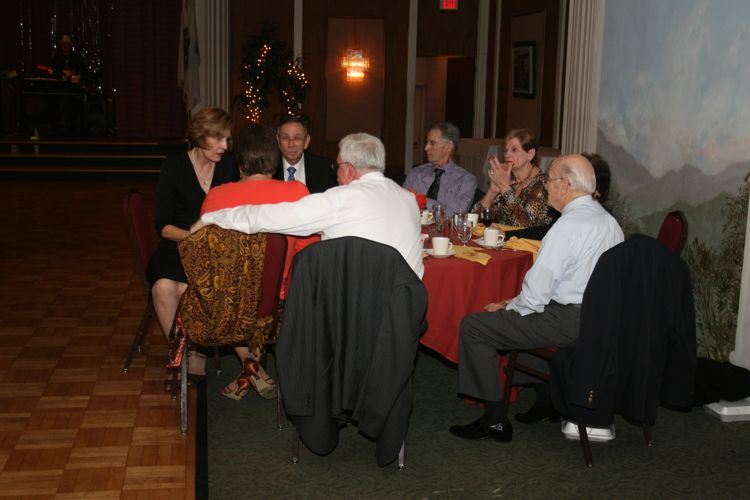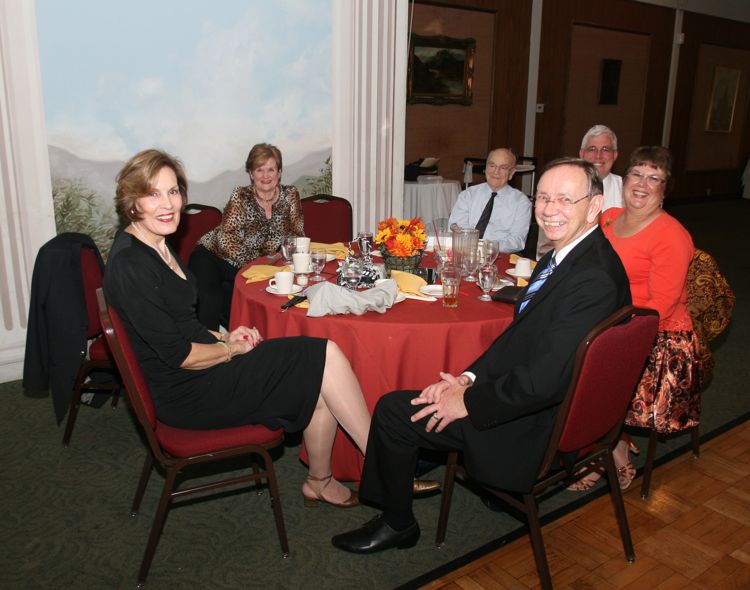 We are fresh as daisies and ready to dance some more....
It's just that they are closing the doors soon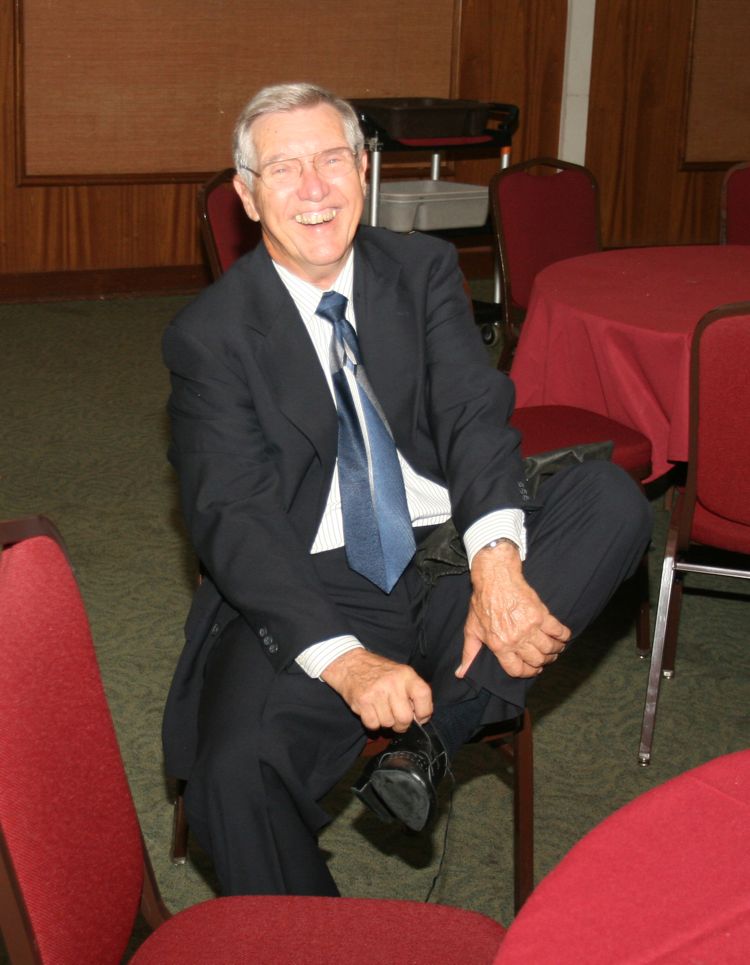 Caught! Changing shoes
Did you know? - Ballroom shoes fall into two categories: Ballroom and Latin American. Both are characterised by suede soles. Men's ballroom shoes are typically lace-ups with one-inch heels and patent leather uppers. Ladies' ballroom shoes are typically court shoes with two-inch heels, made of fabric that can be colored to match the dancer's dress. In contrast to the low Ballroom heel, which evenly distributes weight across the foot, Latin American shoes have higher heels designed to shift weight onto the toes. Latin shoes are also more flexible than ballroom shoes. Men's Latin shoes typically have 1.5- to 2-inch high, shaped heels, while Ladies' Latin shoes have 2,5-inch to 3-inch heels. Ladies shoes are typically open-toed and strapped.

Ah... Also caught Del changing into "street shoes"

Vicky 'splains our dancing schedule using sugar packages.... huh???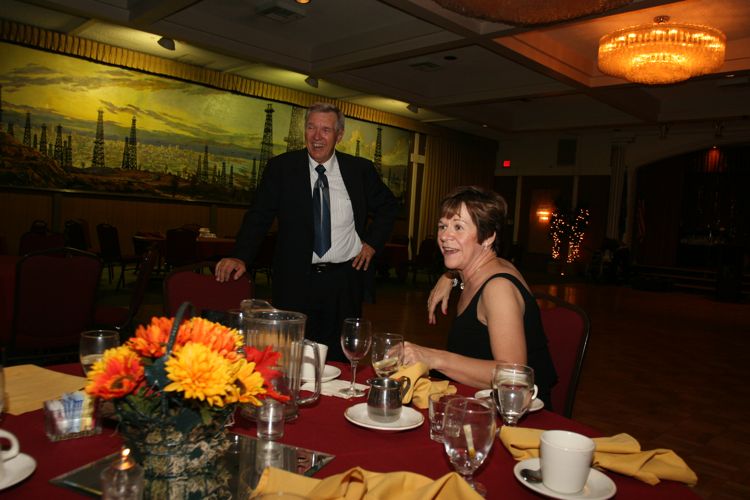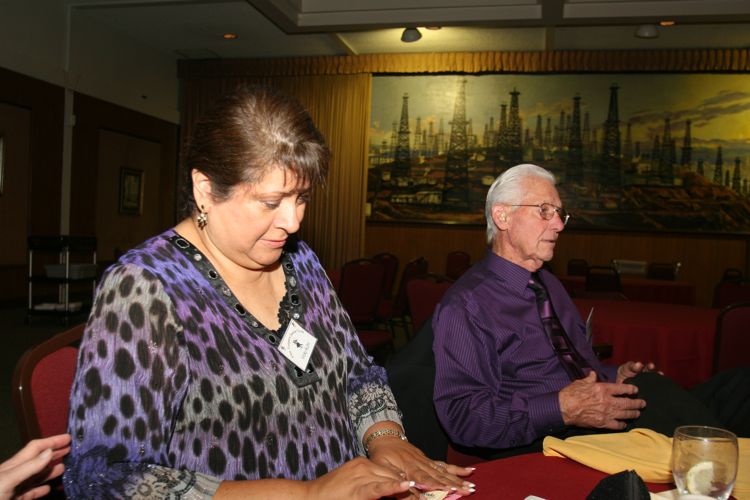 Shuffling sugar packages?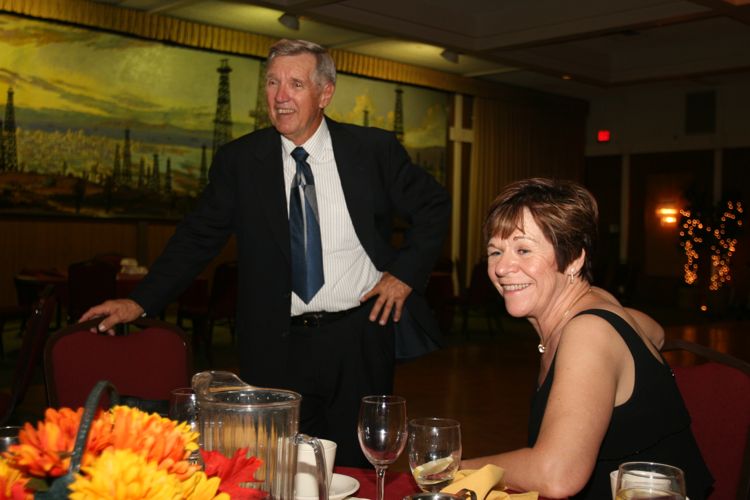 A fun evening