Get Ready.... We Are On Our Way!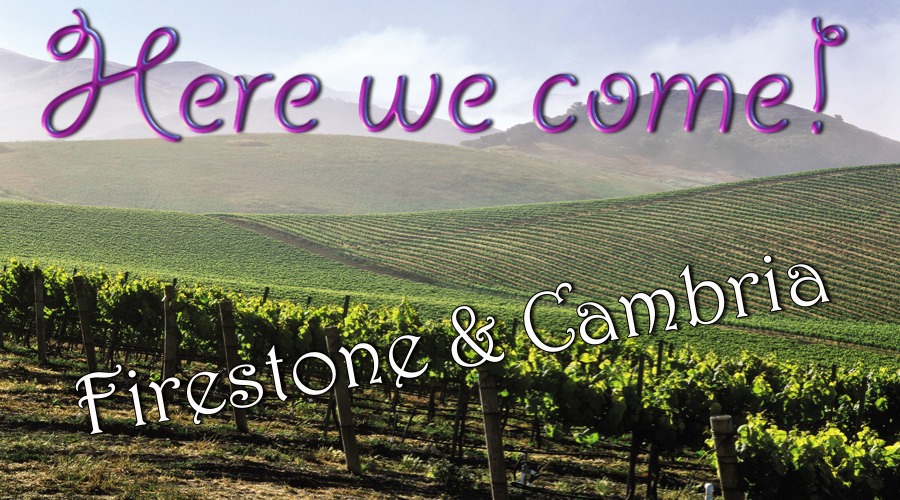 Stop #1 - Firestone

Did You Know? - Firestone Vineyard was founded by members of the Firestone family in 1972, as Santa Barbara County's first estate winery. The winery was designed by Richard Keith & Associates, architects. The winery is located in the heart of the rural Santa Ynez Valley near the town of Los Olivos in Santa Barbara County. It includes a barrel cellar, fermentation cellar, crush pad, tasting room and bottling line for full production from the vine to the bottle. The winery is surrounded by 500 acres (2.0 km2) of estate vineyards. In early 2007, Firestone Vineyard opened a companion winery in Paso Robles, with a focus on small lots of Bordeaux varietals from select local vineyards.
William Foley II acquired Firestone Winery and surrounding 400 acres (1.6 km2) of land (300 acres under vine) in early August 2007 as part of a plan to expand his portfolio of small specialty wineries up and down the western coast (he owns Foley Winery in the Sta. Rita Hills). As part of an evolving brokering of the deal, the Paso Robles facility - initially planned to stay in Firestone hands - was also purchased by Foley.
Firestone Walker Brewing and Curtis Winery, will remain in the hands of the Firestone family. Curtis Winery focuses on Rhône wines from Ambassador's and Crossroads vineyards (Firestone family owned, and retained in the deal) and Voglezang vineyard (independently owned).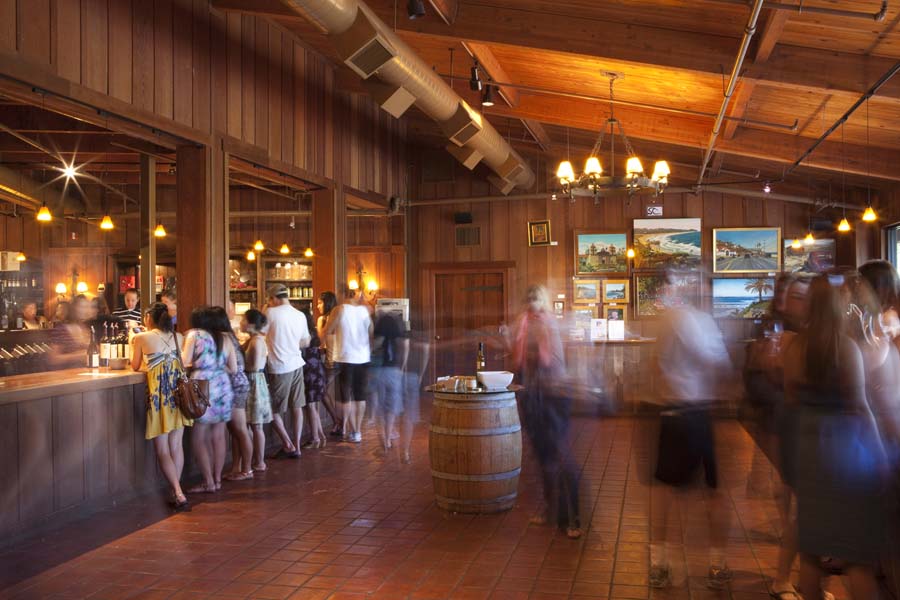 Great tasting room

The TV gave us a virtual tour of the valley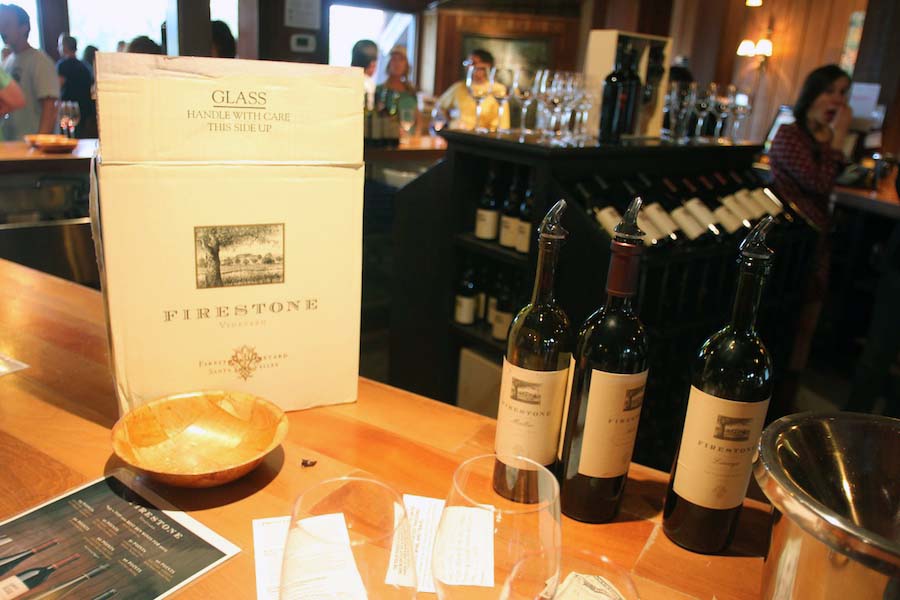 We got two cases at Firestone... Great Chardonney's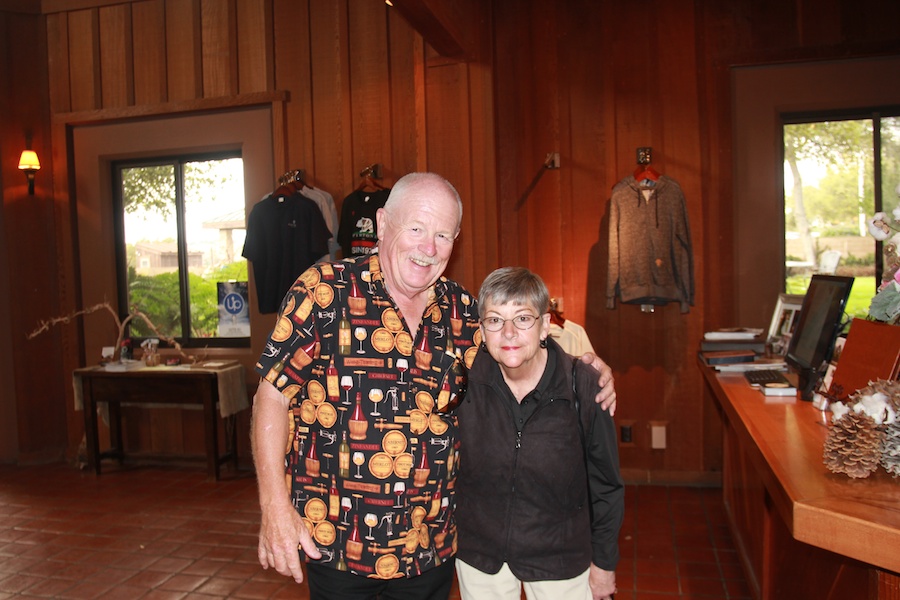 Appropriate clothes are required for wine tasting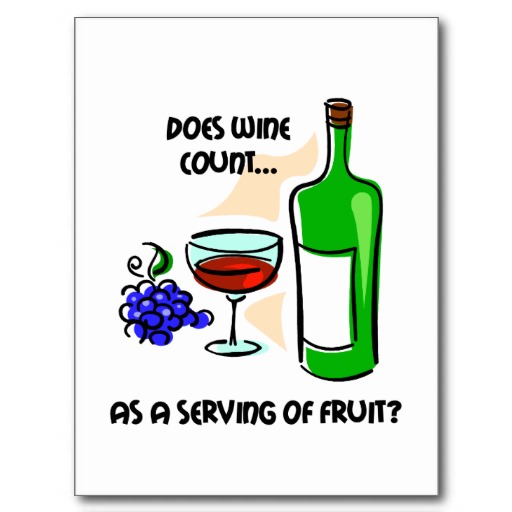 Stop #2 - Cambria
Did You Know? - Long before the Santa Maria Valley benchland was recognized as a great winegrowing region, the native Chumash Indians knew it as "tepuztli," meaning copper coin. Later, Spanish settlers translated the word as Tepusquet. As part of an 1837 Mexican land grant, "Rancho Tepusquet" was home to cattle and row crops throughout the 1800s.
Proprietor Barbara Banke acquired a large portion of the original Tepusquet Vineyard (planted between 1970 and 1971) in 1986 to serve as the site for Cambria winery. Over the last two decades the vineyard has been expanded, replanted and updated with new clones and rootstocks to take advantage of the unique climatic and geological conditions of the Santa Maria Bench.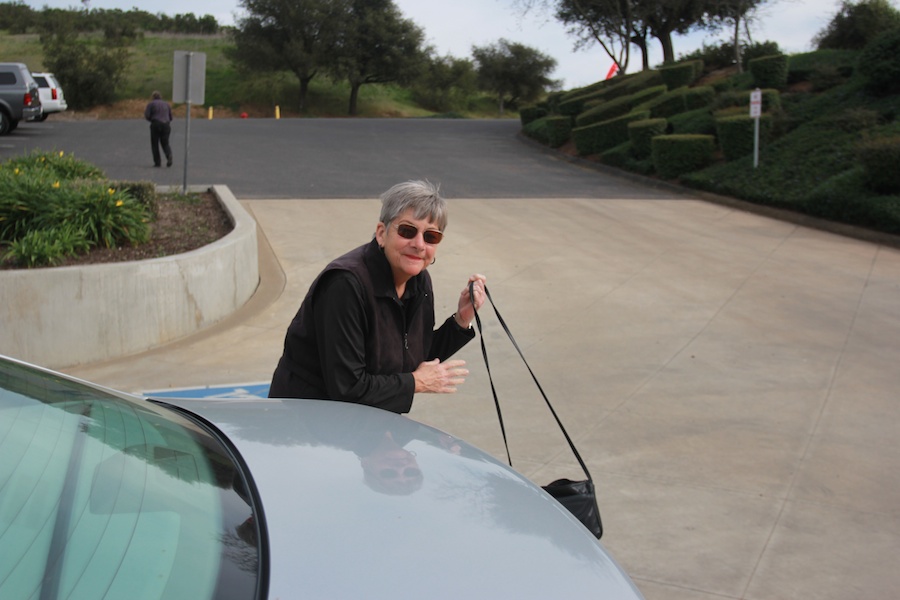 We have arrived

Welcome to the tasting room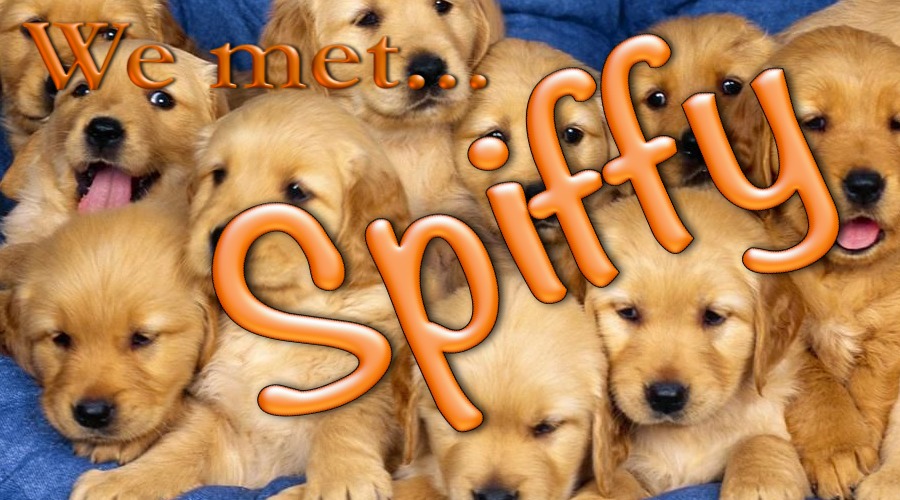 Did You Know? - The Golden Retriever is a medium-sized breed of dog. They were historically developed as gundogs to retrieve shot waterfowl such as ducks and upland game birds during hunting and shooting parties.
They were named retriever because of their ability to retrieve game undamaged. Golden Retrievers have an instinctive love of water. They have a dense inner coat that provides them with adequate warmth, and a water repellent outer coat that lies flat against their bodies. These dogs are well suited to suburban or country environments. Although they need substantial outdoor exercise, they should be kept in a fenced area because of their instincts as hunting dogs and tendency to roam.

"Well hello there... I am Spiffy the Wonder Dog!"

"Hello Ma'm... I will allow you to pet me if you like!"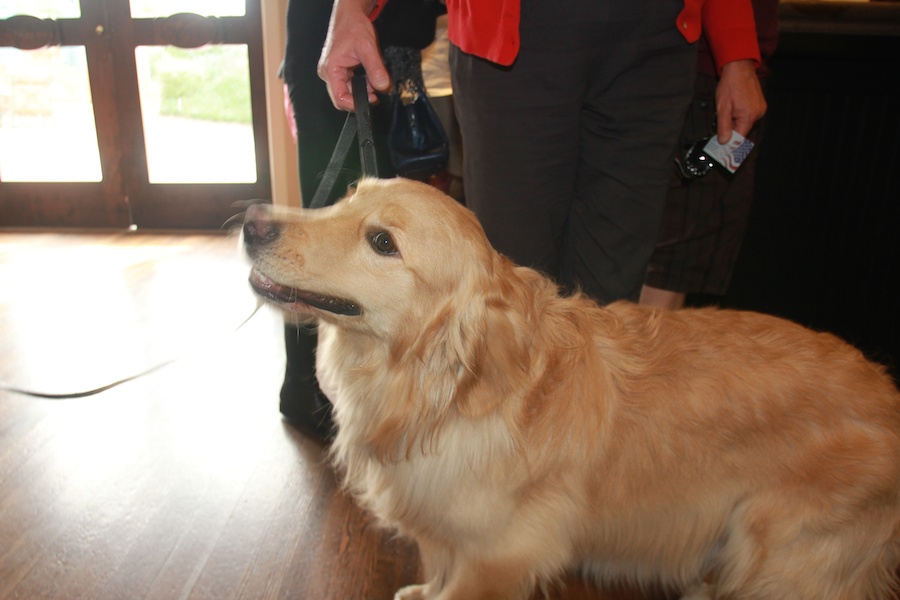 Did You Know? - The Golden Retrievers' intelligence makes them versatile, allowing them to fill a variety of roles, including guide dog for the blind, hearing dog for the deaf, hunting dog, illegal-drug detector, and search and rescue participant. Because of their loyal and gentle temperament, Golden Retrievers are also popular family pets.
Golden Retrievers possess friendly, eager-to-please demeanours, and are the fourth most popular family dog breed (by registration) in the United States, the fifth most popular in Australia, and the eighth most popular in the United Kingdom.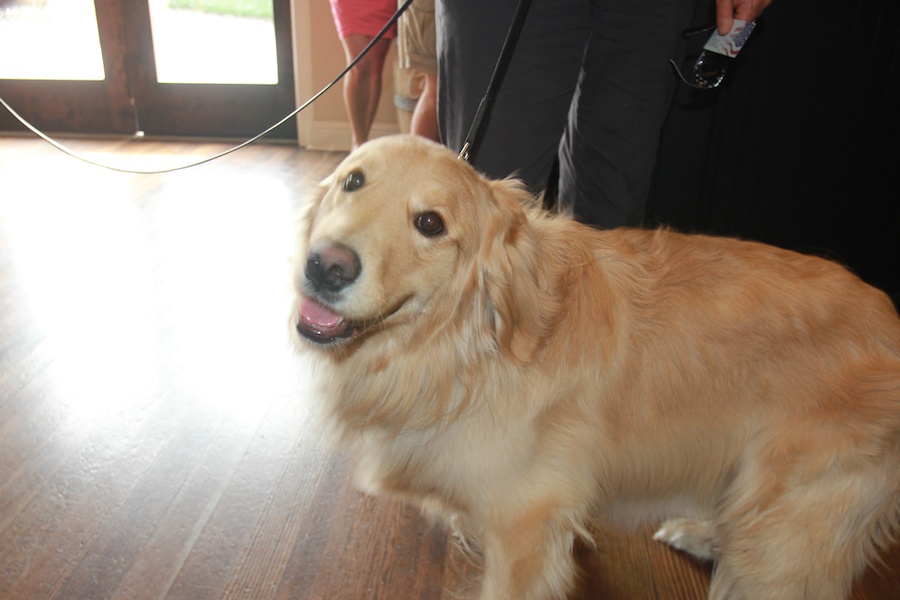 "I have her interested... All I had to do was smile!"

"Why yes... I am beautiful! Why did you ask??"

"My dentist you ask??? Why?"
Did You Know? - The Golden Retriever has its roots in Scotland. In the mid-18th century, wildfowl hunting was very popular among the wealthy. In Scotland, a dog was needed that could retrieve from water and land because the land was covered in ponds and rivers. Early retrievers were crossed with the best of water spaniels, giving rise to the dog known as the Golden Retriever.
The Golden Retriever was first developed in Scotland at "Guisachan" near Glen Affric, the highland estate of Sir Dudley Marjoribanks later Baron Tweedmouth. For many years, there was controversy over which breeds were originally crossed.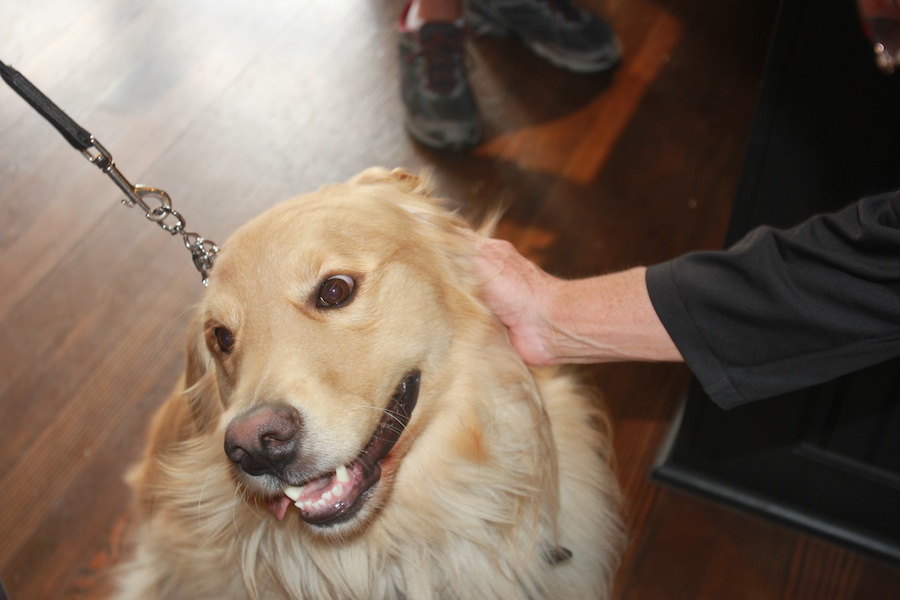 "Oh excellent... Right under the right ear... A favorite spot"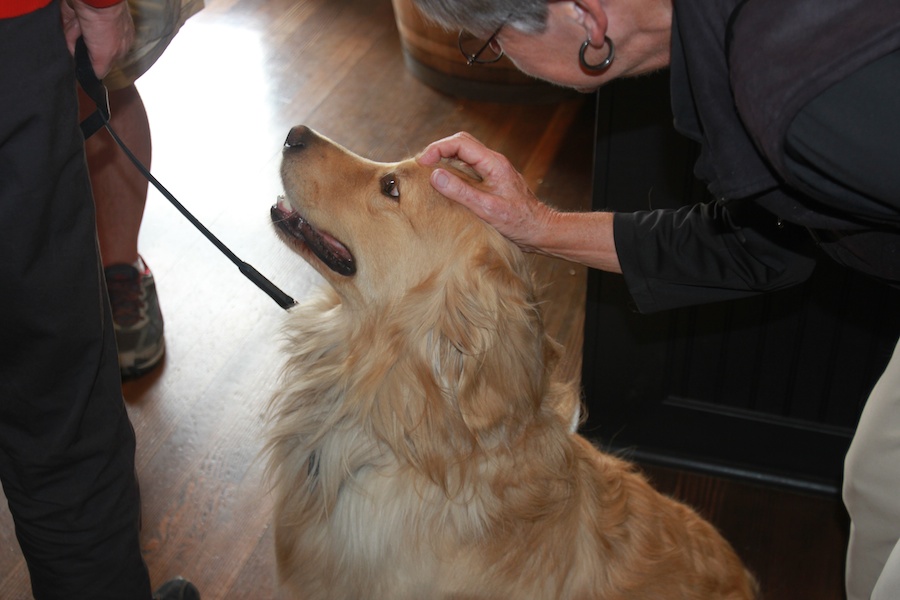 "OK lady... you can do that all day!"

"This is my bestest smile ever"
Did You Know? - Improvements in guns during the 1800s resulted in more fowl being downed during hunts at greater distances and over increasingly difficult terrain. This led to more birds being lost in the field. Because of this improvement in firearms, a need for a specialist retriever arose, as training setter and pointer breeds in retrievals were found to be ineffective. Thus, work began on the breeding of the dog to fill this much-needed role.

"Oh boy, oh boy, oh boy"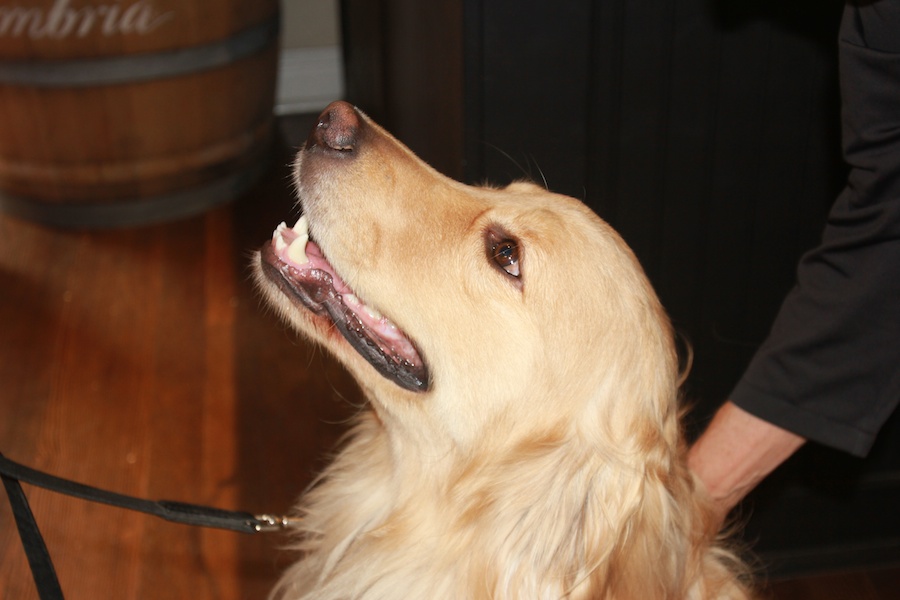 "Mom... can we stay here for a while??? Please Mom, please"
Did You Know? - The original cross was of a yellow-coloured Retriever, 'Nous', with a Tweed Water Spaniel female dog, 'Belle'.
The Tweed Water Spaniel is now extinct, but was then common in the border country. Marjoribanks had purchased Nous in 1865 from an unregistered litter of otherwise black wavy-coated retriever pups.
In 1868, this cross produced a litter that included four pups; these four became the basis of a breeding program which included the Irish Setter, the sandy-coloured Bloodhound, the St. John's water dog of Newfoundland, and two more wavy-coated black Retrievers.
The bloodline was also inbred and selected for trueness to Marjoribanks' idea of the ultimate hunting dog. His vision included a more vigorous and powerful dog than previous retrievers, one that would still be gentle and trainable. Russian sheepdogs are not mentioned in these records, nor are any other working dog breeds.
The ancestry of the Golden Retriever is all sporting dogs, in line with Marjoribanks' goals. The Golden Retriever was active and powerful and had a gentle mouth for retrieving games while on hunts.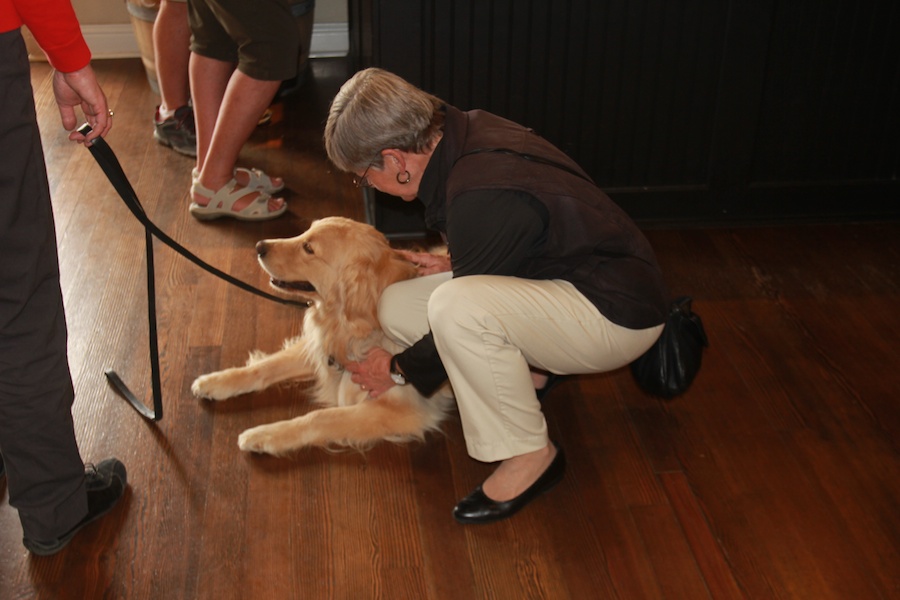 Sue and Spiffy are both enjoying this visit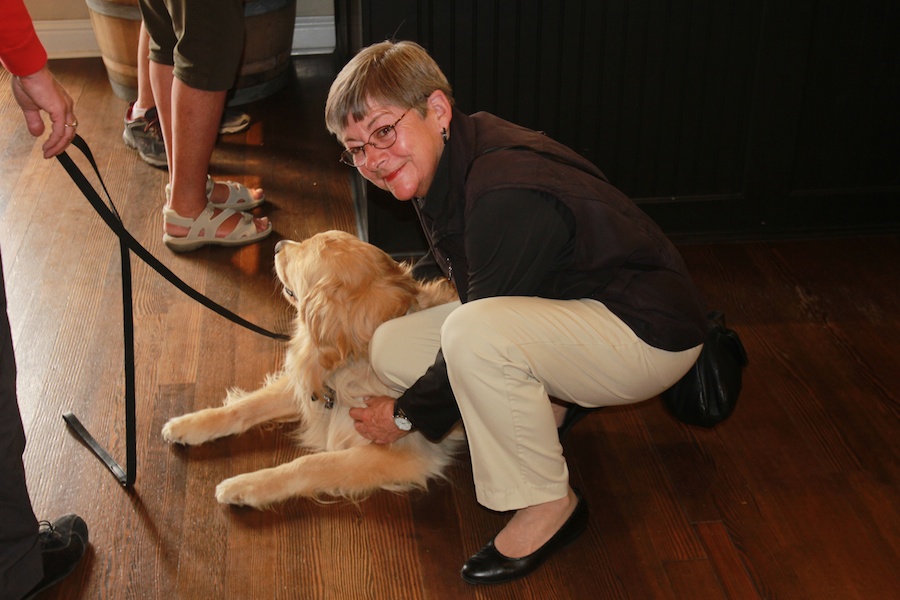 Wonder who is enjoying it most???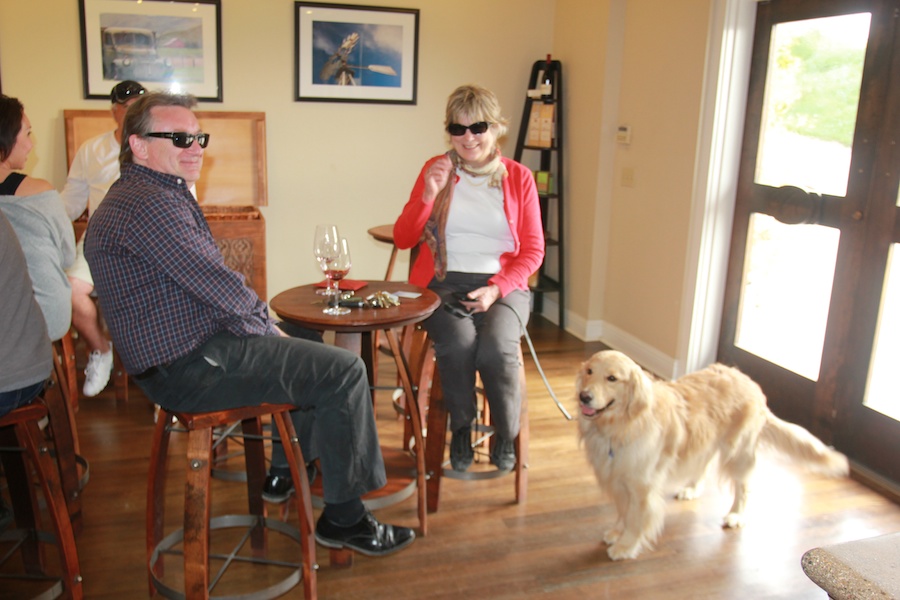 "This is my Mommy and Daddy.... .Louise & Colin"

"That's my glass of wine on the table but I am too young to drink, yet!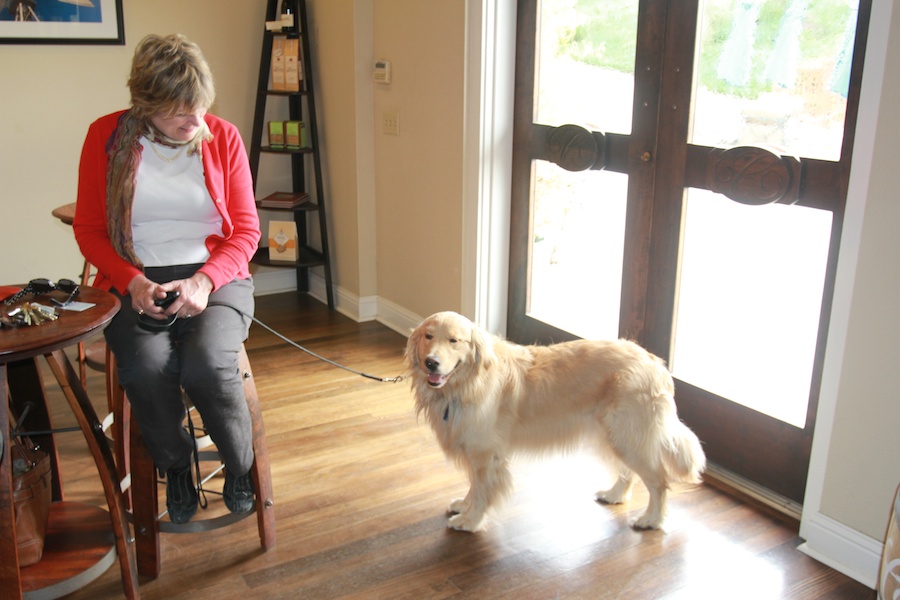 "I think I will take Mommy for a walk"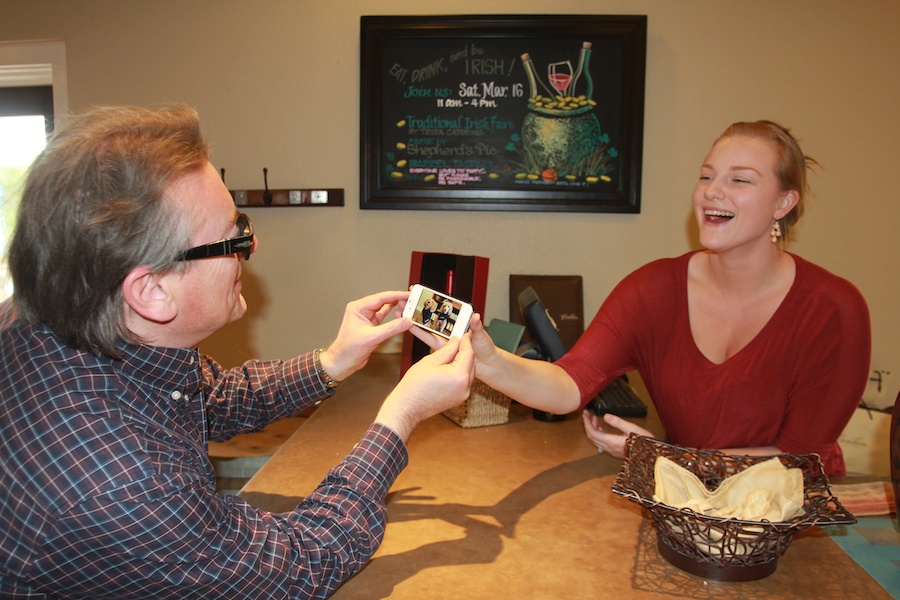 Dad looks at the dog that came in last week....

Which one of the two dogs is NOT real???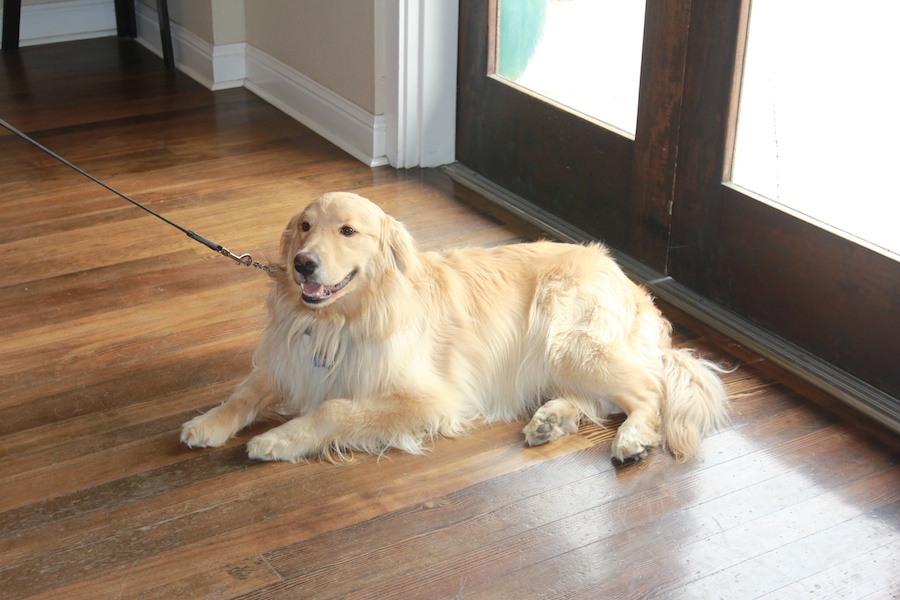 "If I sit here, no one can go home"

"OK, I will get up"

"Oh dear... it is time to go or we could be locked in here all night..... M-m-m-m-m-m"
Quick... Make Your Purchases!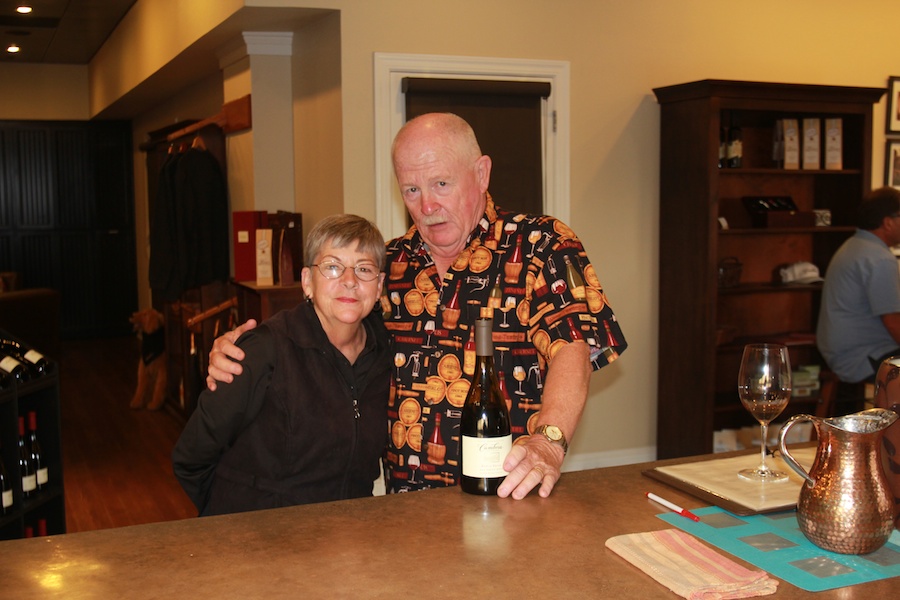 Paul does his serious wine-tasting look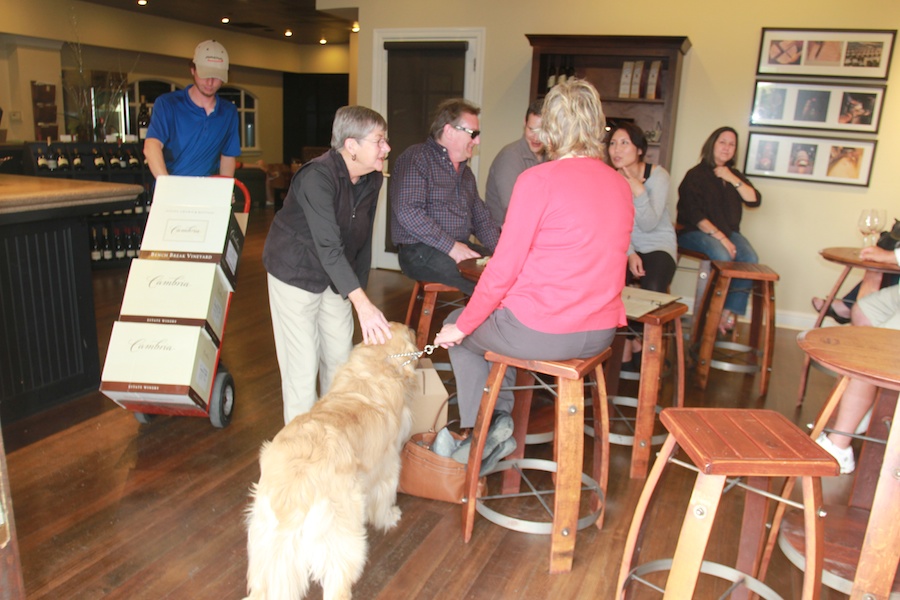 Paul and Sue take their wine home... No Sue, Spiffy must stay!!!

The time has come... The car is full of wine... So are we