We Got To The CCPA Quite Often...
The Cerritos Center for the Performing Arts, (CCPA) is the Southland's premier performing arts and conference facility, offering great performances in music, dance and theater and unique facilities for meetings, banquets and special events.
Owned and operated by the City of Cerritos, CCPA presents an annual season from August through May. The schedule, which includes over 150 performances, consists of an eclectic mix of artists. CCPA has been host to performances by Frank Sinatra, Whitney Houston, Clint Black, The Chieftains, Kathleen Battle, the Dance Theater of Harlem, the Royal Shakespeare Company and many others.
The Cerritos Center for the Performing Arts features a flexible theater capable of six different seating and stage configurations, ranging from a 1,800-seat arena theater to a 900-seat recital hall setting. In addition, the Sierra Conference Center is the perfect setting for banquets, parties or special events. The Mojave Room offers space for club meetings and small receptions. The CCPA and all of its facilities are available for rental.
Legends Of Entertainment The Lettermen Christmas Show 12/9/07
The group was formed in late 1950s by Mike Barnett, Dick Stewart and Tony Butala. They auditioned for Jackie Barnett, chief comedy writer for the Jimmy Durante TV show. They landed the part to impersonate The Rhythm Boys, the vocal group that traveled with Paul Whiteman and his orchestra in the late 1920s, and gave Bing Crosby his initial fame. The "Newcomers of 1928" review opened on 28 February 1958 at the Desert Inn in Las Vegas, Nevada. This review also starred Paul Whiteman, Buster Keaton, Rudy Vallée, Harry Richmond and Fifi D'Orsay. They played to sell-out audiences and were held over for many weeks. This review also played a six week review at the Deauville Hotel in Miami Beach, Florida, with Butala being the only consistent Letterman. Barnett and Russell were replaced by Gary Clarke and Jerry Paul. When the review ended, Butala landed a job as singer/bass player in a lounge group, "Bill Norvas and the Upstarts", with Gary Clarke. After a few months, Clarke left the group and was replaced by Jim Pike. Pike and Butala decided to leave the Upstarts and resume the Lettermen although they had not yet decided to use the Lettermen name. Pike envisioned a group where each member was an excellent soloist as well as a competent group singer. Pike recommended the third Letterman should be Bob Engemann, a singer that Pike had met when he attended Brigham Young University a few years earlier. Both had come to Los Angeles, California, and sang together in different combinations until Engemann had go into the National Guard for 6 months. At that point, Pike joined Bill Norvis and met Butala. This combination first recorded in late 1959.

This was a great performance with humor and good cheer and real live religious Christmas Carols! Not a dry eye in the house (except for some Democrats).
They did a two part show with the first being more classically oriented songs followed by the second half being Christmas favorites. Their rendition of Amazing Grace was fantastic!

They were outstanding!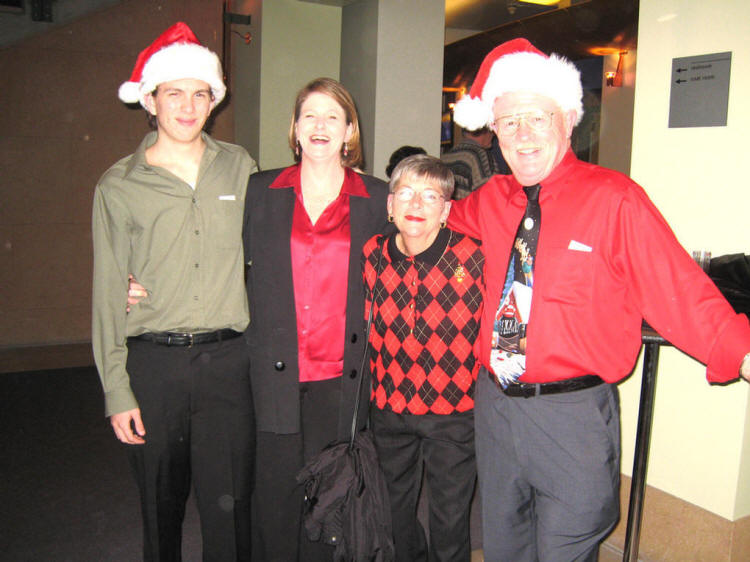 Lisa was up this year taking care of Mummy wo was recovering from the bout with the hospital. Since they were up, we asked to get tickets to see the performance and they got great seats orchestra high center!