Christmas 2011 With The Liles'
It's going to be a great Christmas season for we know what it is all about! Please join us as we spread cheer and are cheered by our friends and family!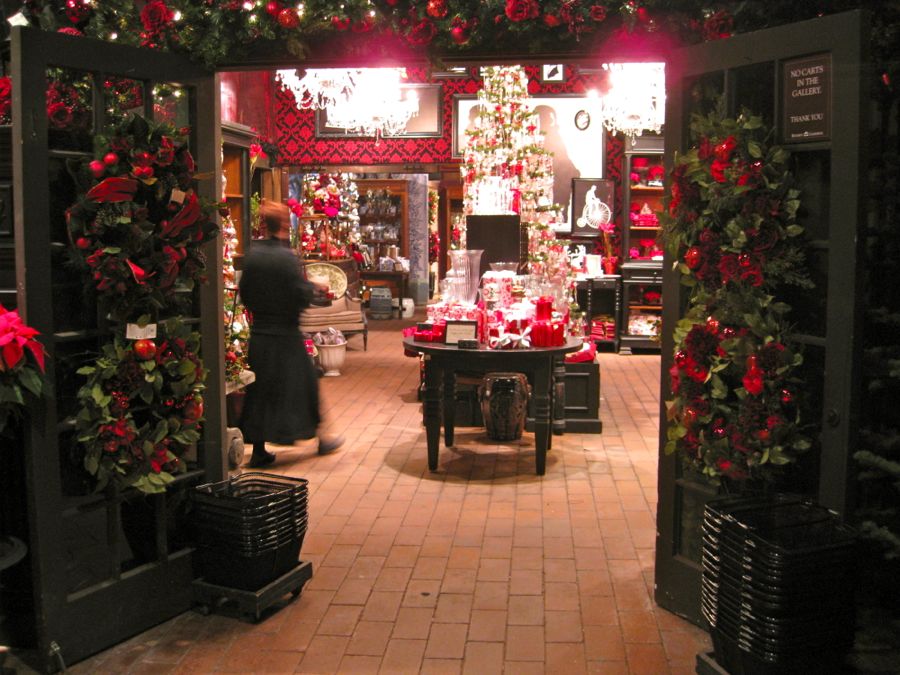 We all went to dinner and then to the show by the Alley Cats. An evening of friendship and laughs. It was a super time. Please join us!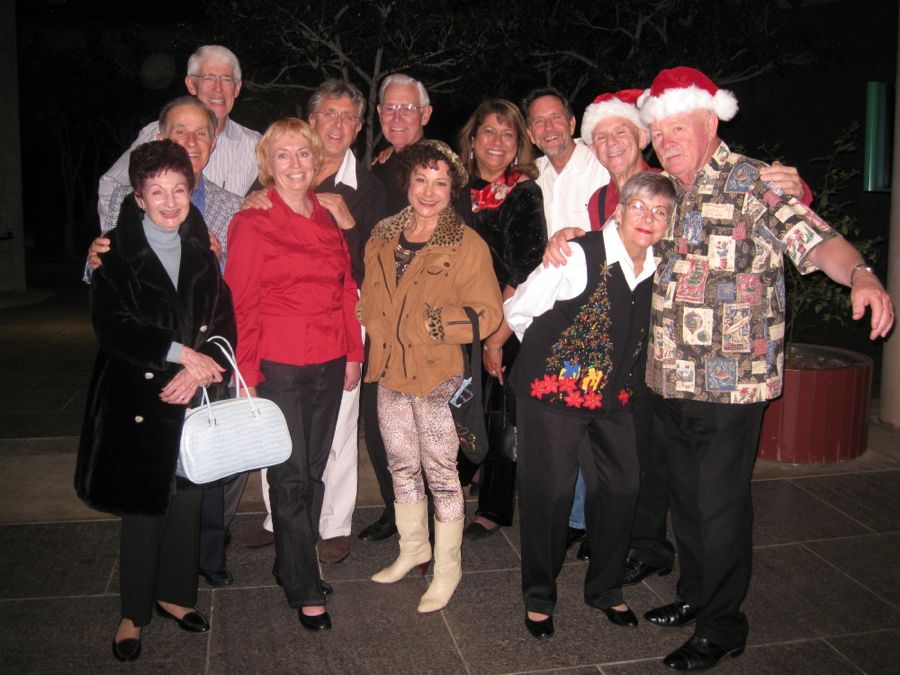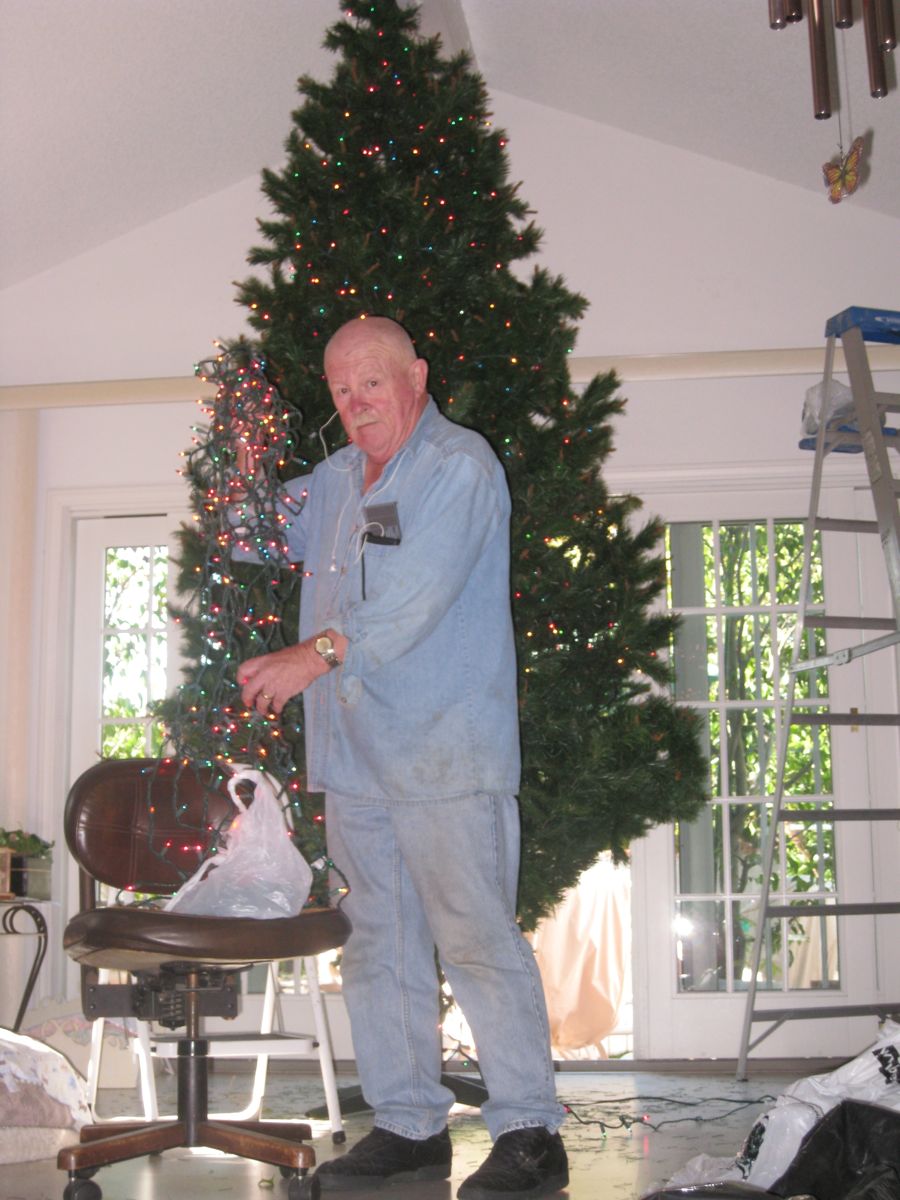 Dining at Kendall's was in our plans but we had no idea how pleasant it would turn out. We had a great meal and then walked upstairs to see the Nutcracker. After the show we headed for Old Ranch to meet up with Bunnaford and the Cathey's for some serous cavorting. At seven, we departed ORCC for Cerritos to enjoy an evening of Holiday DooWop with several old 1950's groups. Great fun... Always remember ear plugs! Please join us!

Sue Prepares for an afternoon at the ballet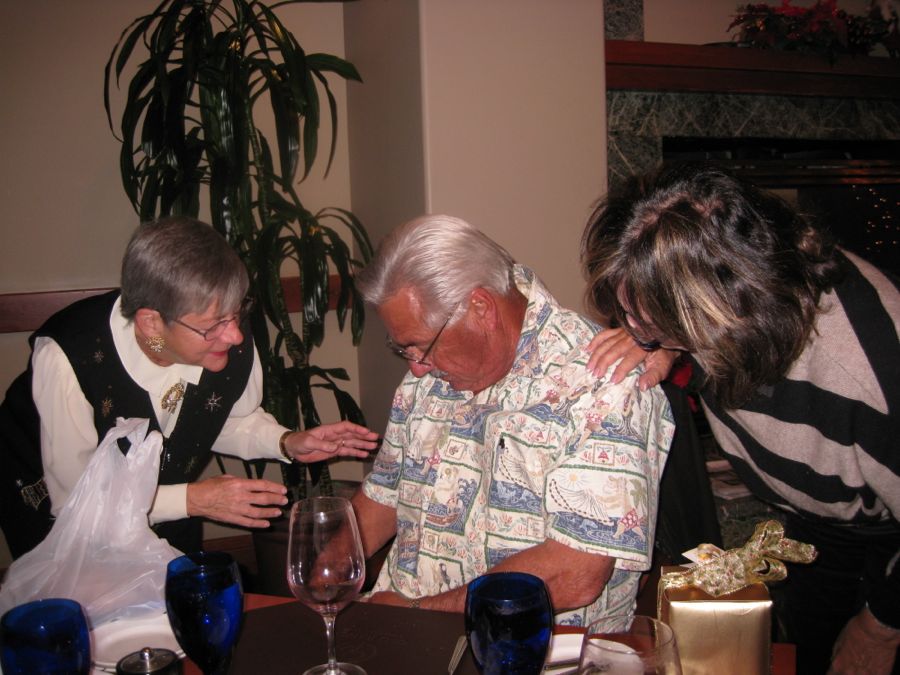 A day at home was needed to finish the Christmas decorations and do some gardening before we went to the Nightlighters Dance Club annual Holiday Formal Dance. Please join us

A wonderful evening of dancing with friends.
Another full day in our lives. We went to church and enjoyed it as the season brings new lessons and messages. We went directly to the Rossmoor Womens Club Annual Home

She always dresses for the occasion! This time to match the fire trucks
We love the tour and we get some new ideas about decorating.
We then went VFR to Cerritos again to catch up with the Lettermen for a holiday vocal treat. Afterwords, we headed back to Old Ranch for a nice pleasant dinner with friends Ernie and John. Please join us!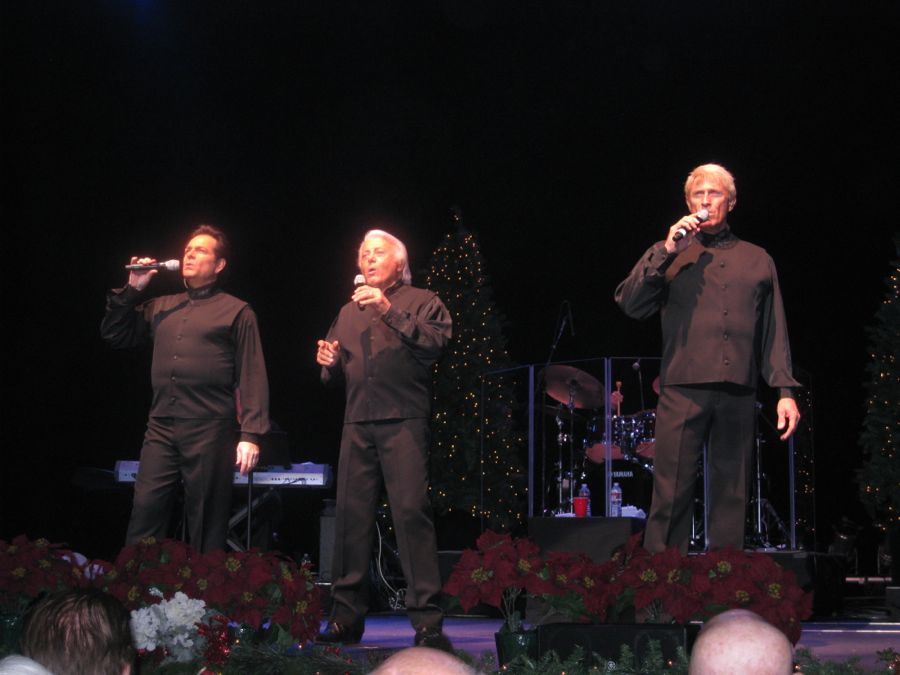 The Lettermen were spectacular this afternoon!!!
It's tradition to go to Disneyland on Robin's birthday and we did it again this year. After Disneyland, we headed for Torrance to dance until about 11:00 at Alpine Village. Please join us!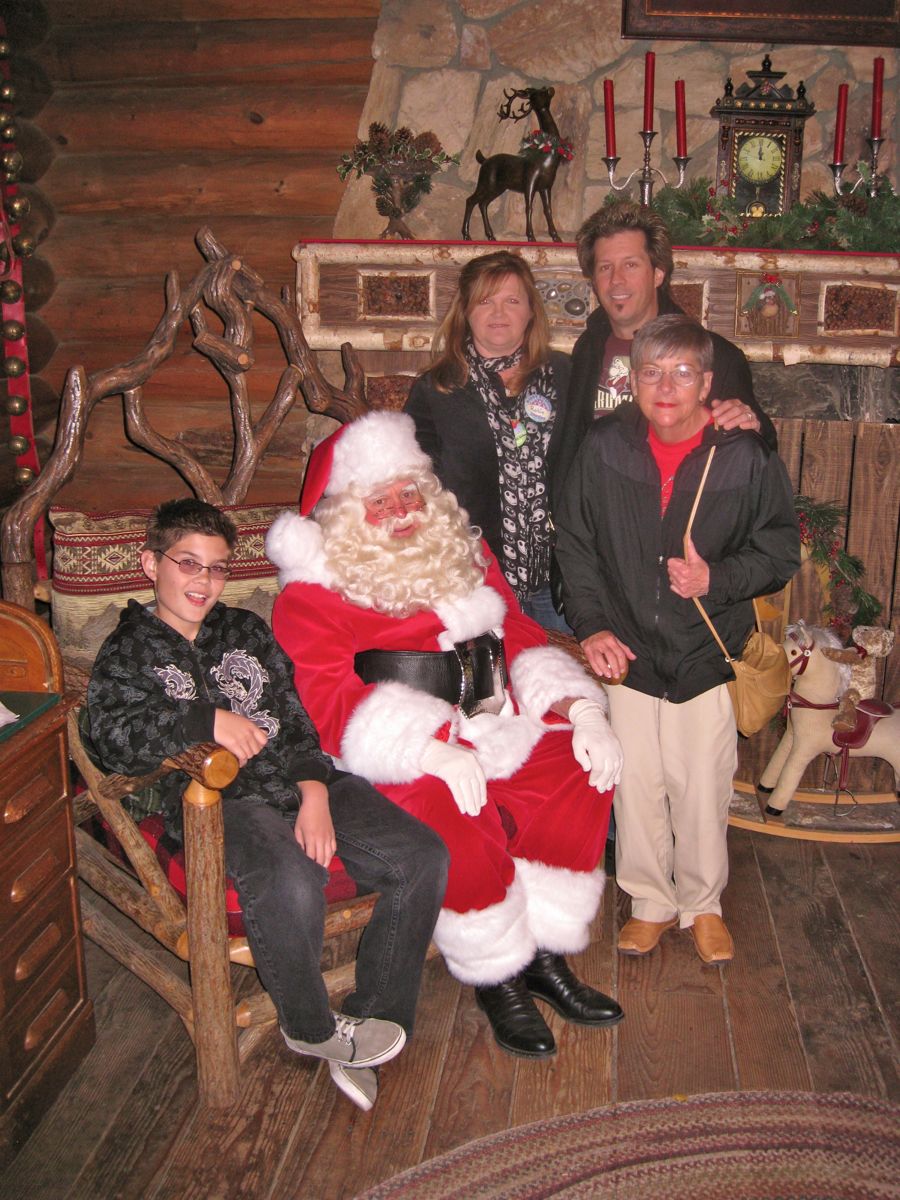 We have been good Santa.... Really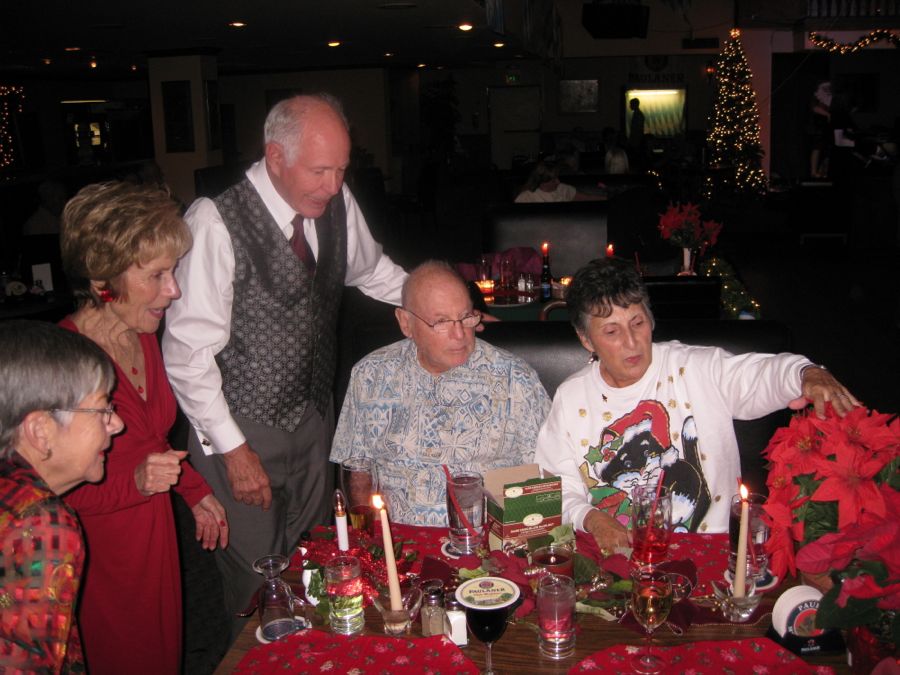 Theme for this evening: Poinsettias's in the sunset
12/6/2011 Golf, Taco Tuesday, and Christmas Movies
Golf with James and Bunnaford today at Old Ranch. The pelicans returned so this is the view from our lunch location in the clubhouse. We returned for Taco Tuesday with Bob Zaitz, James and Linda, Bunnaford and "The Monica". Fun was had by all!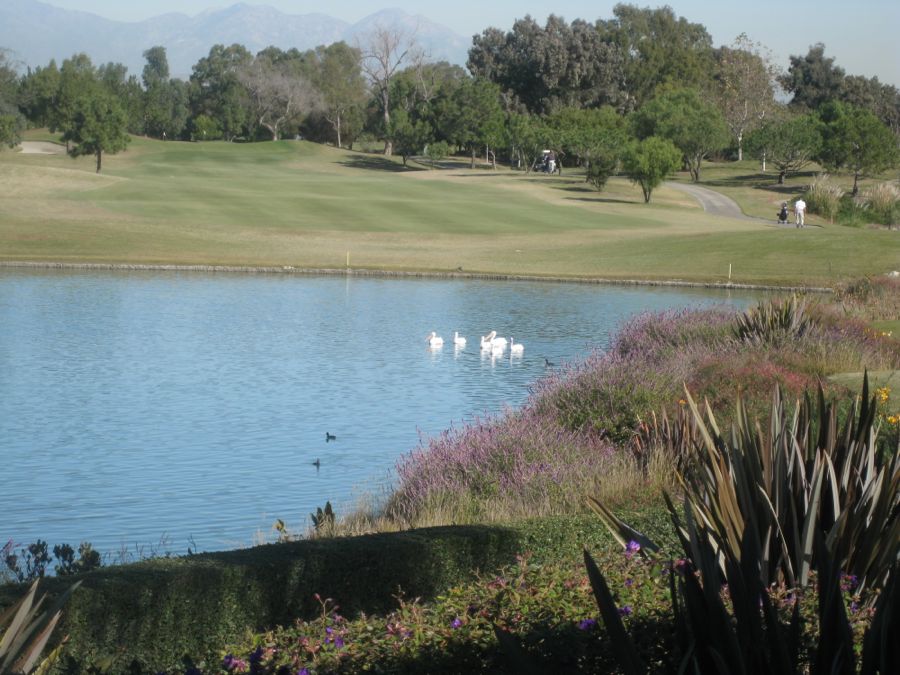 The white pelicans retuned to Old Ranch for Christmas fish dinning
We enjoy going to Knott's and seeing the new arts and crafts. Sometimes we pickup new ideas. This year Paul got a shoulder strapper carry bag! Please join the fun!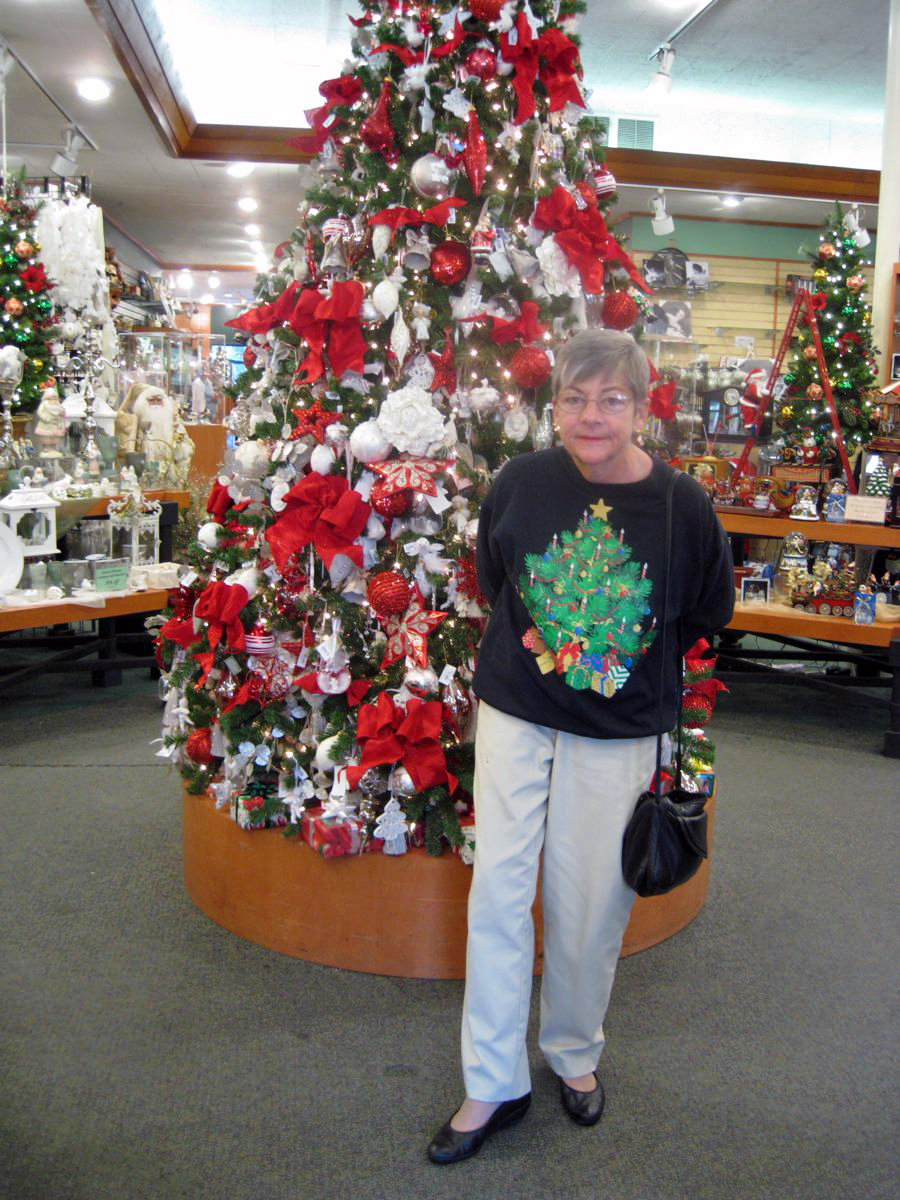 No contest, Sue is MUCH prettier than the tree
After the visit to Knott's, we went home and then headed for Khoury's Restaurant to dance for four hours with friends. Please join the fun!

We are in the holiday spirit
We began the day with breakfast with James at Old Ranch and then we started at the prescribed time (10:52) with Miss Charlotte. The pelicans were visiting today. Please join the fun.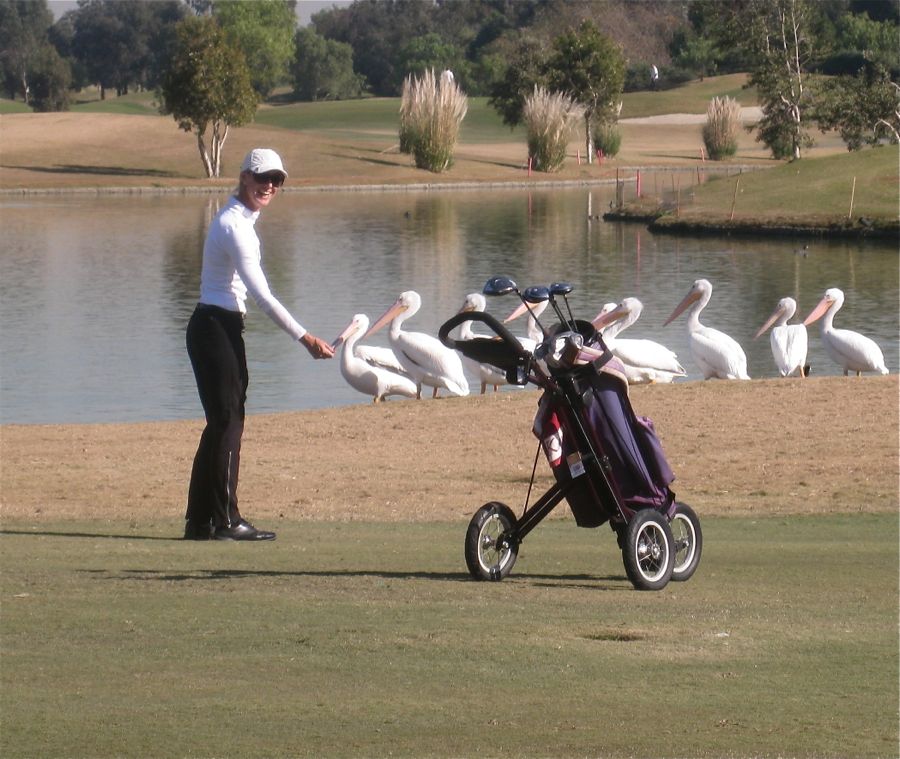 Miss Charlotte feeds the pelicans on six
After golf and Happy Hour, we headed for home to visit the babies and then VFR to Santa Ana for a bit of dancing with friends. Please join us.

Santa has a red nose
An annual tradition for 25 years is the play at South Coast Repertory entitled "A Christmas Carol" is our destination this afternoon. With Hannah and Thomas, the Kuhn's, the Duda's, and Miss Nancy. We dined at Seasons 52 before heading across the street to see the play. Please join us!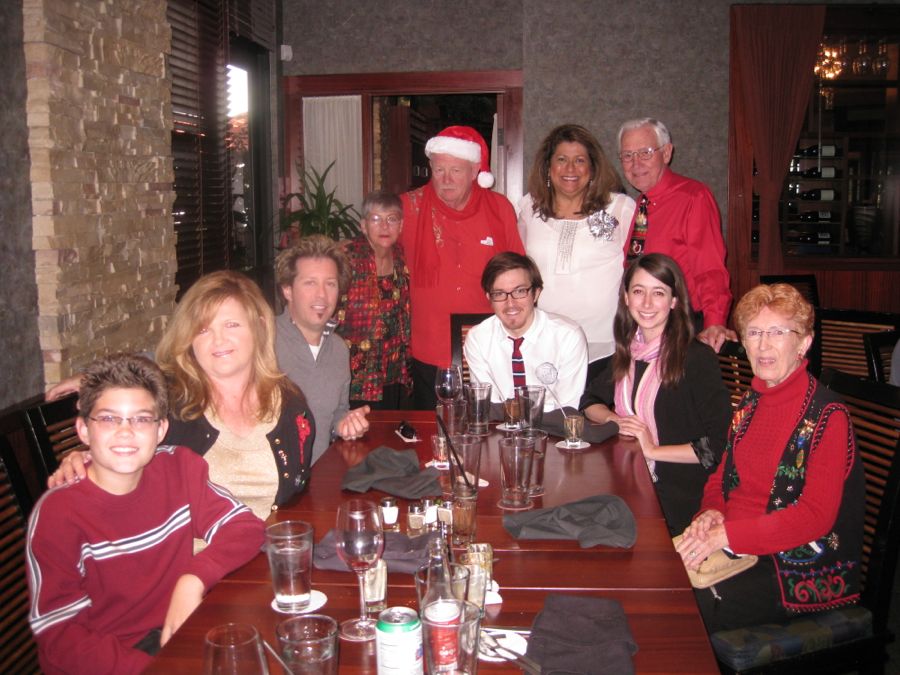 The festivities are underway!
After the play we headed for home to feed the babies and then to La Mirada for a fantastic evening of fun with friends at the home of Ed and Kathy Roberts. The evening turned into a howlingly fun event with giggles and laughing all evening. Please join us.

An evening of fun with great friends
We had a full day of activities. Please join the fun!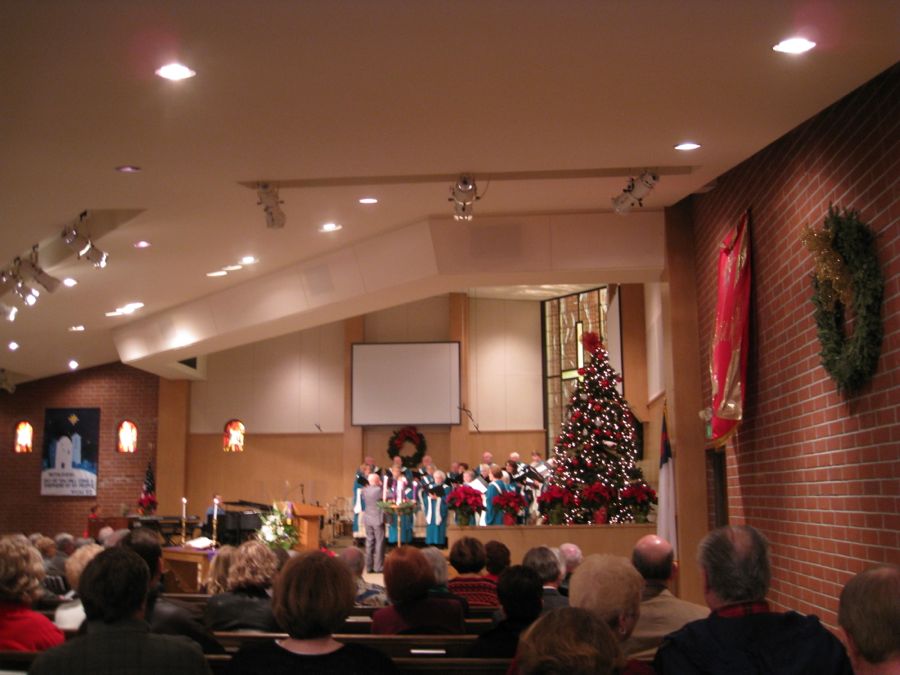 The day begins with church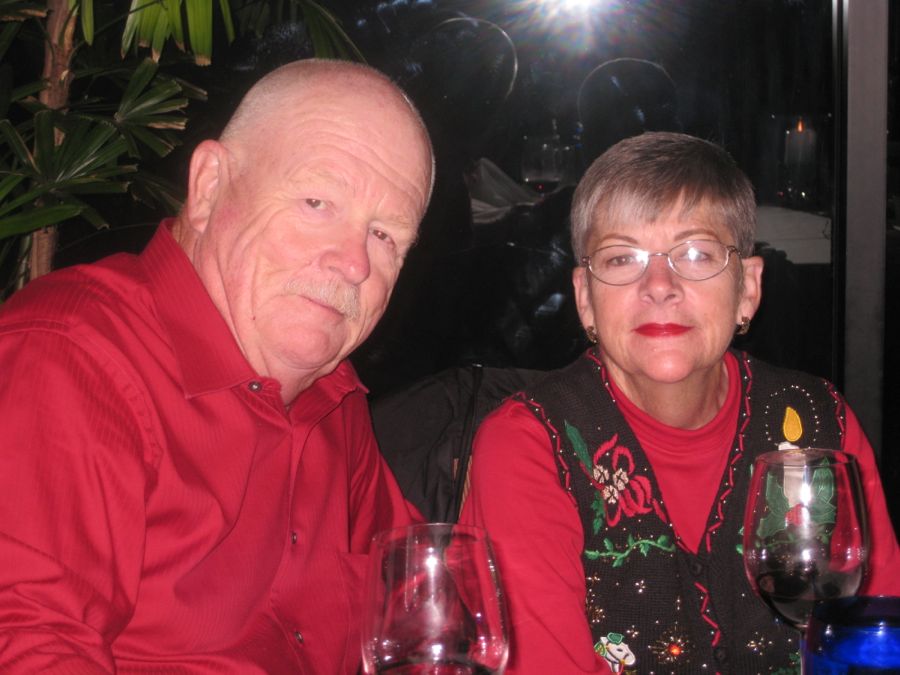 The day ends with dinner dancing at Old Ranch with friends
Donna, Sue, and Paul head toward Temecula to pick up our wine orders, have lunch, and taste a bit. We began at Faulkners for a tasting and then a large lunch. Donna needed to go to South Coast Winery to pick up her Wine Club Order and then we headed to Van Roekel Winery before planning to go to the Europa Winery.
All was going well until we departed the last winery in a heavy downpour and when attempting to look for which button to put to open the trunk as she was going down the stairs, Sue hit the parking lot. Please join the fun and adventure

The lunch was fantastic at The Pinnacle Restaurant at The Falkner Winery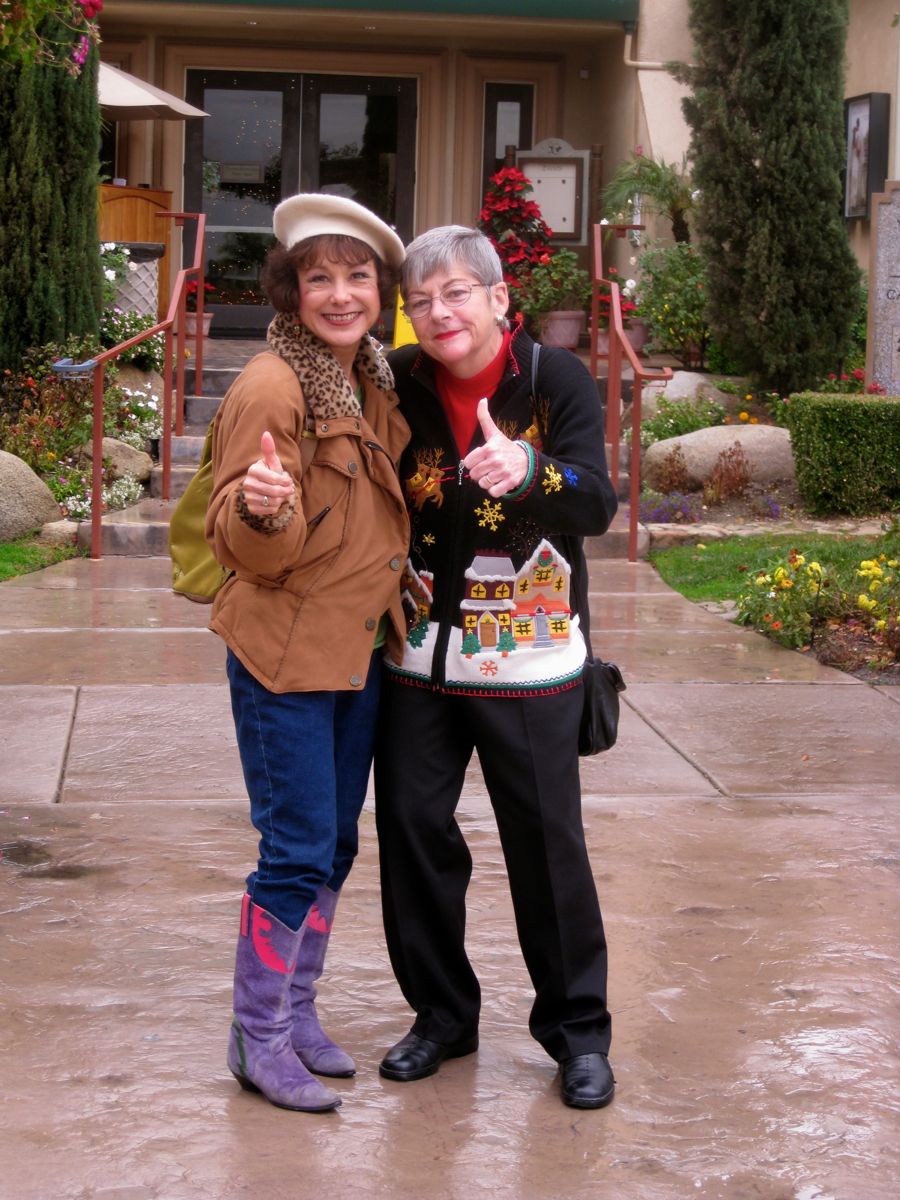 The girls are happy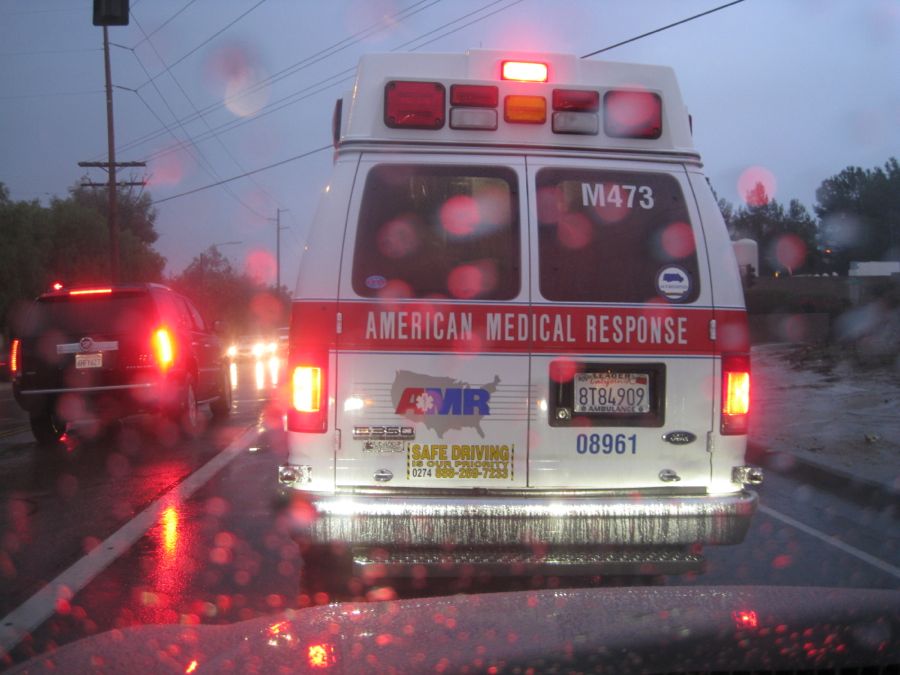 The keys and the stairs were NOT a good combination
12/13/2011 A Day Of Relaxing
After being in the hospital all day yesterday, we decided to take it easy today. We had lunch at Old Ranch, did some Christmas Shopping .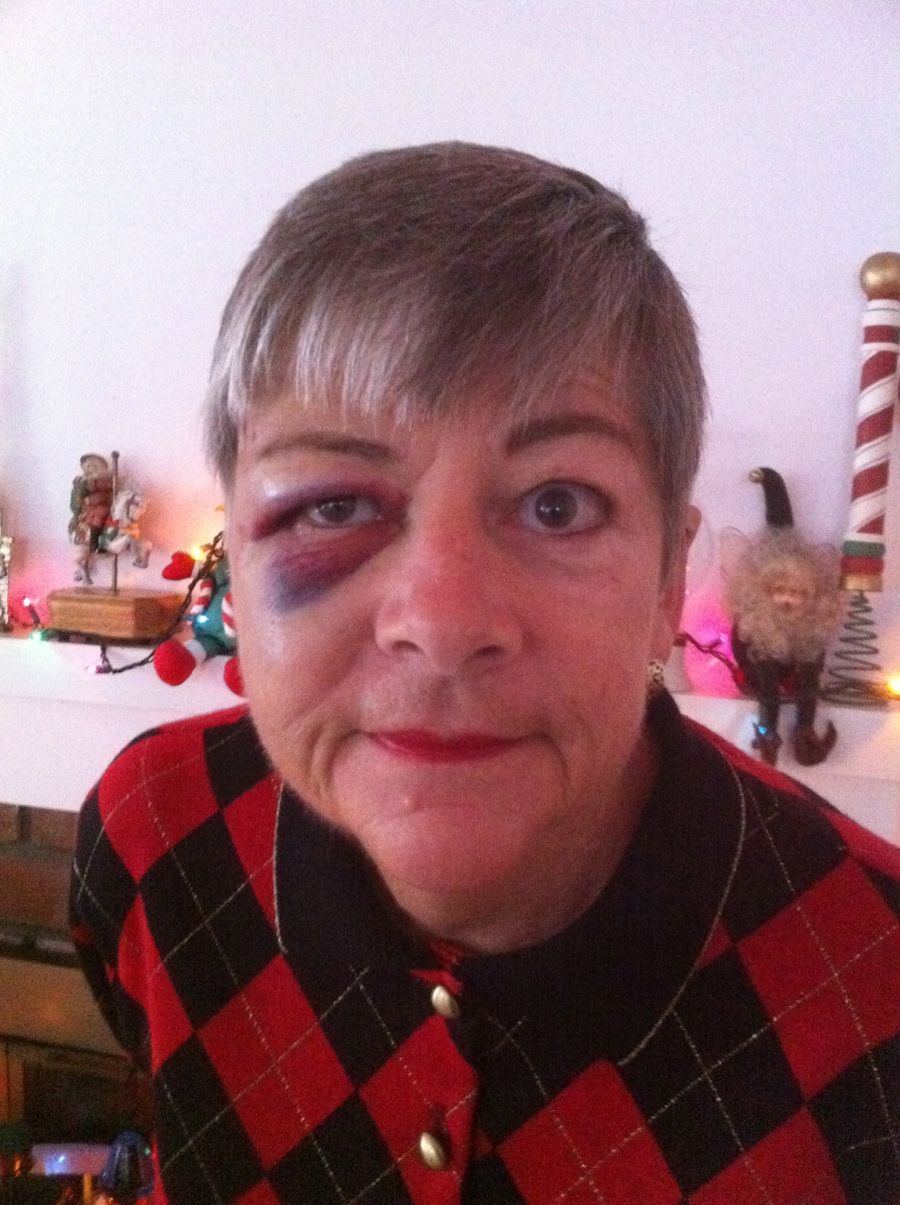 We went out and visited Old Ranch so show off the shiner before people are surprised! We then headed for Newport Harbor Elks but did NOT take any great pictures as we were too busy talking. The evening was made fabulous by having Brian and Jan join us for dinner, did some dancing, and watched the boat parade. Join the fun!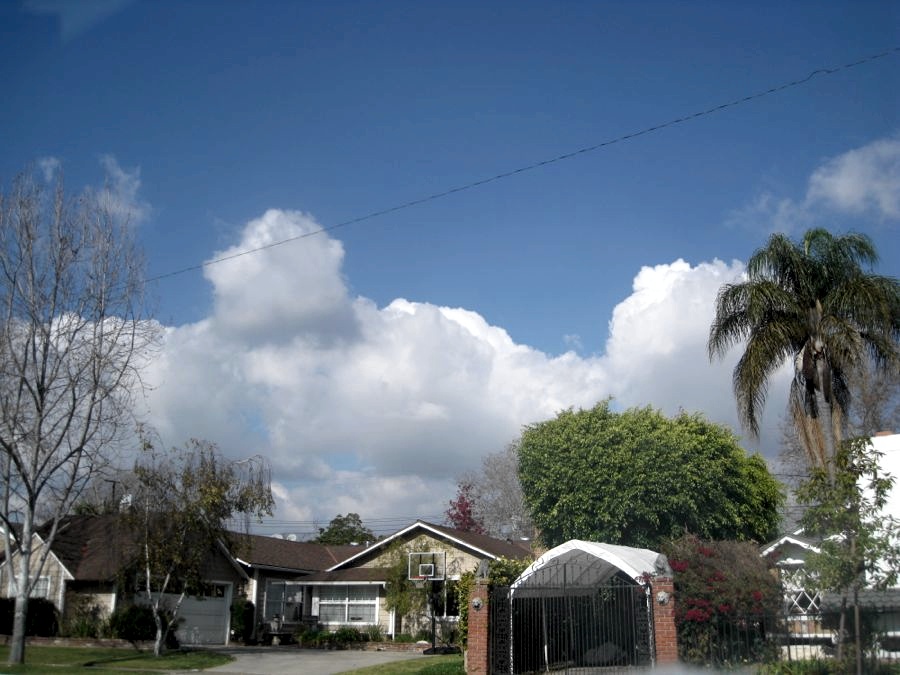 The storm was gone and the skies were blue and white

Bunnaford and James demonstrate how Paul must have socked Sue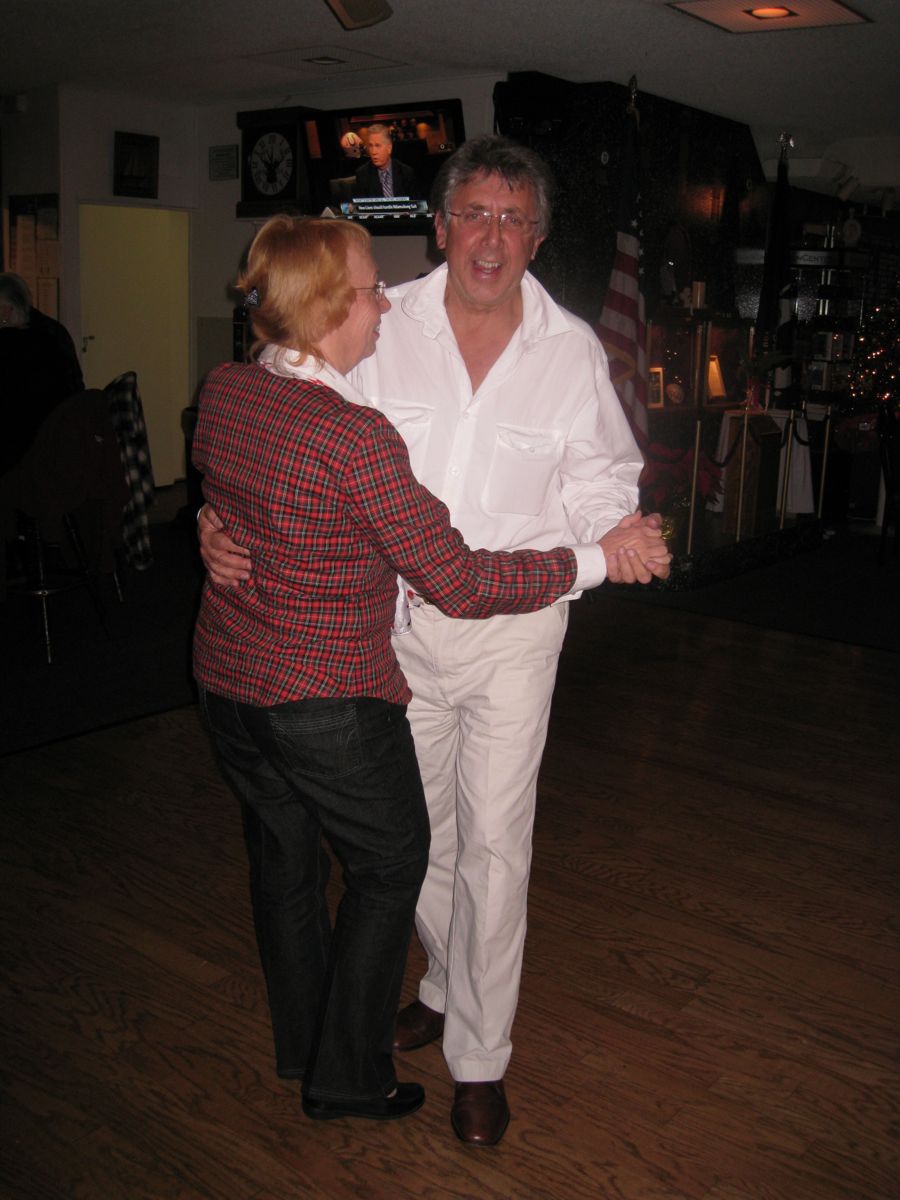 We got some dancing in at the Elks
We played 14 holes of golf and then headed to Five Crowns for Paul's birthday celebration. It was a blustery day and we decided to call it quits after the 14th hole as the temperature was in the mid 50's and the fireplace and wine bottle we awaiting us in the clubhouse (thanks to Juan). Please join us .

It was a stormy day
We headed for Five Crowns after picking up Carri and Greg at home. We met up with the Kuhn's and Cathey's at Five Crowns where Mitch, Luisa, Zack, and Becca were holding down the bar for us! We did so a quick stop at Roger's Gardens to see the amazing decorations. Please join us .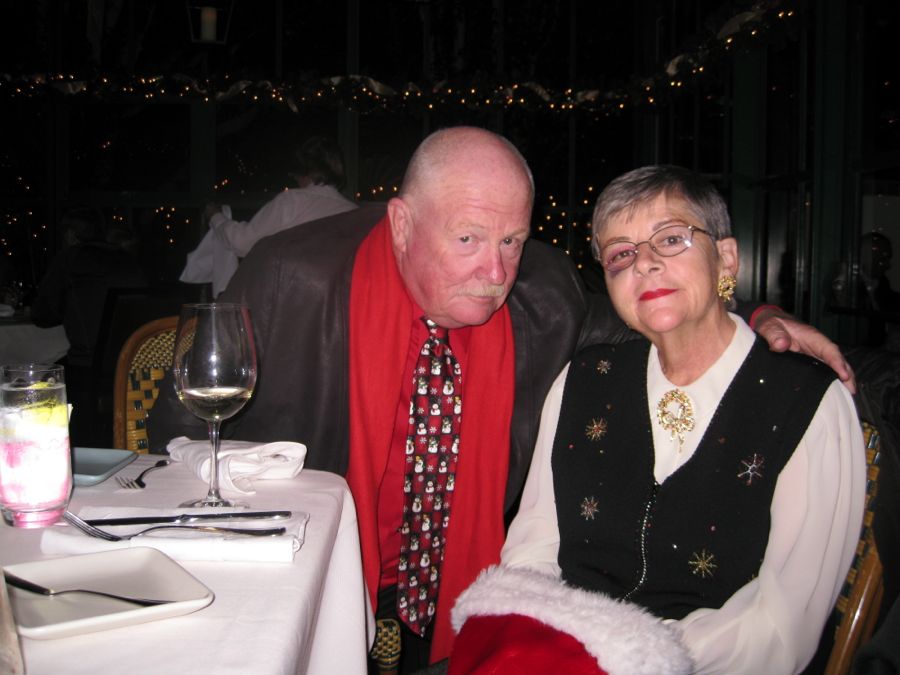 Join us at Five Crowns
We played nine holes of golf and then headed for the 19th hole to visit with the Cathey's and Bunnaford. It was a bit windy this fine day. We then headed for the for the Petroleum Club . Please join us!

This is normally a VERTICLE fountain.... We voted and decided inside was better than outside

At the ball
We went to the Candlelight Dinner Theater at 10 AM with 40 friends and family We had brunch and then saw the first half of the play. We then had dessert and began the second half of the play! Thank goodness for the kids and they helped Santa save the Tinker Toy Company for ruin. Please join us

A great afternoon with fun for all
Tinker's Toy Shop is a family-run store that is feeling the pains of low sales. They are at the point of closing their doors--that is, until they answer a newspaper ad from Santa Claus himself, who is looking for toy makers to help with the huge supply of toys needed for his annual visit. The entire staff works hard to meet the strict criteria to be one of Santa's chosen stores. By the end of the show, the family learns that Christmas is not just about gifts; it's about love an understanding. We encourage you to share your Christmas memories and wishes through letters to Santa, read on stage during the performance. Remember to bring your camera to take pictures with Santa and Mama after the show!

We had forty friends and family join us this afternoon
Robin and Bob, the Zaitz, the Thedens, and the Finchs also joined us that evening. Please join the fun .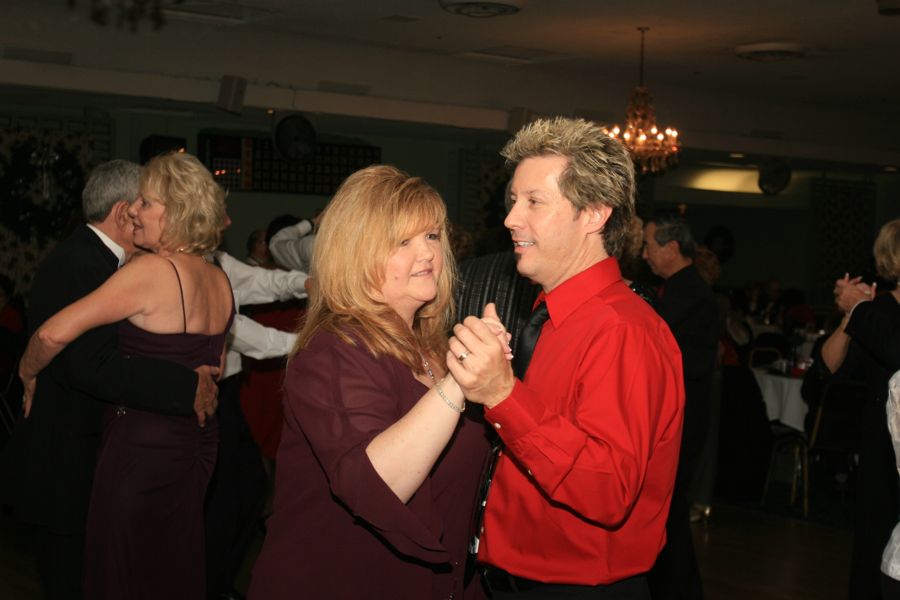 Robin and Bob made it special
We went to church with Miss Vicky and then headed to Newport Harbor for afternoon dancing with the Elks. AJ and Laura joined us and then Herbie join in the cavorting. Please join us!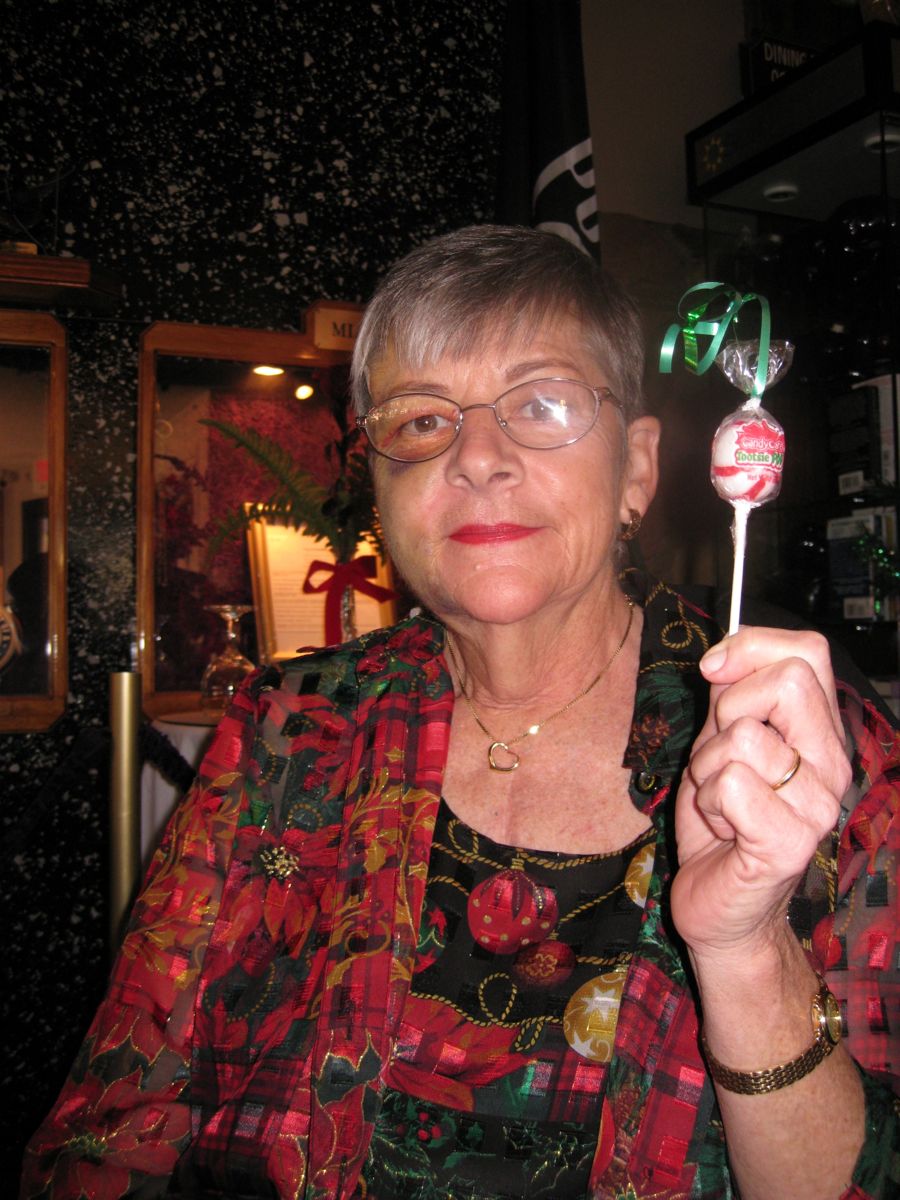 She was a good girl this year... Darn it!
Off to Villa Nova where Monica and Mike arranged for a perfect booth right on the window and we could see the entire parade while enjoying their company.

Did we say "Busy"??
Well, after all we are old so stopping Christmas for an hour to go to the dentist is OK. But then, we went VFR to Alpine Village and remembered Santa. Herbie joined us for a delightful evening. Of course, everyone there had to drop by and check Sue's face from the fall last Monday! We have wonderful friends. Join us .

Sue checks the table decorations
We played with James and the games was super. Afterwords, we headed for Fio Rioto's Itlian Restaurant with twenty people and then to Naples for the annual walk to view the decorations. Join the walk!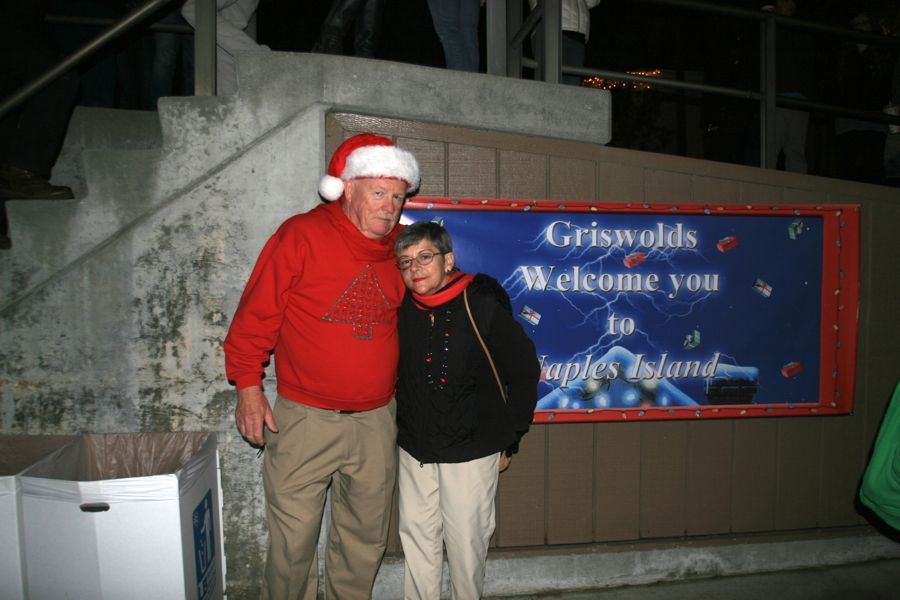 Walking in a Winter Wonderland
We played with Herbie and excellent nine holes. Off to the theater with the Kuhn's. Please join the fun!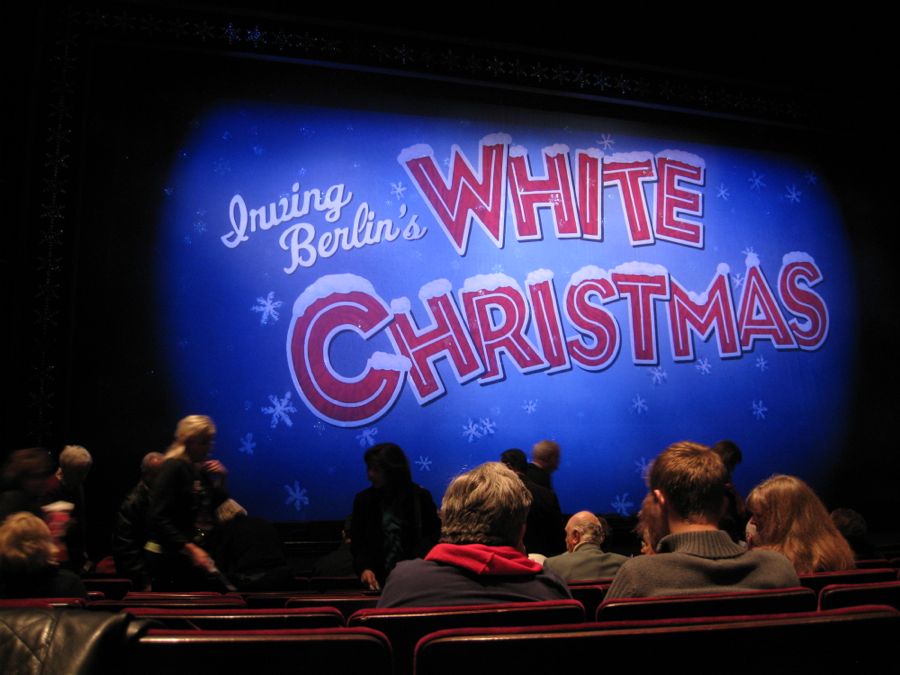 Great show
We tried to play golf but the winds were ferocious so we did errands and went to Khoury's. Please join us!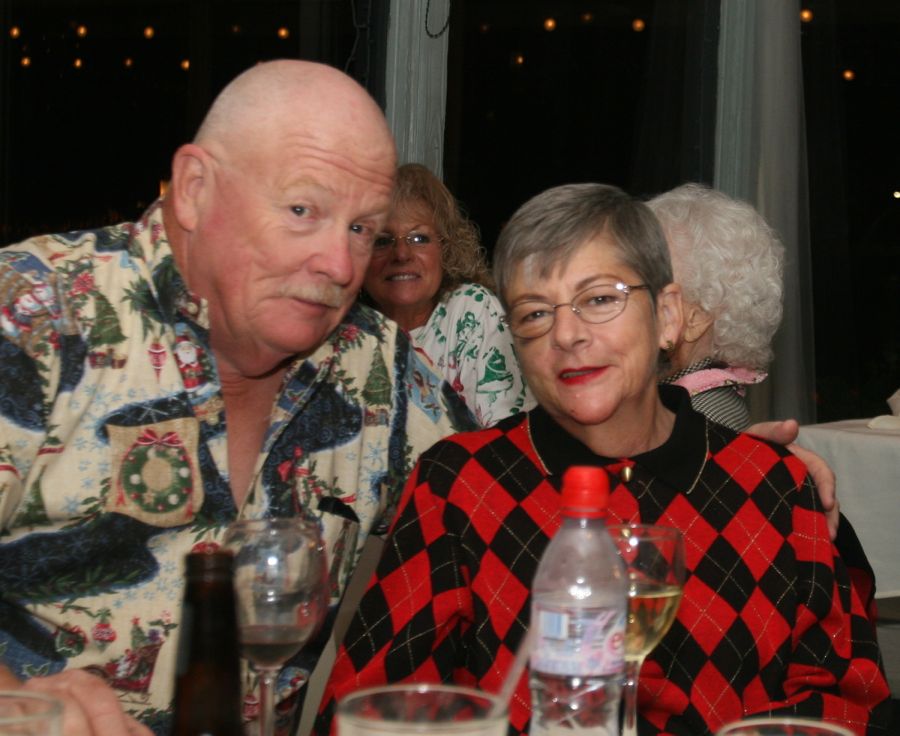 We danced with friends until it closed... 9:00 PM
We indeed played golf but it was late and slow! We had a 90 minute frost-delay which meant we did not get out until about 12:30! We had a great Happy Hour with The Cathey's and Charlotte plus Bunnaford. We even saw a Waynedeer on the first hole!
Join us for the birthday celebration.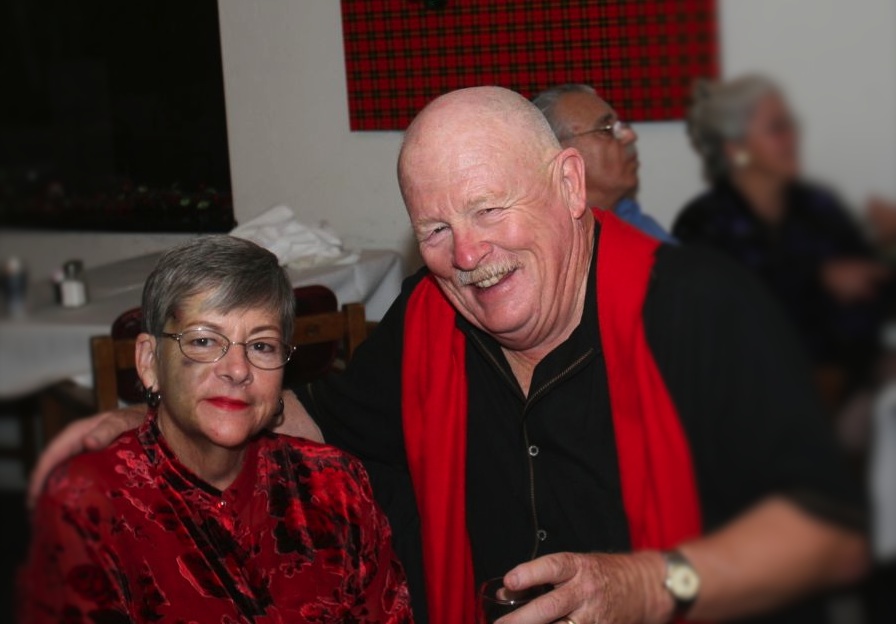 We had a load of fun but Sue's headache (from the fall) was really hurting

The birthday girl was having a ball
It's that day! Time for Disneyland for the 48th year. Join us!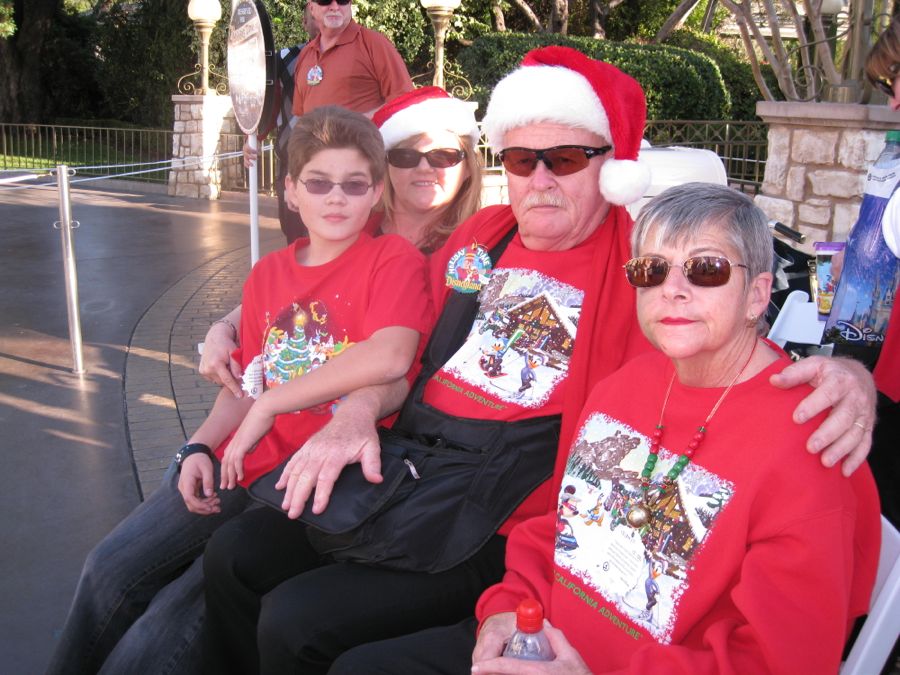 Just after the parade
Our tradition is to go to a Chinese Restaurant and watch "A Christmas Story" with friends. Our families are gown and have their own traditions... We had a ball this year... Please join the fun!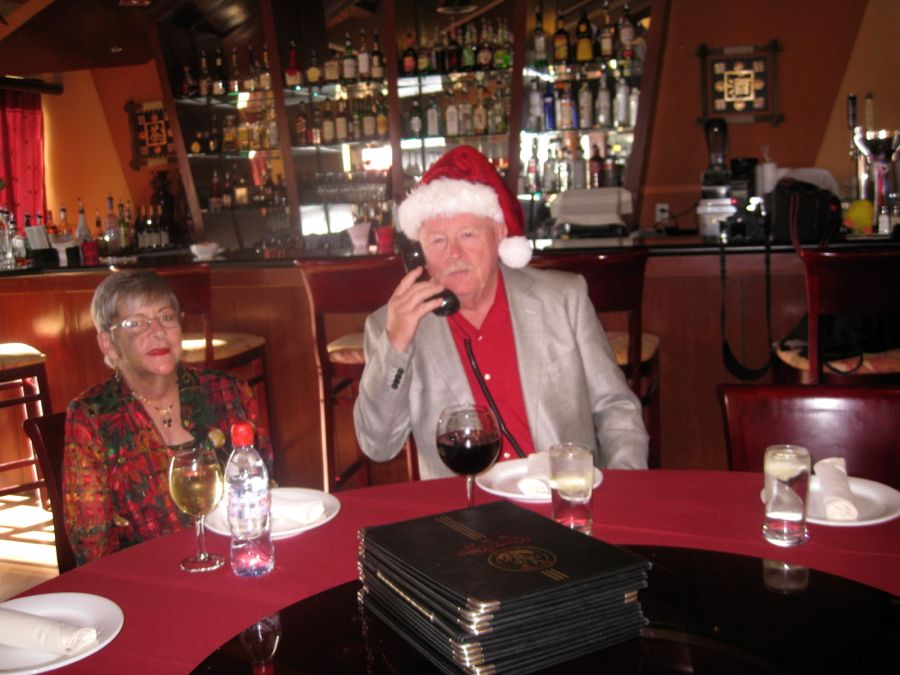 Using the new iPhone toy!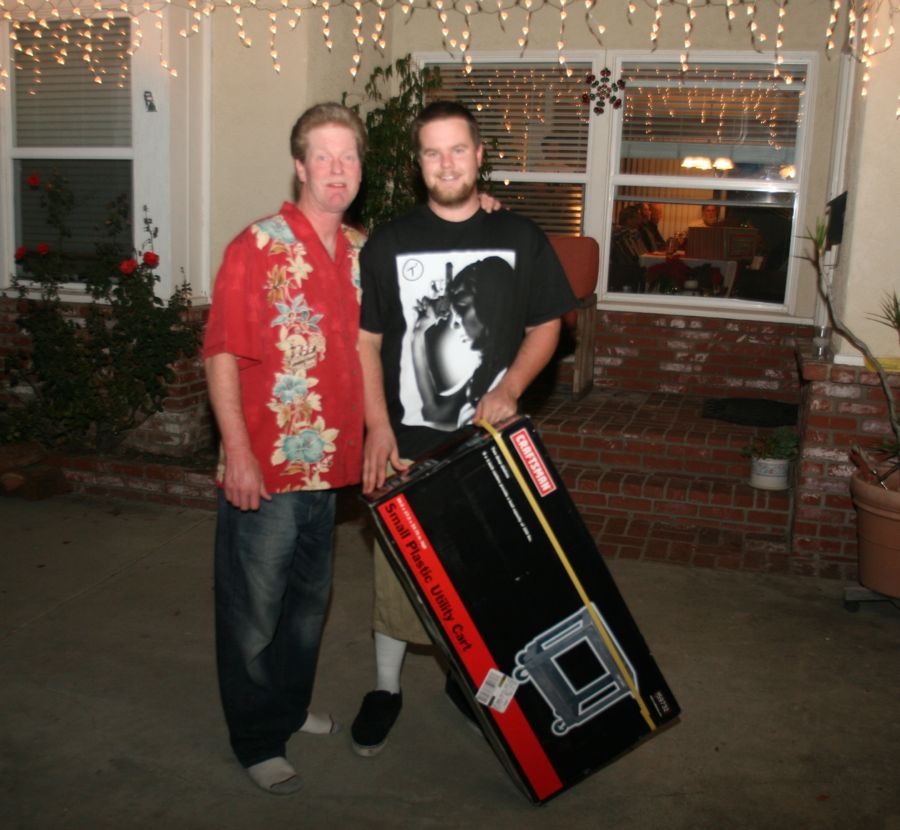 Merry Christmas

Snow fight at Vickey's
No, NOT to see Santa! We visited Pat and Diane and then jumped to Stockton to see Tom and Aunt Kaye . Please join us!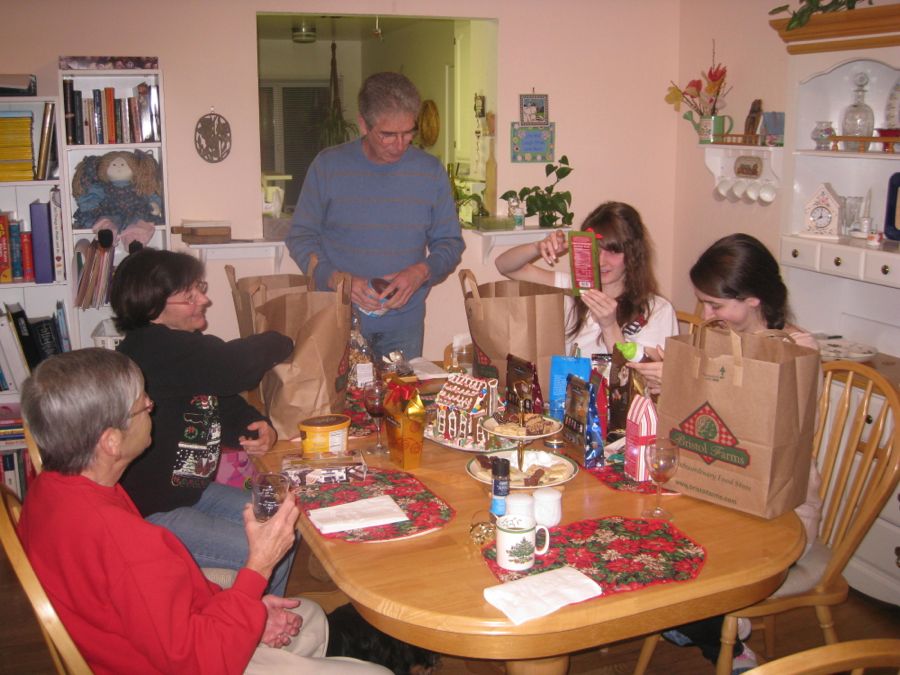 It's stocking time!

Where are we??? Strings, of course!!!
Time to visit the Riverside Mission Inn. One million lights to see and loads of fun riding the carriage around the Inn. Herbie, Carri, and the Dudas join us for the fun! Please join us!

We are about to dine at the Inn

Merry Christmas And Happy New Year