It's About Tomatoes!!!
Sue saw an advertisement in Sunset Magazine for the Tomato Festival and since we grow so many different types of tomatoes, it was a "must go!". We did so enjoy the results of our outing! 970 miles of driving was worth it!
Please see the "TomatoFest Movie". It is about 25MB in size, 11 minutes long but provides a quick overview of the trip!
For the 2007 season the "TomatoFest had over 500 varieties of (CCOF) certified organic heirloom tomato seeds. They selected, grew and harvested 350+ heirloom tomato seeds at TomatoFest® Farm, by hand, to bring you the world's best tasting heirloom tomato varieties.
We Visited Laura and AJ Friday Afternoon 9/15/2007
Our friends and fellow dancers Laura and AJ live in the Santa Maria area so we did a "fly-by" and visited for an hours or so. They surprised us with a delightful brie cheese lunch and tales of their latest travels. It was an excellent visit!
Arrival Means A Quick Look Around Quail Lodge Friday Evening
We drove by the Quail Meadows where the fest is held and watched the setup activities unfold.... It is a large area in order to accommodate the nearly 3,000 people they expected!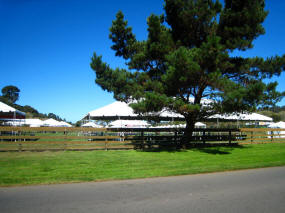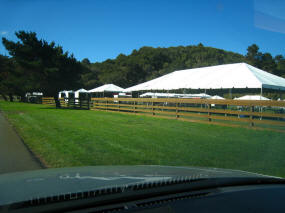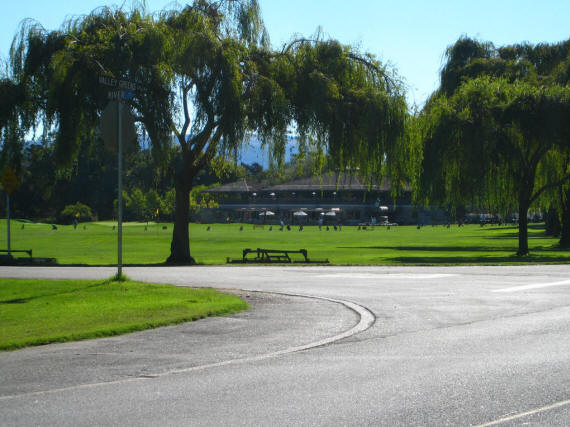 The clubhouse is about a mile from the main resort and is in a large open area with great views from the dining areas.
The Tomato Fest Was Sunday Afternoon 9/16/2007
Late Sunday Afternoon Was The 17 Mile Drive
Visit With Kaye And A Trip Home Tuesday 9/18/2007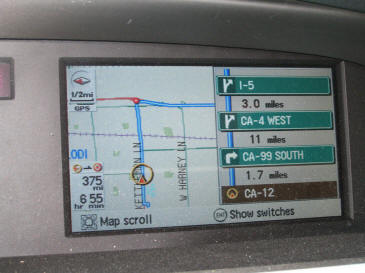 Aunt Kaye was doing just fine... We enjoyed a few hours of getting caught up on things and then a leisurely afternoon/before dinner meal!
Carmel Valley
The Carmel Valley is located about east of the City of Carmel in Monterey County, California. It is an American Viticultural Area, home to a number of wineries and vineyards, as well as the town of Carmel Valley Village. County Route G16 runs through the valley, and the Carmel River flows down the valley.
Quail Lodge
Quail Lodge Resort & Golf Club is a destination resort nestled on the golden side of Carmel, where guests can experience a "haven of serenity in harmony with nature".
A resort where new and unique experiences await around every corner, a resort which awakens all one's senses. The Resort's uniqueness comes from natural beauty, which is the backdrop for inspiring the mind and rejuvenating the soul.
While a majority of the local competition boats of dramatic coastal views, few resorts can offer 850 acres of sparkling lakes, lush gardens, and rolling hills with as many species of wildlife and vivid colors of abundant wildflowers. The Lodge's California-country ambience pays homage to the region's rustic, romantic essence.
The resort offers 97 luxurious guestrooms and other amenities which include two restaurants, a golf club with a championship golf course, an innovative Wellness Center, spa, tennis courts, swimming pools, bocce courts, executive 9-hole course, extensive nature trails and expansive meeting and banquet space.
Edgar's
Edgar's, an upscale restaurant and sports bar named for the Lodge's legendary founder, Edgar Haber, offers savory California eclectic cuisine with an emphasis on fresh local ingredients, garden-grown herbs and organic produce. Sports fans can enjoy a complete sports package that lets them check their scores simultaneously on 12 flat-screen TV's located throughout the restaurant. Edgar's is open for lunch and dinner daily.
The Tomato
The tomato (Solanum lycopersicum) is a plant in the Solanaceae or nightshade family, as are its close cousins tobacco, chili peppers, potato, and eggplant. The tomato is native to Central, South, and southern North America from Mexico to Peru. It is a perennial, often grown outdoors in temperate climates as an annual, typically reaching to 1–3 m (3 to 10 ft) in height, with a weak, woody stem that often vines over other plants.
Carmel Valley is one of the finest wine growing regions in Northern California, and the world famous Big Sur coastline, Steinbeck's Cannery Row, Fisherman's Wharf and 17-Mile Drive are nearby. Quail Lodge Resort & Golf Club is approximately 120 miles south of San Francisco and 330 miles north of Los Angeles.
Trip Summary
The Toyota Avalon is a full-size car produced by Toyota in the United States. On our trip this little puppy went 976 miles with an overall mileage of 31.5 MPG. On the highway it kept up and passed the big rigs with impunity.

It was a pleasure to drive.