A Short Visit With Diane
We took the opportunity to visit with Diane, Pat, Hannah, and Lisa (and Franklin also!) on Monday evening. We got the latest updates and were treated to a Bass solo!
Saratoga
Saratoga is an upper-class bedroom community in the southwestern corner of the Santa Clara Valley. Saratoga also has many antique shops, French restaurants, and European-themed bakeries. Well-known vineyards in the Saratoga foothills include the Garrod Estate Vineyards and the Mountain Vineyard, both of which were founded in the 1800s.

In July of 2005, CNN/Money and Money magazine named Saratoga the twenty sixth-best place to live in the United States. It is locally known for its affluence, vineyards, and excellent school system. In 2005, the median home price in Saratoga was $1.35 million. Saratoga's zip code (95070) is listed on the Forbes List as the 42nd most expensive zip code in 2006.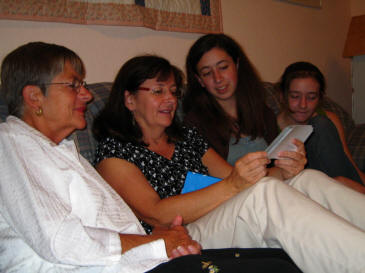 The Bass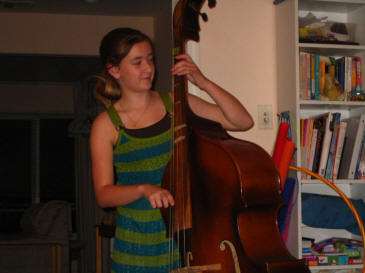 Bass is low tones (low end frequencies) in music. It is usually made by a bass guitar or an acoustic bass (a double bass). It can also be an electronic sound, a deep singing voice, a baritone sax, or a deep bass drum.

Bass, with treble (high tones), gives the well-rounded depth to music. Bass almost always is used with treble, made by instruments such as a guitar, piano, singing voice, horn, etc

The bass guitar was invented in the 1950s. Until the 1950s musicians played the double bass in jazz, blues, folk, and early rock music. The double bass was big and heavy. Musicians wanted a smaller and lighter instrument. Inventors tried to think of ways of building a smaller and lighter bass instrument. One of these inventors was a man named Leo Fender in the United States. Leo Fender invented the bass guitar in the 1950s, using many parts that are similar to the parts of an electric guitar. Leo Fender called the instrument the "Fender Precision Bass".
See You Next Time; Bye Franklin!