It Was A Rainy Day But We Decided It Could Be "An Adventure"

The rain made everything so beautiful... All dust was gone

The statues were magnificent when the dust is gone and the sun peeks out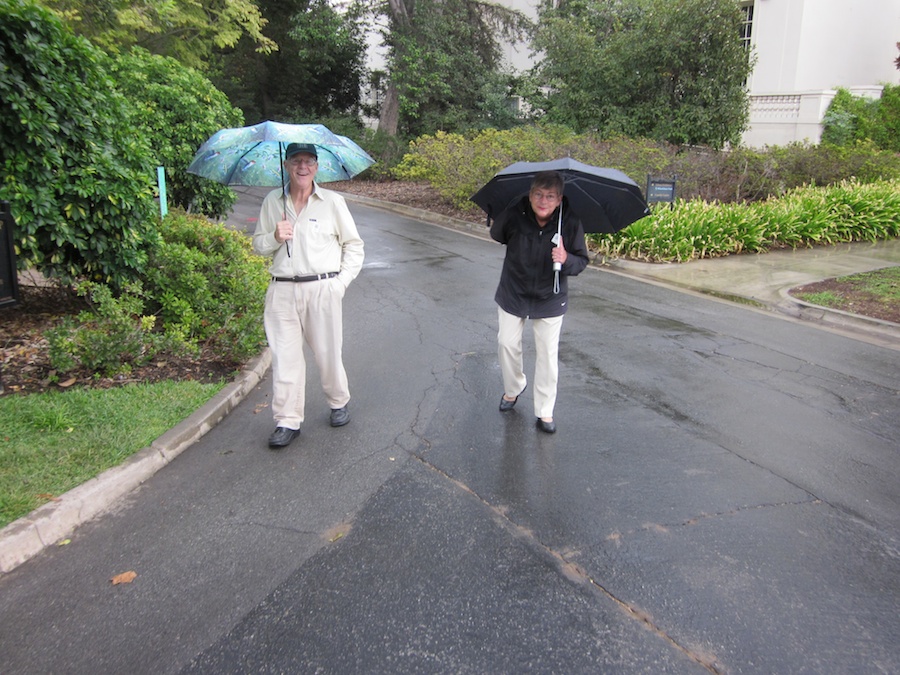 Just Walking In The Rain
Did You Know? - "Just Walkin' in the Rain" is a popular song. It was written in 1952 by Johnny Bragg and Robert Riley, two prisoners at Tennessee State Prison in Nashville, after a comment made by Bragg as the pair crossed the courtyard while it was raining. Bragg allegedly said, "Here we are just walking in the rain, and wondering what the girls are doing."
Riley suggested that this would make a good basis for a song, and within a few minutes, Bragg had composed two verses. However, because Bragg was unable to read and write, he asked Riley to write the lyrics down in exchange for being credited as one of the song's writers.
Bragg and his band, the Prisonaires, later recorded the song for Sun Records and it became a hit on the R&B chart in 1953. However, the best-known version of the song was recorded by Johnnie Ray in 1956; it reached #2 on the US Billboard 100 and #1 on the UK Singles Chart.

The statues were standing tall against the forces of nature

About twenty ba-zillion different shades of green

Entering the Shakespeare Garden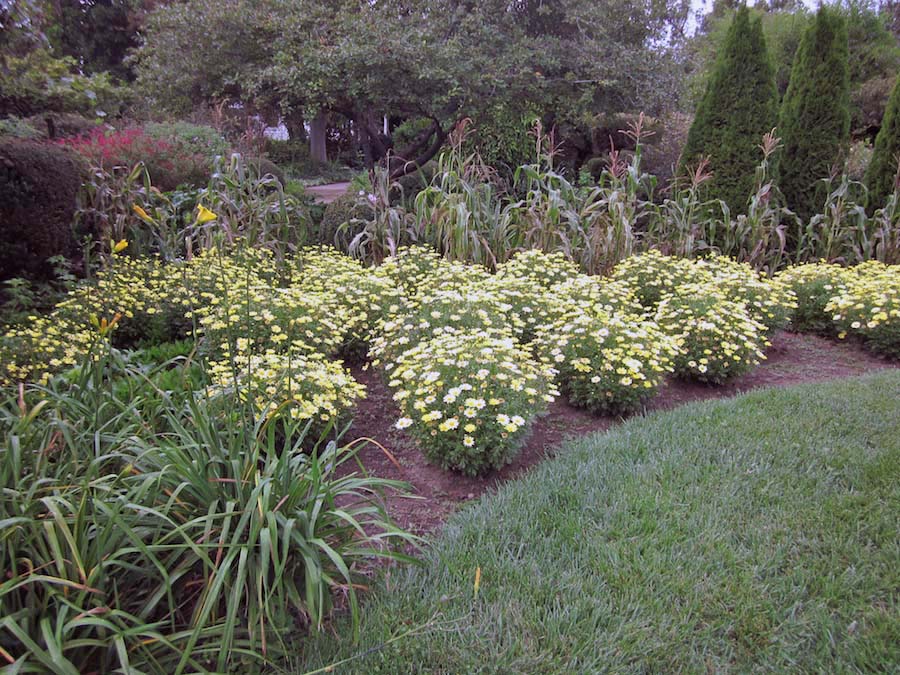 Amazing colors even with a cloudy overcast day

The trellises are under repair.... Yeah
Did You Know? - A trellis (treillage) is an architectural structure, usually made from an open framework or lattice of interwoven or intersecting pieces of wood, bamboo or metal that is normally made to support and display climbing plants, especially shrubs.

Sticking their heads up to get a drink of fresh water form the skies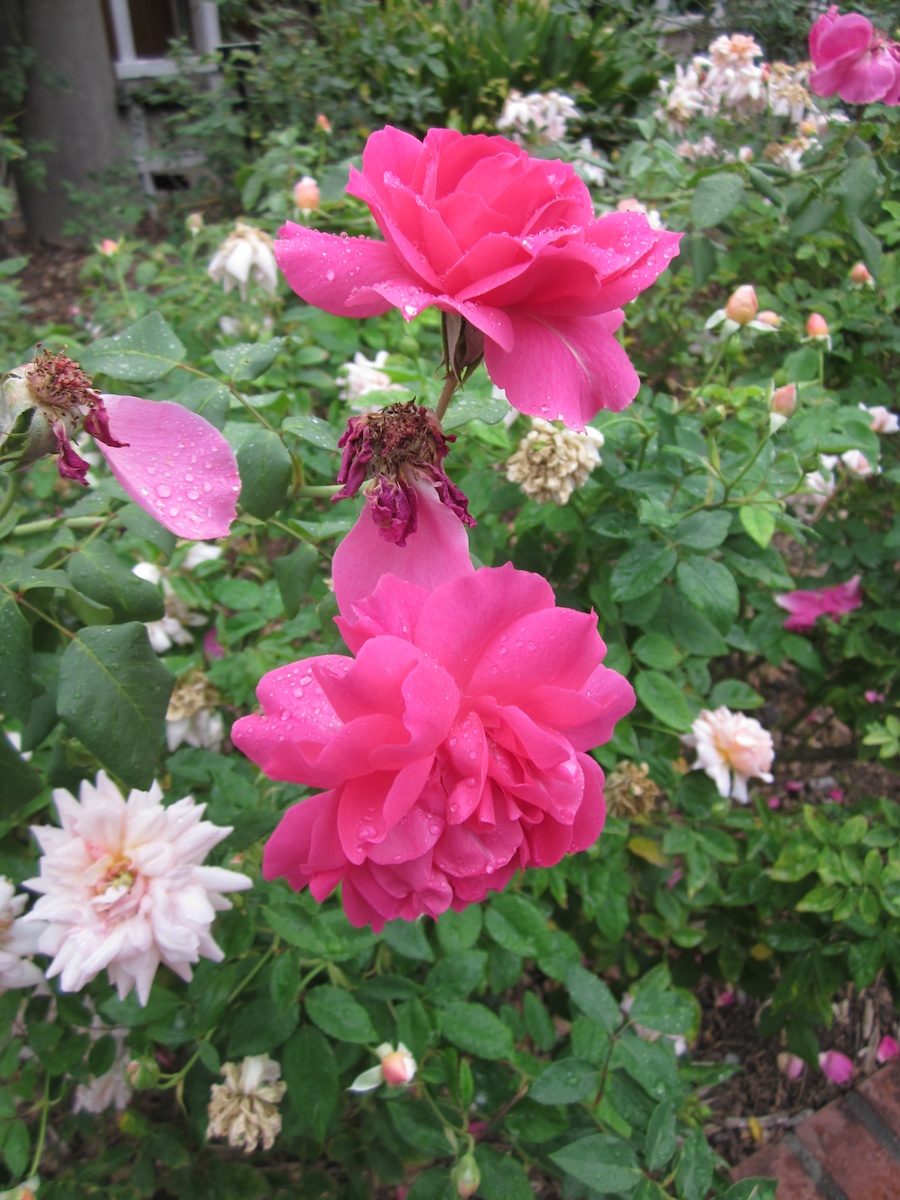 Old and new...
We Moved Lunch From 2:30 to 12:15... Good Move As The Rain Subsided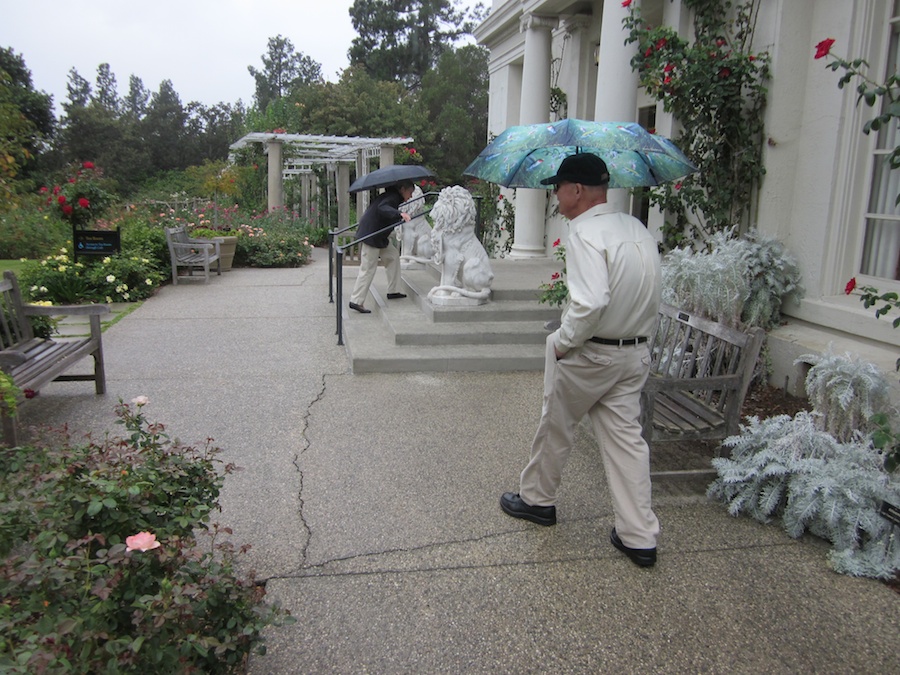 Sue heads indoors and Greg sports his new hat and bumbershoot
Did You Know? - An umbrella or parasol, also called a brolly (UK slang), parapluie (nineteenth century, French origin), rainshade, sunshade, gamp (British, informal), bumbershoot (American slang), or umbrolly (UK slang), is a canopy designed to protect against rain or sunlight.
The word parasol usually refers to an item designed to protect from the sun; umbrella refers to a device more suited to protect from rain. Often the difference is the material; some parasols are not waterproof. Parasols are often meant to be fixed to one point and often used with patio tables or other outdoor furniture. Umbrellas are almost exclusively hand-held portable devices; however, parasols can also be hand-held.
The collapsible (or folding) umbrella may have first been used in China, although its appearance elsewhere seems to have been independent, and had sliding levers similar to those in use today.
The word umbrella comes from the Latin word umbra, meaning shade or shadow (the Latin word, in turn, derives from the Ancient Greek ?mbros [??????].) Brolly is a slang word for umbrella, used often in Britain, New Zealand, Australia, South Africa, and Kenya. Bumbershoot is a fanciful Americanism from the late 19th century.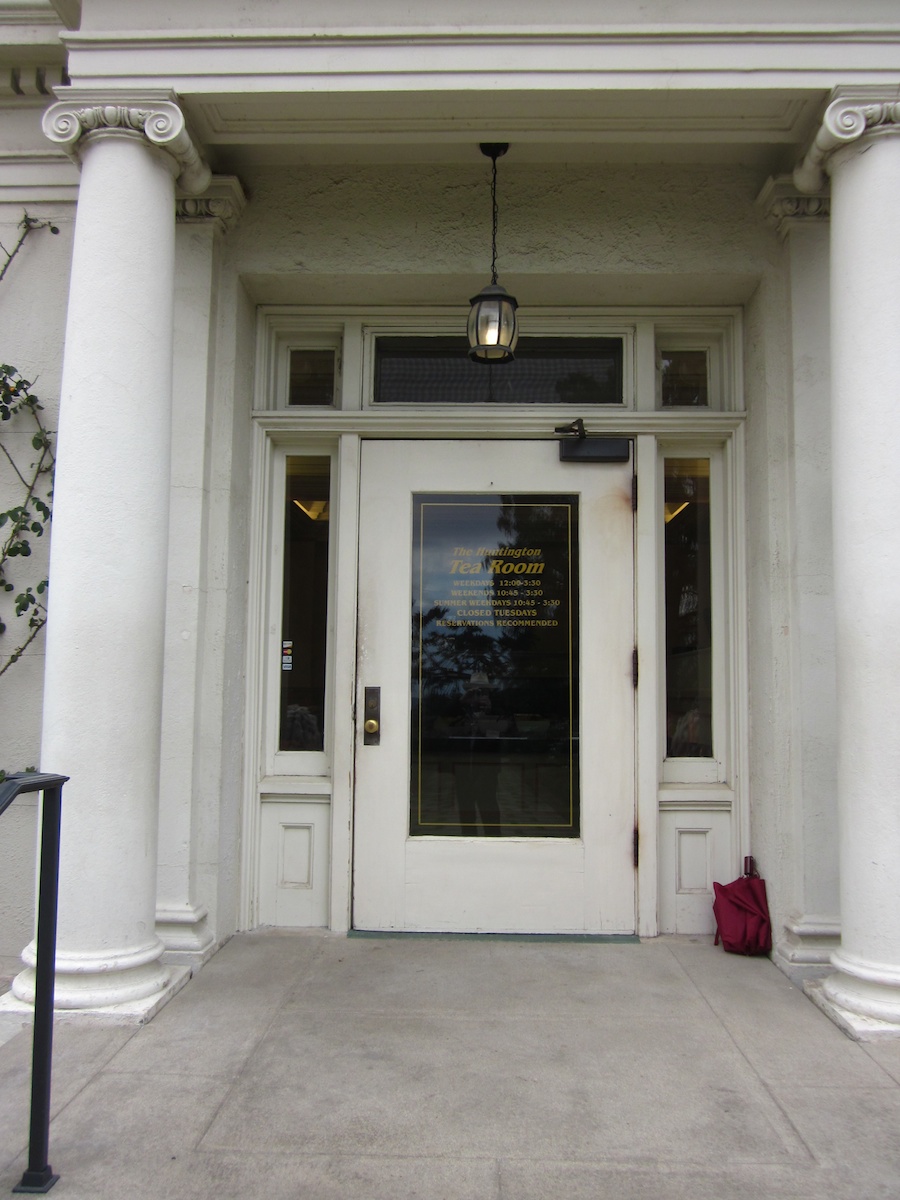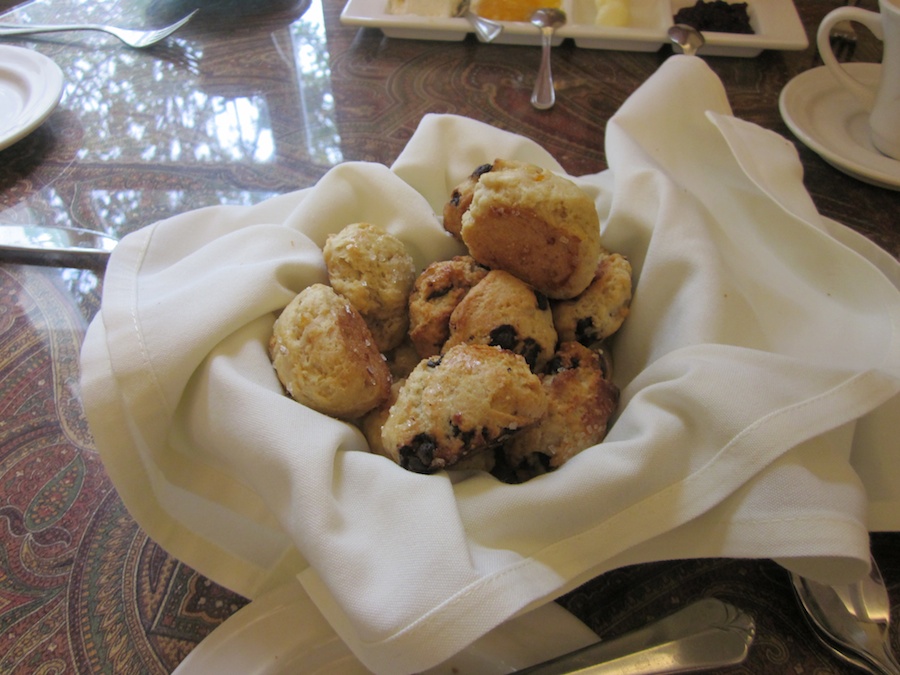 Hot scones.... Life is good!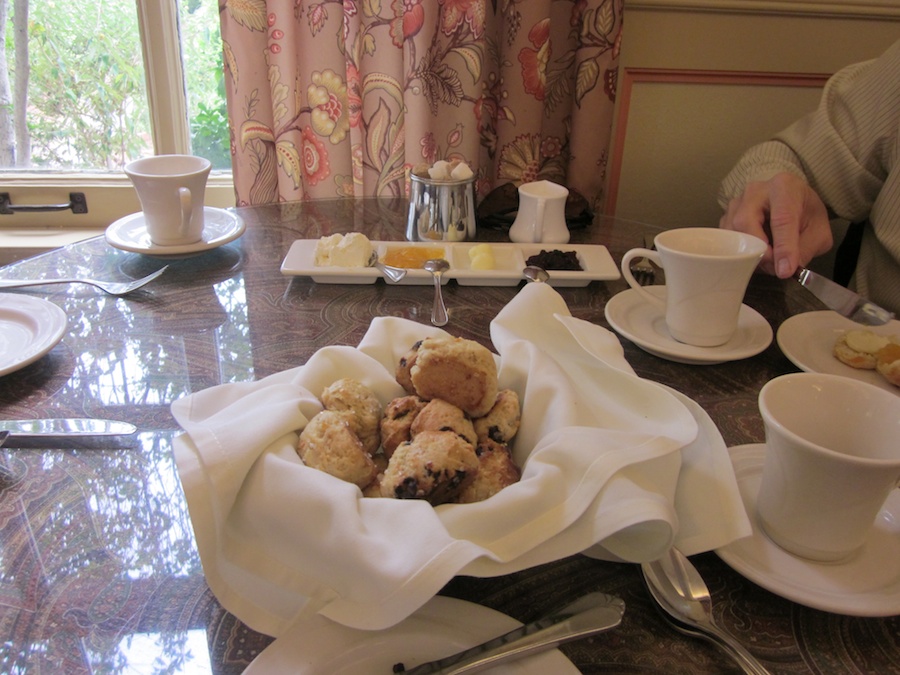 Excellent with clabbered cream
Did You Know? - Clabber is a food produced by allowing unpasteurized milk to turn sour at a specific humidity and temperature. Over time, the milk thickens or curdles into a yogurt-like substance with a strong, sour flavor. In rural areas of the Southern United States, it was commonly eaten for breakfast with brown sugar, nutmeg, cinnamon, or molasses added. Some people also eat it with fruit or black pepper and cream.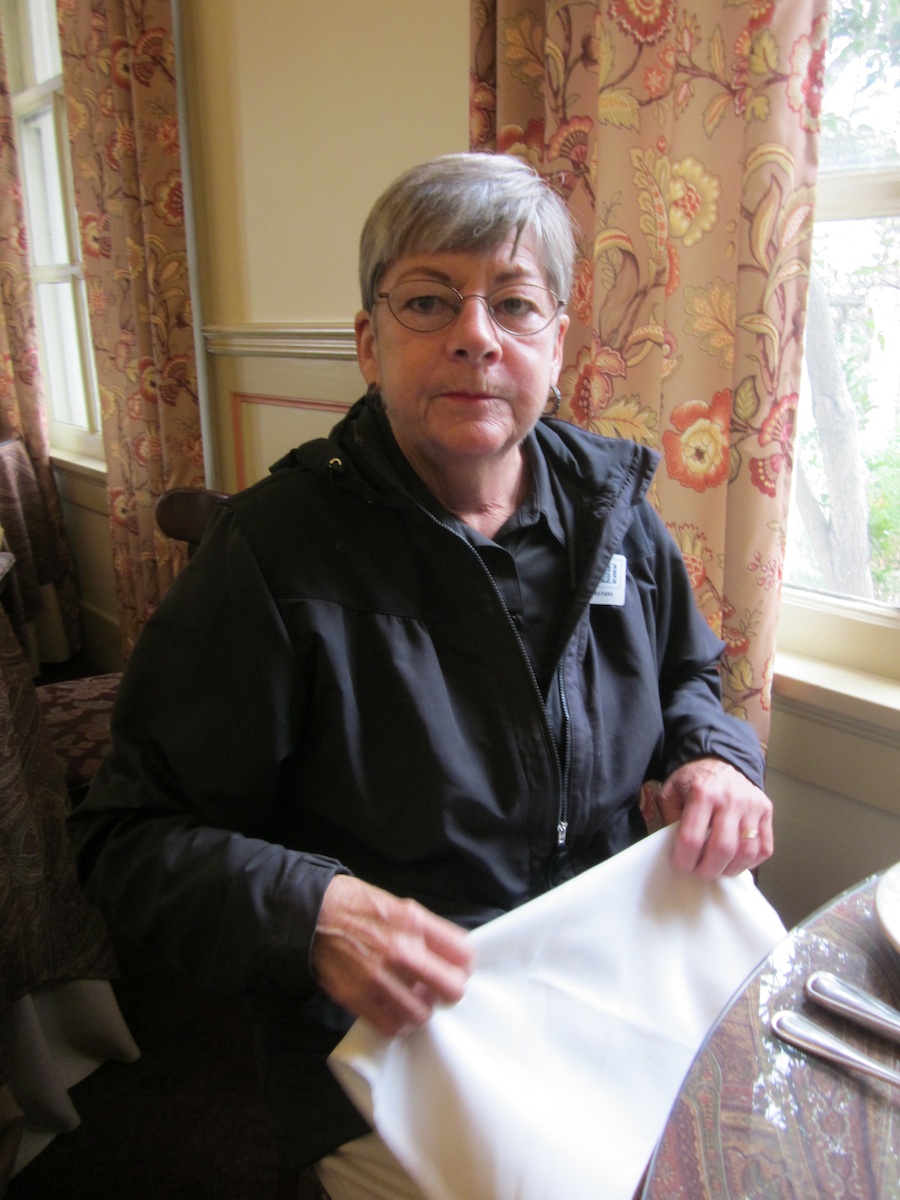 "I am NOT taking off my coat until I warm up!"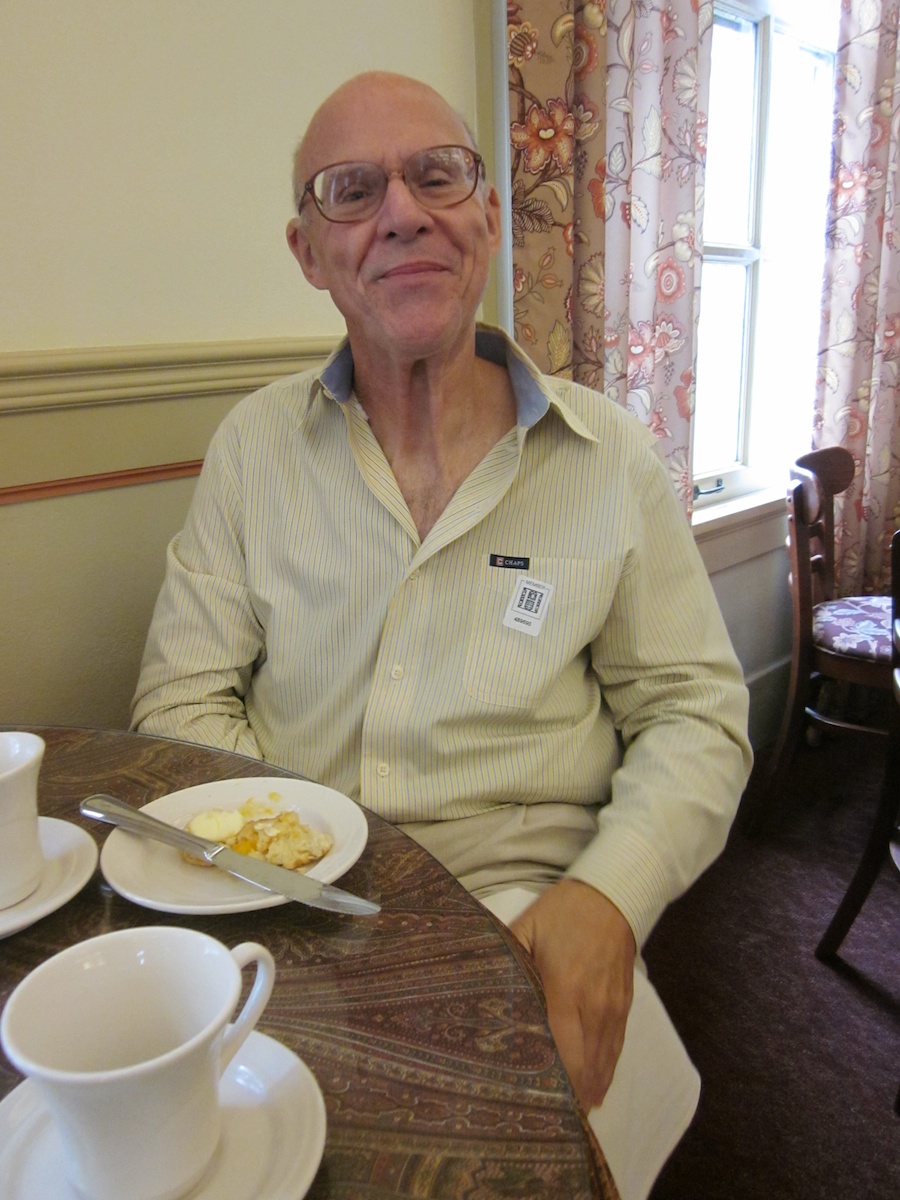 Ah... Scones, champagne, and friends....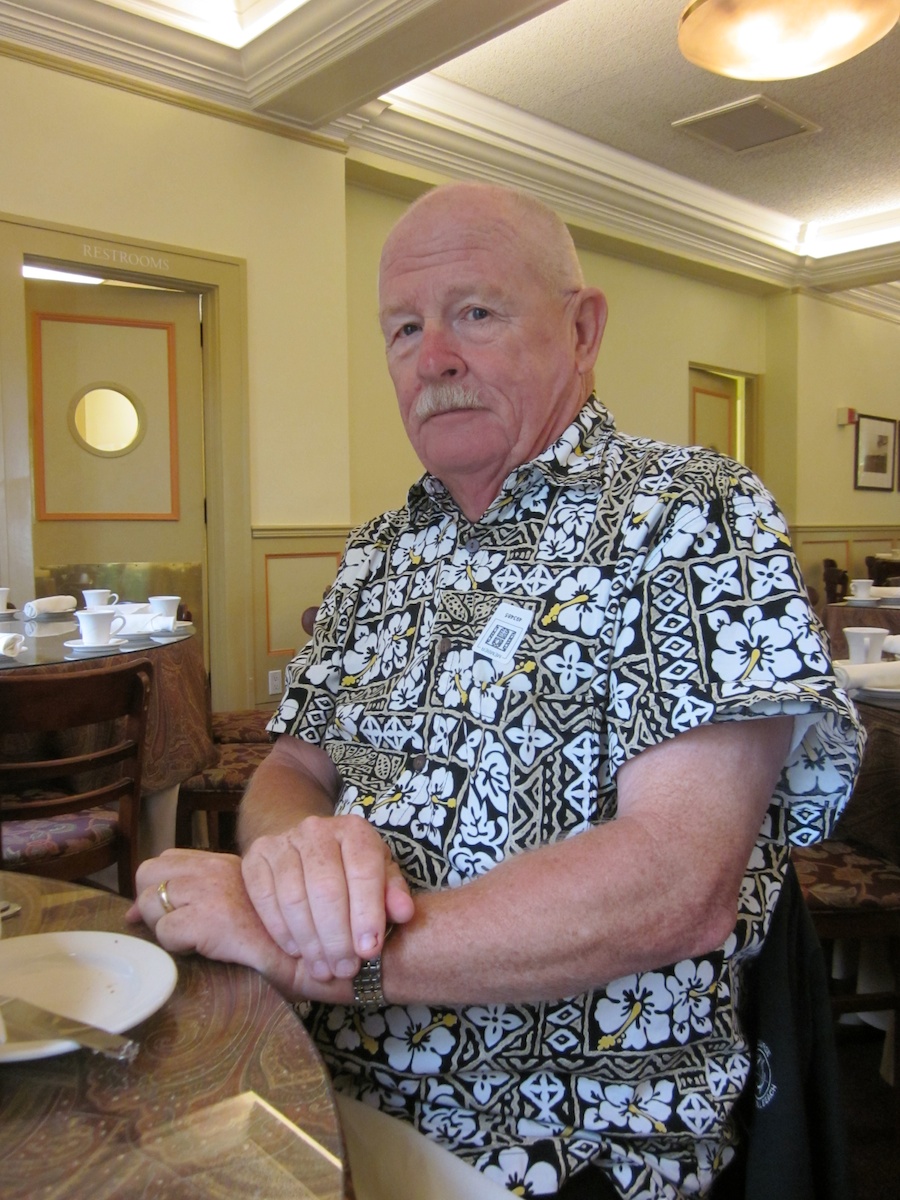 "I wore flowers for the day in the garden"

She said "Smile this time!"
Ninety Minutes Later We Are Back Outside And Most Of The Rain Has Gone!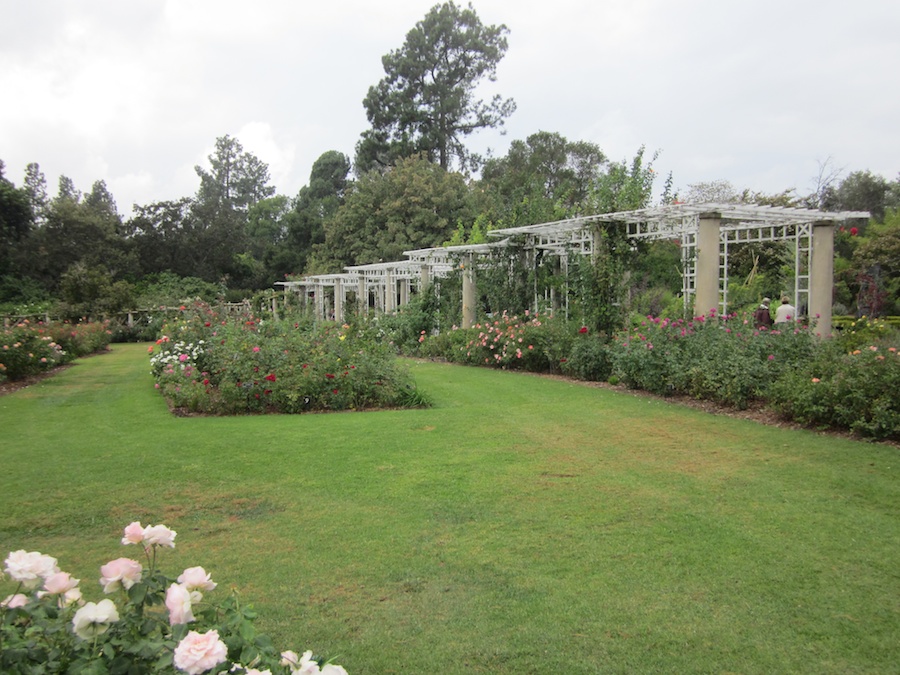 The rose arbors are beautiful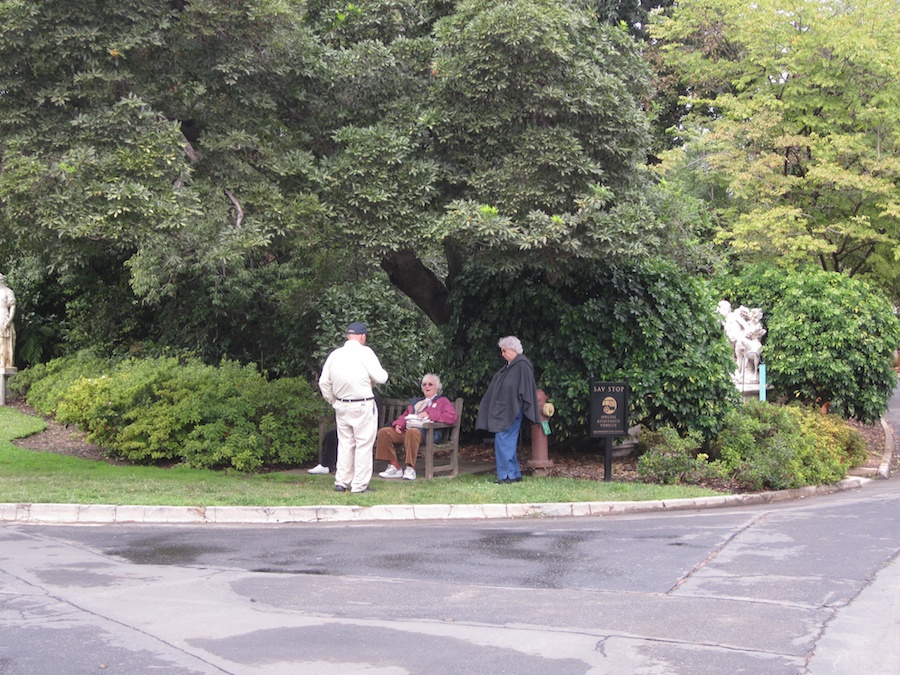 On the way to the cactus, Greg visits the ladies and tells them a joke
In The Desert Garden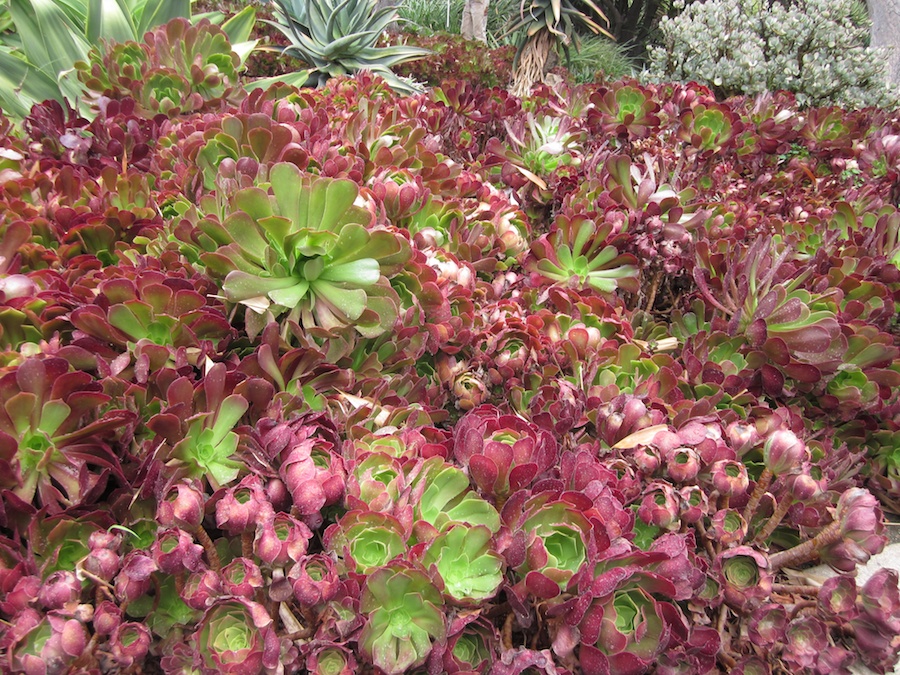 Christmas time already
Did You Know? - The Huntington Desert Garden is one of the largest and oldest assemblages of cacti and other succulents in the world. Nearly 100 years old, it has grown from a small area on the Raymond fault scarp when in 1907-1908 William Hertrich brought in plants from local nurseries, private residences, public parks, and from collection trips to the Southwest and Mexican deserts. Today the two dozen families of succulents and other arid adapted plants have developed into a 10-acre garden display, the Huntington?s most important conservation collection, a most important mission and challenge.

The breeze dried things out quickly - Greg and Sue blaze the trail ahead

Amazing... Green on top and reddish on the underneath! Aloe is a beautiful plant
Did You Know? - Aloe /??lo?/, also Alo?, is a genus containing over 500 species of flowering succulent plants. The most widely known species is Aloe vera, or "true aloe", so called because, though probably extinct in the wild, it is cultivated as the standard source of so-called "aloe vera" for assorted pharmaceutical purposes. Other species, such as Aloe ferox, also are cultivated or harvested from the wild for similar applications.
The genus is native to Africa; species are found in southern Africa, the mountains of tropical Africa, various islands off the coast of Africa including Sardinia, Madagascar, and the Arabian Peninsula.

Umbrellas in hand.... Smart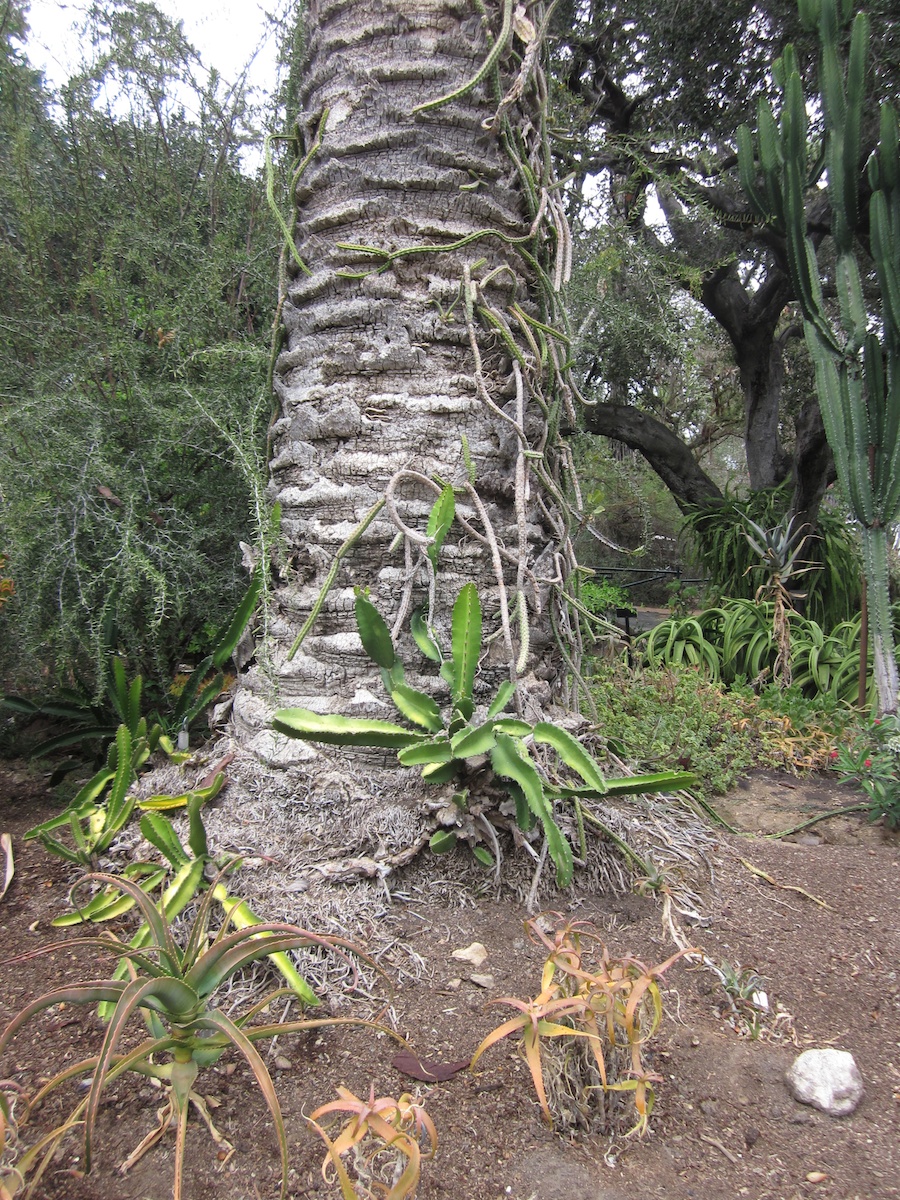 Cacti/succulents will grow almost anywhere

The path was dry but the sky was grey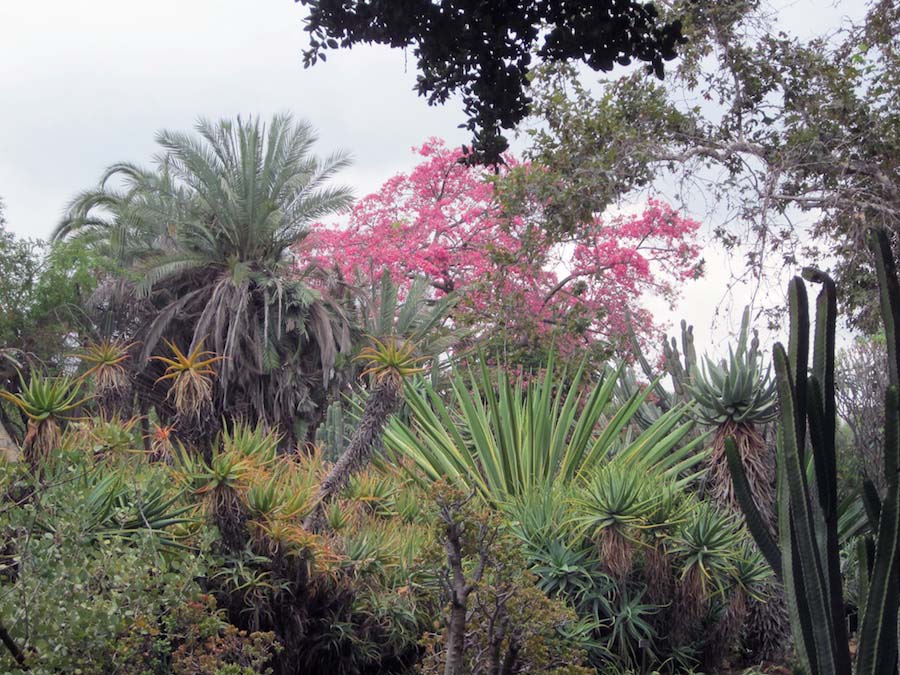 The pink blossoms stood right out amongst the desert flowers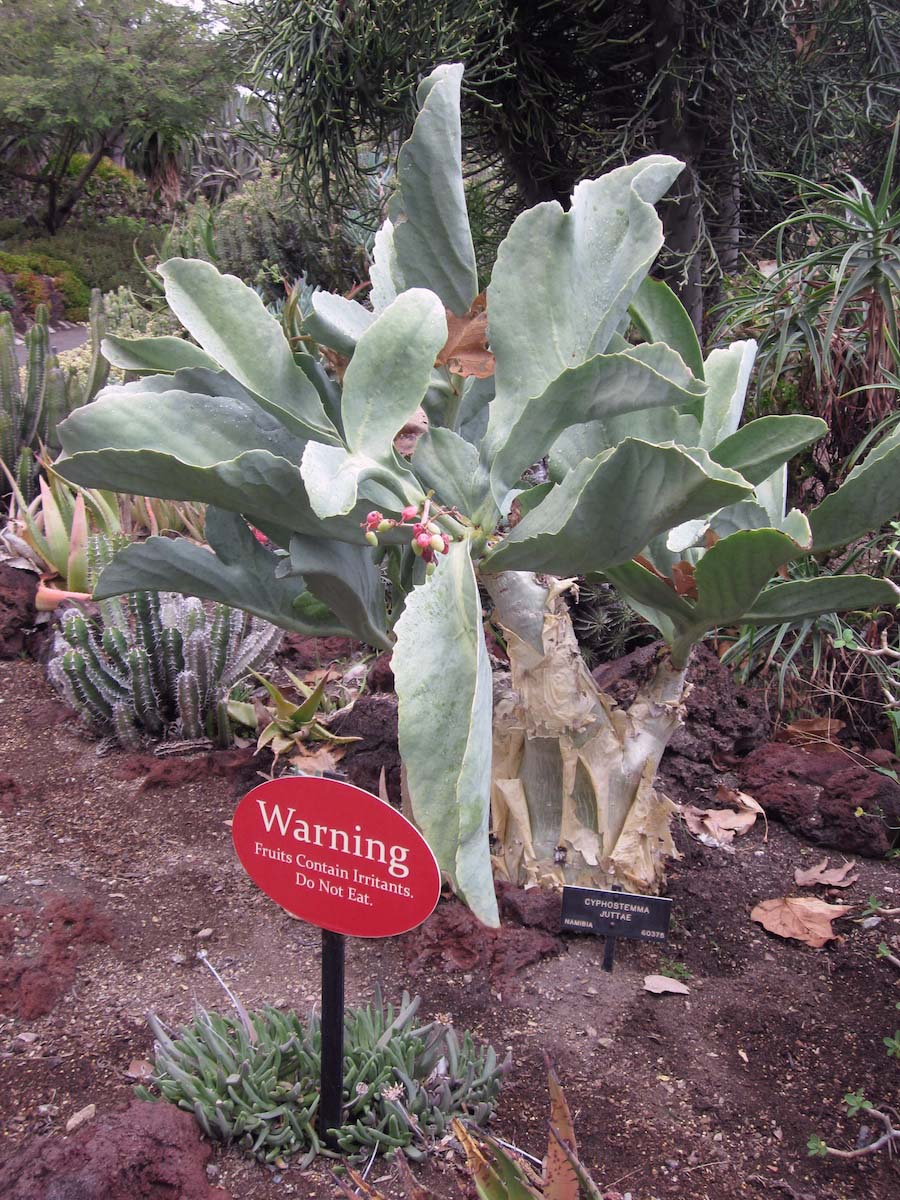 We did NOT eat any of the fruit.... Apparently some people did!
The shorter days cause the plants to move towards the red tones

Our pink tree has sharp spikes on the trunk... No shimmying here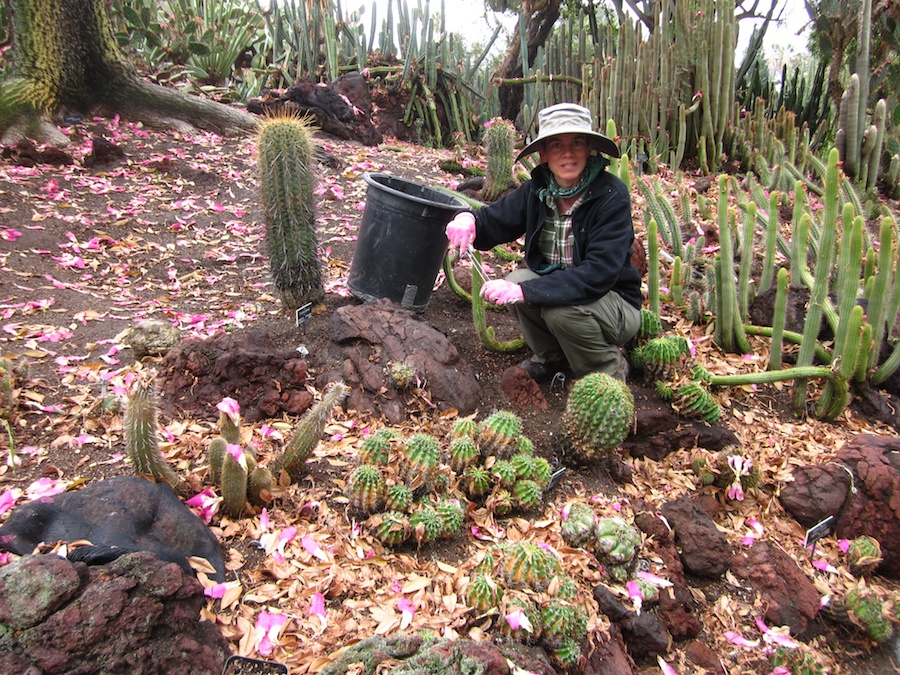 She explained what she was doing.... Removing wet leaves from the cacti...
Otherwise they can get fungus infections and die.... Has to be done by hand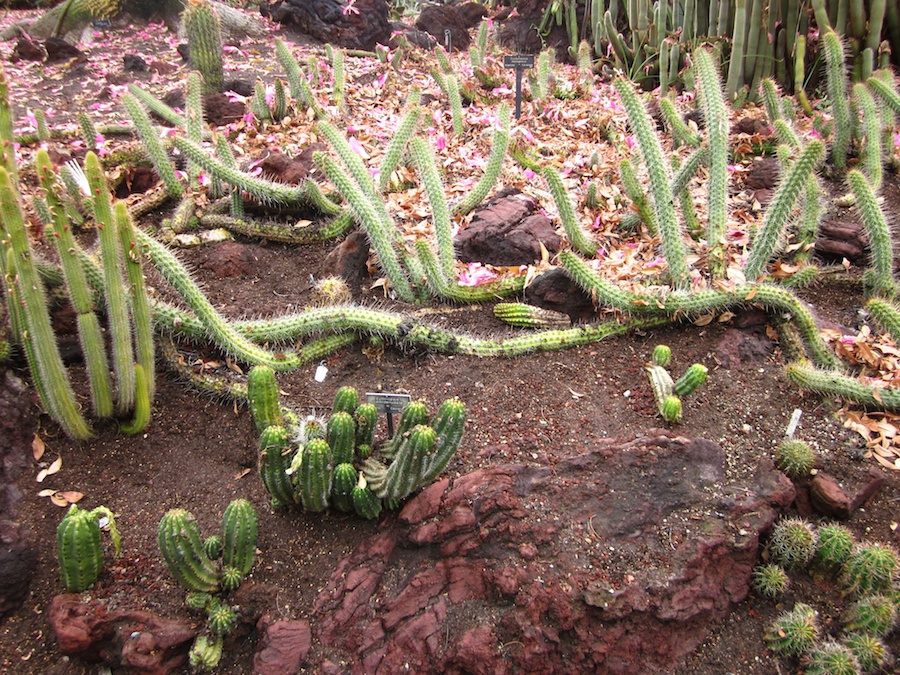 Before and after.... Lot of work in this garden

The blossoms are quite pretty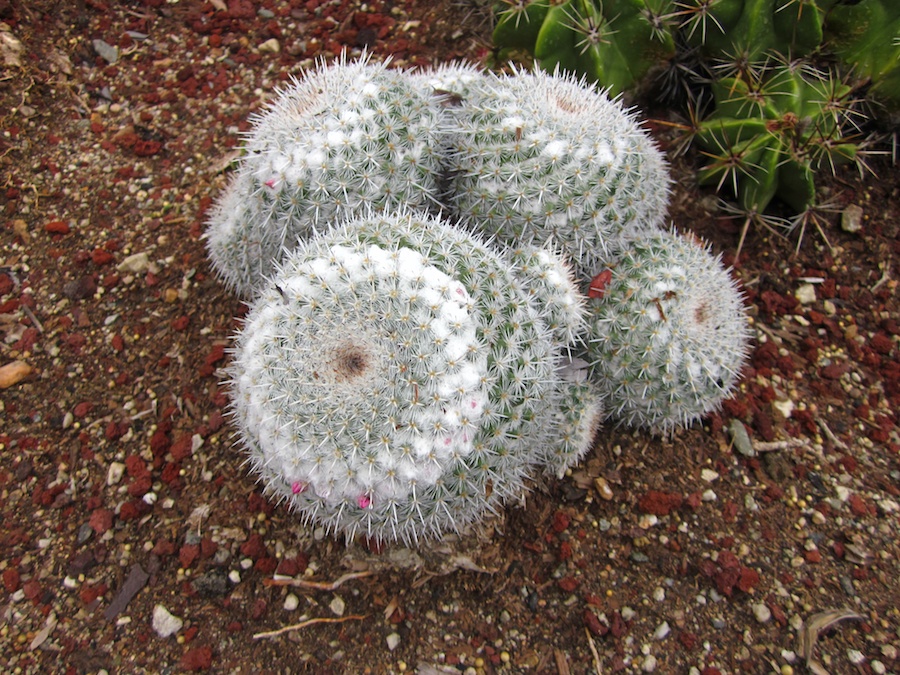 Do NOT sit down.... Mr. Barrel Cacti will unseat you quickly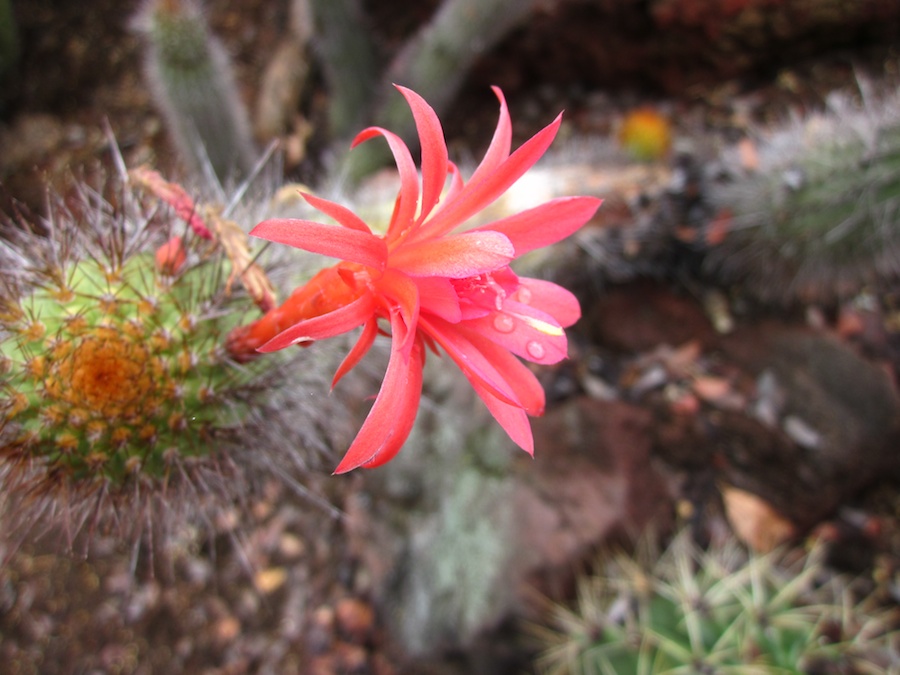 Such beauty amongst such sharp needles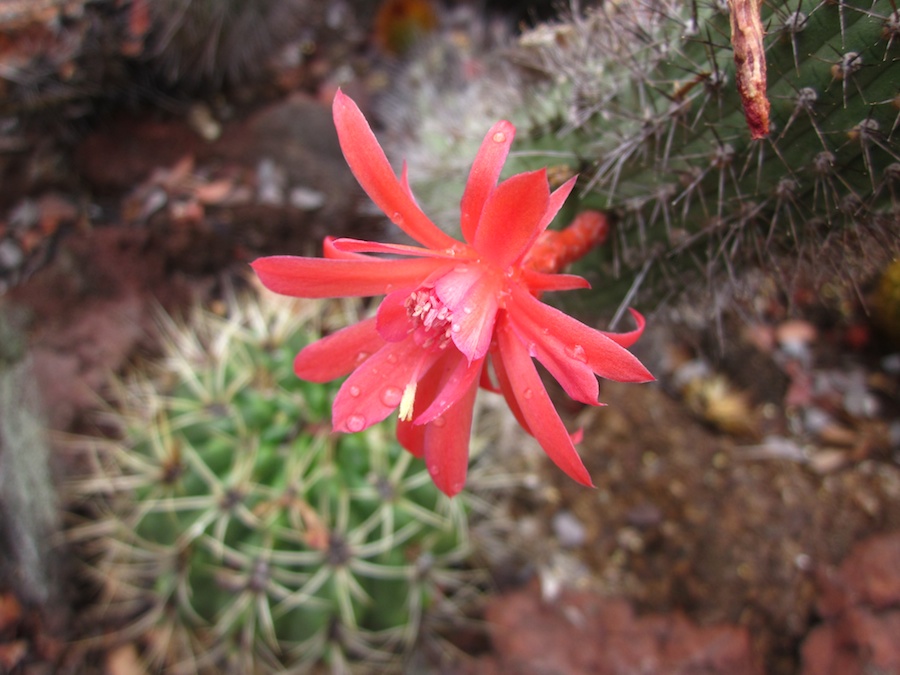 The rain made for bright dustless colors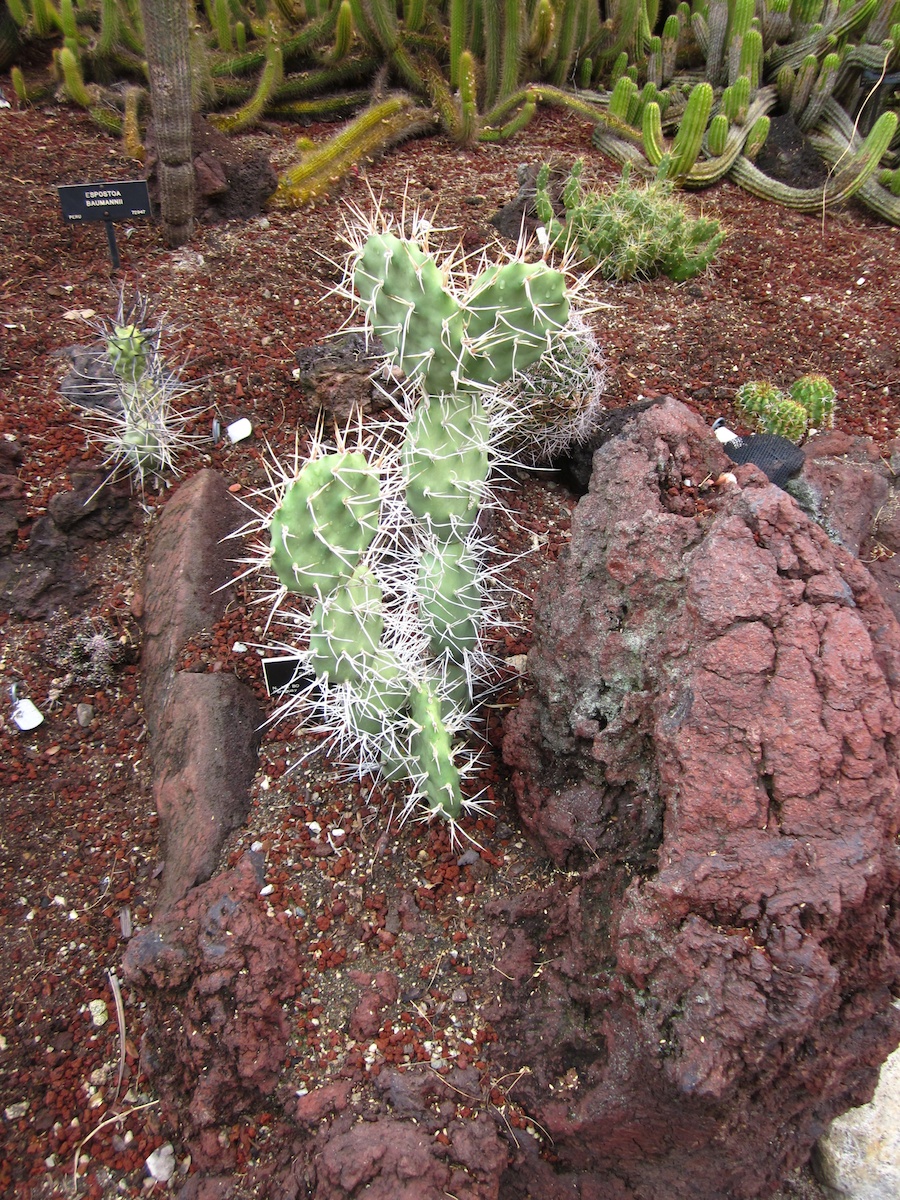 Red rocks... Green plants... We need lights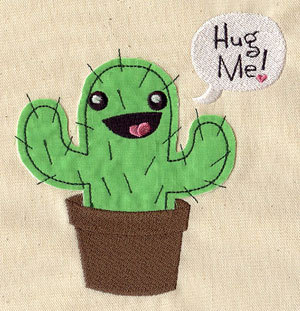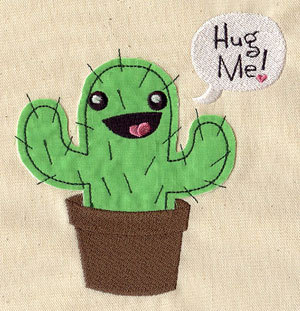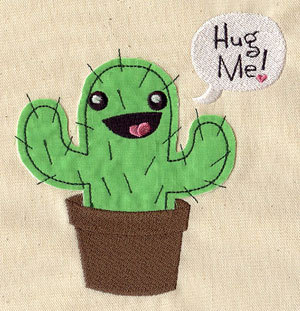 These guys had hats on... We could not figure out why? Until we checked the Wikipedia

From Wikipedia... Without his clothes on... a Gymnocalycium
Did You Know? - Gymnocalycium, commonly called chin cactus, is a genus of about 70 South American species of cacti. The genus name Gymnocalycium (from Greek, "naked calyx") refers to the flower buds bearing no hair or spines.
Their main area of distribution is Argentina, part of Uruguay, Paraguay, southern Bolivia and part of Brazil. Most species are rather small varying from 4 to 15 centimetres in size. In cultivation they are popular for their easy flowering habits, and the flowers are generally brightly coloured.
Where temperatures fall below 10 ?C (50 ?F) they must be cultivated under glass with heat.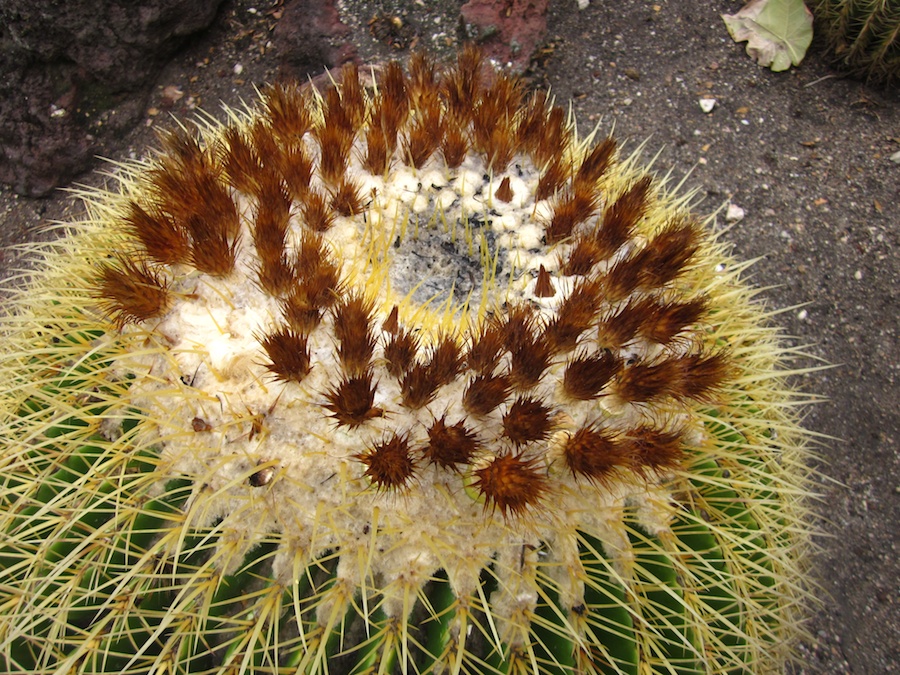 The blossoms are forming

They were enjoying the light drizzle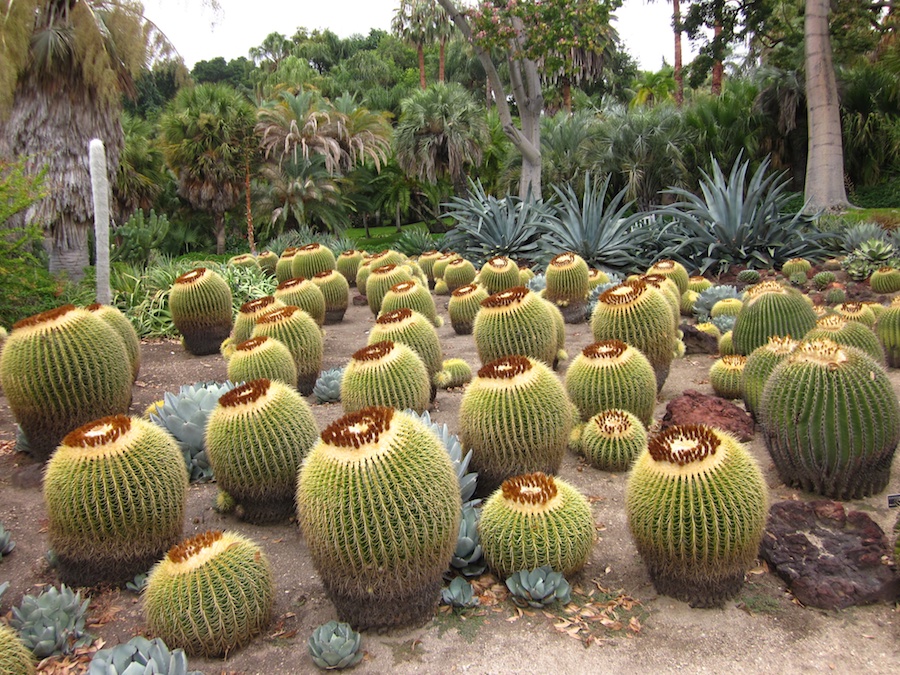 Are you seeing spots before your eyes??

"Hey guys.... I have an idea!"

They are bigger than Sue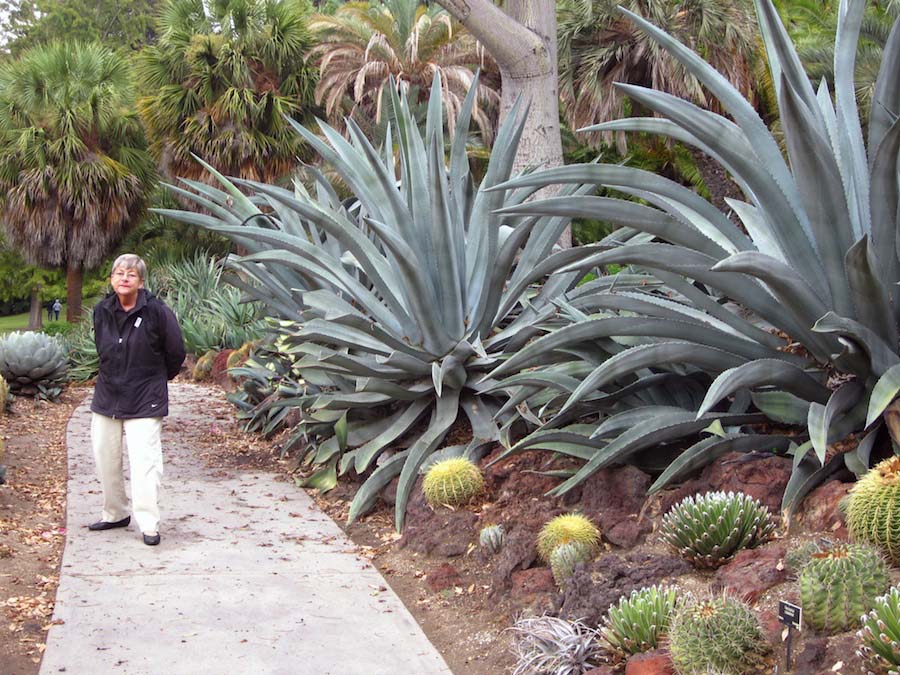 The plants were overtaking the walkway so they got a "hair cut"
We Walked Across The Street To The Sub-Tropical Garden To Avoid Getting Wet....

We are feeling drops on our heads... The bamboo looks pretty thick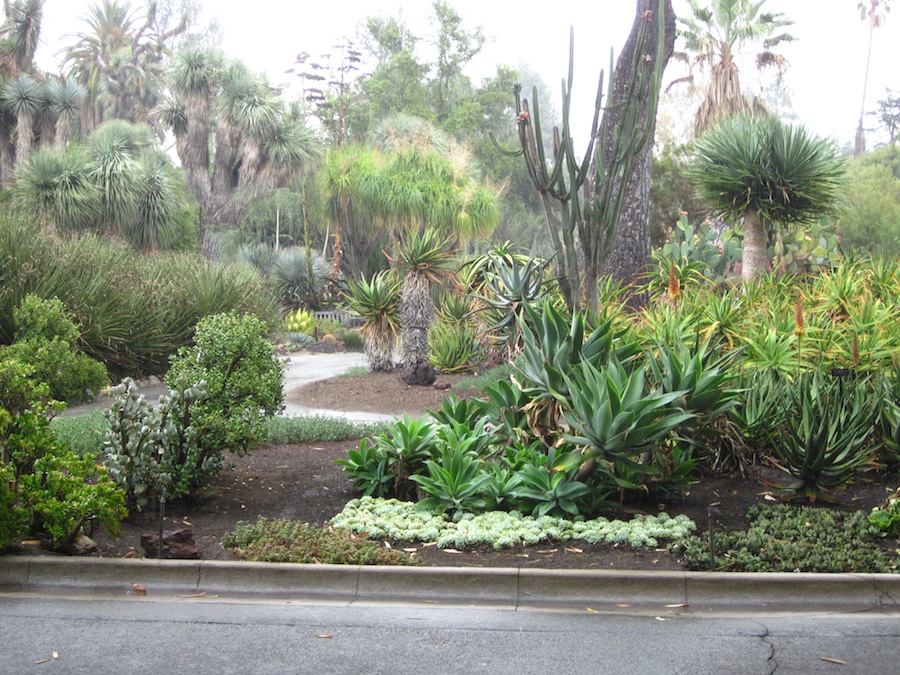 Looking back into the desert garden it looks wet... This means HEAD FOR THE BAMBOO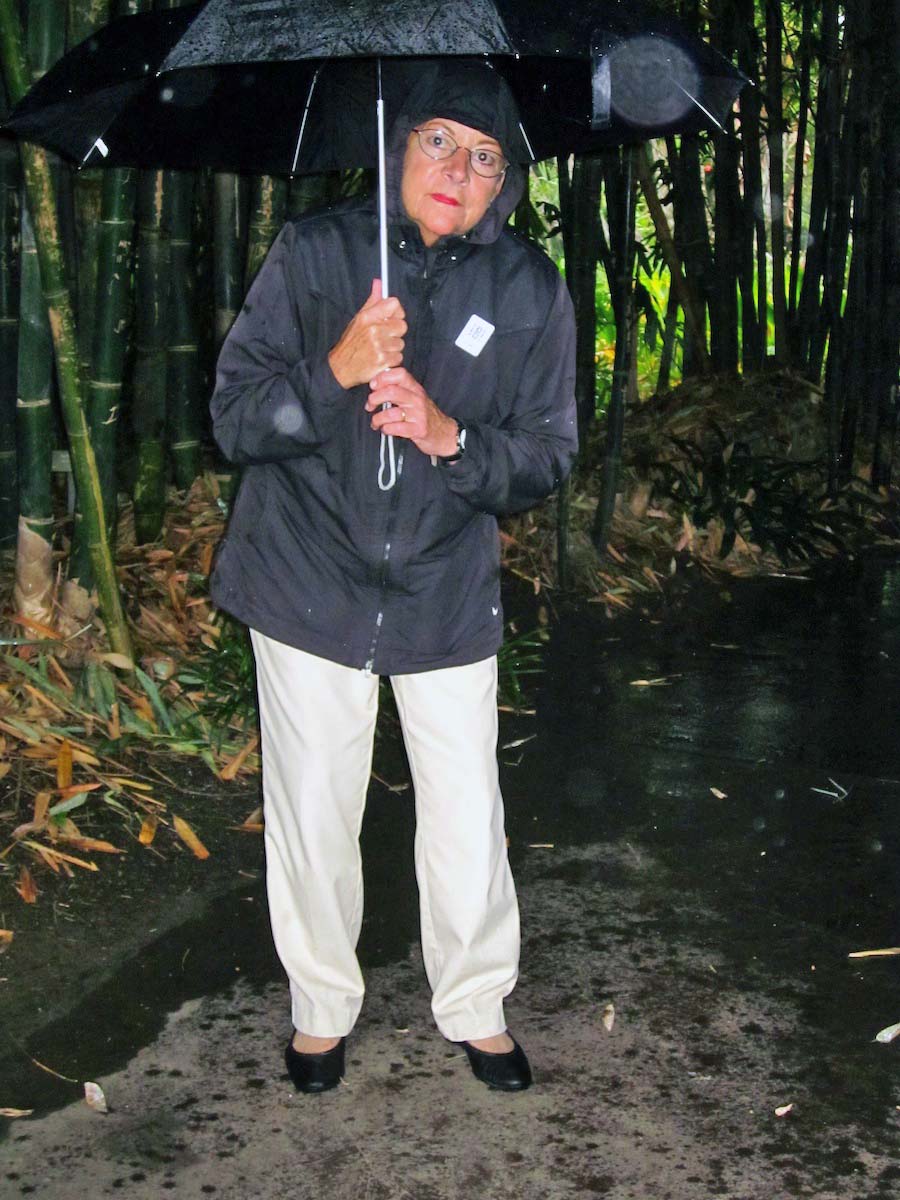 The bamboo forest (across from the dessert garden) worked quite well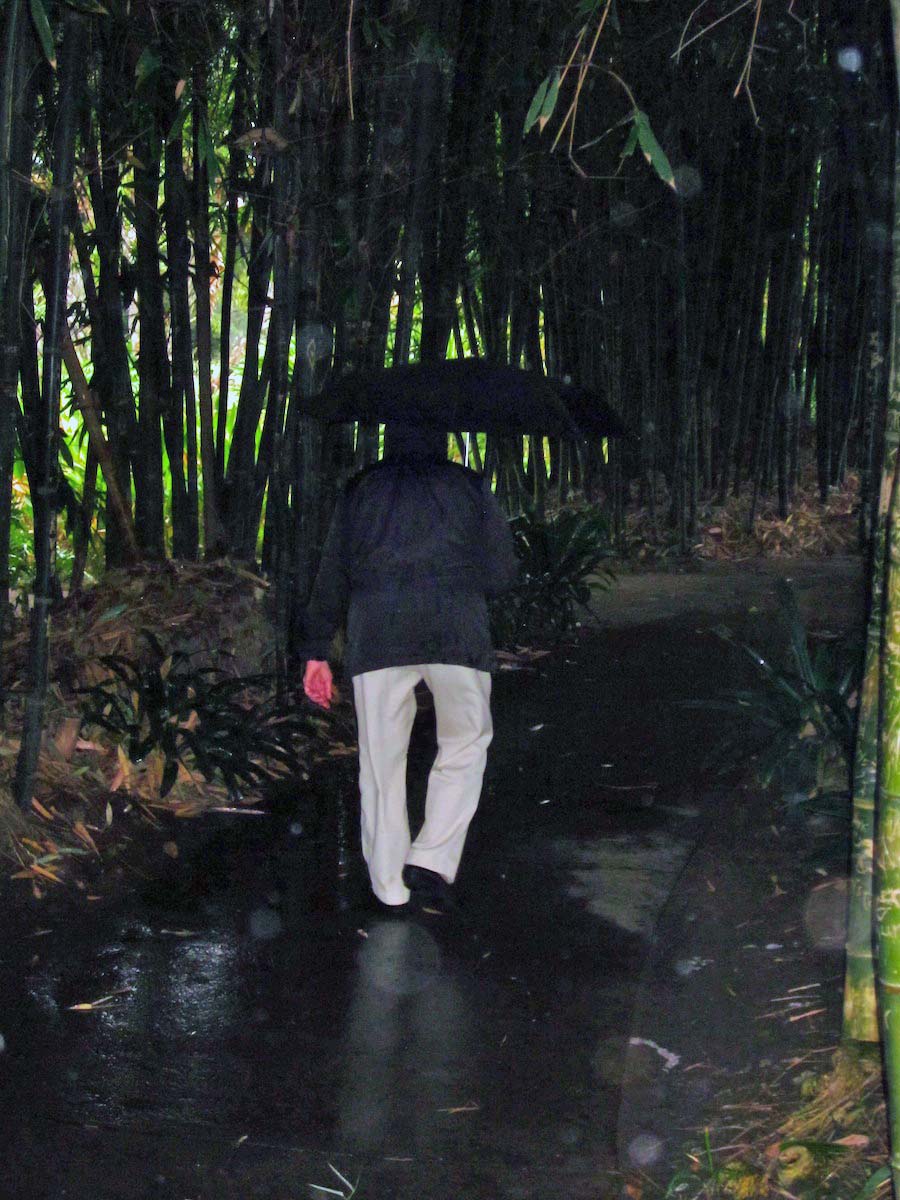 The hard rain lasted about 60 seconds and then went away... Bad cloud!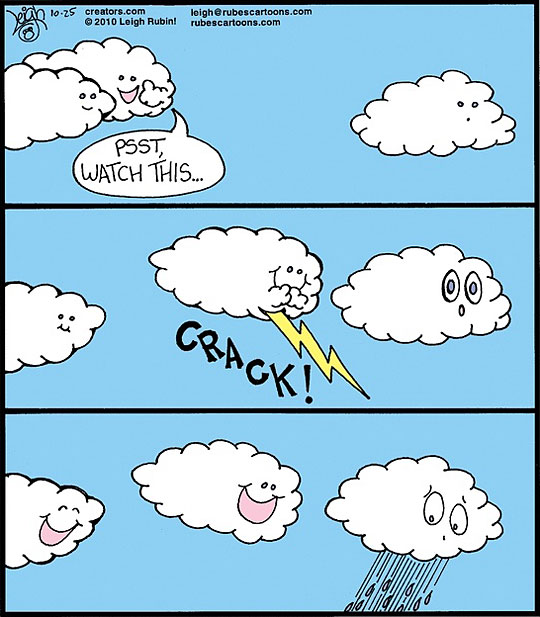 We enjoyed the view from inside the bamboo curtains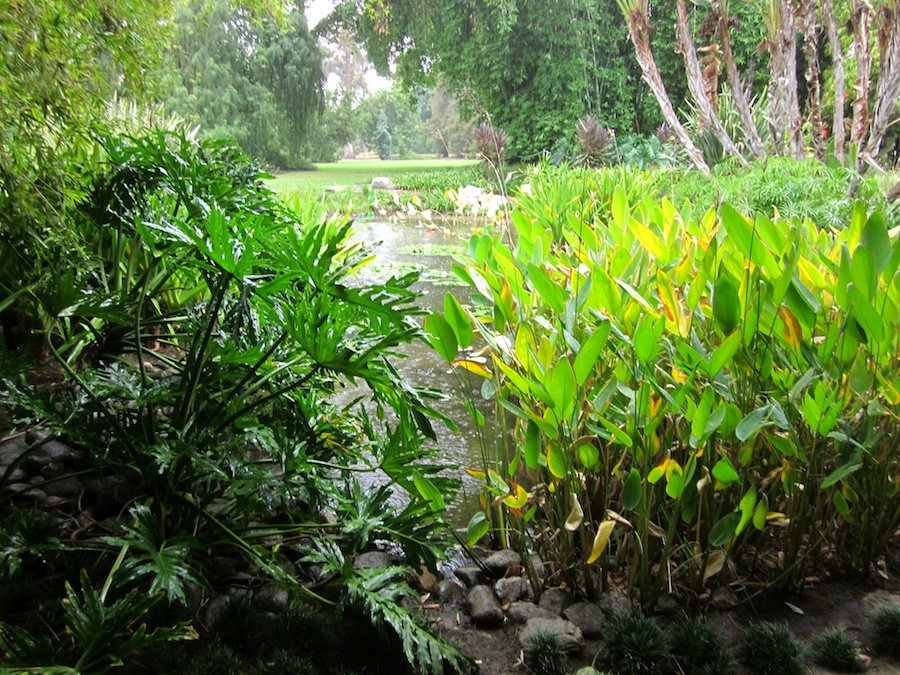 No ducks, geese, or turtles... We did not check the fish
Back Across The Street And Into The Desert Garden Again

The flowers were beautiful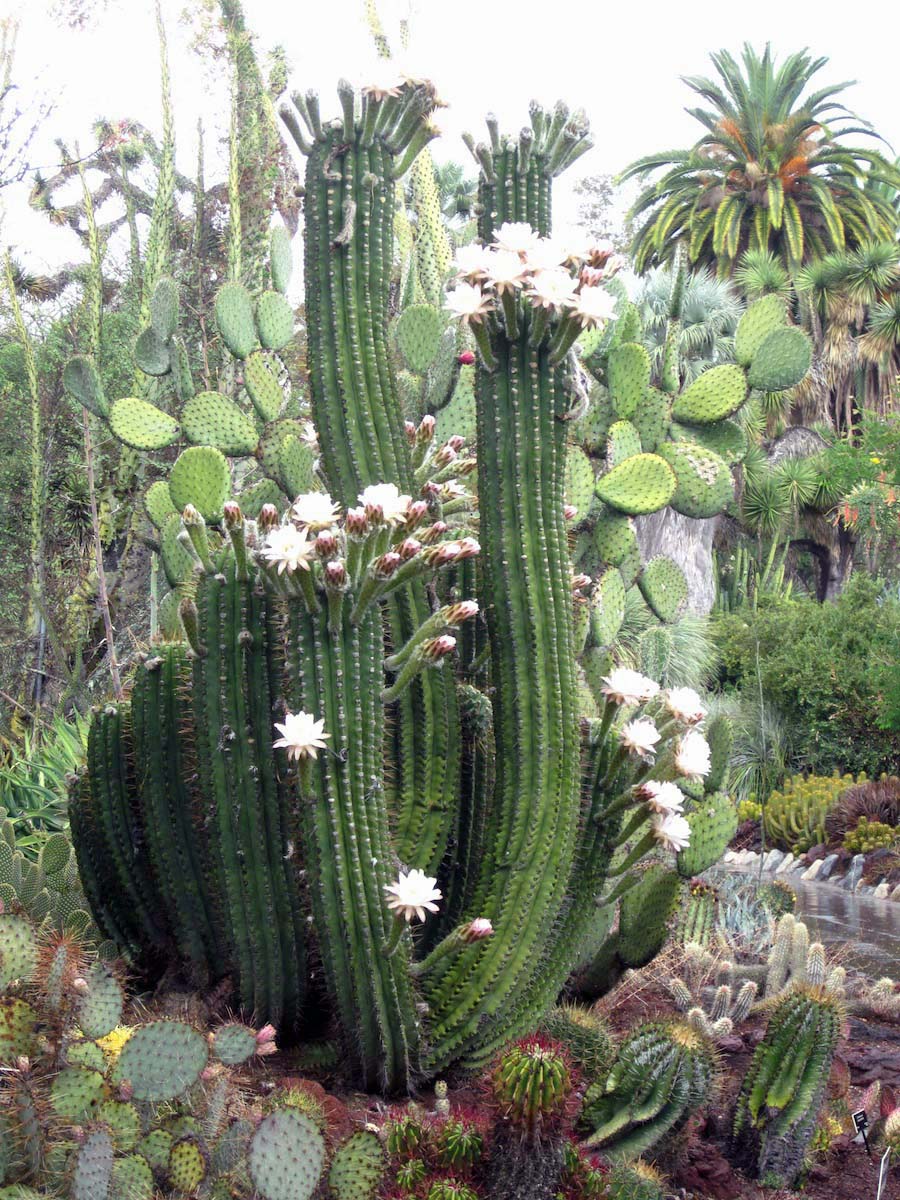 This specimen was loaded with blossoms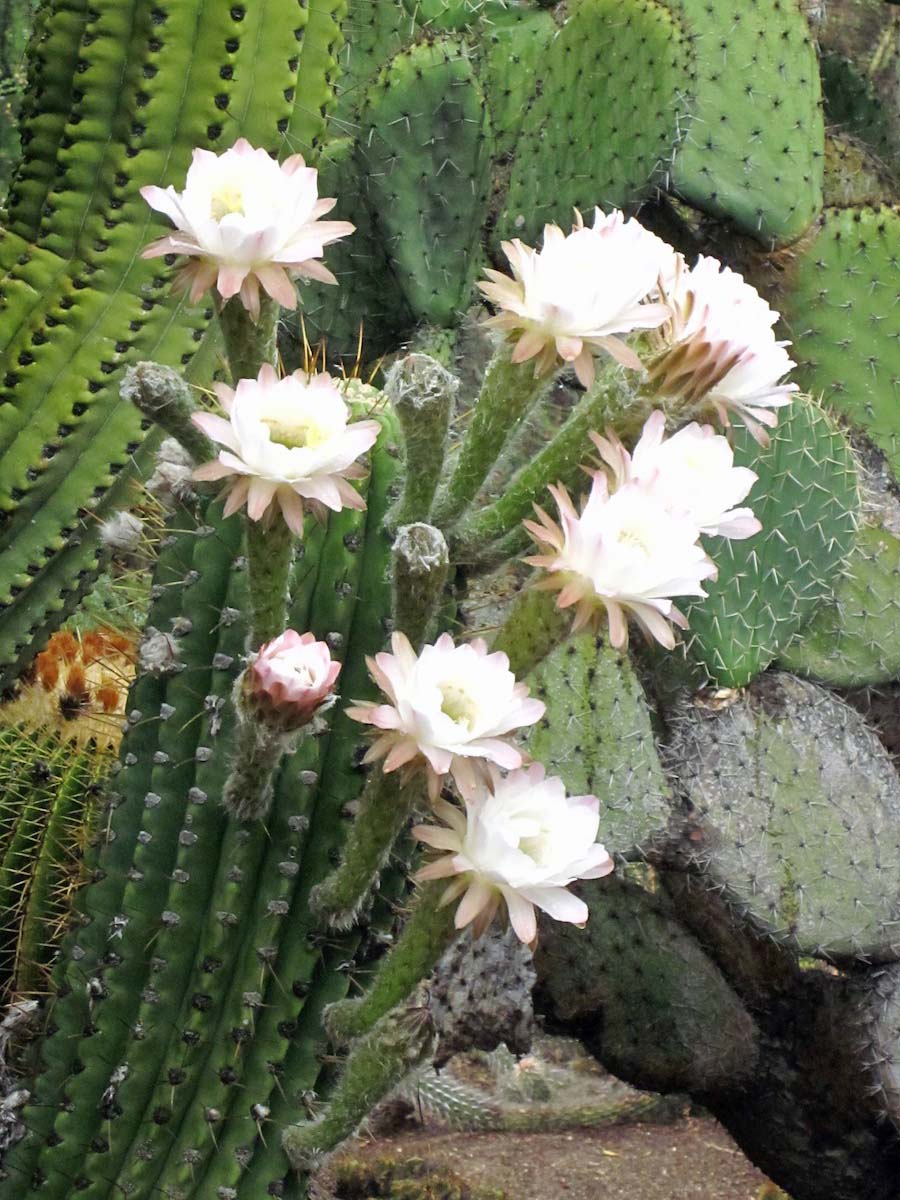 The flowers were magnificent....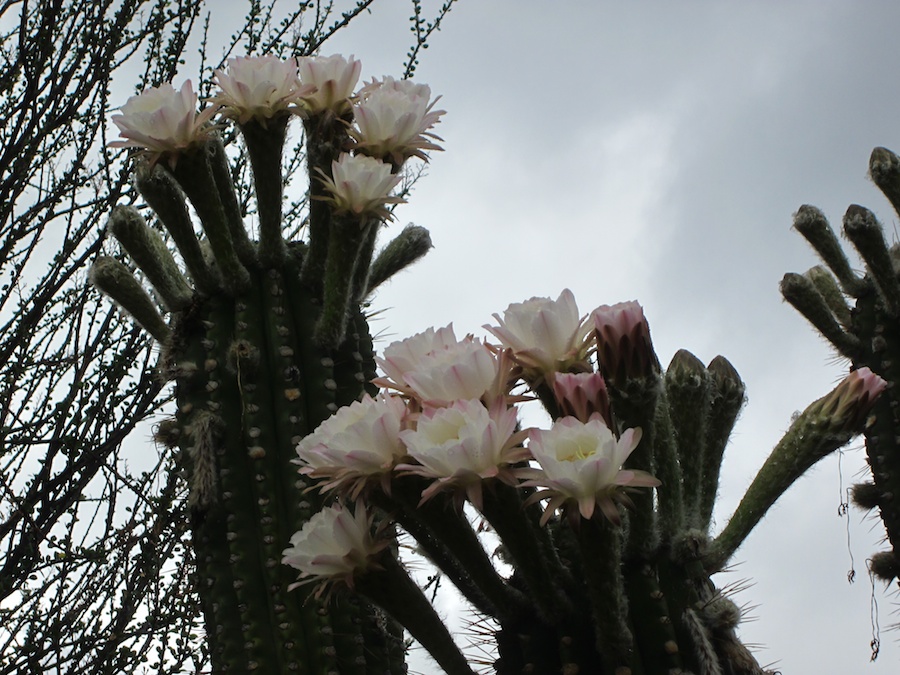 Wish we had a blue sky for this shot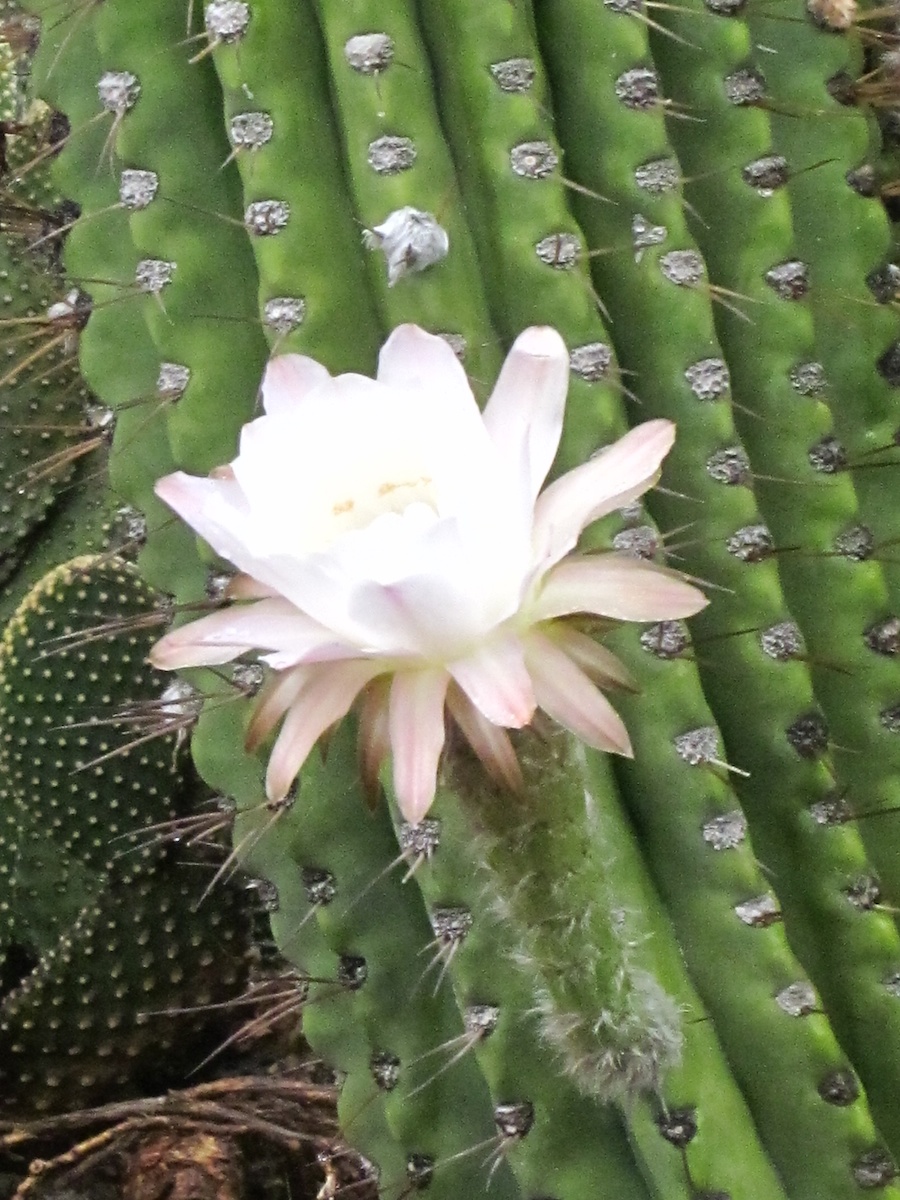 Be careful where you put your hand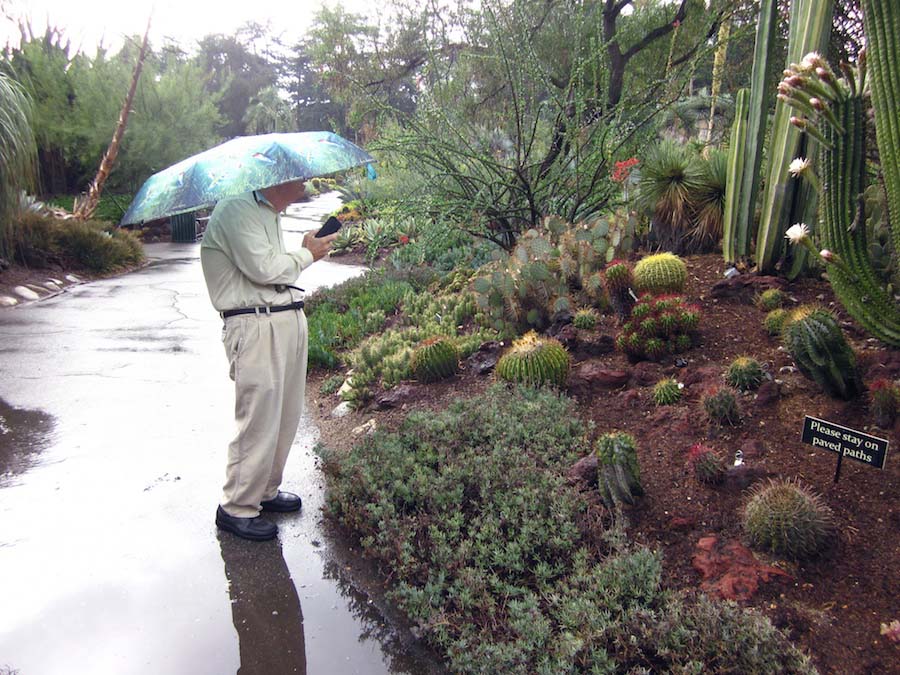 Greg stopped to study one of the plants called a "cactus kitty"

We decided to do the circle....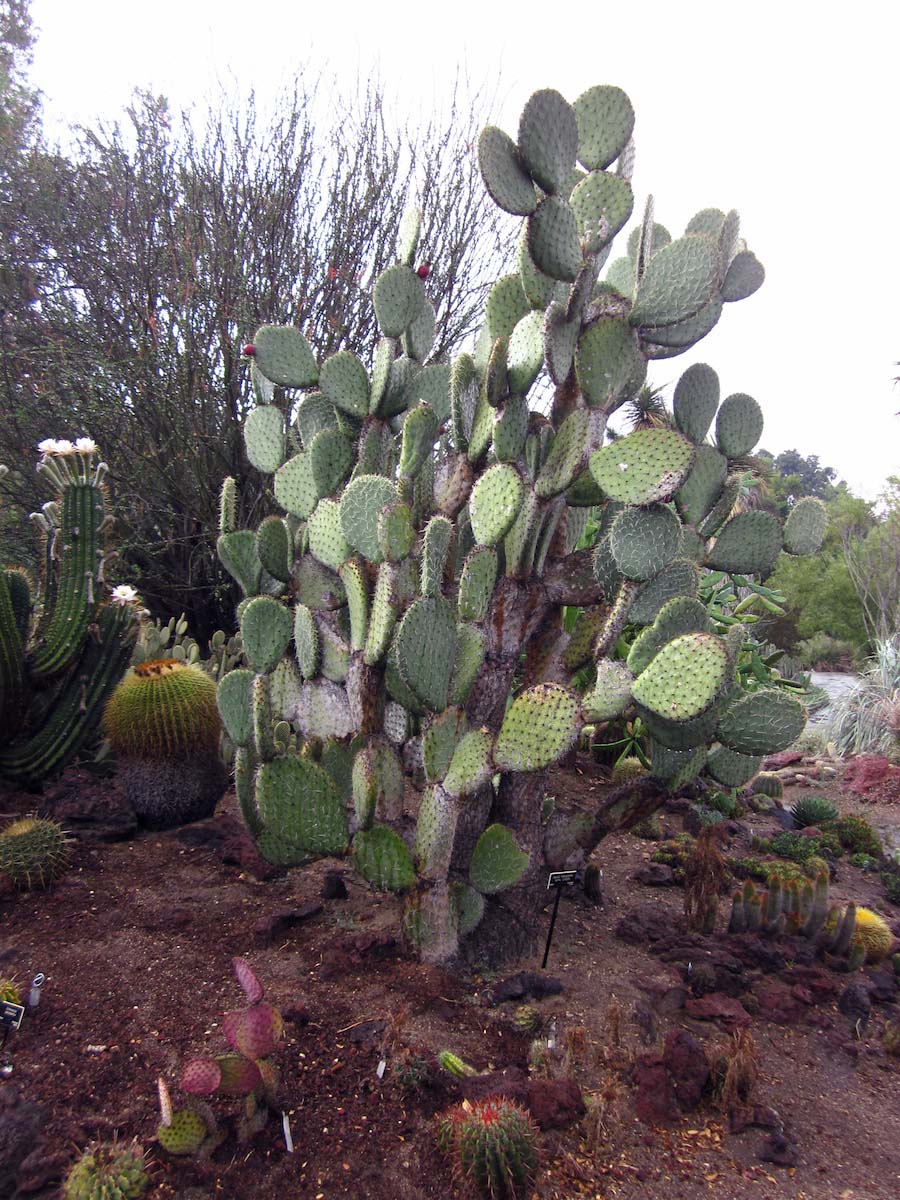 Yummy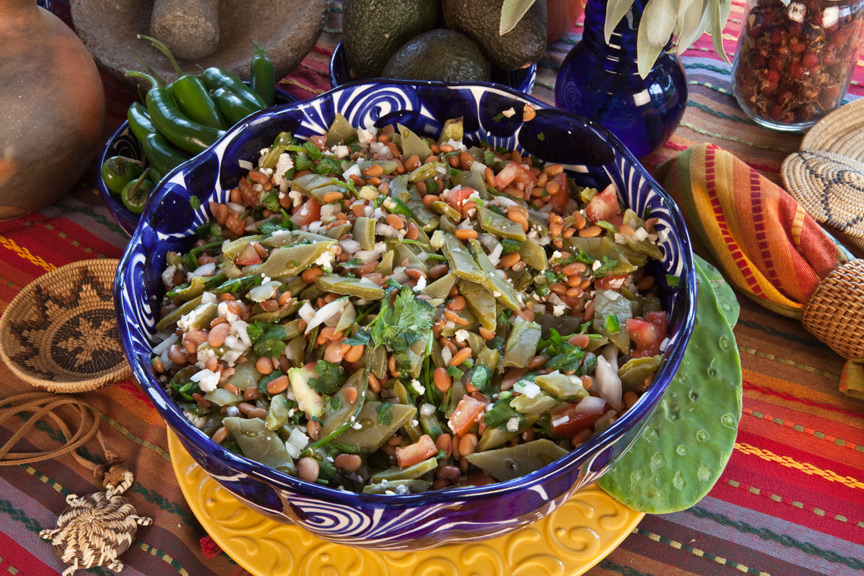 A cactus salad
Did You Know? - Edible cactus is also known as nopales (no-PAH-les), nopalitos, cactus paddles, or cactus pads. This vegetable is popular in Mexico and other Central American countries, parts of Europe, the Middle East, India, North Africa and Australia. Its popularity is increasing in the United States, where it can be found at Mexican grocery stores, specialty produce markets and farmer's markets.
Edible cactus is characterized by its fleshy oval leaves (typically called pads or paddles) of the nopal (prickly pear) cactus.
With a soft but crunchy texture that also becomes a bit sticky (not unlike okra) when cooked, edible cactus tastes similar to a slightly tart green bean, asparagus, or green pepper.
Cactus pads contain beta carotene, iron, some B vitamins, and are good sources of both vitamin C and calcium.

Bumbershoot up but this was the last of the drizzle for the day

Even some cactus have fall colors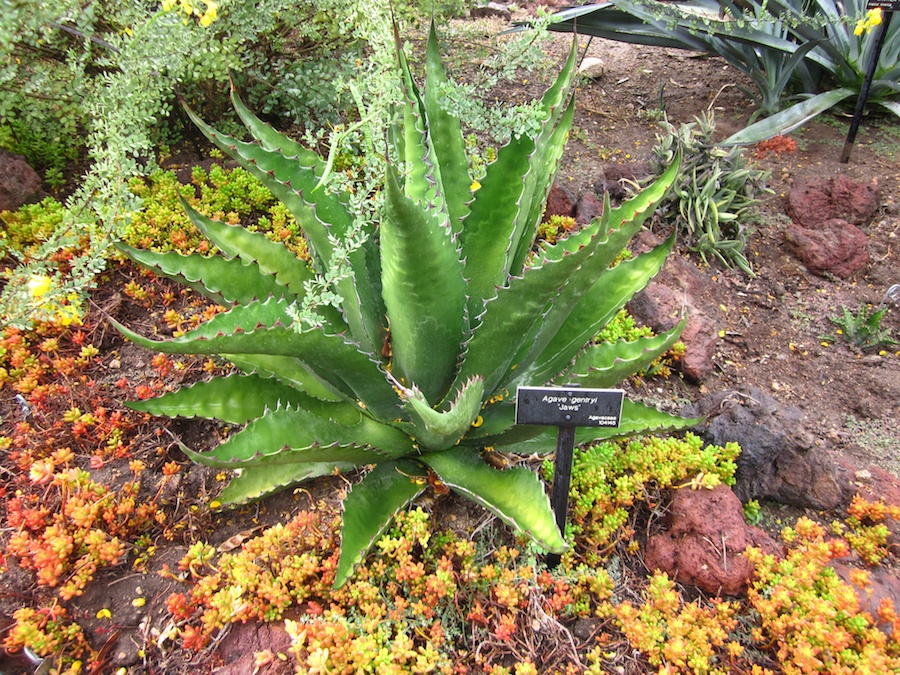 Agave... That means tequila is around here somewhere.... (Tequila is made from Blue Agave)
Did You Know? - One of the most familiar species is Agave americana , a native of tropical America. Common names include century plant, maguey (in Mexico), or American aloe (it is not, however, closely related to the genus Aloe ).
The name "century plant" refers to the long time the plant takes to flower. The number of years before flowering occurs depends on the vigor of the individual plant, the richness of the soil, and the climate; during these years the plant is storing in its fleshy leaves the nourishment required for the effort of flowering.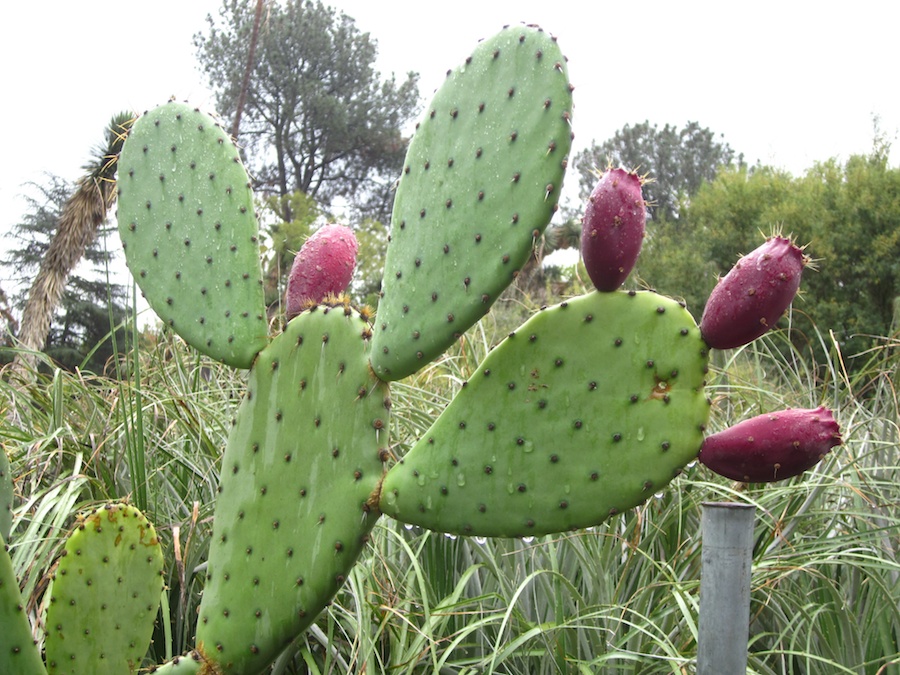 Amazing blossoms... It's like they are waving goodbye