We Begin With The Docent Tour
Springtime That means we are off to the Huntington Botanical Gardens and Library for our second visit this year. We have an appointment to dine at the Tea House at 1:00. So off we go!

We started with the docent tour of the gardens
Did you know? - In the US, docents are educators, trained to further the public's understanding of the cultural and historical collections of the institution. In many cases, docents, in addition to their prescribed function as guides, also conduct research utilizing the institution's facilities. They are normally volunteers. In Europe, museum and gallery tours are frequently or typically - depending on national and regional qualification requirements and specific regulations pertaining to each site or institution - conducted by highly qualified tourist guides.

Prospective docents generally undergo an intensive training process, at the expense of the educational institution, which teaches them good communicative and interpretive skills, as well as introduces them to the institution's collection and its historical significance. They are also provided with reading lists to add to the basic information provided during training, and must then shadow experienced docents as they give their tours before ultimately conducting a tour on their own. Docents are kept up-to-date with continuous training and seminars.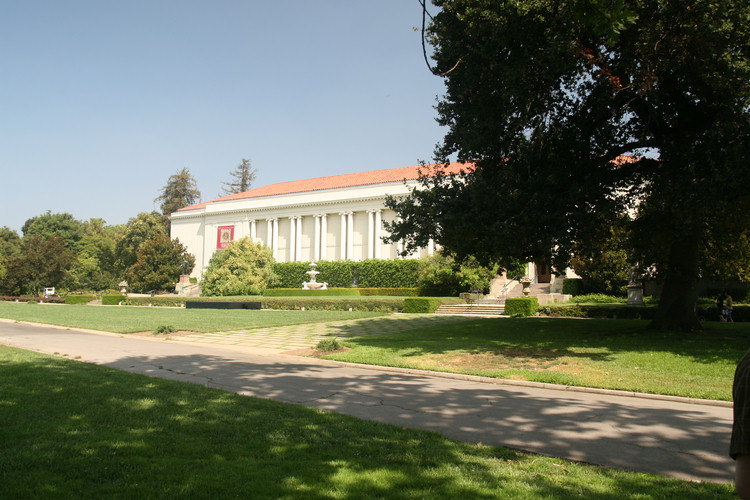 The great library just received Thomas Edison's manuscripts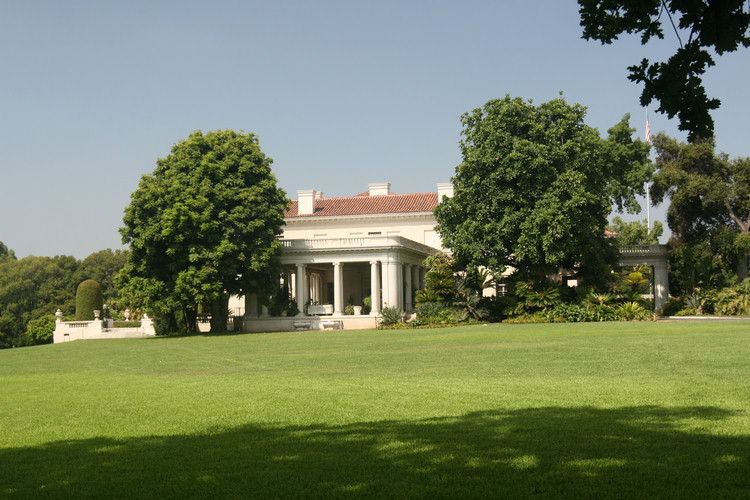 The terrace/porch was an afternoon delight

Greenery everywhere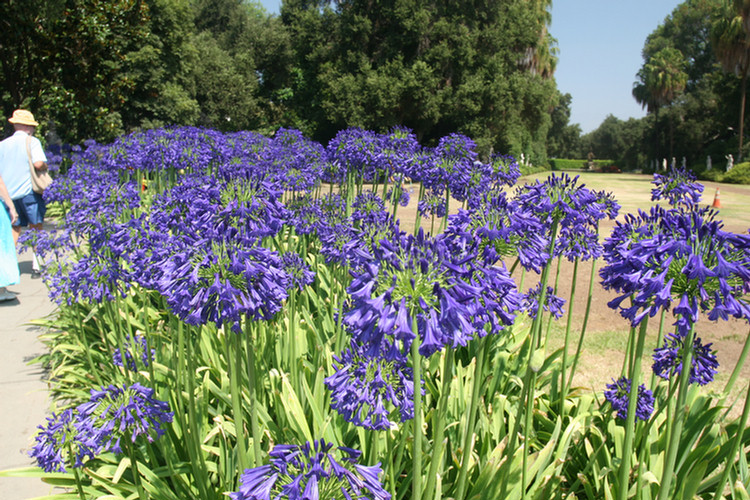 Agapanthus were in full swing and humming birds were everywhere
Did you know? - Agapanthus, the "Lily of the Nile", is a genus of flower plants with six to ten species depending on how the different species are classified. They are all herbaceous perennial plants native to South Africa. They have been placed either in the family Alliaceae, or separated into their own monogeneric family Agapanthaceae (e.g. Indices Nominum Supragenericorum Plantarum Vascularium).

Members of the genus have funnel-shaped flowers, in varying shades of blue colors with white flowering forms occurring. The species have been hybridized to produce additional colors in plants under cultivation. The flowers are produced in many-flowered cymes on long, erect stems called scapes, which can grow up to 1 m long. The basal leaves are curved, lanceolate, and are up to 60 cm long.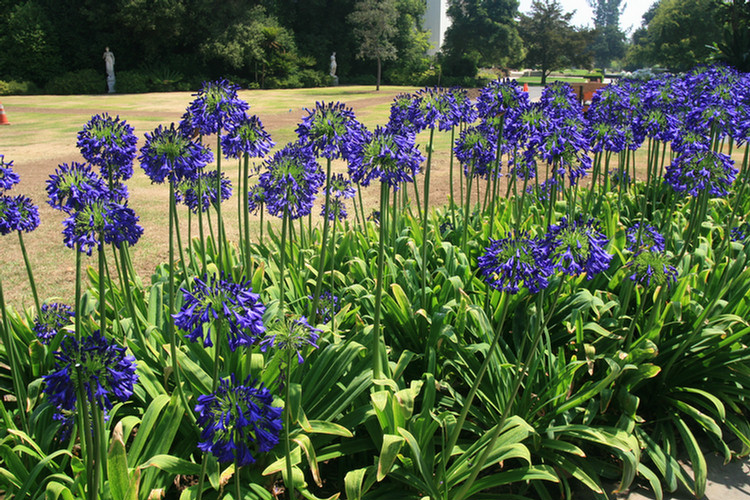 There we a lot of bees but other little birds seemed to enjoy the flowers

Look carefully for the Humming Birds
Did You Know? -
Hummingbirds are birds in the family Trochilidae, and are native to the Americas. They are among the smallest of birds, and include the smallest extant bird species, the Bee Hummingbirds. They can hover in mid-air by rapidly flapping their wings 12-90 times per second (depending on the species). They can also fly backwards, and are the only group of birds able to do so. Their English name derives from the characteristic hum made by their rapid wing beats. They can fly at speeds exceeding 15 m/s (54 km/h; 34 mph).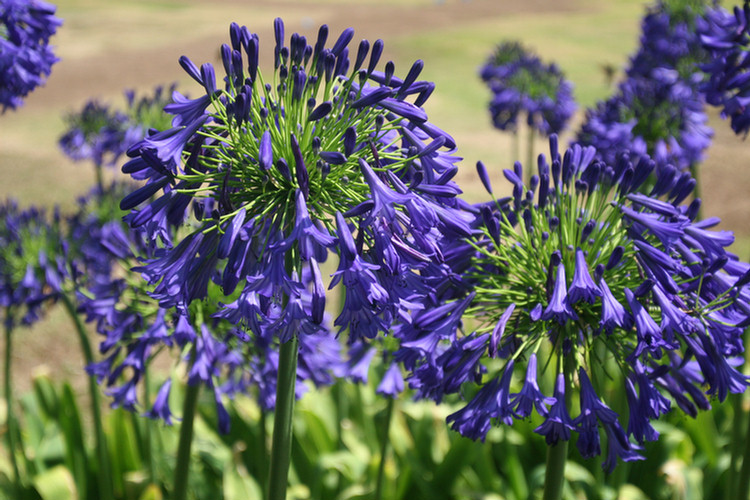 Magnificent coloring
The Shakespeare Garden
Did you know? - A Shakespeare garden is a themed garden that cultivates plants mentioned in the works of William Shakespeare. In English-speaking countries, particularly the United States, these are often public gardens associated with parks, universities, and Shakespeare festivals. Shakespeare gardens are sites of cultural, educational, and romantic interest and can be locations for outdoor weddings.

Signs near the plants usually provide relevant quotations. A Shakespeare garden usually includes several dozen species, either in herbaceous profusion or in a geometric layout with boxwood dividers. Typical amenities are walkways and benches and a weather-resistant bust of Shakespeare. Shakespeare gardens may accompany reproductions of Elizabethan architecture. Some Shakespeare gardens also grow species typical of the Elizabethan period but not mentioned in Shakespeare's plays or poetry.

Subtle greens and names and meanings for everything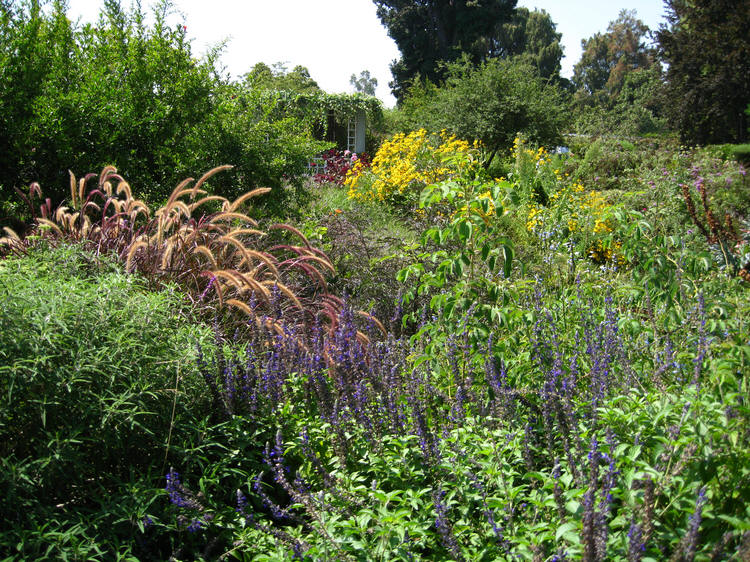 English manor garden or Shakespeare Garden

Pomegranates everywhere
Off To The Rose Garden
Did you kow? - A Rose garden or Rosarium is a garden or park, often open to the public, in which roses are grown. While some rose gardens have only a decorative purpose, most of them are used to present and grow various types of roses.

The first known rose garden was planted by French empress Joséphine de Beauharnais in Malmaison. When she died, in 1814, the garden had around 250 types of garden roses. Another old rose garden is the Rosenhöhe Park in Darmstadt, Germany created in 1810 by Princess Wilhelmine of Baden.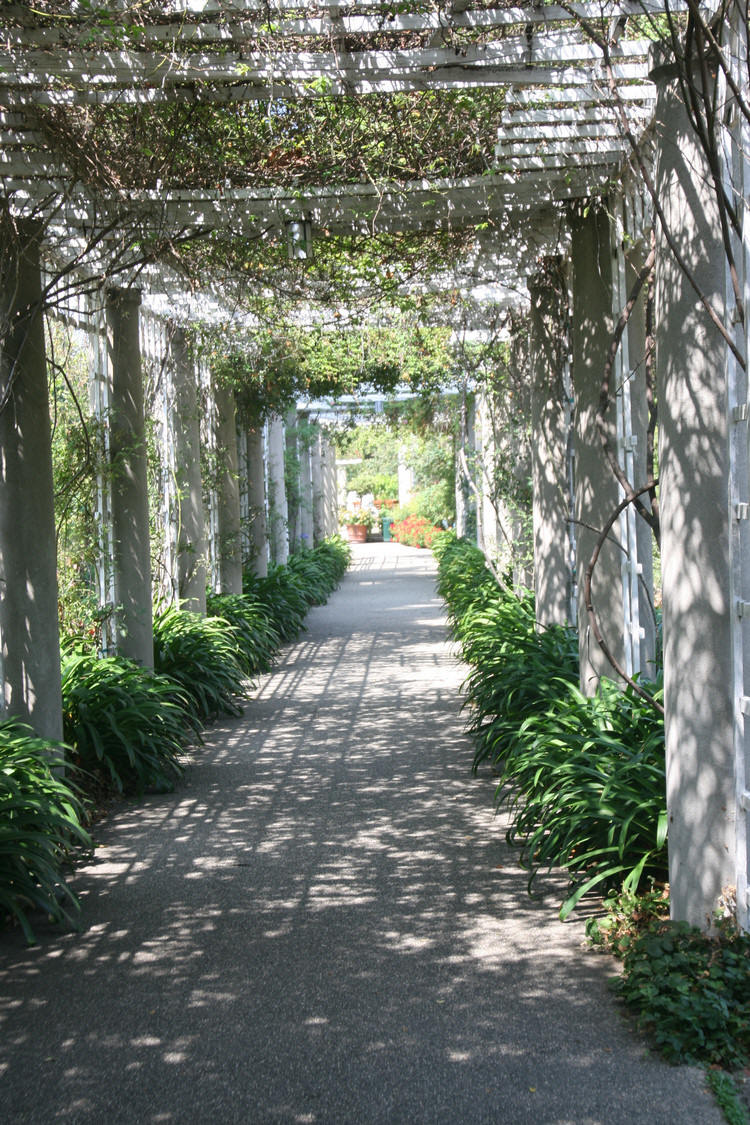 Shade was appreciated today!!

Statues were strategically located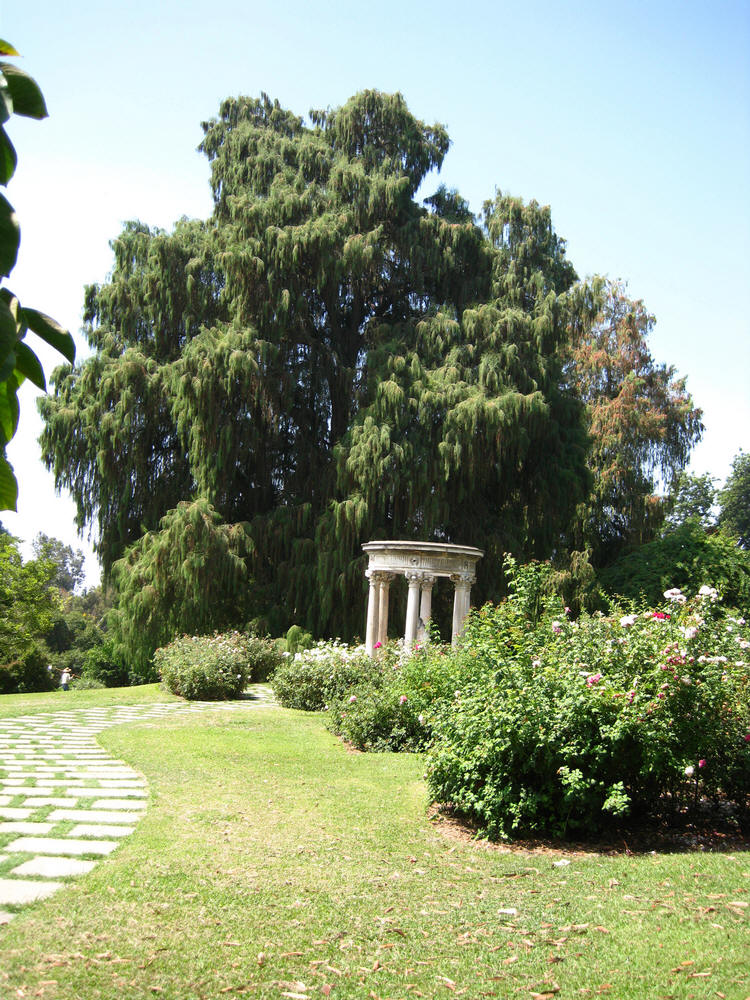 This tree was brought to the garden in 1920 as seeds from Mexico in Huntington's pocket

The docent was outstanding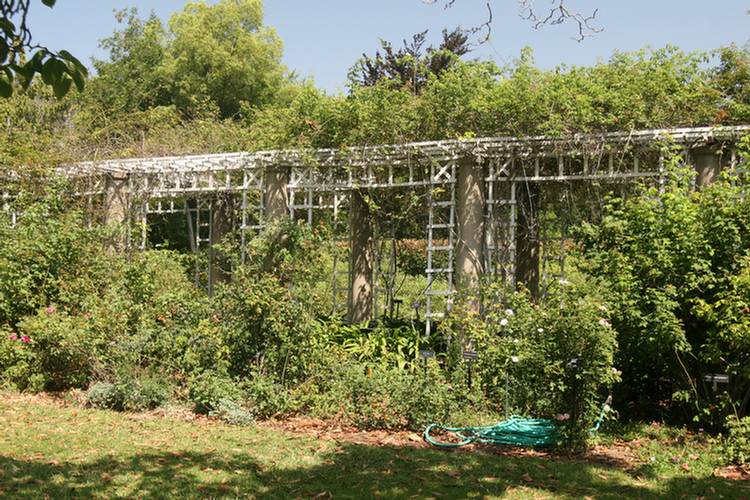 Rose gardens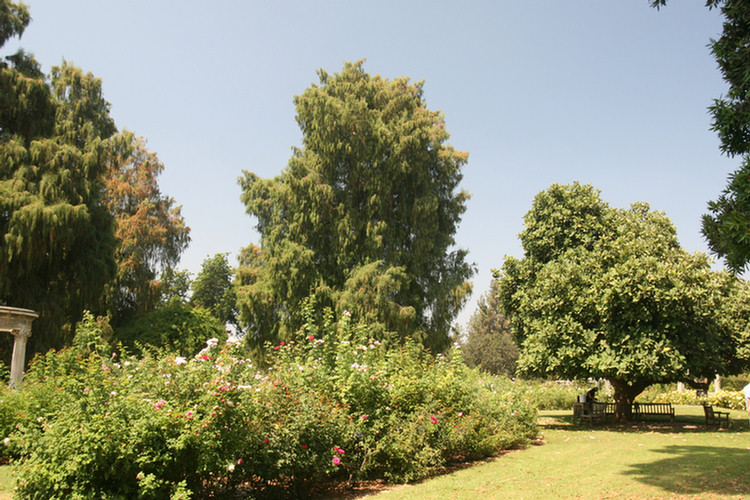 The artist paints under the trees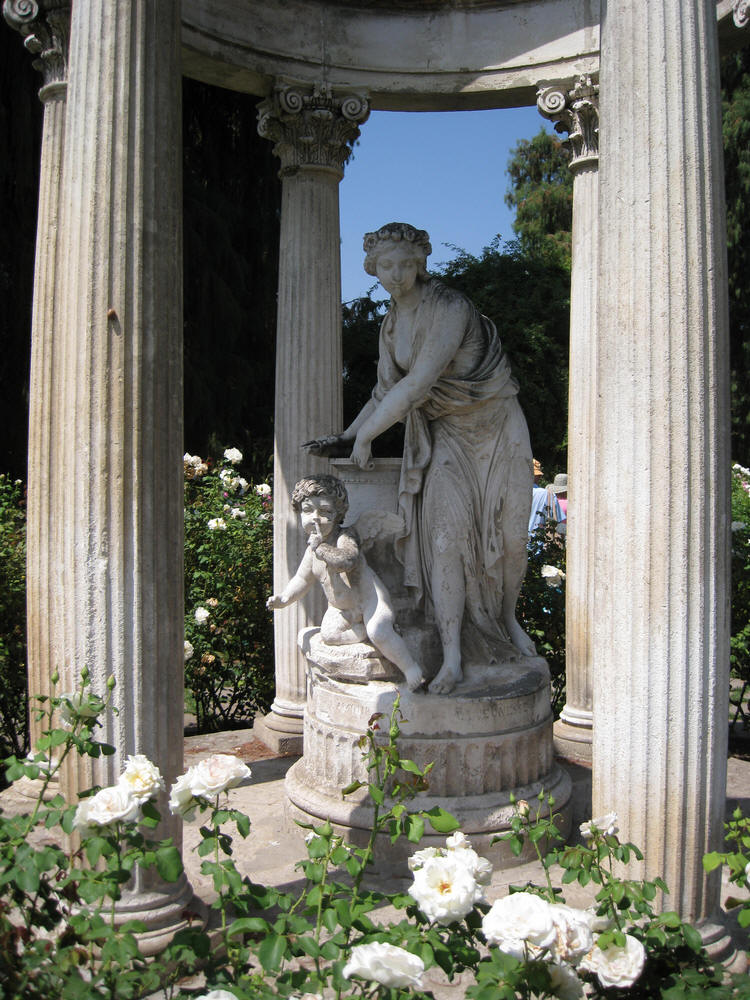 Temple Of Love

Mike was looking for a lady to dance with in the gardens
The Tea House Overlooks The Rose Garden

Walkway to the Tea House

This was the Game Room in the 1920... Card room, bowling alley and the like
Did you know? - A tea house or tearoom is a venue centered on drinking tea. Its function varies widely depending on the culture, and some cultures have a variety of distinct tea-centered houses or parlors that all qualify under the English language term "tea house" or "tea room." In Central Asia this term could refer to Shayhana in Kazakh and Chayhona in Uzbek which literally means a tea room.

In the United States, after the end of World War II; Tearooms were established across the country, serving light meals to women who wouldn't go into a coffee shop without an escort. Largely run by housewives or widows, they were open limited hours and offered a menu of regional comfort food.

In the U.K. and the U.S., a tearoom is a small room or restaurant where beverages and light meals are served, often catering chiefly to women and having a sedate or subdued atmosphere. A customer might expect to receive cream tea or Devonshire tea, often served from a china set, and a scone with jam and clotted cream – alternatively a High tea may be served. In Scotland teas are usually served with a variety of scones, pancakes, (Scottish) crumpets and other cakes.

Thomas Twining opened the first known tea room in 1706, which remains at 216 Strand, London today. In 1787 the company created its logo, still in use today, which is thought to be the world's oldest commercial logo that has been in continuous use since its inception.[2] Under Associated British Foods since 1964, Stephen Twining now represents the company's ten generations. In 2006, Twinings celebrated its 300th anniversary, with a special tea, and associated tea caddies. Twining's is a Royal Warrant holder (appointed by HM The Queen).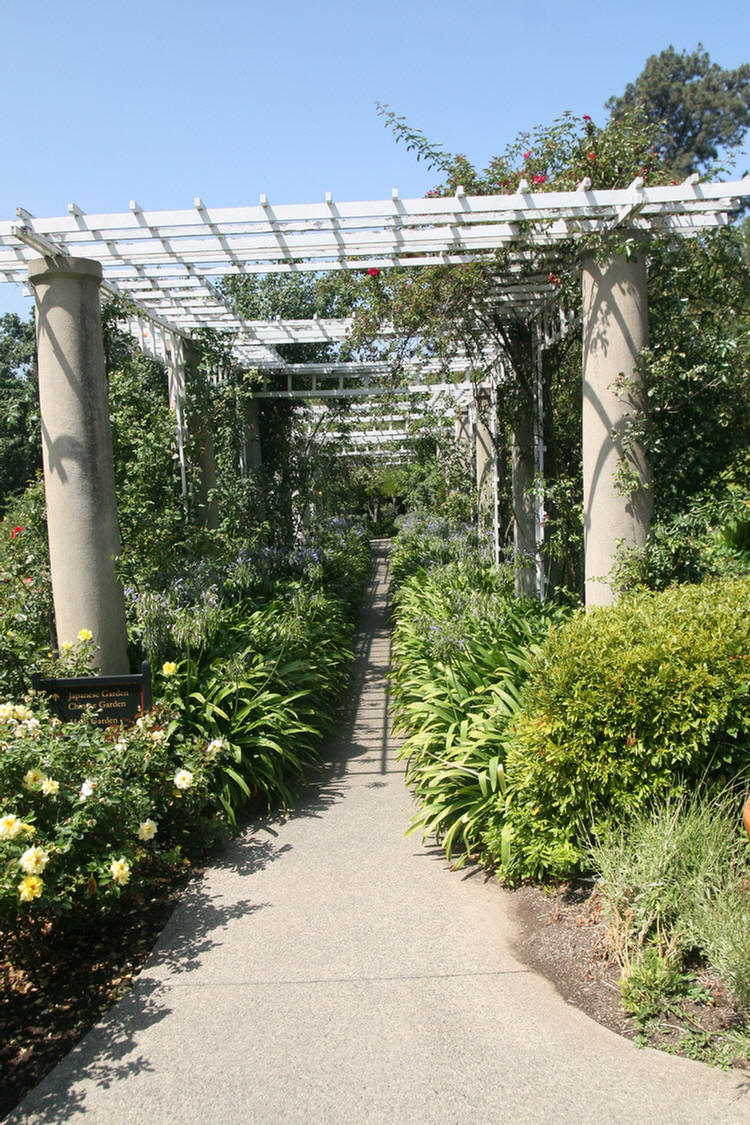 One could walk for days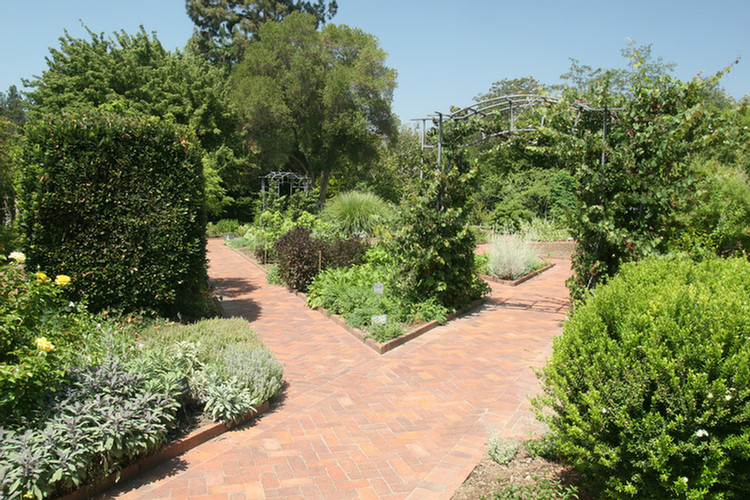 The French or herb garden is right outside the tea room

This rose has named after Julia Child. Julia selected it because it looked like French butter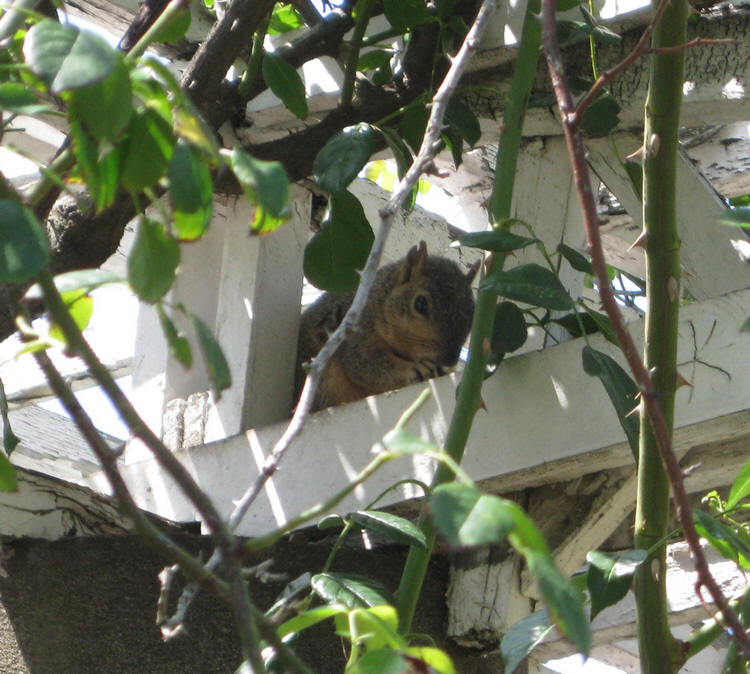 The gardeners little friend.... NOT!
The Docent Takes Us To The Oriental Gardens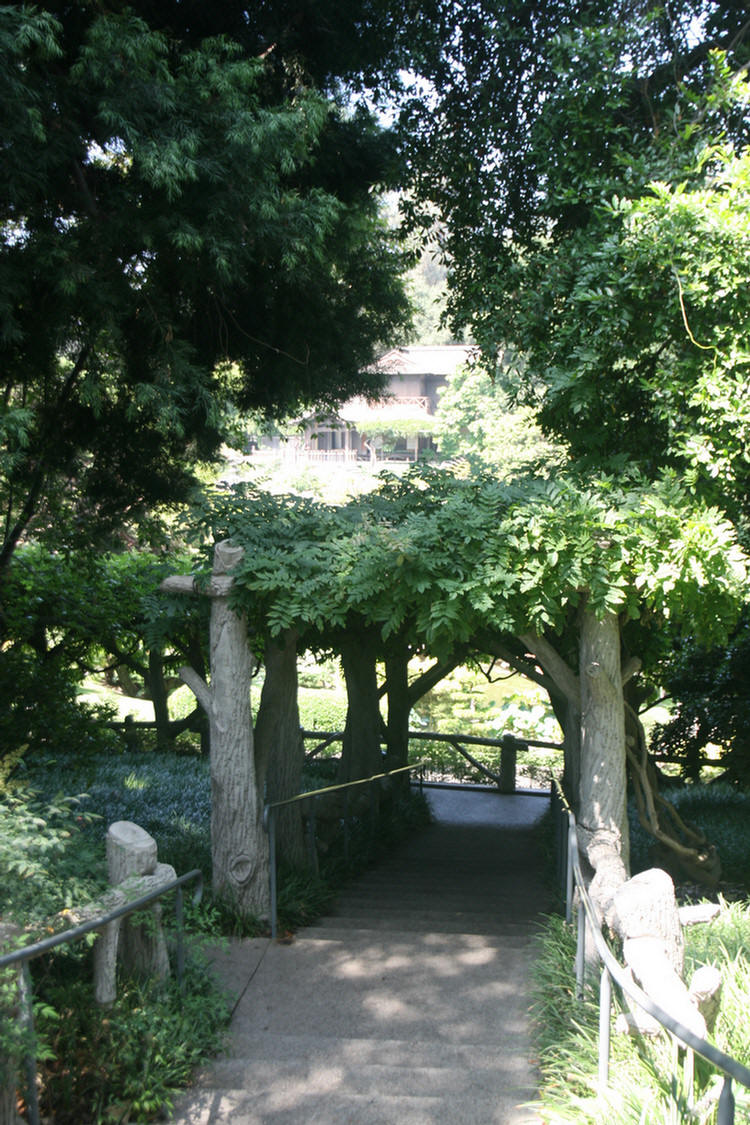 Entrance to the Japanese Gardens
Did you know? - When Mr Huntington was on extended trips, George S Patton often managed the property! George Smith Patton, Jr., GCB, OBE (also George Smith Patton III) (November 11, 1885 – December 21, 1945) was a distinguished though controversial United States Army officer.
George Smith Patton was born in San Gabriel Township, California (in what is now the city of San Marino), to George Smith Patton, Sr. (1856 – 1927) and Ruth Wilson (1861 – 1928). Although he was technically the third George Smith Patton, he was given the name Junior. The Pattons were an affluent family of Scottish descent.
Commissioned in the army in 1909, Patton participated in the unsuccessful attempt to capture Pancho Villa in 1916-17. In World War I, he was the first officer assigned to the new United States Tank Corps and saw action in France. After the war he was a strong advocate of armored warfare.

It was in World War II that he made his mark, commanding both corps and armies as a general in North Africa, Sicily, and the European Theater of Operations. Near the end of the Sicilian campaign, Patton jeopardized his career by slapping a soldier recuperating from battle fatigue at a hospital; Patton considered him a coward. The well-publicized incident caused General Eisenhower to relieve him of command. Thus, instead of playing a major part in the invasion of Normandy, he was relegated to being a decoy. However, he was later given command of the U.S. Third Army and ably led it in breaking out of the hedgerows of Normandy and across France. When a surprise major German offensive resulted in American units being surrounded in Bastogne, Patton rapidly disengaged his army from fighting in another sector and moved it over 100 miles in 48 hours to relieve the siege.

Patton often got into trouble with his outspokenness and strong opinions. In addition to the slapping incident, towards the end of the war, he voiced his detestation and mistrust of the Soviets and his desire to fight them.

A 19th century Japanese Manor House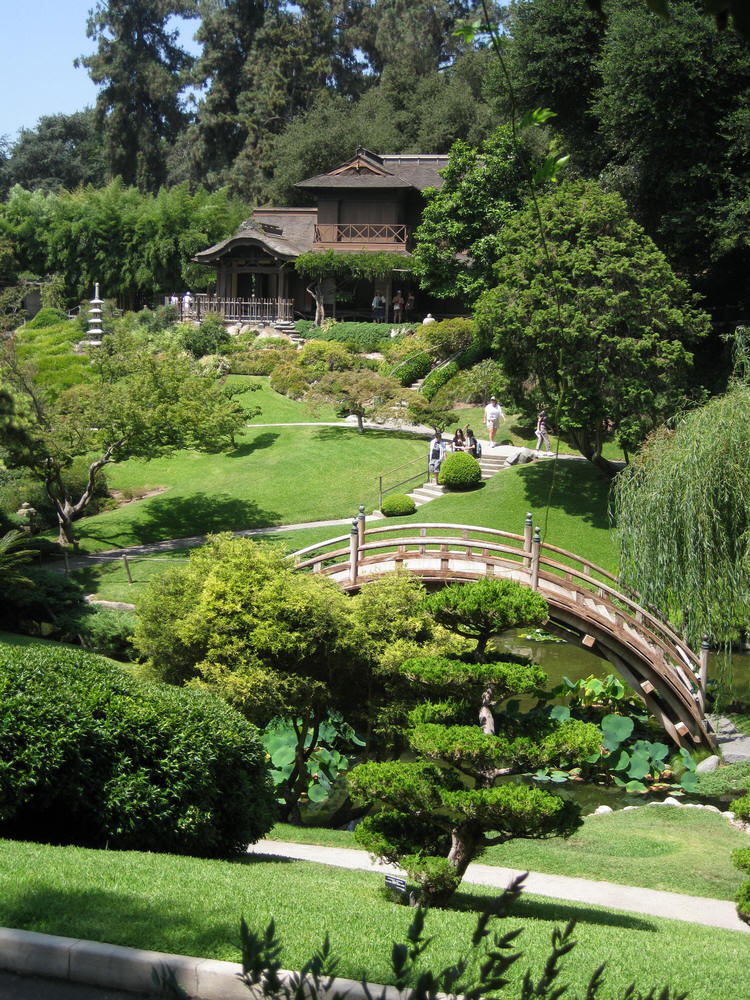 The bridge is NOW the original and real color

A real Japanese Manor House... House of a Lord

Beautiful ponds everywhere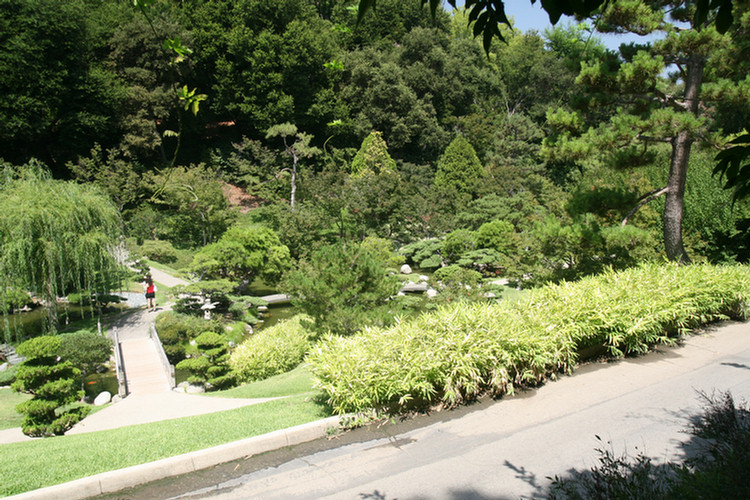 Steep walkways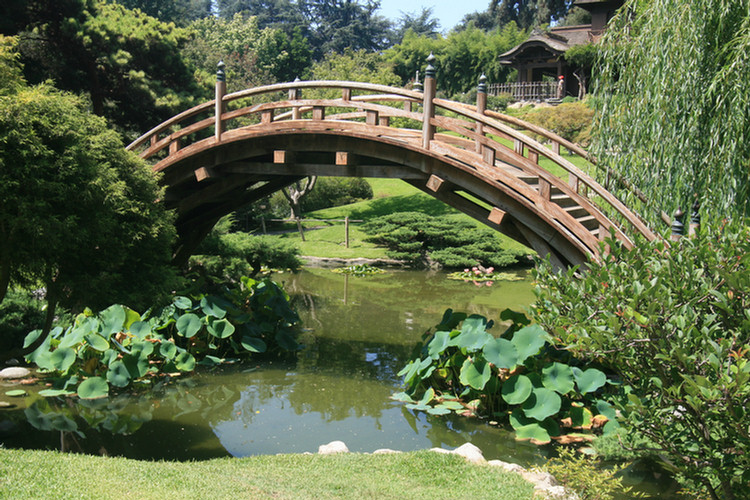 Moon bridge

The kids love the Koi

The Moon Bridge
Did you know? - A moon bridge is a highly arched pedestrian bridge, which in its wooden form may require the walker to initially climb (as one would a ladder) and also when descending. This type is associated with gardens in China and Japan, and is called a drum bridge in Japan (the wooden type shown at right resembles a section of a drum).
This type of bridge was originally designed as a means to allow pedestrians to cross canals while allowing the passage of barges beneath. When constructed using the climbing ascent and descent this had the further advantage of not using space from the adjoining fields for approaches. As part of formal garden design the bridge will be placed where its reflection is seen when the water is still. The half circle is intended to reflect in the calm water below the bridge, creating a full circle between bridge and reflection, a reference to the shape of the full moon.

Amazing landscaping takes a lot of time to maintain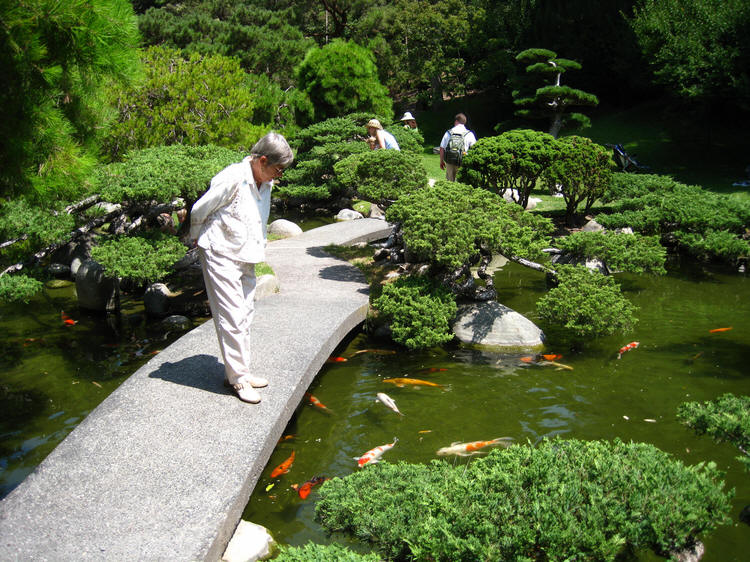 Sue enjoys the Koi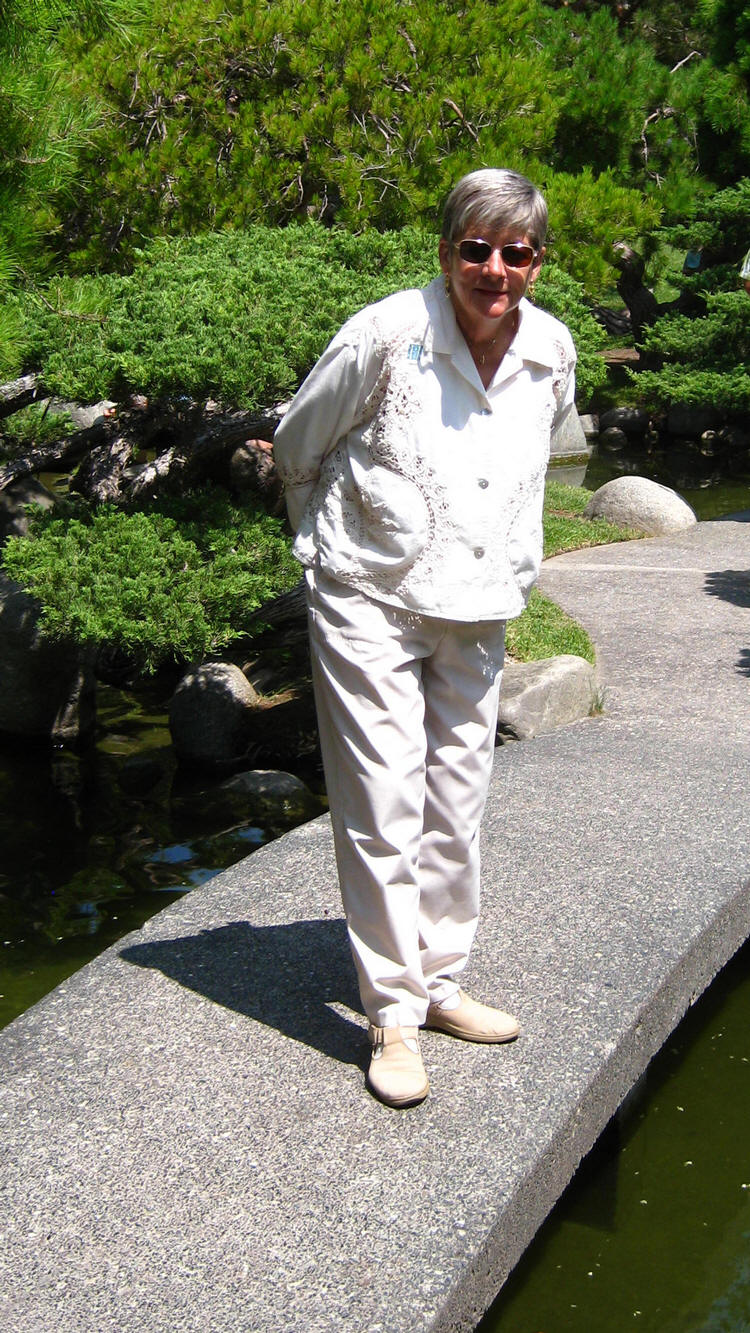 On the bridge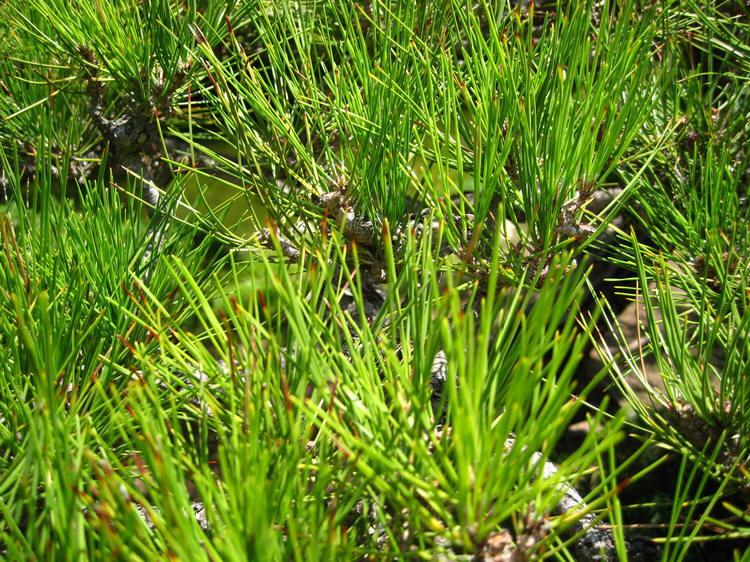 Three people a week to trim one of these small trees! Black pine
Time For Tea
Did you know? - Camellia sinensis, the tea plant, is the species of plant whose leaves and leaf buds are used to produce tea. It is of the genus Camellia (Chinese: ??; pinyin: Cháhu?), a genus of flowering plants in the family Theaceae. White tea, green tea, oolong, pu-erh tea and black tea are all harvested from this species, but are processed differently to attain different levels of oxidation. Kukicha (twig tea) is also harvested from Camellia sinensis, but uses twigs and stems rather than leaves.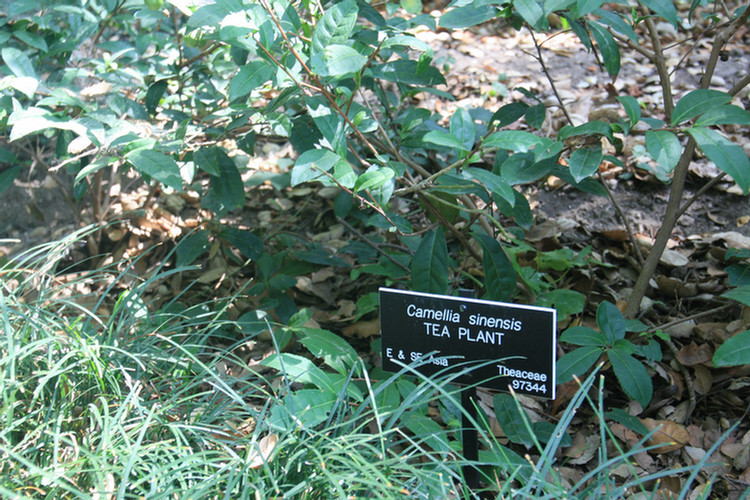 More.... - Camellia sinensis is native to mainland South and Southeast Asia, but it is today cultivated across the world in tropical and subtropical regions. It is an evergreen shrub or small tree that is usually trimmed to below two metres (six feet) when cultivated for its leaves. It has a strong taproot. The flowers are yellow-white, 2.5–4 cm in diameter, with 7 to 8 petals.

The seeds of Camellia sinensis and Camellia oleifera can be pressed to yield tea oil, a sweetish seasoning and cooking oil that should not be confused with tea tree oil, an essential oil that is used for medical and cosmetical purposes and originates from the leaves of a different plant.

The leaves are 4–15 cm long and 2–5 cm broad. Fresh leaves contain about 4% caffeine.[4] The young, light green leaves are preferably harvested for tea production; they have short white hairs on the underside. Older leaves are deeper green. Different leaf ages produce differing tea qualities, since their chemical compositions are different. Usually, the tip (bud) and the first two to three leaves are harvested for processing. This hand picking is repeated every one to two weeks.

Tea comes from camellias... Wow!

Nice transition to the Chinese gardens
Heading towards the Chinese Gardens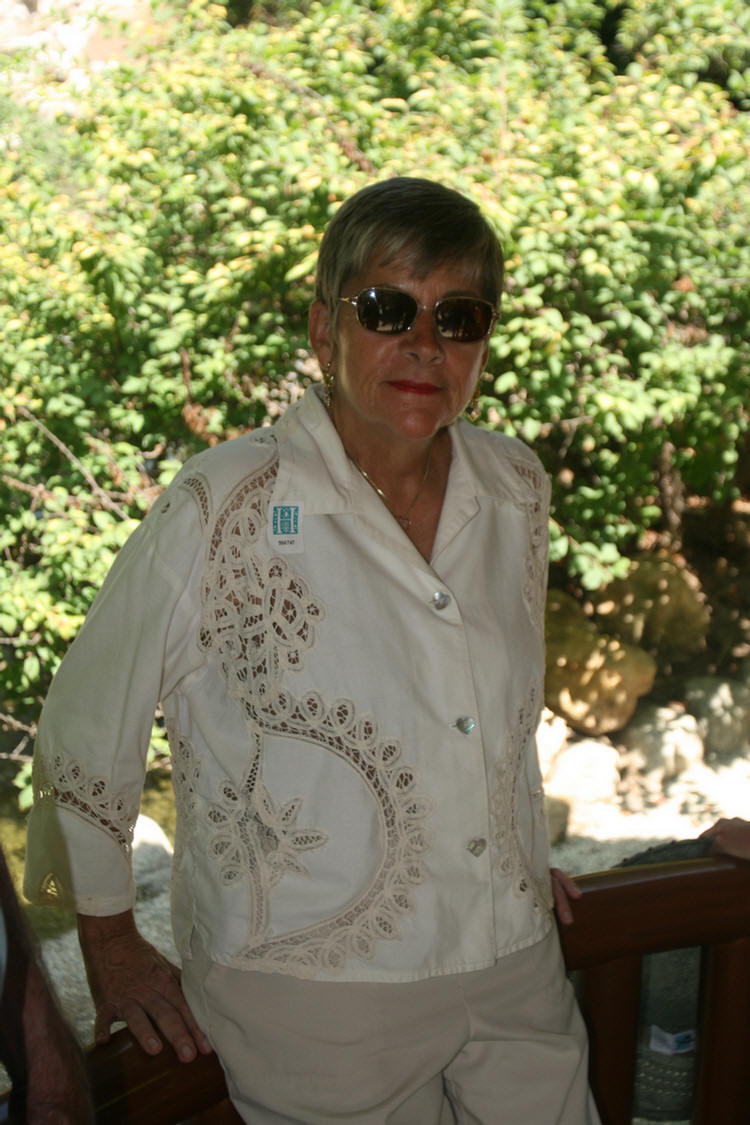 Stop andreflect
Arrival At The Chinese Gardens
Did You Know: The Chinese (Scholar's) Garden is a place for solitary or social contemplation of nature. Chinese gardens were created in the same way as a combination of landscape and paintings together with poems - this was the so-called "poetic garden." The design of Chinese gardens was to provide a spiritual utopia for one to connect with nature, to come back to one's inner heart, to come back to ancient idealism. Chinese gardens are a spiritual shelter for men, a place they could be far away from their real social lives, and close to the ancient way of life, their true selves, and nature. This was an escape from the frustration and disappointment of the political problems in China.

They used plants as symbols. Bamboo was used in every traditional Chinese garden. This is because bamboo represents a strong but resilient character. Often pine is used to represent longevity, persistence, tenacity and dignity. The lotus is used to symbolize purity. The flowering plum is one of the most important aspects of a Chinese garden, as it represents renewal and strength of will. Flowering peaches are grown for spring color, and sweet olive as well. The chrysanthemum is use to symbolize splendor, luster and "the courage to make sacrifices for a natural life". Peonies symbolize wealth and banana trees are used simply for the sound they make in the breeze.

beautiful architecture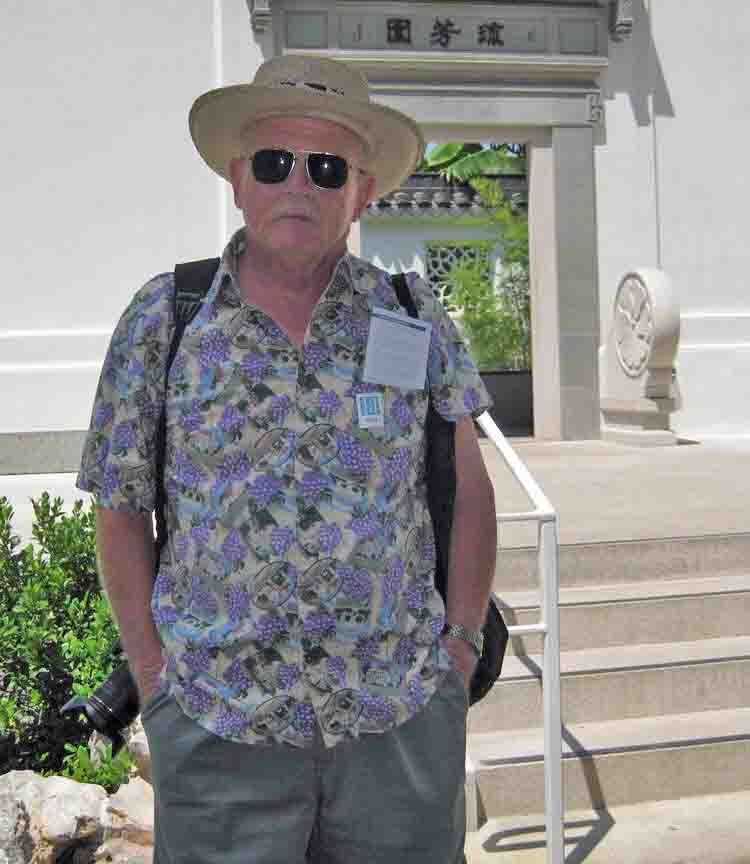 He sneaks out from behind the camera

Windows everywhere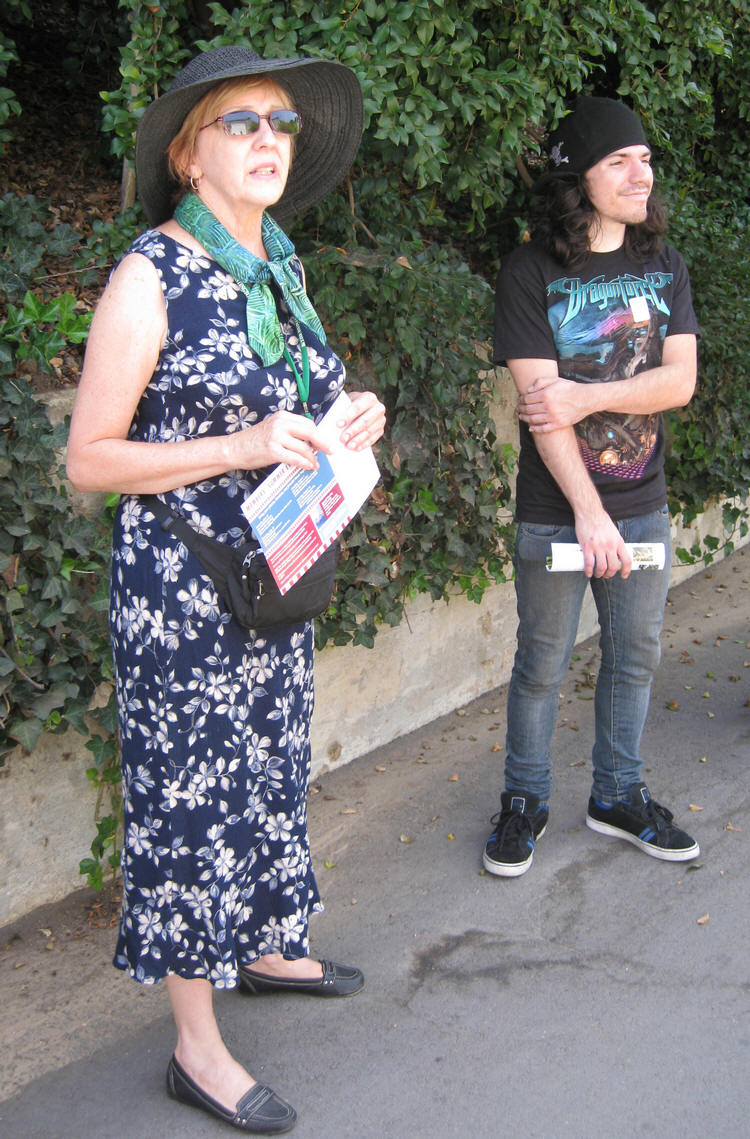 Our docent was outstanding... Mike takes it all in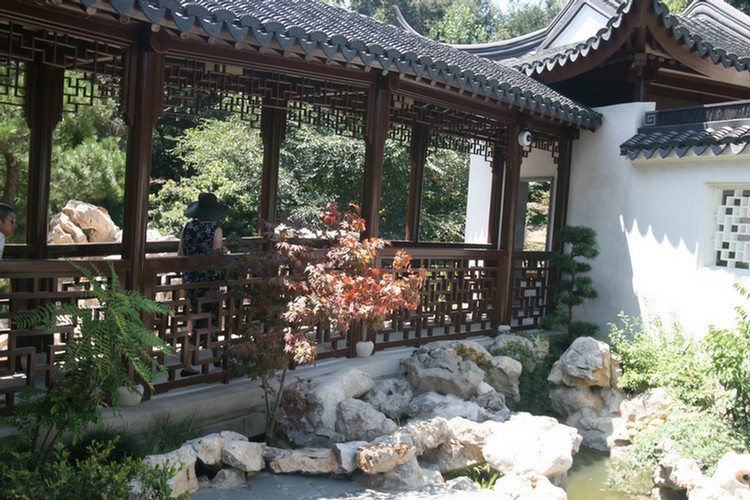 Great stonework... Not a nail used in the entire place!

No, that is NOT graffiti...

Magnificent colors

A plce to sit and enjoy the garden

Everything is so peaceful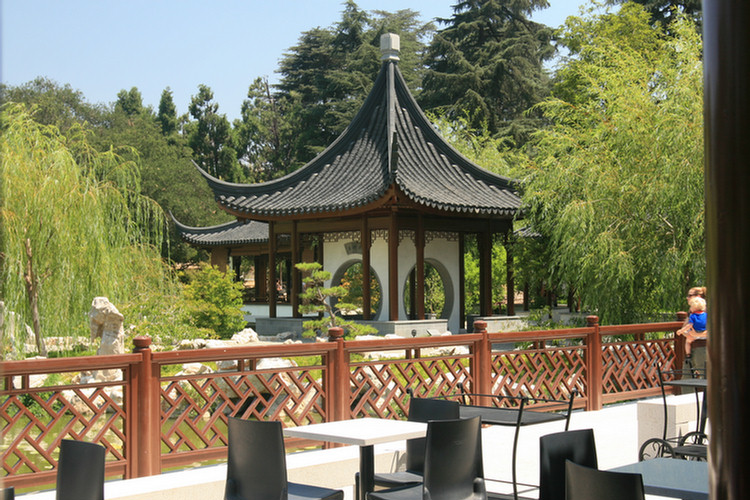 All the structures have been re-enforced for California earthquakes