Members' Summer Evenings (8/15/2010)
On four special evenings this year, Members enjoy the privilege of strolling the gardens after public hours, picnicking, and listening to live music. We selected Big Bands, duh!
The Galleries, Library, and Gardens were open for Members' Summer Evenings, including the Conservatory and the Children's Garden. No reservations are required. Guests must be accompanied by a Member.
We had a great group! Vicky and Del, Marcia and Leon, Irene and Herb, Bill and Ellen Walter, and of course us! Special thanks to Vicky for adding to the picture collection!
Directions: Note: from Anaheim Hills MapQuest says: Total Travel Estimate: 53 minutes / 41.31 miles plus an additional 23 miles back and forth on Huntington and about 64 minutes!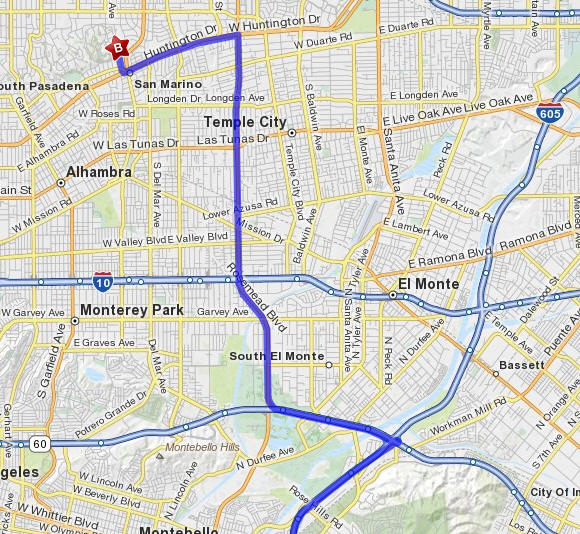 Take 57 to the 60 and get onto the 60 going West to Rosemead Blvd.

Paul referred Leon to the
complaint department
Did you know? - Cartography, or map-making is the study, and often practice of crafting representations of the Earth upon a flat surface (see History of cartography), and one who makes maps is called a cartographer. Paul got fired as the group cartographer after Leon got lost! We mean lost! Ut took us hours to find Leon's car.... Next time we are beinging rocks or something to mark the way back to the car... It was good for a lot of laughing!!!
Entertainment - The Verdugo Swing Society. The Verdugo Swing Society is a full size community big band going strong in the Foothills for over 25 years. Vocalists Holly Bender and Paul Rickey are featured.
They were situated in front of the main library and had speakers that could reach the entire area! The music was swinging and we all had a great time!

Let The Party Proceed
Did you know? - A party is a gathering of people who have been invited by a host for the purposes of socializing, conversation, or recreation. A party will typically feature food and beverages, and often music and dancing as well.

The member with guest lines were short because they had three windows open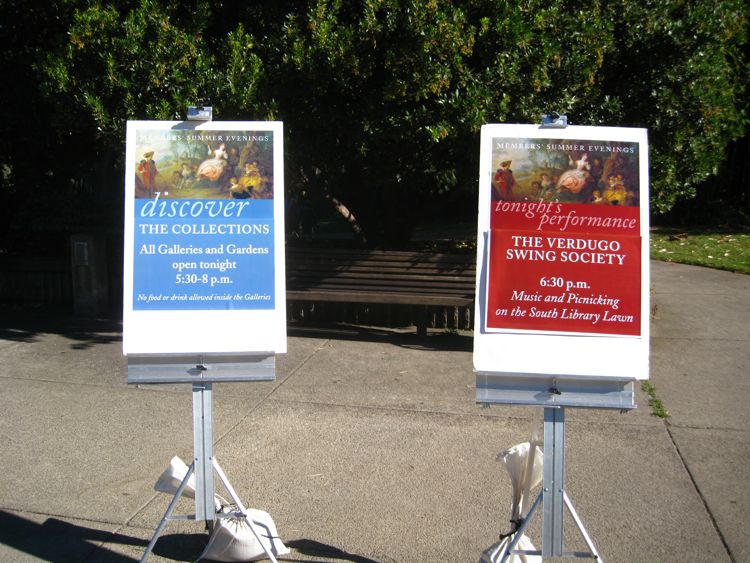 Great venue... You could walk around until 8:00
Dinner Is Served
Dining - Open 5:30-7:30 p.m., The Rose Garden Caf? features a delicious grilled fare each evening. The prix fixe meal may be pre purchased in the Entrance Pavilion or at the Caf?. Dinners may be taken to the designated picnicking area. Menus for each evening below. Members are also invited to pack and bring their own picnic baskets to enjoy!?
Menu: Dinner includes choice of 1 entr?e, 2 sides, a roll, and beverage for $14.95 +tax
Barbecue Beef Brisket with Texas Toast and Roasted Corn Butter
Pesto Grilled Chicken with Sun-Dried Tomato Relish
Lemon Scented Pasta Salad with Herbs
Roasted Potatoes with Caramelized Onion and Dijon
Strawberry-Kiwi Salad with Basil
Nectarine, Goat Cheese, and Almond Salad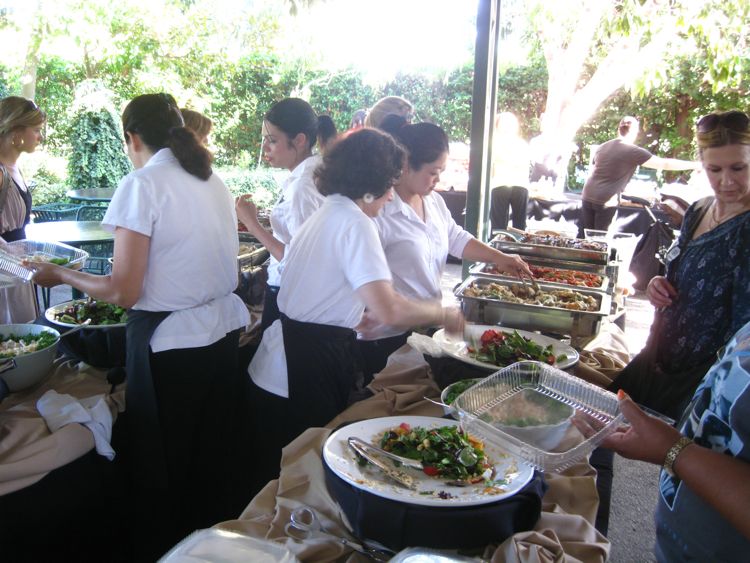 Very efficient and friendly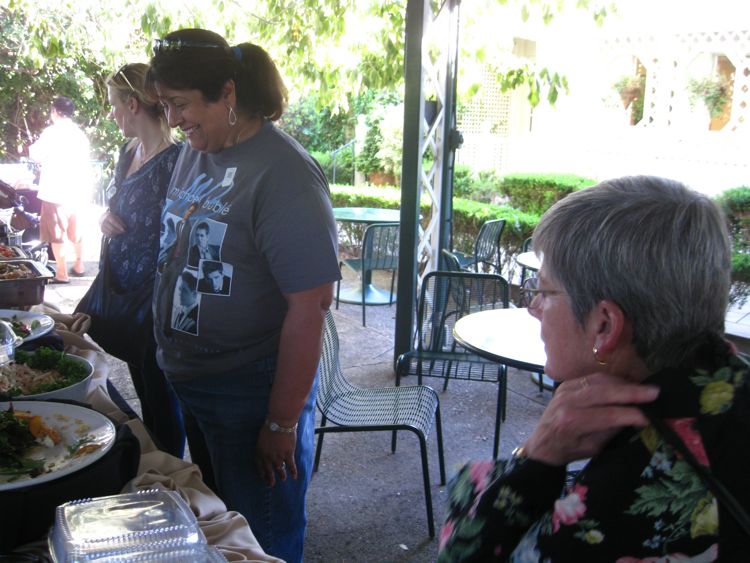 Vicky remembered the scone lady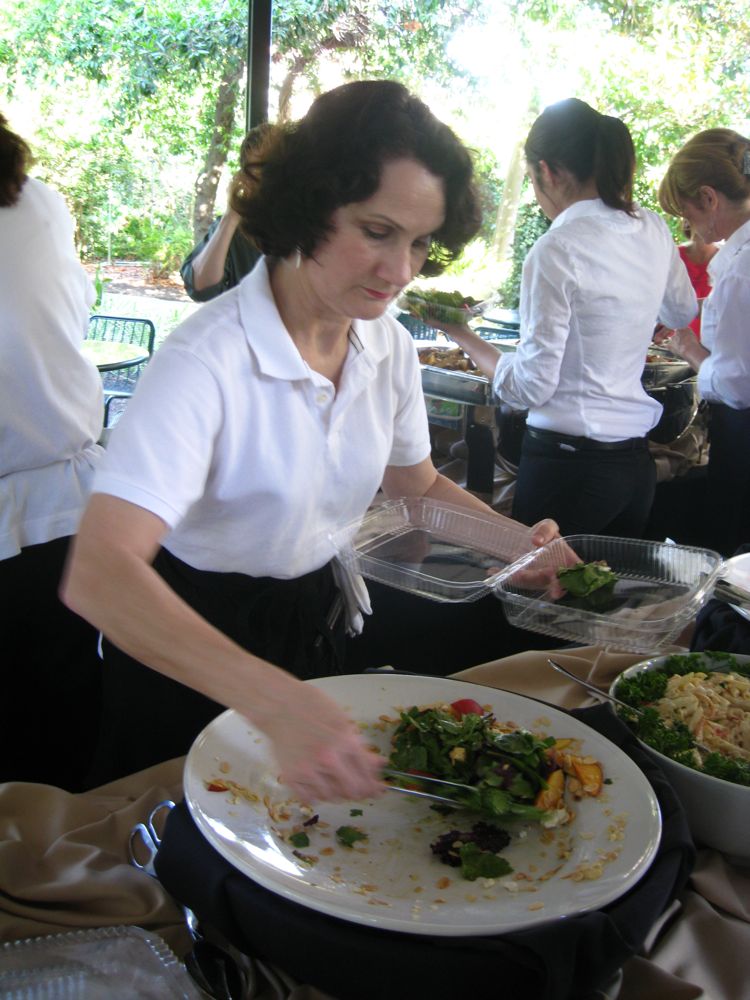 The scone lady from the Rose Tea Room!
Did you know? - The scone is a small British quick bread (or cake if recipe includes sugar) of Scottish origin. Scones are especially popular in the United Kingdom, Canada, Australia, New Zealand, Ireland, and the United States, but are eaten in many other countries. They are usually made of wheat, barley or oatmeal, with baking powder as a leavening agent. The scone is a basic component of the cream tea or Devonshire tea.
Paul Went Looking For Trouble And Found Them!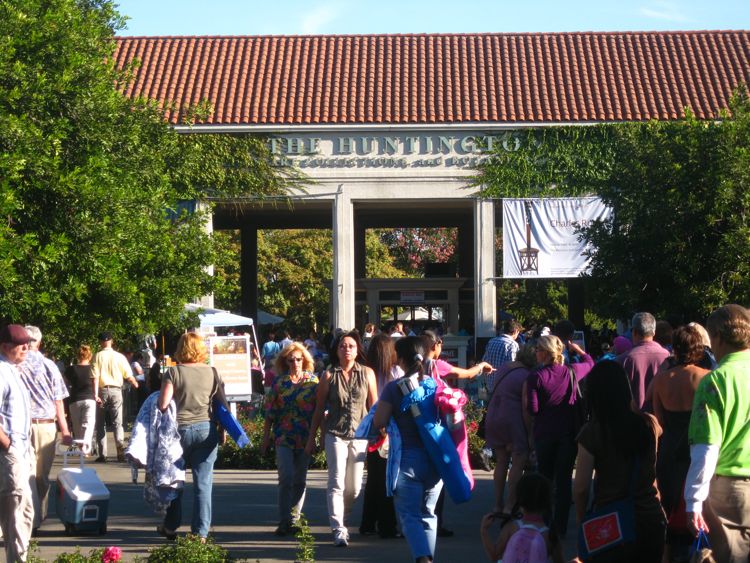 The front was quite busy!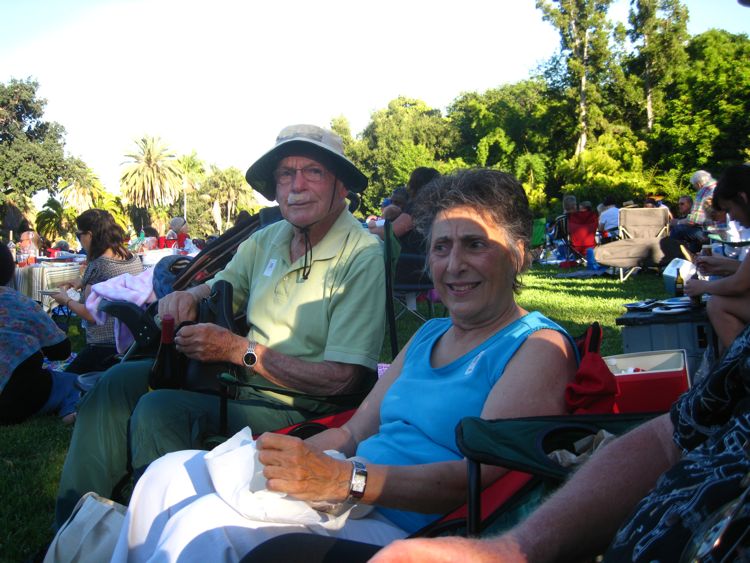 Hooray! Irene and Herb join the gang!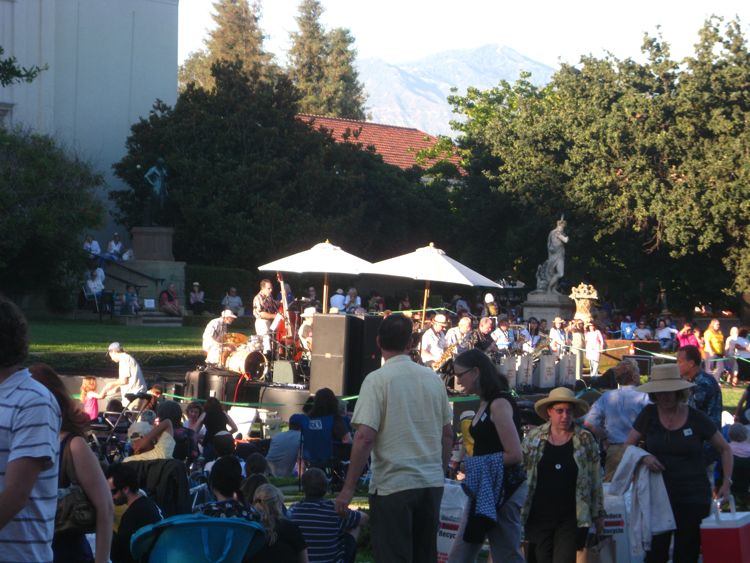 The band's speakers were aimed to cover the entire area
And After Showing Herb Where Dinner Is, The Brander's Arrive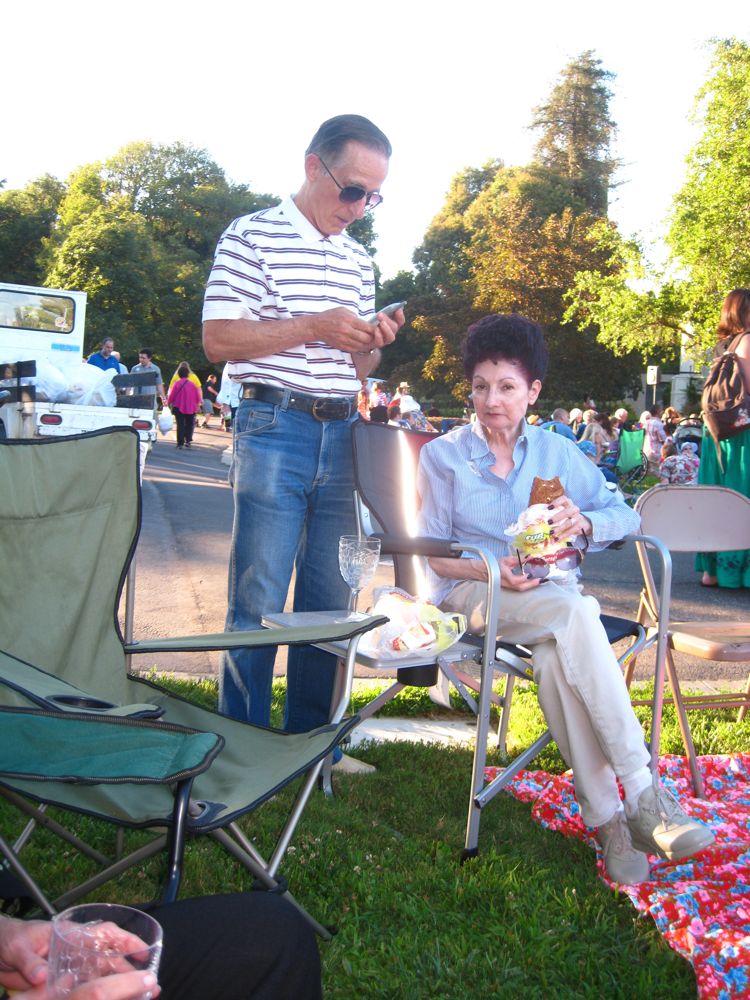 Those sandwiches were about three pounds each!
Did you know? - Bread has been eaten with any meat or vegetables since Neolithic times. For example, the ancient Jewish sage Hillel the Elder is said to have placed meat from the Paschal lamb and bitter herbs between two pieces of matzah (or flat, unleavened bread) during Passover. During the Middle Ages, thick slabs of coarse and usually stale bread, called "trenchers", were used as plates. After a meal, the food-soaked trencher was fed to a dog or to beggars, or eaten by the diner.
Trenchers were the precursors of open-face sandwiches. The immediate cultural precursor with a direct connection to the English sandwich was to be found in the Netherlands of the 17th century, where the naturalist John Ray observed that in the taverns beef hung from the rafters "which they cut into thin slices and eat with bread and butter laying the slices upon the butter"? explanatory specifications that reveal the Dutch belegde broodje was as yet unfamiliar in England.
Initially perceived as food men shared while gaming and drinking at night, the sandwich slowly began appearing in polite society as a late-night meal among the aristocracy. The sandwich's popularity in Spain and England increased dramatically during the 19th century, when the rise of an industrial society and the working classes made fast, portable, and inexpensive meals essential.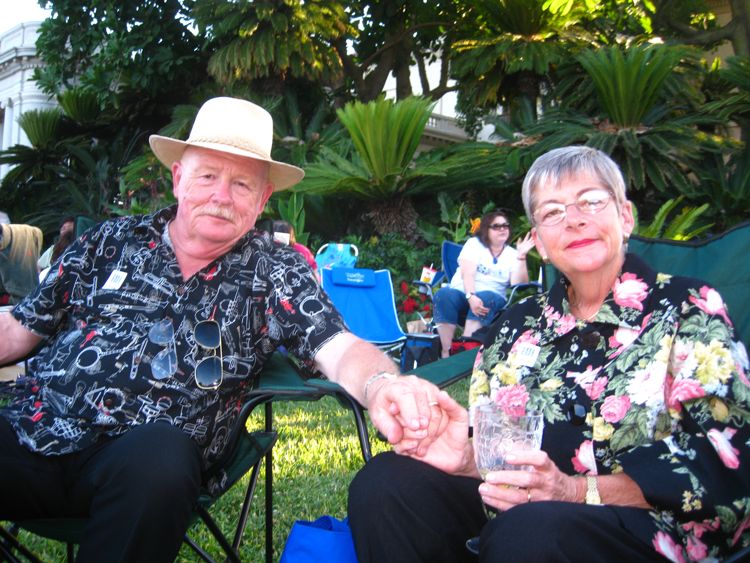 OMG, they are really here! Thanks Vicky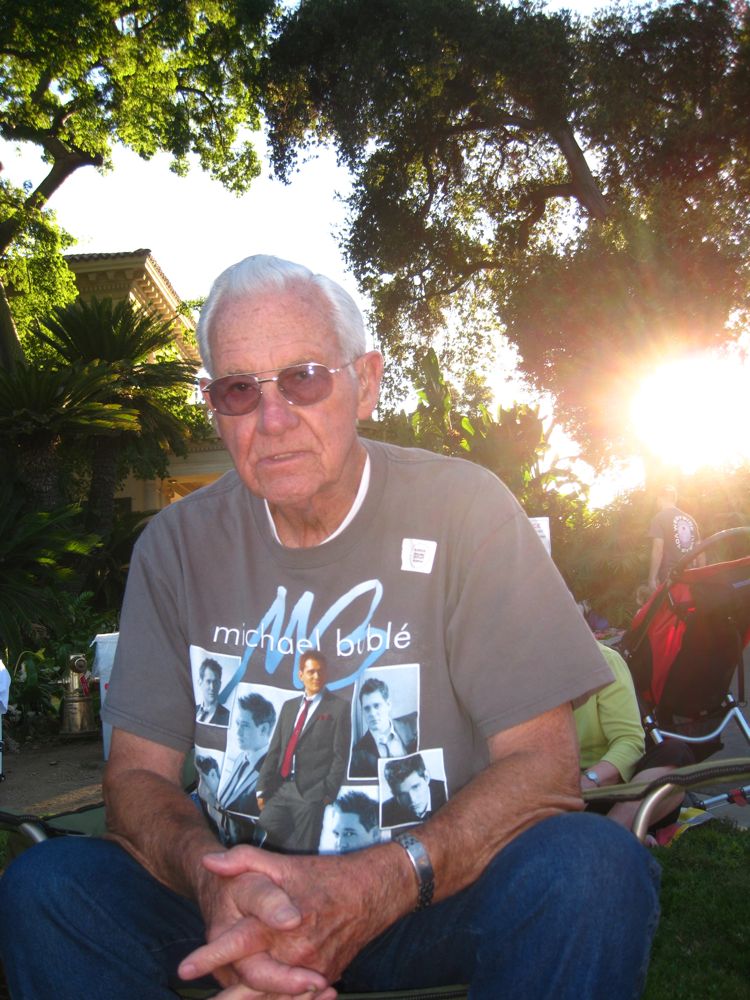 Our area guard... Mr. Meenie!
Dinner Be Served!

Bill and Ellen Walter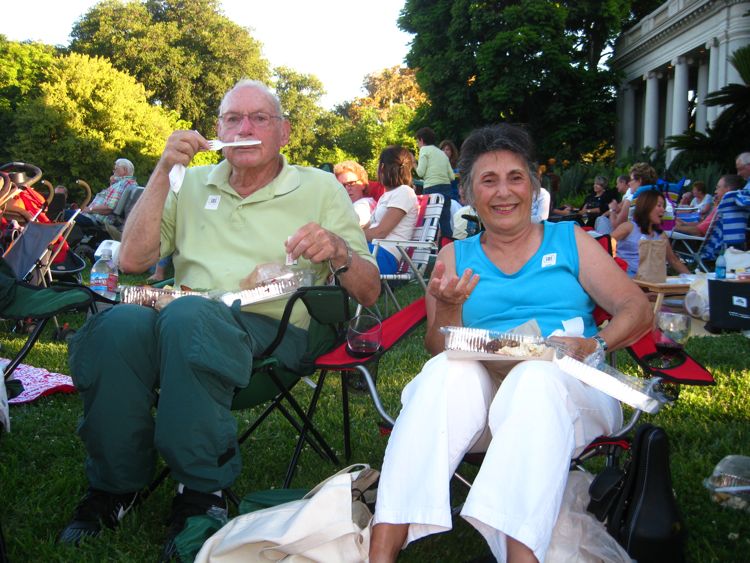 Herb (doing something??) and Irene (ignoring him!)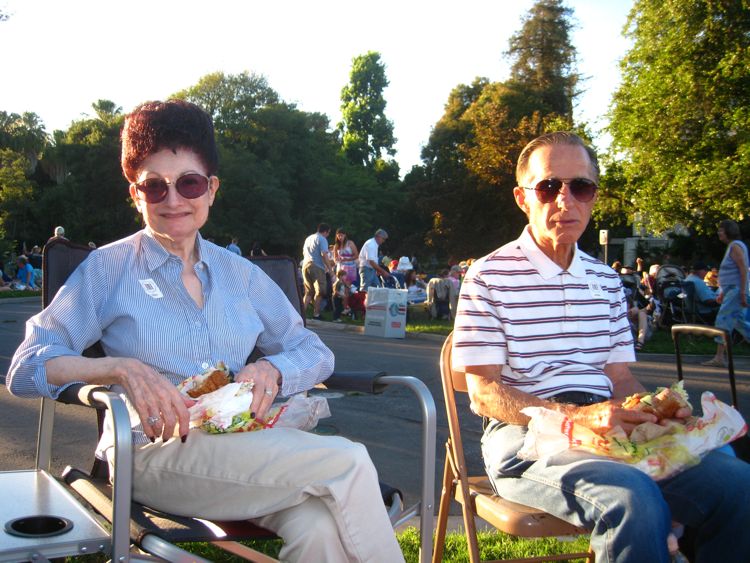 Chomp chomp... Where did you get the shades??
Did you know? - In the early 1900s, the use of sunglasses started to become more widespread, especially among stars of silent movies. It is commonly believed that this was to avoid recognition by fans, but the real reason was they often had perennially red eyes from the powerful arc lamps that were needed due to the extremely slow speed film stocks used.
The stereotype persisted long after improvements in film quality and the introduction of ultraviolet filters had eliminated this problem. Inexpensive mass-produced sunglasses were introduced to America by Sam Foster in 1929. Foster found a ready market on the beaches of Atlantic City, New Jersey, where he began selling sunglasses under the name Foster Grant from a Woolworth on the Boardwalk.
Polarized sunglasses first became available in 1936, when Edwin H. Land began experimenting with making lenses with his patented Polaroid filter.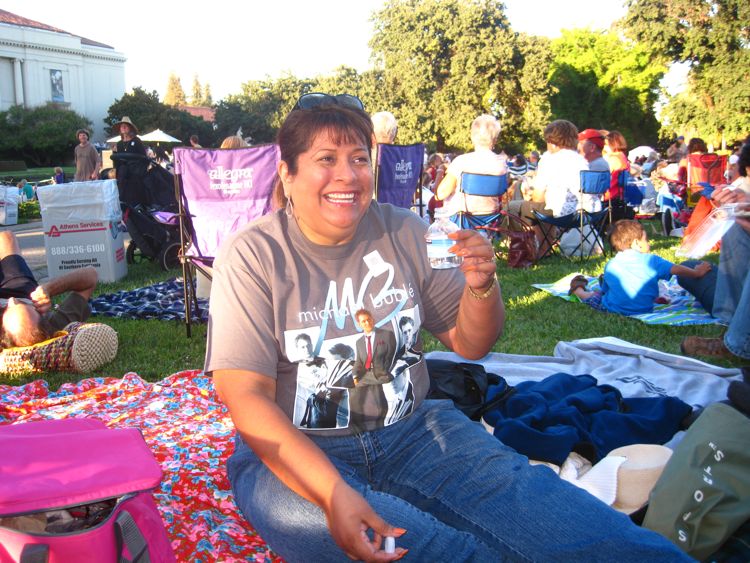 One might think it was only water.... We really know!
Did you know? - The global bottled water market valuation grew by 7% in 2006 to reach a value of $60.9 billion. The volume of bottled water grew by 8.1% in 2006 to 115,393.5 million liters. In 2011, the market is forecast to have a value of $86,421.2 million, an increase of 41.8% since 2006. In 2011, the market is forecast to have a volume of 174,286.6 million liters, an increase of 51% since 2006.
The global rate of consumption more than quadrupled between 1990 and 2005. Purified water is currently the leading global seller, with U.S. companies dominating the field, and natural spring water, purified water and flavored water being the fastest-growing market segments.

Clink (with two plastic items???)

Santa arrives with dessert goodies!
We Are In The Sea Of Humanity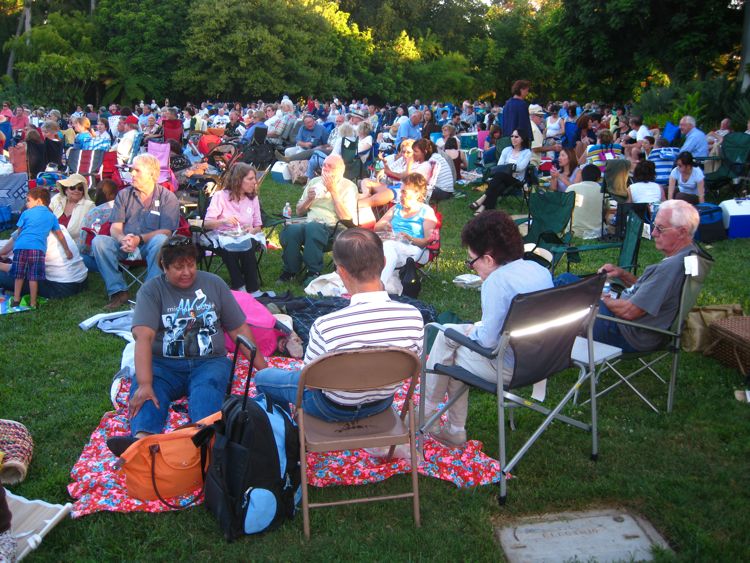 Hey... we were in the shade!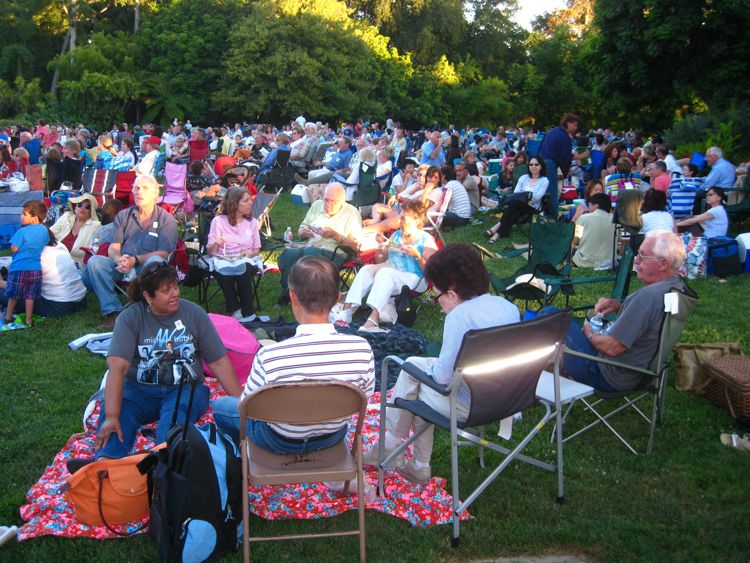 Sue and Paul were dancing(and taking the pictures)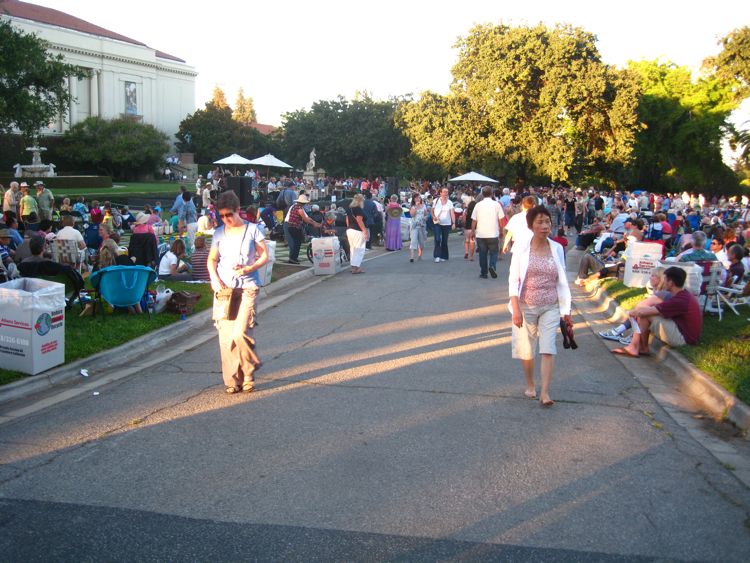 Our very long dance floor

The Verdugo Band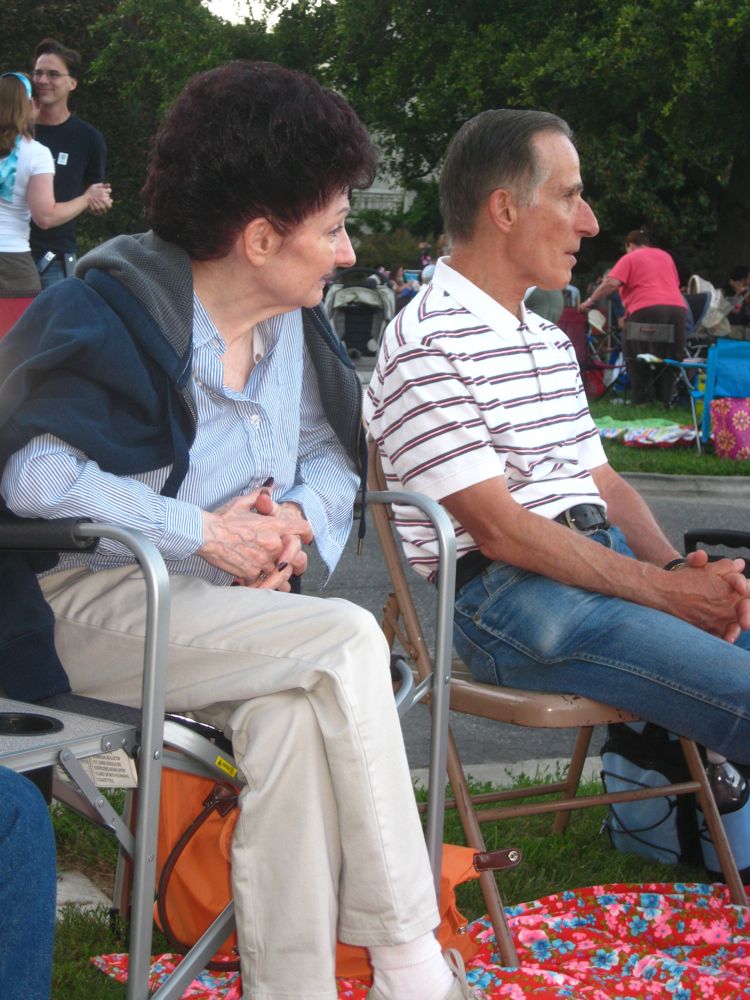 "Dang... We forgot our dance shoes"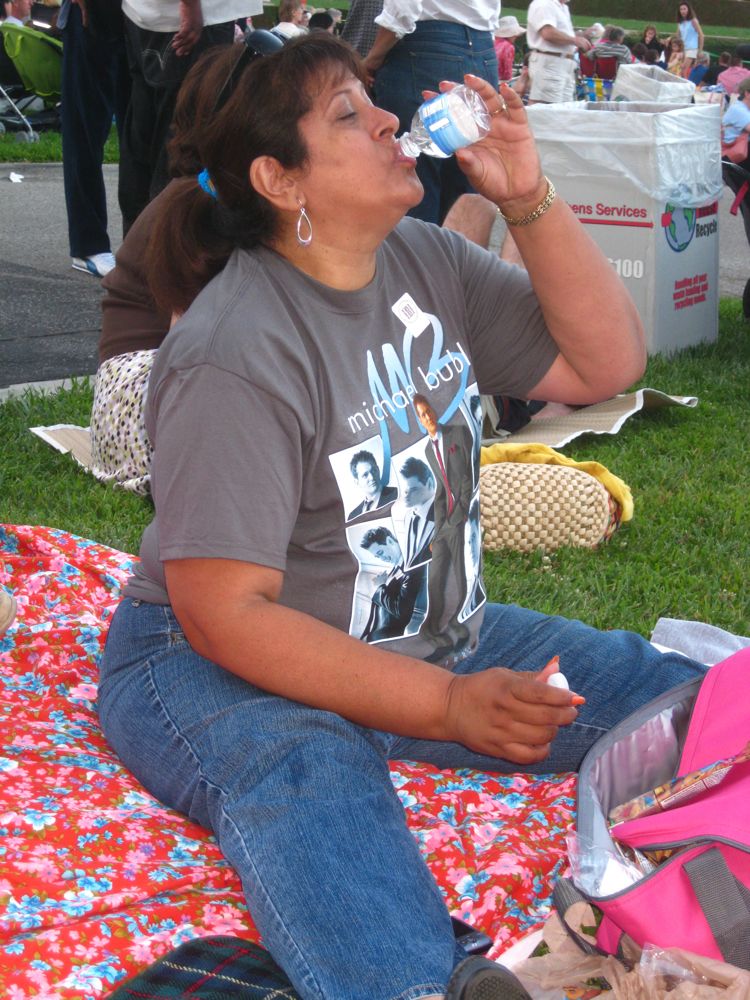 See... We said it was NOT water! Vicky is slugging it down!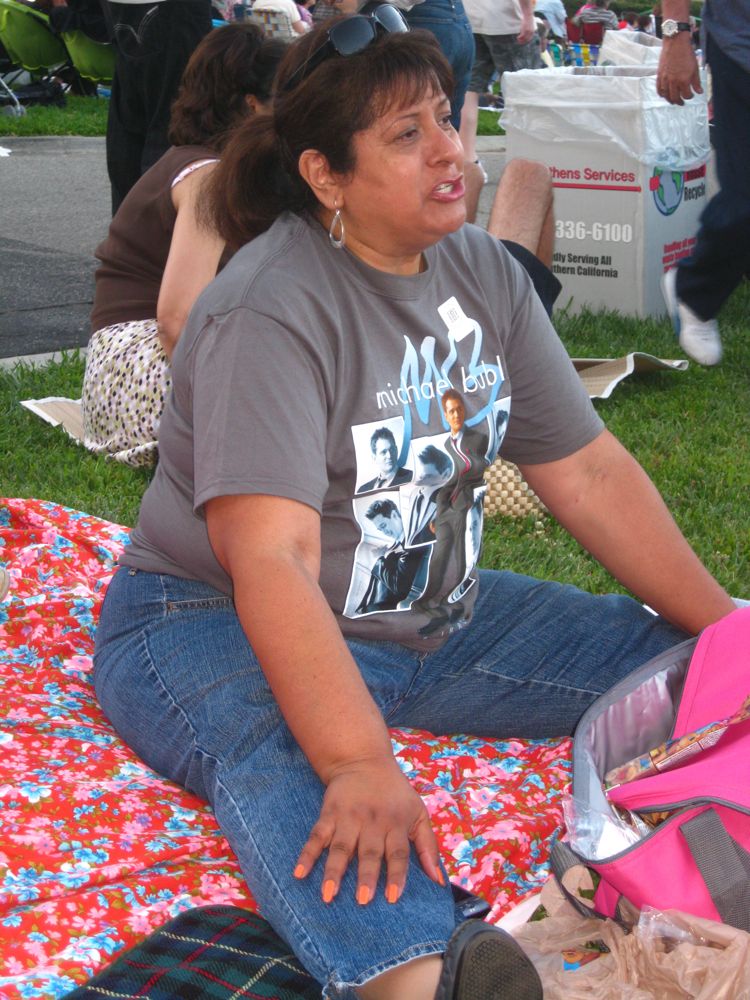 "hic"

Bill and Ellen listening to the story
The Music Was Great And Dancing Even Better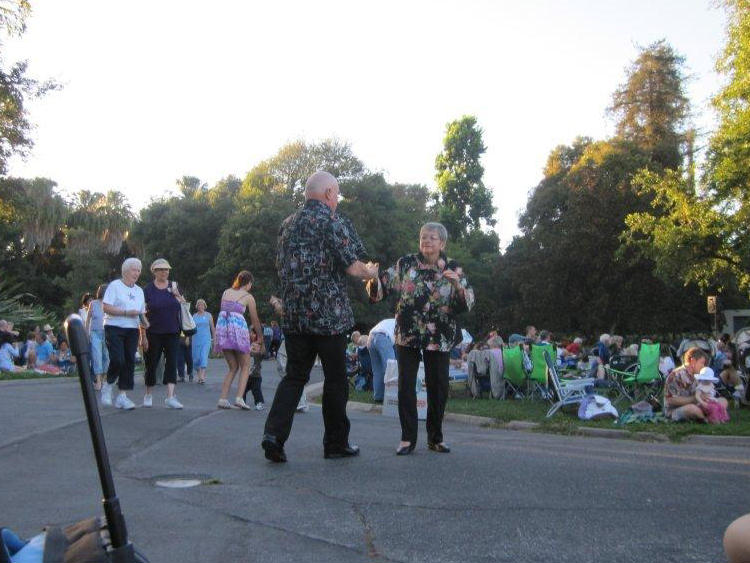 Hitting the asphalt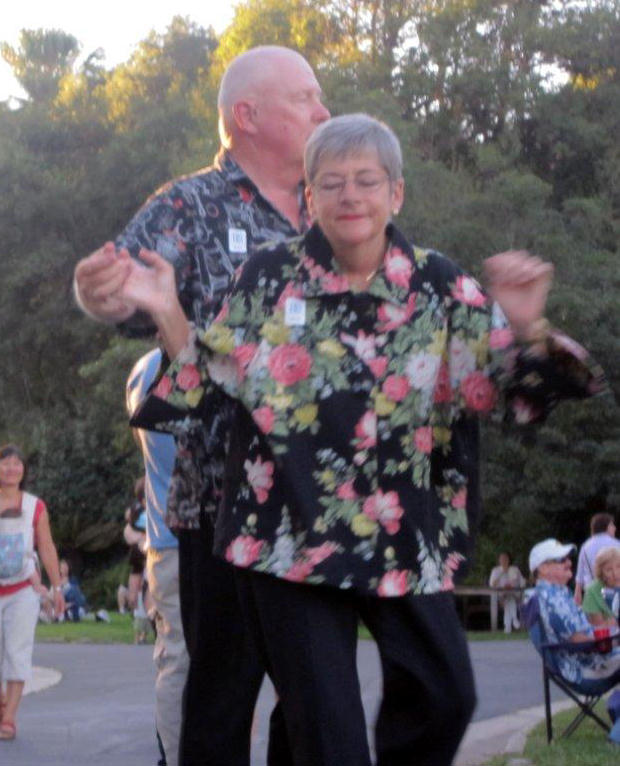 Moving fast!

Twirl whirl whoosh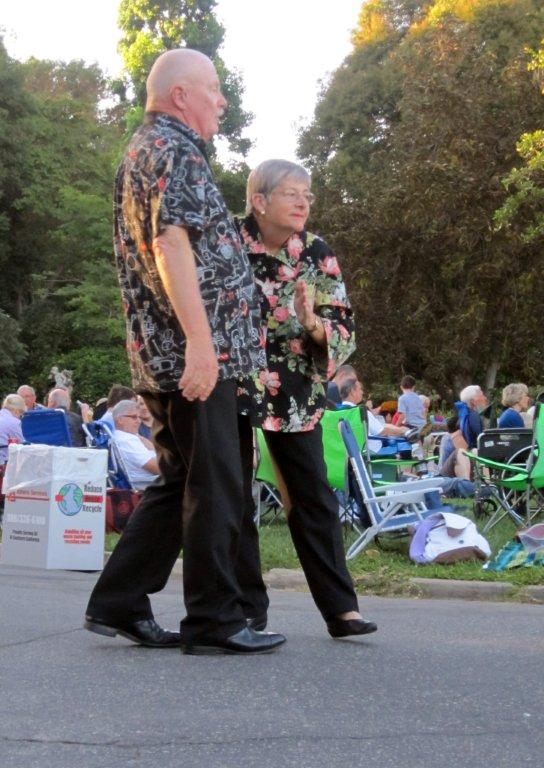 Time for a breather! Oxygen please!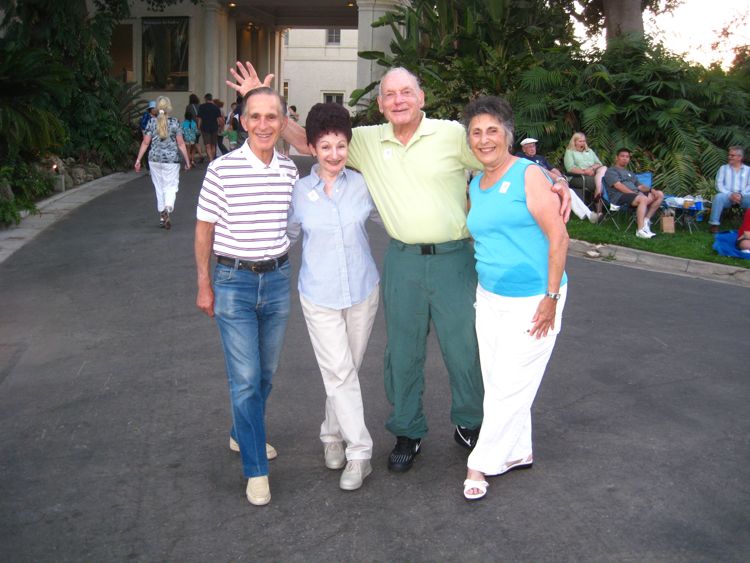 Herb found the best asphalt to dance on!
Did you know? - The word asphalt is derived from the late Middle English : from French asphalte, based on Late Latin asphalton, asphaltum, from the Greek ?sphalton, ?sphaltos (????????), a word of uncertain origin meaning "asphalt/bitumen/pitch" which some derive from ?- "without" and ?????? "to make fall". Note that in French, the term asphalte is used for naturally occurring bitumen-soaked limestone deposits, and for specialised manufactured products with fewer voids or greater bitumen content than the "asphaltic concrete" used to pave roads. Another description has it that the term derives from the Accadian term "asphaltu" or "sphallo," meaning "to split."
In British English, the word 'asphalt' refers to a mixture of mineral aggregate and bitumen (or tarmac in common parlance). The word 'tar' refers to the black viscous material obtained from the destructive distillation of coal and is chemically distinct from bitumen. In American English, bitumen is referred to as 'asphalt' or 'asphalt cement' in engineering jargon. In Australian English, bitumen is sometimes used as the generic term for road surfaces.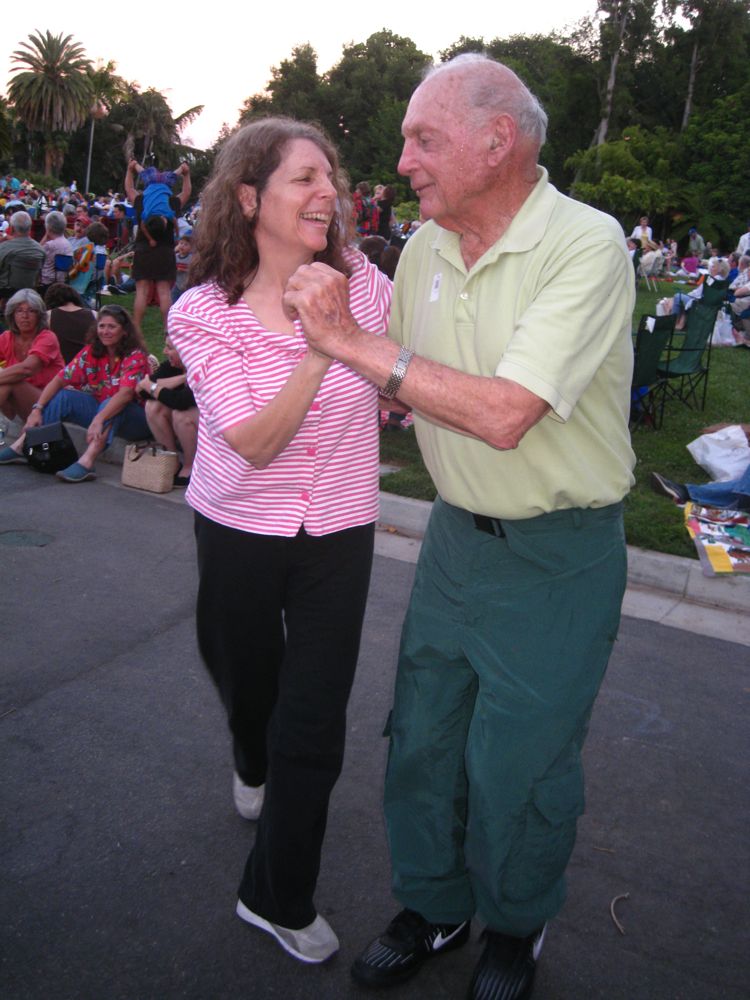 The father-daughter dance!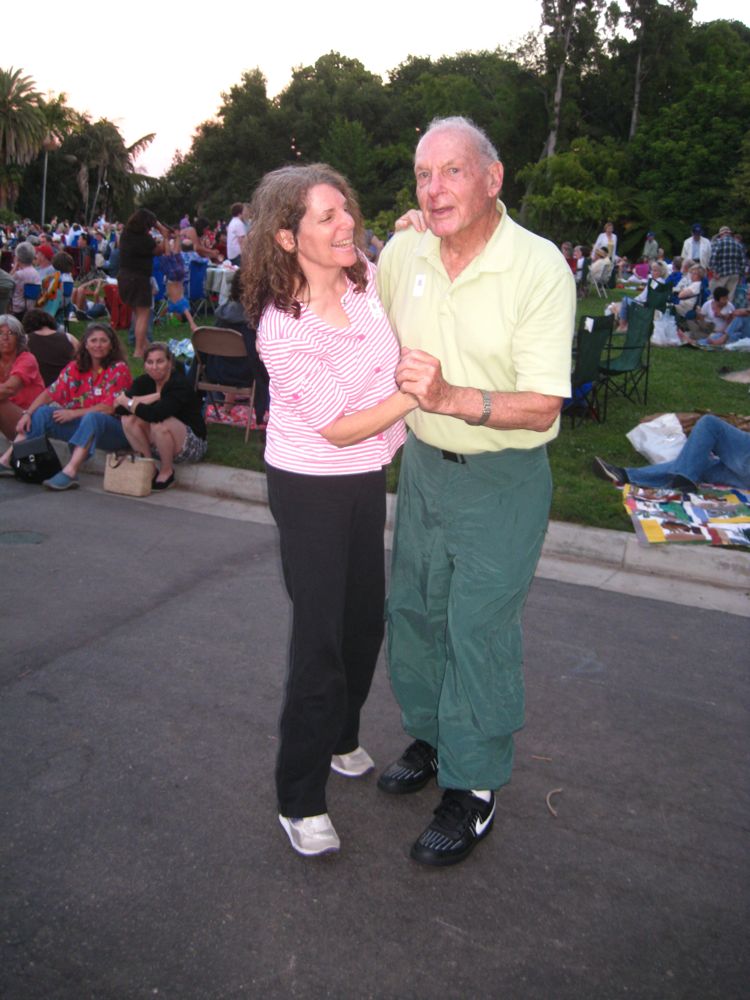 Ah kids... don't you need dance shoes???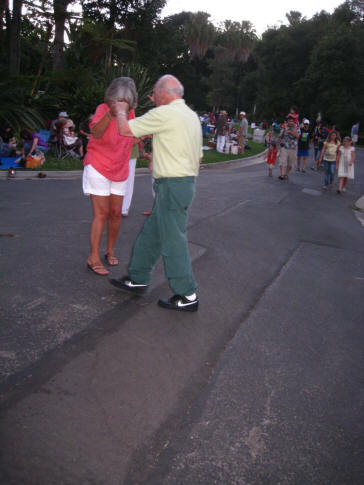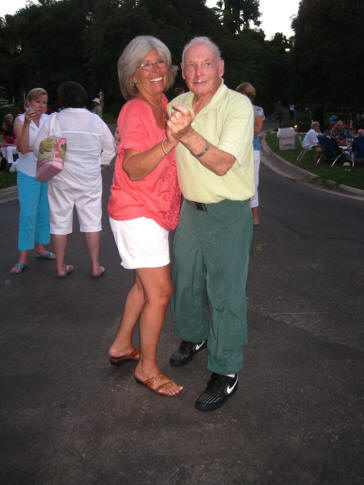 This lady needed to dance! Her and two friends were admiring his dancing so.....
Time For A Test... Who Belongs To These Shoes (No Looking Back!)
Keep On Dancing!

The music was perfect!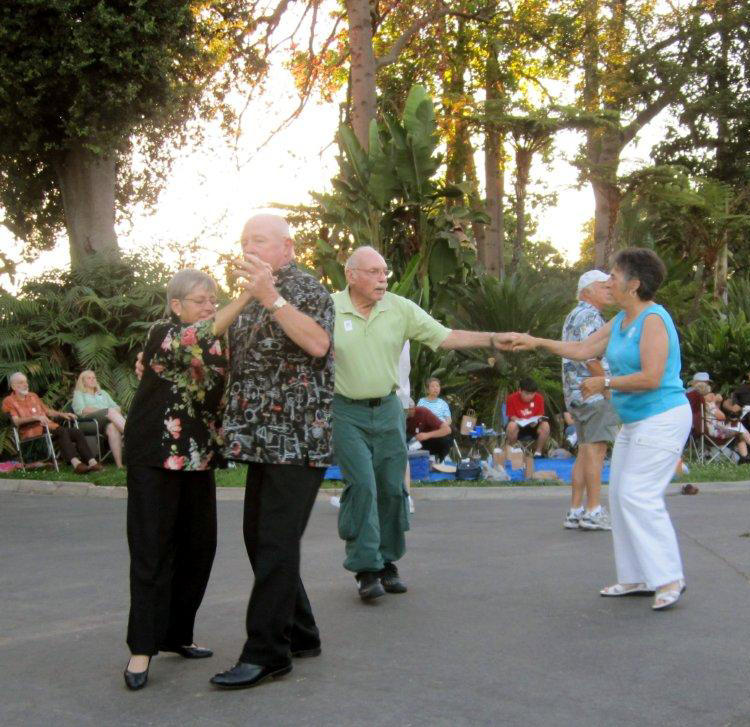 Hip Hop is nothing compared to good old swing!

"Paul... this is NOT a waltz!"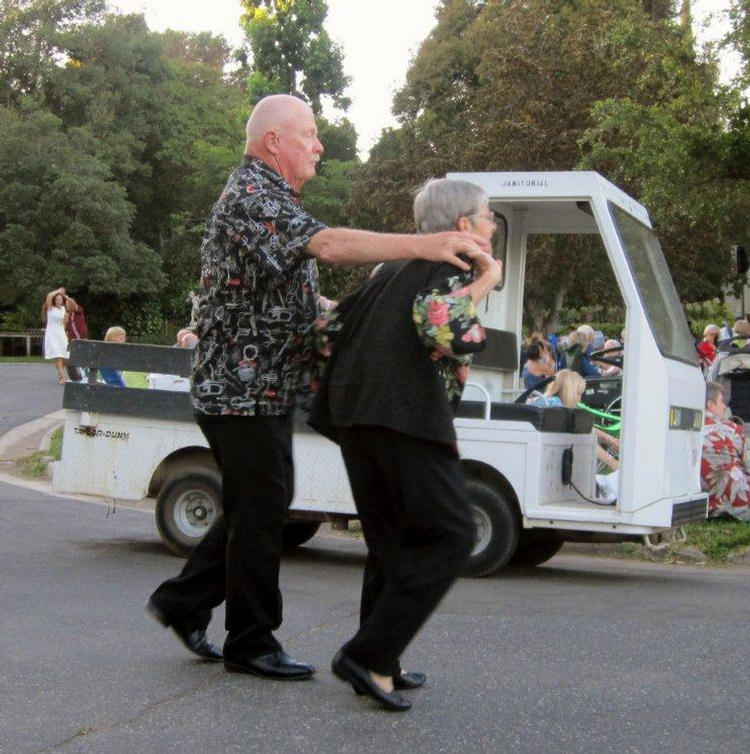 "Oh oh... They are coming to take us away!"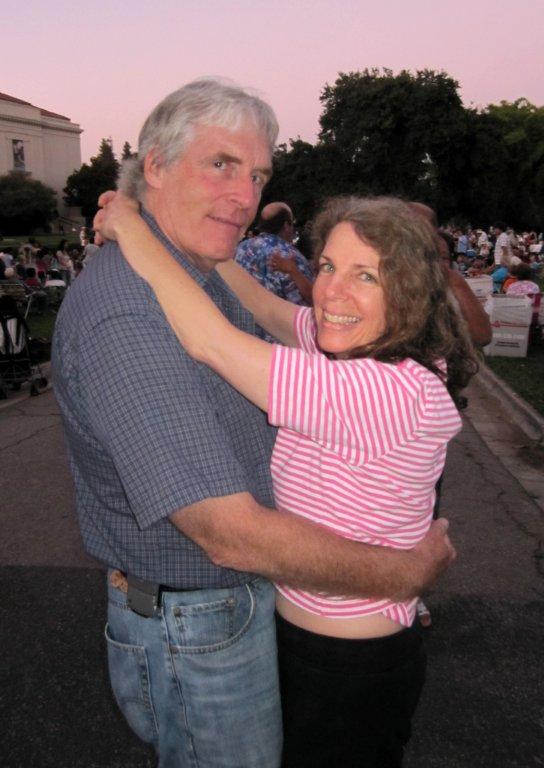 Bill... What is on your mind???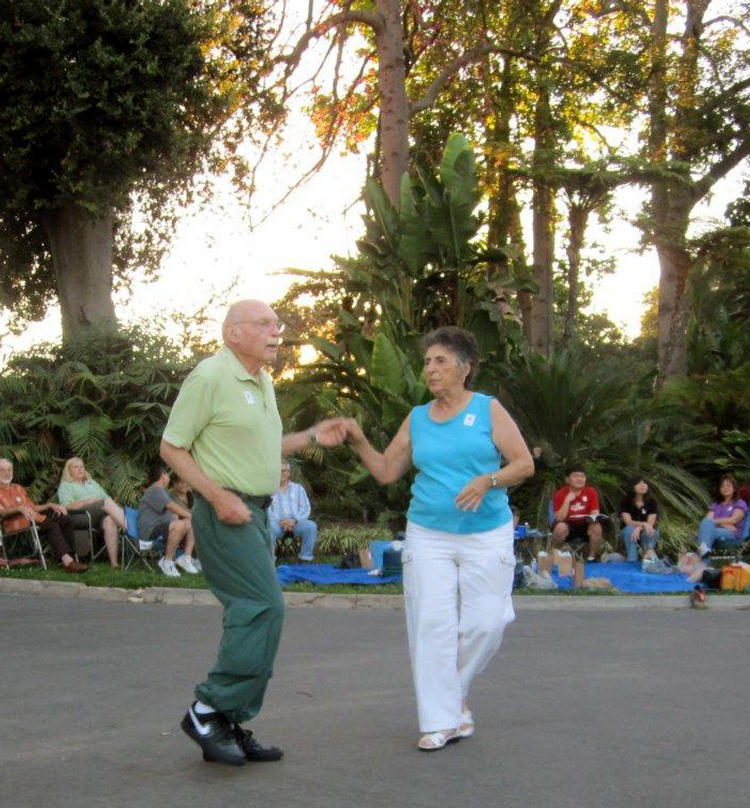 Careful, the asphalt is beginning to heat up

Herb approves!
Did you know? - Folding chairs were already being used in Ancient Egypt, Greece and Rome. The curule chair of the Roman magistrate was a folding chair, as well as the seat of the emperor. The frame was mostly made of wood, and seldom made of metal. The wood was inlaid with artistic carvings, gilded, and decorated with ivory. In Northern Europe, folding chairs return to the brass age.
The folding chair became especially widespread during the Middle Ages. Here it was treasured as a liturgical furniture piece. Since the 15th and 16th century the folding chair has mostly had arm and head rests. Of course, newer chairs which are often found in functions and events are also called folding chairs. In 1947, Fredric Arnold created the first aluminum folding chair with fabric strapping for the seat and back.
By 1957, the Fredric Arnold Company of Brooklyn, New York, was manufacturing more than 14,000 chairs per day. Today, the folding chair is mostly made of hard plastic or metal or wood. Folding chairs can be divided into different categories. ~Wikipedia

Perhaps a Mexican Hat dance???
Did you know? - The Jarabe Tapat?o, known in English as the Mexican Hat Dance, is the title of the musical piece and the dance that accompanies it, which is accorded the title of the "national dance of Mexico". In the Spanish language, jarabe is a sort of dance (though the word is homonymous with one meaning "syrup" or "elixir"), and the adjective tapat?o indicates something from Guadalajara, Jalisco.
The musical piece, a medley of Mexican folk music, was composed in the 19th century by a professor of music in Guadalajara, Jes?s Gonz?lez Rubio.
The Jarabe Tapat?o dance in its standardized form was first choreographed by the Mexican , in the early twentieth century to celebrate a government-sponsored fiesta that commemorated the successful end of the Mexican Revolution.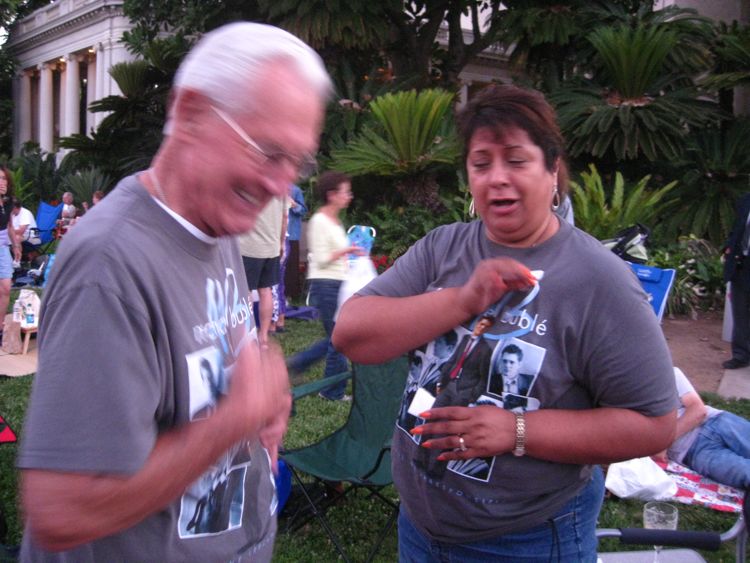 Stop fighting kids!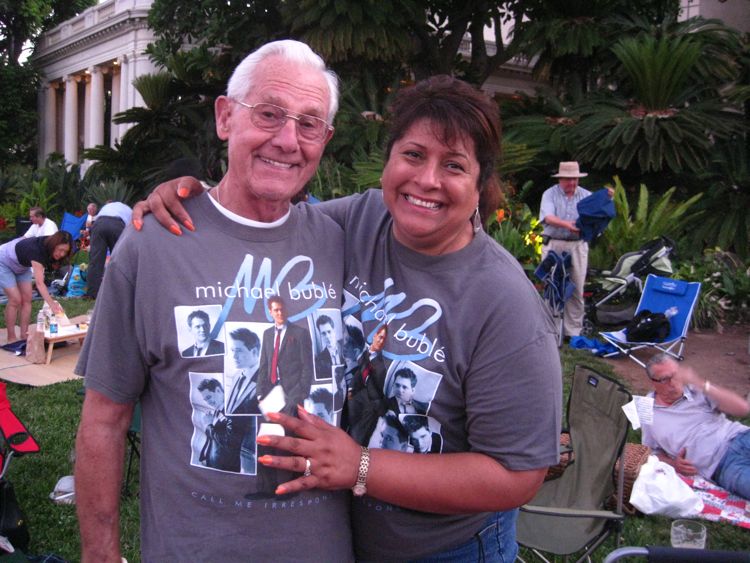 She points to Michael on the shirt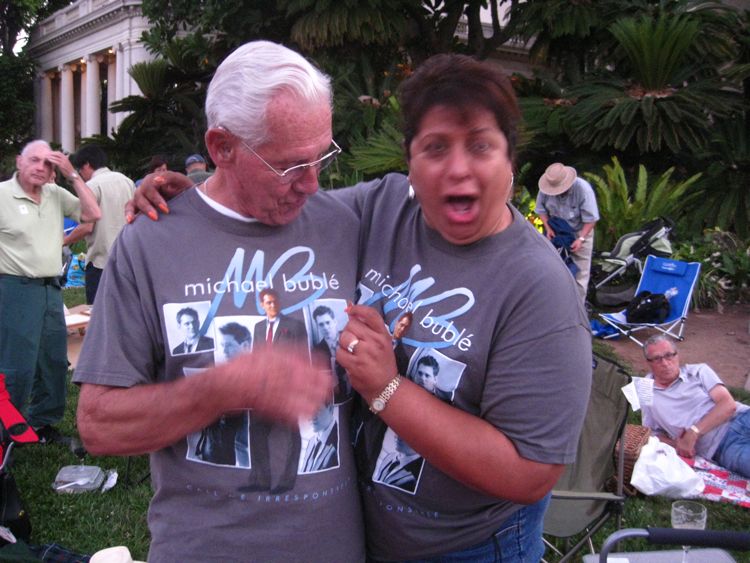 He tries to point to Michael on the shirt!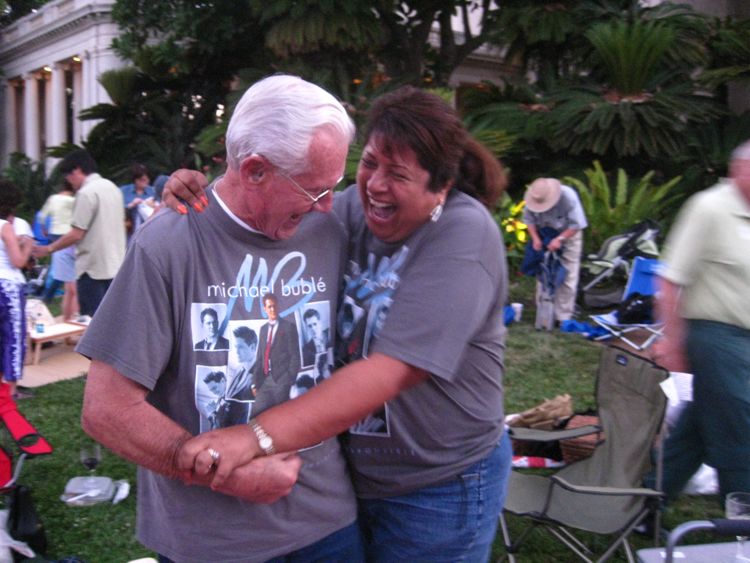 "Oh stop that.... some more!"

The band took a break and so did we!
We Told The Secret To This Nice Young Couple
If you are nervous about dancing remember:
No one looks at the man!
If you smile at each other, no one looks at your feet
Any mistake is the possibility of creating a new step!!!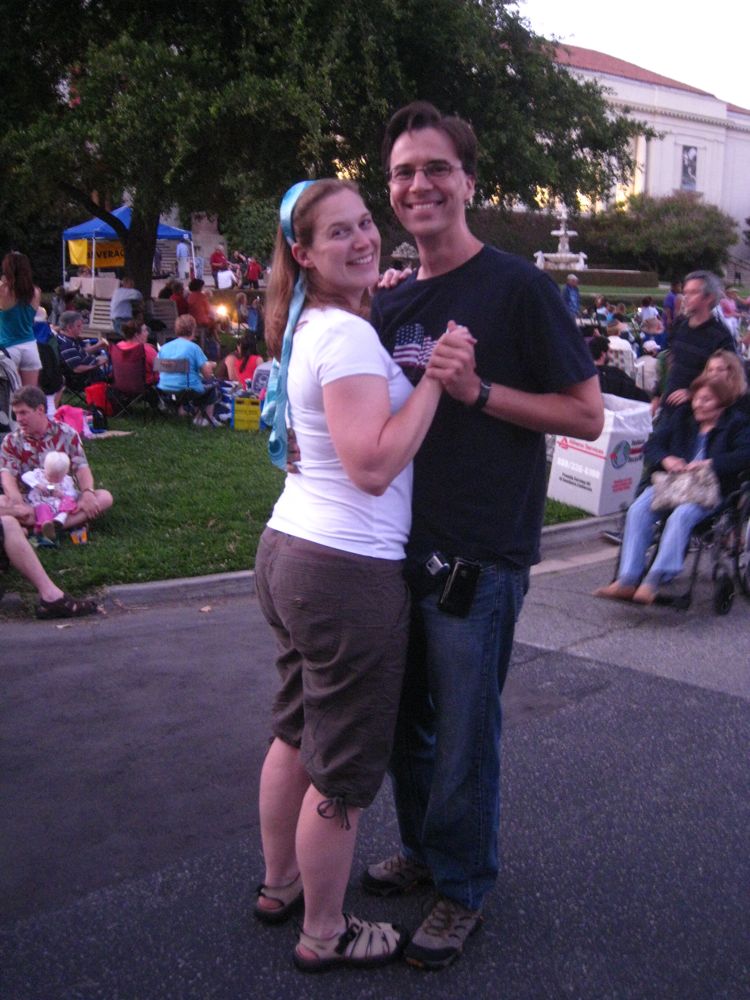 New friends from the local area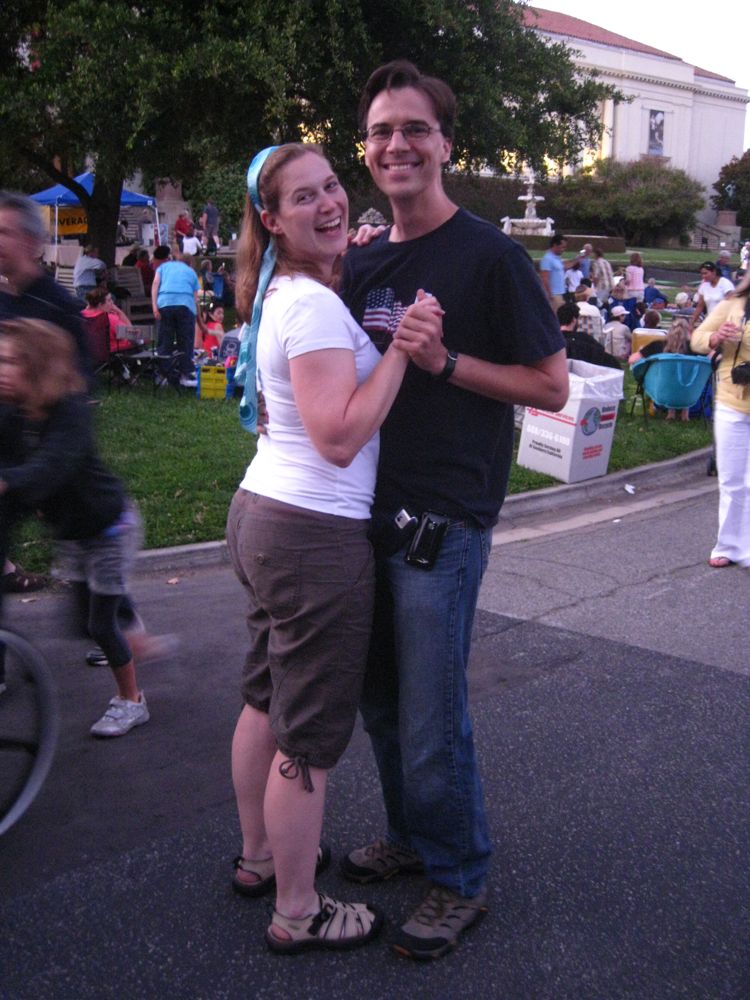 Meanwhile Back At The Encampment

Leon checks for "light leaks"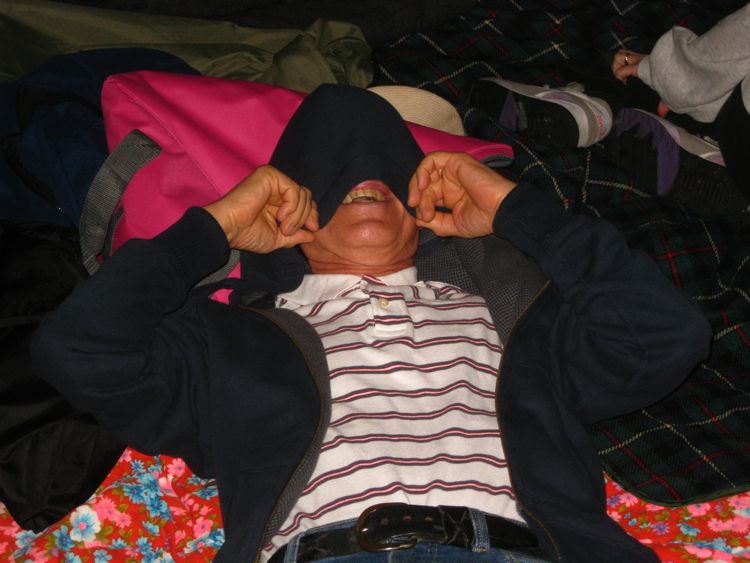 "If I can't see you then you are not there!"
Did you know? - A nap is a short period of sleep, usually in the daytime. Naps may be taken when one becomes drowsy during the day or as a traditional daily practice. It is common for small children and elderly people to take frequent naps. ~Wikipedia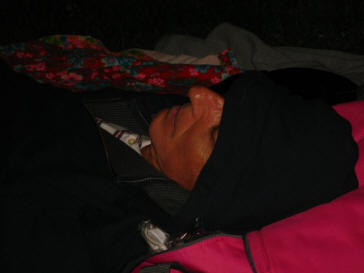 Wok a bye baby
In the twee top!
Wen da wind bwows
The wine bottle will dwop!
Did you know? - The words first appeared in print in Mother Goose's Melody (London, c. 1765), possibly published by John Newbery (1713?1767) in the eighteenth century, which was re-printed in Boston in 1785. Rock-a-bye as a phrase was first recorded in 1805 in Benjamin Tabart's Songs for the Nursery, (London, 1805.)

If there was a Sleep Beauty, Is this a Sleeping Ugly?

"I got an idea, what do you think Marcia??"

"Look, its the trouble maker and flashing photographer

Meanwhile, Sue takes it all in and wonder's how she got associated with this group
Oh Oh... He Is Up To Something!

"Me????"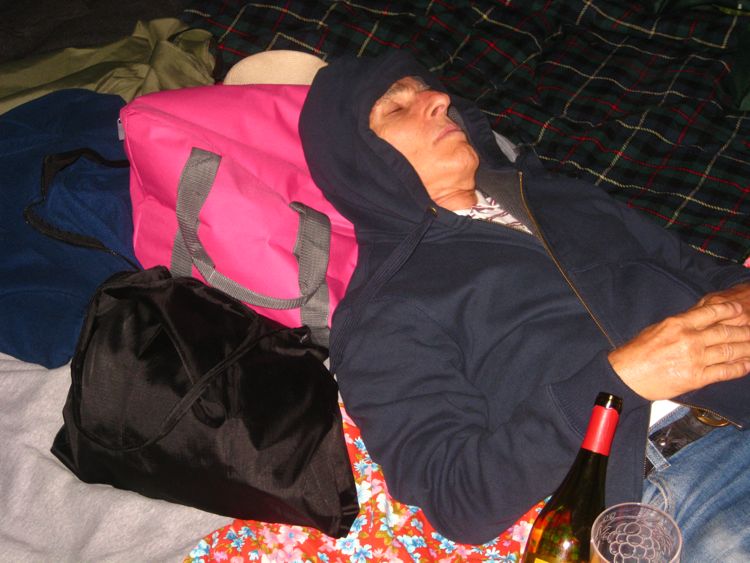 An empty bottle of wine and a pink pillow?? This looks serious!

OMG... He drank "Smoking Loon" This is serious!
Did you know? - Evidence in its broadest sense includes everything that is used to determine or demonstrate the truth of an assertion. Giving or procuring evidence is the process of using those things that are either (a) presumed to be true, or (b) were themselves proven via evidence, to demonstrate an assertion's truth. Evidence is the currency by which one fulfills the burden of proof.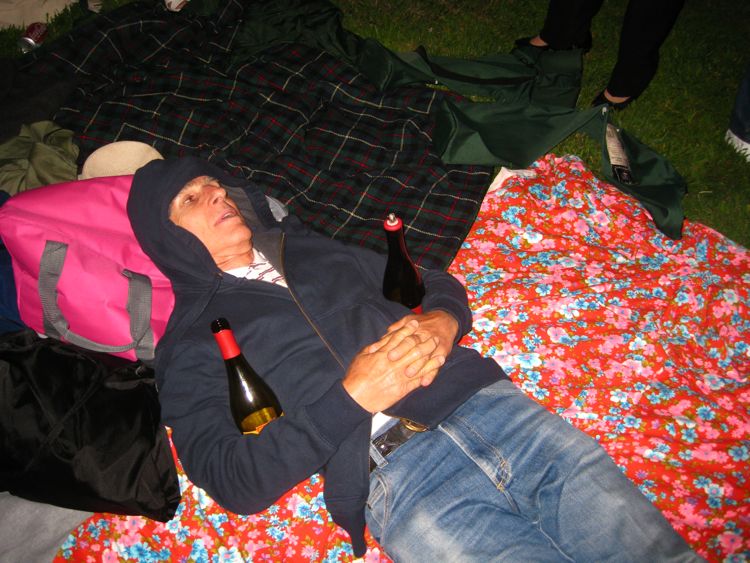 We is waking up... This could be more serious if Paul doesn't begin to run!

"Leon! Put me down! I am trying to take a picture!"
The Concert Is Done And So Are We!

It was still in the high 70's as we departed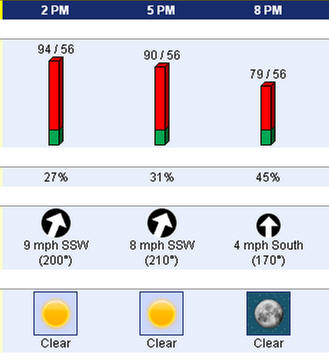 Pasadena weather report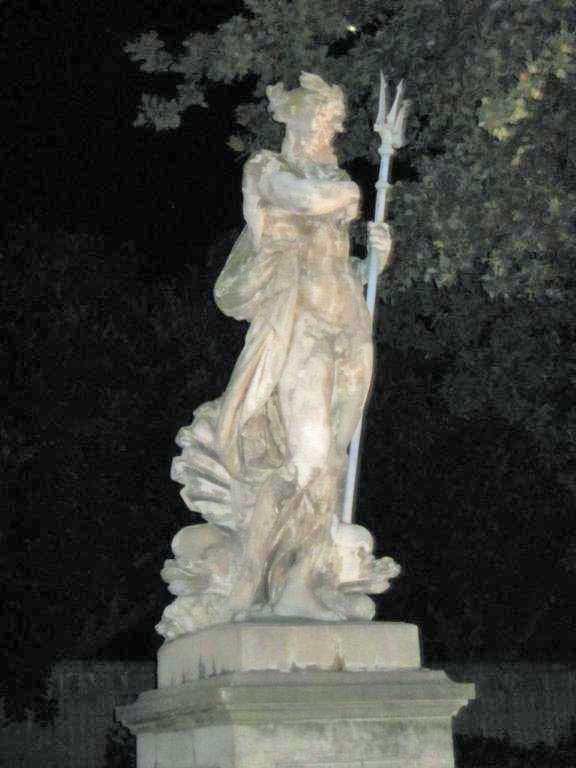 Vicky liked Neptune's swimming outfit... She remarked "His trunk's are so tiny!"
OK Vicky, where did you put his fig leaf
Did you know? - From about 1530, the developing reaction to Renaissance freedoms and excesses that led to the Council of Trent also led to a number of artworks, especially in churches or public places, being altered to reduce the amount of nudity on display. Often, as in the famous case of Michelangelo's The Last Judgment, drapery or extra branches from any nearby bush was used. For free-standing statues this did not work well, and carved or cast fig leaves were sometimes added, such as with the plaster copy of Michelangelo's David displayed in Victorian era London.
Did you know? - Poseidon (Greek: ????????; Latin: Nept?nus) was the god of the sea, storms, and, as "Earth-Shaker," of earthquakes in Greek mythology. The name of the sea-god Nethuns in Etruscan was adopted in Latin for Neptune in Roman mythology: both were sea gods analogous to Poseidon. Linear B tablets show that Poseidon was venerated at Pylos and Thebes in pre-Olympian Bronze Age Greece, but he was integrated into the Olympian gods as the brother of Zeus and Hades. Poseidon has many children. There is a Homeric hymn to Poseidon, who was the protector of many Hellenic cities, although he lost the contest for Athens to Athena.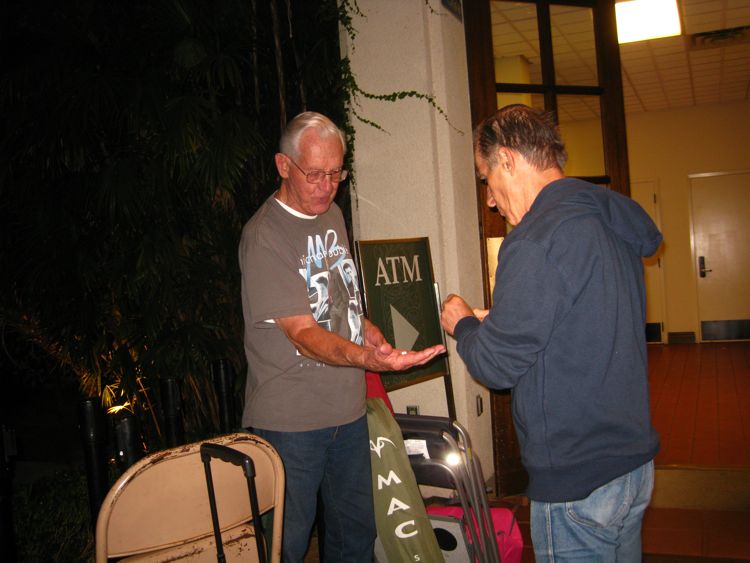 Leon thinks he can hide his breath with Chiclets gum!
Did you know? - Chiclets is a brand of candy coated chewing gum made by Cadbury Adams. The colors of Chiclets are: yellow, green, orange, red, white, and pink. The product's name is derived from Nahuatl word tziktli, in English chicle, the substance from which chewing gum was traditionally made. The original flavor was peppermint but many flavors have been added and discontinued over the decades since the introduction in 1906. Assorted fruit flavor is still available in Argentina, Egypt, Canada, Lebanon, Mexico and the United States.

1905... Leon had some originals!
We Drove Leon And Marcia To Their Car After Determining Marcia Could Not Carry Him!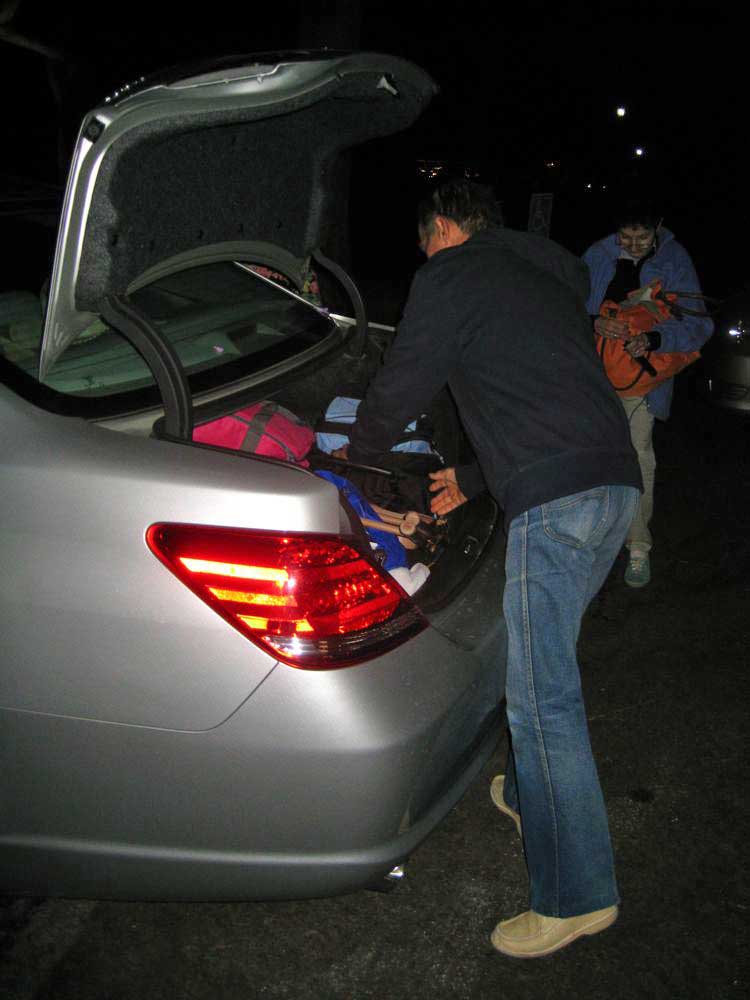 I'll put the binky here and the pibbo there and voile, a bed!

Wonder how it will be on the freeway home?

Would you buy a car from this person???

Good night all... It's been a great
The Band Video