Thanks To Hand Surgery, We Are Off To The Huntington

The Chinese New Year is about to happen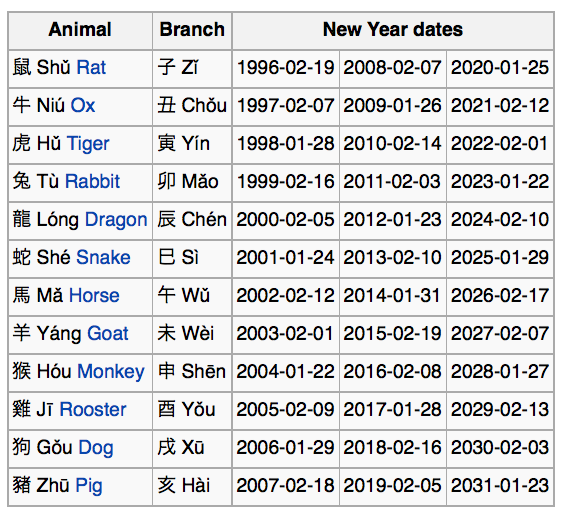 Did You Know? - Chinese New Year is the most important of the traditional Chinese holidays. In China, it is known as 'Spring Festival', the literal translation of the Chinese name ?? (Pinyin: Ch?nji?), In ancient China, the spring festival started since "lichun" for the reason that spring season in Chinese calendar starts with lichun (February 4 or 5), the first solar term in a Chinese calendar year. It marks the end of the winter season, analogous to the Western Carnival.
Since 1913, Chinese national government determined the festival begins on the first day of the first month (Chinese: ??; pinyin: Zh?ngyu?) in the traditional Chinese calendar and ends with Lantern Festival which is on the 15th day. Chinese New Year's Eve, a day where Chinese families gather for their annual reunion dinner, is known as Ch?x? (??), literally "remove evening" or "Eve of the Passing Year." Because the Chinese calendar is lunisolar, the Chinese New Year is often referred to as the "Lunar New Year" and Agriculture / Agricultural / Agrarian Calendar's New Year.

The cactus garden was magnificent

Torch plants were very pretty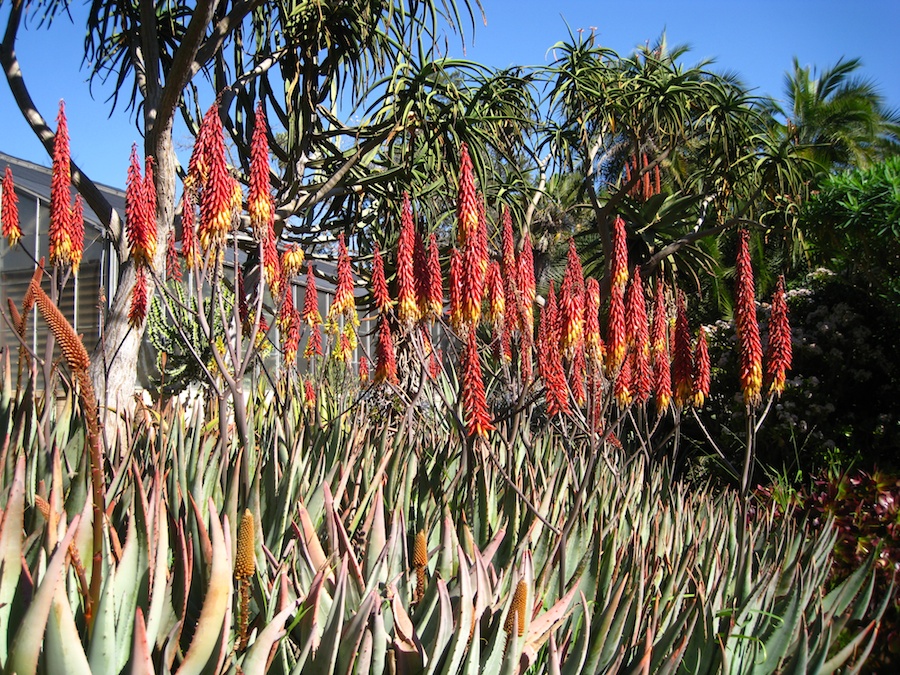 They were visible all over the garden
Did You Know? - Aloe aristata (torch plant, lace aloe) is a species of evergreen flowering perennial plant in the family Asphodelaceae. It is indigenous to South Africa and surrounding countries. It is stemless, sawtoothed and succulent. Its nectar-rich, tubular orange flowers tend to attract birds, bees, and wasps easily.
It is cultivated as a garden plant, but as it requires winter heat is grown under glass in temperate regions. It has gained the Royal Horticultural Society's Award of Garden Merit.

Blue cactus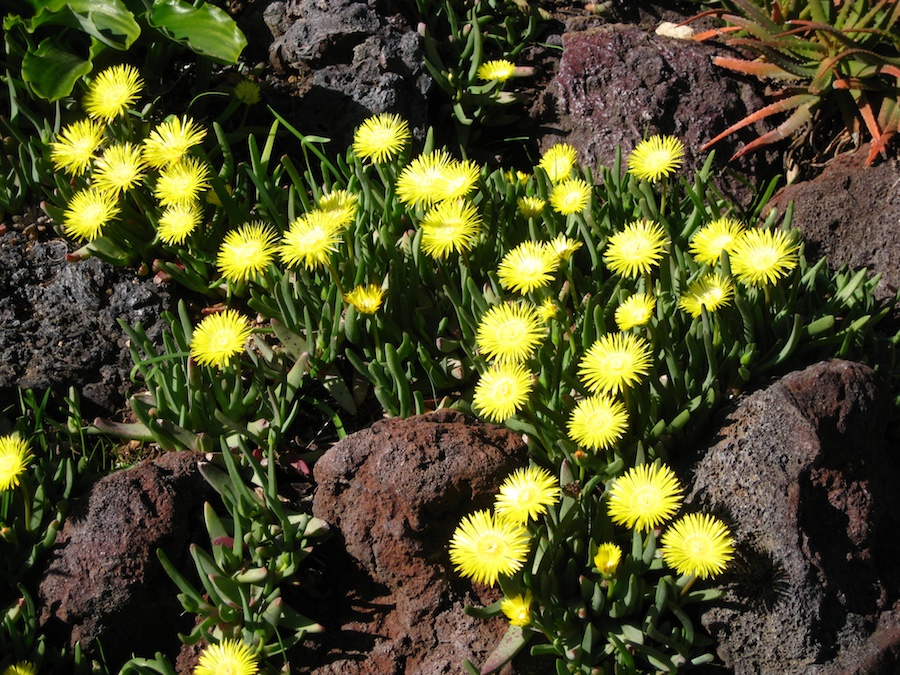 The flowers were so bright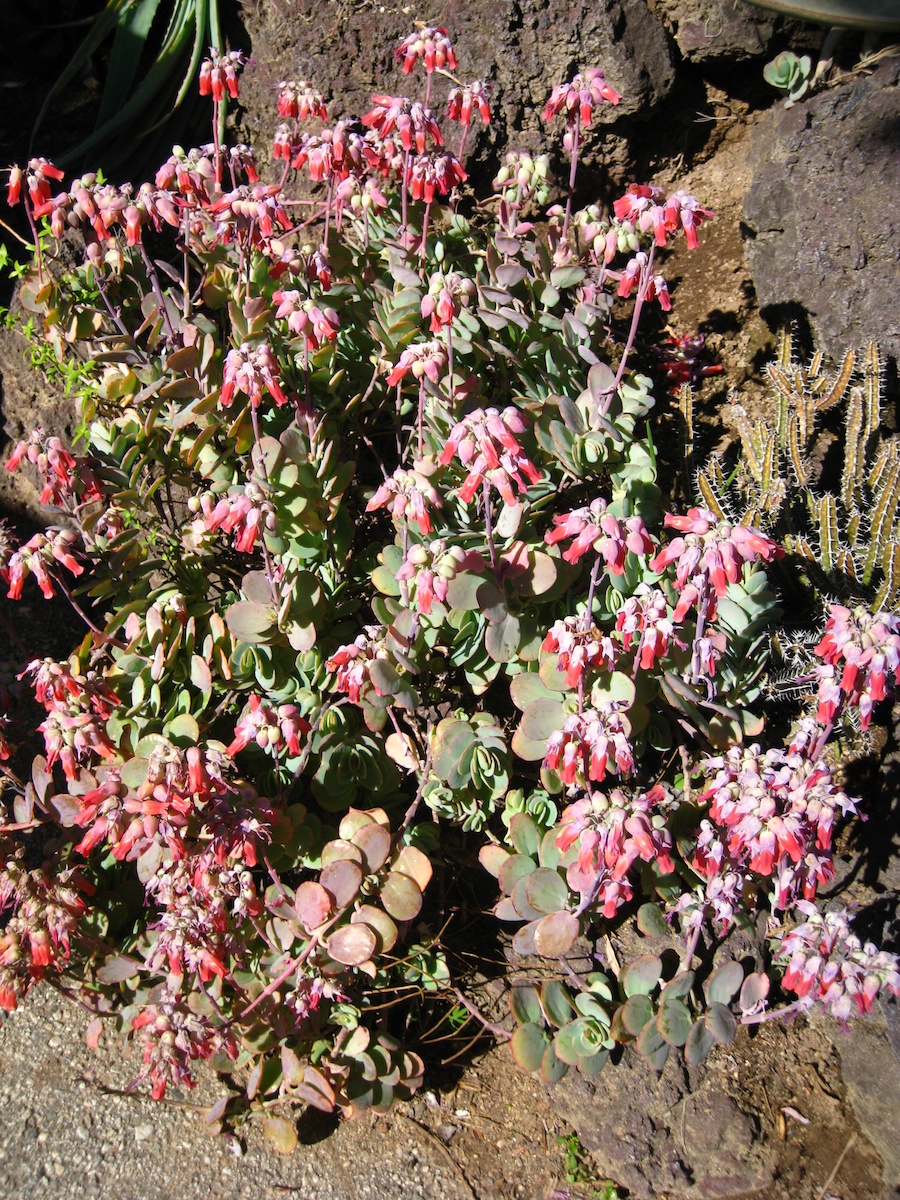 Every color imaginable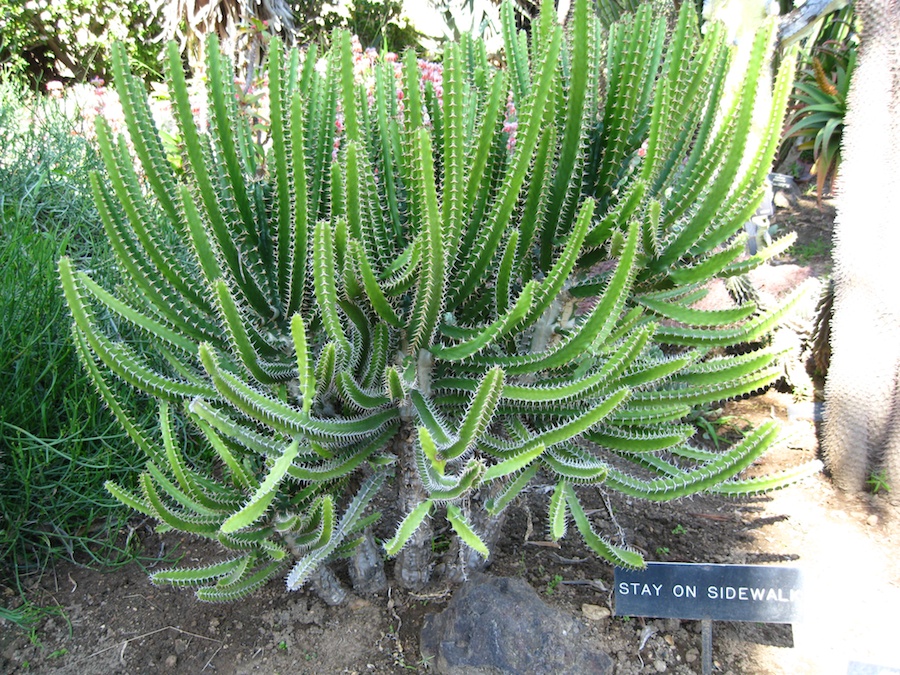 "Stay On Sidewalk"... Are they kidding???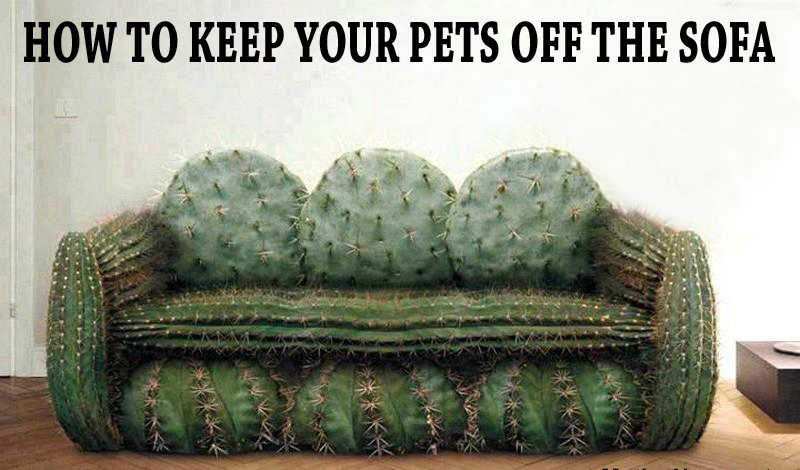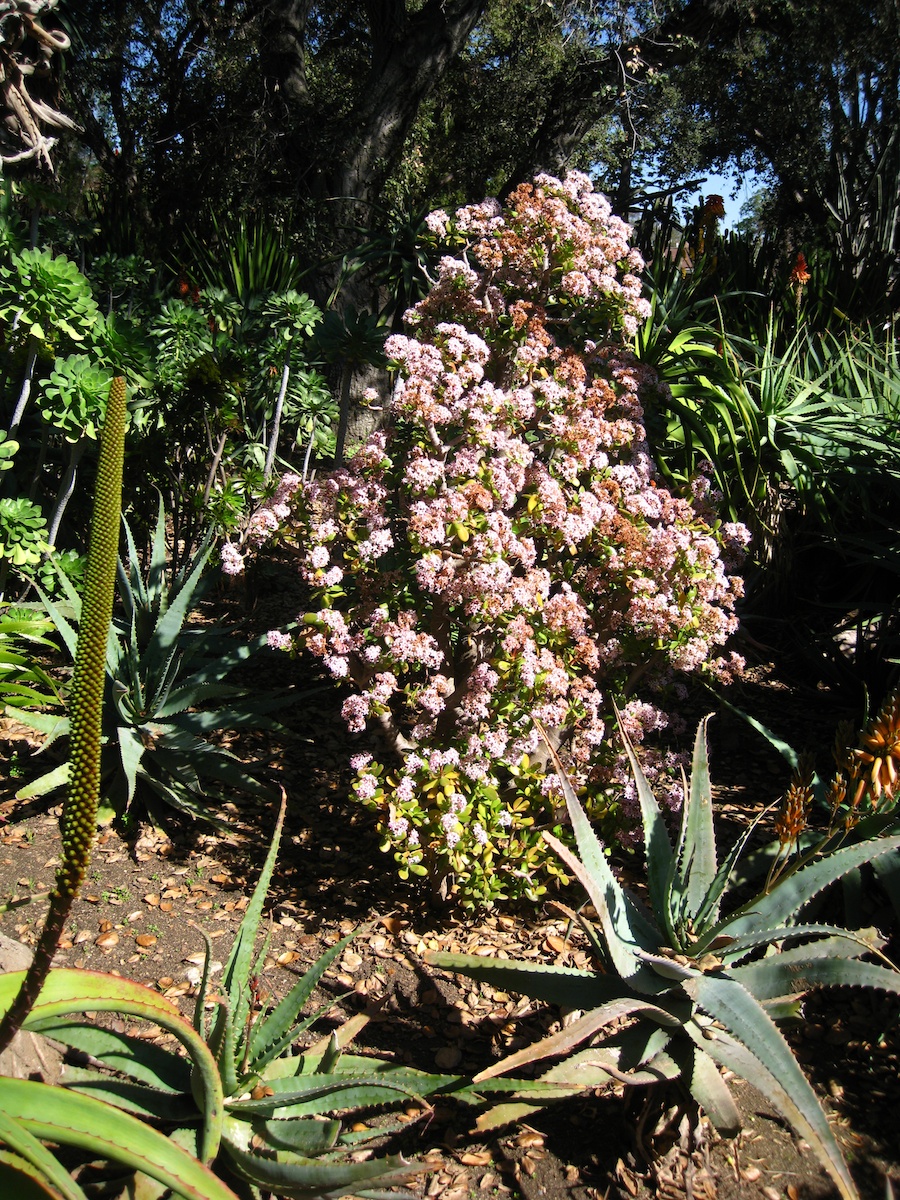 The colors are amazing
Did You Know? - Crassula ovata, commonly known as jade plant, friendship tree, lucky plant or money plant, is a succulent plant with small pink or white flowers. It is native to South Africa, and is common as a houseplant worldwide. It is sometimes referred to as the money tree; however Pachira aquatica also receives this nickname.
It is an evergreen plant with thick branches and smooth, rounded, fleshy leaves that grow in opposing pairs along the branches. Leaves are a rich jade green; some varieties may develop a red tinge on the edges of leaves when exposed to high levels of sunlight. New stem growth is the same color and texture as the leaves, but becomes brown and woody with age. Under the right conditions, they may produce small white or pink star-like flowers in early spring.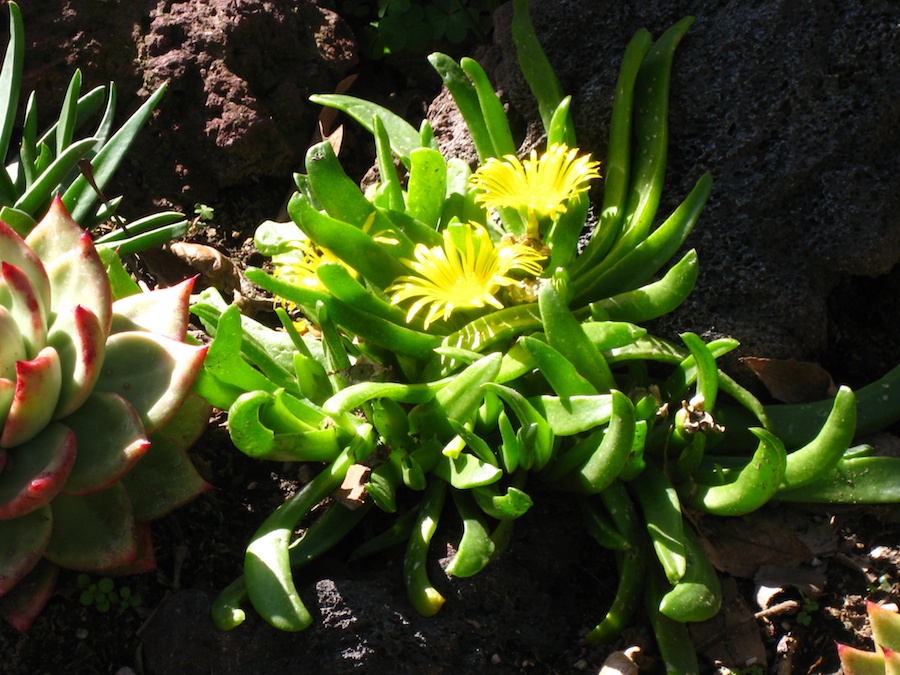 Pinks, yellows, greens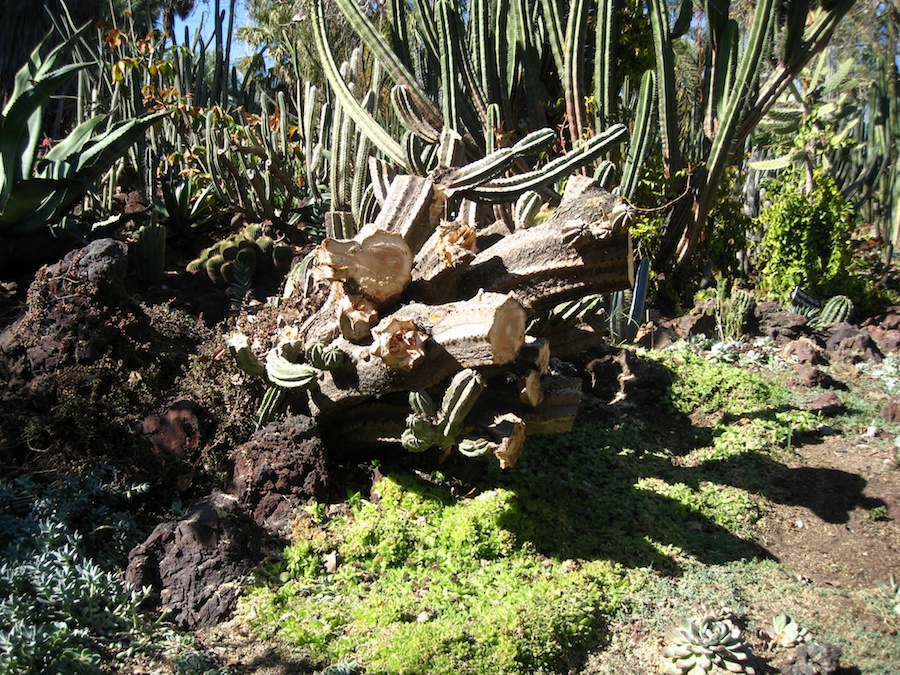 Oh oh... Someone got a real haircut

Do not fall into this patch of cactus

So pretty but so sharp

Barrel cactus
Did You Know? - Echinocactus grusonii is a well known species of cactus native to central Mexico from San Luis Potosi to Hidalgo. Described by Heinrich Hildmann in 1891, it is popularly known as the Golden Barrel Cactus, Golden Ball or, amusingly, Mother-in-Law's Cushion. It belongs to the small genus Echinocactus, which together with the related genus Ferocactus, are commonly referred to as barrel cacti.
While sometimes referred to as Golden Ball, this species is not to be confused with Notocactus leninghausii which have fuzzy, harmless spines and are native to Brazil and Paraguay.
Despite being one of the most popular cacti in cultivation, it is rare and critically endangered in the wild.
Growing as a large roughly spherical globe, it may eventually reach over a metre in height after many years. There may be up to 35 pronounced ribs in mature plants, though they are not evident in young plants, which may have a knobbly appearance. Note: Younger Golden Barrels do not look similar to the mature ones. The sharp spines are long, straight or slightly curved, and various shades of yellow or, occasionally, white. Small yellow flowers appear in summer around the crown of the plant, but only after twenty years or so.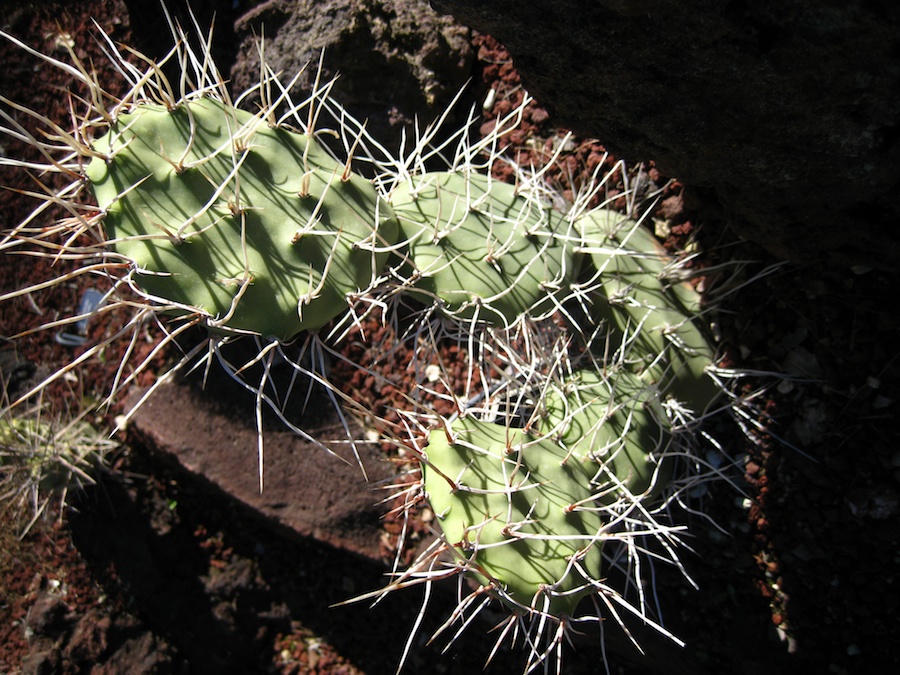 Talk about needles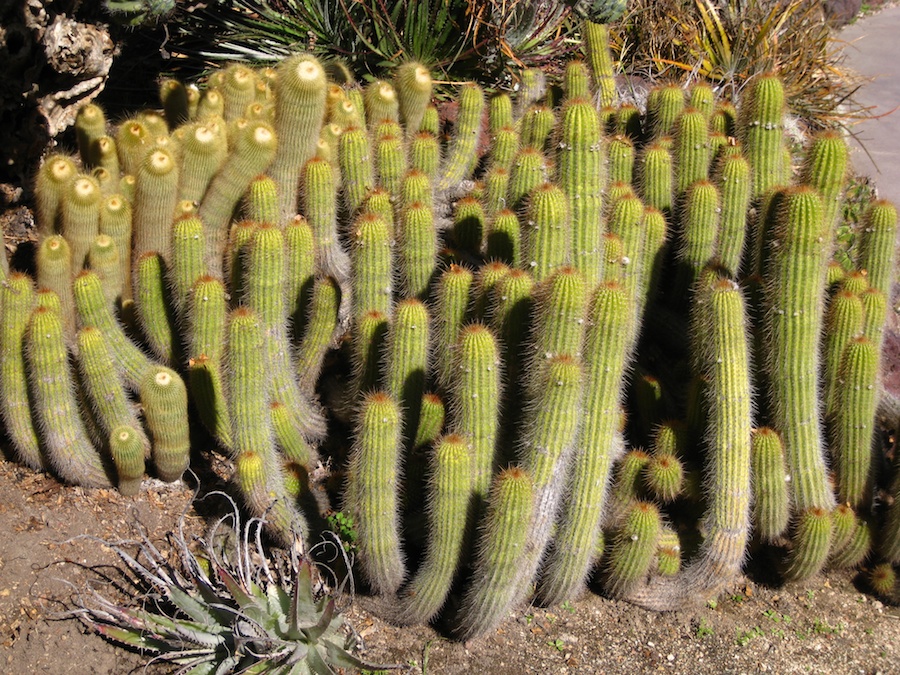 They look so innocent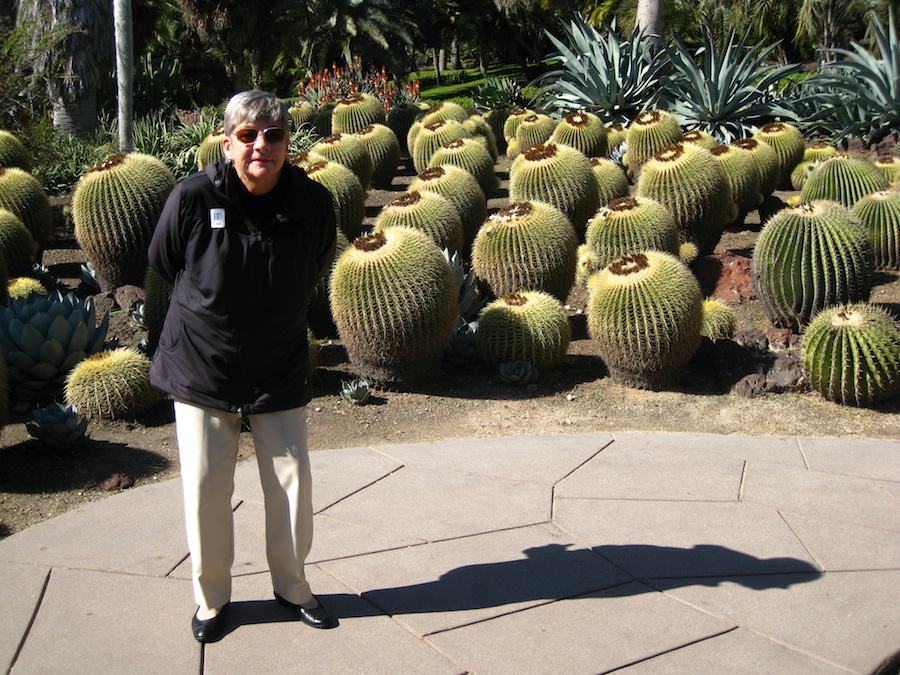 Stand back... the cactus is surrounded!
Did You Know? - Widely cultivated in warmer climates around the world, it is considered easy to grow and relatively fast growing. It has been increasingly used as an architectural plant in garden design. Jamie Durie, one of Australia's leading garden designers, has called it one of his personal favorite plants. A white-spined form is also in cultivation, as is a short-spined form.
While easy to grow, these plants do have some basic requirements; an average minimum winter temperature of 12?C (53.6?F), good drainage with less watering in winter. Excess water in cool periods may lead to rot. Golden Barrels are hardy to about 15?F (-8?C) for brief periods.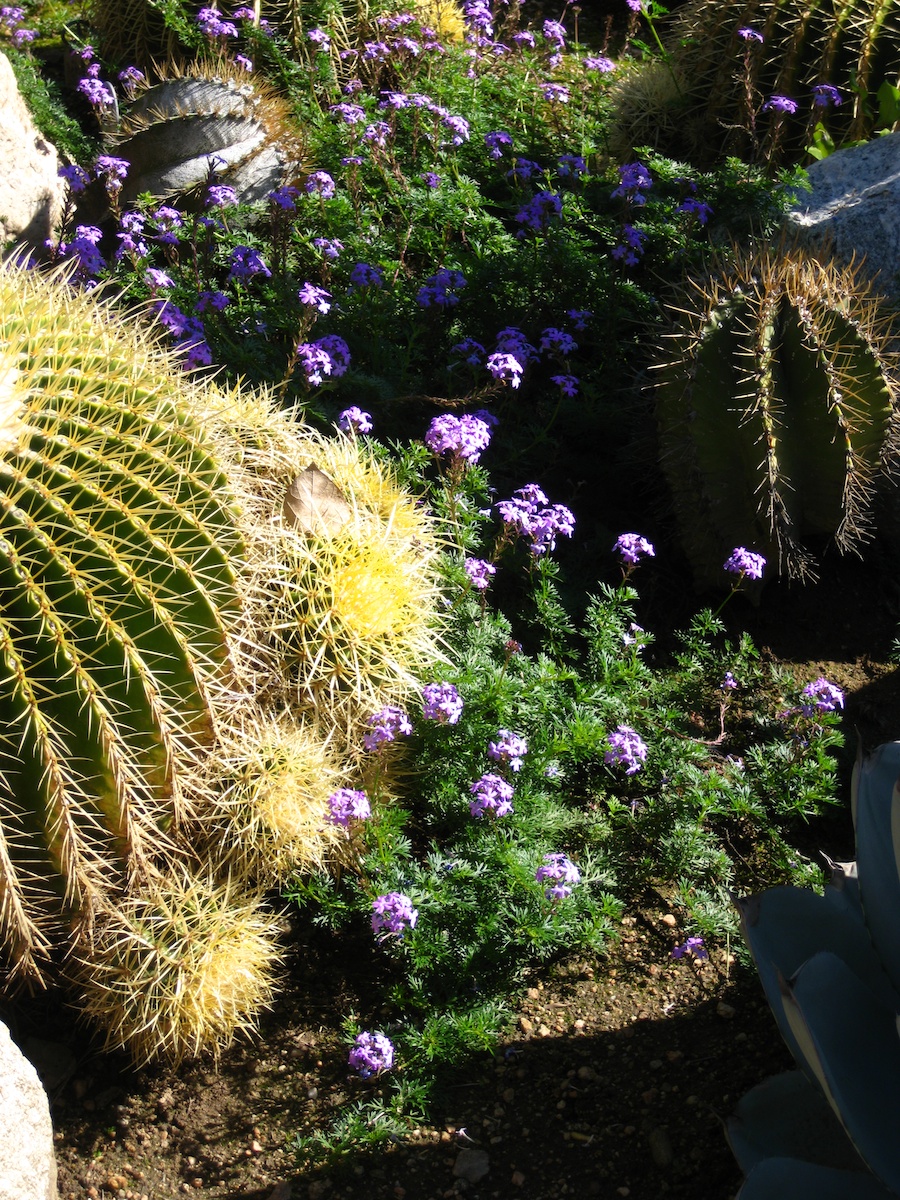 Yellow and purple

Sue enjoys the garden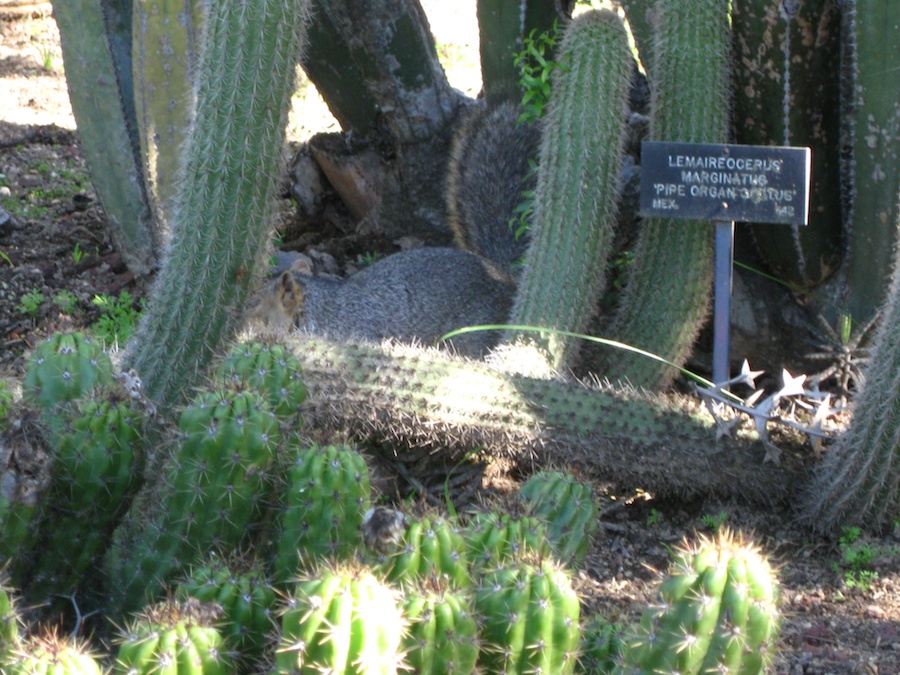 Lazy cactus.... laying down on the job
Goodbye Cacti... Hello Jungles

Yes... We are here together!

We heard there were geese in the area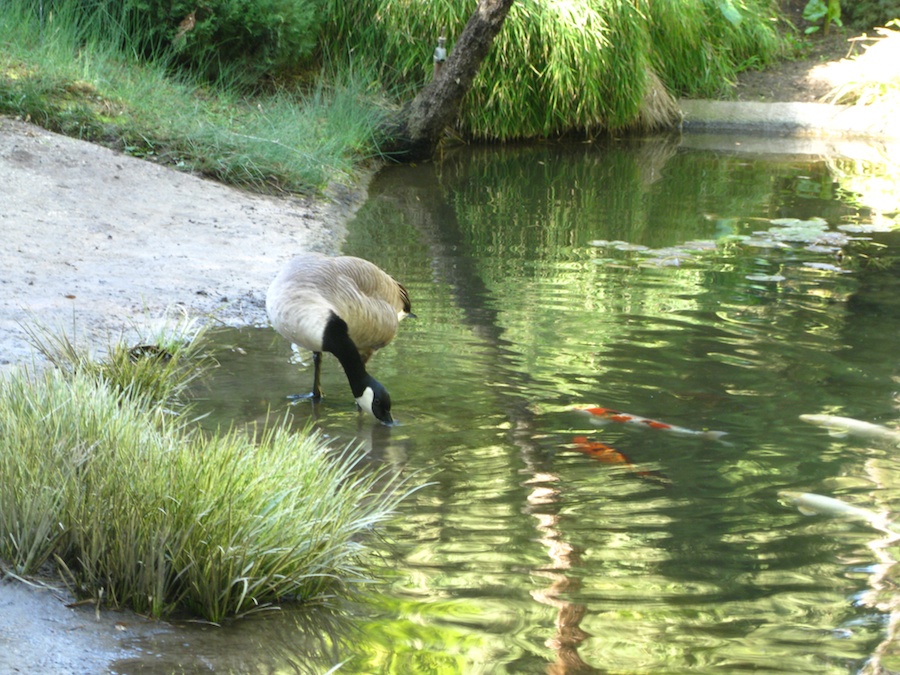 Ah ha.... A Canadian Goose
Did You Know? - The Canada Goose (Branta canadensis) is a wild goose with a black head and neck, white patches on the face, and a brownish-gray body. Native to arctic and temperate regions of North America, it is occasionally found in northern Europe, and has been introduced to other temperate regions.

They were noisy this afternoon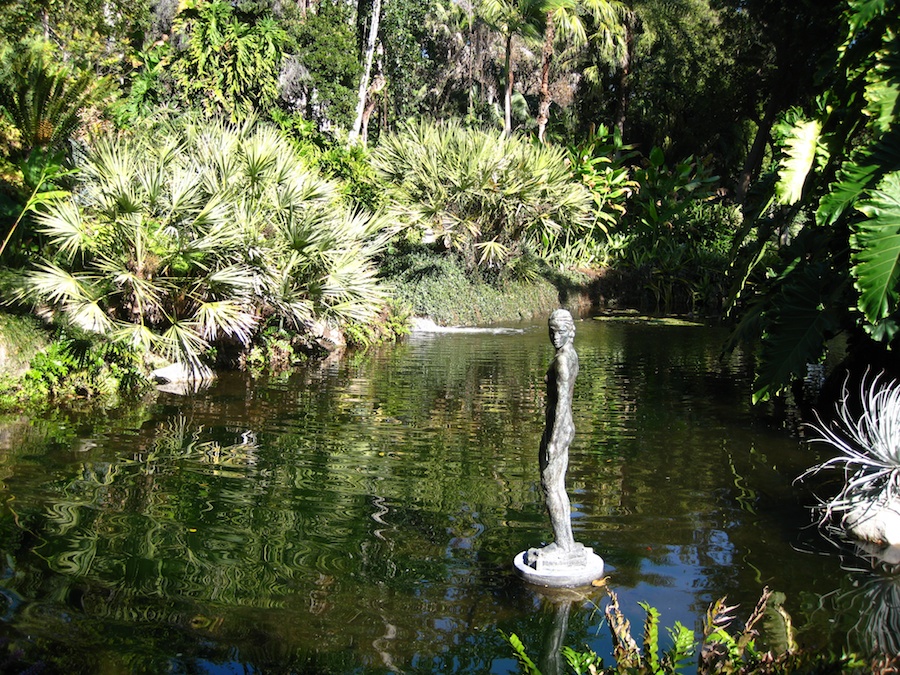 The lady is walking across the lake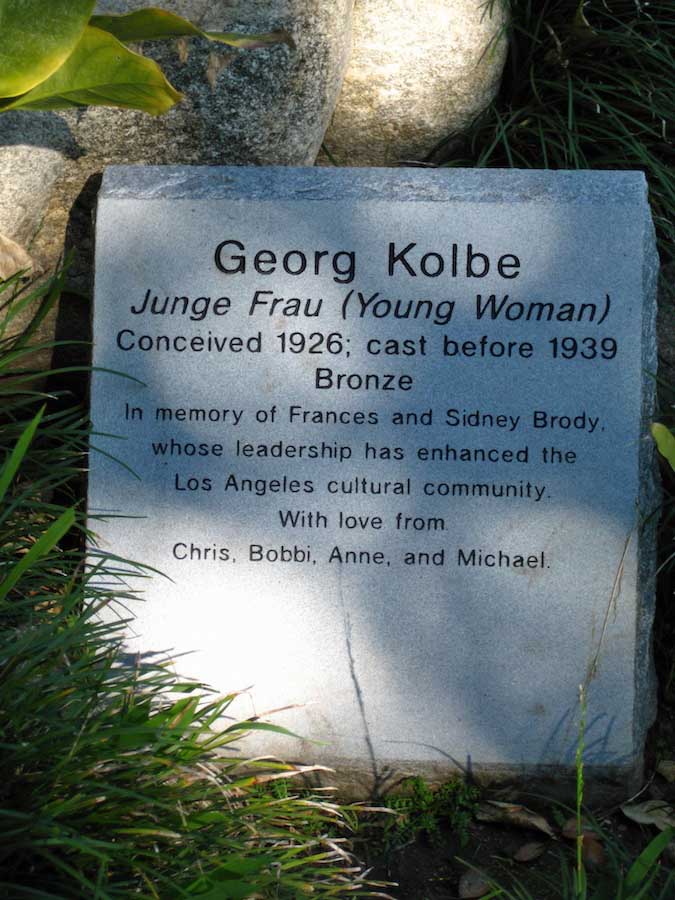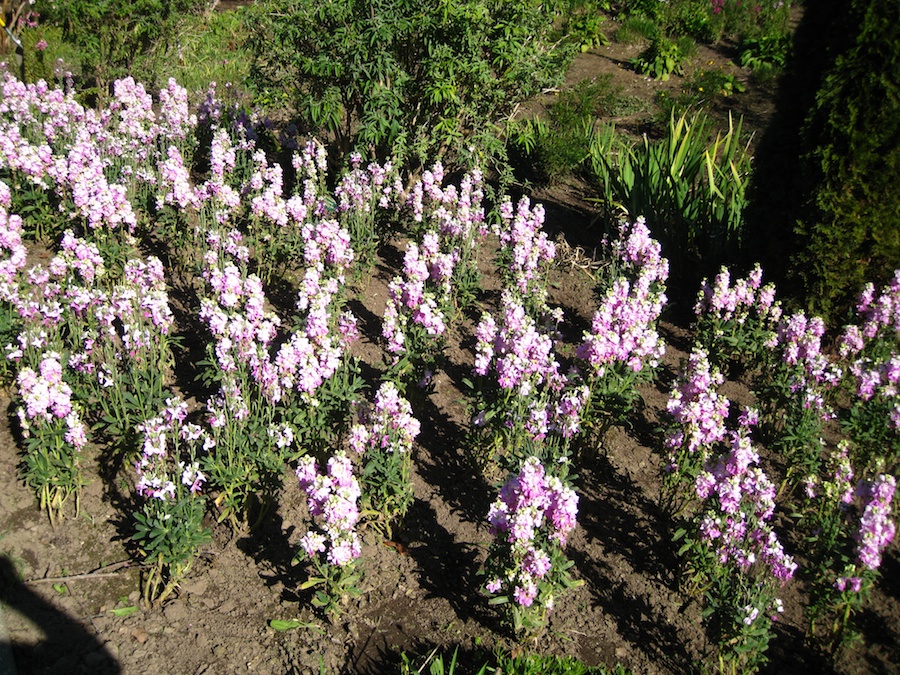 Purples, pinks, and whites

The leaves were gigantic
Off to the Chinese Gardens Via The Rose Garden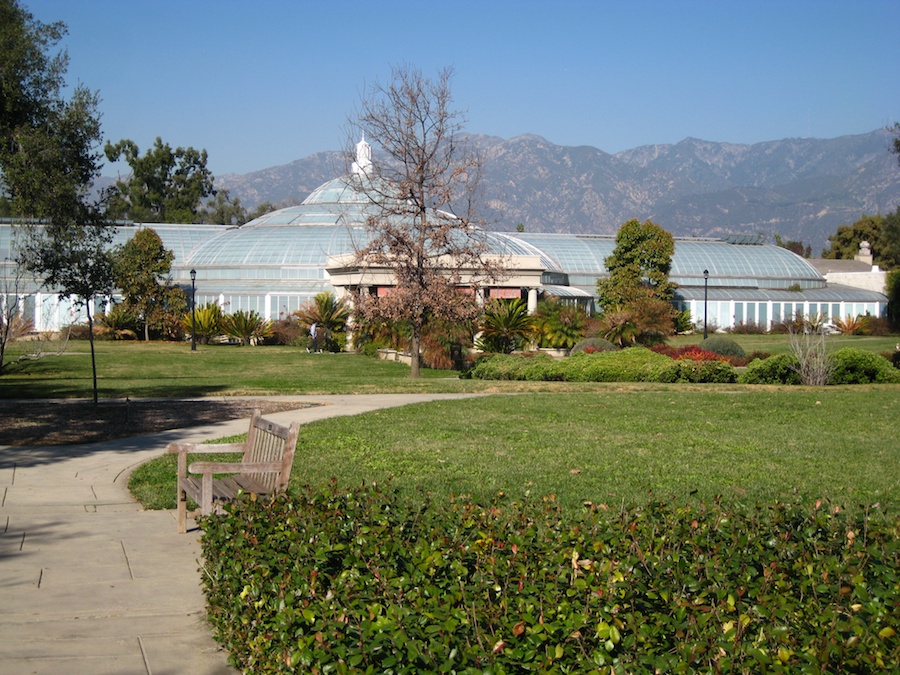 Via the conservatory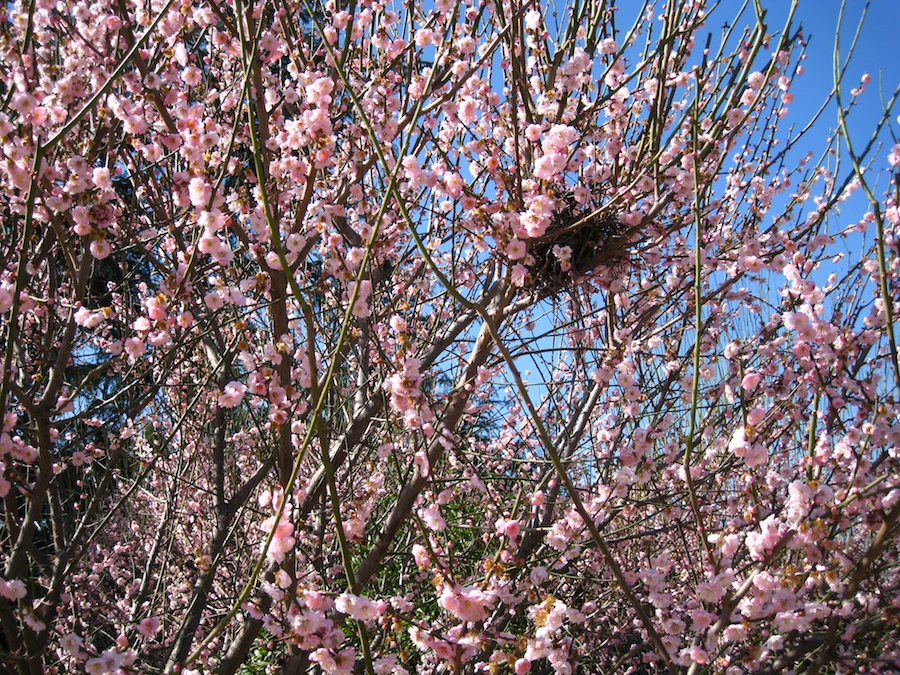 The cherry trees were beautiful
Did You Know? - In Japan, cherry blossoms also symbolize clouds due to their nature of blooming en masse, besides being an enduring metaphor for the ephemeral nature of life, an aspect of Japanese cultural tradition that is often associated with Buddhistic influence, and which is embodied in the concept of mono no aware.
The association of the cherry blossom with mono no aware dates back to 18th-century scholar Motoori Norinaga. The transience of the blossoms, the extreme beauty and quick death, has often been associated with mortality; for this reason, cherry blossoms are richly symbolic, and have been utilized often in Japanese art, manga, anime, and film, as well as at musical performances for ambient effect.
There is at least one popular folk song, originally meant for the shakuhachi (bamboo flute), titled "Sakura", and several pop songs. The flower is also represented on all manner of consumer goods in Japan, including kimono, stationery, and dishware.

The Sakurakai or Cherry Blossom Society was the name chosen by young officers within the Imperial Japanese Army in September 1930 for their secret society established with the goal of reorganizing the state along totalitarian militaristic lines, via a military coup d'?tat if necessary.
During World War II, the cherry blossom was used to motivate the Japanese people, to stoke nationalism and militarism among the populace.
Even prior to the war, they were used in propaganda to inspire "Japanese spirit," as in the "Song of Young Japan," exulting in "warriors" who were "ready like the myriad cherry blossoms to scatter." In 1932, Akiko Yosano's poetry urged Japanese soldiers to endure sufferings in China and compared the dead soldiers to cherry blossoms.
Arguments that the plans for the Battle of Leyte Gulf, involving all Japanese ships, would expose Japan to serious danger if they failed, were countered with the plea that the Navy be permitted to "bloom as flowers of death." The last message of the forces on Peleliu was "Sakura, Sakura" ? cherry blossoms.
Japanese pilots would paint them on the sides of their planes before embarking on a suicide mission, or even take branches of the trees with them on their missions.
A cherry blossom painted on the side of the bomber symbolized the intensity and ephemerality of life;in this way, the aesthetic association was altered such that falling cherry petals came to represent the sacrifice of youth in suicide missions to honor the emperor.
The first kamikaze unit had a subunit called Yamazakura or wild cherry blossom.
The government even encouraged the people to believe that the souls of downed warriors were reincarnated in the blossoms.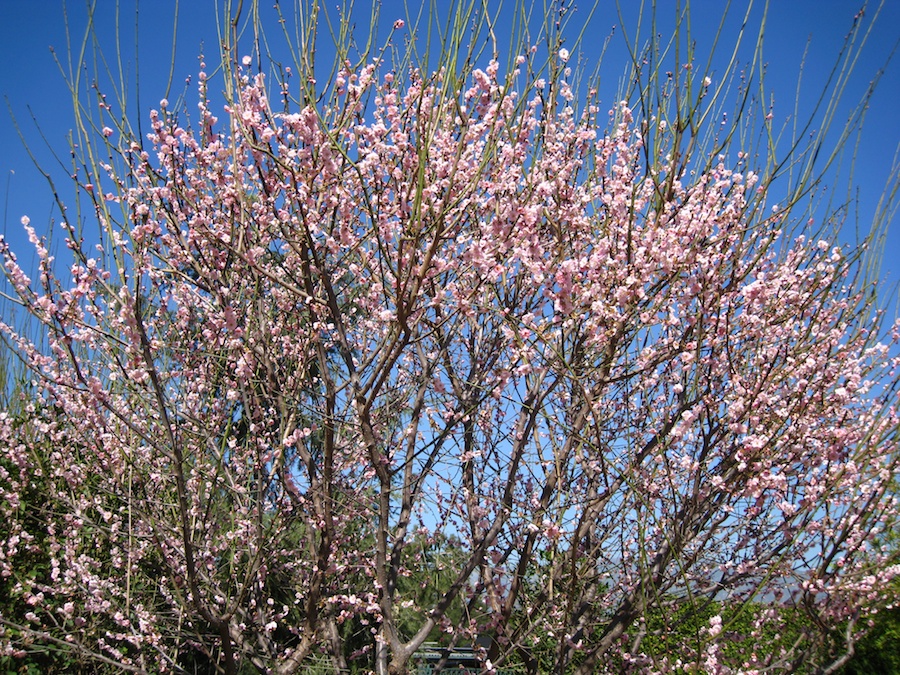 Pink and blue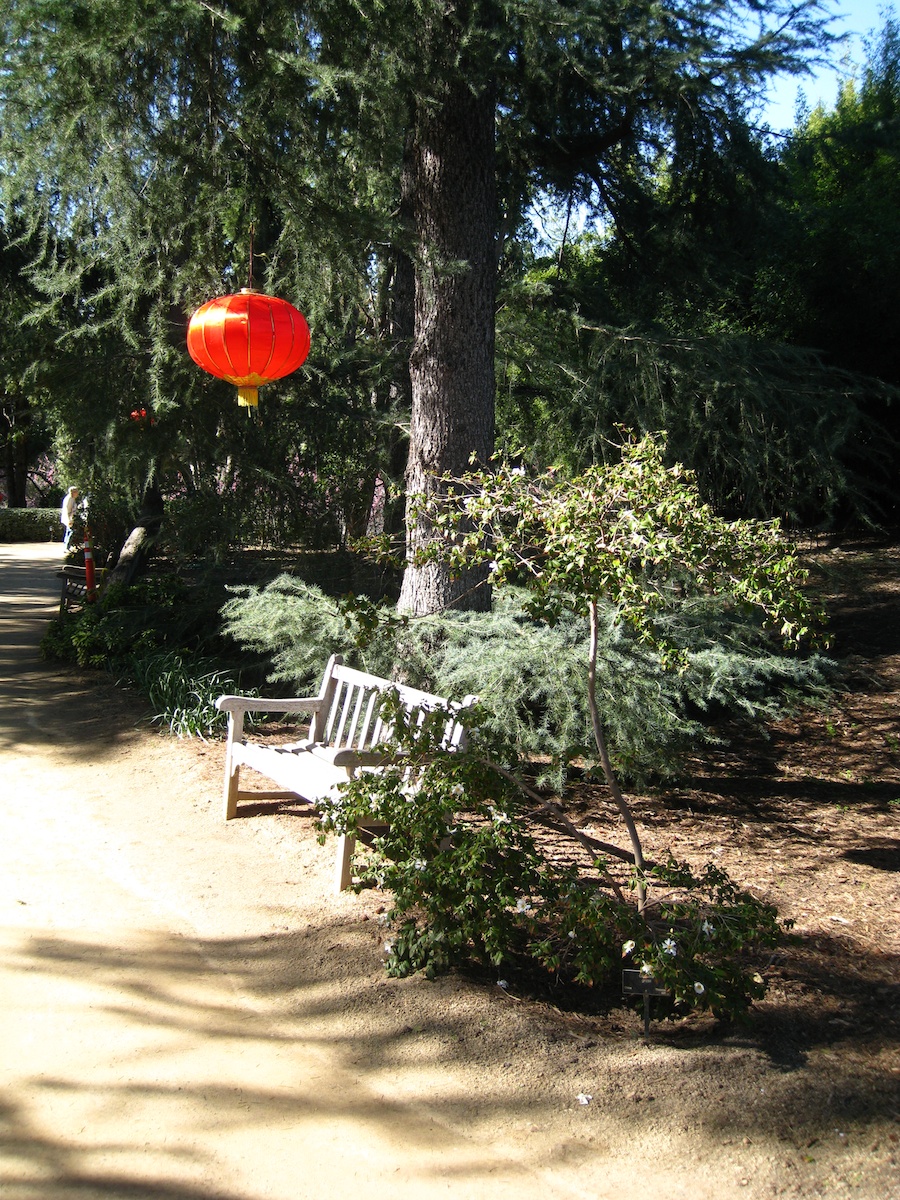 Time to sit??? Nope says the boss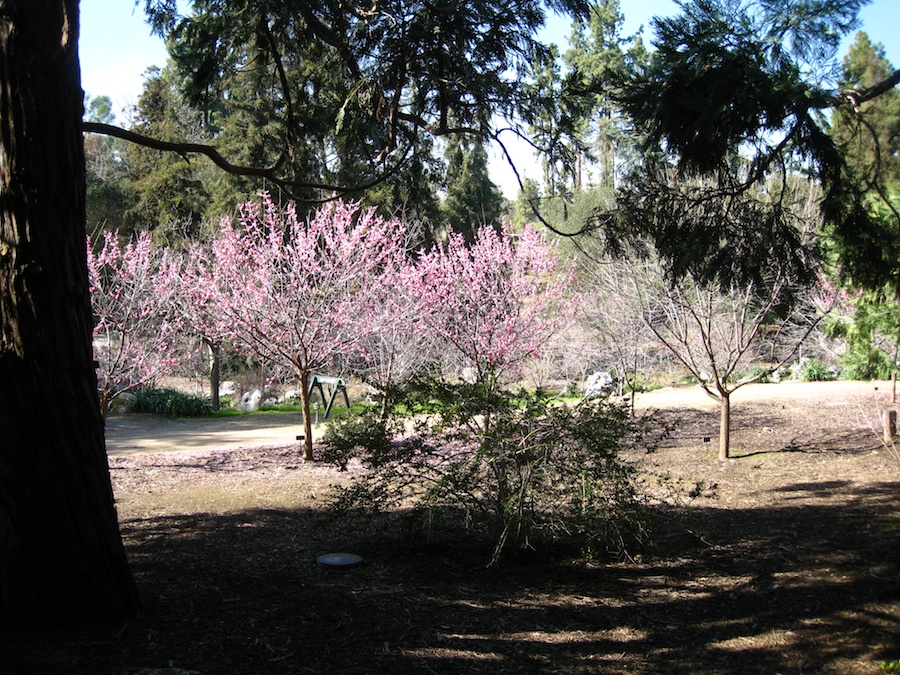 Trees were everywhere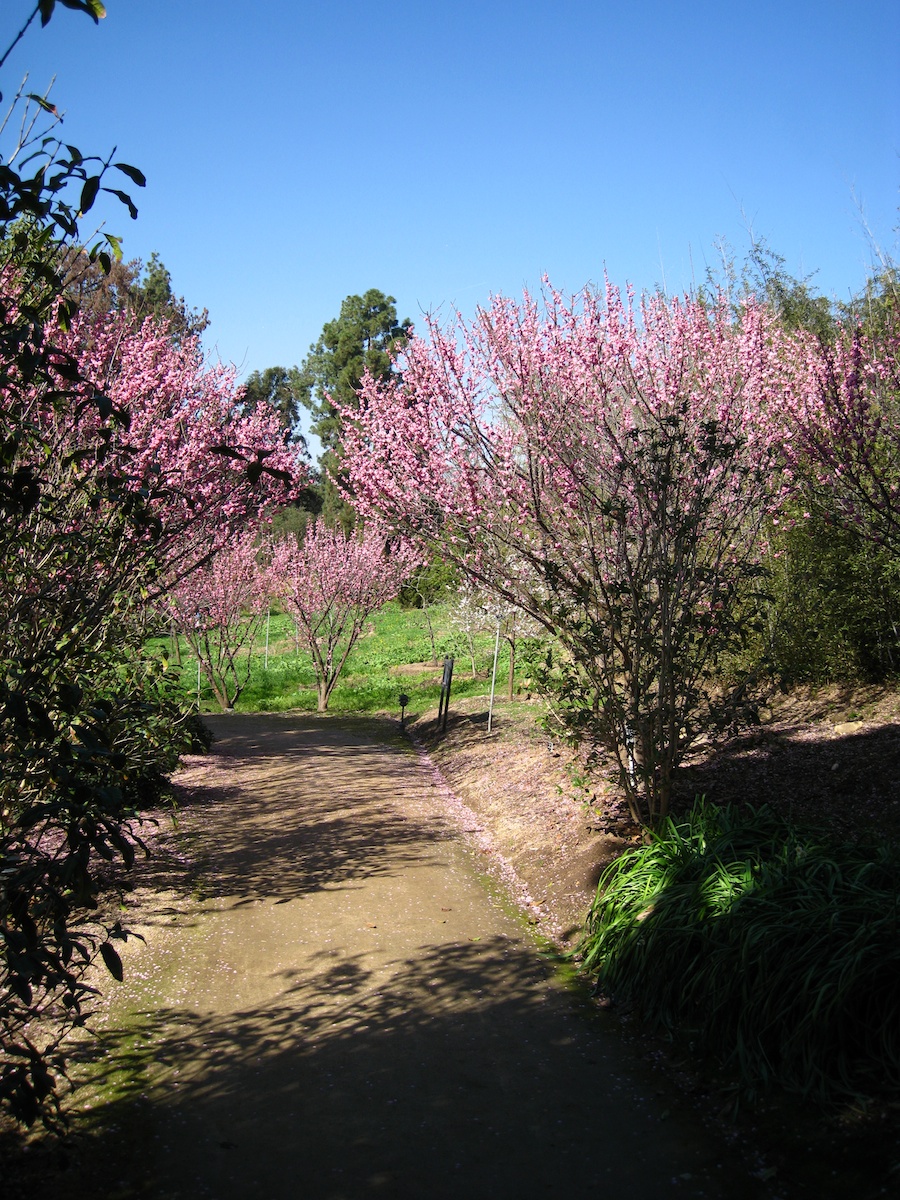 We took and extra path to see the various types of trees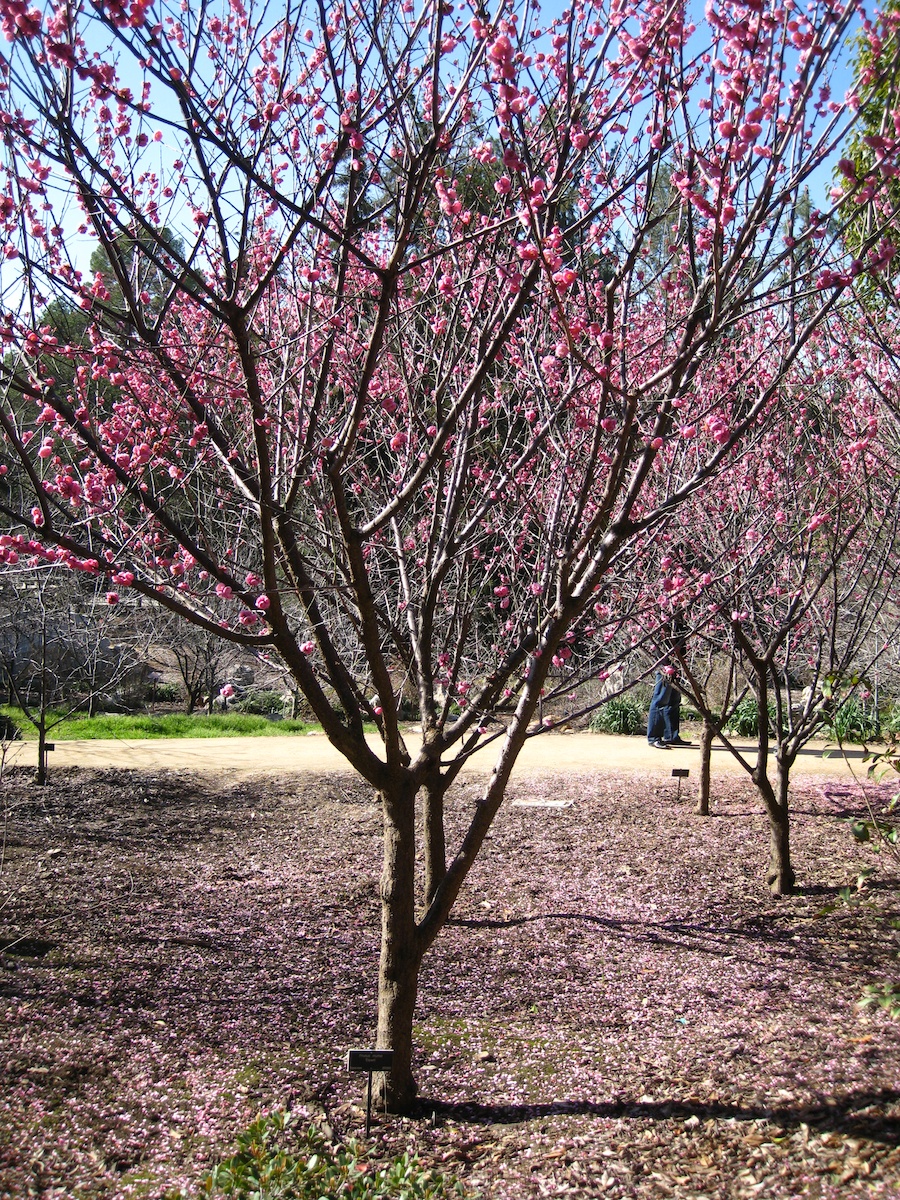 The ground was even pink with fallen blossoms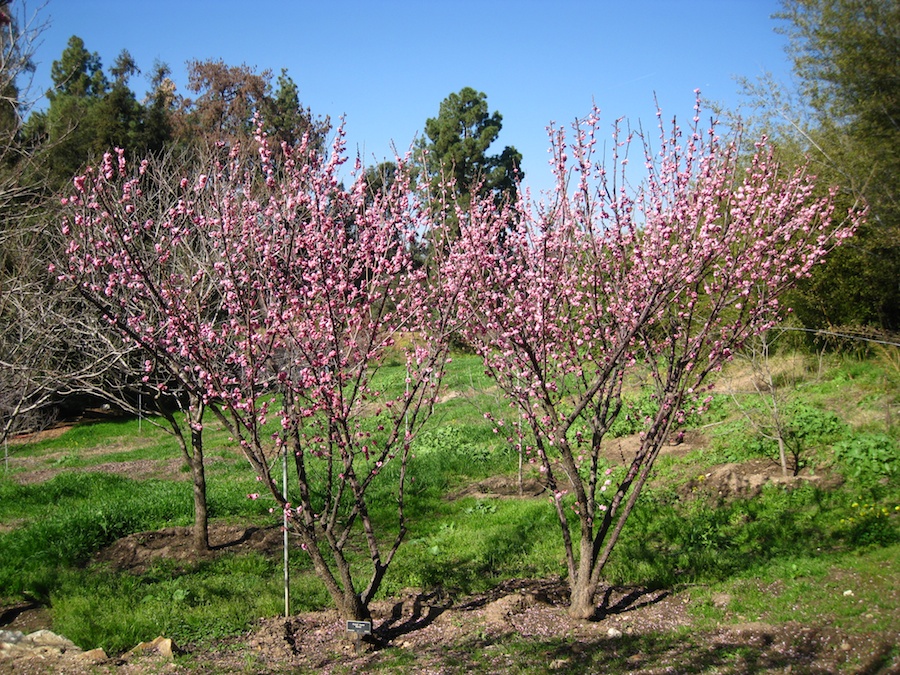 If the cherry's were on the tree, Paul would be picking them!

The bees were busy with these blossoms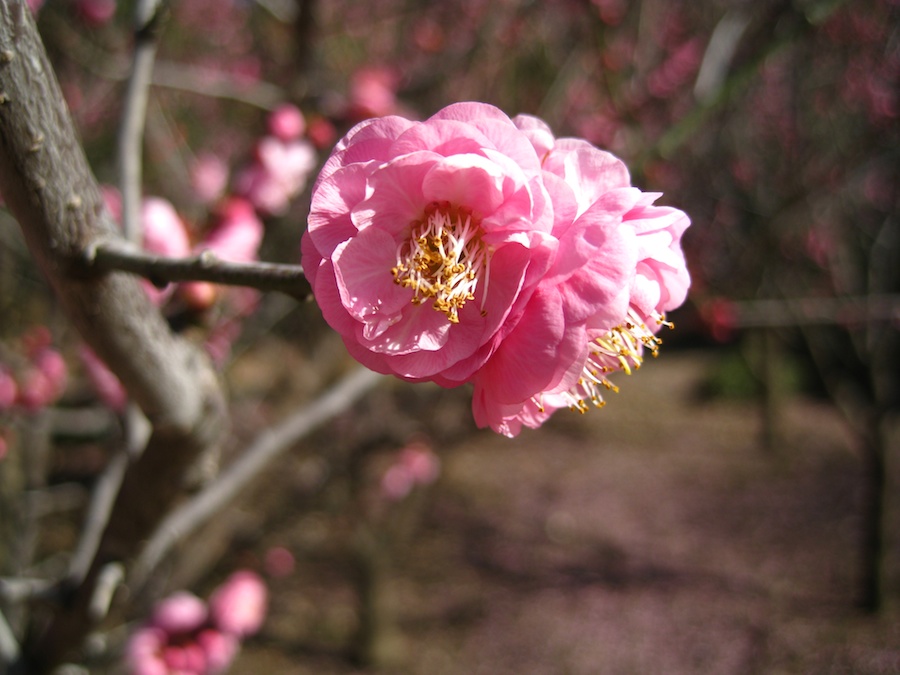 Thousand's of blossoms everywhere

Magnificent pinks

We heard the geese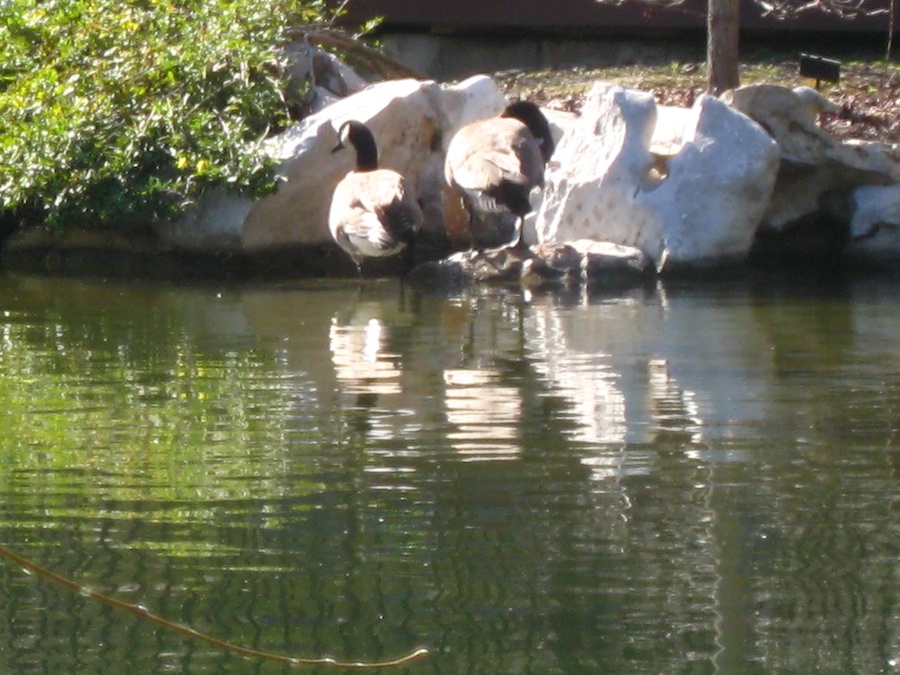 Great shot from 200 feet away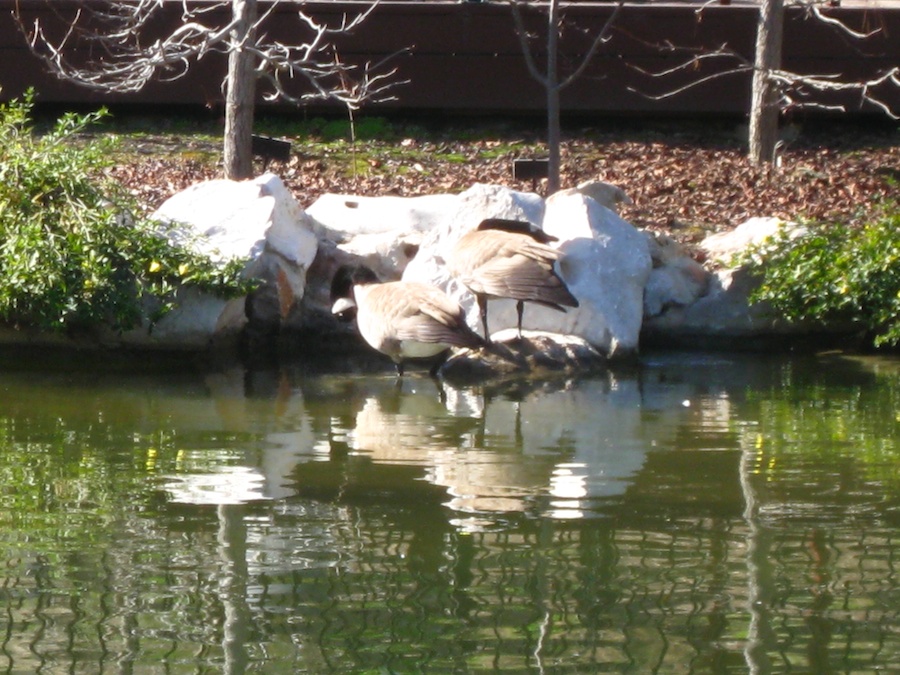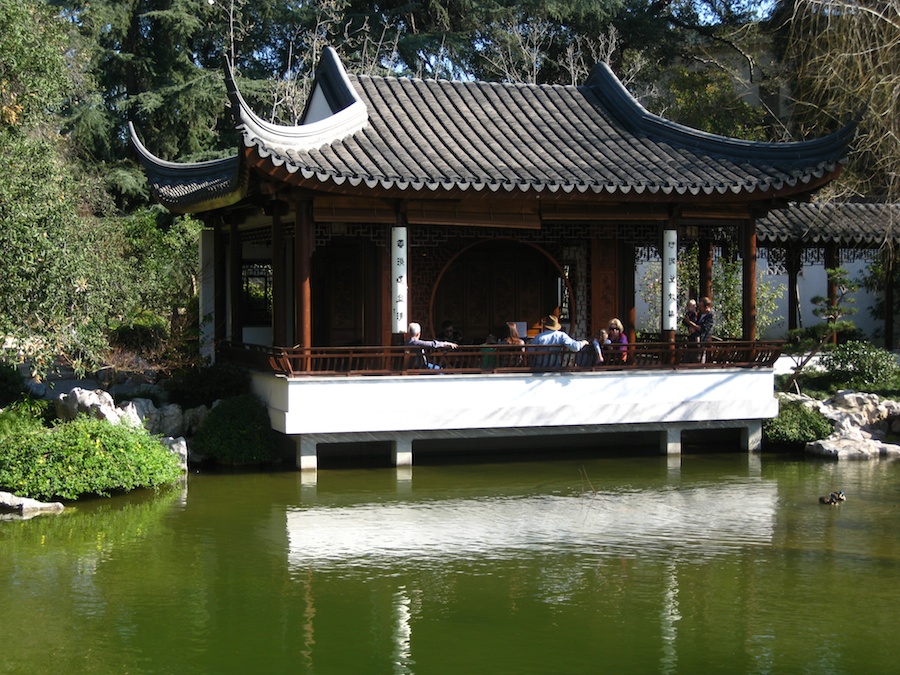 We had live music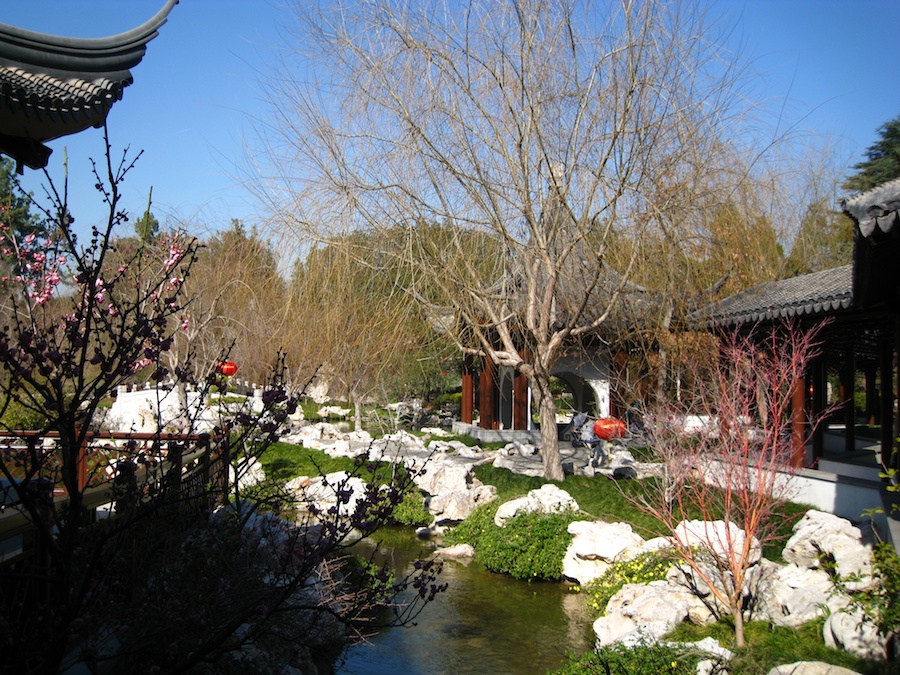 The gardens were magnificent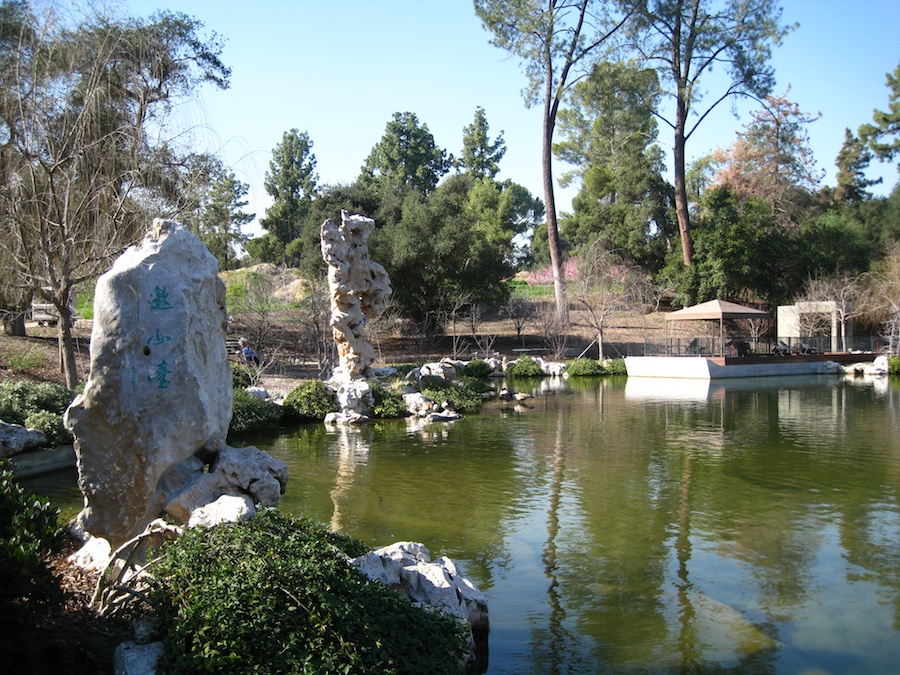 Peaceful and relaxing

Geeze... Geese all over the place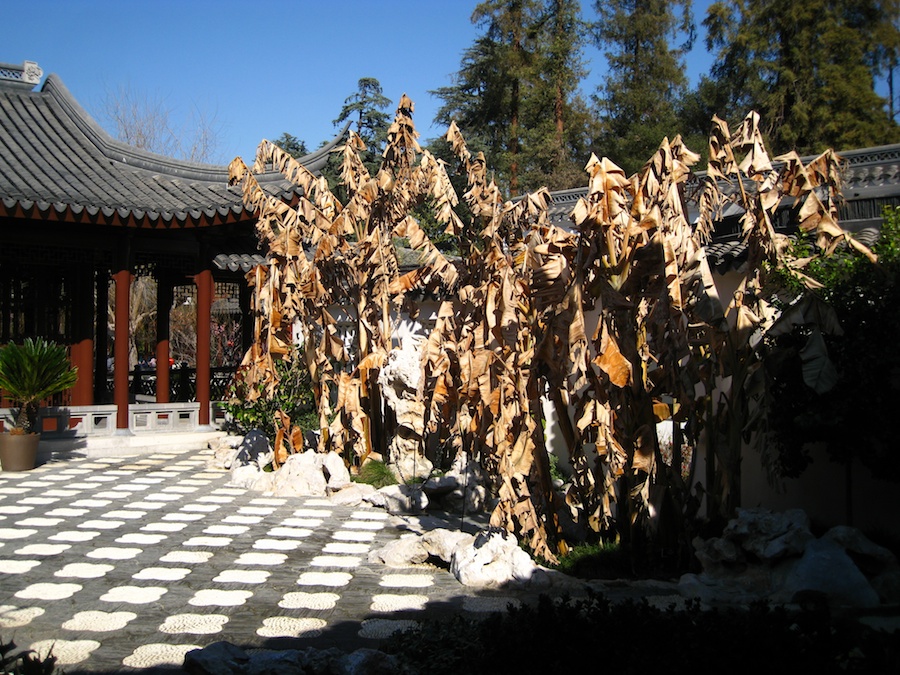 The banana trees got a little too much cold!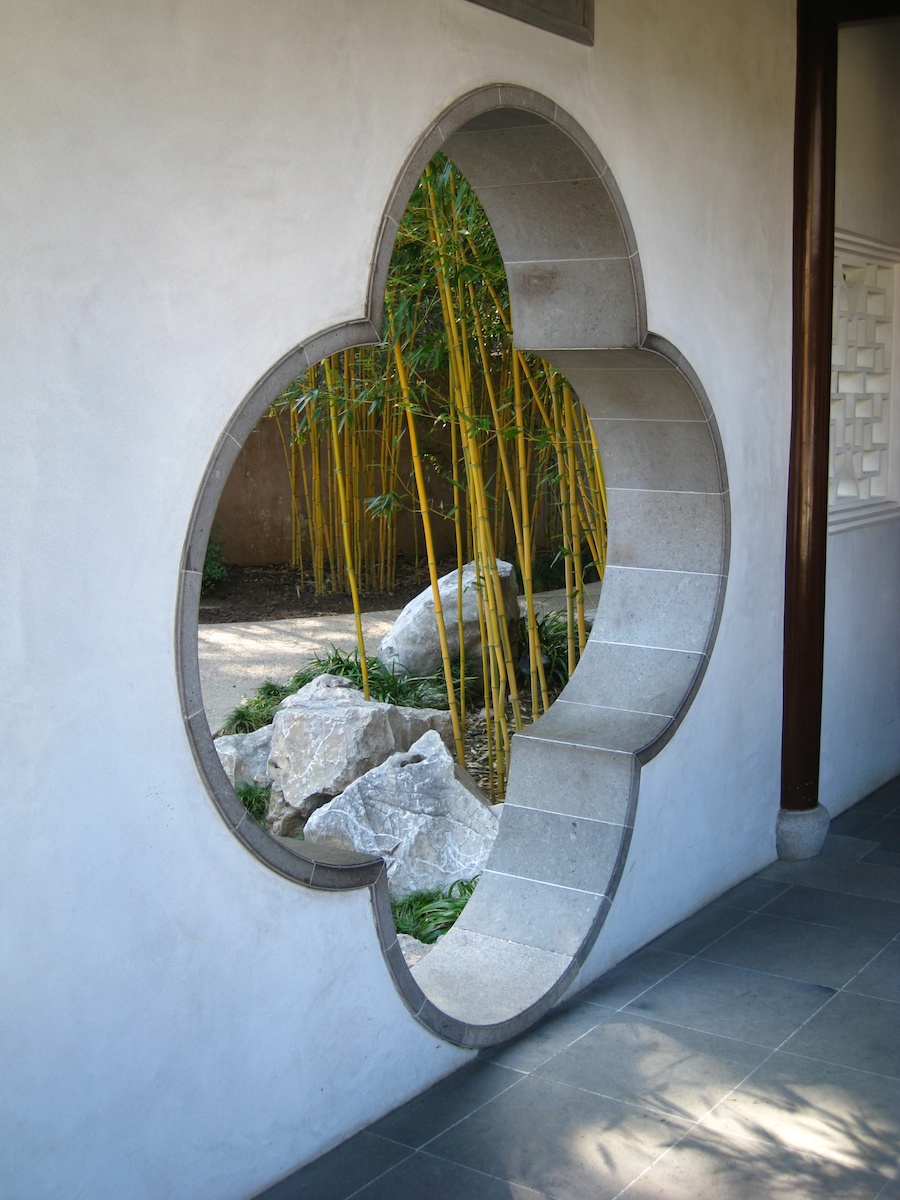 The entrance way to the Japanese Gardens
Japanese Gardens Here We Come... Bonsai First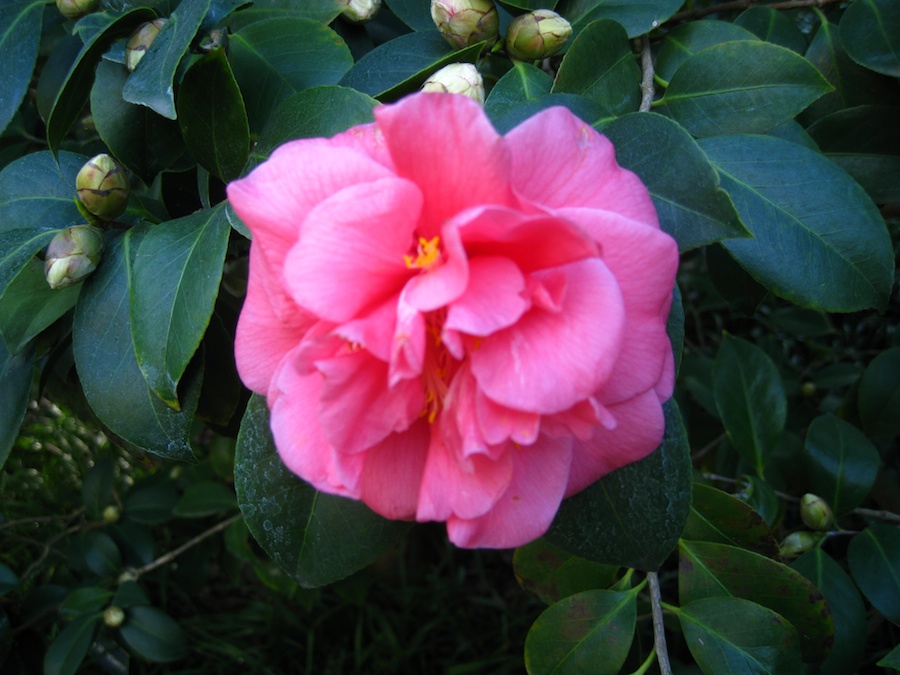 The Camellia walk was so pretty....
Did You Know? - Camellia, the camellias, is a genus of flowering plants in the family Theaceae. They are found in eastern and southern Asia, from the Himalayas east to Japan and Indonesia. There are 100?250 described species, with some controversy over the exact number. The genus was named by Linnaeus after the Jesuit botanist Georg Joseph Kamel, who worked in the Philippines, though he never described a camellia. This genus is famous throughout East Asia; camellias are known as ch?hu? (??) in Chinese, "tea flower", an apt designation, as tsubaki (?) in Japanese, as dongbaek-kkot (???) in Korean and as hoa tr? or hoa ch? in Vietnamese.
The most famous member ? though often not recognized as a camellia ? is certainly the tea plant (C. sinensis). Among the ornamental species, Camellia japonica, Camellia oleifera and C. sasanqua are perhaps the most widely known, though most camellias grown for their flowers are cultivars or hybrids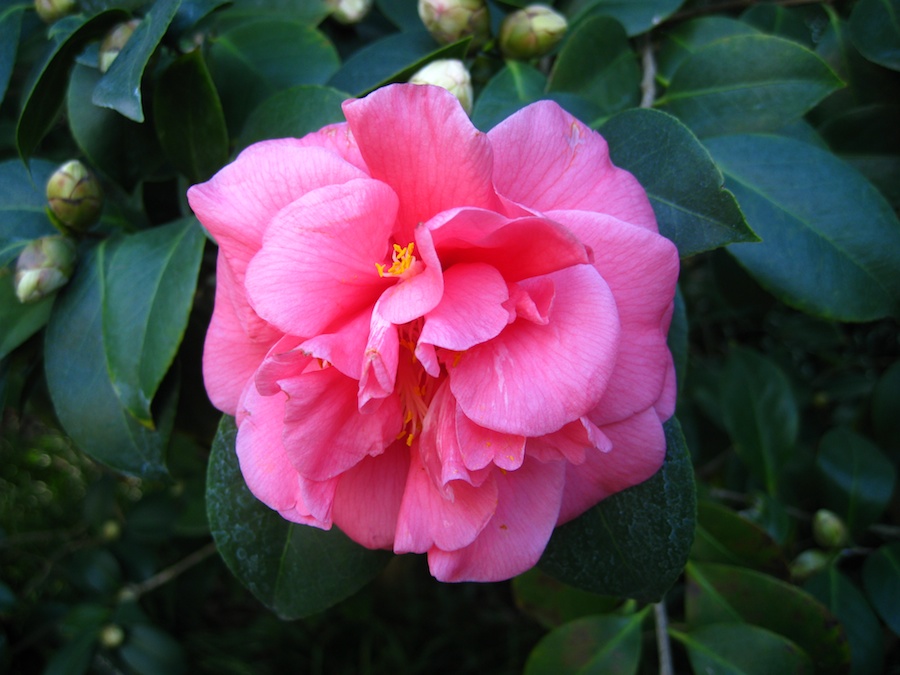 The bonsai garden is always changing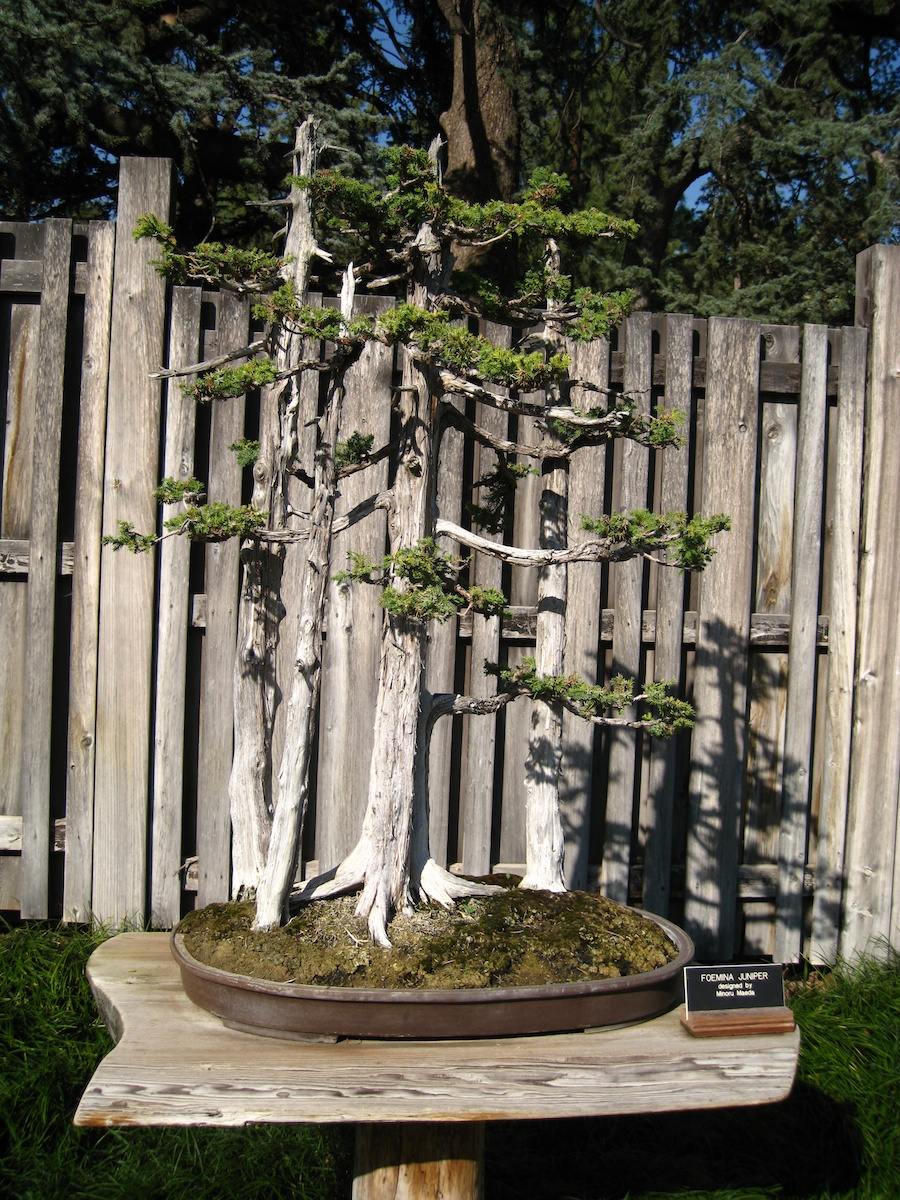 Who picked the pomegranate???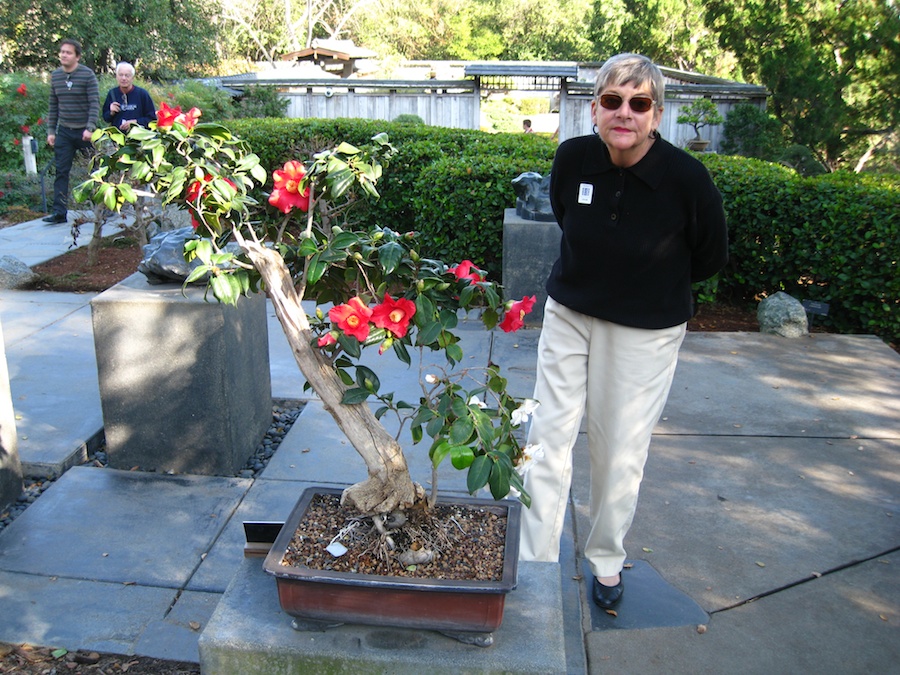 Sue enjoys the bonsai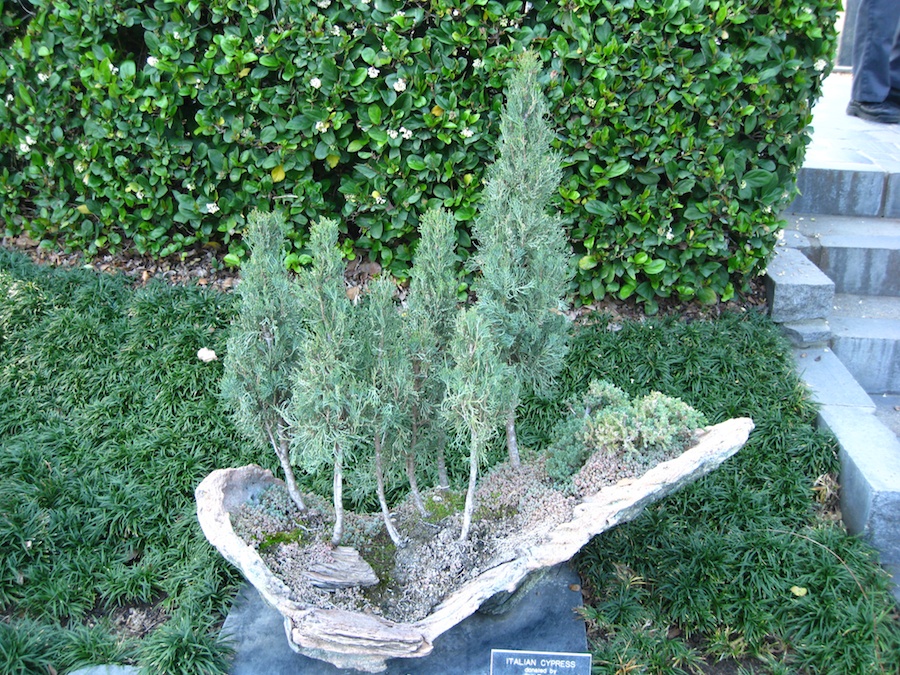 Little Italian Cypress
Did You Know? - Cupressus sempervirens, the Mediterranean Cypress (also known as Italian, Tuscan, or Graveyard Cypress, or Pencil Pine) is a species of cypress native to the eastern Mediterranean region, in northeast Libya, southern Albania, southeast Greece (Crete, Rhodes), southern Turkey, Cyprus, Northern Egypt, western Syria, Lebanon, Israel, Malta, Italy, western Jordan, and also a disjunct population in Iran. It is a medium-sized coniferous evergreen tree to 35 m (115 ft) tall, with a conic crown with level branches and variably loosely hanging branchlets. It is very long-lived, with some trees reported to be over 1,000 years old.
The foliage grows in dense sprays, dark green in colour. The leaves are scale-like, 2?5 mm long, and produced on rounded (not flattened) shoots. The seed cones are ovoid or oblong, 25?40 mm long, with 10-14 scales, green at first, maturing brown about 20?24 months after pollination. The male cones are 3?5 mm long, and release pollen in late winter. It is moderately susceptible to cypress canker, caused by the fungus Seiridium cardinale, and can suffer extensive dieback where this disease is common. The species name sempervirens comes from the Latin for 'evergreen'.

Bonsai citrus?????

Two months ago this was ablaze in yellows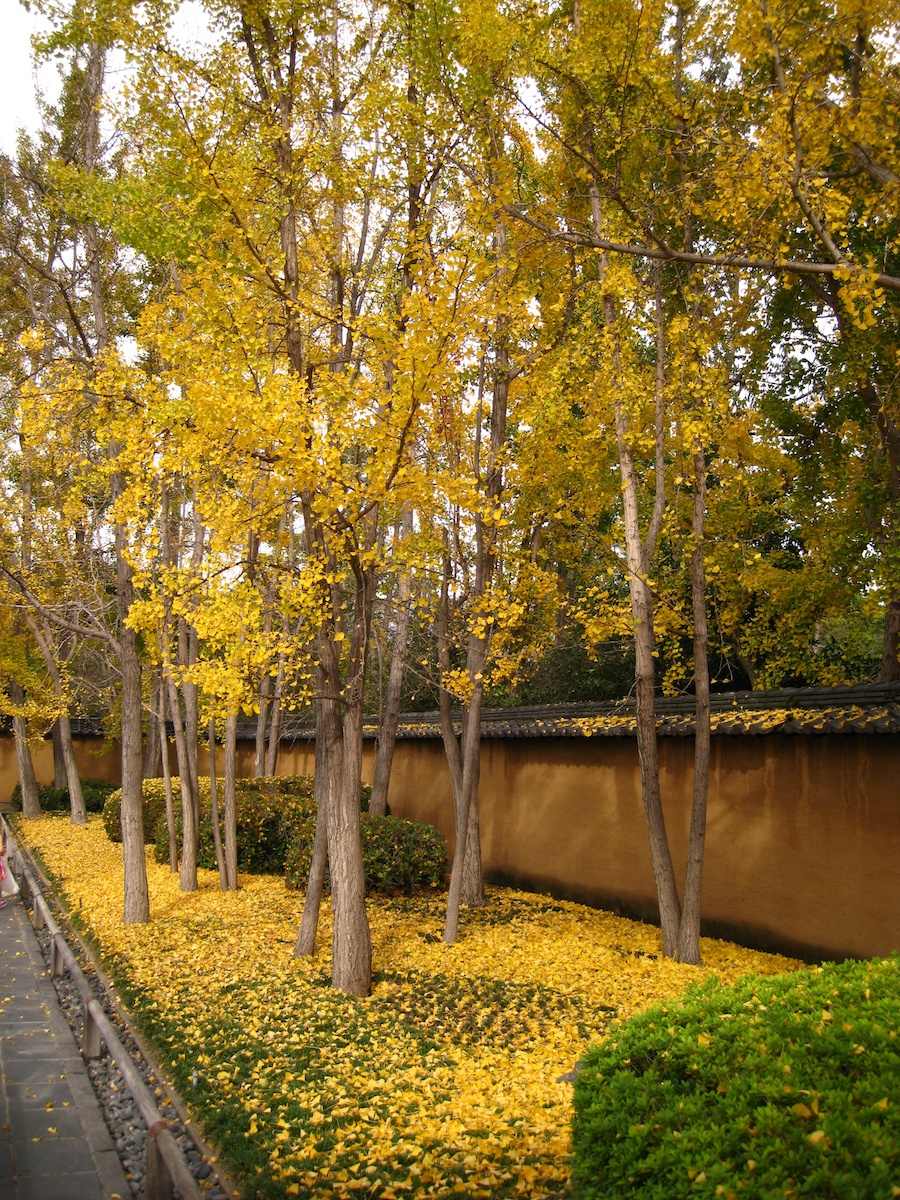 December 4th 2012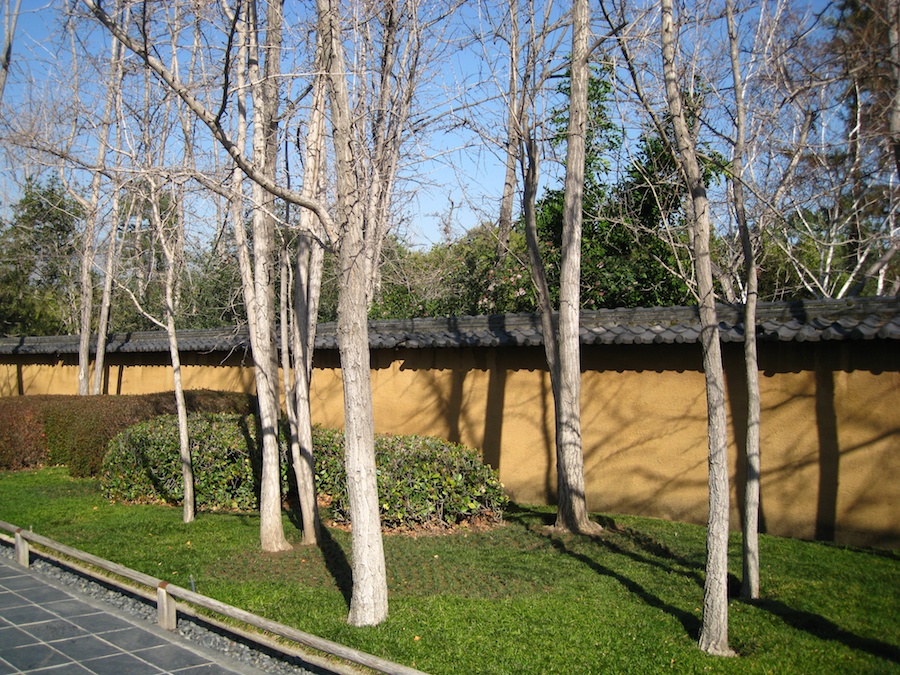 Naked gingko's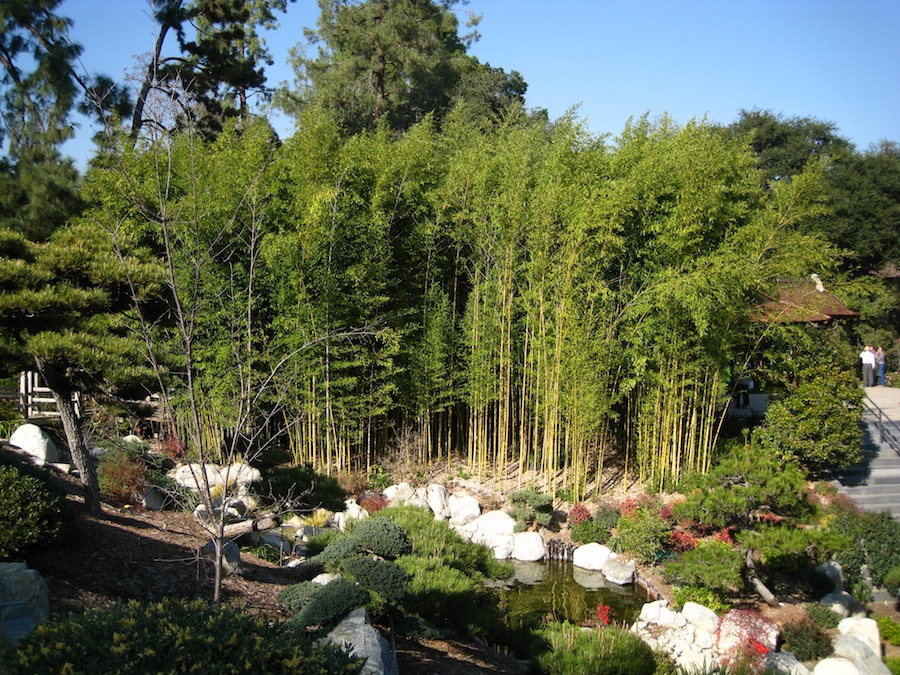 The bamboo really enjoyed the recent rains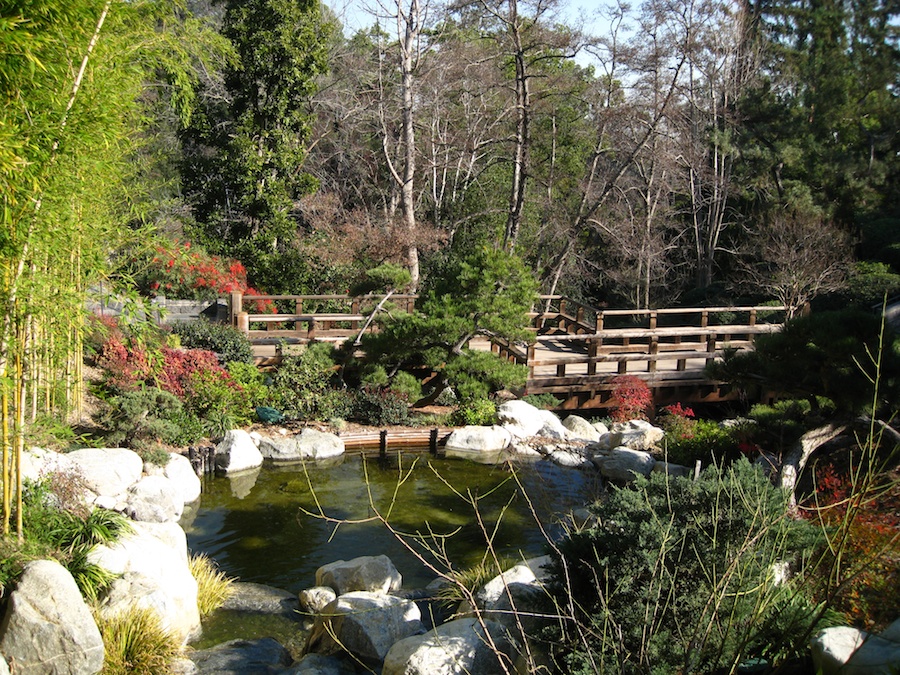 So peaceful... Babbling brooks, birds, and blue skies

The bamboo was going crazy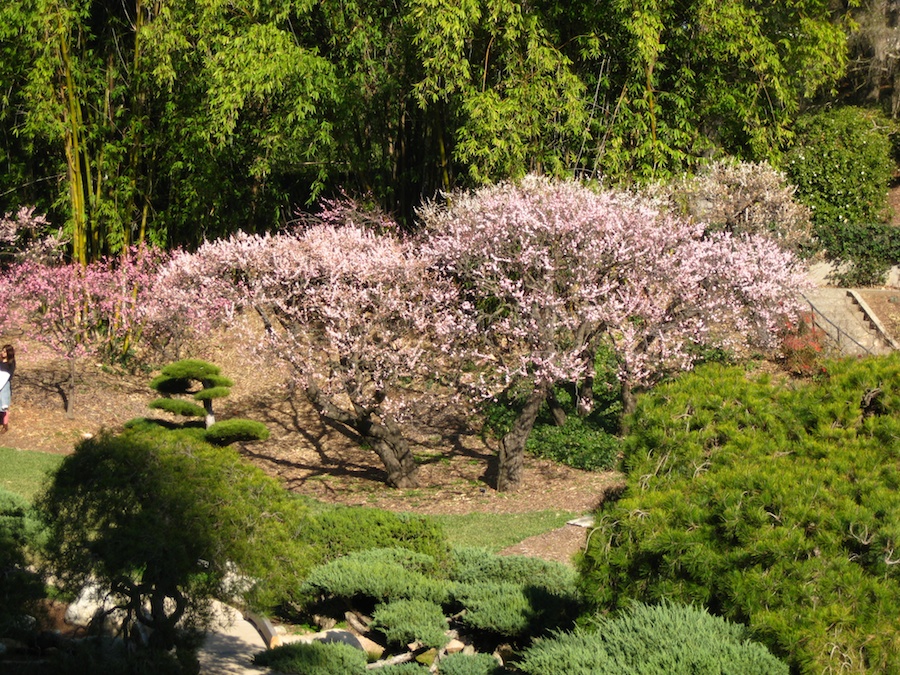 More cherry trees.... Japanese trees

The fish were so bright
Did You Know? - ?gon (?? ? ) is a metallic koi of one color only (hikarimono ??). The most commonly encountered colors are gold, platinum, and orange. Cream specimens are very rare. Ogon compete in the Kawarimono category and the Japanese name means "gold." The variety was created by Sawata Aoki in 1946 from wild carp he caught in 1921. Recently, the metallic-skinned Ogon is being crossed with ginrin-scaled fish to create the ginrin Ogon with metallic skin and sparkling (metal flake) scales.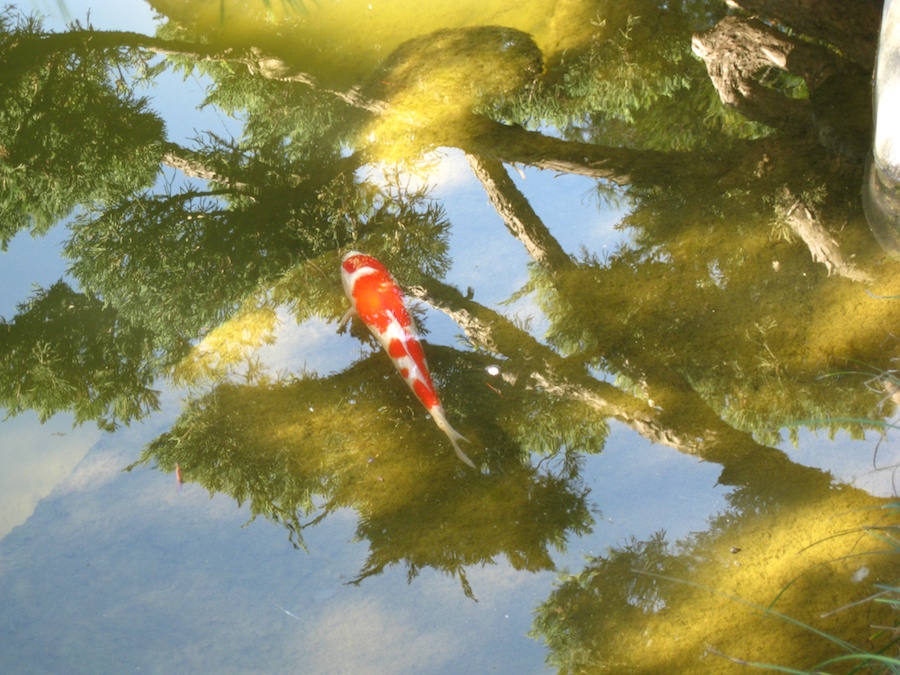 Distinctive markings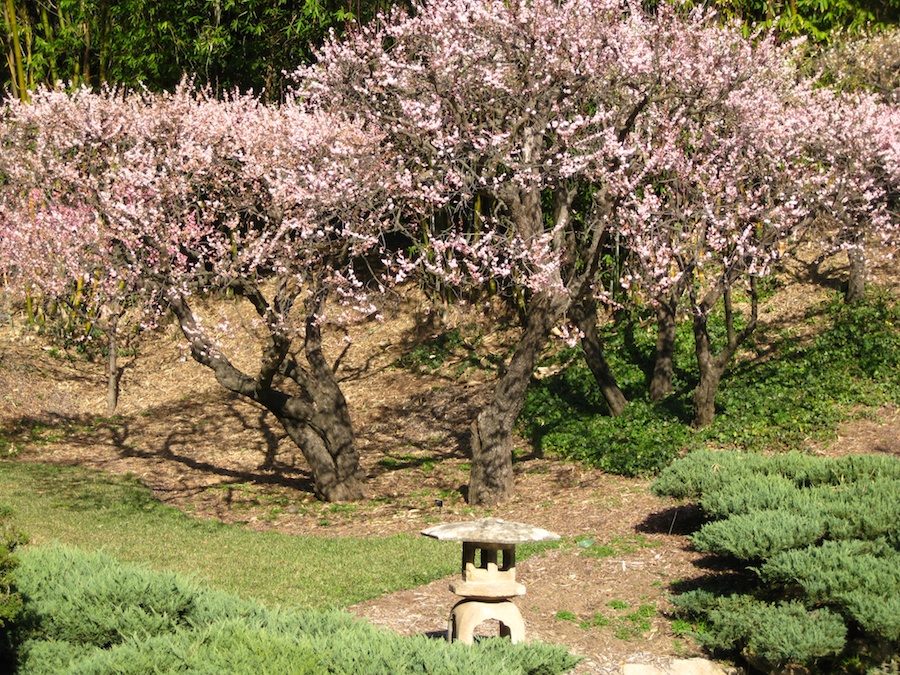 Beautiful grounds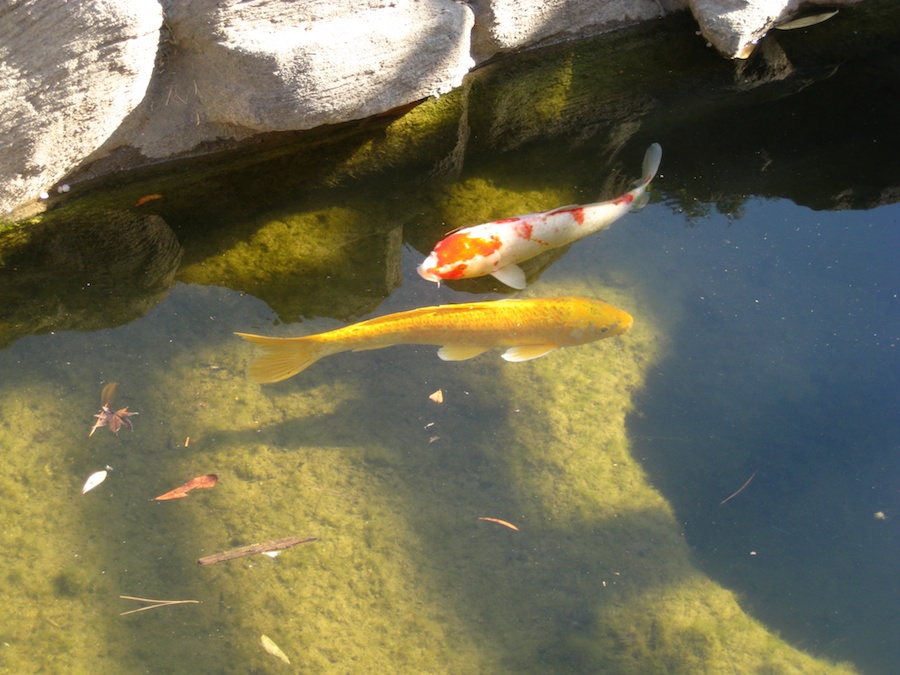 Seems like they were colored with crayolas... So very bright

See you again in March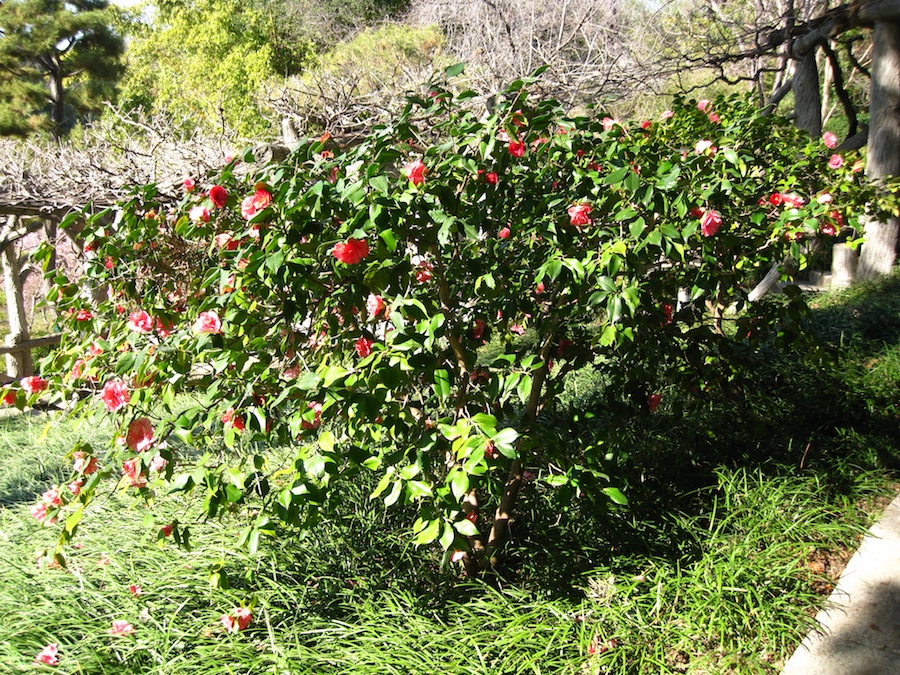 Dramatic red and green foliage along the Japanese garden entrance way
Off To Have Tea In The Tea Room

The roses were being trimmed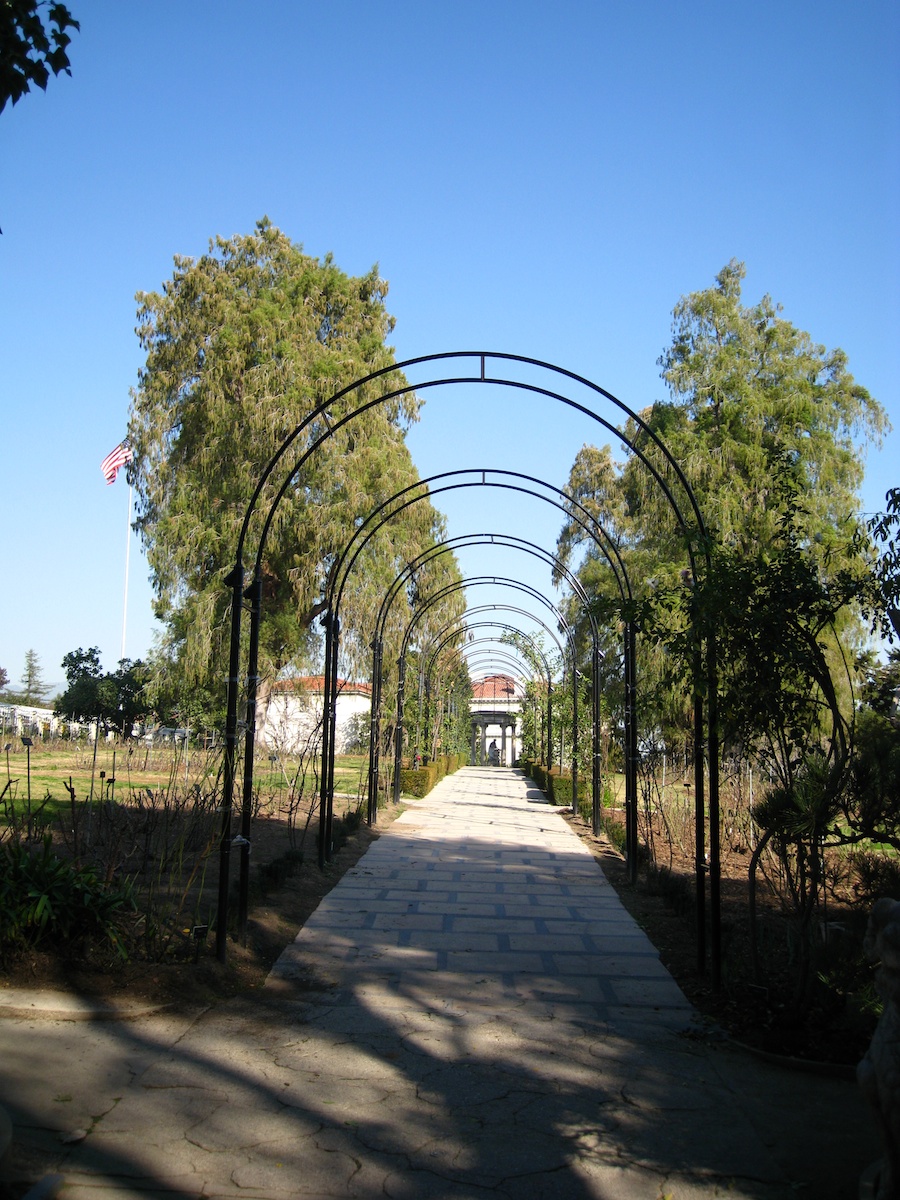 We mean trimmed... It takes almost six weeks to trim all the roses in the gardens
We Enjoyed Afternoon Tea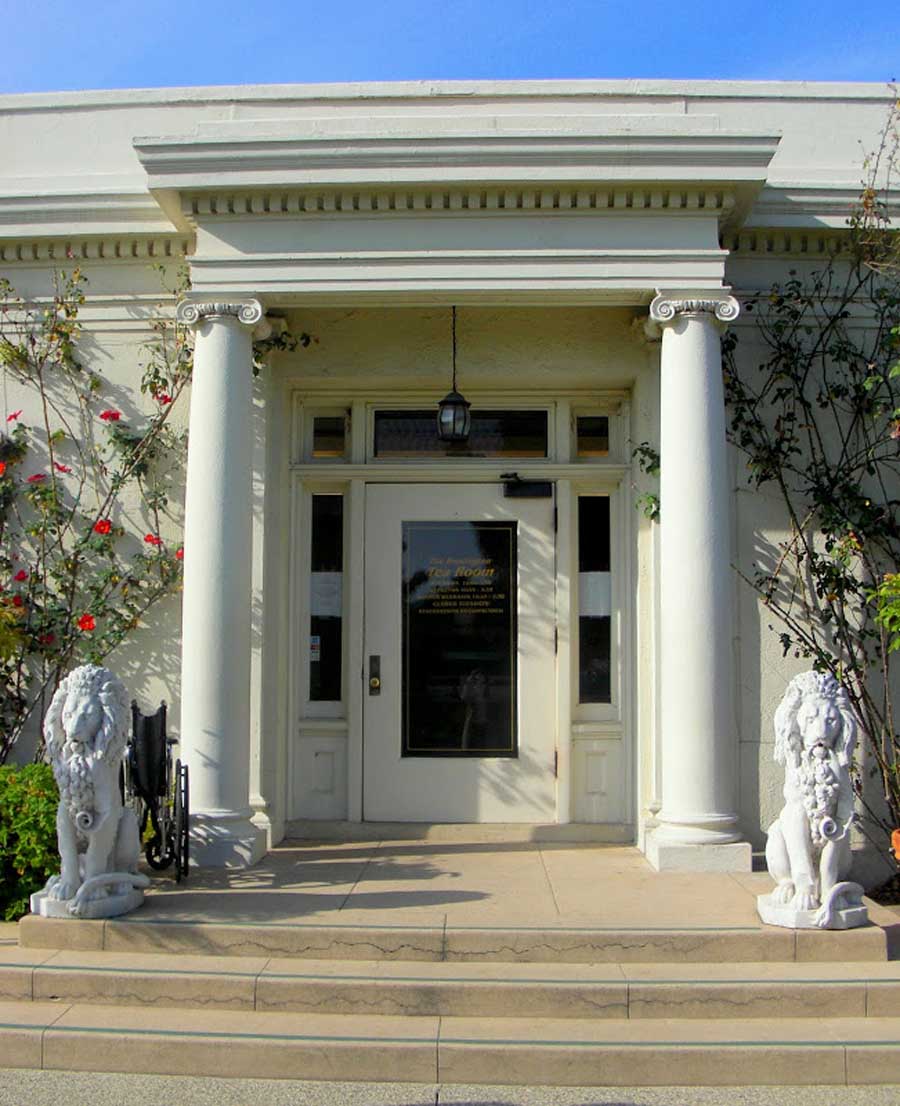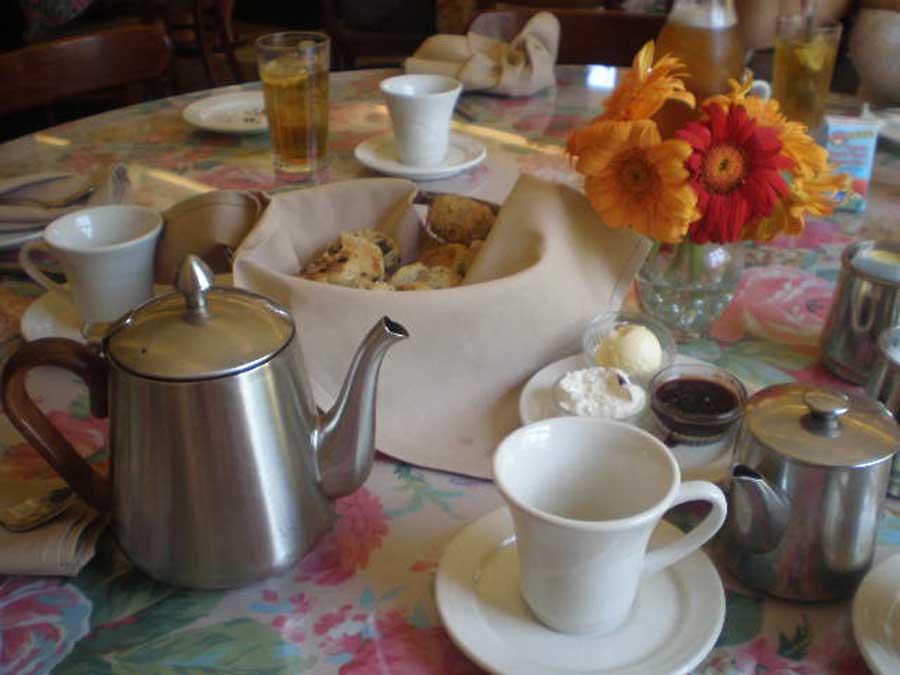 Time to relax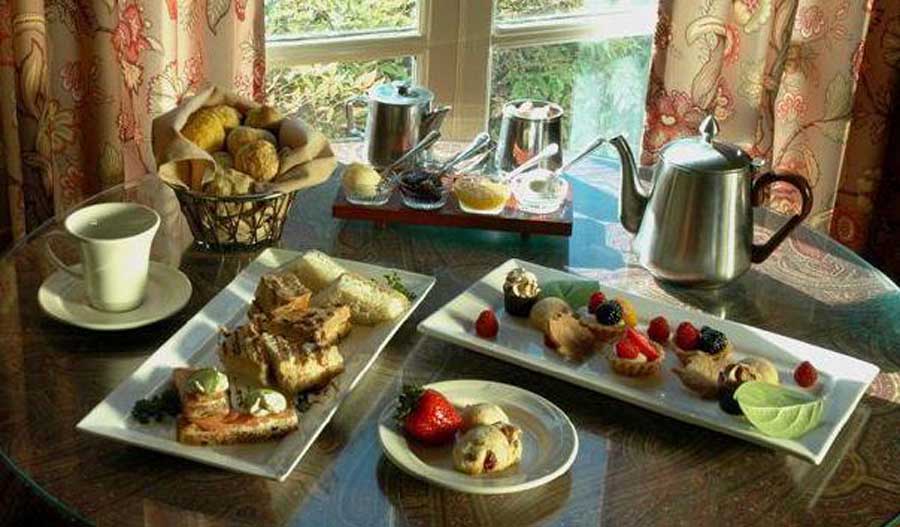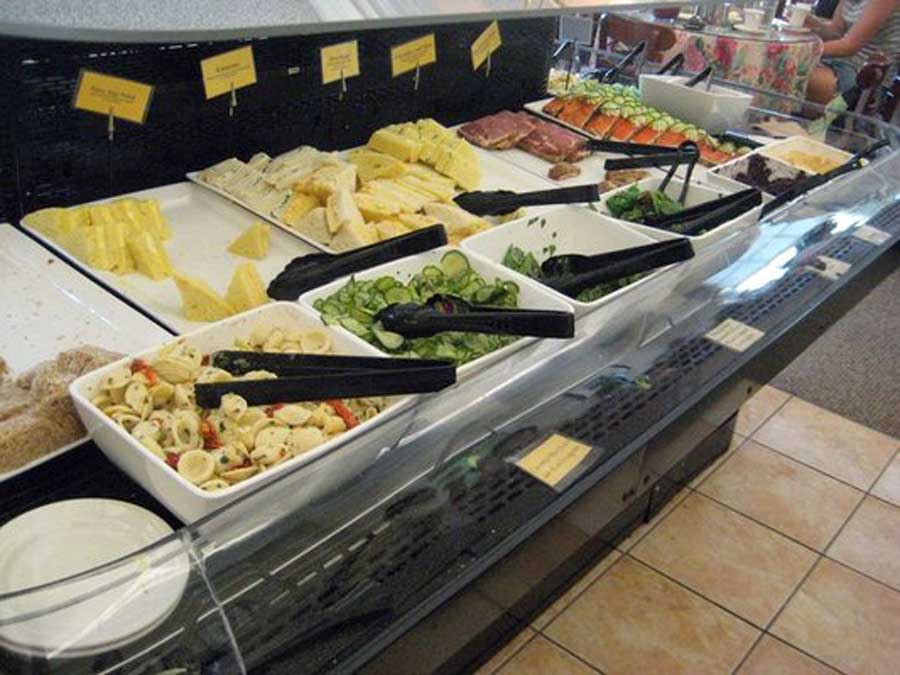 Time To Head For Home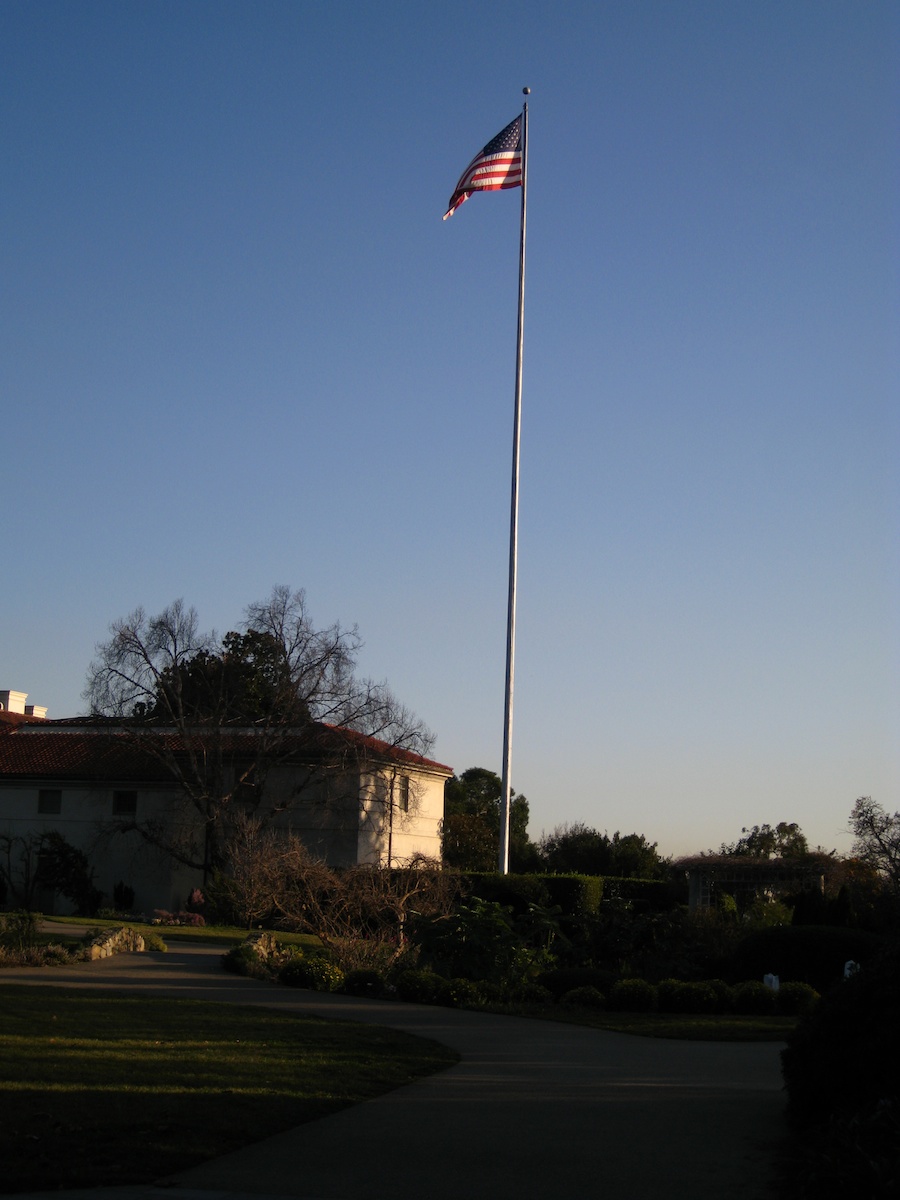 132 feet in the air....