Pete Returns From Iraq For The Third And Final Time
Sue had another great idea by suggesting La Jolla! What a neat little city along the coast!
Pete returned on Saturday and we decided to leave the kids alone until Monday morning when we drove down to see them! La Jolla (pronounced "luh-HOY-uh") is a wealthy seaside resort community of up to 42,808 residents within the city of San Diego, California. Population figures are imprecise because La Jolla's borders are indistinct.

Generally the community's border starts at Pacific Beach to the south and extends along the Pacific Ocean shore north to include Torrey Pines State Reserve ending at Del Mar, California. Along the way La Jolla encompasses neighborhoods like Bird Rock, Windansea, the original or "old" village of La Jolla, La Jolla Shores, La Jolla Farms, Torrey Pines, Mount Soledad and La Jolla Village (including La Jolla Village Square).

Interstate 5 forms La Jolla's man-made border to the east, with the exception of some of the University of California, San Diego (UCSD) and some commercial property east of I-5 and north of La Jolla Village Drive, which are also considered (in the wider definition) to be part of La Jolla. (More specifically, the City of San Diego defines La Jolla's eastern boundary as former Highway US 101, which is now Gilman Drive, excluding UCSD, and the northern boundary as the southern end of Torrey Pines municipal golf course. Others define La Jolla as all of ZIP code 92037.

Grandma is happy to see Pete

Big hugs for our hero!
We Went To La Jolla For Lunch
One renowned name. One dazzling ocean view. Three inspired dining experiences. All yours to be savored at the all-new GEORGES AT THE COVE in La Jolla Village. An upscale contemporary restaurant and bar, GEORGES CALIFORNIA MODERN offers a sophisticated but relaxed indoor environment featuring Trey Foshee's inventive California cuisine menu that changes daily. With a more casual bistro menu, the Ocean Terrace has the region's best rooftop dining, while George's Bar gives casual diners a choice of inside or outside.

Someone else is happy to see Pete

"Get a room"... Oops, they did!

The happy couple

One wonderful view of the La Jolla Cove

Seven months without a single drink... eek!
Did You Know? - Why is alcohol forbidden in Islam?

Intoxicants were forbidden in the Qur'an through several separate verses revealed at different times over a period of years. At first, it was forbidden for Muslims to attend to prayers while intoxicated (4:43). Then a later verse was revealed which said that alcohol contains some good and some evil, but the evil is greater than the good (2:219). This was the next step in turning people away from consumption of it. Finally, "intoxicants and games of chance" were called "abominations of Satan's handiwork," intended to turn people away from God and forget about prayer, and Muslims were ordered to abstain (5:90-91). (Note - the Qur'an is not arranged chronologically, so later verses of the book were not necessarily revealed after earlier verses.)

In the first verse cited above, the word for "intoxicated" is sukara which is derived from the word "sugar" and means drunk or intoxicated. That verse doesn't mention the drink which makes one so. In the next verses cited, the word which is often translated as "wine" or "intoxicants" is al-khamr, which is related to the verb "to ferment." This word could be used to describe other intoxicants such as beer, although wine is the most common understanding of the word.

Muslims interpret these verses in total to forbid any intoxicating substance -- whether it be wine, beer, gin, whiskey, or whatever. The result is the same, and the Qur'an outlines that it is the intoxication, which makes one forgetful of God and prayer, which is harmful. Over the years, the list of intoxicating substances has come to include more modern street drugs and the like.

The Prophet Muhammad also instructed his followers, at the time, to avoid any intoxicating substances -- (paraphrased) "if it intoxicates in a large amount, it is forbidden even in a small amount." For this reason, most observant Muslims avoid alcohol in any form, even small amounts that are sometimes used in cooking.
Summary: Their loss!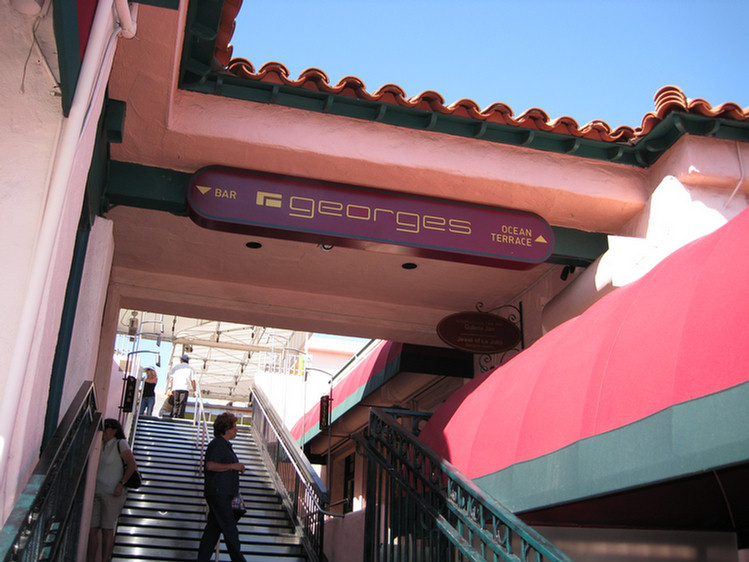 We sat downstairs near the heater!

Time to leave and go for a walk!
Walk??? Lisa Says "Why A Walk??"

We walked up the street toward the cove to see what we could see!

What is the white stuff??? Hint: It is not whipcream!
Did You Know? - The word "guano" originates from the Quichua language of the Inca civilization and means "the droppings of sea birds". Incas collected guano from the coast of Peru for use as soil enricher. The Incas assigned great value to guano, restricting access to it and punishing any disturbance to the birds with death.

Guano has been harvested over several centuries along the coast of Peru, where islands and rocky shores have been sheltered from humans and predators. The Guanay Cormorant has historically been the most important producer of guano; its guano is richer in nitrogen than guano from other seabirds. Other important guano producing species off the coast of Peru are the Peruvian Pelican and the Peruvian Booby.

The high concentration of nitrates also made guano an important strategic commodity. The War of the Pacific (1879 to 1883) between the Peru-Bolivia alliance and Chile was primarily based upon Bolivia's attempt to tax Chilean guano harvesters and over control of a part of the Atacama desert that lies between the 23rd and 26th parallels on the Pacific coast. The discovery during the 1840s of the use of guano as a fertilizer and saltpeter as a key ingredient in explosives made the area strategically valuable.

Those birds be poopin' up a storm!!!

See the hole in the ground? We are soon going to be there!!!

The cave is inhabited by people! Silly people who paid to walk down 143 steps into the cold!
No Lisa... You Cannot Dive Into The Water And Pet The Seals

The laws were clear!

In their natural habitat
Did You Know? - The Harbor Seal (Phoca vitulina), also known as the Common Seal or alternately spelled Harbour Seal, is a true seal found along temperate and Arctic marine coastlines of the Northern hemisphere. They are found in coastal waters of the northern Atlantic and Pacific Oceans as well as those of the Baltic and North Seas, making them the most wide-ranging of the pinnipeds (walruses, eared seals, and true seals).

Harbor seals are brown, tan, or gray, with distinctive V-shaped nostrils. An adult can attain a length of 1.85 meters (6.1 ft) and a mass of 132 kilograms (290 lbs). Females outlive males (30-35 years versus 20-25 years). Harbor seals stick to familiar resting spots, generally rocky areas where land predators can't reach them, near a steady supply of fish to eat. Males fight over mates underwater. Females mate with the strongest males, then bear single pups, which they care for alone. Pups are able to swim and dive within hours of birth, and they grow quickly on their mothers' milk. A fatty tissue called "blubber" keeps them warm.

Their global population is 400,000 to 500,000, and subspecies in certain habitats are threatened. Seal hunting, once a common practice, is now mostly illegal.

The Cormorants just sit on the side of the hills... amazing they do not fall off!
Did You Know? - Cormorants and shags are medium-to-large seabirds. The bill is long, thin, and sharply hooked. Their feet have webbing between all four toes, as in their relatives. This species is a cold blooded bird. it's temperature is known to be reported at 23 Celsius norm and 34 after 2 hours of sunbathing.

They are coastal rather than oceanic birds, and some have colonised inland waters - indeed, the original ancestor of cormorants seems to have been a fresh-water bird, judging from the habitat of the most ancient lineage. They range around the world, except for the central Pacific islands.

All are fish-eaters, dining on small eels, fish, and even water snakes. They dive from the surface, though many species make a characteristic half-jump as they dive, presumably to give themselves a more streamlined entry into the water. Under water they propel themselves with their feet. Some cormorant species have been found, using depth gauges, to dive to depths of as much as 45 metres.

After fishing, cormorants go ashore, and are frequently seen holding their wings out in the sun; it is assumed that this is to dry them, It is in fact now known that they are heating their cold prey before entering the stomach to prevent vomiting. Unusually for a water bird, their feathers are not waterproofed. This may help them dive quickly, since their feathers do not retain air bubbles.

Cormorants are colonial nesters, using trees, rocky islets, or cliffs. The eggs are a chalky-blue colour. There is usually one brood a year. The young are fed through regurgitation. They typically have deep, ungainly bills, showing a greater resemblance to those of the pelicans', to which they are related, than is obvious in the adults.

Burrrrr! The eater sis 63 degrees!
Wide Angle Views

One could just look at this display of nature all day!

They are graceful in the air...

But not so graceful when they land

The seals and birds were directly below the observation deck
Pete And The Girls

How come the Marine gets all the girls???
Proud "Dad" Of A US Marine
See, Paul Is Taller Than Them!

Are they on their knees or is Paul standing on a box???

Back up the hill... Who is going to push Lisa??
Into The Cave!
Did You Know? - The beach at La Jolla Cove is located at 1100 Coast Boulevard, in La Jolla, California. It is a very small beach within walking distance from the Children's Pool Beach, and it is considered one of the most beautiful beaches in Southern California. The sand on this beach however is coarse and gritty.

Scripps Park, a grassy area excellent for picnicking, is located on the bluffs above the beach. The beach is also within walking distance of many shops and restaurants.

La Jolla Cove is popular for swimming, scuba diving and snorkelling. However, since La Jolla Cove is within the San Diego-La Jolla Underwater Park(a marine refuge area), "Swimming devices" (surfboards, boogie boards, even inflatable mattresses) are not permitted at the cove, and this rule is carefully enforced by the lifeguards, specifically the part defined as the Ecological Reserve.


Just a short swim away to the right of the coast is "Sunny Jim Cave," a popular destination for tourists. It is also accessible from a nearby store, which charges a nominal fee to go down a staircase leading to the cave.

The history
Down We Go... 143 Steps Into History!!!

The entrance! For $4.00/person, we got a chance to wind our selves!

Pretty steep!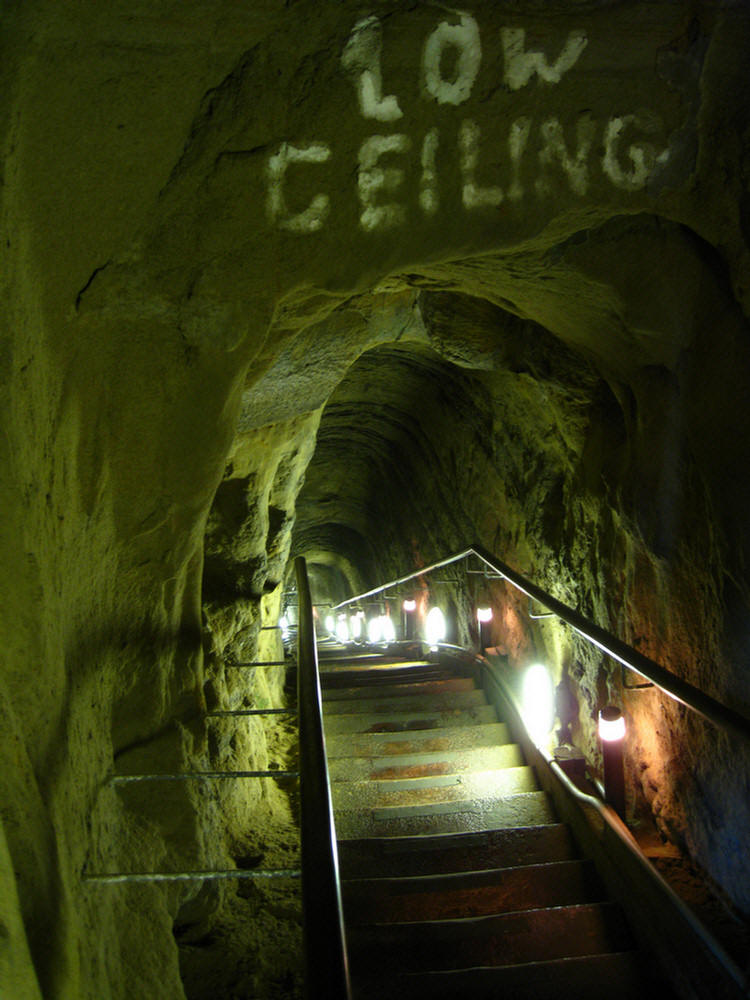 Low ceiling! No kidding! Almost lost a fw hairs on the top of my head!

Down down down we go!

The bottom! Birds, bats, seals, and the sea!

The adventuress goes first!!!

When the waves came in oe was awaiting to get wet!!!

Pete is getting used to the cold after 7 months in Iraq

Smile, you are on candid camera!!

It was damp at the water level

Paul & Sue were here!

She is so amazing... White clothes and no dirt after a 200 foot drop from above!
Going Up The Sandstone Carved Tunnel!
Did You Know? - Sandstone is a sedimentary rock composed mainly of sand-size mineral or rock grains. Most sandstone is composed of quartz and/or feldspar because these are the most common minerals in the Earth's crust. Like sand, sandstone may be any color, but the most common colors are tan, brown, yellow, red, gray and white. Since sandstone beds often form highly visible cliffs and other topographic features, certain colors of sandstone have been strongly identified with certain regions.

Some sandstones are resistant to weathering, yet are easy to work. This makes sandstone a common building and paving material. Because of the hardness of the individual grains, uniformity of grain size and friability of their structure, some types of sandstone are excellent materials from which to make grindstones, for sharpening blades and other implements. Non-friable sandstone can be used to make grindstones for grinding grain, e.g., gritstone.

Rock formations that are primarily sandstone usually allow percolation of water and are porous enough to store large quantities, making them valuable aquifers. Fine-grained aquifers, such as sandstones, are more apt to filter out pollutants from the surface than are rocks with cracks and crevices, such as limestones or other rocks fractured by seismic activity.

The tunnel was wet, duh!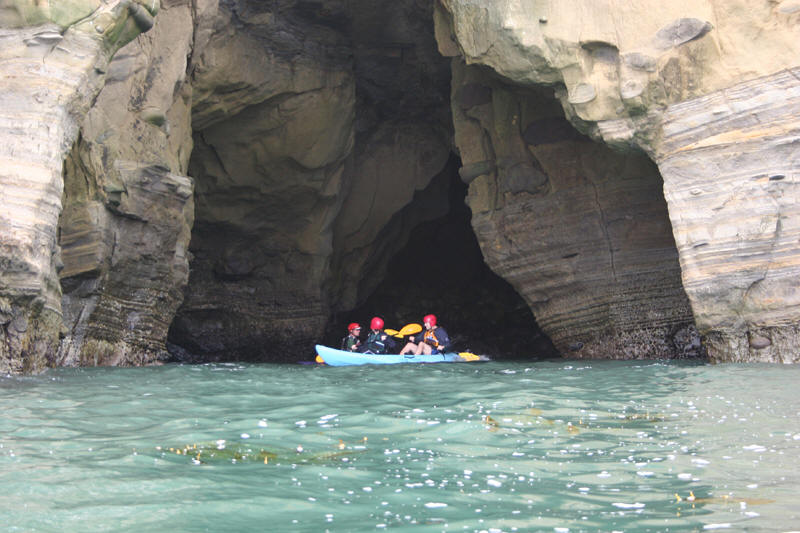 A view from the ocean into the caves

No we saw the warning!

Gasping for air... She needed an oxygen bottle!

The entrance in 1902...
This Was Where The Tunnel Went!
Pelican's Everywhere
Did You Know? - A pelican is a large water bird with a distinctive pouch under the beak, belonging to the bird family Pelecanidae.
Pelicans are large birds with enormous, pouched bills. The smallest is the Brown Pelican (P. occidentalis), small individuals of which can be as little as 2.75 kg (6 lb), 106 cm (42 in) long and can have a wingspan of as little as 1.83 m (6 ft). The largest is believed to be the Dalmatian Pelican (P. crispus), at up to 15 kg (33 lb), 183 cm (72 in) long, with a maximum wingspan of nearly 3.5 m (11.5 ft). The Australian Pelican has the longest bill of any bird.

Pelicans swim well with their short, strong legs and their feet with all four toes webbed (as in all birds placed in the order Pelecaniformes). The tail is short and square, with 20 to 24 feathers. The wings are long and have the unusually large number of 30 to 35 secondary flight feathers. A layer of special fibers deep in the breast muscles can hold the wings rigidly horizontal for gliding and soaring. Thus they can exploit thermals to commute over 150 km (100 miles) to feeding areas.

Pelicans rub the backs of their heads on their preen glands to pick up its oily secretion, which they transfer to their plumage to waterproof it.

They were all over theplace!

If we had seen the sign an hour ago, we could have saved a lot of money! He He He!
Keep On Walking!

The Cove was beautiful!

Onward!