We Heard Of The New Arrivals And Decided To Visit Them (Page One)
Off we go in a cloud of dust and a hardy Hi-Ho Silver we are off to Long Beach for the afternoon with Charlotte, Carri, Nancy and Greg.

The newly born penguins are in for a surprise
Did You Know? - Penguins (order Sphenisciformes, family Spheniscidae) are a group of aquatic, flightless birds living almost exclusively in the Southern Hemisphere, especially in Antarctica. Highly adapted for life in the water, penguins have countershaded dark and white plumage, and their wings have evolved into flippers. Most penguins feed on krill, fish, squid and other forms of sealife caught while swimming underwater. They spend about half of their lives on land and half in the oceans.
Although all penguin species are native to the Southern Hemisphere, they are not found only in cold climates, such as Antarctica. In fact, only a few species of penguin live so far south. Several species are found in the temperate zone, and one species, the Galápagos penguin, lives near the equator.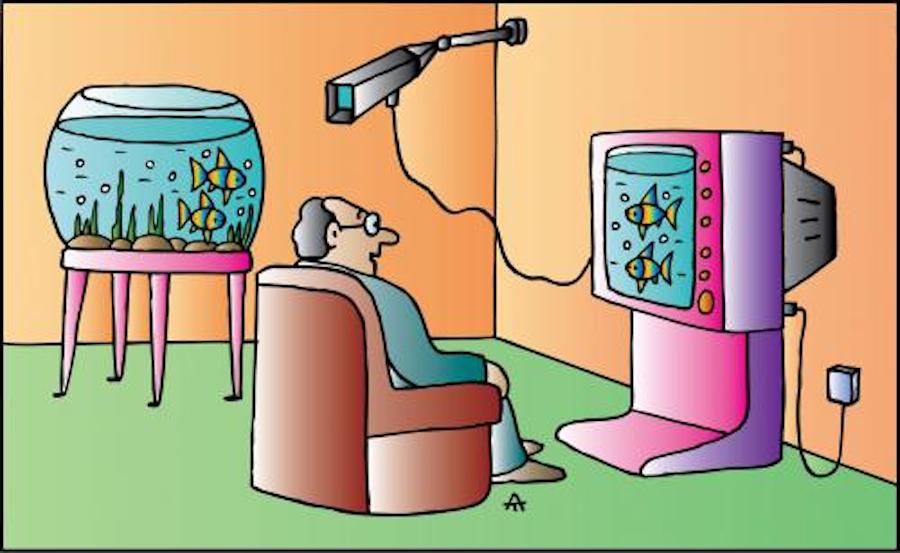 We decided to see the real thing instead of watching it on TV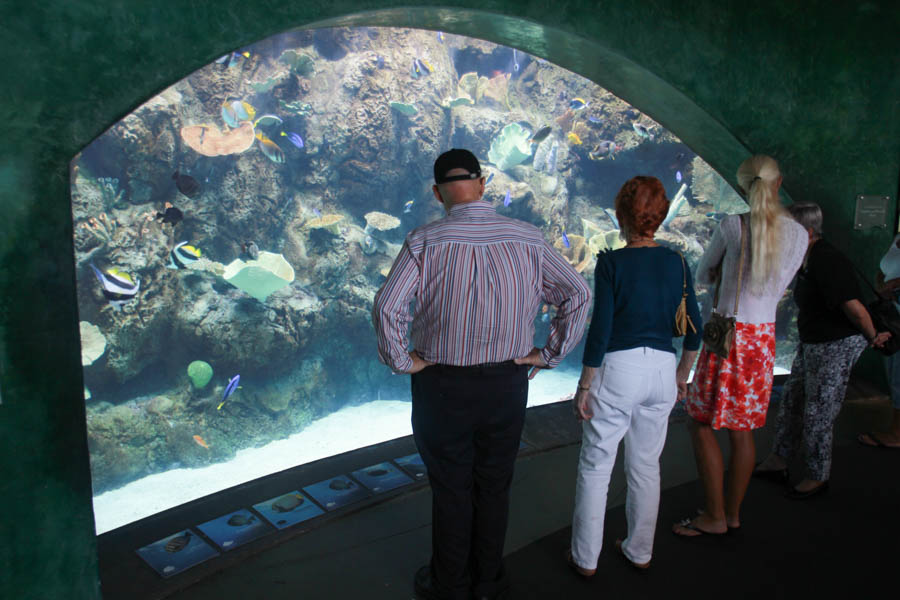 The aquarium was not too busy today!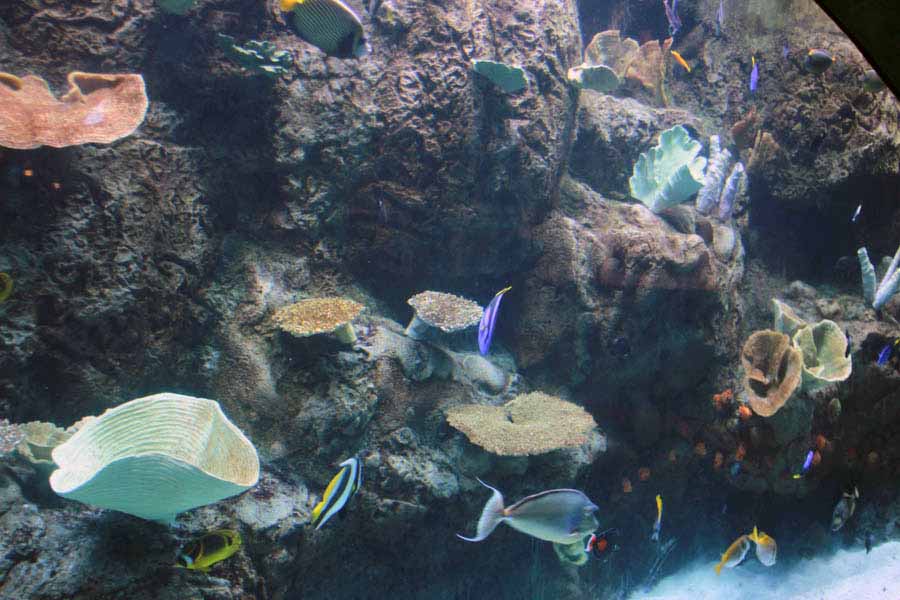 The fish seemed happy to see us... Maybe we look like food?

Greg was mesmerized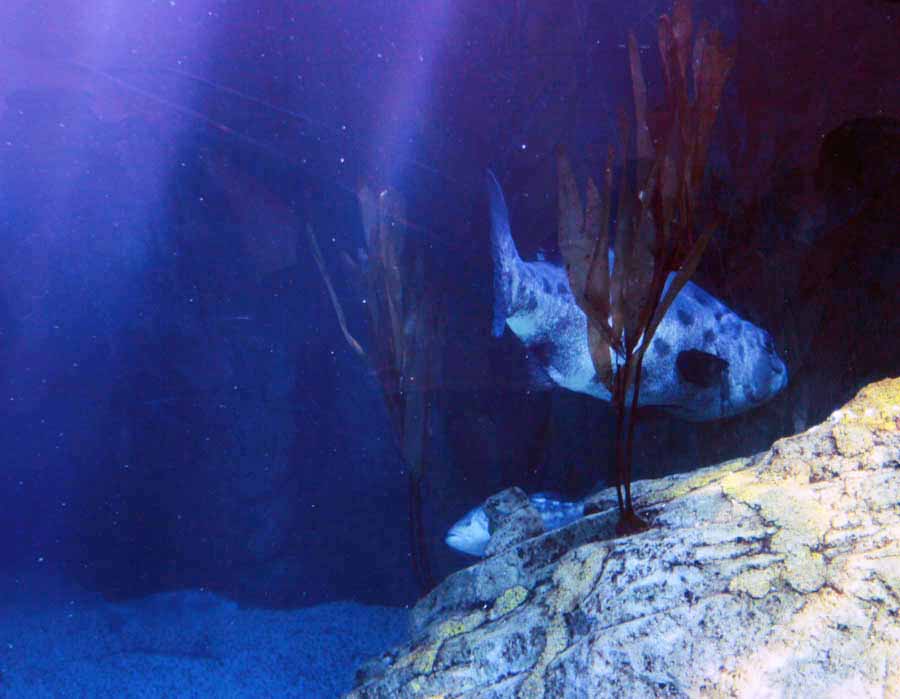 They have several fish weighing 200-300 pounds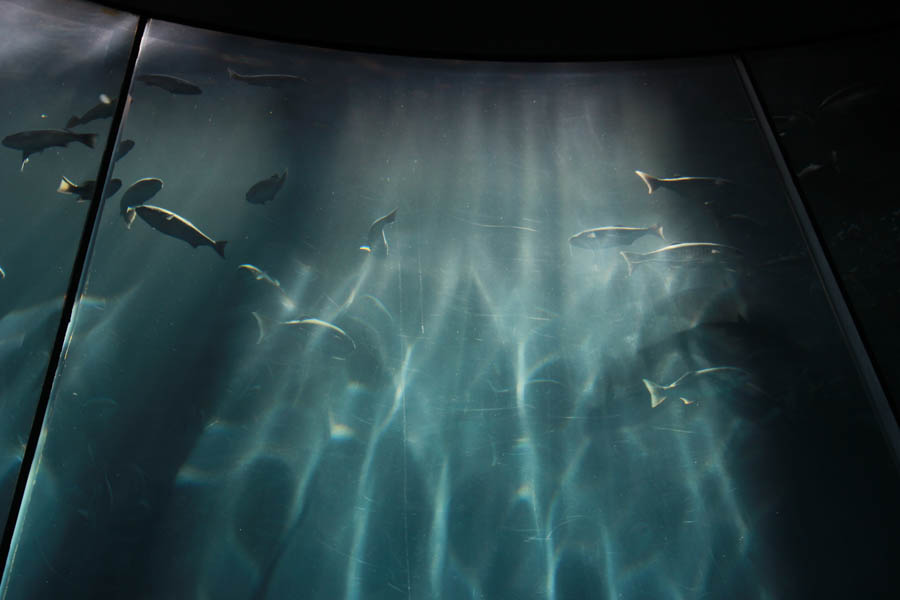 These guys liked the sunlight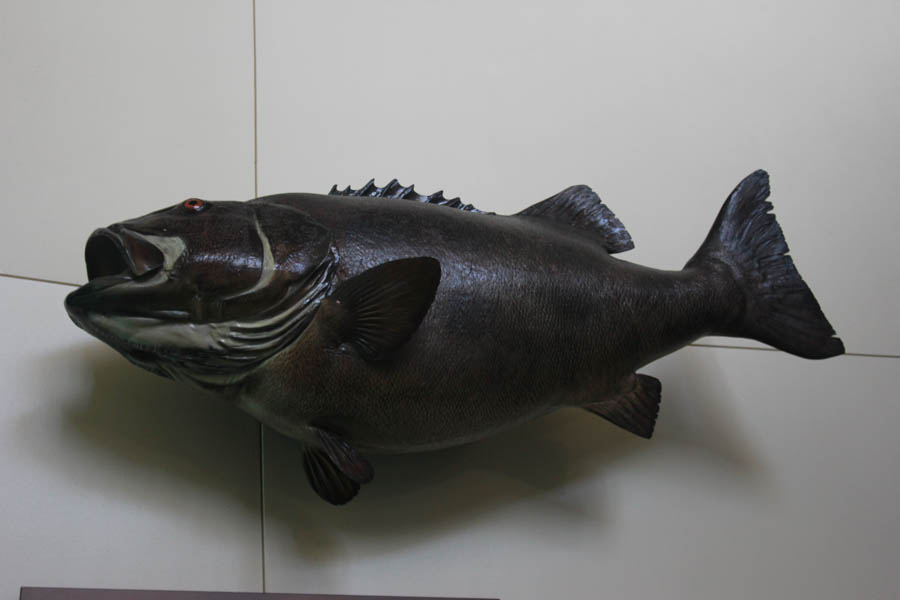 He flopped right out of the tank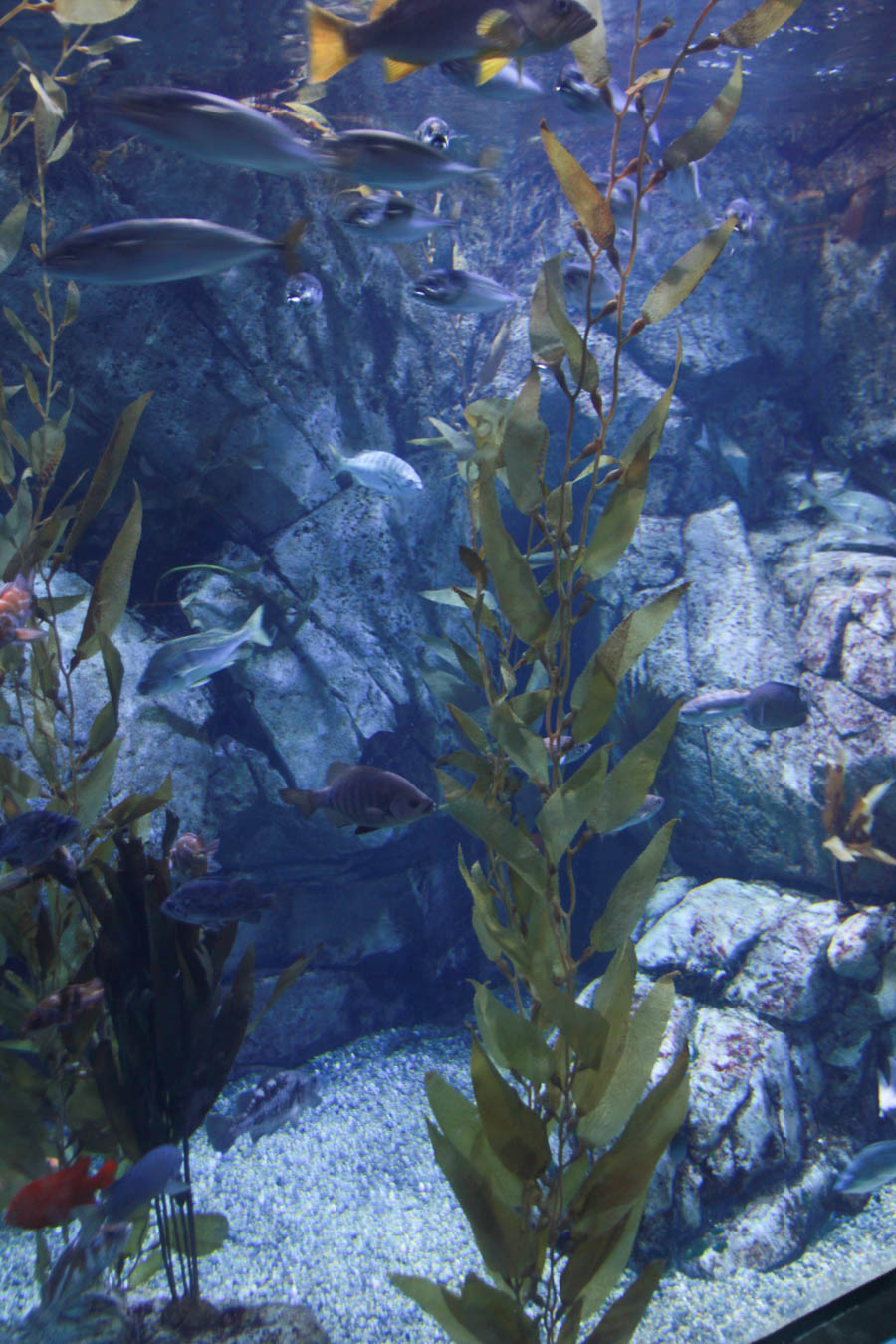 The seaweed/kelp grows 2-3 feet per day!
Did You Know? - Kelps are large seaweeds (algae) belonging to the brown algae (Phaeophyceae) in the order Laminariales. There are about 30 different genera.
Kelp grows in underwater "forests" (kelp forests) in shallow oceans, and is thought to have appeared in the Miocene, 23 to 5 million years ago. The organisms require nutrient-rich water with temperatures between 6 and 14 °C (43 and 57 °F).
They are known for their high growth rate — the genera Macrocystis and Nereocystis can grow as fast as half a metre a day, ultimately reaching 30 to 80 metres (100 to 260 ft).
Through the 19th century, the word "kelp" was closely associated with seaweeds that could be burned to obtain soda ash (primarily sodium carbonate).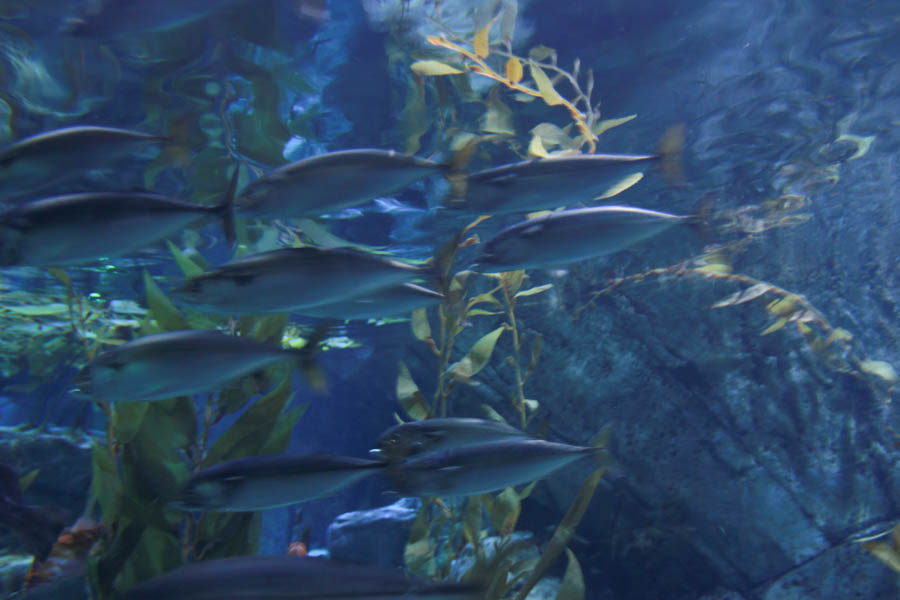 The fish were faster than the camera...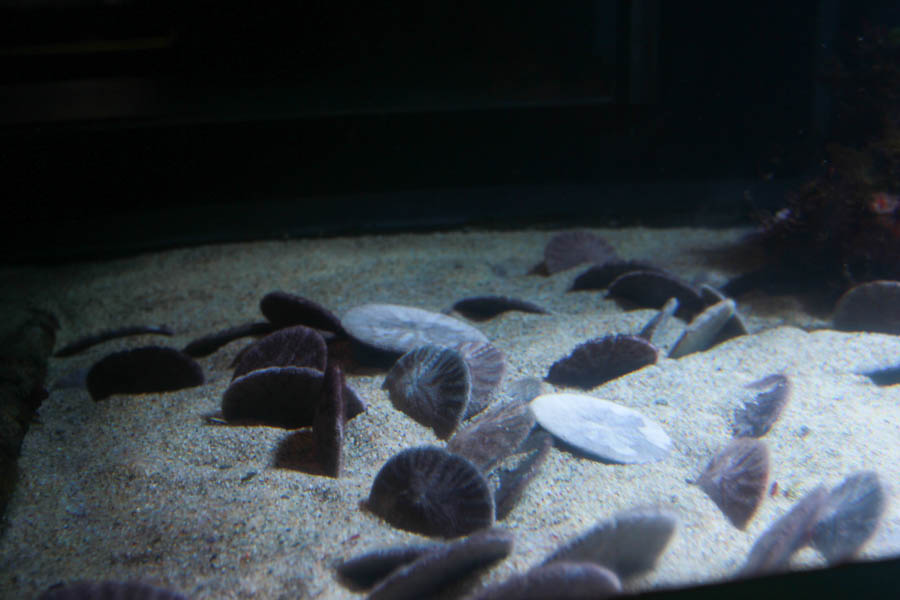 A virtual fortune.... Sand Dollars
Did You Know? - The term sand dollar (or sea cookie or snapper biscuit in New Zealand, or pansy shell in South Africa) refers to species of extremely flattened, burrowing sea urchins belonging to the order Clypeasteroida. Some species within the order, not quite as flat, are known as sea biscuits. Related animals include the sea urchins, sea cucumbers and starfish.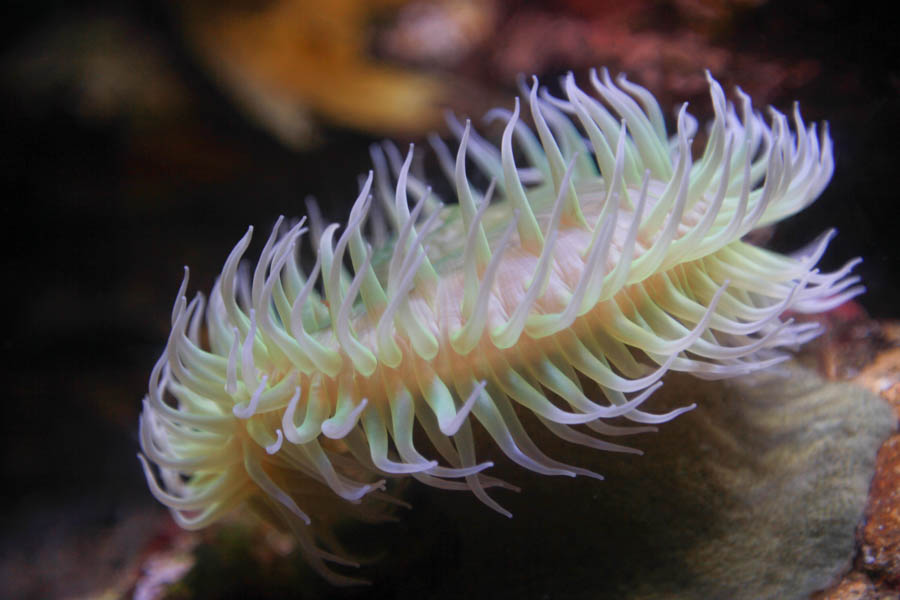 Sea urchins come in all colors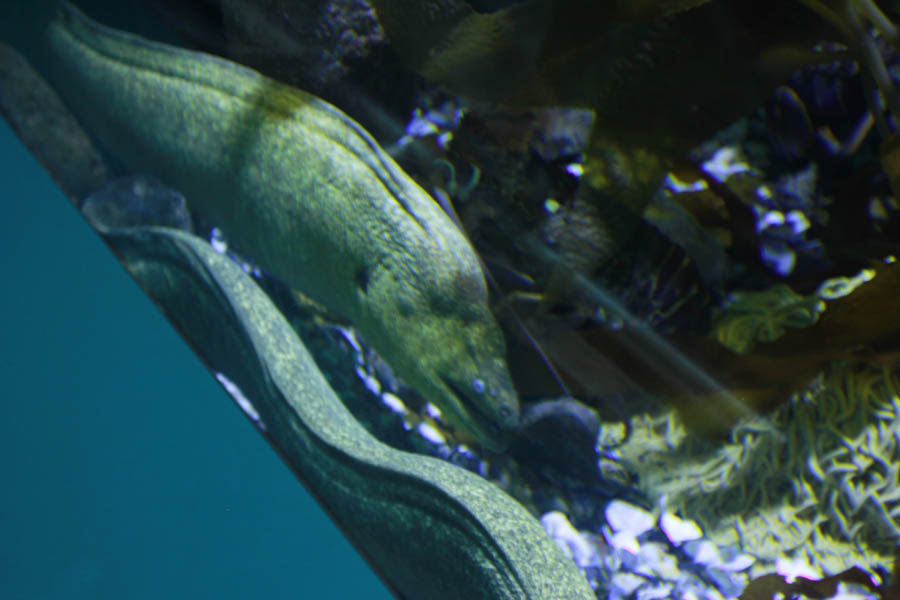 Mr. Eel was being lazy today...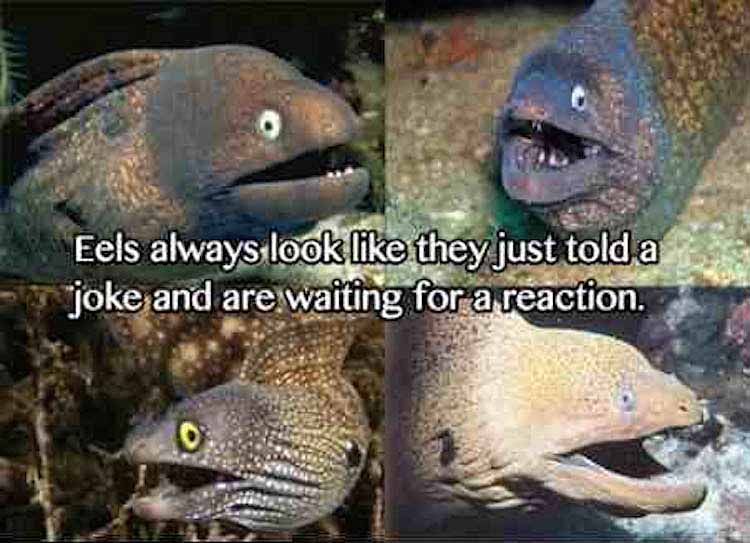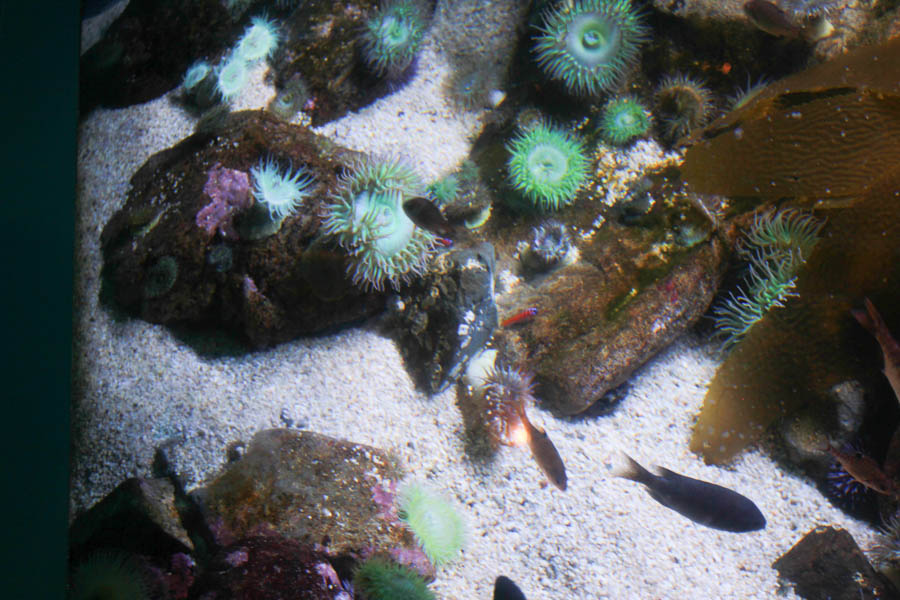 Nature is quite amazing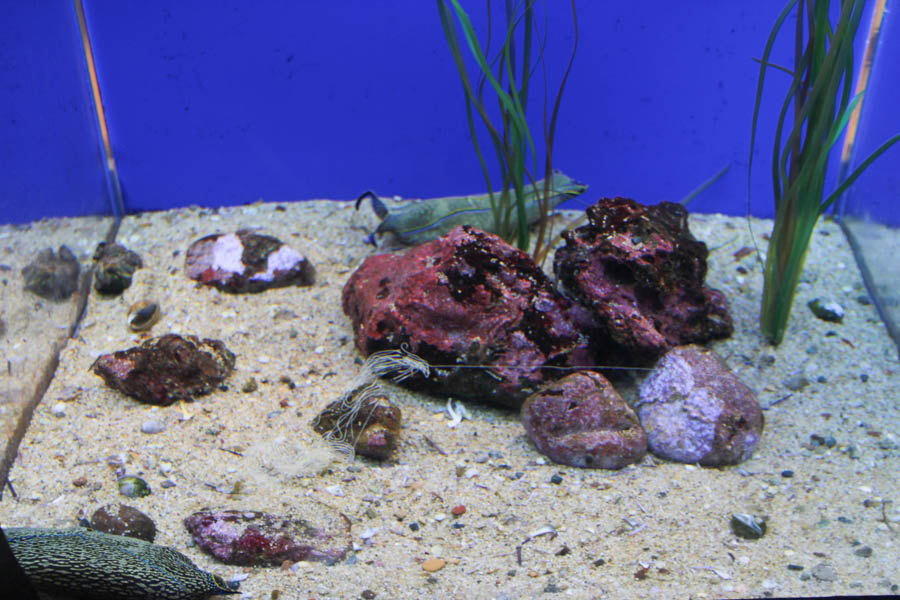 See slugs are green and look like pickles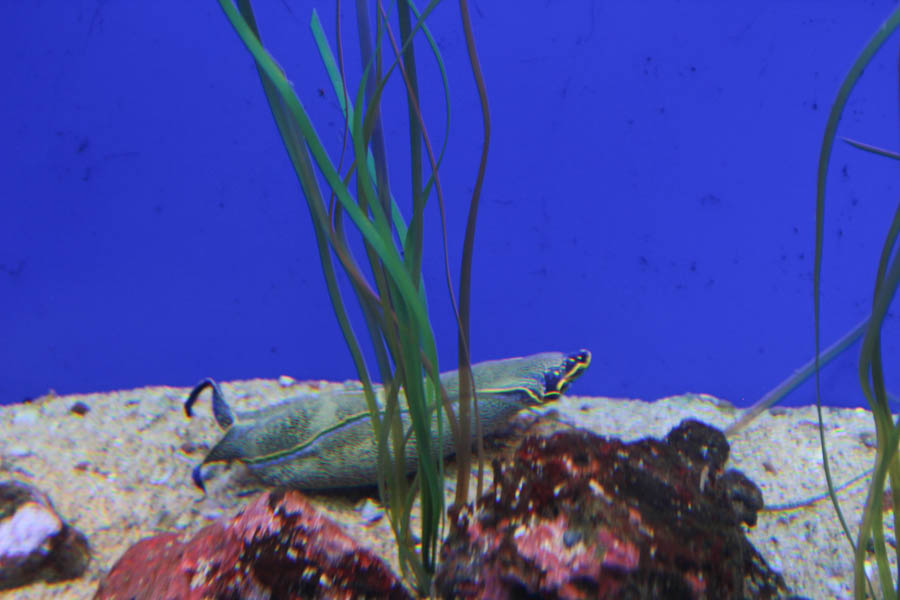 Interesting "facial expressions"

One tank is green and then voila, the next is red!

The urchins cover the entire surface of the rock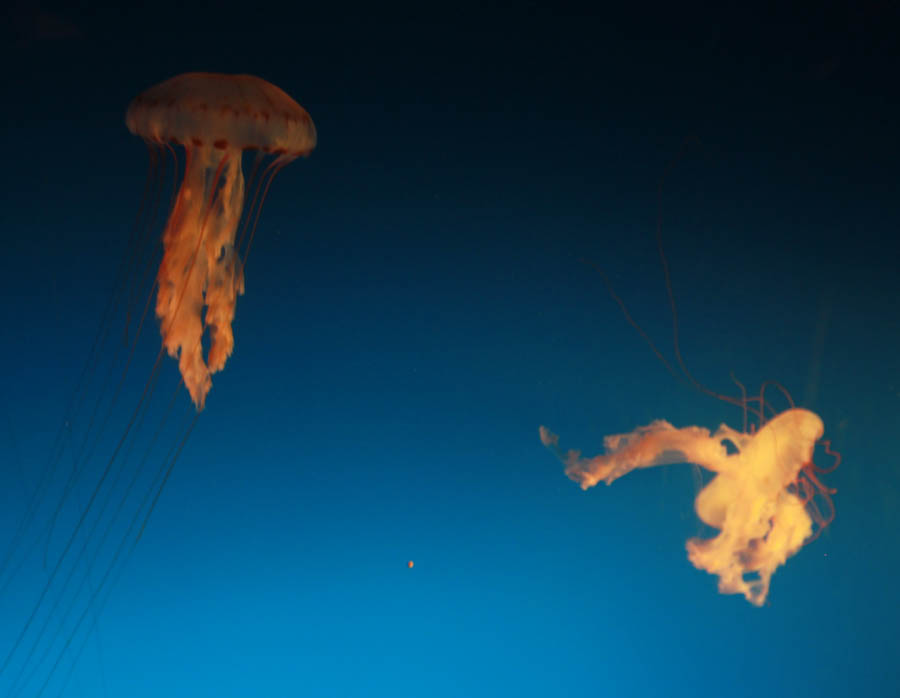 These guys are never still...

They were busy playing
It's Cold Inside... We Headed Outside For A While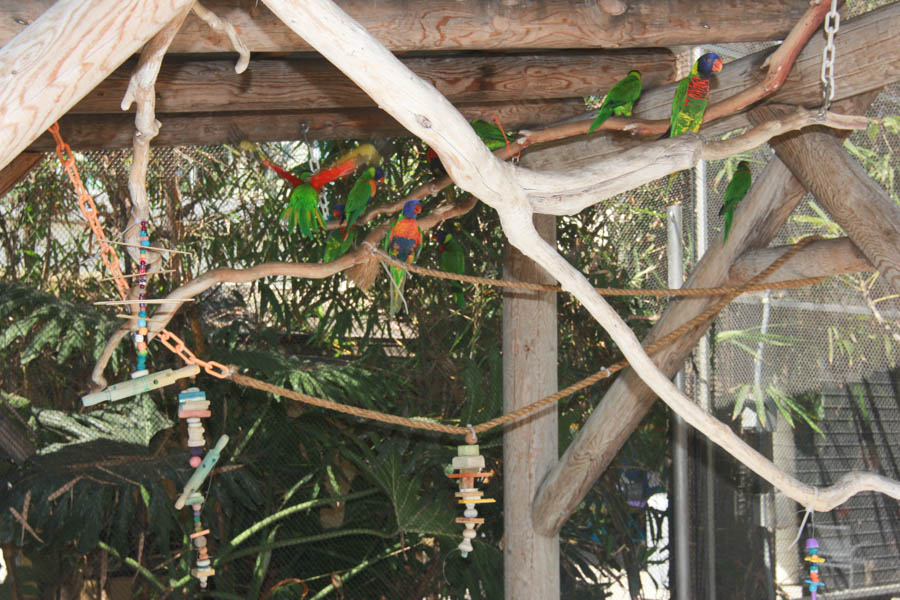 The Lorikeets were mostly inside where they
could get to food and the misters
Their habitat is the Central Coasts of Australia
Did You Know? - The lorikeet's diet is comprised of nectar, pollen flowers, fruits, berries, and unripe grain. Their diet is limited to soft food because these birds have weak gizzards, which break up harder foods like seeds. Thus, they have a specialized tongue that allows them to easily consume their soft food and liquid diet.
Tiny hair-like appendages called papillae form a U shape on the end of the lorikeet's tongue. When the tongue is extended, these papillae become erect, like bristles on a brush, expanding the tongue's surface area and allowing the birds to easily soak up nectar and collect pollen from the blossoms. Unique to lorikeets, these papillae have earned them the name "brush-tongued parrots."

We enjoyed our visit because the misters kept it cooler

There was a lot of activity inside their shed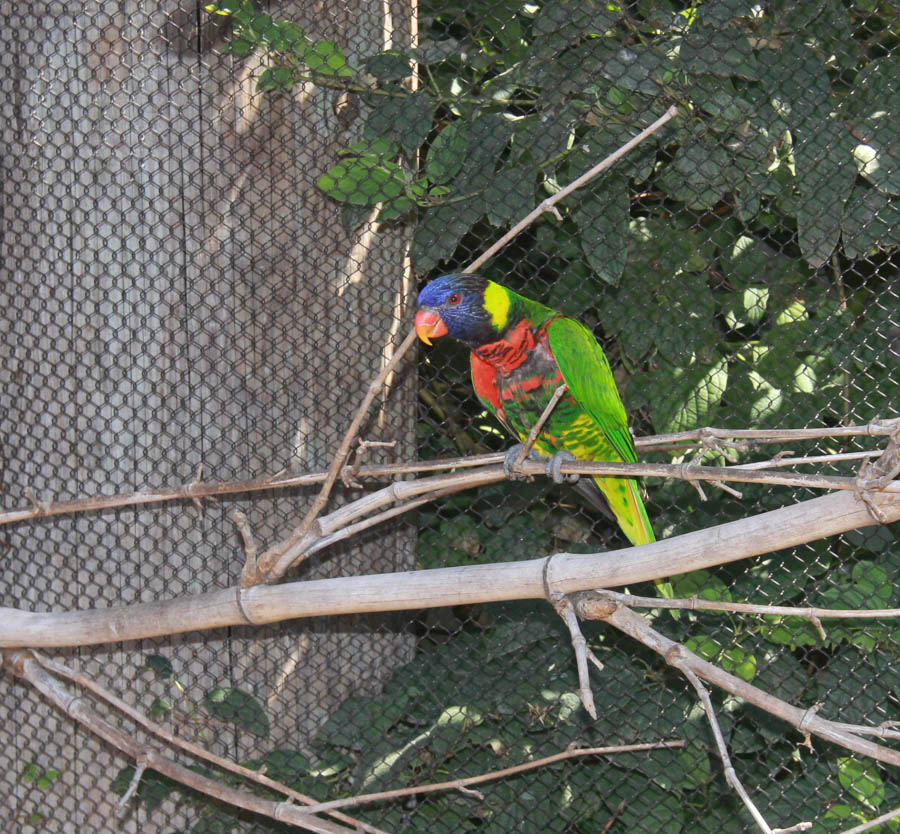 Someone colored him with a box of crayolas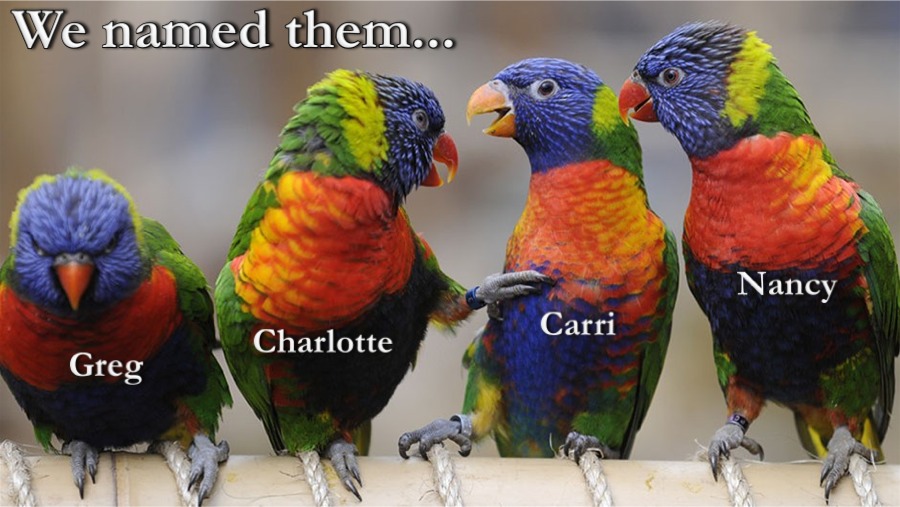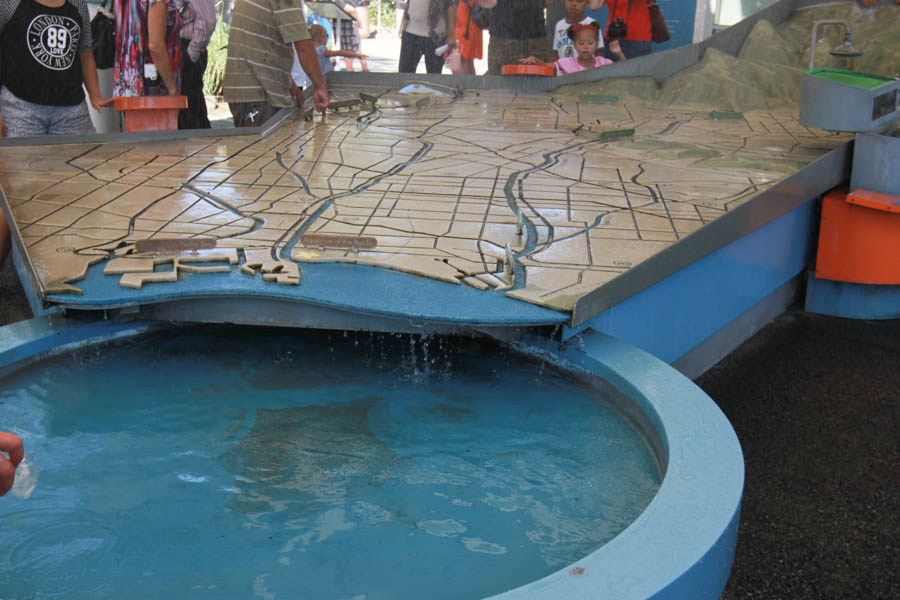 A miniature display of the LA Basic water shed... Also pretty cool today

Greg spun the wheel and answered questions...
He thought it was the "Wheel Of Fortune"
Did You Know? - Wheel premiered as a daytime series on NBC on January 6, 1975, and continued to air on the network until June 30, 1989. After some changes were made to its format, the daytime series returned on July 17, 1989 as part of CBS' daytime lineup.
On January 14, 1991, Wheel moved back to NBC and aired on that network until it was cancelled on September 20, 1991.
The popularity of the daytime series led to a nightly syndicated edition being developed; that series premiered on September 19, 1983 and continues to air to this day.

Greg decided it was better to be above the sharks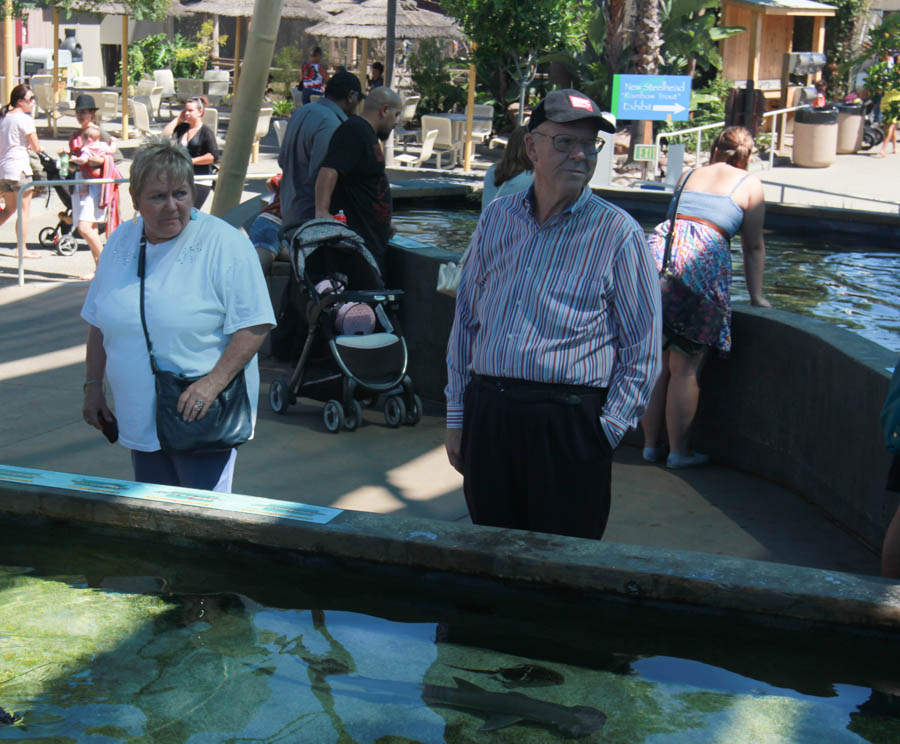 Remember, pet them with two fingers!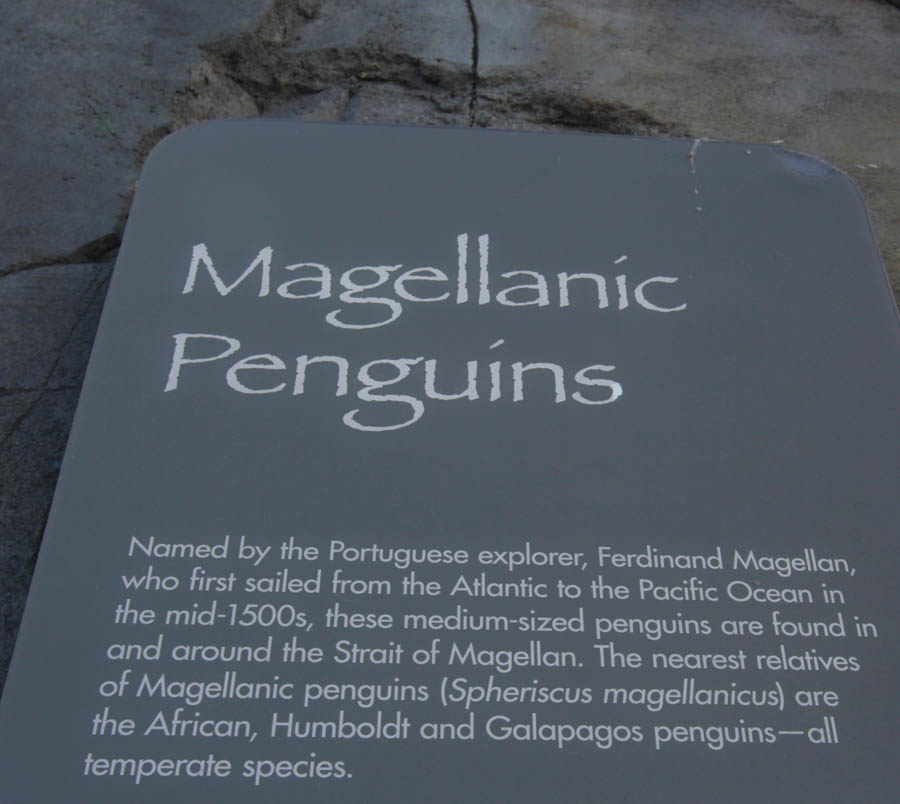 Which one is Bill???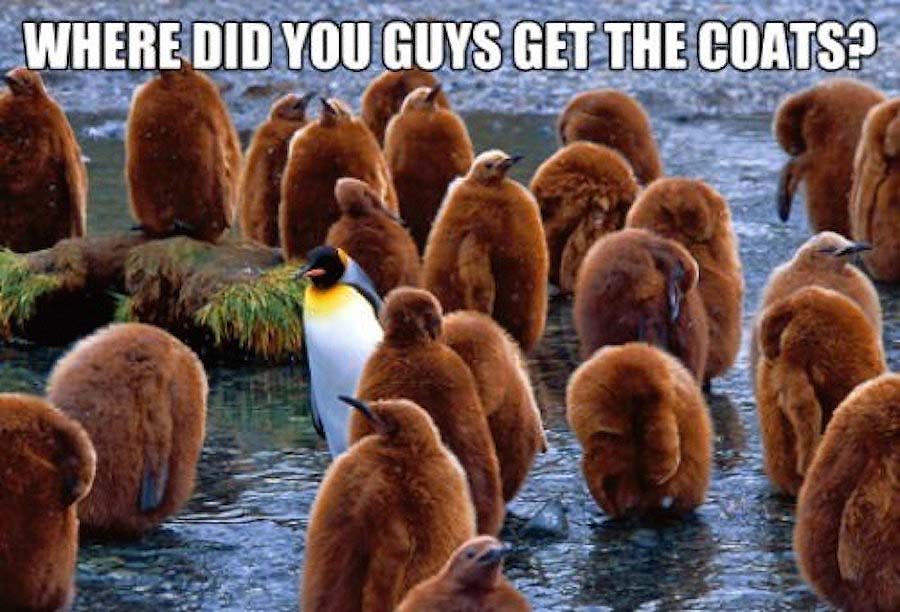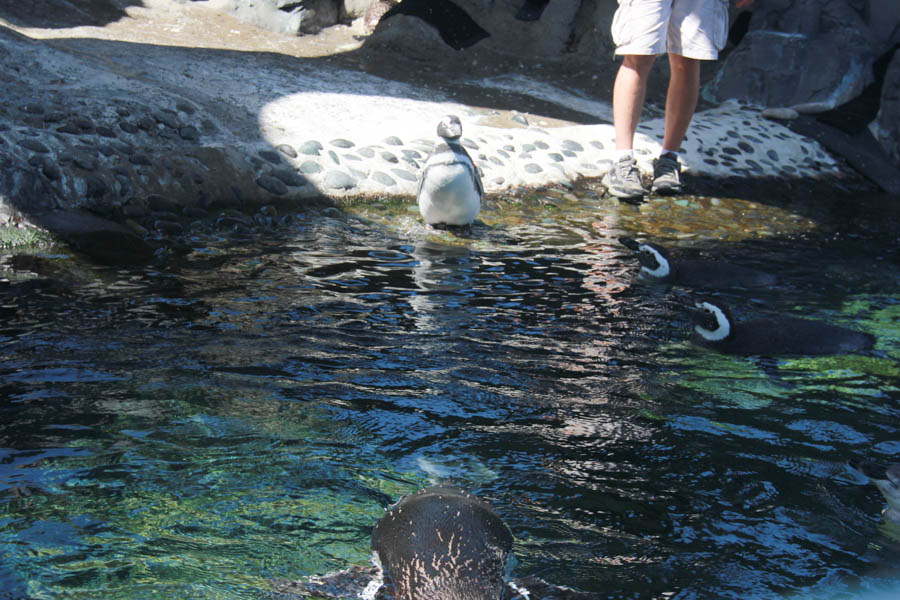 "Oh do I have to get wet... The water is cold"
Did You Know? - Depending on the species, a wild penguin can live 15-20 years. During that time, they spend up to 75 percent of their lives at sea.

"I am a big baby!"
Did You Know? - The light front and dark back coloration of classic penguin plumage is called countershading and it provides superb camouflage from above and below to protect penguins in the water.

I swims and swims all day!
Did You Know? - Penguins are primarily found only in the Southern Hemisphere. While most people associate penguins with Antarctica, they are much more widespread and penguin populations can also be found in South America, South Africa, Australia and New Zealand, as well as many small islands in the southern Pacific Ocean. In captivity, penguins can be found all over the world.

Time to rest before we head inside

Cute little guys

The Sea Lions were in the water today... Too hot to be outside
Enough Of The Heat... Let's Go Inside And Visit The Northern Pacific Gallery
Did You Know? - The Aquarium's Northern Pacific Gallery represents the northernmost region of the Pacific Ocean, specifically habitats in and around the Bering Sea.
Covering over 800,000 square miles between Alaska, Siberia, the Bering Strait, and the Aleutian Islands, the Bering Sea has an upwelling of cold water that replaces the warmer surface water, with temperatures staying below 54 degrees.
The Bering Sea is home to over 450 species of fish and invertebrates, 50 bird species, and 25 species of marine mammals. At the Aquarium, you can join us on a journey through the Northern Pacific—home to the adorable otter and the mysterious giant Pacific octopus.

Time for a break....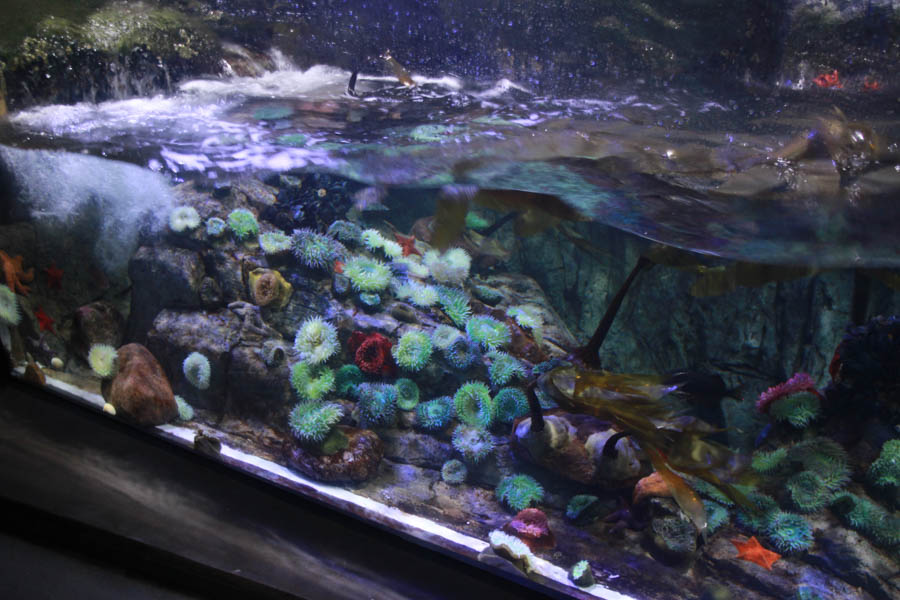 Now The North Atlantic... The water was really moving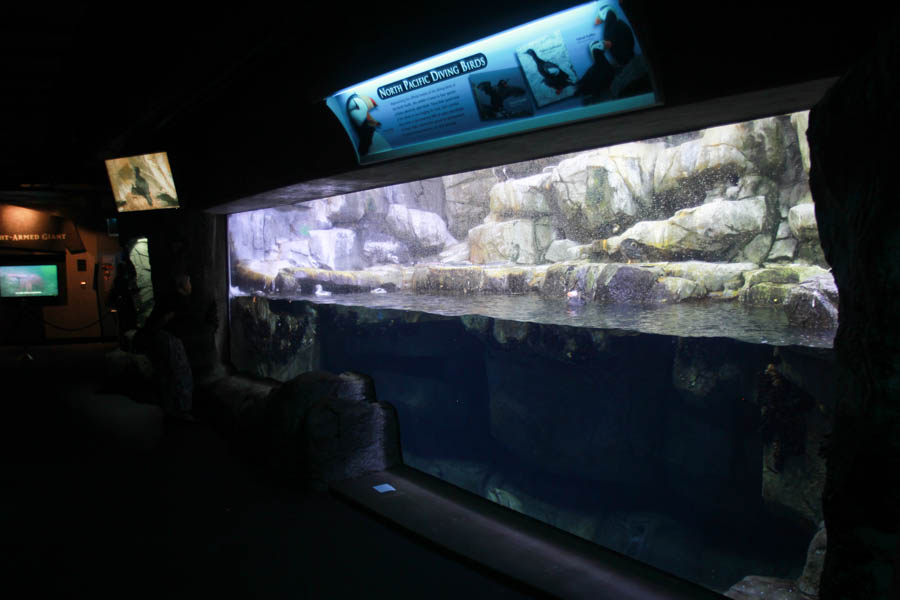 You get an excellent view of the creatures above and below the water line


The puffins were busy swimming today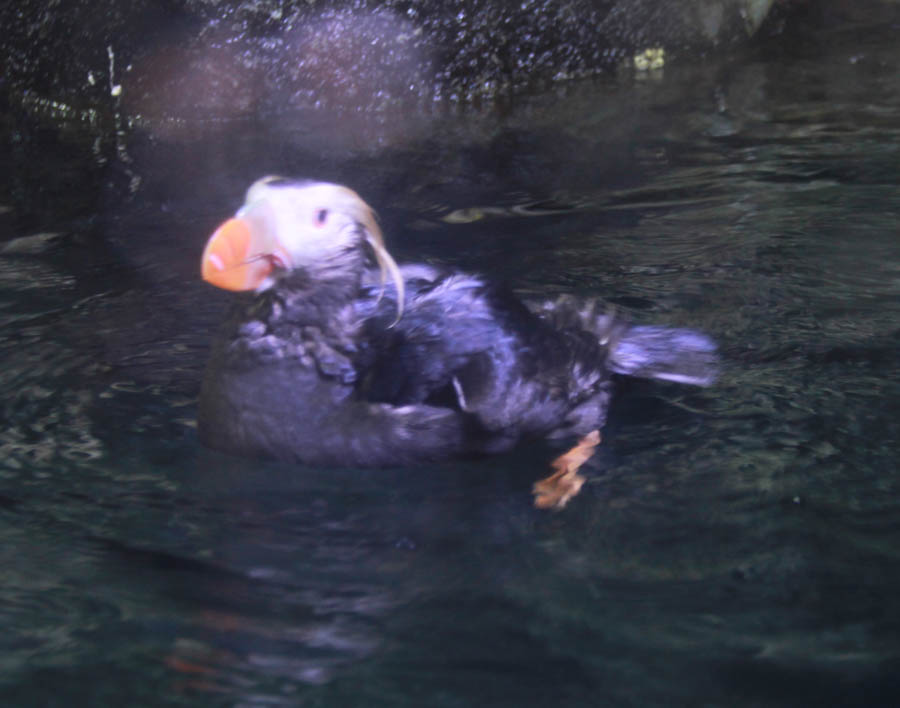 Funny looking little guys
Did You Know? - Living on remote mainland cliffs and islands along the Northern Pacific coast, puffins and auklets build their nests in rocky cavities and crevices during the summer months. Otherwise, these seabirds spend most of the year at sea.

Sea Nettles were going everywhere in the tank
Did You Know? - Like most Cnidaria, the West Coast sea nettle is carnivorous Animal. They catch their prey by using their Nematocyst-laden tentacles. The toxin(poison) in their Nematocyst are effective against their prey and humans.
Since West Coast sea nettles can not chase their prey, they must eat as they drift, by spreading out their tentacles like a large net, the West Coast sea nettle is able to catch food as it passes by.
When a prey brushes against the tentacles, thousands of nematocysts are released, launching barbed stingers which release a paralyzing toxin, then the oral arms begin digestion as they push the prey into the West Coast sea nettle's mouth.
The West Coast sea nettle feeds on different types of Zooplankton, Crustaceans, Salps, Pelagic snails, small fish as well as their eggs and larvae, and other Jellyfish.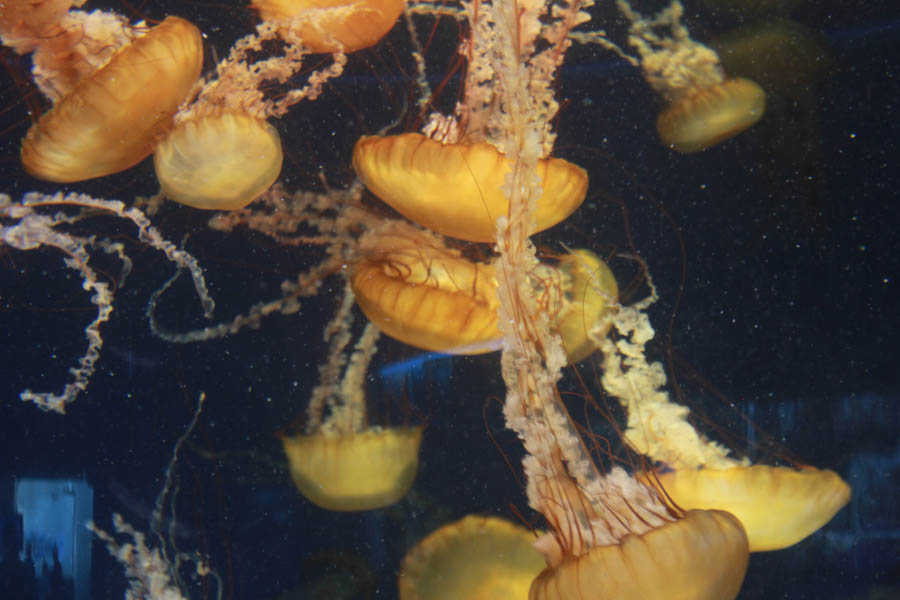 Amazing to watch

Mr Octopus likes it dark

They are known to be sneaky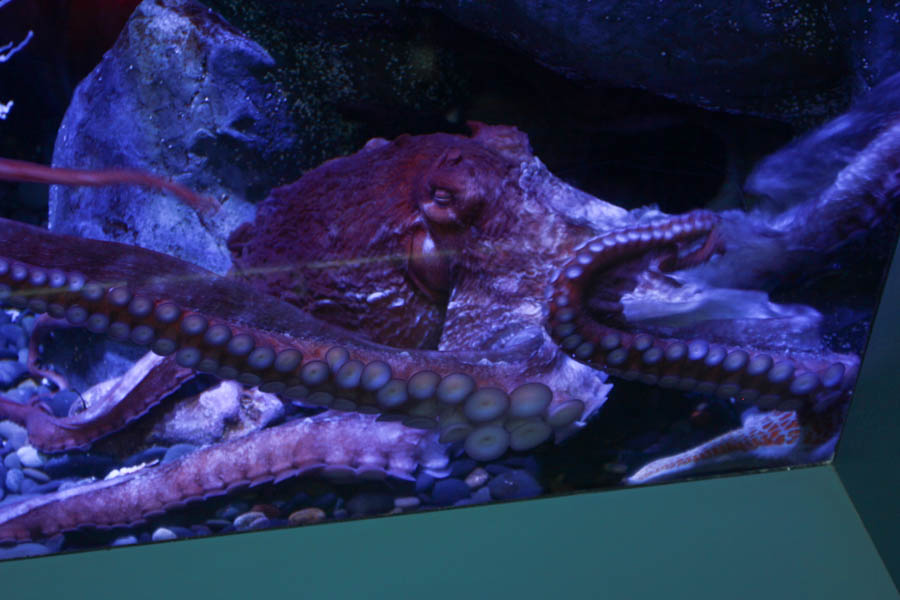 As many as 200 suction cups on each leg
Did You Know? - Octopuses also have an excellent sense of touch. An octopus's suction cups are equipped with chemoreceptors so the octopus can taste what it is touching.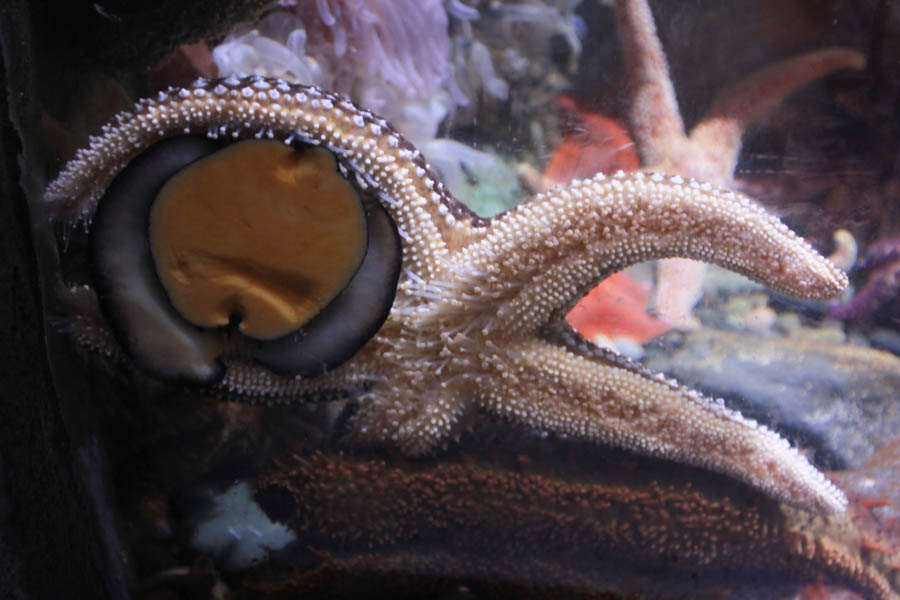 The starfish and shellfish are dancing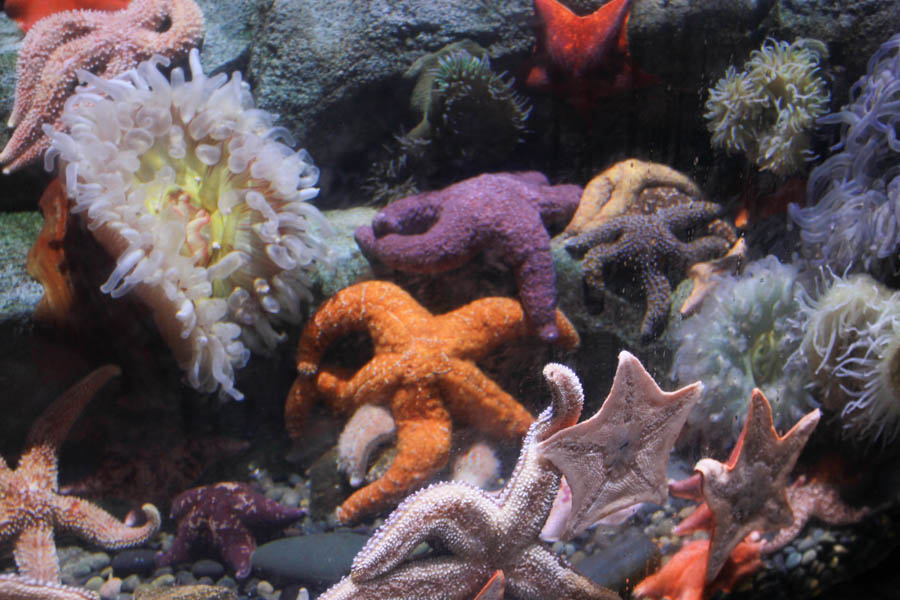 Someone had the crayolas out when these guys were created
Did You Know? - About 1,500 species of starfish occur on the seabed in all the world's oceans, from the tropics to frigid polar waters. They are found from the intertidal zone down to abyssal depths, 6,000 m (20,000 ft) below the surface.
Starfish are marine invertebrates. They typically have a central disc and five arms, though some species have more than this. The aboral or upper surface may be smooth, granular or spiny, and is covered with overlapping plates.
Many species are brightly colored in various shades of red or orange, while others are blue, grey or brown. Starfish have tube feet operated by a hydraulic system and a mouth at the centre of the oral or lower surface.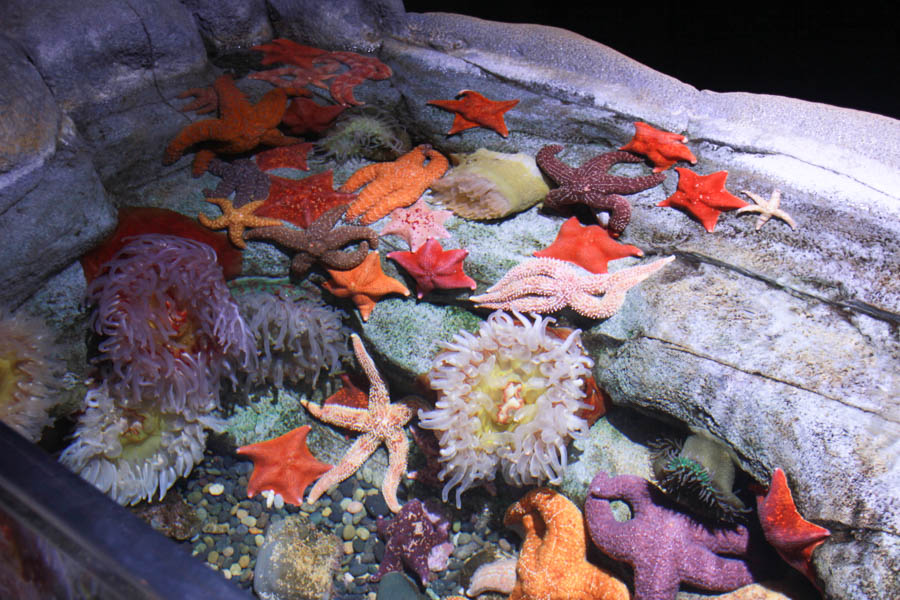 What is your favorite color
Did You Know? - An aboriginal Australian fable retold by the Welsh school headmaster William Jenkyn Thomas (1870–1959) tells how some animals needed a canoe to cross the ocean.
Whale had one but refused to lend it, so Starfish kept him busy, telling him stories and grooming him to remove parasites, while the others stole the canoe.
When Whale realized the trick he beat Starfish ragged, which is how Starfish still is today.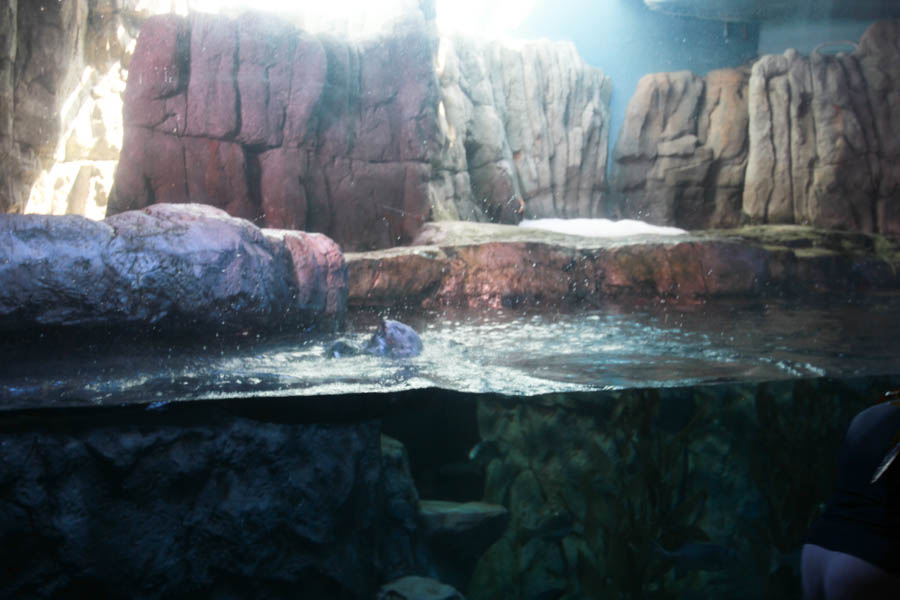 The Sea Otter were almost made extinct through fur trading
Did You Know? - The sea otter (Enhydra lutris) is a marine mammal native to the coasts of the northern and eastern North Pacific Ocean. Adult sea otters typically weigh between 14 and 45 kg (31 and 99 lb), making them the heaviest members of the weasel family, but among the smallest marine mammals.
Unlike most marine mammals, the sea otter's primary form of insulation is an exceptionally thick coat of fur, the densest in the animal kingdom. Although it can walk on land, the sea otter lives mostly in the ocean.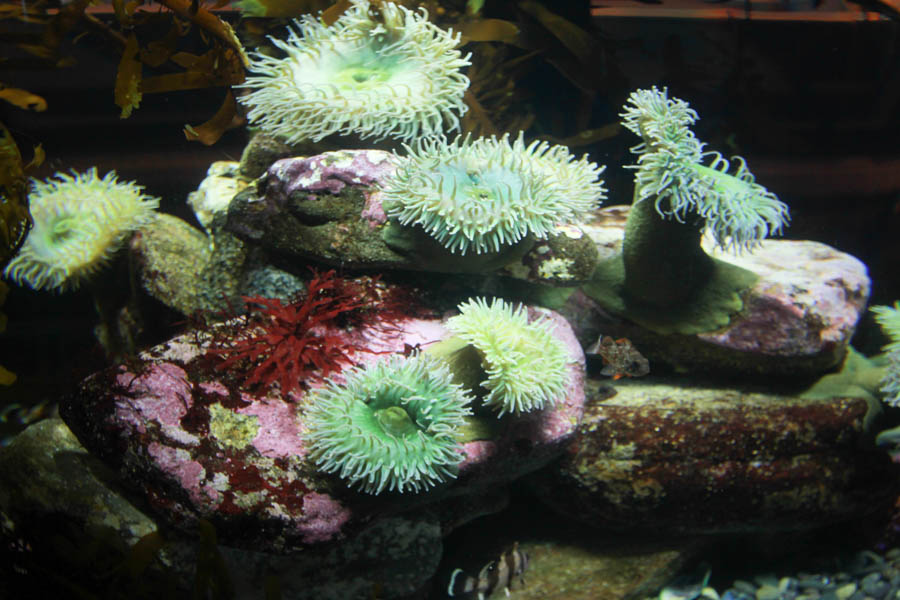 A Sea Otters dinner is served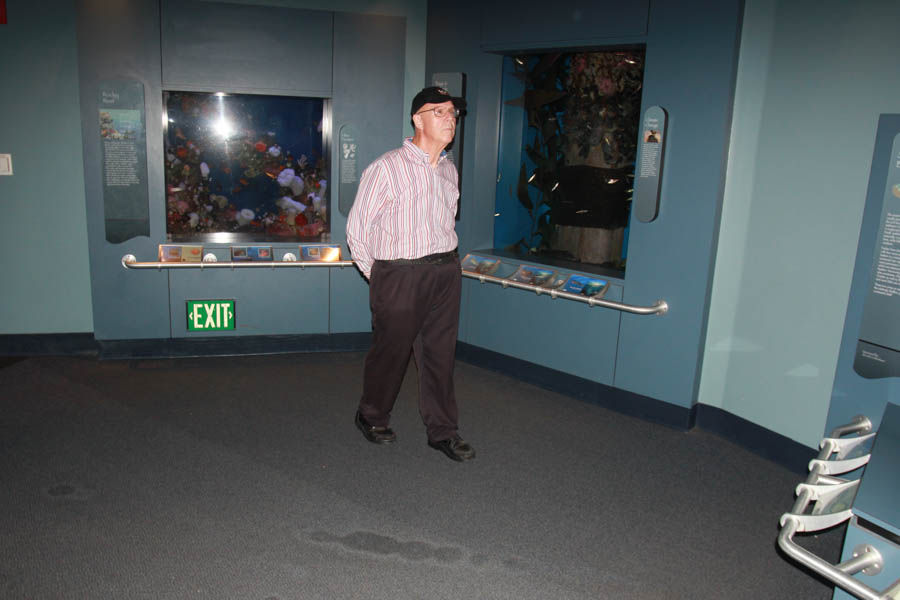 We saw a strange man wondering the halls talking to the fish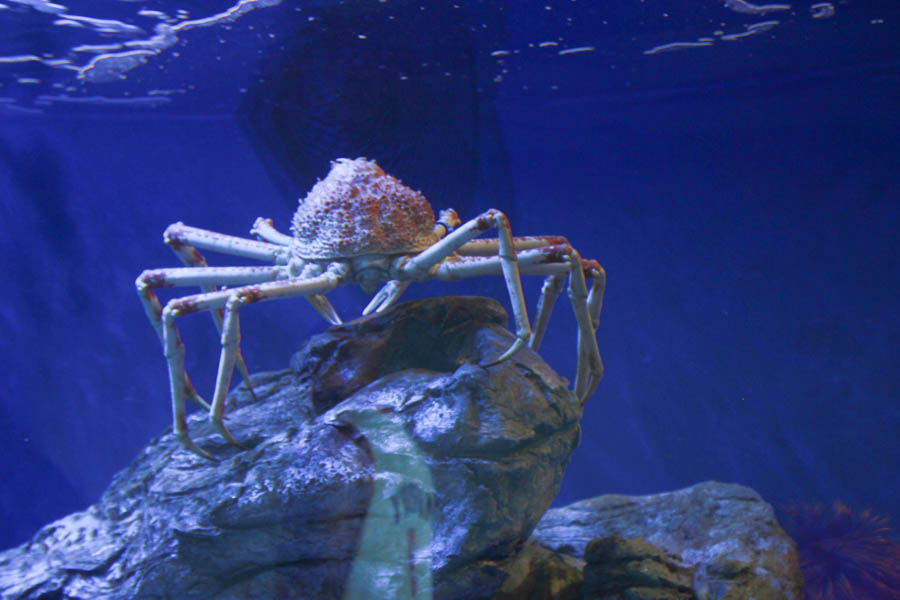 The King Crab sits atop his throne

What amazing animals
To The Tropical Pacific Gallery
Did You Know? - The warm, 80-degree waters of Micronesia contain an astounding 2,100 islands. Palau, the western most section of the Micronesian islands, runs north to south, covering approximately 125 miles.
Considered by many to be among the most beautiful in the world, Palau's waters contain an incredible diversity of coral, fish, and other colorful marine life. The 16 exhibits in the Aquarium's Tropical Pacific Gallery represent the beautiful marine life you would find off the coast of Palau.
The Tropical Reef Habitat, which can be viewed from three locations in the gallery, is the Aquarium's largest exhibit. Holding 350,000 gallons of water, this exhibit features over a thousand colorful fish and beautiful coral, including sea turtles, zebra and blacktip reef sharks, porcupine puffers, and a large blue Napoleon or humphead wrasse.
The Tropical Pacific Gallery also features our seahorses and sea dragons. True to their descriptive names, both the leafy and weedy sea dragons have an almost surreal appearance characterized by unusual appendages that allow them to deftly camouflage themselves in seaweed. The Aquarium made husbandry history by being the first Aquarium in the world to successfully breed weedy sea dragon babies.
The Tropical Pacific Gallery also displays venomous creatures, groupers, clownfish, and the only exhibit with live coral in the Aquarium.

The water level is just right for Charlotte

Cleaning the tank... And some feeding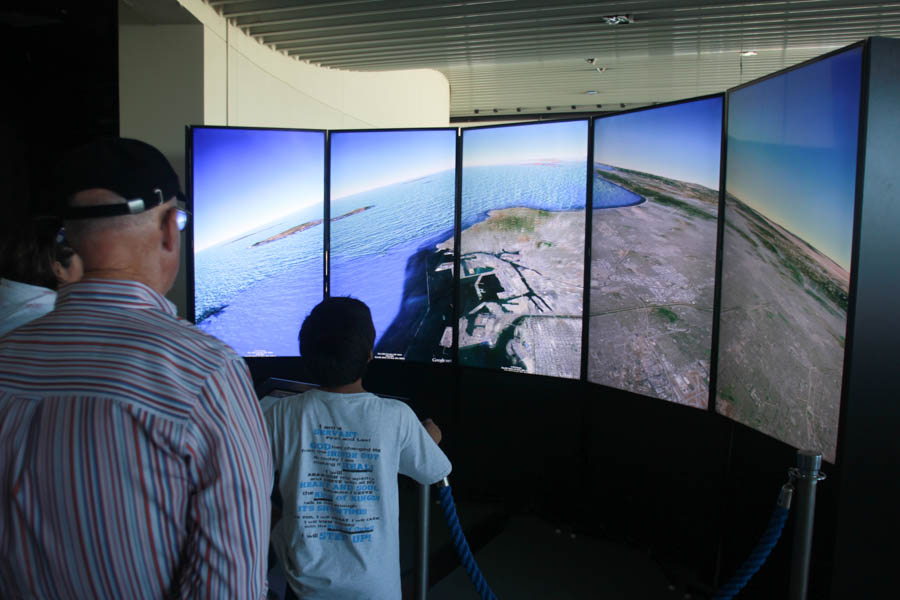 Greg was enamoured with the five-screen display of "Google the Earth"

Clown fish darted hither and tither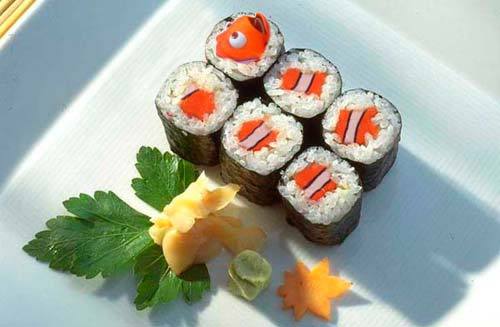 We found Nemo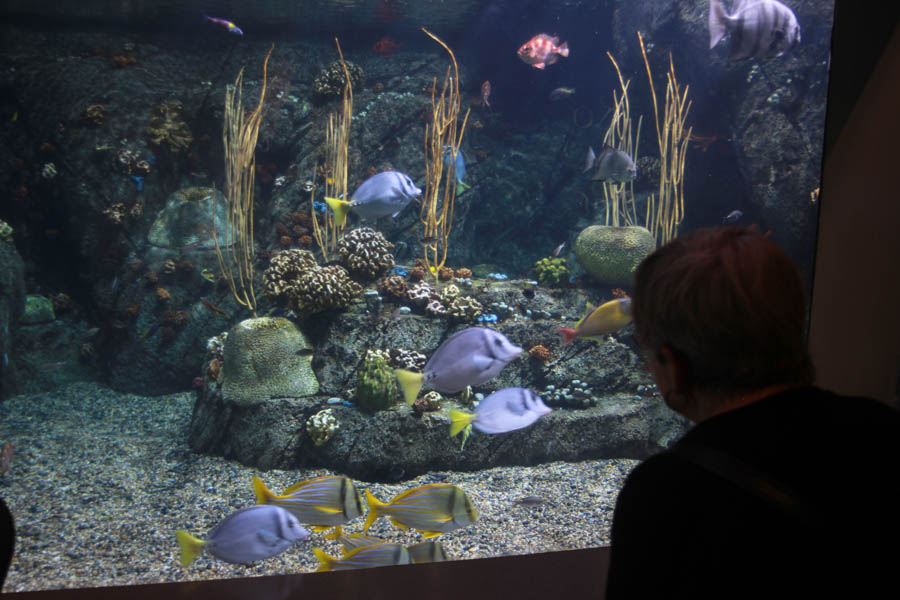 They look to be happy just gliding around the enclosure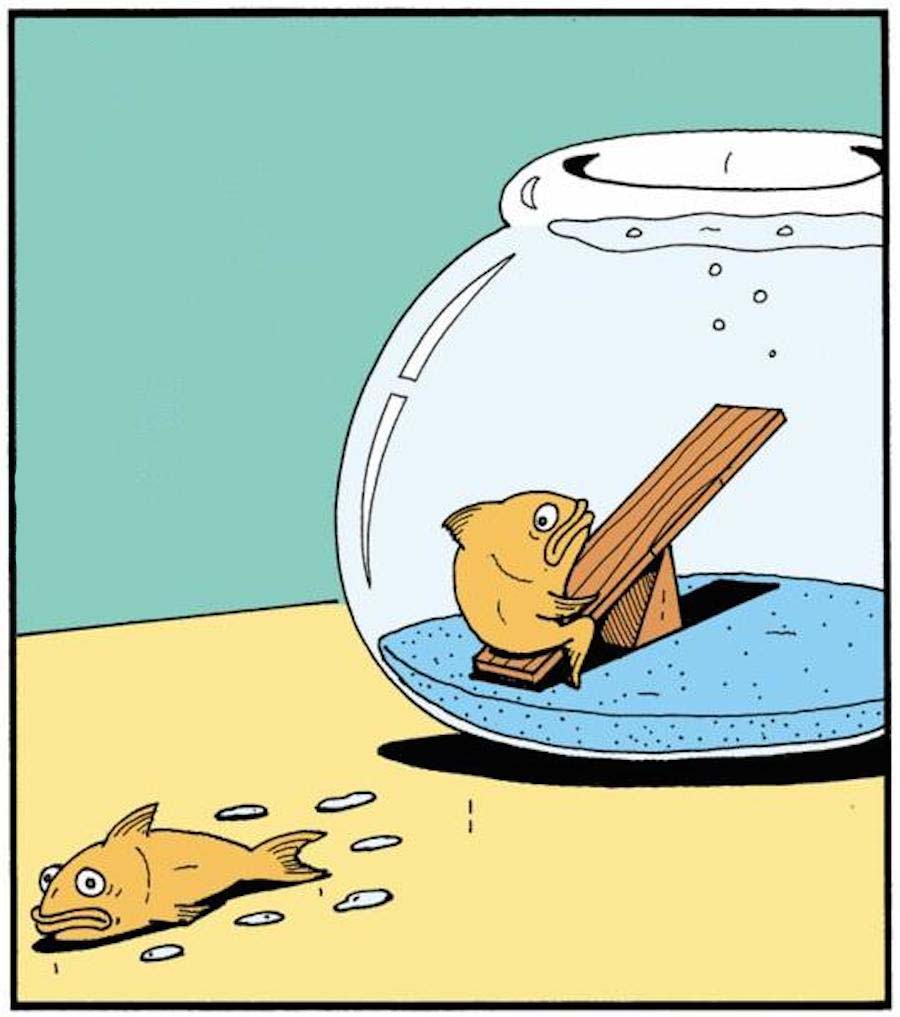 They sometimes get over enthusiastic

Knife fish... Look like grass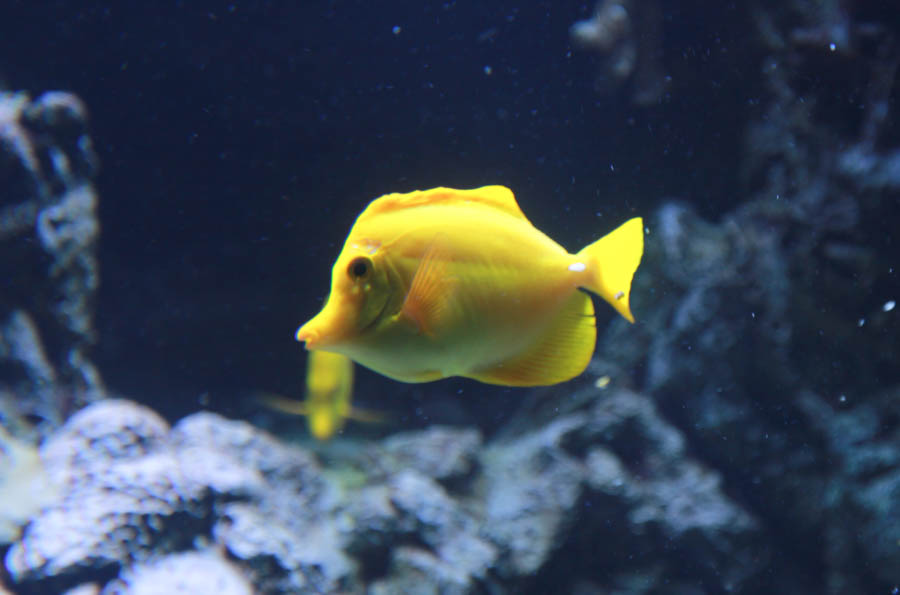 How do they get their bright colors?
Some Assumptions On Why Fish Are So Many Colors....
1) Coral reefs are bright and colorful. Fish that live on coral reefs are 'camouflaged' into that environment.
2) Fish that don't predominantly live on coral reefs tend to be silver. Silver coloration helps 'disguise' the fish by reflecting light in the water.
3) Some fish and other marine creatures may be toxic if ingested, or possess toxic spines etc. Those creatures often evolve a 'warning' through bright coloration.
4) Many fish will have bright coloration for species identification, primarily for breeding purposes. Again, that's not necessarily detrimental given the surrounding colors of the reef
5) Because of light behaves differently underwater, and predators may not see within the same light spectrum as humans, it's feasible that the coloration evolved to effectively camouflage the fish to their natural predators - even though they may seem bright and obvious to us (humans).
6) Many fish have broken coloration - breaking up their outlines/body shapes. Some have 'false' features that may disorientate a predator. Examples of this are 'false eyes' on the tails etc.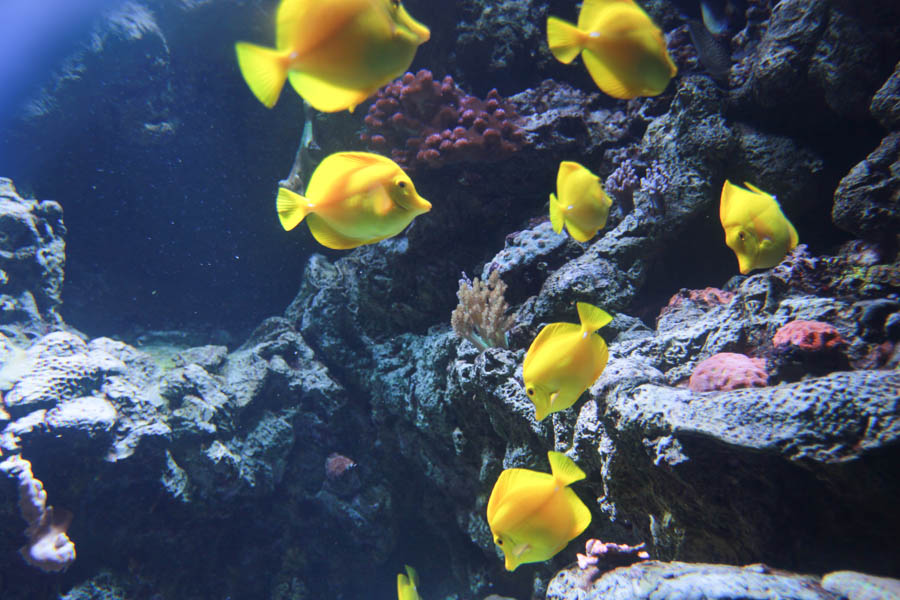 Looks like a NASCAR race underway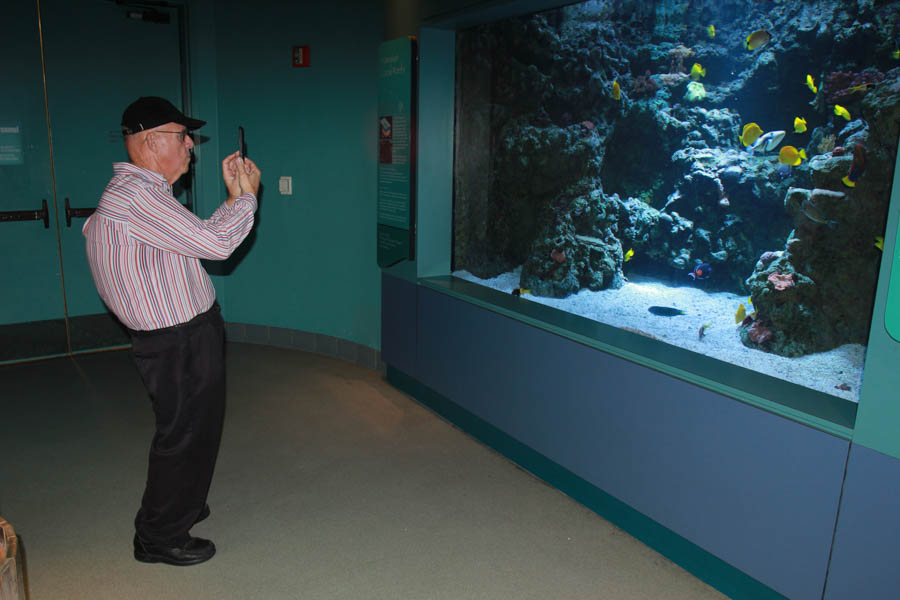 Greg captures the moment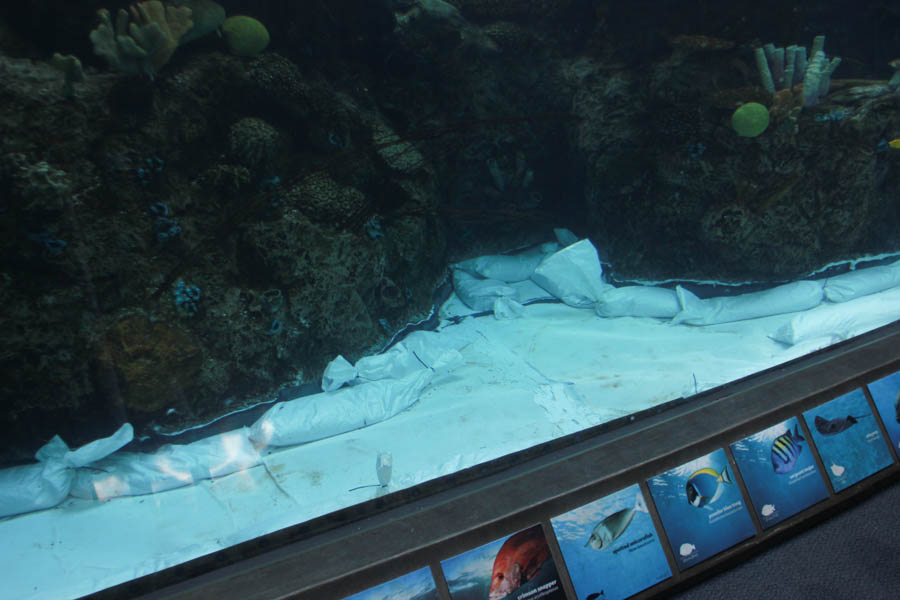 This looked a little odd but we found out why....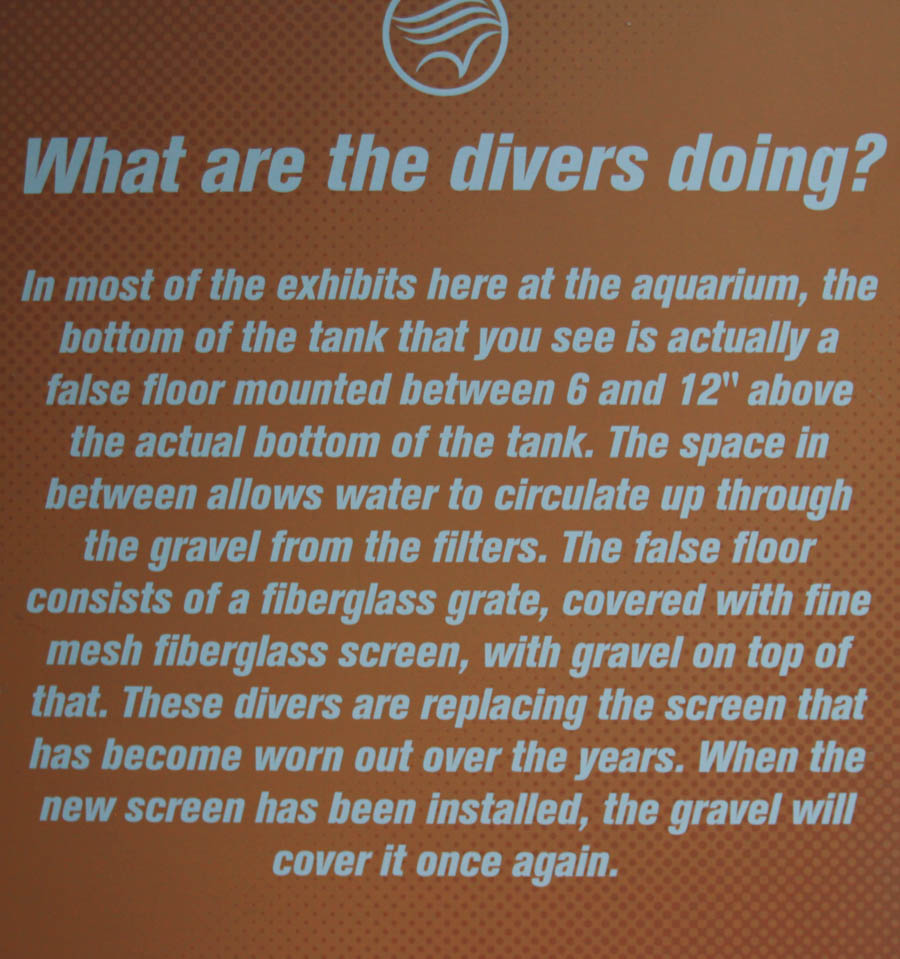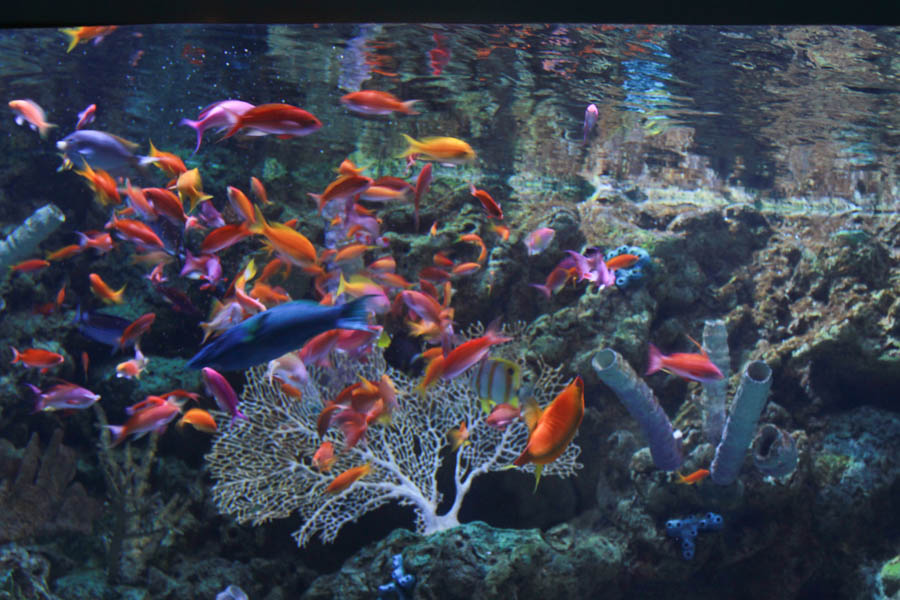 Some kid dropped his box of 48 crayolas into the tank

No messing with this guy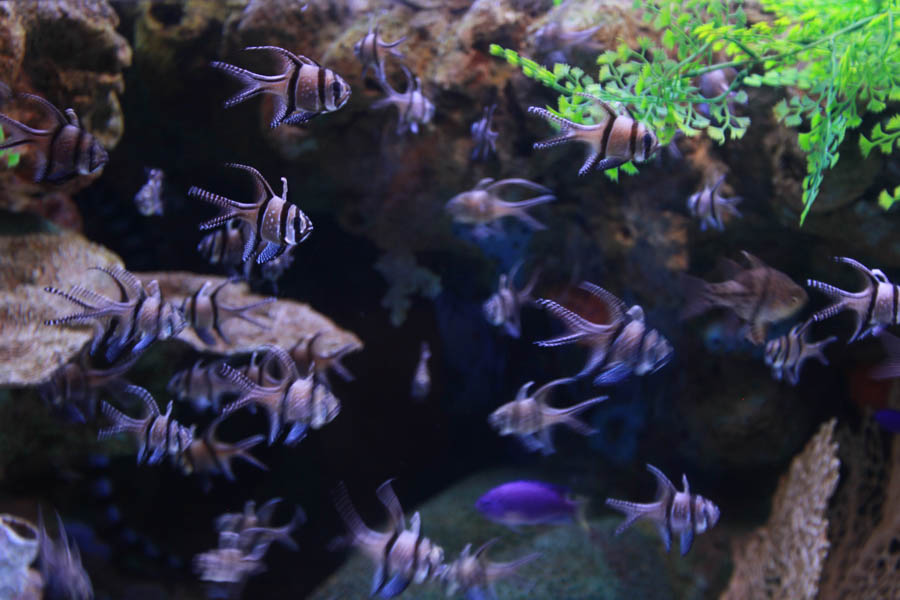 Angel fish by the dozens

As a nation we have a lot of sea area under our control
Remember we have many islands in the Pacific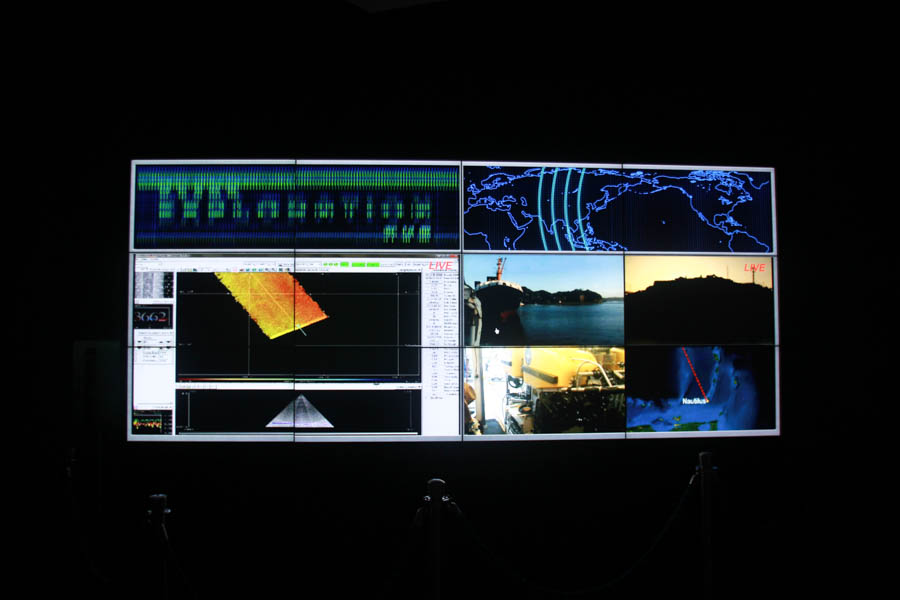 Not active today but normally this display is connected
via the internet to the research vessel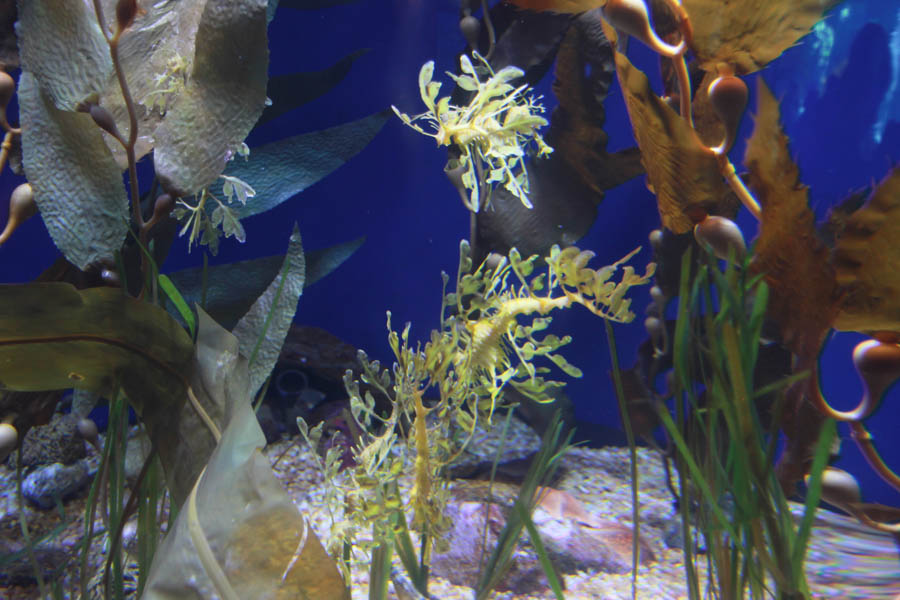 No! It is not loose grass... They are Leafy Sea Dragons
Did You Know? - It is found along the southern and western coasts of Australia. The name is derived from the appearance, with long leaf-like protrusions coming from all over the body. These protrusions are not used for propulsion; they serve only as camouflage.
The leafy seadragon propels itself by means of a pectoral fin on the ridge of its neck and a dorsal fin on its back closer to the tail end. These small fins are almost completely transparent and difficult to see as they undulate minutely to move the creature sedately through the water, completing the illusion of floating seaweed.
Popularly known as "leafies", it is the marine emblem of the state of South Australia and a focus for local marine conservation.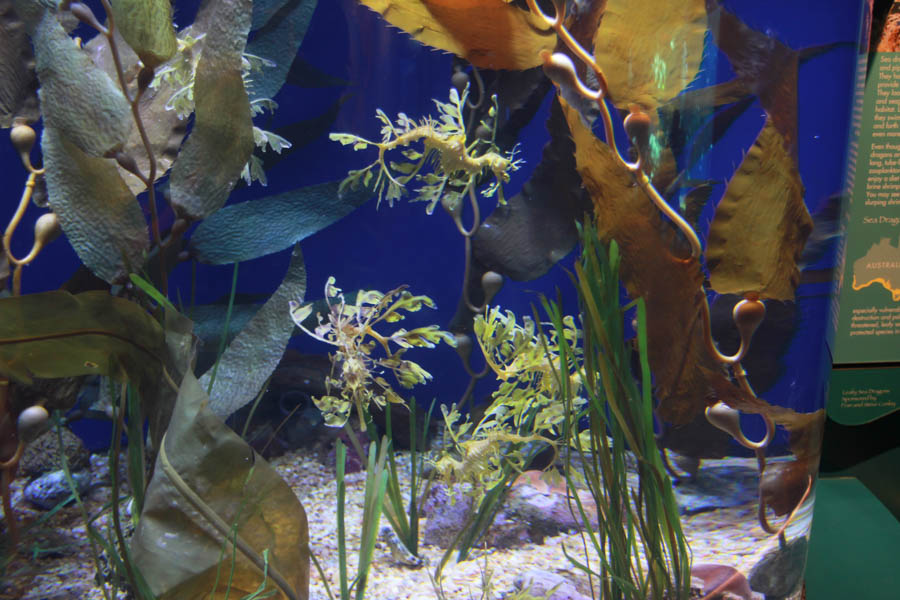 Sometimes hard to tell they are alive and swimming

Up close and personal