When The Golf Course Is "Path Only" We Take Immediate Action!
Quotation To Remember: We are tied to the ocean. And when we go back to the sea, whether it is to sail or to watch - we are going back from whence we came. - John F. Kennedy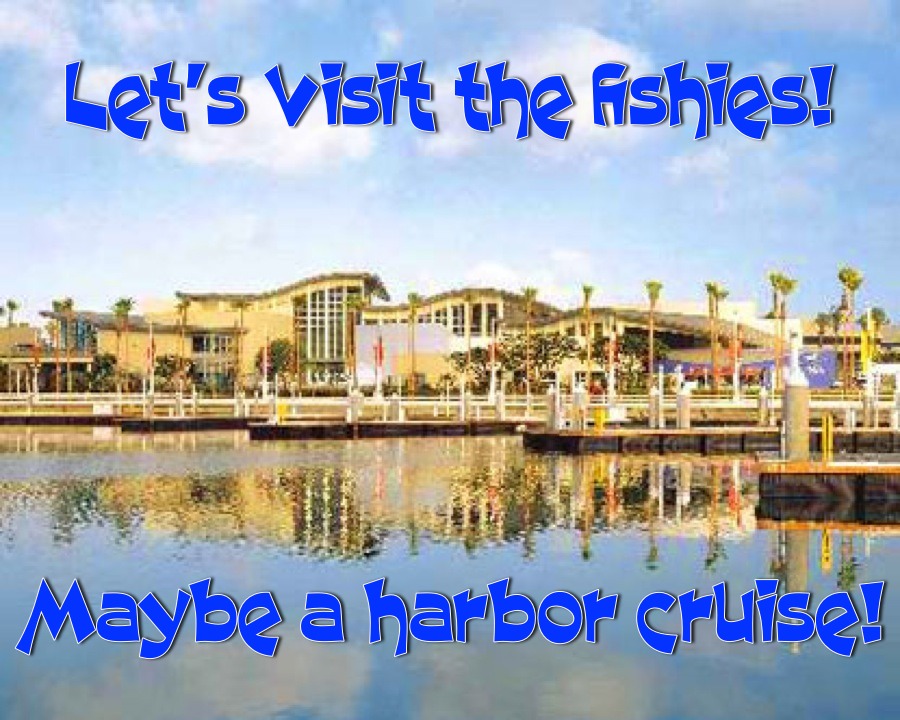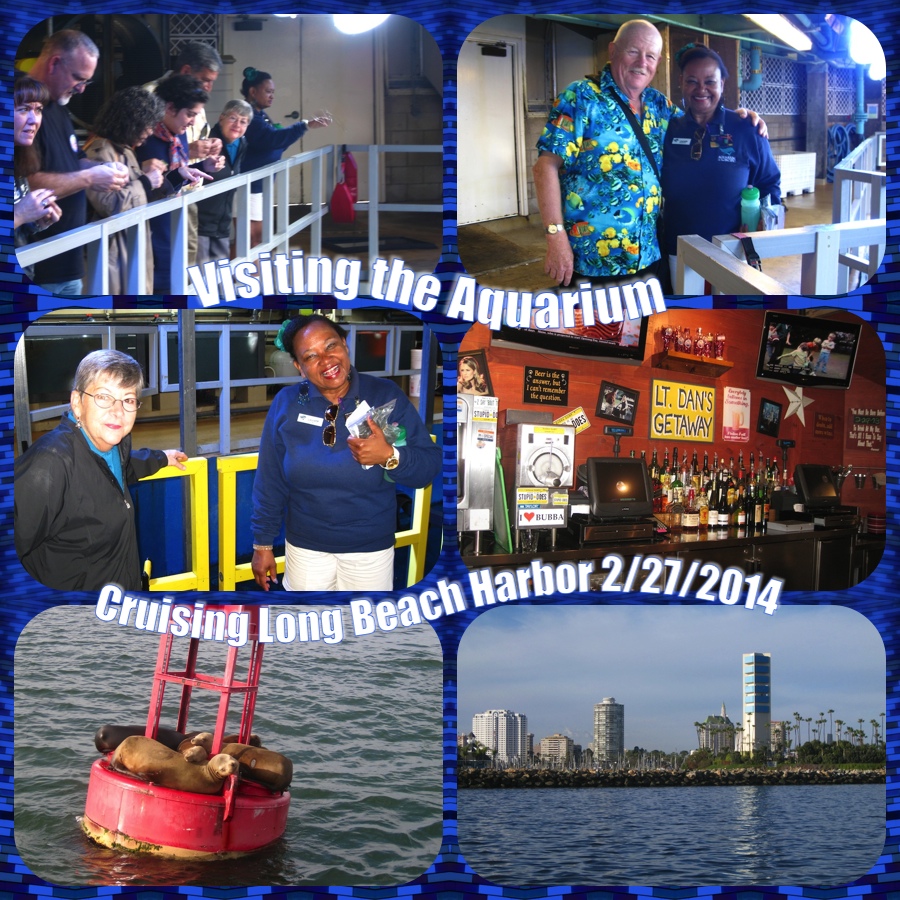 We walked around for a while and then saw the advertisements for the "Behind The Scenes Tour" which we enjoyed years ago. What the heck?

We checked with each other... They did say "SIT"... We were worried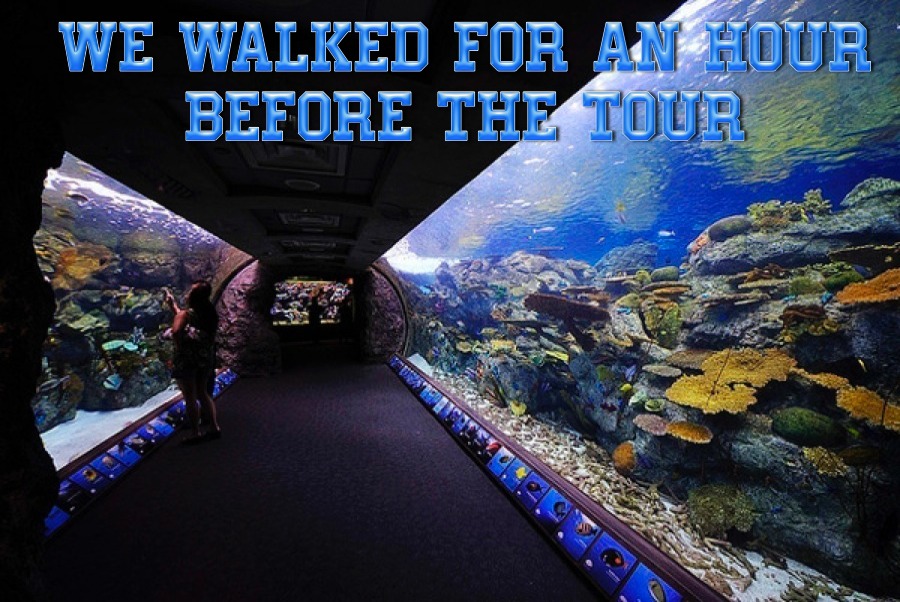 The children leave after lunch and the aquarium becomes enjoyable

We did... It did!
To The Tour
You get to go above their largest exhibit, Tropical Reef, to feed the fish! This tour provides a sneak peek into the daily operations of the Aquarium of the Pacific. We will entered the "wet side" of the aquarium, a section not normally open to the public. We saw what it takes to maintain a world class aquarium, from water filtration to animal care and feeding. We learn interesting facts about the Aquarium of the Pacific's 13,500 animals.

We met up with our guide and off we went!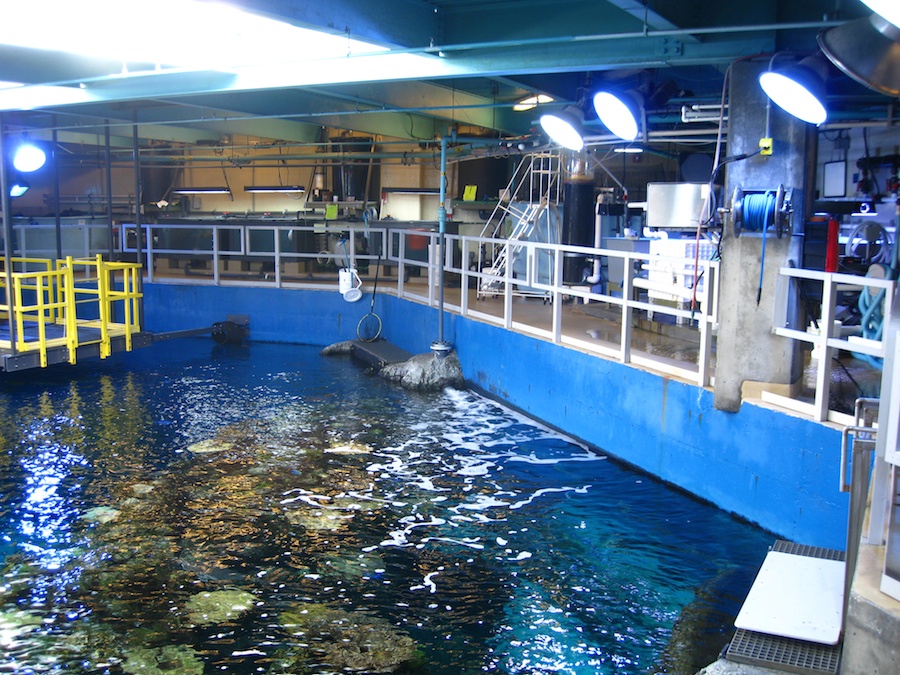 This is the third floor... Above the tanks.
This one was "warm water" and 350,000 gallons

Sue is at the end next to our guide
Each of those lamps are 1,000 watts and they
provide light for the visitors viewing the tanks below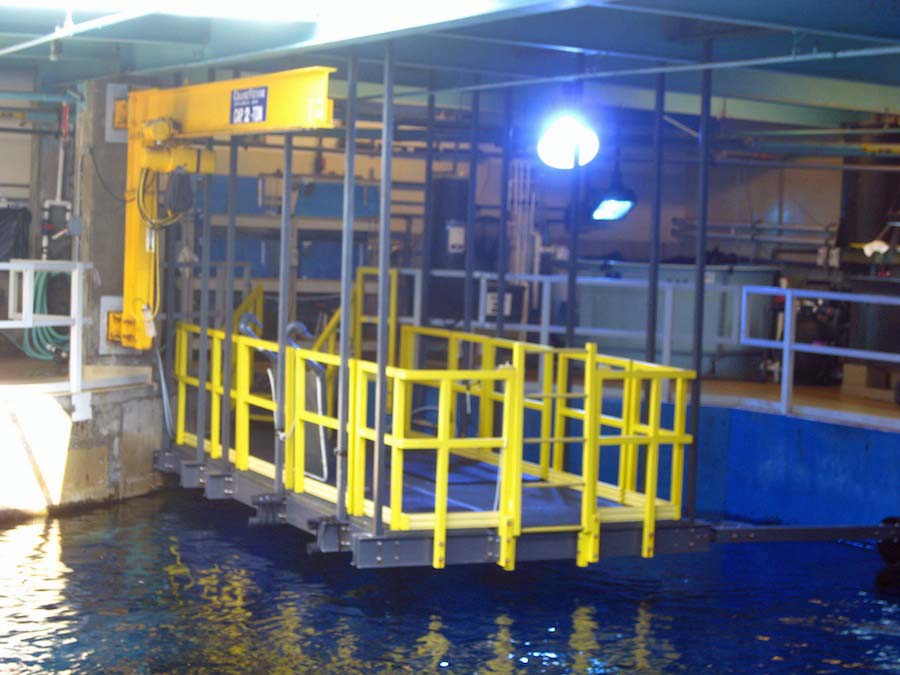 We will walk over there and have the fish swim underneath us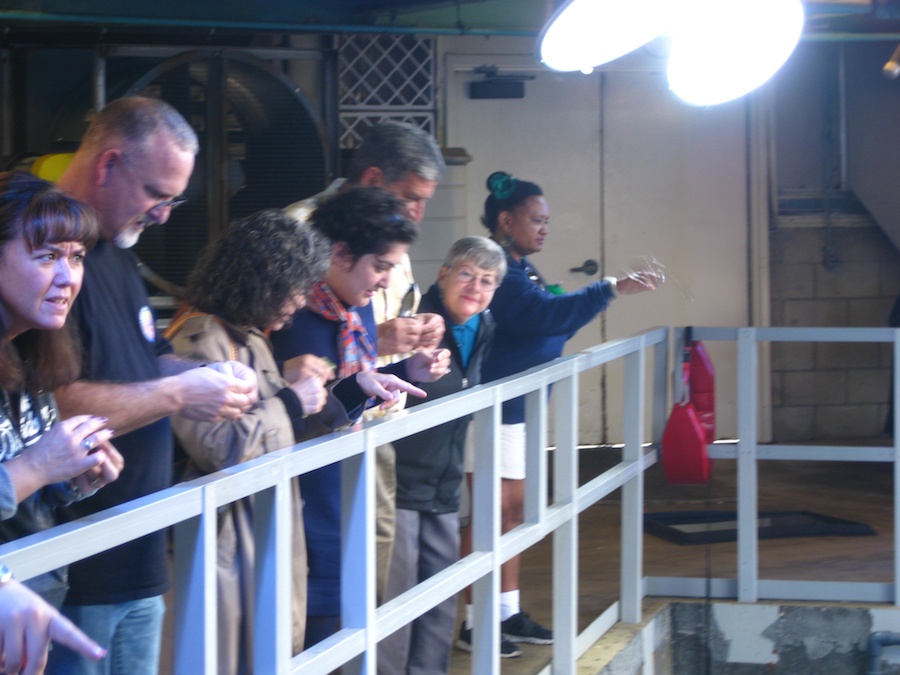 Happy Girl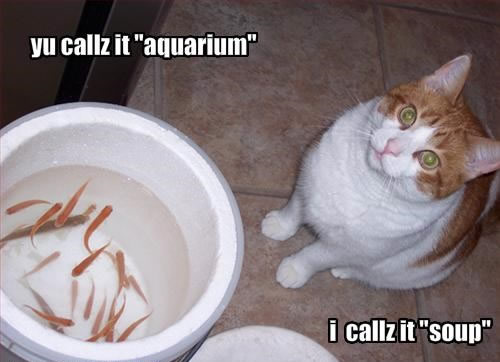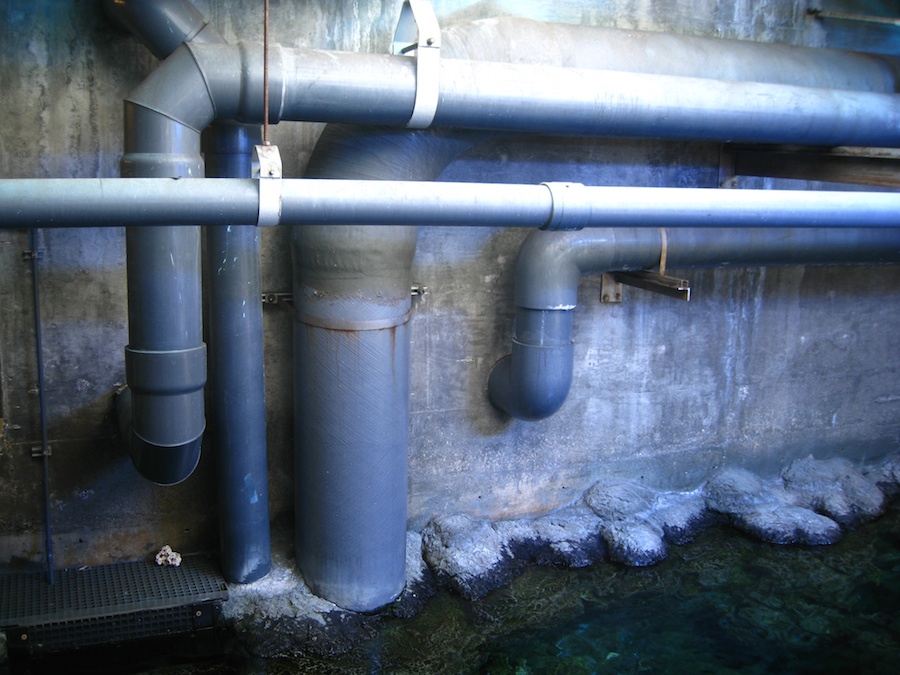 It's a plumbers nightmare.... Air, water, salt water, chilled water....
Pipes everywhere

Difficult shot with polarizer filter but see the large ray?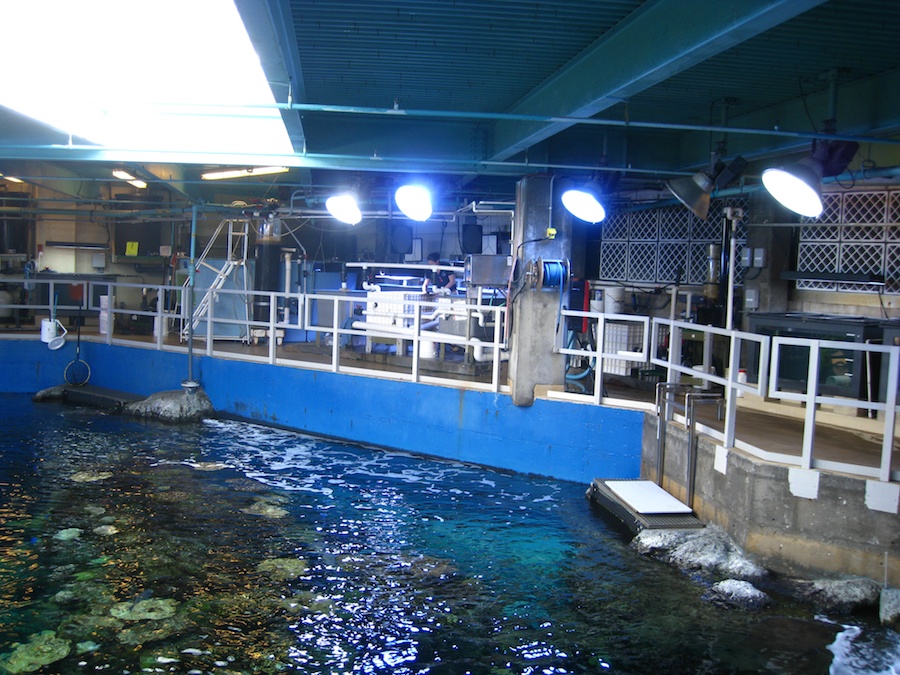 This is what is over the large "tropical tank"...
They have the same over the other cold tanks

There were about eight folks on our tour so
everyone got to get the questions answered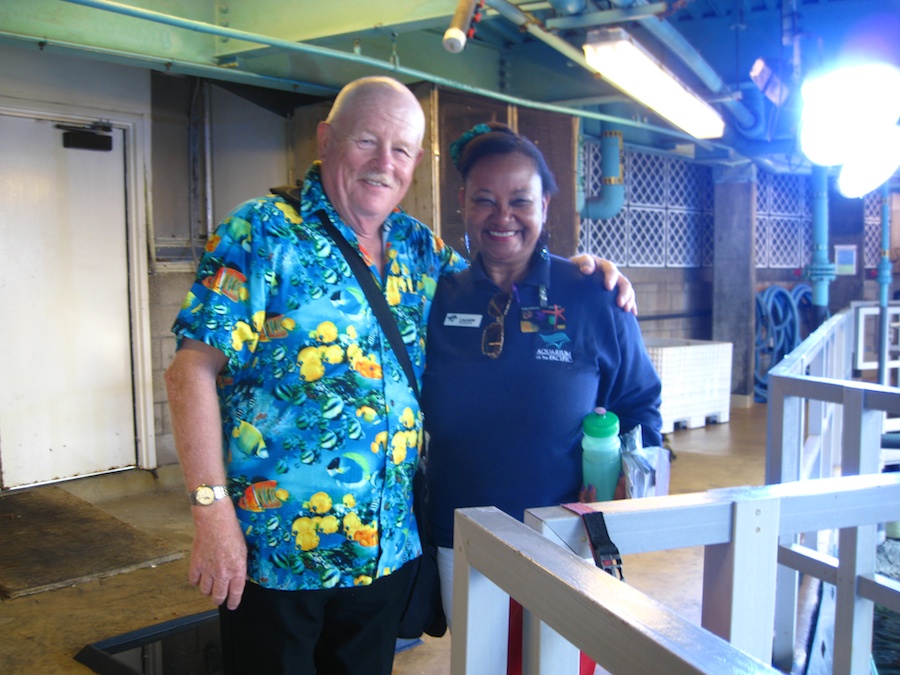 Yes... I wore my "Fish Shirt"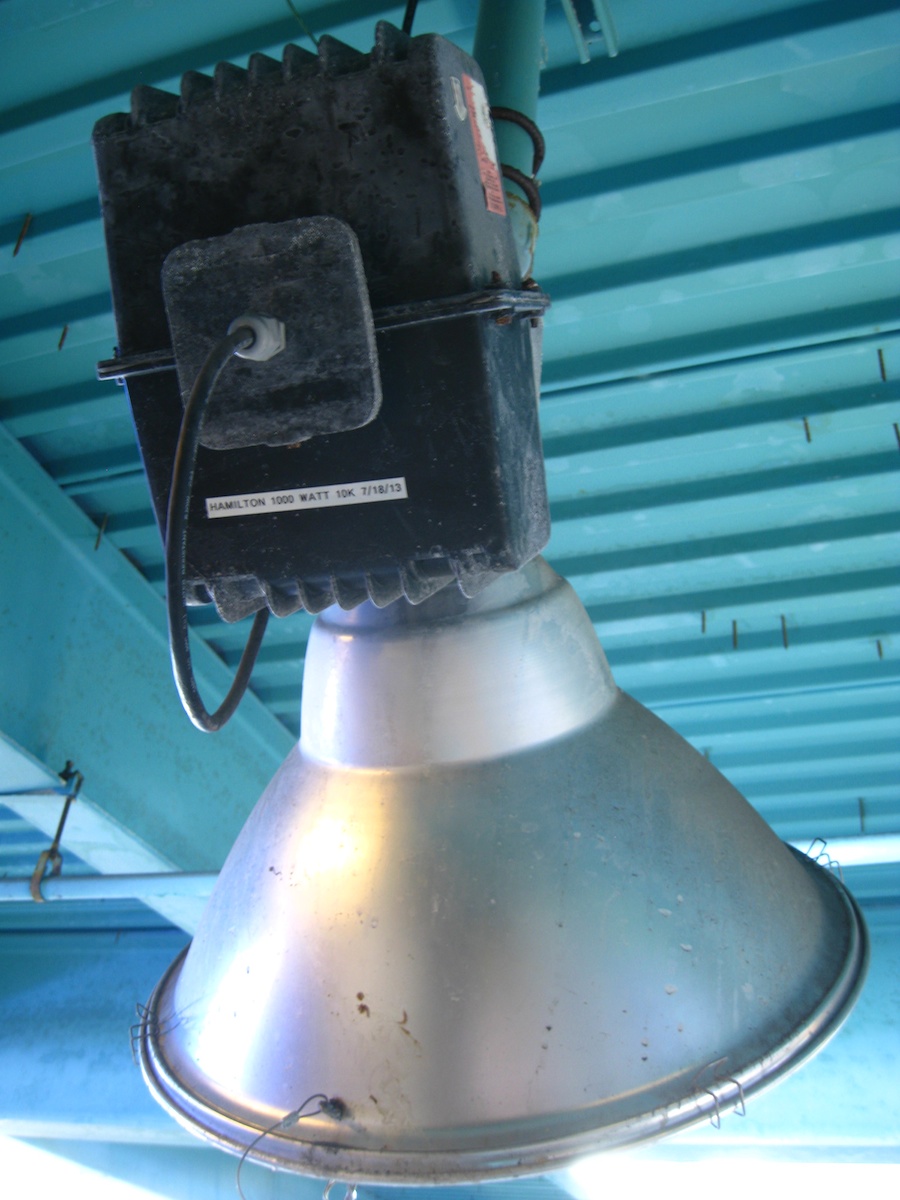 Not simply just a light....
Did You Know? - Hamilton Technology is the leading manufacturer of high quality aquarium lighting offering customers the widest selection of metal halide, compact fluorescent, and VHO lighting available today at the lowest prices. Our mission is to offer you, state of the art lighting that meets our high standards of quality, innovation, and value.

Hamilton Technology has served the lighting needs of both the professional and the hobbyist aquarist for more than sixteen years and is considered by many to be the choice of experts.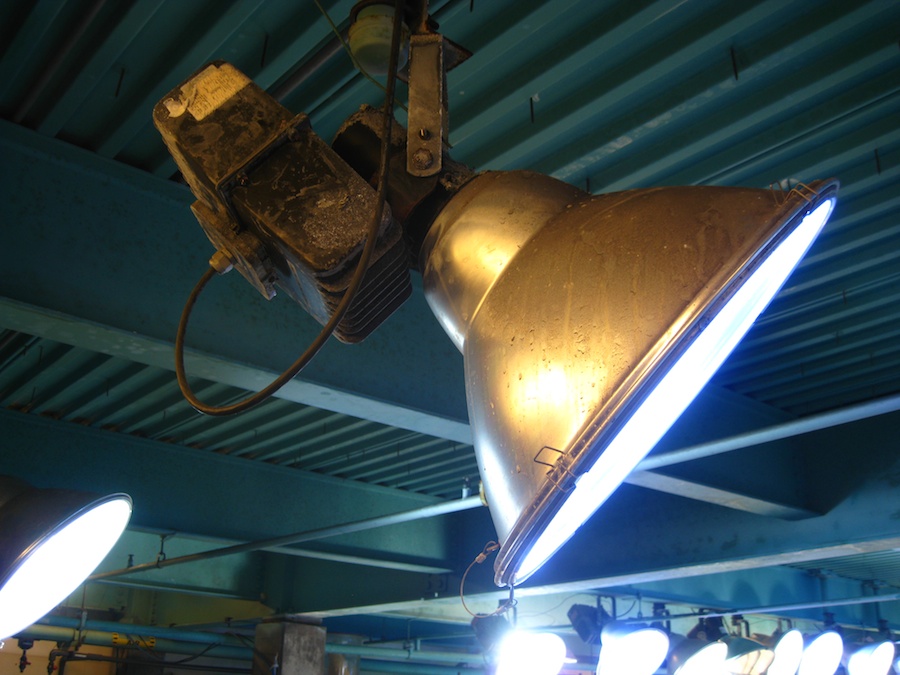 They put a lot of light into this tank
Did You Know? - The lighting used for reef aquariums is the highest intensity of all aquarium types. Typical light sources types include LED, fluorescent, metal halide, and sometimes plasma lamps. Simple lighting setups use a single lamp or multiple lamps of a single type. More advanced setups can include several lamp types and can also include lamps of different colors. Lamp color plays an important role in reef aquarium lighting for both aesthetic preference and to optimally sustain the photosynthetic life within the aquarium. Many corals require a deep blue or actinic spectrum of light to thrive.

T5 High Output fluorescent bulbs which are thinner than traditional T8 bulbs and provide a much brighter, more powerful light are commonly used as are the older VHO (Very High Output) fluorescent tubes and compact fluorescent lighting.

Another light source in reef aquariums today is metal halide lighting. These high output lights closely recreate the shimmering effect of bright tropical sun over a patch of coral reef. Metal halide bulbs come in a variety of spectra from 5000k on up to 20,000k and allow for a variety of light-hungry corals to survive under them. Many aquarists will use metal halide bulbs in conjunction with either power compact fluorescents or T5 fluorescents since halide lighting does not have the overall balanced effect of other light types. While very useful to reef aquarium keepers, halide lighting also uses a lot of electricity (150-400 watts being common) and produces copious amounts of heat. Most reef keepers mount halide bulbs at least one foot above their tank and some, due to the lights' heat output have had to add chillers to keep aquarium water cool.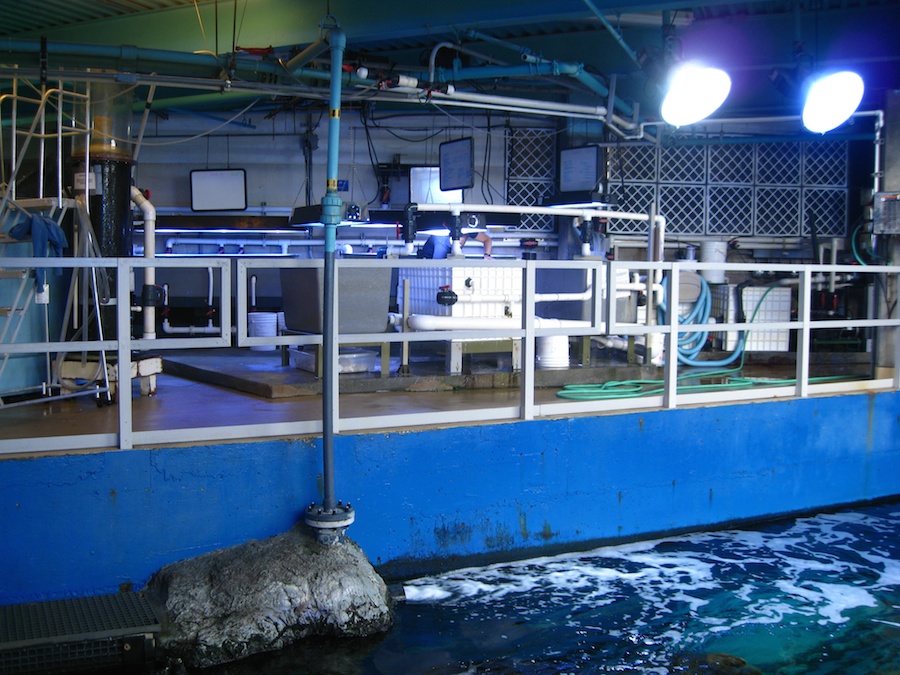 Around the outside of the rail are many work stations to support the tank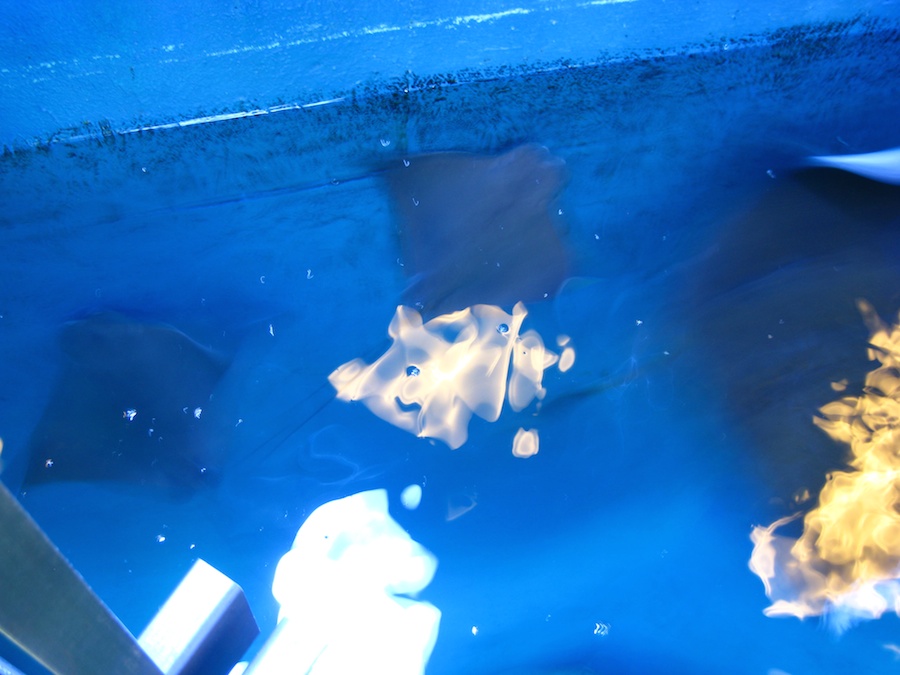 Another difficult shot but the rays are circling the wall of the tank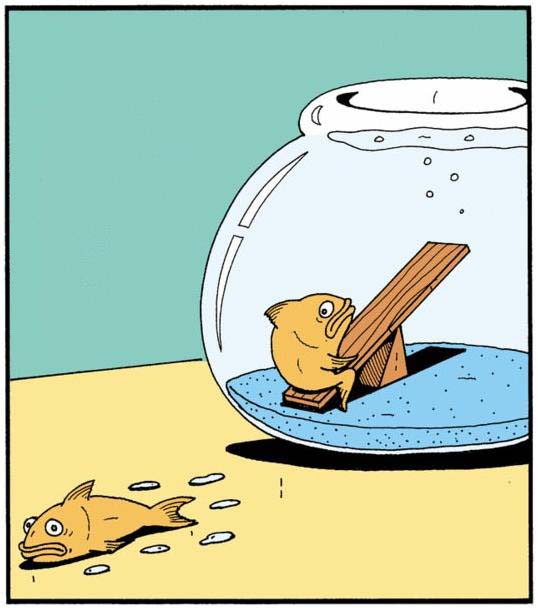 The fish were very playful today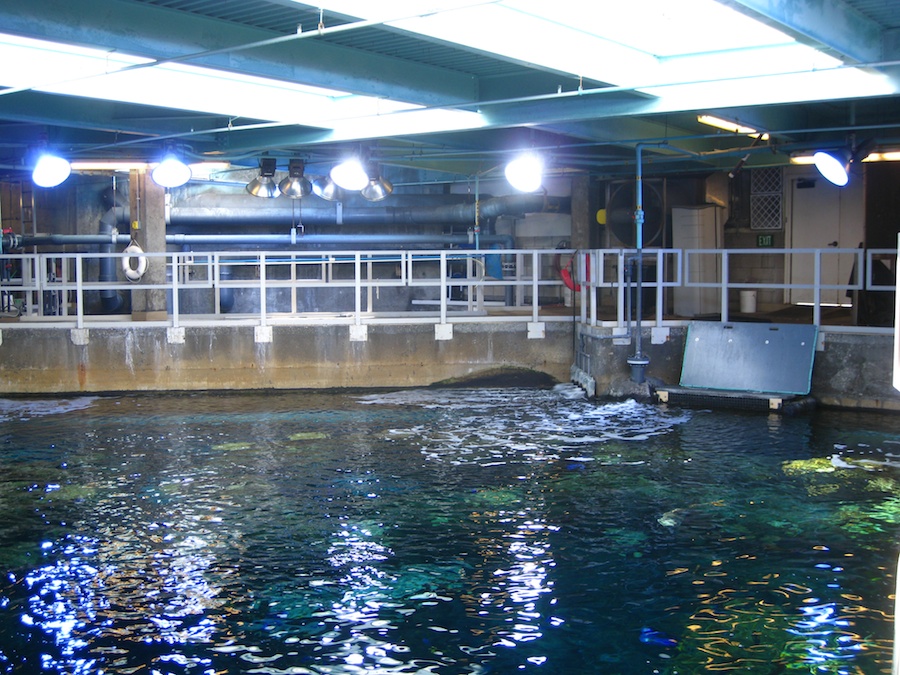 The rails are removable should they need more access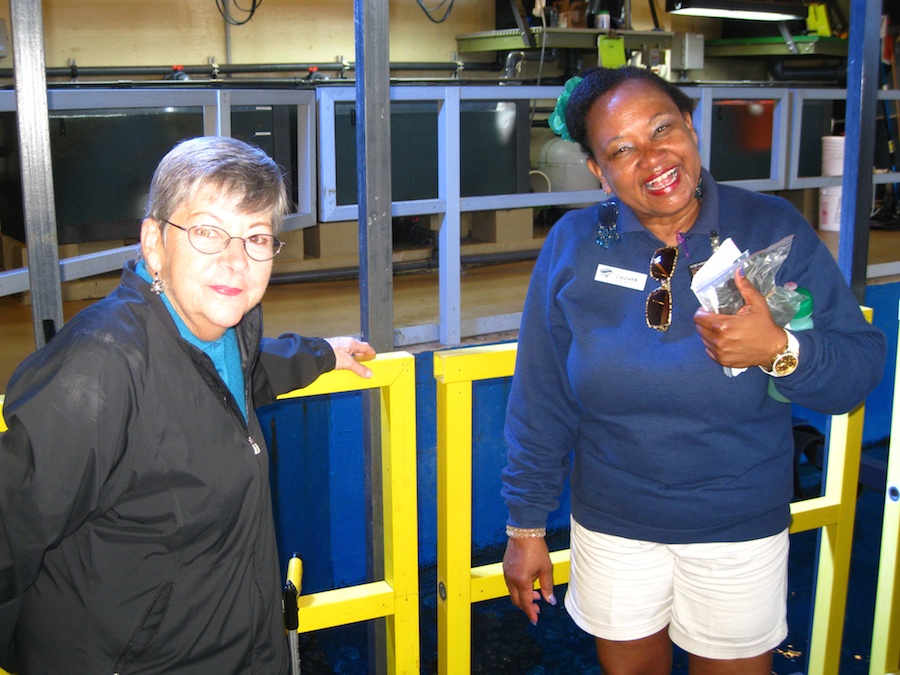 Our guide was great... Funny, smart, and very friendly!

Shark eggs being prepared for display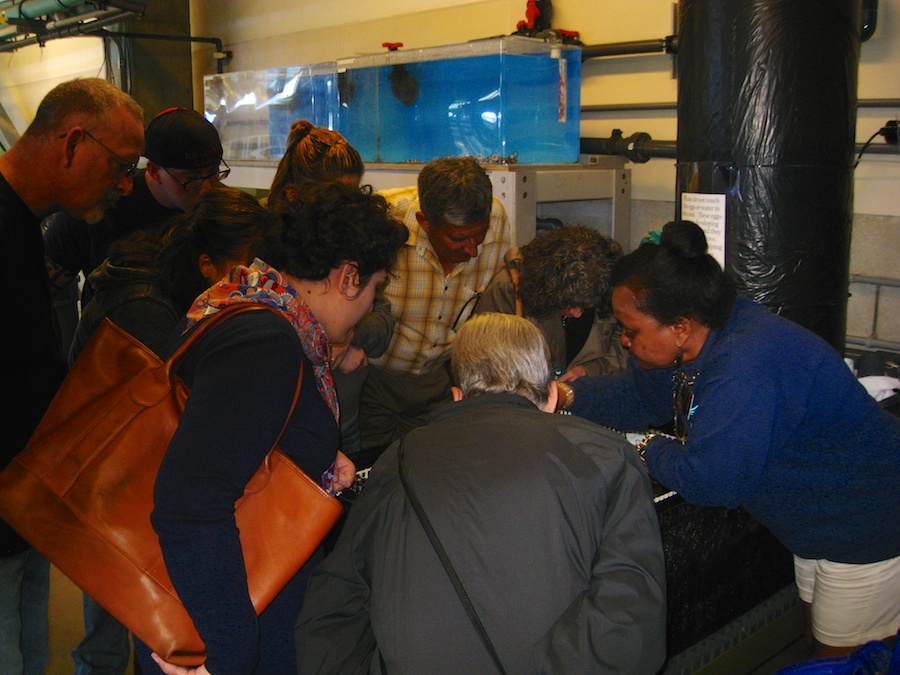 I wanted to yell "Boo" but decided not too....
They were deep into shark egg education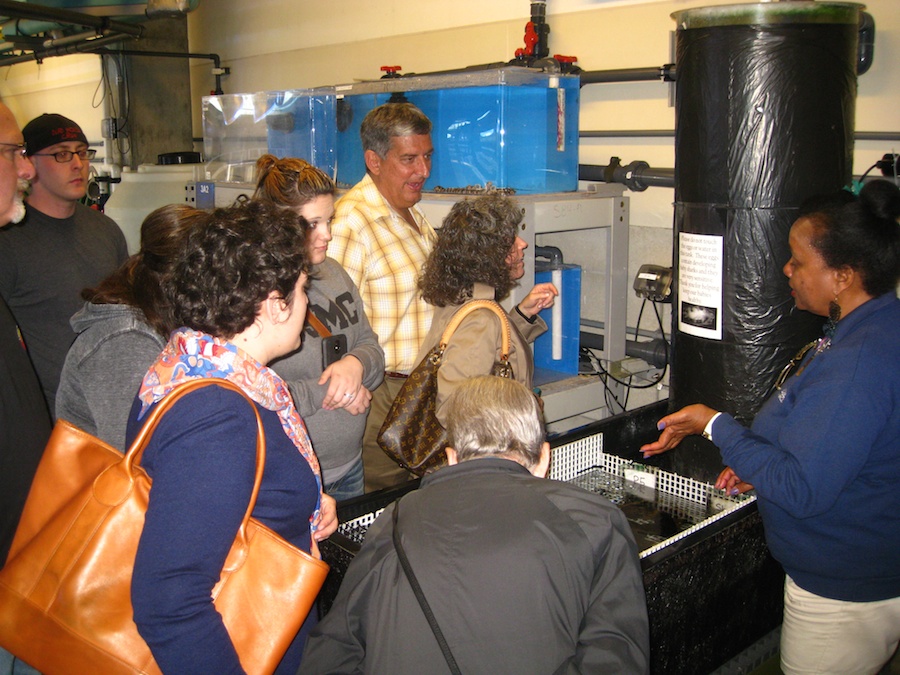 Several of the tanks were for holding incoming fish...
Did You Know? - A quarantine tank is a tank that is used to quarantine new fish or other organisms that are later intended to be introduced into another, primary aquarium.

Quarantine tanks can also serve as "hospital tanks", where sick or injured fish are taken from the main aquarium and given treatment. Quarantining a fish can help stop the spread of a contagious disease, such as Ichthyophthirius multifiliis.

We bet this guy will he happy to get out of jail soon

Even the sea urchins are jailed for some period of time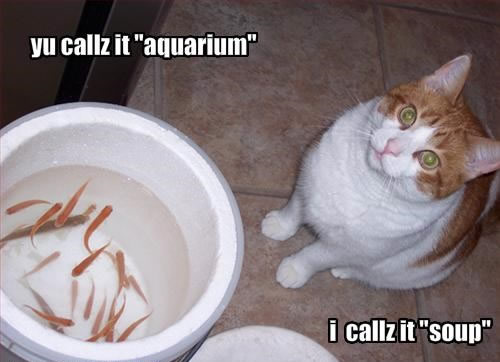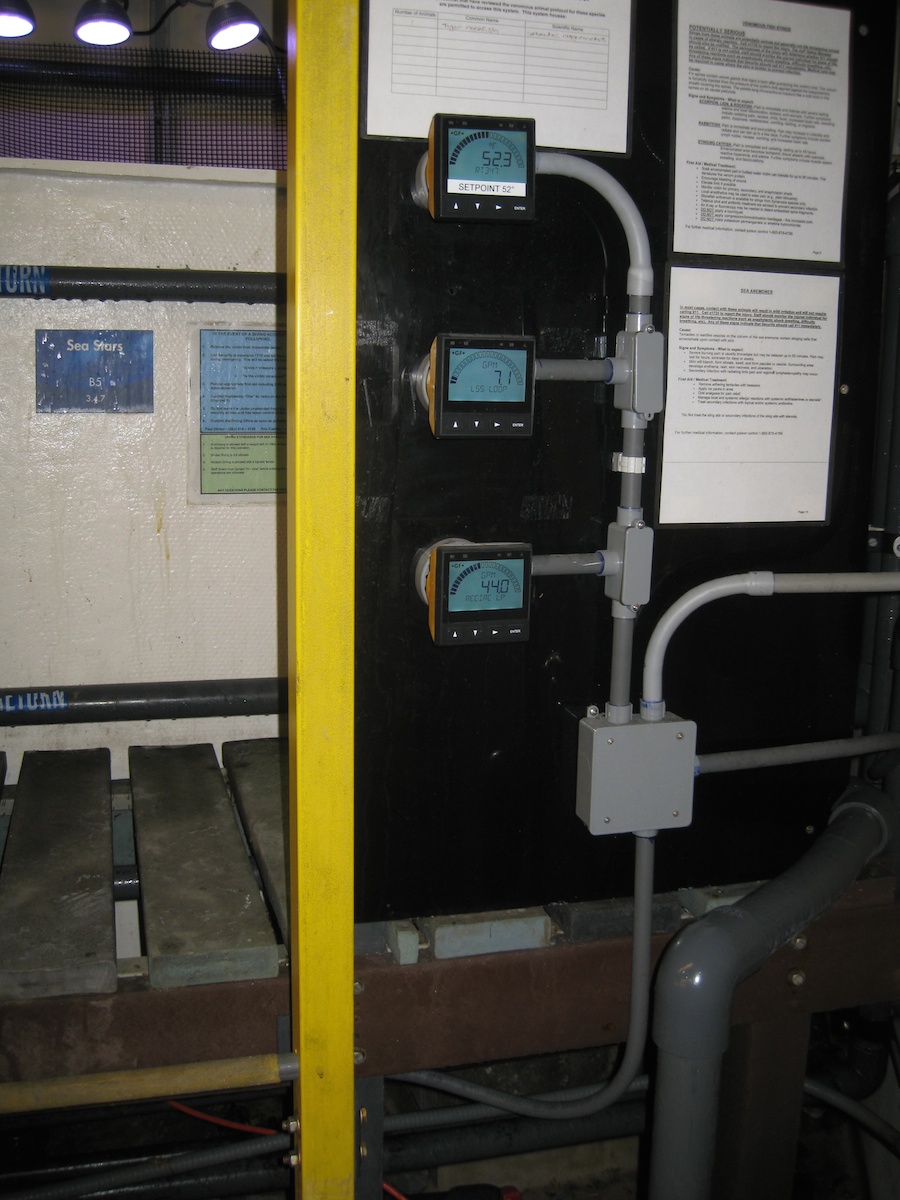 Why this picture? Check the gauges...
The are digital! Indeed, computers are everywhere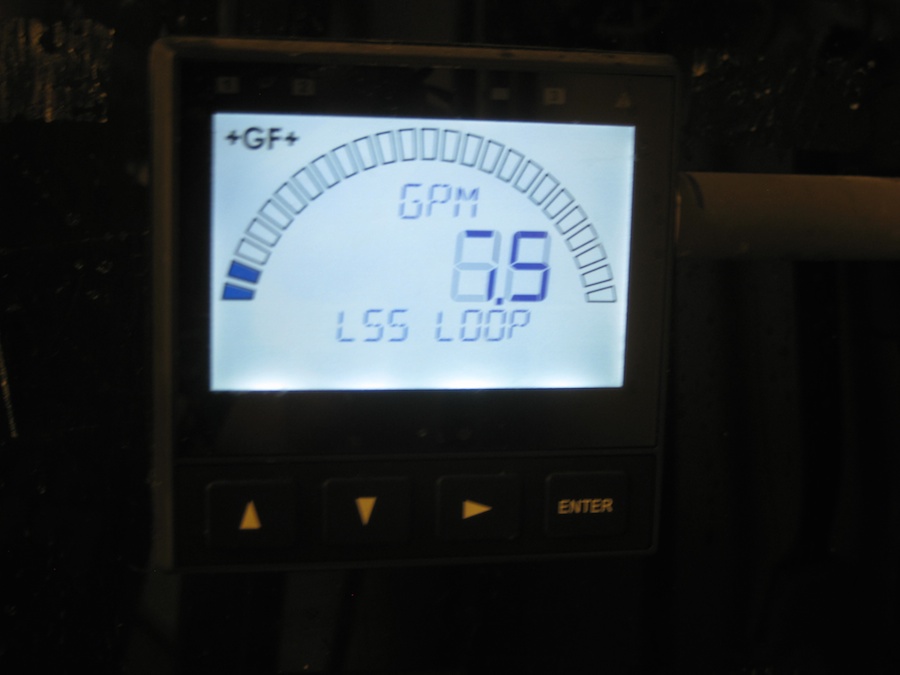 You cannot misread these guys.... The is 7.5 gallons per minute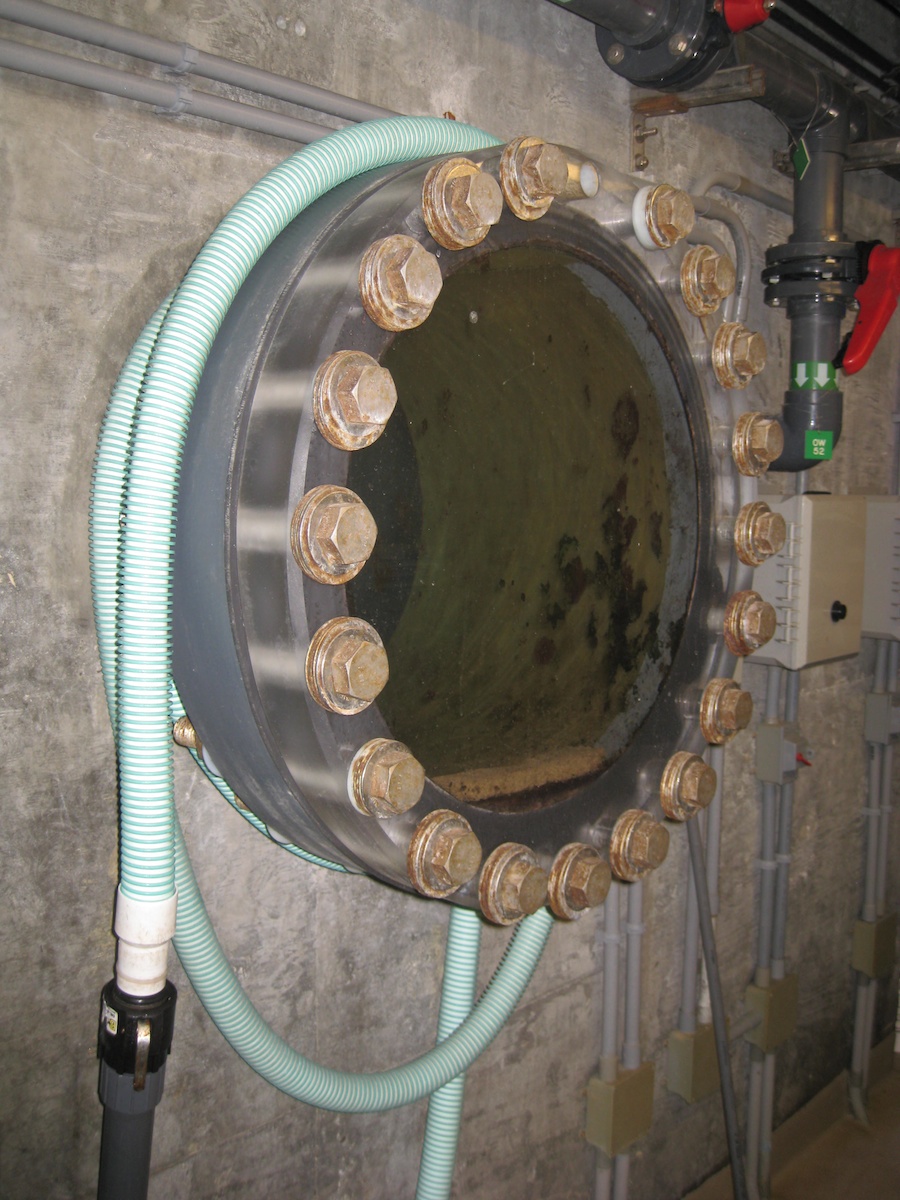 In case they have to drain the tank....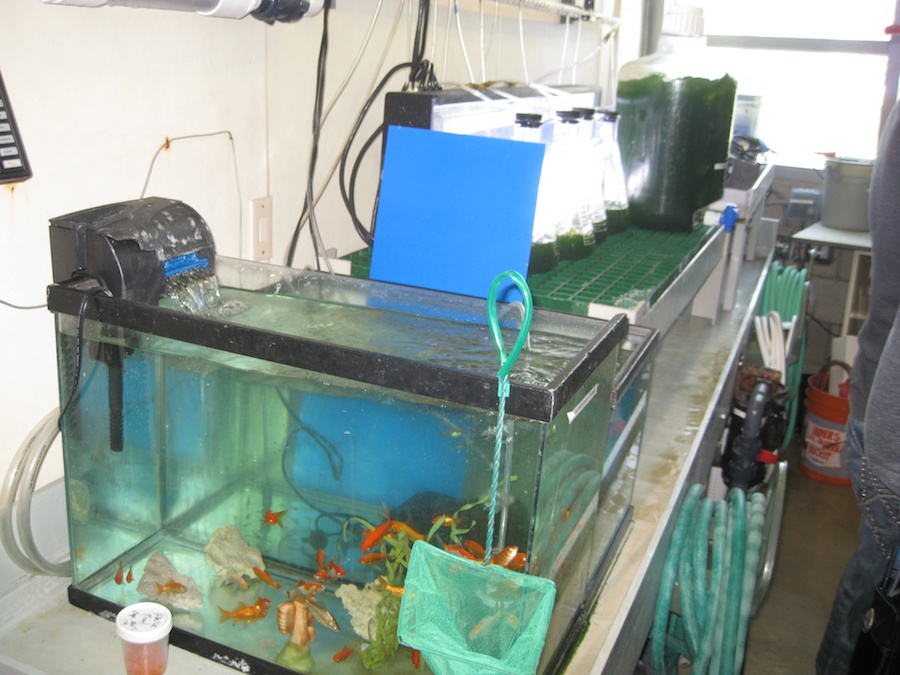 They have an entire water quality laboratory. Components of water quality
include microbial, biological, chemical, and physical aspects.


They are brewing up something here?

The digital displays are popping up everywhere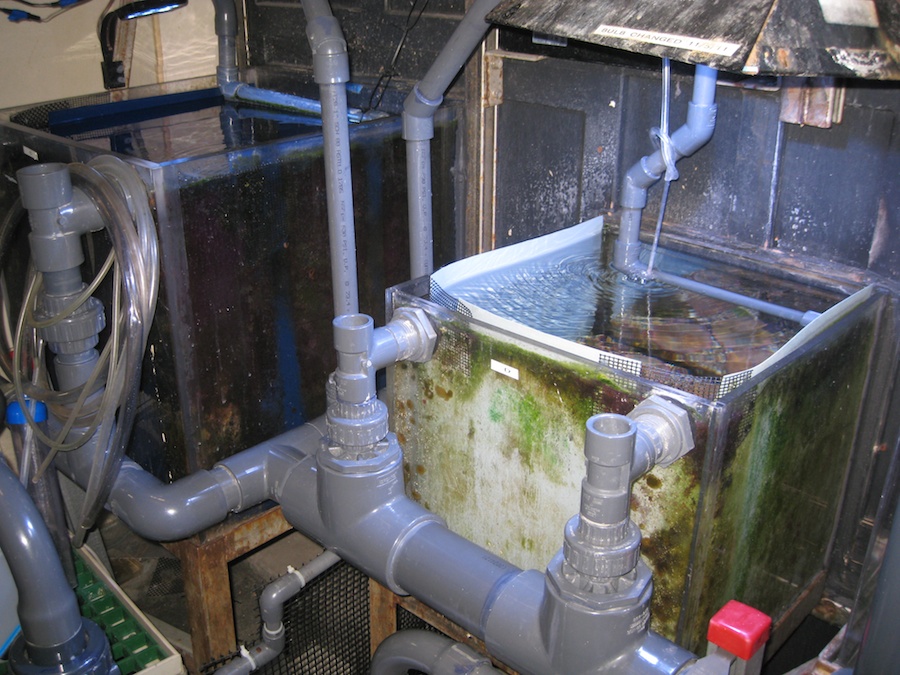 This is typical of the backside of the pretty displays the visitors see...
The water is filtered, heated and/or cooled, replenished and it is inspected every
few hours by the staff!
Did You Know? - The Aquarium sees 1.5 million visitors a year and has a total staff of over 900 people including more than 300 employees and about 650 volunteers. It is a 501(c)(3) non-profit aquarium.

There is one person for every fifteen fish!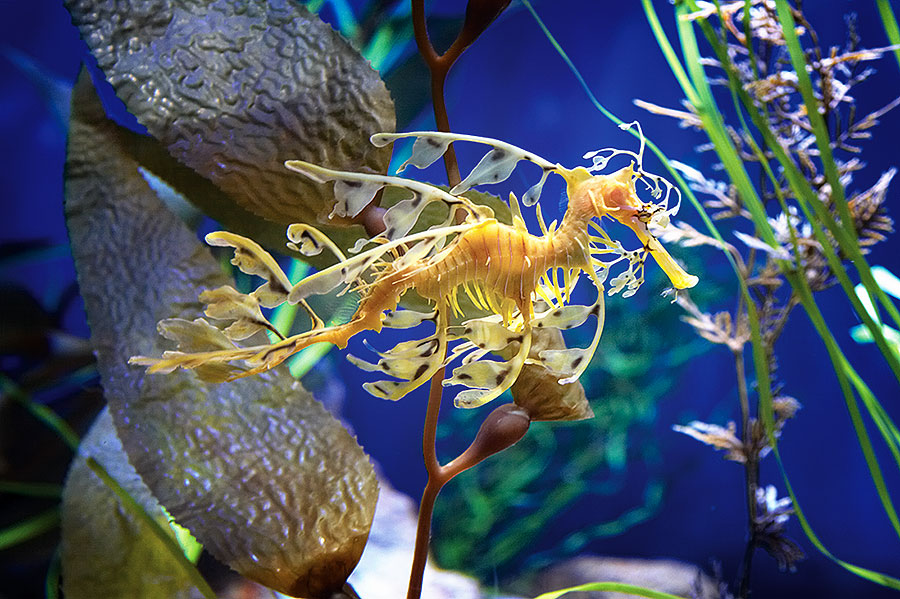 The front side of this tank is indeed a lot prettier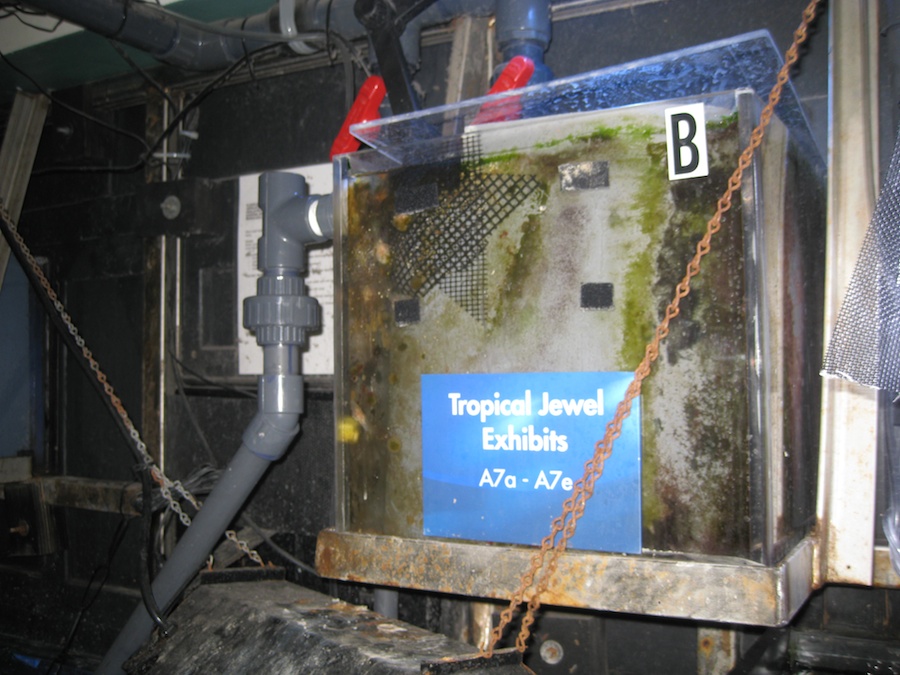 PVC everywhere....

The Lion Fish get a little extra heat from the blue toned heat lamp...


"Thank you Mr. Aquarium Person.... I appreciate all the attention!"

We got our tickets at the aquarium and got our members discount


We called ahead and they only served beer... A cruise without wine?? Nope!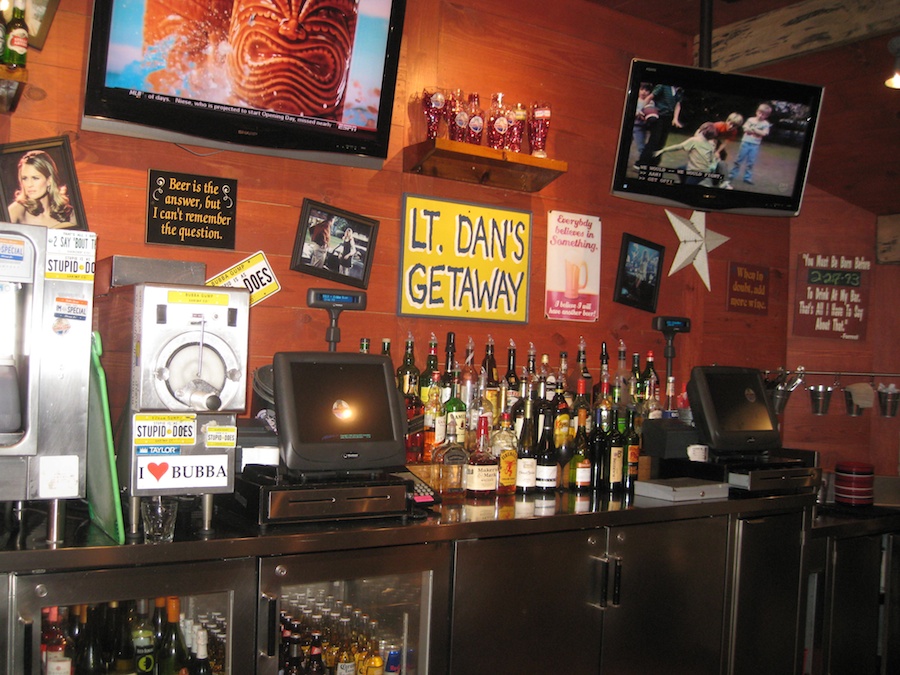 Thank you Bubba Gump! We enjoyed a glass of wine or two
before walking across the street to the cruise ship!

It was a beautiful day...

The ships await our arrival

We are ready to explore
Did You Know? - The Port of Long Beach, also known as Long Beach's Harbor Department, is the second busiest container port in the USA after the Port of Los Angeles, which it adjoins.

Acting as a major gateway for U.S.-Asian trade, the port occupies 3,200 acres (13 km2) of land with 25 miles (40 km) of waterfront in the city of Long Beach, California. The Port of Long Beach is located less than two miles (3 km) southwest of downtown Long Beach and approximately 25 miles (40 km) south of downtown Los Angeles.

The seaport generates approximately US$100 billion in trade and provides more than 316,000 jobs in Southern California.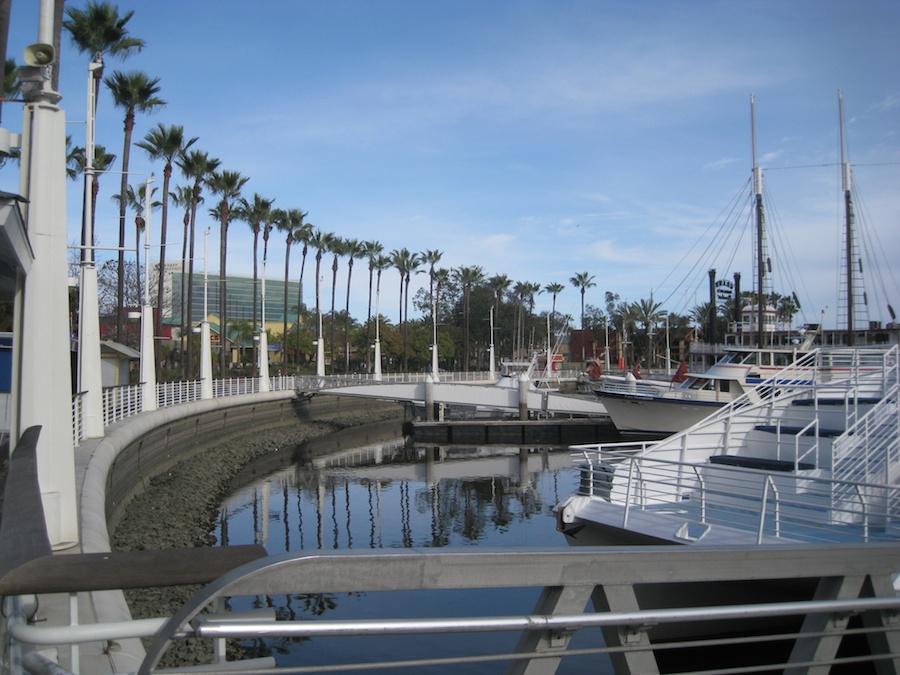 The tide was out and the winds were fairly calm

The Captain and crew were very nice and informative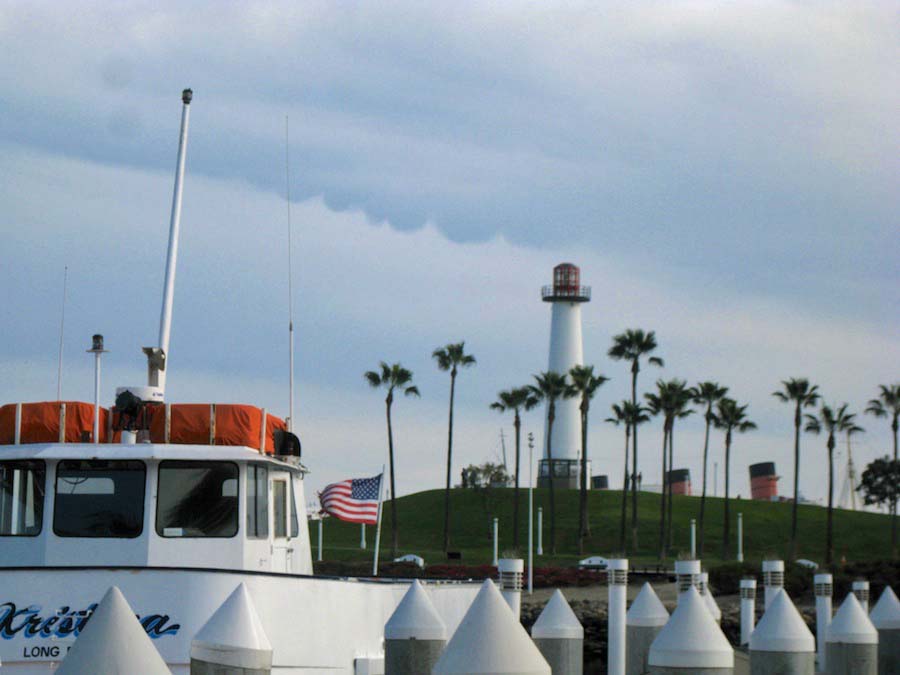 Checkout the clouds.... Looked like ripped up paper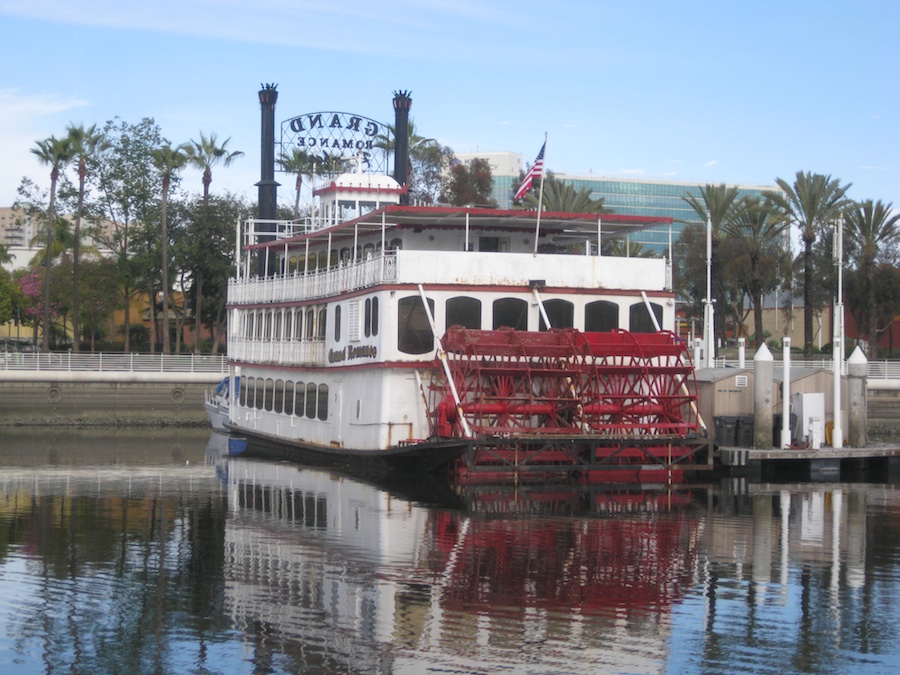 Just taking a siesta
Did You Know? - The Grand Romance Riverboat was built in a sand lot near the Noyo river in Fort Bragg, Ca. by Daniel Steel Co. and the Barker Family. It is the brainchild of Captain Bill Barker. "We were running fishing charters in Bodega Bay and quite frankly was scared of the liability involved. That, coupled with some bad weather, made me rethink my line of work."

"I went to Old Sacramento for a family outing on the river and discovered a converted houseboat with a fake paddlewheel mounted on the side. I talked with the folk's on the boat about the great time they had. I guess that's what gave me the idea. I love to entertain people and this seemed like something good for Long Beach," he said. Although it took three years to get it started, his enthusiasm for the project was unwavering."

Construction of the Grand Romance, California's only true sternwheel riverboat, began in mid-October 1990. She debuted on July 3, 1993 - almost exactly 150 years since the first sternwheeler operated in California.

Out-fitted with cast Victorian ironwork from the Old South, towering twin smoke stacks and a 43-note calliope she is the grandest authentic riverboat to operate in California. Her interior features a two-story high Grand Ballroom with a red velvet stage, gleaming marble dance floor and polished brass and stamped tin ceilings.

Overlooking the 16-foot diameter paddlewheel is a turn-of-the-century mahogany bar. The upper deck has covered verandas to enjoy the view and a 100 seat murder mystery showroom where multiple murders take place every weekend.


The water was a smooth as glass....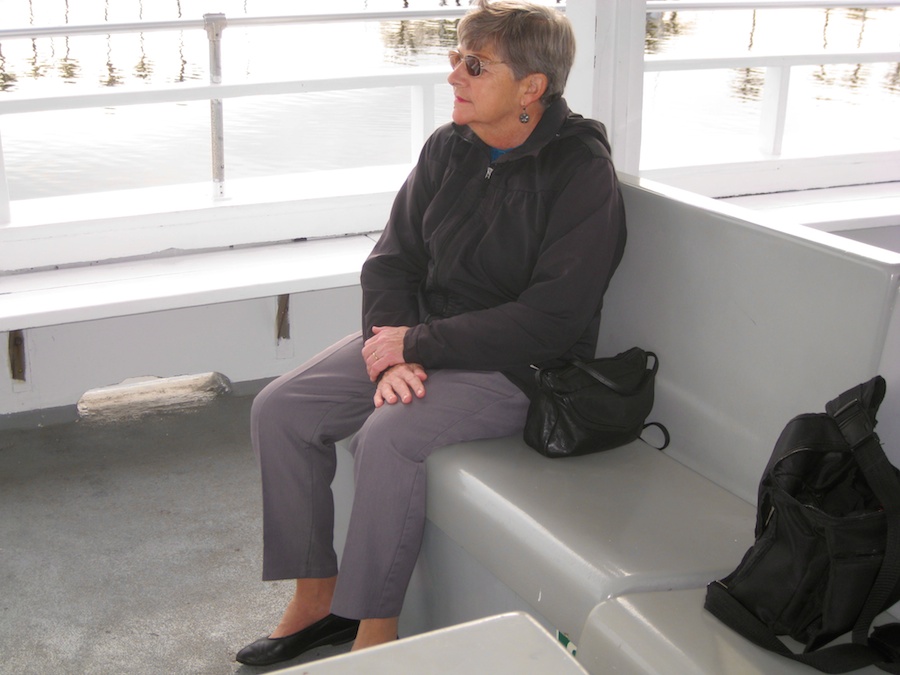 We brought coats... Sue had a secret plan

Turn on the light... We will be back!

Mirror like

The Queen still holds the record for having 13,500 people
on board for one voyage during WWII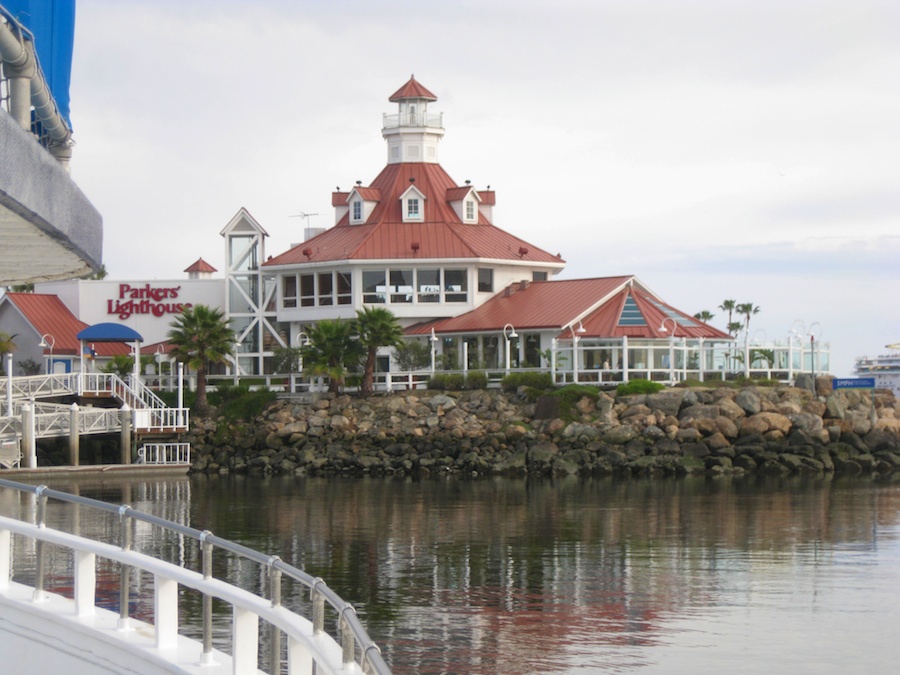 Parker's Lighthouse is at the entrance to Rainbow Harbor

Great view of the Queen from Parker's

We are leaving Rainbow Harbor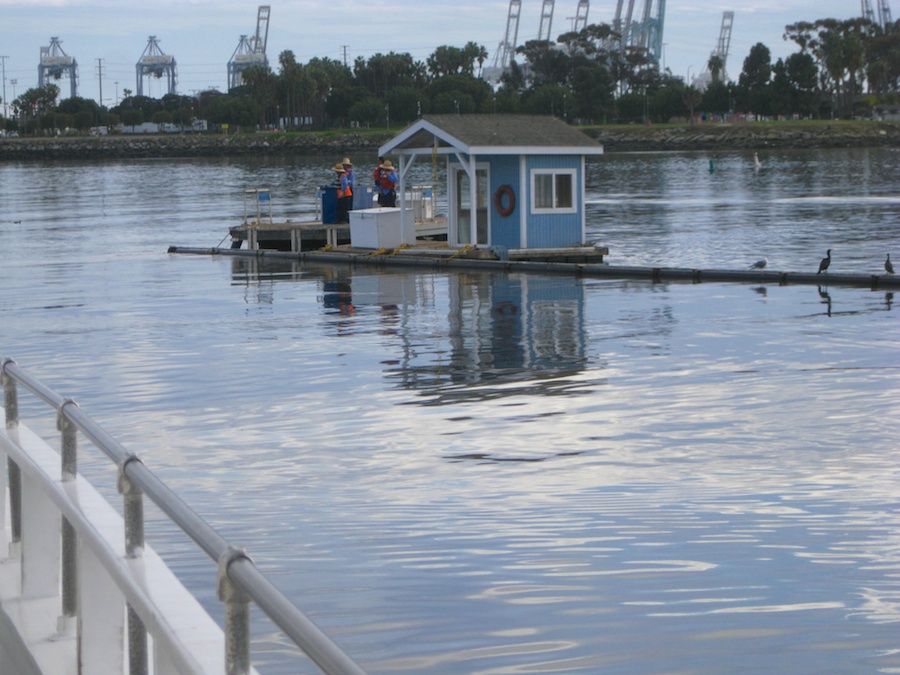 The Rainbow Harbor is protected by movable floating walls to prevent the
Los Angeles River from depositing trash into the harbor - Rainy days coming

When the LA River gets wet, all sorts of "junk" come out of the LA area...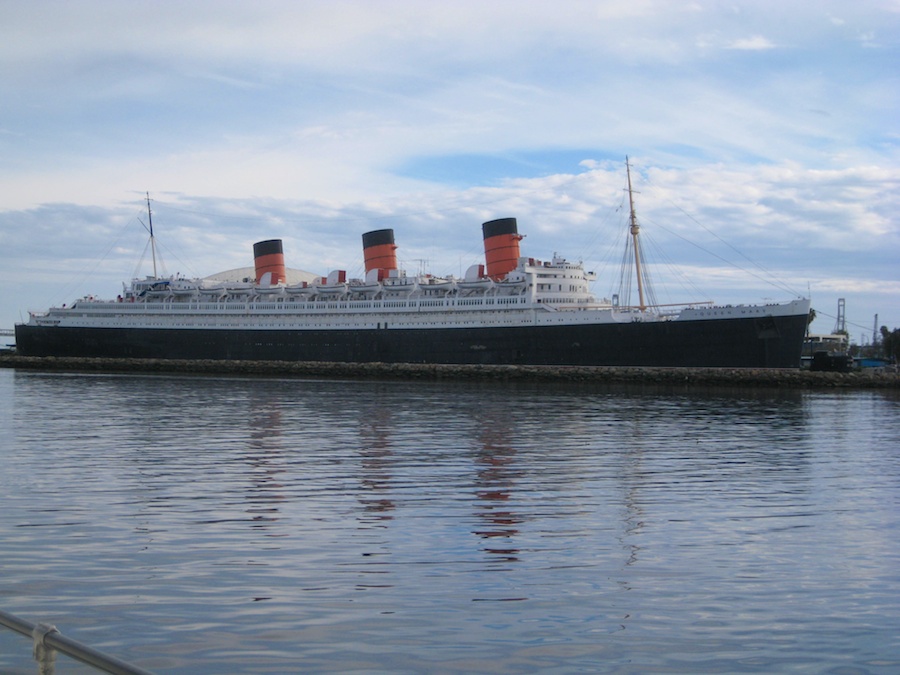 Hello Queenie... You are looking good for a "Grand Old Lady"
Did You Know? - RMS Queen Mary is a retired ocean liner that sailed primarily in the North Atlantic Ocean from 1936 to 1967 for the Cunard Line (known as Cunard-White Star when the vessel entered service).

Built by John Brown & Company in Clydebank, Scotland, Queen Mary along with her running mate, the RMS Queen Elizabeth, were built as part of Cunard's planned two-ship weekly express service between Southampton, Cherbourg, and New York City.

The two ships were a British response to the superliners built by German and French companies in the late 1920s and early 1930s. Queen Mary was the flagship of the Cunard Line from May 1936 until October 1946 when she was replaced in that role by Queen Elizabeth.

The vessel also held the Blue Riband from 1936 to 1937 and then from 1938 to 1952 when she was beaten by the new SS United States.

These look like floating hotels... Not as classy as her majesty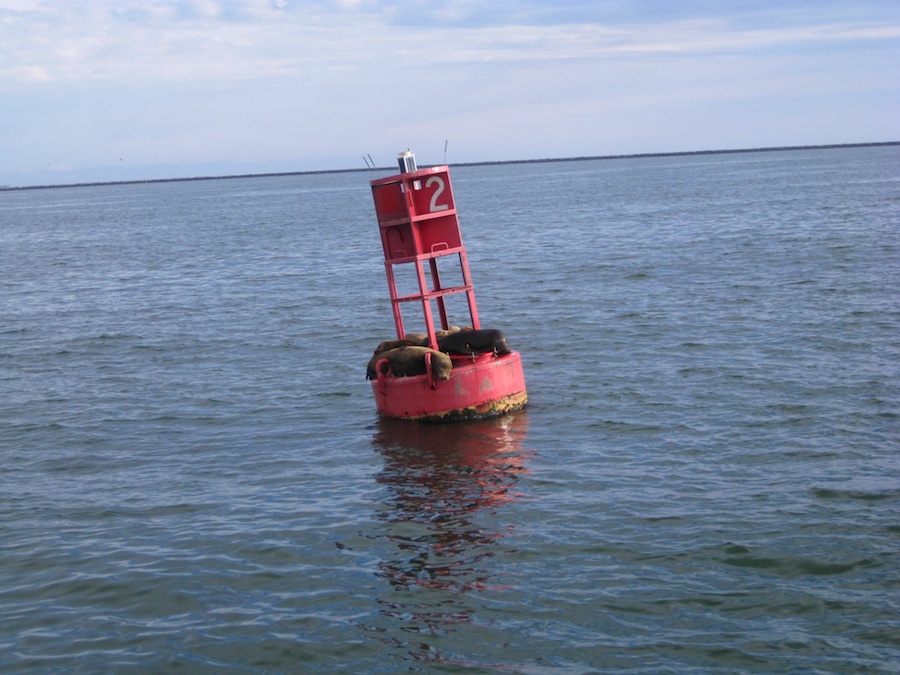 Z-z-z-z-z-z-z You can hear them sleeping
Did You Know? - Harbor seals are brown, tan, or gray, with distinctive V-shaped nostrils. An adult can attain a length of 1.85 meters (6.1 ft) and a mass of 132 kilograms (290 lb). Females outlive males (30–35 years versus 20–25 years).

Harbor seals stick to familiar resting spots or haulout sites, generally rocky areas (although ice, sand and mud may also be used) where they are protected from adverse weather conditions and predation, near a foraging area. Males may fight over mates underwater and on land.

Females bear a single pup, which they care for alone. Pups are able to swim and dive within hours of birth, developing quickly on their mothers' fat-rich milk. Blubber under their skins helps to maintain body temperature.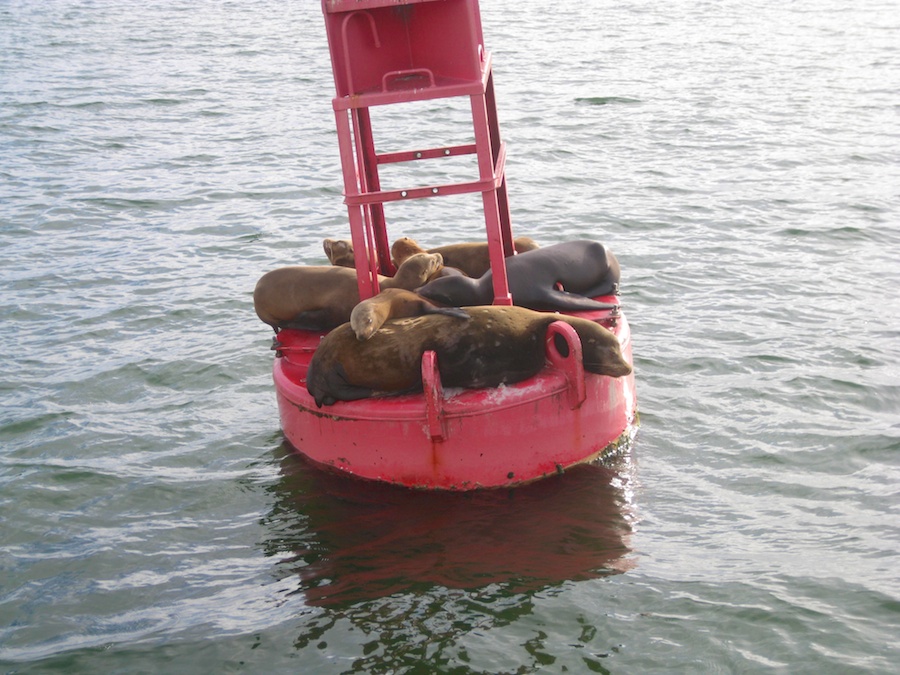 Just hanging around

They are cute but they do not like to be messed with....

The Long Beach skyline

The Melodrama Theater is still in good condition
Did You Know? - At the All American Melodrama and Music Hall, theatregoers are welcomed into a comfortable atmosphere of cabaret tables, sawdust on the floor and honky-tonk piano music in the air. Here, professional performers gather to present topnotch productions of great classic comedy melodramas, holiday-themed extravaganzas, improv comedy shows, and small musical concerts. The theater pub features snacks, desserts, casual entrees, beer, soda, coffee and tea.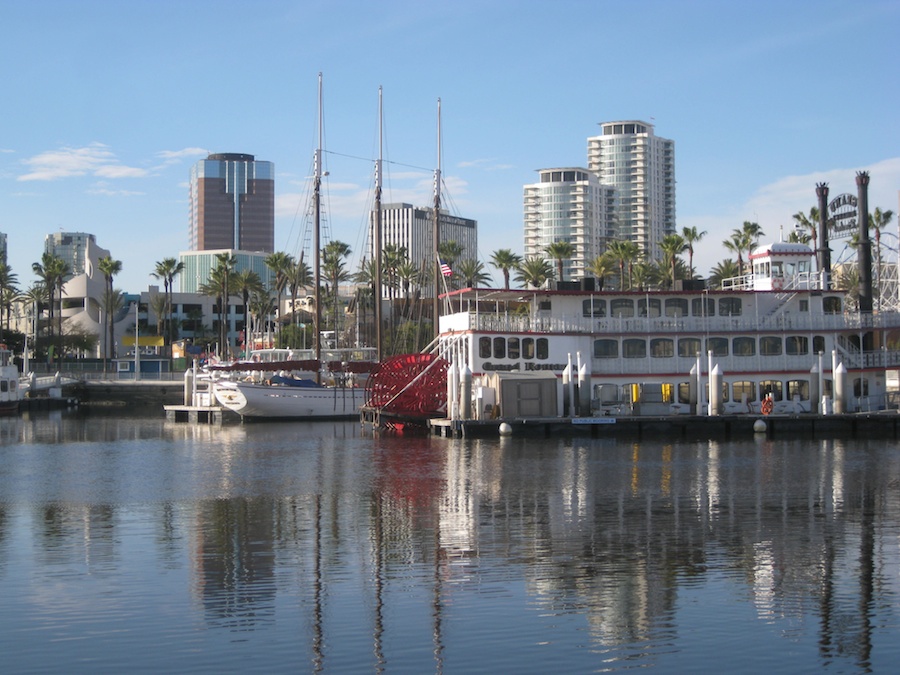 Coming back to port...

A great day on the ocean

We are off to Joe's Crab Shack for a drink and then to the Phoenix Club