PF Chang's & The Aquarium... A Great Afternoon 9/13/2013.... Flugtag????
Joe and Amy, Franklyn and Michele, and Bob and Robin and the boys all joined us for lunch at PFF Chang's and a walk through the Aquarium of the Pacific. A great afternoon with all sorts of excitement. We arrived in the middle of a Flugtag so what the heck... We looked around! Lindberg would have been proud!
A Quick View Of The Day...

Click for full sized image (2400px by 1800px)
What Is A Flugtag??? We Vaguely Remembered...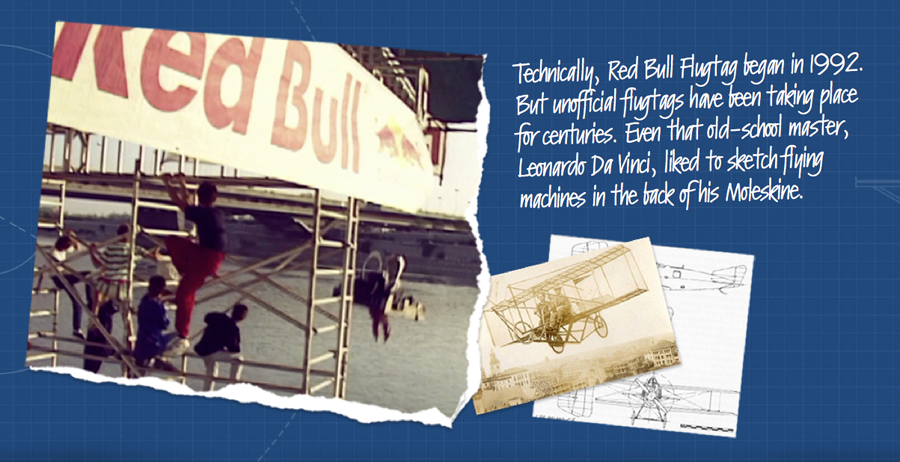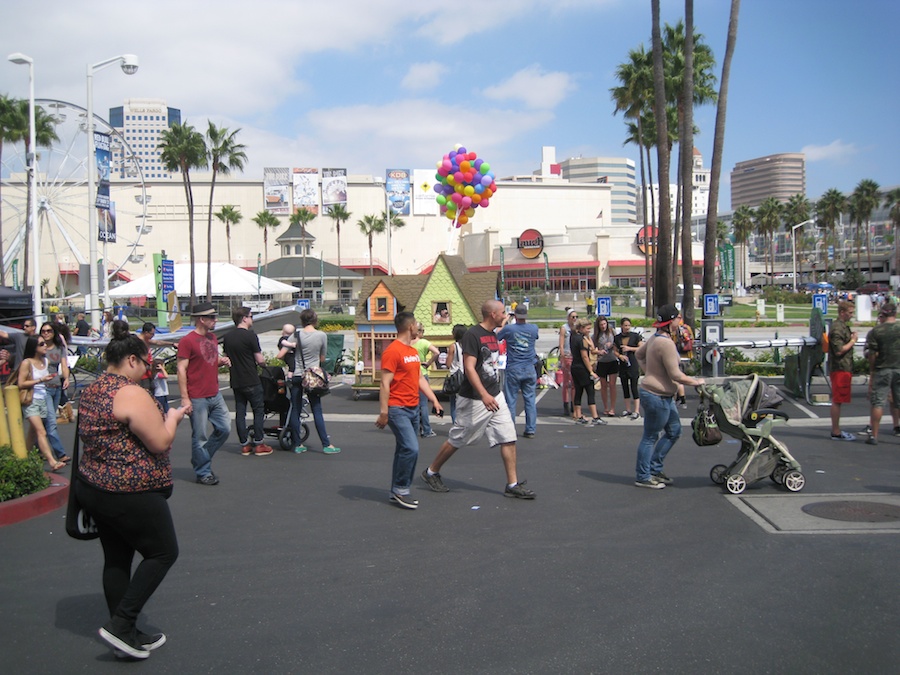 This is our parking lot... We parked blocks away
Did You Know? - Red Bull Flugtag (German: flight day, airshow) is an event organized by Red Bull in which competitors attempt to fly home-made, size- and weight-limited, human-powered flying machines (max 10m/30 ft, 150 kg/330 lbs). The flying machines are usually launched off a pier about 30 feet (9.1 m) high into the sea (or suitably sized reservoir of water). Most competitors enter for the entertainment value, and the flying machines rarely fly at all.

The format was originally invented in Selsey, a small seaside town in the south of England under the name "Birdman Rally" in 1971 The first Red Bull Flugtag competition was held in 1992 in Vienna, Austria. It was such a success that it has been held every year since and in over 35 cities all over the world.

Anyone is eligible to compete in the Flugtag event. To participate, each team must submit an application and their contraption must meet the criteria set forth by Red Bull. The criteria varies with location. In the USA each flying machine must have a maximum wingspan of 30 feet (9.14 m) and a maximum weight (including pilot) of 450 lbs. (204 kg). In Australian Flugtags the wingspan is limited to 26.25 feet (8.0 m) and the weight (NOT including pilot) to 396.8 lb (180.0 kg).

The craft must be powered by muscle, gravity, and imagination. Because the aircraft will ultimately end up in the water, it must be unsinkable and constructed entirely of environmentally friendly materials. The aircraft may not have any loose parts and advertising space is limited to 1-square-foot (0.093 m2).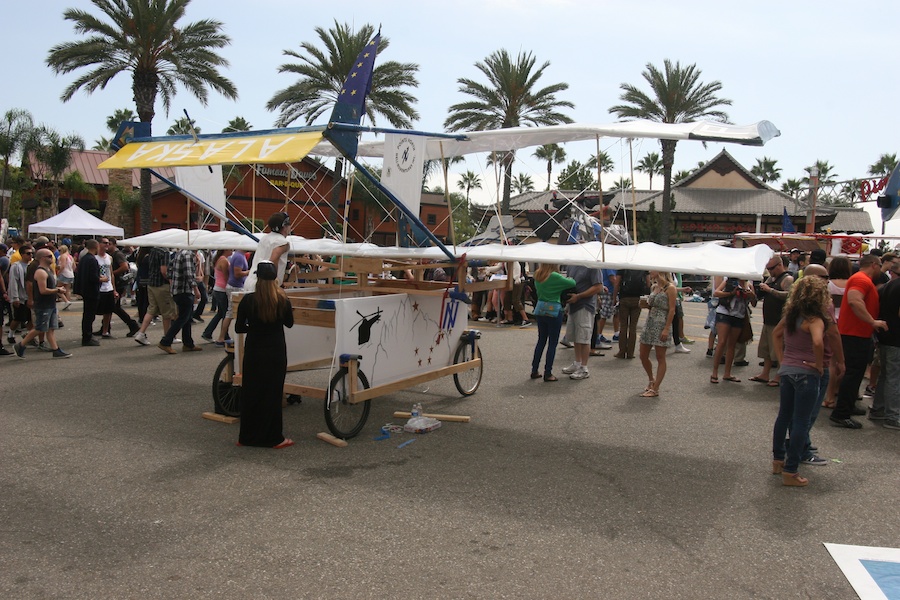 When we arrived, we were surprised to see the "flying machines"

Costumes were a necessity
Alex, Joe, Charlie, and Amy Arrive After Finding Parking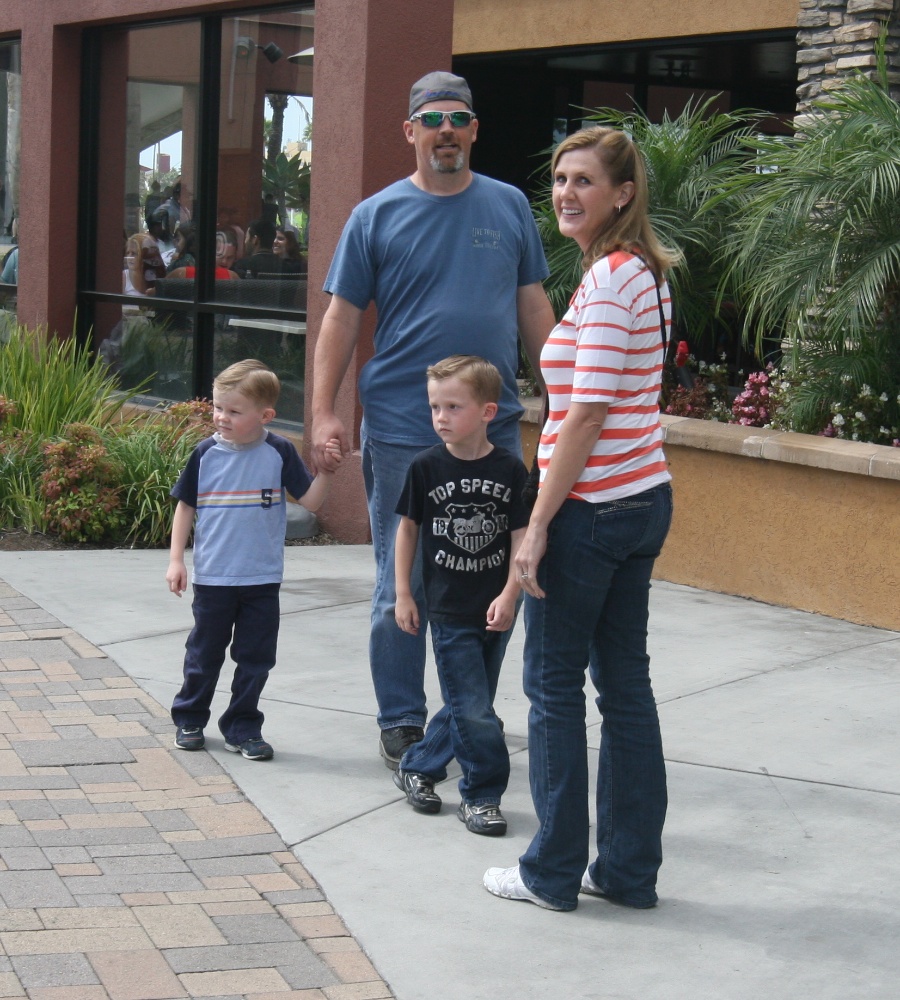 The kids are not sure what they are seeing ... Actually, neither are we!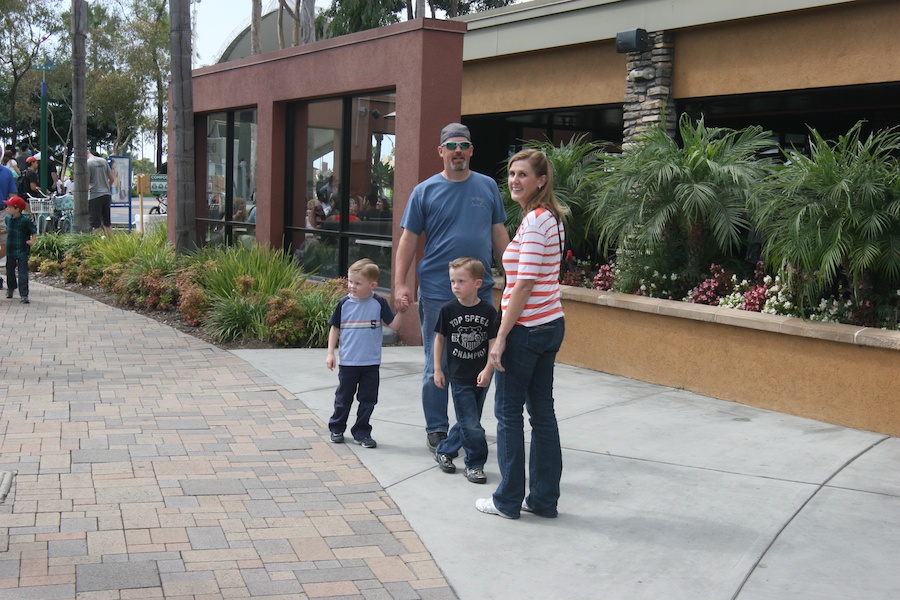 They are going to do what with them???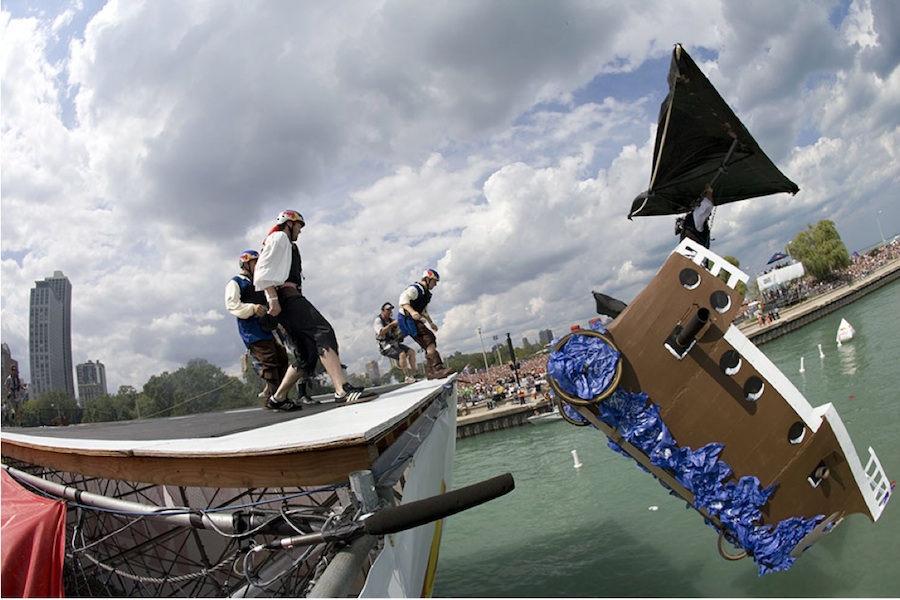 "It's a long way down"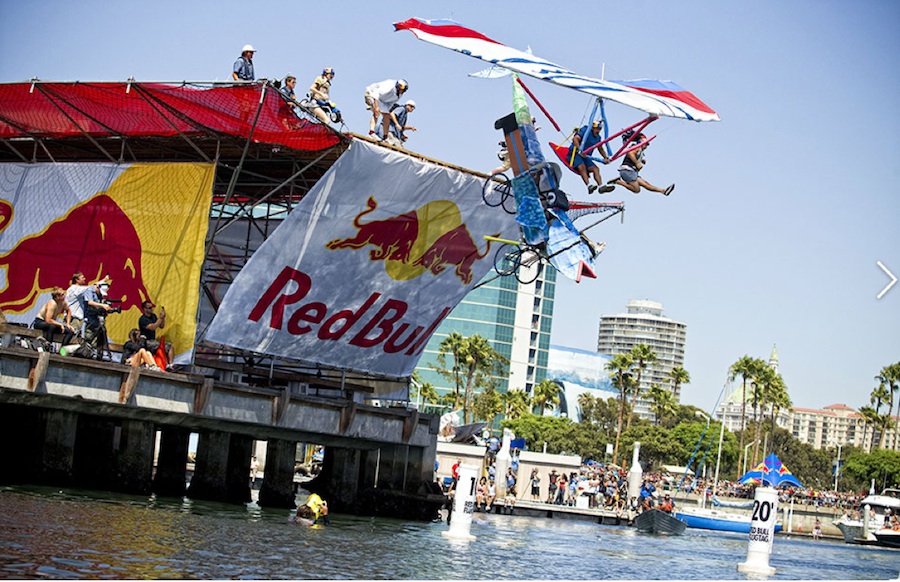 Look out below
Time To Dine... PF Chang's
Did You Know? - P. F. Chang's China Bistro is an Asian-themed US casual dining restaurant chain owned and operated by Centerbridge Partners and headquartered in Scottsdale, Arizona.

As of January 1, 2012, P. F. Chang's operated 204 restaurants in the United States, Puerto Rico, Mexico, Canada, Argentina, Chile and the Middle East. It is the largest full service, casual dining Chinese restaurant chain in the United States with locations across the country.

"P. F. Chang's" is the namesake of Paul Fleming (P. F.) and Philip Chiang (whose surname is shortened to Chang).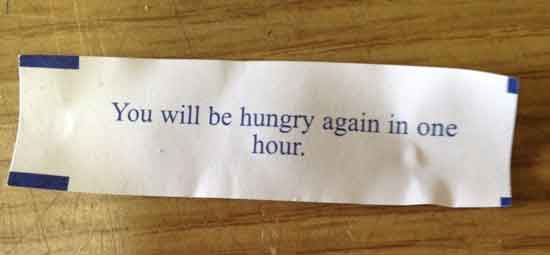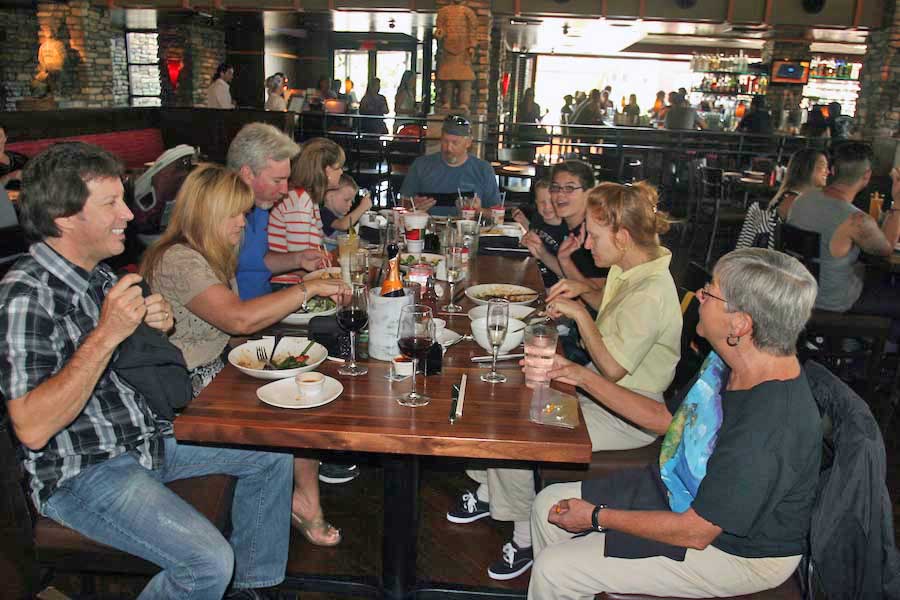 We were going to sit outside but the noise was over-the-top

Getting a picture of the food is always required

Joe got the "Mac n' Cheese" from Chili'... Right next door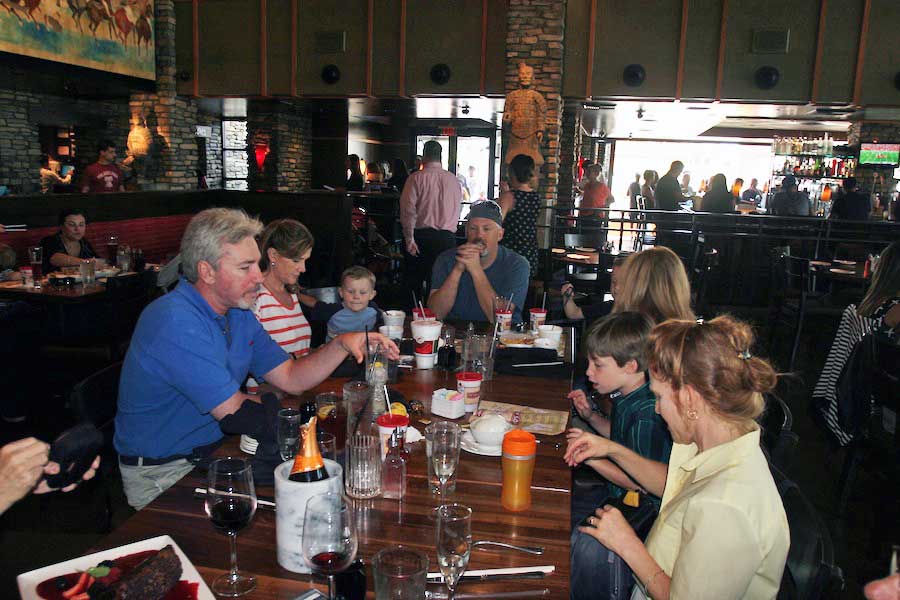 The foodies are disappearing

The boys keep busy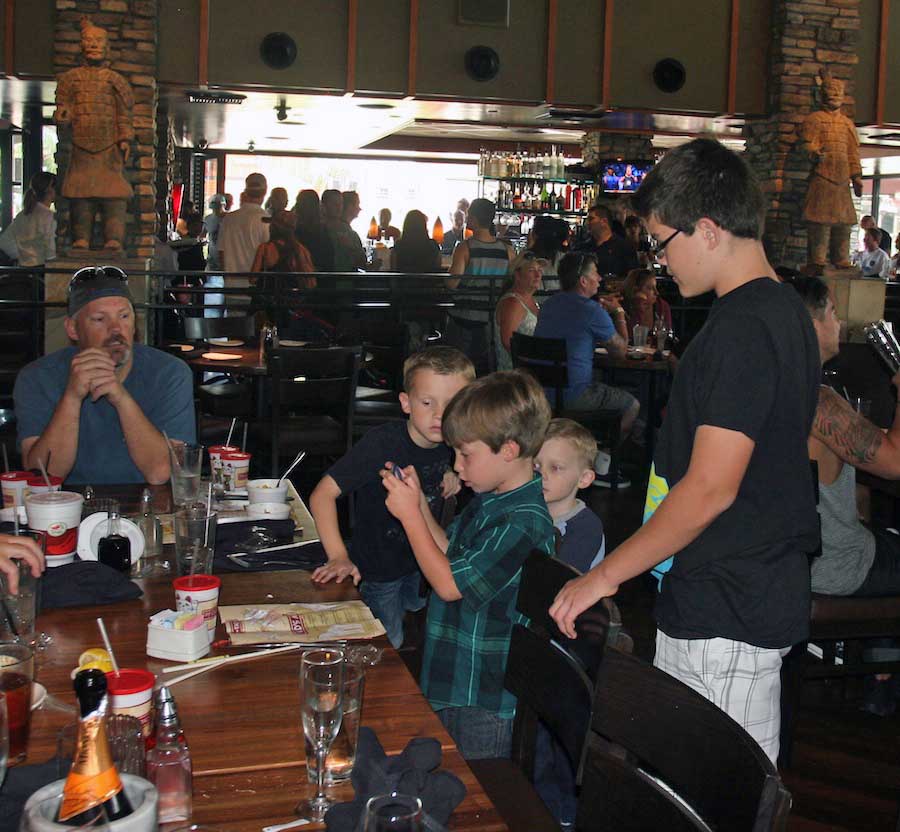 What did we do without electronic games????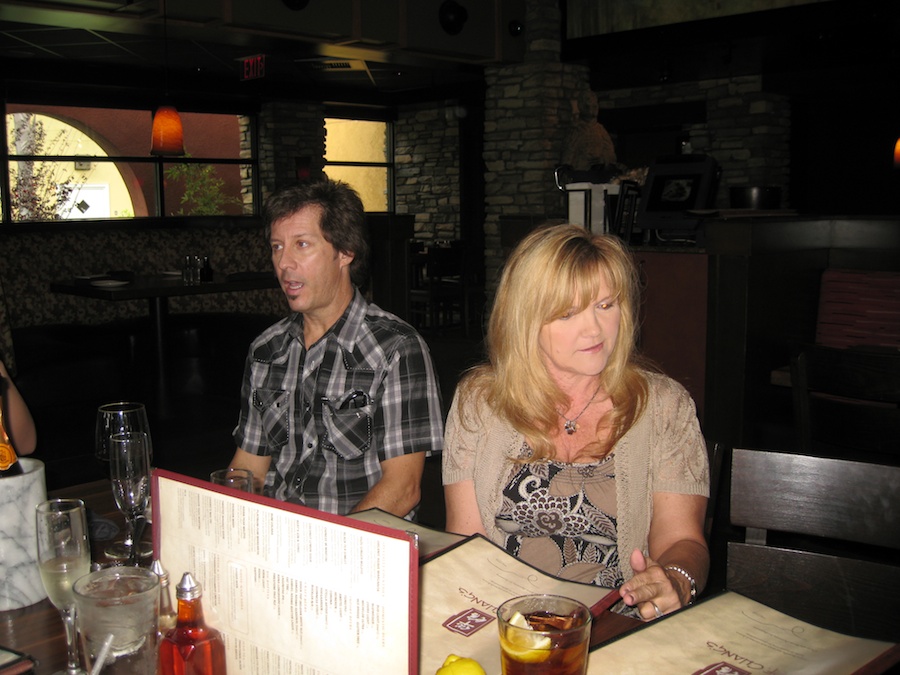 Time to order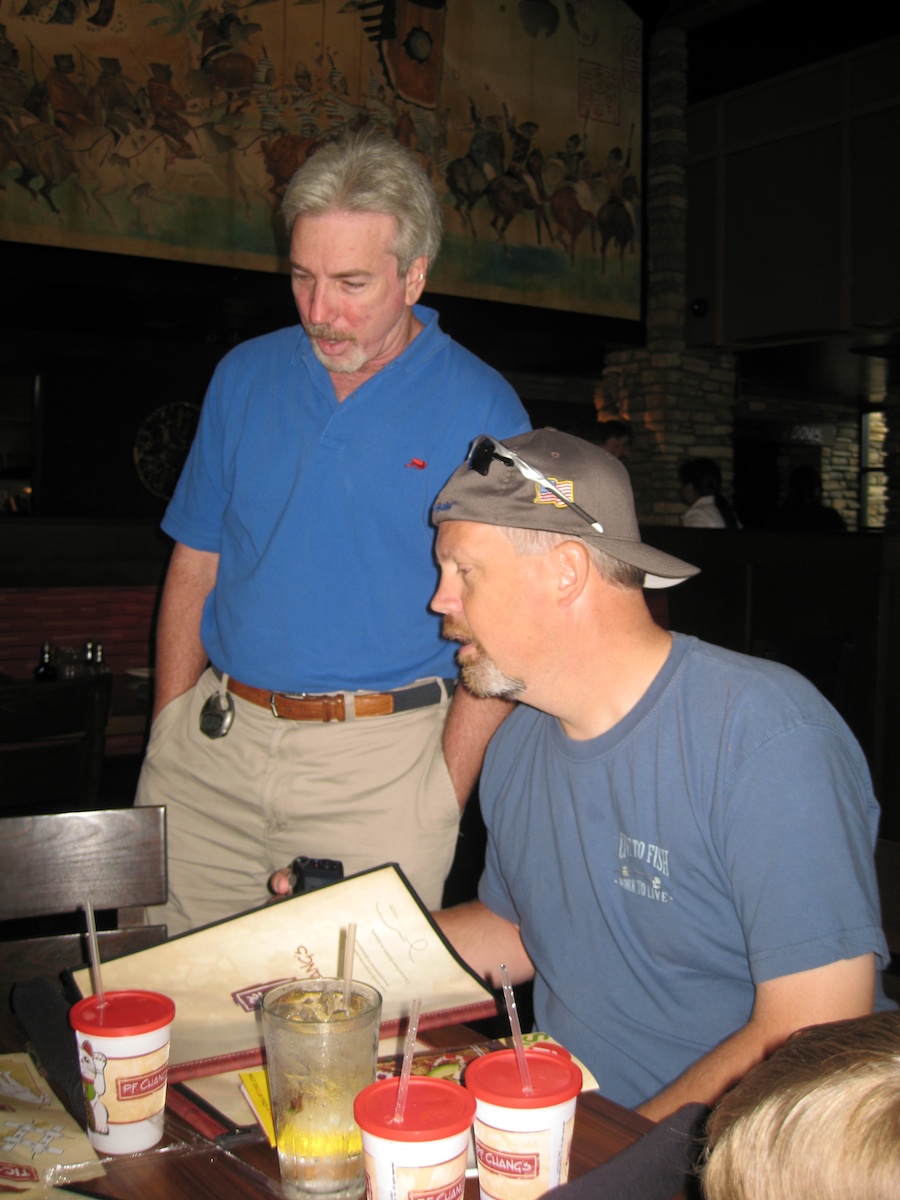 Joe and Franklyn consult

The decision maker... Closing her eyes and formulating a plan
She sees Mac and Cheese in their future

Amy is daydreaming about having a warm meal.... It does happen!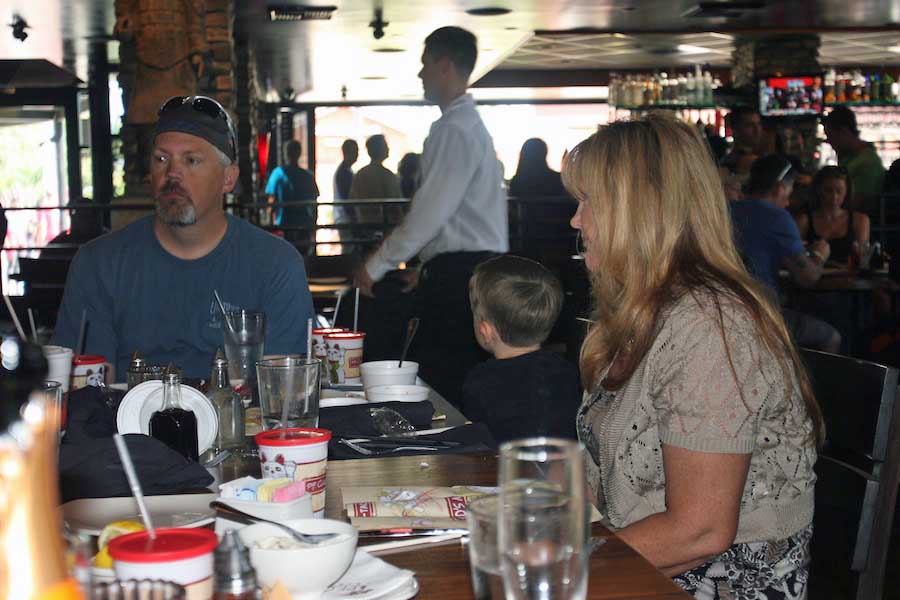 Robin and Joe catch up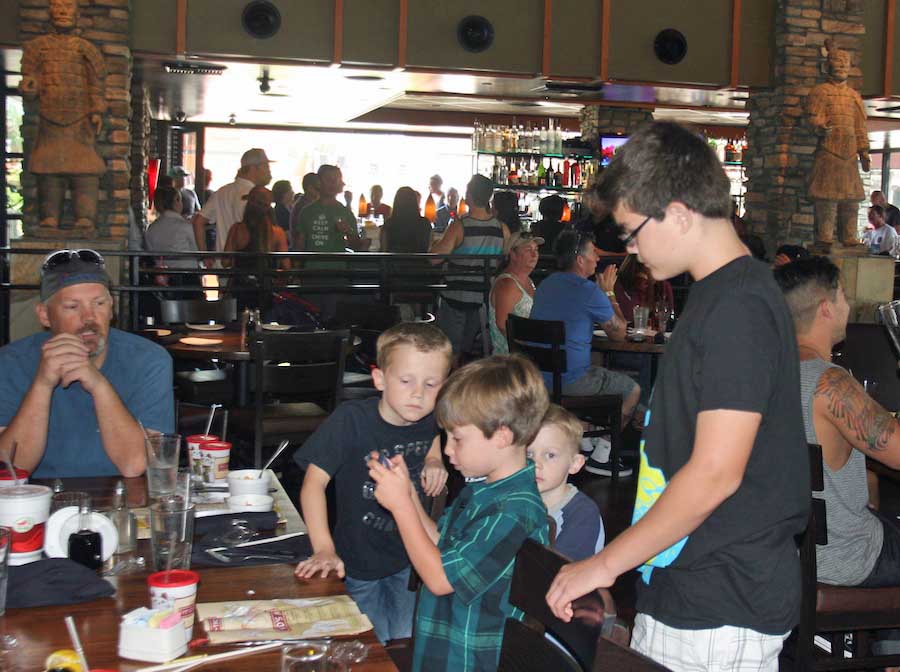 Looks like a meeting of the gang!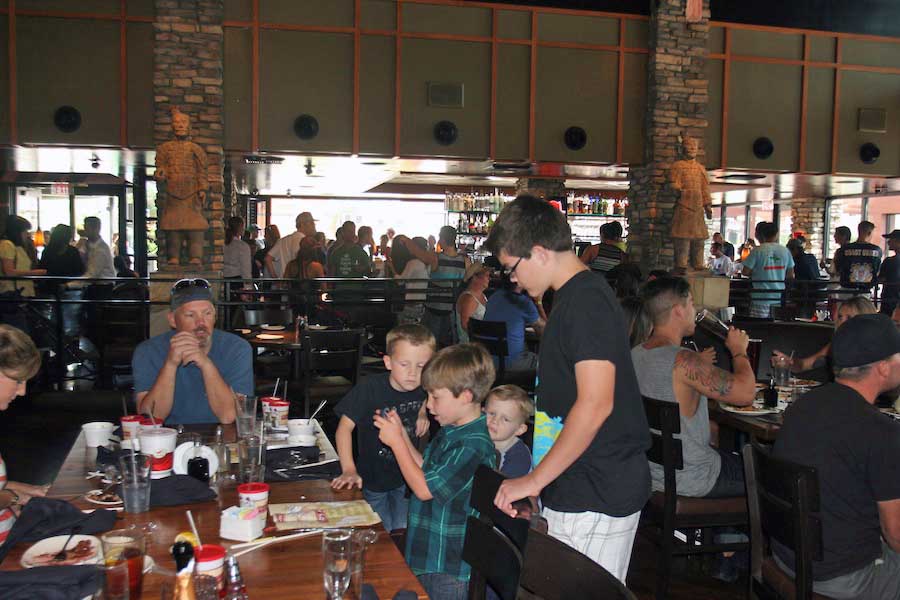 Must be interesting

Remember these???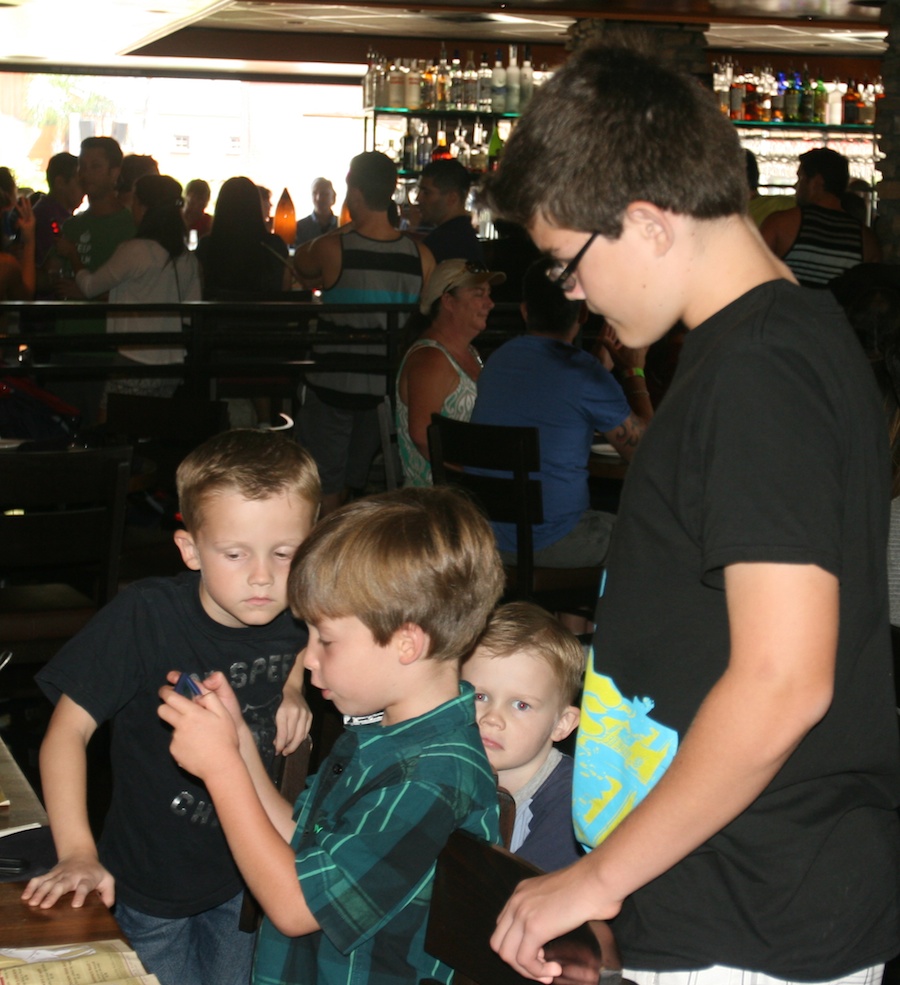 It's OK Alex... You will be taller in a few months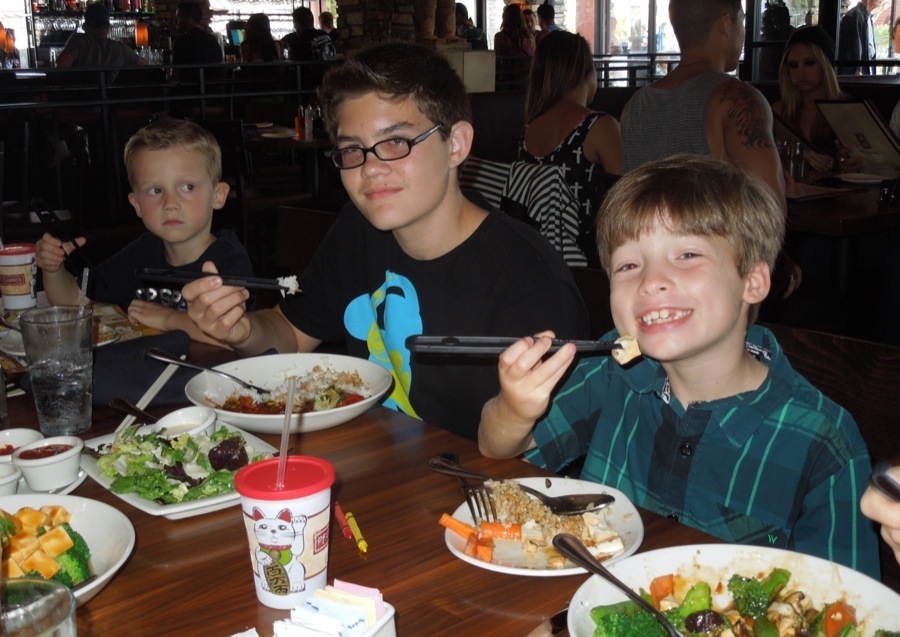 The food is disappearing (Courtesy of Bob Duda)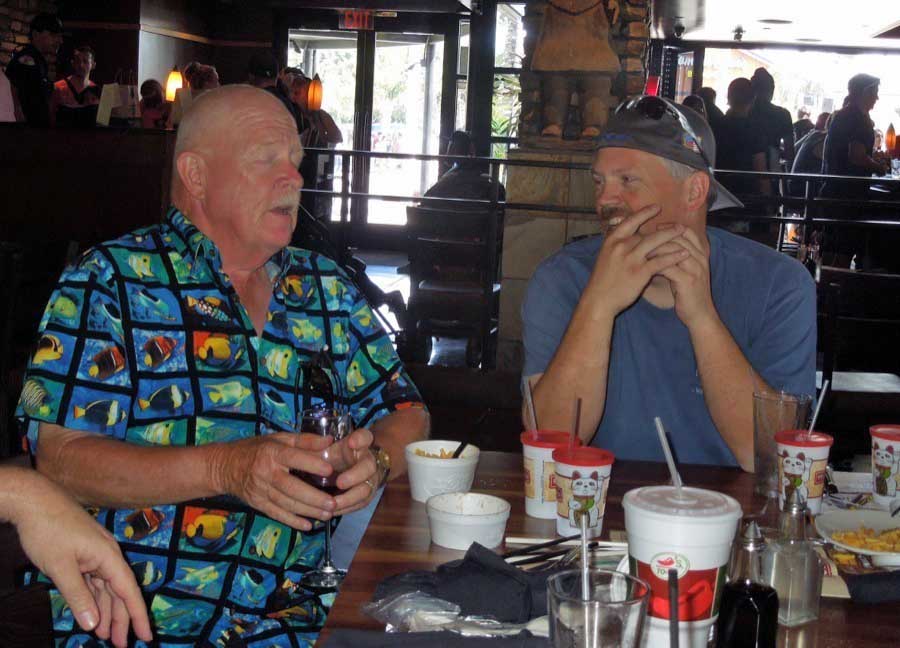 Father and Son ... Nature is forgiving (Courtesy of Bob Duda)
To Took A Short Walk Before Going To The Aquarium

Joe had to visit the Up Up And Away House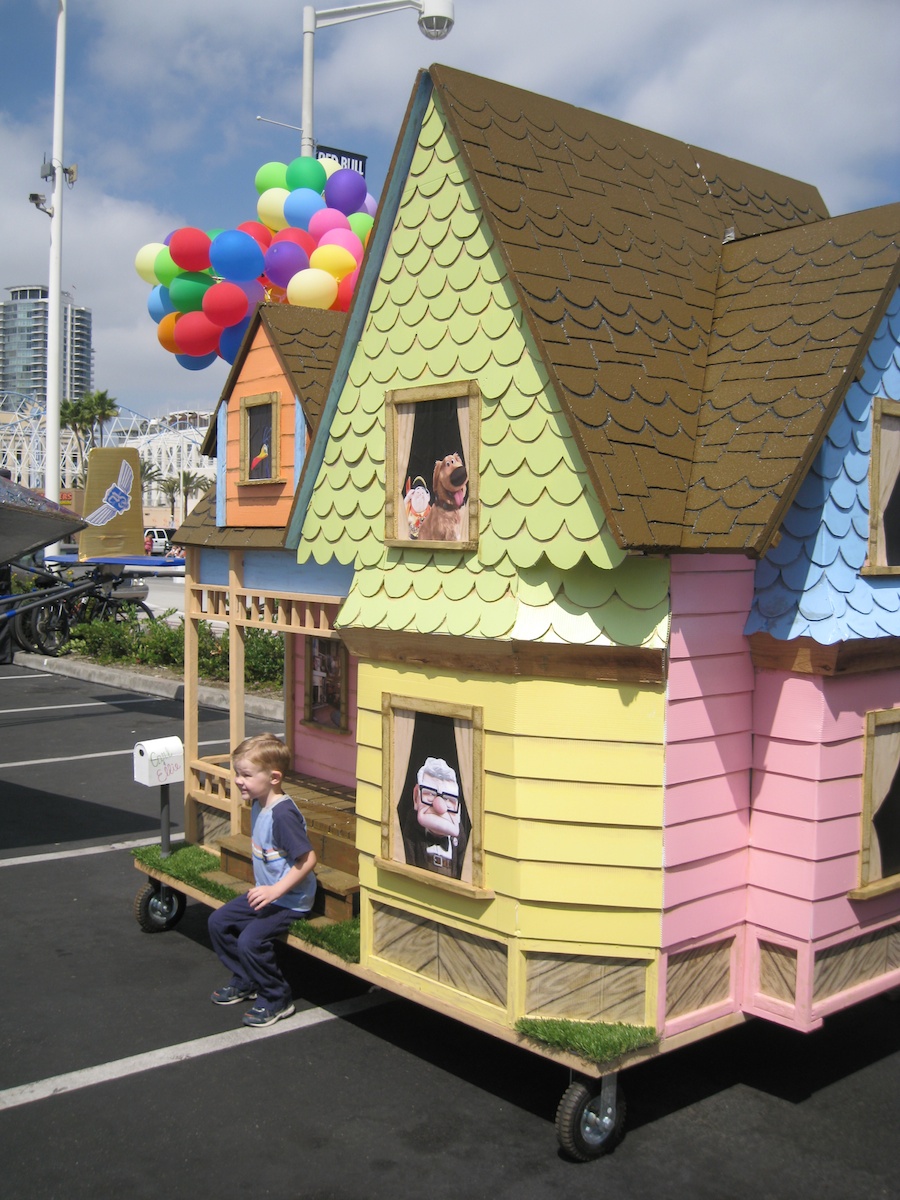 "Dad... When does it go up??"

"I do not want to be on this when it goes off the pier!!"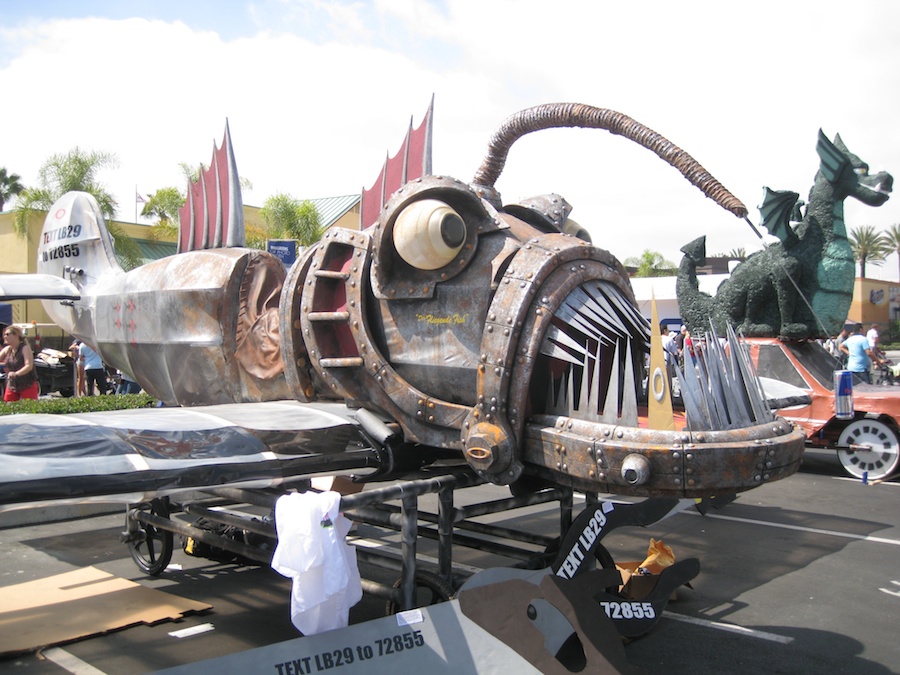 One mean machine

Ready to fly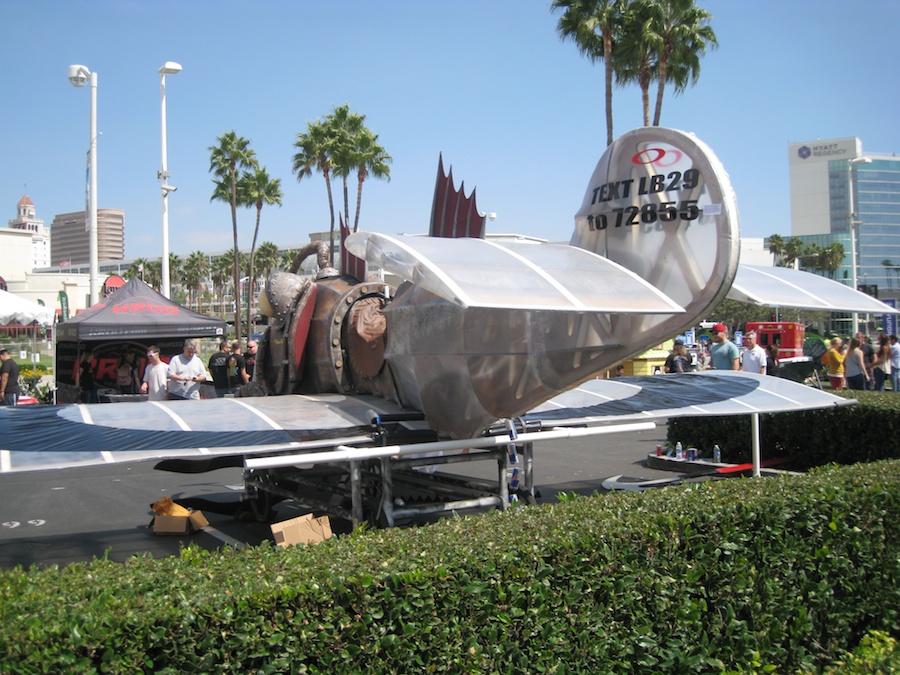 Pretty aerodynamic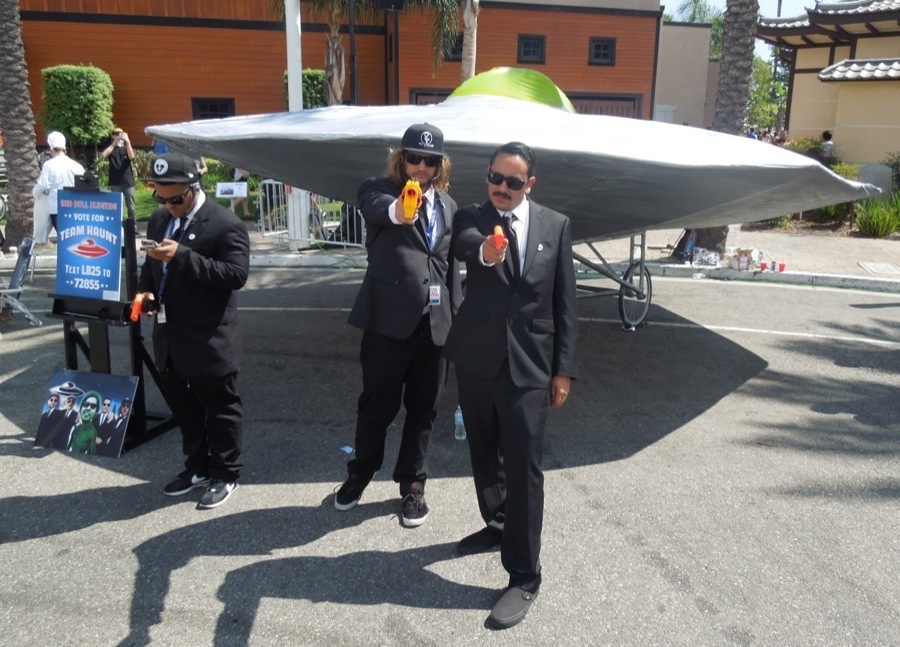 "Flying" saucers (Courtesy of Bob Duda)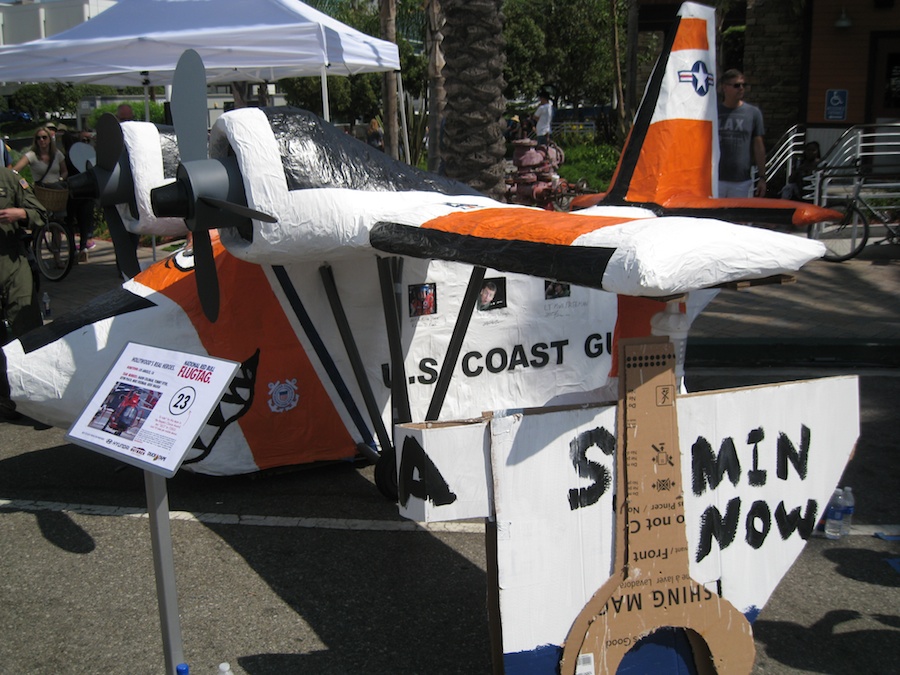 A Catalina "Flying Boat"

A flying pizza????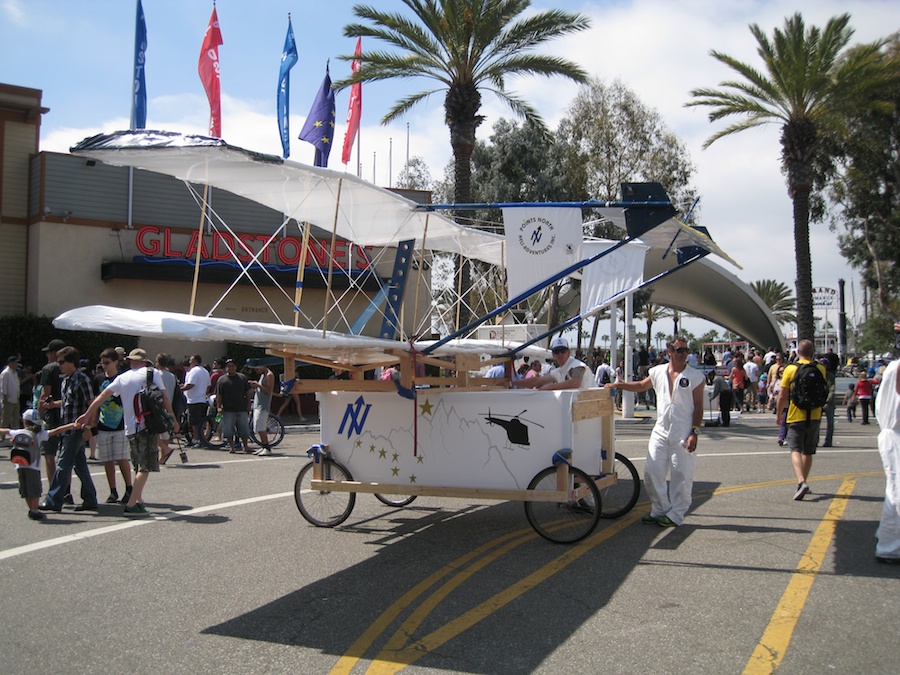 How long will the wings last?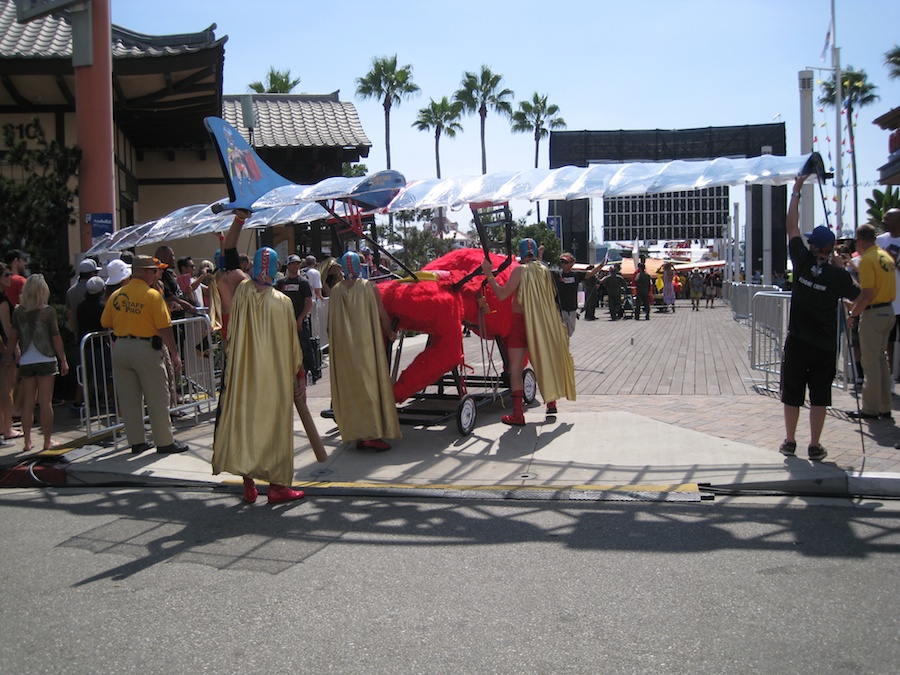 Marching to their flights at the end of the pier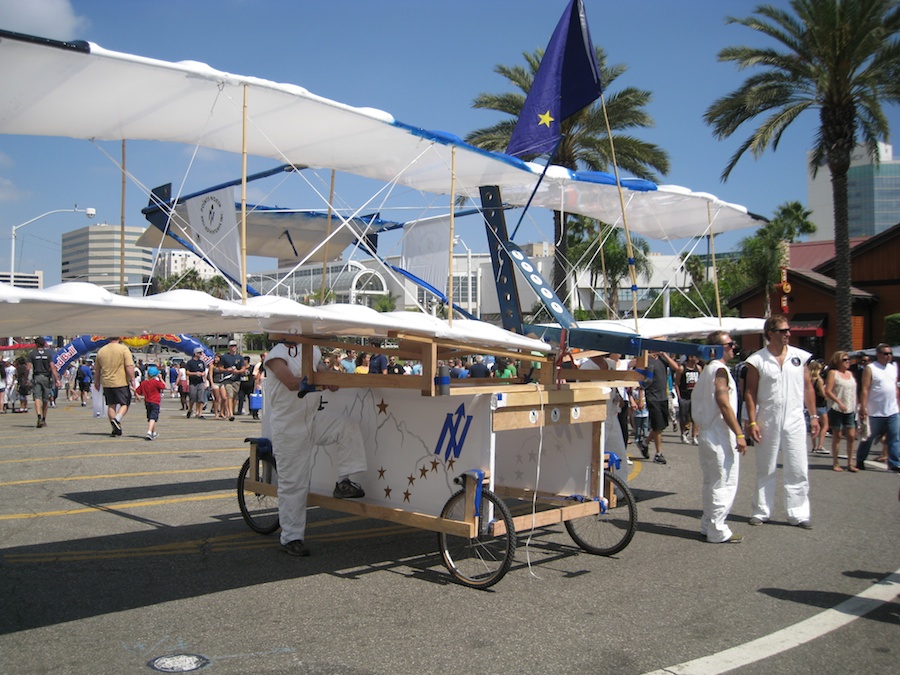 The pit crew is also fully in costume but where is the pilot????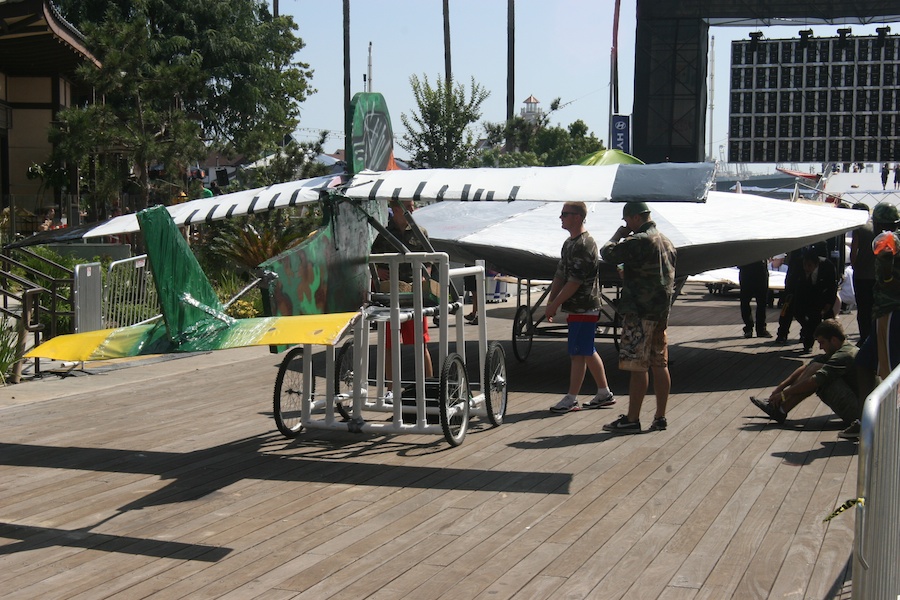 Into the water it will go
Did You Know? - The record for the longest flight is 258 feet (78.64 m), set September 21, 2013, at the Flugtag in Long Beach, California by the team "The Chicken Whisperers".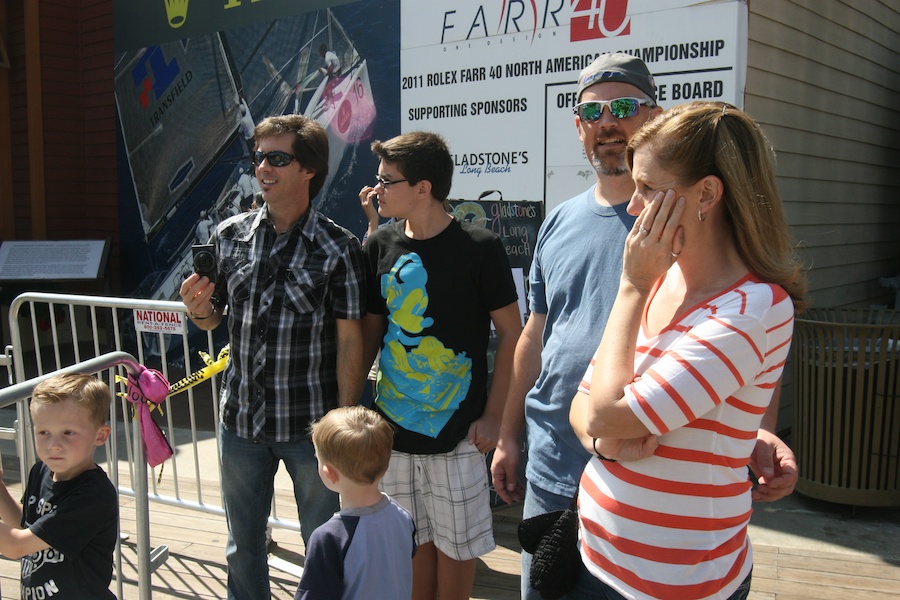 Amy is saying "Oe Vey"


Charlie is not too sure about this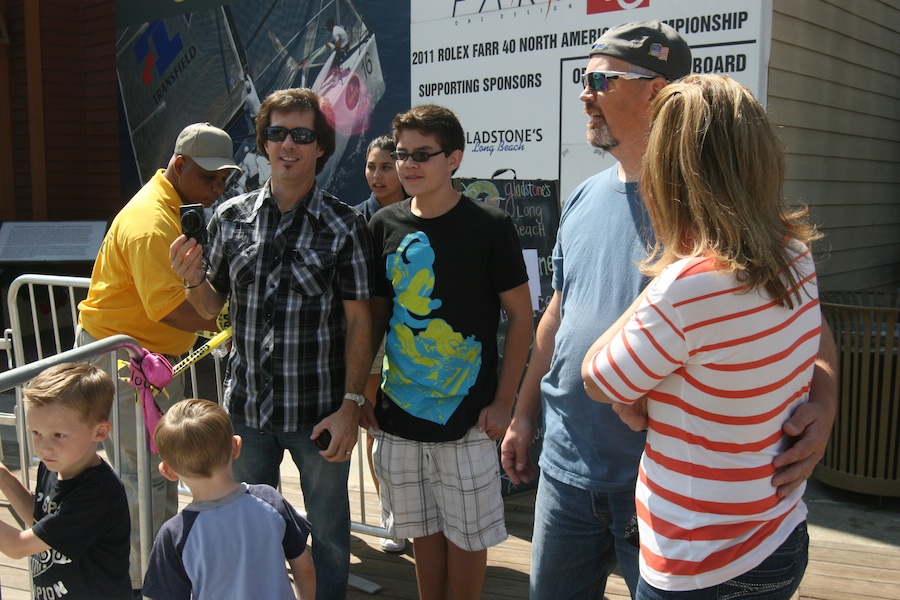 Next time they are in Long Beach we ought to enter..... Yeah!

The ramp where the action took place (Courtesy of Bob Duda)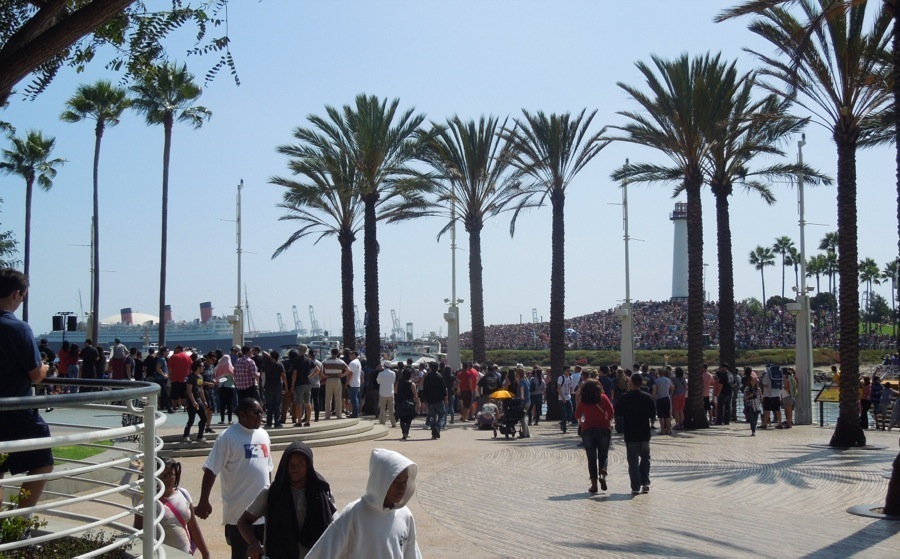 It wa crowded (Courtesy of Bob Duda)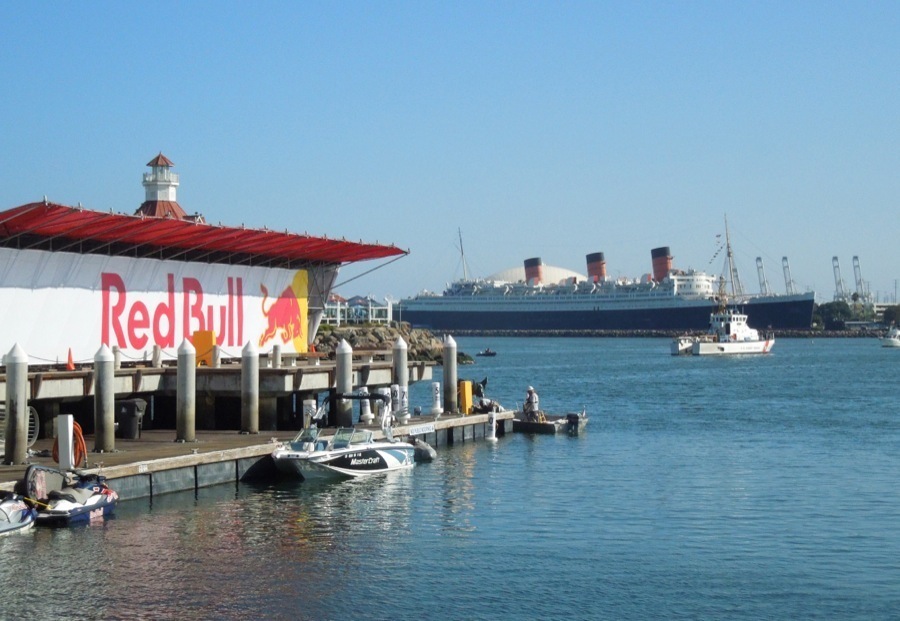 The bay was active (Courtesy of Bob Duda)
To The Aquarium!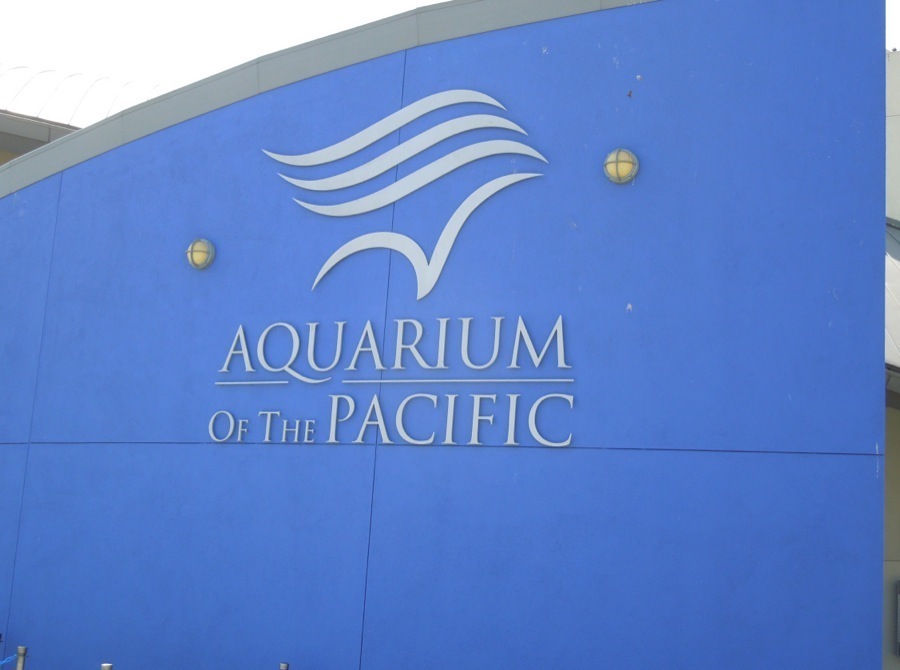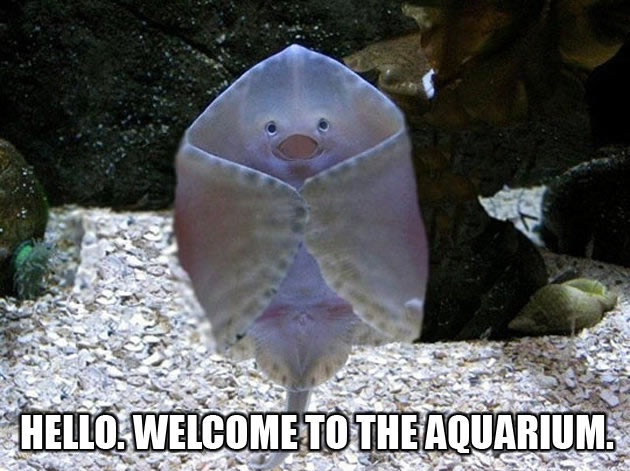 The fishies are standing outside (Courtesy of Bob Duda)
Did You Know? - In the Roman Empire, the first fish to be brought indoors was the sea barbel, which was kept under guest beds in small tanks made of marble. Introduction of glass panes around the year 50 AD allowed Romans to replace one wall of marble tanks, improving their view of the fish. In 1369, the Chinese Emperor, Hóngwǔ, established a porcelain company that produced large porcelain tubs for maintaining goldfish; over time, people produced tubs that approached the shape of modern fish bowls.

"Hey Mom... Where is my fishing pole???"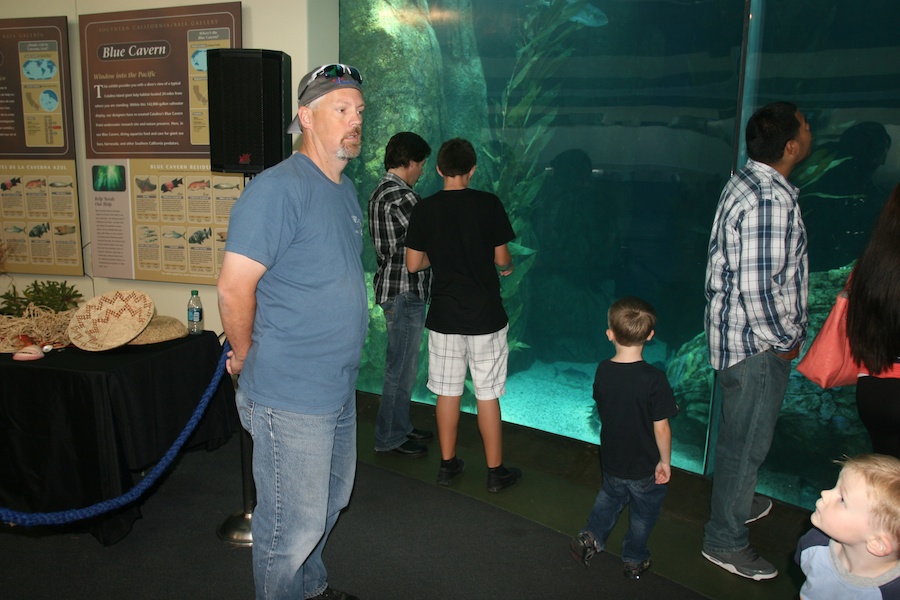 "Fishing pole.... in the aquarium... Not a great idea"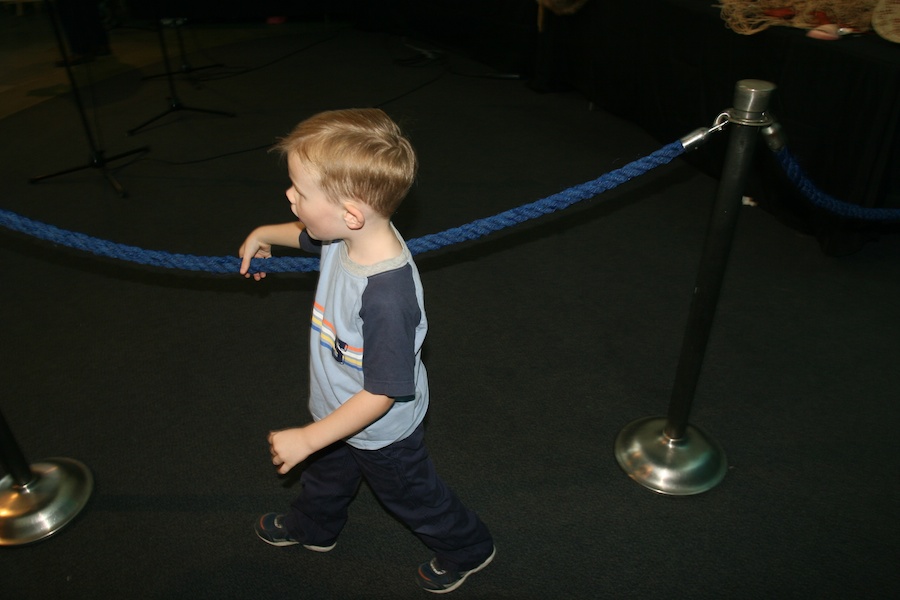 Alex exploring the exhibits

Great displays at "kid level"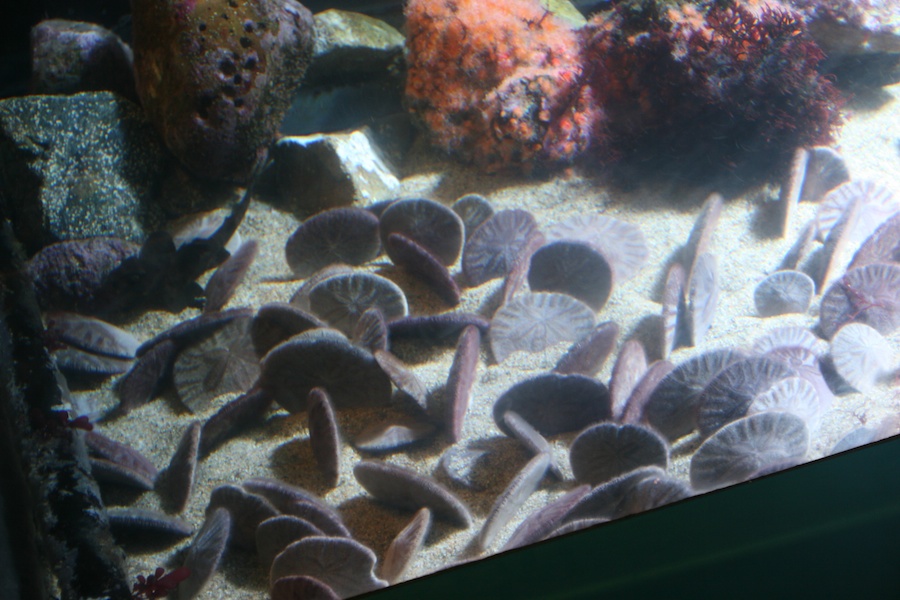 Sand dollars!
Did You Know? - The term sand dollar (or sea cookie or snapper biscuit in New Zealand, or pansy shell in South Africa) refers to species of extremely flattened, burrowing sea urchins belonging to the order Clypeasteroida. Some species within the order, not quite as flat, are known as sea biscuits. Related animals include the sea cucumbers and starfish.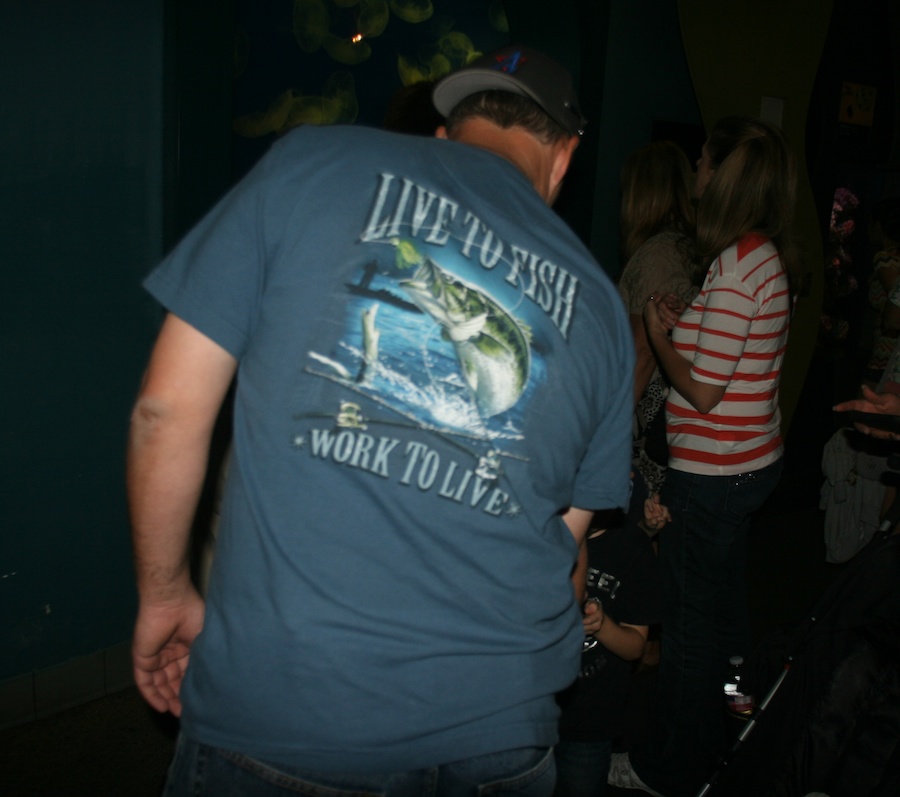 Joe's politically correct shirt....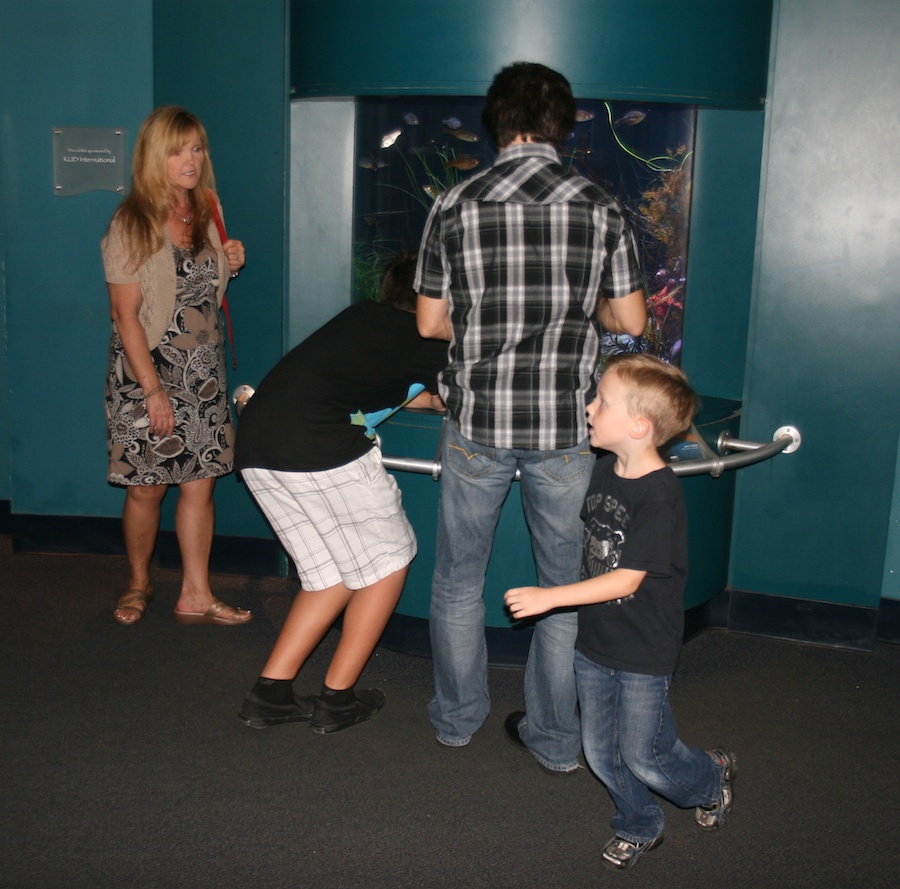 Checking everything out....

Alex says "I have an idea!!"

Sea Lions are so graceful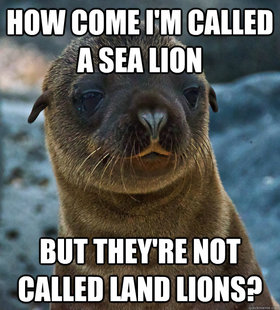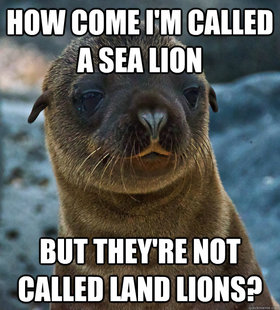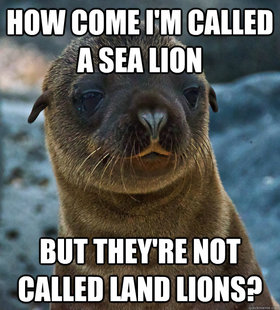 "Look... I am a jet plane"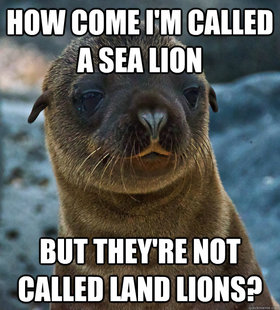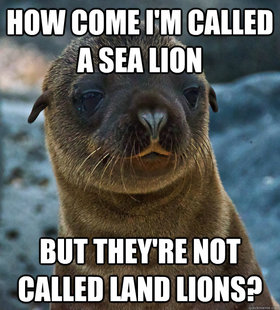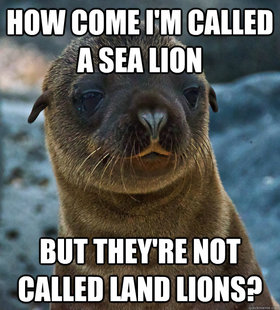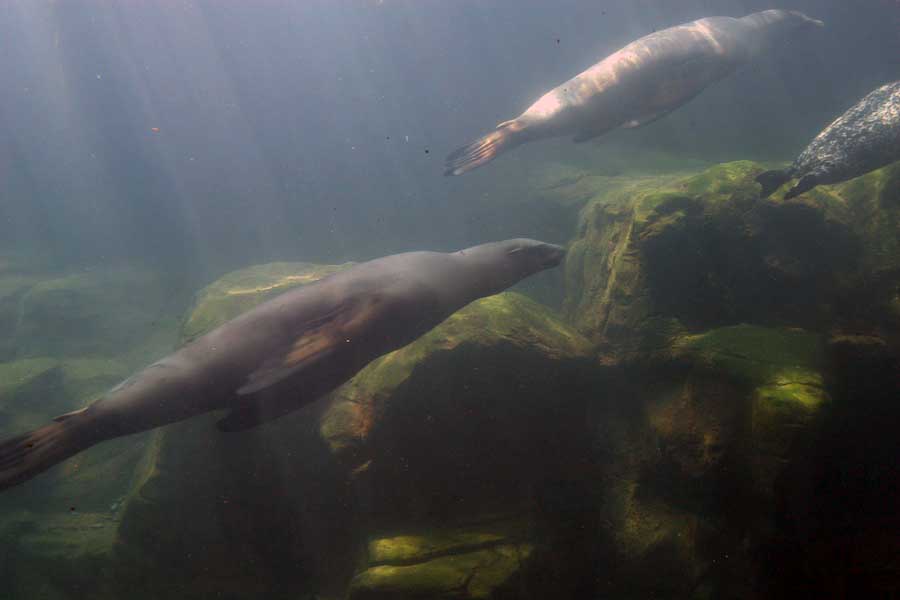 Playing "follow the leader"
Did You Know? - Follow the leader is a children's game . First a leader or "head of the line" is chosen, then the children all line up behind the leader. The leader then moves around and all the children have to mimic the leader's actions. Any players who fail to follow or do what the leader does are out of the game. The last person standing other than the leader is now the new leader.

The baby is growing up quickly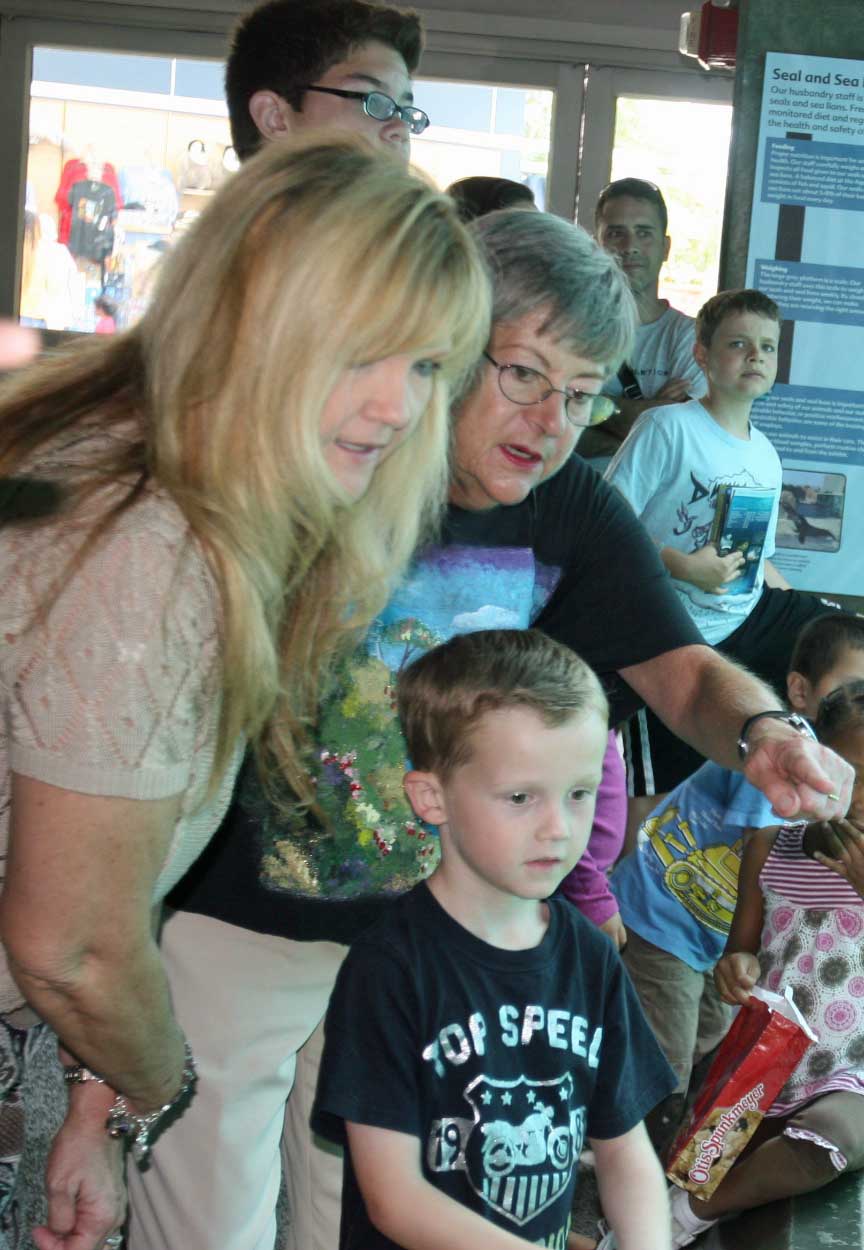 Charlie likes the sea lions
Let's Go Outside

Looks like they were colored with a crayola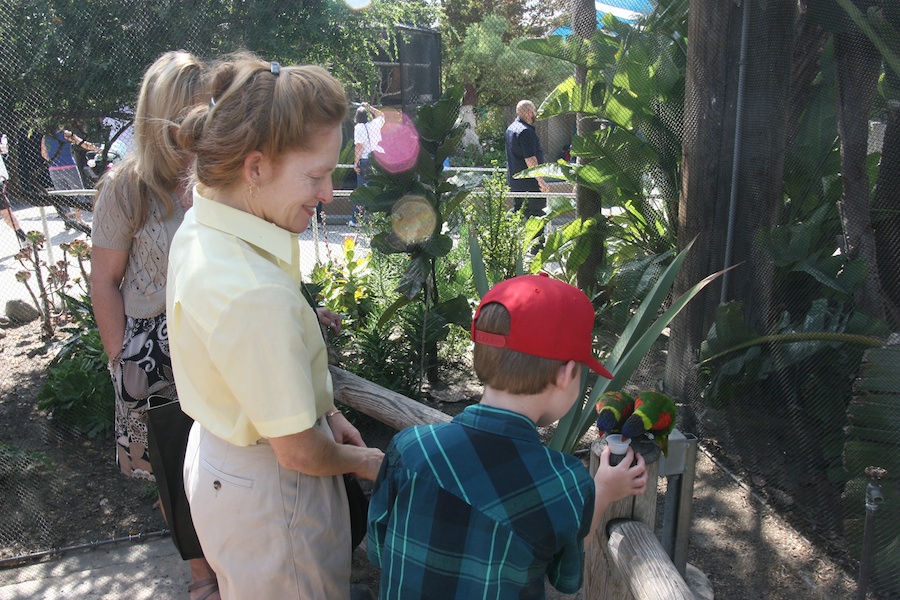 Lorikeets all over the place
Did You Know? - Lories and lorikeets (tribe Lorini) are small to medium-sized arboreal parrots characterized by their specialized brush-tipped tongues for feeding on nectar of various blossoms and soft fruits, preferably berries.

The usage of the terms "lory" and "lorikeet" is subjective, like the usage of "parrot" and "parakeet". Species with longer tapering tails are generally referred to as "lorikeets", while species with short blunt tails are generally referred to as "lories".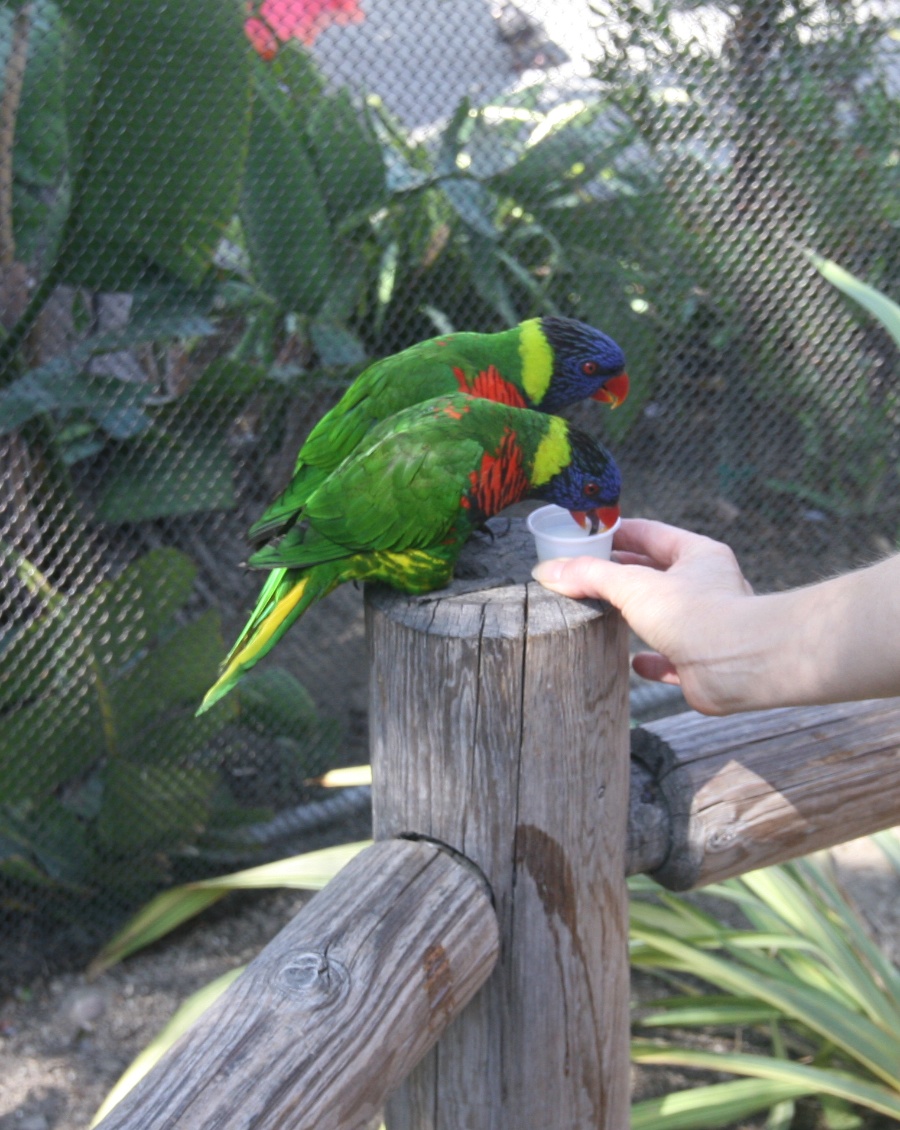 "Why thank you for the drink!!"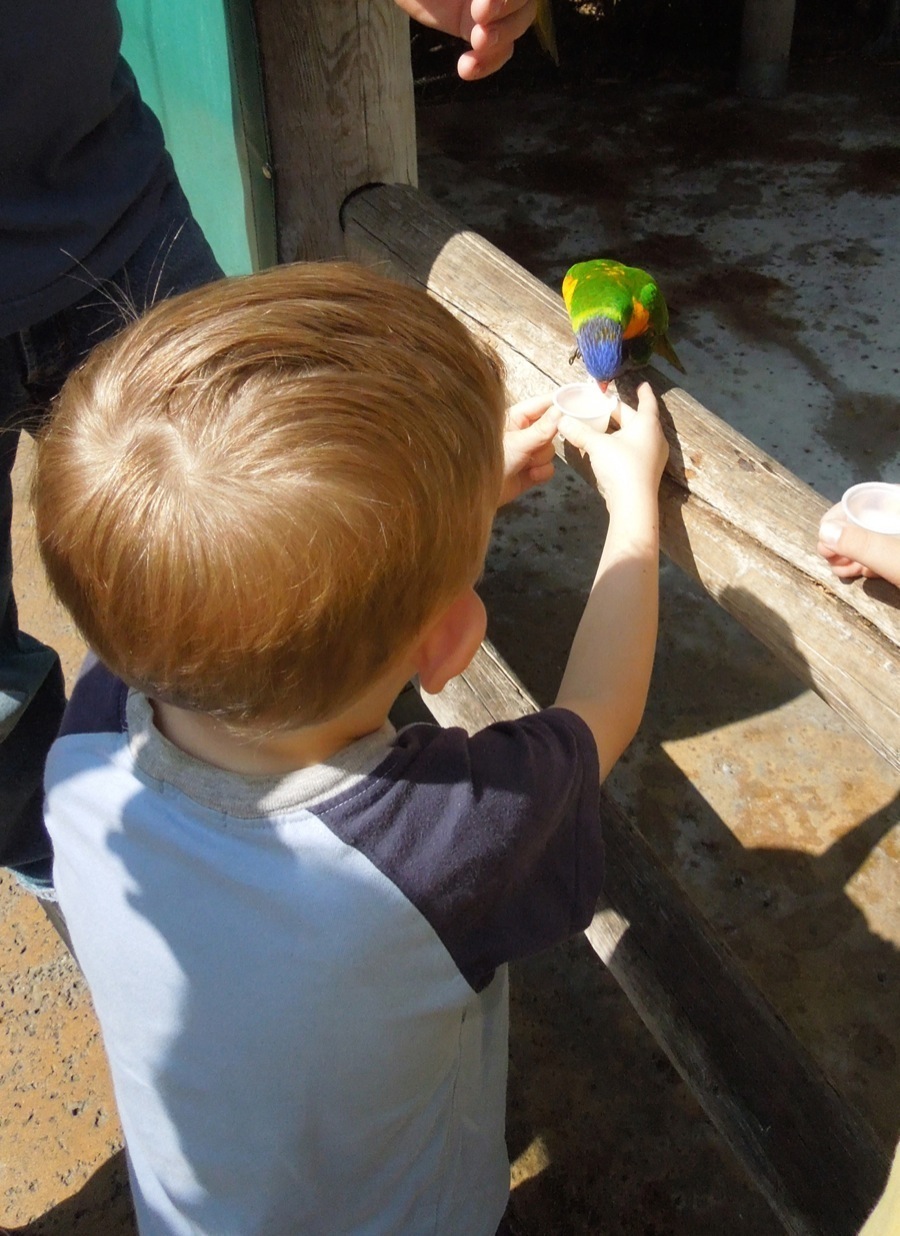 "Have a bite"

This is good

Just hanging around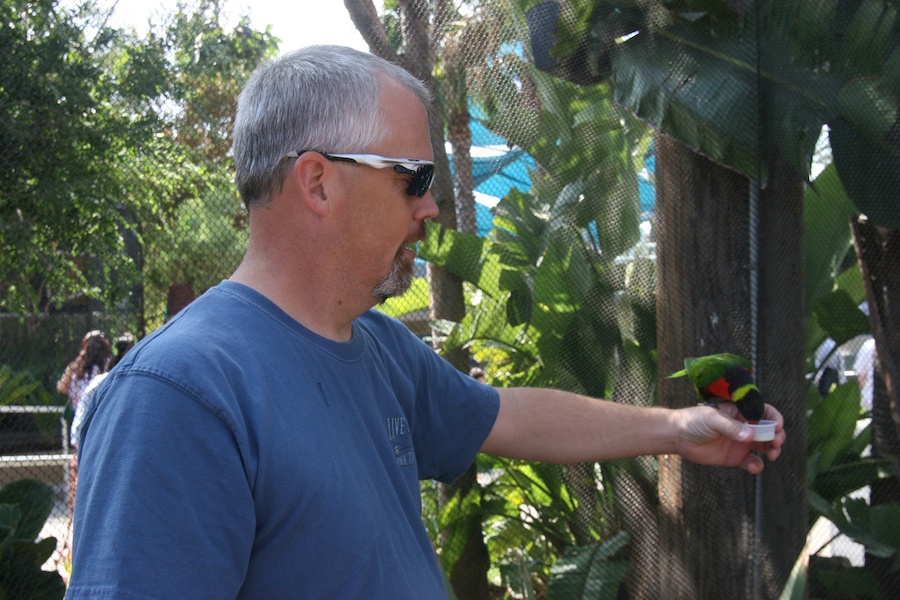 Joe got a little present from the lorikeet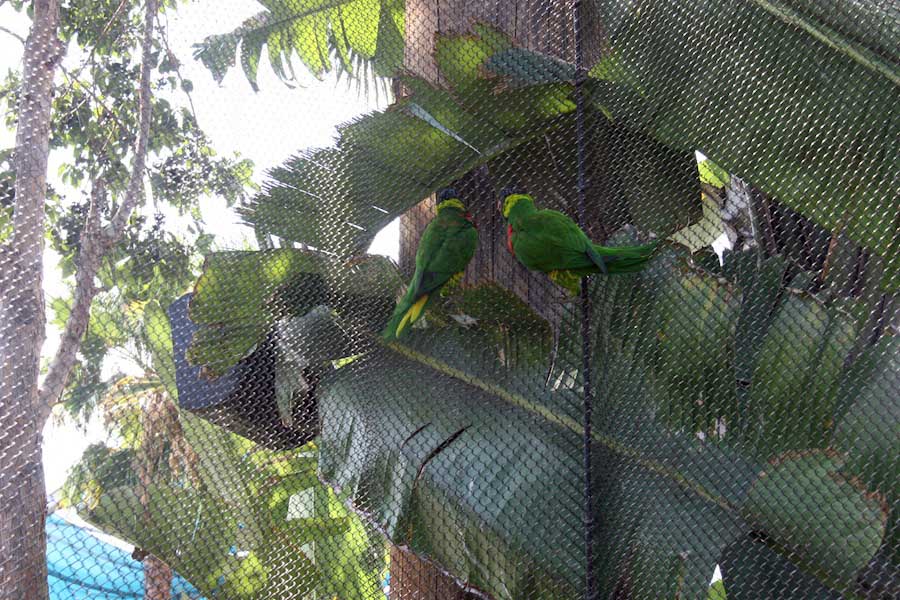 "Time to dive bomb???"

"Be careful or we will have lorikeet soup!"

Chomp chomp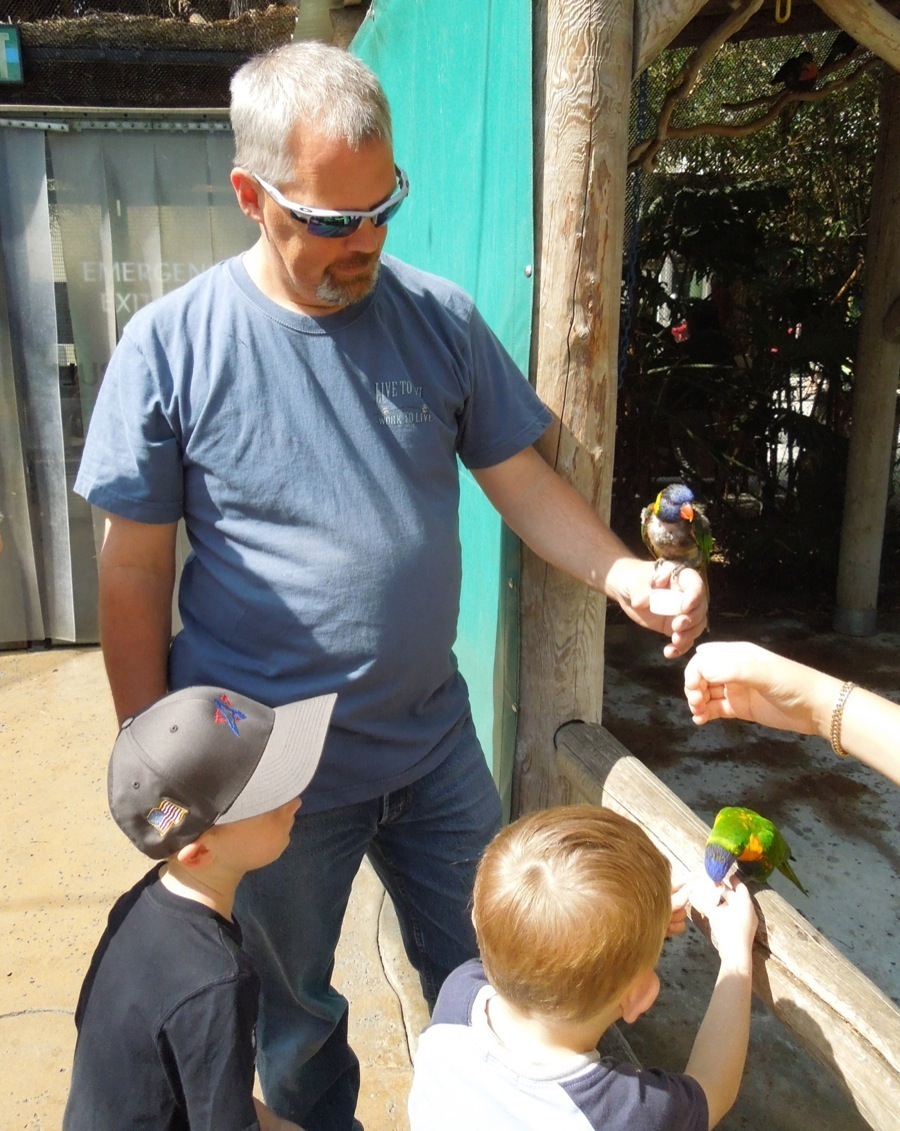 Dad shows the boys a Lorikeet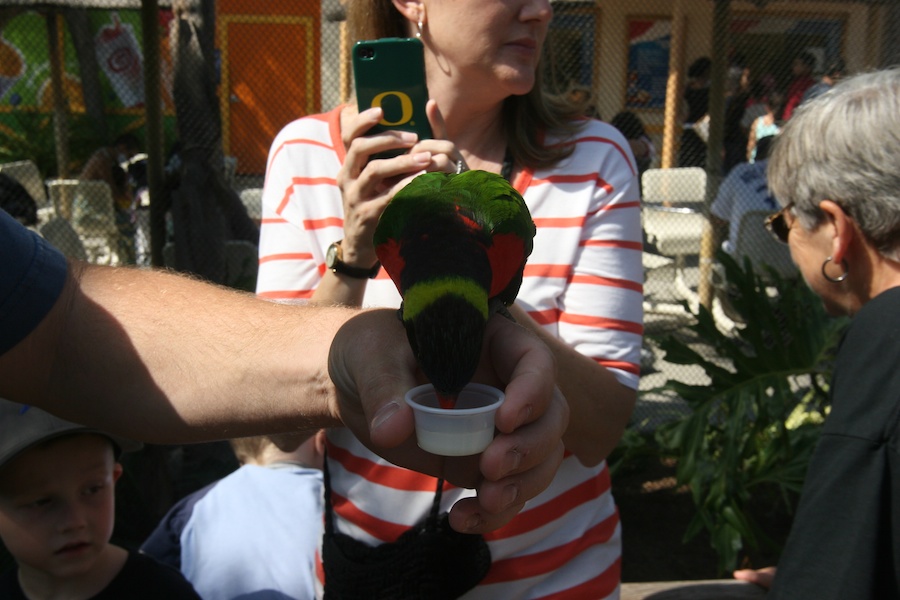 Amy is smart... She keeps her distance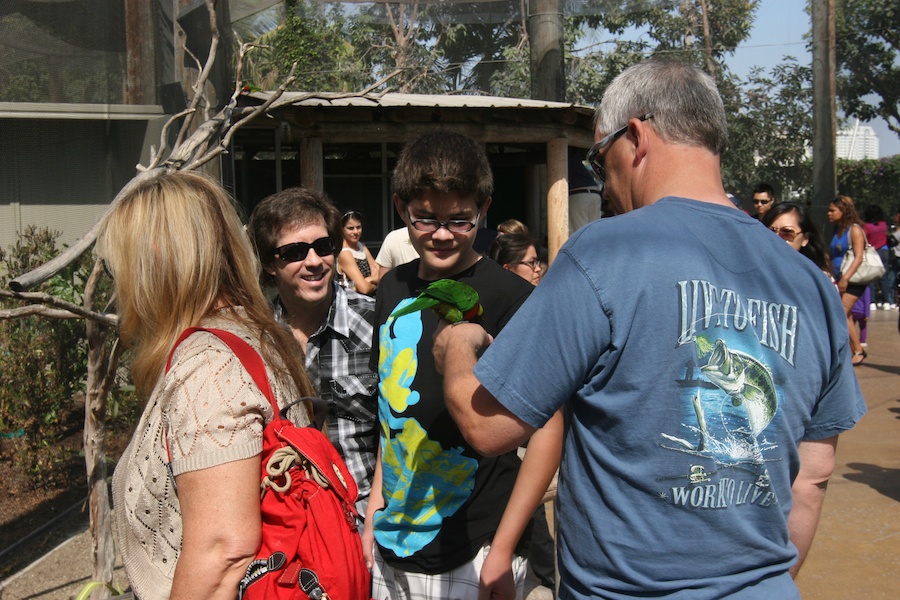 The birds were everywhere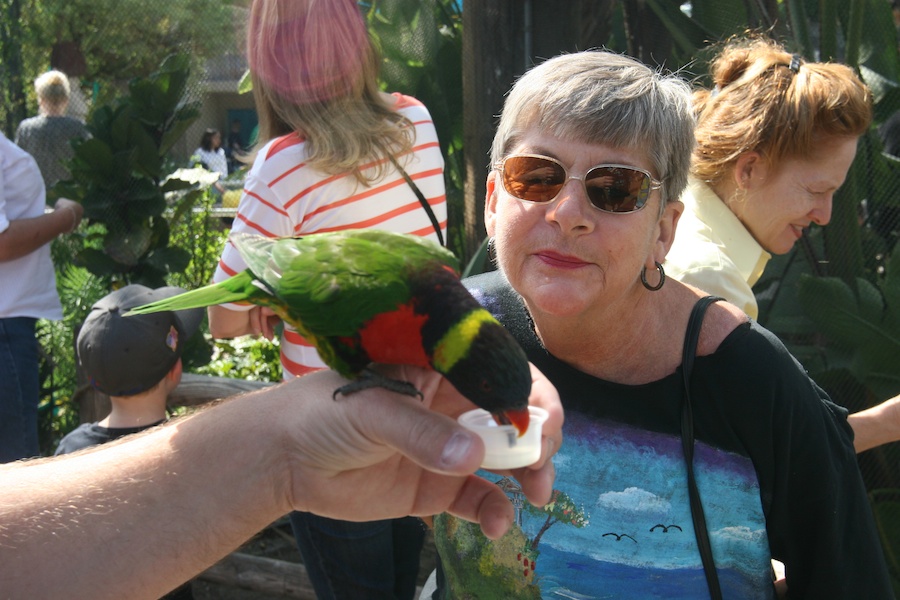 "Really cute...."
Time For Sharks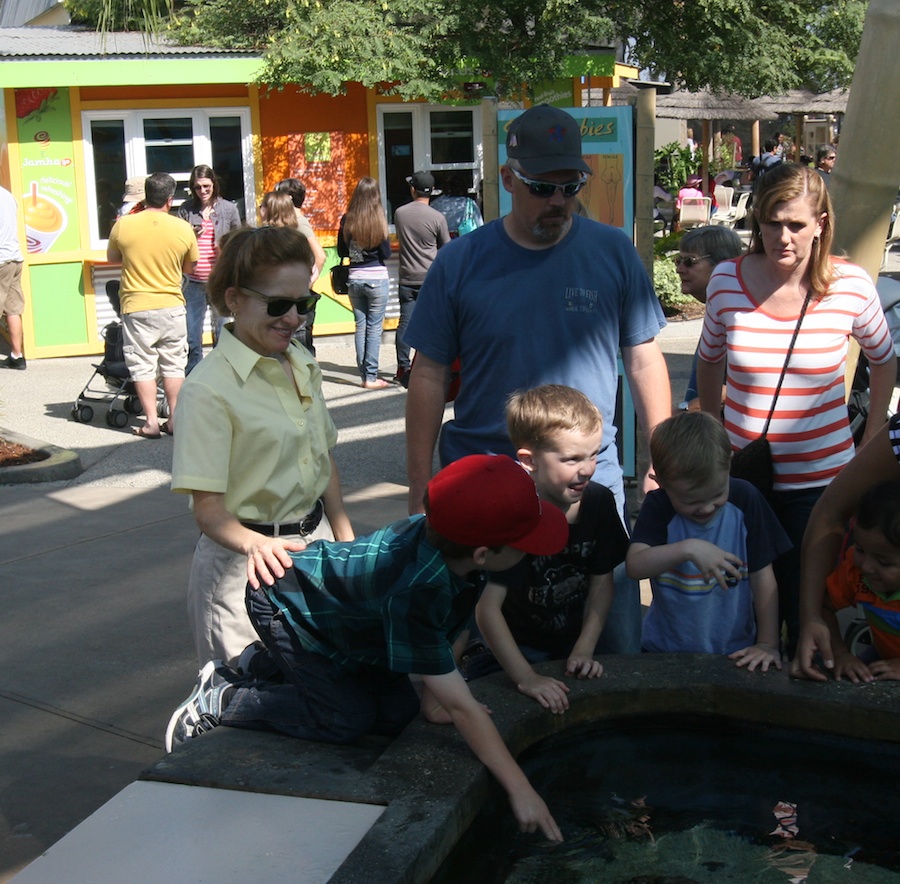 Always pet them with two fingers....
Then... count your fingers when you are done!!

Alex is thinking about this....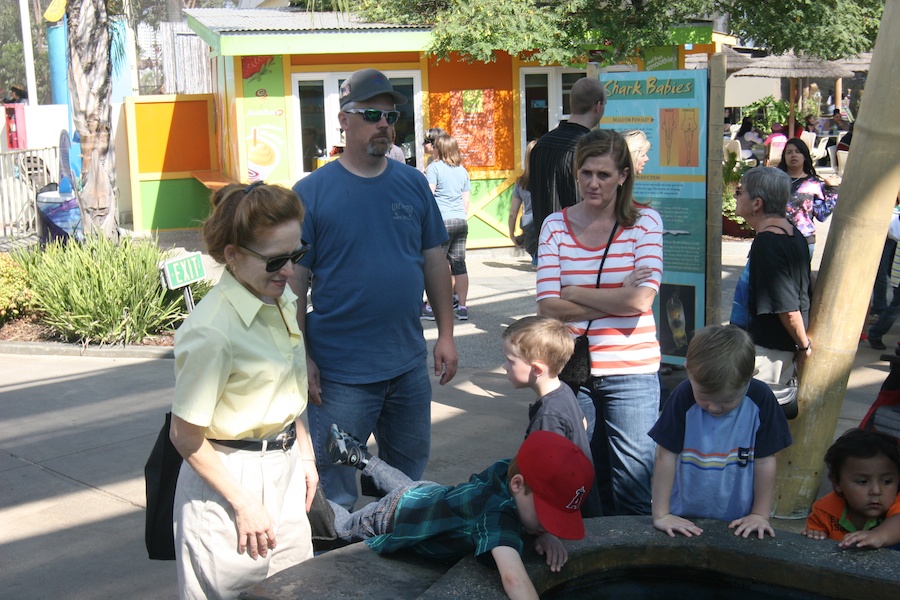 Careful... Do not fall in!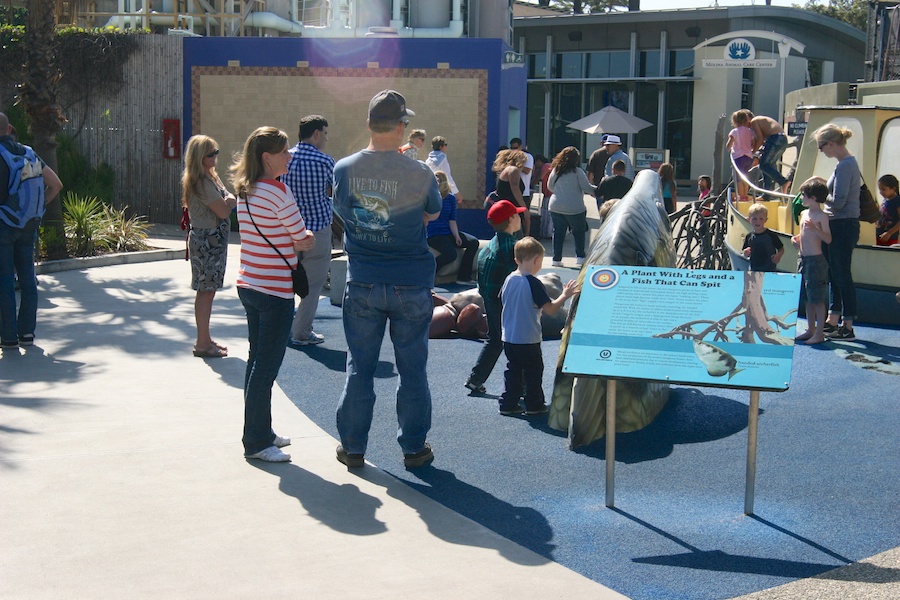 Attracted to water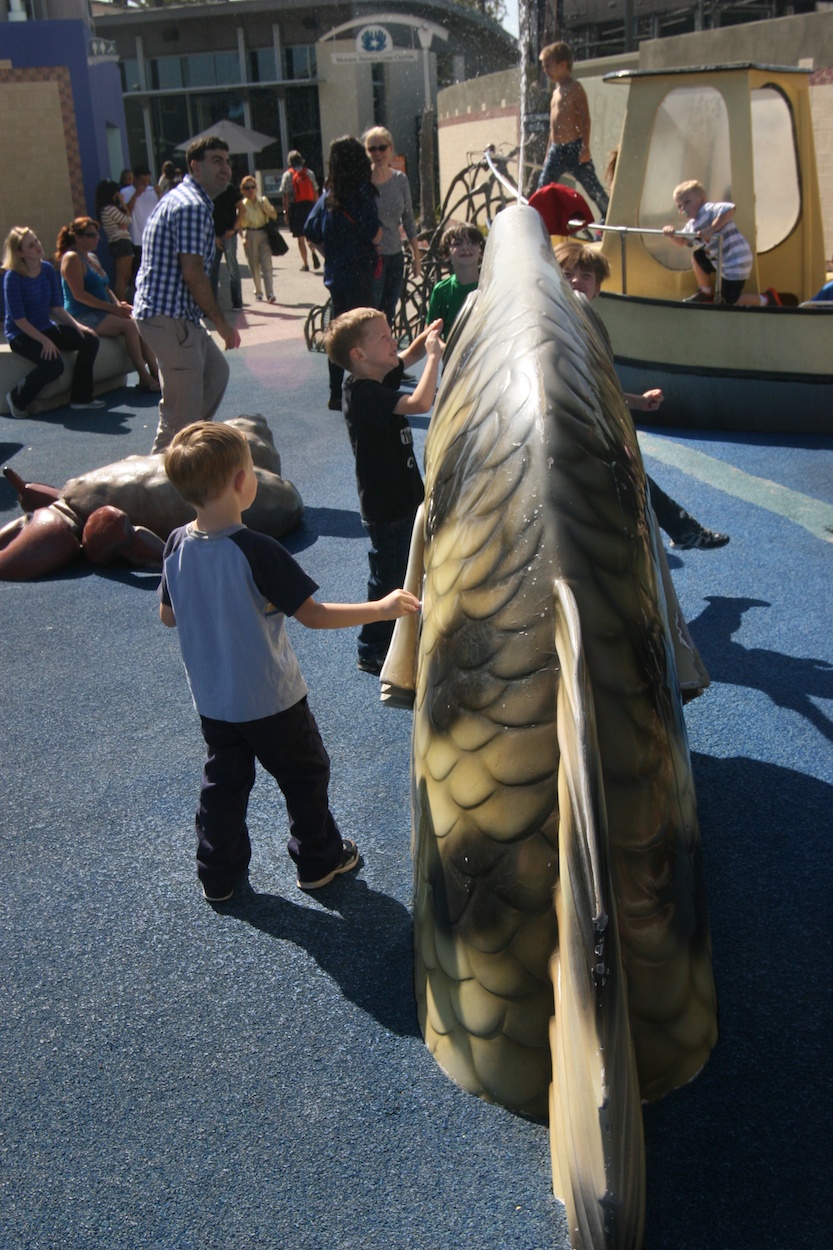 "Hey dad... Where is the button???"

"I found it!"

A formal moment

Rays and skates.....

Mom is watching so no attempting to ride on the skates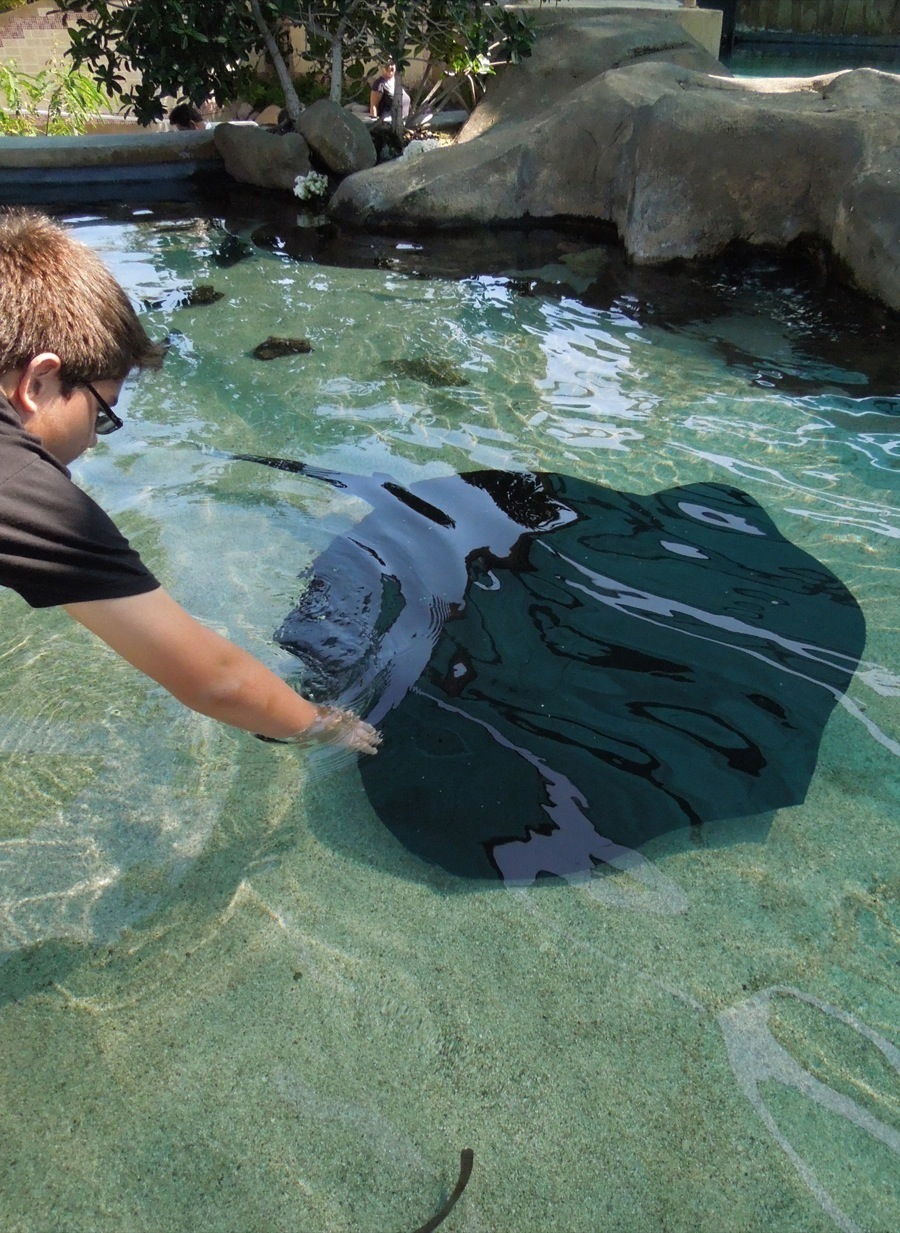 Goochie goo (Courtesy of Bob Duda)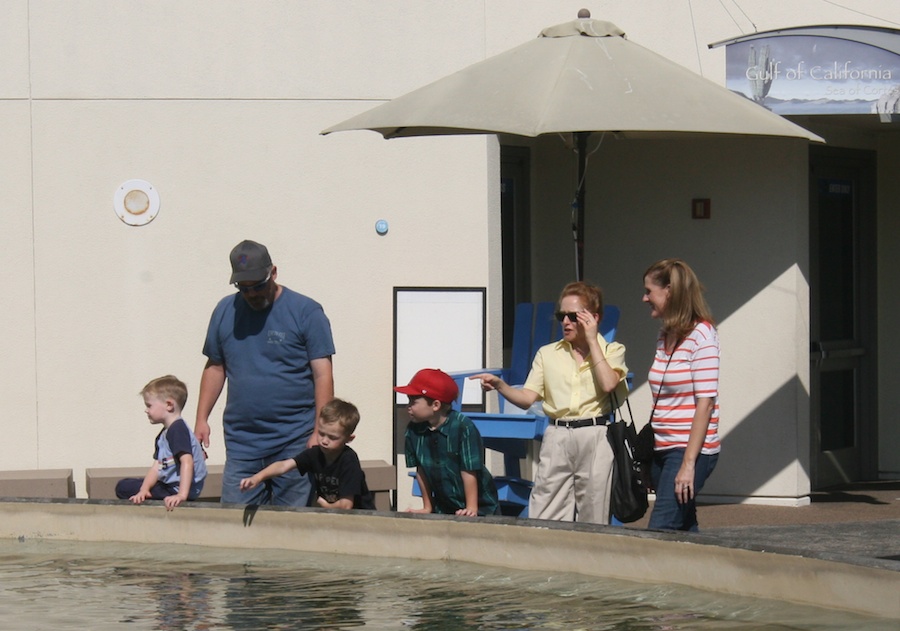 Is it a ray race???

Charlie is going to catch one for dad
Back Inside The Aquarium

The cliff dwelling birds

No brain and that's why they swim upside down

The otter's were pretty active this afternoon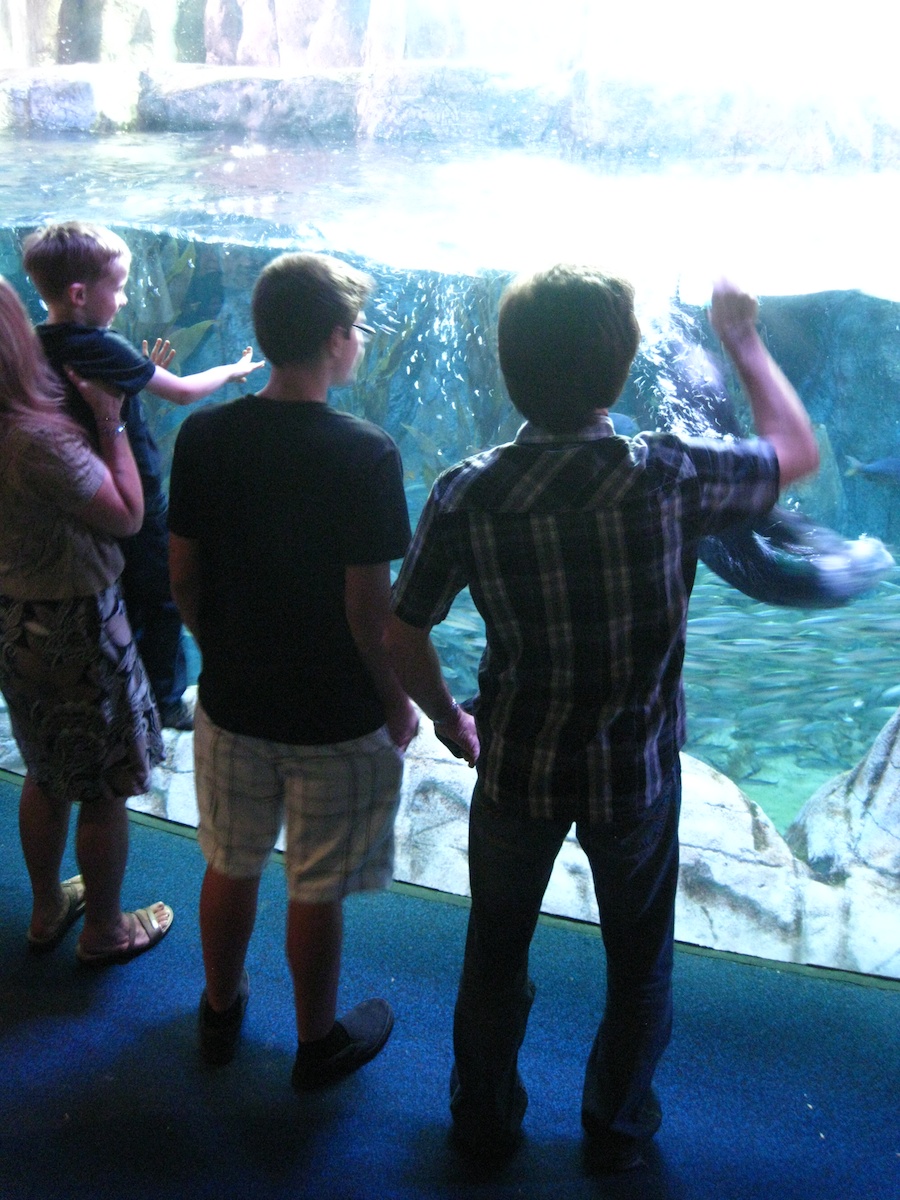 "Thanks Miss Robin... I can see them now"

Back and forth we go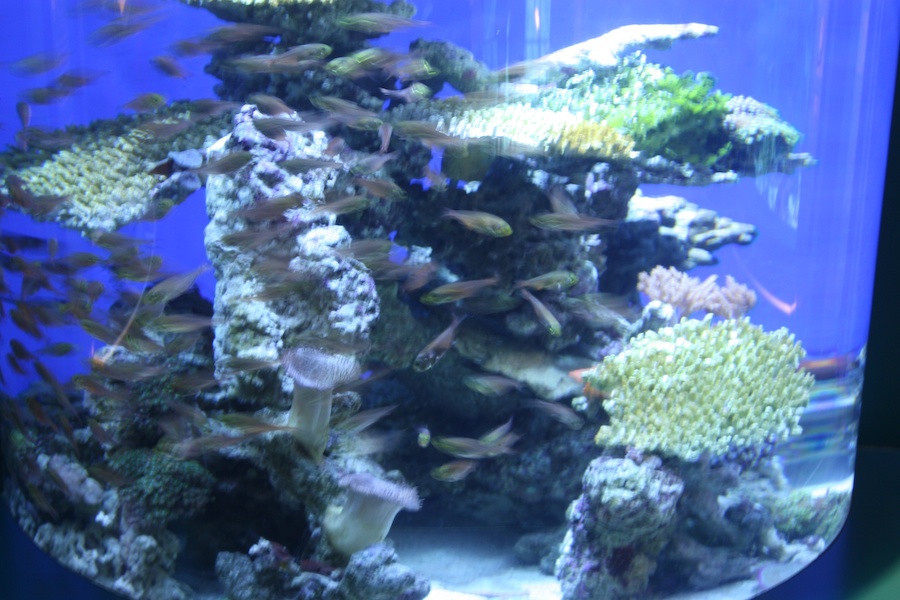 Sardines????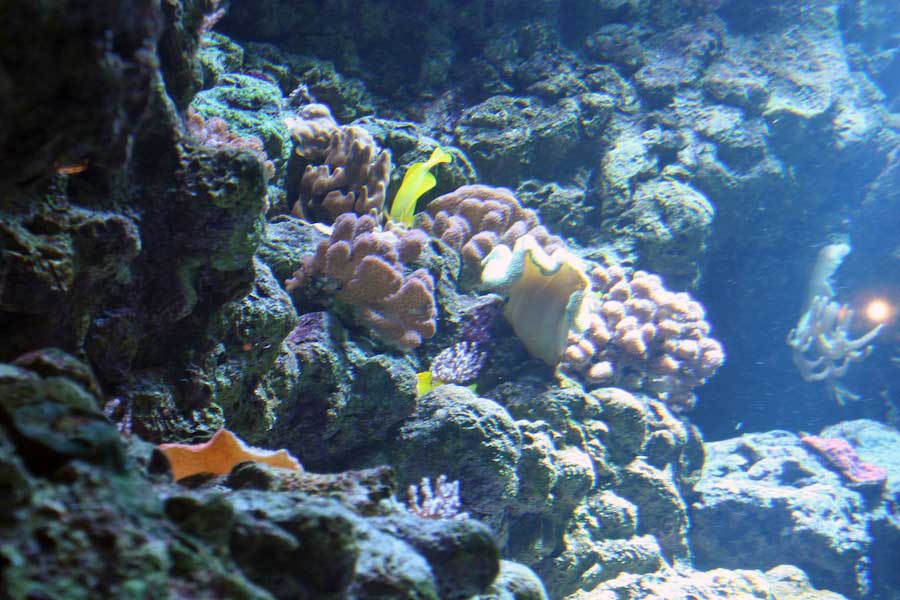 Amazing colors

A picture of dinner (Courtesy of Bob Duda)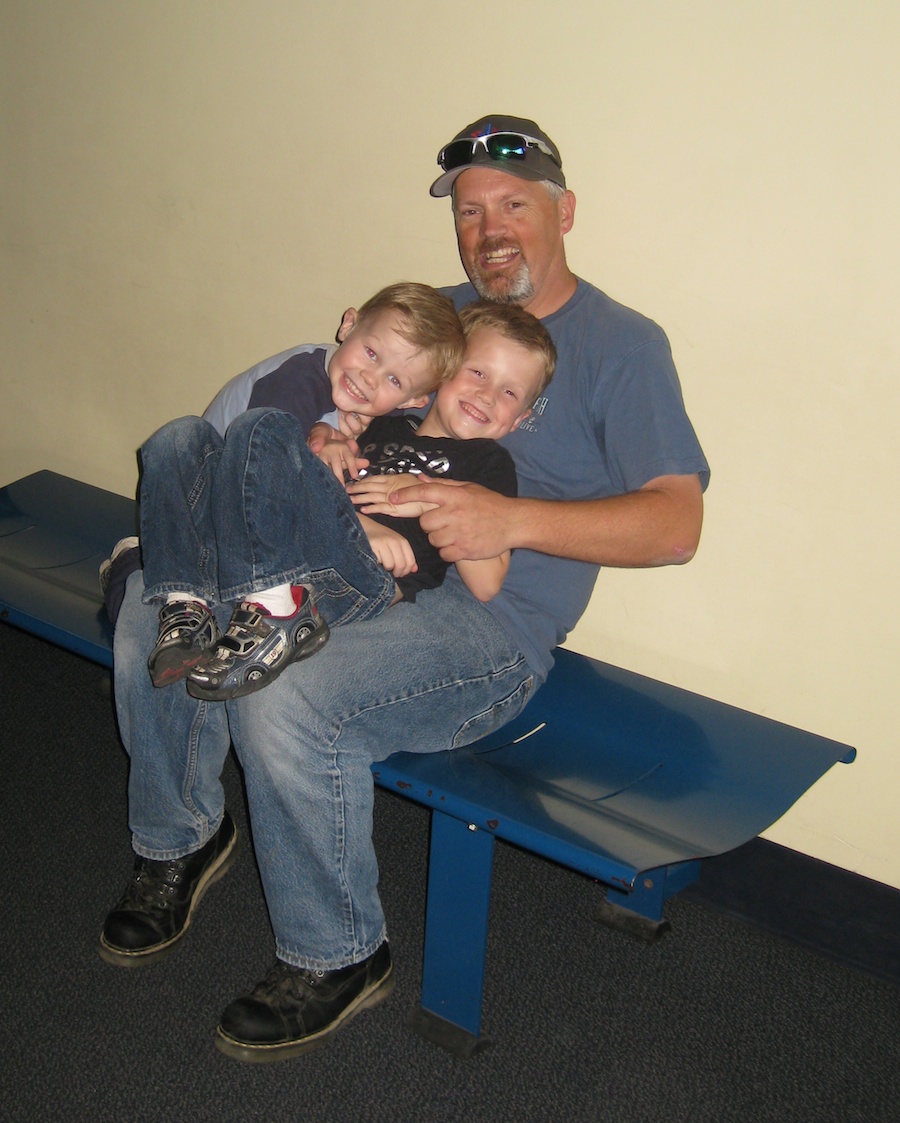 Catching a breath

Paul and Robin planning the next adventure

Darn... Time to go home already???