Christmas 1950's Albums
Records were a way of life in the 50's.. These albums were very popular!  And sheet music to go with it so we could play the piano and accordion!

Frosty
Peter Pan Records is a record label specializing in children's music. It was created in 1950. The label was owned by the Synthetic Plastics Company of Newark, New Jersey until the 1970s. It was owned from 1970s to 2000 by Peter Pan Industries or PPI Entertainment of Newark, New Jersey. It is currently owned by Inspired Studios since 2000 in Roseland, New Jersey, and continues to release children's music both on CD and online formats.
The label was notable for its series of book-and-record sets, combining an illustrated storybook with a vinyl record that contained music and narration by 'your Peter Pan Storyteller' (who, memorably, would prompt the listener to 'turn the page' at the sound of a bell). Cartoon characters were often subjects or stars of stories.
Power Records was a related label, featuring characters licensed from DC Comics and Marvel Comics, and contemporary television series (such as Space: 1999, Kojak, Star Trek and The Six Million Dollar Man), in stories geared toward older children. Besides book-and-record sets, LPs were produced, featuring the recorded stories without illustrations.
Inspired is currently in the process of converting the music from the vaults of Synthetic Plastics (to the present) into digital media.">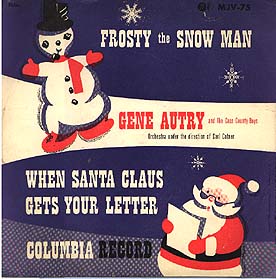 "Frosty the Snowman" is a popular song written by Walter "Jack" Rollins and Steve Nelson, and first recorded by Gene Autry and the Cass County Boys in 1950. It was written after the success of Autry's recording of "Rudolph the Red-Nosed Reindeer" the previous year; Rollins and Nelson shipped the new song to Autry, who recorded "Frosty" in search of another seasonal hit. Like "Rudolph", "Frosty" was subsequently adapted to other media including a popular television special. The song was originally titled "Frosty the Snow Man".

The song is about a snowman who came to life thanks to a magical hat some children found; he then had playful adventures before he "hurried on his way". This include games, sports, and other jolly things. Near the end of their adventures together, the children are saddened by Frosty having to hurry on his way for the last time. However, Frosty reassures them by exclaiming, "I'll be back on Christmas Day!" It has been covered by many artists over the years, including The Ronettes, Nat King Cole, Ella Fitzgerald, Larry Groce, Ray Conniff, the Cocteau Twins, Alvin and the Chipmunks, The Beach Boys, and countless other musical acts (including a 2005 recording of the song by famous Hollywood actor Burt Reynolds).
---